Embroidery Art Flow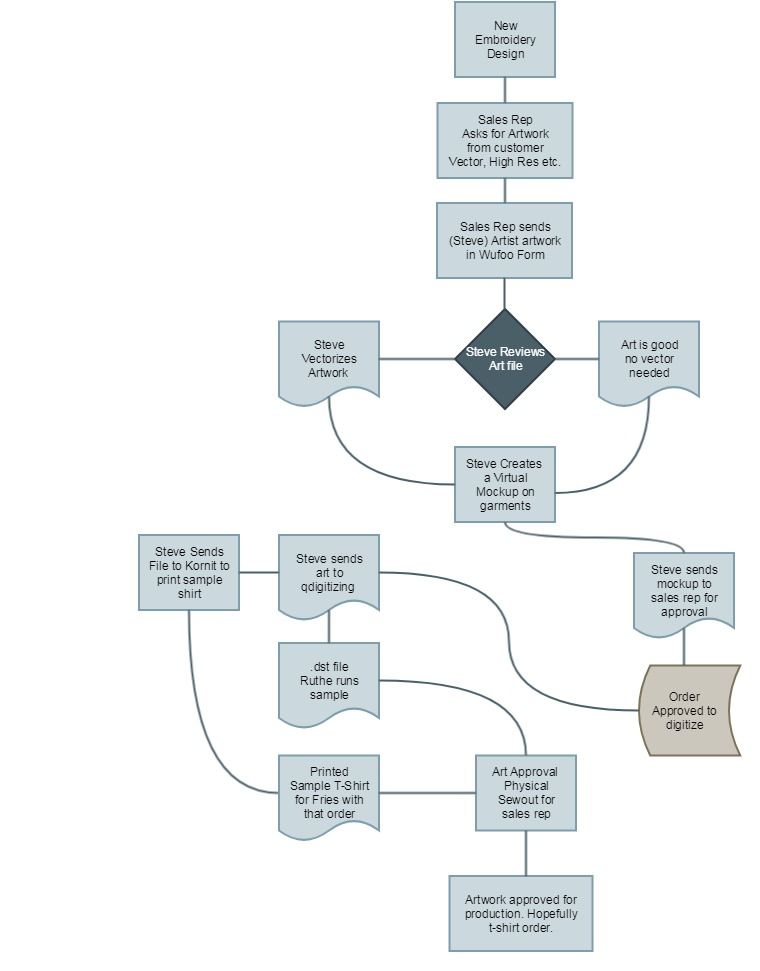 Sales Rep gets art files from customer

Questions to Ask to get the best artwork. 

Do you have brand standards guide?
Do you have a vector file?
Do you have a high resolution .jpg (over 300 dpi)
Do you have a business card? 

You must likely will get a high resolution .jpg

Bigger companies will have a brand standards guide.

Sales Rep Sends Artwork to Artist

Complete the Wufoo art form

Artist Reviews Files

If artwork is good, artist will create logo mockups on garments
If artwork is poor, the artist will vectorize.

Artist Creates Virtual Mockup

Mockup includes logo and garment colors
Use Proofstuff to send mockup

Customer Approves Logo

Once the customer approves the virtual sample we will do two things

 Send artwork to qdigitizing.com for embroidery
Send file to the Kornit to print a sample shirt. 

Production Manager downloads .dst file from Qdigitizing

Production Manager downloads the .dst file and places on the server
The production department samples the embroidery logo.

Print Sample T-shirt on the Kornits

Artist sends file to the Kornit 
Operator prints a sample shirt.
Operator brings the sample to Artist
Artist reviews the sample and gives to the sales rep

Embroidery and T-shirt sample presented to customer

The sales rep will present the embroidery sample and the dtg t-shirt. 
"Do you want fries with that?"
Sales rep upsells the customer into t-shirts.
Deal: $12.00 per t-shirt  (12 total t-shirts). It's only $144.00. Great deal for the customer.