Preferred ASI Vendors: ETS, Iclick, Bag Makers
We are limiting our ASI Vendors to companies we have a good business relationship with. Our Top 3 ASI Vendors for 2018 will be the following. The website will only feature these vendors.
I added a small inconspicuous link  on the footer of our homepage to the full promo catalog if necessary.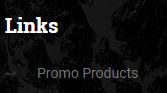 If we can't satisfy a good customer with our Top 3 suppliers:
We require a $1,000.00 minimum order from our customer. Orders less than $1,000.00 need management approval.
Preferred Vendors
ETS Express: 

Supplier of drinkware
Vendor # 2206
Oxnard California

Iclick

Pens, USB Drives Supplier
800-456-9177
Vendor# 2427
Seattle, WA 

Bag Makers

Bags, Tote Bags, Plastic Bags etc.
Vendor 2398
800-458-9031
Union, IL
Website Only Features: Bag Makers, ETS Express and Iclick

Our

website

will only showcase our preferred vendors:  

Bag Makers

ETS Express

Iclick

Hidden Link to Full Promo Catalog

Our full Promo Catalog is located on the link on the front page.

promoplace.com/nwca/

Video: Promo Products on website