6 Ways to Improve Remote Employee Engagement and Productivity
Last Updated on April 17, 2023 by Owen McGab Enaohwo
Working remotely has advantages, but it also has its downsides. As remote employees are not in an office, they can feel less engaged and connected. This can hurt productivity and the company's bottom line. Managers need to ask themselves how they can use their leadership skills and technology to make employees feel more motivated. Here are six tips they can implement.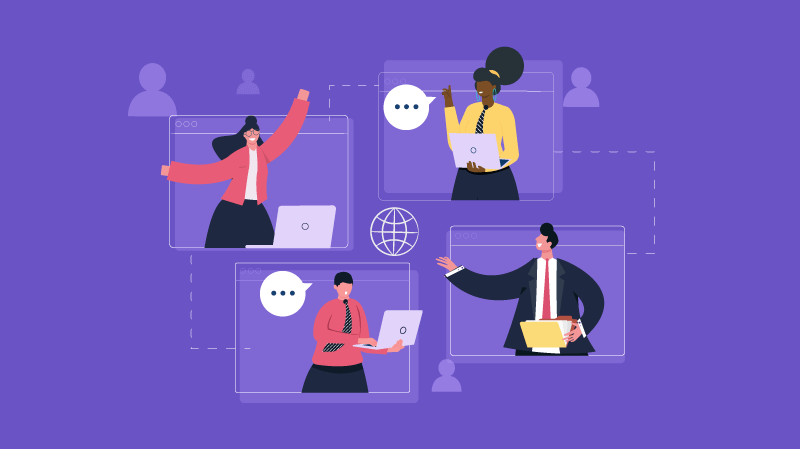 Image Credit: Vantage Circle
1. Give them the right tools
Using the right management and engagement tools can change the way remote employees operate and how they feel.
Communication tools: Regular communication is made possible through video calls, instant messaging, email, and web conferencing platforms like Zoom or Skype. Having a platform for employees to chat and share about non-work-related issues makes them feel less isolated and helps them to get to know each other.
Collaboration tools: Platforms such as Slack or Trello allow all remote employees to work from one platform where they can share insights and communicate about projects. Use training software outside of Trainual, which is specifically created for remote companies or industrial scenarios.
Technical tools: Remote employees need to know how to deal with certain technical issues, such as hardware or software issues. If they know how to handle issues like a lack of memory or OS updates, this saves their time and the time of IT support. Installing the new macOS offers improvements, but issues can occur. A good online clean-up app helps with deleting obsolete files, and with the help of the best ones, employees can remove duplicates that take up too much space.
2. Guide but don't micro-manage
Sometimes remote employees feel like they've been thrown into the deep end. At other times they may feel as though you don't trust them to get the job done. As a manager, you have to navigate a fine line between the two. There's an art to inspiring them to get a job done and trusting them to do so rather than trying to micro-manage them.
Establish clear performance expectations: You need to set clear expectations for projects and establish performance goals to keep remote employees motivated. Weekly check-ins can allow you to assess progress and get feedback.
Communicate your vision and values: Effectively communicating your vision and values can make remote employees feel more connected with the company and its culture. They will understand their role plays a part in the success of the company as a whole.
3. Have a virtual open-door policy
Miscommunications are more common with remote workers. As a manager, you don't want them to ever feel that they can't ask questions and share their concerns with you.
Communication is always a two-way street. You need to ask employees what you can improve on and how you can help them to do their jobs better.
Invite remote employees for regular one-on-one conversations where you listen to them and take action based on what they say. You can get feedback from your employees in other ways, too, such as by using live polls and surveys.
4. Host virtual competitions and events
It's easy for remote workers to start feeling isolated. Much of what brings a team together is not just the work but shared conversation. When there's camaraderie and trust between team members, productivity increases.
Team-based virtual competitions can help team members to build a sense of collaboration. The main purpose is to have everyone striving to reach a common goal.
Hosting virtual coffee dates, virtual birthday celebrations, and more builds personal connections. Such social events can lead to better retention and much higher employee satisfaction.
5. Make sure employees feel valued and appreciated
If remote employees know that you care about them as employees and as people, they will feel more engaged and committed. As a manager, you need to find ways to celebrate the accomplishments of remote employees.
Recognize their efforts by giving a shout-out in a team call.
Send a private message of appreciation to an employee.
Start an employee of the month poll and celebrate the winner.
Share birthday wishes and give employees virtual gift cards.
Remote employees also need to know that you care about their development and career growth. Discuss this with them and provide opportunities for them to improve their skills etc.
6. Trust your remote employees
It can be difficult to trust remote employees when they aren't in a physical office with you, so you can constantly keep an eye on them. The trust relationship you establish with them is essential if you want to ensure they stay engaged and productive.
What will help them to trust you? They won't want to let you down if they know you value them as employees and as people. Ways to establish trust with them include constantly keeping them in the loop, responding to their feedback, and making them feel valued. You will need to trust them with the flexibility to create their own work schedules and get their work done on time.
When they feel as though you hear what they have to say and respond to their feedback, they are more likely to raise any issues with you and contribute to a positive work environment.
Conclusion
Remote work creates certain challenges for managers, such as how to keep employees engaged and productive. It can be tricky to trust that remote employees will do the job and be productive and yet give them enough guidance and encouragement to make sure they feel supported.
Author's Bio
Brenda Donavan is a tech writer who has a great interest in cloud, AI and ML, and DevOps. She has written for several top publications and is regarded as one of the best tech writers. Besides writing, Brenda loves trying new food and posting about it on social media.