The Complete Employee Onboarding Guide.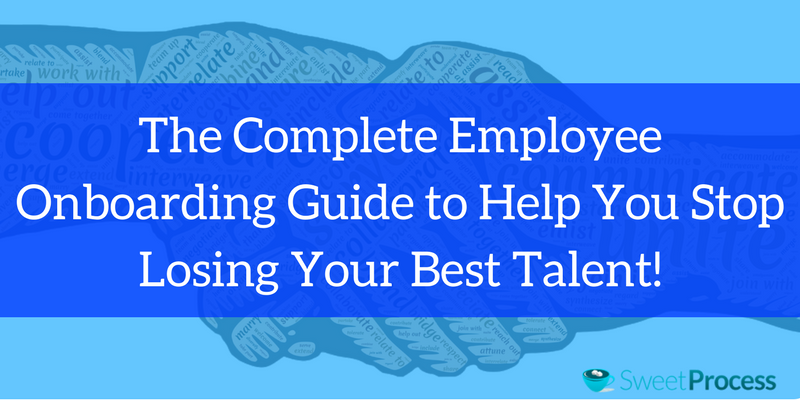 According to a recent report by Aberdeen Group, companies with a formal onboarding process have an employee retention rate of 86%, while companies without an onboarding process have an employee retention rate of only 56%.
Generally, employee onboarding is the process of strategically bringing a new employee into an organization and providing them the necessary information, training, support, mentoring and coaching needed during and throughout the transition.
Every organization initiates some form of onboarding. The only difference with successful organizations with high retention rates is that they are intentional about the employee onboarding process.
Here are some interesting stats from OfficeVibe to help you understand the importance of onboarding:

Image Credit: Officevibe
So either your onboarding process involves hiring a new employee and leaving them on their own to swim or sink, or it involves careful planning and execution of a system that helps employees know exactly what to do as soon as they get on board your organization.
This comprehensive guide was created to help you understand the concept of employee onboarding and detail how you can create a highly effective employee onboarding process so you begin to reap its benefits.
This guide doesn't only outline theories, but it also informs you of the latest employee onboarding best practices. You'll have in your hands some tools you can use immediately to create a seamless process that helps you retain more employees, instead of losing your best talents to the competition. The contents are as follows:
Chapter 1: What Exactly Is Employee Onboarding?
Chapter 2: Effects of Employee Onboarding.
Chapter 3: Employee Onboarding Best Practices.
Chapter 4: Tools for Effective Onboarding.
Chapter 1: What Exactly Is Employee Onboarding?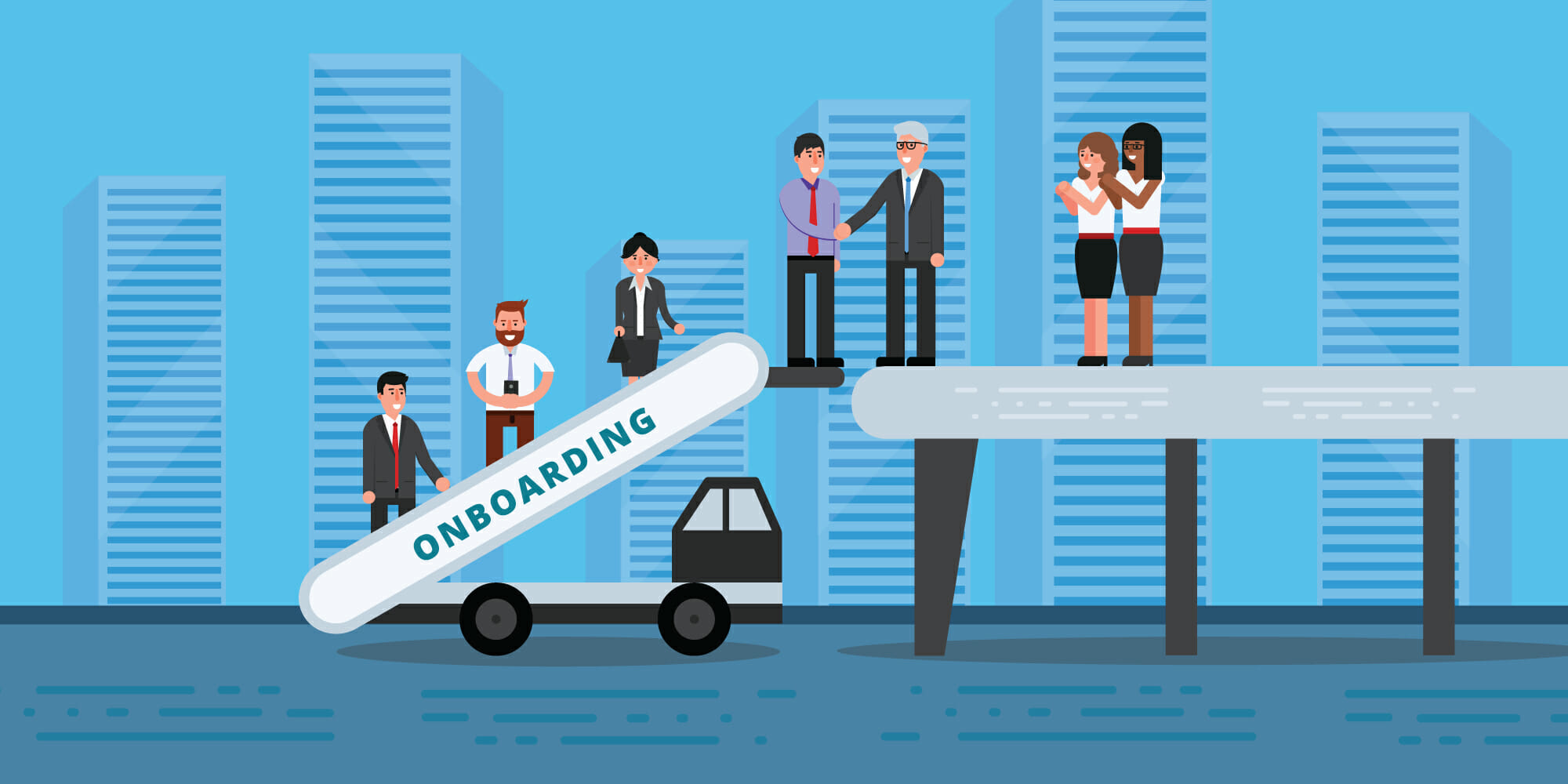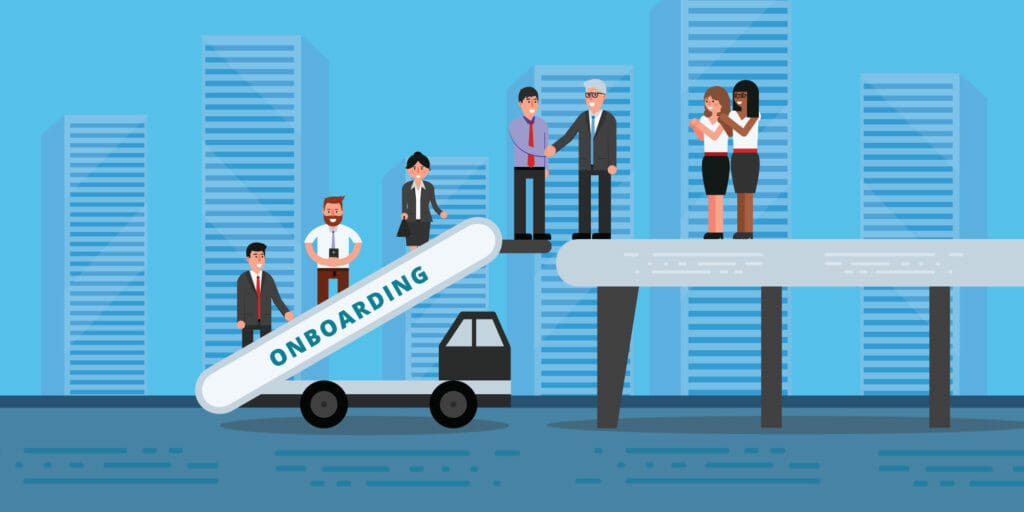 Image Credit: PageUp
Earlier, I gave a general definition of employee onboarding; however, I'd like to look at some expert definitions to further help you understand what this concept is all about.
The Society for Human Resource Management (SHRM) defines it as the process of helping new hires adjust to social and performance aspects of their new jobs quickly and smoothly, while iCIMS defines it as the initial process of assimilating new hires into an organization. Additionally, Wikipedia's version says,
"Onboarding, also known as organizational socialization, refers to the mechanism through which new employees acquire the necessary knowledge, skills, and behaviors to become effective organizational members and insiders."
Objectives of Employee Onboarding
The essence of creating an effective employee onboarding process is in attaining the following goals:
Make new employees feel welcome and comfortable in their new surroundings.
Foster a positive experience for both the new employees and the organization.
Reduce anxiety and help new employees verify that they've made the right choice, especially on the first day at work.
Allow new employees to understand the organization's vision, values, and priorities.
Reduce the learning curve and minimize the time needed for new employees to become productive members of the organization.
Help new employees build an optimistic attitude toward the company.
Encourage employee socialization and create a sense of belonging.
Set of performance expectations — roles and responsibilities — and avoid any misunderstandings.
Overall, aid the new employee's ability to perform in the new role and contribute to the organization.
To further drive home the importance of having an effective employee onboarding process and put into perspective what your organization stands to gain from having one in place, let's compare two different common scenarios of a new hire's first day at work at two different organizations, as seen in the video below:
Now that you've seen Jane Regret and Tom Happy as highlighted in the video above, the question is: "What type of employee onboarding should your organization employ?" You'll find the answer below.
Formal vs. Informal Onboarding
We already know that employee onboarding involves helping a new hire get started on the right foot. However, it can be broken down into two types; formal and informal onboarding. Let's find out what each means and decide which is best for your organization.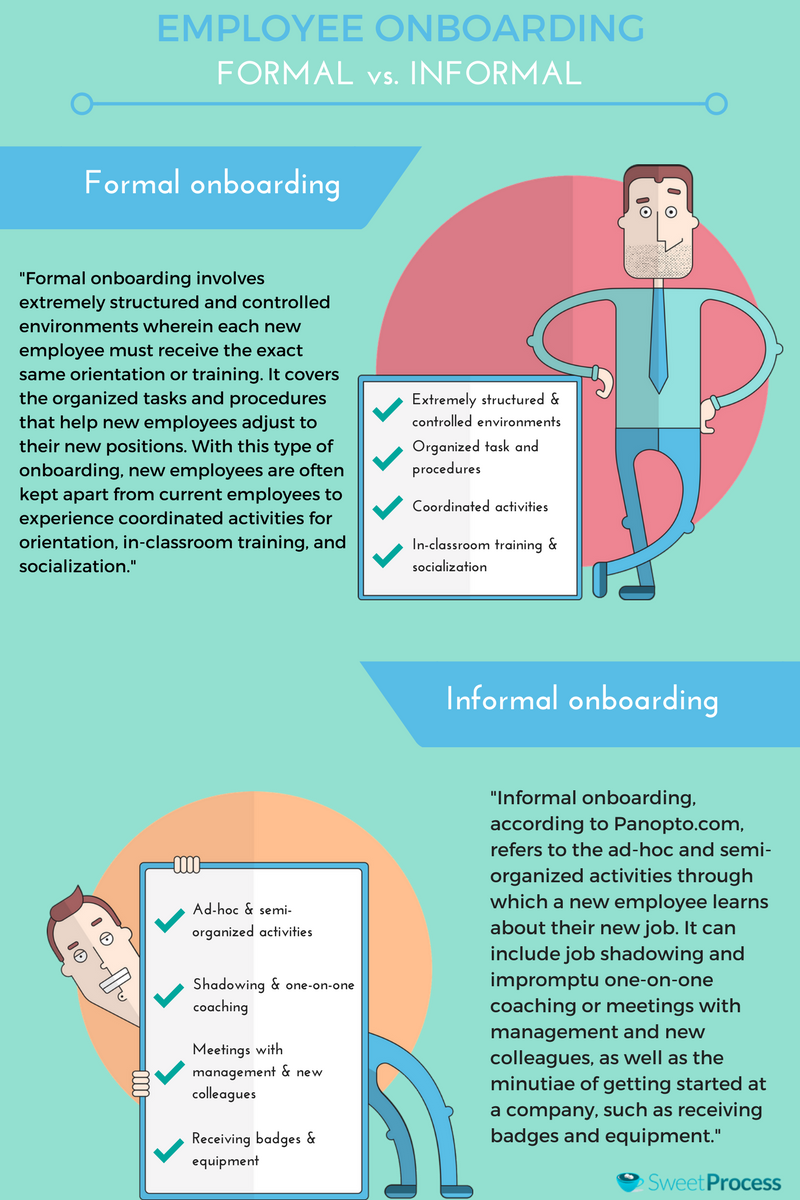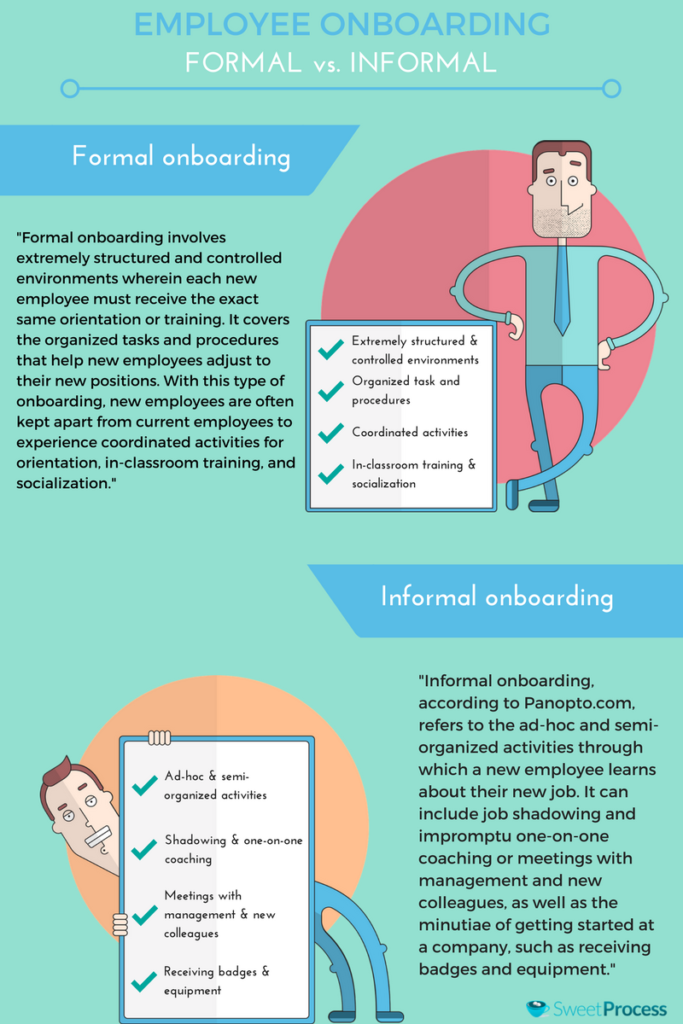 Formal onboarding involves extremely structured and controlled environments wherein each new employee must receive the exact same orientation or training. It covers the organized tasks and procedures that help new employees adjust to their new positions. With this type of onboarding, new employees are often kept apart from current employees to experience coordinated activities for orientation, in-classroom training, and socialization.
Informal onboarding, according to Panopto.com, refers to the ad-hoc and semi-organized activities through which a new employee learns about their new job. It can include job shadowing and impromptu one-on-one coaching or meetings with management and new colleagues, as well as the minutiae of getting started at a company, such as receiving badges and equipment.
However, an organization's onboarding style shouldn't be isolated to either formal or informal. An ideal and effective employee onboarding process should be a mix of both. Formal techniques provide structure and consistency, while informal ones give it personality. Moreover, regardless of automated processes, there should always be an informal, human touch to onboarding. New hires should be well-engaged.
Finally, some experts are of the opinion that formal onboarding occurs within the first week of employment, while informal is everything before and after. While I agree with the latter, I also believe formal onboarding should go beyond the first week of employment and extend to both before and after employment as well.
Before we delve further, however, do you know the difference between onboarding and training?
Onboarding vs. Training
Onboarding and training are often used interchangeably and even confused for one another. This has led to a misconception of what a new employee is supposed to receive.
One thing you should know is that onboarding is not the same as training. Another important thing you should know is, it is vital for every organization to have both onboarding and training in place.
Basically, training is meant to be a part of the onboarding process. According to Michel Falcon,
"employee onboarding is the design of what your employees feel, see and hear after they have been hired. Often, companies confuse onboarding with training. While training does have a role in the onboarding, it doesn't represent the entire scope of the process."
Training should cover things like goals, programs, best practices, technology, equipment, etc., while onboarding should include company policies, facility tours, and department introductions but shouldn't stop at that.
Lisa Sterling, chief people officer and executive vice president at Ceridian, a human capital management technology company, believes onboarding should be viewed as a long-term experience for employees — ideally within their first year of employment. It needs to be more than training or orientation; it's an immersive experience that helps an employee thrive in your business.
Now that you're clear on the difference between onboarding and training, let's take a look at another confusing pair.
Onboarding vs. Orientation
Orientation is another term people confuse and also largely use interchangeably with onboarding.
Employee orientation is the initial stage in the process of new employee integration. It basically introduces new employees to the organization and their new role; it solidifies the new employee's relationship with the organization; and it fuels their enthusiasm and guides their steps into a long-term, positive relationship with the organization.
It's safe to say orientation is an event, while onboarding is a process. And it's also safe to say orientation too is a part of the onboarding process.
iCIMS identifies 4 key differentiators between orientation and onboarding:
Time: Orientation is a single event that takes place during the first week on the job and only lasts for a few hours, while onboarding begins before the new hire starts and lasts anywhere from a full quarter to a full year.
Delivery: Orientations often take place in a classroom or conference room, with a manager providing only general information, while onboarding focuses on scalability, feedback, and a two-way feed of information.
Audience: Orientation delivers information that all new hires need to know: company policies, benefit, and insurance, etc., while onboarding provides customized information to the new hire based on their function and role within the company.
Results: New hires are still considered "new hires" after their orientation experience and usually need more assistance from their manager and colleagues in order to be productive. On the other hand, they are no longer considered a new hire when onboarding is complete; they become fully integrated into the organization and have begun contributing to organizational goals.
Finally, we've cleared common confusions with the term "employee onboarding," but you're probably wondering: "What then does employee onboarding entail?"
Key Aspects of Employee Onboarding
As you already know, employee onboarding is a very broad concept and may seem overwhelming. To make it less intimidating, especially if you're not yet an onboarding veteran, here are some key aspects identified by AllenComm:
Key Job Knowledge: Avoid information overload. Tell new employees only what they need to know and deliver more practical job training.
Culture/Mission: Introduce the organization and its unique aspects.
Initiation/Orientation: Onboarding should include training and orientation in a centralized, well-designed, and comprehensive program — not just filling out HR paperwork.
Compliance: New employees should be made aware of what's expected of them and any applicable compliance laws relevant to your organization.
This is very similar to "The 4 C's of Employee Onboarding" or "building blocks of successful onboarding" — Compliance, Clarification, Culture, and Connection — as analyzed by Cameron Professor of Management Talya N. Bauer at Portland State University in Oregon.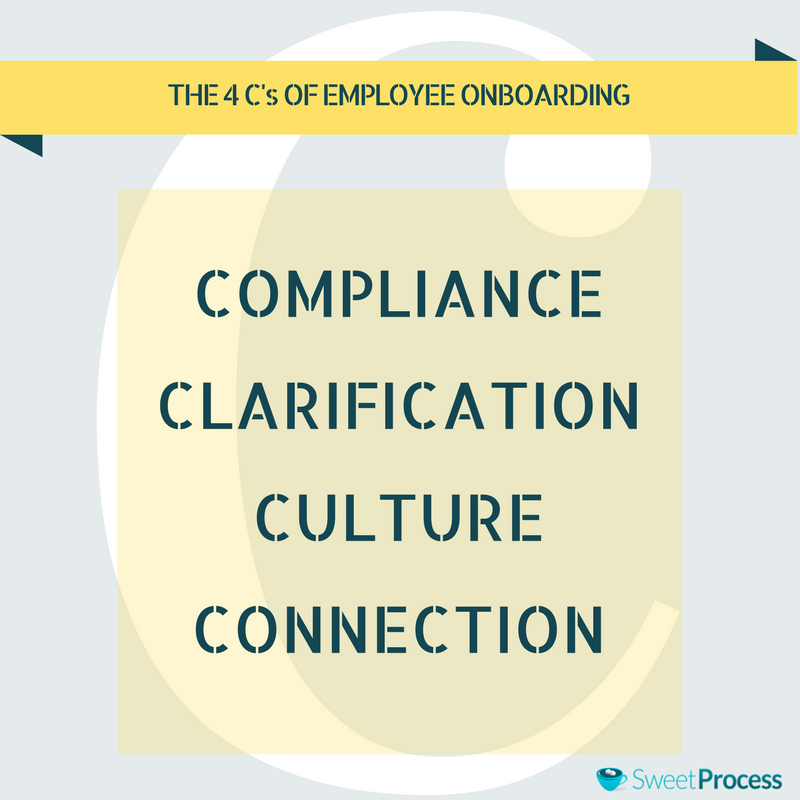 Now that you know what employee onboarding is, how exactly do you determine whether your efforts are working or not? In other words, does it have positive and negative effects on your organization?
Chapter 2: Effects of Employee Onboarding.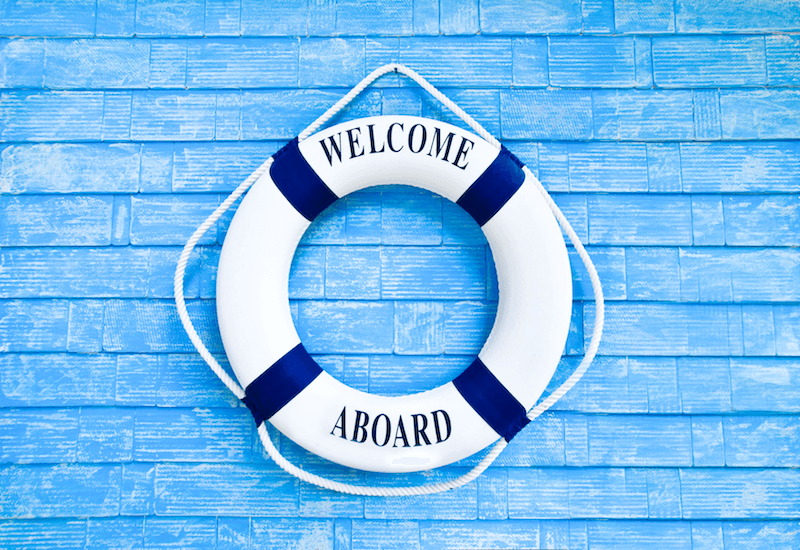 Image Credit: EmployeeConnect
It's just natural to expect results when you make a change. Once you implement a new employee onboarding process, you're bound to see its effects in your organization, whether desirable or otherwise, depending on how effective or ineffective your onboarding is. In this chapter, I discuss the results of good and poor onboarding process on both the organization and the employees.
Outcomes of an Effective Employee Onboarding Process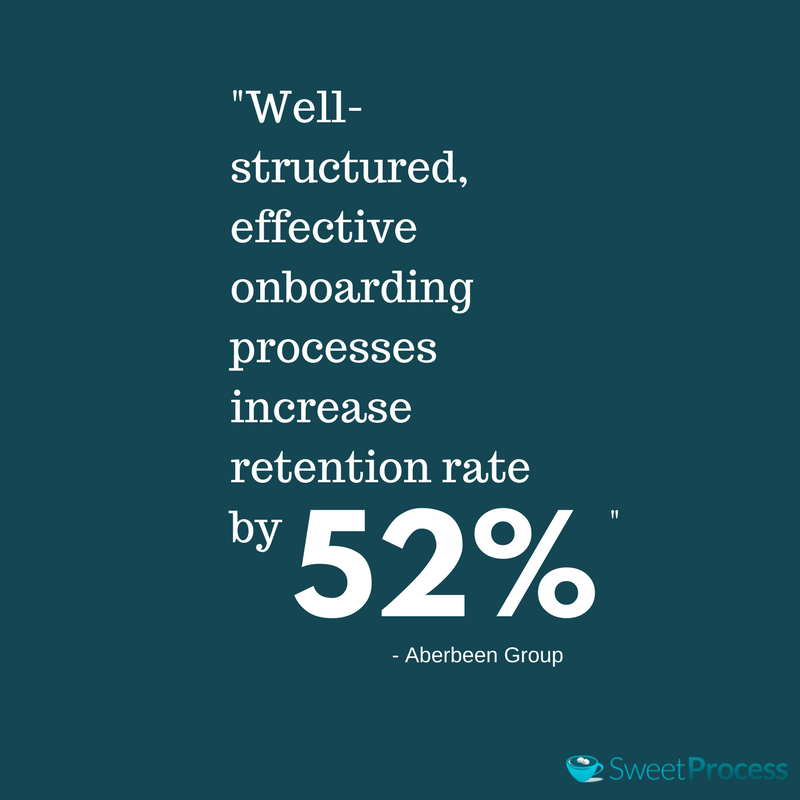 When an organization has an effective employee onboarding process in place, here are the likely positive outcomes:
Self-efficacy (or self-confidence): Psychologist Albert Bandura defines it as one's belief in one's ability to succeed in specific situations or accomplish a task. This is the first, most likely evidence of a successful onboarding process; employees are confident in being able to do their job well. The more self-assured a new employee is, the more motivated they'll become in doing the job and actually succeeding. It, therefore, goes without saying that your organization's onboarding program should be targeted at boosting employee confidence in their own abilities.
Reduced turnover: When your onboarding process is well-structured and effective, it increases your retention rate by as much as 52%, as found by Aberdeen Group. This is highly significant as employee turnover is one of the biggest problems organization faces. In fact, 33% of employees look for a new job within the first six months of employment, and 23% turn over before their first anniversary on the job. These percentages are even higher among millennials. However, with an effective employee onboarding structure, you can definitely break your organization free from these unfortunate statistics and reduce employee turnover while increasing organizational commitment and loyalty.
Role clarity: This is how well a new employee understands their role and expectations within the organization. According to Cognisco, the world's leading intelligent employee assessment specialist, US and UK employees cost businesses an estimated $37 billion every year because they do not fully understand their jobs. When employee expectations are ambiguous and not clearly stated, employee performance suffers. Good employee onboarding helps new employees become well-adjusted and understand their role.
Job satisfaction: This can mean how content an individual is with their job, regardless of whether they like the job or not. It can also mean "a pleasurable or positive emotional state resulting from the appraisal of one's job or job experiences," as defined by E. A. Locke. Whichever position you take, we can all agree job satisfaction is characterized by being content with how things are going, i.e., working conditions, professional relationships, tasks, roles, etc. An effective employee onboarding process increases job (or employee) satisfaction. New employees feel welcome and excited from the first day, and their role within the organization is clearly defined and understood. All these naturally improve job satisfaction.
Higher performance levels: Good employee onboarding boosts employee productivity and ensures new hires contribute to specific goals. Typically, it takes an average of eight months for a new employee to become fully productive, but with a highly effective onboarding program, new employees can be expected to reach full productivity at an average of two months earlier than their counterparts.
Other notable benefits: Reduction in the costs otherwise associated with learning on the job; helps new employees understand organizational culture and ensure they fit in; shortens employee learning curve and lowering stress; and higher employee engagement.
Overall, having a highly effective employee onboarding process in place is a win-win for both the organization and the employees. As Annette Matthies, Founder, and CEO of Aspen Edge Consulting, LLC, and an expert in onboarding, puts it:
"There's a mutual benefit to onboarding, and in my work, I see that the most successful companies see the value in investing in onboarding and that it does yield a real return on investment. I believe that happiness and a shared sense of purpose is a real competitive advantage."
Here's a video from HR360 that further highlights the benefits of an effective employee onboarding program:
Effects of a Poor Onboarding Process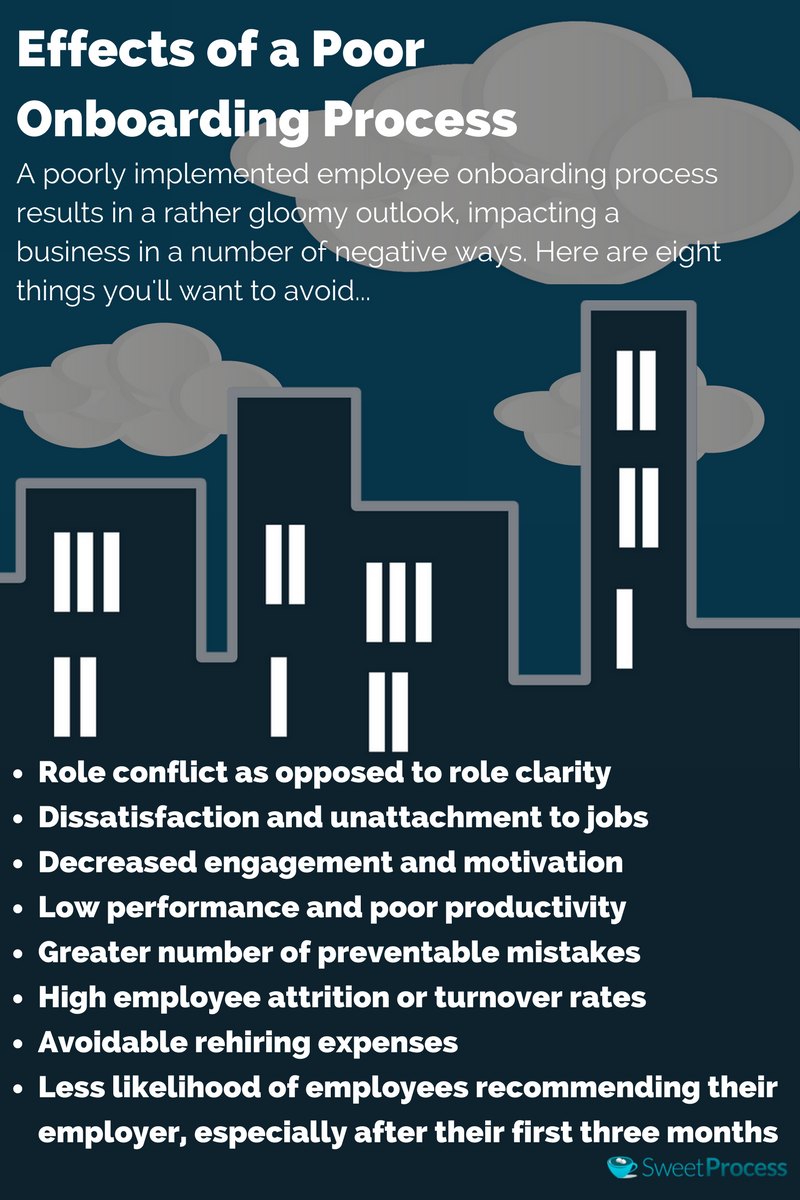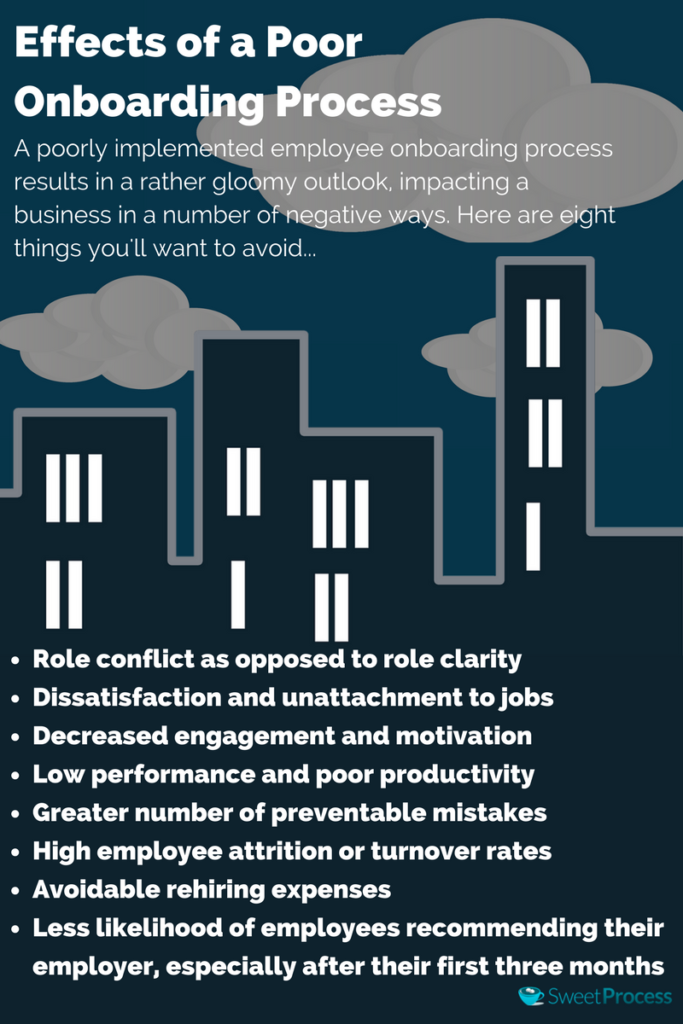 The effects of a poor employee onboarding process are pretty obvious; it leads to a complete opposite of the positive outcomes the organization would have otherwise experienced:
Role conflict as opposed to role clarity
Dissatisfaction and unattachment to jobs
Decreased engagement and motivation
Low performance and poor productivity
Greater number of preventable mistakes
High employee attrition or turnover rates
Avoidable rehiring expenses
Less likelihood of employees recommending their employer, especially after their first three months
Having an effective employee onboarding process is a no-brainer for every organization. In the next chapter, we'll dive into the nitty-gritty of exactly what your process should involve.
Chapter 3: Employee Onboarding Best Practices.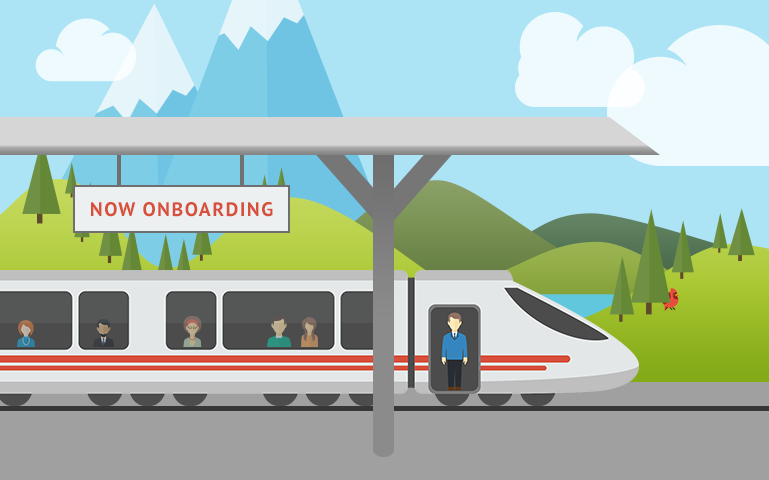 Image Credit: Intranet Connections
A new employee's first day is the most important day on the job. It's your only shot at creating a great first impression, and you don't want to blow it. The message you want the new hire to receive is: "We are totally prepared for your arrival!"
In fact, companies like Facebook focus on the first few minutes. According to Tim Campos, former CIO at Facebook,
"If a company does not manage to rouse a level of interest among employees about the company culture and work in the very first 45 minutes, then something is certainly not done right."
To this end, Facebook has a rule concerning the first 45 minutes rule. It covers:
Getting devices and systems right
Practical knowledge
Knowing where office stuff is
Setting up meetings
Getting things done
That's a great way to go about onboarding — after all, it's working for giants.
The first day is special and should be treated as such. However, onboarding goes beyond the first day at work, as you probably already know. Effective employee onboarding starts before the new employee's first day (as Apple does for its new employees) and goes on until at least until the first year ends. For instance, IBM's exemplary onboarding program lasts for two years.
When considering your own process, you should incorporate proven employee onboarding best practices. From the big things like orientation and training to the little things like a first-day welcome and providing a functional workstation, these best practices are effective and boost your retention rate. Let's get straight into it.
A Foolproof Employee Onboarding Process and Timeline
My aim in this section is to give you a proven employee onboarding process you can adapt to your organization, with an ideal timeline of when to take each step. You can, of course, adjust the timeline as well to suit your organization's unique needs.
Before Employee Starts Working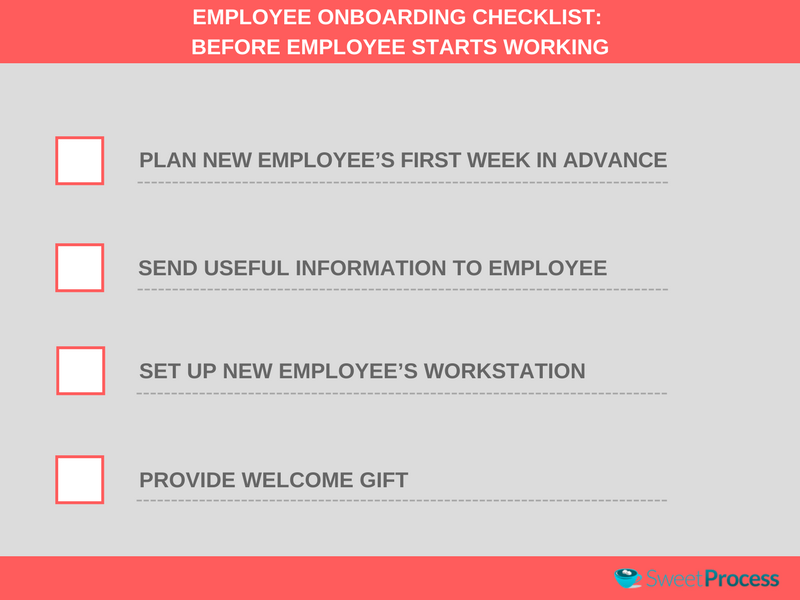 Click Here To Download This Employee Onboarding Checklist to your SweetProcess Account!
As already iterated in this guide, an effective employee onboarding process starts before the new hire's first day. Here are a few things you should do:
Plan the first week in advance: You don't want your new hire to arrive before you start thinking about the next steps to take. Have this all planned out… every onboarding step for the week and even a first assignment… to make things easier for both you and the new hire.
Send useful information: Communicate useful information to the new hire beforehand, such as start date and time, dress code, parking, directions to the office, etc. You can also send an employee handbook ahead of time.
Set up workstation: You want to ensure the new hire arrives at a well-organized desk. You also want to place any important documents for them on their desk.
Provide welcome gift: Put together branded materials, such as t-shirts, mugs, pens, etc., to present to the new employee so they feel like part of the team already. Alternatively, send the package to the new hire's home beforehand.
First Day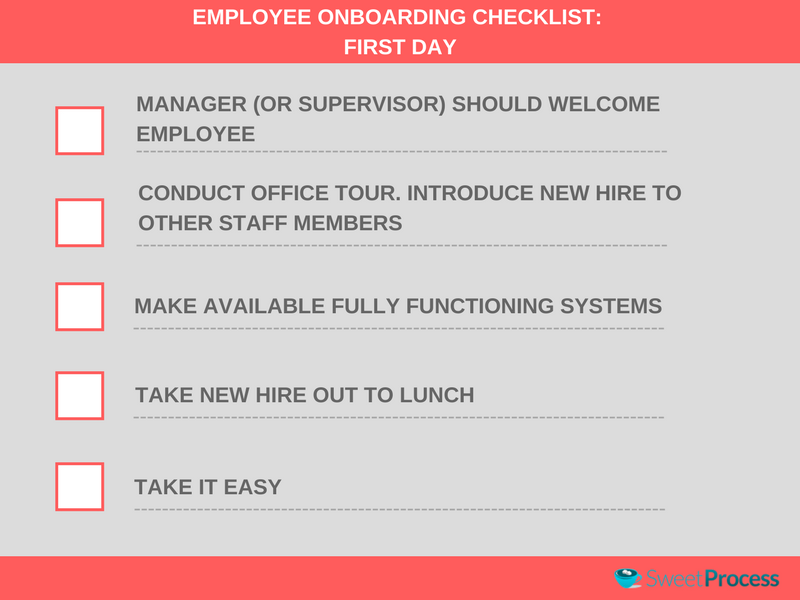 Click Here To Download This Employee Onboarding Checklist to your SweetProcess Account!
Remember, the first day at work is the most important day on the job for the new employee. You want to make sure you make a good first impression, and most importantly, give the new employee a feeling that they made the right choice. For example, key highlights of the first day at Apple are:
Monday joining
Huge welcome
Shiny new iMacs
Interaction
Welcome Kits
Here are some things you can do on the first day:
Manager's welcome: Ensure the new hire's direct manager (or supervisor) is the one to welcome them on the first day at work. You don't want to outsource this to any other staff member. This will make the new employee feel valued and set a good first impression.
Conduct an office tour and introduce the new hire to other staff members: Next, take the new employee around the office and introduce them to every staff member come across.
Make fully functioning systems available: Then, escort the new hire to their workstation or office and ensure they have access to a functioning computer and other systems and that they know how to use them.
Take new hire out to lunch: Either with the manager or few assigned colleagues or with the whole team, the new hire to lunch on the first day. During this time, they can learn more about the organization and be able to ask any questions.
Take things easy: Keep a new hire's workload light on the first day to ease their first-day nerves, which is common for new employees. Give them plenty of time this first day — and throughout the first week — to relax and process all the new information they're taking in.
First Week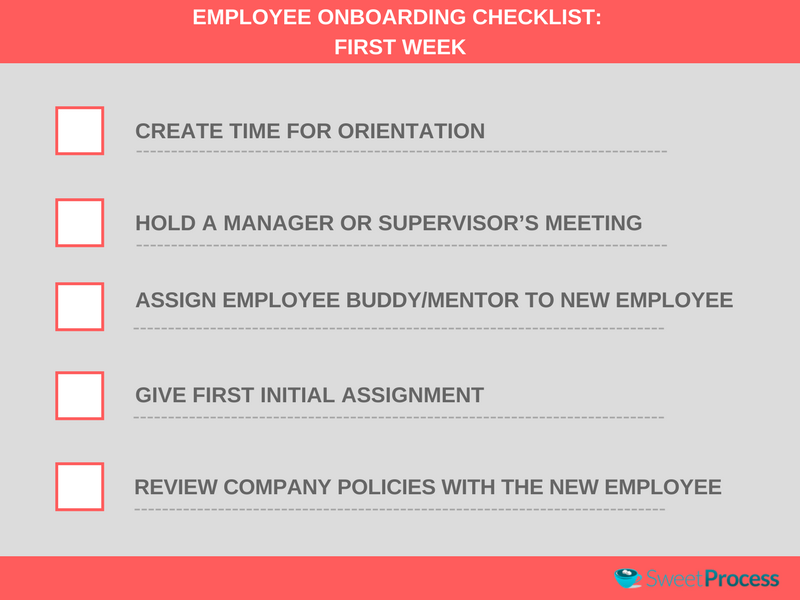 Click Here To Download This Employee Onboarding Checklist to your SweetProcess Account!
The first week is as crucial as the first day on the job. The new employee is still learning and forming an opinion about the company. You want to help confirm that they made the right choice.
Here are few things you can do during the new hire's first week on the job:
Create time for orientation: Employee orientation should take place within the first week to formally inform the employee about company culture and policies; do's and don'ts; company history; and so on.
Hold a manager or supervisor's meeting: Set up the new hire's first formal meeting with their direct manager or supervisor. This should be held during the first week, if not on the first day.
Assign an employee buddy/mentor: Assign a fellow but tenured employee to every new hire as a peer mentor or buddy so they can learn the ropes and have someone to walk up to whenever they need direction or answers.
Give first initial assignment: Assign a task so the new hire gets a taste of real work. However, it should be small and easy.
Review company policies: By the end of the first week, the manager — or anyone assigned — should sit with the new hire to review company policies and ask for feedback, objections, and suggestions. You need to ensure the new hire understands company policies and find out whatever the employee doesn't like about the company and address it before the weekend if you would like to see them resume the following week.
First Month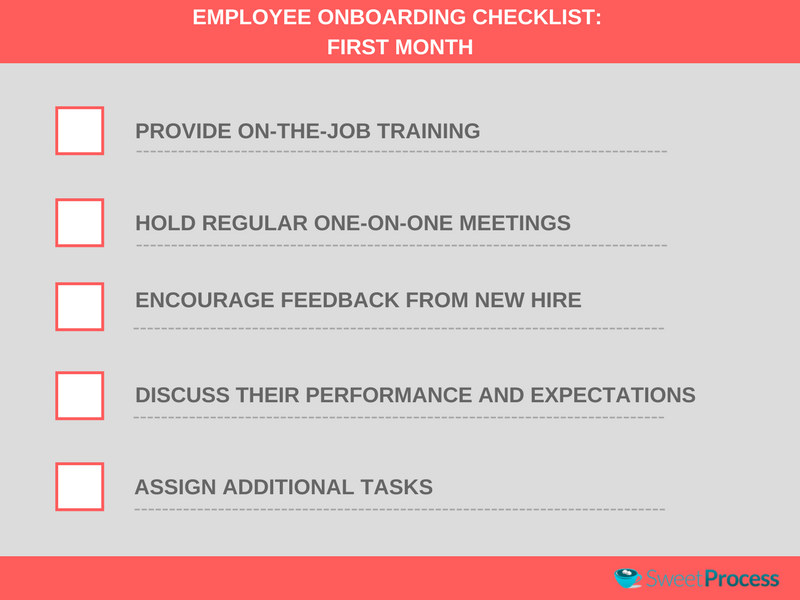 Click Here To Download This Employee Onboarding Checklist to your SweetProcess Account!
During the first month, the new employee is consciously assessing their performance in comparison with the expectations of their role within the organization. Here are some things you can do to make onboarding smooth at this stage:
Give on-the-job training: Don't assume your new employee can function or perform well on their own. Ensure they receive formal training on what is required of them. Doing so within the first month helps them become productive early enough.
Hold regular one-on-one meetings: Schedule and conduct regular one-on-one meetings with the employee to discuss their role and performance as well as to get feedback.
Encourage feedback: Regularly ask for feedback from the new hire to be sure you're indeed giving them what they need to be content and happy on the job. You can use their feedback to adjust how you treat them, and it can also provide useful insight into what to add or remove from the organization's employee onboarding process.
Discuss performance and expectations: You don't want the new employee measuring their performance against expectations only in their own head. Discuss it with them and let them know if they're doing well and point out where adjustments are needed.
Assign additional tasks: The new hire's completed the first initial assignment in the first week, and you've given feedback. Now it's time for them to take on additional assignment, preferably one to give them a real taste of their role in the organization.
First Three Months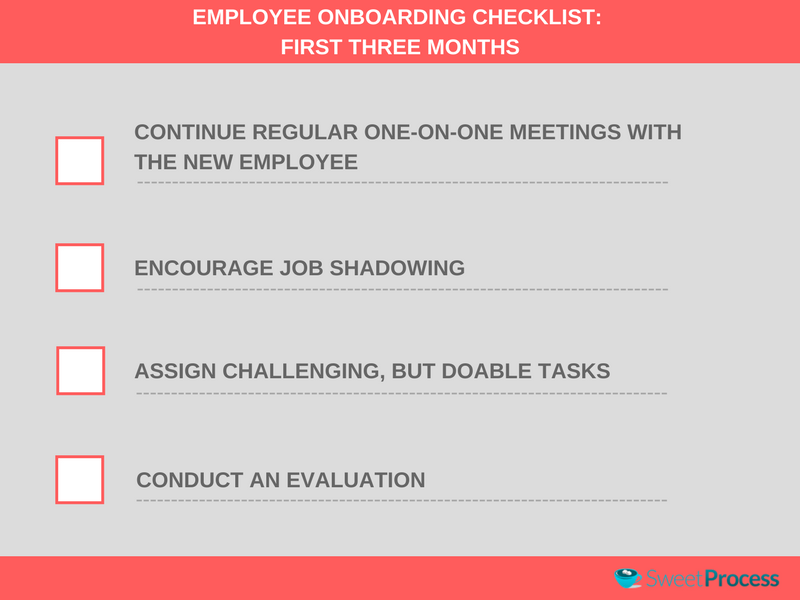 Click Here To Download This Employee Onboarding Checklist to your SweetProcess Account!
By the third month, new employees would have been integrated enough into the organization and most likely know every company policy and rule. They've fully decided whether the organization is a good fit or not. And for you, it's not the time to relent. Here are other things you should do within the first three months:
Continue regular one-on-one meetings: DO not stop having regular one-on-one meetings with the new employee just yet. They are still figuring things out and likely have a lot of questions you have to address. Also, you should keep track of how they're progressing.
Encourage job shadowing: Ensure the employee learns on the job, aside from formal training, by allowing them to work closely with a mentor or departmental colleague so they can learn from whatever the mentor does. This leaves the new hire sure of how things are done at the company or in a specific department.
Assign challenging, but doable tasks: At this stage, assign the employee more difficult tasks. You'll be able to see how they handle challenges and manage pressure.
Conduct an evaluation: After the first three months, evaluate your new hire. This is the perfect time to address any weaknesses or potential problems or even terminate the employee before more resources are wasted on them.
First Six Months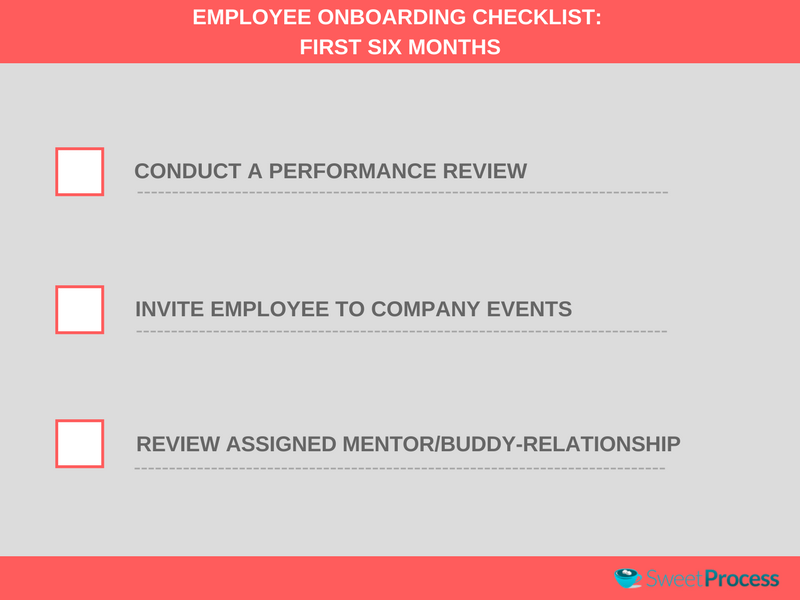 Click Here To Download This Employee Onboarding Checklist to your SweetProcess Account!
By the end of the new employee's first six months on the job, you want them to have gained momentum in performance and delivery, to have built strong relationships within the organization, and to have begun to try their hand at leadership. You also want the new employee to be more confident and engaged in their role and ability to deliver. Here are three key things you should do at this stage:
Conduct a performance review: This allows you to assess how the new employee is catching on and where adjustments are needed.
Invite the employee to company events: Your new hire should be attending major company events with other staff members.
Review mentor/buddy-relationship: Toward the end of the sixth month or earlier, the structured buddy relationship should have ended. But don't have it end just like that; discuss how things went and any further help the employee might need.
First Year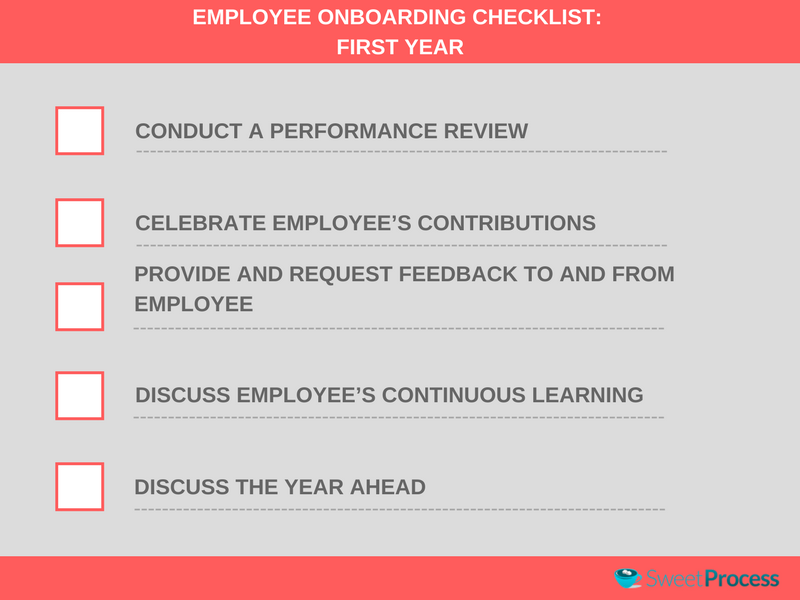 Click Here To Download This Employee Onboarding Checklist to your SweetProcess Account!
By the first year, the employee should be fully engaged in their new role and should have contributed positively to their team and the organization. Moreover, they should have a strong understanding of the company's mission, values, and culture, and should now feel like an integral part of the company. Here are some other things you should do within the first year:
Conduct performance review: Perform a one-year assessment to judge how well the new employee is performing and where adjustments can be made.
Celebrate employee contributions: Recognize and celebrate the successes of the "new" employee's contributions.
Provide and request feedback: Don't stop giving feedback on their performance and experience with the organization so far. Also, ask for feedback or suggestions on how to improve the employee onboarding experience.
Discuss continuous learning: Together with the employee, identify relevant learning opportunities that'll boost their job performance and help achieve their professional and personal development goals.
Discuss the year ahead: Start discussing the year ahead already.
Now you have in your possession a proven employee onboarding process you can follow to retain top talents at your organization.
However, what about executive onboarding? Should new executives go through the same onboarding process other employees go through? Let's find out.
Executive Onboarding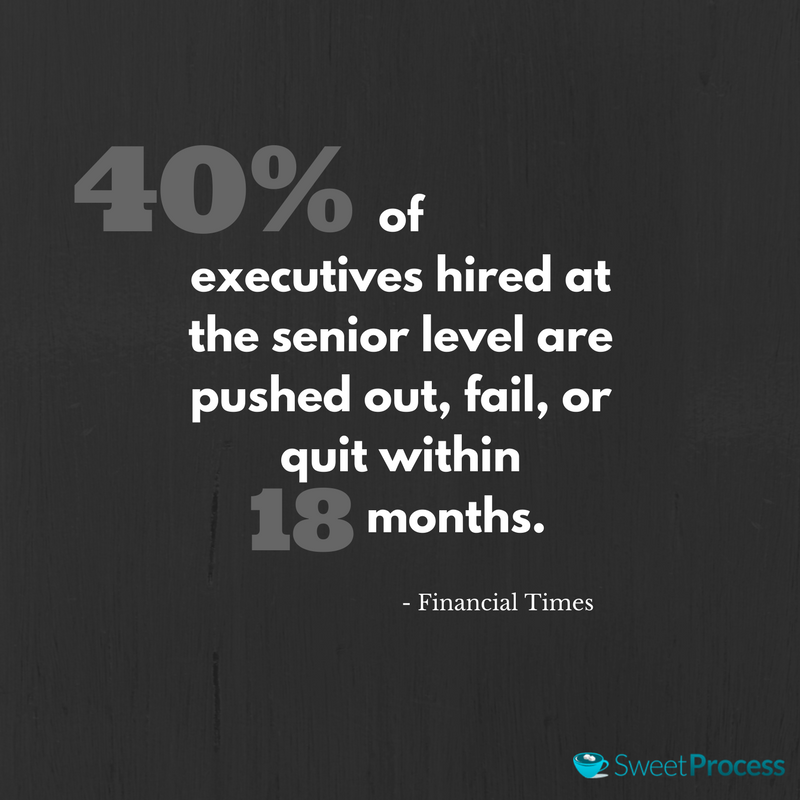 A study published in the Financial Times states that 40 percent of executives hired at the senior level are pushed out, fail, or quit within 18 months. This has several consequences: "It's expensive in terms of lost revenue. It's expensive in terms of the individual's hiring. It's damaging to morale."
Wikipedia defines executive onboarding as the application of general onboarding principles to helping new executives become productive members of an organization. The first step, of course, is unavoidable: Hire a new executive. The next three steps, however, are components of what is now widely referred to as George Bradt's 3 A's of onboarding success:
Accommodate: Make sure new hires are comfortable and everything is ready for them when they arrive.
Assimilate: Bring new hires onto the team and help them feel wanted and accepted.
Accelerate: Help new hires become productive quickly without overwhelming them.
Is that all there is to executive onboarding though?
Definitely not.
Executive onboarding is more complex than onboarding for lower-rank employees. And that's because organizations understand that executives and managers need to get up to speed very quickly as their positions are highly visible and influence a large or major chunk of the organization.
SHRM points out three ways executive onboarding differs from traditional onboarding:
Executives have more stakeholders with whom to interact.
They are normally brought in to help with specific strategic initiatives that may require changing the status quo, rather than fit into it.
They often confront unique and challenging situations that require unique solutions.
Companies like Coca-Cola and Toyota have proven the higher a person's level in the organization, the more tailored and flexible the program will need to be. So we can confidently say, for lower-rank workers, the process outlined in this article can work just as is, but for executives, there might be a need for customization.
To shift back to onboarding of non-management employees, does your company hire remote employees? Don't worry; you can also benefit from employee onboarding.
Onboarding Remote Employees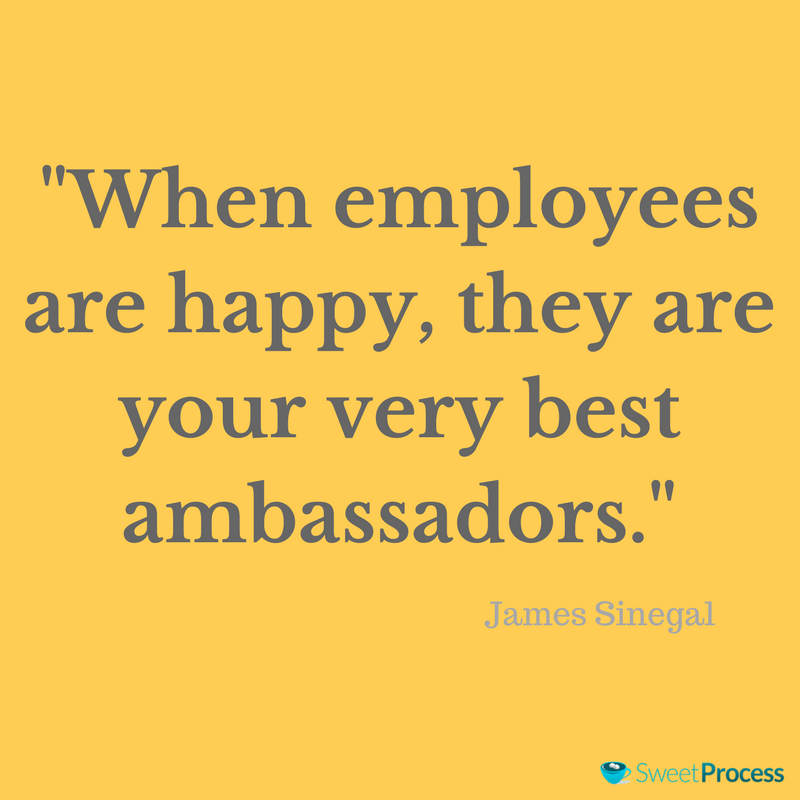 Though it might take some extra effort, onboarding a remote employee isn't all that different from traditional onboarding. The goal is the same: to ensure every employee succeeds (is satisfied and performs well) on the job. You just have to be more creative and, to an extent, reliant on technology.
Here are few tips to help you successfully onboard remote employees:
1- Virtual welcome: Your remote employee should definitely feel welcome to the organization, just as their traditional counterparts. You can launch a video chat to welcome them personally and also get all team members in front of the camera to introduce each person so that your new hire knows who they'll be working with.
2- Video training: Whether through a webcam or applications like Skype or Appear.in, ensure your remote employee also receives the same training and orientation as traditional employees. If you can't make it a live video training, just send in recorded materials the new employee can study at their own pace. You can also send videos of how other workers are using a particular system or software applicable to the new hire's role.
3- Have procedures and documentation ready: Make sure to send all necessary documents to the new hire and they send them back completely filled out for proper documentation. Don't forget to also send a soft copy of your employee handbook so your new hire can become familiar with the company culture and policies.
4- In-person meeting: Where possible and affordable, set up a one-time meeting with every new hire. For example, HelpScout schedules in-person time with new folks by flying them to their Boston office for a few days. This is just to make sure the first few days of the onboarding process occurs offline. You can also have a teammate go see the new hire to work side-by-side with them for few days and show them the ropes. Lastly, be sure to answer any questions the new hire might have.
5- New employee buddy: Assigning a buddy/mentor is as important to the new remote employee as it is to their traditional counterparts. Instead of allowing things to get quiet, it makes more sense to pair the new hire with someone who checks in, helps with tasks, answers questions about the company, etc.
6- Regular one-on-one meetings: Just as in traditional onboarding, you should hold regular meetings with a new remote employer too, but this time via online video conferencing. Use these meetings to review employee performance and give and receive feedback.
Other than these tips, follow all the traditional onboarding practices.
Now that you understand what the employee onboarding process entails as well as the best practices, it makes sense to discuss ways to make your onboarding efforts more effective and easier. One potent way involves using tools. But what tools exactly do you need? We discuss some important ones in the next chapter.
Chapter 4: Tools for Effective Onboarding.
Good preparation is the very first step to creating a truly effective employee onboarding process. You don't want to be caught with your guard down when a new hire comes into work, and you definitely don't want to develop a fresh onboarding process every time a new employee is hired.
Instead, you should create a general employee onboarding process that you can later adjust to suit the unique situation of every new hire. The best way to go about this is by fully documenting the process. Checklists and templates can also help.
Employee Onboarding Checklist
Our research has proven that checklists are the most popular tool for employee onboarding. This is because they help you follow a definite process, help you stay compliant with your process, and help you avoid neglecting or overlooking anything important.
As promised earlier, instead of having you go through the trouble of creating your own, we at SweetProcess have decided to create an employee onboarding checklist for you, in line with the proven onboarding process outlined above.
Click Here To Download Your Copy Immediately!
Technology and the Onboarding Process
Technology has obviously significantly changed the way we do business, from how we research our market, to how we create products, then to delivery, and then customer service. It has also influenced human resources in a big way. Even though a lot of companies have yet to embrace tech in their onboarding process, it's definitely working for those who have. Here are few ways you can use technology to improve your employee onboarding process:
Paperless Paperwork: Allow new employees to access HR forms and important paperwork via mobile devices. This helps the new hire get through filling forms faster, especially with autofill features, and get back to focusing on their new role.
Video: Video, as previously mentioned, can be very useful for onboarding remote employees. But aside that, new in-office employees can benefit too. Using video staff introductions lets the new hire take the time to recognize faces and names, and training materials in video formats encourage learning at one's pace. This reduces training costs, improves knowledge retention, ensures consistency of training materials — no matter the location, and increases employee engagement with the organization.
Digital Training: Just like video training, it enables new hires to go through training at their own pace and in whichever style they prefer.
Onboarding Portals: many companies now use employee portals to enhance their onboarding processes. Through these portals, which are often branded, dynamic content can be provided to new hires and tasks can be viewed, shared, collaborated on, checked off as completed, and so on.
SweetProcess: Is a tool that makes it easy for you to document procedures and/or processes to describe recurring tasks that need to get done by employees in your company. More importantly, you can use it to document your employee onboarding process. You can try SweetProcess for free here.
Chapter 5: Feedback.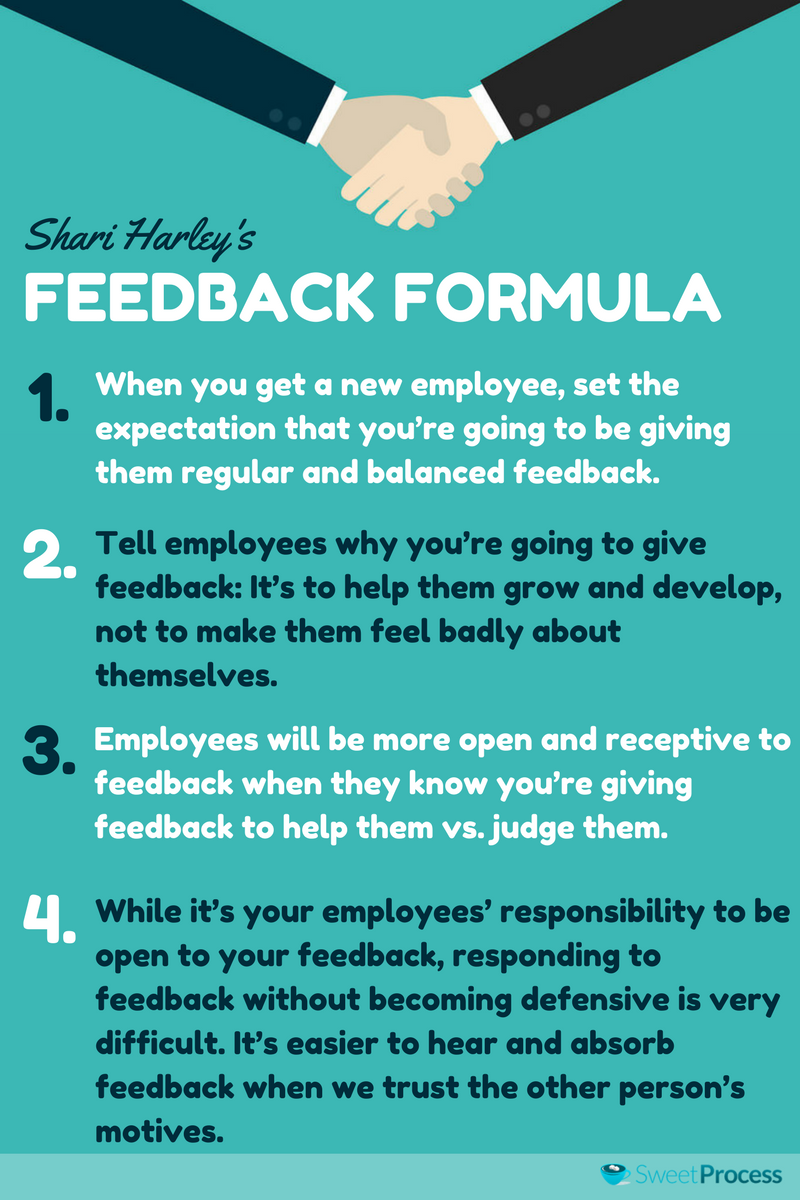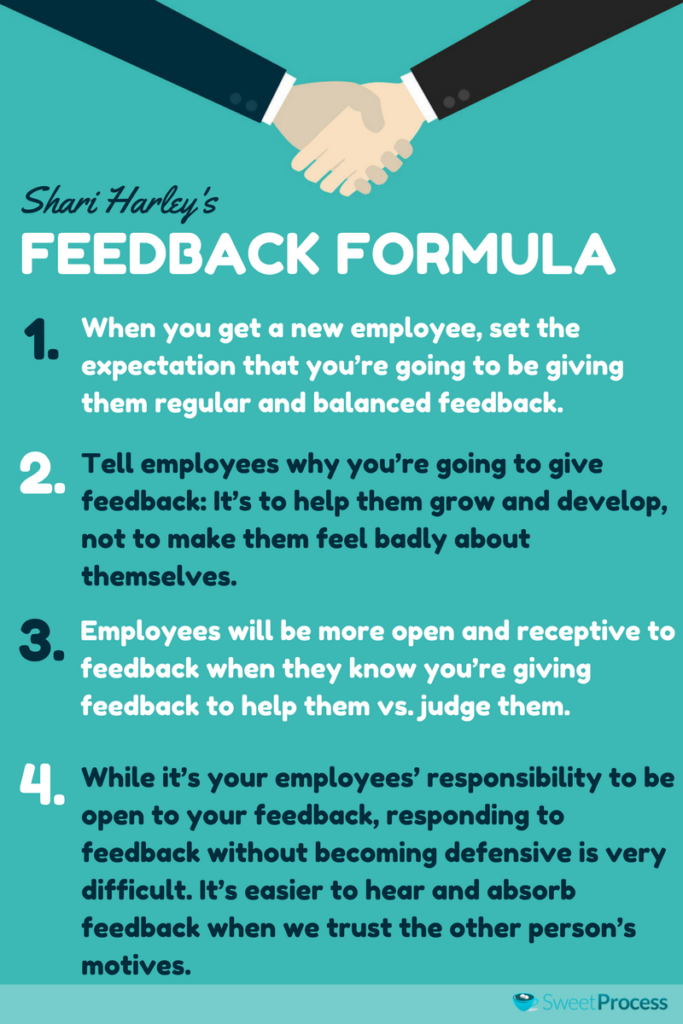 Feedback is a very vital part of employee onboarding. In fact, it's safe to say your onboarding efforts would go to waste without adequate feedback.
New hires are exactly what they are: new. And they're not yet conversant with your company policies and the various systems in place, so it's very likely they'll make mistakes. And for this reason, they still need guidance and a lot of feedback.
Feedback is, however, a two-way street. It should be given and received from both ends — employer and employee. I'll be sharing various approaches to feedback, but first, you should be aware of some best practices.
Shari Harley provides what she calls the feedback formula in her video, "Employee Onboarding – Kicking off Relationships with New Employees." Here are the takeaways:
When you get a new employee, set the expectation that you're going to be giving them regular and balanced feedback.
Tell employees why you're going to give feedback: It's to help them grow and develop, not to make them feel bad about themselves.
Employees will be more open and receptive to feedback when they know you're giving feedback to help them vs. judge them.
While it's your employees' responsibility to be open to your feedback, responding to feedback without becoming defensive is very difficult. It's easier to hear and absorb feedback when we trust the other person's motives.
Always have the above tips in mind when giving feedback to your employees. Remember, there are several ways to give and receive feedback during the onboarding process as detailed below.
Dialogue
As already said, feedback is two-way. It's a dialogue. As a manager or employer, you should give regular feedback to the new employer and also receive it from them. The feedback you give should be aimed at helping the new hire become better in their role, while the feedback you receive should help you manage the employee better and also improve your overall onboarding process. You, however, may need to ask for feedback from your new employee, probably with prodding questions, and not just assume they'll automatically give you feedback.
Performance Appraisals
Also known as a performance review or evaluation, this method documents and evaluates the job performance of an employee while also providing feedback, with the ultimate goal of helping such employee become more productive and effective. Performance appraisals, therefore, give both the new employee and management feedback that benefits everyone at the end of the day.
360-Degree Feedback
360-degree feedback refers to the process of new employees receiving confidential, anonymous feedback from the people who work around them, including managers, peers or teammates, and direct reports. This helps the new employee (and the organization) better understand their strengths and weaknesses. The goal is to help new employees identify areas they should focus on to optimize performance and help them become more effective in their roles.
Employee-Initiated Information and Feedback Seeking
According to SHRM, employees can help or hinder their own onboarding. Information-seeking and feedback are proactive new employee behaviors that may help them adjust as they ask questions about different aspects of their jobs, company procedures, and priorities — all to make sense of the new workplace.
This initiative shows that the new employee is interested in learning and improving their performance and is not afraid of revealing their weaknesses. Supervisors or managers and other co-workers would consequently be open to answering their questions and giving them honest feedback to aid their success on the job.
Gallup's 12 Questions to Measure Employee Engagement
As you probably already know, employee engagement is one of the metrics used to measure the success or otherwise of an organization's onboarding process. That is, where onboarding is successful, employee engagement will be high, and where it fails, low.
You can gauge employee engagement as a way of getting feedback as to whether the employee is successfully on-boarded and whether the overall onboarding process is effective or not.
After more than 30 years of in-depth behavioral economic research involving more than 25 million employees in 189 countries, Gallup has successfully identified 12 core elements that link powerfully to business outcomes. These elements now form the Gallup's 12 Questions to Measure Employee Engagement:
Do you know what is expected of you at work?
Do you have the materials and equipment to do your work right?
At work, do you have the opportunity to do what you do best every day?
In the last seven days, have you received recognition or praise for doing good work?
Does your supervisor, or someone at work, seem to care about you as a person?
Is there someone at work who encourages your development?
At work, do your opinions seem to count?
Does the mission/purpose of your company make you feel your job is important?
Are your associates (fellow employees) committed to doing quality work?
Do you have a best friend at work?
In the last six months, has someone at work talked to you about your progress?
In the last year, have you had opportunities to learn and grow?
You want to make sure new employees answer all 12 questions, especially at the end of the onboarding process or during the first year. And according to Emily Bennington, co-author of Effective Immediately: How to Fit In, Stand Out, and Move Up at Your First Real Job, you want to hold managers or supervisors accountable for how the people working under them answer the questions.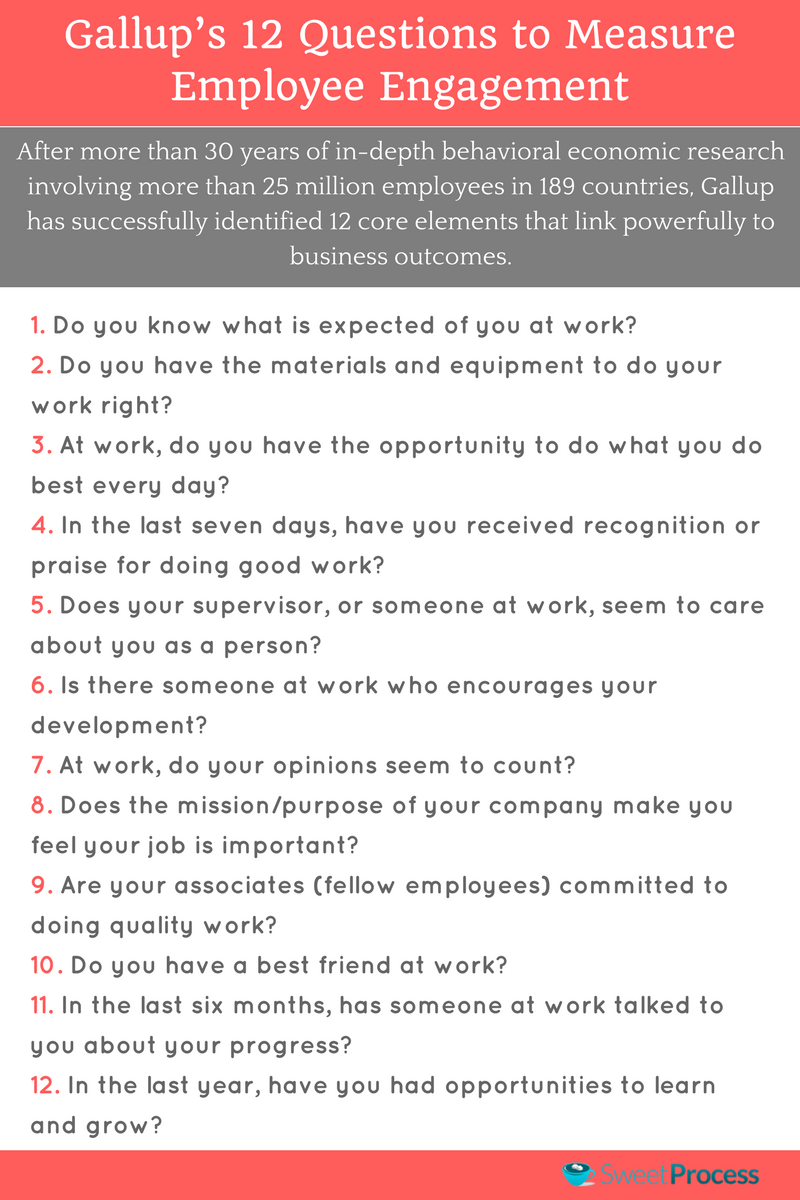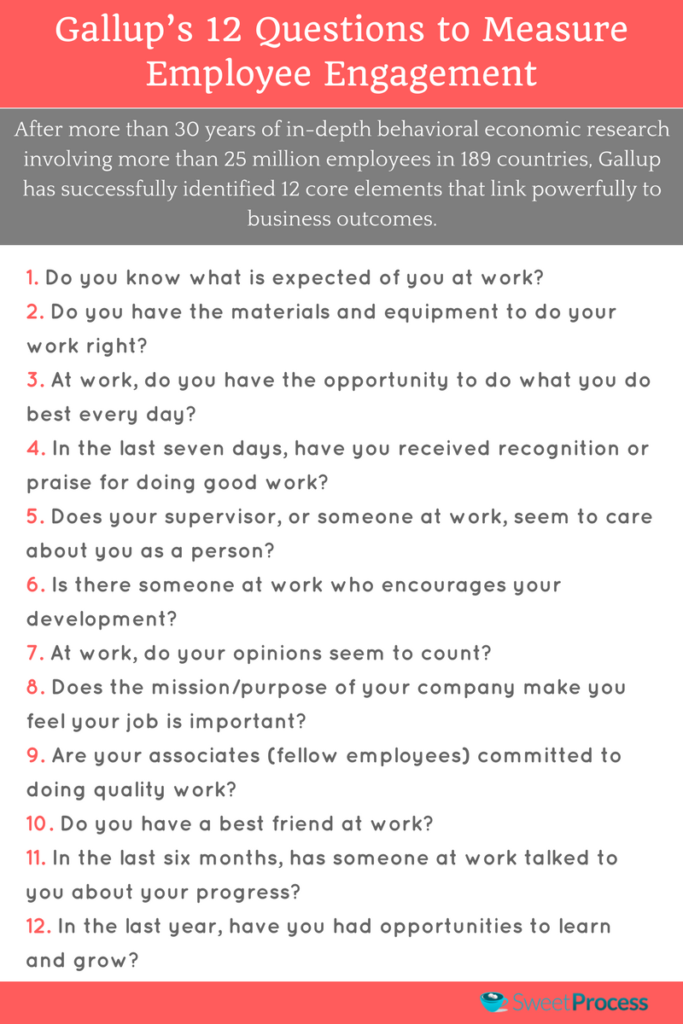 Next Steps…
According to The Bureau of Labor Statistics, 3.1 million Americans voluntarily quit their job in September 2016, and 20% of workers leave their new employer within the first 45 days.
You should make an effort to prevent this type of expensive and time-consuming turnover in your organization, or you run the risk of creating negative perceptions about your company that can hinder your ability to further hire and retain great talent.
Simply putting into practice the information about creating an effective onboarding process in this guide can help your organization attract the best talent and also retain them for a very long time.
To further help you, here's our employee onboarding checklist, which you can download and use every time you're onboarding a new employee for a guaranteed increased retention rate: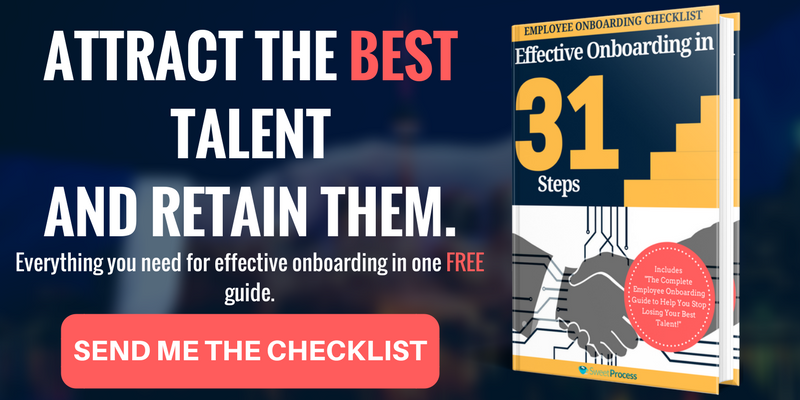 Get Your Free Systemization Checklist

5 Essential Steps To Getting a Task Out of Your Head and Into a System So You Can Scale and Grow Your Business!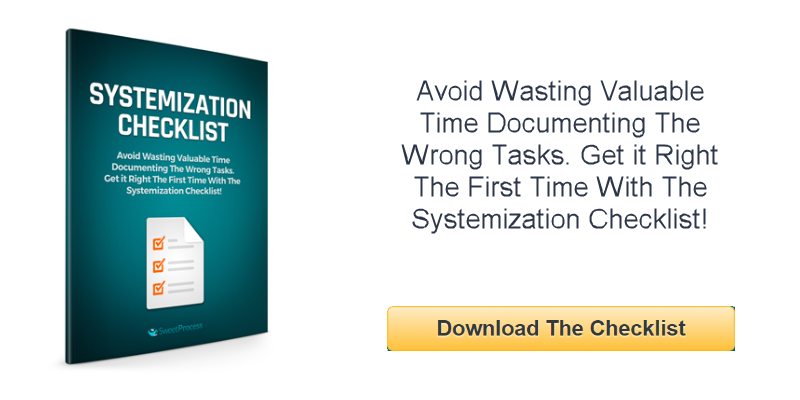 14 responses to "The Complete Employee Onboarding Guide."