Top 10 Standard Operating Procedure Software.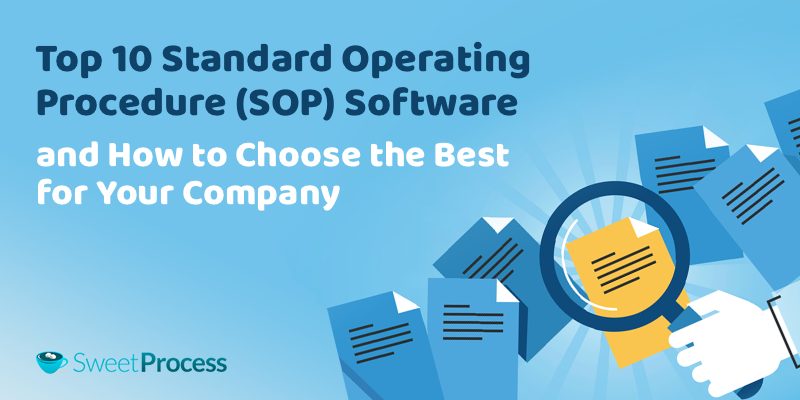 Introduction
It's money-making Monday, as you arrive at your organization, you expect to see everyone doing what they know how to do best.
But that is not happening.
Employees who are meant to perform key tasks are not around probably due to illness or some emergency. There aren't many others can do in their absence; they are clueless about the tasks. You have deadlines to meet. Your clients are waiting.
Your business is at the mercy of a few people. It should not be so. A standard operating procedure software is your go-to knowledge base to get things done. It facilitates knowledge sharing and backs up information for available team members to keep work moving. Your business does not suffer when certain people are not around.
What to expect.
Chapter 1: Understanding Standard Operating Procedures
Chapter 2: What is Standard Operating Procedure Software?
Chapter 3: Do You Need Standard Operating Procedures in Your Business
Chapter 4: Features of Effective Standard Operating Procedure Software
Chapter 5: Benefits of Standard Operating Procedure Software
Chapter 6: Choosing the right Standard Operating Procedure Software for your business
Chapter 7: Top Standard Operating Procedure Software
Understanding Standard Operating Procedures
Processes, no matter how effective they are, do not execute themselves. That is why people are employed. And it's also why people are often recognized as the most valuable asset in an organization.
It is the responsibility of employees to produce results, but there's only so much they can do. Their outcomes partly depend on the instructions they are given to work with. Do not just blame them whenever things are not moving smoothly; check your processes.
Are your processes effective?
This is where standard operating procedures come in.
Standard operating procedures are step-by-step instructions laid out by an organization to guide employees in the best ways to execute routine tasks.
It's great that you understand how things work in your organization. Then you can move a task from point A down to point Z effortlessly. Brilliant. But unless you are a one-man army, you need to empower other team members to be as competent as you or even better.
Rather than continuously explaining things to them every single time they need to get something done, you create a document that outlines each process in the simplest form. By doing this, you give them a guide to look at if they ever get confused about things. You don't have to babysit employees. You empower them to be the adults that they are.
As part of its requirements for organizations seeking ISO 9001:2015 certification, the International Organization for Standardization (ISO), makes it clear that such organizations must have
"documented information [to] support the operations of processes."
Consequently, only organizations with standard operating procedures are eligible to obtain the internationally recognized quality standard certification.
In today's mobile society, restricting work activities to the confines of your office is outdated. Standard operating procedure software gives employees access to documents they need to work effectively from any location. Find out what they are in the next chapter.
What is Standard Operating Procedure Software?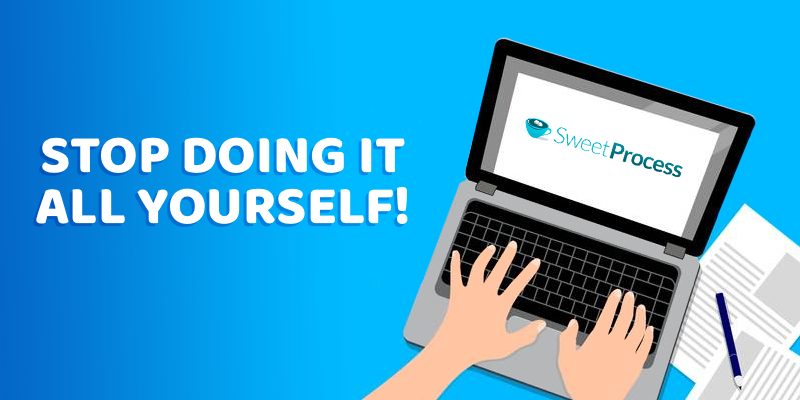 You have created a detailed guide for employees to follow when carrying out routine functions, i.e. your standard operating procedures. When these documents are all over the place, what happens? Disorganization.
An Express Employment Professionals study found that 57% of workers lose six hours a week to disorganization. If employee A wants to execute a task, he/she will need to move from one place to another, or make calls to teammates to get the relevant information they need to forge ahead because other employees will need the standard operating procedure (SOP) documents too. When this is the case, you are still battling with the same problem you wanted to eradicate by creating your SOPs in the first place.
SOPs have to be organized and stored somewhere safe and convenient, otherwise, you may not get favorable results. Data published in the Journal of Consumer Research revealed that a clean and organized workplace enhances productivity. You need a portable system that allows employees to retrieve information at any time without hindrance – this is your Standard Operating Procedure Software.
Standard operating procedure software is a tool used to capture and store an organization's workflow. It is an organization's go-to resource for all their SOPs. This software is often cloud-based. It can be accessed by authorized team members remotely. Work isn't restricted by physical location. Employees can be productive from anywhere and at any time.
Understanding the need for standard operating procedures helps businesses to measure results, and justifies their efforts. In the next chapter, we shall examine whether or not your business needs SOPs.
Do You Need Standard Operating Procedures in Your Business?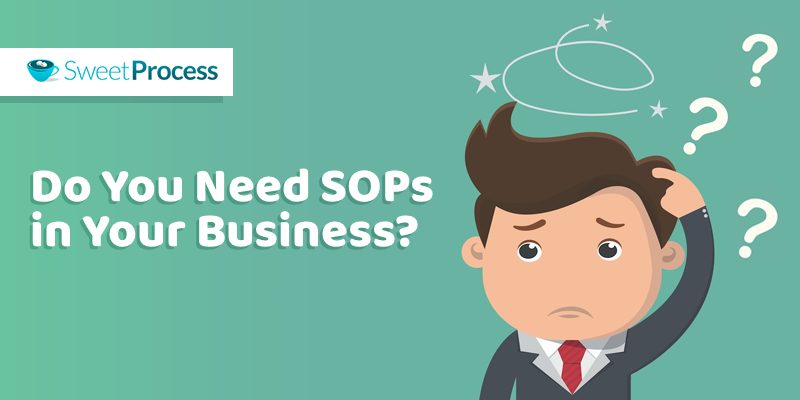 If your business is experiencing good times, doing things differently might be the least of your worries. Why change a winning formula?
Organizational problems can be categorized into two areas: the known and unknown. Most organizations are concerned about the former. Being concerned with only the known problem is wise. With the known problem, you can work on a solution. But with the unknown, you remain oblivious until things deteriorate beyond repair. You wake up one morning, and you are faced with a disaster. It might seem sudden to you. But things are hardly so sudden. Most times, we fail to see the signs.
Do not be a victim due to negligence.
Answering these simple questions objectively will give you insights into unknown problems in your business.
1. Do you waste time bringing new employees up to speed?
Having hired the best man for the job, taking too long to bring them up to speed is a waste of time. With standard operating procedures, new hires do not need mentors for so long. They are empowered with the necessary information to generate the results they were hired for.
2. Are effective processes becoming less effective?
Growth is a sign of success. As your business expands, current processes may become either inadequate or obsolete. They are not inefficient in themselves, they just aren't the right fit for your business.
It can be confusing when processes that used to be effective suddenly become less effective. You begin to wonder what the problem is.
Your winning formula might need an adjustment when the dynamics of business operations change. Your business has outgrown its processes. It's about time you upgrade your system.
3. Can your business function smoothly in the absence of certain key officers?
Every business needs outstanding workers – they are almost too good for the job. You probably have people like that in your organization. They are the solution providers. When a nut is proving too hard to crack, they come on board, and do what they are known for – provide results.
But life happens.
Your outstanding workers may not always be around. They may be away for a short period of time, or in the worst-case scenario, resign. So, what is going to happen? If you cannot deliver the quality service that was exclusively provided by them, you might not be in business for so long. This is not a good thing. Do not leave the fate of your business in the hands of anyone. A standard operating procedure ensures that your business goes on, smoothly, in the absence of anyone, including you.
4. Are you 100% confident that your employees can deliver high-quality performance without supervision?
Most business leaders are perfectionists. There is always the concern that no one can run their business as well as they do. So, they try to be involved in everything.
Perfection is impossible. Your idea of perfection is the best you can offer, not necessarily the best there is.
With the right guidance through standard operating procedures, your employees can be as good as you on the job or even better than you. You do not have to worry about them not delivering high quality without your supervision.
As a business leader, you have a lot on your plate. Forfeiting commitments that will take your business to the next level just so you can be around to babysit your employees is counterproductive.
5. Can you measure employee performance?
Keeping busy does not the same as being productive. There is the chance that your employees may be spending all day doing unproductive things. There is no better way to figure this out than to measure their performance. Accountability is important in building a productive workforce. It is not okay for employees to just show up at work and get paid at the end of the day. You need to see the results of what you are paying for. Otherwise, your expenditure will be more than your income. You know what that means, don't you? An SOP software gives you insights to know whether or not your employees are productive.
There are several types of standard operating procedure software on the market. You do not need one just because every business has one. You need one so your business can be better. There are certain elements you must look out for in SOP software, so you do not waste your resources. Find out the features of an effective SOP software in the next chapter.
Features of Effective Standard Operating Procedure Software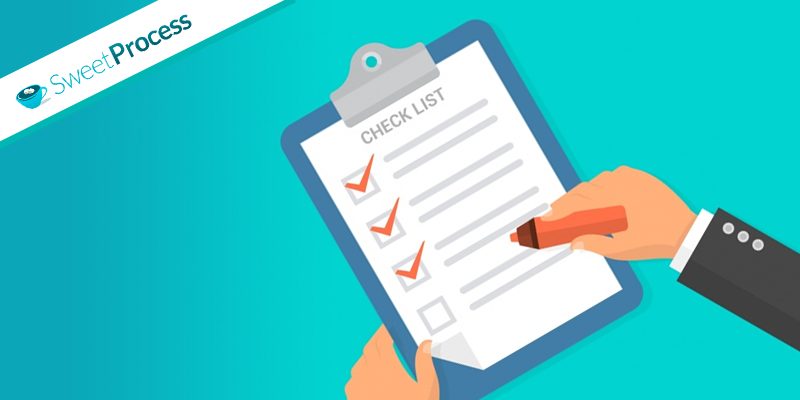 Tools are an integral part of modern businesses. With reports from the US Bureau of Labor Statistics showing that American workers are getting lower output for their input, now is not the time to depend solely on human abilities at the workplace. The most competent employees can do so much when empowered with the right productivity tools.
By developing an operating guide for their internal processes, Dan Schneider was able to revamp the business when he took over as interim CEO of SIB Lighting a few years ago. They were able to increase sales by 64%. But they did not do it all alone. According to Dan
"…we implemented a new software system that helps us manage the process."
An effective standard operating procedure software empowers employees to exceed basic performance. To get the most of your SOP software, it must be able to perform the following tasks:
1. Document control workflow process
Effective SOP software gives you a standard approach to every step of the documentation process including creation, collaboration, editing, approval, adjustment, notifications, rewriting, retiring docs, and filing so they are easy to find.
2. Free templates
A standard operating procedure template saves you the time and trouble of creating a framework for every single procedure you have in your organization. With several free templates at your disposal, you are able to choose the one that is most suitable for a particular procedure. Rather than doing all the work from scratch, you simply fill in the gaps.
3. Sharing and permissions
Unless you are the only one working on a project, it is important that everyone on it has the correct access. While it is important that your documents are locked from unauthorized access, good SOP software allows identified team members access and sharing privileges.
4. SOP writing manuals
Writing your standard operating procedures well makes it easy for employees to comprehend and replicate them on their own. The right software simplifies the seemingly difficult process of writing your SOP by making needed tools such as extensive help files and a knowledge base available to you.
5. Centralized processes and procedures
Having strings of processes all over the place litters the system. With a centralized system, you can have it all under one umbrella. This allows employees to easily access what they need at any time.
What do you stand to gain by having effective SOP software for your business? Mouthwatering benefits. Come along to the next chapter as we discuss all the benefits you are already missing.
Benefits of a Standard Operating Procedure Software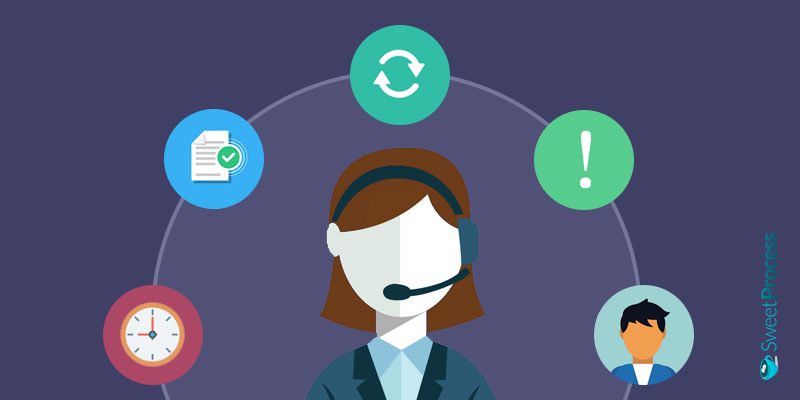 The long and short of this article point in one direction – benefits. After all, is said and done, you want your business to improve. You want to make your clients/customers and employees happy. You want to make more profits. The list is endless. Guess what? Standard operating procedure software can help you achieve all of these.
Construction company Balfour Beatty Construction achieved great results following the standardization of its processes. The fourth-largest general builder in the U.S. generated a 5% gain and kept their workers out of danger.
How? Through the following ways:
1. Save time and resources
Time is money. Not having a specific standard for executing tasks means that you have to try something new every single time. You spend so much time and resources in getting it right each time without even realizing it. On top of it all, there is no guarantee that after wasting time and resources, you will get it right. With a standard operating procedure, there is no wasting time on "trying," you just do it right.
2. Facilitate compliance
There are regulations guiding businesses to protect consumers and maintain sanity in the field. When you do not have a standard for operations, you are less likely to comply with these regulations, putting your business on the wrong side of the law. But with standard operating procedure software, there is no cause for alarm. Your business processes are set in line with industry regulations, and you simply replicate already established processes.
3. Ensure consistency
One minute your business is doing great, and the next minute, it is anything but great. This is the case when you work without a standard operating procedure. The quality of your product or service is not guaranteed.
You cannot claim to be competent at something you cannot replicate. The thing is, you only get lucky the times you get it right. Anyone can get lucky. There is no difference between you and the quacks.
Experts replicate high quality over and over again. They are in high demand because they are sure to deliver. With standard operating procedure software, you belong to the league of experts in your industry. When people want guaranteed results, they come knocking on your door. This means your services will be in high demand, and you will be smiling on your way to the bank.
4. Mitigate risk
Safety is non-negotiable. The work has to be done, and the workers have to be safe. Exposing employees to risks in the course of work is unethical, and can get you into trouble.
No one in their right mind would want to do a job that does not ensure their safety. This can even discourage competent people from working for you. Standard operating procedure software eradicates dangers associated with the job. As long as everyone abides by its processes, safety is guaranteed.
5. Hold employees accountable
Accountability at work is in your best interest. You need to see results. Do not feel guilty over ensuring that the work you are paying for is well executed. Having played your part by creating a conducive working environment, employees have to play their own part by doing the right thing. You should be able to know who is bringing value to the table and who is not. SOP software helps you to measure employee performance. You know who to hold responsible when things go wrong.
Are you considering investing in SOP software? There are certain factors you need to consider in order to make the right choice. Remember, the goal is for you to get value for your money. In the next chapter, we'll discuss factors to look at before choosing SOP software for your business.
Choosing the right Standard Operating Procedure Software for your business
That moment you realize you have wasted money on useless SOP software can be depressing. You do not want to be stuck with SOP software that has little or nothing to offer your business.
To get value for your money, consider the following factors in choosing the right SOP software:
1. Pricing
What is the cost of the software? As much as you need effective SOP software, it is not advisable to go for one that will put a strain on your business. You are in business to make money, not spend excessively.
To make an informed decision, the pricing of software should be compared to its value. Standard operating procedure software differs in prices. This difference is often linked to their individual features. If two different software has the same features, you are better off going for the more affordable one.
2. Simplicity/Learnability
SOP software is meant to simplify your work, not complicate it. The essence of SOPs is to get work done in the most seamless way possible. Check the functionality of the software. Can you learn how to operate with a little time and guidance? If the answer is no, you have to keep looking.
3. Specific use case
You are acquiring SOP software to meet a need in your organization. A widely acclaimed SOP software is useless if it does not meet the requirements of your organization. The most popular software may not be the best option for you if it does not align with your business.
4. Fixing bugs
All software has bugs. In most cases, only the manufacturer can fix bugs effectively. Is the software company willing to provide needed assistance in fixing bugs when they arise? If the answer is no, you will be stuck with non-functional software in the future.
Do your research. Check version history, update frequency, reviews and people's reaction on the app's forums.
5. Upgradeability
There is always room for improvement. Innovative software companies acknowledge this, and are frontrunners in developing features to enhance their app. Rather than wait on others to do the work and imitate them, they take the lead.
If you are in a heavily regulated industry, you need software that is often updated to meet the most recent regulations.
To make the process of choosing the right SOP software for your business easier, we have compiled a list of the top standard operating software programs on the market for you. Get details of their functions and features in the next chapter.
Top 10 Standard Operating Procedure Software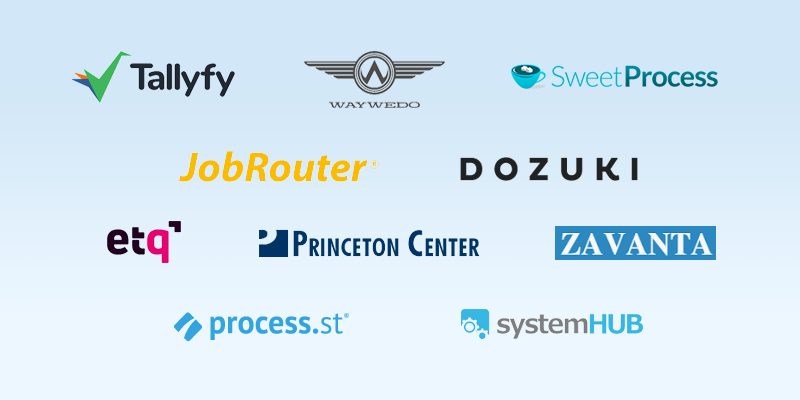 With more organizations recognizing the need for standard operating procedures in their business, there has been an increased demand for SOP software. Many companies have sprung up, offering SOP software to cater to the needs of businesses. While these software have particular features, they are all used to improve workflow.
The top 10 standard operating procedure software include:
SweetProcess (<<<— ours) is standard operating software that simplifies the process of creating SOPs. It enables businesses to create a detailed checklist for workflow. SOPs are made more effective with the inclusion of visuals. There is room for collaboration between team members as files can be easily created, shared, and accessed.
The SOP software facilitates delegation. You can assign tasks to individual team members. You also get to set due dates for tasks and automate reminder emails to remind assigned workers as the due dates approach.
Features of SweetProcess include:
· Procedure documentation
· Process documentation
· Policy documentation
· Workflow Management
· Decision Points
· Flow charts
· Forms
· Task tracking
· Collaboration
· Process streamlining
· Multiple device support
· Employee training
SweetProcess offers a single and simple pricing plan that comes with all its features included.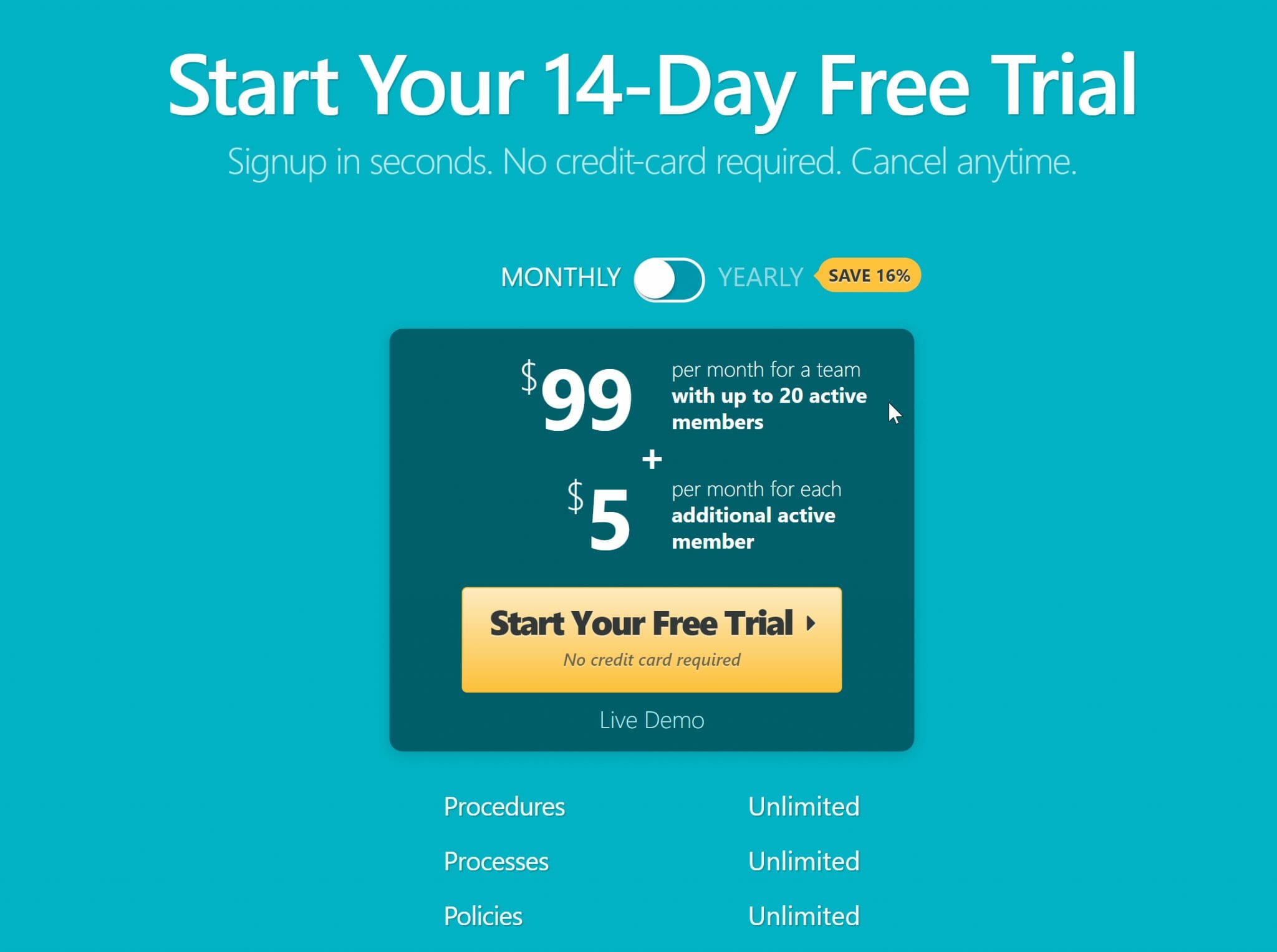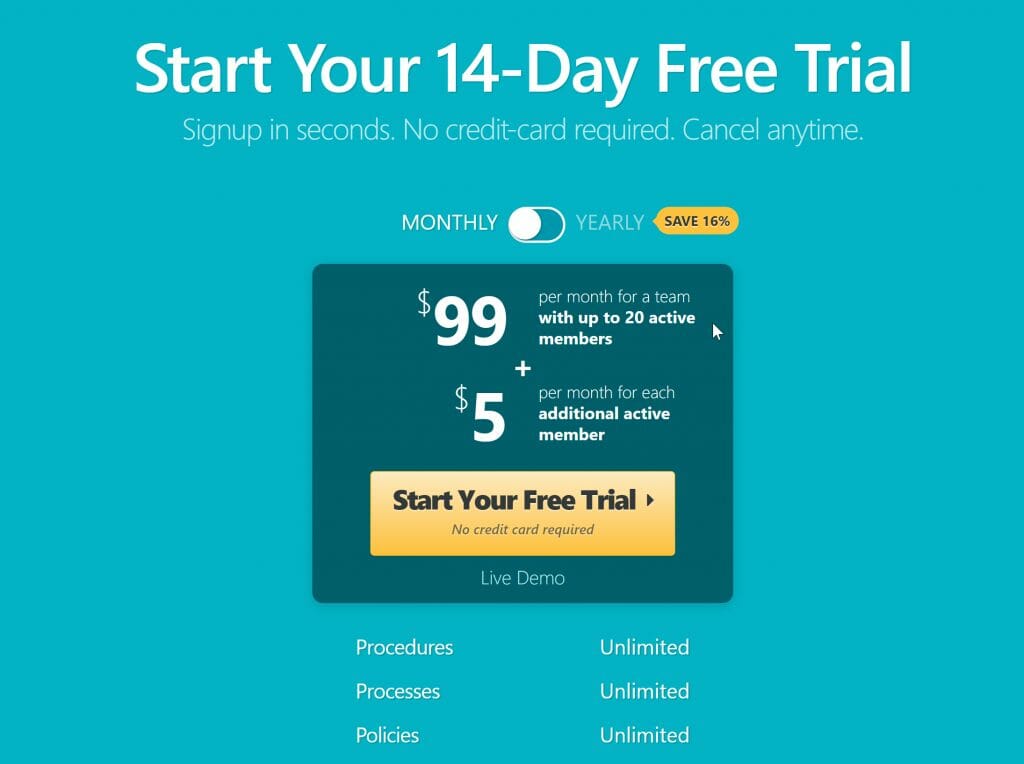 Tallyfy is SOP software used to improve business processes. It helps companies in carrying out client on-boarding, compliance checks, and streamlining workflow for better delivery.
Team members are able to track series of processes in one-fold. Clogs in workflow due to approval delay are non-existent. Team members are able to make decisions by a few clicks. It can be integrated with over 400 apps.
Features of Tallyfy include:
· Process management
· Process capture, control, analysis
· Approval process control
· Compliance management
· Forms management
· Data mapping
· Master process builder
Tallyfy offers the following pricing packages: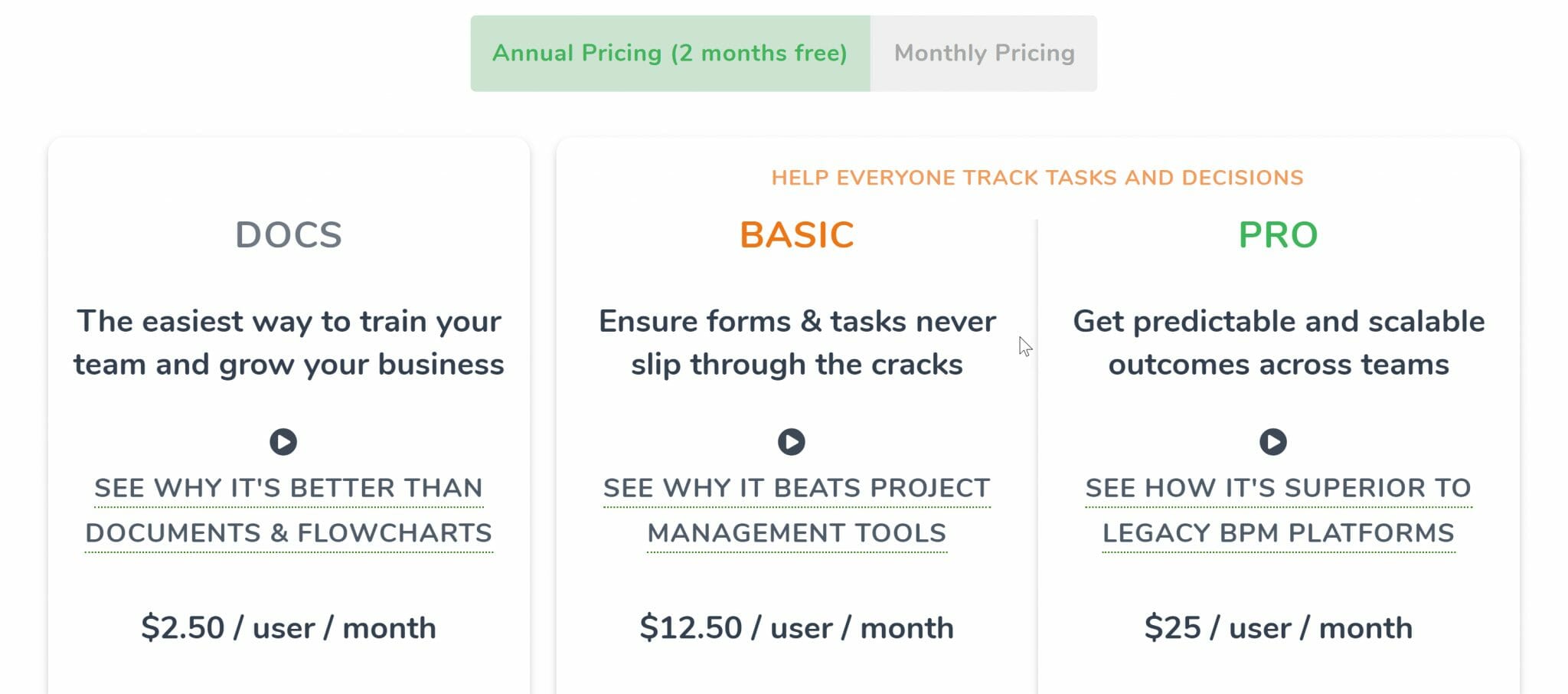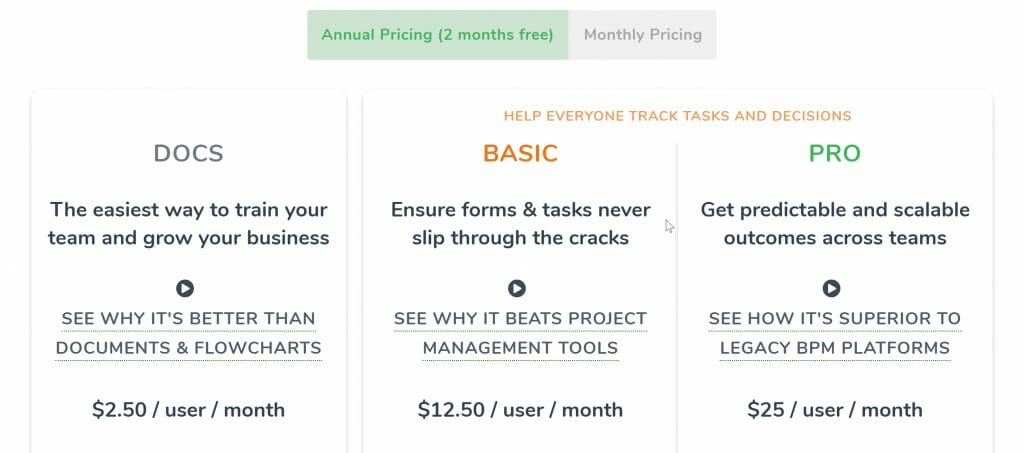 EtQ can be used to breakdown complex business processes. It serves as a guide for organizations in creating, storing, approving, and distributing controlled documents.
Various processes are centralized in the system for effective control. It is commonly used in the areas of automotive security, aviation safety, production, and food safety. It avails users of an easy setup, requiring no IT expertise.
Features of EtQ include:
· Document control
· Integrated workflow
· Employee training
· Technical support
· Compliance tracking
· Quality control
Contact the company for pricing.
This SOP software helps businesses transform their policies and procedures into active workflows for seamless business operations. It systematizes the workflow for better performance.
Way We Do offers a checklist that enables organizations to easily create operations policies and guide employees in executing their daily tasks.
Features of Way We Do include:
· Compliance sign-off
· Privacy control
· Policy and procedure acceptance
· Activated checklists
· Intellectual property (IP) protection
· Tasks monitoring
· Organizational charts
Way We Do offers the following pricing packages: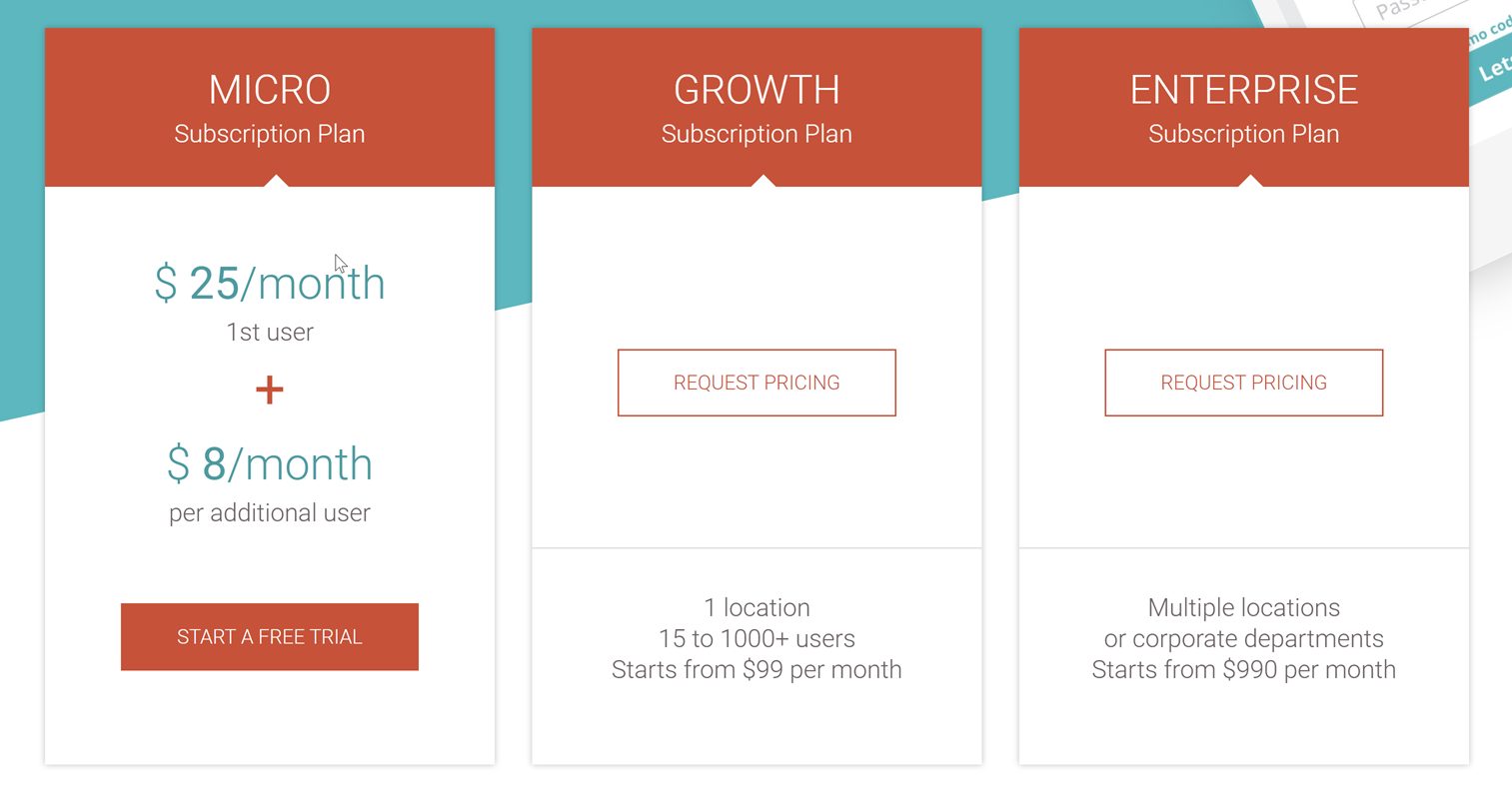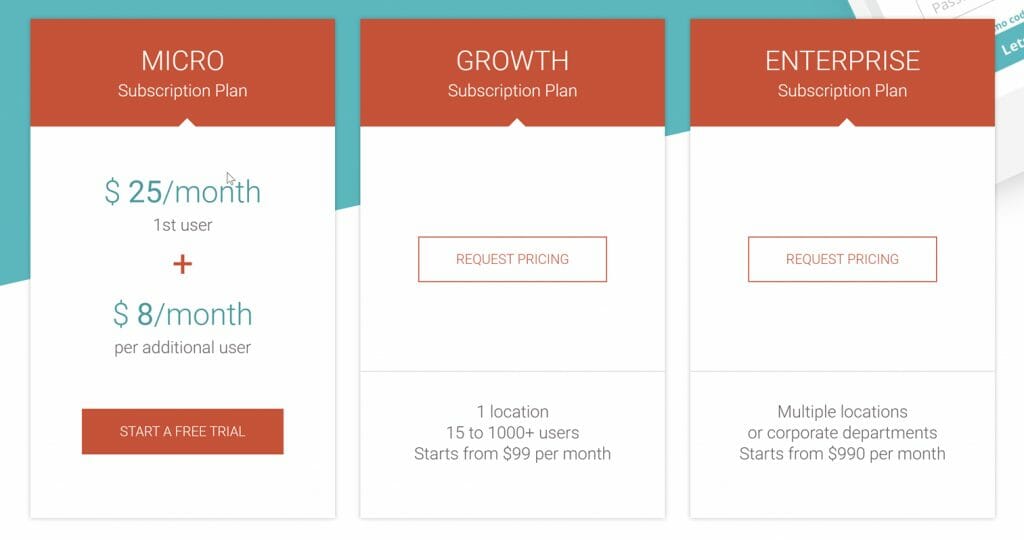 SOP Express offers a practical approach to standard operating procedures. It takes things further from the usual text-based format by visualizing work instructions for easy understanding and implementation.
Word documents are the de facto standard in most organizations. Harnessing the powers of pictures, organizations can use SOP Express to make their procedures clearer to employees by capturing them in visuals. Visual aesthetics make documents more enticing to read.
Features of SOP Express include:
· Supervisor task qualification checklists
· Web-based training and online quizzes
· Track version and approval workflow
· Single source store
· Visual job aids
· PowerPoint slides and guide
Contact the company for pricing.
JobRouter is a web-based standard operating procedure software that manages the entire life cycle of documents including creation, editing, approval, release, and distribution. It is integrated with Microsoft Word for ease of use.
Created documents are secure and accessible by users identified as creators. When editing is completed, the document is assigned to specific team members for review, with the creators still having access to modify it. Reviewed documents are forwarded to authorized parties for approval. These sequential procedures ensure that an organization's SOPs are void of any errors.
Features of JobRouter include:
· Process overview and process incident tracking
· User management
· Graphical process design
· Individual user forms
· Line item data tables
· Dynamic process routing
· Simulation and testing
Contact the company for pricing.
SystemHub is a cloud-based standard operating procedure application that helps organizations replicate and improve processes within their business. It's all-in-one feature allows you to integrate your existing project management software for maximum results.
Features of SystemHub include:
· Sharing and permissions
· Team training
· Template library
· Intuitive design
· PDF manuals
· Email templates
SystemHub offers the following pricing packages: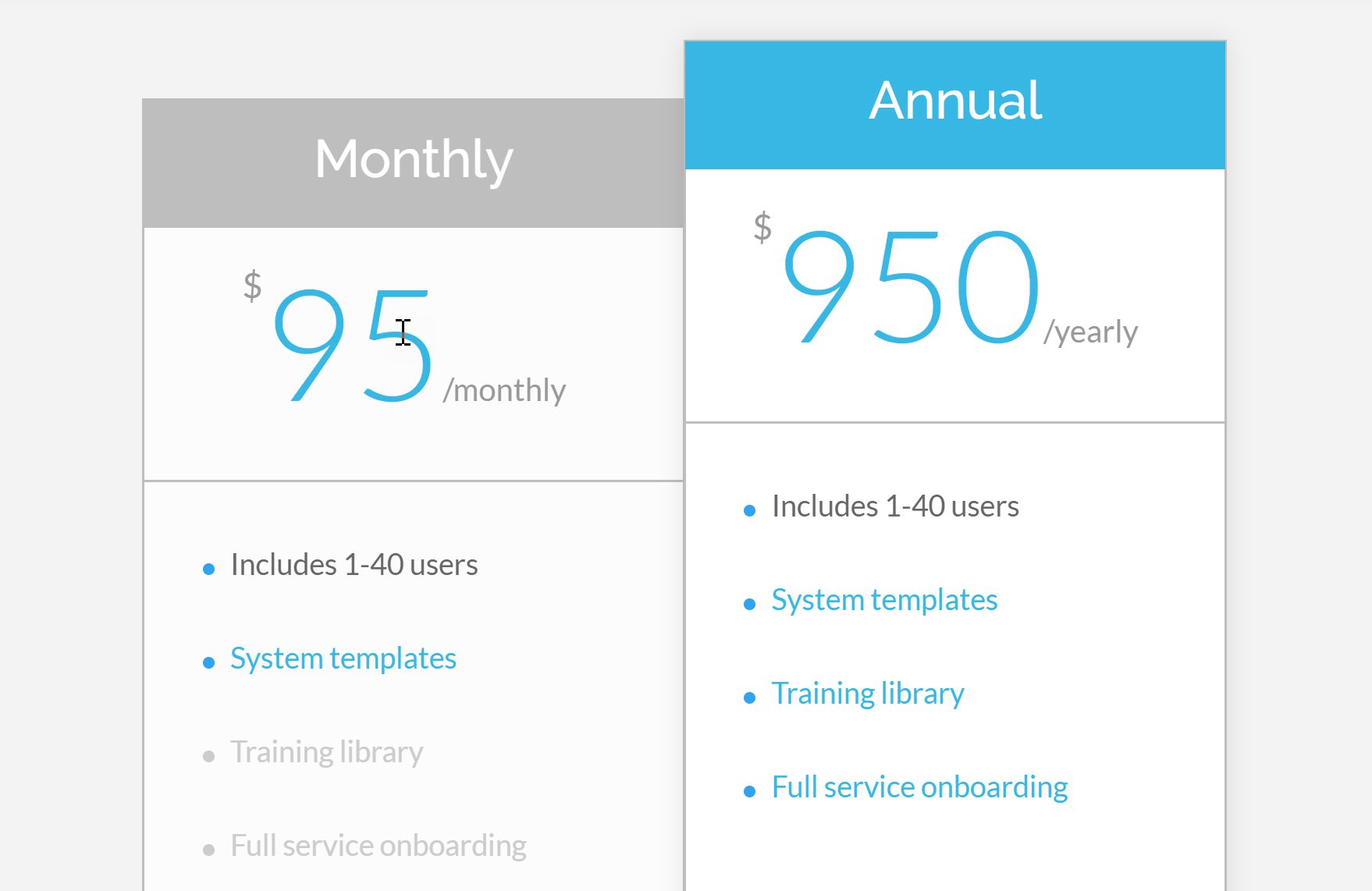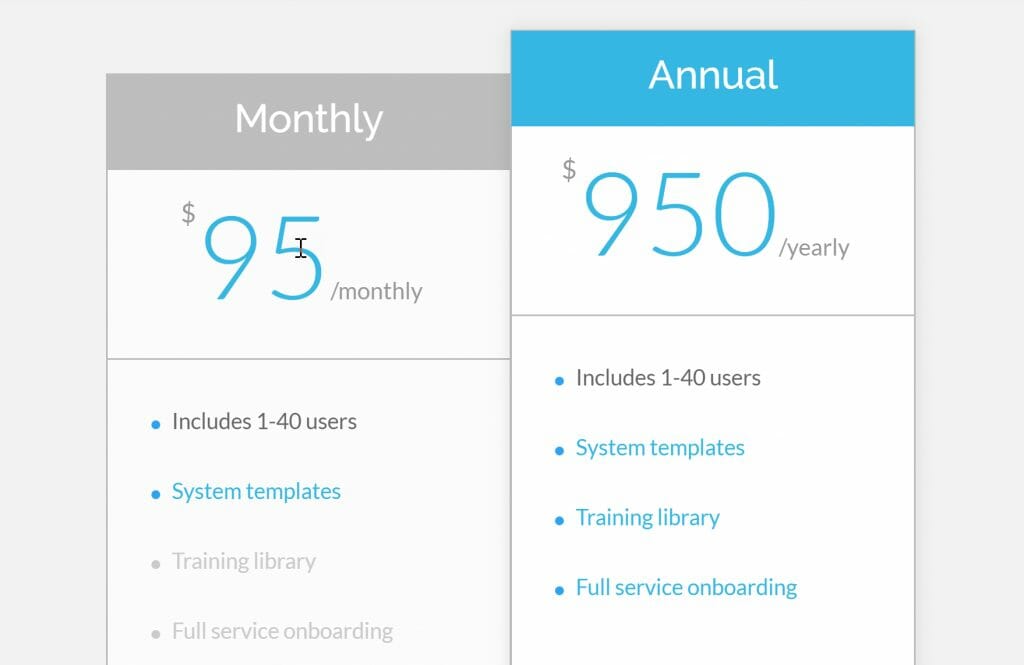 Dozuki gives companies a standard for creating and improving workflow. The SOP enhances collaborative efforts among teams. Data can be shared and viewed in real-time.
Employee onboarding is simplified with training tools to bring them up to speed in the shortest time possible. Reports can be generated instantly to inform relevant parties of work progress.
Features of Dozuki include:
· Real-time reporting
· API integration
· Custom sign-offs
· Approval workflows
· Custom user teams
· Feedback tools
· Custom migration services
Dozuki offers the following pricing packages: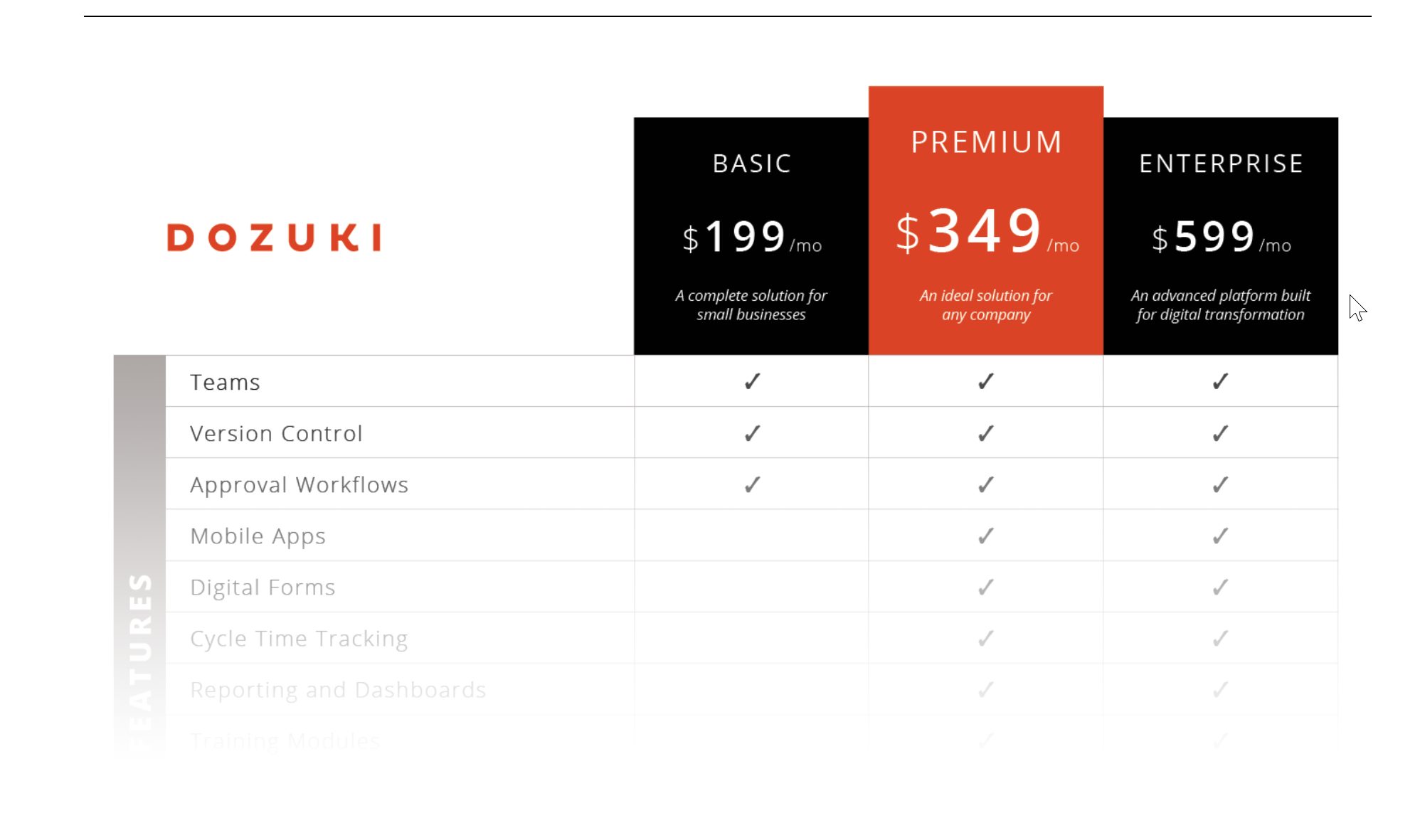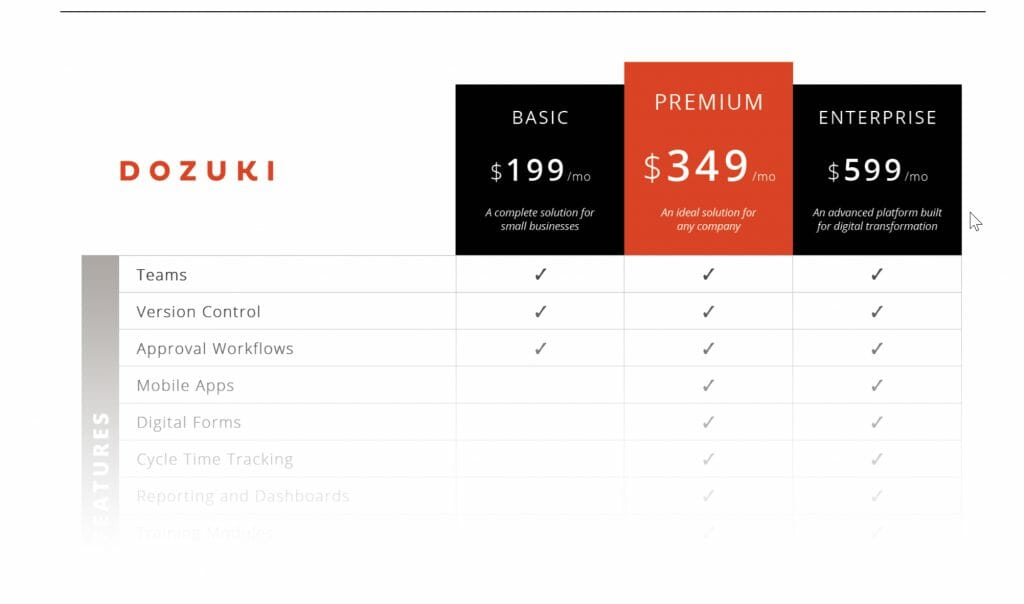 Process Street is SOP software used by organizations to create and track effective business processes. It makes provision for team collaboration, control permissions, and integrations, among other things, for improved workflow.
Users can create procedure documents in a few seconds and delegate tasks to teammates.
Features of Process Street include:
· Team collaboration
· Document management
· Integration with over 1000+ apps
· Conditional logic
· Instant visibility across in-progress workflows
· Workflow tracker
Process Street offers the following pricing packages: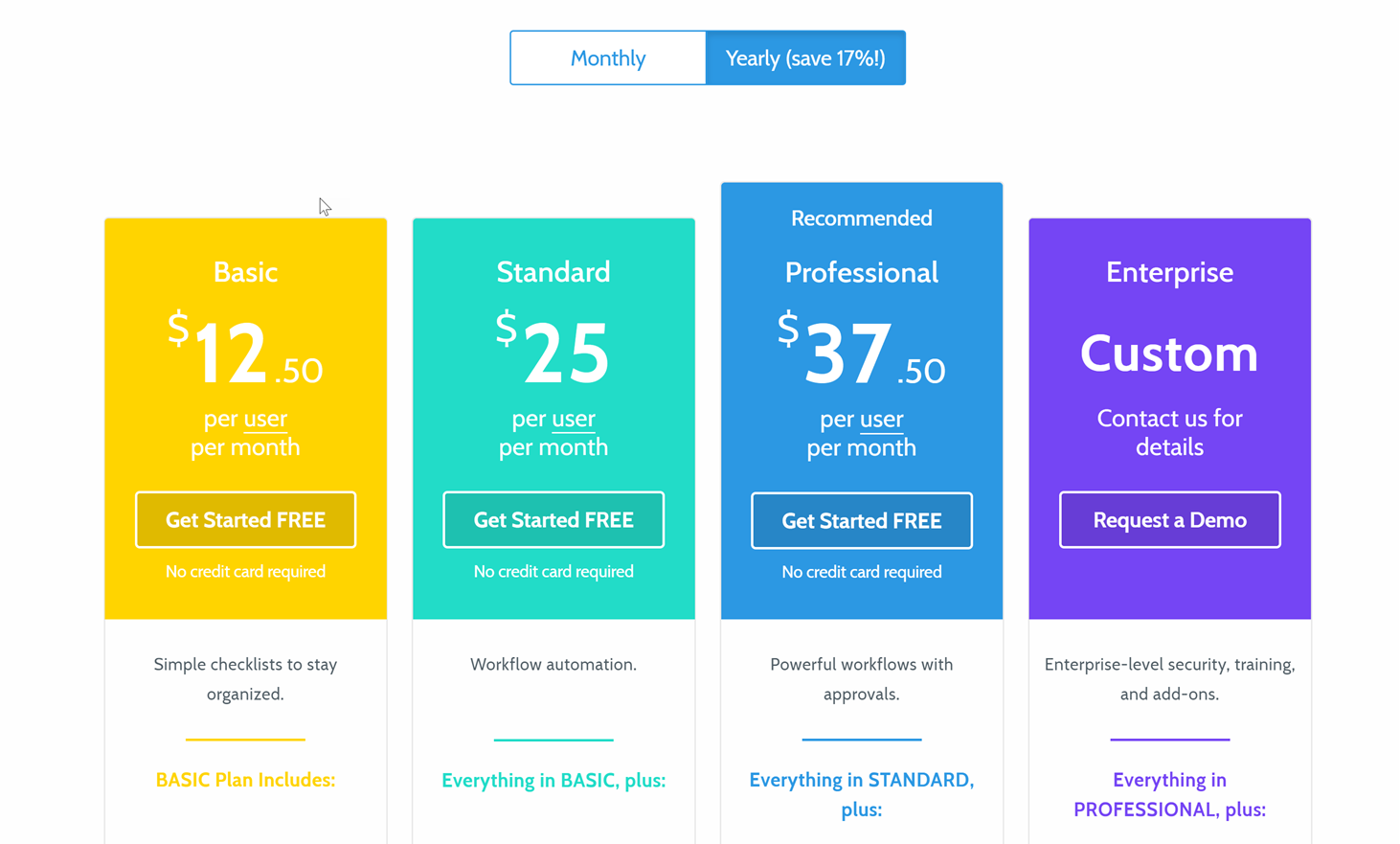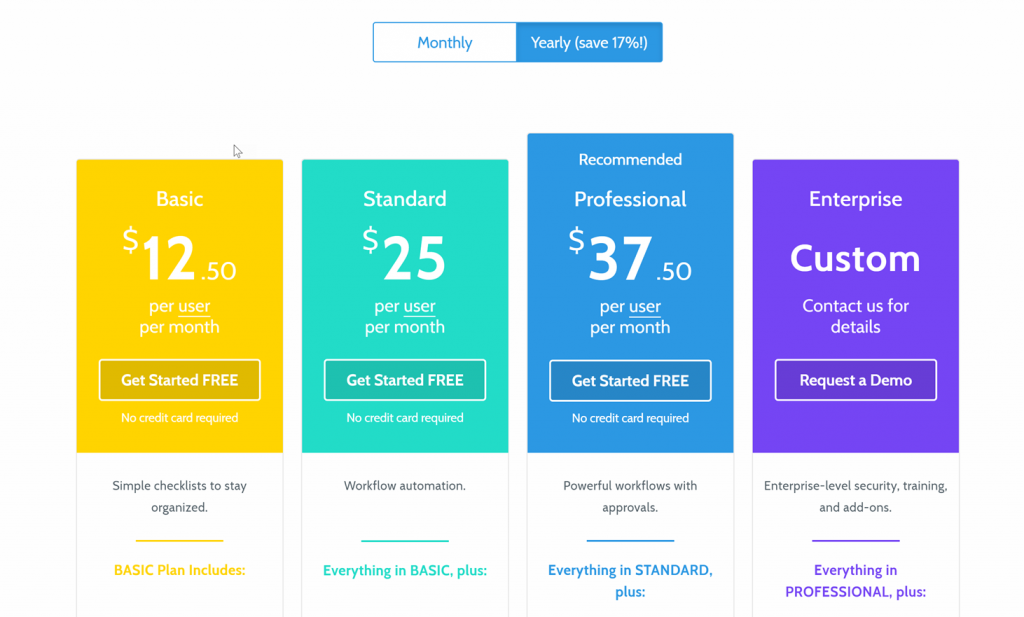 Zavanta helps organizations to create a more structured and faster workflow. Beyond creating procedures, it helps businesses to create high-quality content with its standardized authoring feature. Users can create user-friendly workflow instructions with ease.
Features of Zavanta include the following:
· Business rules management
· Process capture
· Process change tracking
· Collaboration
· 24/7 access online portal
· Content filtering
· Cross-document reporting
Contact the company for pricing.
Conclusion
What would you do if you were certain that a particular instrument would unfailingly take your business to the next level?
People often expect life-changing activities to be mysterious or complex. It is not always the case. Sometimes, the answer to the puzzle is right in front of you, but you fail to see it because it appears so easy.
You probably wish you knew the secret of leading businesses in the world, so you could replicate that quality in your business. Well, I doubt they would want to tell you. But from research, it is evident that a standard operating procedure is part of their success story.
Now you know what they know. The question is, will you do what they have done and keep doing?
To further motivate you in taking the right action, we have put together a takeaway package for you titled – Checklist for Creating Standard Operating Procedures – for your download.