How to Create an Effective Client and Project Intake Process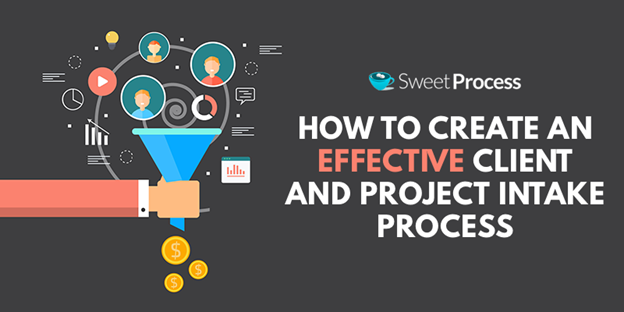 The intake process is an important part of the overall client lifecycle. It is the series of steps required to accept or reject incoming clients and projects. It helps to convert prospects into paying clients and also take a project to completion. It is one of the most important aspects of organizational management.
If your organization is struggling to increase its project completion efficiency or create a better client experience, you may need to check your intake process, as it sets the foundation for the ongoing relationship between the client and the organization. It is the critical step where you collect client and project information for use throughout a project lifecycle.
The goal of an effective intake process is to ensure all requests or proposals are captured. It helps ensure that approved projects align with the company's available resource capacity and overall strategic goals and initiatives.
An inefficient or outdated intake process will likely slow down your productivity and reduce your firm's conversion rate. It will also result in disorganization, wasted time, and lost revenue as potential clients and important projects slip through the cracks. Improving the intake process helps every organization increase its conversion rate and improve client satisfaction at the same time.
Many businesses spend a lot of time and money on marketing campaigns to attract new clients but fail to take them through an effective intake process. A worthwhile intake process is what will guarantee a long-term relationship. As important as marketing is, it is only the first step in the client conversion process. The next path to follow after attracting a potential client is called the client intake process, and this is a step many companies overlook.
Intake Process Full Guide – Chapter Index
Chapter One: Types of Intake Process
Chapter Two: Benefits of Effective Intake Processes
Chapter Three: Tackling the Challenges of the Intake Process
Chapter Four: Toward an Effective Intake Process
Chapter Five: Intake Process Best Practices
Chapter Six: Intake Process Automation
Chapter Seven: Beyond the Intake Form: How to Automate Your Intake Process With SweetProcess
Conclusion
Chapter One: Types of Intake Process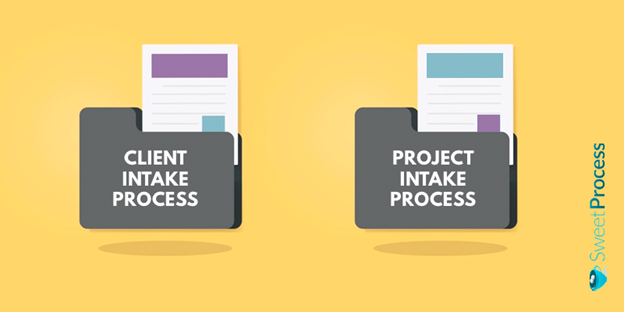 The two types of intake processes are:
Client intake process
Project or work intake process
Client Intake Process
A client intake process is a chance for you to familiarize your prospective client with your business. You will also need to get all the relevant information you need to successfully complete their project. This requires that you ask your clients questions that will help to transition them into your business.
Your client intake process should take care of everything you will do from the point you start communicating with that person. This may include a series of email exchanges, phone calls, and meetings that will put you in contact with your potential client.
Project Intake Process
The project intake process is a planning method designed to improve the strategic value of your organization. It includes capturing, evaluating, and prioritizing all proposed ideas for incoming projects and other operational activities. This process strives to ensure that any requested project is aligned with your departmental and organizational strategies. The estimated costs, protocols, as well as the ROI of approved project investments, must be well understood.
Project intake happens early in the life of a project. It is composed of a series of steps that enable the project intake team to identify which requests to handle and execute (or even reject) at any moment.
Chapter Two: Benefits of Effective Intake Processes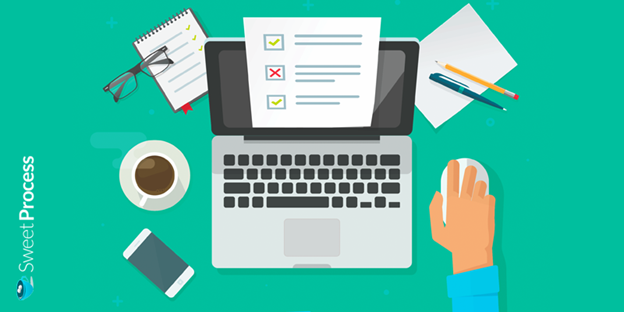 Every successful client adoption and project execution process starts with a worthwhile intake process. Intake processes provide an avenue for an organization to understand a client's specific request about a proposed project. The objective is to capture all the demands and prevent work from slipping off the queue.
Benefits of Client Intake Process
Every new project landing in your organization will come through a client. The level of relationship you're able to build with each client will determine the client's lifecycle in your organization and how many projects you're able to execute for them during that time. Every great relationship you build with a client begins with an intake process. Some benefits of having a client intake process include:
Portraying your expertise to your new clients to strengthen their confidence in you.
Making your clients feel special and helping them eliminate any feelings of "buyer's remorse," especially in cases when they are making a significant financial commitment.
Giving you total control of your team and time.
Helping you service more clients without sacrificing quality.
Getting paid on time due to your organized protocols.
Benefits of Project/Work Intake Process
As organizations grow, it's beneficial to have a process meant to capture, review, approve (or reject) and perform work toward project execution. It's likely that you're still on the fence about dedicating the time and expertise necessary to develop and formalize an effective intake process for new projects. You may want to consider the indispensable benefits your company stands to gain toward its performance and overall health and see if it's worth giving a try.
Enhanced Persistence and Reliability
An established intake process enables your organization to achieve repeatable success. This is because everything about your project review, planning, and execution activities are consistent from one step to the next. At the onset of a new initiative, there are certain laid down provisions required to take it from conception to completion. This will make you confident that you have what you need to measure, track, and control the project's progress at each step along the way. Your team will also have better insight into potential demands and risks. Thus, this strategy will contribute to more consistency across your full portfolio.
Predetermined Project Approval Criteria
It's difficult to maintain a healthy portfolio when the project intake criteria depend on waiting for an executive's approval. This happens when there's no laid down process or checklist. It leads to shifting benchmark changes based on the whims of an executive or sponsor.
Shifting benchmarks doesn't help you cement a track record of success for your projects. This is because you're likely to face projects that lack critical components, such as insufficient ROI data, too little sponsor support, outdated cost estimates, or vague objectives. All these can hurt your success because there are no laid down predetermined criteria as a part of your intake process. What was approved a year ago may look very different when compared to what's being approved today. Coming to an agreement on intake criteria allows you to avoid unpredictable or hasty decisions. It also helps to maintain a list of projects with the right ingredients for success.
Stimulation of Efficiency
When you adopt intake processes that are not structured, it gives room for low-priority or low-value projects to get into the pipeline. Projects that are insignificant to your organization will end up consuming time and resources and may never make it to the launching stage. Adopting an efficient intake process will help to identify and drop these types of projects from your portfolio so you aren't expending energy on what is a loser of a project.
The best bet to get rid of such loss is to not allow them entry in the first place. A well-documented intake process provides your team with a highly efficient means of pushing back inappropriate, or low-worth projects before they consume your resources.
Resistance to Unforeseen Changes in Your Project Portfolio
It's possible that your organization may get confronted with challenges and developments that will change its trajectories. This can be a result of leadership changes, gloomy market conditions, or failed product launches. The absence of a team member or business collaborator may also contribute to this. These events, if not cushioned by a solid intake process, will expose your portfolio to spontaneous and unexpected changes.
Chapter Three: Tackling the Challenges of the Intake Process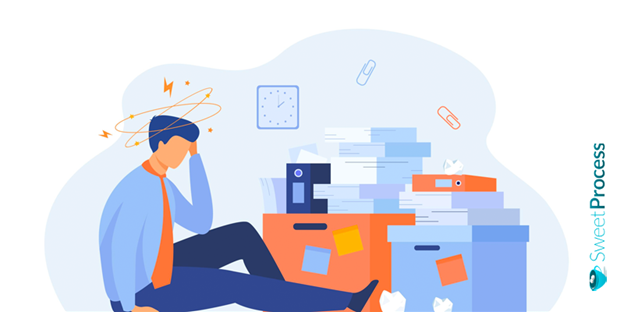 Limitations to Client and Project Intake Process
From the first contact you have with a prospective client, to the inception of an idea, up to project completion, there are a series of steps and events that are often overlooked. With a mix of several steps and people, things can get complicated quickly. Some of these steps, which are part of the intake process, are what need to be standardized to ensure time management and team effectiveness. Taking an idea and turning it into a project requires many steps, input, and approval from many people, serving as a challenge for the intake process.
Some of these challenges are discussed below:
Lack of process
When there's no laid down protocol for handling new ideas or when those protocols are not known to team members, it is easy for project ideas to fall through the cracks and be forgotten.
Lack of a central pool for new ideas
Having a converging point for all project ideas will not only make the idea known to all team members but also ensure the project is executed to completion. If new ideas are spread across different spreadsheets or email inboxes, it will be difficult to keep things organized and executable.
Ad hoc projects
There are always going to be projects that come up spontaneously and disrupt the plan. Frequent occurrence of such disruption will overrule the ideal intake process and reduce team effectiveness. Ad hoc projects take resources and budgets away from other planned projects, so it's important to limit them to only those that are absolutely necessary.
Lack of correlation between new and planned projects
In order to follow an ideal intake process, there should be a correlation among several projects so they are all handled effectively. It's important to consider how a new project idea will impact the existing and planned projects.
Absence of protocols for the organization's overall operation
When there's no effective communication and documentation of goals, it may be difficult to determine the types of projects to accept or reject. By communicating your goals to every team member, everyone knows what's important to your company and it's easy to propose ideas that support your organizational goals.
Features of an Effective Intake Process
An effective intake process is one that is efficient and swift. It can help you maximize effectiveness by reducing the time it takes for your team to review projects and make decisions to accept or reject them. An effective intake process will never fall short of having the following characteristics:
Having an established entry point for all project requests
The entry point for all new project requests is an important factor in initiating the project intake process. Establishing entry points for each phase of the process ensures the appropriate team members receive requests from potential clients in a timely and efficient manner.
Assigned distinct roles for team members
If your intake process is effective, it'll be easy to train each team member to fulfill specific roles during the intake process. For example, you can have a team member who is in charge of acquiring new clients, another team member in charge of onboarding clients, and another who will process their requests to ensure they go to the right people, and a project manager who oversees the intake process to ensure efficiency and professionalism.
Precise requirements for clients and projects
You need to ensure that project requests follow a clear-cut requirement for clients so that everyone involved understands the project parameters. This will make it easy for clients and project teams to work cooperatively after accessing this type of information on a business's website or in an introductory email.
Effective communication and interaction among team members
Having effective communication among team members, supervisors, and project owners is a criterion for a successful intake process. This gives rise to collaboration and ensures all team members and stakeholders understand requirements and overall goals for the successful execution of the project.
Consistent timelines
A consistent timeline for project requests helps to keep projects in alignment with your team's review process. Establishing timelines for the intake process will not only help to build an effective team but also help to meet up with client expectations from the initial review to acceptance or refusal.
Chapter Four: Toward an Effective Intake Process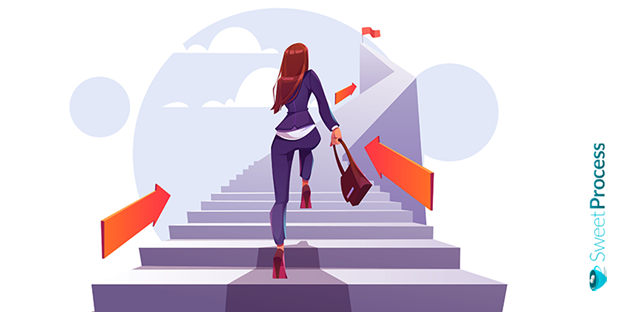 The most important goal of your marketing campaigns is to acquire new clients and also upsell existing ones. How do you end up having a happy client if not with an intake process that genuinely puts your client on track and gets their projects executed in a timely manner? Here are the steps to follow if you're passionate about building a good relationship with your clients.
Client Intake Stages
Stage 1: Lead Acquisition and the First Contact
It's important to develop a seamless contact process for your prospective clients. The client intake process begins at the point when you capture a "lead," or "potential new client." Leads might come via referrals, advertising campaigns, website traffic, blog posts, paid lead generation service, or a variety of other channels. When they're ready to connect, they might call your office, send you an email or fill out a contact form on your website.
Regardless of the source or the method of contact, your client intake process should begin at the exact moment when you receive the initial phone call, email, or contact form submission.
Getting in touch with you to discuss their projects should be as easy as possible. Your websites and blogs and emails should include the following:
Links that open into blank emails with your email address already filled out.
Easy-to-spot and working links to your online scheduler so potential clients can book a session.
Call-to-Action buttons.
Your telephone number and other available contacts.
Intake forms.
Your preparation for first consultations should include having a list of questions ready in order to better understand the scope of the project and to determine if this person qualifies as a good client. This stage can also be taken care of with a custom-made intake form.
Mistakes to avoid during this stage include:
Slow response.
Not tracking the leads.
Losing contact and not following up.
These mistakes can have a great impact on your conversion rate and the overall health of your business. Thus, implementing an effective lead management system is a key step toward improving your overall client intake process.
Stage 2: Scheduling a Consultation for Project Expectation
After turning your lead or prospective client into a client, the next major milestone in the intake process is scheduling an initial consultation. This will effectively be a sales meeting. This will be the time to determine whether you'll be able to work together and have a written commitment describing these major things:
Scope of the project
Responsibilities of each party
Timelines or milestones
Payment conditions
It is important to have this as a written and signed agreement before starting to execute the project. Considering the importance of building a solid relationship right off the bat, it's worth spending enough time to develop a good process for appointment setting and ensuring that people actually show up.
Stage 3: Payment
Having a planned schedule of payment is important after sealing the deal. A fee agreement at this stage is the best thing to do.
Have an agreed payment breakdown.
Set a deadline or timeline for the payment schedule
You can break down your payment into deposits and balances or make it a one-time payment before the service is commenced. Having the client pay a deposit or the entire amount before commencing the project will ensure a more committed relationship between the client and your organization.
Stage 4: Client Onboarding
Once the payment is received, the next step is to introduce and onboard your client into your organizational system.
Capture them into your client relationship management database (CRM) and extract all their relevant information from the intake form.
Set up their new project in your project management system so it's easy to communicate and deliver pieces of the project.
Keep your team members in the loop about their responsibility in ensuring prompt delivery of the client's project.
Send a gift or note to thank the client for choosing you as their service provider.
Stage 5: Deliver a Welcome Package
It's important you communicate all steps and expectations with your new client. This can be taken care of by providing a welcome package that answers all their burning questions and provides relevant information including:
What's going to happen?
How are you going to work together?
How and when do you set up meetings?
What are the milestones, timelines, and deadlines?
How and when to make payments (if the payment is not one time)?
What part of the project are they responsible for?
What happens when a deadline is missed?
What are the cancellation policies?
Who is the contact person to talk to about the project?
A welcome package can be delivered in the form of handbooks, emails, or addressed during first contact meetings. It is valuable to your clients and to you because they create transparency and strengthen boundaries. If any issue comes up along the way, it is easy to refer back to these policies and keep going.
Stage 6: Take the Lead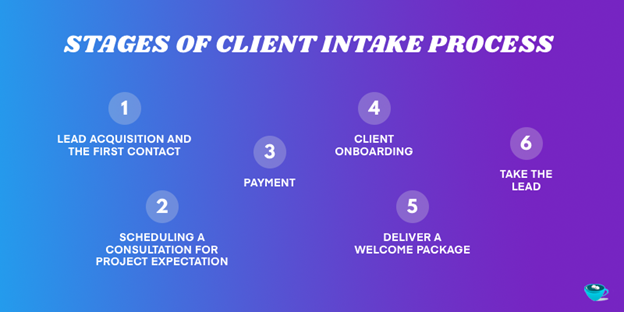 It's important to always note that clients hire you for your expertise. When you're in charge and have guidelines that support their success, then your clients will be satisfied with your services and you can always look to them for referrals.
Here are the ways you can lead your clients on their projects during a productive intake process:
Always show your expertise.
Provide recommendations and be ready to solve any problems along the way so they never feel lost or let down.
Steps to Create an Effective Project Intake Process
Developing a quality project intake process takes a little effort but is an indispensable component for portfolio management. Right after absorbing your new client into your organization, the next step is to start working on their project. In order to create a functional project intake process that enhances productivity, here are some of the basic steps you need to follow:
Step 1: Documentation
Every little detail about the incoming project needs to be documented. This process should be taken care of by the project intake form by having the client fill out all the required details. The documentation process basically helps to transfer all necessary information about the project to the company to enable you to plan and execute the project successfully.
It's important to know who writes the proposal, what information should be requested, what templates need to be used, who reviews the proposal, and how decisions will be made. The use of online request applications is necessary so that clients can submit information electronically, allowing for a more effective intake process. The following are the important details to be requested during this phase:
Project budget
Project timeline
Project type
Project goals
Expected outcome
Specific project restrictions
Industry standards
Compliance regulations
Risk mitigation strategies
Step 2: Collation
The next step is to determine a central location for submission of all project requests that come to your team. This can be as simple as an email inbox, Google Drive, DropBox, or any other cloud-based storage solution that can be accessed by members of the project management team.
Since the project is subject to acceptance or rejection, there's the need to evaluate all documents submitted by the client to ensure all information is complete and accurate. It's also important to review the project specifications, scope, potential costs, and client specifications to help in decision making. The projects that align with the goals of your organization are accepted and the other ones are rejected at this stage.
Step 3: Designation
When the requests have been transferred to this central location and accepted, it is now the duty of the project management team to define and communicate the roles and responsibilities of each team member in the process of executing the project.
Step 4: Standardization
Standardizing the processes in your intake process requires automation. Automating the intake processes can help save time and resources. It can also help to reduce the human element in the review and approval or refusal phases of the intake process. You need to identify and implement useful tools to make this happen. Designing an automated intake process can be as easy as following these simple easy steps. You can sign up for a 14-day free trial of SweetProcess to get started.
Step 5: Assessment and Adjustment
Now that you have your intake process designed and automated, it's important to continuously track the efficiency of the process and apply improvements or changes when and where necessary. You can consider requesting feedback from your clients and team members to identify areas of success and aspects that need improvement. Continuous assessment of your intake process for regular feedback and input will help your organization streamline its workflow, boost project efficiency, and reduce the time to review and accept new project proposals as time goes on.
Chapter Five: Intake Process Best Practices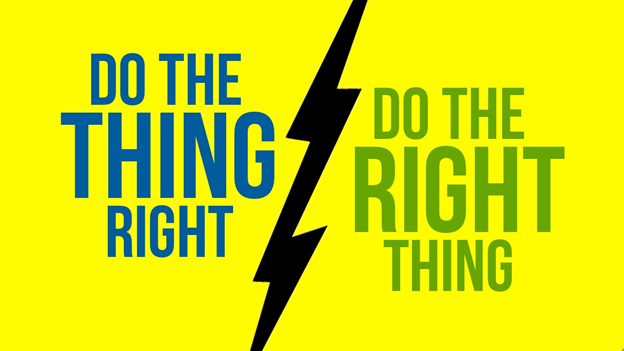 The end goal of creating a standard intake process is to have a seamless process for receiving and reviewing incoming clients and projects. Receiving and processing incoming client and project requests might be overwhelming especially when they are coming from different channels. Managing all such requests especially without an automated procedure will be time-consuming and difficult to manage as your company grows.
Follow these recommended best practices to realize your vision of executing important projects in less time to contribute to the overall boost of your organizational efficiency.
Client Intake Best Practices
Promptly respond to incoming calls and messages
Nothing puts off a prospective client right from the start more than an unresponsive organization. Ensuring that proper contacts are maintained requires that you have a designated team member that takes calls and responds to emails all the time. Being responsive to prospective clients will go a long way in improving the client experience and building trust early on during the intake process, which is key to maximizing the likelihood that a prospective client would want to work with you.
Screen clients beforehand with a standardized intake form
Some prospective clients appear as just "tire kickers" who are out to consult your organization without a real project in mind. In order to avoid wasting time and resources on such prospects, it's important you screen them out in the initial phase. You will be able to gather some of their basic data, contact details, and project overview. Using a brief intake form will take care of this and help you make a decision on the possibility of working with them.
Follow up with confirmation email and reminders
When you're ready to work with a client, you need to avoid a communication gap. It's important to follow up with them with the appropriate information, meeting schedules and also send them reminders when they're not responsive.
Capture and save all important data and information
The information provided by your client in the intake form is the bridge that connects them to you. Ensure having them saved in your portfolio where they can be easily accessible.
Document contracts and agreements with the use of e-signature
It is likely that your meetings and communications will be virtual now that more and more people tend to use their mobile phones or computers to do business activities such as communicating with you and filing the forms. With e-signature software, you can streamline the process of getting contract agreements signed. This is done by simply having them click a link on their mobile phone or computer or type in their signature, and click a button to submit the signed copy back to you.
Project Intake Best Practices
1. Ensure formal submission of all project requests
Regardless of the source of the project—whether it is internally requested or coming in through unofficial mail—you need to ensure that it follows the official project submission route already designed by your company. This will prevent missing deadlines with projects or having them fall through the cracks. It should be enforced that project submission through unaccepted routes should be automatically denied.
2. Automate project requests
Automating your project intake process with the intake form or request form will give you an easy overview of every detail about the project. Accepting and rejecting projects will also be easy this way as they can be incorporated into the process. Request forms will make it easy for decision-makers to manage, search, and review project requests.
3. Design an approval process
Approval or rejection of incoming projects depends on your company goals and the project demands. It is thus necessary to quickly run the project through the project team lead or the decision-making senior management to determine the chances of the project approval at an early stage. If you're working with a fully automated system, it is important to incorporate approval and rejection conditions in your project automation system so that your resources will be spent only on approved projects.
4. Channel all project requests to a single destination
In order to take all incoming project requests through the decision-making step, you need to receive or assemble them in a single place. An automated project request submission will take care of this since they will be coming in through the same channel and ending up in the same destination.
5. Assign priorities project requests
Depending on different factors that are valuable to your organization, one of the best practices of project intake is to assign priorities to incoming projects. This is done by measuring the impact of each project on your organization's profit margins, company growth, as well as negative impacts. When you know all these details about each project, you'll be able to determine their order of execution and the extent of time and resources they all require.
6. Implement resource forecasting
Just before approving a project, the first step is to understand the value it will bring to your organization. Another step is to investigate and decide if you have the appropriate resources needed to work on it. Resource forecasting provides the correlation between incoming project demands and available resources and helps to determine if there is the required capacity to complete the incoming project effectively in the required timeframe. This way, you can confidently approve project requests after knowing that the right resources are available, deadlines are achievable, and that you can deliver on your promise to clients without flaws.
Chapter Six: Intake Process Automation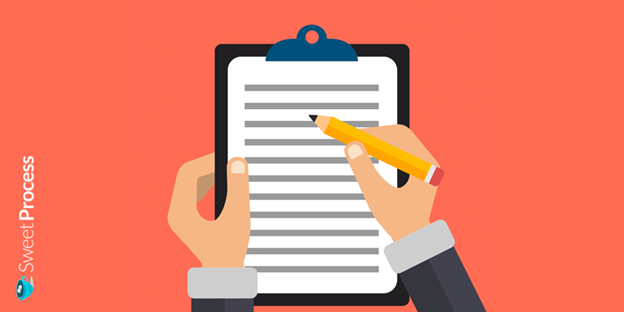 Adopting a manual intake process is demanding, leading to a waste of time and resources. With the right tool, automation can help you achieve all intake processes in a fraction of time and with fewer resources.
The Intake Form
Developing an intake form is the first step to intake process automation. It helps to aid proper client onboarding, simplify your processes and get you ready for automation.
Types of intake forms
Client Intake Form
A client intake form, also known as a questionnaire, is used to request necessary details from your potential clients at the start of your working relationship. The questions you ask allow you to gather the information you require from your clients in a bid to understand whether the client is the right fit for you and gather all the information you need in order to deliver services to them.
Project Intake Form
The project intake form, otherwise referred to as project request form or project proposal, is used to gather all useful details about a proposed project from the project requester. The information provided in the form will help in the decision-making stage to determine whether the project is executable by your company or not.
Benefits of the Intake Form
Decrease the gap between new project requests and actual project kickoff
When new clients and project requests come in through the intake form, it is easy to have them in one place and process them promptly. This will speed up the time to approve and kick off such a project.
Reduce project delivery timelines
Having a fast project kick off means that the project will be efficient and completion will be faster, all thanks to the intake form.
Manage many kinds of project requests from one system
The intake form makes it easy to have a single point of entry for incoming projects, hence they are easily managed from this single pool of entry.
Steps to Build Effective Intake Forms for Your Business
1. Choose a format
Depending on the information you'll need to collect from an incoming client and project, you can choose or create the most befitting format or template for your organization so you don't have to start from scratch each time.
The following are the benefits of creating an intake process template:
It improves consistency.
It gets you the information you need.
It opens the door for automation.
It gives you a better handle on workload.
It saves you time.
2. Create your questions
The following are the relevant contents of a client intake form.
Basic information and contact details:
           > Date
           > Client's name
           > Date of birth
           > Gender
           > Mobile number
           > Email address
           > Home address
           > Website URL
Information about your client's business and brand
Project overview:
           > Project description
           > Requirements, goals, and expectations about the project
Additional information:
           > Financial records
           > Client's position within the organization
           > Any background data that is important in the course of the project
The following are the relevant contents of a project intake form.
Details of project requester
Details of the requesting brand
Project type
The goal of the project
Target audience or end-user
Similar competitive projects
Definition of the budget
Project deadline
3. Design
Tools to Create the Intake Form:
Wufoo is a free form-builder by Survey Monkey. It can be used to build simple forms that you can privately share or upload to your website. With Wufoo, you can get some analytics about your forms, which you may find useful in your decision-making process.
IntakeQ is specifically useful for creating intake forms with a more professional look. There is the booking/scheduling widget that allows prospective clients to directly book appointments and automatically send them your intake form. It also has the option of adding e-signatures to the end of the intake form.
This client intake solution is mostly aimed at law firms, although it can also be used by other companies. It provides analytics with forms and integrates with a lot of other programs, such as Google, Outlook, and MailChimp.
Google Forms is also a simple and user-friendly form-building software that can be used to create an intake form. It integrates with Google Drive and spreadsheets and can help to analyze responses with the spreadsheet function.
This is a simple drag-and-drop form building software used to automate data collection processes and workflows. There is a function to ask the right follow-up questions and set up automatic email notifications based on form responses.
This is a process documentation software that allows you to create a comprehensive client intake form by adding form fields within the steps of your procedures. After creating a procedure, you can add form fields to it by editing the procedure. SweetProcess integrates perfectly with Wufoo and Zapier and can take care of your entire automation beyond the intake form.
4. Deploy
After your forms are designed and ready to use, it's time to get them over to your prospective and existing clients. Intake forms are made available through any of the following mediums depending on the channel through which your leads come in:
Get the form on your website.
Embed forms in your email autoresponders.
Send forms personally.
Intake Process Metrics
In order to measure the success rate of the intake and overall process of your organization, the following are the metrics to consider:
How many project requests originate from a given industry?
When the organization understands the industries where its requests are coming from, it is easy to take action to better meet the needs of those industries and optimize its intake process when necessary.
How many proposals come in during a certain period?
This information is needed by decision-makers to know when there's the need to improve any of the processes or internal resources.
How many proposals and projects are complete and incomplete?
This is another important metric used to measure the effectiveness of the intake process and determine when and where optimizations are needed.
Intake Process Success Factors
There are several success factors an organization should work toward when creating the client and/or project intake process. When these things are achieved, they will be reflected in the overall growth of the organization. Some of these factors include:
A single entry for new clients and projects into the organization.
Clear roles and responsibilities for all stakeholders in the intake process.
Clarity of required information.
Clear process ownership.
Clear communication among stakeholders and team members.
Clear deadlines and milestones in the intake process.
Chapter Seven: Beyond the Intake Form: How to Automate Your Intake Process With SweetProcess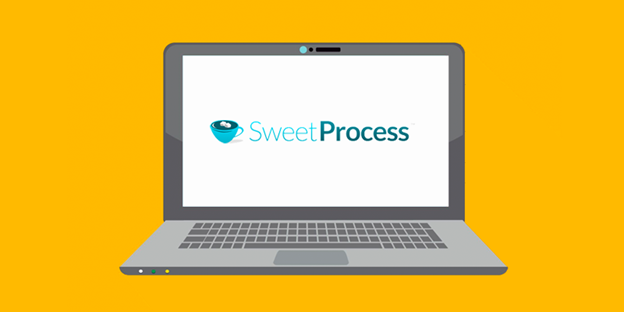 Why automation?
If your main goal is to improve the efficiency of your team and foster the growth of your organization, then you not only need to create an intake process but also automate it. This will ensure that the process runs seamlessly without being affected by human error.
An efficient intake process requires a well-defined method by which work is picked up by technology. Having this well-defined process by which clients and projects are picked up by technology will help to bridge the gap between the project stakeholders and the execution team.
Teamwork with SweetProcess
Right from the first point of contact with your new client to the stage where their services are completely delivered, have you ever wondered how everything can run on its own without you lifting a finger?
You can make this your reality by signing up with SweetProcess, a process documentation tool that will help your team have a clear vision of your intake process needs. Teamwork on SweetProcess will keep all documents and ideas in one location to aid efficiency.
This process design tool will help your team master the processes and make it easy to pick up their own tasks to collaborate with the team. SweetProcess will help the project team leaders in assigning actionable tasks to all team members from one easy-to-use interface.
Having a well-defined and effective intake process controlled by technology has a beneficial impact on productivity. It helps to avoid overloading teams with work and significantly lowers the turbulence and errors that otherwise result from task overload. It also reduces the challenge of the project team lead in overseeing every step of the process. Adopting automation will expose you to certain features of digital workflow which include:
Cloud hosting and storage.
Tracking and reporting features.
A flexible user interface to model processes graphically.
Secured access.
With these features in place, your business gets to enjoy:
Low costs of operations.
Better customer satisfaction.
Happier employees.
Flexible operations.
As a significant part of your workflow, your intake process can be automated with SweetProcess to ensure smooth communication, minimal errors, less risk, increased productivity, and quality control. With just a few clicks, you can also design your client intake form in line with your business needs and cover all the required details. You will also need to timely monitor the processes to know when they are outdated and need adjustment. Automation makes this quite easy especially when you pick the right tool.
Picking the Right Automation Tool
Picking the right automation tool for your intake process may put you in a state of confusion; however, your worries are over when you don't have to pay a dime to test one out. Without even submitting your credit card details in advance, you get to test out how SweetProcess will help your organization's intake process for 14 days. Click here to sign up for a free trial now. No credit card required.
SweetProcess integrates perfectly with other automation software such as Wufoo and Zapier and you can be sure that all your existing automation can be given a sweet touch.
By adopting the SweetProcess platform, you can easily document existing procedures, input new ones, and ensure that the new improvements are adhered to without being there to monitor them all the time. SweetProcess has been used by businesses across multiple niches to achieve growth, productivity, and streamlined processes.
Emma Mills is the owner and founder of MiPA and is dedicated to helping business owners and entrepreneurs focus on growing their businesses. Handling the back-and-forth communication between business owners and their teams became a daunting task for her team over time.
Even though the competence of her employees was clear, Emma and her team concluded that they needed to stay on top of their game by creating an efficient system that handles repetitive tasks so they can increase their reach. The search began for an effective workflow tool that could do this for them without a flaw so they could keep up with the growing needs of the business.
Discovering SweetProcess helped MiPA operations get on more solid ground and, according to Emma, SweetProcess has helped MiPA scale up their service in a bespoke way, enabling them to serve people in the particular way that they want.
Chris Dunning, TechQuarters' CEO, and Mark O'Dell, operations director, are committed to helping small- to medium-sized businesses leverage opportunities in the cloud and are both masters in the art. Their decades of experience have helped them master the areas of planning, moving, supporting, and training users as they migrate their IT online.
It became more challenging for them when their business began to grow and they realized that tribal knowledge was causing more harm than good to their organization. Having their business processes in a central system and accessible to everyone on their team became their main goal. In their search for the right tool for the job, they found SweetProcess.
With SweetProcess, TechQuarters was not only able to distribute knowledge among their team members evenly, but they were also able to create a more efficient workforce.
Zac Cullen, the CEO of Cullen Insurance Agency, gave his business a leg up by acquiring similar businesses, leading to very rapid growth. However, this made the company suffer huge bottlenecks due to inconsistency in operations. Most of the employees from the acquired companies were stuck on their old ineffective processes and were not open to change. This made different parts of the organization operate using different processes and methods, making it hard to achieve a common goal.
Knowing full well the need to have a unified system in place to be able to achieve a common goal, Zac tried a few systems but the issues persisted. Coming across SweetProcess gave him the real experience he needed, and this has since made his organization a top player in its industry.
Click here to sign up for a free trial of SweetProcess now. No credit card required.
Conclusion
As indispensable as the intake process is to the day-to-day operation of every organization, it is often overlooked. Many organizations are yet to have a real system in place to take care of this. They depend on back-and-forth emails and outdated processes to get things done. This is less efficient and reduces the overall productivity of such an organization.
Developing a personalized intake process helps to easily meet the needs of your clients, stay consistent, create trust and meet deadlines. This will improve your working relationship with clients, efficiency within the team, and ensure an overall great experience for everyone involved.
Start your journey to an efficient intake process now by signing up for a free trial of SweetProcess. No credit card required.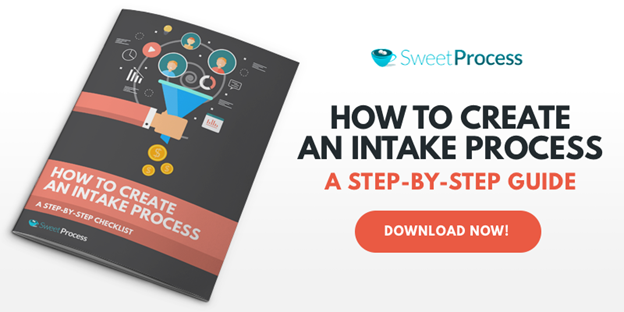 Get Your Free Systemization Checklist

5 Essential Steps To Getting a Task Out of Your Head and Into a System So You Can Scale and Grow Your Business!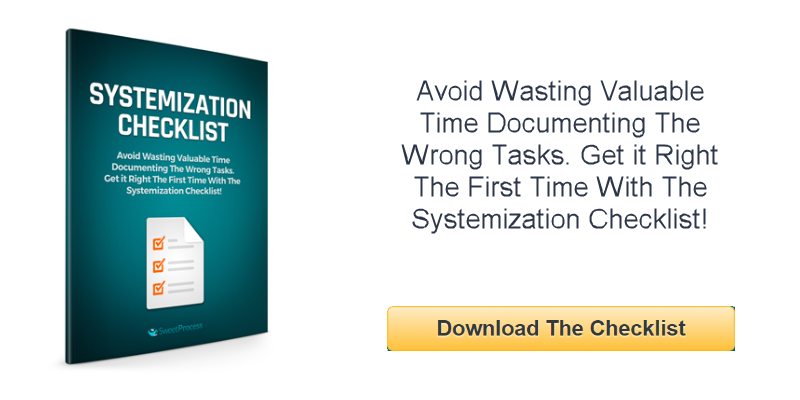 One response to "How to Create an Effective Client and Project Intake Process"