13 Best Task Management Software and Tools in 2023 (Free & Paid)
Last Updated on November 7, 2023 by Owen McGab Enaohwo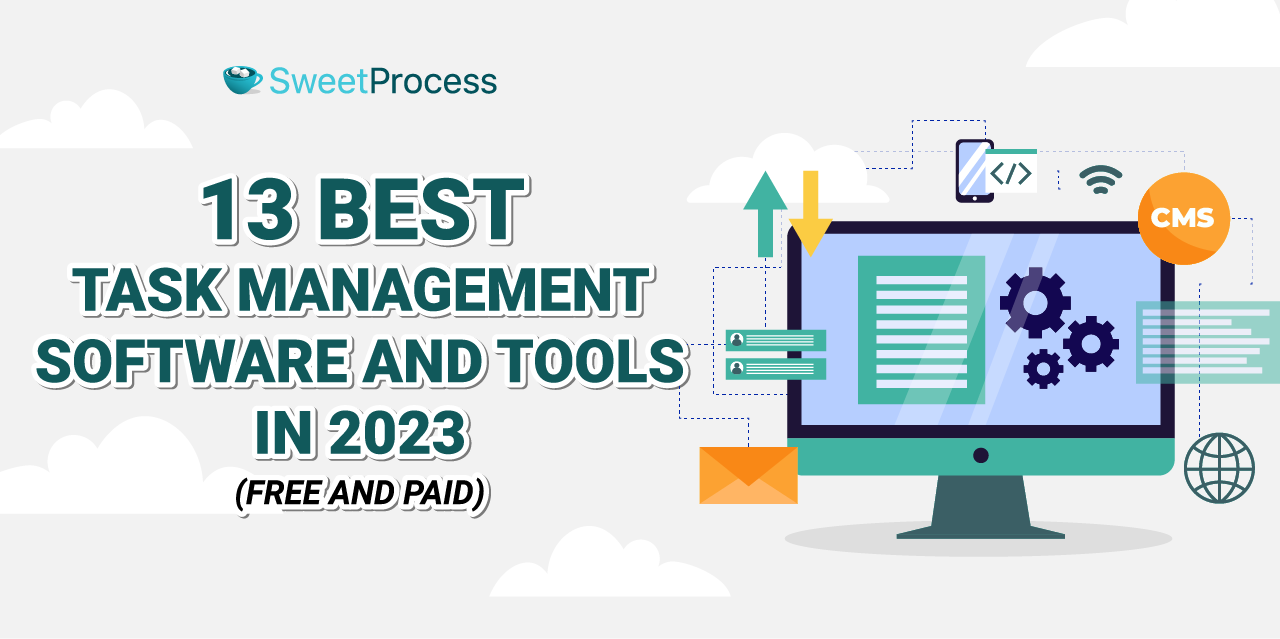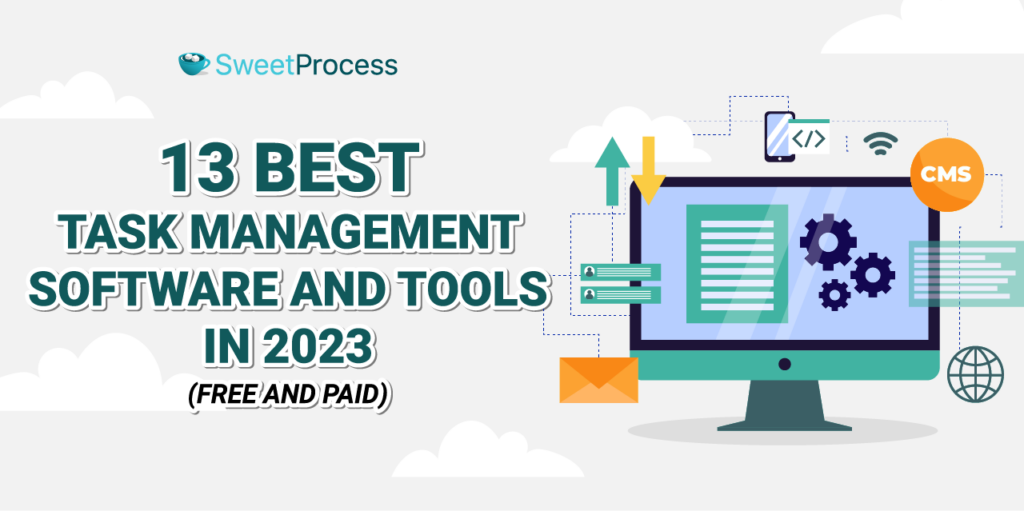 Is your task management software making your team more productive, or does it add to your challenges and make things more challenging?
In the dynamic business world, task management is the beating heart that keeps everything in rhythm. Whether you are a growing startup or a large enterprise, effective business task management software isn't just nice to have but a business essential. It ensures that every project you work on gets completed on time. Research by PWC shows that 70% of high-performing teams use good project management software with inbuilt features like task management systems.
Every team member knows their role, and deadlines are met without a last-minute scramble. With so many task management tools on the market, how do you select the right one for your needs?
We've painstakingly evaluated some task management platforms to curate a list of the 13 best task management software in 2023. Each tool on the list has unique features and capabilities to suit diverse business needs, from the smallest teams to the largest organizations. They include:
Before diving in, why not take your task management game up by putting SweetProcess to the test?
Discover how SweetProcess can supercharge your task management with the 14-day FREE trial here.
Table of Contents
13 of the Best Task Management Software in 2023
The 7 Top Features to Look out for in Task Management Software
How to Choose the Right Task Management Software for Your Business
How Does Task Management Software Work?
Why You Need Task Management Software for Your Business
Manage Your Company's Tasks in One Place Using SweetProcess
FAQs About Task Management Software
13 of the Best Task Management Software in 2023
From simple to-do lists to comprehensive project timelines, the right task management software is out there, just waiting to catapult your productivity levels.
What is Task Management Software?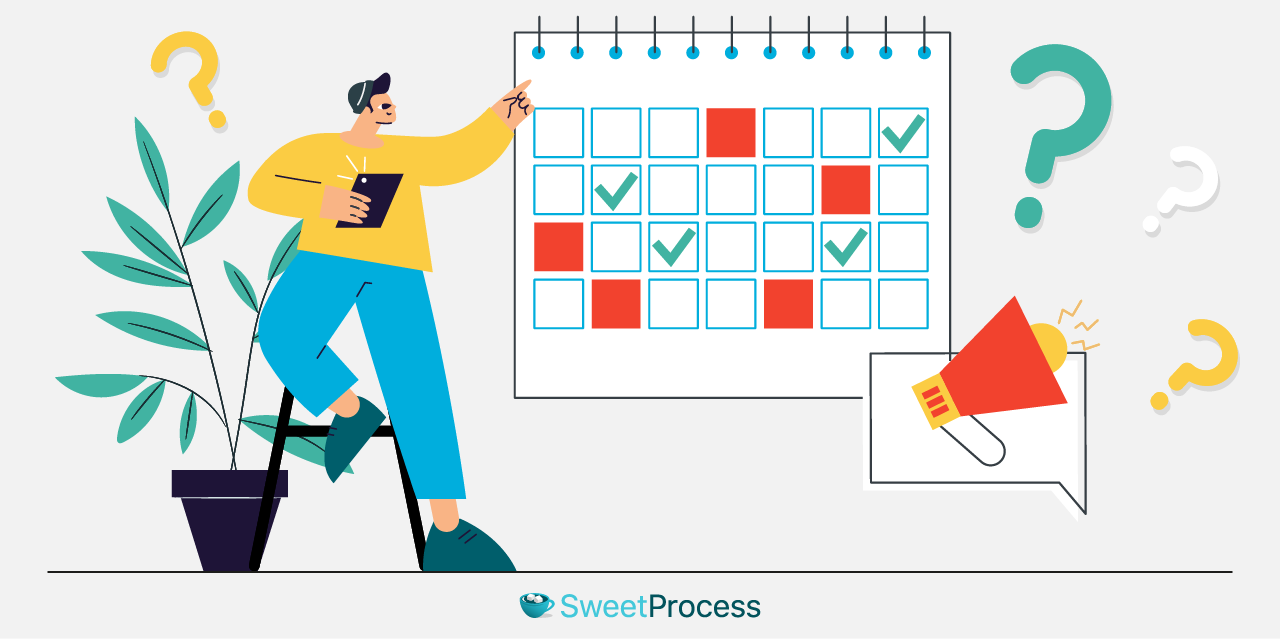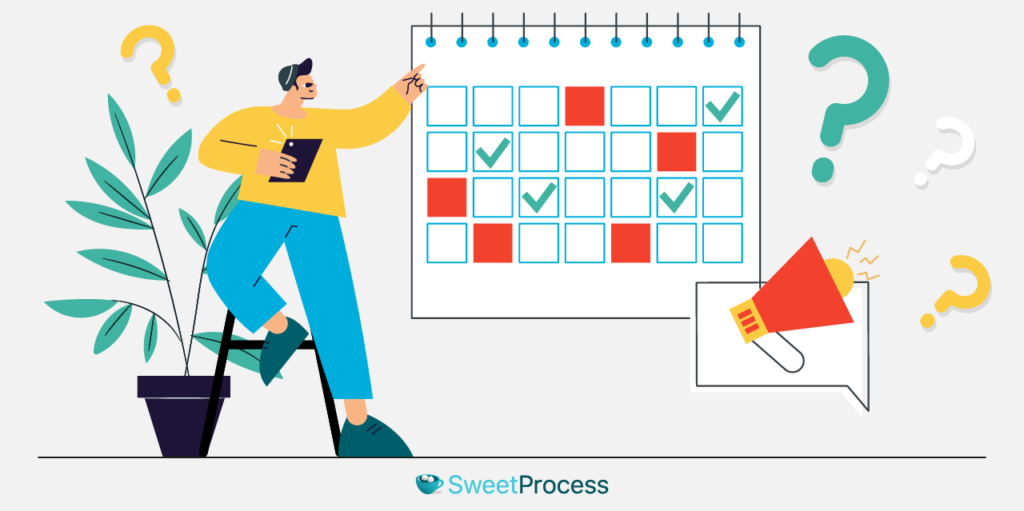 Task management software is a digital tool designed to help individuals and teams organize, prioritize, and track tasks and projects efficiently and in real-time.
It streamlines workflows, assigns responsibilities, sets deadlines, and facilitates collaboration, ensuring better productivity and time management.
Task management software typically offers features like task lists, reminders, notifications, and collaboration tools to streamline workflow and enhance productivity.
Let's explore some of the best paid and free task management software that 2023 has to offer.
1. SweetProcess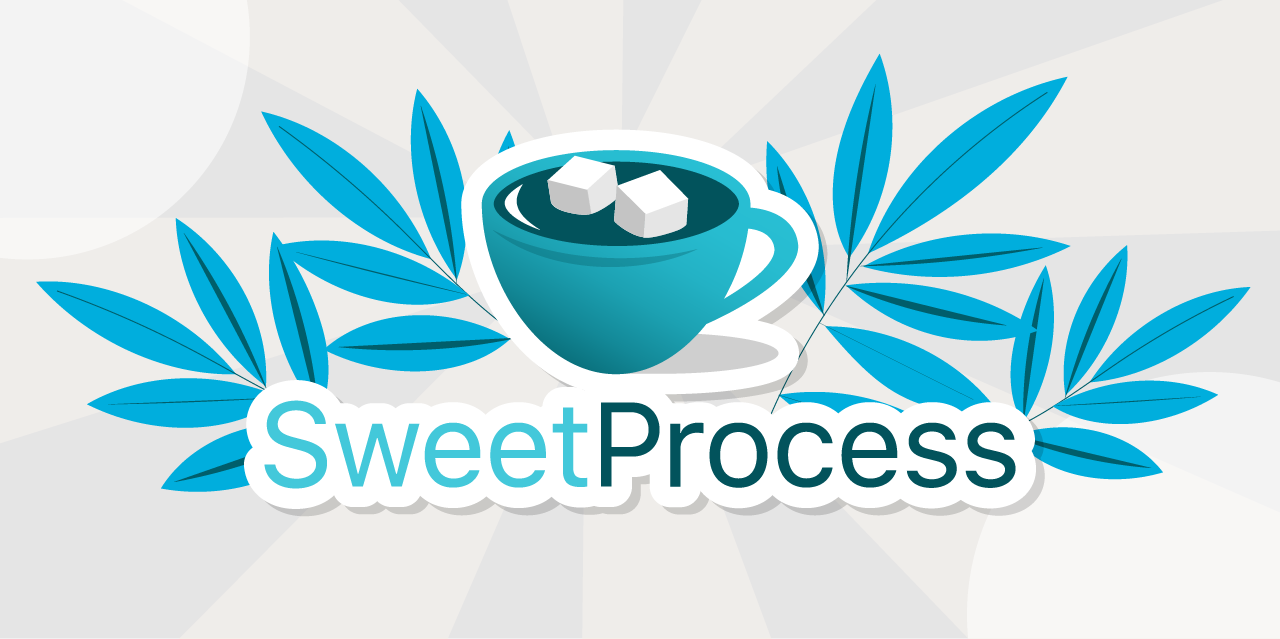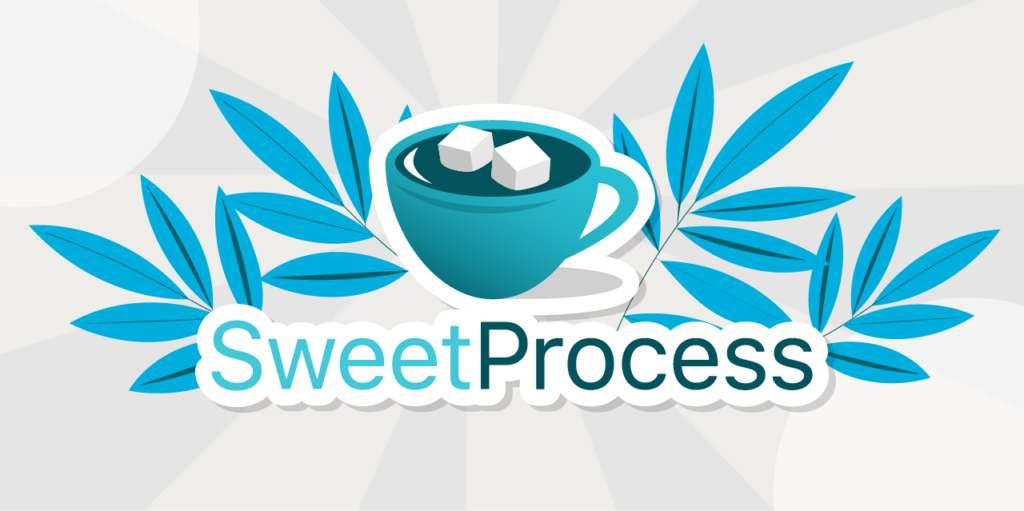 At the top of our list is SweetProcess. This robust task management platform empowers businesses to streamline operations, document processes, and automate SOPs (standard operating procedures) with unparalleled ease.
SweetProcess shines brightly with its user-friendly interface and powerful features that simplify task management. It offers a centralized platform that teams can use for creating, organizing, and executing processes.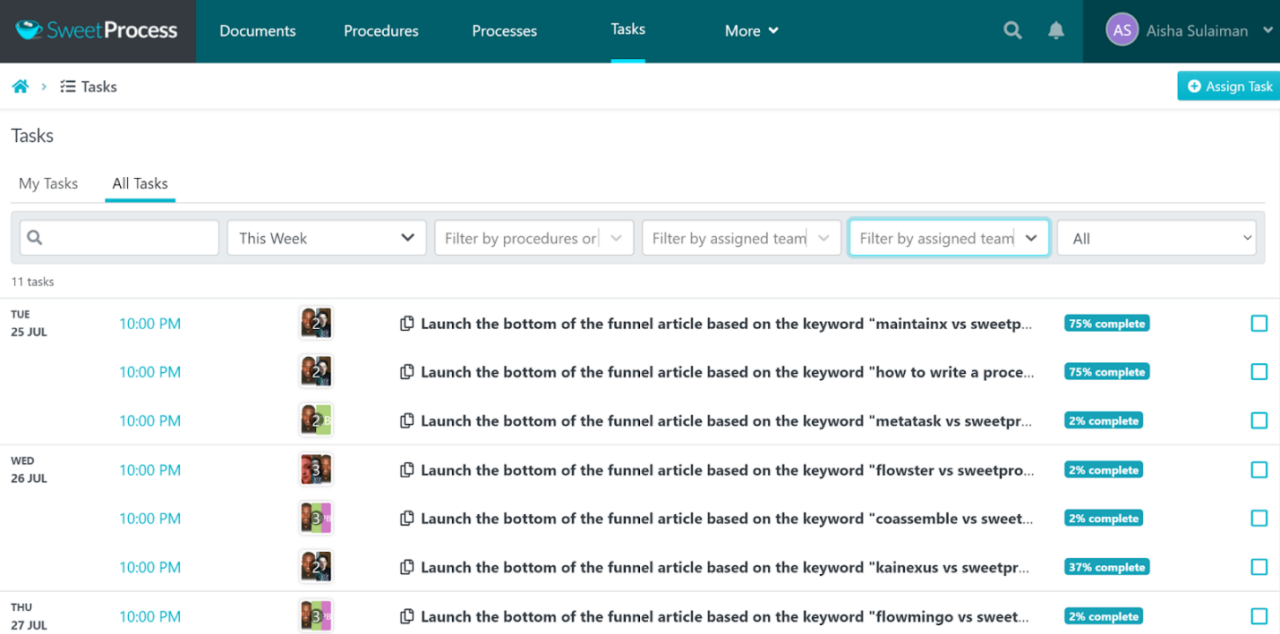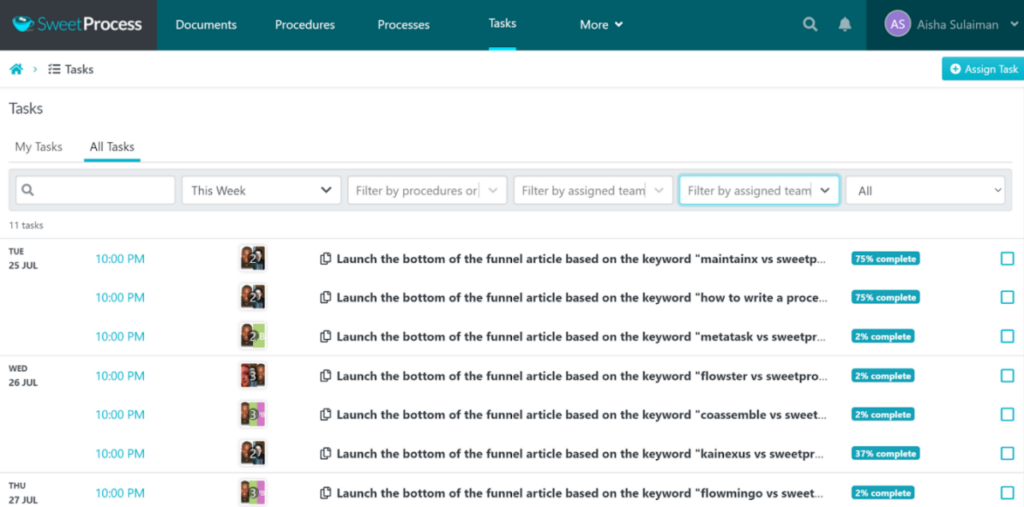 Key Features of SweetProcess
Task Management: It has a dashboard that allows you to view all your tasks at a glance. You can also see the full details of each task, such as its current status, due date, and priority level.
Calendar: This displays all your upcoming tasks and can be used to create or edit new tasks.
Process Documentation: SweetProcess has a user-friendly interface for documenting all SOPs comprehensively. Users can create step-by-step guides, add screenshots, and attach files, ensuring clarity and easy comprehension for team members.
Version History: SweetProcess allows you to keep track of the changes made to your procedures or processes. This is great for tracking changes and improvements over time.


Workflow Automation: The software enables the automation of repetitive tasks, reducing manual intervention and minimizing the chances of human error. It streamlines processes, leading to consistent and error-free outcomes.
Collaboration and Communication: SweetProcess fosters teamwork by facilitating collaboration among team members. Users can discuss processes, provide feedback, and suggest improvements, promoting a culture of continuous refinement.
Filters for Tasks: The filter can sort existing tasks by time, team assigned, or procedures. The list of tasks also displays the percentage completion for each task, and you can see the timeline accordingly.
Accountability and Monitoring: The platform includes tools to track task progress and assign responsibilities to team members. This ensures accountability and transparency in task execution, making identifying bottlenecks and promptly addressing issues easier.
Reports Generation: SweetProcess offers a variety of reports, such as task completion, employee productivity, and project status. These reports can help you track your progress and make better decisions.
Private and Public Knowledge Bases: With SweetProcess, you can create a knowledge base for your team. This is a great way to share information and keep everyone on the same page. You can also make your knowledge base public so that anyone can access it. This is great for incorporating customer or client support into your process.
Time Tracking: With SweetProcess, you can easily track projects using the time-tracking feature. This allows you to keep up with deadlines and maintain high productivity. It displays project deadlines or processes that are near completion and any with past due dates.
Gantt Chart: The Gantt chart is a graphical representation of your tasks. It shows you the progress of each task and helps you plan your work better. With this feature, SweetProcess gives you an overview of your tasks.
Customized Navigation: Depending on the tabs you use often, you can customize the tabs that appear on your dashboard and have those that you rarely use hidden under the "More" tab. This makes it easier for you to navigate and have your personalized dashboard.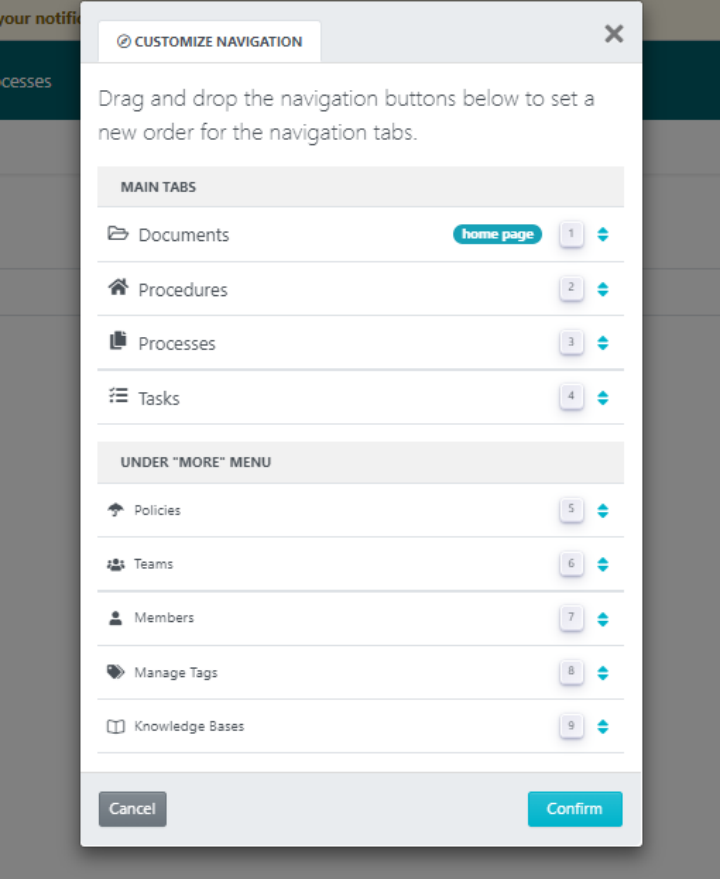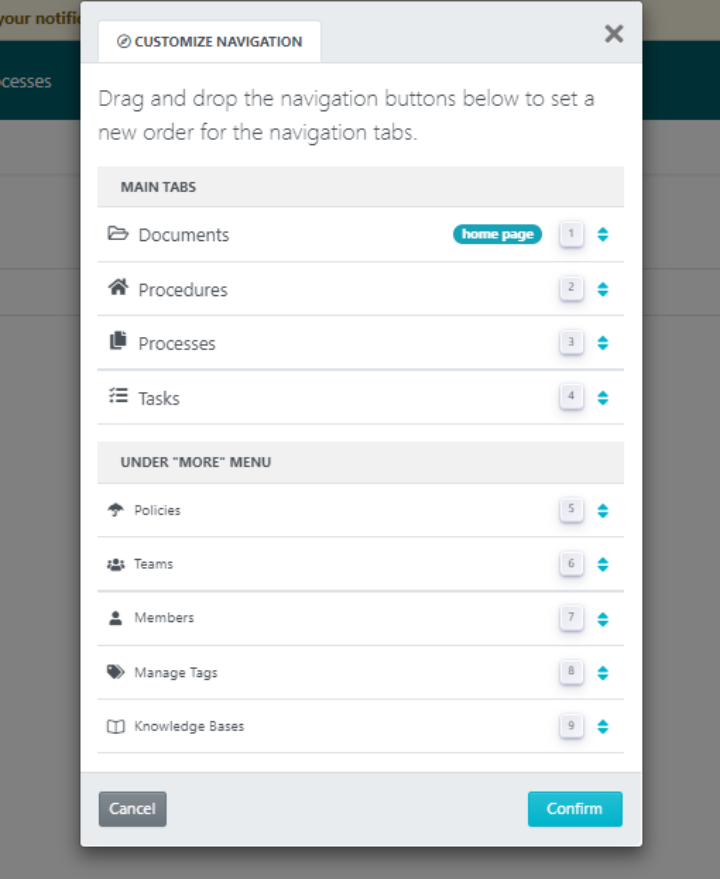 Team Management Tool: SweetProcess has a team task management feature that makes it easy to add team members and assign them roles to a particular project. This is a great way of managing and tracking who is doing what. This keeps your team on their toes and improves productivity.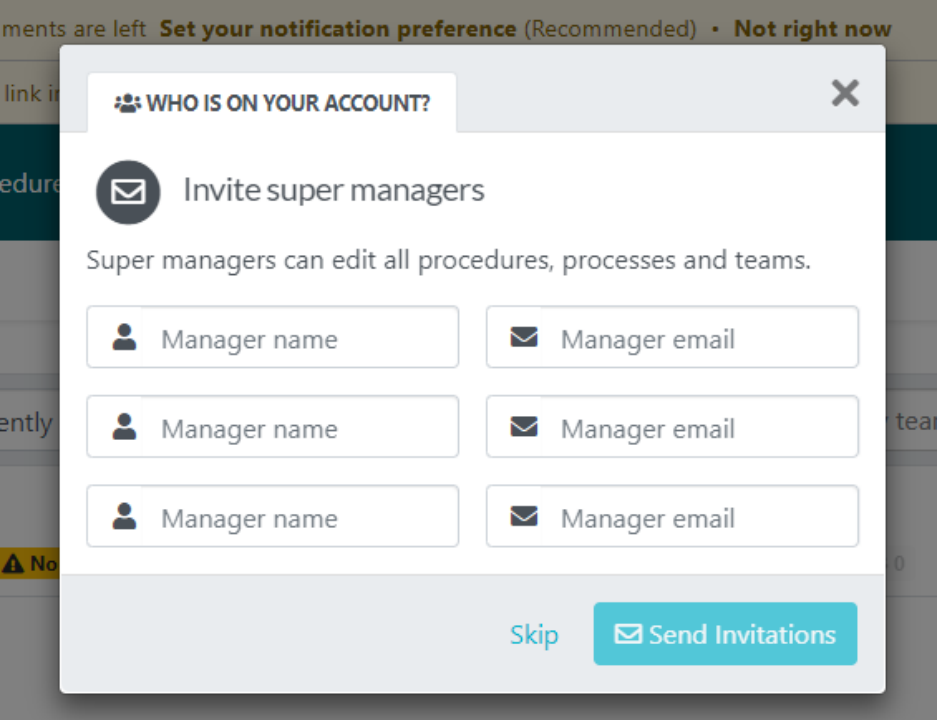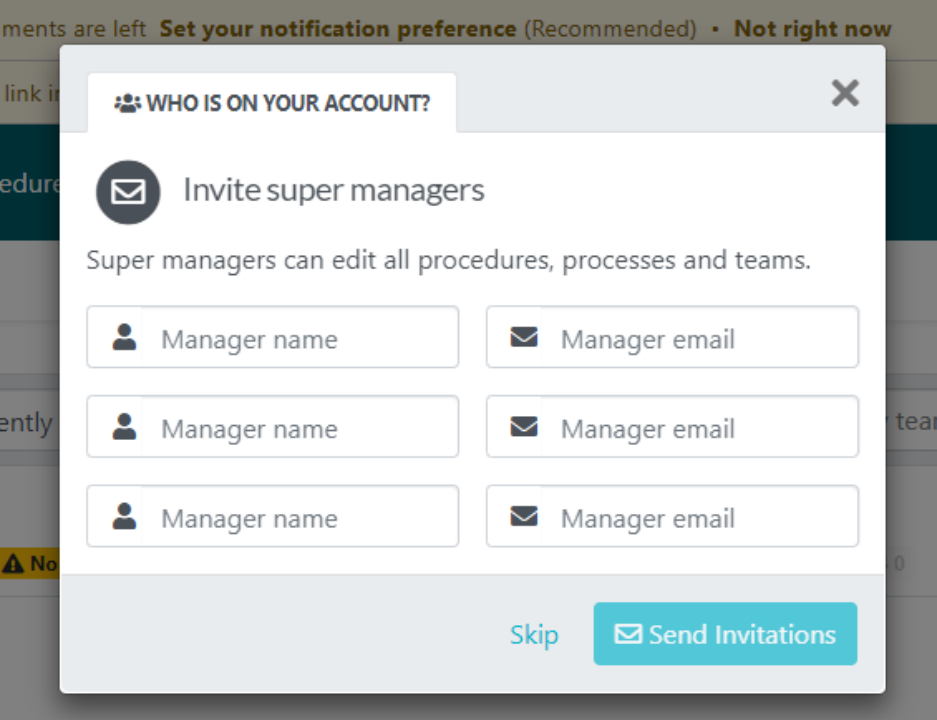 Managing Tasks With Tags: You can organize tasks into different groups because SweetProcess offers tags. You can assign one or more tags to each task as needed. For example, if you are working on a project, you could use the tag "project." If you have several projects going on at once, then you could use "multiple projects."
Process Mapping: The platform provides a process map for visualizing your business processes. This is a great way to see how different departments work together and identify the areas that need improvement.


Two-Factor Authentication: Two-factor authentication is a great way to add an extra layer of security to your account. This makes it harder for hackers to access your account and keeps your data safe.
Online Access: The SweetProcess platform can be accessed online as long as you have your computer and internet connection. This makes it possible for you to manage your team and projects remotely.
How to Create a Task on SweetProcess
Creating a task on SweetProcess is a straightforward process. Once you have logged in, you will see the task creation tab on the top bar of your dashboard.
After creating the task, you can assign team members and include due dates for the task in question.


How to Assign a Procedure or Process as a Task on SweetProcess
The process of assigning a task involves selecting the process or procedure after clicking the "Assign Task" button, as seen above. This opens a pop-up menu with a list of existing procedures and processes. You can then select one and proceed to the next step of assigning it to a team member.
How to Assign a Task Based on Roles on SweetProcess
Once you have your processes or procedures up, you can select any of them and assign them to a team member straight from the dashboard.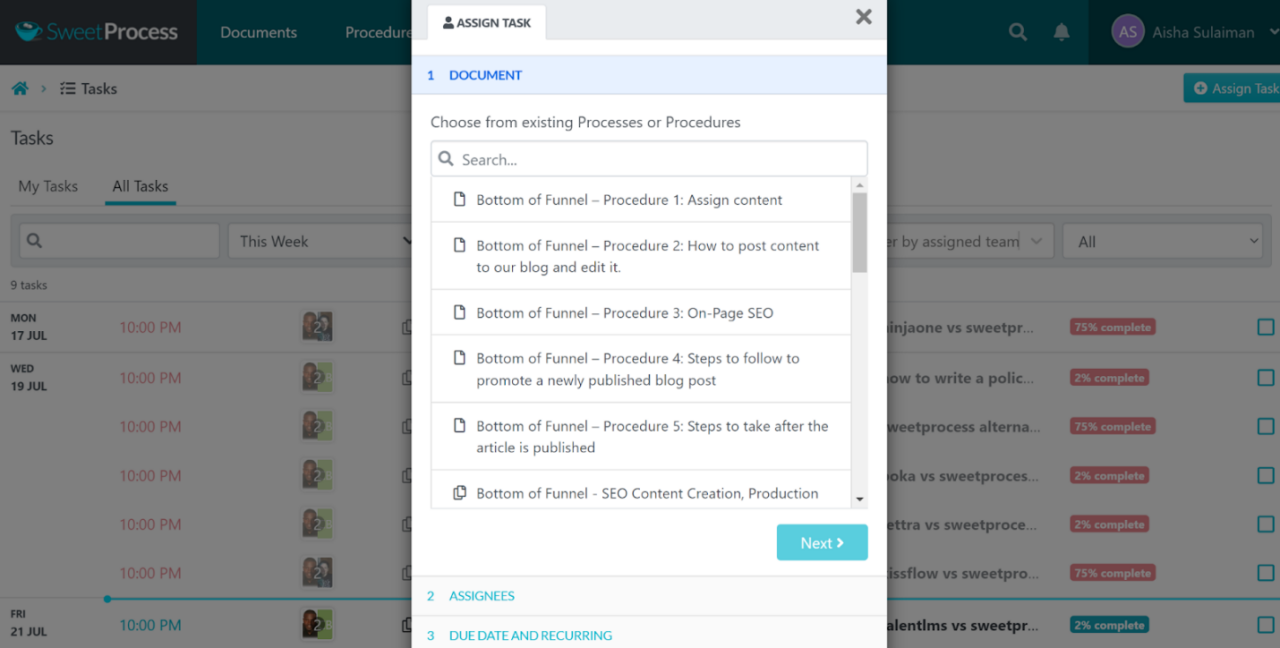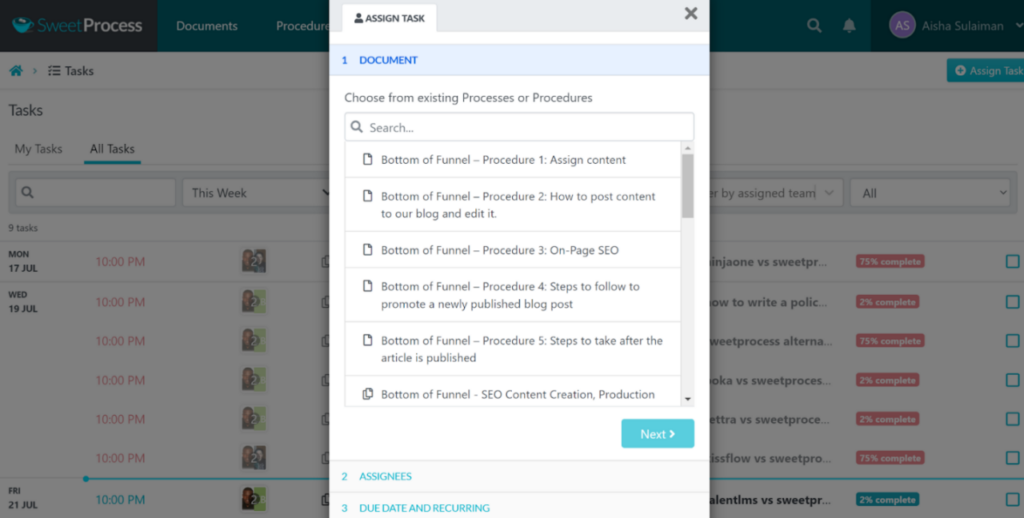 After selecting the process or procedure, you can add team members in the next step. This displays a list of assignees for you to add accordingly.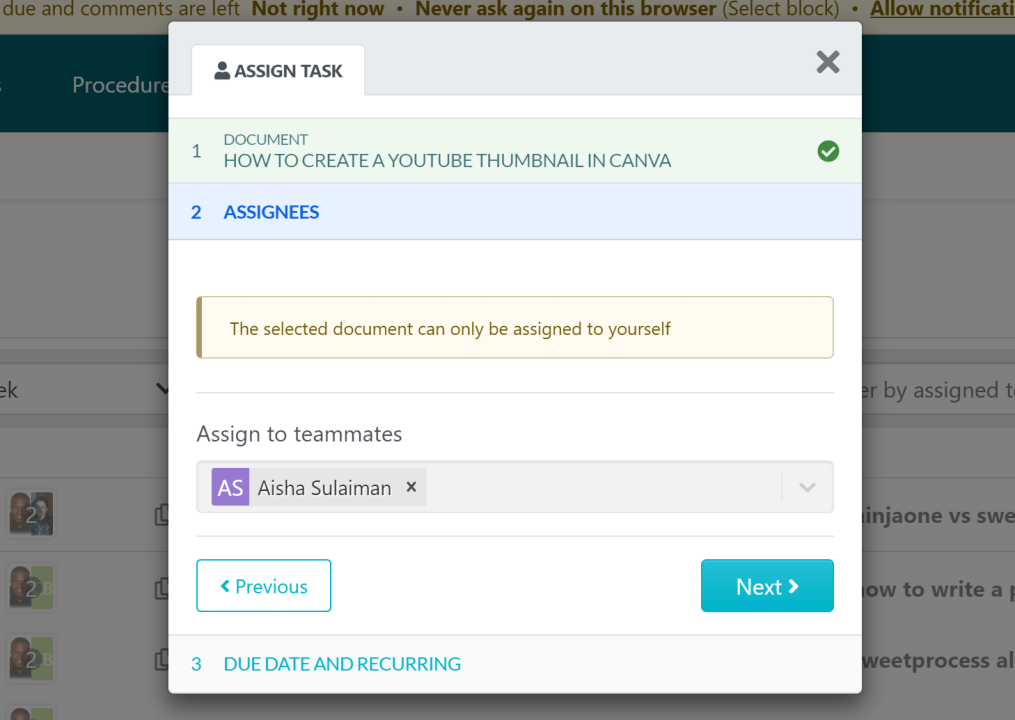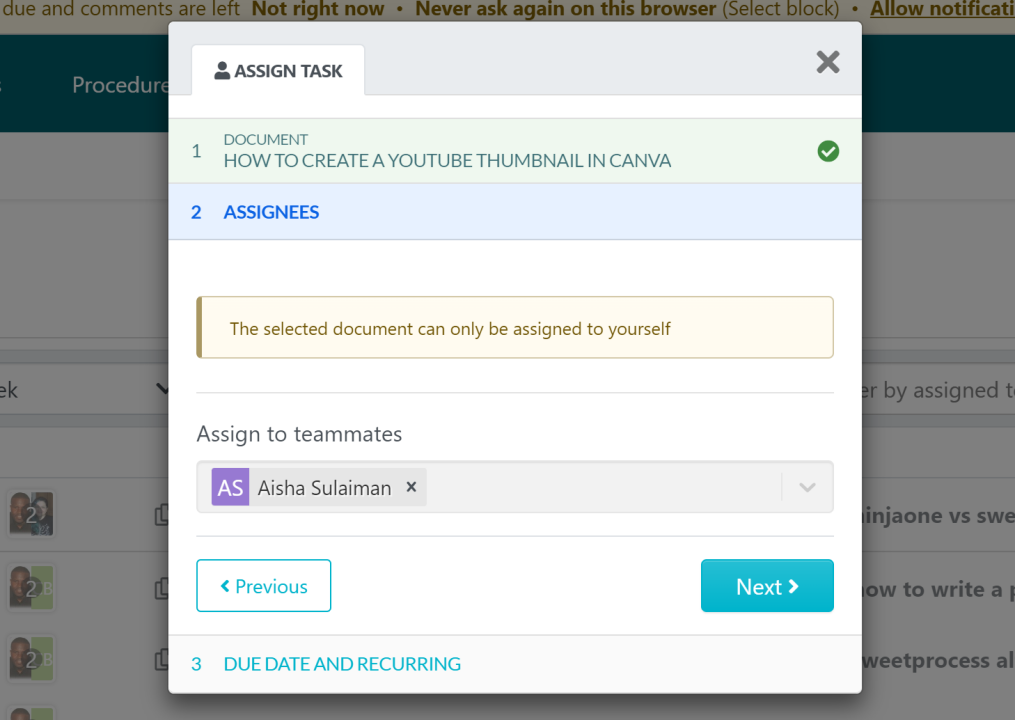 Once done, you can then proceed to add due date reminders and complete the process.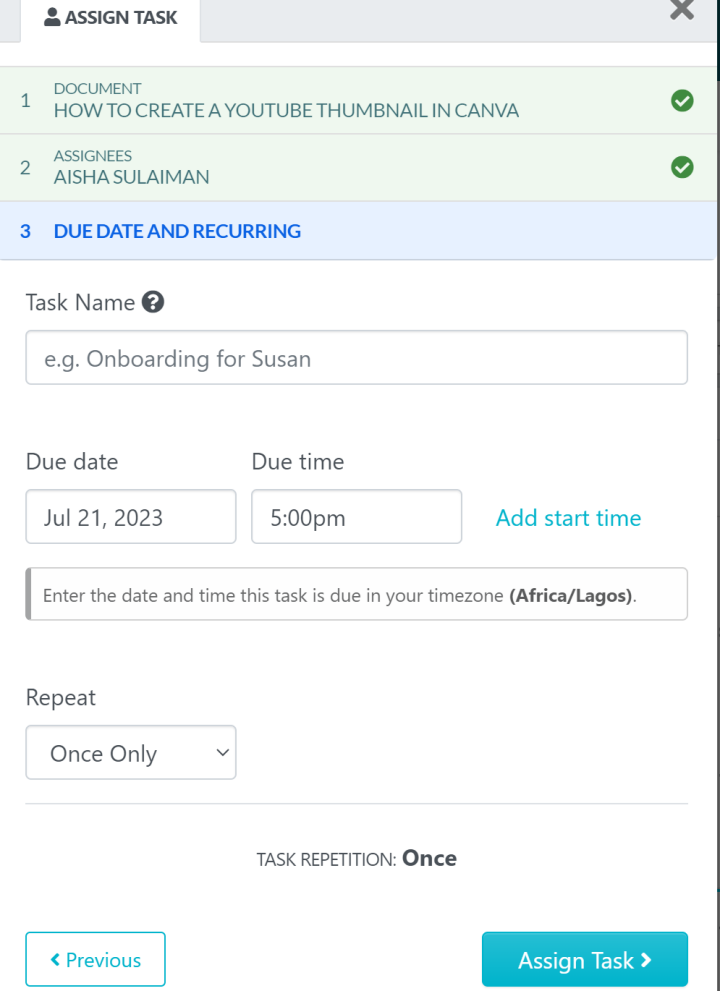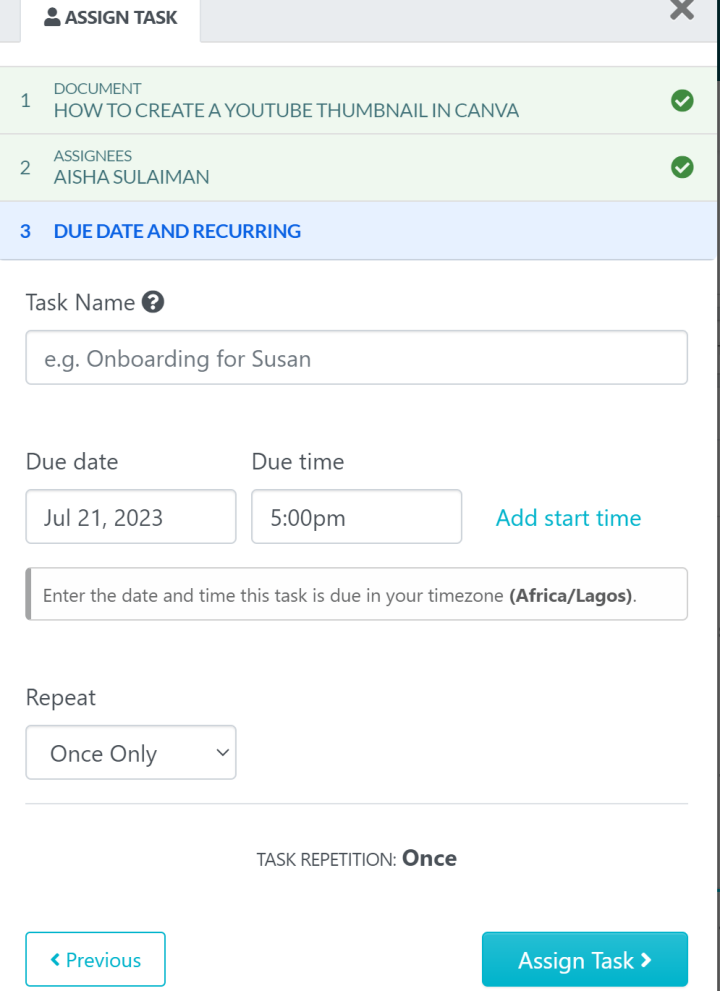 How to Assign a Task Based on Teams on SweetProcess
Different roles can also be assigned on the SweetProcess platform. Based on the role assigned, subsequent tasks can also be attached to certain roles such that other team members not included would not have access.
For example, since only people with the task manager role are allowed to assign tasks, then you can change their role to allow them to assign tasks to other team members.
How to Manage a Task on SweetProcess
On the dashboard, you have an overview of all pending tasks, and you can also see tasks assigned to you alone. Each task displays the due date and accompanying percentage of completeness to give you a broad overview of how best to manage due dates.
Each task displays the person it was assigned to, along with the steps required to complete the task.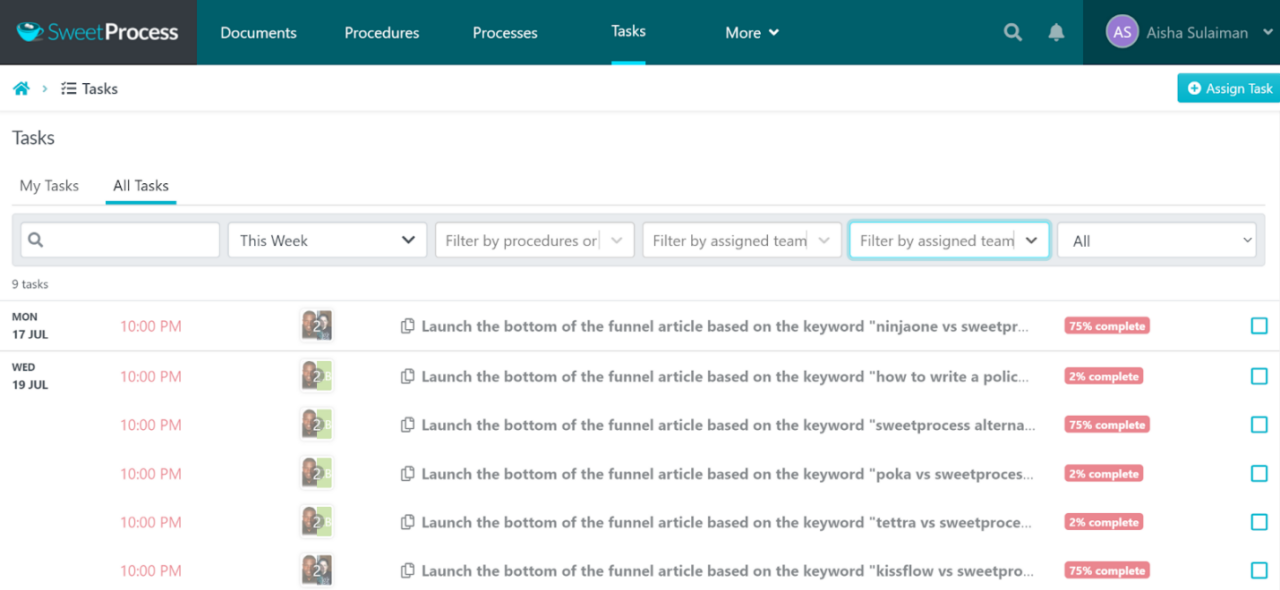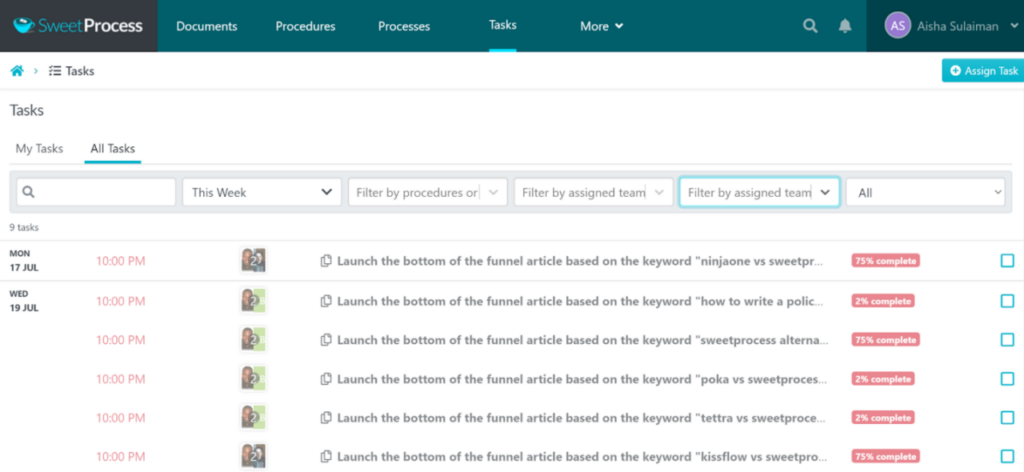 How to Set Reminders for Tasks on SweetProcess
When setting up a particular task, you can also add a due date and reminders. This will serve as a follow-up for the team member assigned to the task in question.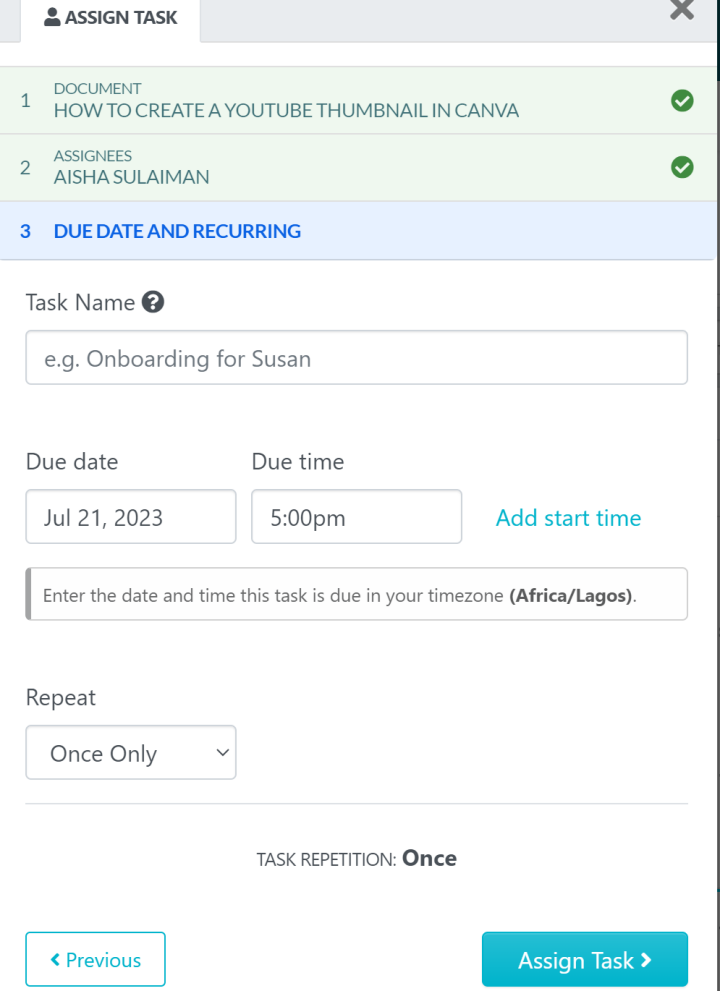 You can set a single reminder or multiple reminders depending on the duration or timeline assigned to the task.
How to Track Assigned Tasks to Employees on SweetProcess
As a manager, each team member's performance is crucial to your team's success. SweetProcess platform makes it easy to track assigned tasks from a single dashboard.
There is also a feature that sends automatic reminders to team members to serve as follow-up for approaching due dates. Team members lagging on a particular project can be identified early enough to get things back on track.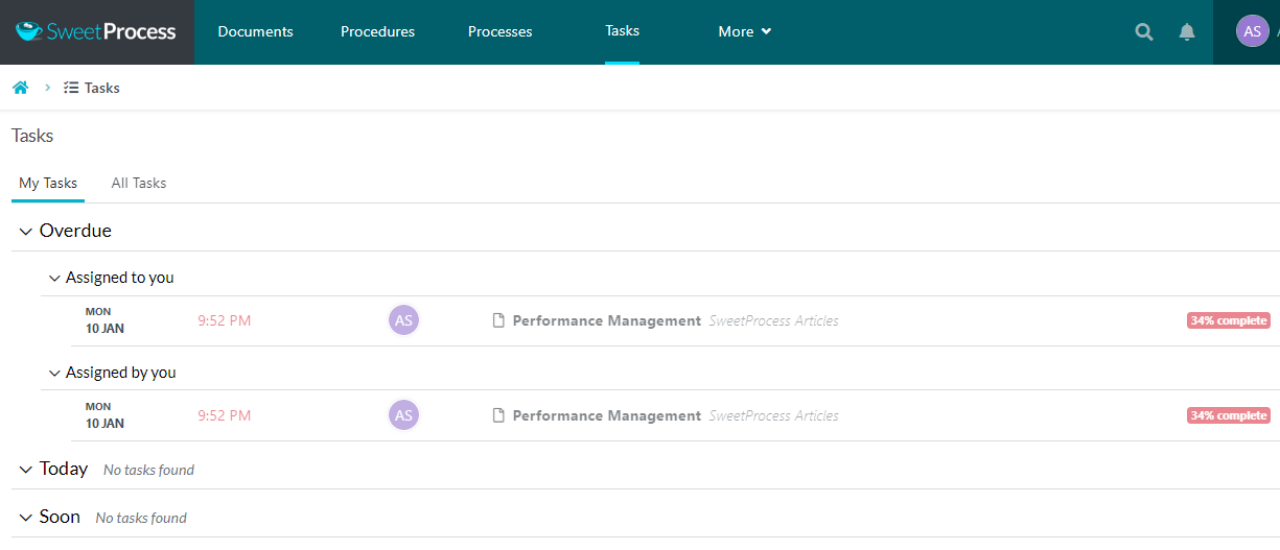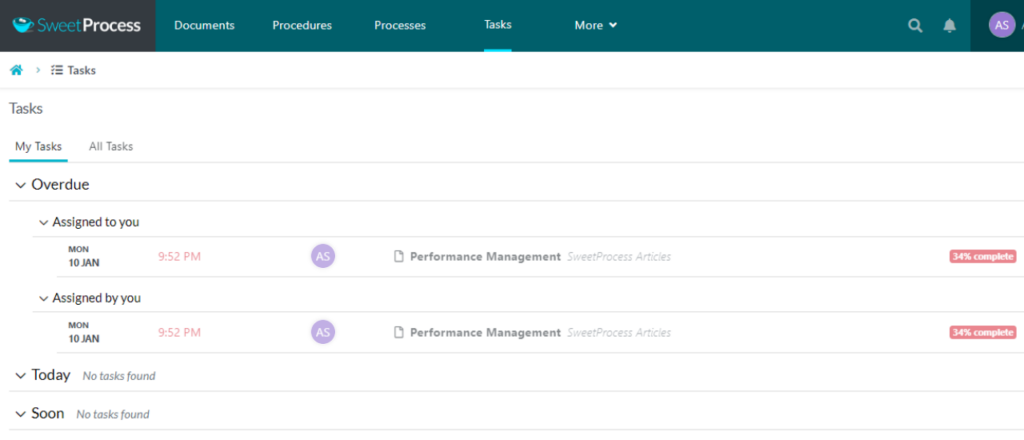 Pricing
SweetProcess offers a 14-day free trial so you can test the waters before you dive in. The paid plan is reasonably priced, starting at $99 per month for up to 20 active users. The package available is also flexible, and as a user, you pay only for what you use. You can opt for monthly or annual billing options depending on what suits your organization.
SweetProcess proves to be a good task management tool that can improve your productivity and enhance your task management processes. Try it out for FREE with no credit card required here.
2. Any.do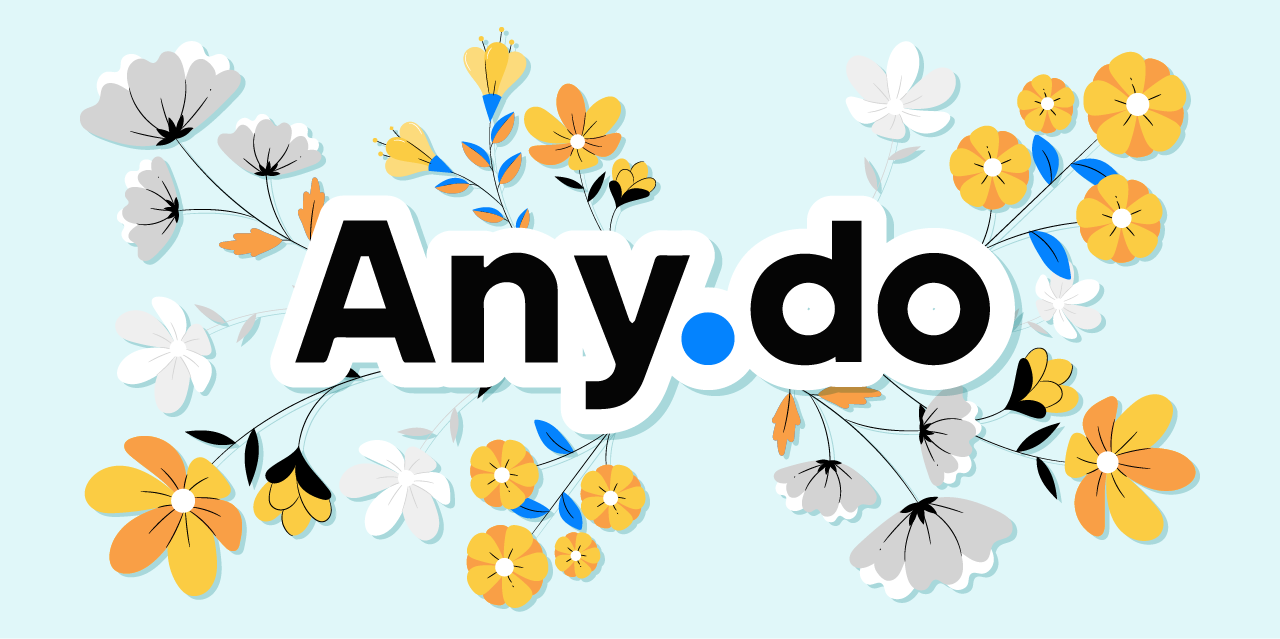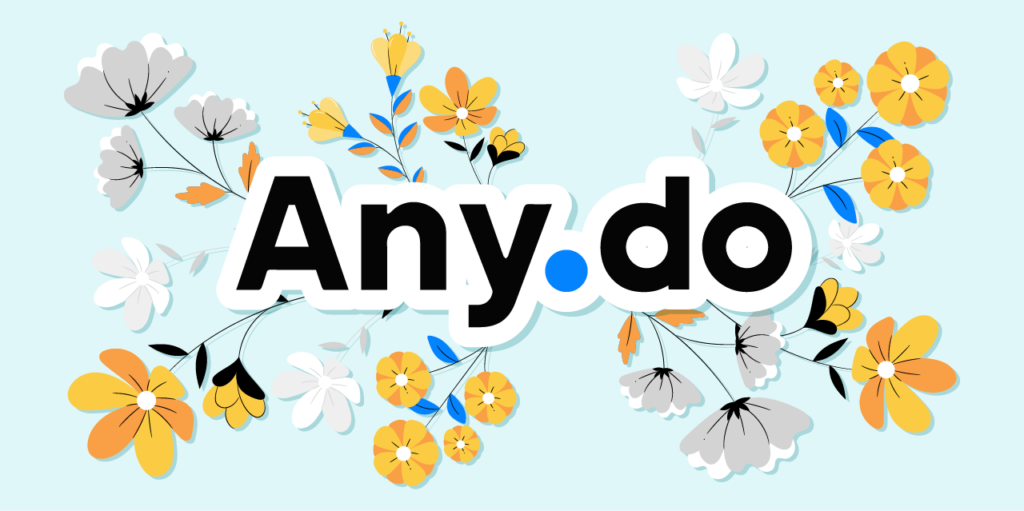 Any.do is a business task management software designed to help you stay productive and organized. The platform is best suited as a to-do list management tool. It comes with extensive features and has a user-friendly interface.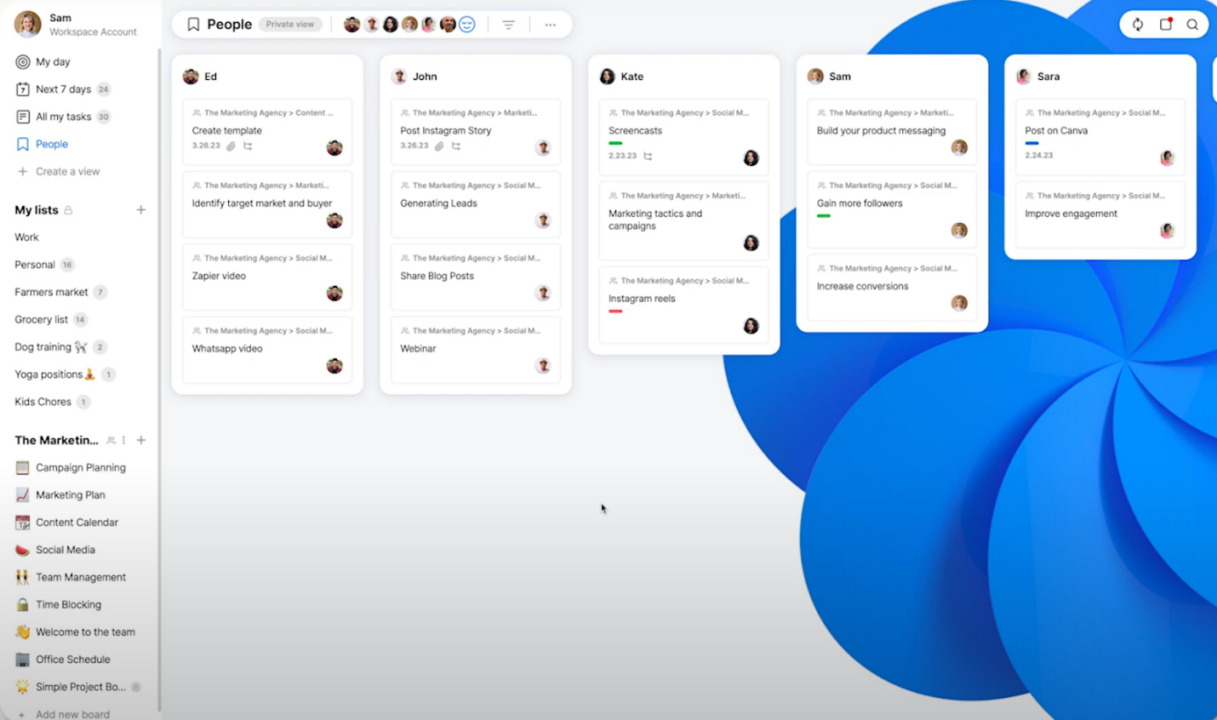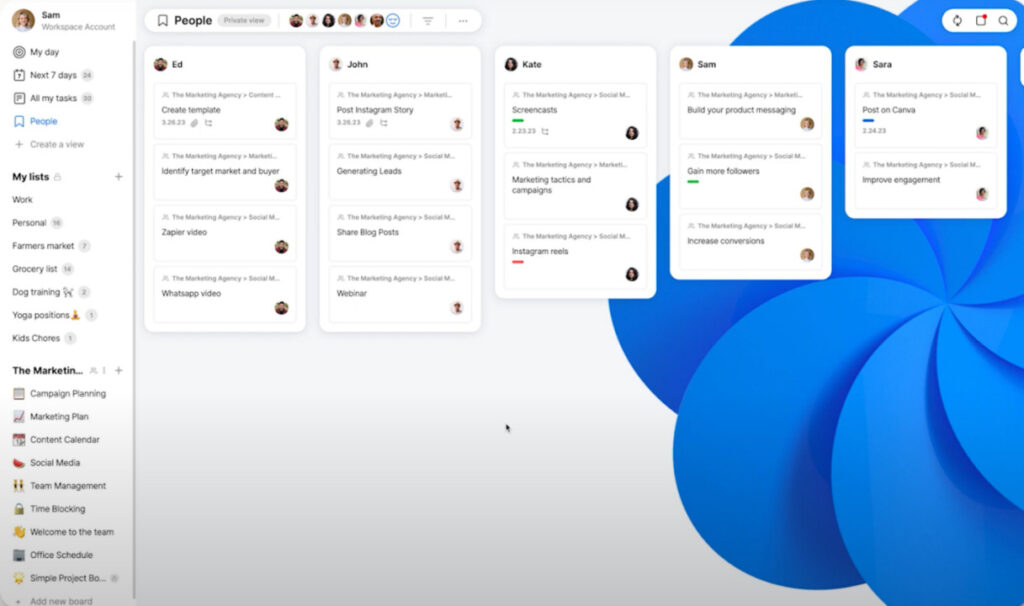 Core Features of Any.do
Task Management: Any.do allows users to create and manage tasks easily, providing options to add due dates, reminders, and notes to each task.
Collaboration: Users can collaborate with others by sharing tasks and lists, making it an excellent choice for team project tasks or other activities.
Cross-platform Syncing: Any.do sync seamlessly across devices, ensuring that your tasks are accessible from smartphones, tablets, and computers.
Smart Suggestions: The platform offers intelligent suggestions, adding relevant tasks based on user behavior and patterns. It can, therefore, adapt to your specific needs over time.
Real-Time Chat: There is a chat feature for instant chat communication with team members. This makes reaching out or sending reminders to other team members easier.
Pros
Reminders and notifications included
Supports attachments and notes
Presence of API integrations
User-friendly interface
Seamless syncing
Cons
Limited free version (Source)
Pricing for the premium has to be paid in a lump sum no monthly option (Source)
Pricing
Any.do offers three pricing plans: Free, Premium, and Business. The Free version provides basic task management features but lacks collaboration options and device limitations.
The Premium plan costs $3 per user billed annually and unlocks all features, including unlimited devices, custom themes, and recurring tasks.
The Teams plan is $5 per user and caters to teams, offering advanced collaboration, team management, and dedicated support, among others.
3. TaskQue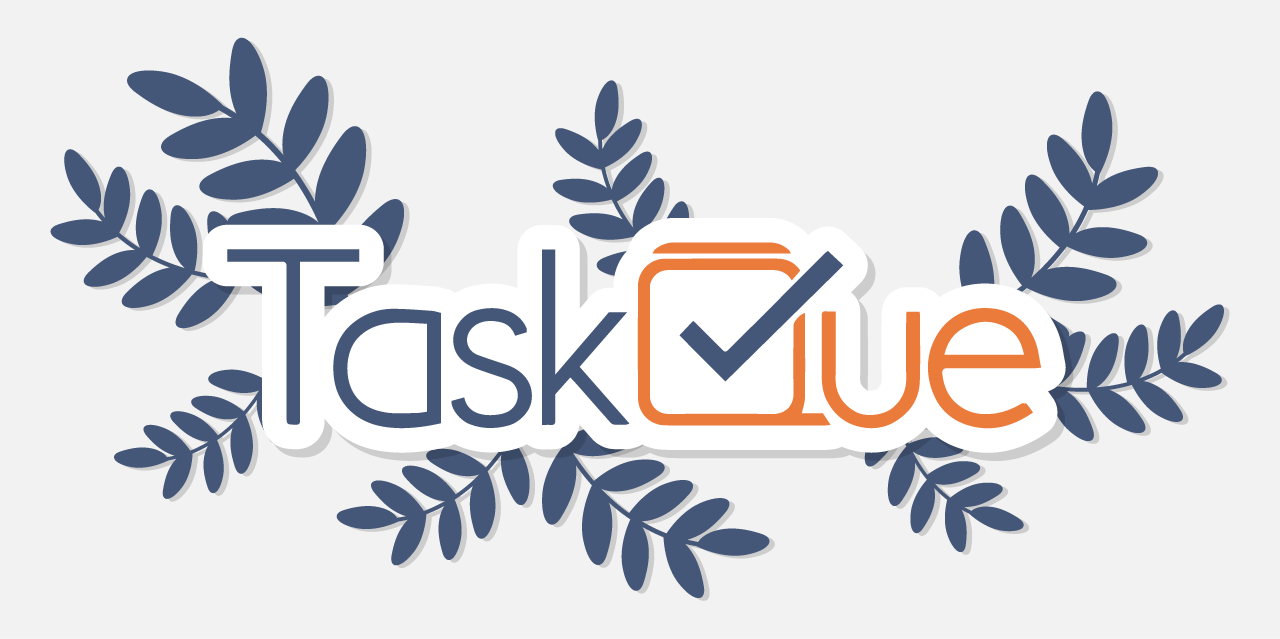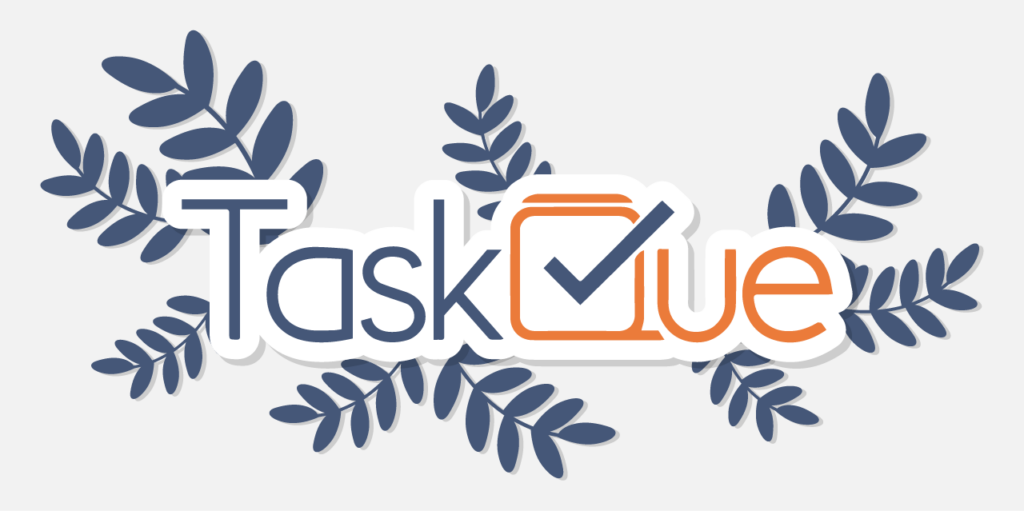 Taskque is a cloud-based task management software designed to manage workloads, streamline workflows, and enhance productivity in teams and organizations.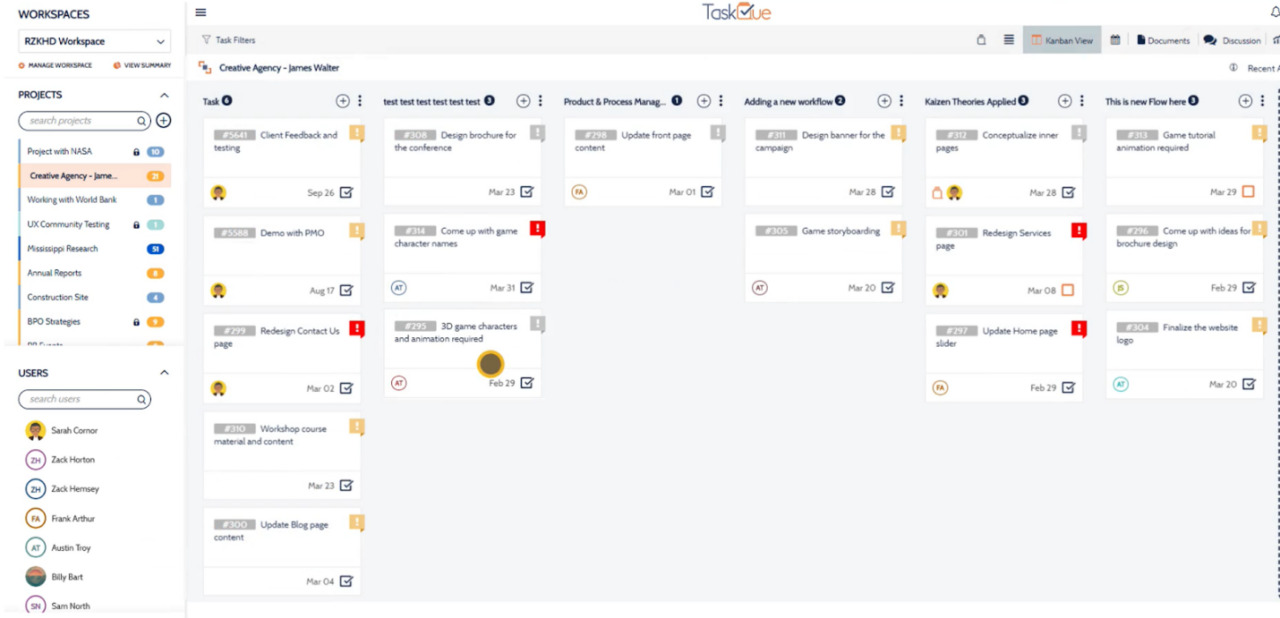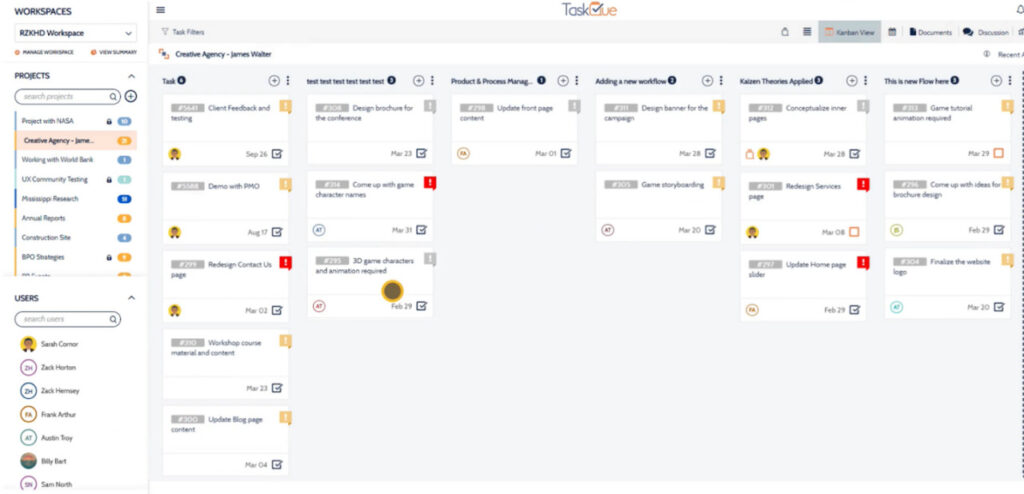 Core Features of TaskQue
Task Assignment: TaskQue allows managers to effortlessly assign tasks to team members, ensuring clarity in responsibilities and deadlines.
Real-time Collaboration: Team members can communicate and collaborate within the platform, facilitating seamless information exchange.
Task Dependencies: Users can establish task dependencies to ensure a logical order of completion and optimize workflow efficiency.
Deadline Alerts: Automated reminders and notifications ensure that deadlines are met promptly, reducing the risk of delays.
Performance Analytics: TaskQue provides insightful analytics to evaluate team and individual performances, aiding decision-making.
Mobile Accessibility: The software is accessible through mobile devices, enabling users to stay connected and productive.
Pros
Efficient task allocation
Enhanced collaboration
Performance insights
Task dependencies
Ease of use
Cons
To-do lists created cannot be shared with others (Source)
Limited to 100MB attachment for files in the Business plan (Source)
Pricing
TaskQue offers a tiered pricing model, providing various plans to cater to different organizational requirements. The pricing structure includes a free basic plan limited to ten users with limited task options. The paid plans offer additional features such as advanced analytics, more users, and priority support at $5 per user monthly.
4. Hitask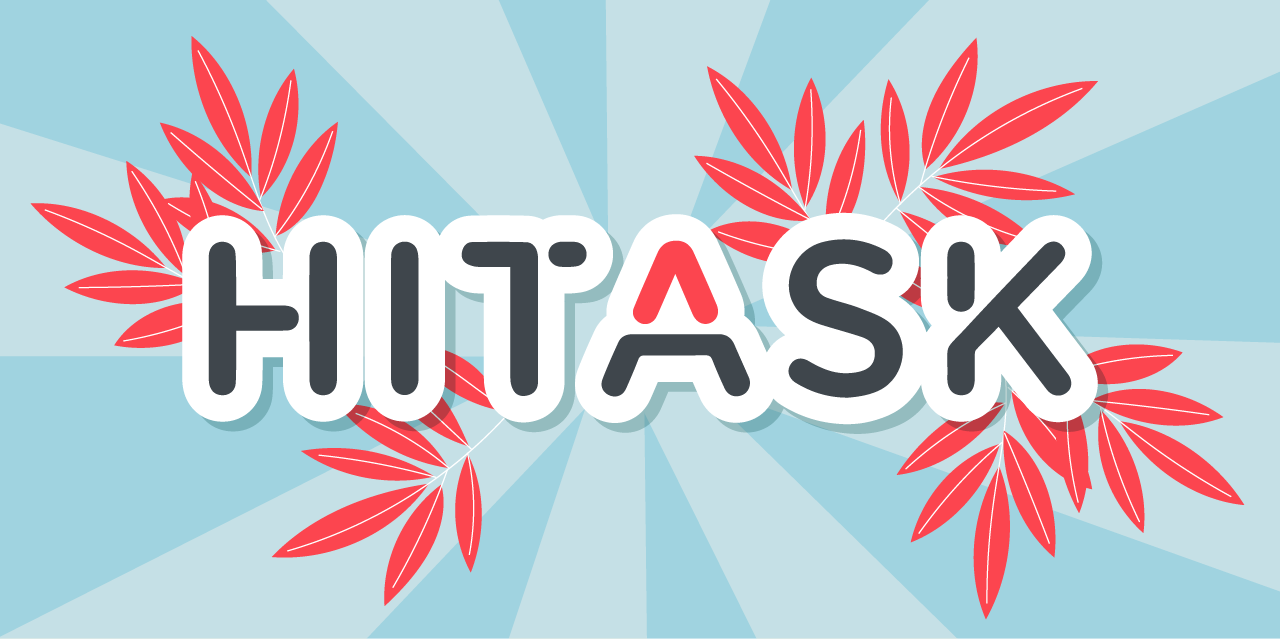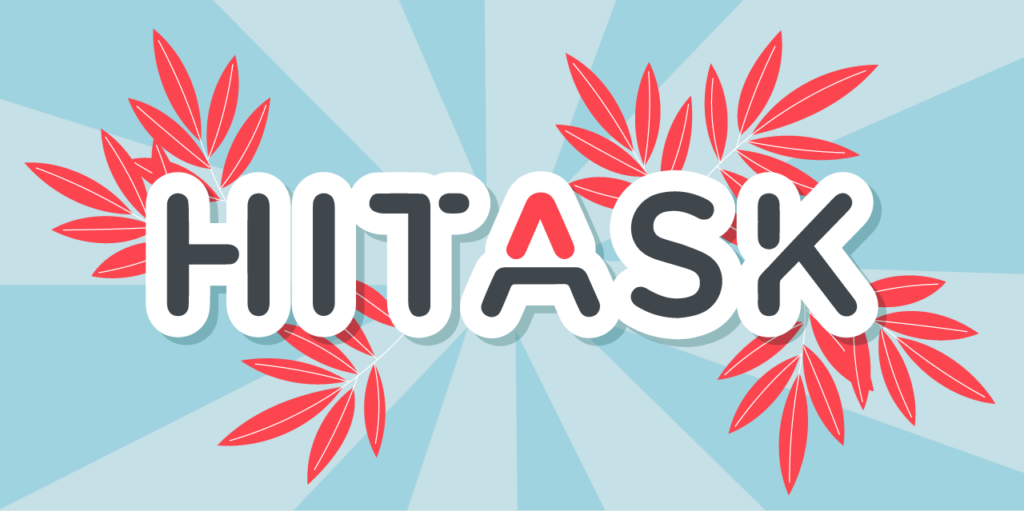 Hitask is a versatile business task management software designed for teams and individuals. With a user-friendly interface, it enables efficient organization, tracking, and collaboration on tasks and projects.


Core Features of Hitask
Task Creation and Assignment: Hitask provides a user-friendly interface for creating tasks, enabling users to define task names, descriptions, due dates, or priorities and assign them to specific team members. This feature facilitates effective task delegation and ensures everyone knows their responsibilities.
Calendar Integration: The software seamlessly integrates with popular calendar applications, enabling users to sync their tasks with personal or team calendars.
Task Prioritization: The software offers various priority levels or custom labeling options, allowing users to prioritize tasks based on their importance and urgency.
Reminders and Notifications: Hitask incorporates reminder functionalities to help users stay on track with their tasks. Automated notifications alert team members of approaching deadlines, new task assignments, or important updates, reducing the risk of missing critical information.
Selective Sharing Permissions: The platform allows team leaders to share tasks with specific team members. You can also choose who can modify or complete tasks.
Pros
Task collaboration for team members
Real-time updates
User-friendly interface
Calendar integration for tasks
Cross-platform support
Cons
Pricing
Hitask offers a tiered pricing model. It typically includes a free plan with basic features suitable for individual users or small teams. For more advanced features, larger team collaboration, and additional storage capacity, users can opt for paid plans. The pricing starts at $5 per month per user for the Team Business plan and $20 per user for the Enterprise plan.
5. Taskworld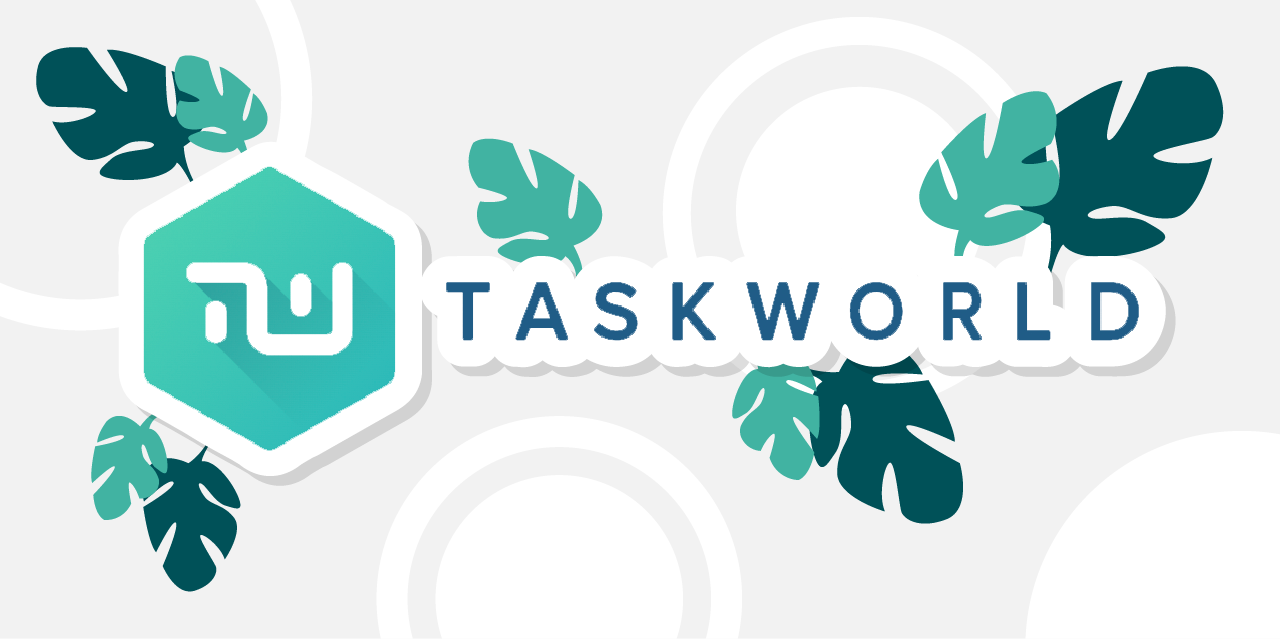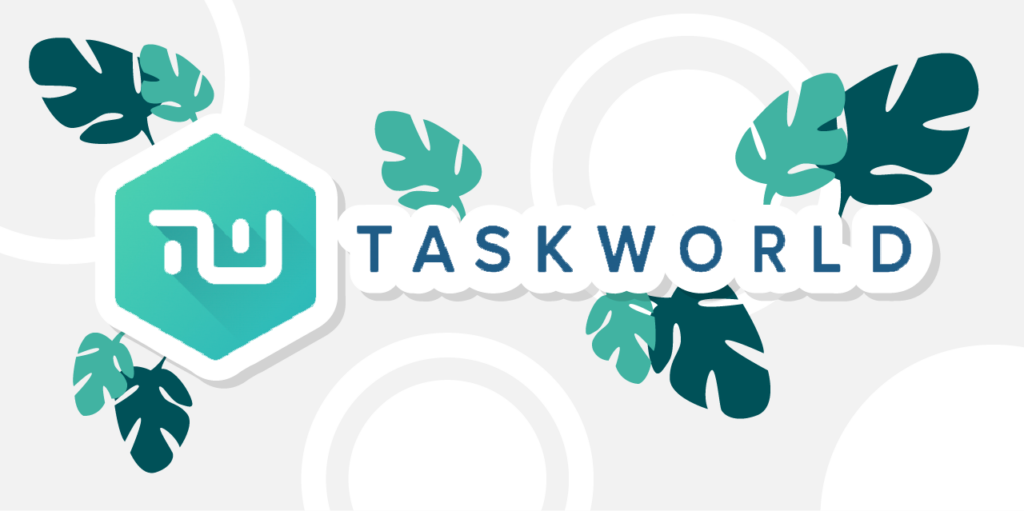 Taskworld is a robust and popular task management tool with an efficient and intuitive platform that teams and individuals use for collaboration, organizing, and tracking tasks and projects.


Core Features of Taskworld
Task Management: Taskworld offers comprehensive task management capabilities, allowing users to create, assign, and prioritize tasks. It supports task dependencies and due dates, enabling seamless project progress tracking.
Collaboration: The software fosters effective collaboration through real-time messaging and comments on tasks. Users can tag team members to keep everyone informed and engaged.
Project Visualization: Taskworld provides visual project boards and timelines, giving users a clear overview of the project's status and individual tasks. This visualization aids in identifying bottlenecks and improving project planning.
File Sharing: Users can share files directly within the platform, reducing the need for external file-sharing services and keeping all project-related assets in one place.
Reports and Analytics: Taskworld offers insightful reports and analytics, enabling users to assess team performance, track time spent on tasks, and identify productivity trends.
Pros
Kanban board for project visualization
Integrated chat for team members
User-friendly interface
Collaboration features
Visual project tracking
Cons
Projects deleted cannot be retrieved (Source)
You cannot access the pin feature when viewing a task in a non-project view (Source)
Pricing
Taskworld offers tiered pricing plans based on the number of users and features required. The pricing ranges from basic plans to more advanced or pricier plans. Users can choose from monthly or annual billing options to suit their budget and project requirements. The pricing starts at $8 monthly for the Premium plan, $15 monthly for the Business plan, and custom pricing for the Enterprise plan obtainable on request.
6. beSlick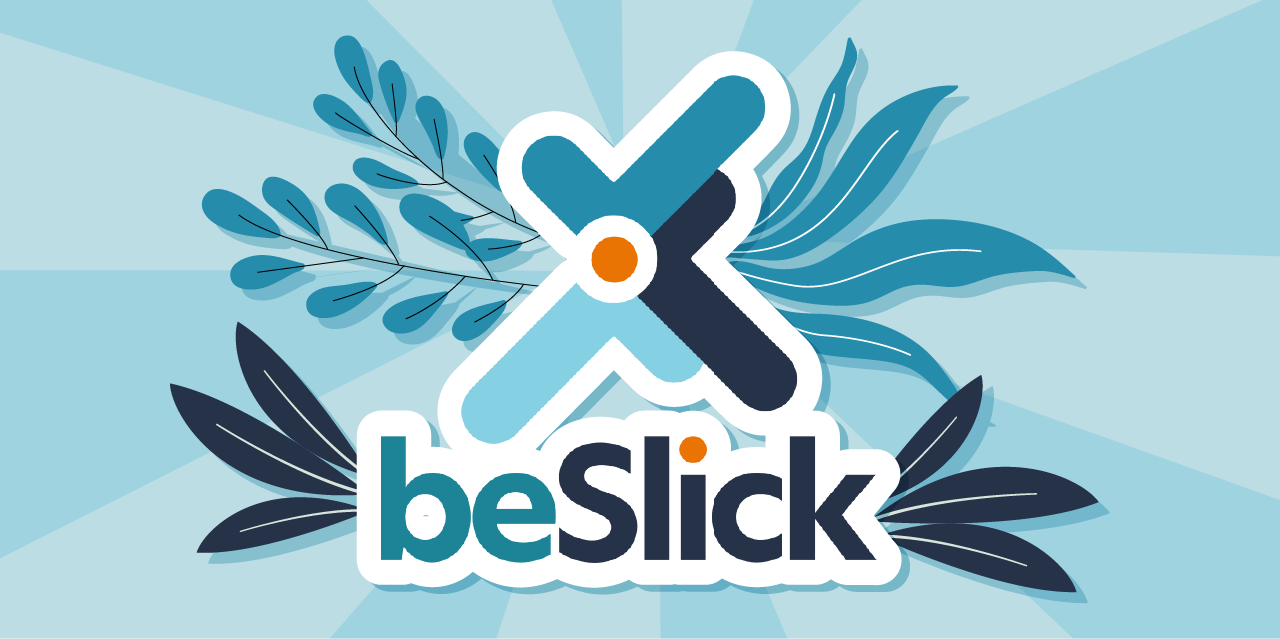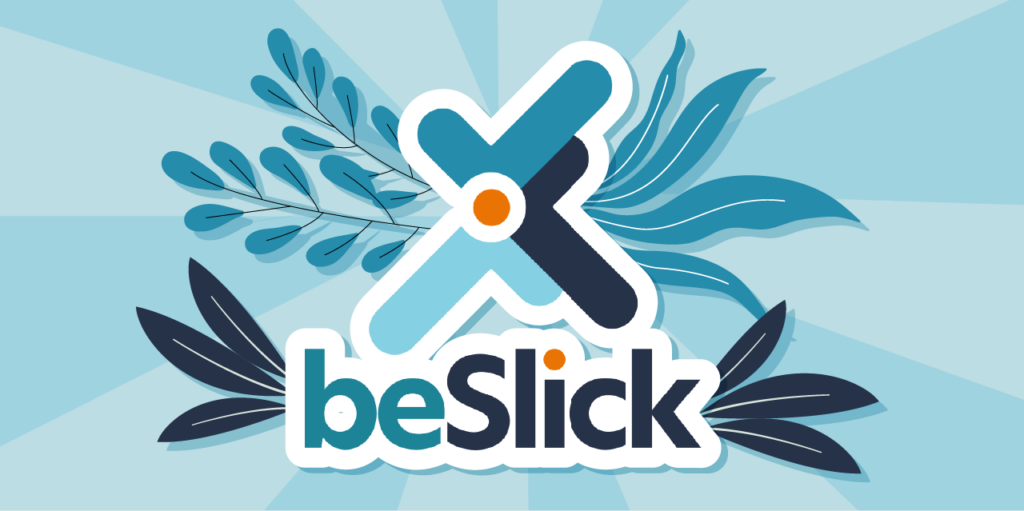 beSlick is a task management software designed to streamline project organization, increase productivity, and enhance collaboration within teams. It aims to simplify task tracking and boost efficiency in personal and professional settings.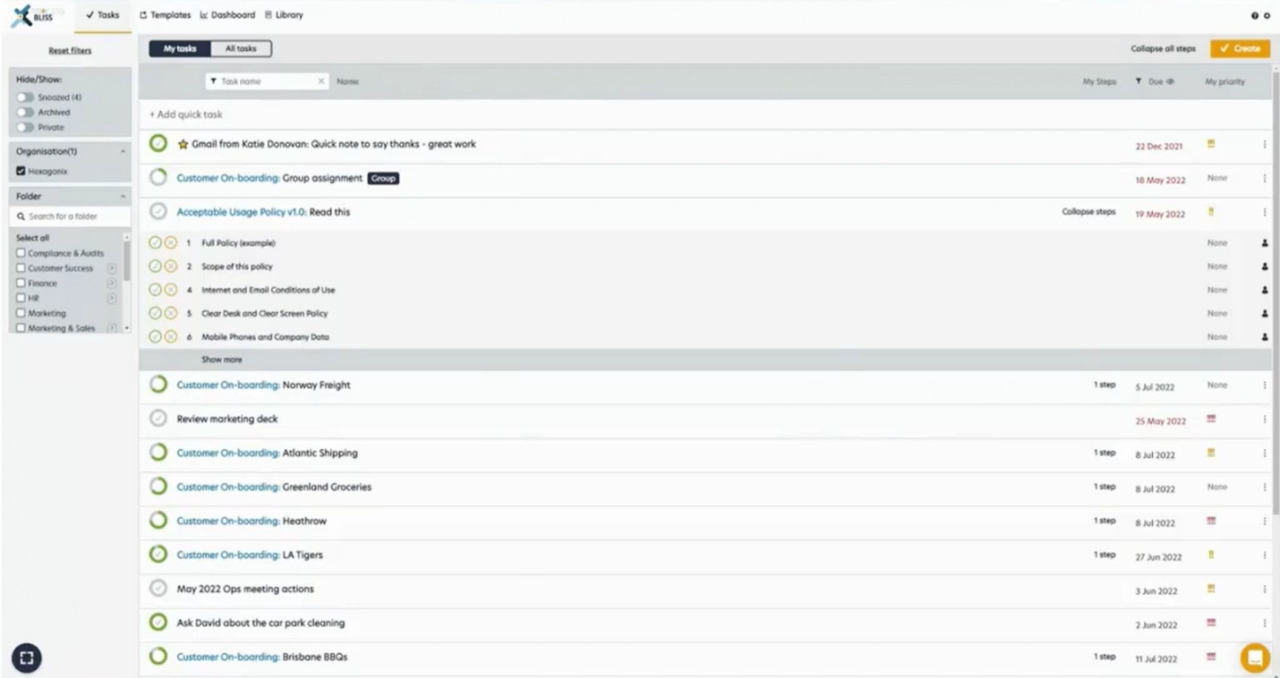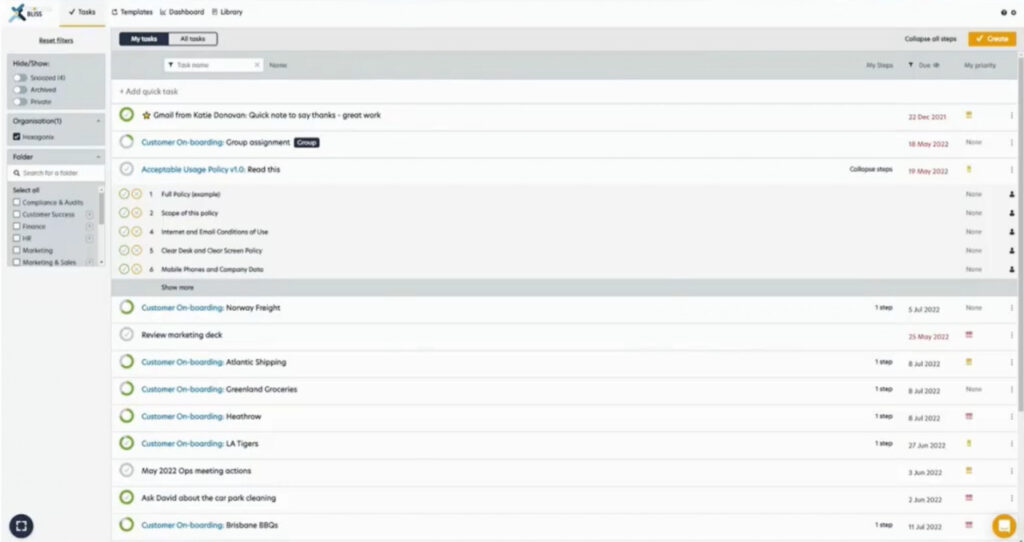 Core Features of beSlick
Task Organization: beSlick provides a user-friendly interface that allows users to create, assign, and categorize tasks effortlessly. This helps teams to manage complex projects by breaking them down into smaller, more manageable tasks.
Collaboration Tools: The software enables seamless collaboration among team members. Users can share tasks or files and communicate through built-in messaging, facilitating real-time discussions and updates.
Progress Tracking: beSlick allows users to monitor the progress of tasks and projects, enabling better decision-making and timely interventions if any issues arise.
Deadline Reminders: The platform comes with a comprehensive notification system that sends reminders for upcoming deadlines, reducing the chances of missing critical milestones.
Pros
Intuitive interface
Customizability
Integration capabilities
Cons
Videos to be uploaded must be hosted only on YouTube, Vimeo, or Loom (Source)
Tasks created from a template cannot be cloned (Source)
Pricing
beSlick offers flexible pricing plans, including a free basic version but with limited features. They also provide tiered subscription plans with varying levels of functionality, scalability, and support options to cater to the needs of larger organizations.
The pricing starts at $70 monthly and $7 for any additional user for the Standard plan. Next is the Pro plan at $100 monthly and $10 for any additional user. The third is a Bespoke plan with the pricing available on request.
7. MeisterTask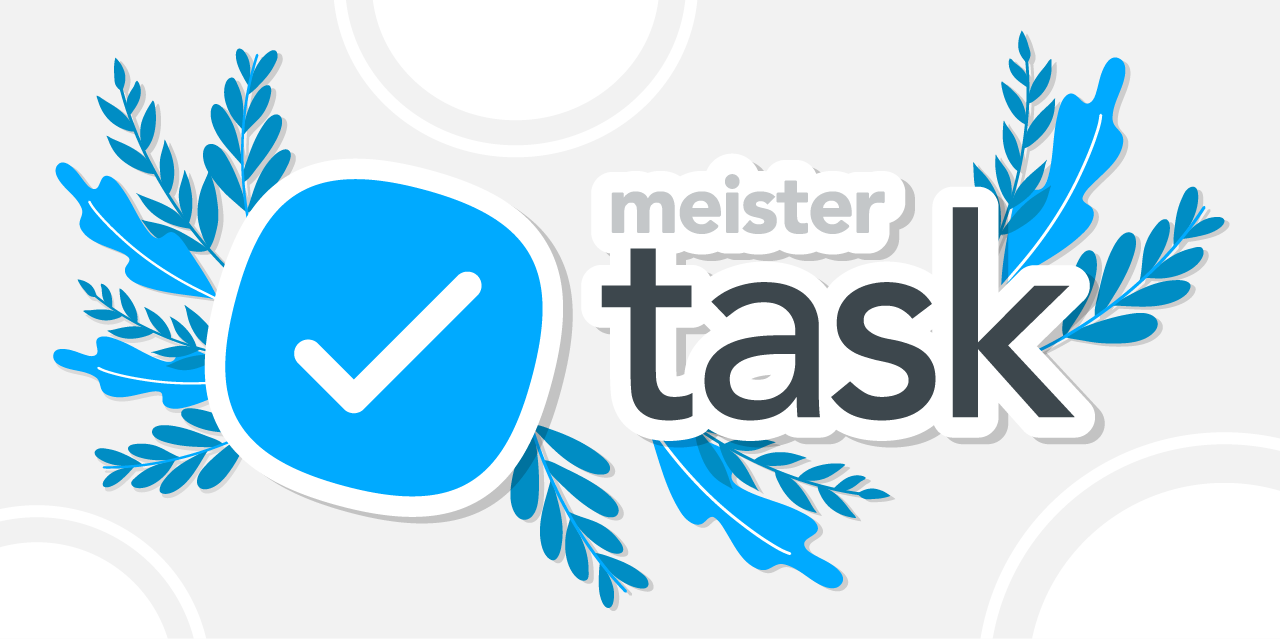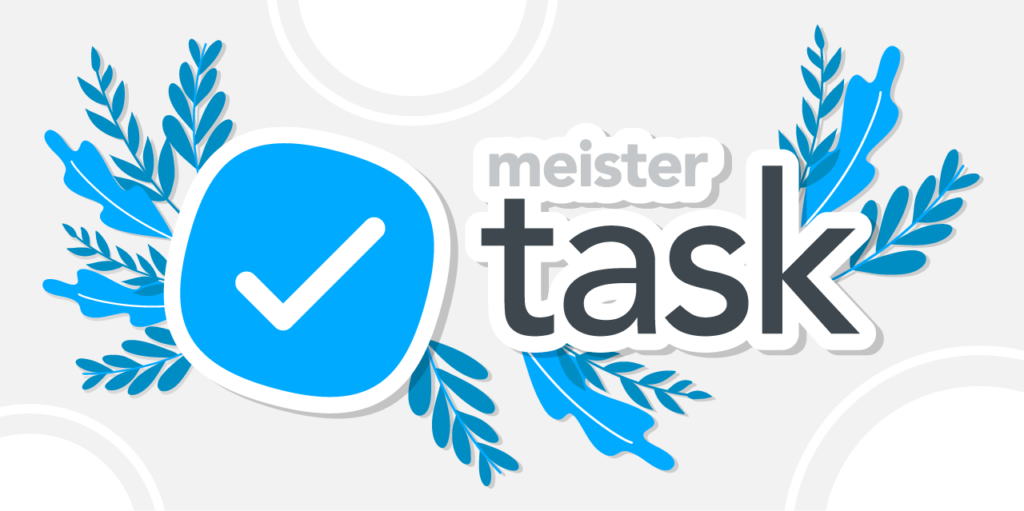 MeisterTask is an intuitive cloud-based task management software designed to enhance productivity and collaboration among individuals and teams. It is a secure platform and supports agile task management for teams.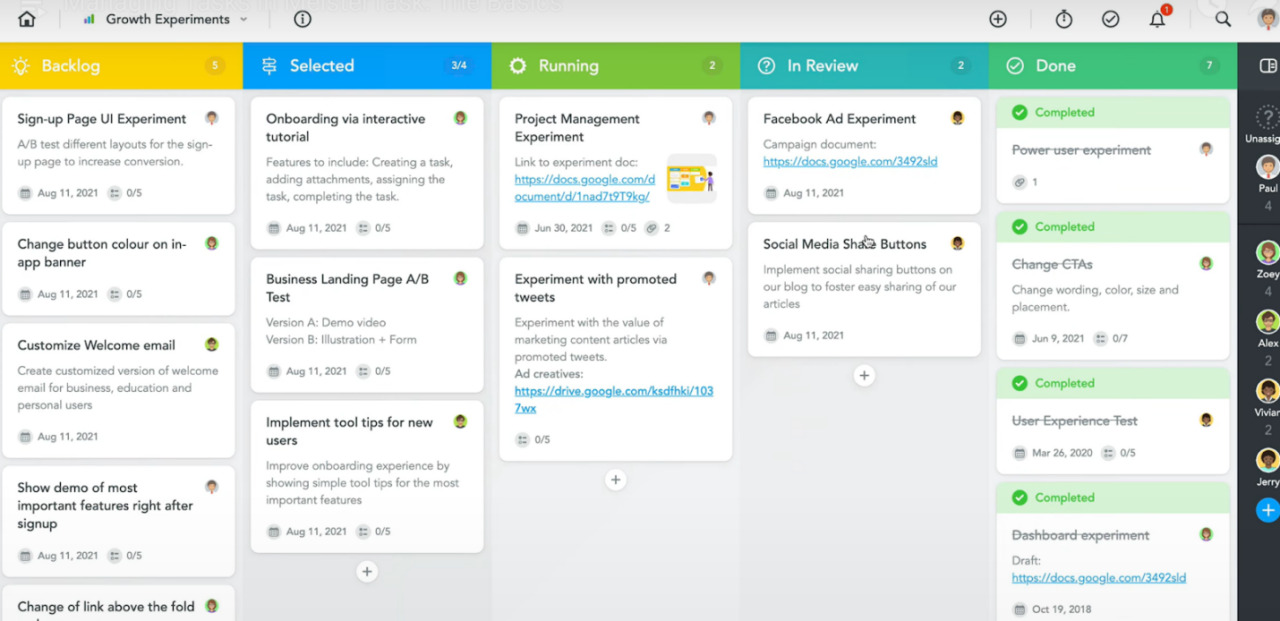 Core Features of MeisterTask
Task Boards: MeisterTask has a user-friendly kanban board–based layout, allowing users to create and organize tasks in a visually appealing manner. These boards can be customized to fit specific workflows, making it easy to manage complex projects.
Task Automation: The software offers automation capabilities that enable users to create custom workflows and automate repetitive tasks. This feature helps streamline processes and saves time, ensuring that tasks are completed efficiently.
Collaboration:MeisterTask fosters teamwork by enabling real-time collaboration. Users can share task boards, assign tasks to team members, and communicate within the platform, enhancing overall project coordination.
Integrations: MeisterTask integrates seamlessly with various third-party apps such as Slack, Google Drive, and GitHub, providing users with a comprehensive ecosystem to connect their favorite tools.
Time Tracking: The platform allows tracking of tasks and team members' performances on assigned projects or tasks. Any delay can, therefore be caught early and handled accordingly.
Pros
Private agenda for pinning multiple tasks from different projects.
Tasks can be filtered by assignee, tag, watcher, due date, or status
Report generation supported
Cloud-based and secure
Instant notifications supported
Cons
File attachment option limited to 200MB (Source)
The app version still needs work with the bugs (Source)
Pricing
MeisterTask offers several pricing plans to cater to different user needs.
The Basic plan is available for free, offering essential features for personal use or small teams.
The Pro plan, priced at $6.49 monthly, unlocks additional features such as unlimited integrations and file attachments, ideal for growing teams.
For larger organizations with more complex requirements, the Business plan provides advanced security options and priority support at $11.99 monthly.
The Enterprise plan has custom pricing and is available upon request on the platform.
8. Trello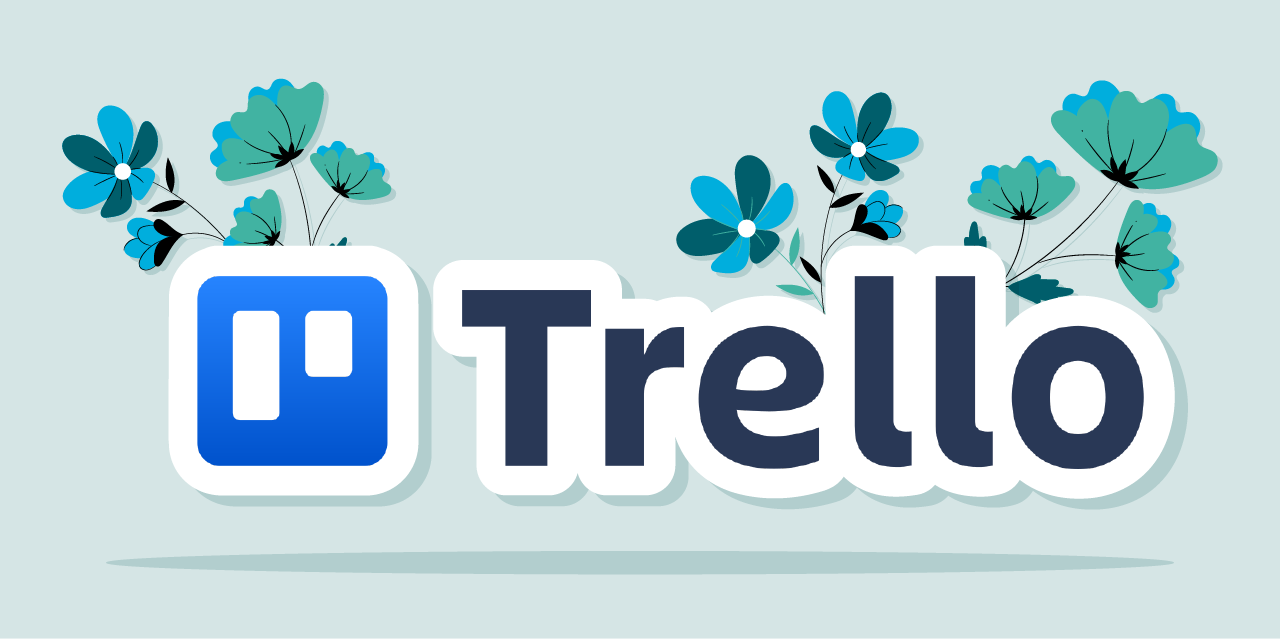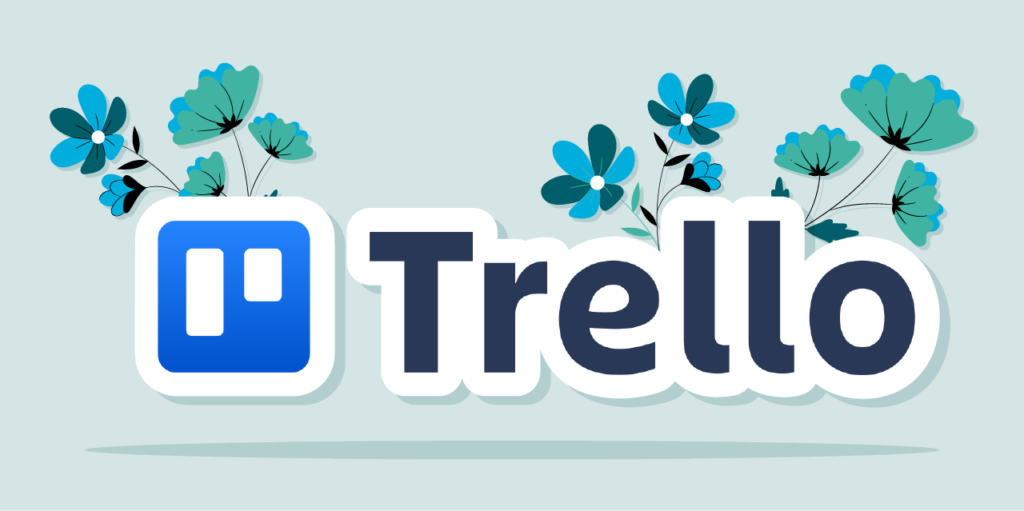 Trello is a project management tool with a visually-appealing interface that users can explore for tasks and project management across different industries.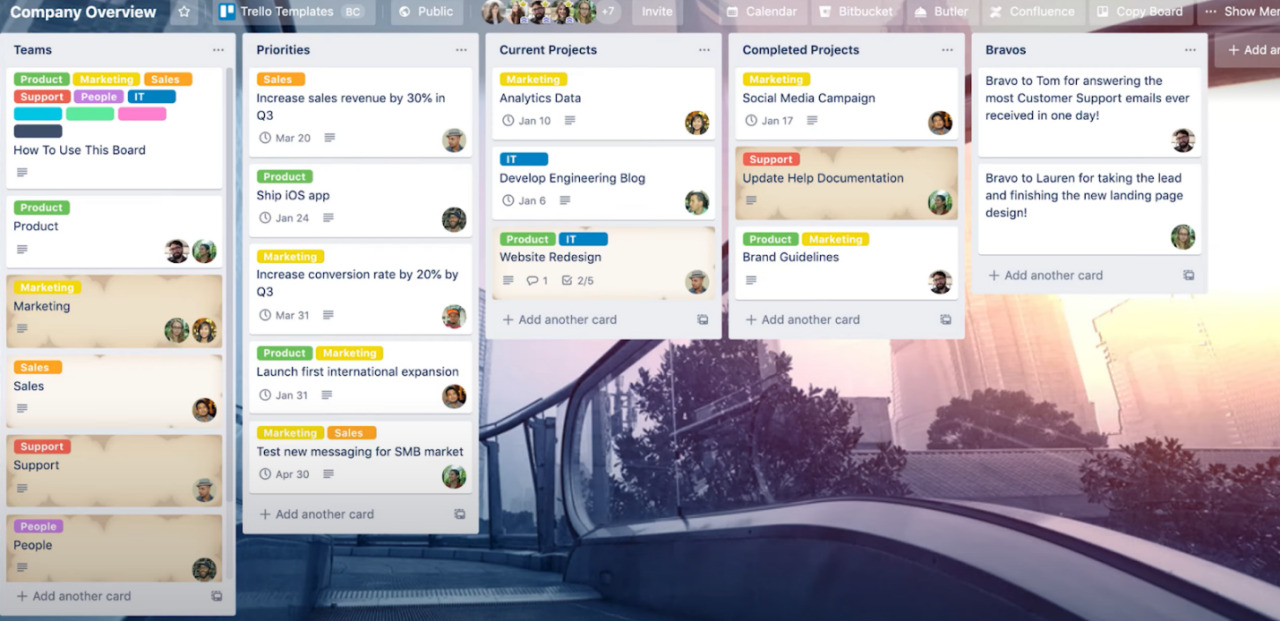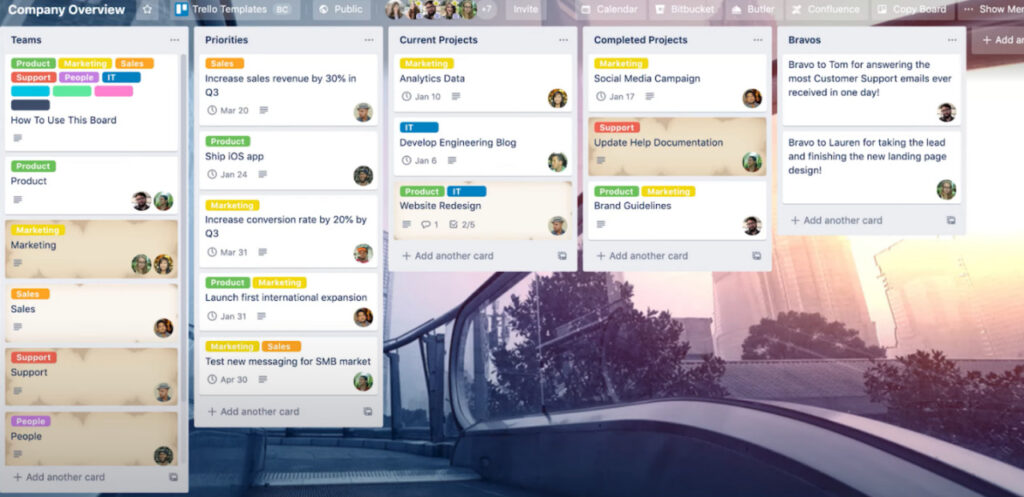 Core Features of Trello
Boards and Lists:Trello uses a board-based system where users can create boards for different projects and add lists within each board to represent various stages or categories of tasks.
Cards and Tasks:Within each task list, users can create cards that represent individual tasks or items to be completed. Cards can be easily moved between lists to indicate progress.
Collaboration:Trello enables seamless collaboration among team members by allowing users to add comments, attachments, and due dates to cards. This fosters communication and accountability.
Checklists and Due Dates:Within each Trello card, users can create detailed checklists. This can be used to break down large tasks into smaller, more manageable pieces.
Customization:Trello boards, lists, and cards can be customized to suit the needs of individual users or teams. This includes everything from the ability to choose the background image of a board to the capability of adding custom fields to cards.
Pros
In-built automation for repetitive tasks
Cross-platform access with mobile devices
Collaboration capabilities for multiple users and teams
Flexible workflows for different project formats
Visual organization at a glance
Cons
Limited attachment and integration on the free version (Source)
Cluttered board over time for large projects with multiple teams (Source)
Pricing
Trello offers a freemium model, with the free version providing basic features suitable for small teams and personal use. The plans available include:
The Standard plan at $5 per user per month
The Premium plan at $10 per user per month
The Enterprise plan at $17.50 per user per month
9. Workzone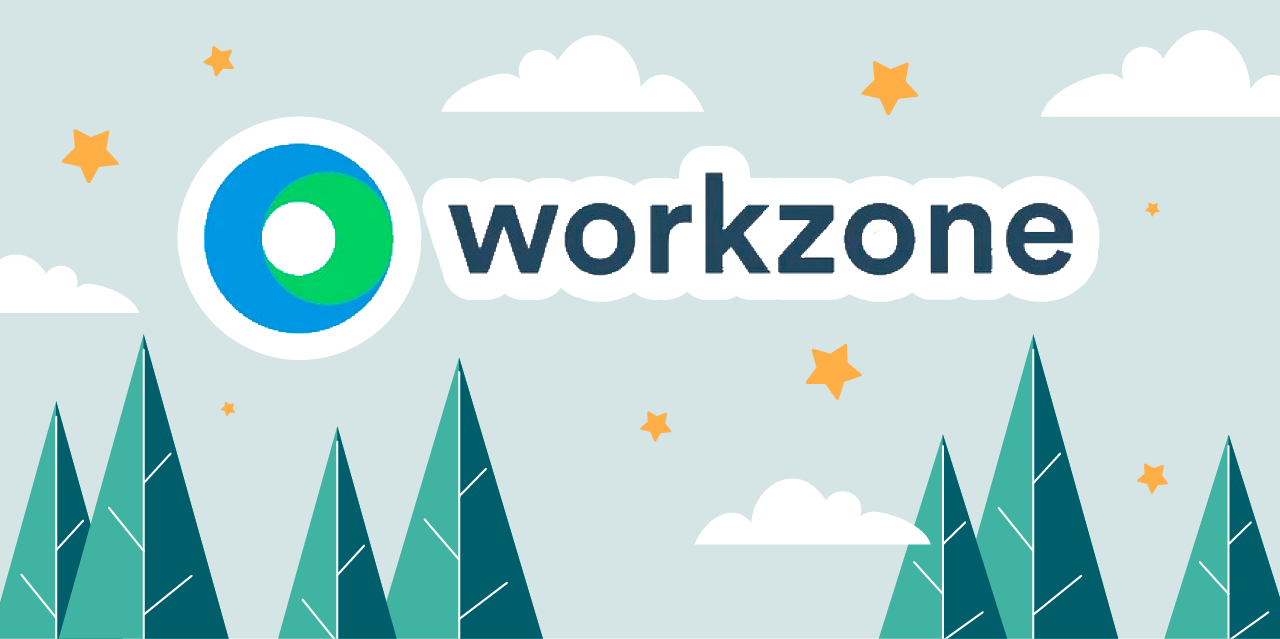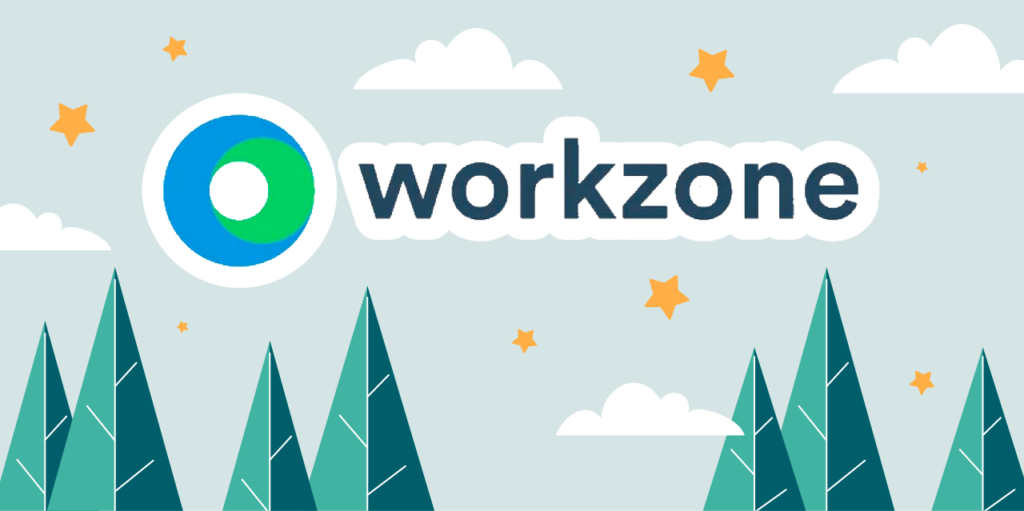 Workzone is a comprehensive project management software that helps teams efficiently collaborate, plan, and execute projects.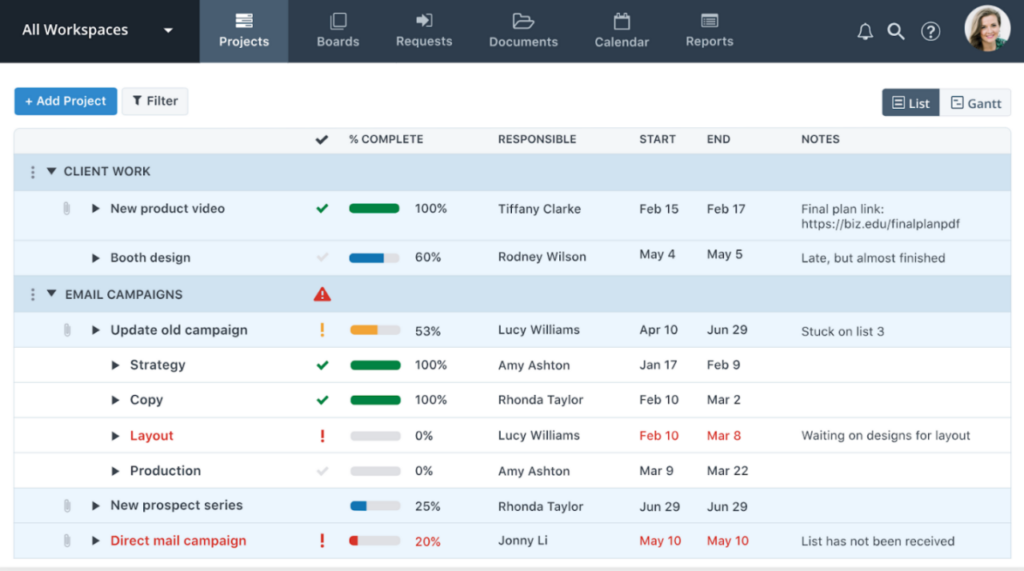 Core Features of Workzone
Document Sharing:Workzone enables seamless sharing and collaboration on project-related documents, fostering a centralized and accessible repository.
Gantt Charts: The software provides interactive Gantt charts that allow users to visualize project timelines, dependencies, and critical paths for effective planning and scheduling.
Collaboration Tools: Workzone offers communication and collaboration tools, including discussion threads, comments, and notifications, facilitating team interaction and feedback.
Customizable Project Views: Users can personalize project views to match their preferred workflow, enabling quick access to relevant information and reducing clutter.
Detailed Dashboard: Projects can easily be managed and monitored from the dashboard at a glance. You get to see all pending or ongoing projects and tasks.
Pros
Reporting and analytics enabled
Task templates and workflows included
Document versioning supported
Personalized to-do list
Mobile access via mobile apps and web apps supported
Cons
Deleted projects or files cannot be retrieved after 14 days (Source)
High cost per user when compared to SweetProcess and other similar software with no free trial (Source)
Pricing
Workzone's pricing model is based on a tiered subscription system, with different plans tailored to the needs of various business sizes. The pricing typically includes features like the number of users, storage capacity, and access to premium functionalities.
Pricing starts at $24 per user for the Team plan, $34 per user for the Professional plan, and $43 per user for the Enterprise plan.
10. Monday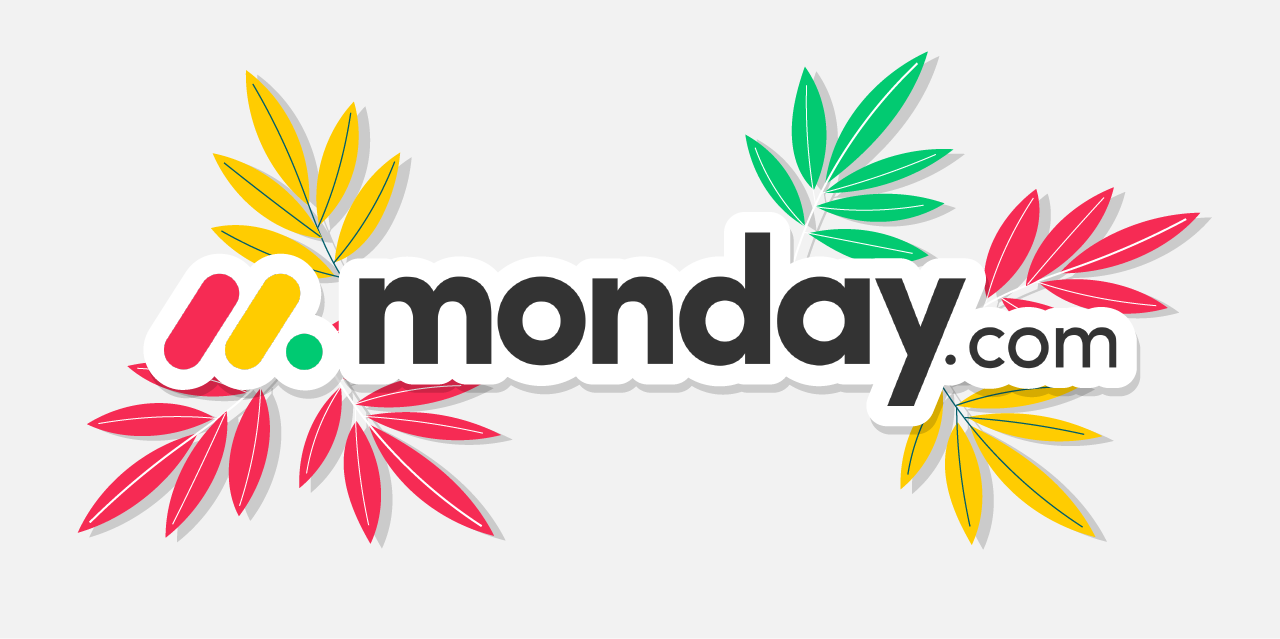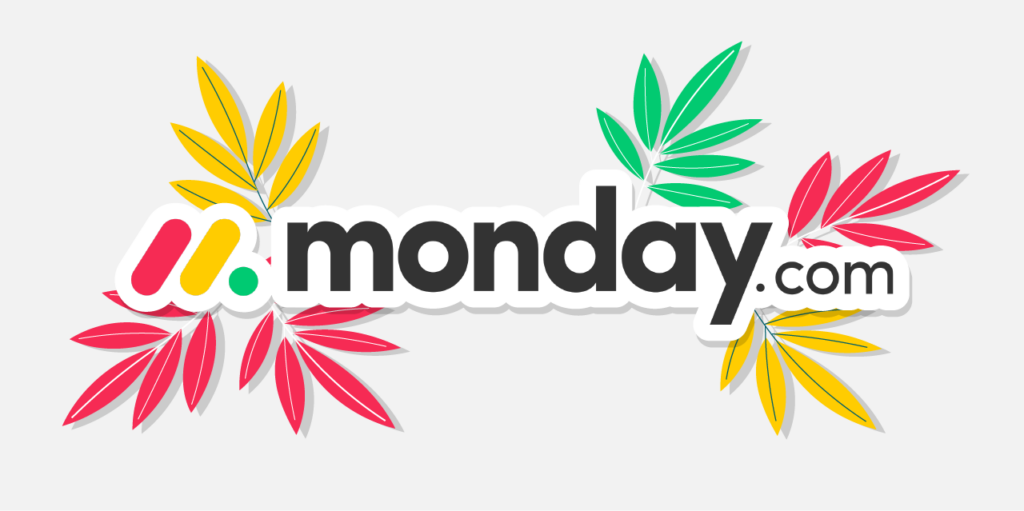 Monday is an established task management tool that offers an intuitive and versatile platform for users for collaboration, planning, and effective execution of projects.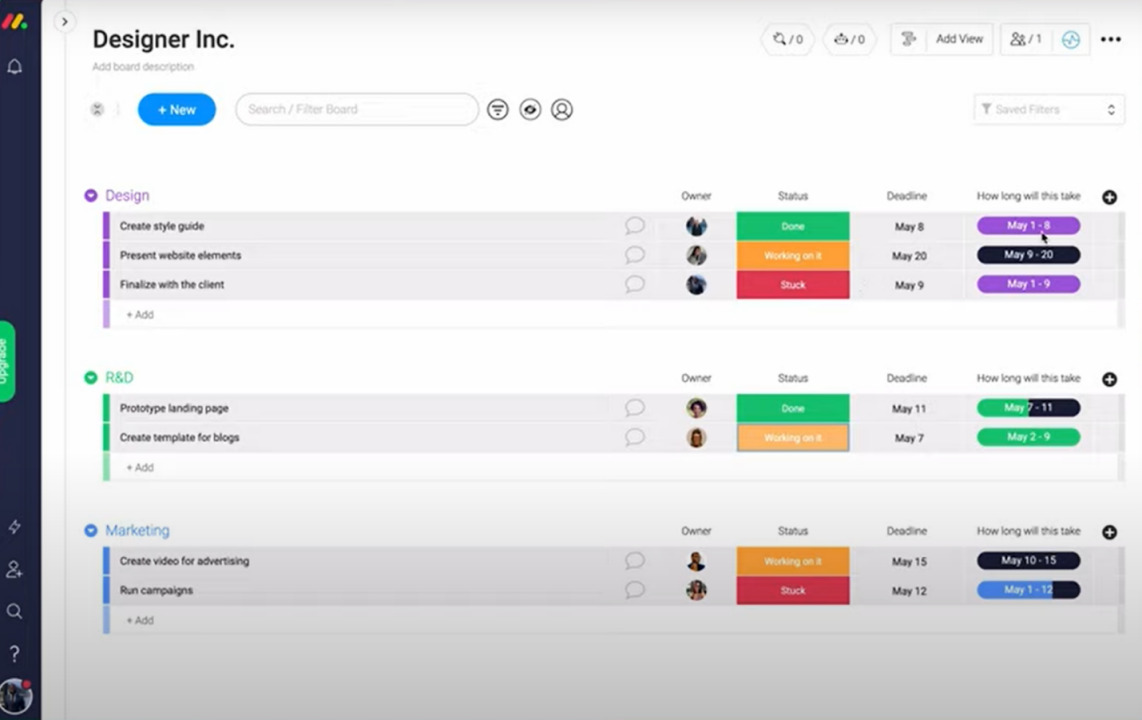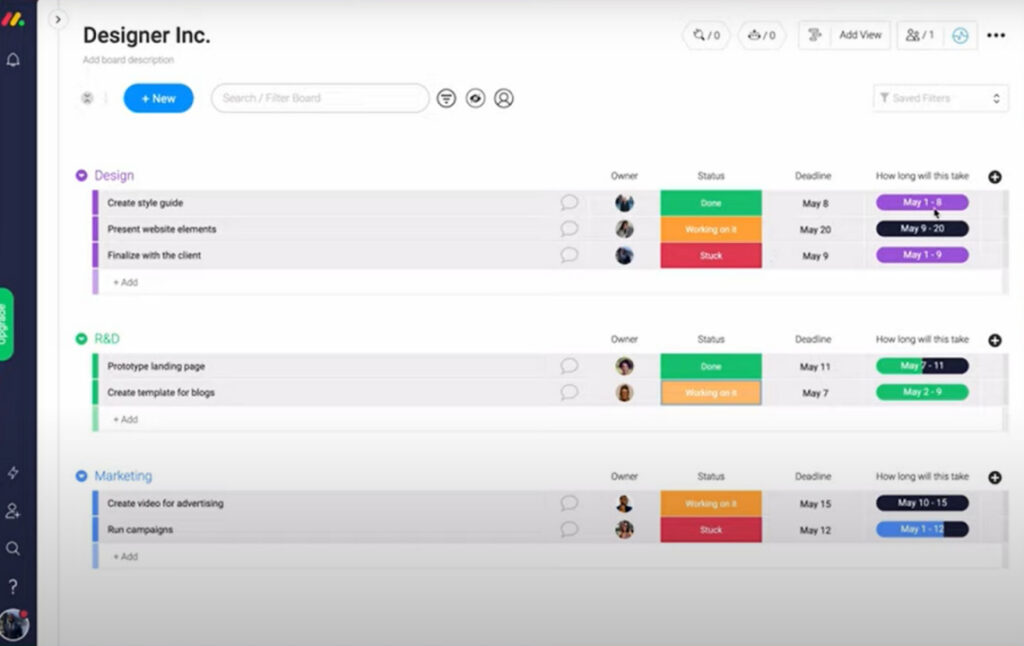 Core Features of Monday
Visual Project Tracking: Monday offers a highly visual and customizable interface that allows users to create and manage projects using boards. Boards can be organized using columns, which represent different stages, statuses, or categories of tasks.
Dashboards and Reports: Users can generate customized dashboards and reports to gain insights into project progress, team performance, and overall efficiency. This feature helps project managers and team leaders make data-driven decisions.
Timeline View: Monday provides a timeline view, allowing users to see tasks and projects plotted on a Gantt-style chart. This view helps teams visualize project schedules, identify dependencies, and ensure smooth coordination.
Timeline Views: The platform has visualization capabilities with a timeline view to help you display your project at a glance.
File Sharing and Attachment: You can improve your task management by attaching files or other supporting documents to make your task execution more effective.
Pros
Collaboration and communication supported
Great for organizations with remote teams
Color coding for timelines and deadlines
Enhanced security and data privacy
Visual representation of tasks
Cons
Guests with the same email domain as the original account creator will not be able to join as a guest (Source)
Team size is limited to three for paid plans (Source)
Pricing
Monday has tiered pricing, but users can get started with a free plan. The pricing starts with the Basic plan at $8. Then, $10 for the Standard plan and $19 for the Pro plan. The Enterprise plan comes with custom features and pricing on request.
Each of these pricing plans has unique features that make Monday more useful in its performance. But, users can expect discounts during special promos or for annual subscriptions.
11. nTask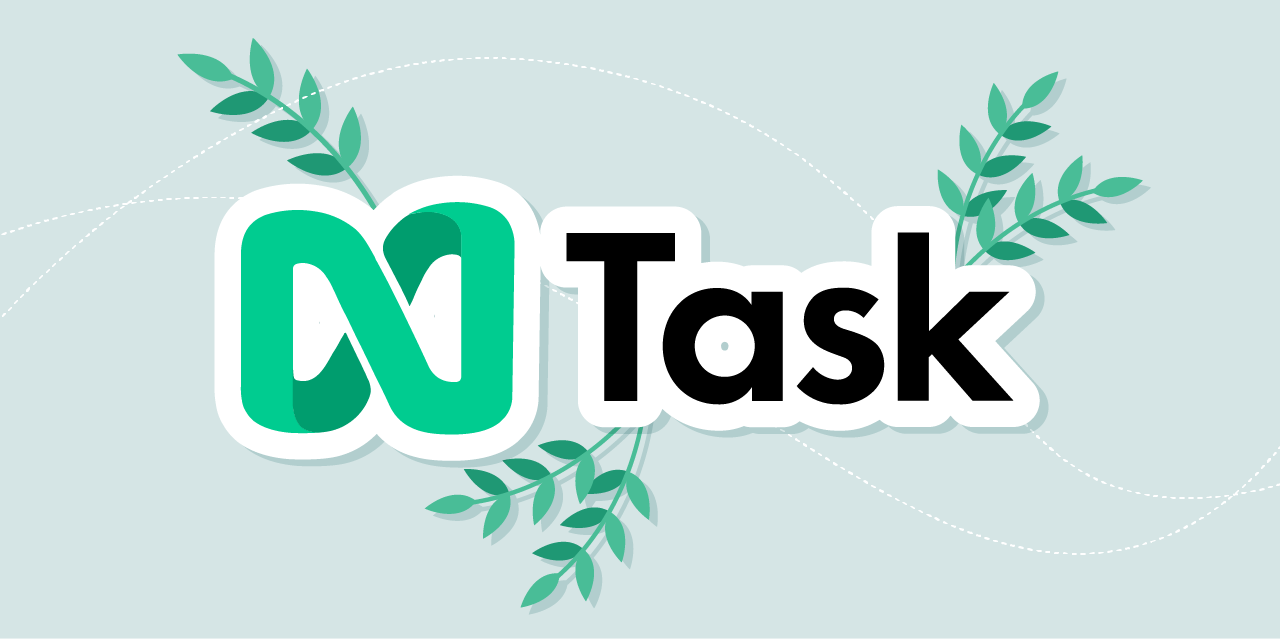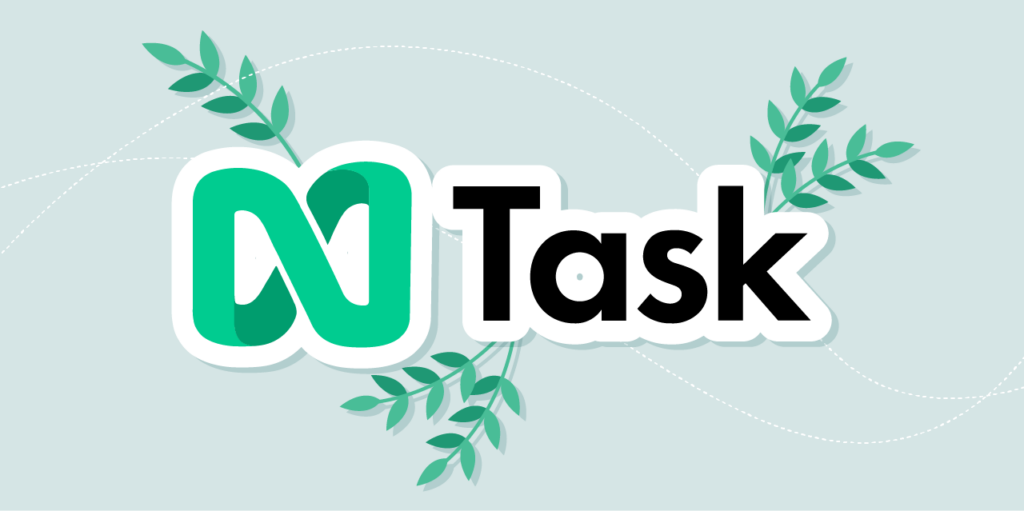 nTask is a comprehensive task management software designed to enhance productivity and streamline project management processes.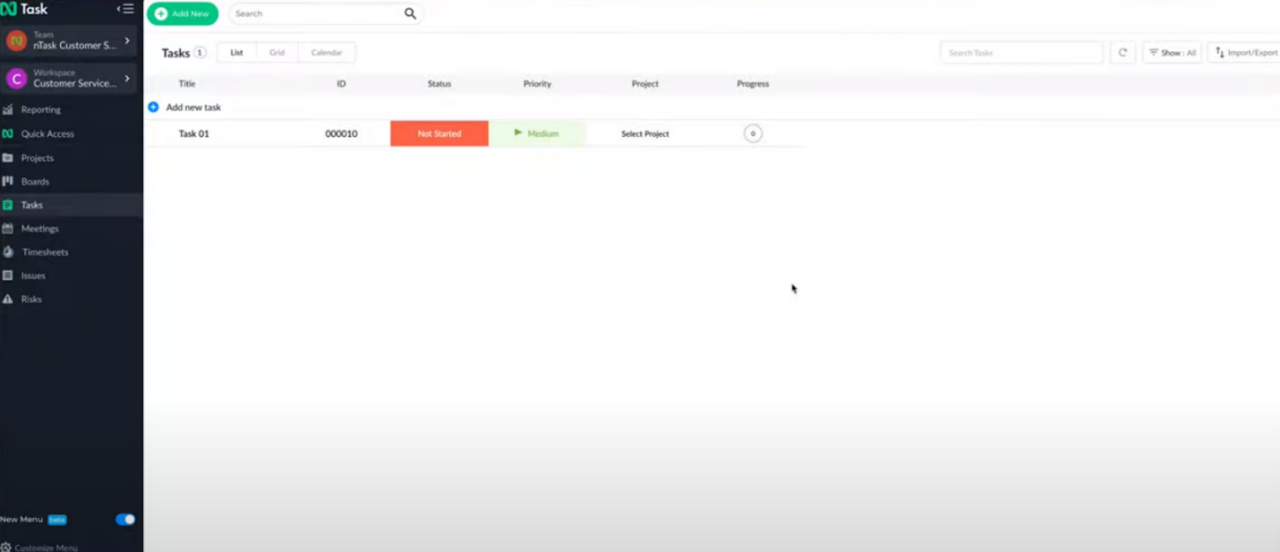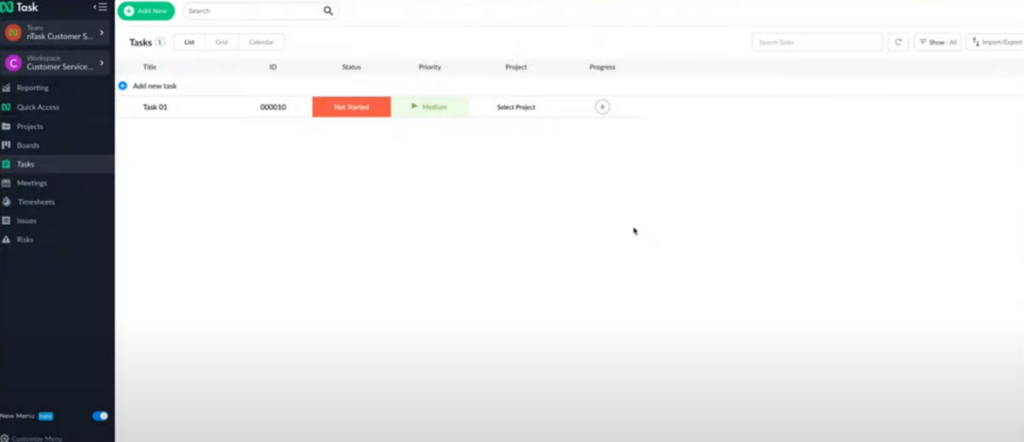 Core Features of nTask
Task Management: nTask allows users to create, assign, and organize tasks in a simple and intuitive interface. Users can set due dates, priorities, and labels, facilitating effective task tracking.
Collaboration: The software enables seamless team collaboration by allowing users to share tasks, projects, and files. Real-time updates and notifications keep everyone on the same page.
Time Tracking: nTask includes time tracking capabilities, helping users monitor the time spent on specific tasks and projects. This feature aids in evaluating productivity and identifying potential areas for improvement.
Gantt Charts: The software offers interactive Gantt charts that provide a visual representation of project timelines, task dependencies, and progress, aiding in project planning and resource allocation.
Issue and Risk Management: nTask enables users to log and track issues and risks within projects, facilitating early identification and mitigation of potential problems.
Pros
You can link projects together and assign multiple tasks
Synchronization of your meetings with your calendar
Timesheet approval for tasks assigned
Pre-built template for boards
Seamless API integrations
Cons
Task duplication does not replicate the task assignee(s) or start and end dates (Source)
Limited customization (Source)
Pricing
nTask offers both free and paid plans. The free plan allows limited features and is suitable for small teams or personal use. The Premium plan comes at $3 monthly with additional features such as priority support, advanced reporting, and greater storage capacity. The Business plan is priced at $8 monthly, while the Enterprise plan is available upon request.
12. ClickUp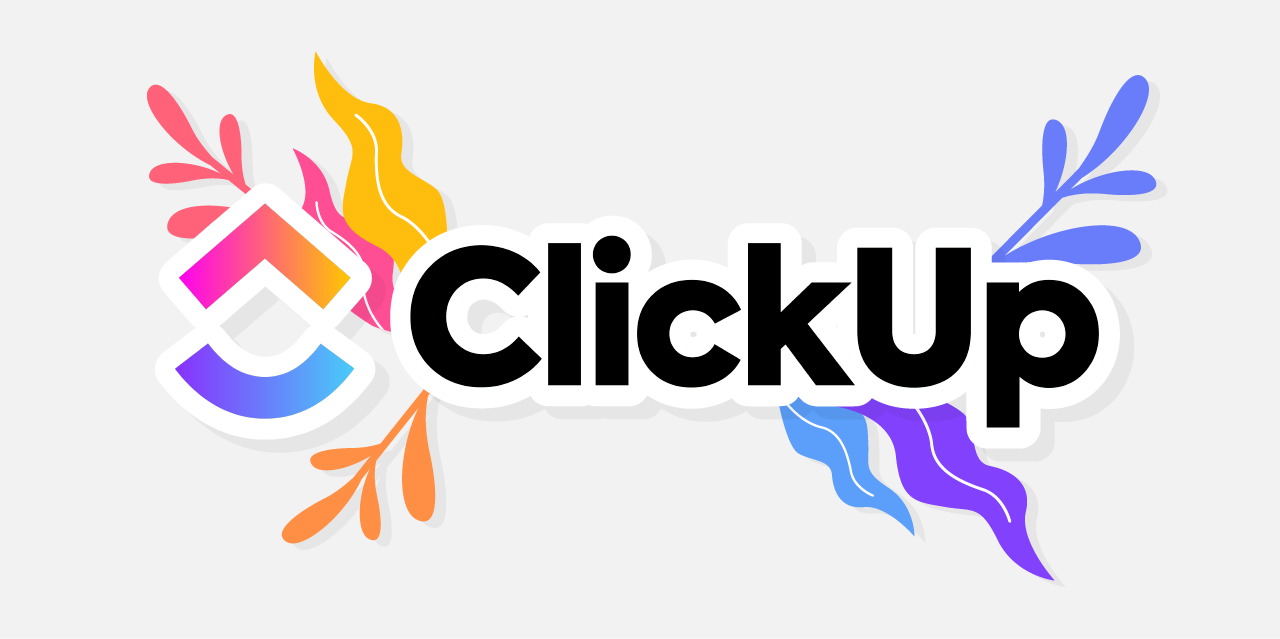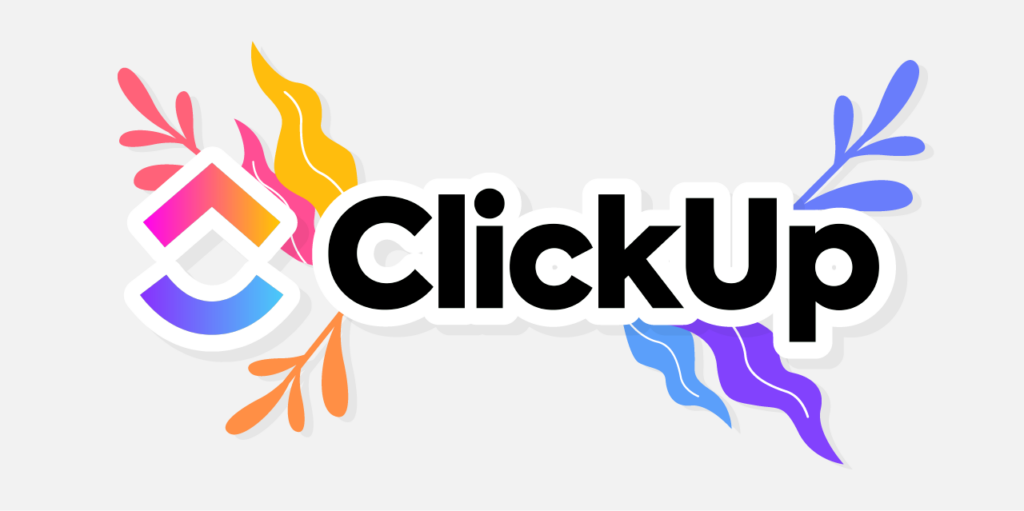 ClickUp is a versatile and popular task management tool that helps users streamline workflows to boost productivity for individuals and teams.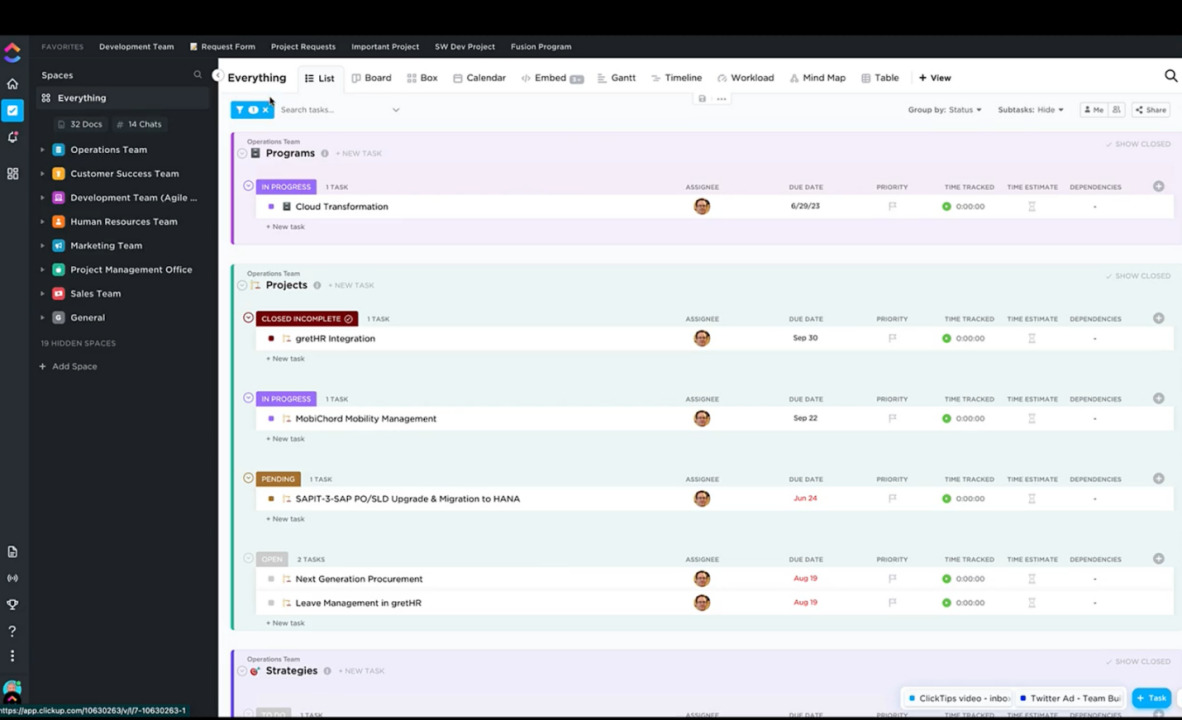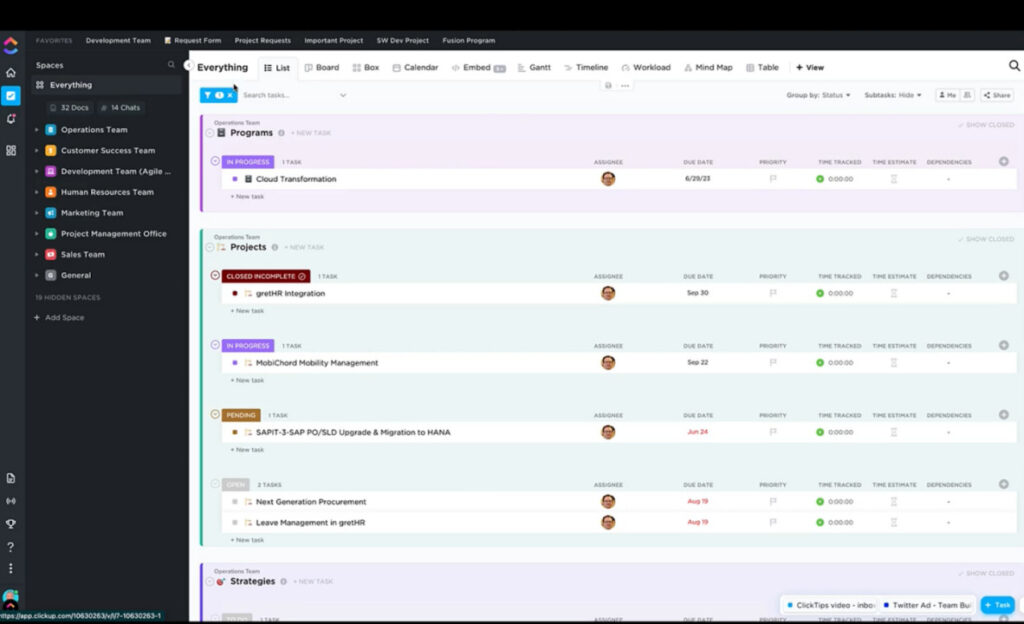 Core Features of ClickUp
Collaboration Tools: The platform facilitates seamless collaboration through features like comments, file attachments, and mentions, allowing team members to communicate effectively within the context of tasks and projects.
Task Management: ClickUp offers a robust task management system with customizable task views, checklists, due dates, and priorities. Users can easily organize tasks into lists, boards, or timelines, depending on their preferred workflow.
Customization: ClickUp's most prominent feature is its incredibly high customization level. You can tailor this tool to your business's unique needs and create custom templates and fields as well as automation rules.
Ready-Made Templates: The platform has pre-made templates suitable for multiple industries, and this will help get you started with your tasks depending on your industry.
Track Progress Feature: You can add visual widgets and time trackers to tasks to help you keep up with the performance of your team.
Pros
Data-driven insights for effective decision-making
Seamless API integration with multiple tools
The dashboard can be adapted and customized
Easy to onboard teams and user-friendly interface
Robust mobile app version
Great for complex tasks and projects
Cons
Deleted checklists cannot be replaced (Source)
Priority labels and colors cannot be customized (Source)
Pricing
ClickUp offers various pricing plans to cater to different user requirements. The plans range from a free version with limited features to paid tiers with more advanced functionalities, such as unlimited integrations, custom fields, and priority support. The pricing structure makes ClickUp an accessible option for startups, small businesses, and larger enterprises looking to enhance their task management capabilities.
The pricing starts at:
$5 for the Unlimited plan, which is best suited for small teams
$12 for the Business plan, best for mid-size teams
$19 for the Business Plus plan for multiple teams
The Enterprise plan for multiple large teams comes with custom pricing available on request.
13. Todoist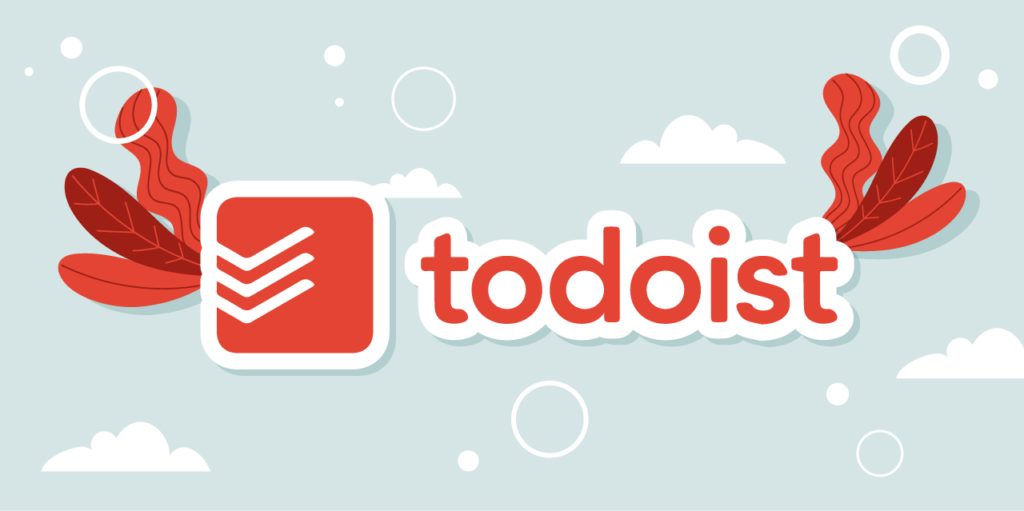 Todoist is a prominent task management platform that helps teams and individuals improve productivity by organizing their tasks daily.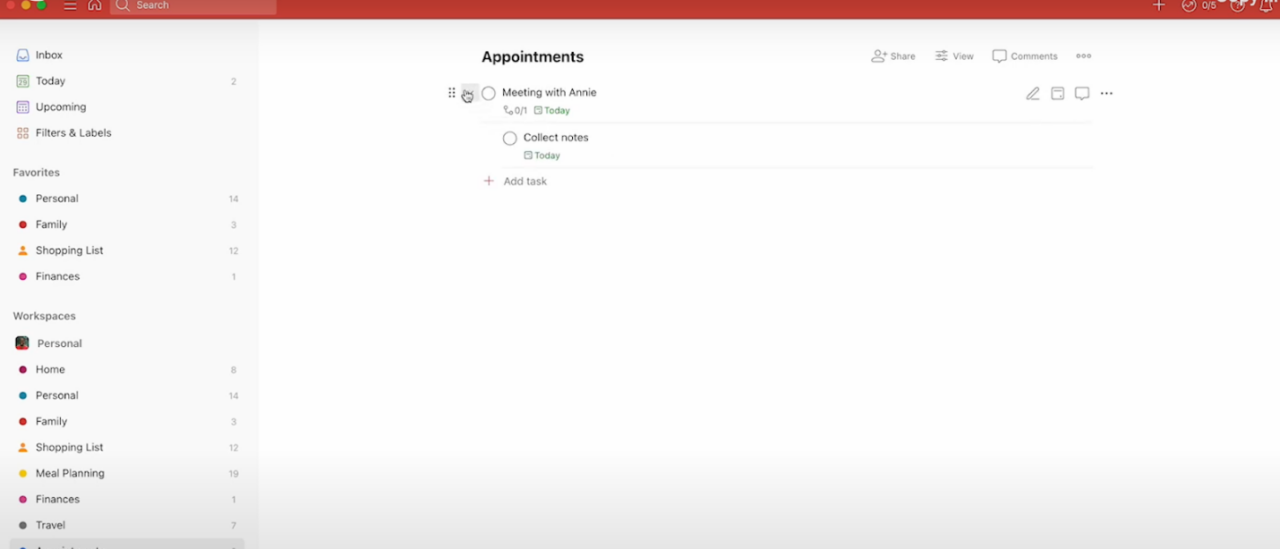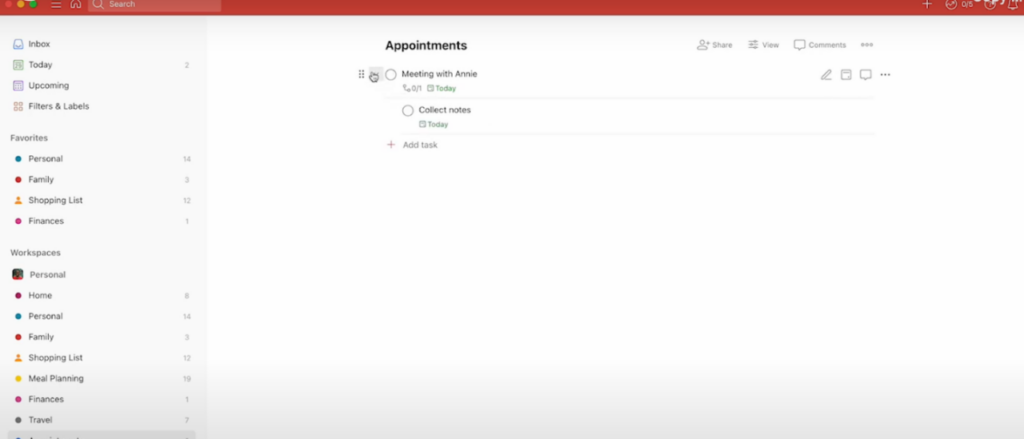 Core Features of Todoist
Recurring Tasks: For tasks that need to be repeated regularly, Todoist offers the ability to set up recurring due dates, such as daily, weekly, monthly, or custom intervals.
Task Sub-Tasks: Users can break down complex tasks into smaller sub-tasks, making it easier to manage and track progress. Sub-tasks can have their due dates and priorities.
Task Comments: Todoist allows users to add comments to tasks, enabling collaboration and context-sharing among team members or personal users.
Task Prioritization: Users can set priority levels for tasks, helping them focus on what's most important and urgent. Todoist uses a color-coded priority system to make it visually clear.
Customization With Personalized Task View: You can create a custom dashboard showcasing tasks that are peculiar to you for a clearer overall picture.
Pros
Seamless integration with email or calendar
Excellent collaboration tool
Multi-platform support to suit different devices
Task priority level indicator
Great productivity features
Cons
Deleted workspaces cannot be retrieved (Source)
Text formatting options are limited for Android and iOS (Source)
Pricing
Todoist offers both free and premium plans. The free version provides basic task management functionality but comes with limitations on the number of projects and features available.
The premium plan offers more advanced features, such as task labels, reminders, and comments, along with priority support. The pricing is typically on a monthly or annual subscription basis, making it flexible for users with different needs and budgets. It starts at $4 monthly for the Personal Pro and $6 monthly for the Business plan.
The analysis above places SweetProcess at the top when it comes to effective task management.
7 Top Features to Look Out for in Task Management Software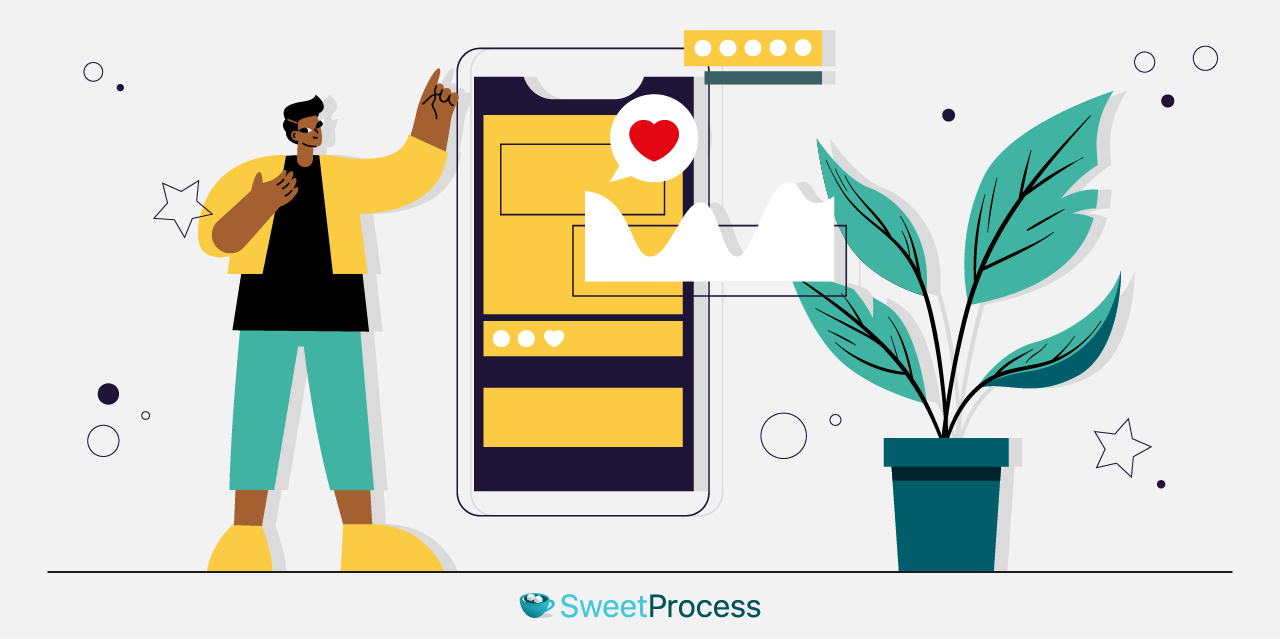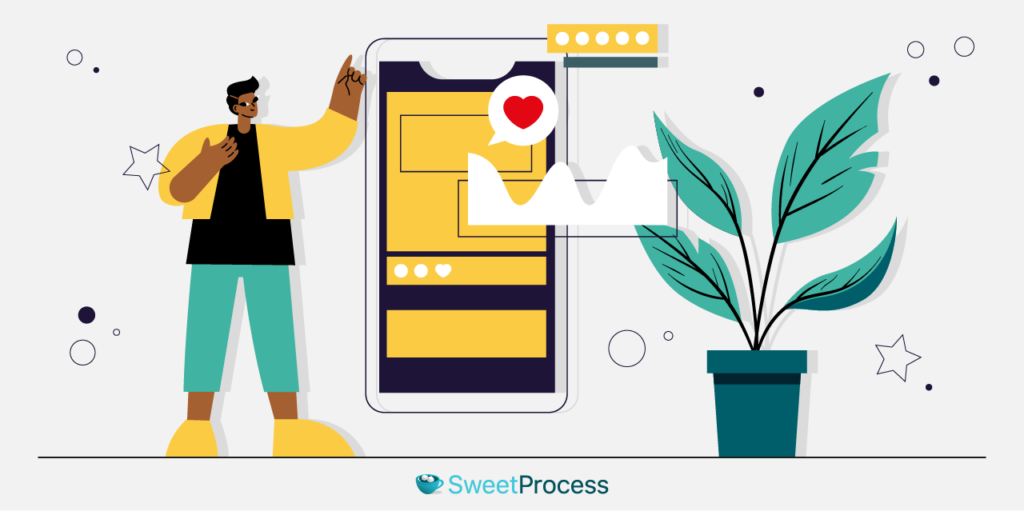 Identifying the best features that will suit your needs is essential due to the overwhelming number of task management software options available today. Here are the top seven features to check out when searching for the most appropriate task management software.
Task Creation
The heart of any task management software lies in its ability to create and organize tasks effectively. Look for a user-friendly interface that allows you to quickly add tasks, set due dates, assign responsibilities, and add relevant details. The software should facilitate task categorization and prioritize options, making tracking and managing various tasks easy.
Visualization
A great task management tool should visually represent your tasks and projects. Visualizations such as kanban boards, Gantt charts, and calendar views let you grasp the overall progress at a glance. These visual aids make it easier for you to adjust timelines, pinpoint bottlenecks, and ensure all deadlines are met.
Reporting
Exhaustive reporting is crucial for improving efficiency and maintaining productivity. Therefore, look for task management software known for generating highly detailed reports on time spent on specific tasks, task completion rates, and overall project progress.
The software should help you capitalize on insightful analytics to optimize workflows, identify trends, and assign resources even more effectively.
Notifications
Staying on top of deadlines and updates is vital in task management. Ensure that the software you choose offers customizable notifications that can be delivered through email, mobile alerts, or in-app notifications. This feature helps team members stay informed about task updates, approaching deadlines, and any assignment changes.
Automation
Search for task management software that enables users to set up recurring tasks, automate repetitive and boring tasks, and create triggers for specific actions.
Automation reduces the chances of human errors and minimizes manual efforts while ensuring all routine tasks are not overlooked.
Communication and Collaboration
The backbone of every successful project management includes effective communication. It would be best to have task management software with integral communication tools such as discussion boards or instant messaging. This facilitates smooth collaboration among members of the team. This feature ensures everyone stays connected, exchanges ideas, and resolves issues efficiently.
Time Tracking
Understanding how time is allocated across different tasks is crucial for productivity analysis. Task management software with integrated time tracking enables team members to accurately log the time spent on individual tasks. This data is invaluable for evaluating project progress, estimating future timelines, and managing resources effectively.
Selecting a task management tool incorporating these top features will help teams or individuals optimize their workflow, boost productivity, and achieve resounding success in their goals and projects.
How to Choose the Right Task Management Software for Your Business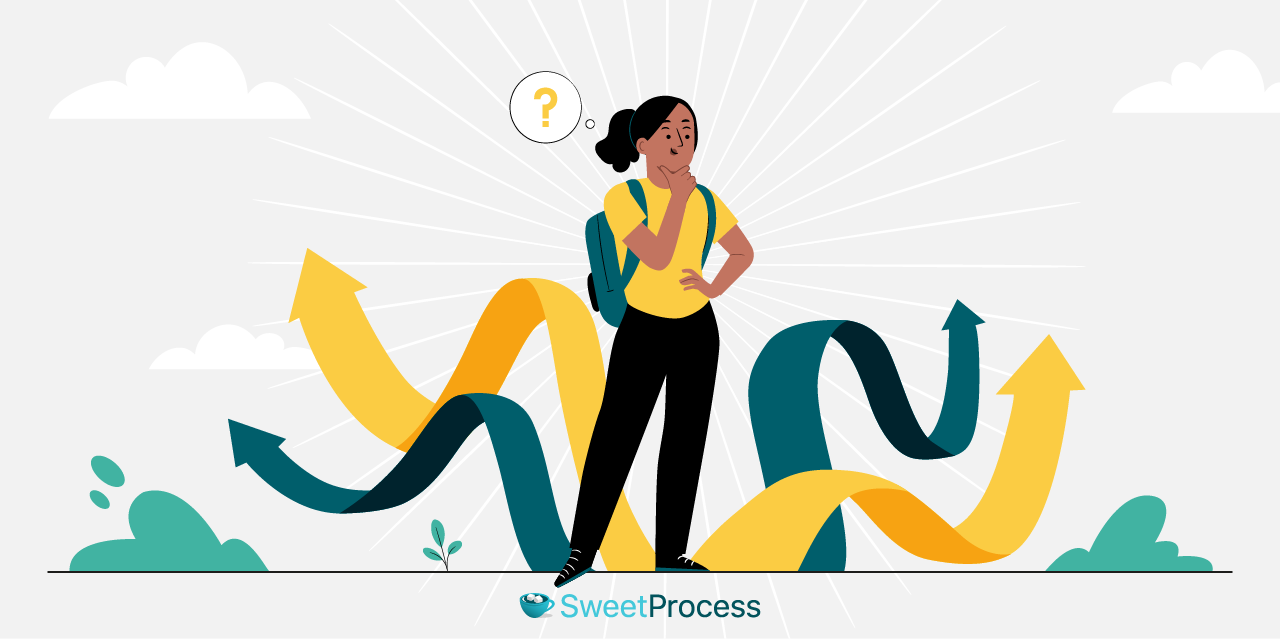 Considering the following factors will help you make an informed decision when it comes to selecting the best task management software or task management apps for your business.
Essential Features
Identify the essential features that align with your business needs. Look for tools that offer task creation, assignment, and prioritization capabilities.
Ensure the software allows you to set deadlines, track progress, and communicate within tasks. Additional functionalities like file sharing, notifications, and task dependencies can further streamline your workflows.
Flexibility
Every business operates differently, so it's crucial to choose task management software that is flexible enough to accommodate your unique processes. A rigid tool might force you to adapt your workflow to fit its structure, which can lead to inefficiencies.
Opt for software that allows customization and offers different views or methodologies, such as Kanban boards and Gantt charts, to manage tasks based on your team's preferences and requirements.
Ease of Use
An intuitive and user-friendly interface is essential for successful task management adoption across your organization. Complicated tools can lead to resistance and decreased productivity.
Therefore, look for software with a visually appealing and straightforward design that facilitates easy navigation and requires minimal training. A clean and organized layout will encourage active usage and make task tracking a breeze.
Customization
Businesses often have specific workflows and terminologies unique to their industry or team. A task management tool that allows customization of labels, tags, and categories helps tailor the software to your business's distinct requirements.
The ability to create custom fields and templates ensures that you can adapt the tool to match your existing processes seamlessly.
Integrations
Task management software shouldn't function in isolation. It should seamlessly integrate via API with other essential tools your business relies on, such as project management software, communication apps, calendar systems, and file storage services. Integration capabilities streamline data sharing and prevent the need to switch between multiple applications, promoting a more cohesive work environment.
Device Compatibility
Today's fast-paced business landscape makes it crucial for task management software to be accessible from a wide variety of devices. Therefore, you should go for a task management tool that is highly compatible with smartphones, desktops, laptops, and tablets, regardless of their operating system.
Task management software with such versatility will enable your team to access and even update tasks or projects on the go, promoting productivity and collaboration, whether they are working remotely or on-site.
Finding and using the right task management software is highly essential for streamlining workflows and enhancing productivity in your business.
One tool that meets up with the criteria above is SweetProcess, and you can take it for a spin to see things for yourself using the 14-day free trial.
How Does Task Management Software Work?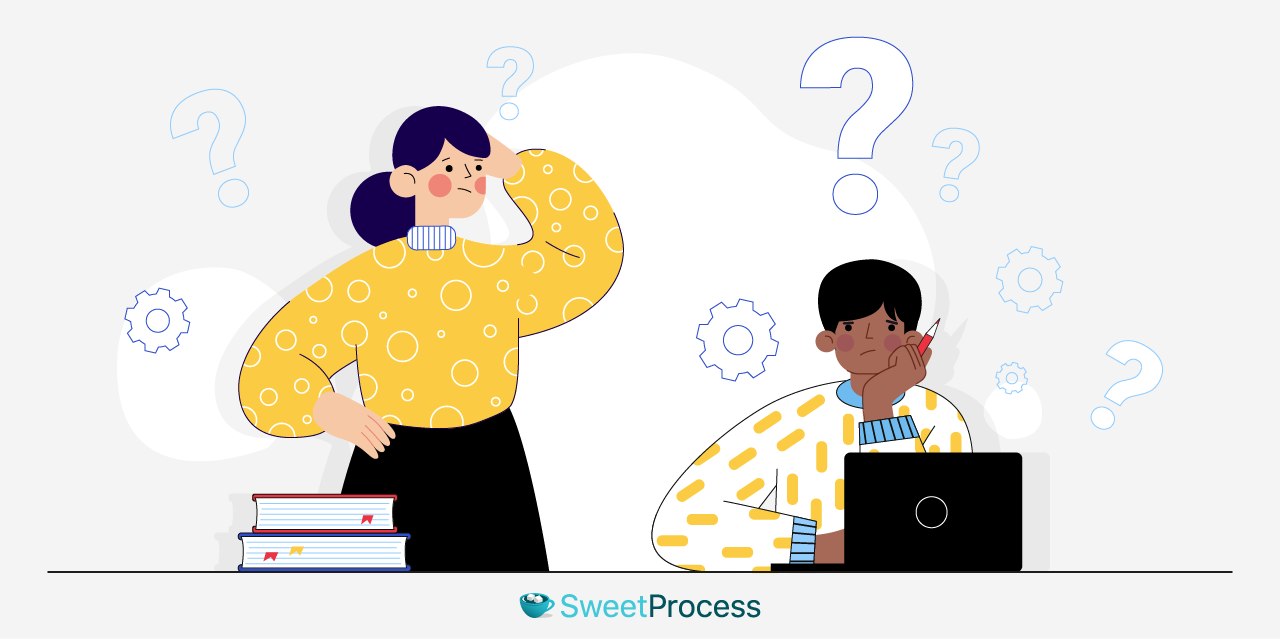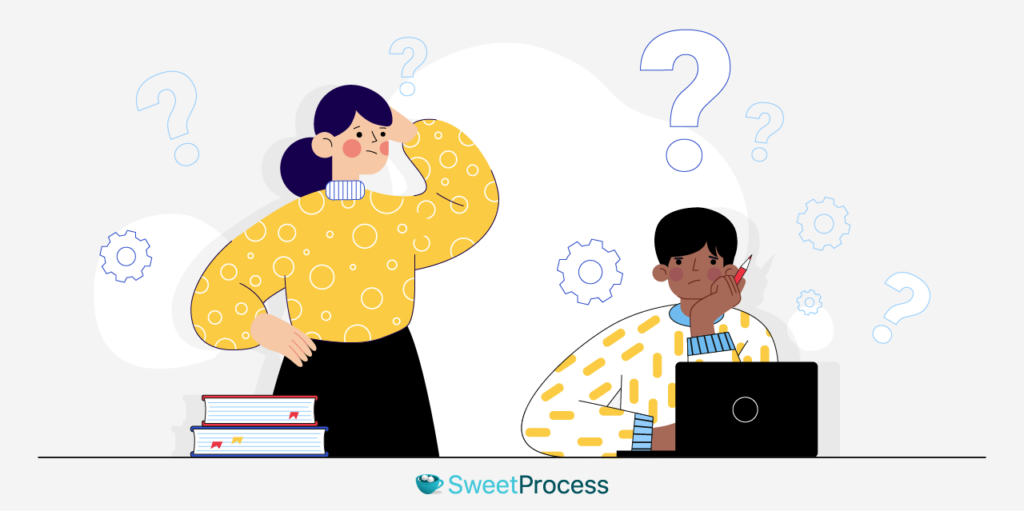 Task management software helps users organize, track, as well as collaborate on projects and tasks efficiently. The software streamlines the entire process of managing deadlines, task priorities, and resources, enabling teams and individuals to stay productive and organized.
Here's how task management software typically works.
Step #1: Task Creation: Users can create tasks easily by entering relevant information such as task name, description, due date, and priority level. Some task management software also allows users to add labels, tags, attachments, or sub-tasks for better organization and clarity.
Step #2: Prioritization and Deadlines: Users can set priorities and due dates for tasks, helping them focus on what's most important and ensuring deadlines are met. The software may also send reminders or notifications to keep users informed about approaching due dates or important updates.
Step #3: Reporting and Analytics: Task management software often offers reporting and analytics features. Users can generate reports to review team performance, track productivity, analyze project progress, and identify areas for improvement.
Step #4: Integration With Other Tools: To enhance productivity and create a seamless workflow, task management software can integrate with various other applications and services. For example, integration with calendar apps, email, or project management app ensures users can access their tasks and updates from a single platform.
Consider the following scenario:
A marketing team is using task management software to plan and execute an upcoming campaign. The team leader creates a new project for the campaign and starts adding tasks to it. Tasks could include items like:
"Create social media graphics"
"Write a blog post"
"Schedule email newsletter," and so on.
Each task is assigned to a specific team member, and due dates are set based on the campaign timeline.
As the campaign progresses, team members update the status of their tasks regularly. For instance, the designer marks the social media graphics task as "In Progress" and attaches a draft of the graphics.
The writer finishes the blog post and marks it as "Completed." The project manager uses the software's analytics feature to track the overall progress of the campaign, ensuring that everything is on track to meet the launch date.
Throughout the process, team members can communicate within the task management software, discussing ideas, addressing roadblocks, and providing updates. The software keeps everyone aligned, preventing duplicated efforts and making sure nothing falls through the cracks.
In summary, task management software works by providing a structured platform for creating, organizing, tracking, and collaborating on tasks and projects, making agile teams more productive and efficient in achieving their goals.
Why You Need Task Management Software for Your Business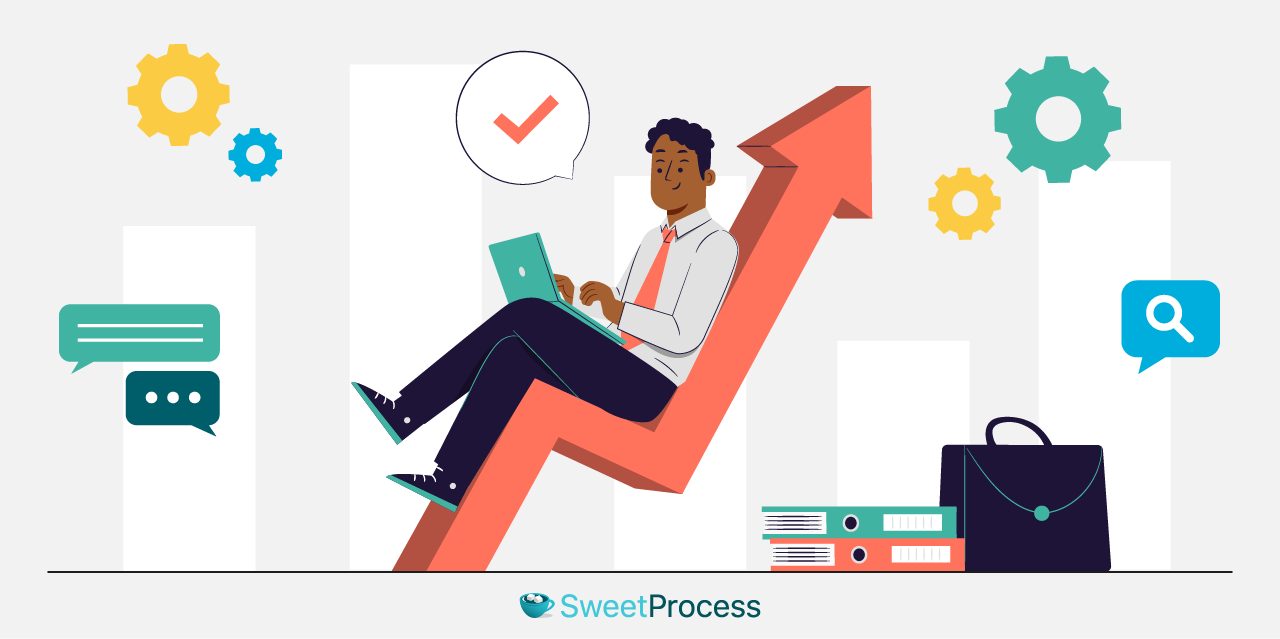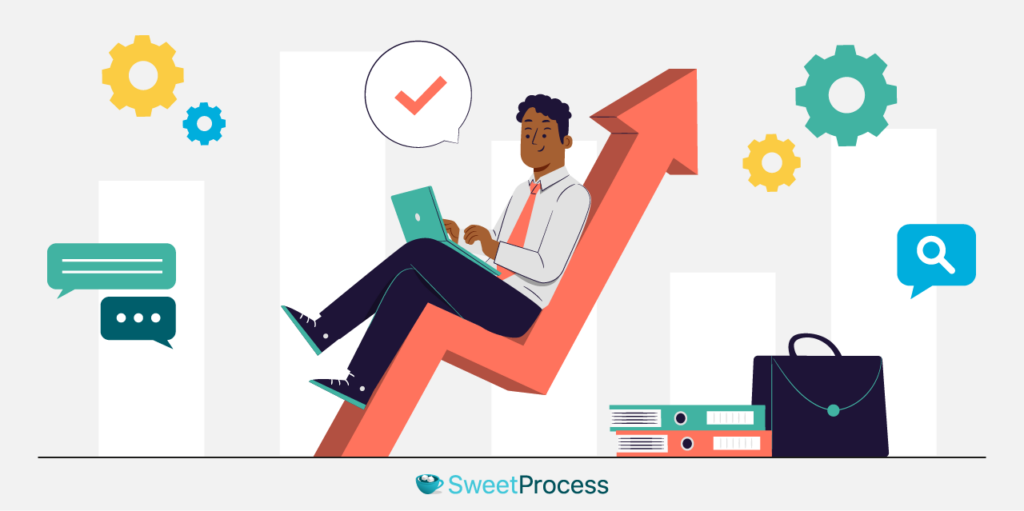 Task management software is an essential tool for organizations of all sizes to boost productivity, streamline operations, and achieve better results. As companies continue to embrace digital transformation, the need for efficient task management becomes more apparent.
Here are three key reasons why task management software is essential for your business:
Helps You Organize Work
Staying organized is a top priority in today's dynamic business environment. Task management software offers a centralized and intuitive platform where you can create, delegate, and monitor tasks easily. Using these tools helps break down your project into more manageable and smaller tasks, allocate resources, and set deadlines efficiently.
This high level of organization helps ensure nothing important goes unaddressed, and every team member knows what they are expected to do and when.
In addition, several task management platforms come with features such as timelines and task dependencies. These remarkable features allow you to quickly visualize the progress of projects and pinpoint possible delays in advance.
Helps Your Team Collaborate Effectively
Collaboration lies at the heart of successful businesses. Task management software facilitates seamless teamwork by enabling real-time communication and collaboration. Team members can comment on tasks, share files, and update the status of their work, promoting transparency and reducing miscommunication.
Such platforms often come with built-in notification systems that alert team members of updates or approaching deadlines, ensuring that everyone remains on the same page. Moreover, these tools break down the barriers of physical locations, making it easier for remote teams to collaborate efficiently.
Helps You Prioritize Tasks
Not all tasks are created equal. Some tasks are more critical than others and require immediate attention. Task management software helps you prioritize tasks based on deadlines, importance, or urgency. By setting priorities, you can allocate resources wisely and focus on what matters most.
Additionally, these tools often offer visualizations like Kanban boards or Gantt charts, allowing you to see the overall picture of your projects and make informed decisions about task prioritization.
Furthermore, task management software enhances accountability within the team. Team members are assigned specific tasks with clear deadlines and responsibilities, leaving no room for confusion or excuses. The software tracks progress and completion rates, making it easier for managers to identify top performers and address any issues that may arise promptly.
Manage Your Company's Tasks in One Place Using SweetProcess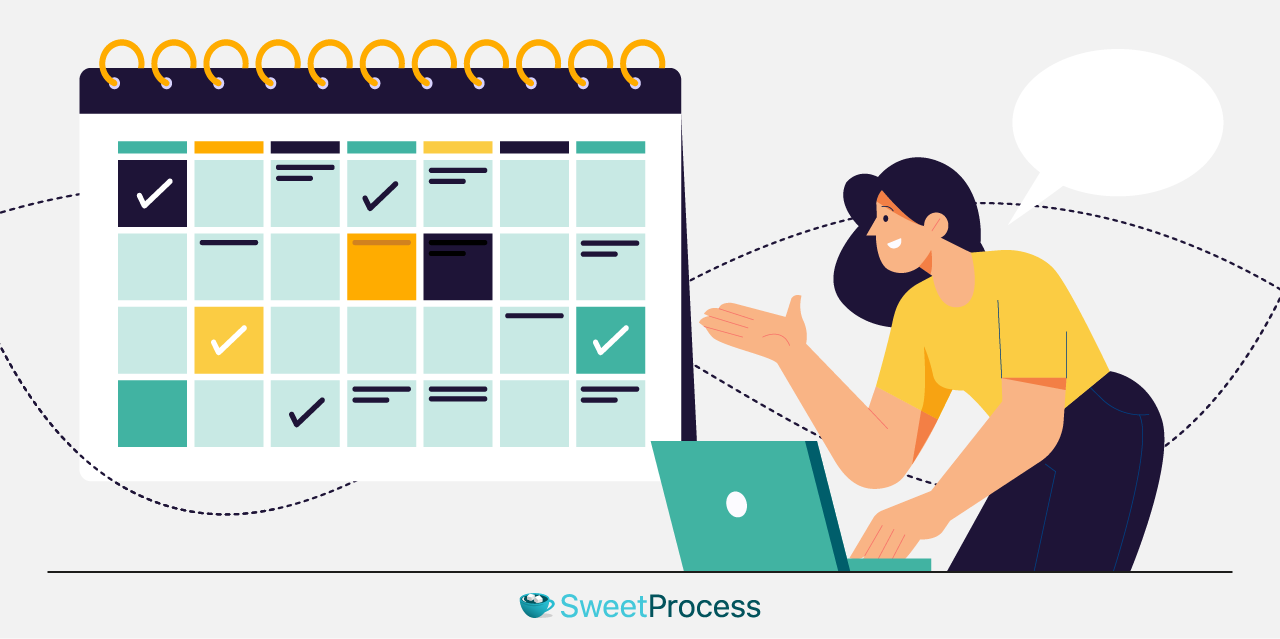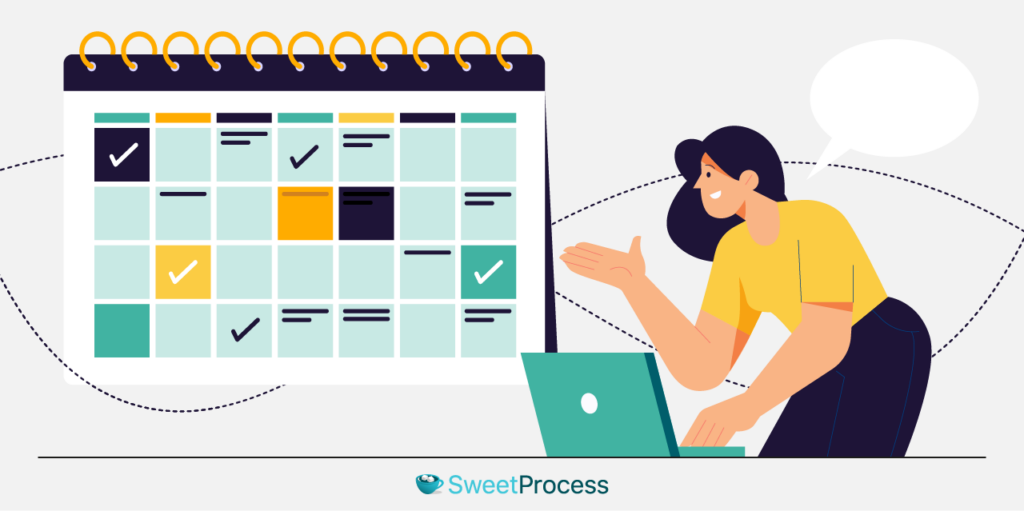 When it comes to task management for your company, only the best task management software will do. Based on the robust features that SweetProcess has, which include task delegation, workflow automation, time tracking, file sharing, and real-time notifications, just to name a few, SweetProcess has proven to be worth it.
Companies across different industries and backgrounds have used SweetProcess to enhance productivity and manage tasks more effectively.
Ben Hendershot, COO of Altvia, a company aiding private equity firms, recognized the need to streamline its convoluted and outdated business operations. To resolve this, Hendershot discovered and implemented the use of SweetProcess, a cloud-based system that enabled a more efficient and simplified approach to the company's processes.
The adoption of SweetProcess led to a unified version of every procedure, significantly simplifying documentation, enhancing employee onboarding, and broadening the distribution of knowledge.
Operoo, an automation service provider led by CEO Troy Westley, also faced challenges with manual processes, impacting the firm's productivity and scaling potential. Westley was burdened with repeatedly explaining procedures, leading to inefficiencies and loss of time.
Seeking a solution, he discovered SweetProcess, a tool for standardizing business processes. With SweetProcess, Operoo achieved a streamlined onboarding process, ensured consistent quality assurance, comprehensively documented its operations, and empowered employees with self-guidance, reducing Westley's time explaining procedures by 90%. This transformation allowed Operoo to transition from a successful Australian enterprise to a competitive global business.
Carter Harkins is the co-founder of Spark Marketer, a successful marketing agency specializing in the home services industry. The firm initially operated without standard operating procedures (SOPs), leading to an unorganized and unaccountable work environment.
After a consultation with a business advisor, Harkins discovered the importance of SOPs, which led him to SweetProcess. He was able to document the processes in detail with SweetProcess and assign tasks that ensured employees followed the laid-down SOPs. This made them more effective and enhanced the process of growing the agency.
You can leverage the SweetProcess platform to streamline and simplify your processes and procedures. With its recurring task management system in place, your team will become more efficient and productive, which is a key signal for growth.
Head over to SweetProcess now to sign up and get started with the 14-day free trial to begin your business transformation.
FAQs About Task Management Software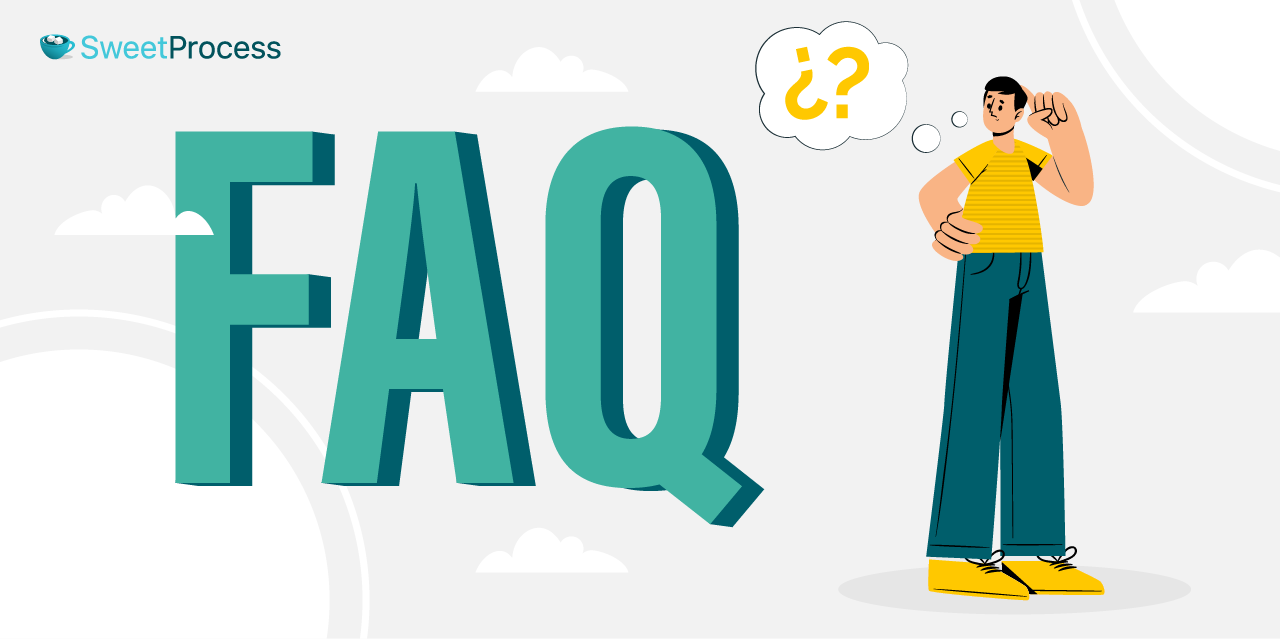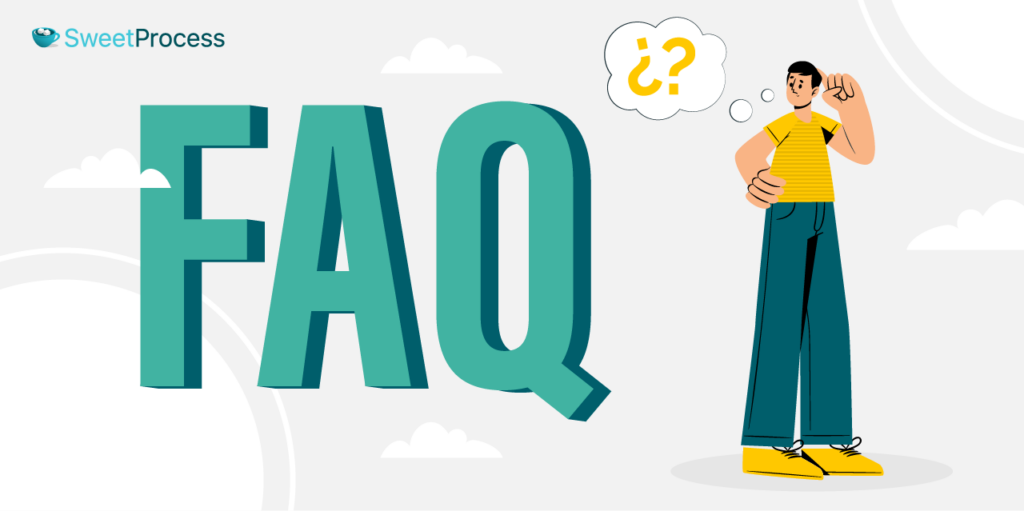 What is the best task management software?
The best task management software can vary depending on individual needs and preferences. Your selection depends on your requirements and the complexity of the project in question. One task management software that stands out is SweetProcess, which is suited for different industries and team sizes. It has features that will not only enhance your productivity but also ensure that users have a seamless experience.
How can I organize my tasks for free?
Several free task management tools and methods can help you organize your tasks effectively. Remember that the free plans often have limitations, although they can still provide essential task organization features. The best way to enjoy the full benefit is to opt for a paid version. Otherwise, you'll be stuck with the limited features. You can always start with free trials before making any financial commitment.
Is task management software secure?
The security of task management software can vary depending on the provider and the measures they implement. Reputable task management software companies usually take security seriously and employ various measures to protect user data and maintain privacy. Before choosing a task management tool, it's essential to review the provider's security policies, data encryption practices, and compliance certifications, if any. Opting for a reputable and established software provider can help ensure better security for your tasks and data.
What is the difference between task management and project management?
Task management and project management are related concepts but have distinct differences. Task management focuses on handling an individual task or items in the to-do. It involves creating, assigning, and tracking tasks and is typically used for personal or team productivity on a smaller scale. Project management, on the other hand, focuses on planning, executing, and closing projects as a whole. It involves breaking down projects into tasks and managing resources, timelines, and budgets. It is used for larger and more complex project endeavors that require coordination among multiple team members.
What is the difference between time management and task management?
Time management is the process of effectively using time to accomplish tasks and goals while setting priorities, scheduling activities, and avoiding time-wasting behaviors. It helps improve overall efficiency and productivity.
While task management involves organizing and handling the actual task, its primary aim is to ensure all tasks are completed in an organized and structured manner. It involves setting deadlines for tasks, creating to-do lists, as well as tracking the progress of tasks.
Does task management software make me more productive?
Task management software can significantly improve productivity for individuals and teams when used effectively. It improves productivity by helping you with things like organization, prioritizing, visual overview, time tracking, collaboration, and communication. While task management software can be immensely beneficial, it's essential to use it consistently and develop good task management habits to make the most of its productivity-boosting capabilities.