The Ultimate Guide to Choosing the Best Task Management Software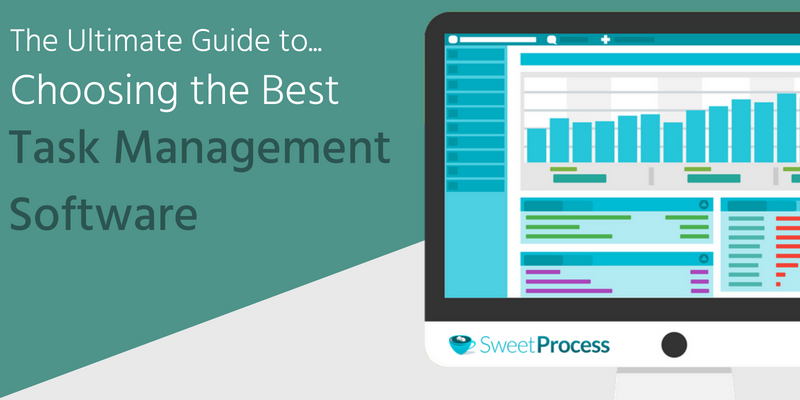 Due to poor resources, businesses waste a lot of time due to poor processes. This can even mess up the bottom line. In fact, according to Gallup, only 2.5% of companies complete 100% of their projects.
Picture being able to streamline day-to-day tasks, having a seamless workflow, and easily make crucial decisions. Imagine the profits that could result. This is where task management software (TSM) comes in. We've written this guide to help you choose one suited to your company.
What to expect.
Chapter 1: What is Task Management and Why You Need Software for It
Chapter 2: Categories of Task Management Software
Chapter 3: Should You Use Task Management Software?
Chapter 4: What to Look out for When Choosing the Best Task Management Software Suite for Your Needs
Chapter 5: Task Management Software Buyer FAQ— 24 Vital Questions to Ask
Chapter 6: Step-by-Step Guide to Task Management Software Brand Selection
Chapter 7: Testing, Implementation, and Follow-up
What is Task Management and Why You Need Software for It
Task management is a process of getting tasks delegated and completed. To successfully complete a project, tasks need to be broken down into smaller bits. This involves proper planning, hypothesizing, testing, assigning, tracking and reporting. For medium to large projects, figuring out the depth and complexity of different tasks and to-do lists can feel disorienting and overwhelming. Inefficient multitasking sets in, thereby getting in the way of serious productivity.
Task management software offers the technological gusto to streamline automatable activities, test different ways of doing things, and track results. It is all about achieving efficiency in organizing and prioritizing tasks related to a certain project. Even so, PricewaterhouseCooper's global project management 2012 report finds that 44% of project managers do not use a task or project management software. Installing the best task management software for your needs can go a long way to promoting efficiency for even the most complex of automatable tasks.
What Task Management Software Does
Task management software brings project management essentials to your company. It helps you:
Share knowledge across groups or teams in real-time
Visualize work to be done
See team collaboration areas
Check organized, step-by-step and recurrent procedures that are automated
Consider precise and timely task progress tracking
Get notifications and prudent prioritization prompts in time
Make informed decisions, such as proper resource allocation
Analyze project performance aspects and improve future processes.
These aspects of task management can help create the ideal workflows. The video below shows you exactly how software can help you manage tasks.
Categories of Task Management Software
Task management software differs from full-on project management software suites. While the former focuses on single units of work, the latter is more encompassing.
However, task management software is not a mere checklist generator. It focuses on the activities that make the whole; tasks, and subtasks that are coordinated to drive goal achievement and advance the objectives of your entire project (of which they are a part). Moreover, it excels at tasks that are not exactly interdependent; where the end of one task does not directly lead to the beginning of a subsequent task.
In fact, some task management software suites are pretty complex, brimming with project management-oriented features, such as more comprehensive financial and human resources management, as well as dependencies and team effort management functions. The options range in terms of complexity, functionality, capabilities, and pricing, just to mention some key factors.
Types of Task Management Software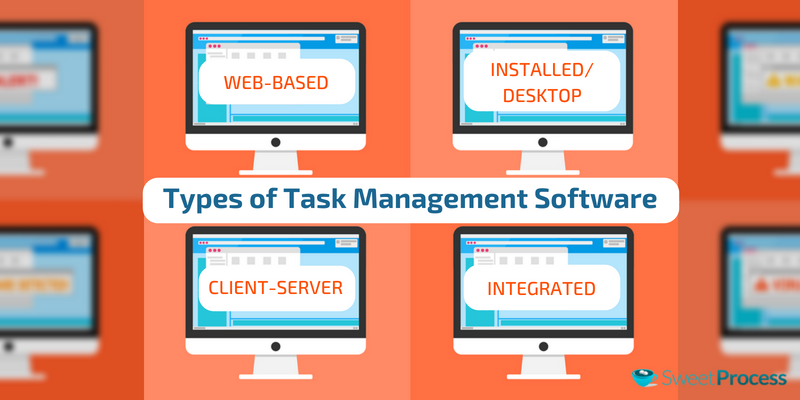 The most common types are Web-based, installed/desktop, client-server, and integrated.
Web-Based
This kind draws its strength from the connectivity gusto of an Internet connection. You or your team members can use it to easily access, organize, monitor and synchronize tasks remotely, which is very convenient and empowering if you work in small teams and across different locations yet need to stay coordinated and in touch. Obviously, the drawback is, you have to use Internet-enabled and connected devices.
A major advantage is that the Internet also adds endless expandability. You can leverage the Cloud to feed your data storage needs. Still, web-based systems can be packaged as a form of web applications, portals or software. So, it's excellent for remote team members who share reports, insights and ongoing tasks.
Installed/Desktop
These are offline programs installed on specific computers. You'll typically install it on a single machine or a few of them on a local network at the place of work. While it won't support fluid coordination for remote teams, it helps you digitize task management.
A big plus is you get control over how much or little data you feed into the software, hence how much information you can process and manipulate with it. The digital platform eliminates the stinginess of a physical filing system. There are no physical barriers, such as file storage and stationery limits. Plus, you gain the electronic benefits of tracking and capturing task-related metrics.
Client-Server
When you are working up close with clients (but are far apart physically) and need to collaborate to help meet their requirements, client-server solutions allow you two to get up close and professional via a secure online portal.
Integrated
Integrated task management software suites behave more like a surround sound home system—penetrating and booming into various areas of your entire project. They infuse into other software tools you may already have and hand you the power to organize, monitor and prioritize various tasks on a wider scale than you would with the other three types above.
Moreover, this kind comes with the added benefit of organizing captured task data from many different areas of the same project into one platform—from where you can easily manipulate it with your team members.
Should You Use Task Management Software?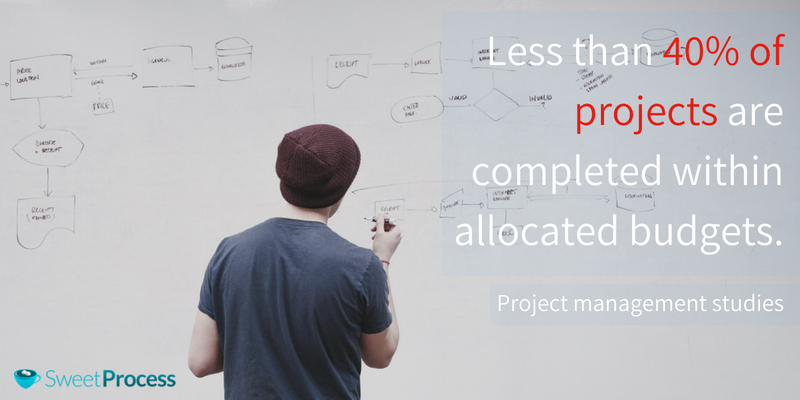 Should you blindly labor through tasks that a software suite can help you control? We doubt it. Nonetheless, here are some pros and cons to argue a case for and against automating.
Benefits of Using Task Management Software
Project management studies indicate that less than 40% of projects are completed within allocated budgets. That's deadly. No wonder many projects never attain proper success. And even fewer make it to the end within the pre-determined time.
Automated Alerts
You can set up the software to notify you of priority, upcoming and related projects to the one in progress. You can also set up a notification for when a task is about to start, reaches a milestone or is completed.
Generating Reports
Automation tools give you quick access to vital data to keep tasks on schedule. Also, you can get the software to generate easy-to-understand reports in formats and presentations that help you and your team to get things done. But where automation really excels at is in generating accurate reports that reflect the actual situation on the ground—of course, depending on what input data you feed the software.
Managing Project Costs and Budgets
While run-of-the-mill handling can cause you to miss finer details, automation tools ruthlessly eliminate or drastically reduce redundancies in a project by pinpointing exactly how and where vital resources, such as time and manpower, are directed. This helps you shoot down unnecessary tasks and prioritize important ones. As a result, you can revel in the resulting cost savings and effective workflow from banishing tasks that take human effort and subsequent compensation.
Forecasting and Scheduling capabilities
The best task management software packs help you forecast, budget and schedule multiple aspects of task management. You'll be better able to manage risks, streamline dependencies and work out deadlines well in advance.
Taking Advantage of Intuition
Task management software is made for humans. That means they have an easy-to-use dashboard. From the interface, you or one of your team members can monitor progress, prioritize subtasks and organize efforts for the whole team. This way, you can marshal resources where your team needs them most, at the best time.
Organizing (and Managing) Workloads
To get things done, you need to know what to do and when to do it. It's critical to prioritize, assign and then execute. Task management software helps in this regard.
Inducing Collaboration
Virtualizing tasks allows team members to share insights, monitor synchronized progress, upload documents into conversations that matter and promote a clear understanding of priority tasks.
Boosting Productivity through Increased Efficiency
Everyone on your team needs to know what needs to be done, when it needs to be done and the end goal. You have to ensure they can access help, motivation and additional information in real-time too. In return, you stand to gain productivity (both in quantity and quality of tasks completed). This allows for better task completion times, helps reduce waste and bolsters continuous improvement for everyone.
Drawbacks of Task Management Software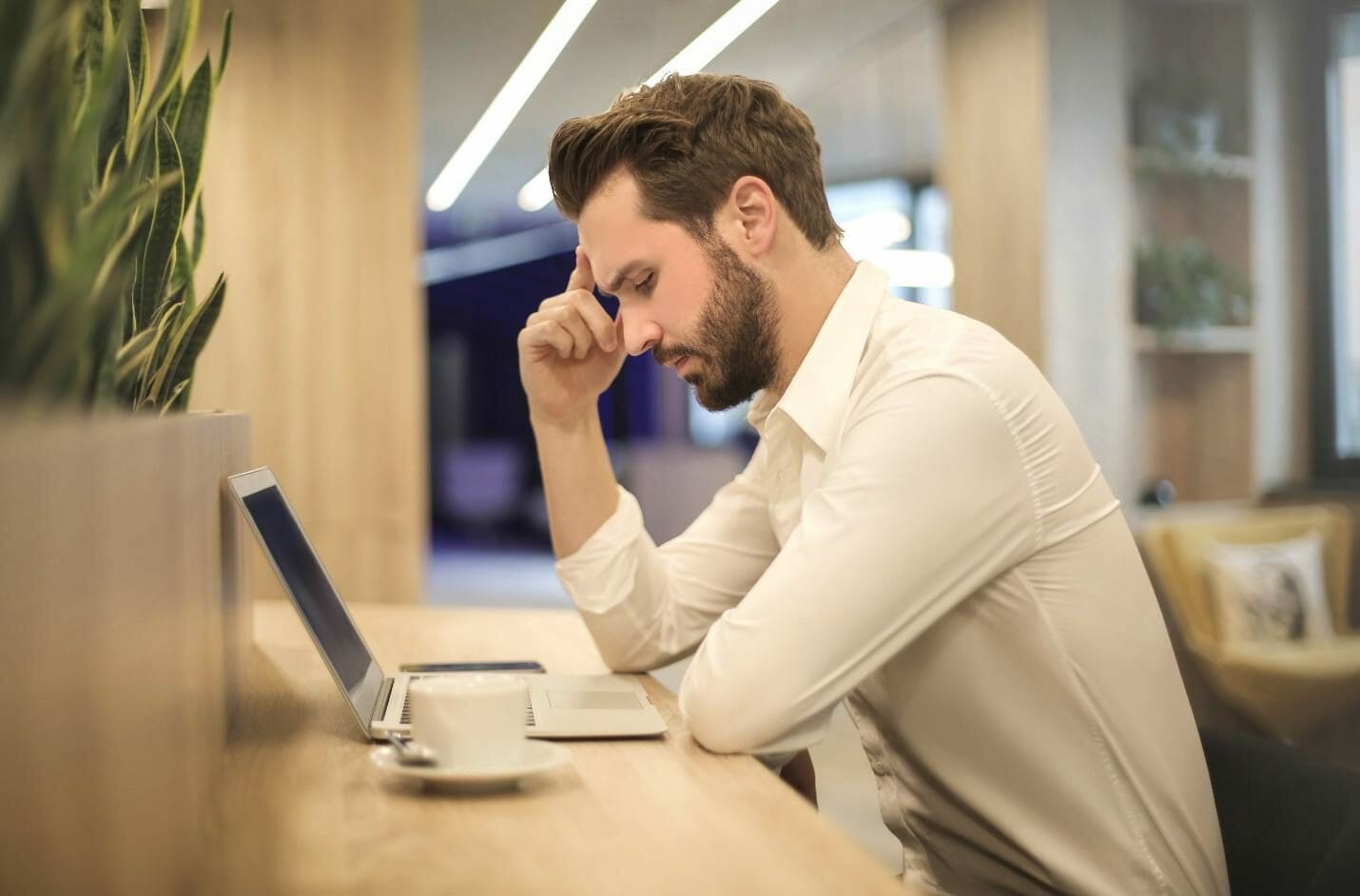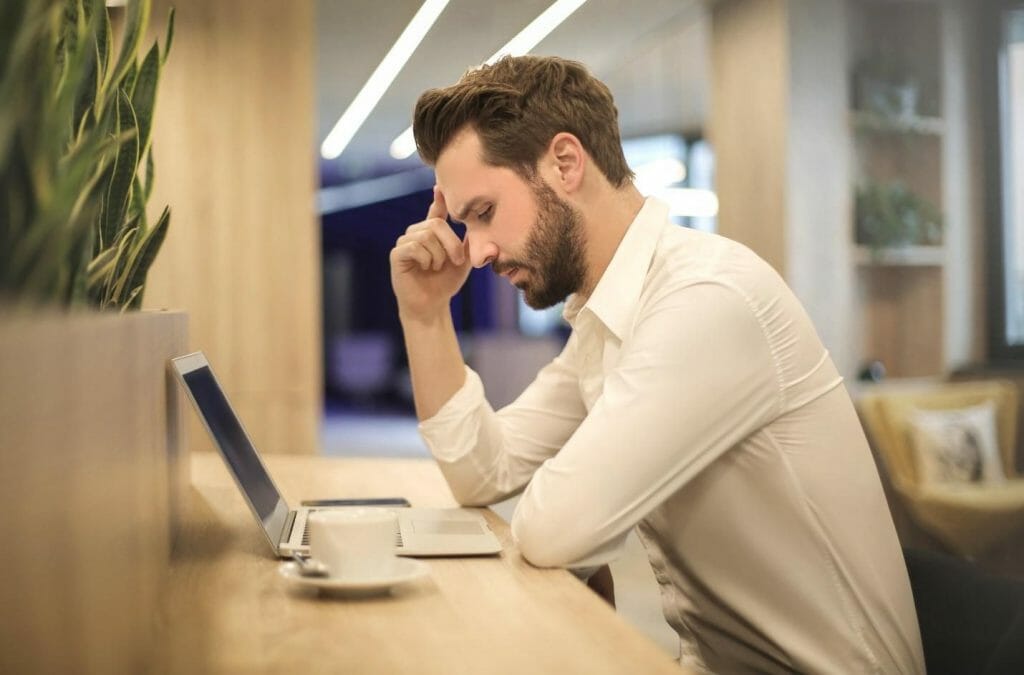 Task automation tools are not without some drawbacks.
Set-up Can Quickly Become an Issue
For example, you might find yourself racking up dozens of minutes (even hours) just trying to feed data into the system, instead of focusing on the task itself.
First of all, what data you feed into the automation system directly impacts the quality and depth of the information you get back as output. That means if you were to forget to input an important task, you can be assured the software package won't sound any alarms—it is not human after all.
The Question of Integration
Some tasks simply can't be automated. And even with the automatable ones, you might struggle to find software compatible with other software in use at your organization. Sometimes, using task management software turns fairly simple tasks into complex ones.
Cost of Automating Can Be Off-Putting
Automation is not cheap and the best task management tools in the market can be expensive. To make matters worse, the benefits of automation rarely result in immediate tangible results. Inevitably, this causes some task managers to question the ROI of task management software (especially when looking for quick-fix solutions).
Also, you'd need to train or hire skilled staff, establish supporting infrastructure and secure ongoing support for the automation tools and process. And then there is the painful issue of surprise breakdowns, as well as pesky but inevitable prompts to upgrade, update and backup your system. All these factors cost money, time and effort—resources you might not be particularly happy to smoke.
Overall, there are definitely more advantages than drawbacks to task management software. Once you've decided to go forward, keep reading to find out more about important considerations.
What to Look for When Choosing the Best Task Management Software Suite for Your Needs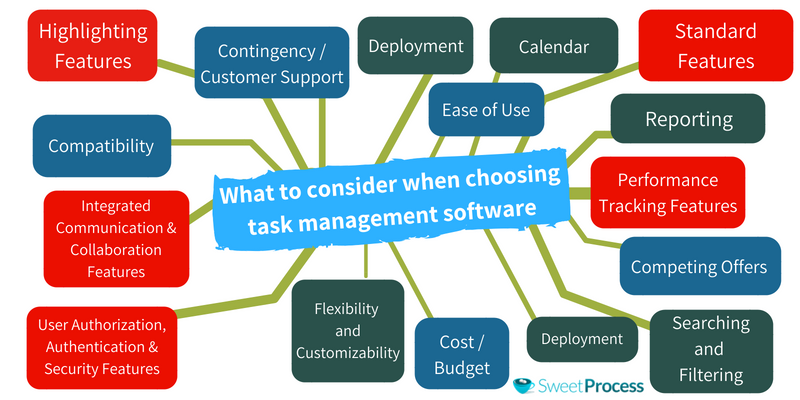 First, consider the needs of your team members. Secondly, take into account your overall task management objectives. In short, keep in mind that your team's needs are unique and unlike those of another company's. So as much as we recommend you benchmark this decision, we encourage you not to choose solely based on what other teams are using. That said, here's what you should consider.
Factors to Consider When Choosing Task Management Software
Highlighting Features
Highlighting features are what sets a certain piece of software apart from others. They are special and make it a niche product that helps manage certain tasks best.
See what is offered as selling points. Do they strike a nerve with your task management needs? Be sure to check if the special features add any value to your task management efforts or are simply glorified but empty promises. Do keep an eye out for what specific "use cases" are emphasized.
Standard Features
To figure out the standard features you need, divide your requirements into either "optional" or "necessary." From there, choose only the features that closely fit the needs of your team members.
Ease of Use
Task management software is meant to simplify what is otherwise overwhelming. It won't help if using the software itself is complicated. For example, the user interface (dashboard) should be intuitive, with layout and navigation cues that prompt natural human responses.
User Authorization, Authentication, and Security Features
Check out what features (such as 2-step authentication) help curb unauthorized activity that may derail the course of a project. For example, opt for task management software that allows you to control access to uploaded documents. This may be based on user roles and importance attached to their contributions.
Performance Tracking Features
Some questions to answer here include:
What are the key performance indicators and how can I get them?
What tasks do I need to monitor and how often?
Do I need real-time tracking?
Do I require remote-tracking?
Will we need data analysis, and how important is it?
Integrated Communication and Collaboration Features
Quick communication is a key contributor to task management success. Fluid and timely flow of information ensure effective collaboration. To foster great communication, an array of tools can help. The best task management software integrates real-time communication tools, such as instant messaging and drag-and-drop capabilities for uploading vital documents.
Competing Offers
Look around. If the market provides a generous supply of vendors who provide task management tools similar to your needs, you can go ahead and invite competing quotes and features. This hands bargaining power over to you. That way, you can derive significant value for money using this simple approach—whichever vendor you choose.
Compatibility
Do you intend to add more tasks, plug-ins and related or third-party software in the future? Evaluate what devices the software package supports. After all, considering compatibility issues is a smart move, especially when you may already have another software package installed on your system and you want both to work seamlessly. Also, be sure to ask specific questions and listen to actionable answers.
Flexibility and Customizability
A flexible task management system not only allows for customizability but also guns for it. To thrive, you need to be able to scale tasks up or down. You'll want an application that adapts to rising demands. This also saves you money when you don't have to buy new software for emerging tasks.
Cost/Budget
While cheap is said to be expensive, there are free and affordable task management software packages that offer valuable tools and actionable metrics analysis. Try using them to get acquainted with task managers. Learn what features, use cases and budget you can dedicate to investing in the best task management tools for your needs.
Client Infrastructure
Different task managers demand different standard infrastructure if they are to optimize task management. Some considerations here include the total cost (financial and human), availability of materials, reconfigurability, and the amount of time it would take to integrate into your day-to-day operations. That's doing your homework.
Contingency/Customer Support
The best task managers offer a DIY rehearsal manual. While many vendors offer training, it is imperative that the delivery package contains a digital training manual that can be shared with team members for troubleshooting purposes.
Deployment
Cloud-based: Allows members to save online data to the cloud. An extra benefit is that ongoing tasks and due subtasks can be synchronized across multiple devices in real-time so everyone remains updated wherever they are via an internet connection.
Mobile: Mobile task management applications allow authorized individuals and team members to access the system while on the go. Most are tailored for use with mobile operating systems (such as in IOS and Android devices), thereby increasing usability. A mobile application also allows you to import/export tasks, attach files from mobile device storages, as well as set and receive notifications and updates remotely with one click.
On-Premise: Entails using task management software on a closed network within the business premises or workspace.
Social: Ingrain the ability to add, assign, mention, filter, and follow people, projects, due dates for tasks, as well as rally support communities.
Reporting
Good software should give you instant reports. This ensures you're always in the loop whenever you want to see the progress of a task. You no longer have to wait for long status meetings or make tedious phone calls to know where you stand. You simply whip up a report, see the progress and communicate with the people who need to work harder to make the project succeed. You can make this even easier by scheduling regular reports and update notifications.
Searching and Filtering
Do you want to know what your team is currently working on? Or what they worked on in the past? With top task management software, it should be so easy to search and filter what you want. This way, as you continue working with the software, you build a rich database that can help you know what works and what doesn't. That serves as a great resource for future planning.
Calendar
As basic as it seems, a calendar can really come in handy in a high-quality task management application. This should have a simple user interface where you can see what your team is working on for the day, week or month.
Task Management Software Buyer FAQ— 24 Vital Questions to Ask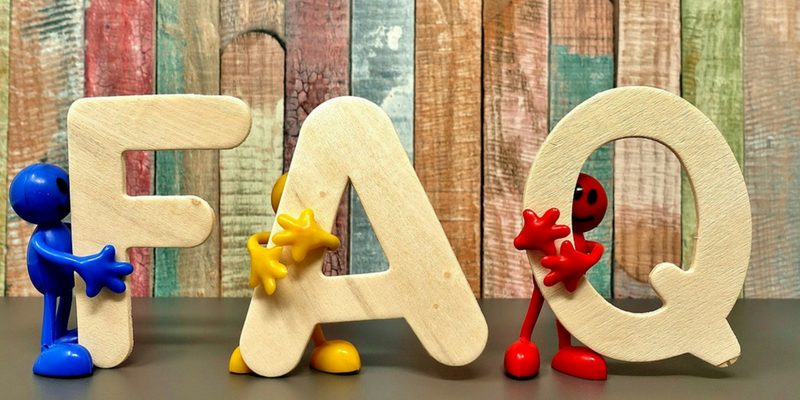 To help point you in the right direction, here are some important questions to ask yourself before buying task management software (TMS):
Can my tasks be managed or made easier using TMS?
What goals should the TMS solution be able to accomplish?
What is my budget for a premium TMS solution (acquisition cost, cost of supporting infrastructure, maintenance cost, backup, as well as damage mitigation and securing costs)?
How comfortable with technology is my task management team?
Can I host and administer the software in my own infrastructure or do I prefer a hosted SaaS solution?
How complex is the scope of my task management?
What kind of task management product do I require, and is the software/vendor offering a similar product that has helped solve a similar situation before?
Does the task management solution provide one-click Microsoft Project export and import?
How easy to use is the TMS?
Can the TMS create templates seamlessly?
Do you only need support for fully manual process execution, or do you also need options for integrating with other systems?
What platform is the task management solution built on?
How does the software separate and differentiate stakeholders (partners, clients, subcontractors, vendors, employees) at any level in the system?
How does the TMS perform intelligent scheduling?
What licensing model would serve best?
Are there business rules associated with the process?
Can the TMS navigation hierarchy be customized?
How does the TMS handle the four task relationships: start-to-start, finish-to-finish, start-to-finish, and finish-to-start?
Will the solution offer multiple reports, customizable reports, and shared reports?
Can I migrate legacy data into the platform?
Can the TMS be integrated with third-party software for customization, improving flexibility and reinforcement?
Can I get my data out should I choose to move to another solution, or if the vendor website goes down, or if the vendor closes their operations?
What are the terms for trial?
Is the vendor open to and committed to signing a service level agreement (SLA)?
Step-by-Step Guide to Task Management Software Brand Selection
Here are some vital aspects of a task management software vendor to consider so you get a robust task manager.
Previous and current client feedback: Gauge their reputation, customer service level, and ROI the solution offers.
Industry experience: Ideally, choose the one who's been around for some time, knows their product in-depth, and offers a package most similar to your niche requirements.
Confidentiality: Ask what would happen to your data in case the vendor winds down the business. Also, seek to know what type of data they share with their partners.
Service Level Agreements (SLAs): Note if the vendor is willing to commit to a service level agreement or not. If they are, they are confident in their product, and you can be too.
Communication and Collaboration: Note the response time you get when inquiring about features or other questions. Assess how well-informed the correspondence or conversations with their staff are. Take these as signs of what to expect in the future.
Long-term plans: What direction are they daring to grow? If an overhaul of business operations—such as a result of a merger or acquisition—happens, how will you be affected?
Cost/Pricing: Are there any hidden charges? Can you negotiate the offer price, maintenance terms, and on-call support?
Data custodian: Who gets to keep the data in case of a breakup? Have these terms written down as proof?
Below is a video of some of the best task management software.
Currently, some of the best task management software include:
SweetProcess
Wrike
Samepage
Trello
TimeCamp
Microsoft PPM
Todoist
QuickBase
Producteev
Basecamp
Jira
Monday
Testing, Implementation, and Follow-up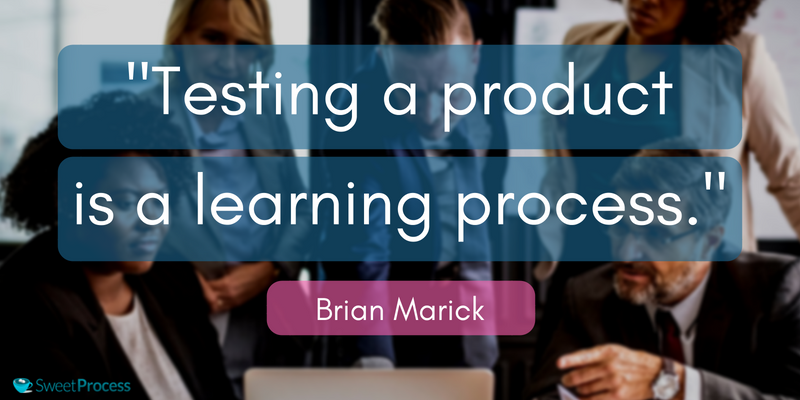 Once you reach a purchase decision, the next step is determining how to get the task management software up and running. This is an excellent time to sign up for a trial of the software and use it in real day-to-day tasks—your real business environment. Test how it adapts to it and vice versa. This will help you figure if the suite is the best task management solution for all involved stakeholders.
You can use various SWOT Analysis and A/B Testing methods. The more you try out, the sooner you will discover how closely related to your operating environment they are, the better you'll understand the best use cases for the TMS you have.
Hopefully, this guide has helped you get a clear idea of what to look out for when selecting the right task management software for your company.
Download Our FREE Task Management Software Matrix
Remember that automating tasks has numerous benefits. When done well, it can free up your time, make your processes more organized and skyrocket your profits. With that said, we'll end with a little gift for you. Click here to download a task management software matrix to help you compare and decide on the right one for you.