How to Write a Policy for Your Business and Employees
Last Updated on September 20, 2023 by Owen McGab Enaohwo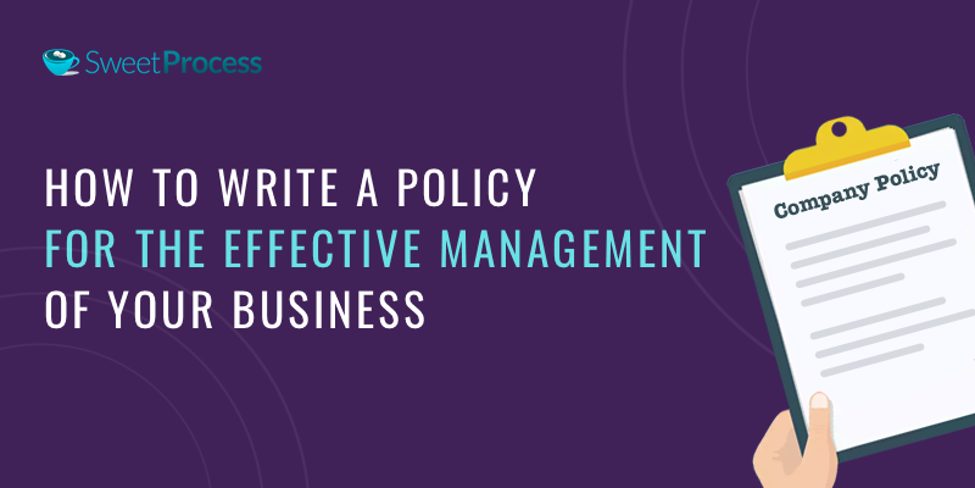 Do you want to know how to write a policy for your company? If yes, read on…
The ultimate dream of every entrepreneur is to expand his or her business.
However, the larger your company grows, the more difficult it becomes to ensure that employees carry out their duties effectively and in line with the goals of the organization.
Your employees don't just need rules and guidelines to follow; they need to be constantly reminded of these rules so they don't deviate. They also, in turn, need constant reassurance that the company has their best interests at heart.
Let's be real: You can't accomplish all that without some kind of help. This is where the need to create policies comes in.
Every organization needs policies to guide its affairs. However, developing a policy is not as simple as it might seem. There are a lot of things you need to do when creating one.
Here you have an article to simplify the process of writing a policy. When you reach the end, you will not only know how to write an effective policy to aid your business management, but you will be all set to implement it.
What to Expect
Chapter 1: Introduction to "Policy"
Chapter 2: Getting Started with writing a policy
Chapter 3: Writing Your Policy
Chapter 4: Implementing Your New Policy
Chapter 5: Conclusion and Free Bonus Template for Writing a Policy
INTRODUCTION TO "POLICY"
To properly develop or write an effective policy, familiarize yourself with some basic concepts and vocabulary.
You need to know what a policy is, why you should create one, the pros and cons of having a policy, what good policy looks like, and your responsibility as a policy owner.
This knowledge gives you a clear picture of what developing a policy entails and prepares you for the task ahead. So, let's start from the very beginning.
What exactly is a Policy?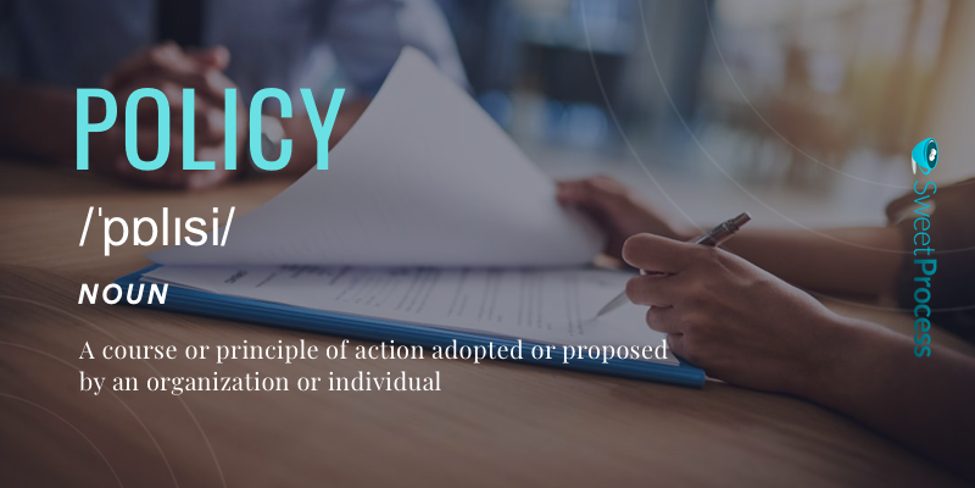 A policy is simply a document that contains instructions that determine how things are done in your organization.
It clearly defines modes of conduct, reflects the organization's values, and determines the cultural structure of your organization.
Your policy is your organization's action plan. It serves as a guide to influence the decisions you make. It also serves as your employee's go-to book for office behavior and work ethic.
It is important to note that policies differ from one organization to the next. The content of a policy depends on the mission and objectives of your organization.
Need more clarity on what exactly is a policy? Then watch the video below:
Now that you know what a policy is, the next important question is, "Why is it necessary to create a policy for my organization?"
Why create a policy?
There are several compelling reasons to learn how to write a policy.
It is the medium through which your organization's plans, rules, and aspirations are made known to all members of staff.
A policy manual is the first official document an employee should be given immediately when they are hired. In this way, your employees become fully acquainted with the core values of the organization and its goals and objectives. This, in turn, increases productivity.
With a standard policy in place, management becomes less stressful. Employees follow the policy rules, unnecessary mistakes and misunderstandings are averted, and the organization runs smoothly.
A policy ensures that decisions are made fairly, whether they concern individuals or the organization as a whole.
A policy could be a means of ensuring that your staff becomes loyal to you and stays that way, especially if your policy sends the message that human resource management and staff benefits are very important to your organization. Employees are more likely to be loyal and eager to work when they know they are respected and appreciated.
A policy statement doubles as a legal document. It states clearly the employee-employer relationship, putting both the interests of the organization and its employees into consideration. It also clearly states the rights as well as the duties of your organization and its employees.
You now have some background on how important it is to create a policy for your business. Before we go into how to write a policy though, here's another important question we should answer: "Is a policy all positives without any negatives?"
The pros and cons of writing a policy.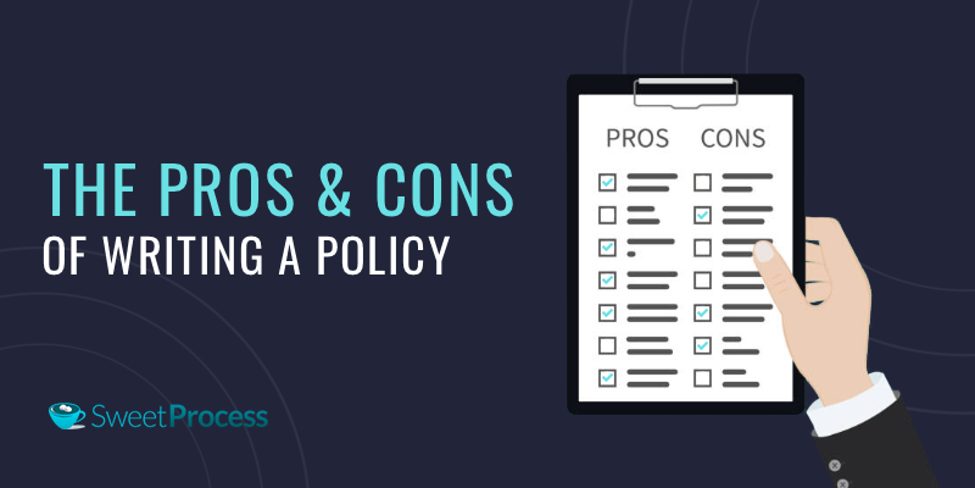 Just like just about everything one can think of, a policy has its advantages and disadvantages. Let's start with the positives.
Pros
1. Give little or no room for errors
A policy presents a uniformed way of doing things. Without a policy, employees might conduct themselves in whatever manner they find pleasing. With the wrong attitude and approach towards work, a lot of errors might occur – which could affect the organization negatively.
Having an effective policy in place saves you this pain.
2. It encourages employee accountability
A policy sets the standard for the way things should be done and what the organization expects from its employees. This makes it easier to hold employees accountable for their actions. Therefore, when employees flout the rules, they cannot give ignorance as an excuse.
3. It doubles as a training manual for new staff members
The best an employer can do when they get a new employee is to spend hours with the newbie, making sure they get acquainted with the working environment and get properly onboarded.
After this period, the policy manual becomes a reminder of what the new employee has learned. The employee can refer to the necessary details as needed.
4. Policies empower an organization's employees
With a well-defined policy in place, employees are empowered to do what is right. It gives employees room to carry out their activities freely as long as it is within the boundaries already put in place through policies. This also limits the number of managerial checkups.
Cons
1. It might not allow for creative thinking
Creating a set of rules which employees must follow strictly might hamper their creativity. When employees feel they can't bend the rules or takes chances, your company might miss out on a hunch that could lead to something new and profitable for the business.
Employees who do not see the need for change can have a negative effect on business growth.
2. It could be interpreted in various ways.
It is always advised to write a policy in clear and simple terms. This is because employees might give individual interpretations of the policy, which might be different from what you intended to pass along. This could lead to misguided actions that may affect the organization adversely.
3. It needs to be updated regularly
To keep up with changes within the organization, policies have to be updated regularly. Imagine spending hours on the not-so-fun task of writing a policy. Now imagine having to do that regularly – seemingly valuable time you could spend on other things.
Notwithstanding the cons of creating a policy, it still has to be written for the effective management of your business. The benefits of having policies in place definitely outweigh the cons.
Since that is settled, what do you think a good policy should look like?
Characteristics of a good policy
You know your policy is good when it has the following qualities:
It is written in simple terms and clear language.
It has well-defined procedures. The procedures should clearly indicate how instructions in the policy should be carried out.
The policy takes into consideration the benefits of the employees, making sure the rules are fair.
It is easy to understand so that employees can easily adhere to the rules.
It isn't totally restrictive. Where possible, your policy should present the employees with options. Making people choose gives them a sense of ownership.
These are the qualities of a good policy, and you must always keep them in mind when writing one.
However, a policy should not be confused with other related terms or concepts. It is important to know what differentiates a policy from these other concepts.
Policy vs. procedure
The terms "policy" and "procedure" are usually used interchangeably. However, they are two entirely different things.
A policy clearly states what the management of your organization expects from its employees, while a procedure is a detailed description of how the instructions in your policy should be carried out.
So, while your policy states what should be done, the procedure describes how it should be done.
Here's a great video, by John Tonkin (for Blueprint) explaining the relationship between policy and procedure:
Mission vs. policy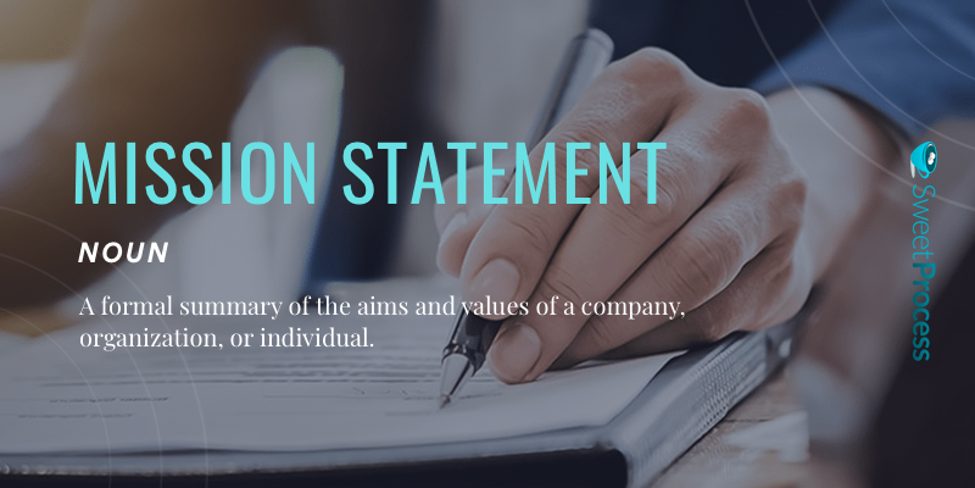 Your organization's mission statement is an official document that clearly states the services you provide and for whom these services are provided.
The mission statement is the first thing you start with when developing your policy. When your mission statement is well-written, it becomes easy to set objectives to achieve the mission. It is from these objectives that you develop your policy.
Simply put, if you cannot clearly define your organization's mission, it is impossible to write a good policy.
Having a clear and concise mission statement is just one responsibility of policy owners. There are a few others.
Responsibilities of policy owners
As a policy owner:
You are responsible for reviewing policies that may need updating.
You determine who will be affected by the policy and ensure that their opinions are well represented in the policy.
You delegate authority to policy administrators who then ensure that there is the effective management of the policy.
You create a training plan that will help educate and train employees on the workings of the policy.
You make sure that the policy is in sync with the organization's objectives. This ensures that the policy helps the company achieve its mission.
Now you know what a policy is, why your organization needs it, its pros and cons, what good policy should look like, and the roles you have to play as a policy owner. You're definitely on the right track.
At this point, you are probably very psyched to dive deep into how to write a policy. So how exactly do you get started?
GETTING STARTED WITH WRITING A POLICY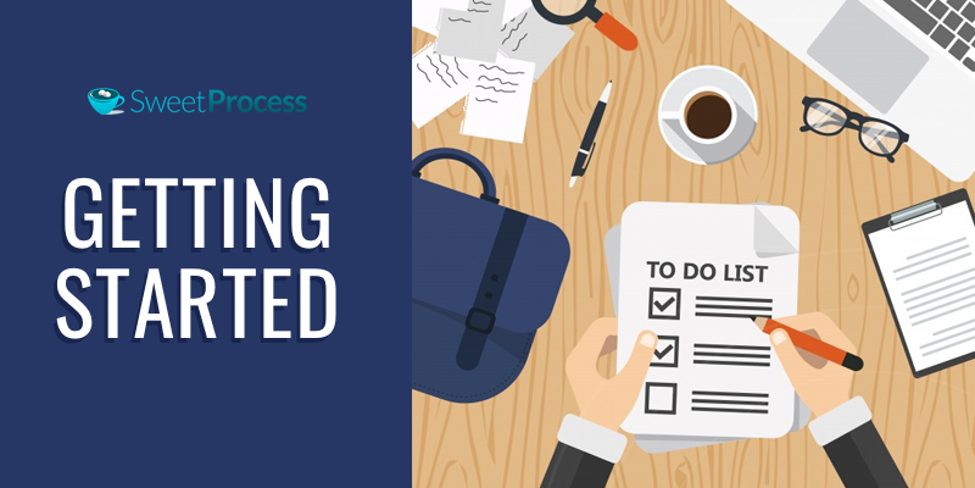 The fact that you want to write a policy does not mean that you just pick up your pen and begin scribbling away. There are a lot of things to do before that.
There is research to be carried out, consultations to be made, and several other things to put in place to ensure that the process of writing goes smoothly.
In this chapter, we'll explore the things you need to do before you begin writing your policy.
A good starting point is:
Do's and don'ts of policy writing
When writing a policy, knowing exactly what to do and what not to do is very important to avoid unnecessary mistakes. Below are things you should and should not do:
1. Policies should be written in formats that are standardized
An important feature that every policy should have is that it must be easily read and understood. A standard writing format and writing style makes it easy for your employees to search the policy – its sections and subsections – and get whatever they need without difficulty.
2. It should be written by an expert familiar with the organization
There are different policies for different issues.
Your organization's policy should be written by an expert who is well versed in the subject your policy focuses on. The expert should also be familiar with the goals of your organization, how it is run, and its processes at the time the policy is written.
3. Do not leave your employees out of the policy development process
Representatives of the staff should be present during the policy development process, especially at the beginning stage. Your employees will be much more receptive of the policy if they feel they played a role in the decision-making process. This creates a positive attitude throughout the organization.
4. Do not neglect policy review
Just as writing a policy is important, so too is reviewing it. Your organization's policy should be reviewed regularly as changes within the organization occur.
With these basic rules in mind, it is time to consider the first steps to take after you decide your organization needs a policy.
Before you begin writing your policy
Here are a few things that should be put in place before you begin writing a policy:
1. Make sure everyone agrees to develop a policy
Before you even start creating a policy at all, you need the full support of the staff and management. Make the management aware of the reasons a policy is necessary and why it should be drafted as soon as possible.
2. Get a team in place
Writing a policy is not an easy job. You need to pull together a team to help you through the process of developing a policy.
You need experts as members of your team. They should not only know how to write a policy but should also be experts on the proposed topic your policy will center on.
3. Ensure your policy structure is standard
If your aim is to write a policy document that is organized, effortlessly understandable, and easy to navigate, then you need a policy structure that is standardized.
4. Download software that will help simplify the process
There are various policy management software programs that are easily accessible online. They simplify the policy creation process for you. With the right software in place, you can easily access your files wherever you might be. And of course, you and your team members can work together even when you are not in the same place.
While you are putting these different things in order, there are rules you need to follow to ensure that the prewriting process is easy and smooth. The following guidelines should ease you forward.
Guidelines for writing a policy
Below are the necessary guidelines you need to make your preparations for writing your policy fruitful.
1. Make a priority list
Since you can't work on more than one policy at a time, it is essential that you make a priority list. Include new policies you need to write and those you need to review. At the top of your list should be a policy that will reward your company with a quick win.
You could have a meeting with your team members and determine which of the policies need to be attended to immediately. With this, you know exactly where to begin.
2. Research
The importance of research cannot be overemphasized. You need an in-depth knowledge of the organization and how policies concerning your subject area are usually written.
When you need to revisit a policy that seems outdated, conduct a proper investigation to determine the shortcomings of the current policy and determine the best way forward.
To help with your research, you might interview employees, discuss relevant topics with experts, and identify laws that correlate with your policies.
To put your best foot forward, vet someone to help you make the first draft. As an outsider, the person (who, of course, must know how to write a policy effectively) can give a more objective view of things.
3. Review your work
No one gets it right the first time. Review your work. You could let another set of eyes do the reviewing for you. Ask an expert and a non-expert to proofread the policy for you. This will help you spot mistakes and write a better policy – one that a non-expert would also understand. Keep editing until there is nothing left to edit.
4. Get approval
This is the final step in the writing stage. You need an executive member of the organization to approve your policy – preferably someone holding a top position in the department the policy is structured around or would be affecting the most.
Like I said at the beginning of this section, you can't just begin writing a policy without the necessary prewriting work done. Now you have everything you need for the prewriting stage. Make sure you pay attention to the do's and don'ts of policy writing, follow the guidelines and the prewriting tips, and the next steps will follow easily.
As you probably have guessed, it's time to write the policy properly. Let's get down to the nitty-gritty writing it.
WRITING THE POLICY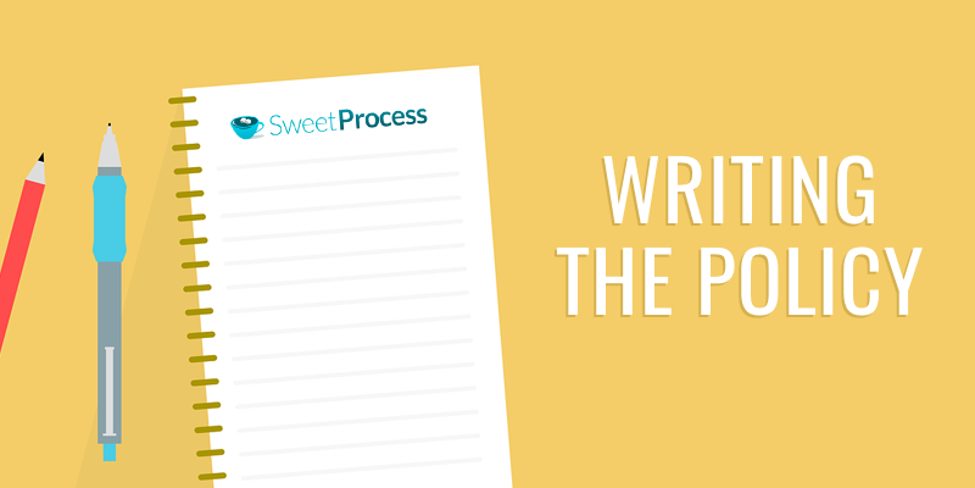 We have arrived at the most interesting part.
At this point, you have completed all the prewriting steps (as outlined in the previous chapter).
Now let's delve into some particular ingredients needed in the compilation a policy; the format you need to follow, the design, writing style, key elements, and some tips for success. Brace yourself; we are going for a ride!
Format of a policy document
The formatting style of your policy is very important. It plays a central role in determining whether or not your policy document can be easily read. The formatting tips below will help you in creating an effective policy:
1. Professional fonts
Since this is an official document; the fonts you use should be professional. It is generally preferable to use one that is regularly used – like Arial, Calibri, Cambria, Garamond, Times New Roman or Georgia.
2. Consistent font size
Generally, your font sizes should be ones that are easy to read. Maintain the same size for the whole policy document. Variations should occur only for headings, titles, and subheadings.
The ideal font size for writing policy is size 12, depending on the font. For headings, size 14 should be used. For the policy title, size 14 is okay. You can easily set your policy styles in most word processors and save a template for future use.
Note: the title is the name of your policy, while headings are used to name chapters in your policy.
3. Little or no colors
Colors are not a policy's friend. You should avoid using them as much as you can. They make your policy document look unprofessional. Your policy document should be written in black fonts and the background should be white. You may, however, use colors (sparingly) to illustrate examples.
4. Appropriate spacing
To make sure that the document is easily understood, spacing is necessary. Paragraphs, sections, subsections and the like should be spaced apart carefully. This will prevent words from becoming clustered and help the reader group important sections in their mind.
Your policy is now well-formatted (if you've followed through to this point) and now easy to read, but our job is not done yet; your policy document must also be properly designed.
Design and layout of a policy document
Your policy needs a reader-friendly design and layout. Here are some tips that will help you achieve that:
Use plenty of white space.
The structure of your policy should make it easy for employees to quickly find the part of the policy that is important to them.
To effectively illustrate very important points, you should make use of labels.
Create your policy with an outline that will make it easy for you to make corrections in the future.
Now that you have a professional design and layout for your policy, what writing style should you employ to make this policy even better?
Writing style for a policy
Your writing style also determines whether or not your policy can be easily understood. Below are some style tips:
Your policy should be written clearly and in concise terms. It should not be written in the first or second person but in the third person, e.g. he, she and it.
To avoid constant review, do not include any data that might easily get outdated.
Select your words very carefully. You do not want your employees to feel they are being commanded. Imperatives such as "must" should be used sparingly.
If you need to include an acronym, you are to first spell out the words fully and then you can put the acronym in a bracket. e.g. the World Health Organization (WHO).
You're doing well so far on your way to learning how to write a policy. But your work isn't done yet; you need to know the components that make up your policy.
These components or elements make up the body of your policy, and if they're not properly put in place, your policy is incomplete.
So, what are these key elements?
Key elements of a standard policy
Your policy document should include:
Header: basically your organization's name and who that particular policy is being created for.
Dates: the date when the policy was initially made operative. If it is being reviewed, the date of review should be indicated too.
Title: should reflect the total content of the policy. Try not to include the word "policy" in your title.
Authority's approval: this includes the name of who approved the development of the policy.
Policy statement: this is where you state in detail why the policy is being created. In this section, you answer the questions who, why, what, when, and where of the policy.
Scope of the policy: ask yourself whom and what the policy applies to. For example, is it for staff conduct within the organization or salary payment process? That would be the scope of your policy.
Procedure number: this is included to make referencing easier. Ensure that spaces between the numbers are equal and that they are written in numerical figures.
Procedure: This section is where you indicate steps to help achieve the goals laid out in the policy statement. It contains rules to be obeyed. It should be very detailed.
Different parties and responsibilities: This includes a list of various units that would be responsible for policy enforcement. You can also include contact information.
Directive: this section is for instructions that are very important and must be noticed.
Page numbering: Every page should have a page number.
Definitions: words that are not common should be clearly defined.
References: indicate if the policy was developed with references from other documents.
Include all these elements in your policy document and you have a complete policy.
Now that you know how to write a policy, it is time to make your first draft.
Write, edit, rewrite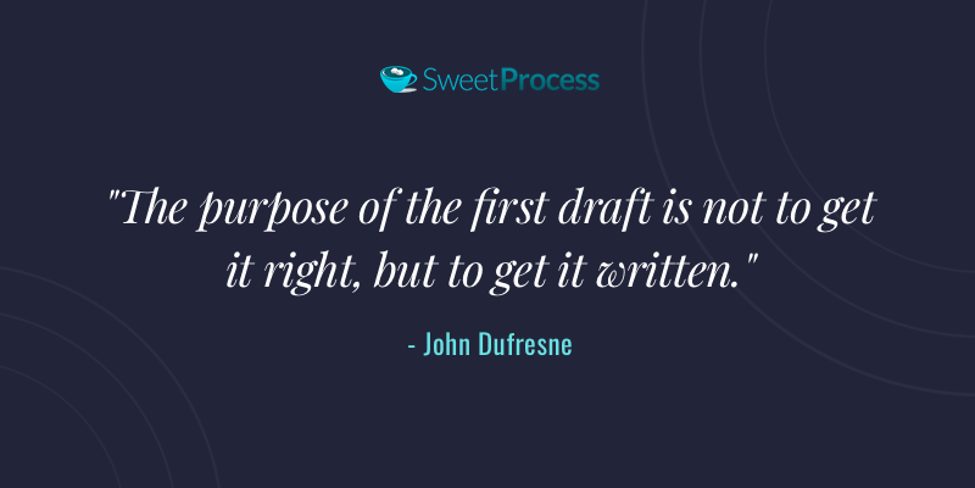 To write a good policy, you need to put in a lot of time and hard work.
You need to conduct research, think, and analyze before you begin writing. And after writing, you have to rewrite. Even with a proper understanding of all you need to write, the first draft is never good enough.
You need to research with the staff involved, draft the process, check it with them, test it with an expert, test it with a novice, rework it to remove errors, check and recheck until there are no more errors.
Implement their suggestions and then edit them again. Keep editing and rewriting till there is nothing left to edit.
Congrats, you can now write a professional policy that's sure to be effective.
Before we get into the implementation phase of your policy however, let's discuss some general policy-writing best practices, plus some additional writing tips.
More policy tips and best practices
These tips should help you further refine your policy and perfect it:
1. Keep your policy short
Your policy should be as short as you can make it. Not every detail should be included in the policy, except if it is a complex process that needs a ton of details. Writing an extremely long policy can make employees disinterested in reading it.
2. Ensure that your policy is in line with the law
The content of your policy should be in conformity with the law to avoid legal issues arising. Your policy should not put the management and employees at risk or in danger.
Every situation or scenario presented in your policy must be according to the stipulated laws of the government concerning such situations. (More on legalities later.)
3. Make sure that the policy is read
Immediately after the policy is made available to everyone, have them confirm that they have read it. They could send you an email or, better yet, have them sign after viewing it, acknowledging the fact that they have read it. This way, no employee can give the excuse that they didn't read the policy.
Most policy software includes this check (as well as the possibility of testing employees' knowledge to make sure they really read it).
I can now confidently say that you have everything you need to write a policy. So what are you waiting for? Pick up your pen and begin writing. Make sure to follow the formatting, style, design, and editing tips I dished out in this section and you will be done in no time.
Take a long rest after crafting your shiny new policy (or polishing an old one). And then let's begin the implementation process.
IMPLEMENTING YOUR NEW POLICY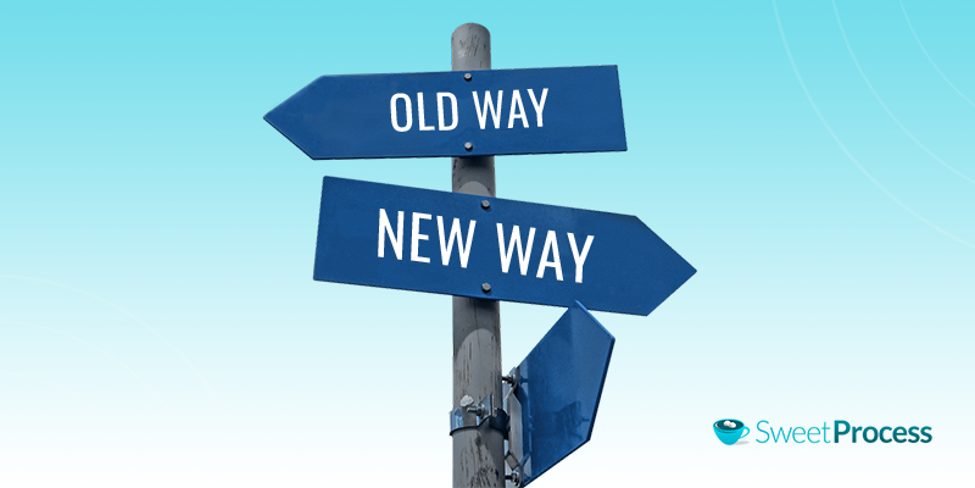 You must already know that learning how to write a policy – or eventually creating one – isn't enough; proactive moves need to be made to ensure your policy is successfully implemented.
You do not want to write a bunch of rules that are only functional on library shelves. This is why this stage is very important.
In this section, I will take you through the implementation process and other things like policy management and compliance.
Policy implementation process
There are three major processes involved to implement your policy:
1. Distributing your policy
The first thing you need to do after approval is to distribute your policy to all staff members in the organization.
The easiest way to get this done is to send a copy (or the link to a copy) to every staff via email.
You could print and distribute hard copies too so that the policy can be also accessed manually. Members of the organization must also indicate that they have read and understood the information.
2. Training
Just because your employees agree to be compliant doesn't mean that they might know how to effectively carry out the instructions indicated in the policy. You need to train them to make sure they really understand the procedures and prevent unnecessary mistakes.
You could use videos and case studies as teaching tools. A very interactive approach is needed for the training, to ensure that everyone participates.
Such trainings should ensure that employees can freely express themselves, ask questions, and make suggestions. Beyond training, test them to make sure they fully understand the policy.
3. Regular policy reviews
Set a timetable that indicates when the policy should be reviewed. This is because laws keep changing as well as professional practices. Reviews have to be carried out frequently, especially to ensure that the procedures in your policy are never outdated nor lose relevance.
When you review, go through the same writing process involved in writing a new one. The only difference this time is; you are making changes in parts of the documents and not creating a whole new policy.
After approving the policy and training your employees, what comes next is effectively ensuring policy compliance.
Policy compliance management
In order to ensure policy compliance, you should make certain that you:
Create policies that cover every detail of the organization's work process you want to effectively manage.
Train and teach your employees about the policies, its rules, and the risks involved.
Implement the policy by creating a team to do so.
Get software that helps to implement and manage your policy. You can use a tool like SweetProcess to document and manage your policy.
The process of ensuring policy compliance is easier if policy legalities are properly addressed.
Policy legalities
When writing your policy, you have to make sure it is legally binding. How?
1. Make sure your policy is in line with legal rules
Your policies should not only be official but also legal. It should not flout any laws of the state or country. Before you write your policy, read up on laws that relate to businesses in your region, and make sure your policy doesn't go against any.
It is advisable that you get the company's lawyer to go through the policy (for any potential breach) before it is approved and made effective. Your lawyer should also be there when you conduct reviews.
2. Your policy manual should include policies against discrimination
There are different anti-discrimination policies set up by the government and it is the duty of your organization to abide by them. Make sure that your policy manual accommodates these policies. You and your employees are supposed to abide by these policies.
3. Ensure your employees sign your policy
Once your policy is distributed, employees are to officially agree to its implementation by signing the policy.
This should also be done for new employees or whenever changes are made to the policy. This action holds them responsible for the policy if they or the management ever decide to take up any legal action.
Implementing policies is obviously more important than the actual writing process. With a well-implemented policy, your organization is bound to run smoothly and efficiently.
The essence of writing any policy is so that it can be implemented. When you successfully achieve that, you can pat yourself on the shoulder and say, "Well done!"
CONCLUSION
Remember that policies are very important and every organization needs them. However, the task of writing a policy is definitely not the easiest task to take on. Learning how to write a policy is one thing; actually writing it is another – implementing is yet another ballgame on its own.
Now you have a guideline to ensure that the process of developing your policy is less stressful.
Do not forget to do as much research as you can, write your policy in a standardized format, edit your work till you can edit no more, review the policy regularly, and ensure that it is well-implemented.
If you need to read this article again and again, please do. But make sure you do not leave this page until you fully understand the whole policy-writing process in detail.
If you have any questions or inquiries – or additions, please leave a comment and I will get back to you as soon as I can.
TEMPLATE FOR WRITING A POLICY DRAFT
Now, you know everything you need to develop your policy and implement it. It is time to put what you have learned into action. I've created a way to help make writing policies easier.
All you have to do is download the SweetProcess template for writing policies.
This template presents you with the right formats, design and layout, key components, and everything else you need to write your policy. It makes the process of writing very easy. All you have to do is fill in the blank spaces.
Everything you need to do in each section of the template has also been explained in simple terms.
Save time today and grab our free template for writing your policy. Click here to download immediately.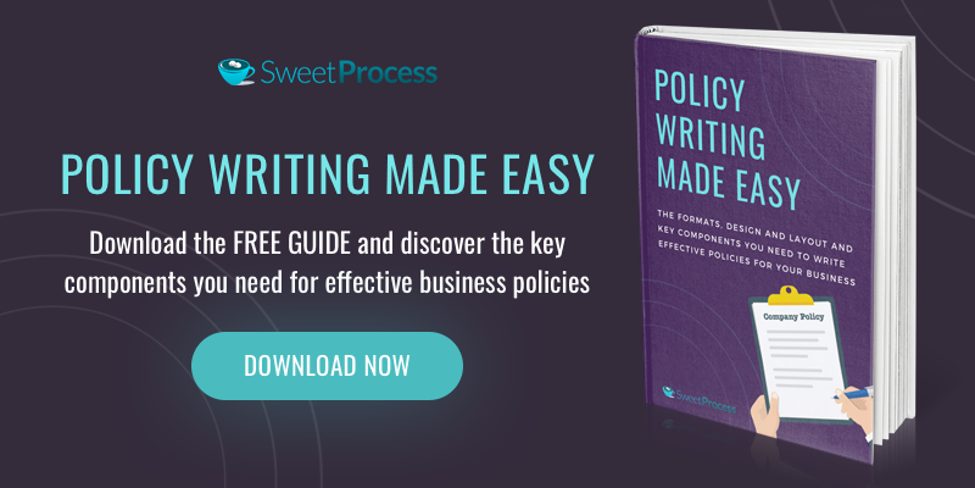 Get Your Free Systemization Checklist

5 Essential Steps To Getting a Task Out of Your Head and Into a System So You Can Scale and Grow Your Business!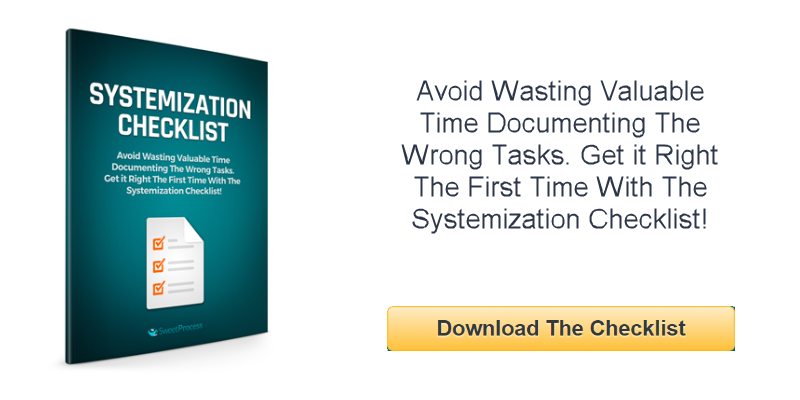 29 responses to "How to Write a Policy for Your Business and Employees"