How to Write an Effective SOP (Standard Operating Procedure) With Free Templates
Last Updated on June 5, 2021 by Owen McGab Enaohwo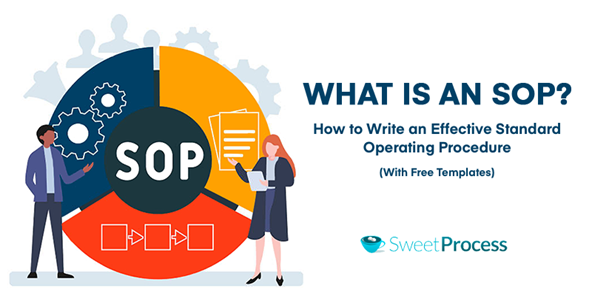 As a business owner, having a standard operating procedure (SOP) in your company is a no-brainer.
The reason is simple.
Without one, you'll most likely find it difficult to grow or scale your business.
This is because, without an SOP, your employees might not know exactly what needs to be done when you start working with a new client. Not only that, training and onboarding new employees will become a herculean task.
Before they started using an SOP, ClickFunnels faced the challenge of training new hires during its hyper-growth phase with about 350 employees. By creating and using an SOP inside SweetProcess, they solved that problem and cut down on training time by two to three weeks.
As you can see, having an SOP in your business can reduce bottlenecks and improve its smooth running. In this post, I'll detail what an SOP is and the steps you can take to write it.
Effective SOP Writing Guide – Chapter Index
Chapter 1: What is an SOP?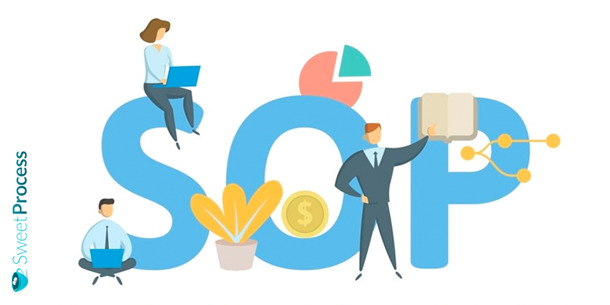 Known in full as standard operating procedures, SOP is a step-by-step document that details how an employee should perform a task in a project.
It highlights the description of each task as a bite of an entire project, identifies who is responsible for the task, and indicates the deadline for deliverables.
According to Wikipedia, an SOP is step-by-step instructions compiled by an organization for workers to carry out routine operations. SOPs aim to achieve efficiency, quality output, and uniformity of performance while reducing miscommunication and failure to comply with industry regulations.
Helpjuice added that the SOP documentation is more detailed than a simple procedural document as it provides a realistic explanation of what you need to do to ensure that a given process goes as planned.
It defined SOP as a document that provides clear-cut directions and instructions on how you, your teams, and the members within an organization must go about completing specific processes.
Intechopen defined SOP as a process document that describes how an operator should perform a given operation from a technical operation perspective.
It furthers that it involves the purpose of the operation, the equipment, and the materials required. It also describes how to perform the set-up and operations needed for the process and how to perform the worker's maintenance and shutdown operations.
And so that you, as the operator, aren't limited to the required information, it also contains a description of safety issues, troubleshooting steps, a list of spare parts and where you can find them, and illustrations and checklists to guide you on the right delivery path.
The Chron for Small Business publication also agreed that SOP is a document that provides step-by-step instructions on how to perform a particular business activity, such as in manufacturing, health care, marketing, finance, restaurant, administration, and real estate.
Additionally, though most SOPs are presented as text documents, they can also contain images or videos to clarify the instructions better.
That said, SOP is ultimately a step-by-step process document that you need for the smooth operation of a specific process or the general operations in your business. And it could involve the creation of some underlying documents like process flow charts and material specifications.
So, have you seen an SOP in action?
Here are two standard operating procedure examples to help you have a better picture:
A simple SOP example for gassing up a vehicle could be:
Drive to the gasoline station.
Park beside the gasoline nozzle.
Turn off your car ignition.
Open your car's gasoline slot.
Pull the gas nozzle.
Fill up your car with gasoline.
Close your car's gasoline slot.
Pay for it.
Turn on your car engine.
Drive away.
You'll see that this is pretty basic. Right?
Another example is an SOP for administrative staff to make a bank/cash deposit in a small enterprise:
Subject: Bank/cash deposits
Date: 11/12/2020
Company: MindThread.ly
Prepared by: Jason Moore
Approved by: Jerry Smith
Procedure:
Total up checks on the calculator with tape.
Take to the cashier for confirmation of the total. Get a receipt for proof.
Do daily recap via email. Send to the administrative officer and print out your copy.
Ensure that the cashier receipt, deposit slip, and daily recap balance each other.
Fill out the deposit slip, making sure that the total matches up the total on the receipt.
Then make copies of the receipt: 2 copies for bank deposit, 1 for daily recap sheet, and one copy for each check.
Send one copy of the bank deposit to the accountant.
Keep all your records: a copy of the recap sheet, one copy of the bank deposit slip, and one copy of each check.
Attach receipt from cashier to your records in #8.
Put money in bags with green heart key chains.
Take bags to distribution and have them sign for it in a notebook in a file drawer. (Don't allow volunteers to sign for bags.)
You'll notice that this example is a step further.
This means that no matter the complexity of the task, it can be broken down into digestible tidbits. It should aim to guide the user and make it easy for them to refer to it.
The main aim of every SOP is to ease understanding and ensure usage.
Do you think you had your business figured out, and you wouldn't need an SOP?
In the following chapter, we discuss why you need an SOP.
Chapter 2: Why You Need an SOP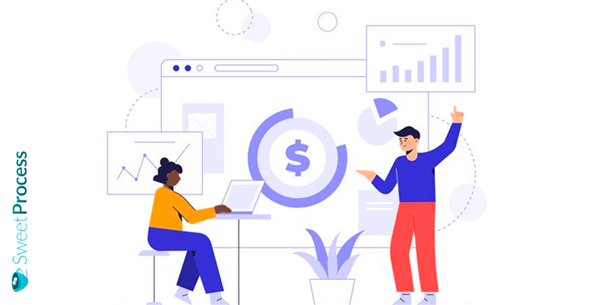 At every stage of delivering on a task, knowing what to do in your business process is not always feasible. This could be due to a new person handling the process or the main man in that position is out of work.
This situation could make the operation ineffective and wasteful of time.
So, the new man is waiting for a guide, or you know what to do, whom to ask, and when to initiate the following process, but the next guy to carry forth the action isn't prepared.
In and on, situations about time, people, and resources could slow down the work process if there's no guide to inform steps.
And organizations like yours, who are keen on maximizing productivity and profit, wouldn't want to be in such a situation. That's why you should know why SOP is essential.
SOP is essential to businesses because:
It provides detailed operational information
You and your employees need some necessary information about your workplace's safety, health, and environmental requirements to perform at your job better.
In production lines or manufacturing companies, safety gadgets are essential. In fact, they are the first ritual to observe as you would identify the "Safety First" sign everywhere.
Sadly, a visitor or some employees do not know the safety gadgets to wear before entering a section.
With a well-crafted SOP, either a visitor or a new hire will know the steps to follow, and this will help the organization avoid situations such as accidents, fines, or inexcusable lawsuits.
It ensures consistency of product, process, and people
SOP brings consistency to the work process. So that no matter who does the task, there's every likeliness that it will follow a regular quality pattern.
Wonder why some organizations create products that are identical in every aspect? Their standard procedures are in good shape.
Aside from maintaining top quality standards of products, your processes and people's work style will also follow a regular pattern that maintains better hiring and performance audit.
Your employees will become accustomed to quality delivery, and your customers will stick to your products and services as they will always get the quality initiated by your standardized products and processes.
It eliminates bottlenecks in the work process
SOPs eliminate bottlenecks and prevent the breakdown of operational flow.
For efficient delivery of services, every employee must be on the same page of the work process. A drag in a team member's job will amount to a corresponding drag in the organizational efficiency in the long run.
There should be an allowance for you to keep a tap on anyone lagging. A simple "hey" does no harm. It could be a lifesaver to lowering overhead costs.
The SOP ensures that maintenance is up-to-date and resources are adequately available for continuous and uninterrupted work processes.
It serves as a training document for new hires
A good SOP document saves you the resources on training a new hire.
Carefully arrange these documents by department and job role, and package them into training manuals. This will serve as a resource for training new users and a re-training guide for your employees.
It will only help your company's coordination, welfare, and plan to make the work and workplace comfortable for your employees. It will also intimate them with the requirements of the government policies and understand the impact of any breach on the company.
Also, it will project the organization as respecting government policies and signals to the government that the company is compliant and responsible.
It serves as a performance checklist for employees
It's difficult to track performance when records are absent.
SOP documents are great performance checklists for employees. It encourages peer-to-peer coaching where a more experienced employee coaches another using the SOP to improve their work and productivity.
And it permits line managers to observe work done by their team and make necessary adjustments. SOP as a record-taking tool can allow line managers to audit job performance and create better audit checklists.
Every step turns out to strengthen your workforce, make the job seamless, and your company profitable.
It becomes a work process records
SOP documents are excellent decision-making tools for business owners. They help you make insightful decisions.
You use it as a time machine to leverage past events, then relate it with recent happenings and as a telescope to view the future and make it better as it approaches.
This is because they show how, why, and when particular steps are taken in a work process—the house-specific work information.
And in a situation where employees change roles within a company, not having an SOP in place will make the transition more difficult. However, a well-maintained SOP will serve as a detailed resource for new employees to take advantage of.
Only a sustainable company will stand the test of time. A detailed SOP is one of the few ways to ensure the sustainability of your organization: that irrespective of what happens or who's absent at work, the urgent and important tasks can be carried out without distraction.
And you'll be able to comfortably increase efficiency and profitability, maintain consistency of products and services, and reduce errors in every task.
Chapter 3: How To Write an SOP: A Step-by-Step Guide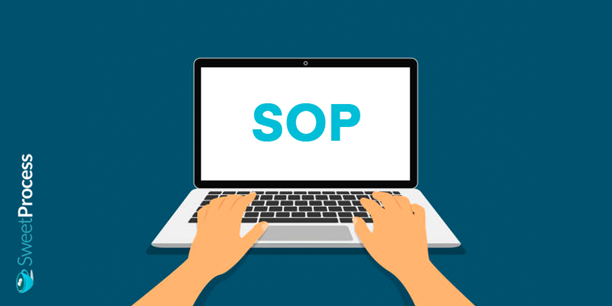 Grab a pen. Let's write an SOP!
It's not as easy as it seems. It takes proper planning, coordination, and research to flesh up a fully functional SOP that your employees will put to everyday use.
This chapter will explain the step-by-step guide for you or your team member to write an SOP.
As I said, you won't jump right into it.
Here are the points to begin:
1. Clearly articulate the vision
Ask yourself, "Why am I writing the SOP?"
Are you writing it to highlight the process of purchasing drugs in a pharmacy store, or are you writing it to guide the waiter on how to speak to customers?
Clearly articulate what you want the user to achieve by using a specific SOP and why they should achieve the goal.
The truth is that you'd have spent resources creating an SOP only to realize that there isn't a need for it in the first place. That's why the step is critical.
Some organizations have repetitive tasks that spring up daily, weekly, or monthly but do not need an SOP.
An example is a task as simple as the routine cleaning on the banking floor, which could be the following: wipe off the dirt once the customer steps away (no need for an SOP). Meanwhile, the starter cleaning could require an SOP, such as: clean the banking floor first before cleaning the other offices.
The point is to affirm if the SOP is needed or has been created for that purpose. And should the latter occur, you might want to review it.
Now that you're sure the SOP is needed and why it is, let's move on to the next step.
Check out the next box to tick before deciding to write an SOP.
2. Identify whom you're writing for
Often, you start writing the SOP and become stuck about whom you're writing for, or you become lost in the language to use for their understanding.
Are you writing for the janitor or the secretary? Chances are their jobs overlap.
Identifying and understanding your audience breathes life into your SOP and ensures that the target uses it because it relates to them.
You can identify your audience with these few responses:
What is their prior knowledge? This lets you know where to begin.
What is their level of education? This will help you with word choice.
Will they understand the terminologies in their work area? This allows you to clarify terms better.
What level would be adequate to address the process? This minimizes assumptions.
Your understanding of their level will let you better word the SOP and grasp users' attention until they finish the task.
However, irrespective of the vocabulary and the technical know-how of your audience, make sure you write in the simplest way possible so that their brain doesn't clump up with your guide and the work process at the same time.
Visuals are a great way to simplify the understanding of any concept. Ensure you speak the tasks with pictures so that the user saves time while using the SOP.
A good SOP accommodates every employee, be it new or old staffers, or people in different roles and departments. Should it be a task that anyone can quickly plug into to solve the glitch, it should be clearly stated.
Also, your SOP should be a training guide for new hires, so you might want to check and balance what role and why a person performs each task before you begin itemizing the information you want to detail in your SOP.
3. Define the scope of your document
When tasks overlap within departments or a task is dependent on one department to complete in between before another progresses, SOPs become difficult and require care and strategy to create.
So, when we talk about strategy, do you want to create an SOP and reference another in context, or do you want to create a general SOP that addresses all the relevant departments?
This is where you need to define the scope of the document to allow you to resolve the interconnectedness of the roles and departments.
Otherwise, you'll end up achieving a long and confusing document in the name of an SOP.
A better scope is to have two separate documents and refer to the involvement of other roles and departments.
Next is to choose a format for writing your SOP.
4. Choose the relevant document format
Formatting is a great deal important when creating SOPs.
What is the essence of a valuable message when it's clumsy to the eyes and drudgery to the brain?
Your SOP document must be created in a format that provides enough space for the user's busy eyes to scan
Also, note that your company may have created SOPs in the past, and your employees are used to the format already.
If that format is already great, there's no point rewiring your employer's brain to align to another format.
If not, now that you're creating a new SOP should be the second-best time to revamp the existing ones.
I've itemized the best SOP format in the next chapter. Before you get there, let's ensure you're planning your SOP right.
Now, don't be an island of knowledge surrounded by stack ignorance. Ask users and experts.
5. Ask for users/experts input
You have clearly stated what you need the SOP to achieve. You've identified your audience, defined your scope, and chosen the relevant format.
It's easy to be tempted to rush in and begin creating the SOP.
Pause. For a while.
You don't know it all. Ask those who do their day-to-day activities in the areas you want to write the SOP.
Even if you've worked in that role before, there's every likeliness that you're missing something, or the machine has a different functionality today.
Initiate a focus group by roles and or department to discuss the step-by-step process of achieving specific tasks.
Ask ultra-specific questions about how they perform a specific job. In the process, access their current knowledge of the situation and ask questions where you think otherwise. Don't ever assume.
Also, invite them to the review of the drafts before the final pass or submission. There's every chance that if they struggle to understand the document at the draft stage, they will likely not use it when it's ready.
Gathering this intelligence now empowers you with adequate knowledge to create a sure-to-use SOP.
You can draft your outline and accompany it with the details you should strengthen. You can also include the tiny details that produce amazing outcomes.
And when the writing gets tough, be vulnerable enough to go back to the user for clarification.
Now let's write your SOP.
You've done great planning and outline what you want your SOP to reflect. But planning is just a piece of the actual work.
The real deal is the writing.
I've provided straightforward guidelines to help your writing, so no worries.
Let's write.
Writing an SOP – Standard operating procedure guidelines
While writing the draft of your SOP, ensure that you follow the standard SOP format by including the sub-headlines below:
Title page
Department, date, and ID (identification number)
Purpose statement
Definitions
Step-by-step instructions
Additional information that's good to include:

Role and organization the SOP applies to
Names and signatures of the preparing team and the approval team
Table of contents
Let's explain each sub-headline in brief.
Title
Pretty simple. The title is the theme of the document. It should say what the document is.
Department, Date, and ID
Name the department you're writing the SOP, when you complete or publish the document, and the identification number for easy tracking.
Purpose Statement
The purpose of the statement should be to create the document, what it is for, how the employee will use it, and information related to the policies that the user should respect.
Definitions
Words are easy to confuse. As much as it is good to use abbreviations to ease scanning when writing your SOP, remember that you must clearly define all abbreviations, jargon, and technical terms to avoid confusion.
Step-by-Step Instructions
This is the main part of your SOP.
Carefully itemize the specific steps to completing the task, the details, and the necessary resources to guide the user.
Additional Information that's good to include
This part is subjective. Provide whatever information you feel will be helpful to the user. But ensure that they are critical to the document.
For instance, you should only use a table of contents when the document has many pages. A one-page SOP needs no table of content.
For a technical SOP, you may want to add supporting information about the equipment and supplies involved, where to find them, and their spares when needed.
You could also have a troubleshooting section to address simple uncovering of regular faults that may affect the job delivery.
This is why you should consult experts before you start writing your SOP.
Congratulations. You're done writing your SOP!
Take a break, then come back to the last part of the writing process: the review stage.
But before you do so, ensure that you answer "Yes" to the following SOP writing musts:
Is your writing step from the user's view?
You should write the SOP documents from a completely practical point of view.
Is it written in a concise, clear, and step-by-step format?
Ensure that the sentences are brief, simple, and written in common terms.
Is it written in an active voice and the main idea presented first?
Ensure that the steps are written in simple action-oriented verbs.
Is it free from jargon and ambiguity?
Ensure that it's free from fluff and the words are clear to understand.
Is it formatted smartly?
Neatly written and short sentences. Bulleted items and lists are effective in presenting your points. It holds the user's attention and is easy for readers to scan through.
Now, let's review your SOP document.
Review, test, edit, repeat
Now is the time to invite other eyes to your SOP.
Don't base the final submission on your knowledge alone; share with other team members, experts, and particularly the users.
Ask team members for their opinions. Ask experts about your use of jargon: do you simplify them enough? Ask users if they understand it on the first read.
Address their comments. Then leave the document to rest for some time before going back to look through it.
Then ask for feedback again before passing the document for approval.
After writing an SOP: What next?
You're done writing your SOP document.
The approval team has passed it for adoption. Now what?
The next step is to create an effective way to distribute your SOP and ensure that users implement it.
Distribute Your SOP
Your organization must distribute the SOP on time and ensure that every employee acknowledges the receipt of the document.
Not just that, the company should also find a way to evaluate employees' understanding of the SOPs as this will guarantee that they're able to bridge the knowledge gaps.
But because there will be over a hundred SOP documents depending on the size and scope of your organization, adopting and understanding every SOP document might not be a prompt achievement as this will require time.
So, a clear understanding of what's required to complete their tasks is important.
And remember that a change in process, product, policies, and equipment will likely affect the SOP, so create an allowance for versioning in your SOP distribution.
Implement the SOP
After distribution, the users begin to implement the SOP. It is your job to make the implementation easier for them.
And for the first six to twelve months, you should make sure that you review the SOP to identify lapses and areas of improvement in the current procedures.
Chapter 4: Types of SOPs: The Best SOP Formats
Like I said earlier, there are different formats to approach the writing of your SOP. This section will explain three SOP writing formats and help you understand why they are essential.
But first, what is an SOP format?
An SOP format is a structure with which the document is arranged. There are a couple of them, but you should carefully consider why you are creating the SOP before selecting the format.
Though there is no incorrect way of writing an SOP document, what matters is that it serves the purpose and aligns with the scope of the organization.
Most times, a better way to get started with writing your SOP document is to use templates. I've shared some carefully selected templates that cut across purpose and industry to make your work easier.
Read on and find it in the next section.
Three Excellent Formats of Writing an SOP
Depending on the job roles and tasks, the length and details of your SOP will vary, and as it does, you should be mindful of not complicating the steps and losing the user's attention in the process.
Besides that, if you're creating an SOP for a sector with many similarities in the task—for instance, a restaurant in the hospitality space—you must carefully label the sections.
Checklists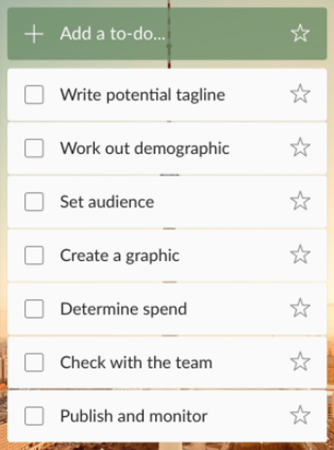 Checklists are the most straightforward approach to SOP writing as it resembles a to-do list.
You can precisely write this approach in checkboxes, steps that can be presented in multiple or straightforward steps, and you or your users can tick them off once they are achieved.
Checklists are good to measure results because the employee can record the ticked tasks at a glance. Also, it effortlessly captures processes without burdening both you and the user.
Though the checklist is only excellent for small teams and roles with fewer decision standpoints, it is good to simplify processes that require adhering to instructions.
And in situations where you're restricted to use checklists for more decision tasks, you can introduce a detailed hierarchical checklist that details main processes and subprocesses.
As much as checklists, SOP formats are easy to write and understand. That said, if it doesn't accommodate more events and outcomes, another suitable SOP format is the flowchart.
Flowcharts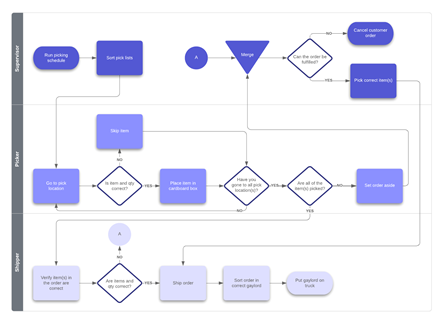 Flowcharts are used in SOPs where employees must simplify large and complex decisions in the most logical format. It represents actions with shapes and instructions as pointers.
Flowcharts are a great SOP writing format but very difficult to write. This is because you'll toggle between creating shapes and instructions. Also, it doesn't allow for details on the procedures.
While creating an SOP in a chart format, you will plan procedures and map them out to include their possible outcomes. This ensures you create a full-fledged SOP that is free of "what if" loops.
You can create your SOP in two different chart formats: organizational and process.
The organizational chart helps you create your SOP so that your users understand their responsibilities and that of their team members on a hierarchical basis. So, when they perform a task, they know whom to hand the task baton to as the work progresses.
The process chart highlights the process of achieving tasks using a visual overview. It adds other related processes to it and gives detailed context to a procedure. Also, flowcharts are the best fit for multiple-layered decision points.
Steps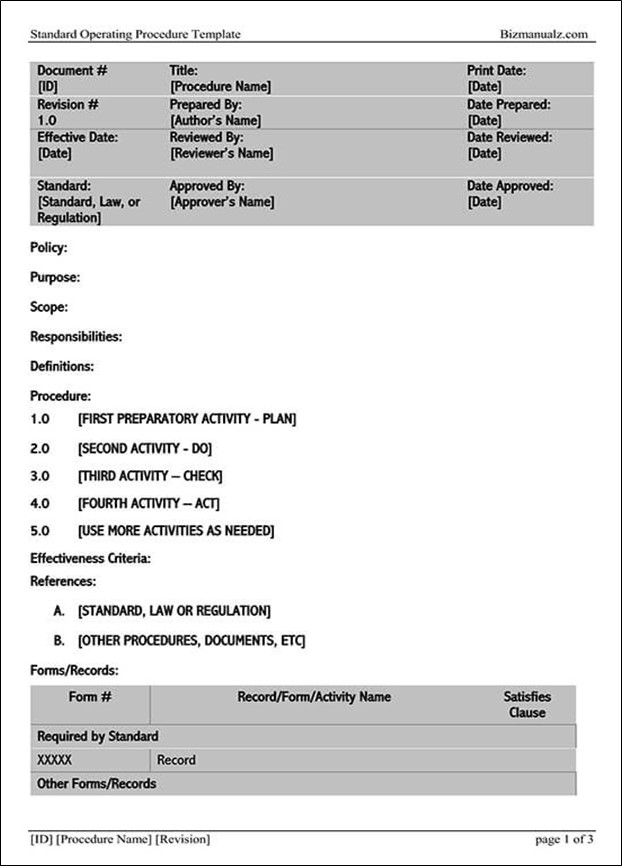 Another good SOP format is the step approach.
This involves the step-by-step instructions for tasks that are highlighted in a sequential or hierarchical format. So, while the sequential format will be in numbers, the hierarchical format will combine numbers and branches.
In the simple step or sequential format, you adopt the short and easy-to-follow routine format for procedures. So even if you include additional information like safety guidelines and equipment documentation, it will be clear for the reader to follow.
The hierarchical steps format will have procedures with many decision steps that should be delivered in a bulleted or numbered list, followed by specific sub-steps.
Chapter 5: SOPs vs. Processes: The Difference Between a Process and a Standard Operating Procedure
Do you confuse SOPs and processes? Many people see them as the same, but there is a clear difference between these operational terminologies.
SOPs are the prescribed way of carrying out a process, while the process is the individual packet that makes up a task or project. While SOP consists of details on how to achieve a process by substantiating every step, the process only explains what needs to be done.
Managers define the process from analyzing the efficiency of a project and then call procedure the detailed and actual step-by-step instructions on how an employee should carry out a task to deliver a process, as a series of steps combined to deliver an output.
SOPs and processes are a question of how and what. SOPs being the how and process the what.
The table below will provide better clarity.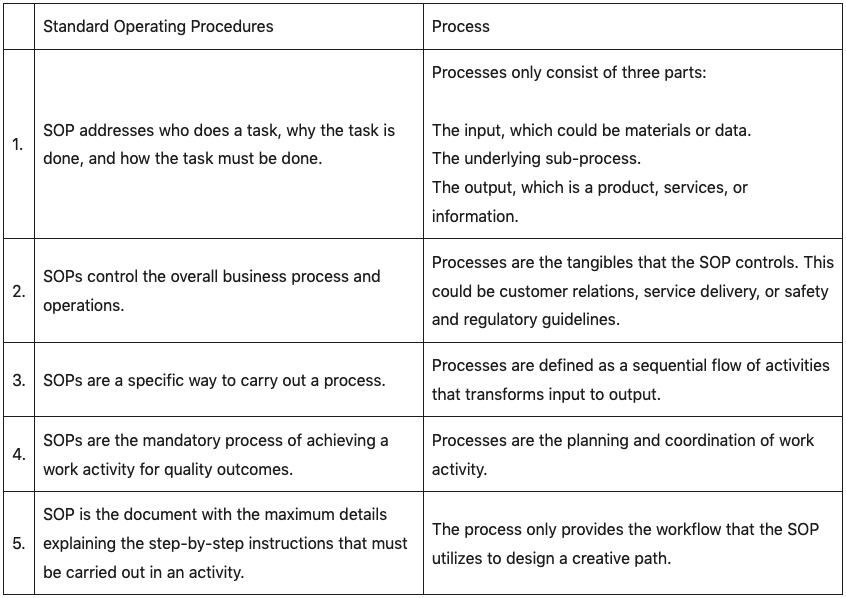 Chapter 6: Free SOP Templates You Can Use Right Now
Let's face it; SOPs are a pain to write.
From understanding each work process, conducting a focus group for specific users by category, conducting expert interviews, to sitting down to write the SOP, it's time-consuming and nerve-wracking.
If your job description is not solely dependent on creating SOPs, never can you carve out time to write it; else, your core task will deeply suffer.
You have only two ways to write an effective SOP that will stand the test of time: 1. outsource it or 2. write it yourself (using free templates).
While the former will bite deep into your budget as consultants charge heavily to deliver this service, plus the back and forth and disruptions their presence will bring to your work process during their research, you may not get the value you expect.
The latter is safer and better.
You can write it yourself using free templates—it doesn't cost you a dime. This way, you sharpen your skills and integrate with your business process at an optimal level.
This is by far your best option.
Because SOPs promote quality across every board in organizations, they can't do without it. Yet, the document turns complicated instructions into simple steps that are likely to be misinterpreted, so you have to be involved in capturing challenges and clearing out misconceptions.
We have created over 50 SOP templates to help you begin the creation of your standard operating procedures. No matter your industry, job role, or specification, we've got you covered there.
Automate Your SOPs: How To Use SweetProcess To Write and Manage Your Standard Operating Procedures
SweetProcess helps you create and manage your SOPs all in one place.
For instance, if you're hearing about SOPs for the first time and want to create one for your business from scratch, you can do so with SweetProcess right away.
All you need to do is get started with a 14-day free trial of the software, and you can easily create the first SOP for your business as soon as possible.
With SweetProcess, you can:
Document how your process works
Easily format your SOP.
Add pictures, videos, screenshots, tables, and charts to your SOP to make it visually appealing to your employees.
Aside from helping you create SOPs from scratch, you can use SweetProcess to manage your SOPs.
Take, for instance, if you have created SOPs for your team on different platforms such as Microsoft Word, Excel, Google Docs, Google Sheets, and so on, you can use the software to manage it.
Before using SweetProcess, Canadian fashion brand Neon Buddha faced the challenge of managing all its different SOPs in one place. After moving all their SOPs to SweetProcess, they're able to scale quickly and efficiently with team members across the globe.
You too can make your team more efficient by signing up for a 14-day free trial of SweetProcess today.
Conclusion: Writing SOPs Helps Your Business Grow Efficiently
If you see a business with stunted growth, chances are they don't use an SOP. The tipping point is that no matter how heavy the investment is, it will consistently dwindle until nothing is left.
SOP is an excellent communication tool that improves your work processes and people through learning, development, and policies so that you can achieve overall quality with your deliverables.
In this post, I've explained what an SOP is, why you need them to grow your business, and how to write one for your company from scratch. Not only that, but I also shared with you free SOP templates across different industries, which you can use right now.
To help you further write an SOP for your business, we've put together an "SOP Writing Checklist." This step-by-step checklist details the exact things you must take note of and include in your SOP when writing one.
Download the SOP Writing Checklist below now!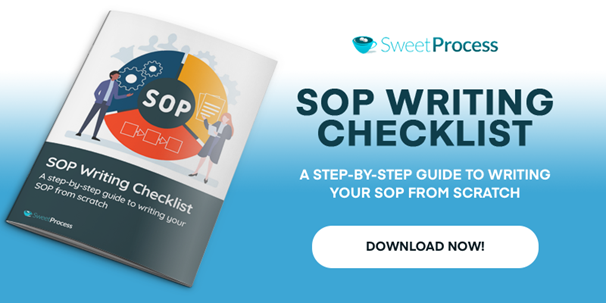 Get Your Free Systemization Checklist

5 Essential Steps To Getting a Task Out of Your Head and Into a System So You Can Scale and Grow Your Business!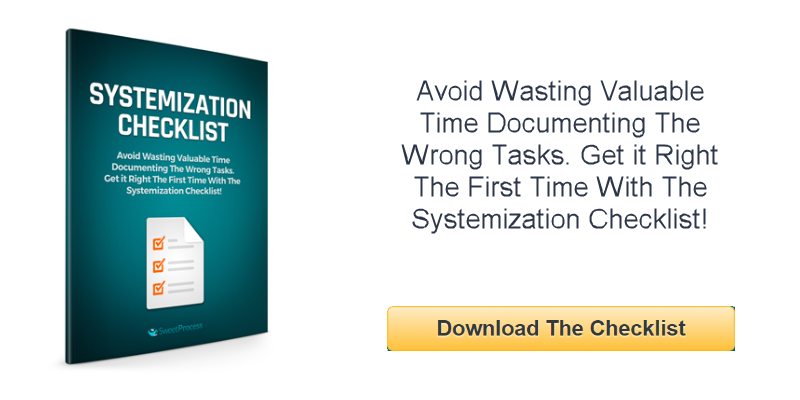 2 responses to "How to Write an Effective SOP (Standard Operating Procedure) With Free Templates"