7 Best Policy and Procedure Software (and How to Choose the Right One for Your Business Needs)
Last Updated on August 13, 2023 by Owen McGab Enaohwo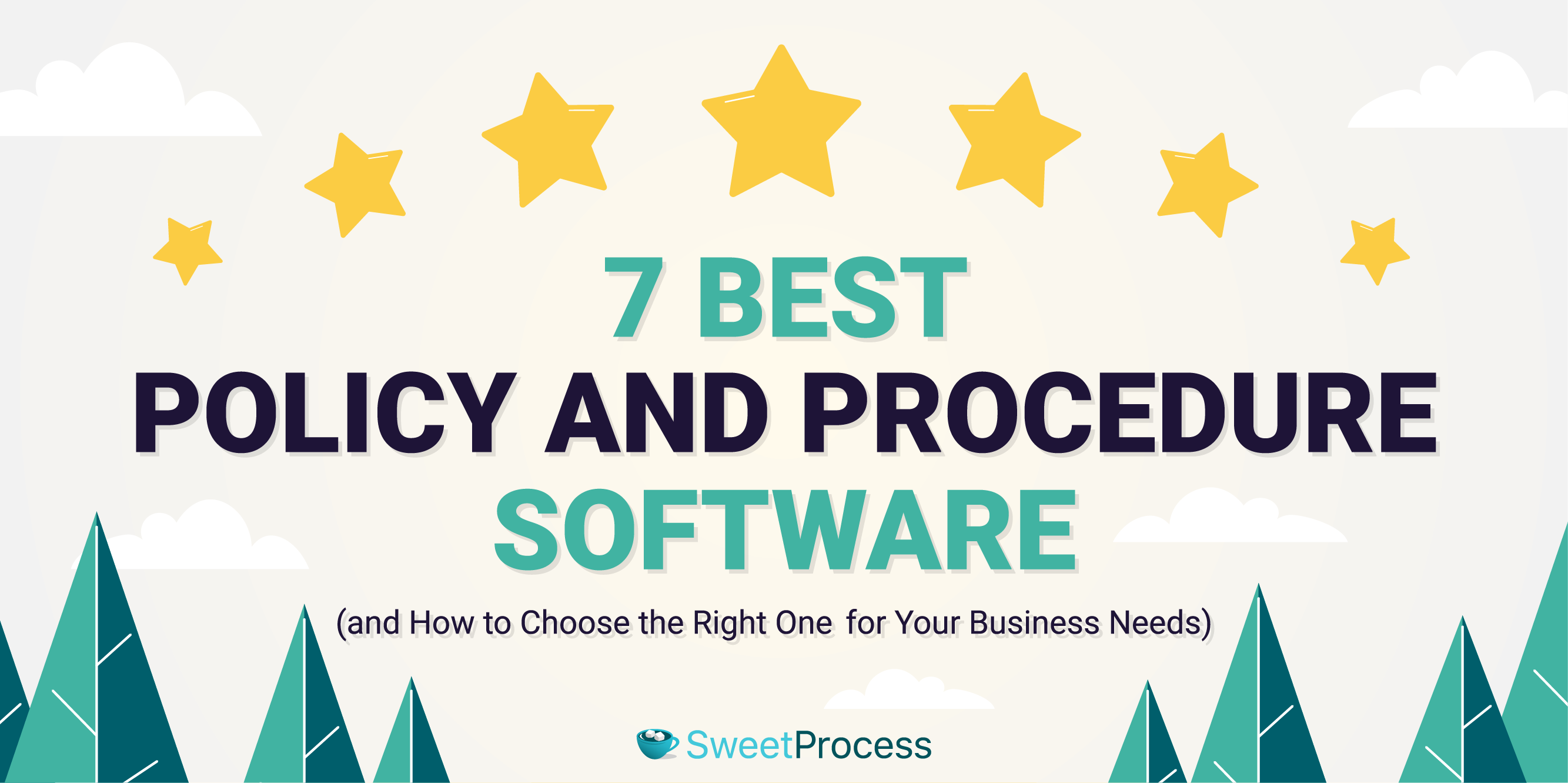 Every entrepreneur dreams of expanding their business. However, building a successful business also means that you need to have the right systems in place. Picture this: You're a business owner in the midst of a rapid expansion phase. As your team grows, so does the complexity of managing policies and procedures. The once straightforward task of ensuring compliance takes up too much time and hinders your organization's progress.
By leveraging the power of technology, you can streamline your company's policy management process and automate workflows. In this article, we'll examine the top policy and procedure software and share tips on how to pick the right one according to your business needs.
SweetProcess is our tool and we built it to help organizations streamline their policies and procedures. Sign up for a 14-day free trial to see how it works. No credit card is required!
Table of Contents
What Are Policies and Procedures?
7 of the Best Policy and Procedure Software in 2023
7 Features to Look Out for in a Policy and Procedure Software
How to Choose the Right Policy and Procedure Software for Your Company's Needs
What Are the Benefits of Using Policy and Procedure Software?
Who Needs Policy and Procedure Software?
Create and Manage Your Company's Policies and Procedures in One Place Using SweetProcess
What Are Policies and Procedures?
Workplace policies and procedures are often used interchangeably but mean different things. Policies are high-level rules and frameworks set by a company's senior management. These guidelines direct the entire team and employees toward a common goal or direction. Policies ensure that there's no confusion in task implementation.
On the other hand, procedures act as a road map for employees to execute the policy. They are step-by-step instructions and actions that employees should follow to adhere to company policies.
7 of the Best Policy and Procedure Software in 2023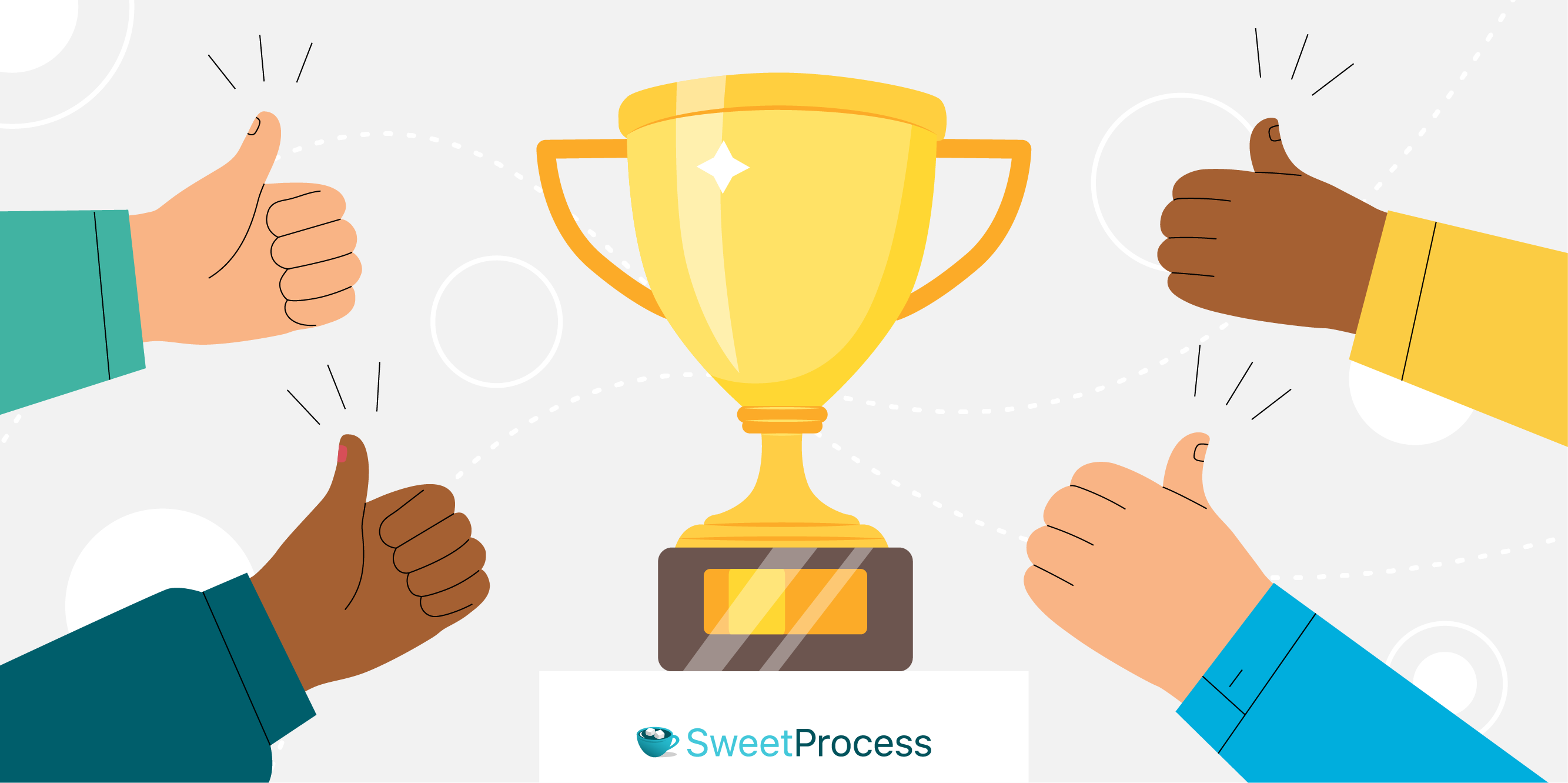 Companies require policy and procedure software to help with compliance, maintaining consistency, and boosting communication.
Let's explore seven of these solutions, how each one works, their features, pros, cons, and pricing.
1) SweetProcess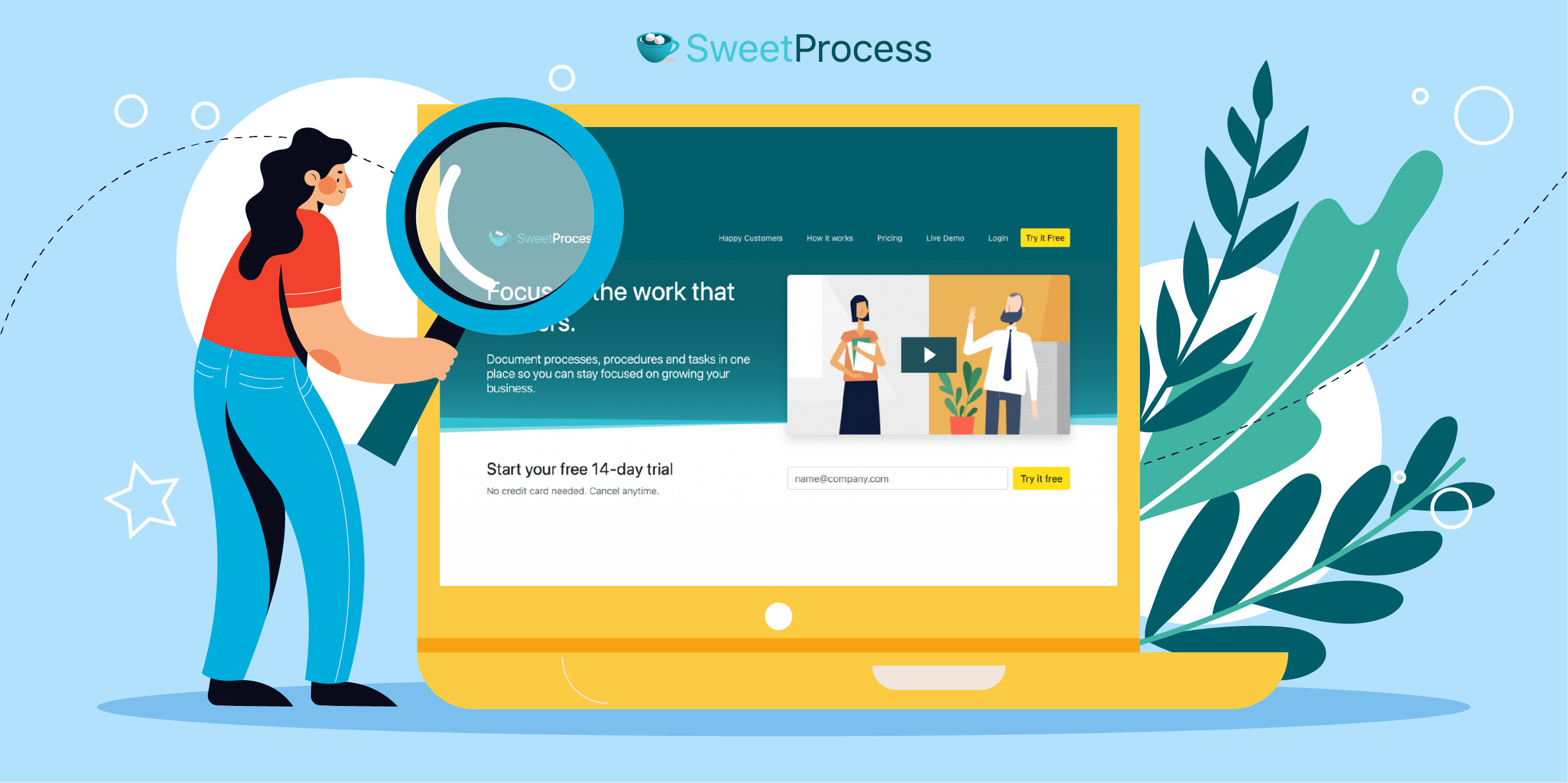 SweetProcess is a cloud-based policy and procedure software that empowers your team with all the information they need to do their job. You can rely on this tool to turn your existing procedures and policies into a comprehensive knowledge base for your team members or clients. SweetProcess has easy-to-use features and an interface that's easy to navigate.
Your company needs streamlined processes, procedures, and policies to effectively manage and delegate tasks. SweetProcess allows you to properly define each of these items and link them in a way that boosts productivity.
Key Features
Let's explore some of the key features that makes SweetProcess one of the best solutions out there for creating and managing your organization's policies and procedures
How to Create a Policy on SweetProcess Manually
A policy provides instructions that determine how things are done in your company. Therefore, before creating this policy, you must know the key steps. With SweetProcess, you can do it manually or automatically using AI. Here's how to create the policy manually.
Log into your SweetProcess account.
On the main menu, select "More."


On the next tab, select "Create Policy."

Add the policy title and include the specific teams by ticking one of the boxes.
Once you add these details, you can select "Continue."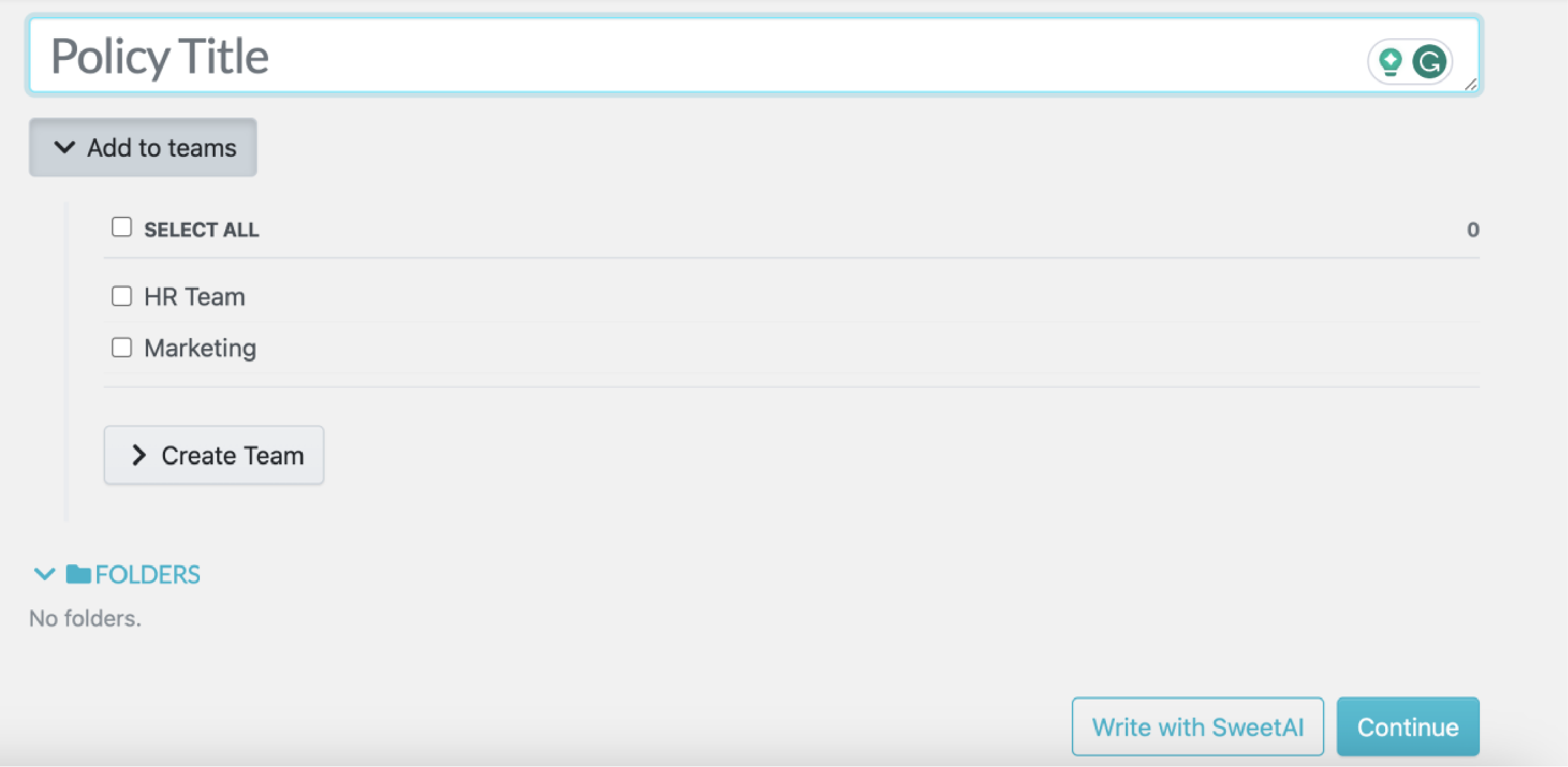 You can draft the policy and include the tags on the next page.

Once done, save the changes.
You can add approval permissions to ensure the right team members can access the policy.
How to Use AI to Create a Policy Automatically
Alternatively, you can use SweetAI to draft the policy. Here's how to go about it.
Follow similar steps to create a new policy as listed above.
Once you add the policy title and assign it to the right teams, select "Write with SweetAI" at the bottom.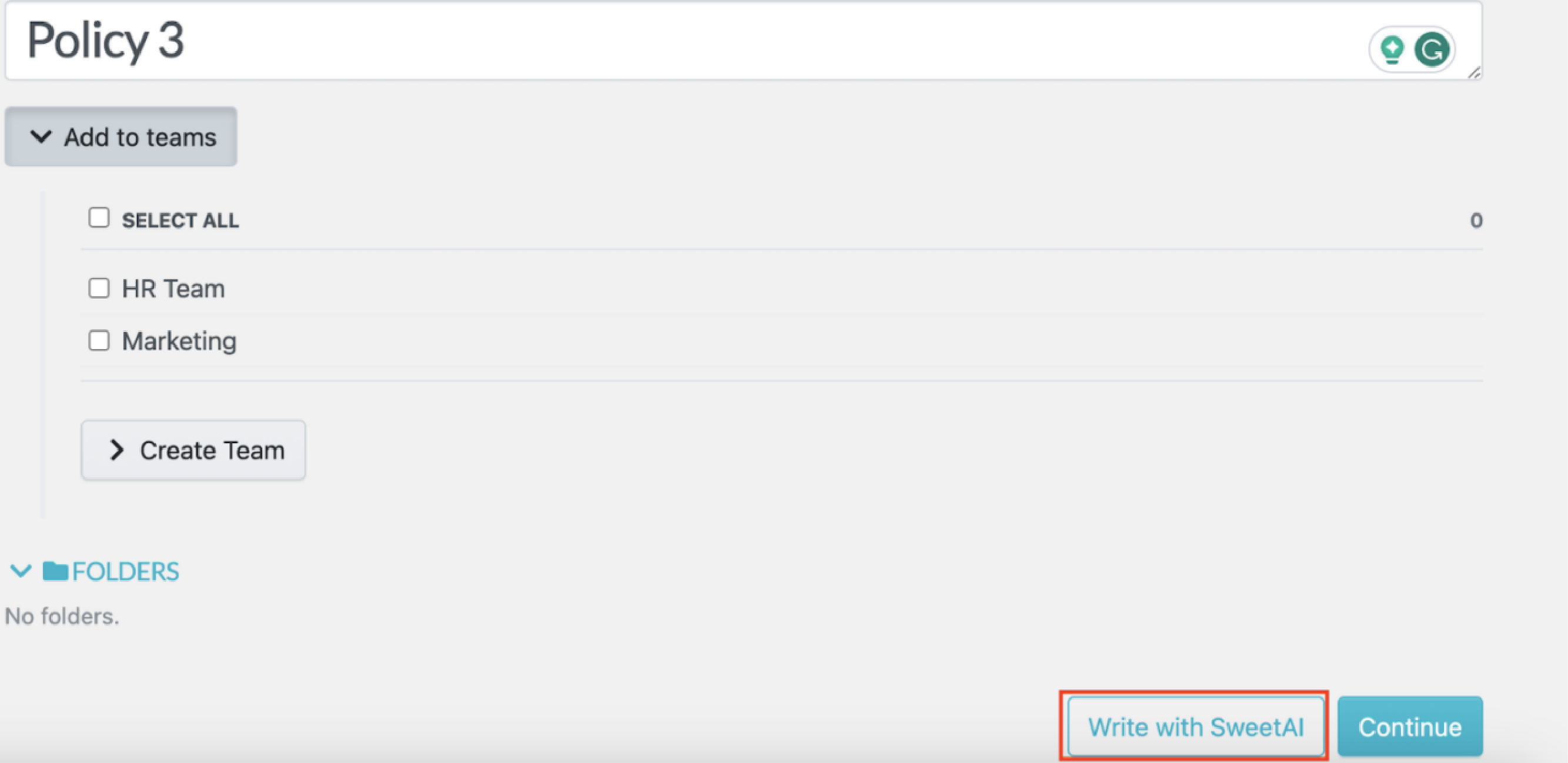 Alternatively, click "Continue" and key in the policy title on the next tab.

SweetAI will generate your policy after a few minutes.
How to Manage a Policy on SweetProcess
Policy management involves communication, application, appraisal, maintenance, and reviewing of the entire process.
It starts with the creation of well-thought-out policies to guide your organization. As you write the policy, ensure it's precise and adheres to the law.
Once the policy is written down, you need to implement it. Ensure that you distribute it to all stakeholders.
Conduct training for all your employees on the regulations and risks of this policy.
You also need to conduct regular updates and reviews to update the policy according to any new industry changes.
How To Create a Procedure on SweetProcess Manually
Creating a procedure on SweetProcess is pretty simple. Click on the "Procedures" tab on the main menu and tap "Create Procedure."

Add the title of the procedure on the next tab.

Include more information about the procedure such as tags, images, and videos. Finish editing and make it accessible to your team members.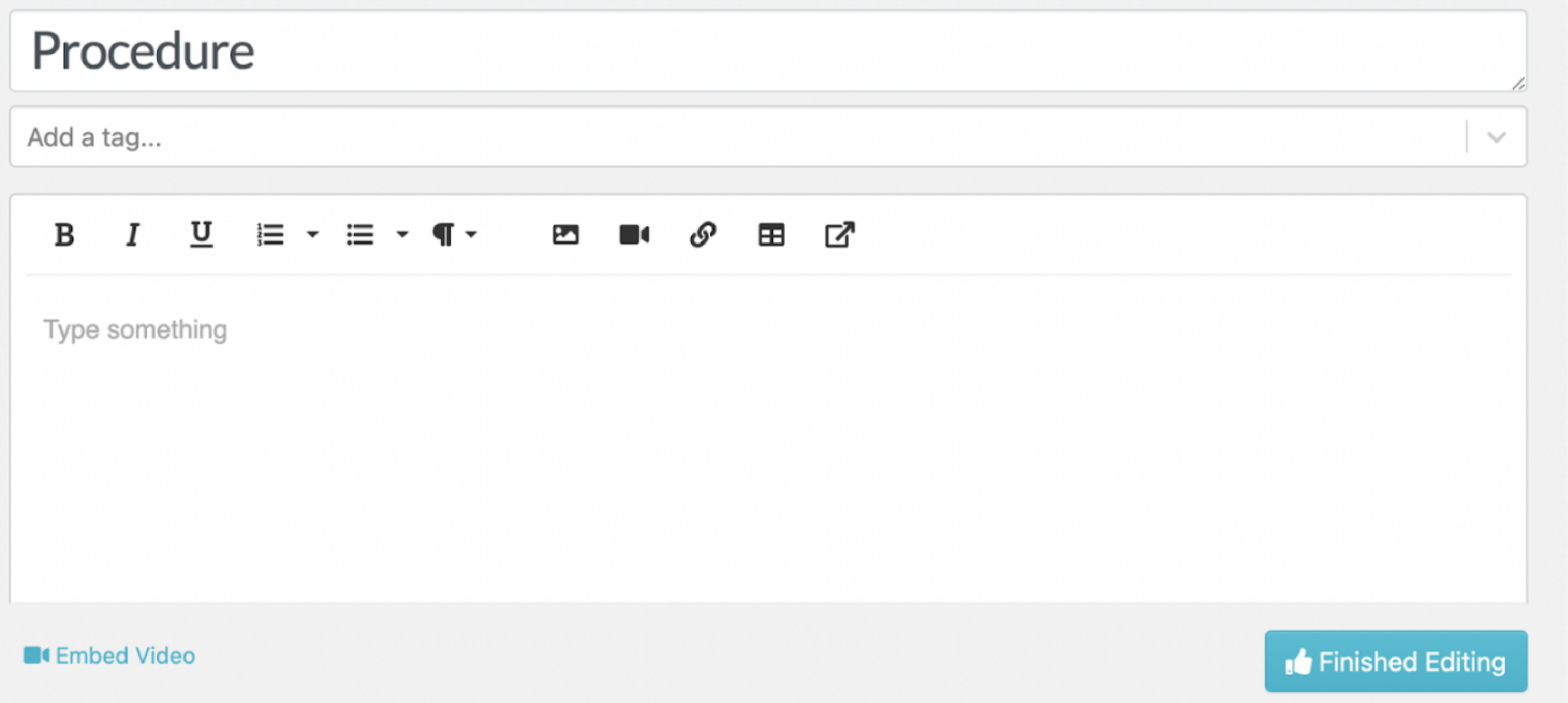 How to Use AI to Create a Procedure Automatically
Follow the same steps to create a procedure manually. However, after adding the procedure title, you can select the option to write with SweetAI.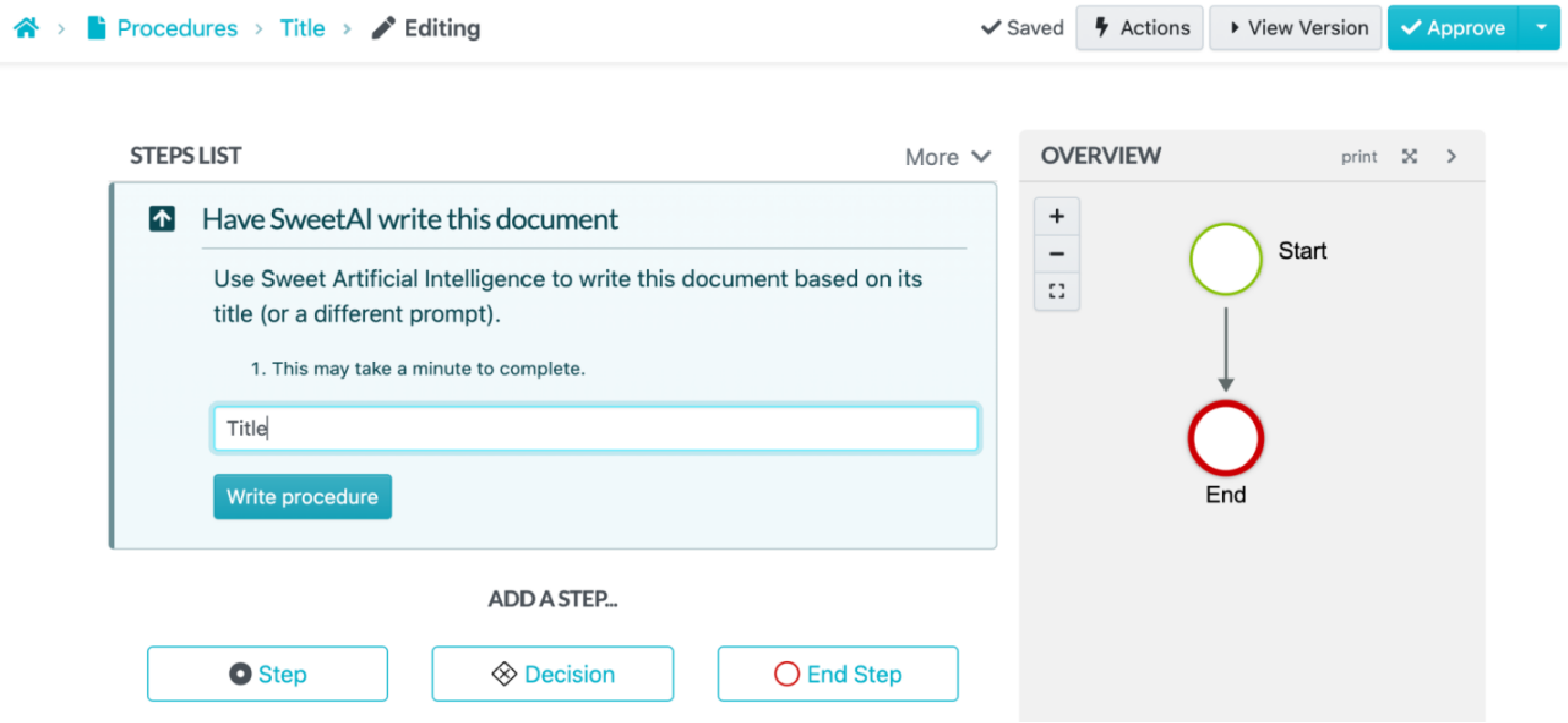 How to Manage a Procedure on SweetProcess
The procedure is the final step in the policy and process implementation. It helps you delegate tasks to employees. To effectively manage a procedure on SweetProcess, you need to assign it to the right departments and individual employees.
You should also update your procedures in case of any policy changes. This ensures that your employees are updated with the latest company procedures.
Importing an Existing Procedure to SweetProcess
If you have external documents saved on Microsoft Word or Google Docs, you can import them to SweetProcess, giving all employees access. This centralization streamlines your operations.
To import an existing procedure, click on the "Procedures" tab and tap the down-arrow button to the right of the "Create Procedure" button. Tap "Upload document."

A pop-up window will appear. Browse your computer to select the document you want to import.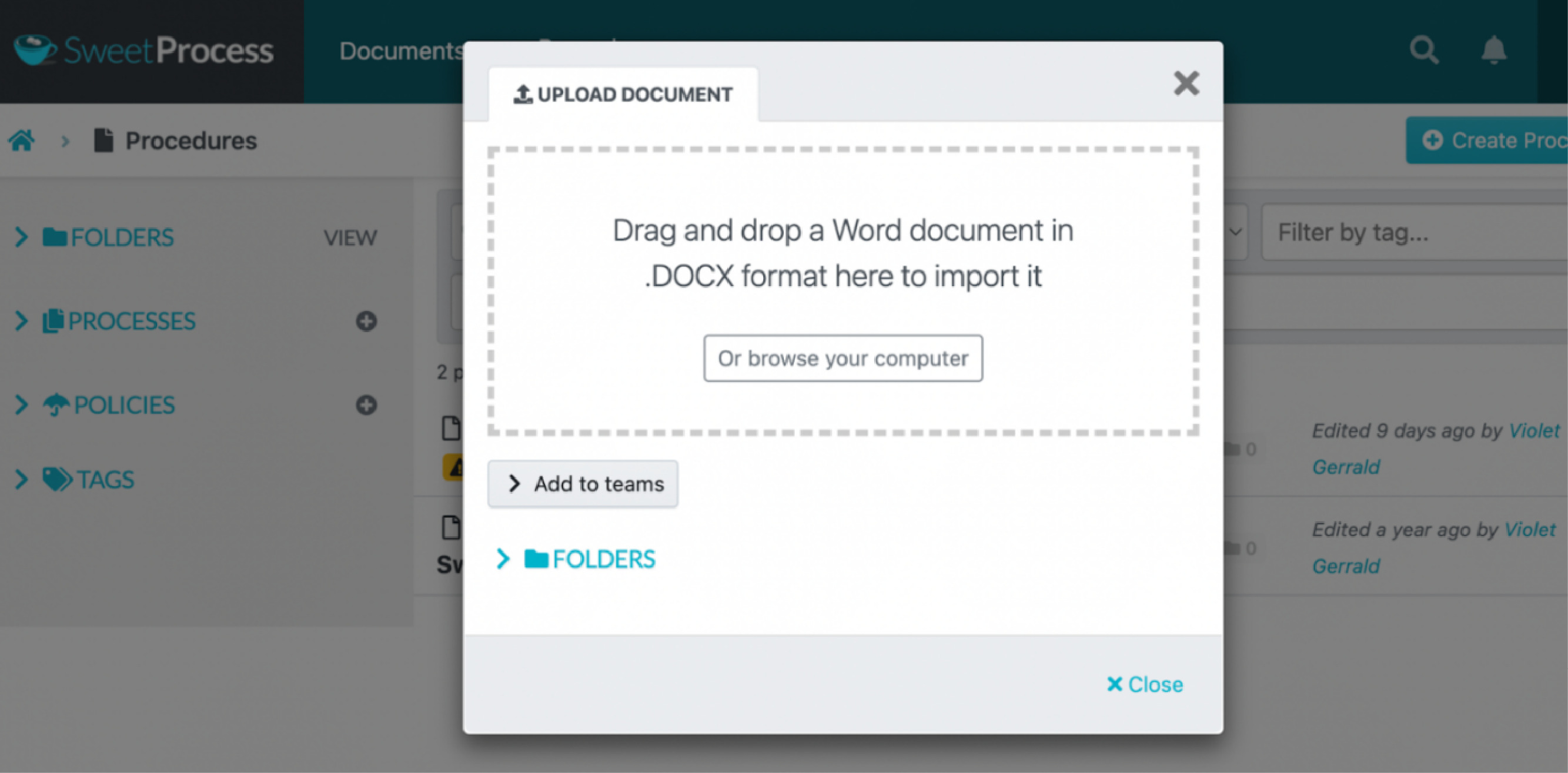 This importation process will take a few minutes to complete. When the process is complete, you can preview and approve the procedure in your organization.
This has been an important feature for most businesses using SweetProcess. Don Houk, the president of Next7 IT, started using SweetProcess to import documentation for the organization. Don was looking for a workflow system to document the company processes. Initially, they relied on Microsoft Word documents which caused an indexing nightmare because all the documentation was mixed up on their devices.
Because of this, the employees could not find the right information to execute their tasks, affecting operations. However, since they started using SweetProcess, the company closed this knowledge gap. They imported all the documents to one location, which improved training, onboarding, and helped the company meet its objectives.
Jamie Ramsden, business intelligence and lean Six Sigma champion at Turkstra Lumber, had a similar experience. The team was experiencing challenges with coordination because all their procedures were documented on Excel sheets. Jamie had to look for an alternative that led them to SweetProcess.
The tool offered the company more features like visual aids and flow charts. The staff could now understand the procedures much better without reading through so much text. Ultimately, the company's operations improved significantly.
Team Collaboration
SweetProcess is an ideal collaborative tool for remote working. You can use the software to assign and monitor tasks. Since the platform is cloud-based, the teams can work on the same projects from anywhere.
Task Management
Task management is also simplified thanks to SweetProcess. To assign these tasks, click the "Tasks" button and select "Assign Tasks."

Choose the team members and assign tasks. You can also include details like the employee name, task name, and due date.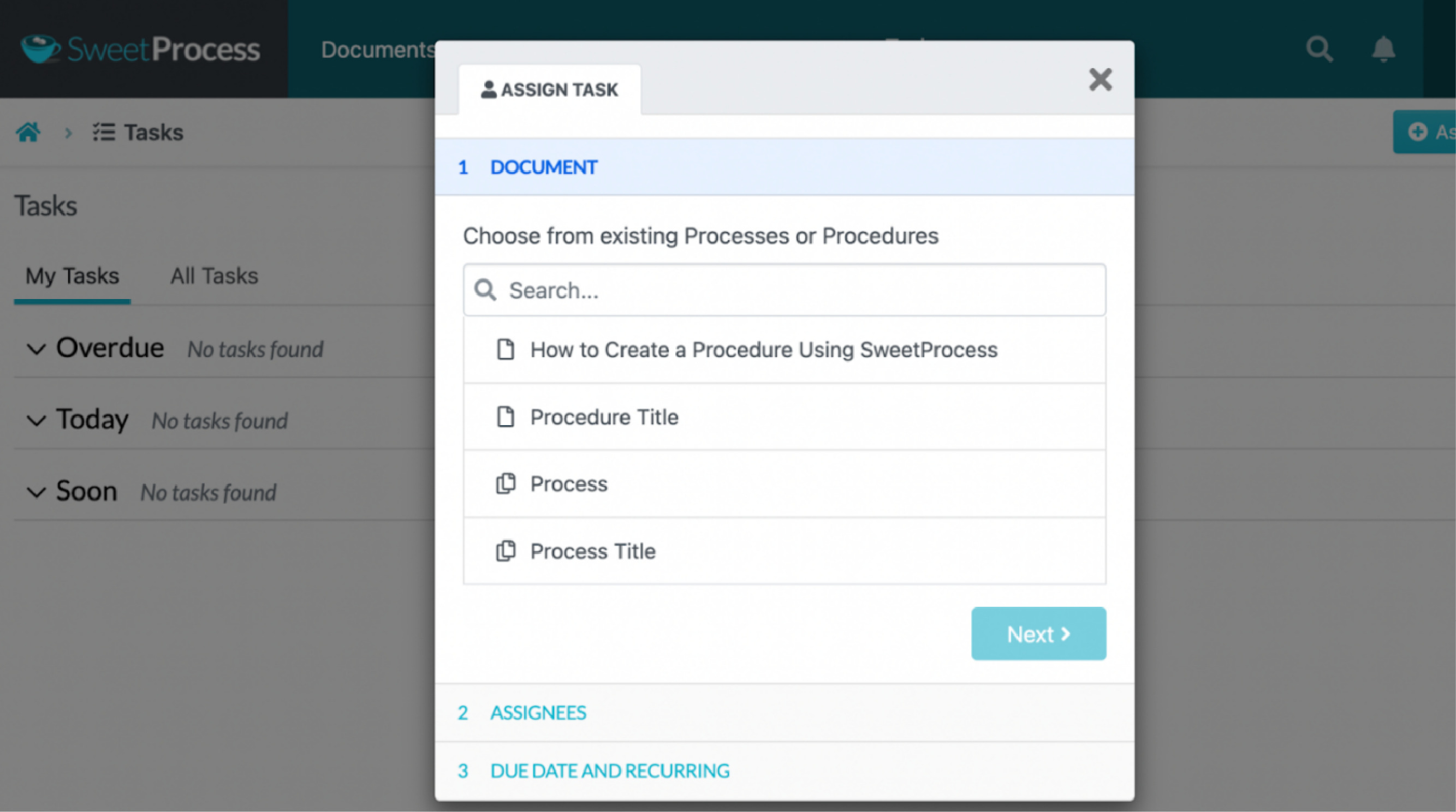 Collaboration becomes much easier because tasks can be monitored. To track progress, click on the "My Tasks" tab. This will show you what tasks are overdue and what's due soon.

Pros
All companies get a single, transparent pricing plan.
As a new user, you can use the SweetProcess 14-day free trial period to determine whether it's the best software.
SweetProcess has little to no learning curve. Users can start using the tool immediately after signing up.
SweetProcess integrates with over 1,000 apps so that it can work well with existing business systems.
There are multiple training materials, including a live demo that shows users how to use the software.
Pricing
SweetProcess comes with a free 14-day trial for all new users. After the trial period, you'll be charged $99/month, covering up to 20 active members. If you need to add any new active team members, it will cost you $5/month for each person. SweetProcess is transparent; therefore, you are only billed for active members.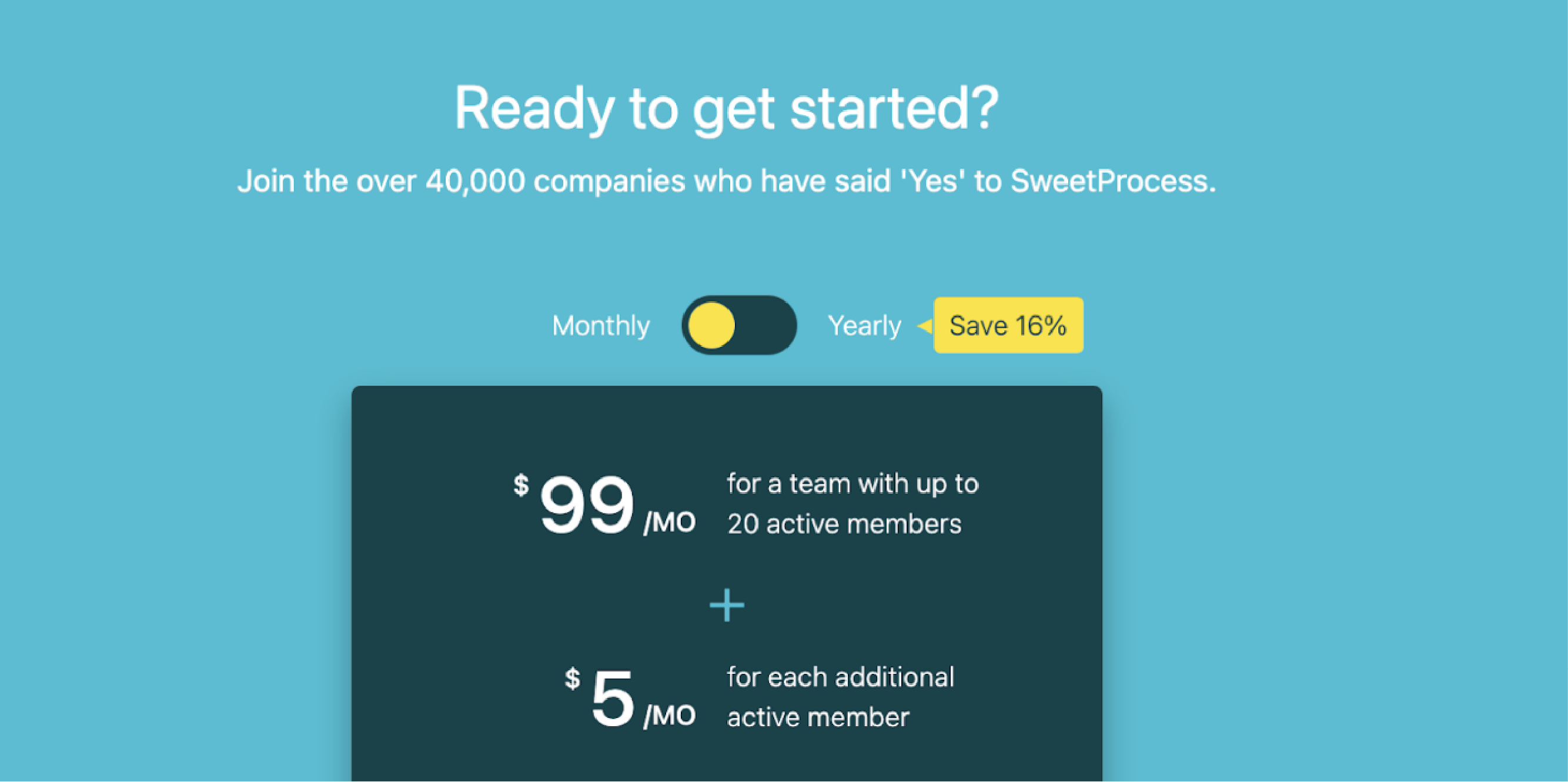 You can save up to 16.67% by choosing the annual plan, which costs $82.50 per month, billed each year. Additionally, there's a 30-day money-back guarantee if you don't see any measurable improvement in your business. Unlike other tools, SweetProcess provides a transparent pricing structure for all its users.
Want to see our tool in action? Sign up for a 14-day free trial today. No credit card is required!
2) PolicyTech by Navex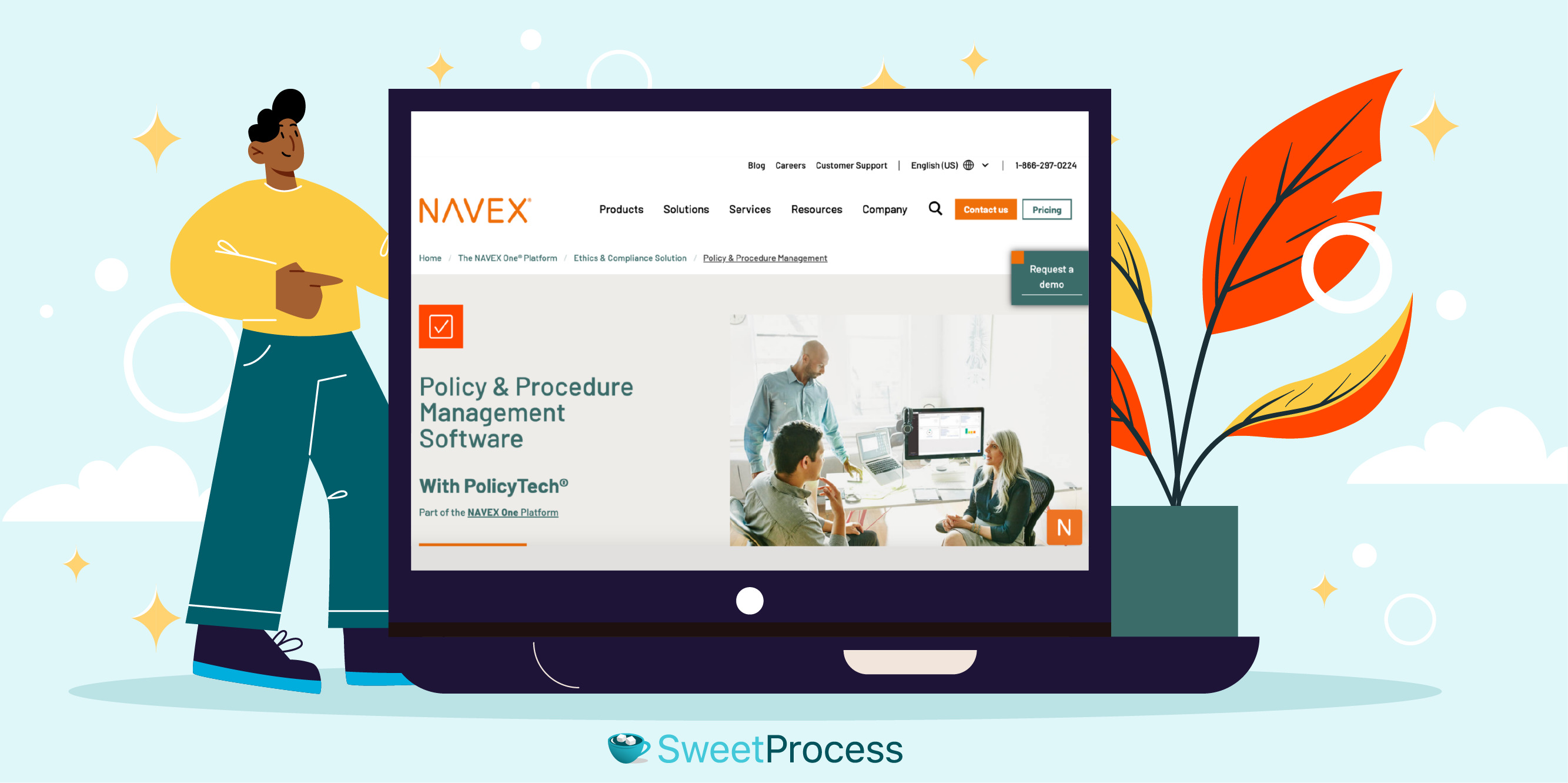 PolicyTech is a policy and procedure management software that helps businesses meet compliance and regulatory needs. This tool automatically manages the company's important documents in the entire policy management lifecycle.
As a workflow, PolicyTech by Navex will create and automate policy review, approval, and renewal process. In addition, it integrates with Microsoft 365 to simplify document creation when you need to export. Due to its features and proven back end, companies in the most regulated industries use this software, including banking, healthcare, and higher education.
Core Features
Activity dashboard
Audit management
Version control
Workflow management
Compliance tracking
Pros
PolicyTech is user-friendly, with a simple interface for new users.
The company constantly updates the software to add new useful features that customers need.
The software centralizes all the documents, making it easy for users to keep track of all the work.
The email notification and weekly follow-up emails for policy reviews help users save time.
Cons
There are UI issues due to a lack of consistency in the desktop environment, which affects operations.
Some users are unable to set up customized reports from all fields.
It can be challenging to determine which team member is working on a procedure when it's still in progress.
Some users on specific browsers must type in credentials each time to access the software.
Pricing
PolicyTech does not offer a single price for all its services and products. They customize the costs according to the business needs. Therefore, if you need to get the software costs, you'll need to contact them for a quote.
3) Staff.Wiki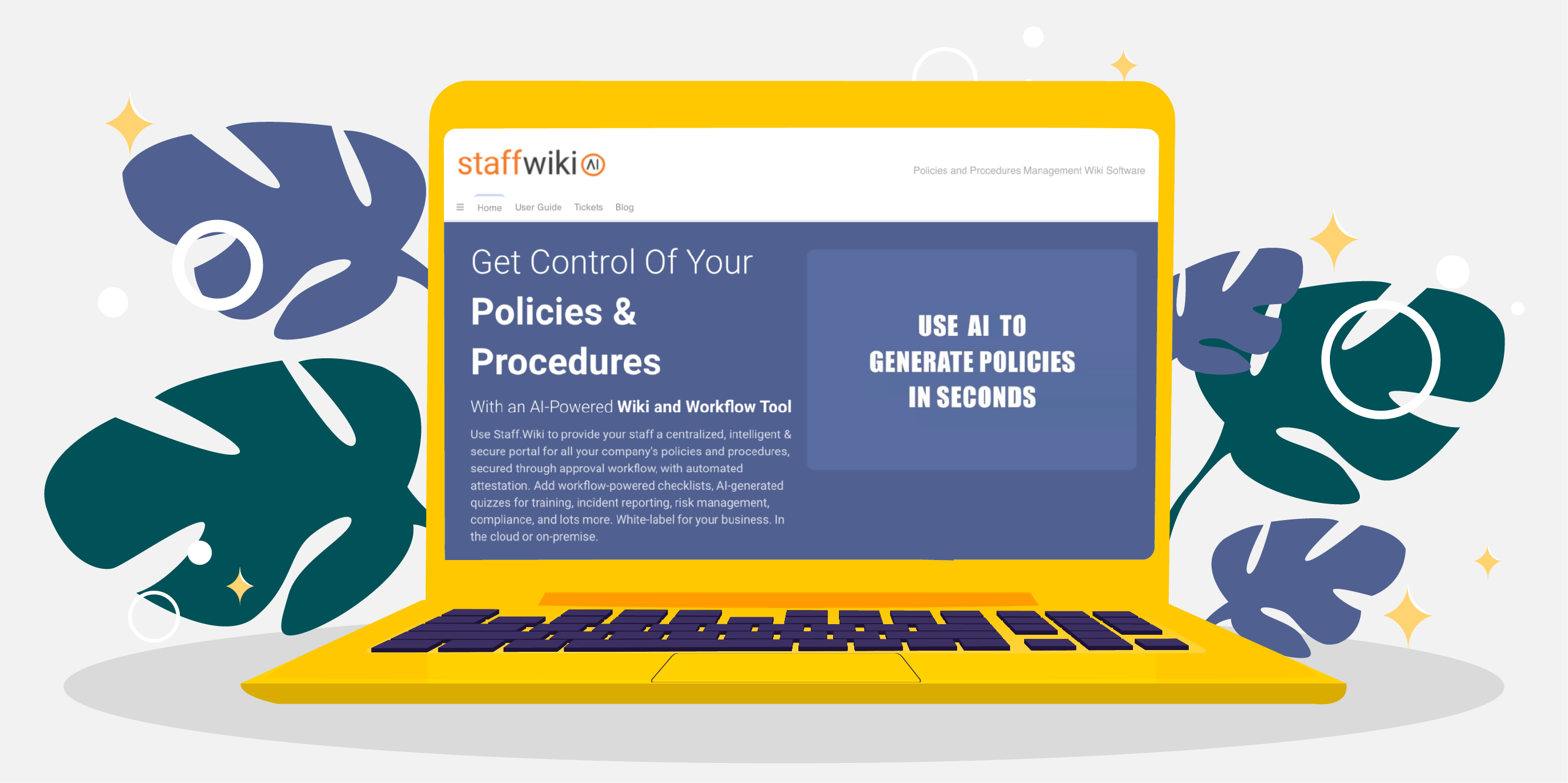 Staff.Wiki allows you to get control over your procedures and policies. The AI-powered workflow provides a centralized portal for all your business policies and procedures. They have workflow checklists, training quizzes, risk management, and policy compliance to keep your operations running smoothly.
This software is essential because it's a primary source for your employees to get guidance on all company and industry best practices, policies, and procedures. Furthermore, you can easily edit the content on the platform and highlight the new changes for your staff to see.
Core Features
Workflow checklists
Chat widgets
Version control
Templates
Quizzes
Custom forms
Automated messages
Pros
It helps companies to develop terms and conditions pages easily.
The Staff.Wiki workflows are quite smooth and helpful in managing the policy creation process.
Staff.Wiki can be used as a corporate training system to evaluate the employees' familiarity with the company and to produce learning materials for new team members.
All policies and procedures are in a single location, making it easy to share with others.
Cons
The user interface is basic for some users.
New users require more training on using the software to create and manage policies and procedures.
Customer support needs more improvement to be more reliable.
It does not support companies with vast documentation or several teams in various locations.
Pricing
Staff.Wiki has three pricing plans: Staff.Wiki AI Starter, Staff.Wiki AI Standard, and Staff.Wiki AI Enterprise. The Starter plan costs $65 per month, Standard is $195 monthly, and Enterprise costs $450 monthly. In addition, users have to pay $10 per Wiki Manager.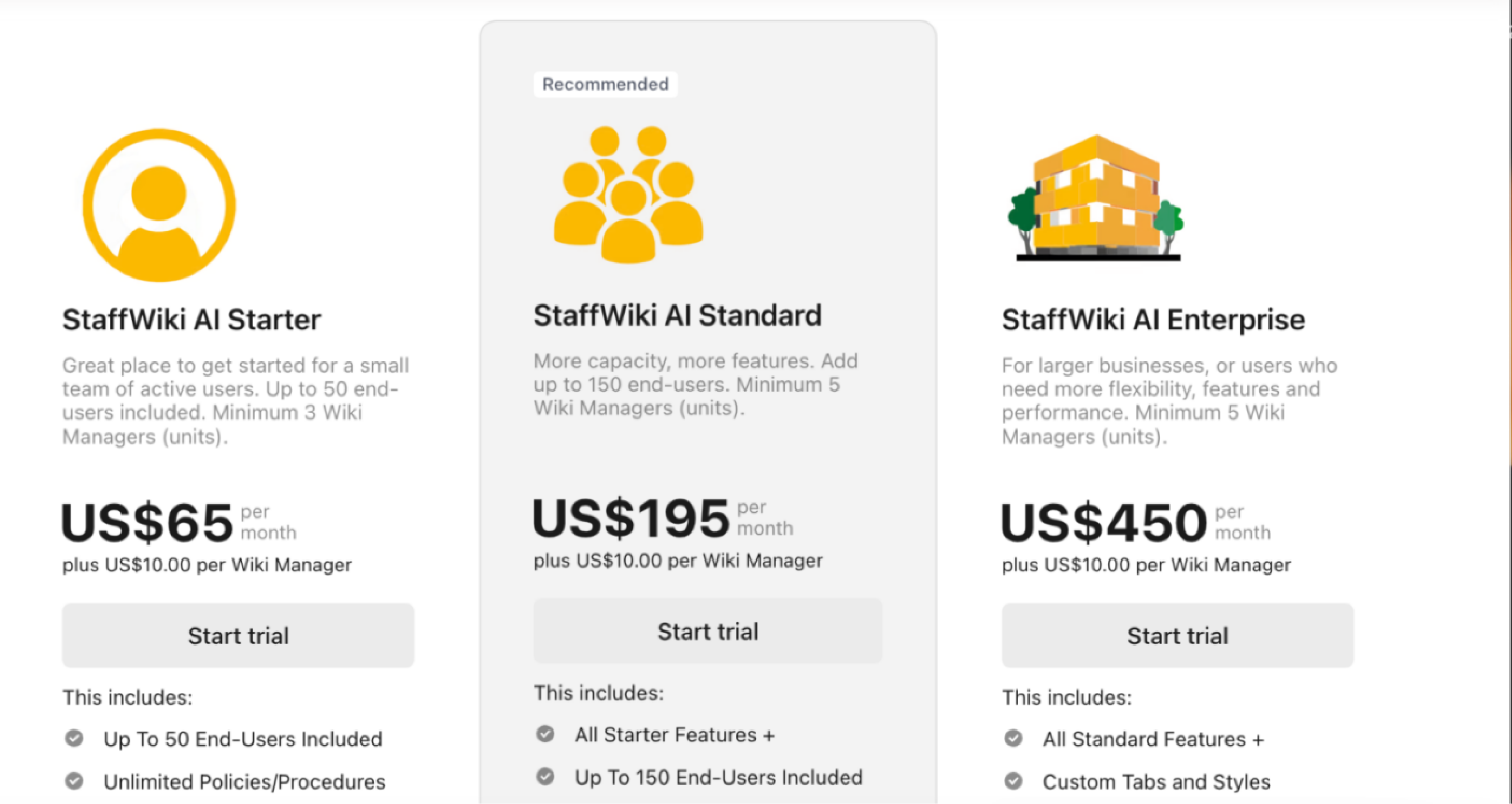 4) ComplianceBridge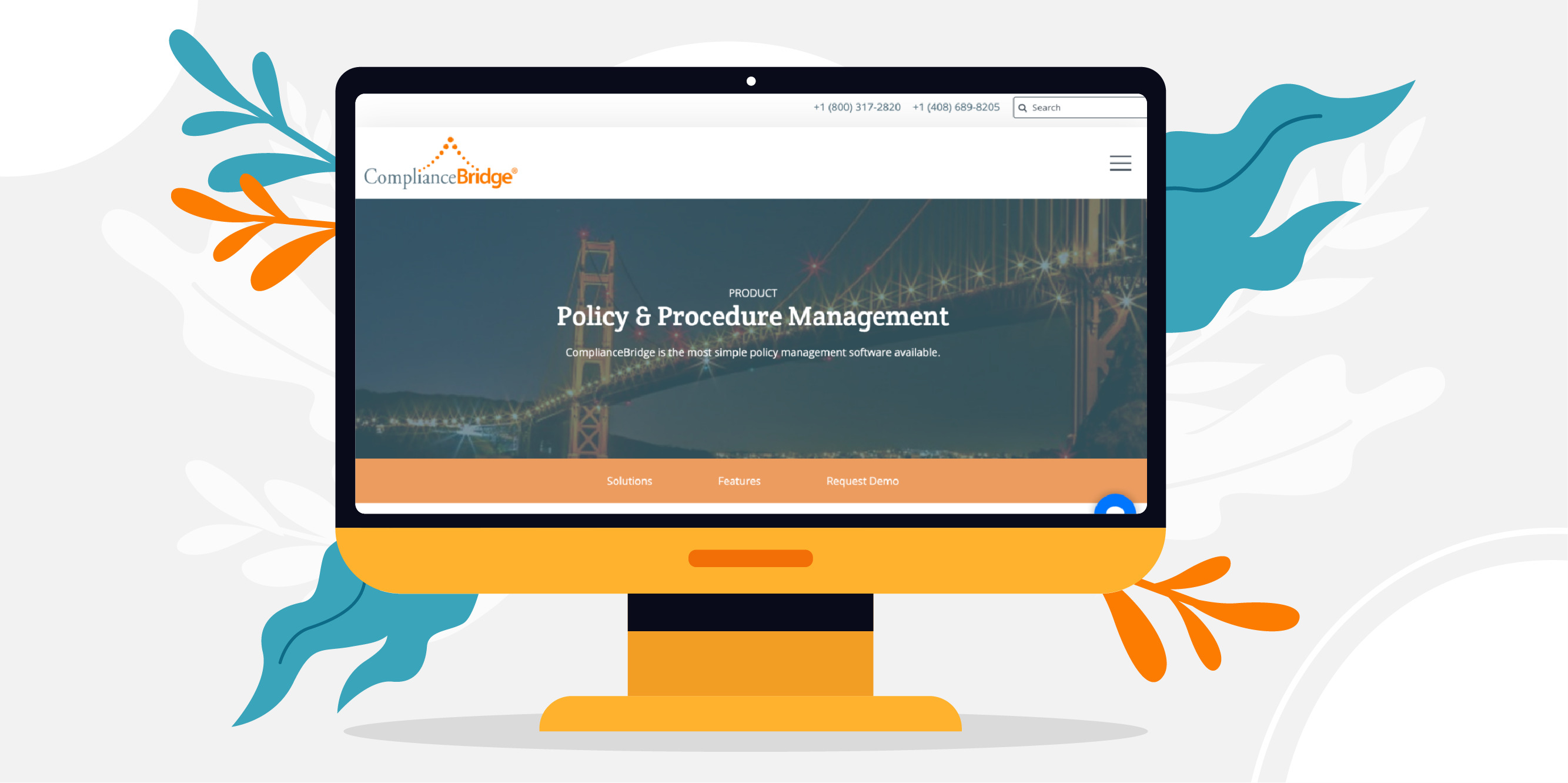 ComplianceBridge helps companies to create policies. This top policy management software allows you to streamline the creation, approval, and distribution process. All the documents are centralized so that any changes can be automatically saved and tracked.
This platform has features like reminders and automatic notifications to keep your team on track. You can improve your company's workflow throughout the policy life cycle thanks to ComplianceBridge.
Core Features
Version management
Automated workflow
Approval staging
Access control
Proactive alerts
Public portal
Digital test and signature
Fill-in forms
Pros
The ComplianceBridge team is constantly adding updates to improve the tool.
This software is easy to use, requiring little to no training.
ComplianceBridge saves time by automating most administrative tasks related to maintaining policies and procedures.
Users receive constant reminders and alerts on their tasks.
Cons
The interface appears outdated compared to other similar tools.
Some users find the report-building feature difficult to use.
Getting used to the HTML format takes time, making formatting difficult.
ComplianceBridge has limited editing features which is not ideal for most users.
Pricing
ComplianceBridge has three pricing tiers: Silver, Gold, and Platinum. The Silver plan includes baseline functionality, while Gold and Platinum levels have additional capabilities. To get the exact cost, contact the team for a customized quote.
5) Mitratech PolicyHub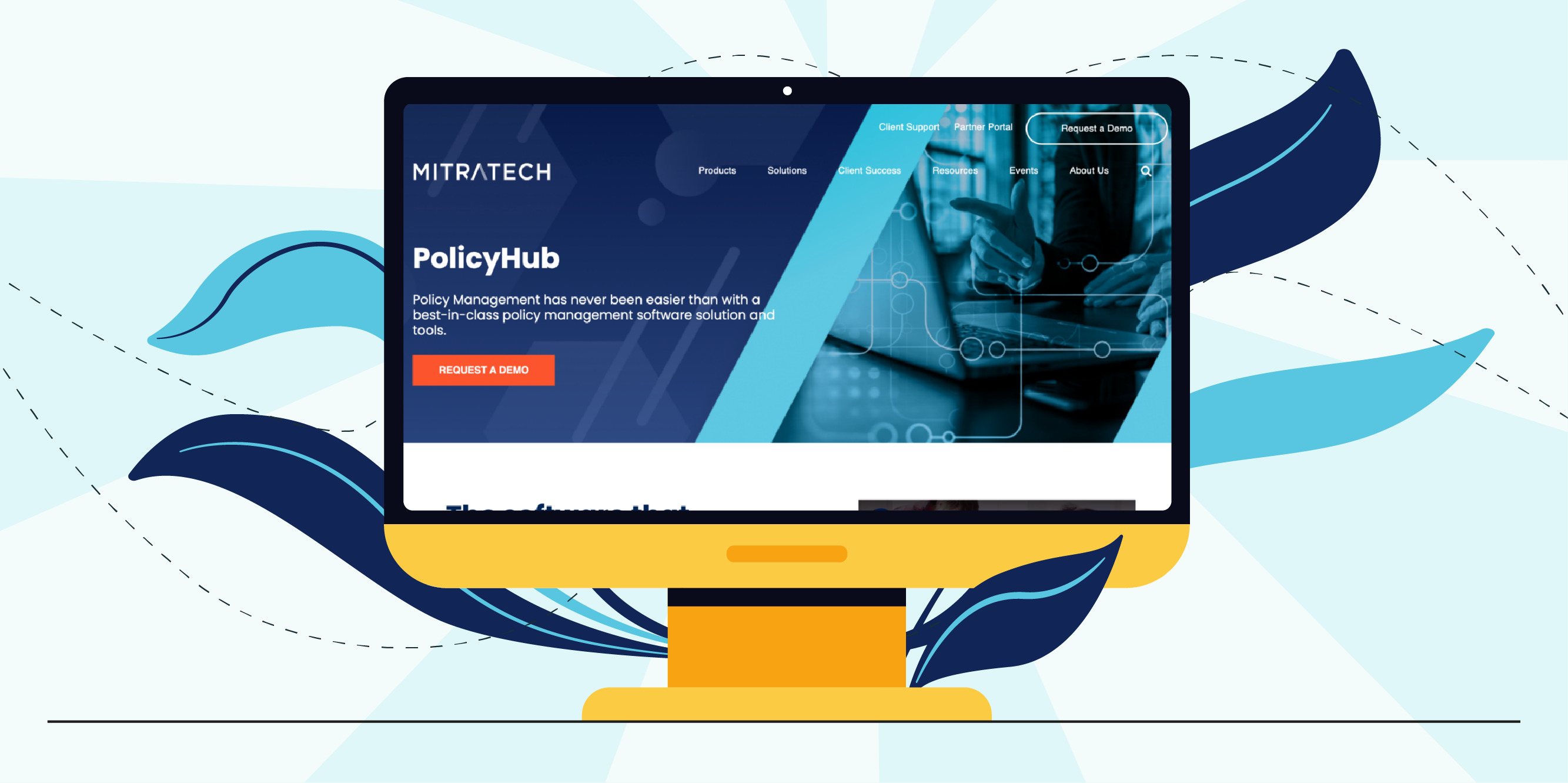 PolicyHub is a policy management software solution that helps businesses build stronger compliance. This tool is easy to use, making managing policies and procedures more seamless. Companies can rely on this platform for all stages of policy creation, approval, distribution, reporting, and knowledge assessment.
With this tool, your company can set expectations and boundaries to establish a clear compliance path. In addition, it needs little to no training, and it's easy for admins because it does not need any coding experience.
Core Features
Knowledge assessments
Policy approvals
Third-party app integration
Status notifications
Reporting tools
Pros
It blends well with other apps like Microsoft Office, making it easy to export documents to one place.
Users find it easy to adopt PolicyHub thanks to its automated solutions.
Supervisors can view when users have read and passed compliance tests.
PolicyHub can be easily configured to suit different types of businesses.
Cons
The team takes quite long to resolve issues; the turnaround time is slow.
PolicyHub does not have a user-friendly version history for published documents.
Sometimes it takes too long to issue policies, affecting the company's operations.
PolicyHub does not have a modern interface.
Pricing
PolicyHub has not provided pricing options on its website. You can contact the customer support team to get a custom quote.
6) HealthStream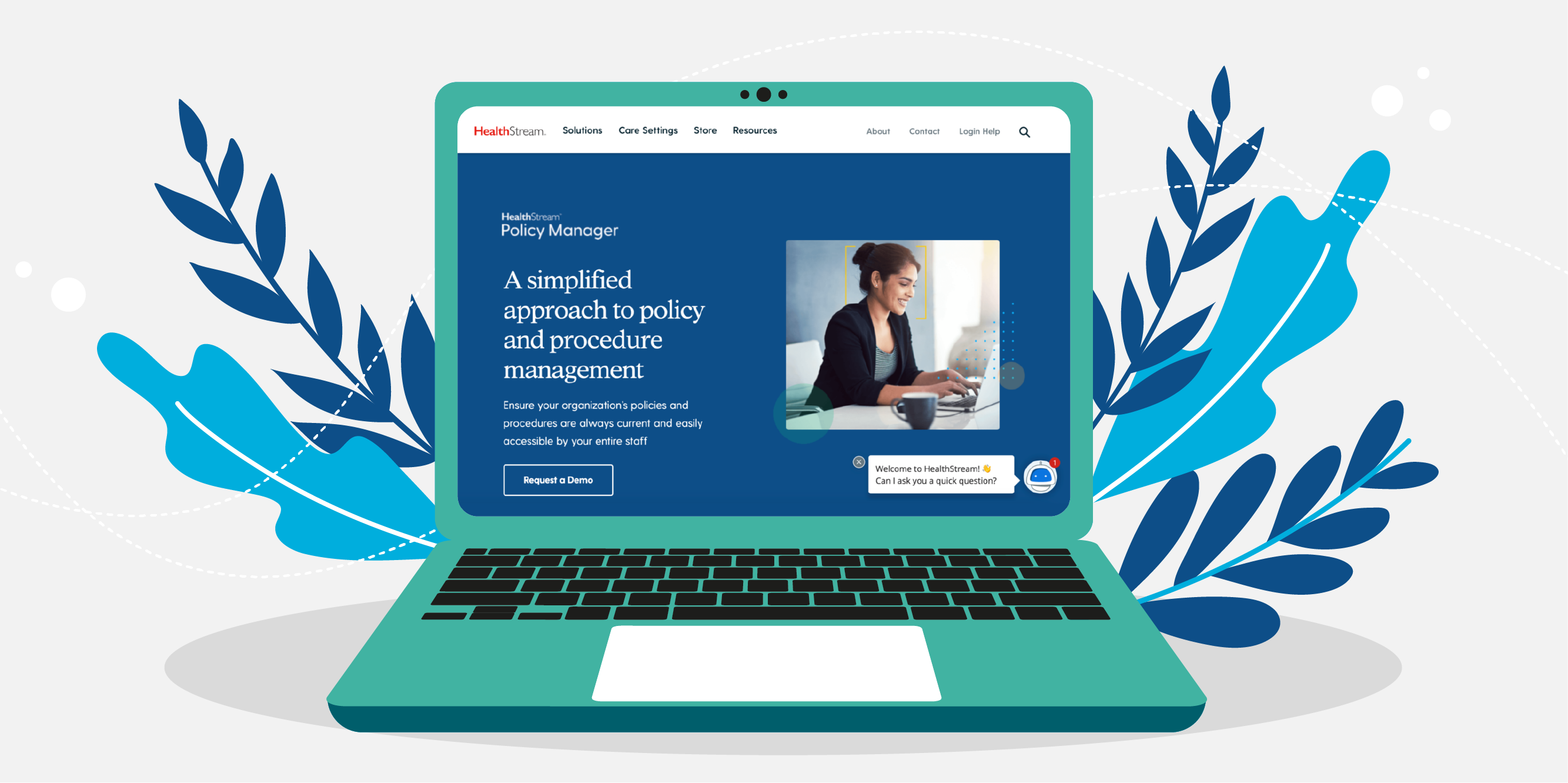 HealthStream is a policy and procedure management solution that ensures all the documentation is accessible to all employees. Unlike other tools, this software is mainly designed for healthcare industry. Therefore, if you have overwhelming policy and procedural documentation, HealthStream manages the entire process.
This policy writing software also helps maintain regulatory accreditation and compliance. Your healthcare institution can avoid fines and litigation by using this system to track policy changes.
Core Features
Policy workflow automation
Easy-to-use dashboards
Flexible authentication options
Policy templates
Staff attestation capabilities
Version control
Collaboration tools
Pro
HealthStream facilitates page editing and updates, accommodating diverse departmental needs.
It has a user-friendly interface that's easy to navigate.
The customer service team offers top-notch service boosting operational efficiency.
Users can track all documents, view reports, and read acknowledgments from one place.
Cons
HealthStream software needs improvement to fix HTML editor glitches.
Users have issues with the text editing features, affecting the user experience.
Sometimes the tool has some bugs that affect the overall functionality.
Several behind-the-scenes administrative solutions are not intuitive, which slows down work.
Pricing
You have to contact the support team to get the pricing information for this tool.
7) OnPolicy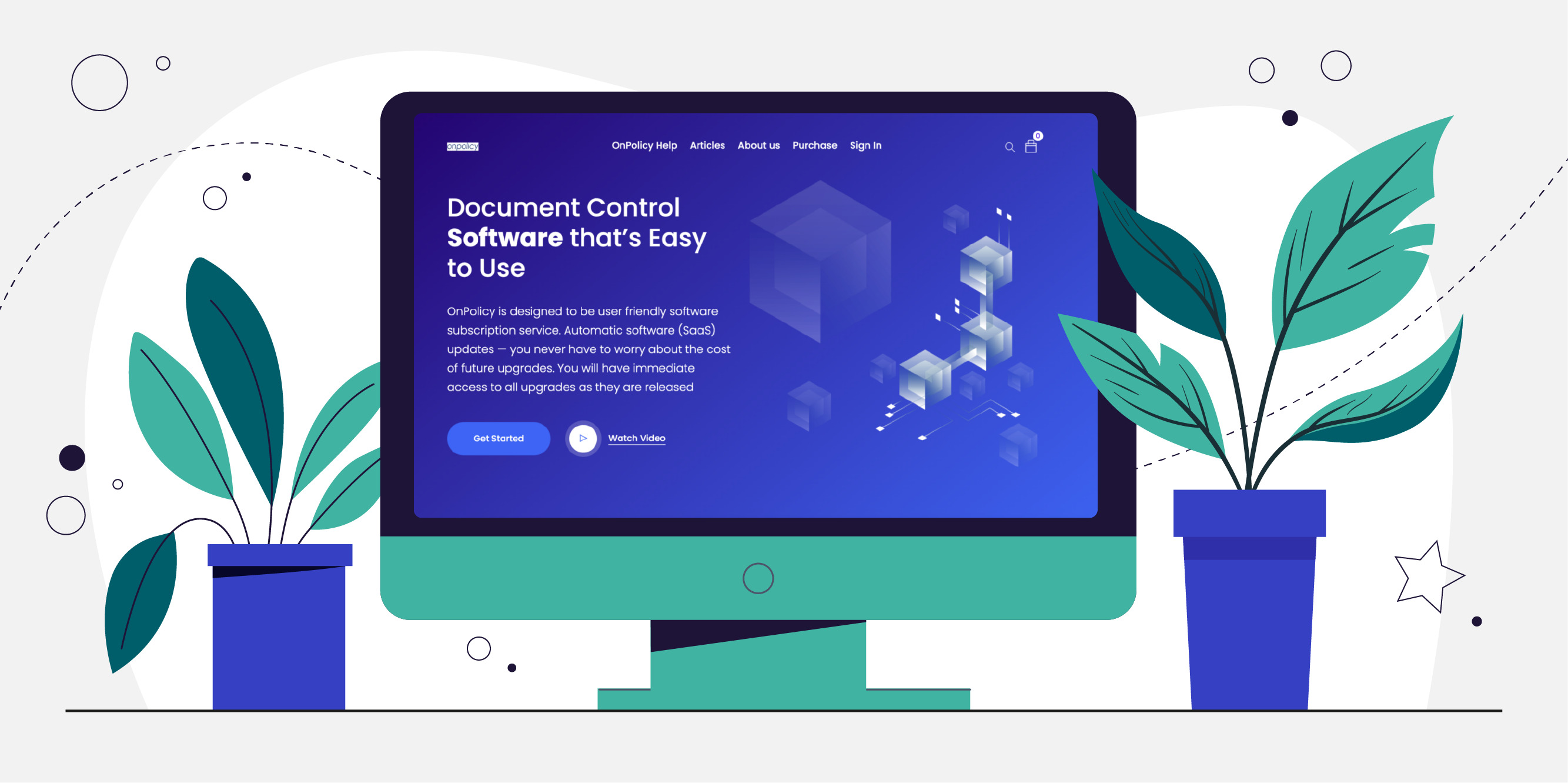 OnPolicy is a policy and procedure platform that offers a user-friendly solution for companies to enforce document control. All your company documentation can be stored in one place to allow you to meet the regulations in your industry.
OnPolicy offers automatic software updates; therefore, your company won't lose any data. The document control system also tracks all the information to provide information when a policy has been revised or updated.
Core Features
Revision history
Easy workflow approval
Document control
Instant compliance tracking
Pros
OnPolicy has audit logs to help you track policy revisions and updates.
Users enjoy the fast review, approval, and release of new policies and procedures.
The platform makes it easy to update the company policies and share them with the team in real time.
Cons
Compared to other tools, the OnPolicy user interface is not as modern; it could use some upgrades.
It can be costly for small businesses.
Pricing
OnPolicy has a single pricing plan at $990 per year. Businesses can pay for this service to start documenting policies and procedures.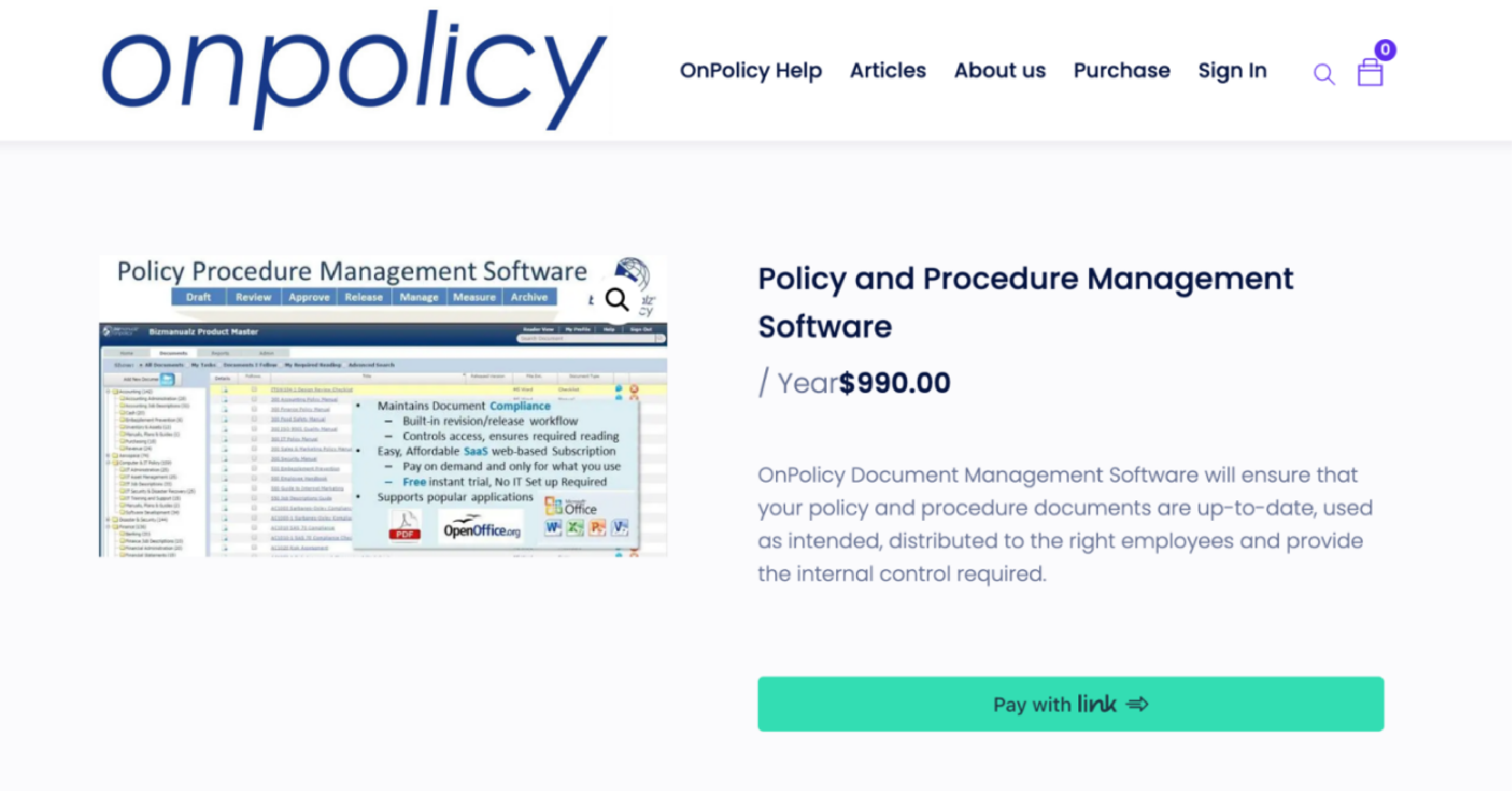 7 Features to Look Out for in a Policy and Procedure Software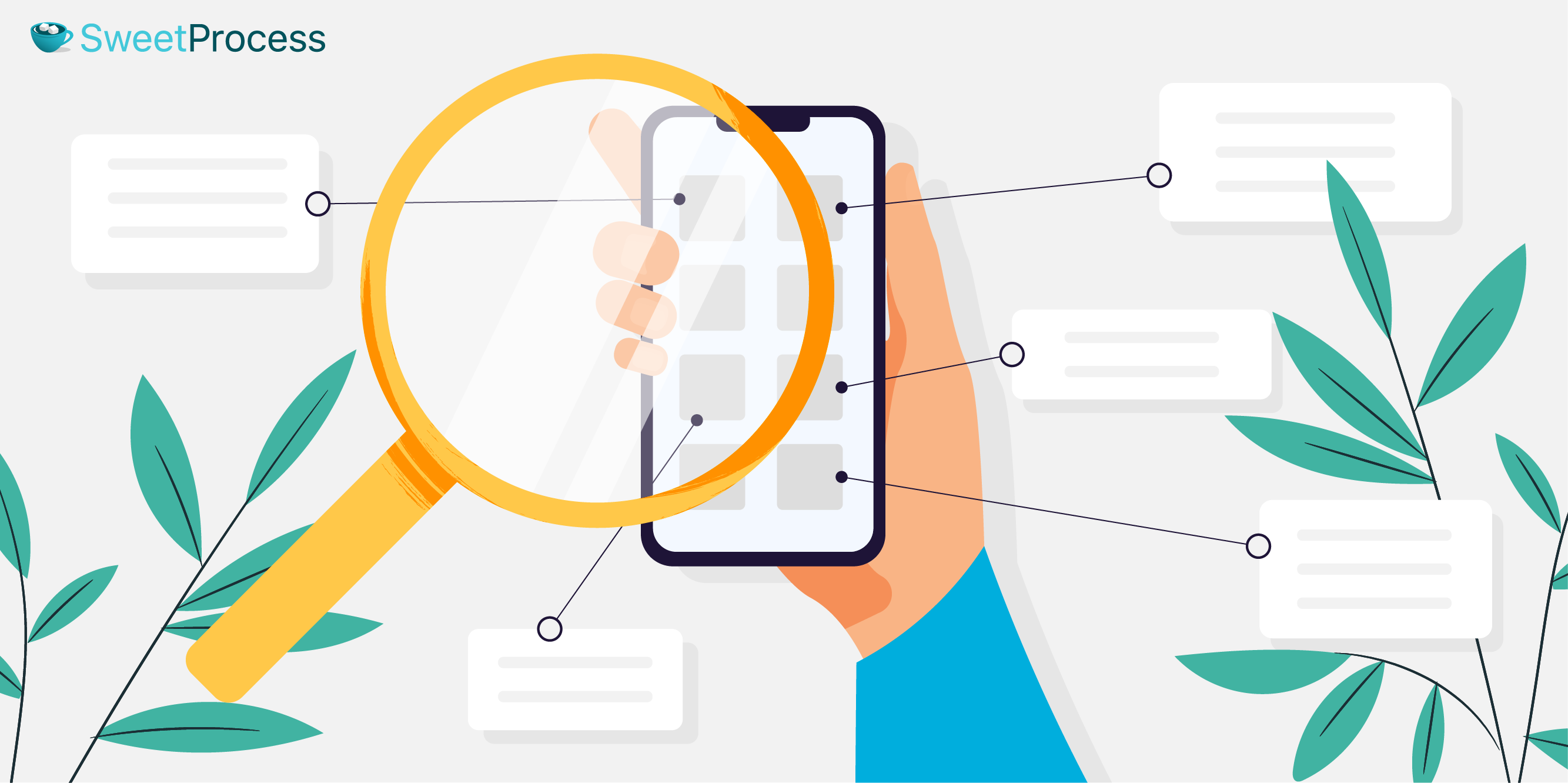 Businesses suffer massive losses due to poor decision-making. Studies by Zippia show that about 23% of small businesses had a loss in revenue in 2020. Some of the reasons for this could be due to the COVID-19 pandemic or adopting the wrong business software. Using the wrong software could contribute to business failure; therefore, you need to choose properly.
One of the key things you need to consider is the features. These features will help you create and manage a policy from start to finish. Here are the key things to look out for:
Central Location for Managing Procedures and Policies
Your business needs a centralized platform that allows you to create, approve, review, and manage all your policies and procedures. Having documents in multiple locations can cause disorganization in the company. This is an important feature as it makes it easy for employees to access the company's documents from anywhere, hence streamlining operations.
Real-Time Analytics and Reporting
To determine the effectiveness of your policy, you need a tool with real-time analytics and reporting capabilities. You can track the usage of your procedures and policies to identify areas that need improvement. Additionally, you can view how frequently documents are accessed and determine whether they are useful for your company departments. You need these insights to make informed decisions that enhance compliance.
Powerful Search Features
Companies that use manual documentation have challenges because it's difficult to find information when needed. But with powerful software, you can use the search functionality to find specific procedures and policies. Since all documents are in one location, this saves time for you and your employees to focus on other things. Get software that offers advanced search capabilities such as keyword search, filters, and metadata tags.
Version History and Control
Policy management tools require a clear version history. An ideal software solution should automatically track and store previous versions of policies and procedures, allowing you to review changes. In addition, it should automatically sync to the latest version, which puts all the team members on the same page. If you have a collaborative team on one project, they should be working on the latest version.
Robust Task Management and Access
Task management features help assign responsibilities, set deadlines, and monitor progress. A policy and procedure management software with these functionalities is crucial because it notifies everyone about their tasks and manages updates and approvals to support the entire team.
Review and Approval
In most organizations, there's a hierarchy and structure that needs to be followed. If you need approval of workflows by the management team, you should consider software with features that allow you to set permissions. In addition, it should have notifications and a feedback system to inform the relevant teams when a policy or procedure has been approved.
Single Sign-On
Single sign-on (SSO) integration is essential for security. This feature allows only specific users to access the policy or procedure using their credentials. This functionality simplifies the user experience and keeps the company's centralized authentication system safe. Consider systems that offer this feature to keep your company policies intact.
How to Choose the Right Policy and Procedure Software for Your Company's Needs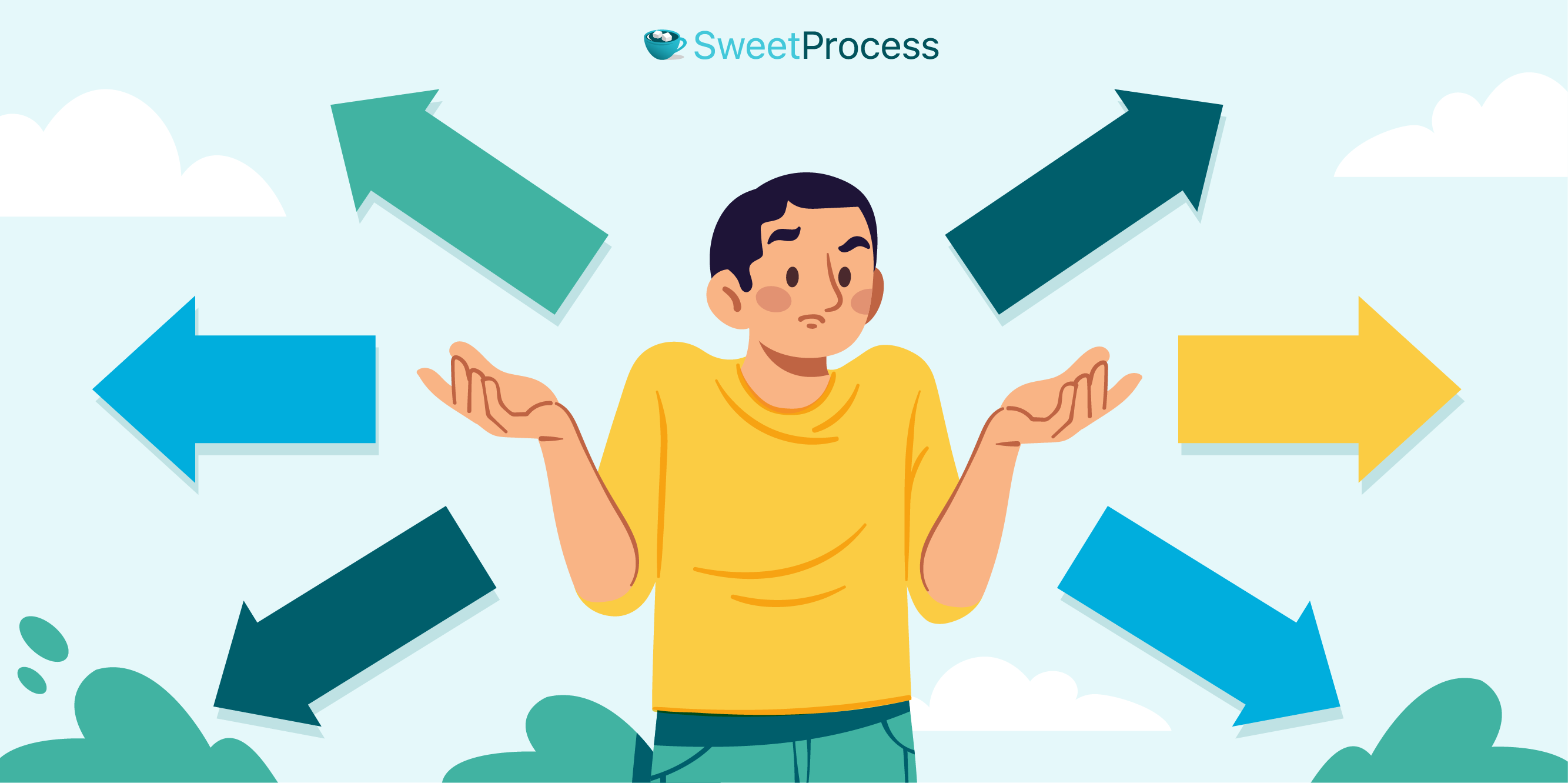 Have you adopted a policy and procedure software before that has frustrated you? This can affect the flow of operations and reduce the productivity of your employees. Before committing to any software, here are some factors to consider.
Functionality
The right software should offer the key capabilities and features you need for your business. Before paying for a plan, examine whether it has the right features like version control, task management, collaboration tools, workflow automation, and reporting. Identify the critical functions that align with your company's requirements to get the best tool for your company.
Ease of Configuration and Use
Your team needs a solution that's easy to use and configure. Otherwise, you'll spend more time training your team on how to use the software, leading to a waste of time and resources. As you choose software, ensure that it's intuitive enough for your team. Additionally, you should look for a solution that offers customizable templates allowing you to tailor them to your organization's unique needs.
Industry Relevance
For a cloud-based policy management system to be effective, you need to comply with industry regulations. Therefore, your software should have industry relevance. For instance, some solutions are designed with specific industries in mind that offer industry-specific templates and compliance frameworks. You can opt for these or get a comprehensive one that can be customized.
Integration With Other Tools
Integration with other apps is important, especially if you have existing business systems. Choose a solution that offers the ability to integrate with other tools. For instance, if you have HR software, you can enhance efficiency and eliminate redundant data entry. Determine what the software is, including APIs and pre-built integrations, and then pay for a plan.
Flexibility
Choose a policy and procedure tool that is flexible enough to adapt to your changing business needs. It should allow you to customize workflows, document structures and permission settings to match your organizational requirements. Flexibility also includes the ability to scale the software as your company grows, accommodating additional users, documents, and functionalities.
What Are the Benefits of Using Policy and Procedure Software?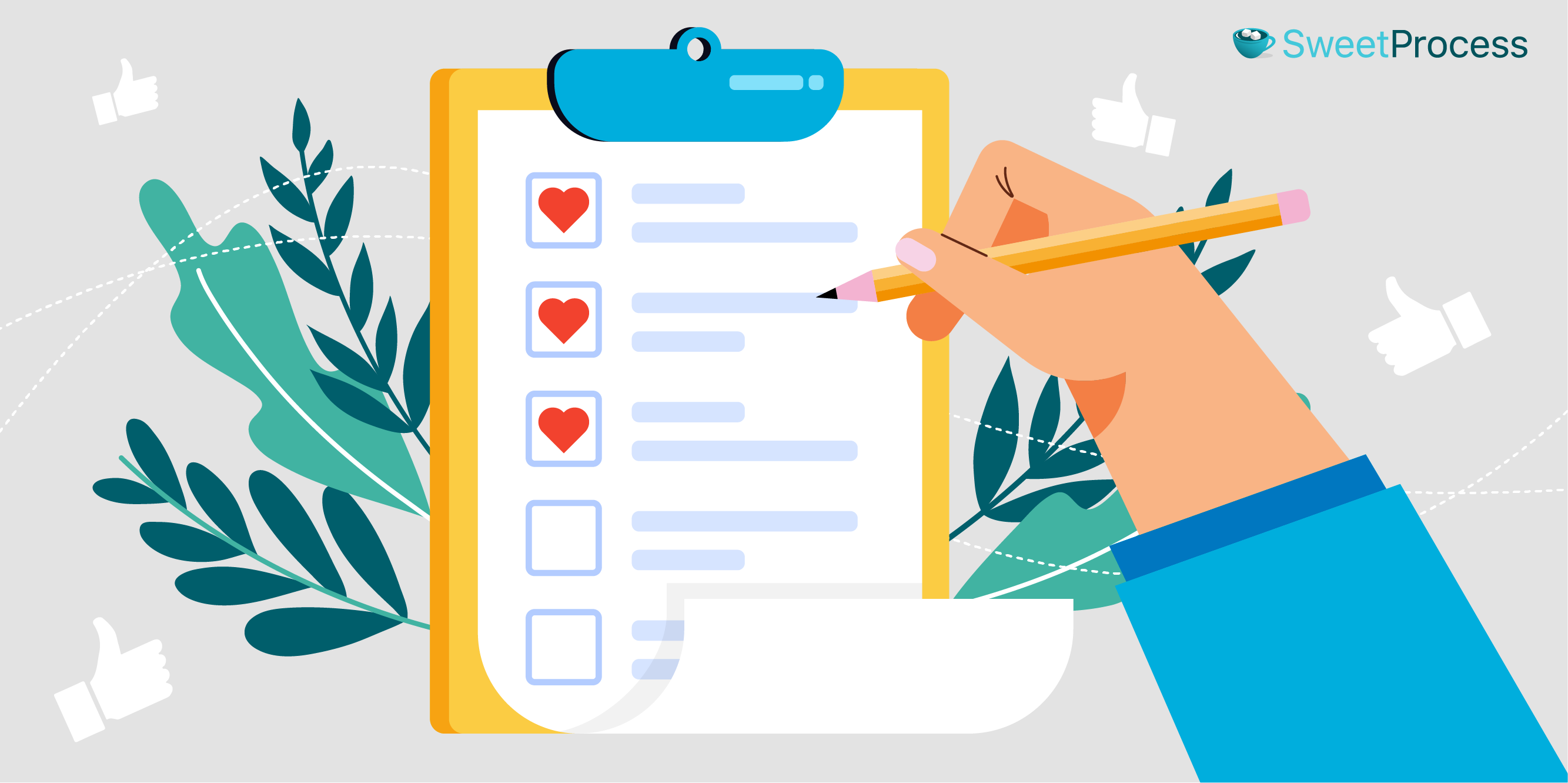 Here are the advantages of using a policy and procedure solution in your company.
Save Time and Reduce Errors
Is your company suffering through constant errors and delays? You should consider getting a software solution. A policy and procedure writing software will streamline the management and distribution of documents throughout the entire company, saving time compared to manual processes. Additionally, with centralized storage and automated workflows, your team can access the latest policies and procedures they need, minimizing the risk of errors.
Ensure Compliance With Relevant Laws and Regulations
Most sectors have industry regulations that companies should abide by. Policy and procedure software will keep you on track because you can develop laws that align with the industry policies. You can easily track and implement the latest requirements and monitor your employees as they execute their tasks.
Reduce the Risk of Legal Disputes
Legal troubles have the potential to affect your company's operations. This is why you need an efficient solution to document your policies. A standardized process minimizes misunderstandings and provides evidence of adherence to regulations in case you have any work disputes. You can use these policies to defend yourself in case of legal challenges.
Maintain Consistency and Structure
Your clients will seek consistency in all your services and products. One of the best ways to standardize operations is by providing a policy and procedural guideline that employees need to follow throughout. This promotes uniformity in processes and decision-making across departments and locations. When you are consistent, you reduce the likelihood of errors.
Improve Service Delivery and Customer Satisfaction
Companies that have scattered documentation may struggle to maintain efficiency. For instance, if your documents are stored on different platforms, your employees may not access the clear guidelines to deal with customers and deliver services. A centralized solution will help you draft terms and conditions to help you deliver consistent results.
Promote Accountability
In this era of collaboration, you need a business solution that allows you to assign tasks and monitor progress. The right software promotes accountability because you can establish clear roles and responsibilities for all your team members. In addition, most of these tools come with automated notifications and alerts to remind employees of their obligations.
Increase Risk Management Level
Although there are a lot of risks with every business, you can minimize potential hazards by using the right solutions. Policy software comes in handy when you need to identify and assess risks associated with the operations. It's a centralized platform to monitor policy usage and get feedback on areas that need improvement.
Enhance Employee Expertise
It's risky to rely on one expert to execute most company tasks. Your employees should be properly trained on company procedures and have easy access to relevant guidelines. These tools serve as a knowledge repository. Employees can find this information quickly to boost their performance.
Who Needs Policy and Procedure Software?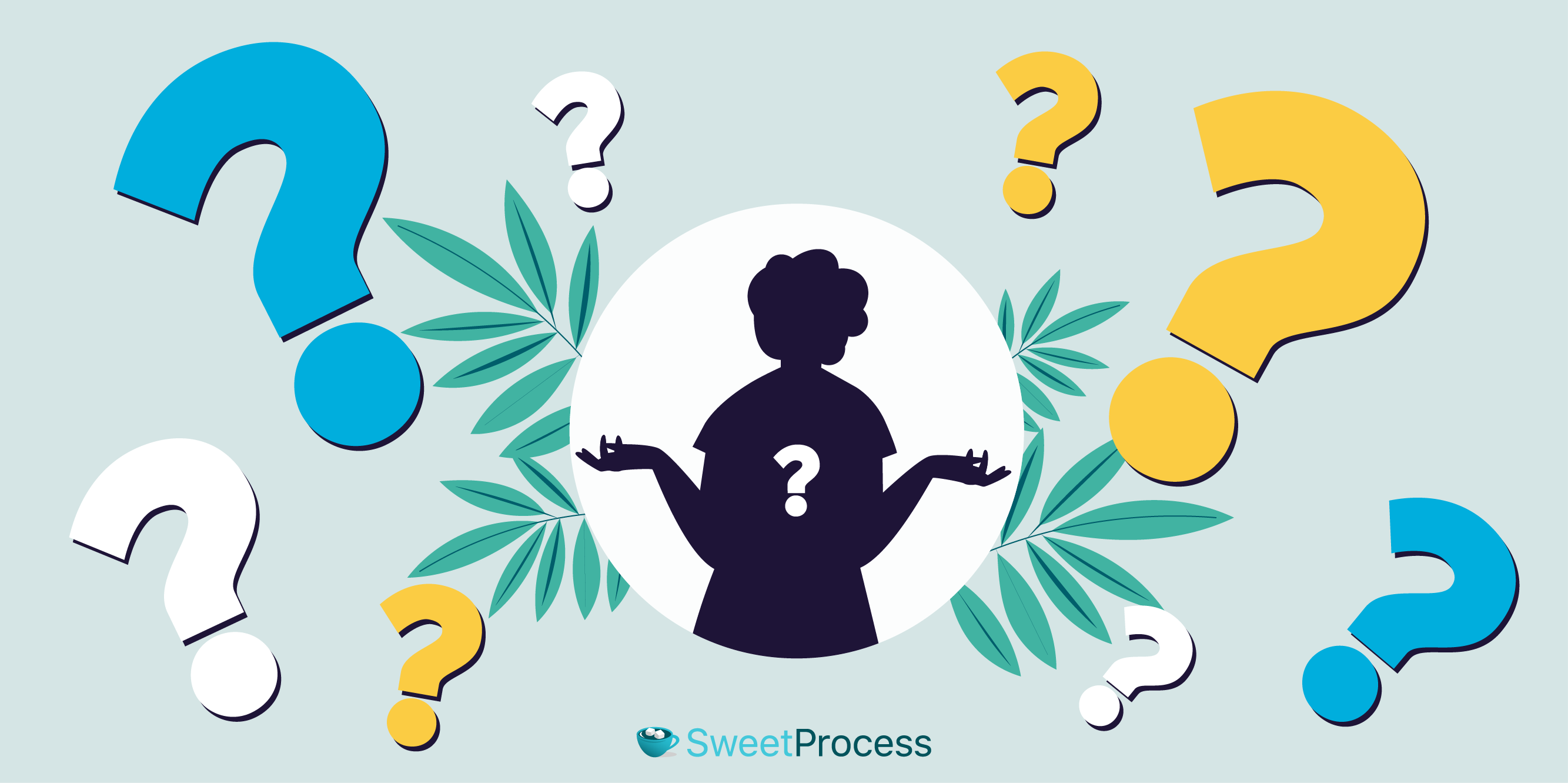 Multiple industries require policy and procedure software for seamless operations. This mostly benefits companies prioritizing efficient documentation management and compliance and risk management. Here's how most sectors use these solutions.
Health & Safety
Organizations such as healthcare providers, manufacturing facilities, construction companies, and educational institutions will easily adopt these tools. They help establish and enforce safety protocols, provide standardized training materials, track incident reporting, and maintain compliance.
Safe-Guarding
Child welfare agencies and educational institutions also need this software because they work with vulnerable populations. They can develop and implement policies and procedures to ensure the well-being of individuals under their care.
Data Protection and Privacy (GDPR)
With the increasing importance of data protection and privacy regulations, companies in these sectors require policies to handle personal data effectively. They can develop terms and conditions around consent, breach response, and ongoing compliance with general data protection regulation (GDPR).
Information Security
According to Statista, during the first quarter of 2023, over 6 million data records were exposed globally through data breaches. Protecting sensitive information and digital assets from such exposure is becoming more crucial. Because of this, institutions like banks need policy and procedure software to define access control, conduct security audits and implement data encryption measures.
ISO Standards
There are different certifications for compliance with ISO standards. For instance, ISO 9001 is for quality management, and ISO 27001 covers information security management. If your company must adhere to these standards, get any of the top policy and procedure software we mentioned in this article to align your operations.
Advertising
Companies that advertise products like alcohol or pharmaceuticals have strict regulations. A policy software could benefit such a company by ensuring they adhere to the advertising standards while using promotional material.
Create and Manage Your Company's Policies and Procedures in One Place Using SweetProcess
Your business needs software solutions to ensure compliance to set industry regulations. Before committing to a policy and procedure software, you must examine whether it has the right features, functionality, and integrations that align with your business. Fortunately, SweetProcess meets all these needs.
It's a cloud-based system that centralizes all your documentation for easy access. It can also be customized to work for all types of businesses.
Document your policies and procedures easily with SweetProcess. Start the 14-day SweetProcess free trial today. No credit card is required!