ComplianceBridge vs. SweetProcess: The Best Policy, Process, and Procedure Management Solution for Your Business
Last Updated on August 10, 2023 by Owen McGab Enaohwo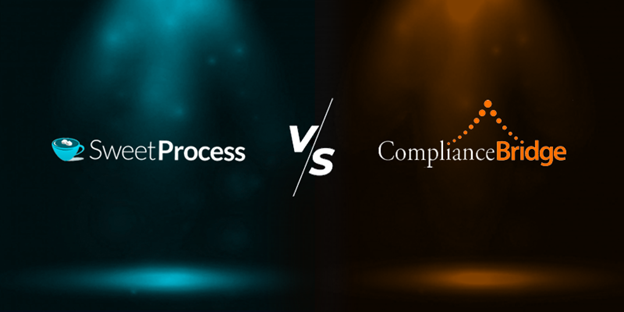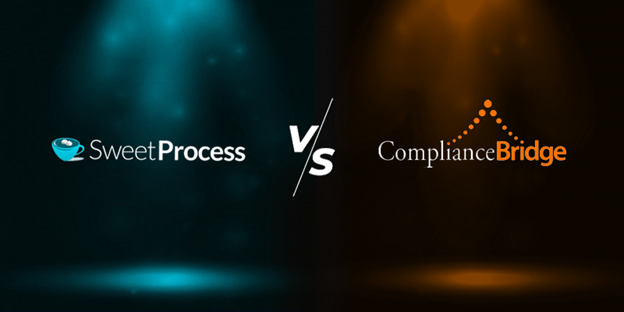 Getting the right policy and procedure management tool is essential for any business. From documentation to streamlined processes and increased employee productivity, a good policy management tool does it all.
However, choosing the right tool for your business can be a hassle. You do your research, think you are making an informed decision, and after spending a lot on a solution, it doesn't meet your expectations.
Well, we are about to stop you from making such mistakes (again).
SweetProcess and ComplianceBridge are two well-known policy and procedure management solutions. But which of these tools will be a proper fit for your company?
In the next few minutes, we will walk you through each software, its core features, the pros and cons, and insights to help you choose the best solution for your business.
Without wasting time, let's get started.
Experience the full benefits of SweetProcess for your business for FREE. Click here to start your 14-day free trial, no card required.
Table of Contents
Chapter 1: ComplianceBridge vs. SweetProcess: An Overview
Chapter 2: ComplianceBridge vs. SweetProcess: Core Features
Chapter 3: ComplianceBridge vs. SweetProcess: Pros and Cons
Chapter 4: SweetProcess: The Best Business Policy Management Software for Your Business
Chapter 1: ComplianceBridge vs. SweetProcess: An Overview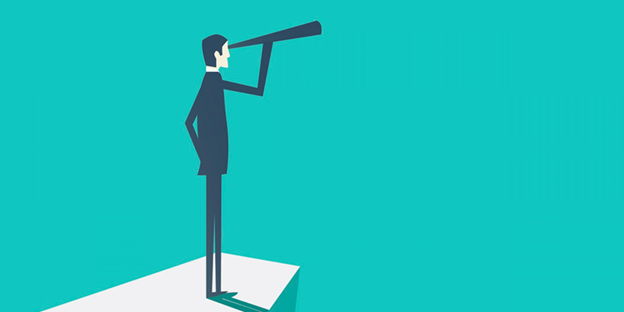 Before we explore their core features, let's get acquainted with both software.
SweetProcess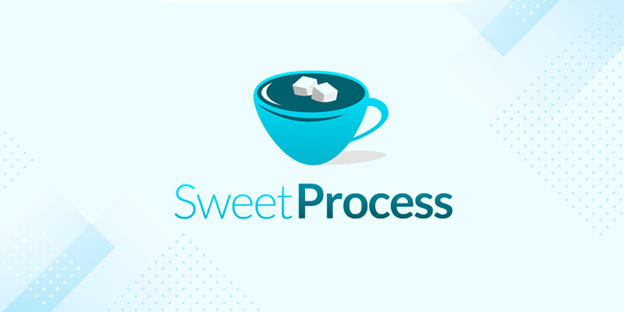 SweetProcess is a policy management software that helps you document and manage your policies, procedures, and processes all in one place. It provides you with all the tools you need to grow your business.
This software provides you with a full suite of features to help you achieve this. SweetProcess allows you to:
Create step-by-step procedures, policies, and processes.
Create an overarching workflow by combining multiple procedures.
Break your procedures into actionable tasks for members of your team.
Give team members the opportunity to suggest improvements to each document.
Set up teams to depict how your business runs. You can restrict access to specific team members.
Create both public and private knowledge bases from your policies and procedures.
Integrate with over 1,000 different apps.
Track different versions of a document and changes made.
Collaborate in real-time with team members.
Bring your procedures to life by creating visually appealing process maps.
Embed videos, images, and other files into your procedures and policies.
Get access to 24/7 support via email and phone numbers.
Export your policies and procedures to PDF and Word format.
Edit images and screenshots directly from within SweetProcess.
Protect your account with two-factor authentication.
Try out all of these features for FREE now. Click here to get started.
ComplianceBridge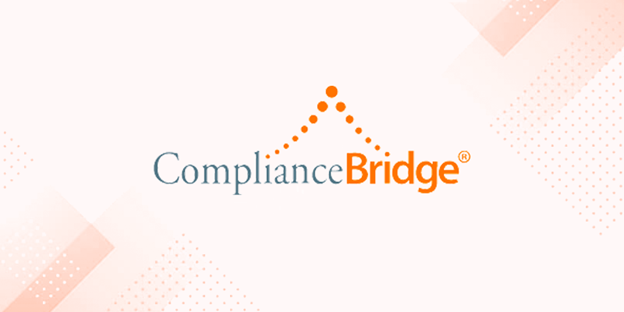 On the other hand, ComplianceBridge, although not solely a policy management software, allows you to create and manage your policies and procedures. It allows you to streamline the policy creation, revision, approval, and distribution process.
Some of the features include:
Creation of an automated workflow.
Version management of documents.
Access control.
Alerts and reminders.
Proactive alerts.
Public portal.
Fill-in forms.
Though both software have policy management features, these features totally differ especially in terms of user experience. 
Now that you have a brief introduction to both solutions, let's explore their core features.
Chapter 2: ComplianceBridge vs. SweetProcess: Core Features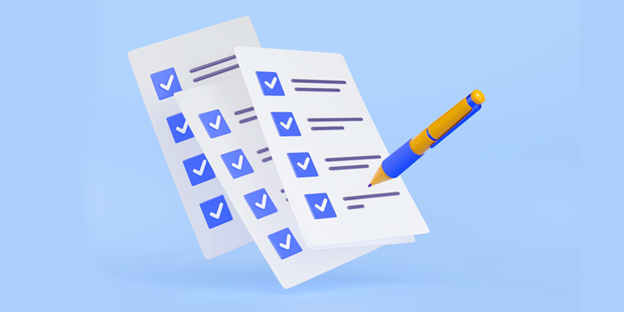 | | | |
| --- | --- | --- |
| Features | SweetProcess | ComplianceBridge |
| Policy & Procedure Creation | ✔️ | ✔️ |
| Automated Workflow | ✔️ | ✔️ |
| Knowledge Base | ✔️ | ✔️ |
| Free Trial | 14-day free trial (no credit cards required) | No |
| Pricing | $99 per month (billed annually) | You have to request pricing.It has three pricing tiers: silver, gold, and platinum. |
| Integration | 5,000+ apps | Doc Converter & Microsoft 365 |
To get to the heart of both software and choose the right fit for you, we have to explore their core features. We have created a list of features that every policy and procedure management software should have. Let's see how both software executes these features.
Below are some of the core features of both software, their similarities, and their differences.
Policy/Procedure Creation
Let's begin with the basics: the creation of policy and procedure. After all, it can't be a policy management tool if it can't create policies.
What's the process of creating policies in both software?
SweetProcess
SweetProcess makes it very easy to document your standard operating procedures (SOPs). In just a few steps, you can document your policies and procedures seamlessly. This feature, like every other feature on the software, is offered in the free trial version.
Companies like Forensic Analytical Consulting Services have built a more efficient workforce just by documenting their business processes effectively with SweetProcess. The company was experiencing issues with productivity because their existing SOPs weren't effective, but SweetProcess changed that. Once they subscribed to using SweetProcess, they were able to create SOPs that were comprehensive, unlike the PDF booklets they were using before SweetProcess. They were also able to create a central knowledge base that employees could access anytime and from anywhere.
How do you create a procedure on SweetProcess?
Click on "Create Procedure."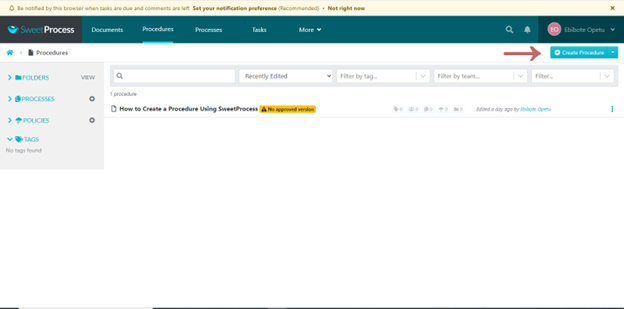 Insert the title of your procedure.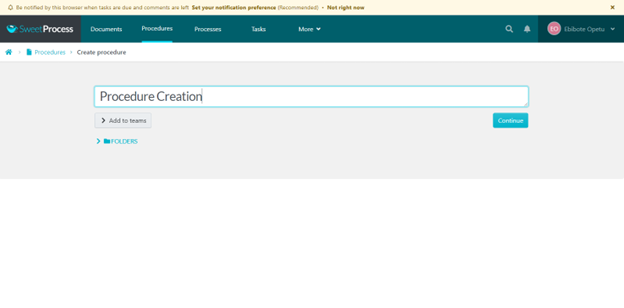 Create your procedure step-by-step. You can easily insert videos, images, and links (including links to other policies and procedures) while creating your procedure.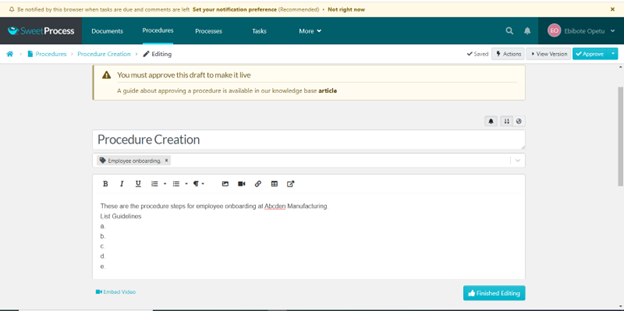 SweetProcess gives you the option to request approval, approve the procedure and notify other team members, or approve and request sign-off. Once you approve your procedure, it goes live.
Click on your preferred option.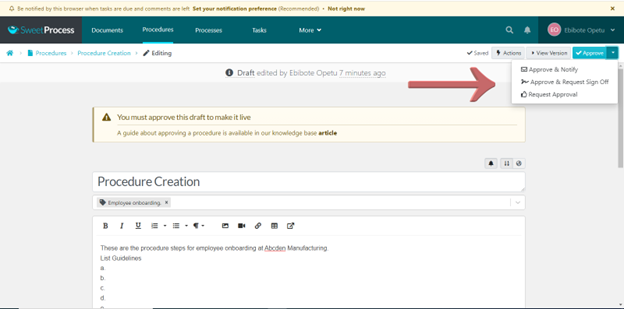 Your procedure is now live.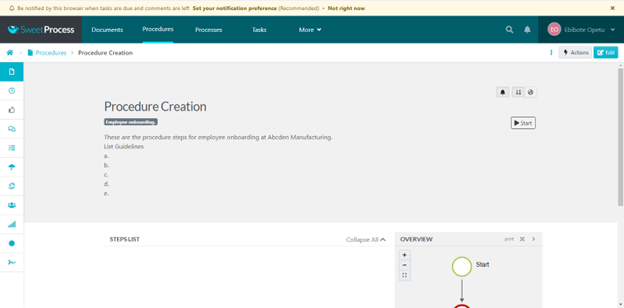 That is how simple it is to create a procedure on SweetProcess.
ComplianceBridge
ComplianceBridge also allows you to create policies and procedures for your business. You can create multiple policies and procedures and keep them stored on the software.
Policies can be created by different members of the team with changes immediately updated and tracked. The process of creating a policy and procedure is pretty much the same. It also allows you to request approval on policies you create—that is, if approval is needed.
Instead of creating your document from scratch, you can make use of pre-built templates in the software.
This is how to create a policy document on ComplianceBridge:
Log into the software and click on "New Document."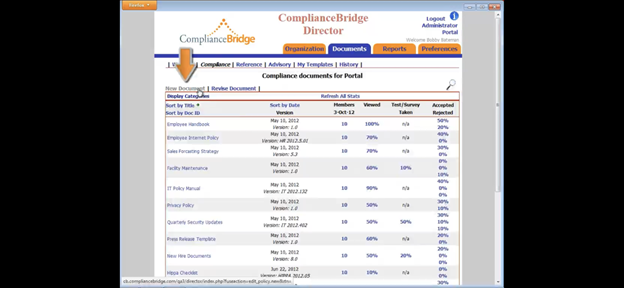 Select the type of document you want to create from the list and click on "Submit."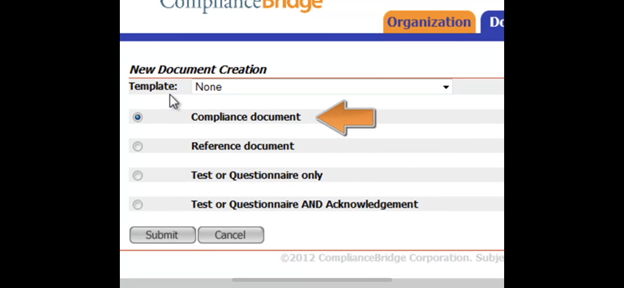 Edit the document properties. Fill out the information required, e.g., document title, version, document ID, categories, and agreement text. Once you are done, click on "Save."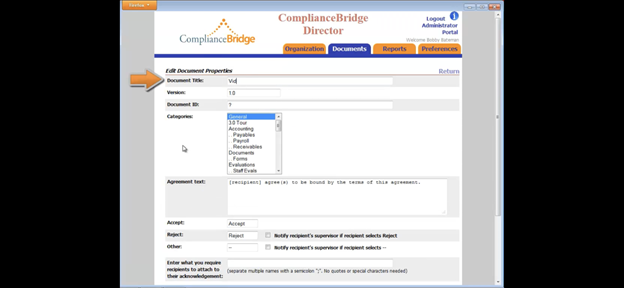 Choose your preferred section from the list. You can either import or edit each section of your document. To create your document from scratch, click on "Edit."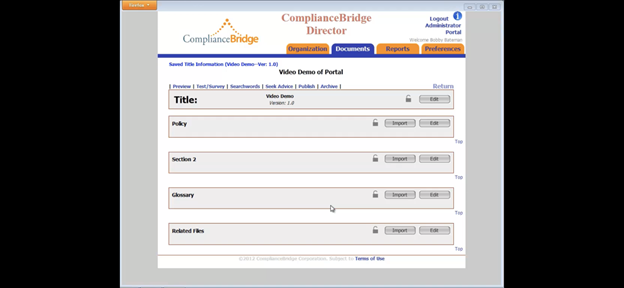 Once you are done creating and editing, click on "Save."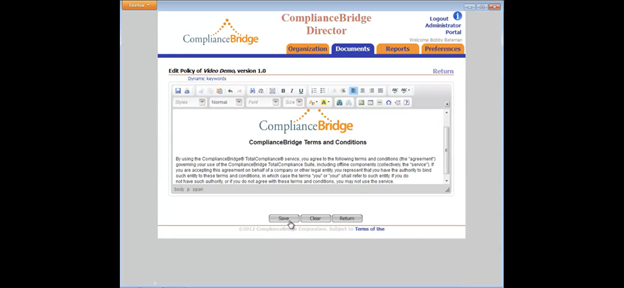 After creating your document, click on "Publish."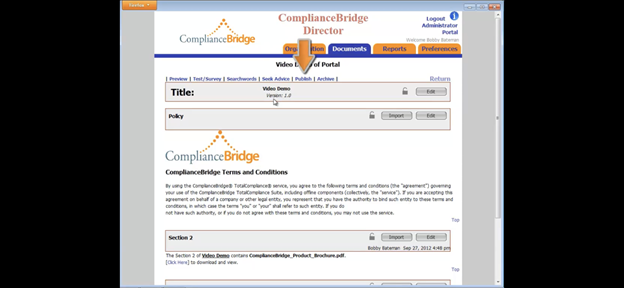 Knowledge Base
Let's talk about creating knowledge bases and easy access to information by every member of your team or company. It's one thing to properly document your policies and procedures; it's another to make them easily accessible.
Which software does it better?
SweetProcess
SweetProcess allows you to turn your procedures and policies into an existing knowledge base. This is a repository of information that is accessible to every member of your team, despite their location. Employee training, SOPs, and other important documents can be stored there.
The search feature on the software makes it easy to find documents with just a few clicks. Also, you get to decide whether or not you want your knowledge base to be public or private. Documents with similar qualities can be filed under one category to further make the process of finding them easier.
The SweetProcess knowledge base helped pLink leadership eliminate fear among its employees. Before the company started using the software, they stored their processes in a Word document with over 85 pages. The process of creating this document became a burden as operations changed rapidly and most of the information became outdated almost immediately after they were created.
SweetProcess provided them with a more effective way to document and store their processes. They had in their possession tools that helped them create simple and usable processes. These new processes also impacted employee training. New employees used to take days or weeks to get acquainted with the processes, but this changed once they properly documented their processes and made them more accessible.
Atlantic Sapphire is another company that successfully optimized operations by documenting its processes and creating a decentralized knowledge base that is accessible to every member of the team. With the help of SweetProcces, the company was able to transfer its operational knowledge to its new facility which helped foster collaboration and quality assurance.
How do you create a knowledge base on SweetProcess?
Click on "More" and choose "Knowledge Bases" from the drop-down menu.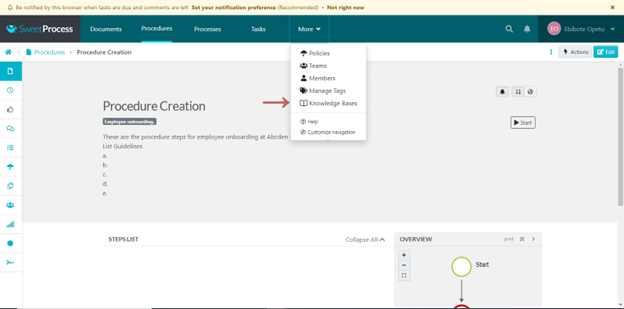 Click on "Create Knowledge Base."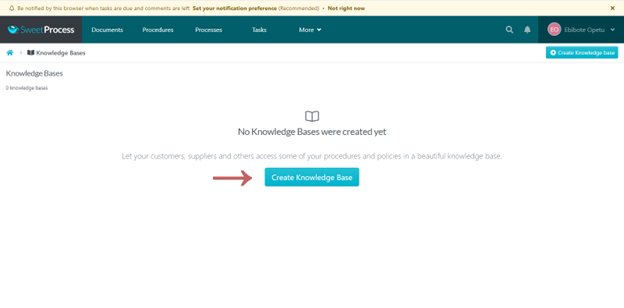 Input the title of your knowledge base.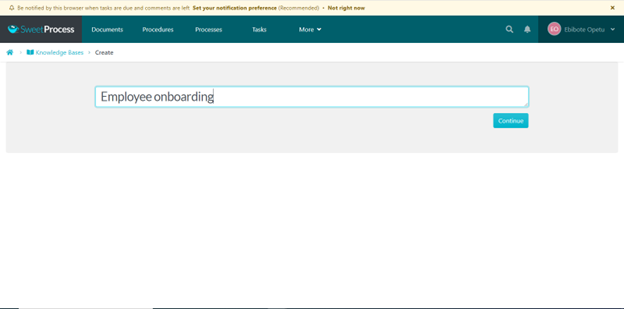 Create a category.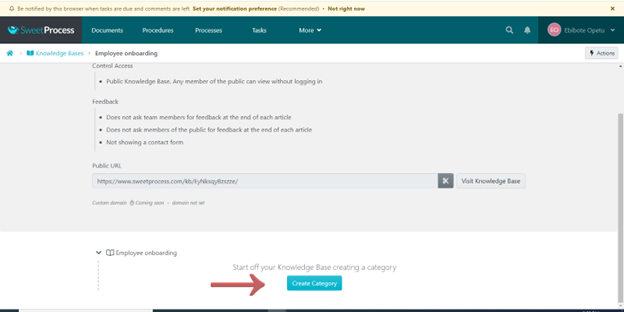 Click on "Add New Article" to upload your preferred policy, document, or procedure into the knowledge base.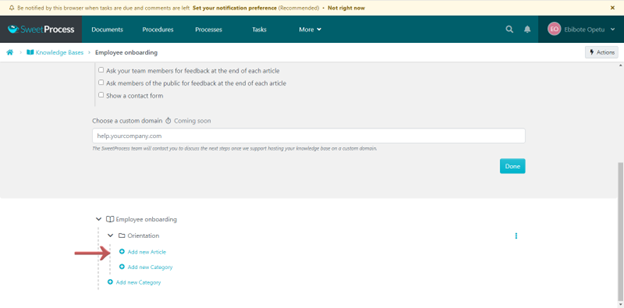 Now you have a knowledge base with as many categories and documents as you want.
Note: You can control who has access to the knowledge base: the general public or just your team members.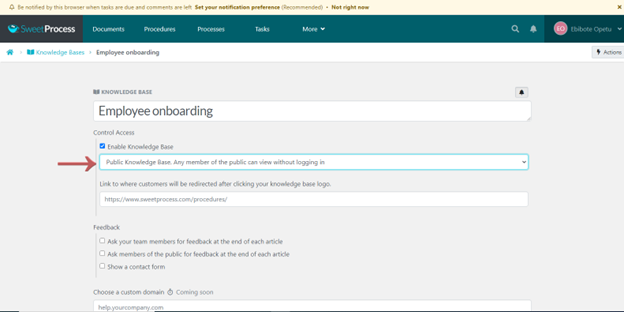 ComplianceBridge
ComplianceBridge also allows its users to store their policies and procedures on the software. This makes it easy for companies to access all their information in one place via the internet. You can also archive old versions of the documents and integrate them with your website.
With the software, you have the option of creating a public portal to help publish content for public consumption. You can opt for this when you do not have to track user activity and the content is not proprietary.
It provides you with several publishing options. You can set a future publish date if you are not interested in publishing immediately. The same applies to expiration dates. There is also the option of replacing an older version of a document with a newer one if you are revising a document.
A document can be flagged for automatic review. Groups, subordinate groups, and even cross-functional groups exist, and you get to decide which document is published under which group.
Workflow Automation
Here's another feature your policy management software should be able to execute flawlessly. You should be able to turn your policies into automated workflows.
How do both software help you achieve workflow automation?
SweetProcess
With SweetProcess, you can turn your policies and procedures into an overarching workflow that is unique to your company's processes. This workflow lays out how each procedure links to another and gives a visual representation of the entire process from start to finish.
This visually appealing structure instructs users on the next steps to take and who is in charge of each step in the process.
It automatically sends reminders to those holding up a task and updates you when a task is completed. The same applies to document approval.
The entire process is automated, so you don't have to manually track every step of the workflow.
Thanks to the automated workflow of procedures and policies, All Residential Real Estate was able to streamline its operations and build a more efficient workforce.
Perry Beebe realized that the company had ineffective documentation when he purchased it, and this was holding the employees back. There was a list of tasks that employees needed to complete, but there were no clear instructions on how they were to complete the tasks. He, however, found a perfect match in SweetProcess.
From effective documentation to seamless employee onboarding and training and consistency in operations, SweetProcess helped him make the needed changes for growth.
Read the full story here.
Other users have raved about SweetProcess's automated processes, its usability, and its easy, effortless tracking of projects to completion.
This is how you create a workflow on SweetProcess:
Click on "Processes" and "Create Process."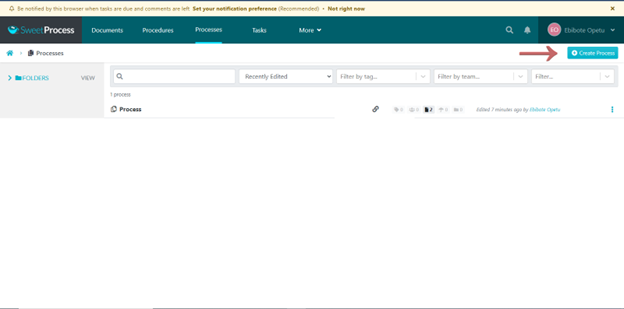 Input the name of the process.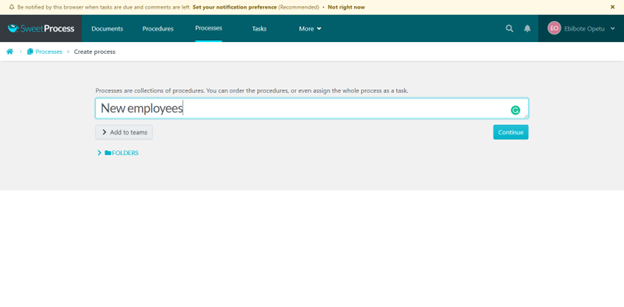 Click on "Add Step" and add as many procedures as you want to the process.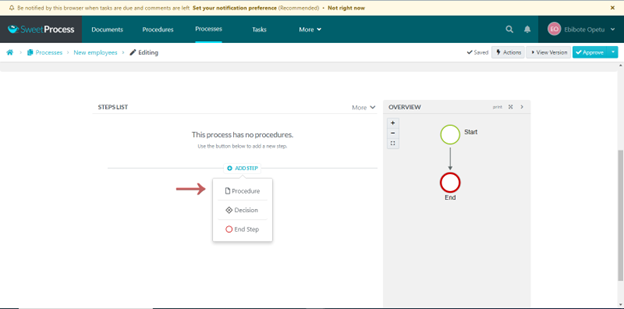 When you are done, click on "End Step."
You have successfully created a process.
ComplianceBridge
ComplianceBridge also gives room for the customization of policy approval stages to fit one's organization's unique needs. You can create workflows within the software, spelling out different policies and procedures and how they fit into the workflow.
It also allows you to create and send automated notices when new tasks or documents are assigned. With links to related documents, your employees can save time while locating documents. Built-in review dates, expiration dates, and reminders make it easier for regular policy updates.
There are document templates within the software to enforce format consistency.
Integration
SweetProcess allows integration with over 1,000 apps. You can connect with any other app via its API or Zapier. This robust third-party integration enables you to work with your favorite tools alongside SweetProcess.
It also helps to boost collaboration, enables automation of tasks and processes, and gives you free time to focus on what matters most to your business.
In fact, according to Zapier, you can connect SweetProcess to 5,000+ apps. So, all you need to do is find that tool you love and integrate it—no code required.

ComplianceBridge also gives room for integration with third-party apps, but you are left with very limited options. According to their website, ComplianceBridge lets you connect with tools like Microsoft 365 and Doc Converter.
This is a far cry from the thousands of options offered by SweetProcess.
With this limitation, it is impossible to integrate ComplianceBridge with other important tools used by your team members for different aspects of their jobs. This means more time spent shifting from one tool to another to carry out routine tasks which can eventually lead to reduced productivity.
Without robust integration options like you have with SweetProcess, the process is less seamless, and this might affect the overall user experience.
Ease of use
A policy management software that meets your organization's needs can become a problem if it is too complicated or difficult to navigate. You want your software to be easy to use by every member of your team, even if they have no prior technical training.
How easily can you navigate both software? Let's find out.
SweetProcess
SweetProcess has a simple and user-friendly interface that makes it easy for anyone to navigate the software, even if they are not tech-inclined. You don't need to spend hours training your team on how to use the software or worse, involve the IT department before you can access basic functions within the software. Each action on the software can be carried out quickly and without hassle.
An added bonus is its aesthetics. Not only is it extremely functional, but it is also pleasant looking. Its clean and minimalist designs make it easier to use the software and provide clear navigation between its features.
Earlier, we shared some screenshots illustrating step-by-step processes of performing specific functions within the app. These screenshots should give you a hint as to how easy it is to use and navigate SweetProcess. Some users have said the platform's simple navigation and visually appealing aesthetics have helped them to create an engaging knowledge base for their company.
Sarah Brenner, quality assurance director at Belvidere Community Unit School District 100, was keen on finding software that would not only streamline the operations of the school district but also one that would be easy to use.
She found her answers when she began using SweetProcess. After trying out different policy management software, she settled on SweetProcess because it could be used by anyone with basic tech knowledge. It also provided an easy place where every member of her team could readily find things in a fairly easy way.
In her words, "There's a knowledge base function within the platform and that's a great way that all of our stakeholders—whether it be parents, staff, and especially some of our clerical staff who work a lot with our procedures—can access the information that they need…. If they're in person or on the phone to answer questions with our families, that was a way where they could readily find the information that they needed."
ComplianceBridge
With ComplianceBridge, you might have a learning curve. It is difficult to determine how simple it is to use the software. Some users complained about how hard it is to navigate the system. Some had to reach out to customer support reps to ask for help. Others complained about it being complicated.
You can find the reviews here.
Adding unnecessary steps and making employees jump through hoops to use new software is not a good business practice. Instead of focusing on using the software to fix the problems within the company, the team has to focus on learning the software.
Pricing
We have explored the basic features of both software. Now it's time to see how much it will cost you to access these features.
How much does each software cost?
SweetProcess
SweetProcess offers a 14-day free trial for users to experience the software and decide if they want to opt-in for the paid option. But that's not the best part. You don't have to input your card details to access this free trial, and you can cancel at any time.
Begin your 14-day free trial here.
After the free trial, you pay $99 per month for a team of up to 20 active members. If you have a larger team, you pay $5 per month for each additional active member.
You might want to consider the yearly plan, which saves you 16%. You pay $82.50 per month (billed annually) and $4.17 per month (billed annually) if you add more members.
SweetProcess has just one plan for everyone. Every customer gets to enjoy every feature. Unlike ComplianceBridge, which has different plans and deprives some customers of enjoying some features because of their budget, SweetProcess makes access all-inclusive.
If after you have tried the software you do not notice a measurable improvement in your business, SweetProcess will refund your money, no questions asked. Each subscription has a money-back guarantee. Before you leave, you also receive a free one-hour phone consultation to brainstorm strategies to grow your business.
ComplianceBridge
ComplianceBridge, on the other hand, does not offer such benefits. It does not have a free trial nor does it have a free version you can use.
The software offers three pricing tiers: silver, gold, and platinum. The platinum tier is the topmost tier, and it provides you with full access to all the features within the document. The silver tier gives you access to basic features in the software. For example, features like testing and questionnaires, automated reminders, auto notifications, automated reporting, automatic linking of documents, and many others are not accessible in the silver tier.
While the gold tier offers more options, it also lacks some important features. To get the most out of ComplianceBridge, you must subscribe to the platinum tier.
In addition, you have to request pricing by filling out a form before you get the pricing for each price level.
Platforms supported
One quality to look out for is how accessible your policy management software is, and how easily you can bring out your device and access the software without encountering issues.
Let's see how accessible both software are.
SweetProcess
SweetProcess can be accessed anywhere from any device. Like many policy management software, it is available on the web. However, it takes this a step further by providing mobile applications for both Android and iOS mobile phones.
This provides the user with a more personalized interaction with the software. With a user experience specially designed for mobile phones, the app makes the software more appealing to use. Asides from that, providing users with multiple options through which they can access the software gives them the opportunity to interact with it via the platform they feel the most comfortable with.
ComplianceBridge
ComplianceBridge is also supported on the web. However, unlike SweetProcess, it cannot be accessed as an application on mobile phones.
It goes without saying that web access does not provide the individualized experience that the mobile app offers. Not only that, this makes the software less accessible to users compared to if they were made available as a mobile app. In a day and age where people want the flexibility of completing tasks on the go via their mobile phones, the absence of a mobile app makes this harder to achieve.
Overall, it limits the accessibility options available to users.
Support
A guiding hand helping you navigate a new software while you are adjusting to its features is very important. The more robust your support options are, the easier it is to access help if you do need it.
What's support like on both software?
SweetProcess
When it comes to providing support, SweetProcess has created a knowledge base filled with self-help resources (from getting started to policies, security, account management, and other features) that you can explore.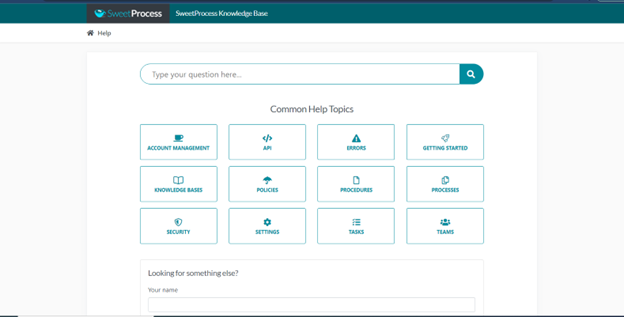 For issues that require urgent attention, you can contact their customer support team via a phone call or send them an email.
ComplianceBridge
ComplianceBridge gives you the option of calling or sending an email to contact the customer support team. They also have a set of FAQs and answers to help guide new customers and answer whatever questions they might have.
According to the website, you get weekly instructor-led training webinars and one-hour training sessions with a live instructor. The number of sessions you have is determined by the pricing tier you are subscribed to.
There you have it.
We have placed both software side by side. At this point, you should have an idea of what each software can do for you and how easily it can fit into your company's needs.
But that is not where we draw the curtain. Our next stop explores both the good and bad sides of each software.
Chapter 3: ComplianceBridge vs. SweetProcess: Pros and Cons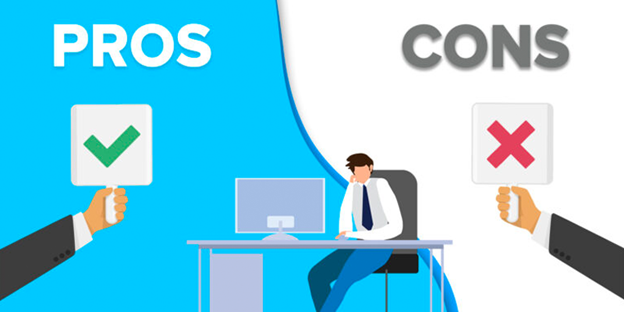 We have explored the core features of both software. It is time to do a deep dive into the pros and cons of each software.
SweetProcess
There are many advantages to using SweetProcess. Some users say there is virtually no learning curve, while others say it's an effective management system for their businesses.
Pros
It doesn't require a learning curve. You can start creating procedures and policies immediately, even if you are not tech-savvy.
It is accessible at any time, from anywhere, and with any device.
It tracks your progress and automatically sends reminders showing you where a project is, who has it, and who needs it.
You can easily create visually appealing training documents and organize them into a knowledge base.
It is very affordable compared to other policy management software.
It automatically sends email reminders to the team members holding up the project.
Their support team is always available to provide support 24/7, either via email or phone calls.
It offers a free trial and gives you a 30-day money-back guarantee (no questions asked).
Its amazing features are accessible to all customers. No one has access to more features than others.
ComplianceBridge
Pros:
It allows users to access all their information in one place.
It sends reminders for tasks assigned to users.
It tracks changes made to a policy.
A user said that it enables them to track the receipt of departmental policies.
It provides training materials to help users get started.
Cons
While ComplianceBridge might be a well-known policy management software, it has its own shortcomings that make it far from the perfect policy and procedure management tool for your business. Some users have problems with the complex setup and the technical aspect of the platform itself.
Despite the fact that they have a variety of training and guides, getting software that is simple to use without spending precious hours pouring through training just to learn how to navigate the app is important.
Every member of the team should be able to navigate the app easily. If that is not the case, then the purpose of the collaboration feature on the software becomes defeated.
On the other hand, SweetProcess simplifies the entire process, making it very easy to use.
While users complain about the report-building feature of ComplianceBridge, it is different from SweetProcess. Just like every other feature of the software, the process of creating reports is seamless. You also have the option of creating different types of reports with templates you can customize to suit your business.
Users complain about having to use HTML to establish the platform, and struggle with the upgrades. This is where SweetProcess greatly differs from ComplianceBridge. Formatting on SweetProcess is simple. You can see from earlier screenshots that document management is simple on SweetProcess.
At this point, you have all the information you need to choose which policy management solution is a better fit for your business.
Which will it be? SweetProcess or ComplianceBridge?
The next chapter will help you make the right decision.
Chapter 4: SweetProcess: The Best Business Policy Management Software for Your Business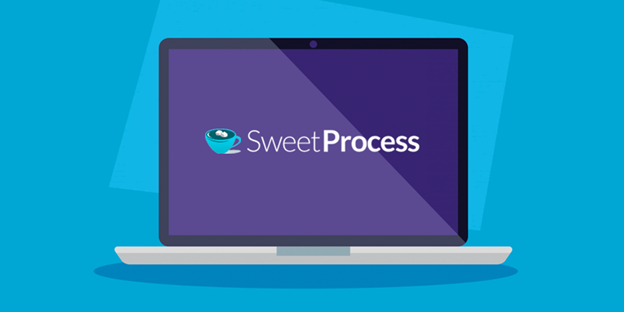 Yes, we know it sounds predictable to say that we are the better solution. But if we are being honest, SweetProcess offers a robust suite of policy management features that help you grow your business.
We have highlighted the features of SweetProcess and how they can absolutely transform your business. If you've been reading up to this point, you'll agree that SweetProcess provides solutions for all your policy management needs. But don't just take our word. Check out how businesses like yours have been transformed just by using SweetProcess.
Stone & Wood, a beer brewing company, turned its business performance around just by structuring its operations with the help of SweetProcess. Creating standard procedures that were adhered to was a problem because these procedures were written on binders. This also made it hard to update the procedures and processes, and employees sometimes had to work with outdated procedures.
When SweetProcess came into the picture, they were able to simplify employee onboarding and training, swiftly document and update procedures and processes, and create a centralized knowledge base that was easily accessible to all employees.
Another company that experienced wonderful results with SweetProcess is Onogo. When Onogo began expansion, the demands from customers and partners increased, and they found it difficult to keep up with the changes. The story changed with SweetProcess. They improved operations through easy process documentation and the creation of a decentralized knowledge base. They also achieved quality and assurance.
You too can grow your business with SweetProcess. Take the first step today. Click here to begin your 14-day free trial and join over 40,000 companies that have transformed their businesses with SweetProcess.