Standard Operating Procedures: The Key to an Efficient Workplace
Last Updated on May 24, 2021 by Owen McGab Enaohwo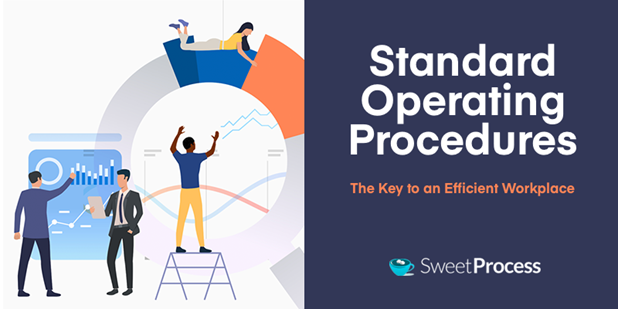 Is your company struggling with disorganization? Trust us; you're not alone. Over 57% of workers lose six hours of productivity each week because of it.
Disorganization in the workplace usually happens when your team doesn't know which tasks to complete each day. To prevent this, it's vital that you start documenting all of your company's processes.
One popular method to do this is to create a standard operating procedure (SOP). It covers all of the instructions and steps required for each employee's tasks in the workplace.
In this blog post, you'll learn everything you need to know about implementing a standard operating procedure for your company. Here's a list of what we'll be covering:
Standard Operating Procedure Full Guide Content Index
Chapter 1: What Is a Standard Operating Procedure (SOP)?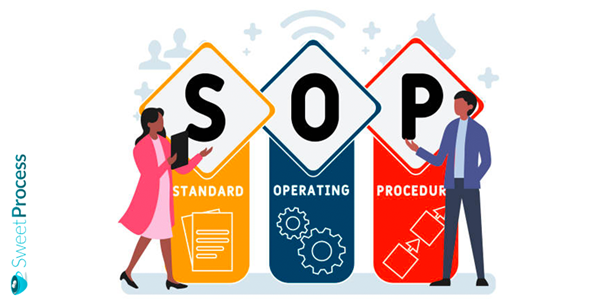 A standard operating procedure (SOP) is an easy-to-understand, step-by-step document for office workflows and routine operations. It consists of systemizing all of your company processes and putting them in one file.
Examples of SOPs in the workplace can include:
• New client onboarding information
• Company policies
• Working instructions
• And more
SOPs provide employees with a clear set of guidelines they can follow to do their best at their job. They're instrumental in onboarding new employees and showing them how you do things in the office.
The Different Types of Standard Operating Procedures
Before diving into the signs that your company must adopt a standard operating procedure, let's first define the different types of SOPs that companies have at their disposal.
Here is what they consist of and how they help operations move smoothly in the workplace:
Operational procedures: This SOP describes what practices must apply to operate standard equipment in the office.
Safety procedures: The document describes what measures your company adopts to keep everyone in your workplace safe (such as COVID-19 measures).
Administrative processes: The SOP explains all the responsibilities required in a specific position.
Compliant management procedures: The document highlights the steps your company must follow during customer complaints.
Infection control procedures: The SOP explains the protocol your company will follow to ensure that all equipment and devices remain clean in your office.
Quality assurance procedures: This SOP details what measures your workplace will take to ensure quality.
All of the procedures above play a vital role in managing your office effectively and creating the best work environment for your employees.
Chapter 2: Signs Your Company Needs a Standard Operating Procedure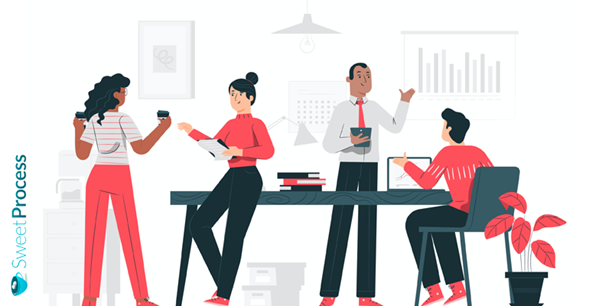 As your company starts to hire more employees, documenting your processes becomes increasingly important. If you're wondering whether your company needs to adopt a standard operating procedure, look out for these signs:
Are you struggling to onboard new employees quickly?
Onboarding new employees effectively is crucial to getting them up to speed fast and retaining them.
If you're taking too long to show hires your company processes, it's going to be a waste of time for both your company and the new employee. On top of that, replacing new employees can get expensive: turnover costs can range around $15,000 per worker.
If you're struggling to efficiently onboard new employees, you need the proper documentation and resources to help them on their journey. That way, they won't have to depend on mentors during their first weeks solely.
Do you have any way of measuring employee performance?
If you're serious about growth, you need to be measuring the performance of your employees. Otherwise, your company won't be able to find ways that it can improve and will end up stuck.
With a standard operating procedure, you can create a list of metrics to measure your team's results. You'll gain exact data on your employee productivity and performance in the office.
There's going to be no room for guesswork, and you won't be scratching your head as you try to find ways to improve.
Are your current company processes becoming obsolete?
As your business continues to grow, your needs are likely to change. The result is that some of your current processes may become outdated and not be relevant anymore for your company.
If that feels like you right now, it's time for an upgrade. You'll have to write a new standard operating procedure to replace your current, obsolete processes.
Can your employees do their best at their jobs without guidance?
A little guidance goes a long way when it comes to optimizing employee performance. If you want your employees to do their best at their jobs, then you'll need to provide them with all the tools and resources they need for success.
A standard operating procedure helps employees from feeling lost at their jobs. If something is not clear, they can pull out the document and get direct answers to their questions.
Are you keeping your employees safe?
Keeping your employees safe is vital for their well-being and productivity—especially in the age of COVID-19. Your company must find ways to adapt to all the chaos by adopting new measures and safety protocols.
However, keeping your employees safe can be challenging without a clear set of guidelines. It's too easy for people in the workplace to forget to practice measures, such as wearing a mask or social distancing, for example.
Without a clear standard operating procedure, employees won't know which safety practices they must adhere to. As a result, you're putting their health into jeopardy.
Chapter 3: The Benefits of Adopting a Standard Operating Procedure in the Office
Standard operating procedures help companies stay organized, achieve their goals faster, and make operations move smoothly. They should be an integral part of each organization's work environment.
So, without further ado, let's dive into seven reasons why your company should implement an SOP:
Improve new employee training
Getting new employees up to speed is vital for your company's growth. By onboarding them effectively, they'll feel more integrated into the office and ready to get things done.
That's where providing new employees with a standard operating procedure comes in.
By going through your SOP, new hires will instantly know your company policies and understand your processes. That means they'll be spending less time on training and more on their new jobs.
If they have questions about an aspect of the new job, all they have to do is take a look at your SOP, and they're good to go. It's going to save them countless time in advance.
It provides important information to everyone.
With a quality SOP, everyone in the workplace has access to vital information at any time. Employees, managers, and clients can take a look at it to learn more about your office guidelines.
Improve workplace safety
There's more to your company than just work. As mentioned earlier, you also want to make sure that your workplace stays safe at all times.
Writing down a safety SOP helps outline all of the procedures that everyone in the office must follow. It's going to give your company peace of mind, and you won't have to worry about damages to your office or anyone getting hurt.
Find blind spots in your company processes
As you start writing your new standard operating procedure, you may begin to notice blind spots in your company's operations.
For example, you may notice that you're not providing employees with enough technology they need for success. Or that there are issues in your new hire process that you need to fix.
You can use these changes to improve your company policies and processes. It's going to help create a better environment for your employees.
Boost employee productivity
Another benefit that comes with writing down a clear SOP is a boost in office productivity. When employees have a clear outline of their duties and expectations, they'll be more likely to make progress on their tasks.
As a result, they'll be able to reach their goals faster and help take your company to new heights. It's a win-win for everyone involved!
Produce more consistent results in the workplace
A standard operating procedure also helps keep everything consistent in the office. Since it standardizes your process, your outcomes are more predictable, and you'll be able to produce consistent results.
It's going to make it less likely for employees to forget necessary procedures or make mistakes. You'll be able to crush it in the workplace and deliver more value to your customers.
Legal compliance
Lastly, an SOP makes sure that your company stays compliant with local and federal laws. By documenting all the laws that you have to respect in your SOP, it will help your staff members stay up-to-date with regulations.
If your company gets sued, the SOP can prove that your organization is following the necessary guidelines. It could potentially save you many headaches in the long run.
The Best SOP Formats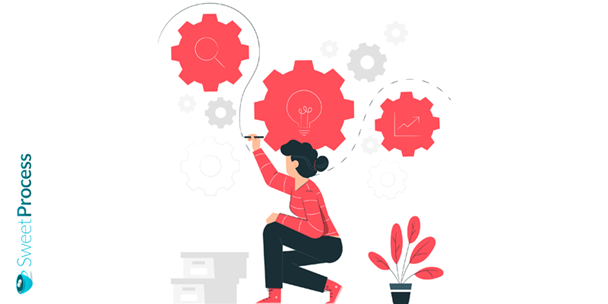 There are different formats that you can use to create a new standard operating procedure. The proper structure depends on your goal, the complexity of the process, and your employees' needs.
Here is what each format looks like and how you can find the right one for your new SOP:
Checklists
A simple way to set up your standard operating procedure is through a checklist. All you have to do is create a list of actions along with a set of boxes to check for employees as they go through the document.
It's best suited for simple tasks in the office that don't require too much decision-making.
Step-by-step list procedures
Just like you would with a cooking recipe, you can create your standard operating procedure in a step-by-step format.
Each step should have an action attributed to it, along with clear sentences that are easy to read. Step-by-step procedures can be either bulleted or numbered—the choice is yours.
Hierarchical formats
If the procedure you want to create is more complex and requires more explaining, then the hierarchical format is better suited to your needs.
An SOP written in a hierarchical format looks at the big picture of the procedure and then breaks them down into tiny details. You can use this format if you have a process that follows more than ten steps.
Flow-Chart format
The flow-chart format, on the other hand, leads your employees based on specific conditions and circumstances.
It takes into account different variables that could impact their choice. As a result, employees that follow your flow-chart procedure won't have to follow each step outlined.
It's worth noting that a flow-chart SOP typically takes more time and effort to create compared to other formats.
Chapter 4: 9 Steps to Creating a Standard Operating Procedure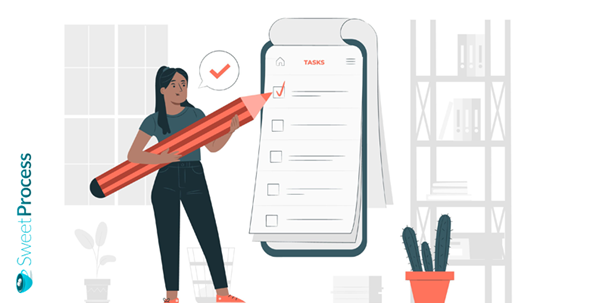 Now that you know the benefits of implementing an SOP in the workplace, it's time to take action.
Writing the perfect SOP requires a bit of preparation in advance. You'll have to do a lot of research and interview employees to understand their needs, but it's going to be worth it in the long run.
Here's how you can get started writing your standard operating procedure to create a more productive office environment:
Start by defining your audience
The first thing you should focus on as you write your SOP is to identify your audience. It will make the documentation as relevant as possible and make sure that it answers your team's needs.
For example, let's say that you're writing a standard operating procedure for new hires. You'll want the SOP to cover all of the questions they may have on the role so that they can be up to speed quickly.
The size of your audience is also something you want to keep in mind. If multiple people across different departments will be reading your SOP, you must define which role will be in charge of each task.
Pick your SOP format
As mentioned earlier, you have four formats to choose from when it comes to creating your standard operating procedure:
• Checklists
• Step-by-step instructions
• Hierarchical format
• Flow-chart format
Pick the one that better fits the processes you want to cover. The format should align with the complexity and specific goals you want to achieve with your standard operating procedure.
Set up a talk with your team
The next step is to contact people who are responsible for the duties of your SOP. They'll be able to provide insights you can use to create the perfect standard operating procedure for your team.
After all, if you're writing the SOP by yourself, you may not be aware of all the small details that matter. Discussing with the employees in charge of the tasks you're writing about ensures that your SOP is accurate.
To gain this vital information, you can either organize a group meeting or send your employees surveys to complete. Doing so will bring you a step closer to creating the ideal SOPs for everyone in the office.
Check for documentation that's already available
While you're in the process of creating your SOPs, look out for any documentation that your organization might have.
You could already have SOPs written that simply just need an upgrade. The information listed on the document could help you and save you plenty of time from doing research.
Find out the scope of the procedure
As you create your standard operating procedure, you need to find out what the scope of the processes is going to look like.
Processes can span across different teams and departments, so you must know when to draw the line. Here's what you'll need to cover when it comes to the scope of the procedure in your documentation:
• Where will the SOP not be applicable? For example, at what stage or department?
• For whom is the procedure specifically (content marketing team, HR people, etc.)?
• Are there any specifications you'll need to call out?
Create a list of tools you need
Technology can make a big difference when it comes to maximizing your standard operating procedures.
You must include a list of technology that will facilitate the procedure for your employees for each SOP. For example, if you're onboarding a new list of employees, you'll have to create a list of HR tools that might be useful.
Determine the metrics to measure your SOP's effectiveness
To get the most out of your SOP, you want to understand exactly how it's performing. It's going to require that your SOP includes a list of metrics to measure.
Metrics provide insights on how you can continue to improve your standard operating procedure over time. Let's say that you're creating an SOP for your company's content marketing strategy—here are some metrics you'll have to keep track of:
• How much traffic are you generating per month?
• How many leads are you generating from your blog posts?
• How many keywords are you ranking for?
• What are your content shares and backlinks?
By diving deep into these metrics, you can proceed to improve your content marketing strategy. You'll naturally see an increase in results and your company's performance.
Review the standard operating procedure with your team for accuracy
As you finish writing down your standard operating procedure, you want to review it to make sure it's accurate before publishing it for your team.
For example, if you're writing down procedures for your sales team, you want to make sure that your sales department takes a look first. They'll be able to assess whether or not the documentation is genuinely relevant to their needs.
Facilitate the reviews process
Don't forget that your company's needs will continue to change as you scale up. You'll have to update your SOPs for relevancy from time to time. That's where using an SOP platform comes into play.
An SOP platform keeps all of your document processes and tasks in one place. You'll be able to log into the software and make instant changes to your procedure when you need to.
What does that mean? It means that you'll be spending less time replacing and writing new standard operating procedures. That's extra time you can use to focus on your business instead and more important tasks.
Chapter 5: Getting Your Employees to Follow Your Standard Operating Procedures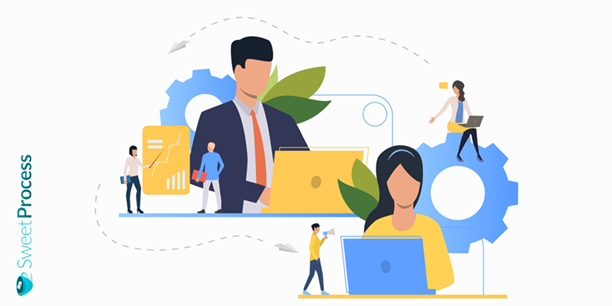 So, you've created your brand-new standard operating procedure. You reviewed it with subject matter experts to make sure it's relevant and are now about to publish it for your whole team.
Great! To make sure it works in the long term, you need to find ways to ensure that employees continue to follow the procedure over time. Here's how you can make it happen with these simple steps:
Make your standard operating procedures easily accessible
Your standard operating procedure must be easily accessible and available at all times for your employees. Otherwise, it will be easy for them to forget about your guidelines and feel lost during their tasks.
There are various ways you can make sure everyone can access your SOP. For example, you could upload the document in one shared folder on Google Drive or DropBox.
You could also use specialized SOP software to keep track of all your documentation in one place. It will make it easier to manage your tasks and implement new company policies.
Find Creative Ways to Make Employees Understand Your Standard Operating Procedures
Getting employees to go through your standard operating procedures is not enough. You want to make sure they truly understand what each SOP consists of and what tasks they'll be in charge of completing.
One way you can do this is to set up quizzes they can answer to get an idea of their knowledge. If you notice that an employee has many wrong answers, you can ask them to take another look at the SOP and retake the quiz.
Keep the standard operating procedure up-to-date from time to time.
You don't want employees in the office to keep on following procedures that are out of date. That's why you want to update your policies from time and time to make sure they stay relevant.
Not only is it good for employees' productivity, but it'll prevent your business from being behind on industry changes and trends.
Get an acknowledgment from your employees.
You must implement accountability in the workplace if you want employees to follow your standard operating procedures. One way to do this is to get employees to sign a policy document that states they'll be adhering to your SOP, which will make them accountable for their tasks.
How To Choose Standard Operating Procedure Software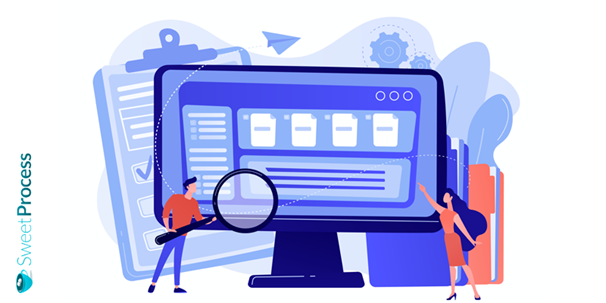 We've covered everything you need to know so far about standard operating procedures, from what they are to how to create one for your business.
To take it to the next level, you should consider investing in an SOP platform to handle all of your documentation and policies.
Now why, you may ask? Because it's going to save you so much time thanks to automation. That way, you can focus on what truly matters the most: running your business.
However, not all standard operating procedure platforms are created equal. There are certain features you must be looking for to make sure you're making the right choice. Here are what they consist of:
Free templates
Creating your standard operating procedure with a template goes a long way. It helps save you time from having to develop a framework for every single process from scratch.
It would be best to look for an SOP platform that comes with countless templates to choose from. You'll be easily able to find the framework that's the right fit for the processes you want to cover and create engaging procedures for your employees.
SOP creation workflows
Creating an effective SOP requires the collaboration of many people across different departments. However, this can become tricky quickly since everyone might not be in the same physical location.
You need a solution that comes with customizable workflows for each step of your policy and processes. It should allow you to handle each aspect of the documentation process, including creation, editing, notifications, and more.
Sharing and permissions
As a business, you don't want your company information to get into the wrong hands. Otherwise, you're putting your organization at the risk of data breaches and other security issues.
A good SOP software should allow you to keep your documents locked from unauthorized access. It should make it possible only to allow specific employees to access your documentation and procedures.
Writing manuals and knowledge base
In case you get lost as you use the software, your SOP platform must come with writing manuals to help you out.
With tons of help files and a knowledge base, it's going to give you a clear idea of how to use the software and allow you to create your SOP in no time.
Upgradability
The best SOP platforms frequently update their software and features to improve their app for customers.
You need to look for a platform that goes through consistent updates and meets recent regulations. It's going to make sure that you're able to get the most out of the platform.
Also, look for software that assists when it comes to fixing bugs. If not, you might get stuck with a platform that doesn't function correctly.
Centralized processes and procedures
A centralized system keeps everything in one place and makes sure that all of your procedures are organized. It's going to allow employees to access their documents at any time with no friction.
Make sure that the platform you choose comes with this option as part of their features. With a centralized system, employees will be able to collaborate seamlessly.
Pricing
Lastly, pricing is a vital aspect to consider as you choose the right SOP software for you. You want to make sure to pick a tool that offers value but doesn't hurt your business financially.
It's going to be up to you to make sure you get the most value for your money. You should look for software that comes with a free trial to get an idea of how the software works before purchasing.
How SweetProcess Makes Setting up a Standard Operating Procedure Simple
SweetProcess is an HR platform that allows businesses to create standard operating procedures in no time. Whether it's to develop processes for your team or onboarding new employees, you'll have all the tools you need for success.
Here's how countless happy customers are using SweetProcess to manage their standard operating procedures better:
Document All of Your Procedures in One Place
As a business, you likely have many different procedures for various tasks. One common problem is that keeping track of all of them can quickly become tricky and frustrating.
With SweetProcess, you can document all of your repetitive tasks in one place. Employees will have easy access to them at any time if questions or issues arise.
There will also be less guesswork and emails on your end, saving you countless hours you can use to focus on other business areas.
Improve Your New Hire Process
Hiring the best talent for your company is vital for business growth. However, that's just the first step: you also need to make sure you can onboard them effectively in the office.
With SweetProcess, you can easily create SOPs that cover all of the new hires' information about their position. By documenting each task, you'll be able to get them up to speed much faster.
If anything about their new job doesn't make sense, all they need to do is take a look at your SOPs.
Create a Dedicated Public or Private Knowledge Base
On top of creating beautiful and engaging standard operating procedures, you can use those documents to create a knowledge base for your clients or employees. Employees will be able to find SOPs for any task they're in charge of doing.
SweetProcess equips your knowledge base with extra features such as search, feedback forms, and tracking. It will contribute to a better user experience for your employees.
You'll also be able to set up permission settings to restrict access to your procedures, processes, and policies.
Keep Track and Manage Tasks More Efficiently
By keeping all of your standard operating procedures in one place, it's going to be easier to track the progress your team is making.
For example, you'll be able to keep track of how your content marketing team is making progress on blog posts. If you notice that one employee is behind, you can set up a reminder that a deadline is just around the corner.
It will boost your office productivity and make sure that everyone stays on top of their tasks.
Constantly Update or Refine Your Processes
As your business grows and evolves, it's natural that your needs will change over time. Some of your processes may quickly become outdated, and it's going to be time for a fix.
SweetProcess makes it easy to update or refine your standard operating procedures so that they remain relevant. You won't have to worry about employees following obsolete guidelines.
Countless App Integration
Your office operations become more effective when you leverage multiple tools at the same time. That's why you can integrate SweetProcess with more than 1,000 other tools that you can easily set up through our API or Zapier.
Free 14-Day Trial
Lastly, you can sign up for a free 14-day trial of SweetProcess to try it out for yourself. No credit card is required to sign up for the trial.
Create Your Standard Operating Procedure Today
There you have it! Adopting SOPs as part of your office makes operations move smoothly and improves your employee productivity. It's going to make your tasks and expectations clear to everyone on your team.
It all goes down to proper planning. Make sure to talk to your employees, do the proper research, and pick the right format to create your SOP.
At the same time, make sure to update your documentation, so it stays relevant. The worst thing that can happen is to have employees follow an SOP that doesn't match your current needs.
To get started writing your SOP, feel free to download our standard operating procedure template below: