Knowledge Base Software: The Ultimate Tool for Customer Self-Service Support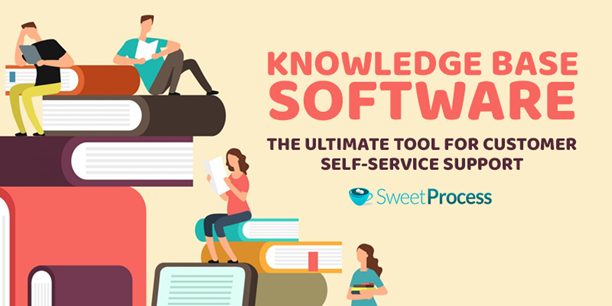 As a business owner, do you or your team members manually answer repetitive questions about your business from your customers all the time?
Do your team members complain about how clients ask similar questions on a daily basis?
Are you tired of spending hours responding to emails from customers on how to use your products and services over and over again?
If your answer to any of these posers is a yes, then I have good news for you.
When you create a system using a knowledge base software program, you immediately attend to these requests. This empowers your customers to discover solutions and fix some of these problems themselves. Not only that, you won't mistakenly leave out valuable customers in the questioning silos any longer.
In this post, I'll share with you how you can use knowledge base software as a systematic approach to your customer support endeavor. Also, I'll show you exactly how you can set up an effective knowledge-sharing platform to support your customers to delight.
Here's what you'll learn in this post:
Knowledge Base Software Guide Chapter Index
Introduction to Knowledge Base Software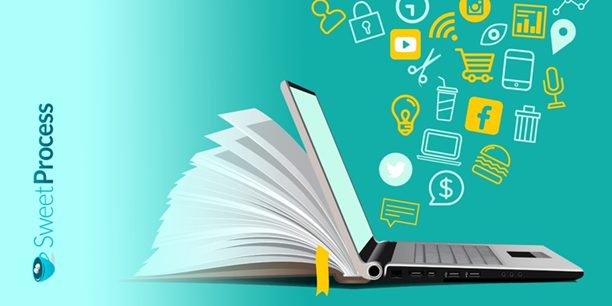 What Does Knowledge Base Mean?
A knowledge base is an information store that customers can access anytime. It is a centralized database that collects, organizes, retrieves, and shares knowledge. With this, your customers will only call the support agent when they can't find the response to their query on your knowledge base.
Building a knowledge base is an effective path to provide your customers with tailored resources to help them learn about your business, fix their pain points, and give you feedback.
What is a Knowledge Base Software Program?
A knowledge base software program is a technology that is used to store complex structured and unstructured information used by a computer system. According to Tech Target, a knowledge base software program is a machine-readable resource for the dissemination of information. This program has the ability to optimize information collection and retrieval for the target audience.
Picture this:
Nielsen reports that 92% of consumers believe suggestions from friends and family over any type of advertisement.
Assuming that your customer is talking with her friend, then she talks about the experience she had with your brand the last time she made a purchase from you. The friend wanted to know more about your brand so she enquired further. Sadly, your customer hasn't encountered that problem before. They reached out to you on your website but it took so long to respond.
Would you want to lose more customers by creating a first, but wrong, impression of a delayed response?
As you focus on providing quality services and innovative delivery, your customer service should be effective enough to serve your customer needs at the time they want.
Let's clarify: though they're both designed for customer support, a knowledge base software and help desk software differs.
Difference Between Knowledge Base Software and Help Desk Software
Many people confuse a knowledge base software program with help desk software program. This is because a help desk software program always comes bundled with a knowledge base software program.
To be clear:
A help desk software program is a software that allows you to resolve customer queries and concerns by managing tickets from receipt all the way to resolution. It is basically a customer ticketing system that provides you with support tools to foster collaboration with your customers.
A knowledge base software program is a complete self-service portal for customers. Here, queries never turn into tickets because customers serve themselves. Immediately if they have a problem, they can turn to your content for help without waiting for the busy or sleeping customer support agent.
Though the help desk software program can keep track of customer conversations, record update, harmonize tickets in one system, and even help in creating knowledge base articles, it has limited features when compared with the knowledge base software program.
A knowledge base software program with a sophisticated search engine and hierarchical workflow need no human behind it to function effectively.
How to Choose the Best Knowledge Base Software
Let's say as your understanding of the knowledge base software program grows, you're still confused about how to choose the best knowledge base software program.
Don't feel lost. Begin with your customers, then your competitors.
Firstly, think about how your customers are trying to reach you. Do they send you an email, call your help desk or drop you a DM on social media? This helps you to identify if you'd choose a minimal package of self-service support or a more robust one which includes hosting videos or advance multimedia.
Secondly, research the type of knowledge base software program your competitors are using, then compare the features to determine the one that best suits you to deliver an excellent self-service experience for your customers.
Here are five other things to consider in order to choose the best knowledge base software.
1. Identify your target audience
Those knowledge base software programs are not meant for your product customers alone; you could also harness it for your employee training. So if you want to create multiple audiences for your knowledge base, this is the time to consider it.
2. Clearly state your purpose
Your purpose of choosing a knowledge base system may not be limited to customers' self-service support alone. It could also be to onboard new employees, promote internal knowledge sharing, or reduce customer support costs. Be sure of what you want to achieve with the knowledge base software program before making a choice.
3. Itemize your additional software needs
Like plugins, software integration is a lifesaver. They give extra features to your system. Think about the additional software you'll likely need for your knowledge base software program to be a full resource. You can integrate your knowledge base with other applications like Salesforce, Slack, Help Scout or Google Suite.
4. Know your desired capabilities
What do you want in a knowledge base software program? Pick the resource that'll lead you there. Ensure that your chosen knowledge base has the capability to result in your desired outcome. For instance, your desired capabilities could be the presence of a rich text editor and large storage space, user commenting, feedback allowance, and the presence of an extensive editing and review process.
5. Decide what your budget will be
Decide on the amount you want to invest in a knowledge base software program. If your business accrues fixed expenses like rent or mortgage and late or non-payments by customers, you'll need to be realistic in your budgeting. Some knowledge base software costs thousands of dollars, some are free, and some are reasonably priced in between, so let your aim guide you.
Here is a video that shows you additional insights on how to choose the best knowledge management software program.
Why You Need Knowledge Base Software for Your Business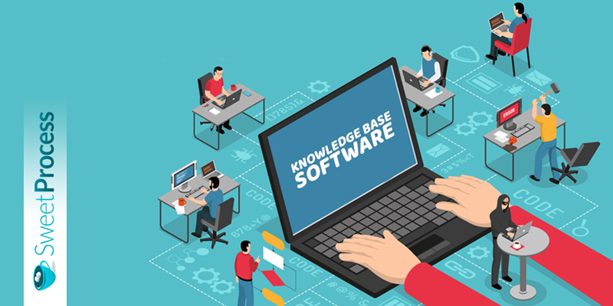 Why Businesses Need a Knowledge Base Software Program
You can only build customer loyalty and brand affinity through heart-to-heart interaction. Achieving this will make your customers your brand's evangelists. That way, they will tell your brand story to the world and leave positive reviews that will help your business grow in revenue.
Every business relationship begins when a customer interacts with your awareness content until they make their first purchase. They will direct all their questions to you since they've trusted you with their hard-earned dollars.
This time, their expectation of your support and excellent service delivery is high.
According to Salesforce, 89% of millennials have used a search engine to find the answer to their customer service questions before calling customer service, and 84% have used the self-service portal.
This means you need to provide your customers with an instantly valuable, easily understandable, and stress-free information to fix their simple problems at once.
Instead of contacting your support team via phone, email, or social media, they visit your knowledge base and help themselves. This offers you the capacity to serve customers who need to manage complex tasks.
Now you know that customers have a growing preference for self-service which comes with a full-featured knowledge base software program. At the core of customer experience, here's why your business needs a knowledge base software program:
1. Customers are impatient
Customers have a lot of things going on in their lives, so the long waiting time and its resulting boredom is a no. A knowledge base software program provides customers with the information needed to get clarity about your product.
2. Customers have high expectations
If you don't set your customers' expectations right from the onset, and your product is great, you'll notice a drop in their patronage because they only value quality service. With a knowledge base software program, you deliver excellent customer experience when you provide them with the needed information at the right time.
3. Customers prefer self-service
Customers prefer self-service because they would rather help themselves. Your business has no justification to keep customers waiting on the phone or repeatedly checking their email for your response when they can always use your knowledge base.
Your excellent service delivery and self-support system will trigger their positive word of mouth which is what your business needs.
How Can Knowledge Base Software Help a Business Grow?
Long after the first purchase, happy customers will continue to interact with a valuable product. If the relationship continues to be cordial, it will raise your profit and brand awareness.
A knowledge base software program is an ultimate system to build and maintain top-notch pre- and post-sale interactions with your customers.
Imagine that you provide your customers with access to an information vault containing documents, strategies, tools, and techniques detailing how they can make the best use of your products. Won't this place your product or service atop their minds?
Here are six ways knowledge base software program grow your business:
1. Increase your customer retention
Customers are happy when you solve their problems almost immediately. Happy customers become your brand loyalists, they turn in consistent sales and high return on investment for you. This research by Invesp shows that when a business increases customer retention by 5%, it could lead to a profit increase between 25–95%. Upselling to existing happy customers is more certain than to the new ones.
2. Provide you with high-quality customer support
With a knowledge base software program, customers can access information about your products whenever and however they want it on any device. They need not wait for any support agent to be available online to fix their things. This helps you accommodate all your customers in the delivery of high-quality customer support.
3. Improve your customer happiness
Successful businesses have high customer happiness record. They under-promise and deliver excellent service, hence exceeding customer expectations. In recent times, a knowledge base software program has been a part of the basic expectations of your customers. You should integrate it on your website.
According to Social Media Today, 70% of customers prefer to use a company's website to get answers to their questions rather than call or email.
4. Reduce your overhead cost
A knowledge base software program helps you reduce call-in rate. It relieves you of the overhead cost of fixed and running expenses like office space, health benefits and maintenance.
Before customers call in to ask you questions about your product, chances are they've visited your website first. Putting in place effectively organized and user-friendly knowledge base software program will reduce customer call-ins.
5. Centralize your company's information platform
A knowledge base software program gathers your valuable information in one place. This will be useful for your new employees as they have access to product-based learning without you investing in training programs.
You can also document issues you've had related to product and how to solve them or how to implement new processes in the company. This access to information and resources help raise productivity.
6. Boost your niche authority
People trust field experts. Creating a niche collection of knowledge base articles with rich and relevant information already positions you as an authority. This is because the search engine will index your articles, your site will rank well, the traffic will increase, and you'll get more sales opportunities.
Knowledge base software programs save you and your customers the back and forth of repeated questioning. You achieve this with minimal human interaction.
Why It's Easy to Adopt a Knowledge Base Software Program
Businesses are in a rush to adopt the knowledge base software program. This is because it reduces the number of repetitive queries coming from your customers and your staff. It provides you with an internal knowledge base for them to upgrade their know-how of your product.
Here are some reasons why businesses find knowledge base software programs easy to adopt.
Presence of table of contents
Articles don't litter around in a knowledge base software program. The presence of a table of contents makes it easy for you to index links to the section heading tags. It will automatically detect the heading tags and display them in the widget at the side of the article.
Easy drag and drop function
You have no fear of not being techy when you use a knowledge base software program. With the easy drag and drop feature, you can arrange the view and set up the flow of your knowledge base articles to accommodate your customers' reading experience.
Availability of publishing it as a PDF
Some customers want your product manual on their device. This feature allows you to create and export your entire knowledge base as a PDF. Your customers can do the same with your authorization.
Allows you to import different file types
Creating your knowledge base articles on the software platform may seem complex. This feature allows you to import your Word document or any other text to create your knowledge base article.
Helps you track revision history
As you upgrade the perks on your services, you'll need to update your knowledge base articles to accommodate that. As you do, this feature stores a version of the history of all your articles, versioning them to create multiple editions of the original article.
Lets you manage multiple sites
Knowledge base software programs with multiple site support ensures that you have a stand-alone knowledge base site for each of your products which enhances total control over the branding and content of each public-facing site.
Includes brand with logos and colors
Using CSS and HTML, you can customize the knowledge base software program with your company's logo and color. This makes it easy to add basic logo and color. It provides a tab to create a custom HTML template.
Ways to Use Knowledge Base Software Program
Thinking about how to make the best use of the knowledge base software program?
Here are some creative documents that you can create with a knowledge base software program to achieve effective customer support.
1. Context-sensitive help
Article formatting using shapes, colors and icons are the psychological way of making your information understandable. Create awesome documentation by using tooltips, lightboxes and pop-ups that will appeal to your customers' attention. You can also use the code snippets to make your content readable.
2. Internal wiki
The 24/7 availability of information to customers is the main gain of every knowledge base software program. Building a cloud-based central location for your company data that allow your employees to get relevant information, share an update, and maintain efficiency is an effective addition that will save your training cost.
3. User guides and manuals
A user manual holds your customers by the hand, offering them a step-by-step procedure to achieving a function or interacting with your product. It helps customers to resolve issues, configure or integrate another tool into your product.
4. FAQ website
FAQs are lifesavers in customer support. They provide short and succinct responses to customer queries. With a knowledge base software program, creating a repository of frequently asked questions is added with seamless search options. This lets customers find their questions and related answers by themselves in a timely manner.
Top Features to Look Out for When Choosing a Knowledge Base Software Program
Businesses will suffer if software features are absent. Imagine that there is nothing like workflow automation or enterprise resource planning features. The same goes for a knowledge base software; it wouldn't have been such a helpful tool without features that make it easier for businesses to use.
Here are the top features you should always look out for in a knowledge base software program.
Rich Text Editors
Word arrangement in articles makes your message deepen into the heart of your customers. As basic as a heading tag, italic, or paragraph may seem, they bring clarity to your message. A rich text editor is a must-have if you want to make your customers' lives easier.
Rich text editors provide you with classy formatting options that you can use to structure your content and answer better. It also allows for better image embedding support, and it is easier to create and use than software with just a plain text editor.
Versions and Translations
It is possible you upgrade your products and want to do a content upgrade. Knowing that some of your customers are yet to upgrade to the latest version, you want the content you're making an update to remain. An excellent knowledge base software program will give you the capability to maintain different versions of a solution article.
Depending on the customers, you may want to appreciate the knowledge base program that can host an article in multiple languages so customers can access the one they want.
SEO Capabilities
What is the use of creating a detailed how-to article in a niche if not everyone has access to it besides your customers and staff? A knowledge base software program that is SEO-optimized makes more impact as it reaches online visitors seeking answers. That's another lead generation advantage for you.
You should subscribe to a knowledge base software program that has the capability to embed meta tags and titles that puts you atop the search engine. This will help you rank better when people search for answers and drive traffic to your knowledge base.
Storage Space
Where you host your knowledge base is important. This is because a valuable article created six years ago will still be evergreen if not lost. knowledge base software programs come in different storage capacities. If you choose one with minimal storage, a time will come when you'll mistakenly delete the previous article for a new one. To save you the regret of such action, employ a knowledge base software program with virtually unlimited space to host your articles and tutorials.
Now that you understand why you need a knowledge base software program, it's time to learn how to use a knowledge base software program.
This video below will show you how to create a knowledge homepage, how to browse and search for articles, articles viewing, and providing feedback.
The Step-by-Step Guide to Creating Knowledge Base Content for Your Business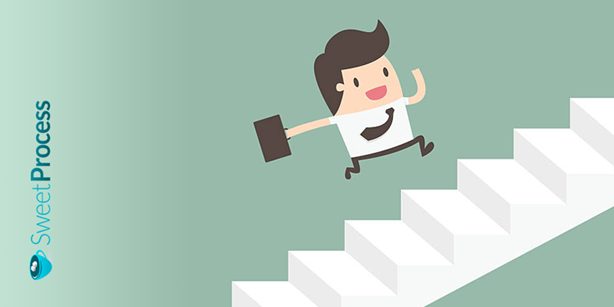 Some companies know they need to invest in knowledge base software, but they're not sure whether to host their own knowledge base in-house or rely on another company to host it for them.
We'll explain the two options now.
When you self-host your knowledge base software, you have your files on your company's servers. It is your responsibility to maintain and secure your software from a security breach. You'll also handle security concerns, privacy, and uptime. You should know that it won't be safe and cost-effective to self-host your knowledge base if you can't manage it. To successfully manage this type of plan, you'll have to build a team of IT experts to manage your software solution.
A hosted knowledge base software, on the other hand, is a "software as a service" (SaaS) package that digital solutions company outsource. If you purchase an SaaS knowledge base, they provide you with a unique login and the software is delivered over an internet connection. The seller manages all the affairs of the software, and you don't have any rights to modify or reuse the code, but they are responsible for all software development, maintenance, and fixes.
How to Write a Knowledge Base Article
A knowledge base article is a detailed step-by-step guide for your customers. It's not some sort of article you won't put deep thought into. If you're bent on giving the most value to your customers, then you must create robust and effective knowledge base articles.
Here are some tips to write a valuable knowledge base article.
Define your content goal
You can define your goals by imagining some of the questions you've been asked about your product. Then take it a step further by addressing how your customers are using your products or what they care about.
Deliver your thoughts logically
If your products are well thought, chances are there will be a lot you'll want to write about. Don't be carried away to put everything on the screen. Make your article organized and easy to navigate by creating a mind map for your content to prevent dabbling into an irrelevant field. This makes your article solve problems quickly.
Don't write it alone
Your knowledge base articles should be a contribution of all your team members. The IT or sales team will know what kind of information a customer will need when troubleshooting or closing a deal. As long as you focus on your customer service, every individual that deals with the customer should have input because the goal is to give guidance to individuals facing this problem.
Consider user experience
Your content might be informational because it has all questions answered. However, you must remember that some prospects or customers are frustrated to head to your knowledge base. So make the navigation clear by tagging your knowledge base articles to enable search functionality, and include links to related articles for further information.
How to Create a Knowledge Base
A knowledge base is a documentation. It isn't a blog post or regular article—it's to hold your customers by the hand and guide them to a solution. Documentation is the process of classifying and annotating texts, paragraphs, audio, and/or video.
To create this specialized document type, consider these takeaways:
1. What elements should your knowledge base have?
A standard knowledge base software program must have the following elements for seamless user experience. These must be available before you start writing your knowledge base articles:
An FAQ section where users can get answers to the frequently asked questions without looking around.
A contact support element is also needed. Your clients should be able to contact a support agent should they not get the information they need after searching through your entire knowledge base.
A search bar feature where users streamline their queries using keywords.
2. What topic should you write about?
Start answering, in writing, about the simple questions that a stranger will ask about your product. Then you can take up more detailed articles to cover up all sections of your knowledge base.
3. What structure and tone should your article be in?
Your articles should be in a problem topic approach, by describing your customers' pain points, or create a step-by-step process of completing a particular task. Then conclude with the result type that your customer will get after following the steps.
4. Write and format your articles for richness and user understanding.
Make sure that your article has less texts, but more visuals. Use bullet points and lists to make your writing clearer. Format well with bold and italics and ensure you add links to your articles.
5. Publish your article.
However, analyzing and improving on your article is important when creating a knowledge base. Check the impact your article is creating by tracking the customer satisfaction level, the number of tickets on the topics you've covered. Let the review guide you to update your articles.
50 of the Best Knowledge Base Software Solutions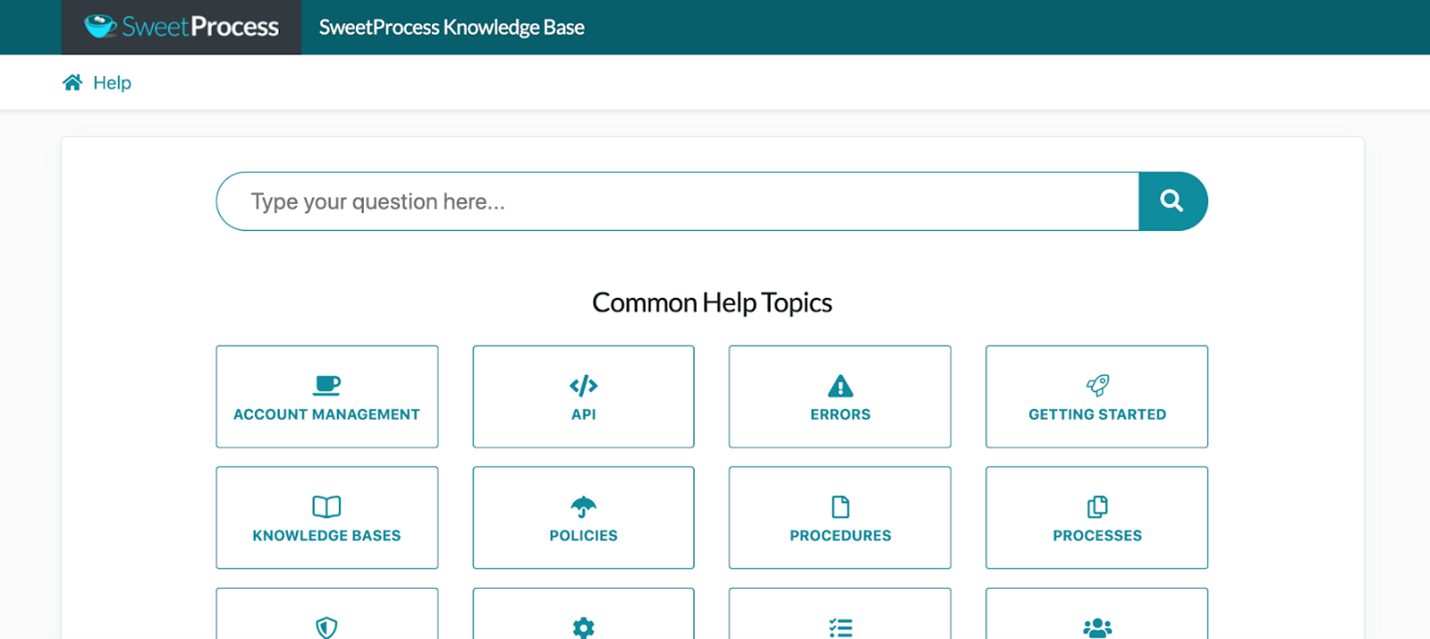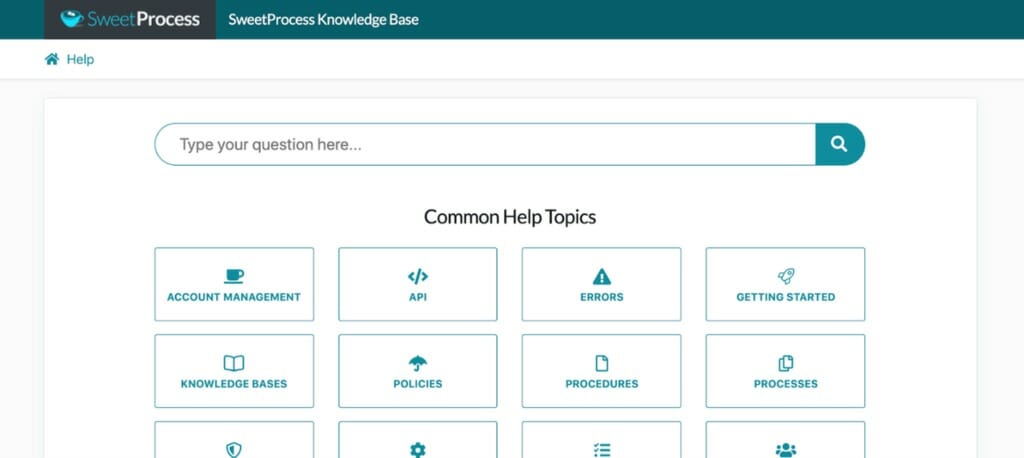 SweetProcess is a cloud-based systemization software that helps you ease your work processes including a knowledge base. It helps you save time to document a knowledge base for a repetitive task so that you can focus on growing your business.
Some of its key features:
Seamless integration with 1000+ apps via Zapier.
Allows for user comments and collaboration.
Provides a platform to capture data with forms.
SweetProcess offers 14-day free trial. It costs $99 per month for a team with up to 20 active members, with an additional $5 per month for each additional active member.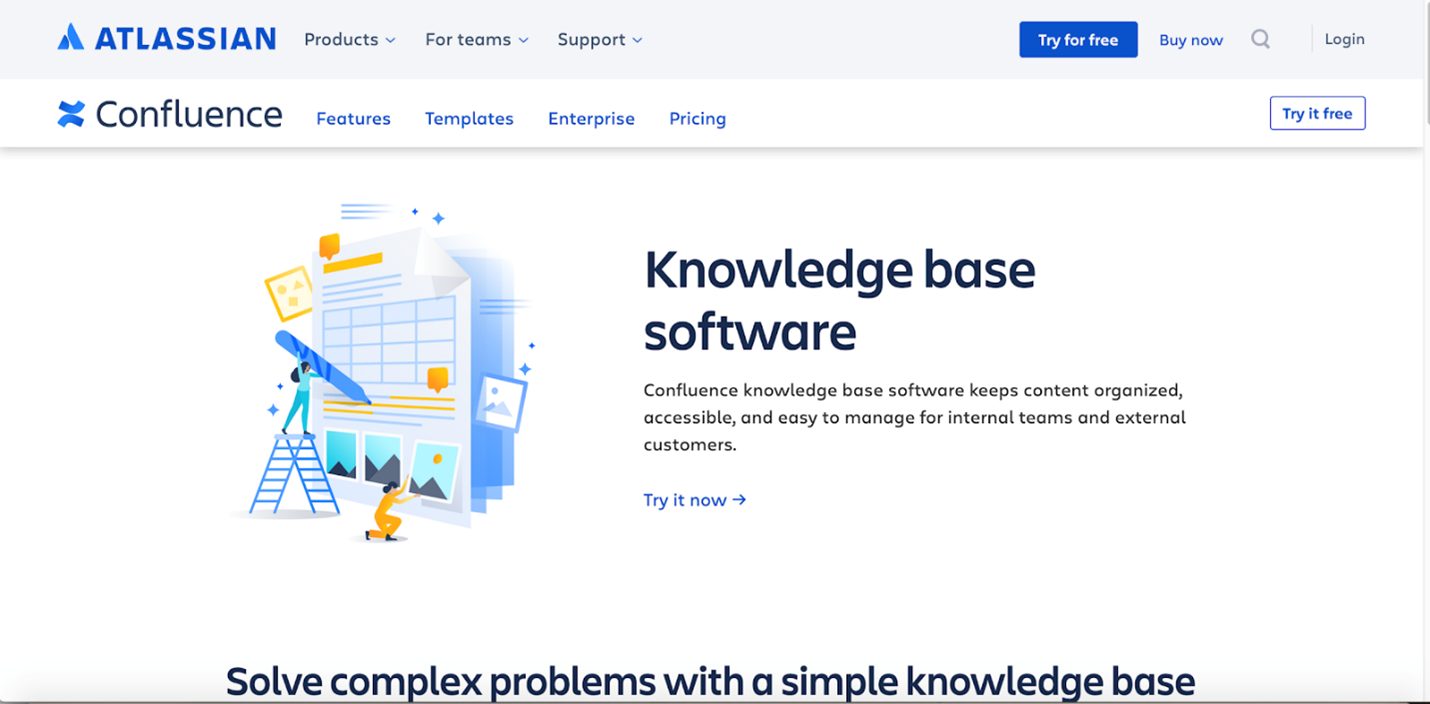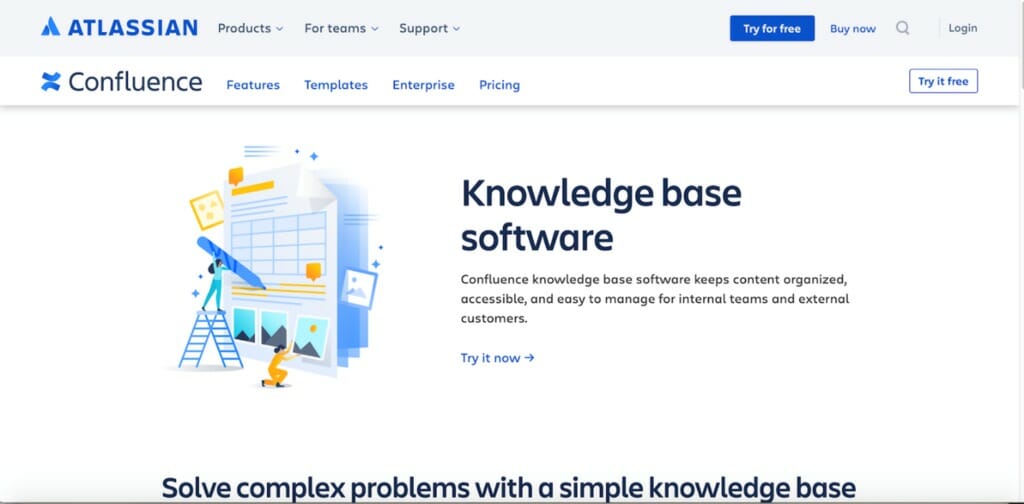 Confluence is a purpose-built platform for growing teams that need a secure and reliable base from which to collaborate on mission-critical projects. It involves the creation of a knowledge base for your customers and employees.
Some of its key features:
Gives your employees a voice that boosts their collaboration, and a workspace to share and receive instant feedback.
Allows for departmental team breakdown for a free flow of information.
Synchronizes your team communication across all locations and devices.
Confluence is free per month for 10 users. The standard price per month is $5 per month for 11–100 users.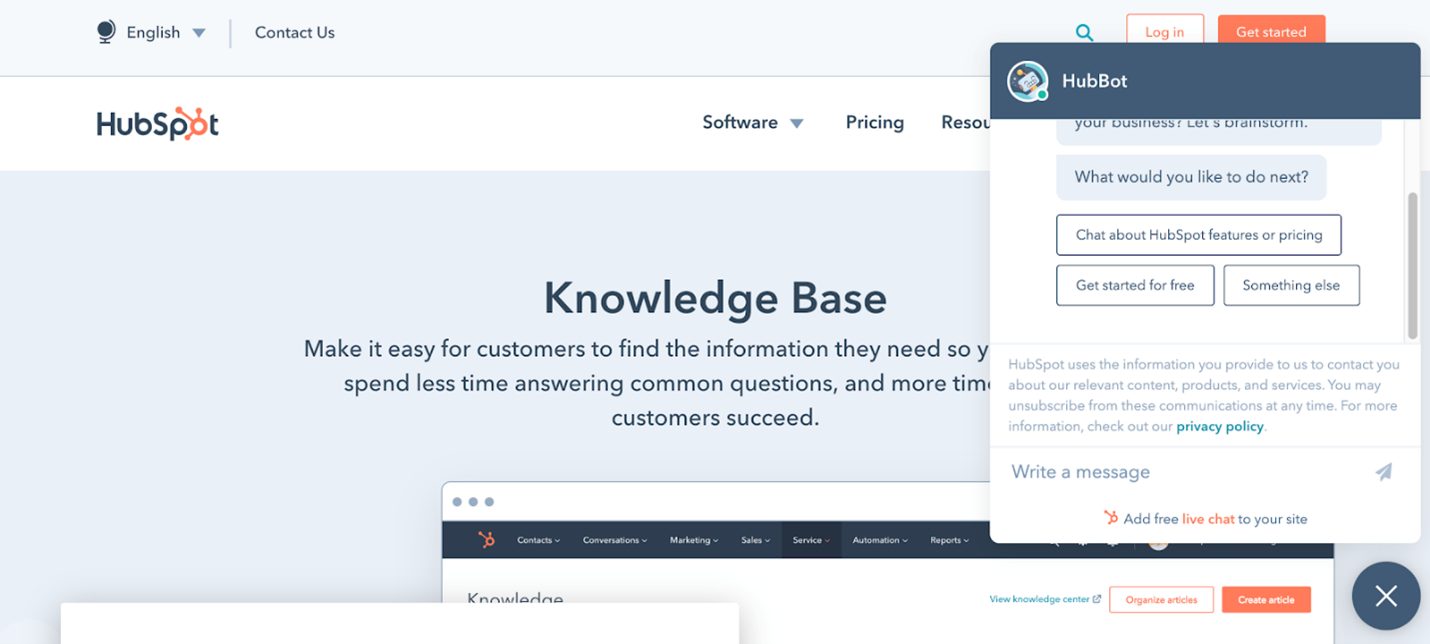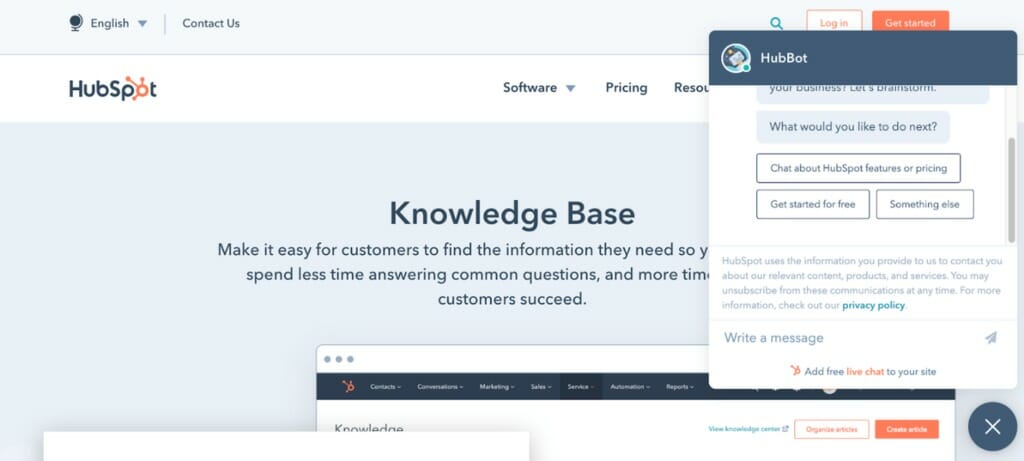 HubSpot knowledge base software is a cloud-based system that makes it easy for customers to find the information they need so your team can spend less time answering common questions, and more time helping customers succeed.
Some of its key features:
Enables customers to find help.
Improves the efficiency of your support team.
Tracks the impact and usage of your knowledge base.
Automates and routes ticket and task creation.
HubSpot is free. For more information about the premium pricing, you need to contact the HubSpot team.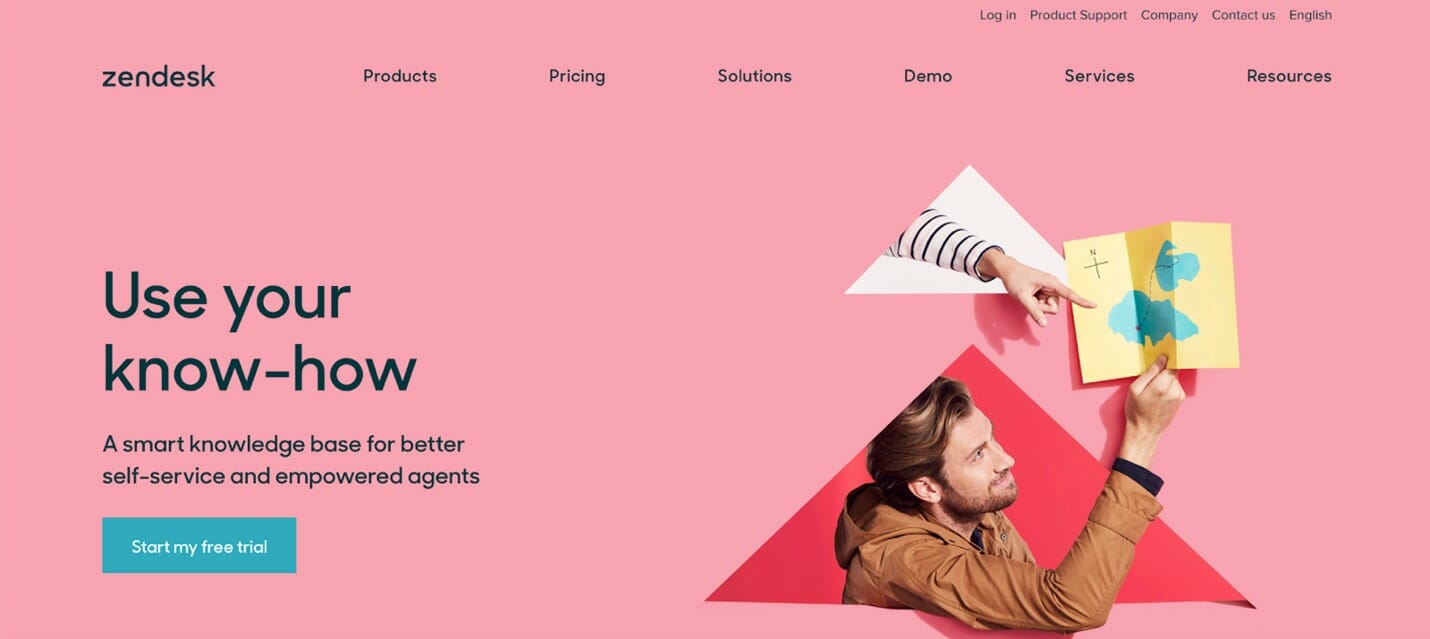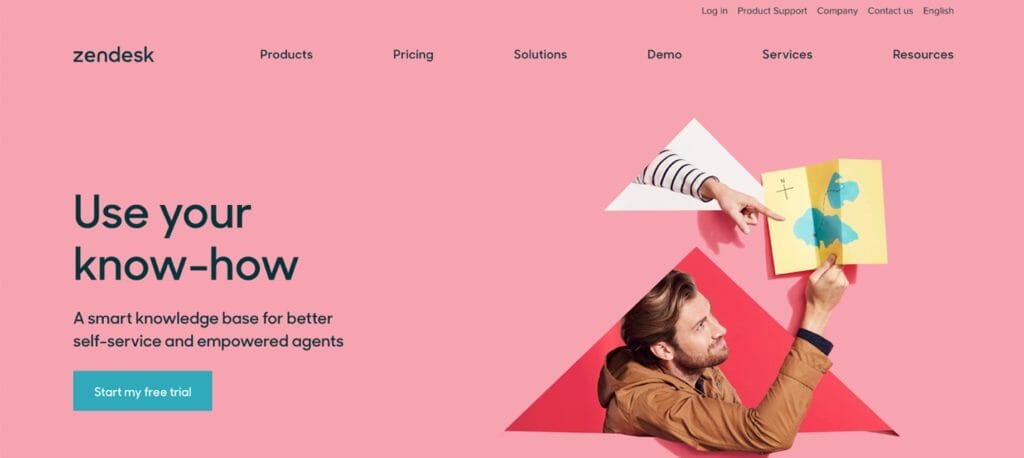 Zendesk knowledge base software is a cloud-based platform that helps create, organize, and share content easily with agents, select customers, or the public, and it measures what performs best.
Some of the key features:
Fosters communication between customers and strength brand connection.
Preserves content integrity.
Content translates to over 40 different languages.
Dedicated customer portal for customers to log in.
You can get started with Zendesk for free.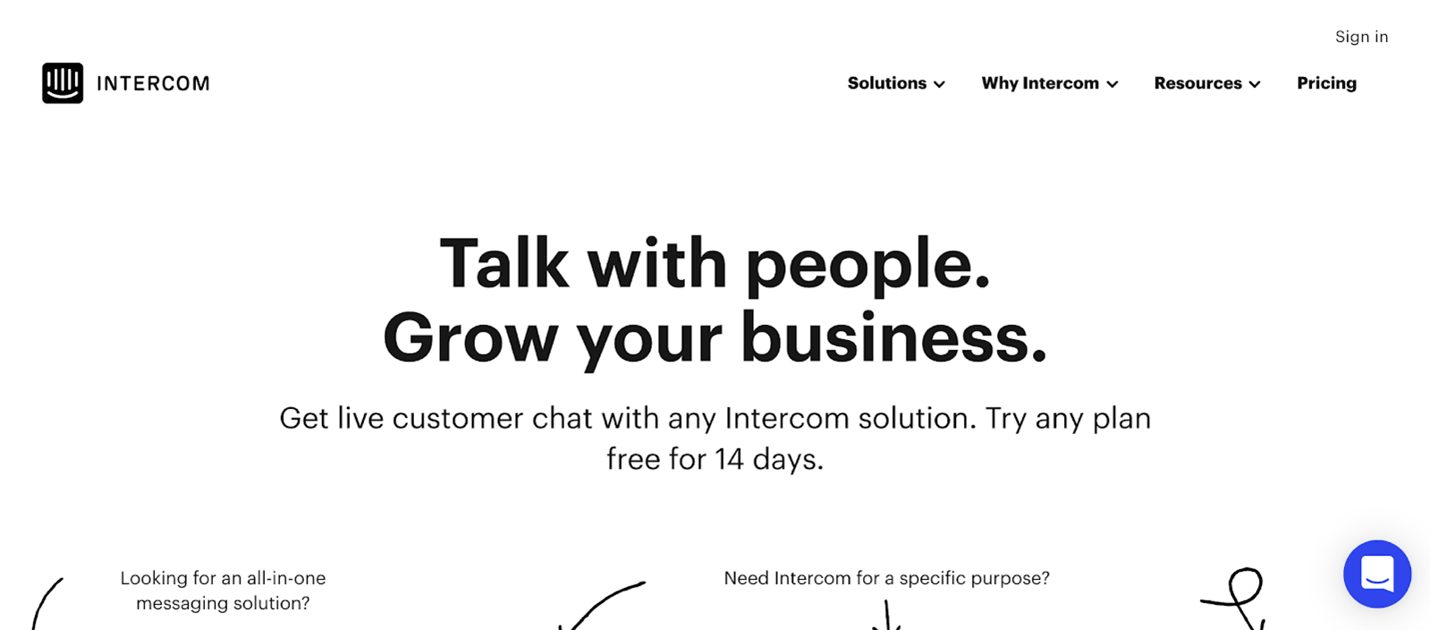 Intercom is a customer care solution that helps you get live customer chat by acquiring, engaging, and retaining customers. It also helps companies to improve their customer support.
Some of its key features:
Business manager that supports live chat on your website, mobile app, and your product.
Help center articles that help your customers find helpful answers to their queries.
Answer bot that engages customers when agents are busy.
Integrate with Stripe, HubSpot, Shopify, Google, and more.
Intercom comes with a 14-day free trial. It costs $87 per month.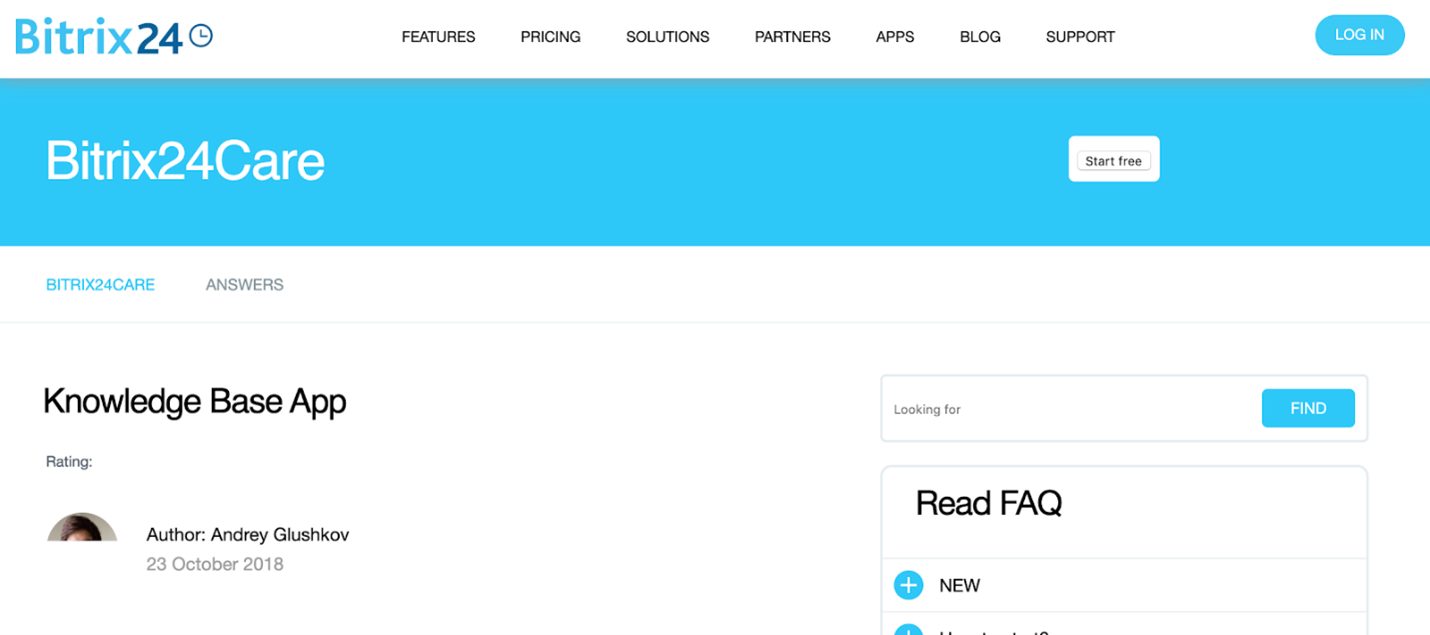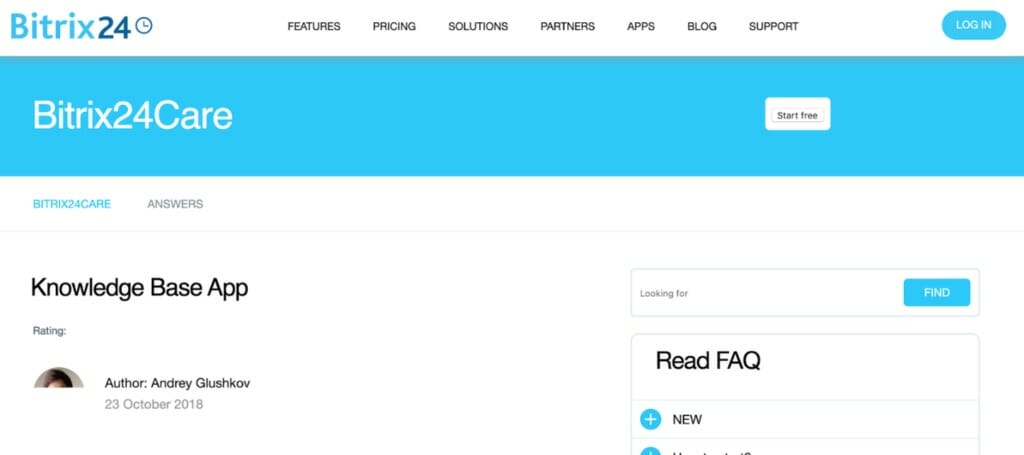 Bitrix24 is a knowledge management and collaboration platform that is available in the Cloud and on-premise with open source code access. It helps share and discuss ideas, manage knowledge, and manages projects.
Some of its key features:
Provides templates to create a stunning website.
Helps you to improve your conversation rate and market automation.
Streamlines your activity, group chat, workflows, and calendars in one place.
Helps you manage your task to get more done.
Bitrix24 has its basic plan for free for 12 users. Its upgraded service costs $19 per month for 2 users.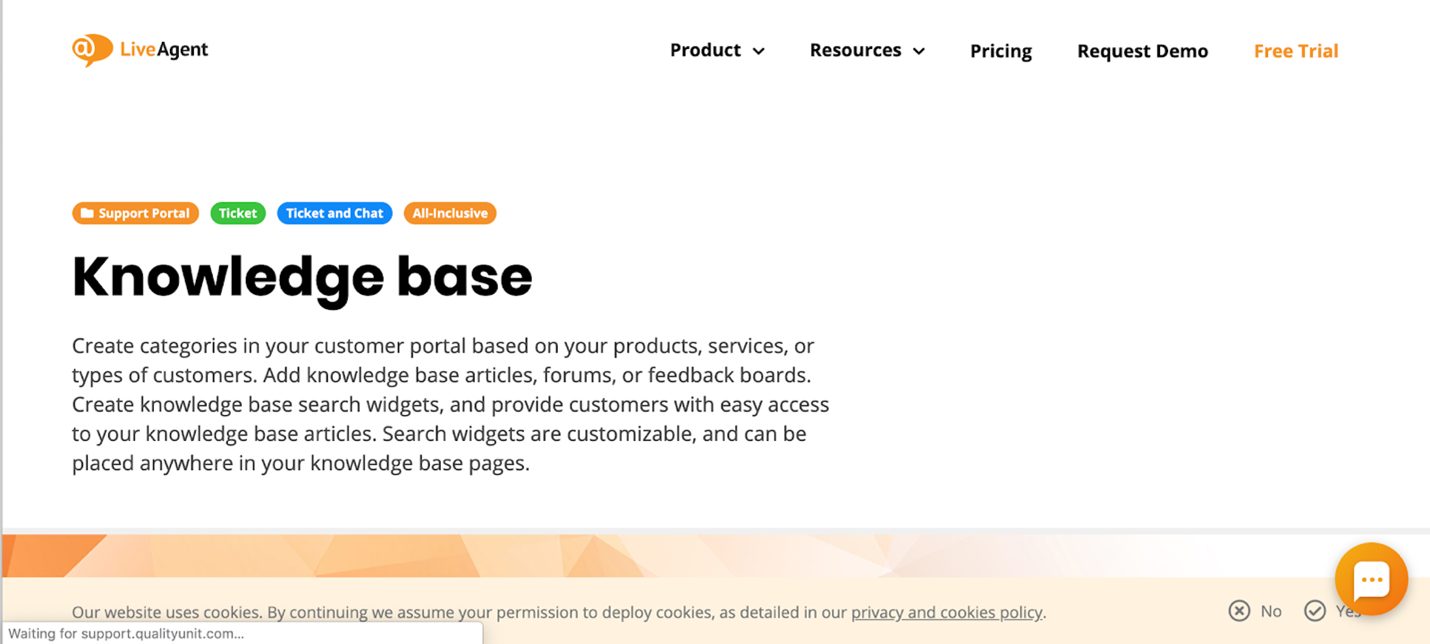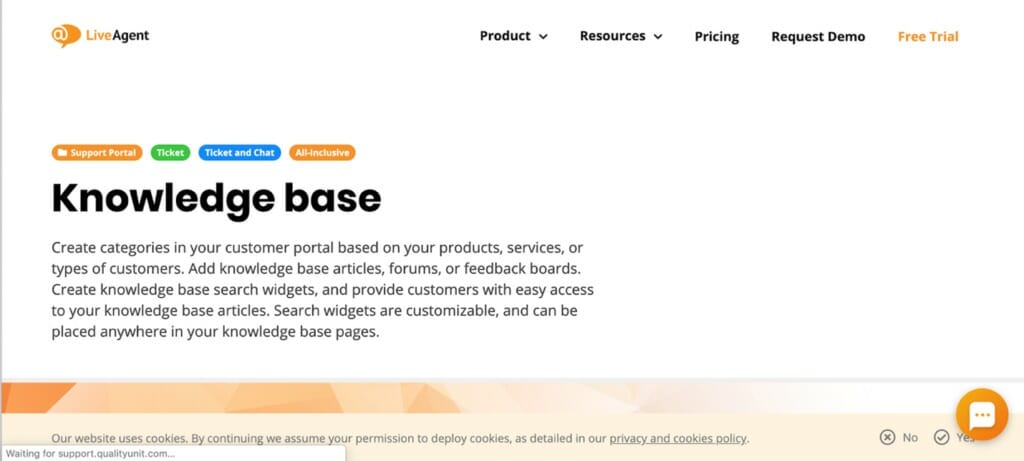 LiveAgent is a feature-rich multi-channel help desk software with 170+ help desk features including live chat, phone support, social media integrations, support portal, and API.
Some of its key features:
Voice and video calls to build a virtual help desk center for multichannel solution.
Real-time live chat for successful customer acquisition.
Email ticketing that houses all your chats, calls, emails, and social media mentions.
Social media channelling to reply to comments and tweets from your profiles.
LiveAgent starts with a 14-day free trial. It has a $39 per month payment plan.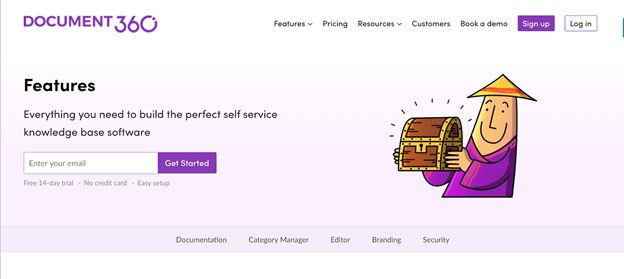 Document 360 helps your team create, collaborate, and publish a self-service knowledge base for your software with ease. It focuses on your content to ensure great readability.
Some of its key features:
Allows you to maintain multiple versions of articles, and get protection from accidental changes to content.
Lets you collaborate with the author to write and review articles.
Provides a bird's eye view of the difference between two articles in markdown and rendered format.
Document 360 provides a 14-day free trial. The price starts at $59 per month.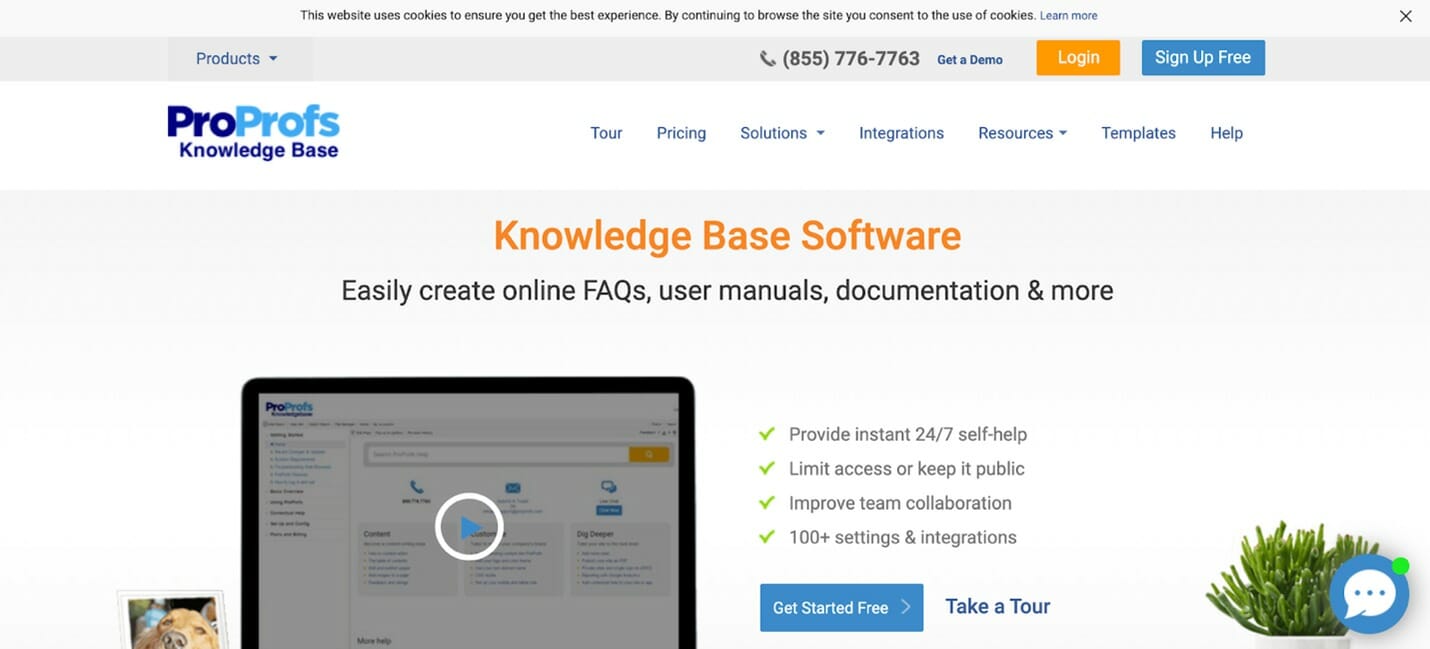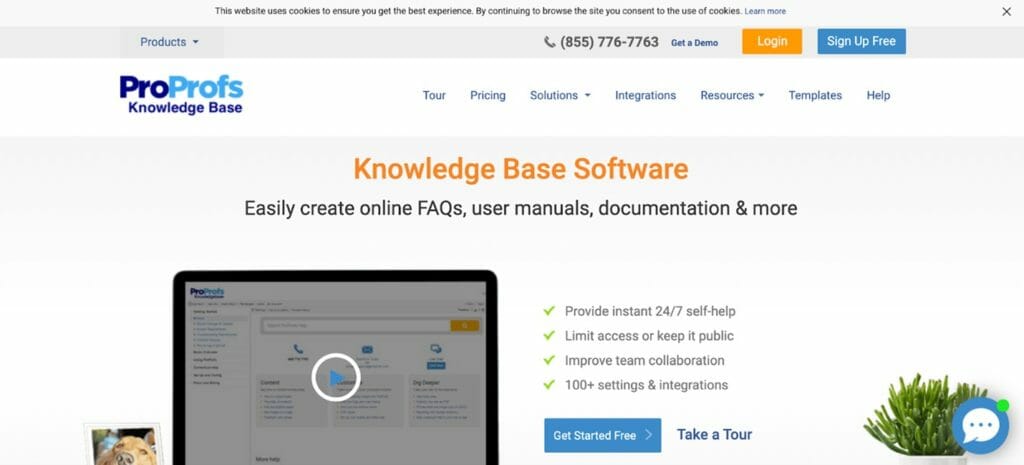 ProProfs knowledge base is a cloud-based system that equips you to instantly create self-help materials. It includes a privacy setting that helps you control who accesses which information.
Some of its key features:
Integrates easily with CRMs, a help desk and Chatbox.
Capable of analyzing traffic using Google analytics.
Configures and customizes easily with smart settings.
Keeps knowledge base secure with password and privacy settings.
ProProfs allows for a 15-day free trial. Its professional package starts at $29 annually.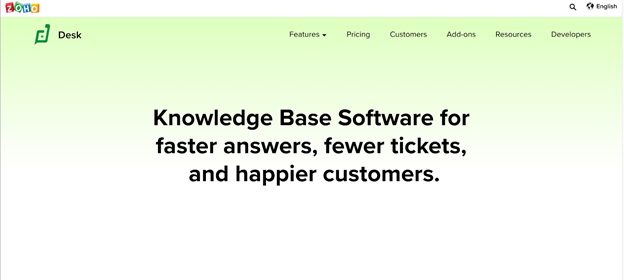 Zoho Connect unifies people, resources, and the apps they need. It is good for idea sharing, real-time discussion, and knowledge base. It ensures faster communication and collaboration.
Some of its key features:
Available for your customers in multiple channels.
Allows creating a distinct self-service portal for brand customers.
Organizes your help desk to reflect your company's structure.
Streamlines your social media presence through a help desk.
Zoho offers 15-day free trial. The standard fee is $12 per month.
Evernote Business empowers your team to work together through workflow unification. It helps you create, collaborate, and store information in a centralized location.
Some of its key features:
Allows for PDF and document search from anywhere.
Provides web clipping features to save important information.
Connects your favourite applications.
Evernote Business offers a 30-day free trial. Its pricing plan starts at $14.99 per month for each user.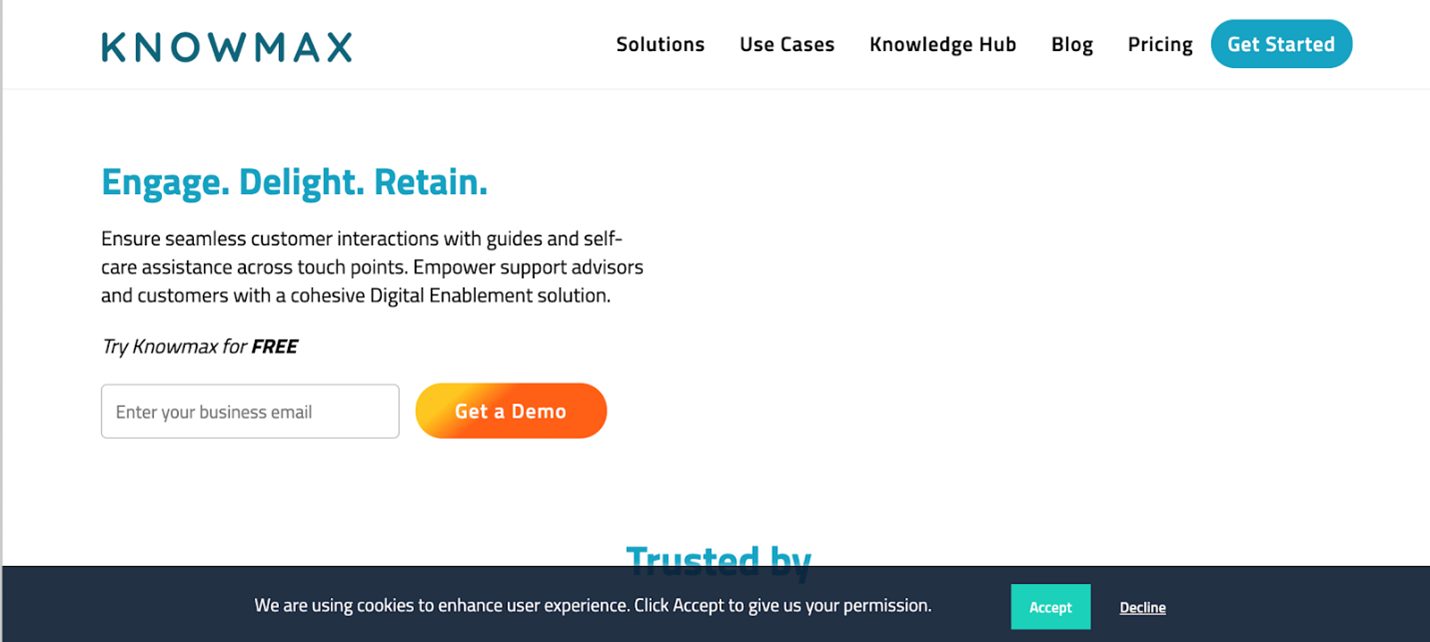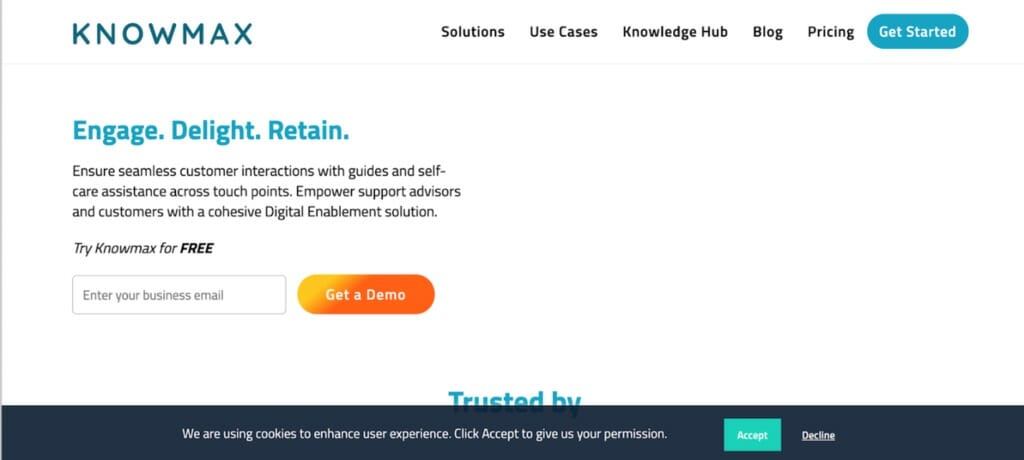 Knowmax is a two-way channel, cloud-based platform that allows you to engage effectively with your customers with a lasting impression. It also helps enterprise and brands to achieve their customer experience goals.
Some of its key features:
Allows picture guides to enhance customer understanding.
Uses AI chatbot for better interaction.
Presence of learning and quality management system.
For more information about pricing, you can contact the Knowmax team.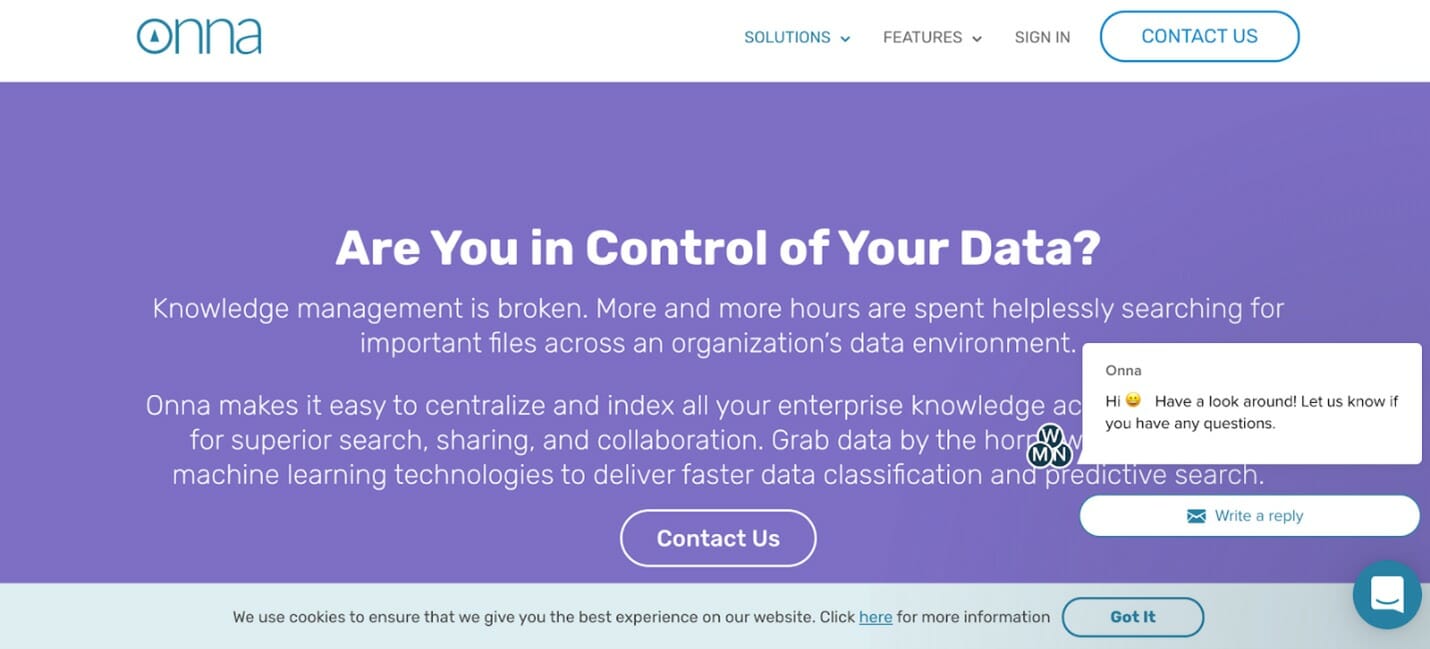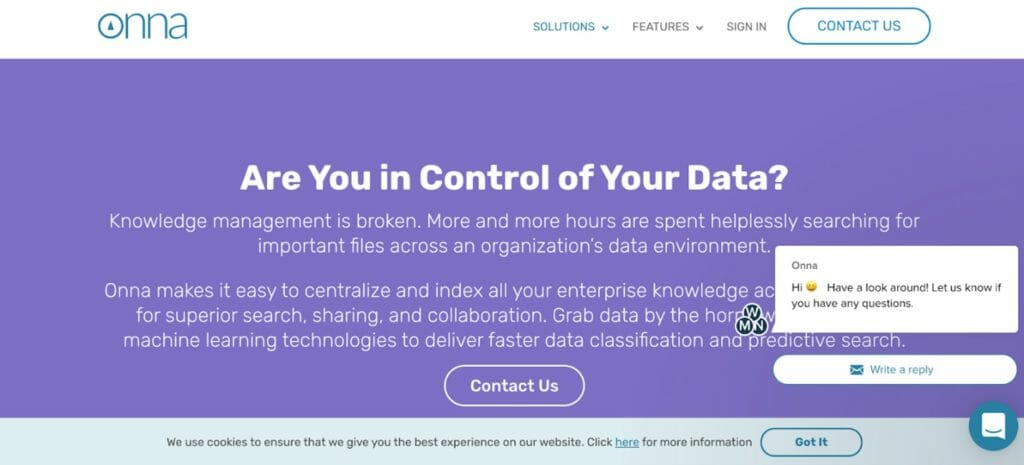 Onna centralizes and indexes your enterprise knowledge across different applications so as to boost your search, sharing, and collaboration. Its machine-learning technologies help you deliver data classification, knowledge management, and predictive search.
Some of its key features:
Connects directly with API to gather available data and metadata.
Preserves historical data by collecting directly from the source.
Provides smart notifications to notify you of important tasks.
Easily sets sources to continuously add future data from applications.
For pricing and more information, you can contact the team.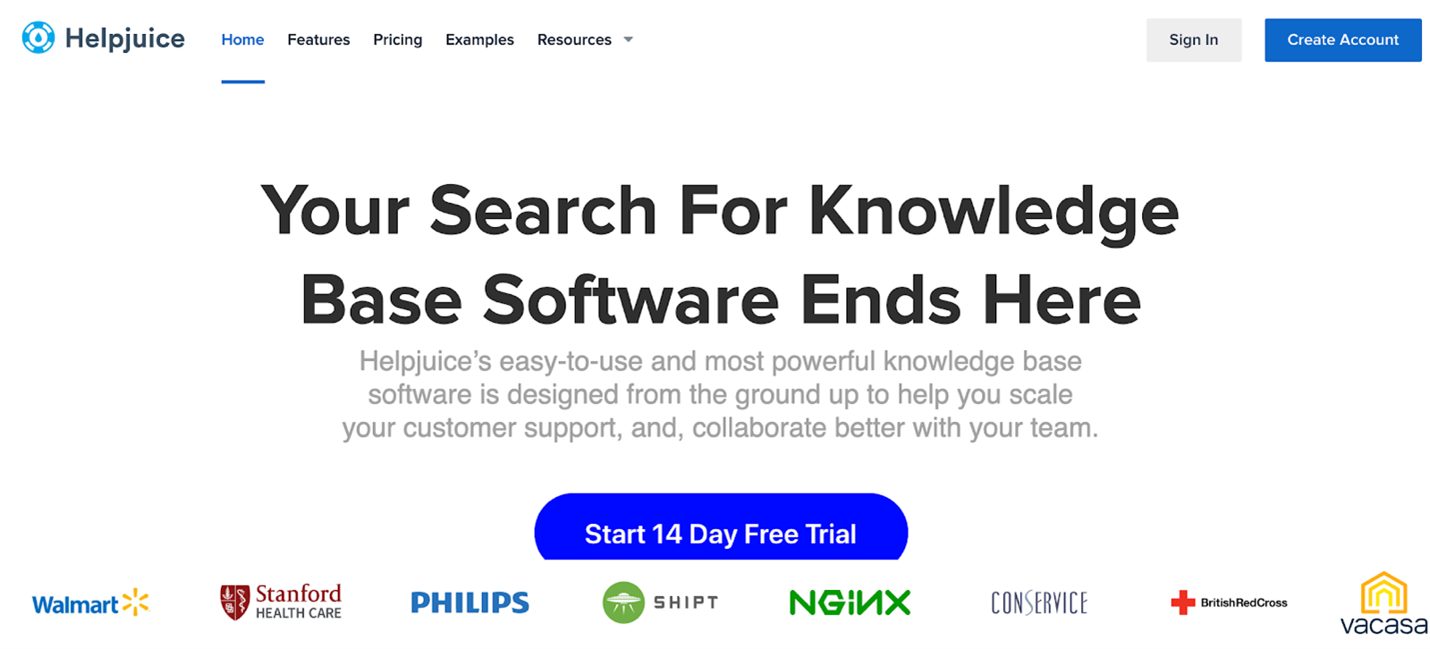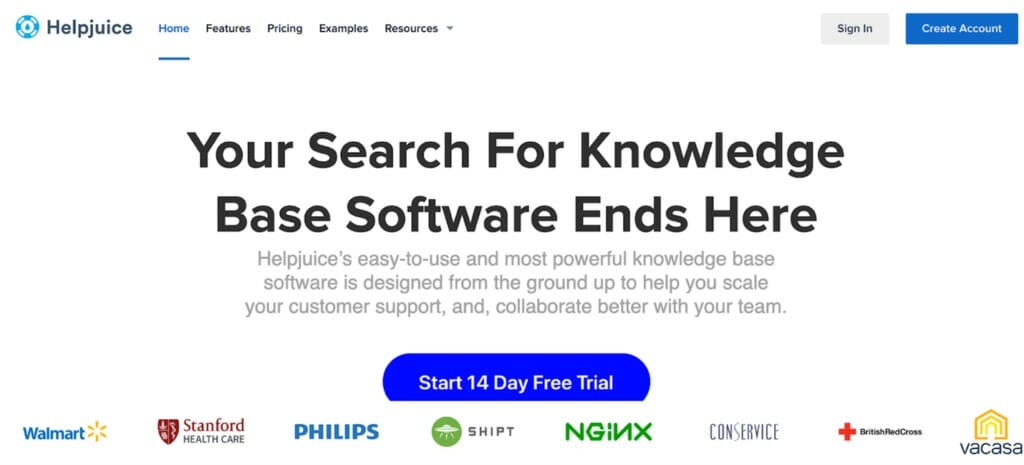 Helpjuice is a cloud-based customization platform that provides tools to design a knowledge base. It has a styling option that makes layouts more user-friendly to your customers.
Some of its key features:
Creates limitless authoring and formatting.
Helps increase engagement with related topics.
Measures impact in a specific time.
Helpjuice has a 14-day free trial. Then it comes at $369 per month.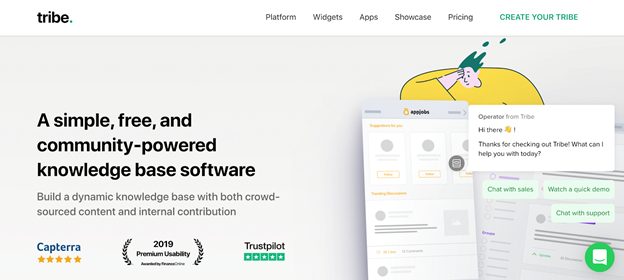 Tribe is a cloud-based platform that helps businesses build a dynamic and centralized knowledge base. It leverages on crowd wisdom and employee collaboration to build valuable content.
Some of its key features:
Allows your customers to join a community of like minds.
Provides extensive API that captures every activity in the community.
Lets customers engage to build loyalty.
Using Tribe is forever free. However, you can upgrade anytime at $399 per month.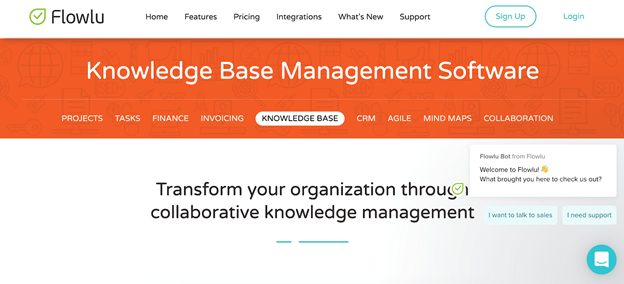 Flowlu contains the required tools to run an effective business and knowledge base management.
Some of its key features:
Presents you with tools that let you improve your cash flow.
Helps you keep your to-dos organized in one place.
Improves your competition and business operating speed.
Allows for the understanding of your sales process and customer engagement.
Flowlu is free for two users. However, you can upgrade to the team or business plan at $29 per month and $59 per month respectively.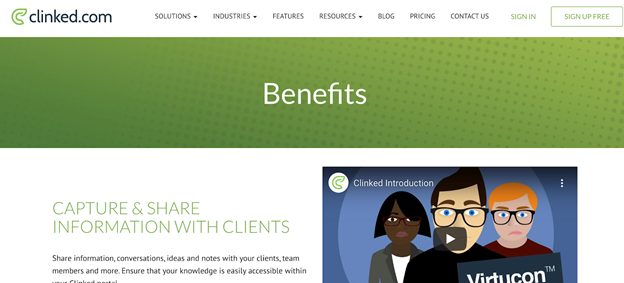 Clinked is a cloud-based solution that helps businesses customize their operations. It securely shares files and helps in client communication and task tracking.
Some of its key features:
Allows for individually customized workspace for your customers.
Helps you share files easily.
Allows you to work efficiently with clients and colleagues.
Clinked costs $83 per month for a starter account.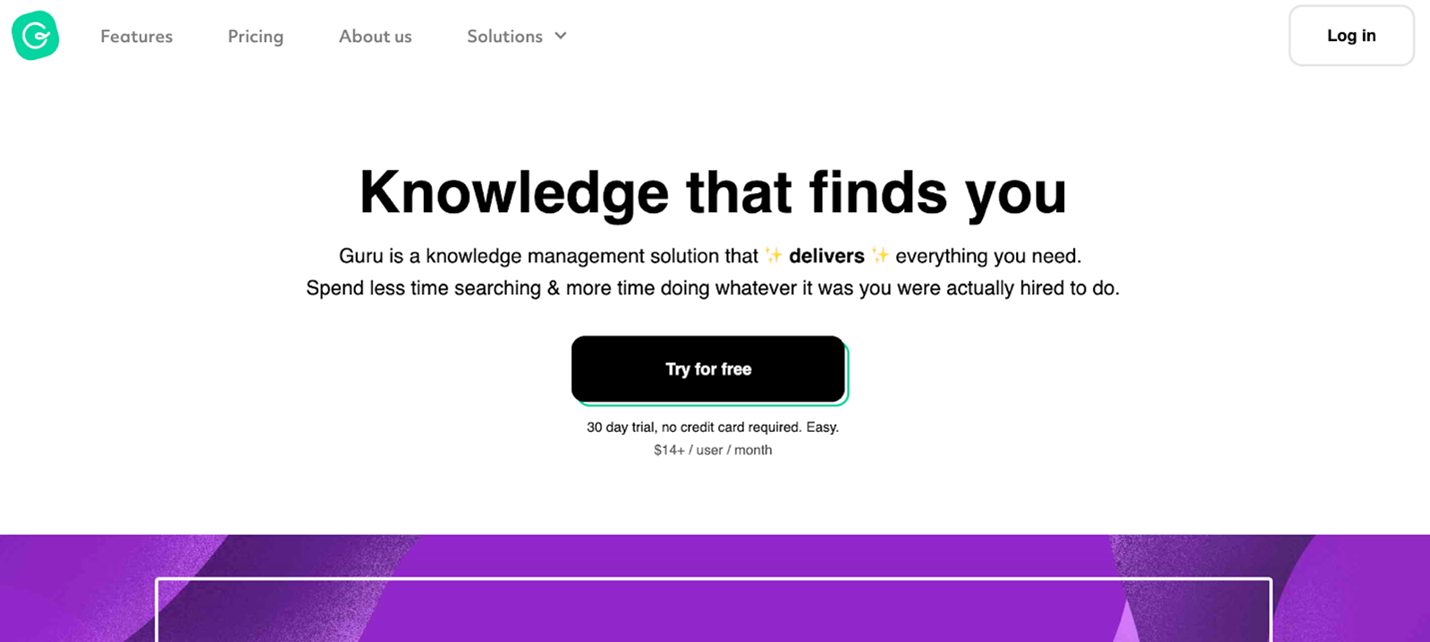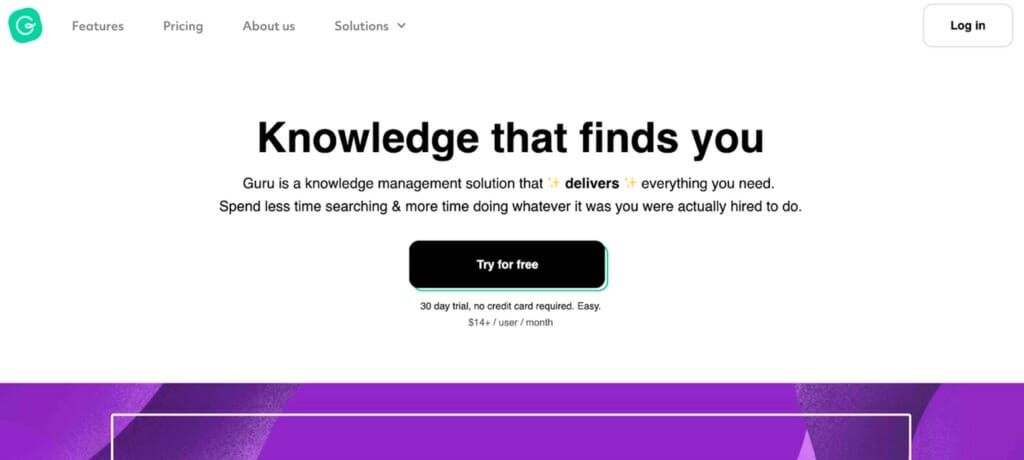 Guru connects all your data and knowledge together. It uses artificial intelligence to suggest information to your representative in real-time, and improves its performance activity.
Some of its key features:
Has a browser extension that captures the information you need wherever it exists.
Keeps information organized using collections and boards.
Allows slack integration where you and your team update your knowledge.
Transforms company knowledge into employee knowledge.
Pricing starts with the essential plan at $14 per month.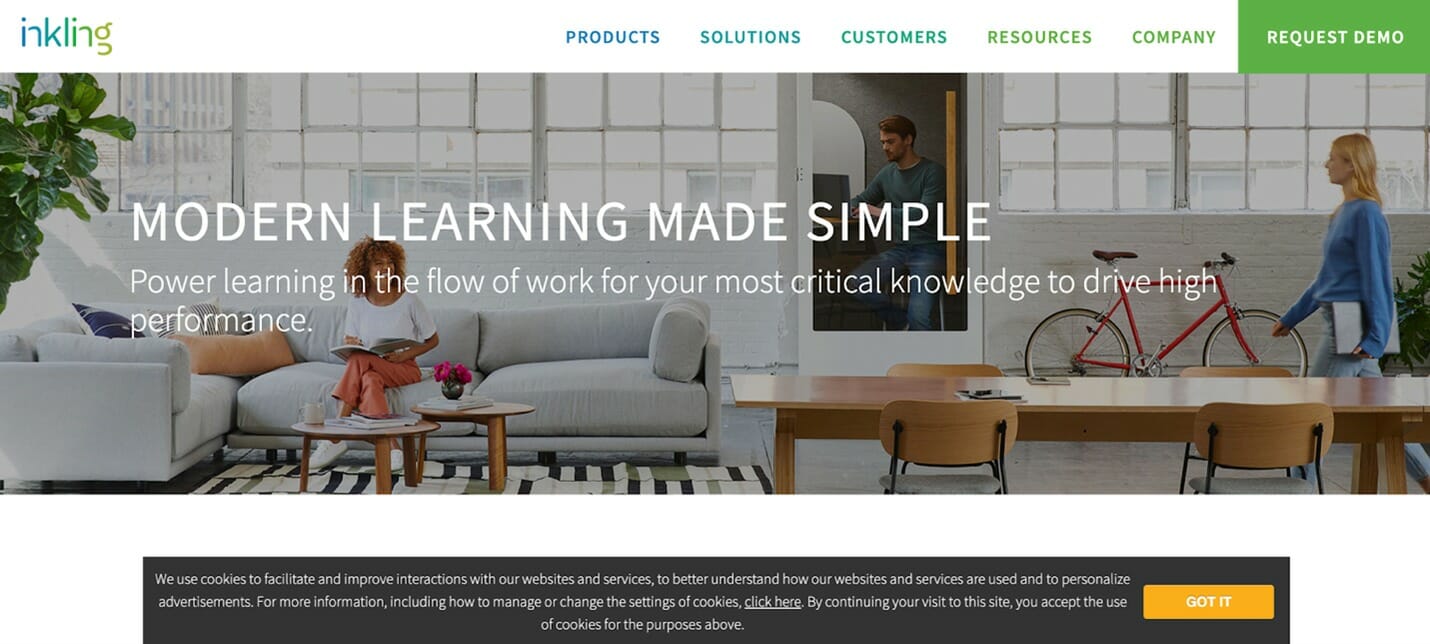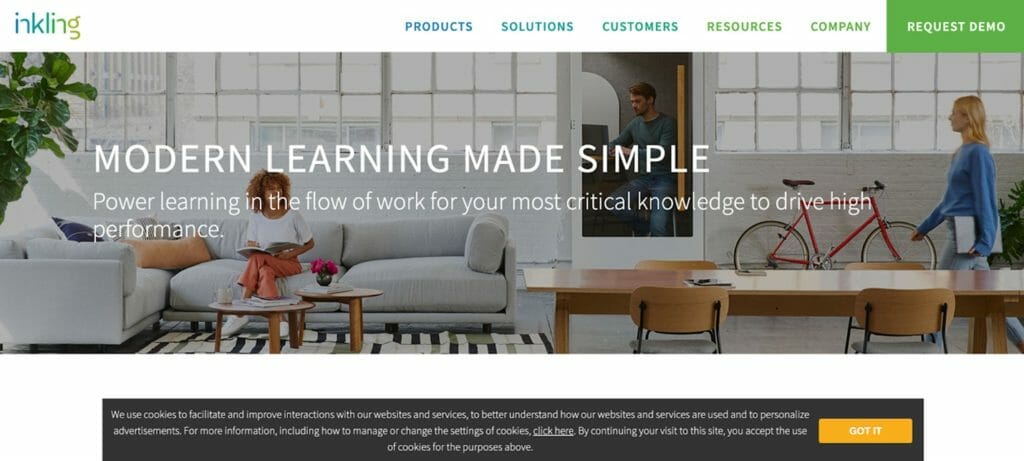 With content authoring, Inkling helps you optimize employee training and business management. It also involves usage analytics and knowledge base for clients.
Some of its key features:
Allows enjoyable learner experience for your customers and employees.
Provides advanced insight into learning.
Simplifies content creation with up-to-date training prompt.
To learn more about pricing, you can request a demo.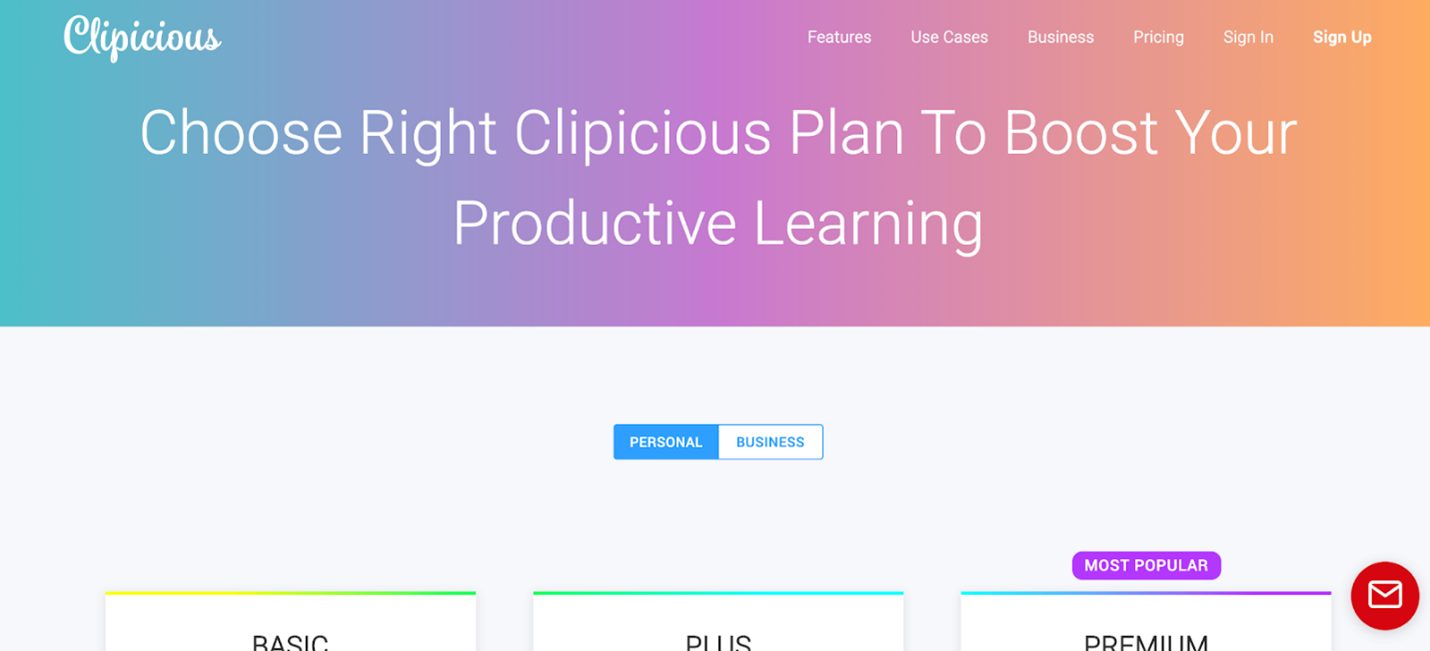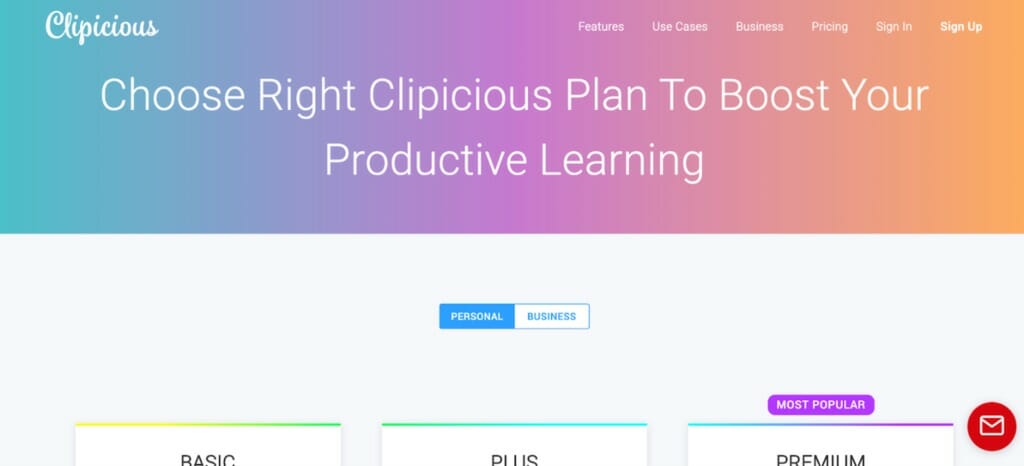 Clipicious is a full suite collaboration platform that provides businesses with content management such as capturing, annotation, and sharing.
Some of its key features:
Provides a multimedia text editor to enhance your customers' user experience.
Creates an easy workspace for customer engagement.
Connects to your social profile to monitor and respond to your social media channels.
Clipicious has a 14-day free trial, but you can upgrade to the plus plan at $4 per month.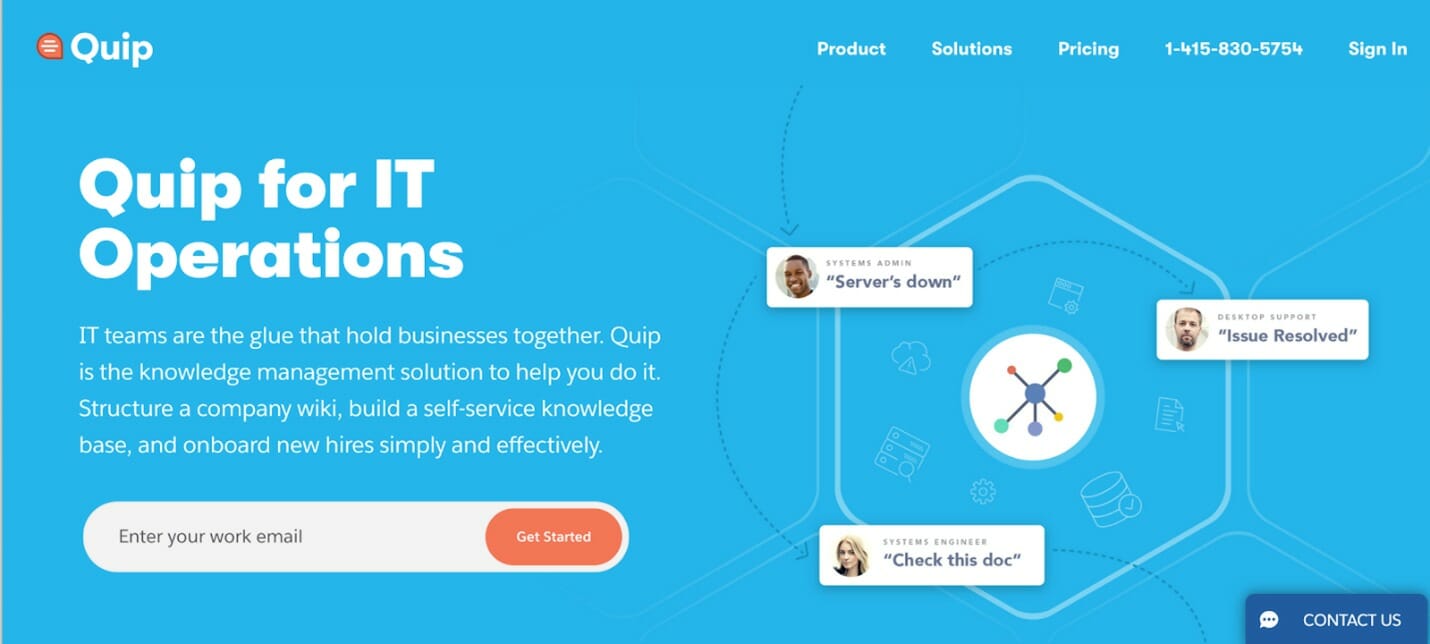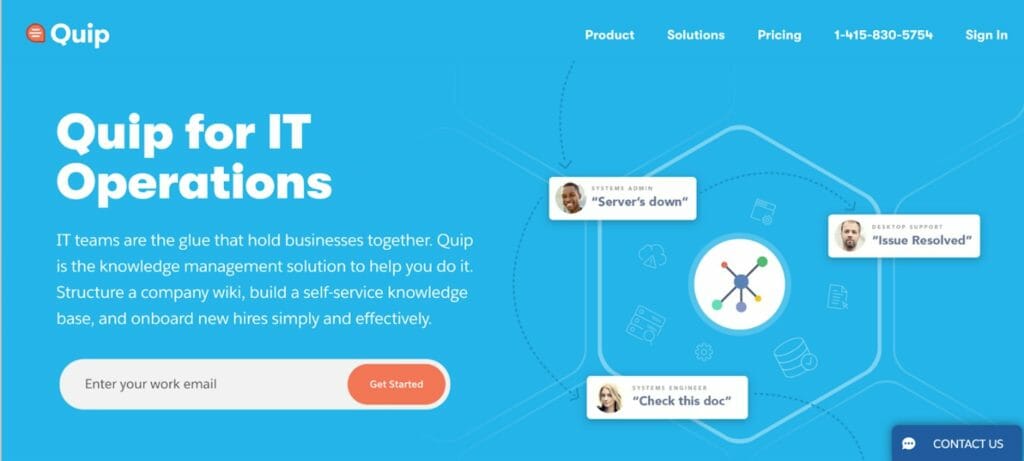 Quip is solely a robust document tool. It lets you create and upload knowledge base articles. Your documents could be a spreadsheet, slideshow, or customer conversation.
Some of its key features:
Allows powerful collaborative share using documents, spreadsheets, and slides.
Provides enterprise API and customization.
Availability of salesforce record live app.
Pricing is $10 per month.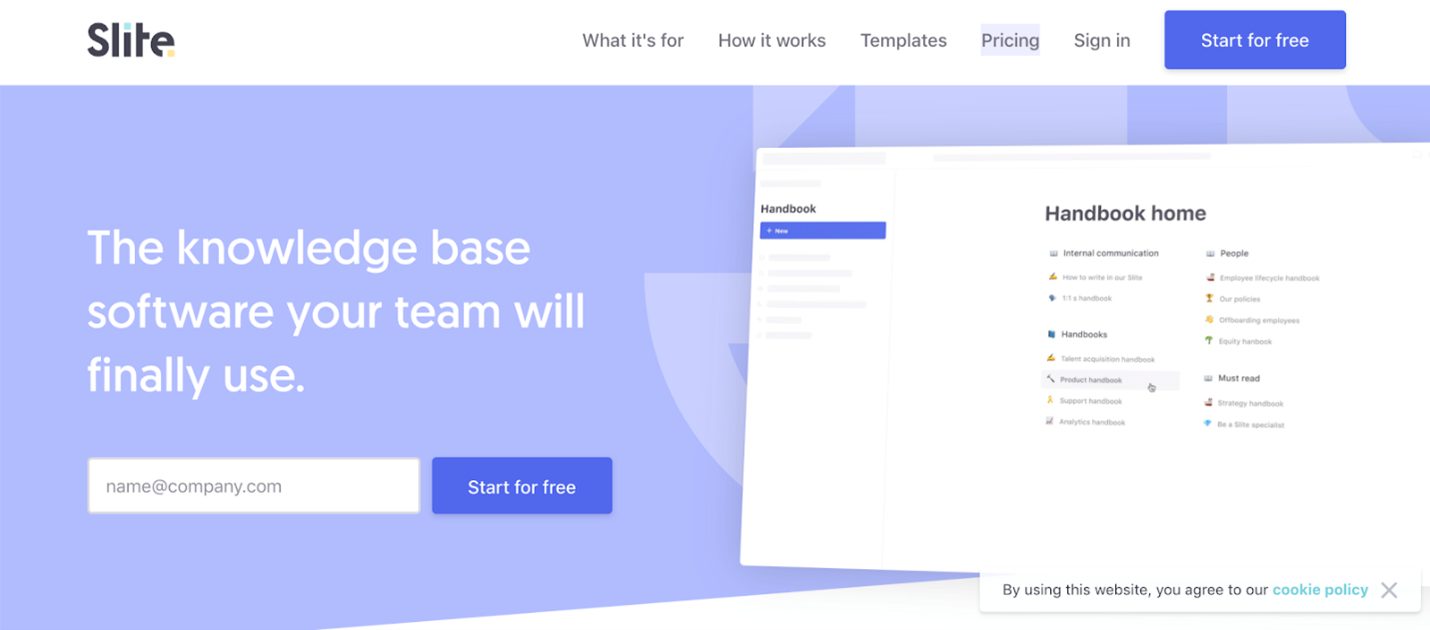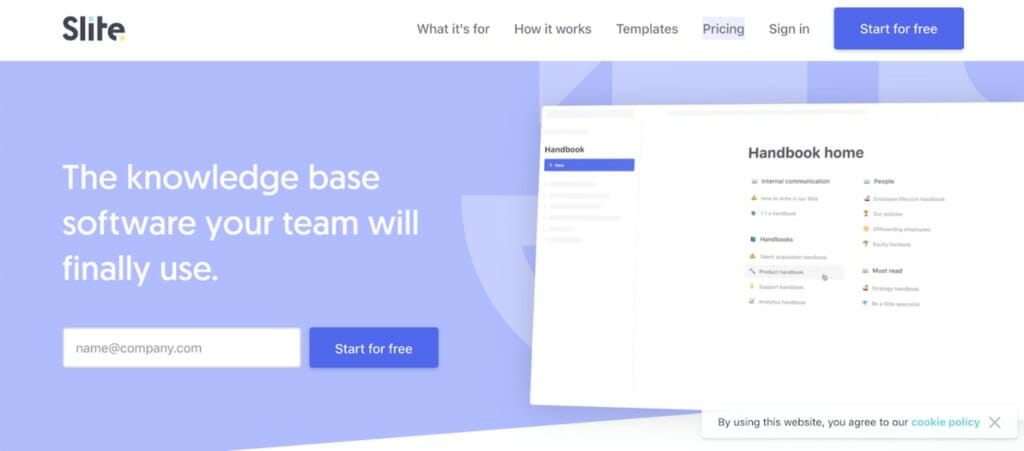 Slite is a business collaborative space for work organization. It lets team members create content like meeting notes, wikis, and brainstorm documents.
Some of its key features:
Helps you create a knowledge repository to speed up employee onboarding.
Allows for silos removal to reduce interruptions.
Creates a central source of truth by integrating with other apps.
Slite is free. If you want to upgrade to a standard account, it costs $6.67 per month.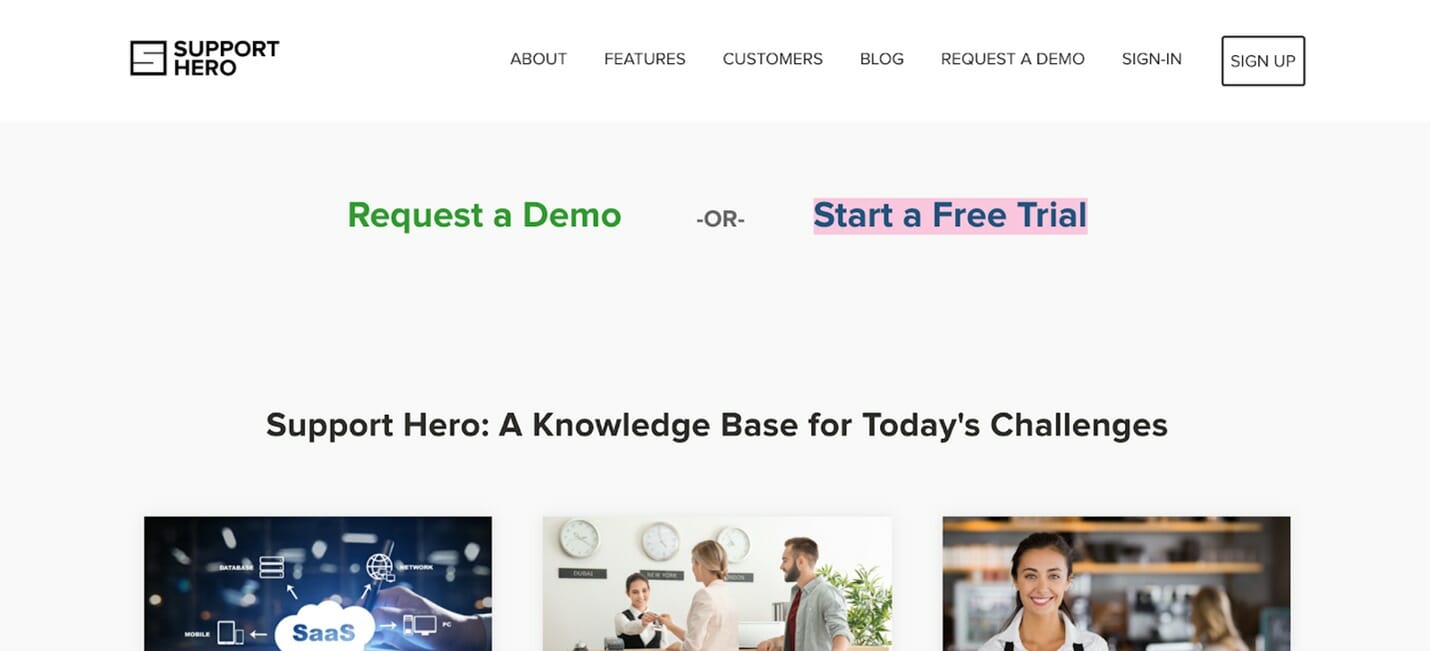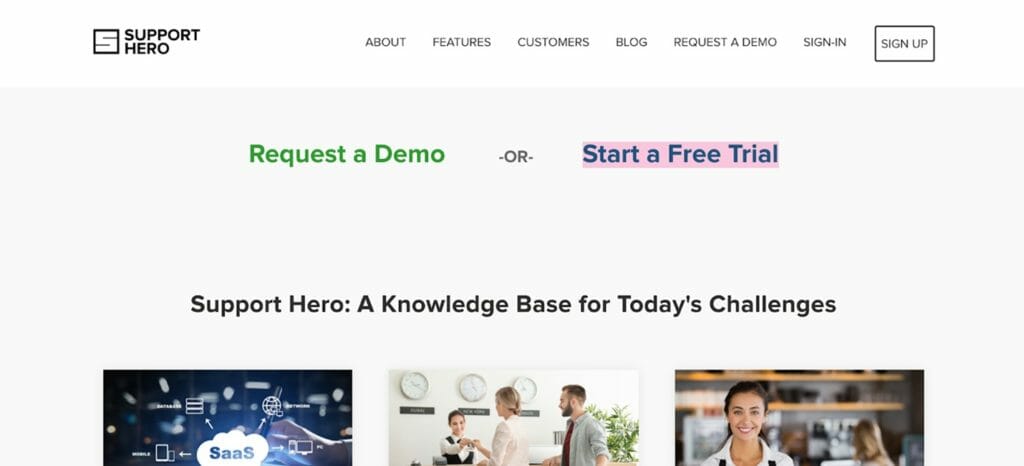 Support Hero is an in-app knowledge base solution that helps you support your clients and reduce ticketing to the minimal.
Some of its key features:
Helps you to identify content that your customers are engaging with.
Guides you to put content in the right place.
Awesome help desk integration to further assist your customers.
Support Hero has a 14-day free trial. Afterward, you can start small with the $49 per month plan.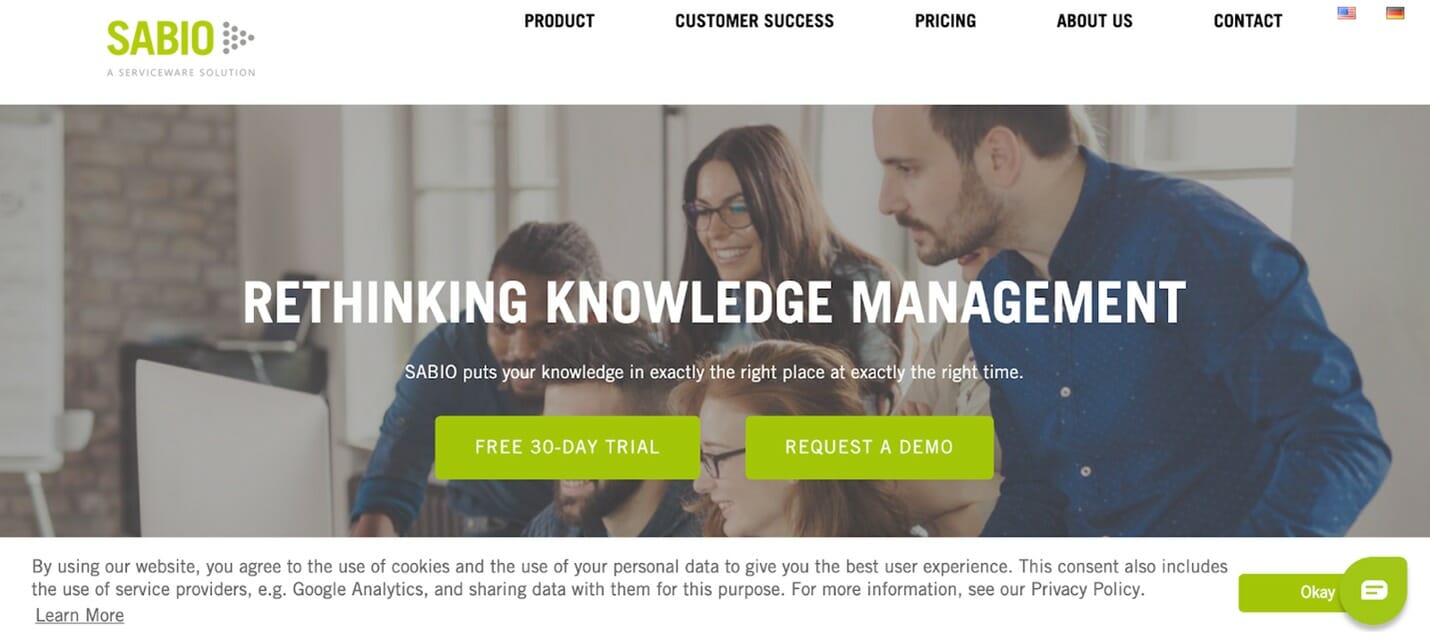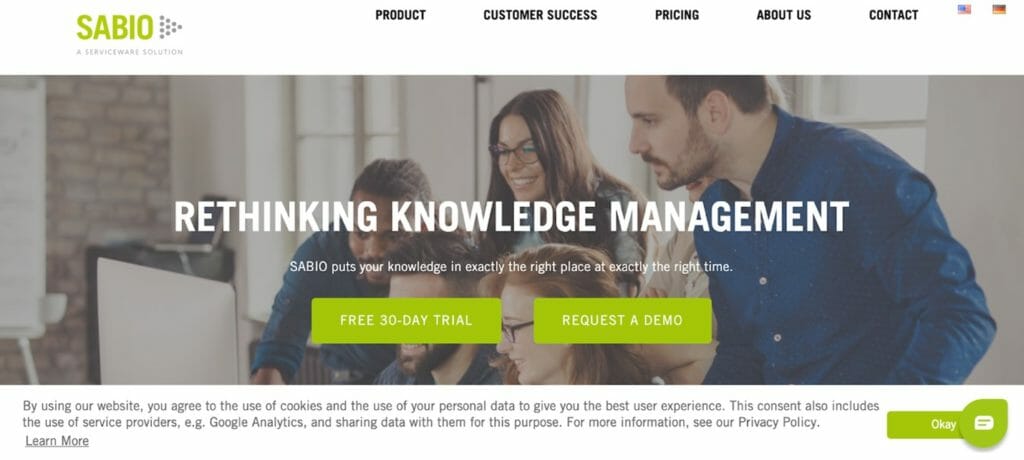 Sabio is a serviceware solution designed to utilize data for your company's success. It utilizes a tree feature that enables users to quickly browse through related articles in your knowledge base.
Some of its key features:
Excellent search engine to help you find information fast.
User-friendly knowledge tree to structure and store content to your needs.
Allows right and role management to integrate into any platform.
Sabio's pricing begins at $8 per month.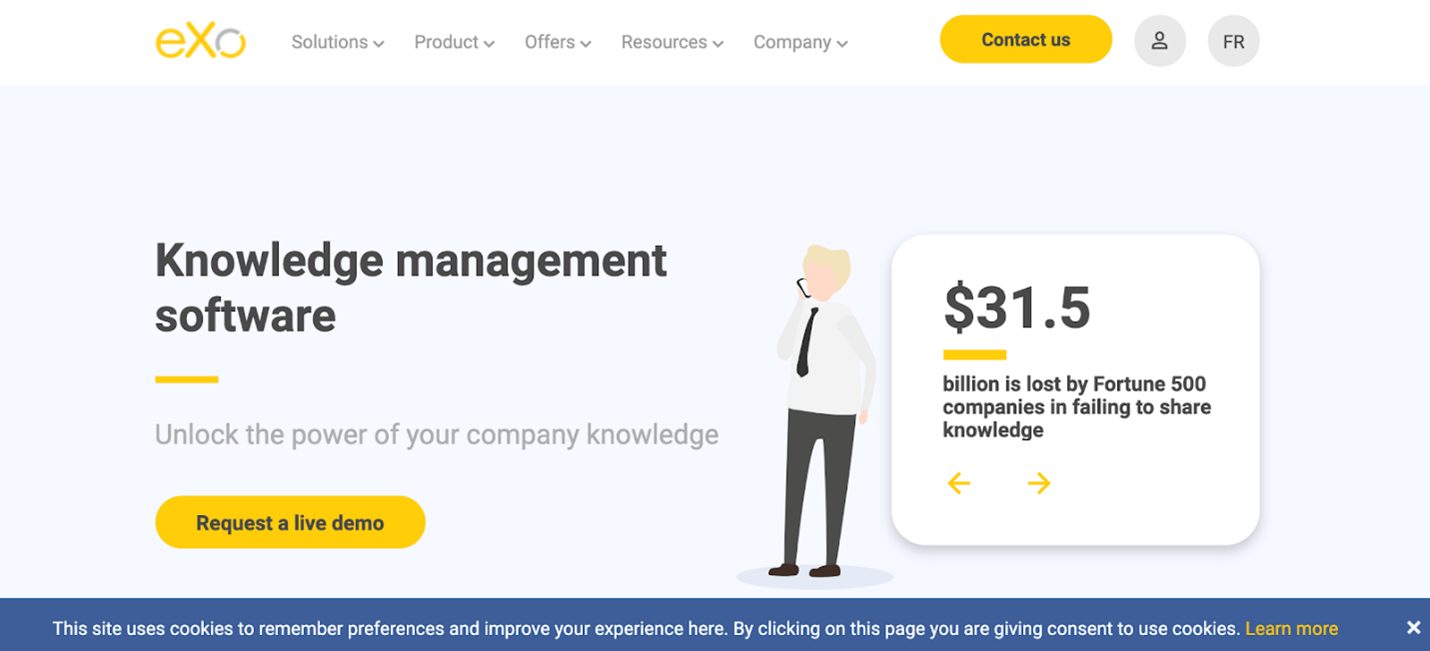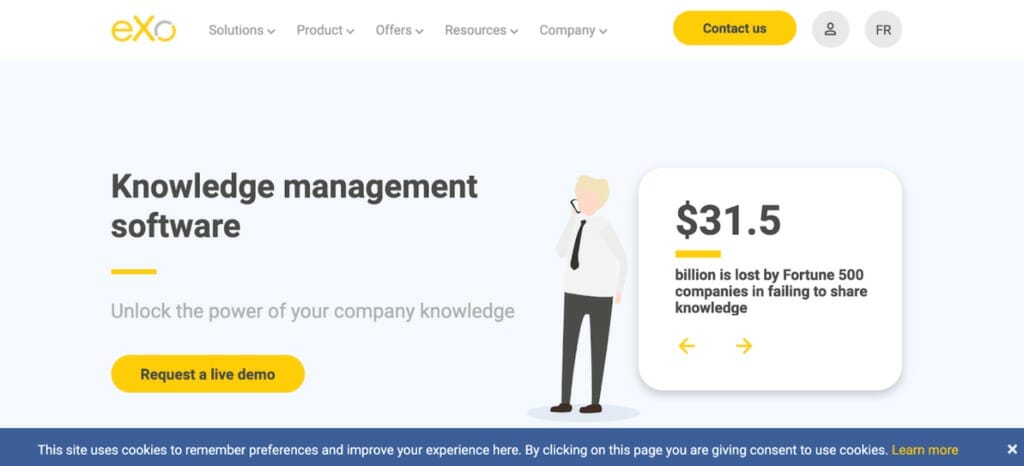 Exo Platform is a digital workplace solution that has an inbuilt knowledge management system. It helps you to drive company performance and transfer knowledge to attain business success.
Some of its key features:
Allows you to create and enrich your company's knowledge base.
Captures silent knowledge with social activity and forums.
Lets you direct knowledge contribution with wikis.
For more information about the pricing, reach out to the Exo platform team.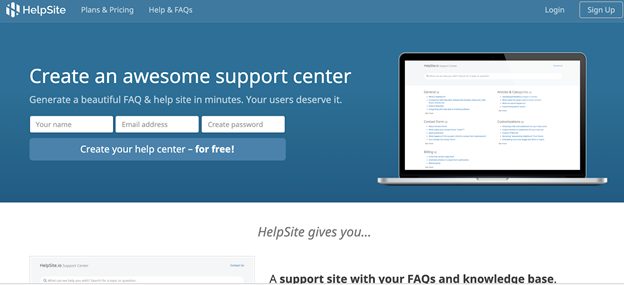 HelpSite is a web-based solution that provides knowledge management through customer service. It is an online customer relationship management tool that is aimed at reducing your ticketing.
Some of its key features:
Allows you to customize features to make support feel personal.
Helps you populate your site with answers to common questions.
Allows mobile friendly and searchable platform for customers' ease.
HelpSite is free. You can also upgrade to the $14 standard plan.

Bloomfire is a cloud-based knowledge management software that boosts customers' and employees' knowledge through self-sufficiency. It uses AI tags to categorize information, bringing most accessed information up for quick use.
Some of its key features:
Helps you crowdsource knowledge across teams and departments.
Manages and distributes insights to research stakeholders.
Empowers support agents with the knowledge to engage effectively with customers.
Bloomfire costs $899 per month.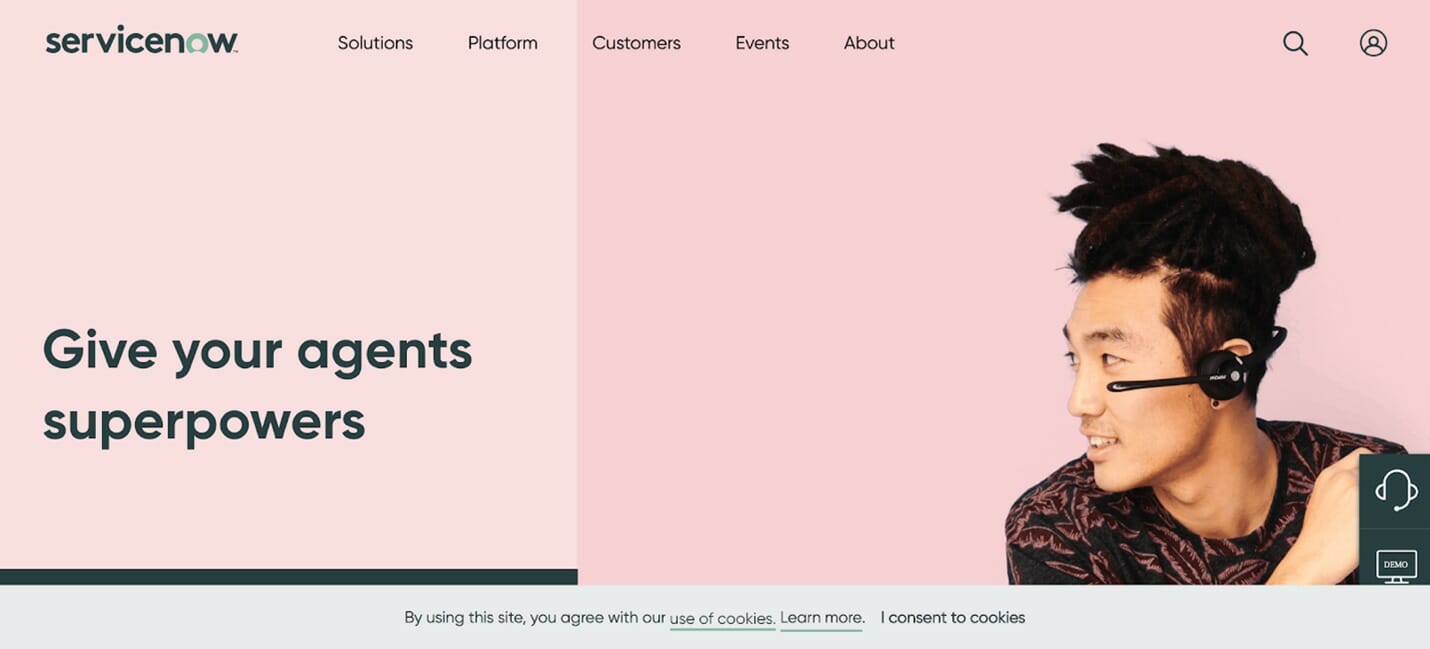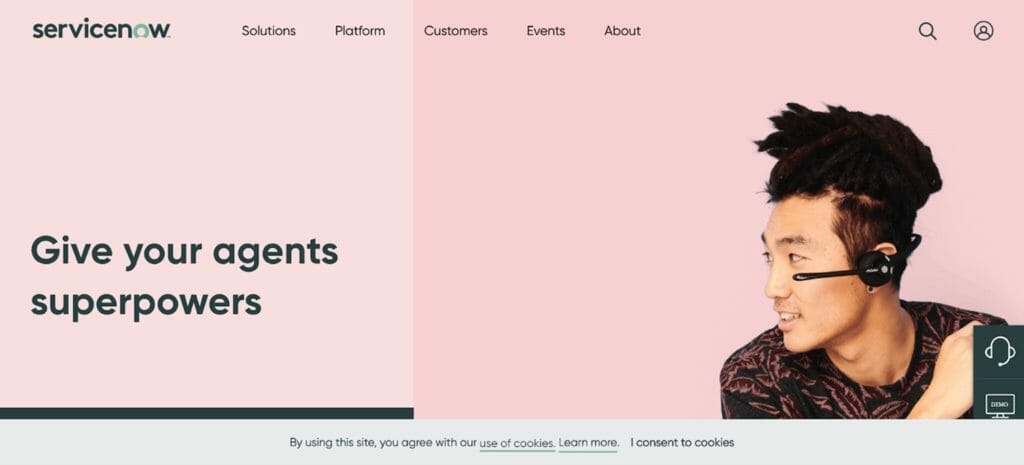 ServiceNow is a knowledge management solution with two edges: the customer and the employee side. It helps you record and manage incoming service requests by saving interaction in a centralized location.
Some of its key features:
Helps to resolve cases by incorporating new knowledge to address business issues.
Promotes knowledge sharing and encourages knowledge crowdsourcing.
Increases customer satisfaction by documenting and providing consistent customer resolution.
ServiceNow pricing starts at $100 per month for the basic plan.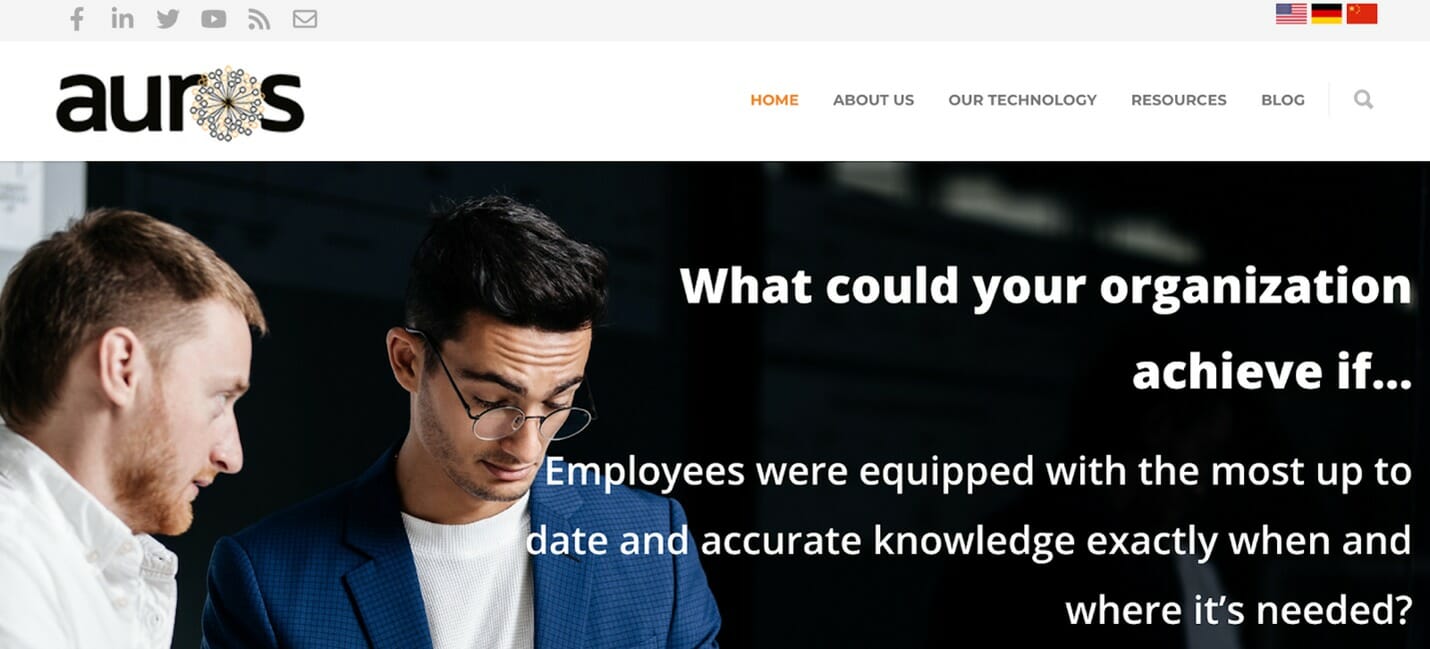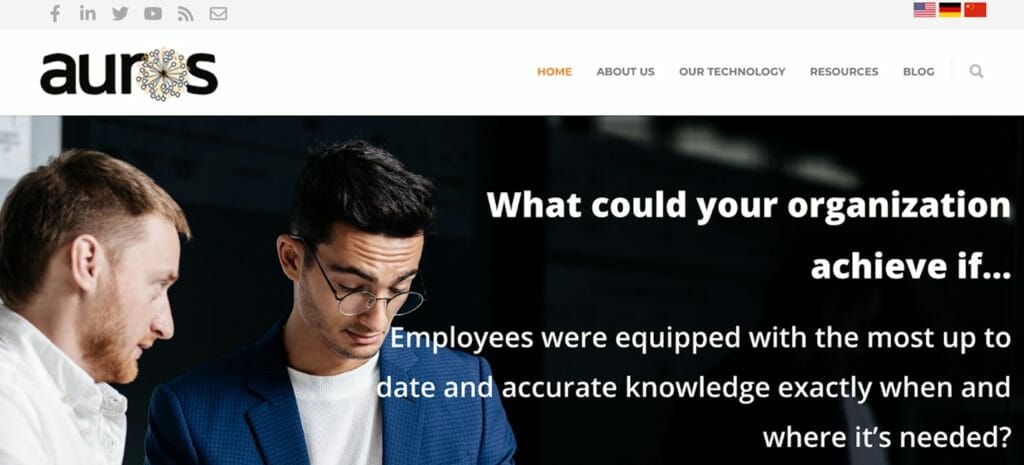 Auros is a knowledge base management tool that extracts data from customers' article search and usage to make informed decisions and boost workflow through agile processes.
Some of its key features:
Allows you to make faster decisions with customer behavior.
Improves work quality and customer engagement.
Reduces cost and creates a competitive advantage.
For pricing information, reach out to the Auros team.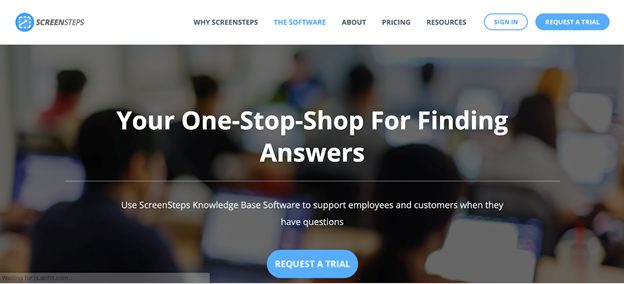 ScreenSteps is a cloud-based solution that businesses use to create and manage documentation and manuals to internal employees and customers.
Some of its key features:
Relieves trouble of ending search for answers because article text is keyword searchable.
Built-in hierarchy which helps you navigate the knowledge base easily.
Article reuse which allows one article to appear in different manuals
ScreenSteps allow a 14-day free trial, then a $149 per month upgrade.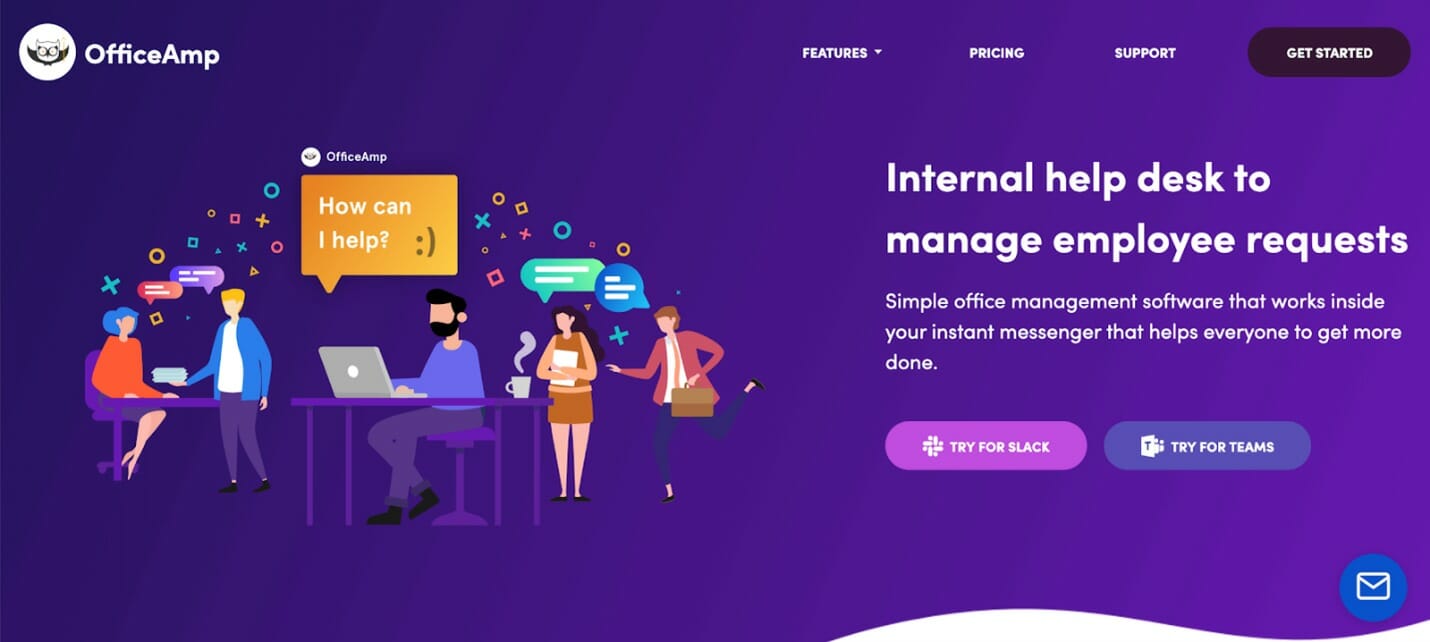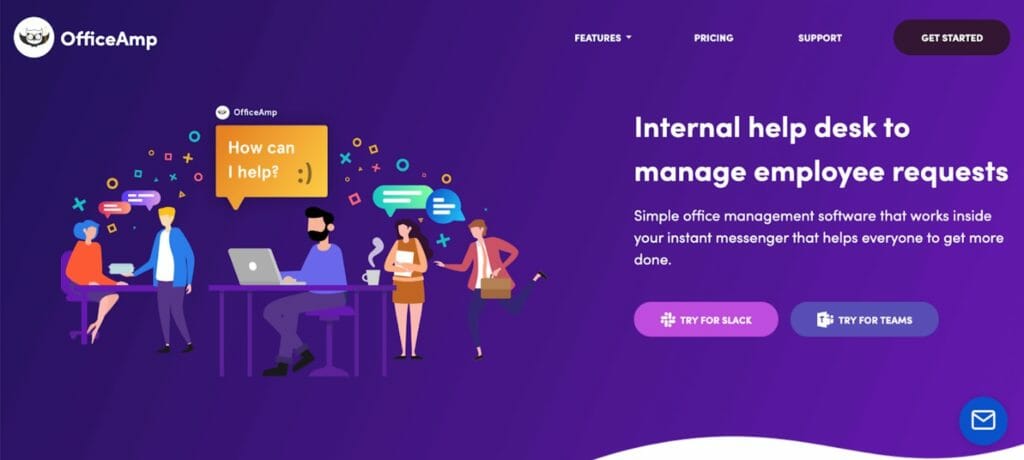 OfficeAmp is a cloud-based software for office operations. It eases collection, management, and resolution of customer queries by housing content that addresses the pains.
Some of its key features:
Mailroom assistant which helps employees get notifications inside Slack.
Customer management for a smarter front desk.
Ultimate Q&A for office robust knowledge.
OfficeAmp price is $29 per month for the basic plan.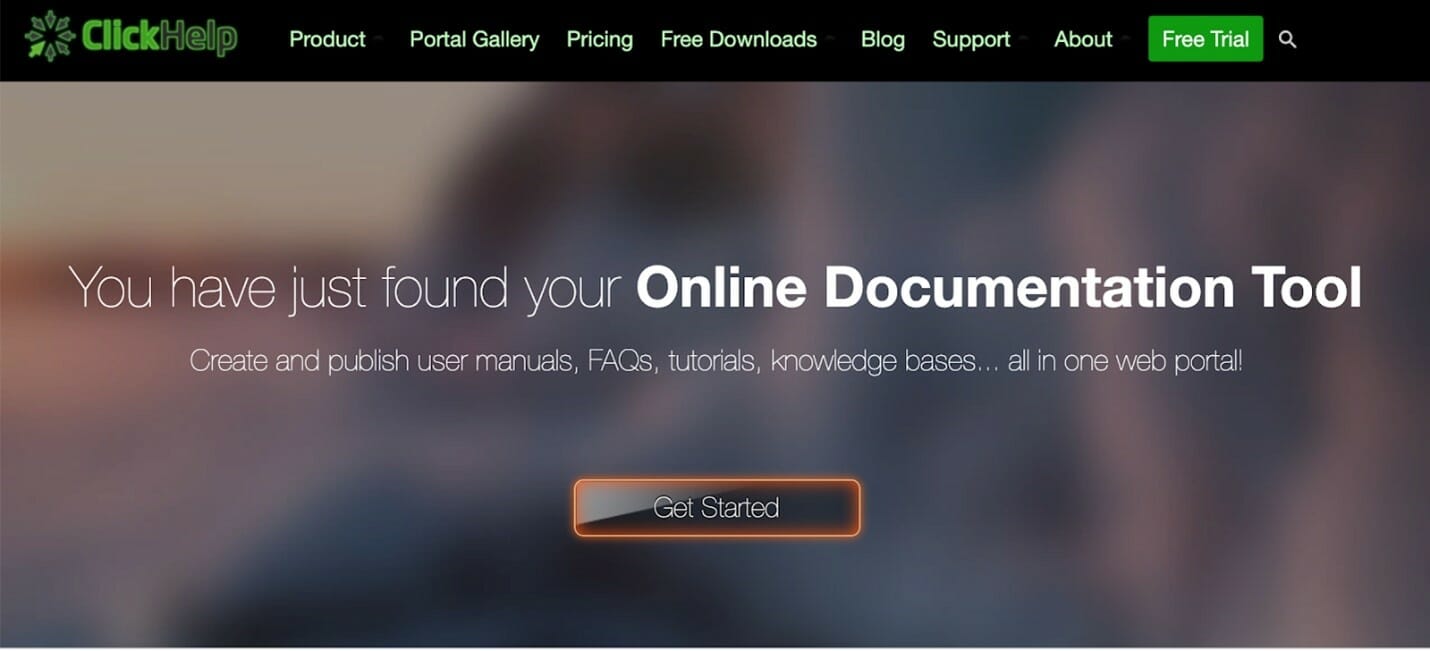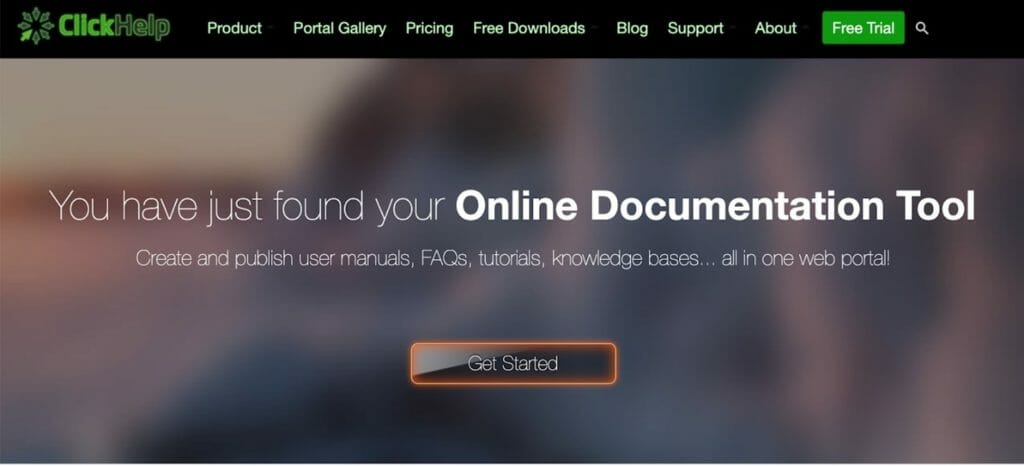 ClickHelp is an online documentation and knowledge base tool that supports teamwork and single sourcing. It also enables password protection of your knowledge articles.
Some of its key features:
Allows cross-platform compatibility for security reasons.
Lets cross-browser functionality for customer ease.
Provides multiple formats of documentations.
ClickHelp prices start at $43 per month.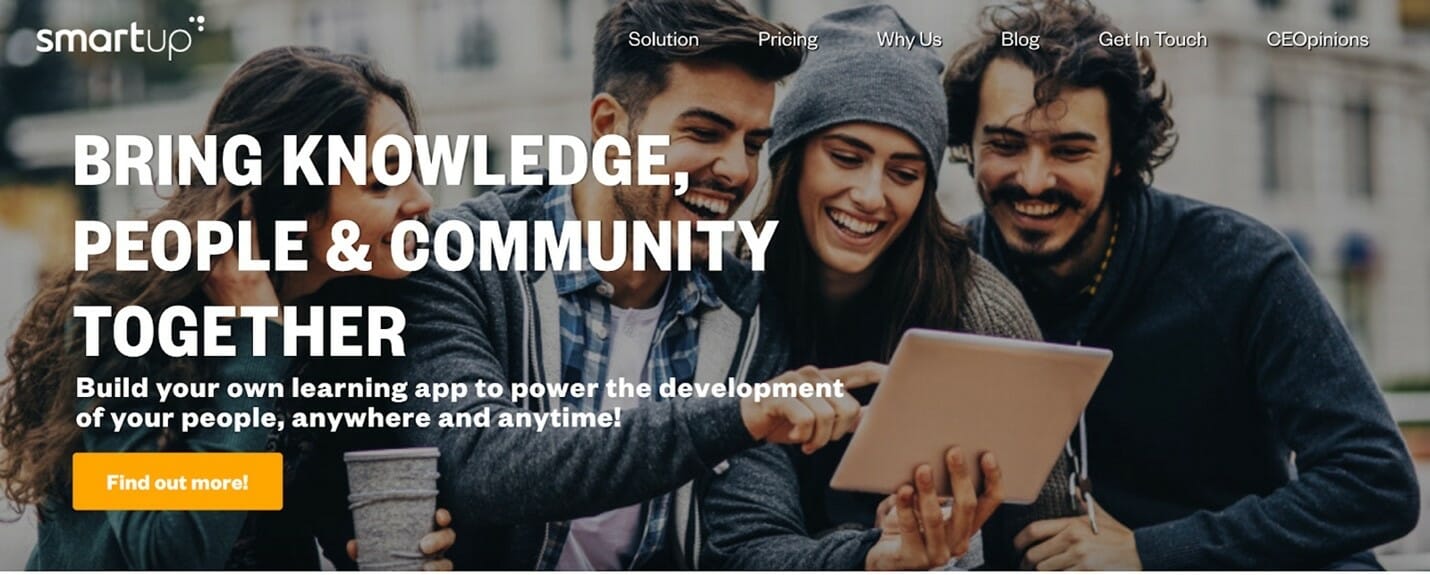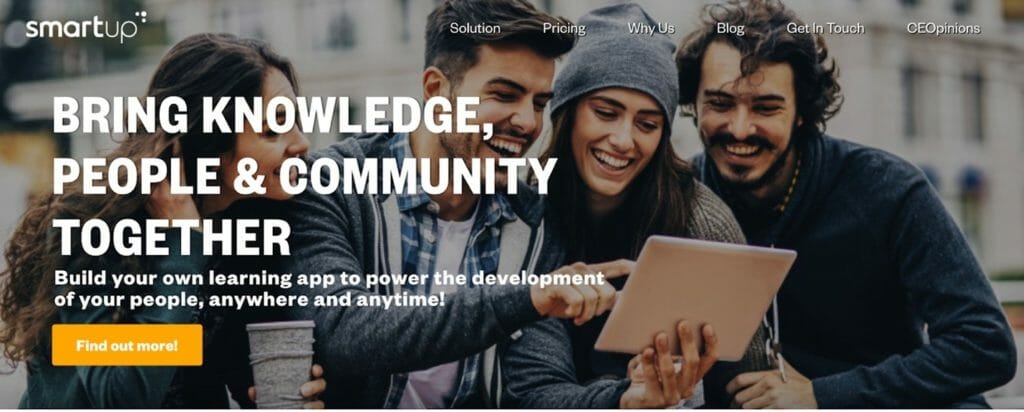 SmartUp is a learning experience platform that helps organizations create a highly engaging learning culture. It also allows you to interact with your customers in a way that leaves a lasting impression.
Some of its key features:
Provides mobile-friendly interface.
Creates polls for people with sentimental issues.
Options to build your personal app.
Provides channels and content display.
The pricing plan for SmartUp starts at $5 per month.


Thortspace is a 3-D mind mapping solution with a knowledge base program which provides solution thinking at any point in time.
Some of its key features:
Allows for collaborative thinking among employees.
Provides idea exploration at the individual sphere.
Lets you organize, remember, and share knowledge with customers.
Thortspace is free but the premium access cost $9.17 per month and is paid annually.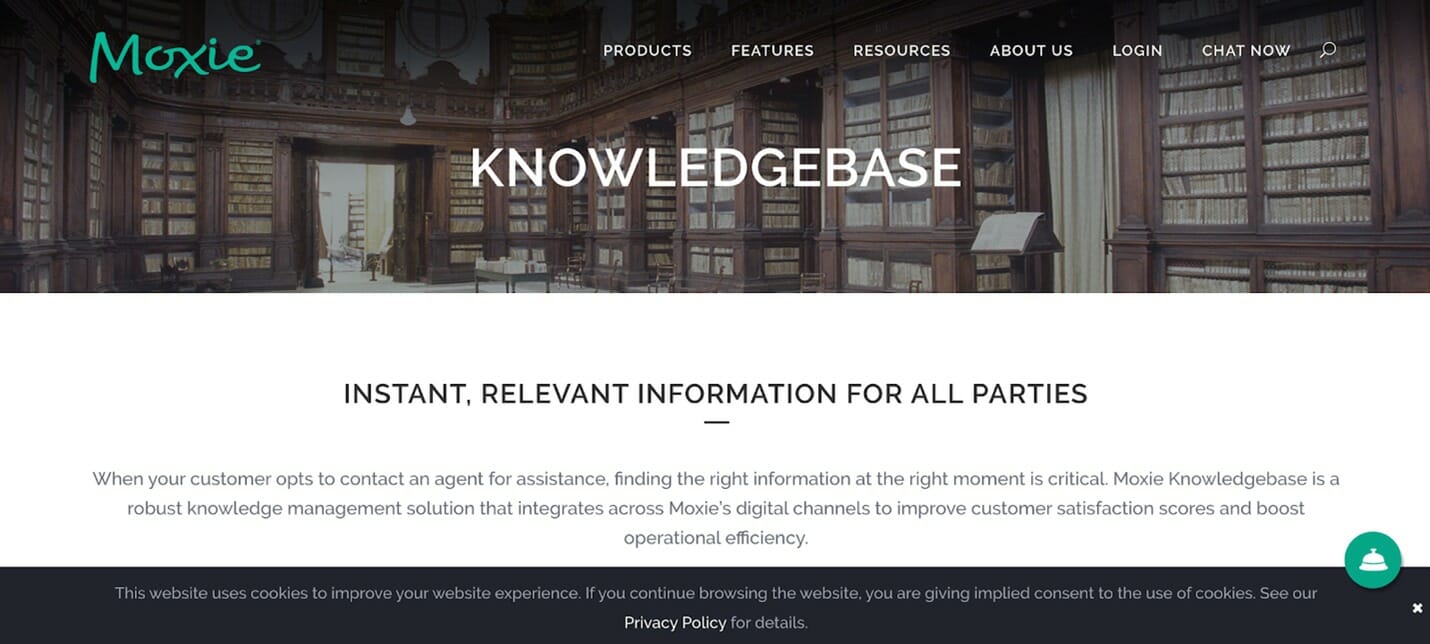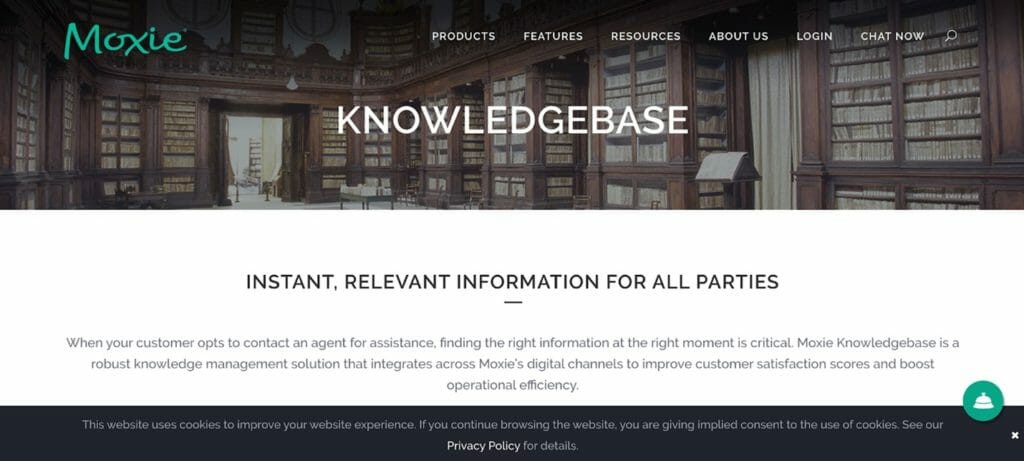 Moxie knowledge management software provides instant and accurate information for customers and employees.
Some of its key features:
Provides access to the most relevant information to your customers.
Tracks articles searches, retrieval rate, and reporting tools.
Extends knowledge base deployments and integration seamlessly.
For pricing details, you can chat with the Moxie team directly.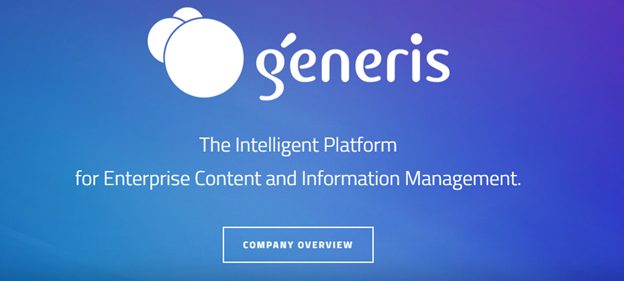 Cara by Generis is a leading content and information management platform for regulated industries. It allows your customers access to information when they need it.
Some of its key features:
Allows you to catalogue specific articles in order of search importance.
Helps you collaborate effectively with other colleagues.
Allows you to manage your content to suit your customers' request.
For more pricing information, you can contact the team at Generis.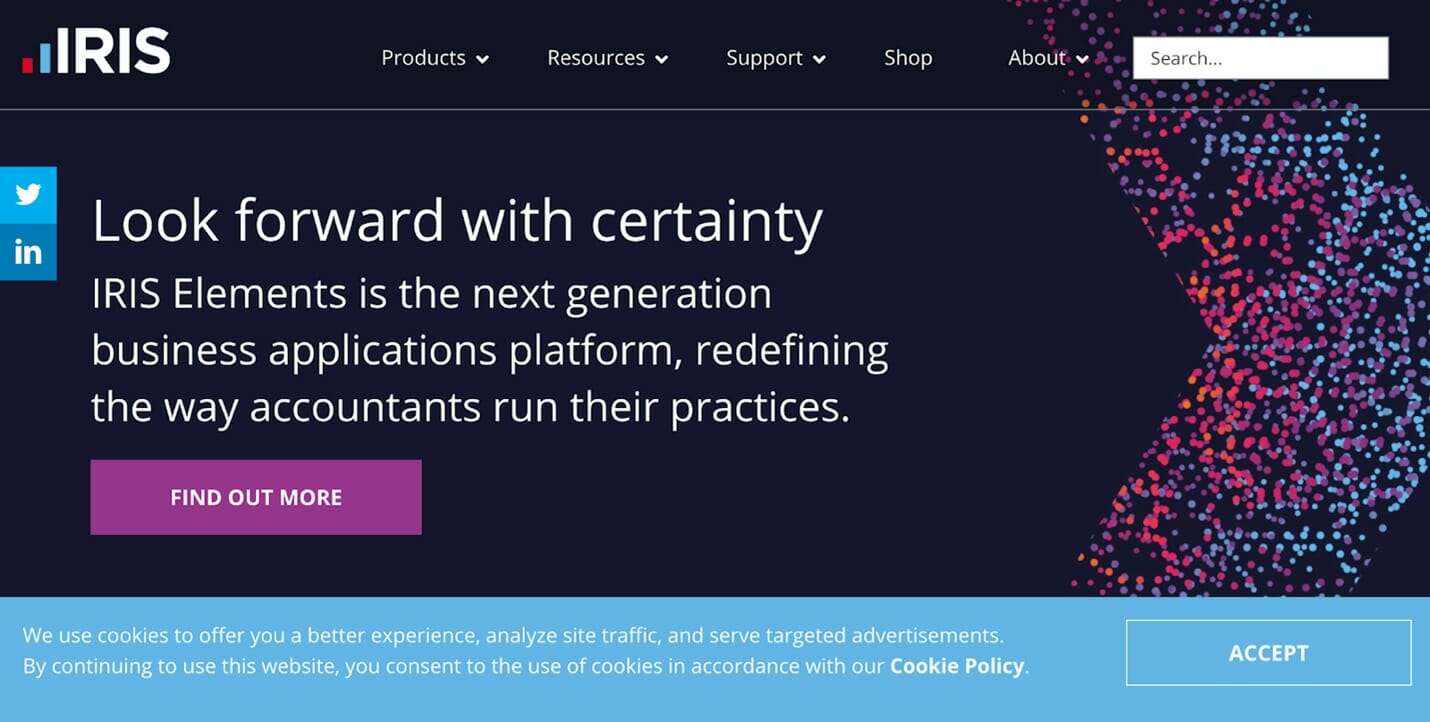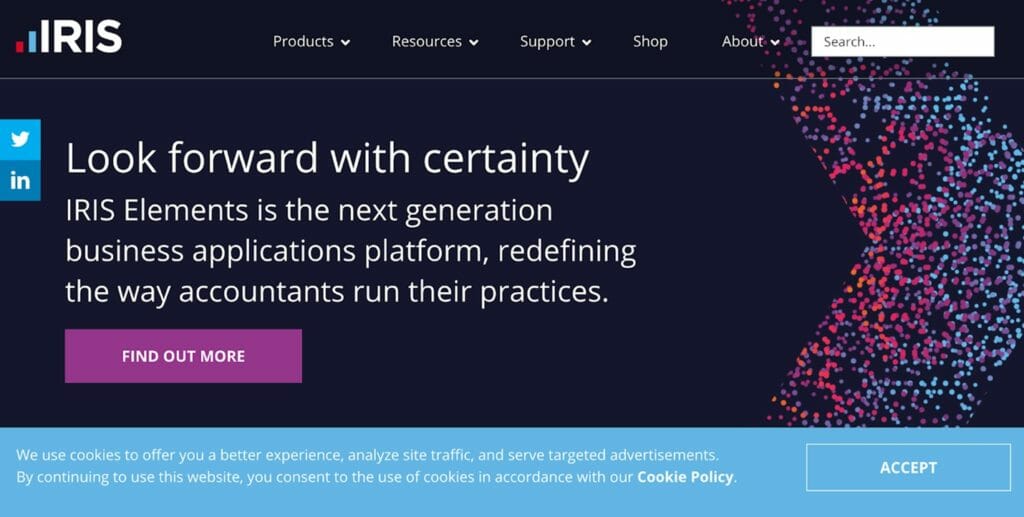 IRIS Business Intelligence is a reliable and affordable business and enterprise architecture collaborative software. It is specifically designed for business data architect and transformational specialists.
Some of its key features:
Allows you to complete your knowledge management with cataloging, collaboration, content management, discussion boards and decision tree functionality for customer interaction.
Gives your employees a platform to visualize and schedule backlogs, initiate data encryption, and secure data storage.
Lets your employees analyze and report ad-hoc, forecast and create budget and also enable key performance indicators.
IRIS business intelligence pricing begins at $3,495 per user as a one-time payment. It also has a free version.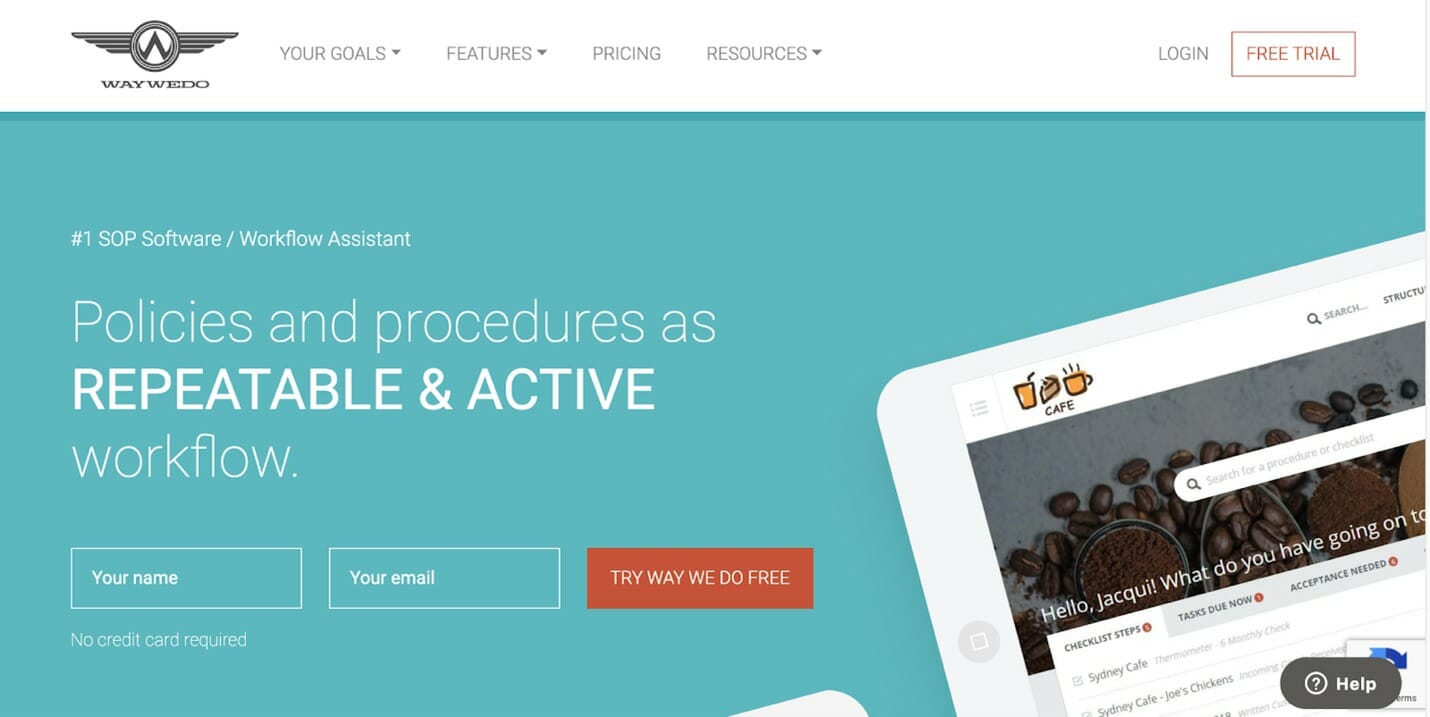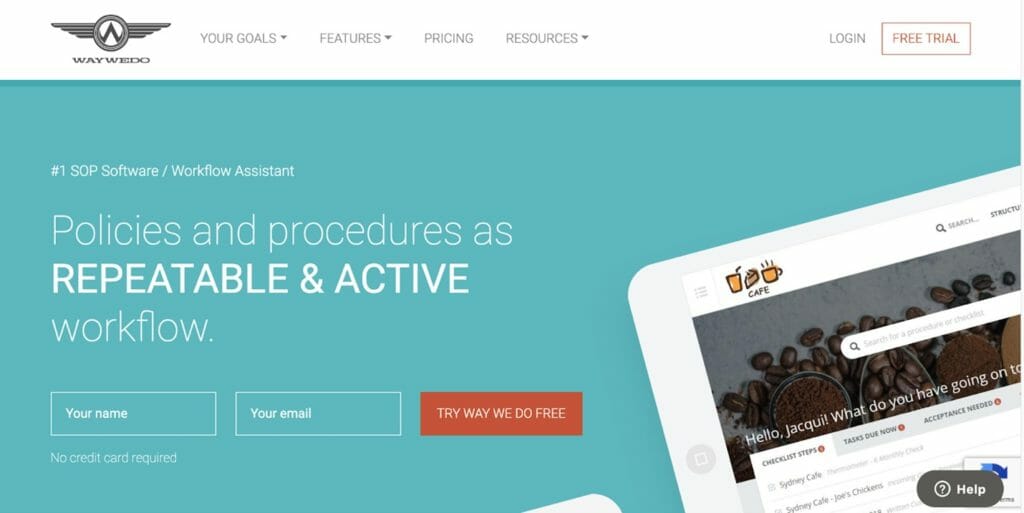 Way We Do is a cloud-based software that allows you to create, maintain, and actively use business operations manuals for your daily operational workflow.
Some of its key features:
Gives your customers the self-service platform to enjoy full-text search, collaboration with your employees, and limitless categorisation.
Uses activated checklists to direct and monitor recurring workflow.
Allows you to plan, edit, write, and review lifecycle procedures using the procedure acceptance and lifecycle prompt.
Way We Do offers 14-day free trial but costs $25 per month of the first user and an extra $8 per month for every additional user.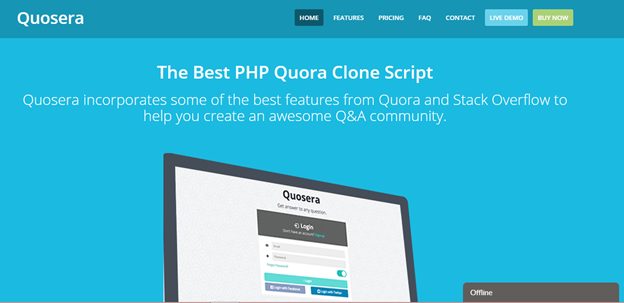 Quosera is a quora-inspired Q&A knowledge management platform. It allows for cross-browser support and has a powerful word editor.
Some of its key features:
Supports rich media content including MathML and TeX.
Lets you access content history for decision making.
Useful for academic and research institutes.
Quosera prices at $99 for a one-time payment.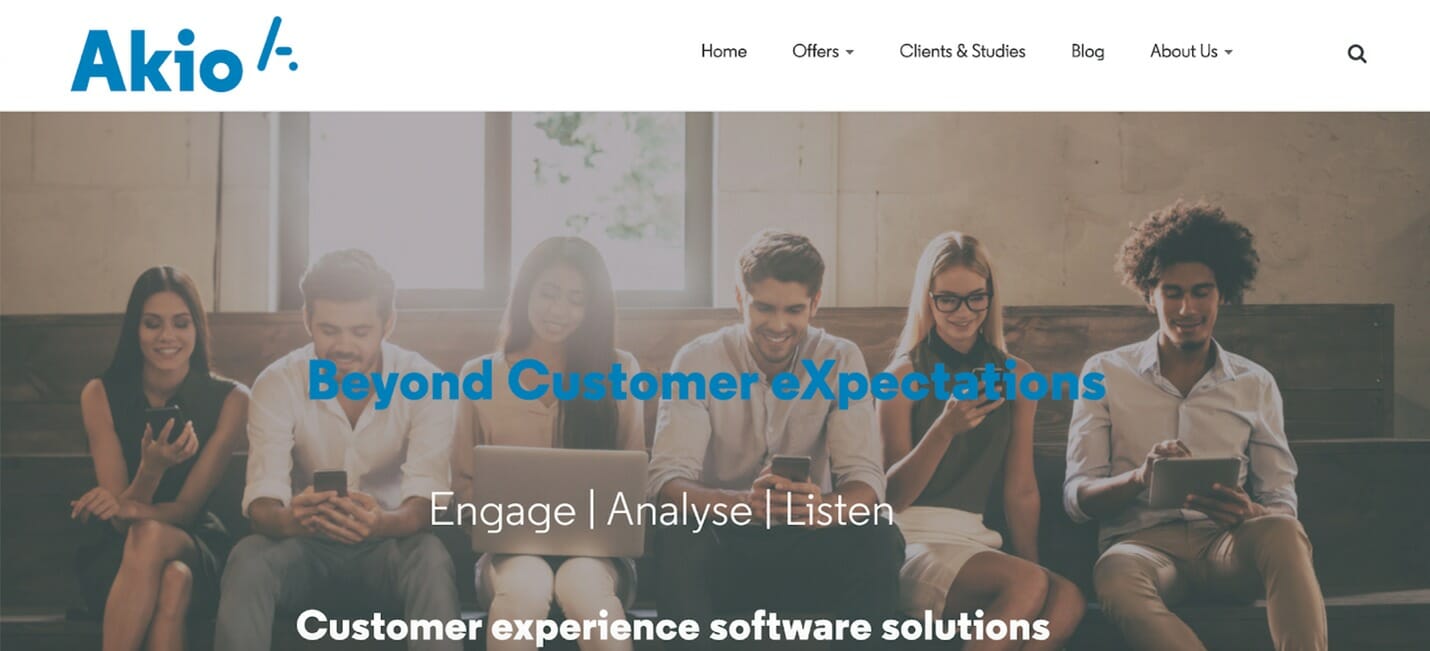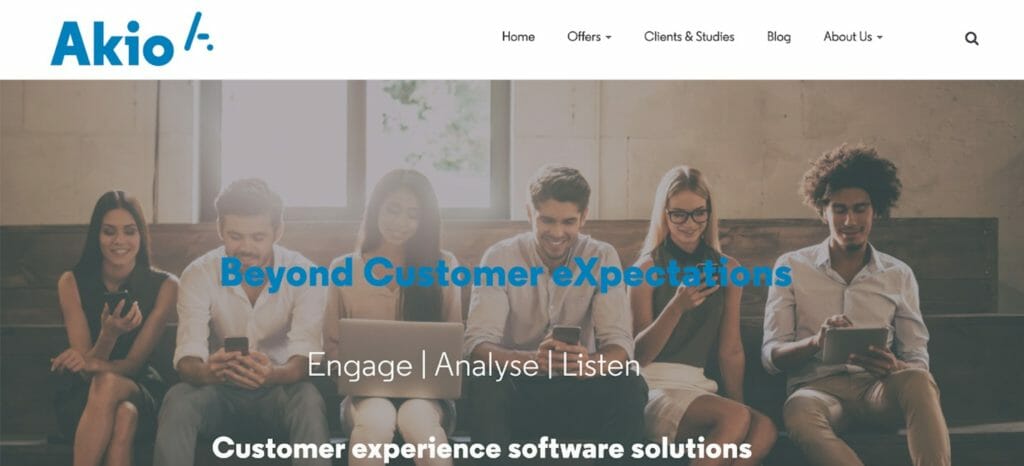 Akio is a unified customer relations platform, with all communication channels including complete listening and analytics. It helps companies optimize customer experience.
Some of its key features:
Easy to use for customer service agents.
Utilizes your data completely with improved customer knowledge.
Dispatch rules and call transfers with custom messages.
Pricing is $50 per month, per user.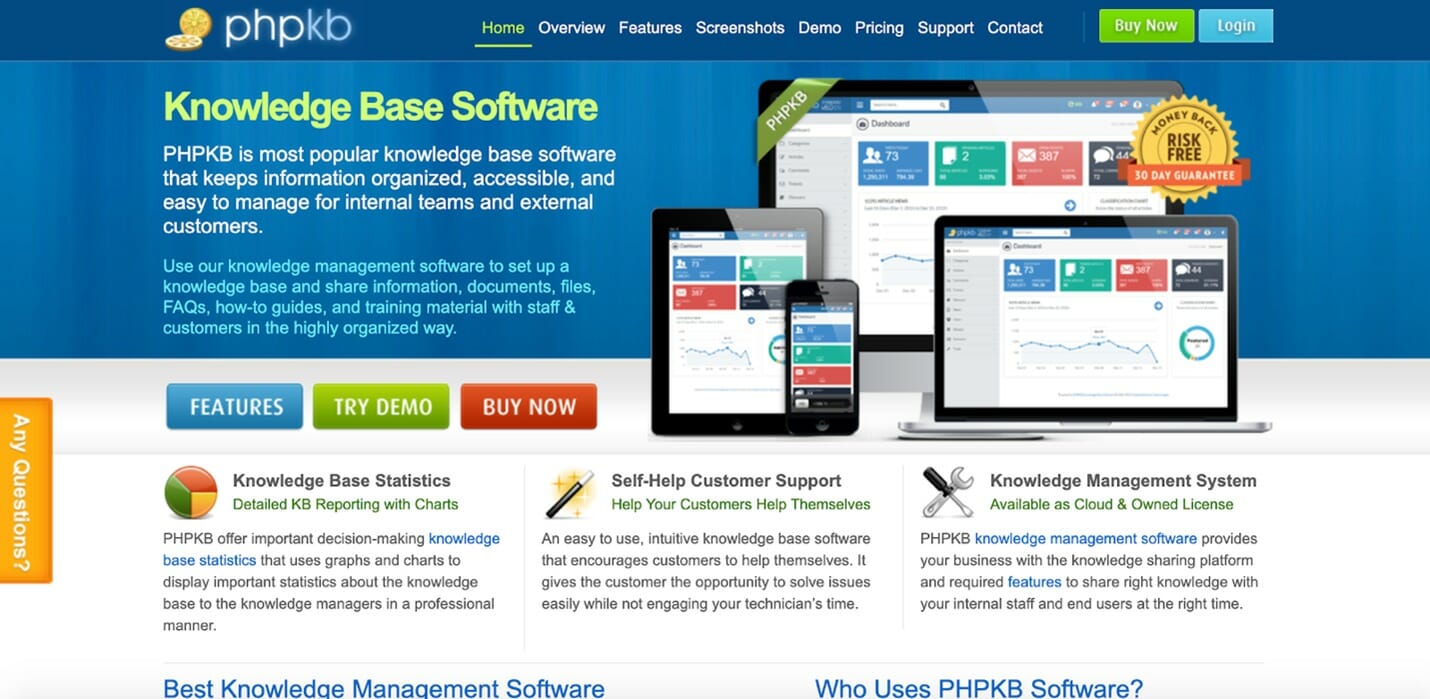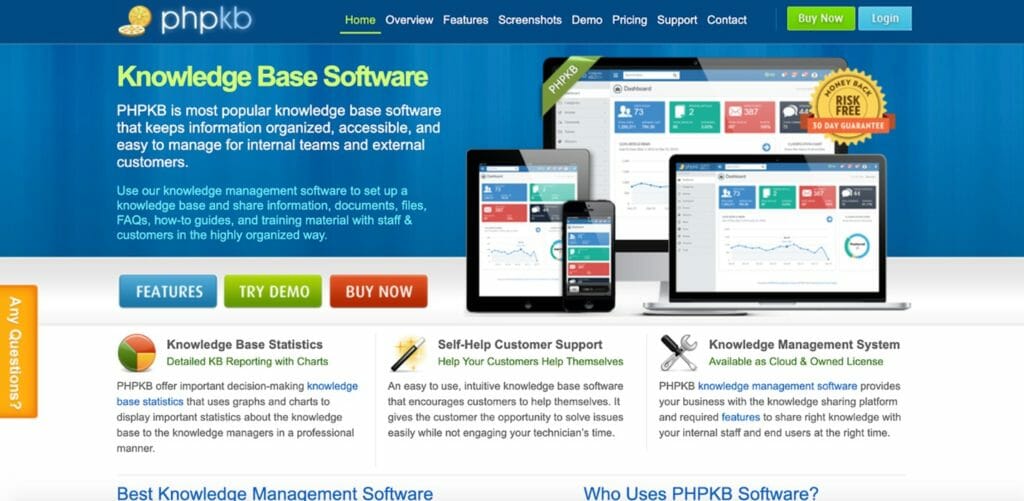 PHPKB is a web-based responsive knowledge management software that enables your organization to locate, capture, and share relevant information with your customers and employees.
Some of its key features:
Allows mobile-friendly responsive interface for excellent user experience.
Utilizes a single knowledge base system for both internal and external users.
Provides you with control over the document lifecycle.
For pricing information, you can contact the team for more details.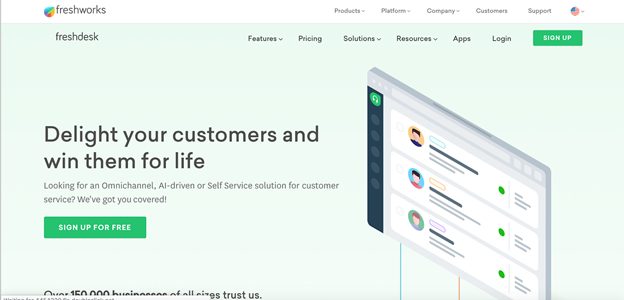 Freshdesk is an omnichannel, AI-driven self-service solution that allows you to streamline all your customers' conversations in one place.
Some of its key features:
Allows customers to help themselves with knowledge base forums.
Lets agents convert ticket replies into knowledge articles.
Allows you to gauge how customers feel about your support using customer satisfaction reports.
Freshdesk basic account is free for unlimited agents. However, its premium offer starts at $15 per month and billed yearly.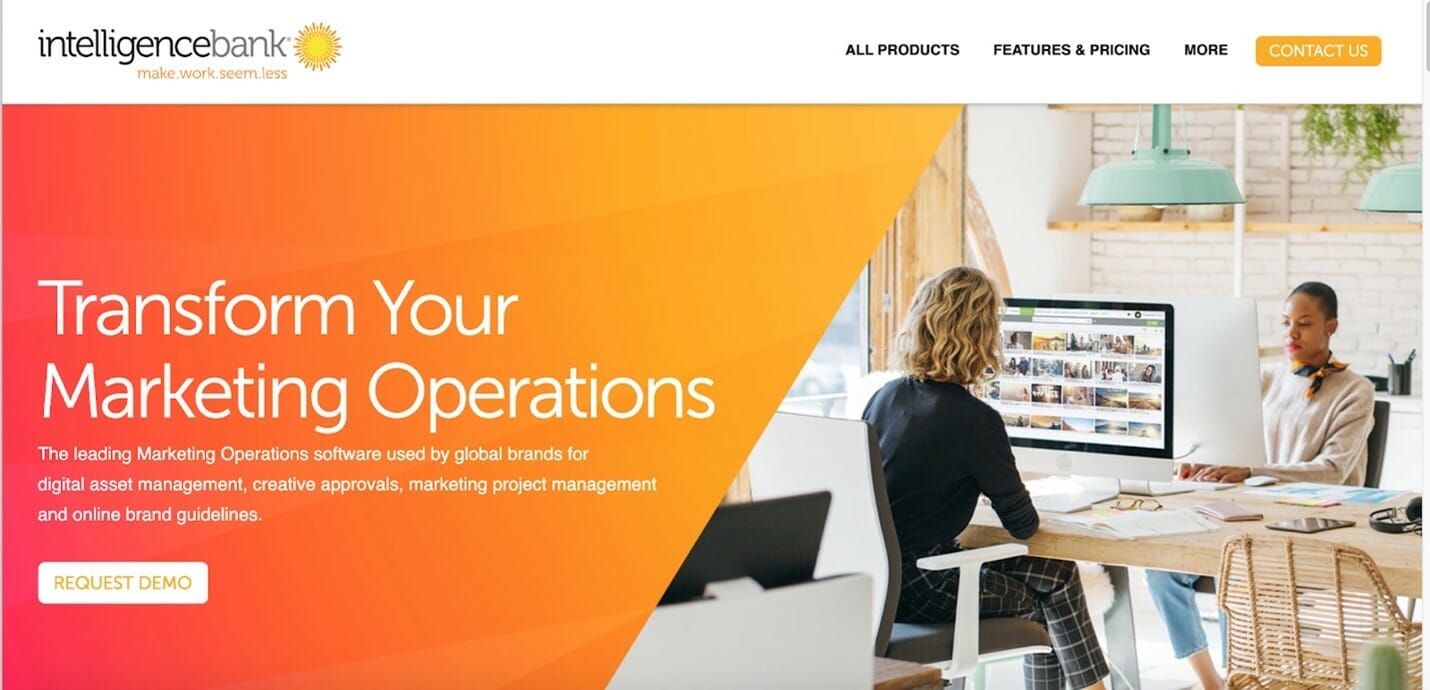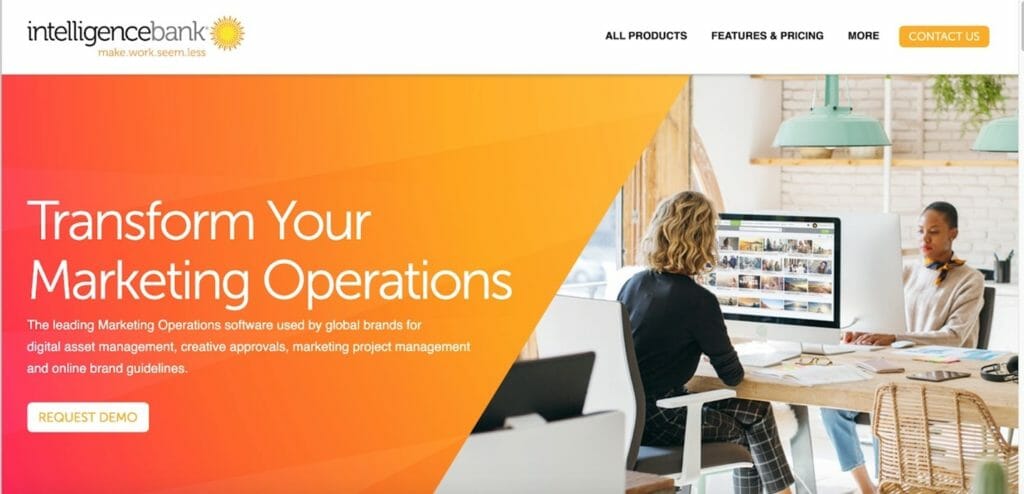 IntelligenceBank is a cloud-based tool that helps your service team align effort with marketing and sales. It helps sales agents to create proposals and interact with customers.
Some of its key features:
Allows you to manage marketing and creative projects within one system.
Provides content metadata with AI and personalization function.
Brings brand to life with custom brand guidelines pages.
Get more information about pricing by contacting the team.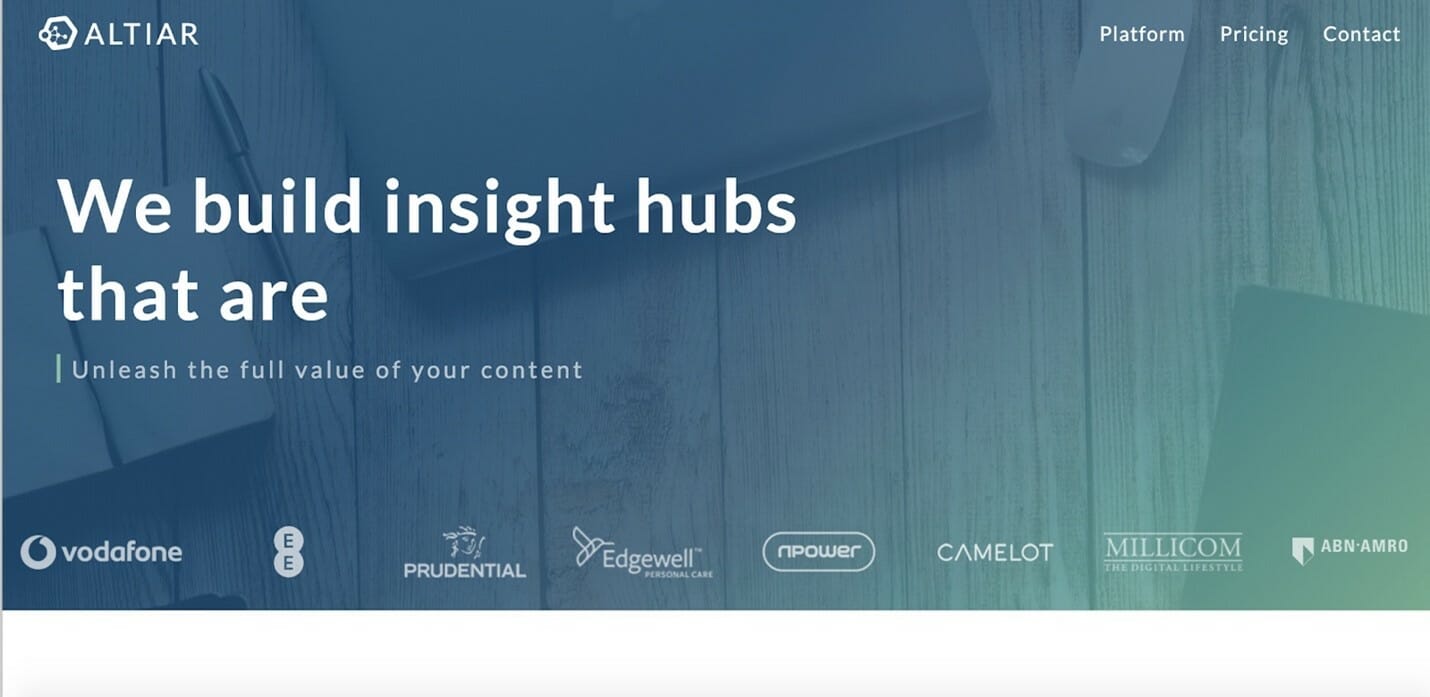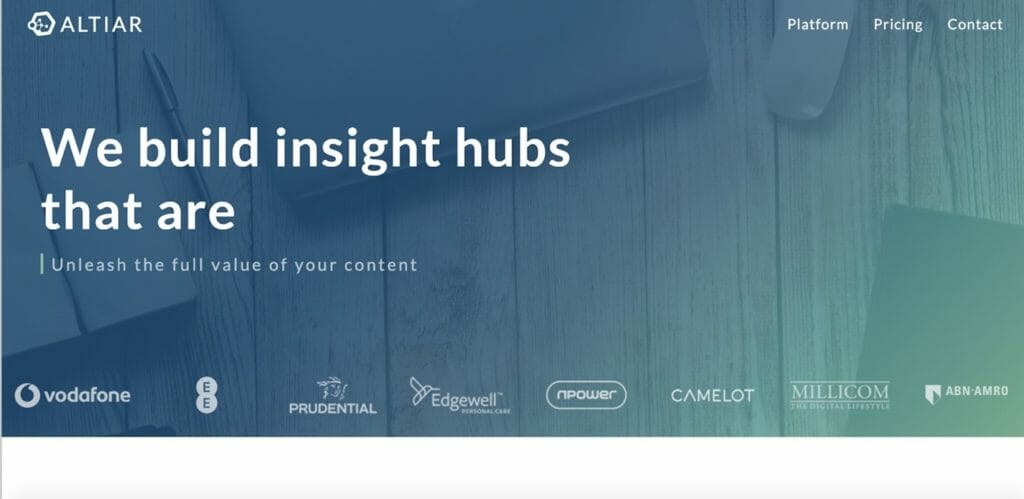 Altiar is a powerful customization platform that has integrated tools to promote and share knowledge content with an organization and your customers.
Some of its key features:
Promotes and shares knowledge within an organization.
Empowers your organization to structure data and transform it into a streamlined on-brand portal.
Allows seamless integration with other businesses.
Altiar pricing starts at $16.34 per month for a team of 25 users.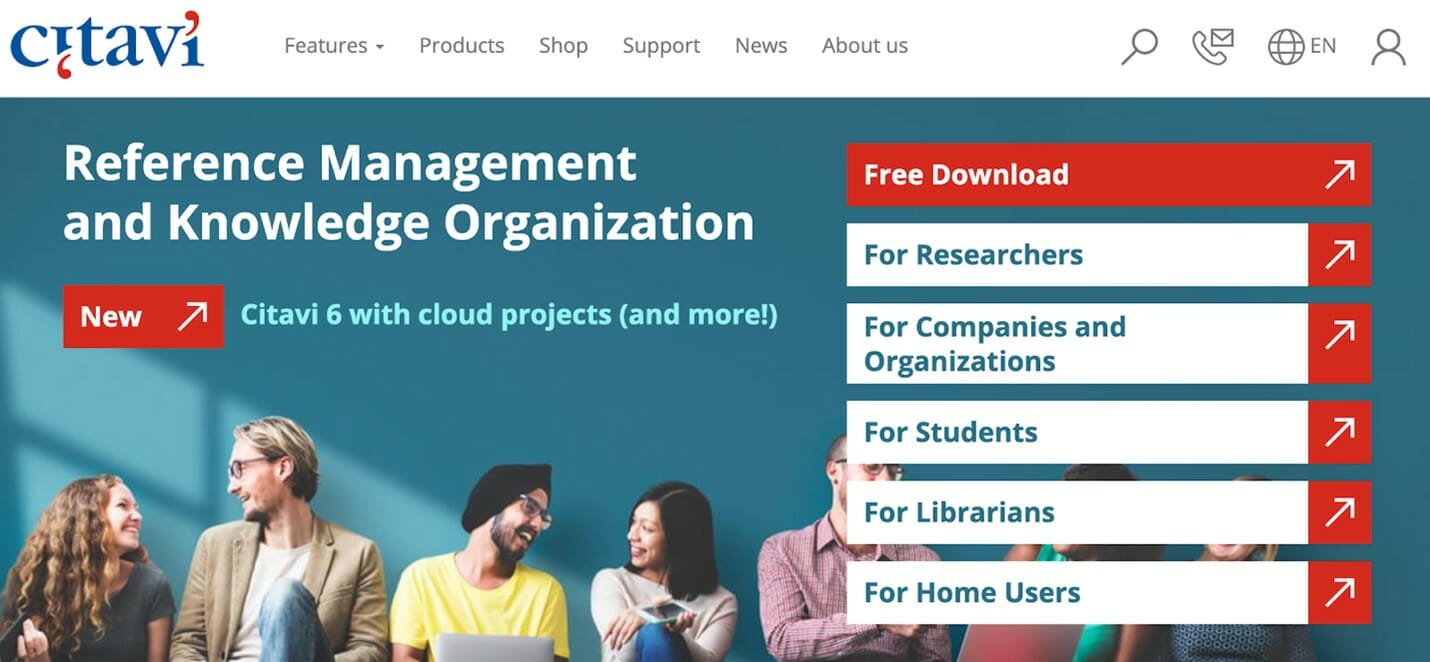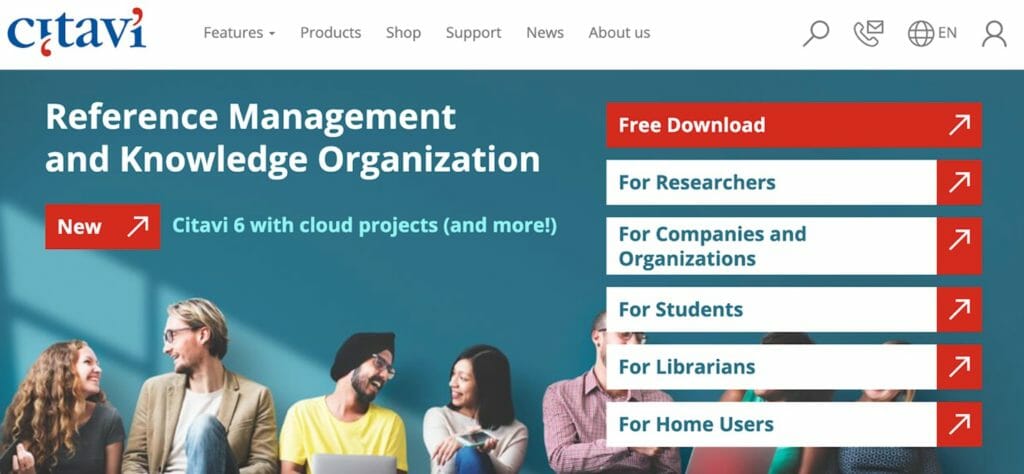 Citavi is a knowledge management solution that allows users to organize, analyze and search internal and external content easily. It is very useful when researching for new information.
Some of its key features:
Helps you find knowledge by combining reference management with a knowledge base system.
Allows more options for teamwork as it lets you collaborate on a project easily.
Protects your insights using SQL server.
Citavi basic plan is free, but you can request pricing information by contacting the team.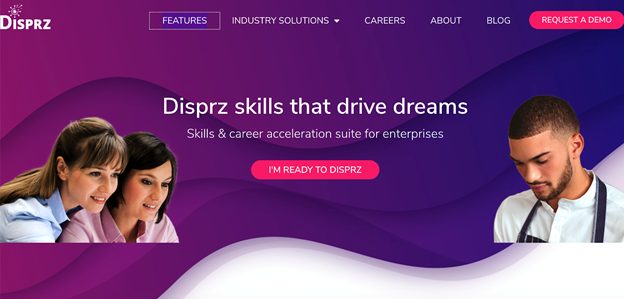 Disprz is a cloud-based learning platform that helps you circulate workforce knowledge among your customers and employees. It helps you reduce training costs and onboard faster.
Some of its key features:
Allows you to upskill, reskill, and cross-skill using a cutting edge AI-driven platform that engages employees.
Creates engaging content via multidimensional microlearning.
Activates your clients using a helpful and engaging quiz engine.
You can reach out to the team for pricing information.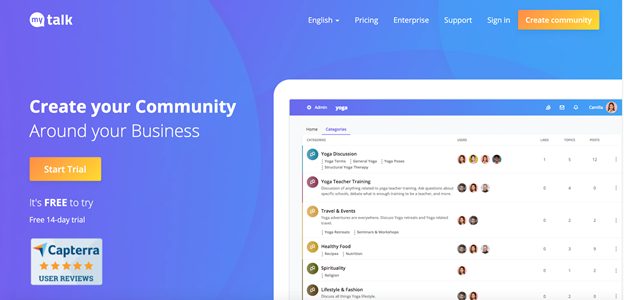 MyTalk is a community management platform that enables companies to build their own community of loyal customers.
Some of its key features:
Allows you to easily build a community.
Provides you with great design layouts.
Helps organize your topics and polls in an engaging manner.
MyTalk offers 14-day free trial, but you can upgrade to $19 per month.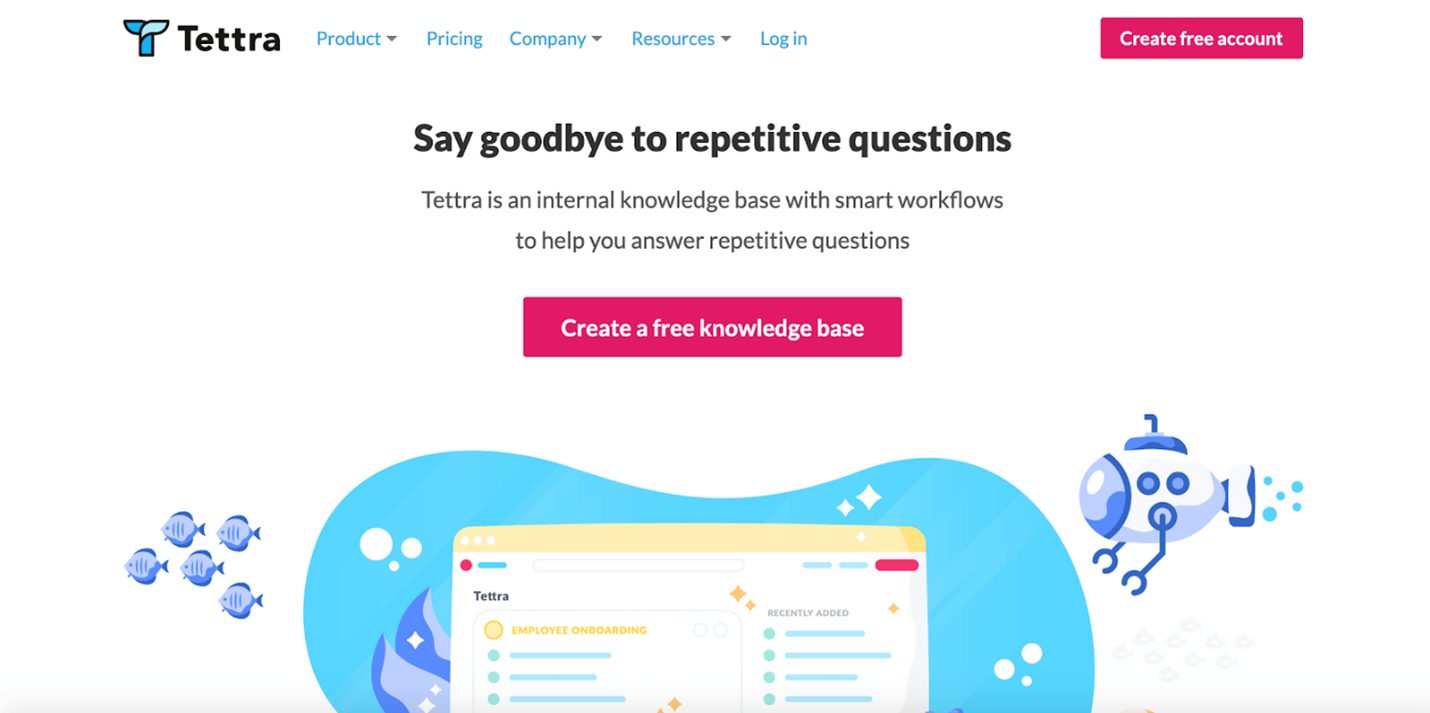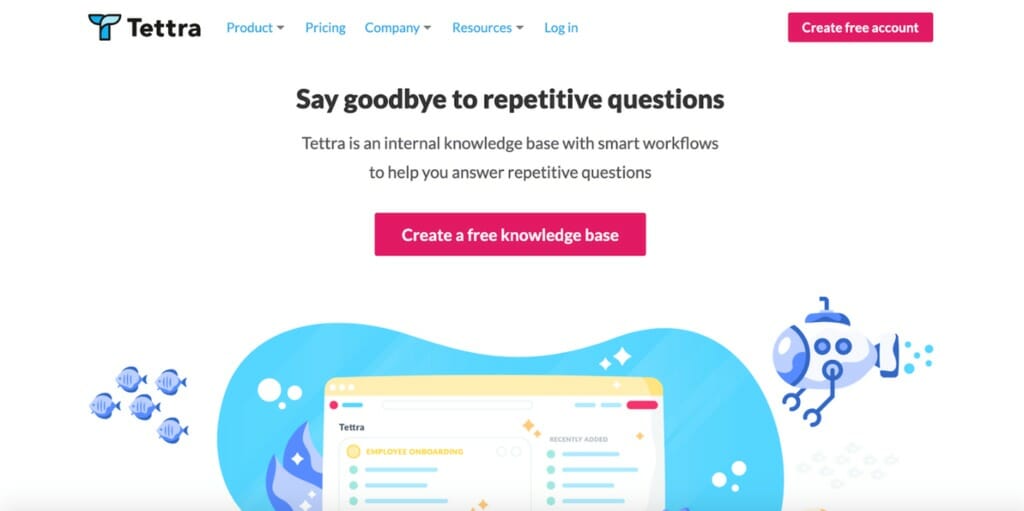 Tettra is a simple and intuitive knowledge management solution specially developed for employees. It's easy to navigate and appropriate for customer use. Your customers can use it to search and share answers from knowledge base.
Some of its key features are:
Centralizes all your team existing resources.
Integrates with tools you're already using.
Helps you save time with templates.
Tettra is free forever, but you can upgrade at a starting price of $39.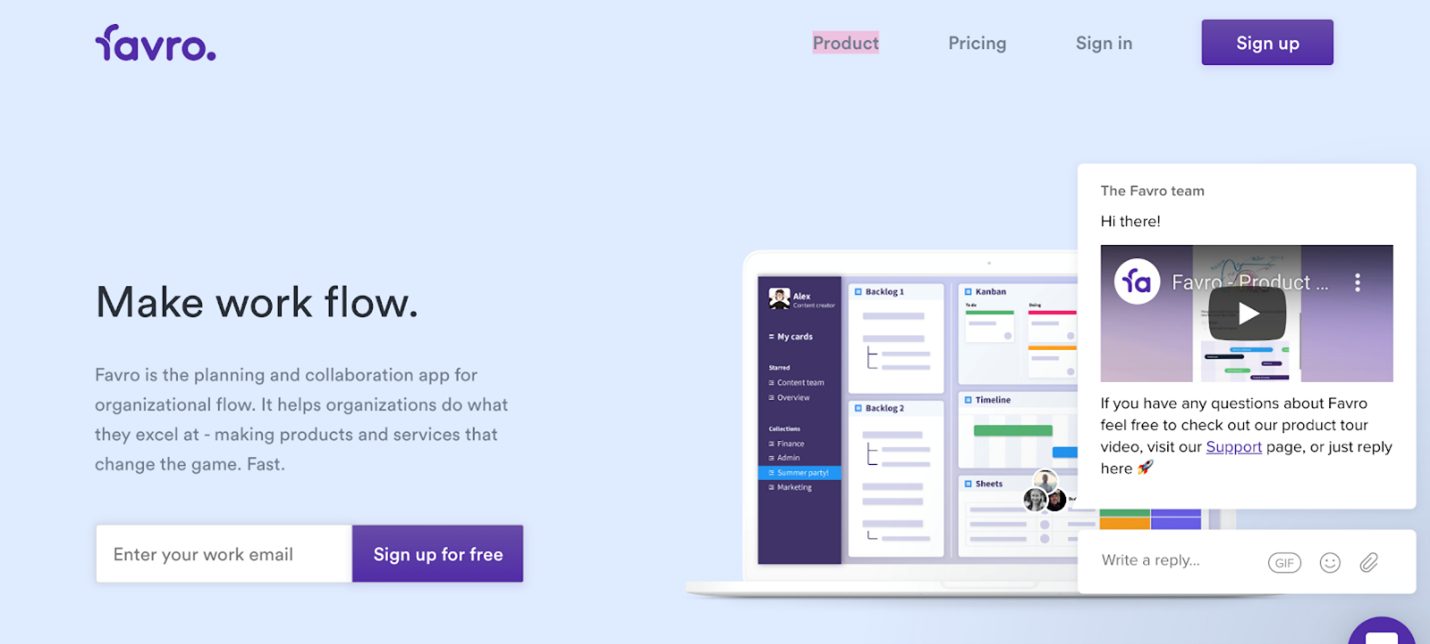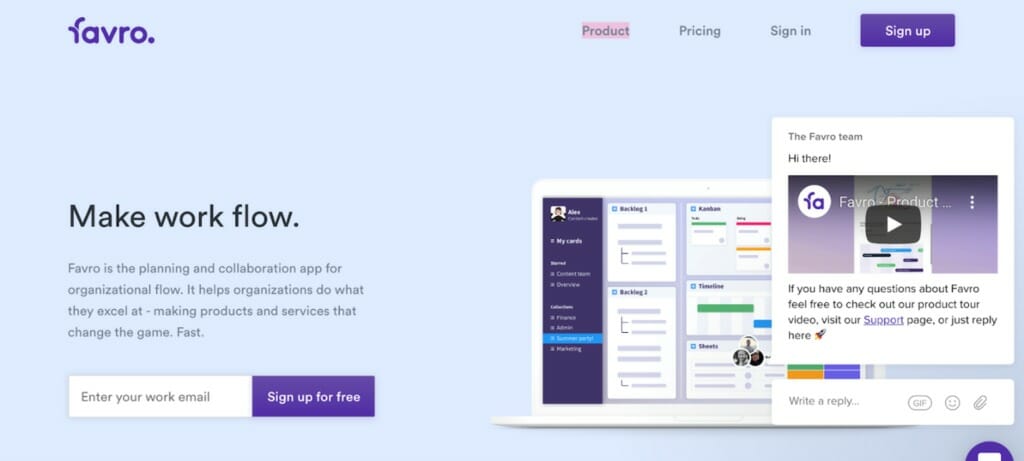 Favro transforms any organization into an agile business by empowering all kinds of teams to work autonomously.
Some of its key features:
Helps you plan backlogs and lists.
Allows you to design workspace with multifunctional boards.
Lets you customize collection during projects.
Favro comes with a 14-day free trial and it costs $10.2 per month afterward.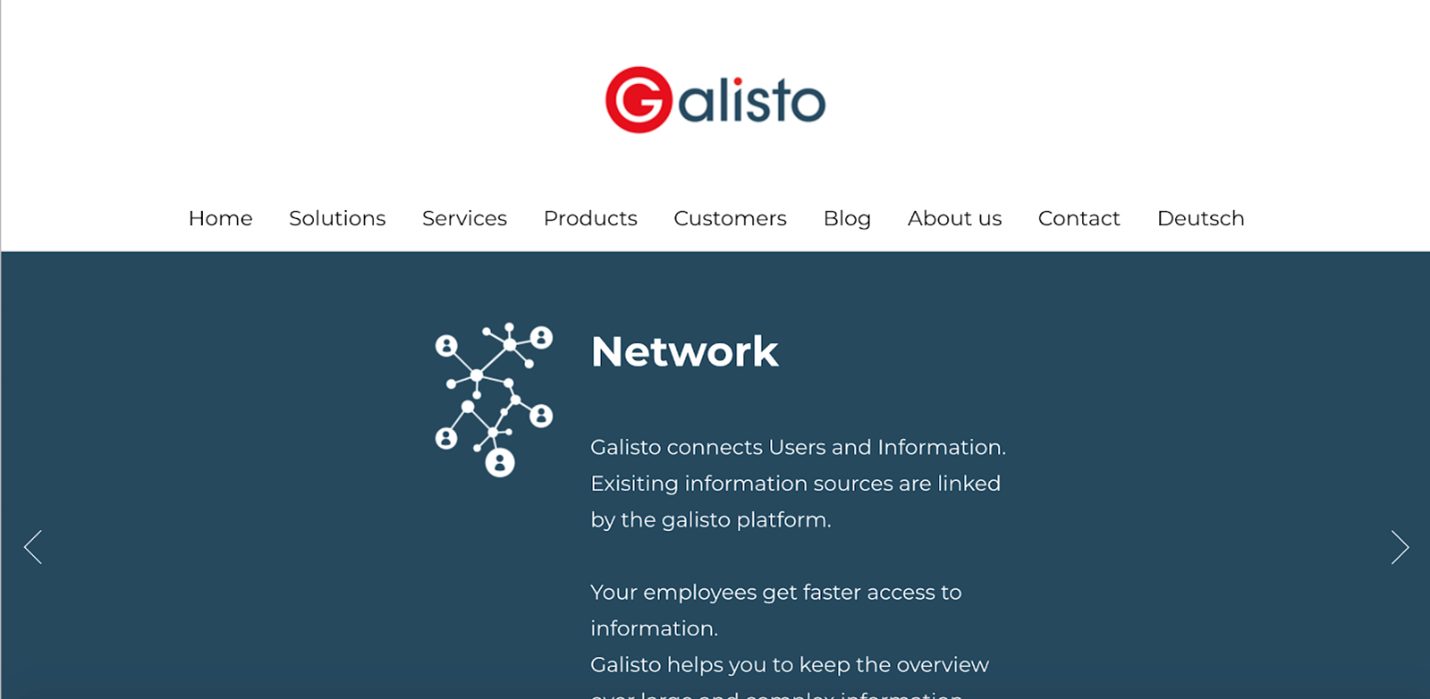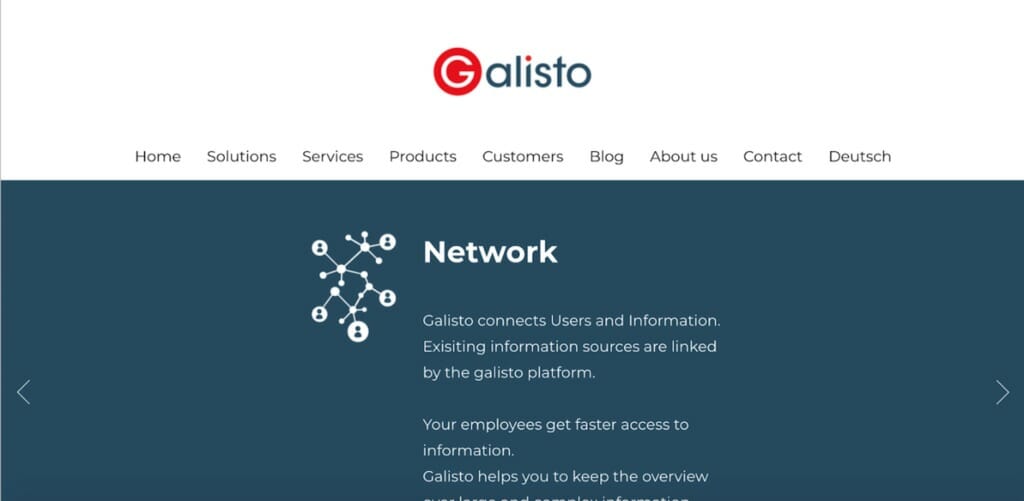 Galisto is a knowledge management platform that connects users with their needed information. It provides collaboration with external partners without privacy or security breach.
Some of its key features:
Supports you to become a knowledge base company.
Reduces unnecessary and time-consuming activities on a large number of used applications.
Connects users and information in a timely manner.
For pricing information, you can contact the team.
Conclusion: The Bottom Line About Knowledge Base Software Solutions
A knowledge base software program continues to be an effective and efficient way of solving the problems that your prospects and customers face. In this post, I have explained what a knowledge base software means, and how it can help your business grow.
Not only that, I've shown you exactly what you need to consider before choosing a knowledge base software program for your business. I've also shared with you a step-by-step guide to creating your own knowledge base.
To help you further with choosing the right knowledge base software for your business, we've put together a "Knowledge Base Software Checklist." This details the exact things you must take note of when you're about to choose a knowledge base software program for your business.
Download the checklist now!