13 Best Knowledge Base Software in 2023 (Free & Paid)
Last Updated on October 24, 2023 by Owen McGab Enaohwo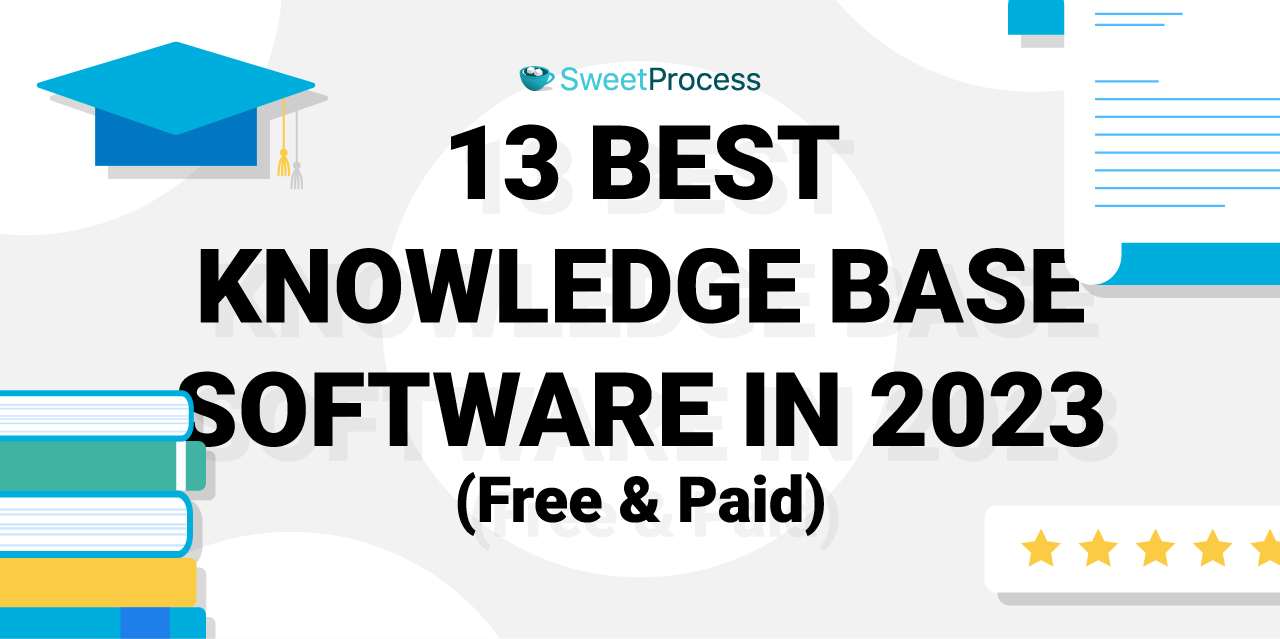 Knowledge base software is not essential to a business—it is indispensable. That is unless you are a small business just starting out, and everything about your outfit can be manually inserted into an easily accessible resource document.
The functionality of knowledge base software is such that it can either cause immense chaos for both your customers and your employees or eliminate all confusion. Consequently, you want a tool you'll love so much as to give it a pet name. We kid you not—that's exactly how Jennifer Schneider, chief design officer at pLink Leadership, says she feels about SweetProcess: "I started calling it Sweet P just because I love it so much."
You probably know what you want since you are already searching for knowledge base tools. So we've listed 13 options (including ours) for you to explore. If you still can't decide and need more clarity about a knowledge base platform in general, there's the rest of the article.
Table of Contents
13 of the Best Tools to Create a Knowledge Base
The Knowledge Base in a Nutshell
Resolving the Knowledge Base Conundrum
If You're Still on the Fence …
13 of the Best Tools to Create a Knowledge Base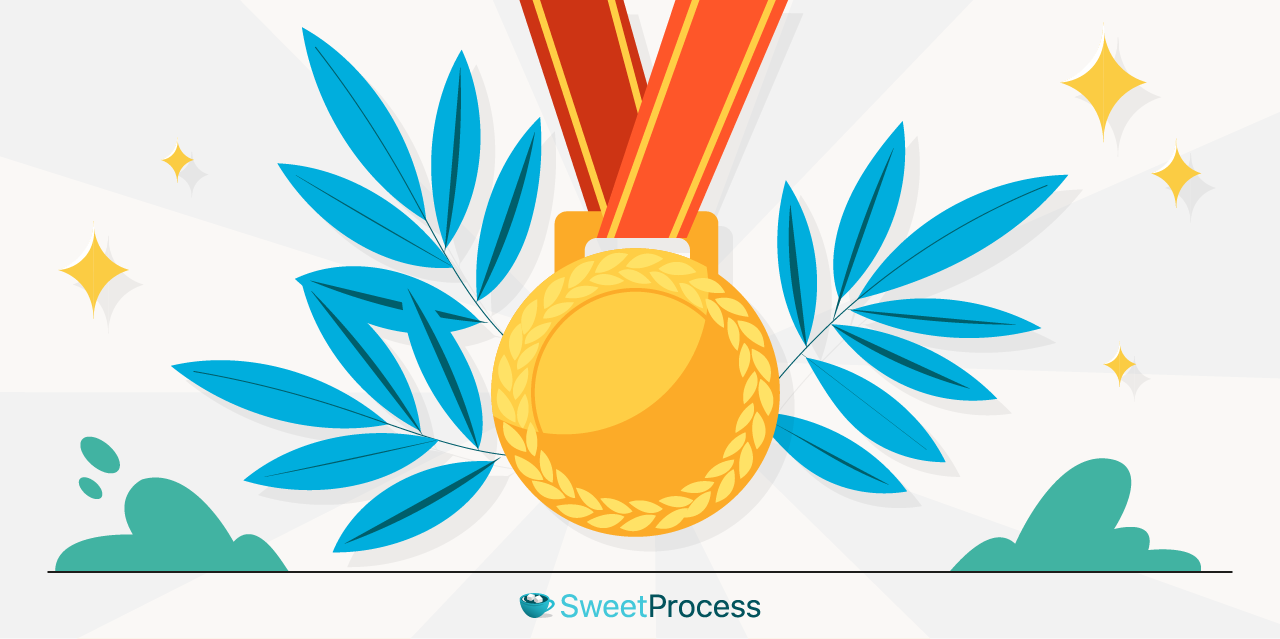 This list was curated so you get enough options but not too many. It should be comprehensive enough to cater to just about any business. If you feel we left out an important option, please let us know in the comments.
1) SweetProcess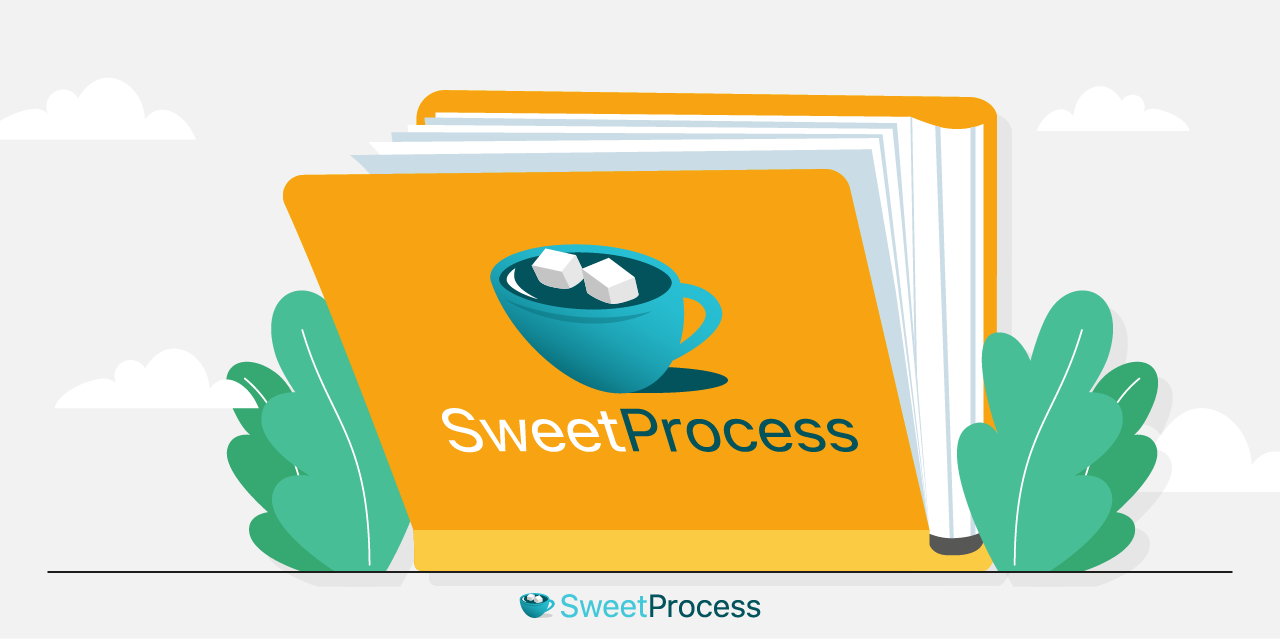 SweetProcess is more than a knowledge base platform. You can manage your entire business process without software. This explains the default view when you log into your SweetProcess account.

The navigation for the knowledge base is in the dropdown when you click the "More" button. We assume you will have your policies and procedures in place before you create your knowledge base.
However, if you already have existing processes and procedures, you can import them to SweetProcess. In that case, you can go straight to creating your knowledge base. It would make sense for you to customize the navigation menu if that were the case, right? If you look at the image of the dropdown again, you'll notice that option right at the bottom.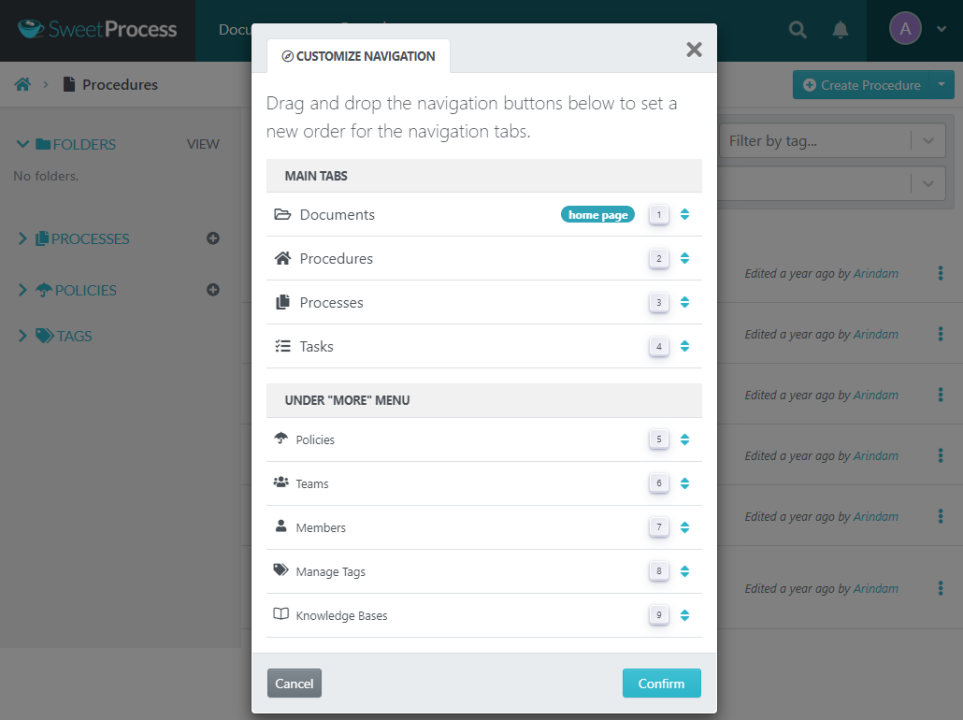 And with the options in the image above, you can do whatever you like by dragging the items around. Let's see what happens when you drag the knowledge base button to the main tabs section.

Your knowledge base navigation button/tab is on the left, right beside the SweetProcess logo. But wait, what happens to all these tabs if you're on your mobile phone? No worries, you get the familiar hamburger menu top-left, and clicking that gives you all the options.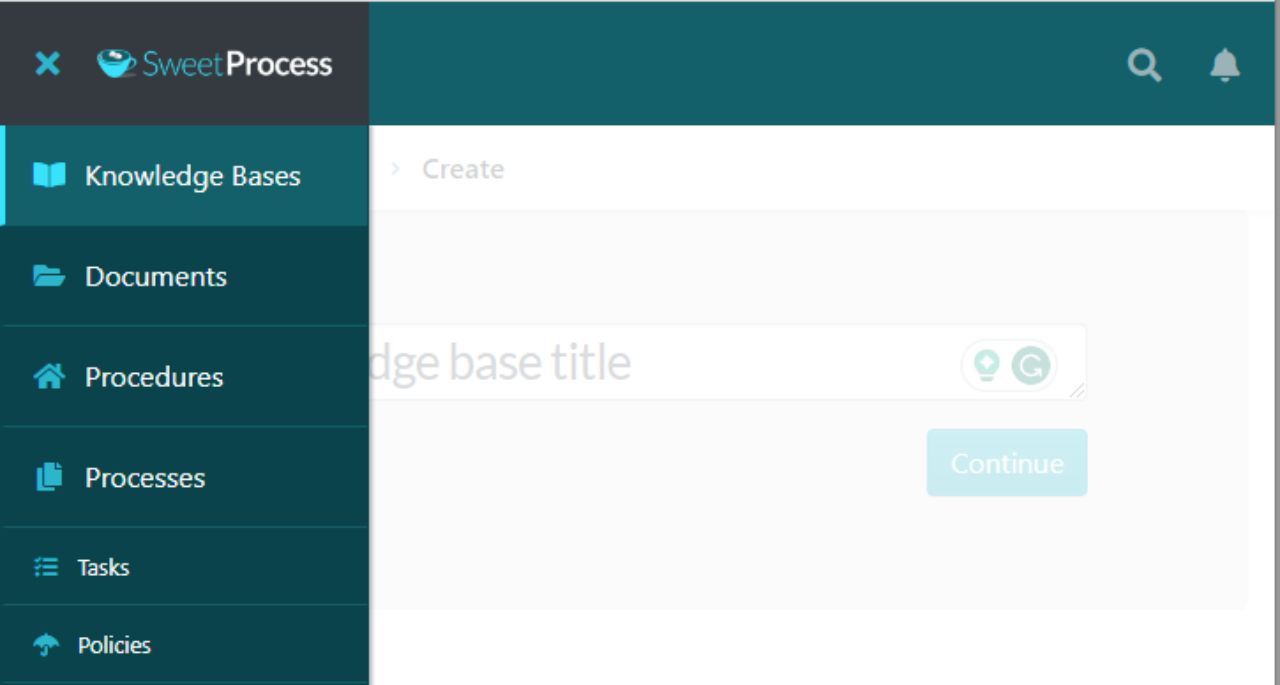 But we went ahead of ourselves a bit. As you can see in the image, a text area gives your knowledge base a title. And how did we get to this stage? By clicking on your newly placed "Knowledge Base" tab, of course, which brought you to this page first.

This page lists all your existing knowledge bases and gives you the option to create a new one—just click the blue button (you'll hear that a lot) on the top right. And then you can create a title for your new KB, as we've already shown you.
We named our knowledge base New KB. After clicking the blue button to confirm that highly original name, we are brought to this page full of options for access control and whatnot.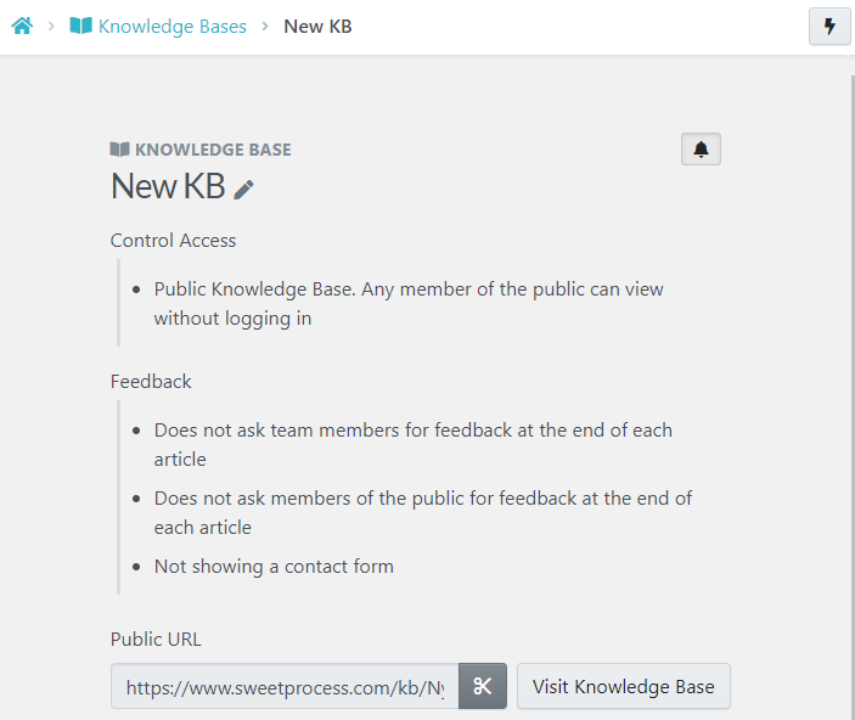 Just click anywhere on the text to view further options.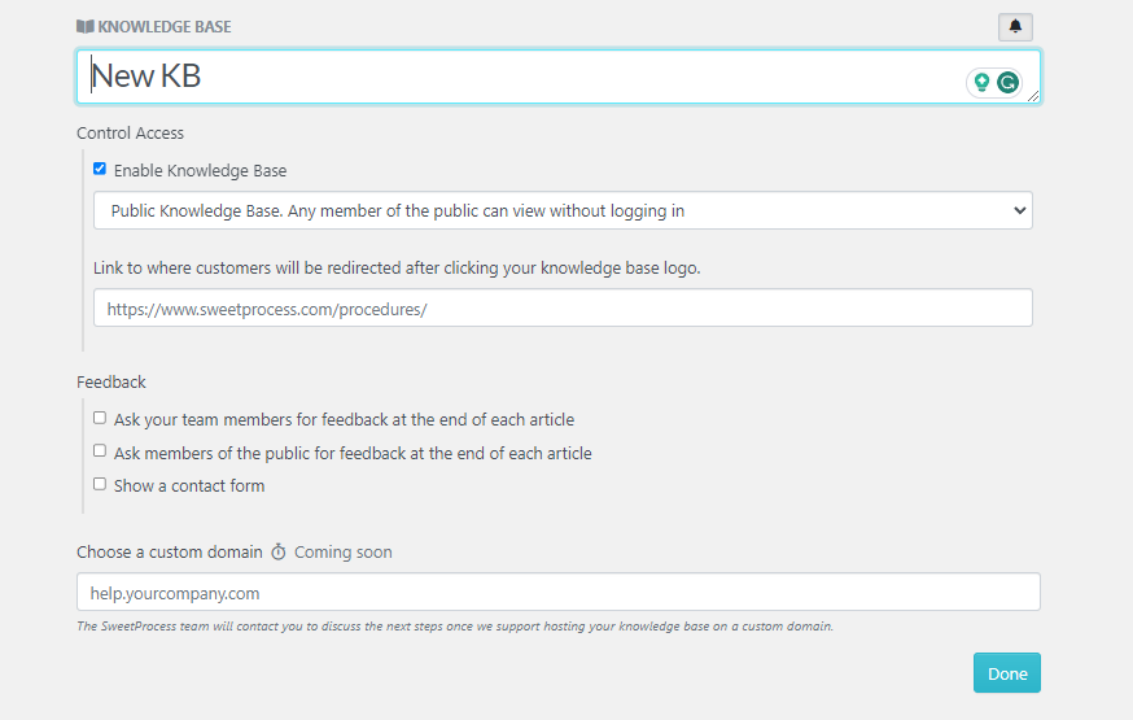 Remember that you're not done until you click the blue button that says "Done." If you're using a small handheld device and don't have the need to scroll to the bottom, you could miss the button.
SweetProcess has fail-safes in place so that nothing you don't want to be published ever gets published. Always look for the blue button for saving your work. We're about to show you the rest of the precautionary measures shortly.
Let's look at how to populate your public or private knowledge base.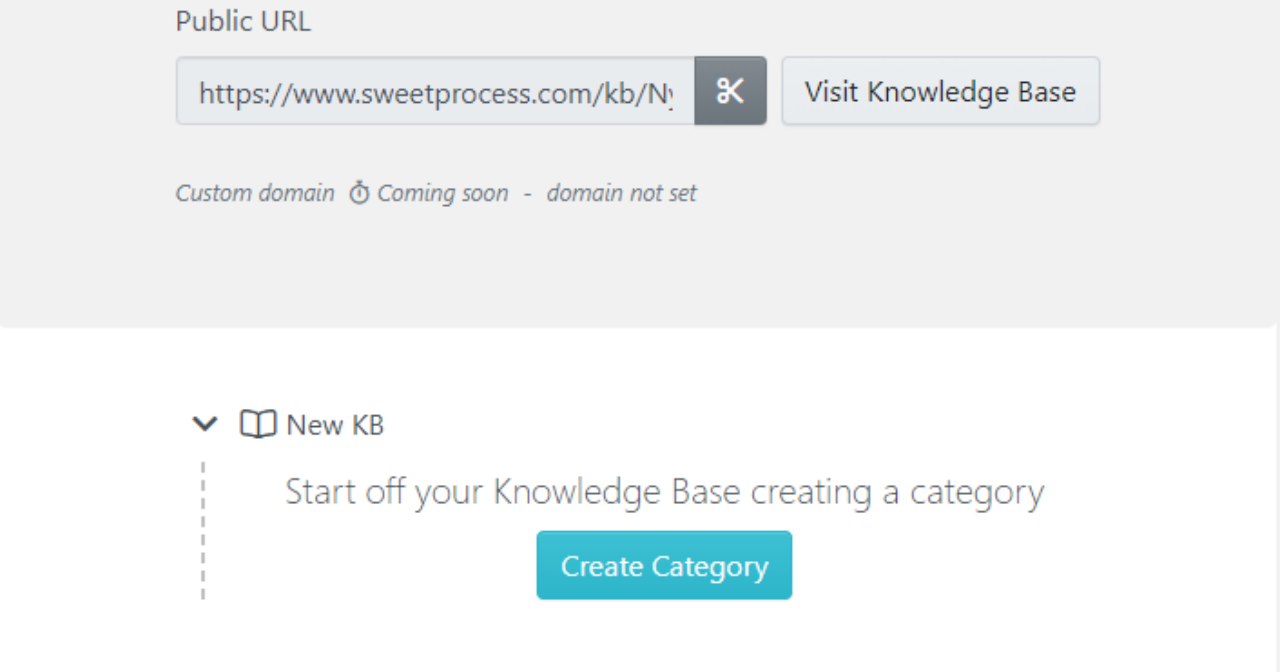 Click the blue button, and you get to name your category. We named ours "Emergency Personnel."

Once that's created (after clicking on the blue check mark), these are the options (upon clicking the three blue dots):

Next, you can create an article from your existing procedures.

Click to add a new knowledge base article, and this happens:

If you start typing or click on the arrowhead pointed downward, all your existing procedures will appear, and you can choose one and click the blue check mark.

If you click to edit the document "How to Create a Procedure Using SweetProcess," it opens in edit mode. We'll walk you through the editing process without actually making any edits.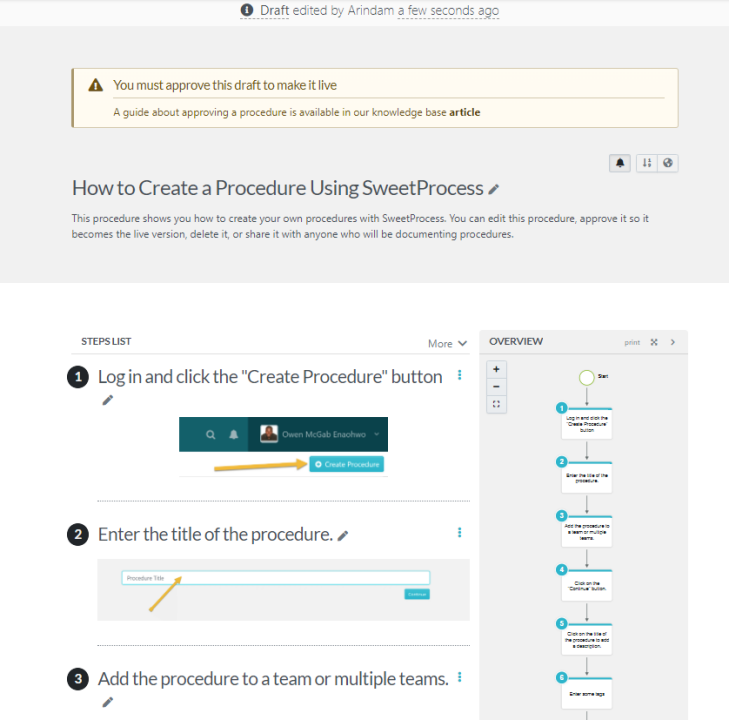 Taking it from the top of the document:
There's the version history and the name of the person who last edited the document.
Then there's the warning that the draft has to be approved before it is published.
Within that warning block, you'll find a link to the details about how to approve a draft so that you're not left wondering.
Clicking on the pencil icon to the right of the procedure title makes the document editable.
On the right is the flowchart ("OVERVIEW") that keeps updating itself as you add steps to your procedure.
You have the option to close the flowchart view if it distracts you.
We won't go into how to insert text or even images or video—that'd be insulting your intelligence. Still, we'll show you something very interesting about the editor in the next section on process creation. Before that, here's the rest of the procedure edit page: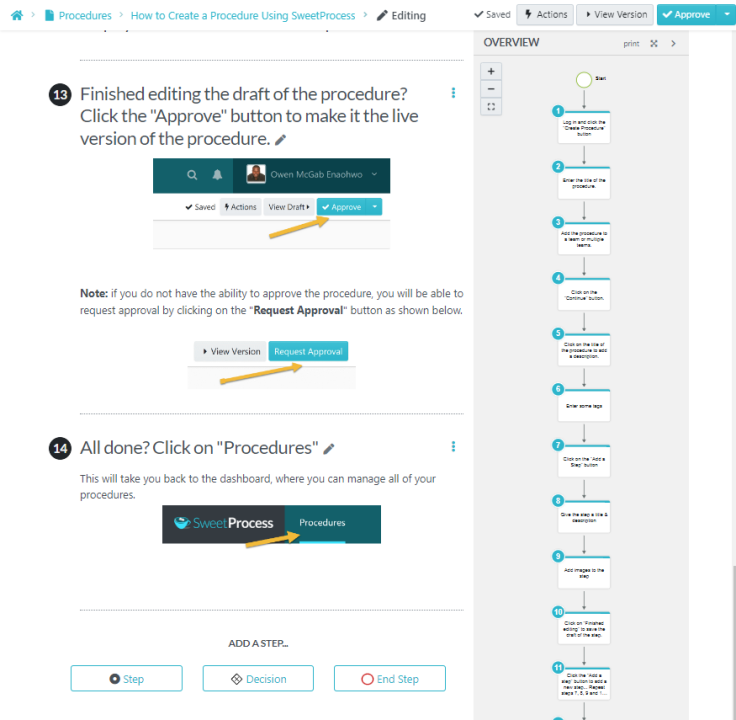 Please look at the bottom of the page where it says "ADD A STEP" and the button below it that says "Decision." You've been adding steps all along—they constitute your procedure, all 14 of them, but you haven't added a decision yet. That is the interesting bit about the editor we were referring to.
Please look at the flowchart before we move along. It is just a sequence of text boxes one after another because the steps in your procedure are all standalone, and there's no "decision" to be taken regarding any of them.
But what if there were conditions involved? That's what we're about to show you.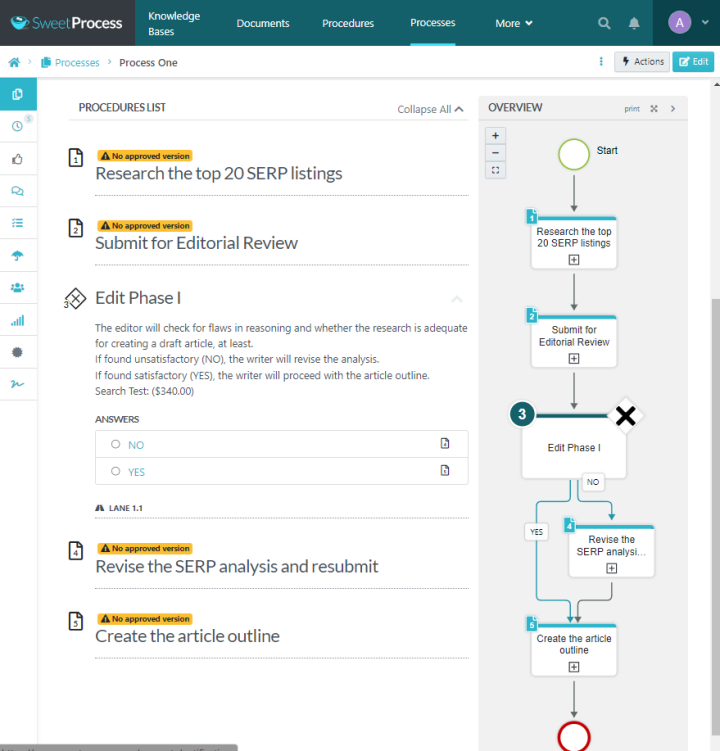 The flowchart now has something new in it—the decision step. It reflects "Edit Phase I." This is what the phase states:
The editor will check for flaws [in the document].
If found unsatisfactory (NO), the writer will revise the analysis.
If found satisfactory (YES), the writer will proceed with the outline.
In situations like this, you don't add a step; you add a decision instead.
The buttons are right there where you'll need them. Once you have clicked on the "Decision" button, you will have the decision-related editing area where you can insert conditionals. As you can see, we have inserted the NO and YES options. One look at the flowchart tells you how this part of the process should proceed.
Let's pause for a moment here and take a look at the screenshot of the SweetProcess knowledge base below: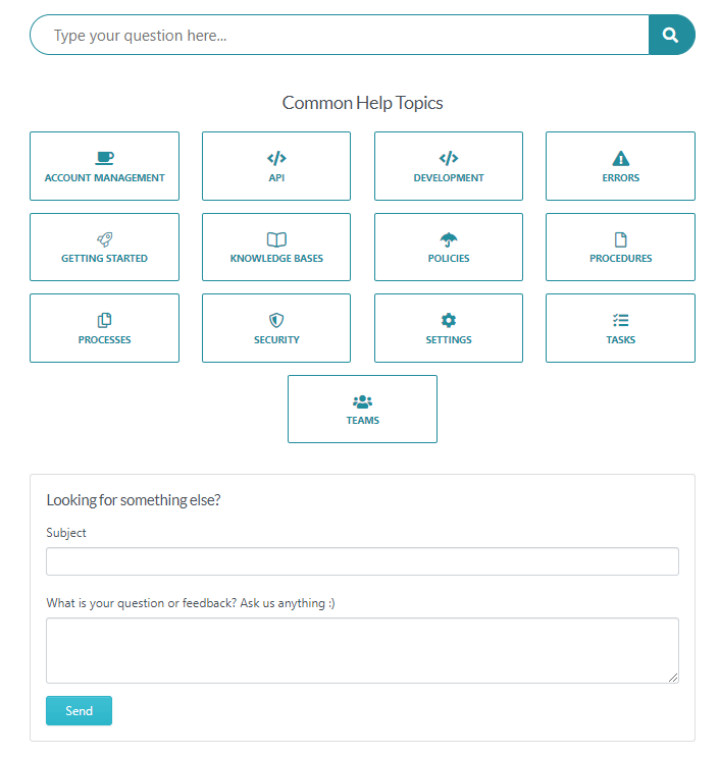 Hopefully, this leaves nothing out. This even includes a feedback/question form so we can continue enhancing our SaaS knowledge base. Now if we click on the box that will take us to everything about knowledge bases (second column, second row), here's where we land: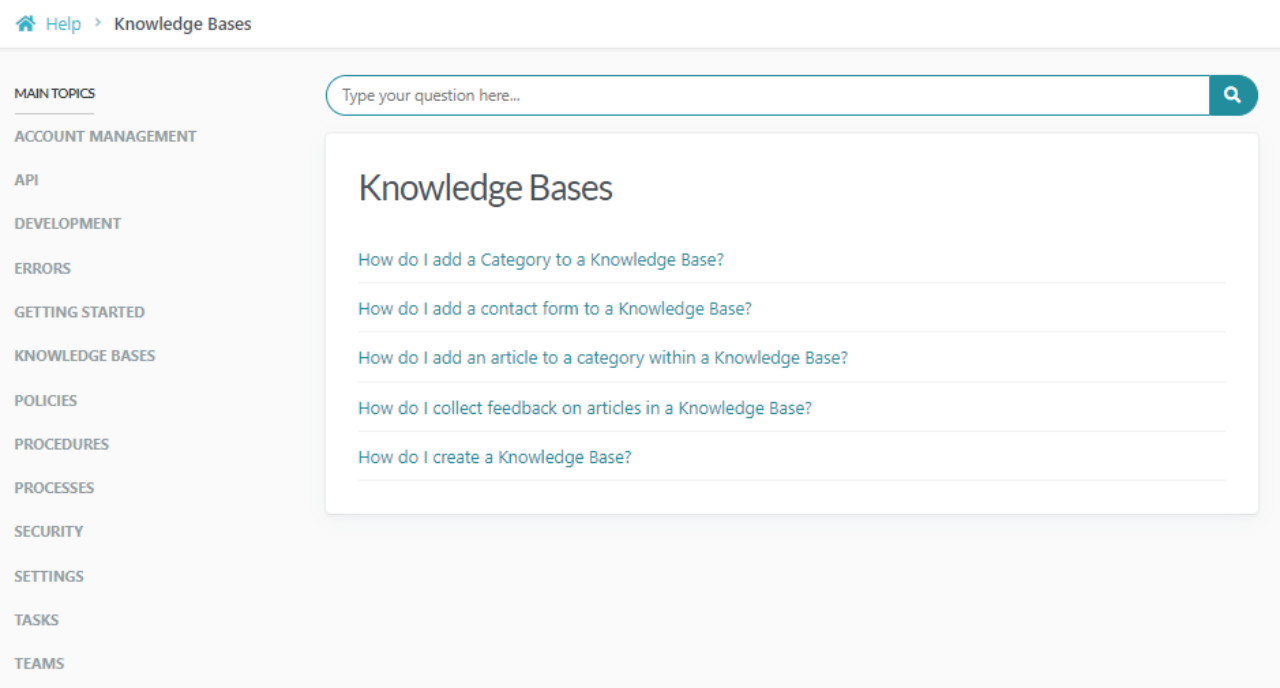 And then, for example, if we clicked on the fourth item in blue, it will take us to a very detailed doc about how to collect feedback in a knowledge base: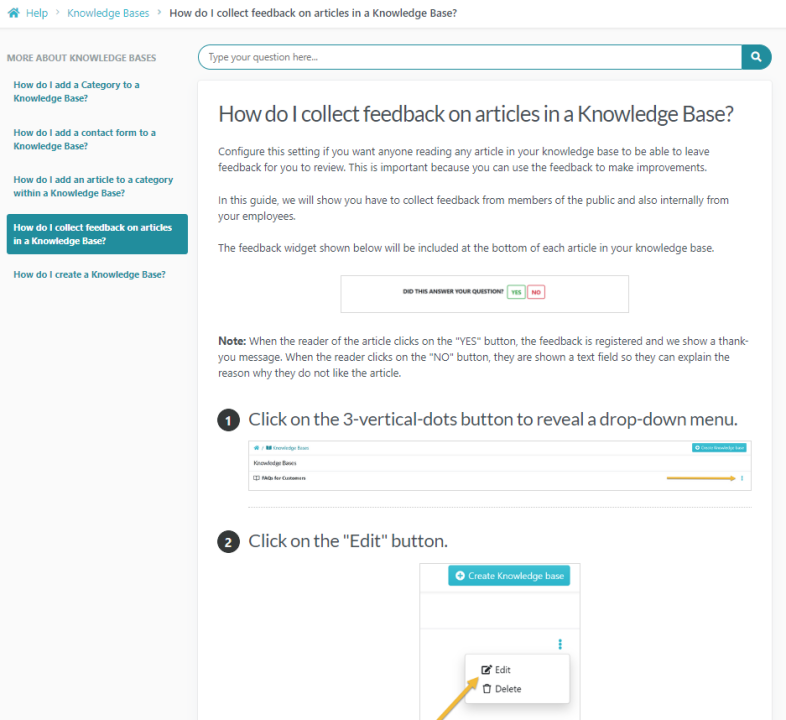 We're trying to show you that we could explain the entire editing process step by step by simply copying and pasting our documents to this article. But do you want us to?
Why not see for yourself what you can do with SweetProcess? And trust us, you honestly have nothing to lose!
If we were to create a procedure about checking out SweetProcess risk-free, these are the steps we'd include:
Click here to opt-in for the free, no credit-card-required, 14-day trial.
Use every feature of SweetProcess during your trial period and create real documentation for your business.
After all, you can simply export everything you've created if you choose not to remain with us.
Assuming you're happy with us, check out our very reasonable pricing system.
Take advantage of the 30-day unconditional money-back guarantee and work with SweetProcess for a month.
Normally, you'd remain with us after that, but in case you don't, we don't just give you your money back.
We also offer you a free one-hour consultation regarding any issue your business may need to resolve.
This is because we love building relationships as much as we enjoy making a profit.
Just FYI, if we were creating this procedure in SweetProcess, we'd add a decision step at the fourth bullet point.
Would you like to try your hand at this? We promise it will be fun and productive. Just click here.
And before we forget to mention, we have a new Chrome Extension. You can create a procedure on the fly with it as you're browsing: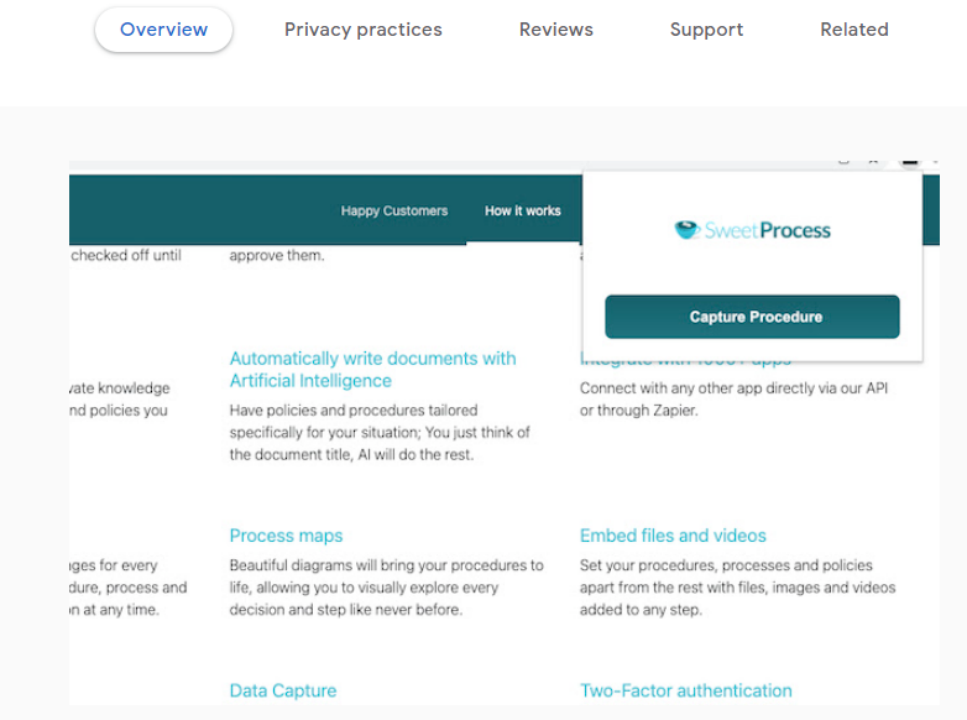 Get the Chrome Extension now.
---
2) Helpjuice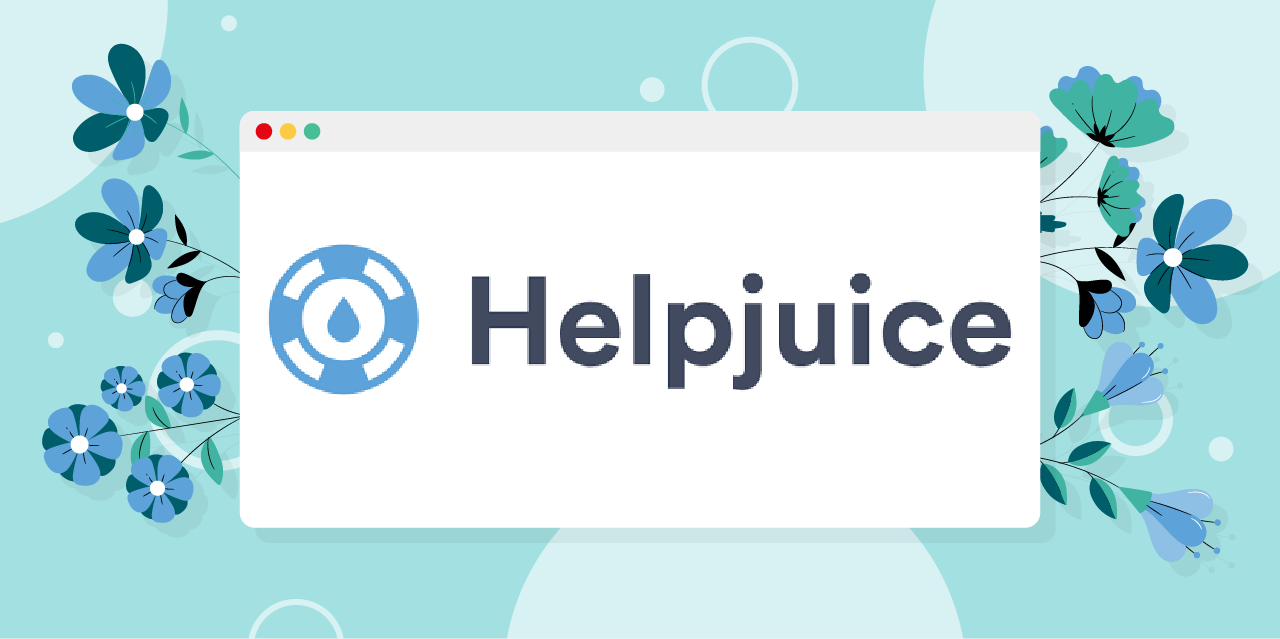 Helpjuice believes that "buying software should be the same as using it, fast, easy, and without requiring a Ph.D. in science." It is a dedicated knowledge base software that lives up to this motto.
Core Features
Creating and formatting content is entirely intuitive
Contains intelligent analytics to judge the quality and performance of your KB
Adequate customization options
Search function
Easy integration
Pros
Create content with practically limitless formatting with text, images, and videos
Version history plus the scope to work with multiple versions of the same document
Privacy options
Analytics preview available inside the article editor
Collaborate with multiple contributors and view real-time progress in your content
Cons
Support documentation is not always current or easy to understand.
Some might find the user interface bland and clunky
You will need basic knowledge of CSS/HTML, so it does require a bit of study—if not a Ph.D.
The search function—especially switching back and forth between related results—needs improvement
Pricing
Starter: $120 per month | Up to 4 users
Run-Up: $200 per month | Up to 16 users
Premium Limited: $289 per month | Up to 60 users
Premium Unlimited: $499 per month | Unlimited users
A free trial for 14 days is available on each plan, but they will want your credit card details after the first screen (and the massive surprise is free customization of your account).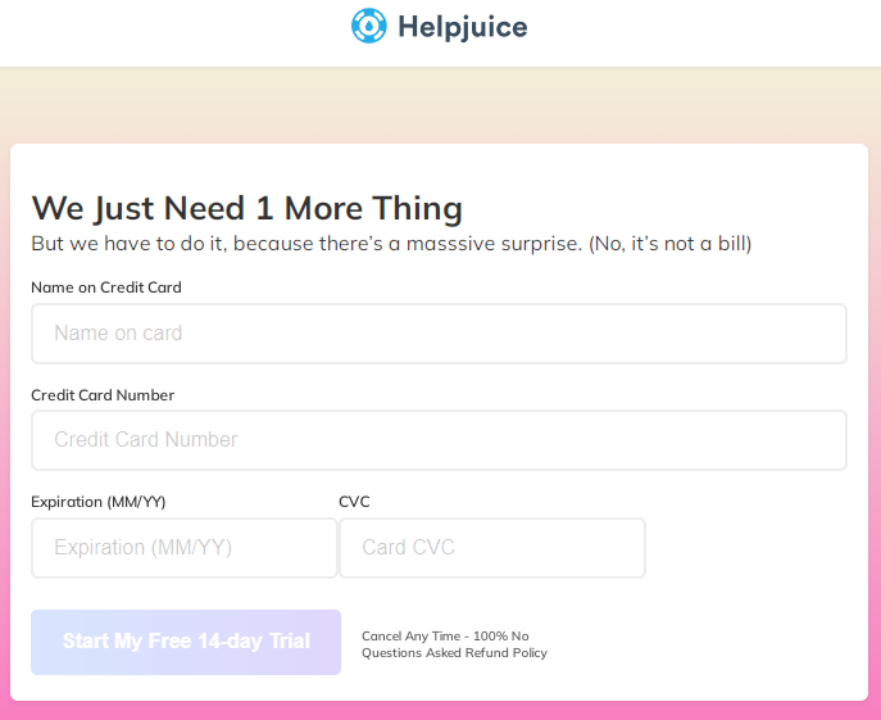 3) Document360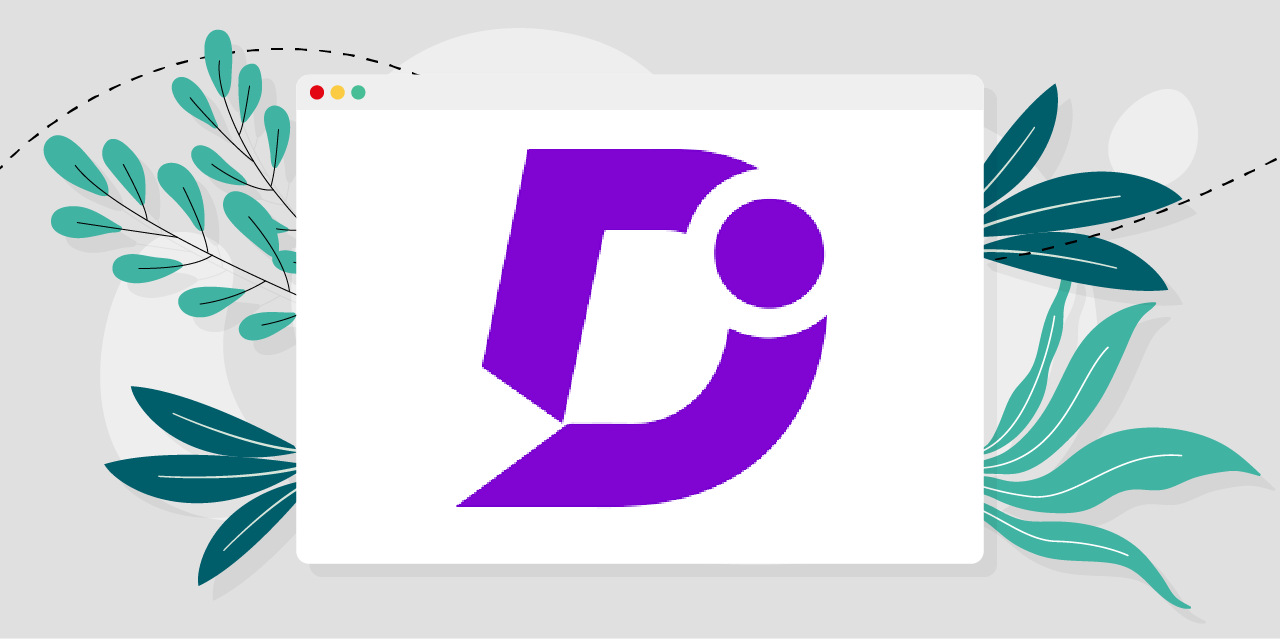 Document360 is a knowledge base platform with which you can also create standard operating procedures, online user guides, tutorials, and guides, and automatically generate API documentation from API definition files. And, of course, you can create internal and external knowledge bases.
Core Features
Separate portals for writers, editors, and reviewers, and a complete knowledge base site (viewable on any device) for customers and employees.
Templates are available for different types of content.
Extensive integrations and extensions are possible.
Allows personal branding to be added to self-service portals and chatbots.
Good search function.
Google Analytics integration.
Pros
Video, audio, chart, and image can be embedded to create rich content.
Analyzes customer support tickets and makes suggestions about possible solutions concerning existing knowledge base articles.
Generative AI to condense long text documents into summaries.
Migration (paid) of your existing knowledge base without losing SEO value or organic traffic.
Allows decision trees (flowcharts) to make customer service queries easily resolvable.
Cons
Content editor, though functional, is still limited when compared to, say, MS Word.
Consequently, importing MS Word documents is difficult and time-consuming.
Collaboration between multiple writers/reviewers/editors on the same document is difficult because of the excessive time it takes for each user to first log out and the next user to log in.
The analytics dashboard could be improved.
Pricing
Free: Lifetime access (limited features).
Standard: $149 per project or month | 1–3 team accounts
Professional: $299 per project or month | 5 team accounts
Enterprise: $599 per project or month | 10 team accounts
Note:
All plans are billed annually.
Lower-tier plans only allow public knowledge bases.
Check plans carefully for their options for (paid) additional team accounts and workspaces.
14-day free trial available on individual paid plans. No credit card required.
4) Help Scout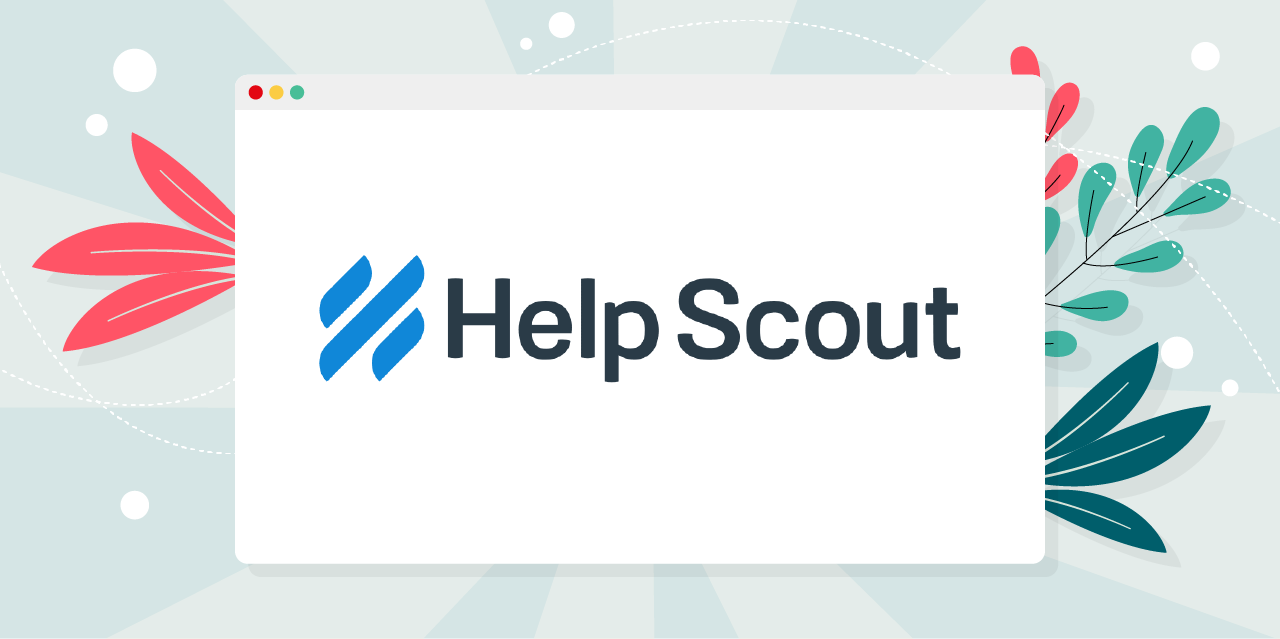 Help Scout is a lite alternative to enterprise-level help desks. Its offerings are anything but lite, however. If you wish for a knowledge base software specific to your customer service workflow, Help Scout is an excellent option. If, for some reason, you want just the knowledge base as a standalone feature for a while, that also works.
Core Features
Access management and user role customization.
Ticket submission to customer feedback workflow creation.
Automated response.
Knowledge base on an exclusive, responsive website or embeddable on your existing site.
Free SSL on every knowledge base site.
Auto-generated site map and extensive SEO options.
Completely customizable (with CSS) and brandable site.
Live chat support.
Pros
Multiple editors may work on the same article without worry because of real-time alerts ("collision detection").
Translate the knowledge base into a language of your choice.
Build multiple knowledge bases with a single login to manage them all in one place.
Excellent search function.
A pop-up window ("beacon") for relevant answers as a query is being typed.
Dedicated space and features for long-form discussion to facilitate teamwork.
Cons
Formatting documents is not easy because of too many "minor" issues related to spacing and numbering.
Automatic ticket emails seem to have a bug that frequently sends duplicate responses to all recipients.
Analytics and reports could be more robust, and they lack advanced customization features.
Pricing
Standard: $20 per user, per month
Plus: $40 per user, per month
Pro: $65 per user, per month
Free 15-day trial available on all plans; no credit card required.
Help Scout also offers up to 100% discount to select categories of nonprofits and certified public benefit corporations.
5) Guru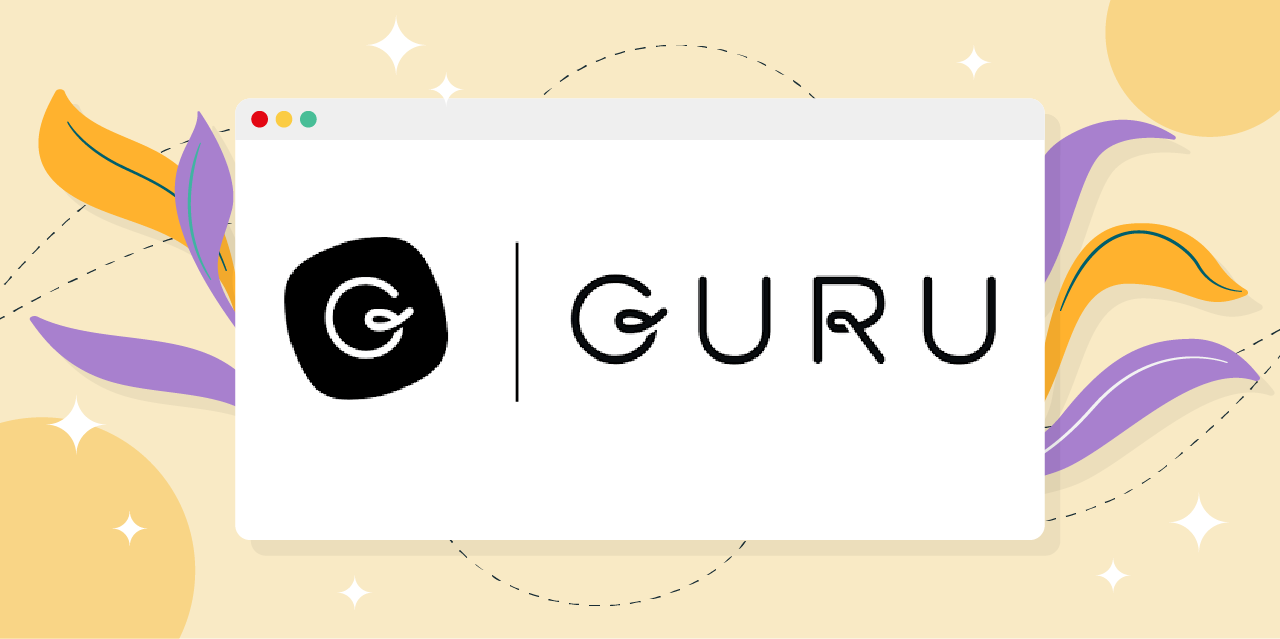 Guru may be labeled as an internal knowledge base software but, in truth, it is much more than that. If you wish to keep everyone on the same page, check your work from any webpage you may be on at a given moment, and maintain a compendium of verified and updated knowledge at all times, including answers to brief (but important) queries, Guru might be a great choice.
Core Features
Generative AI-assisted knowledge base creation and curation.
Personalized dashboards with admin announcements and AI-assisted notifications enabled.
Slack integration for an enhanced communications and robust customer experience.
Every query made to the knowledge base software enhances it because the AI creates a new answer card for that specific query.
Every card thus created is verified by the most suitable employee (also suggested by AI), tagged (AI suggestion again) and re-verified and updated periodically.
The content editor will allow everything from rich text to videos.
Pros
Artificial intelligence and machine learning are utilized maximally for knowledge creation and instant access.
Extremely smooth transition in every step of any manner of communication
Browser extension to access work and knowledge base from any webpage.
The knowledge base practically self-generates verified content from each search and each query made.
Pleasant default user interface (with customization options).
Free templates.
Cons
Sometimes there is a distinct lag in loading content.
No scope for authors to collaborate on unpublished cards.
The learning curve can be tedious.
If a card is submitted in error, there is no easily accessible version history to track who made the submission and figure out the real issue.
The AI may have a problem identifying non-standard queries (made by new hires, for example).
In spite of the AI-assisted organization (or because of it), it can be difficult to find cards unless you insert the exact keywords or tags.
Pricing
Starter: Free for up to 3 users to store and share information with no custom branding
Builder: $10 per user, per month for customizable, automated knowledge base management plan and analytics
Enterprise: Completely customized and scalable plan according to your requirements
6) Bloomfire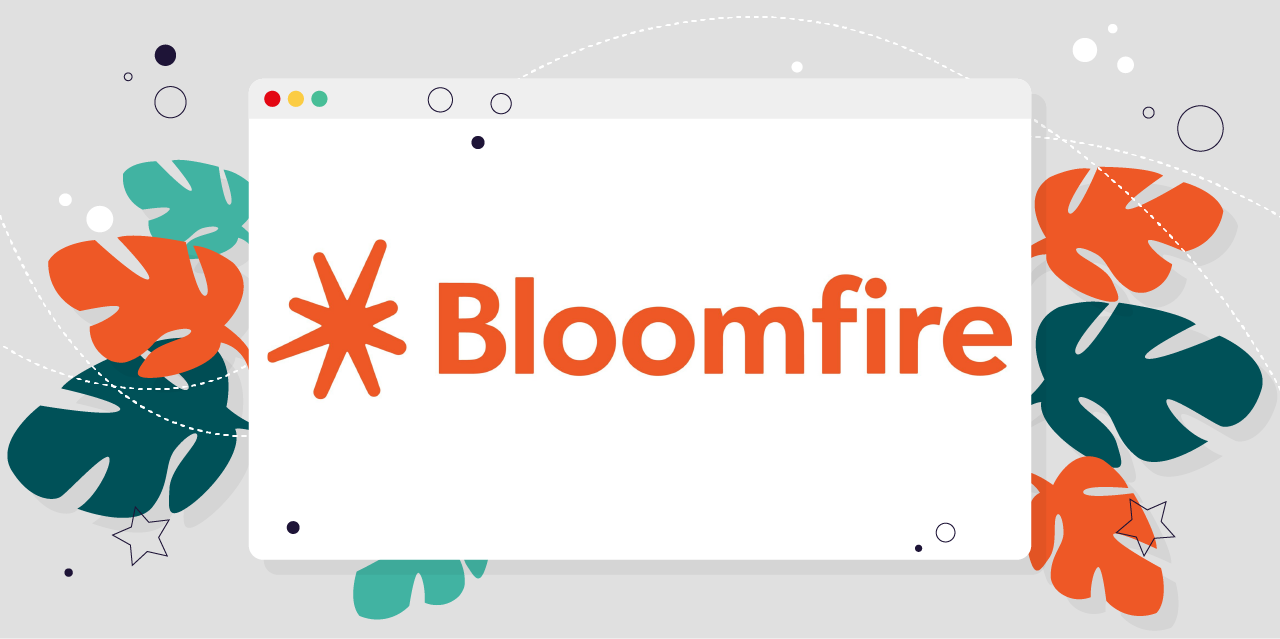 Bloomfire is similar to Guru in that it makes it possible for you to organize every query, every insight, and every feedback into a centralized knowledge base solution. In fact, they are so focused on insights, Bloomfire offers specific provisions to create what they call an "Insight Engine." It is expected that if you use the standard knowledge base examples and key features and build an insight engine on top of it, your decision-making processes will be greatly enhanced, leading to significantly greater productivity.
Core Features
Centralized knowledge base tool.
Knowledge curation is enabled by allowing users to build personal content feeds and share them.
Notification to users when new knowledge base content is added, much like a new-post notification to blog subscribers.
Privacy restrictions on knowledge base access.
Pros
Integrations through open-source API if required.
"Post" and "Series" options in the "Contribution" section make it easy to turn what would ordinarily be a category into a series of organized, magazine-like reading material.
Medium learning curve.
AI-enabled search and tagging functions.
Intuitive navigation that increases customer success and satisfaction.
Cons
Same as Guru, tag management could be better, and the inability to process misspelled queries are two AI-related drawbacks.
The labels for options like "Bookmark" and "Comment," for example, are needlessly elusive design-wise.
Loading can be unreasonably sluggish at times.
A deep search through categories does not return comprehensive or precise results.
There have been multiple complaints about a lack of personalization options for users.
Pricing
The base price is $25 per user, per month; it can be scaled by volume and work process.
Free trial: Not available, but you can schedule a call for an expert-guided virtual tour of the product.
---
This is what SweetProcess offers, by the way: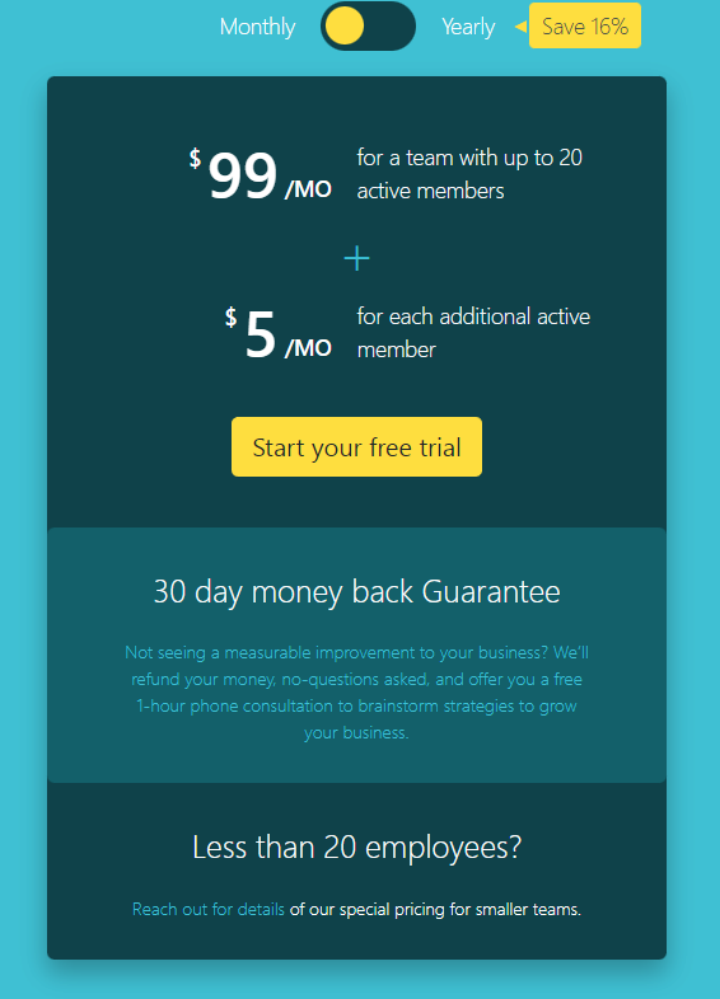 Click the image or here for a free, full-featured trial.
No credit card, no obligation.
---
7) Stack Overflow for Teams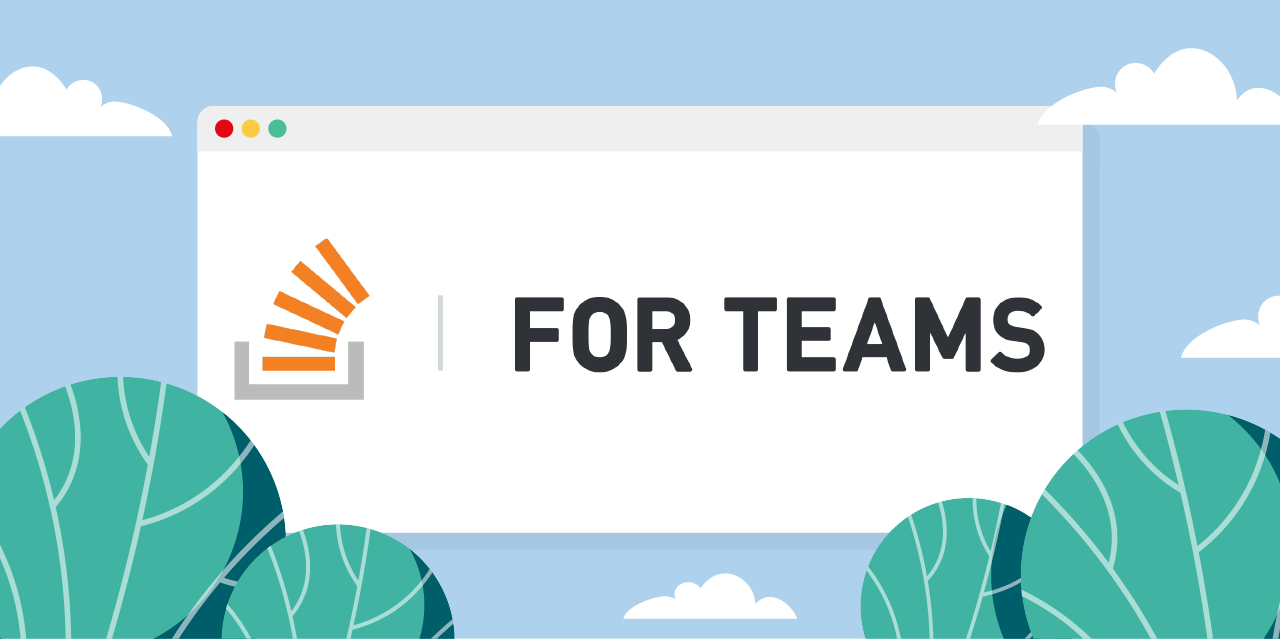 Like it says on the homepage, Stack Overflow is about everything in one place—sounds good if a knowledge base solution is what you are looking for. And with their special emphasis on team collaboration, they are pretty much what any team looking to be efficient would want.
Core Features
Forrester's observation is succinct enough to merit a quote:
Stack Overflow has a dedicated platform for collaborators to solve nebulous problems in an asynchronous, documented way with multiple perspectives that evolve into a structured format that captures collective insights.
And this is more or less it. We couldn't have summarized Stack Overflow better.
Pros
Searchable and easily accessible knowledge base system.
Intuitive navigation.
Tags that help you find what you're looking for.
Every post has its upvote/downvote–based rating, and you can easily locate the best answer to a query.
The platform facilitates finding past queries and solutions effortlessly.
Cons
The database (for questions and answers) is certainly limited compared to the pullback Stack Overflow.
This platform is where knowledge is usually stored and disseminated in Q&A format with everyone contributing to both. Even if you use it as a repository, you will still be pestered with constant notifications about "answering."
Comments can be edited only within the first five minutes of posting them.
Pricing
Free: Up to 50 members
Basic: $6.50/per user, per month
Business: $13.50/per user, per month
Enterprise: Custom pricing
8) Slab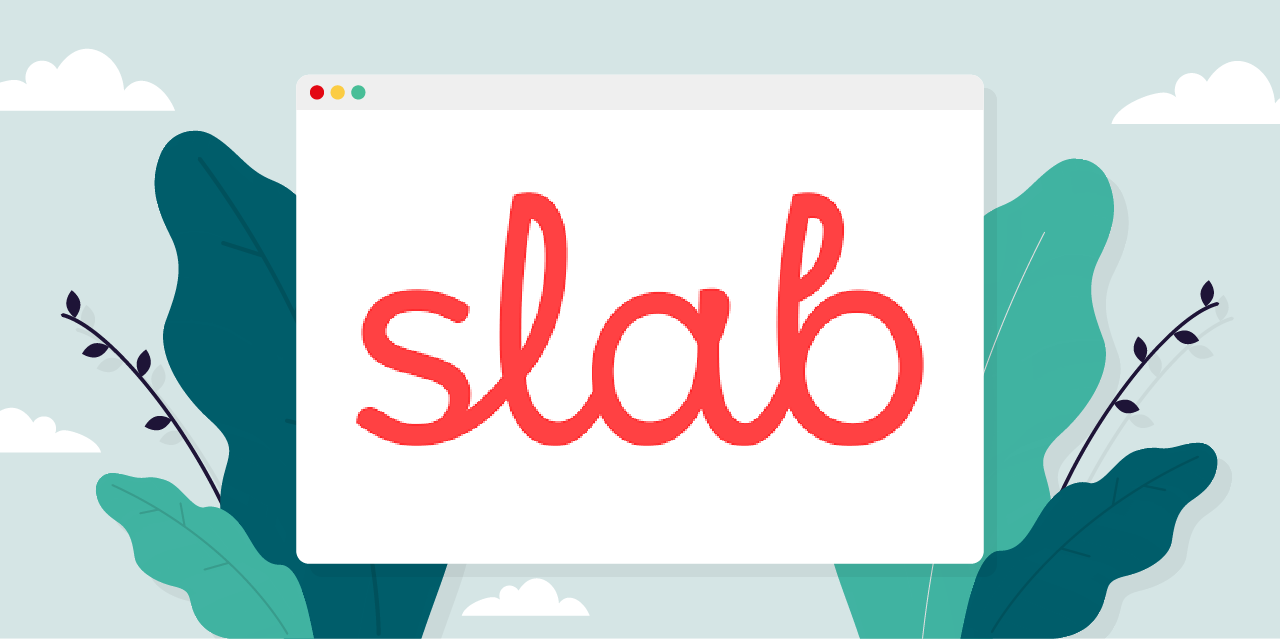 Slab is one of the few knowledge base platforms that pay exclusive attention to the aesthetics of the finished product. Aesthetics refers to documentation that looks so good you will want to look through it just because.
Core Features
If you think aesthetics is redundant, imagine how the random employee, already burdened with work and then trying to find a solution to something, feels when they find a drab (but functional) bunch of virtual papers to look through.
With Slab, you can create a knowledge base that people almost look forward to going back to and, in any case, with the formatting taken care of, you can focus wholly on the content.
Pros
Good search function with intuitive related results.
Easy co-authoring options.
A structured environment (different from the usual template-based editing) creates extremely readable content which can be interfaced with other platforms for graphics if required.
Access control.
Integrates very well with Slack, and this facilitates better communication.
Cons
The Q&A structure that basically defines Stack Overflow for Teams is not well handled by Slab.
The tagging function could do with some improvement.
There's a learning curve to its best practices even for users (as opposed to writers and editors) in order to ensure proper connection, correlation, and tagging between different sections of the knowledge base.
Pricing
Free: Up to 10 users
Startup: $ 6.67 per user, per month*
Business: $12.50 per user, per month*
Enterprise: Custom pricing
* Billed annually.
9) Slite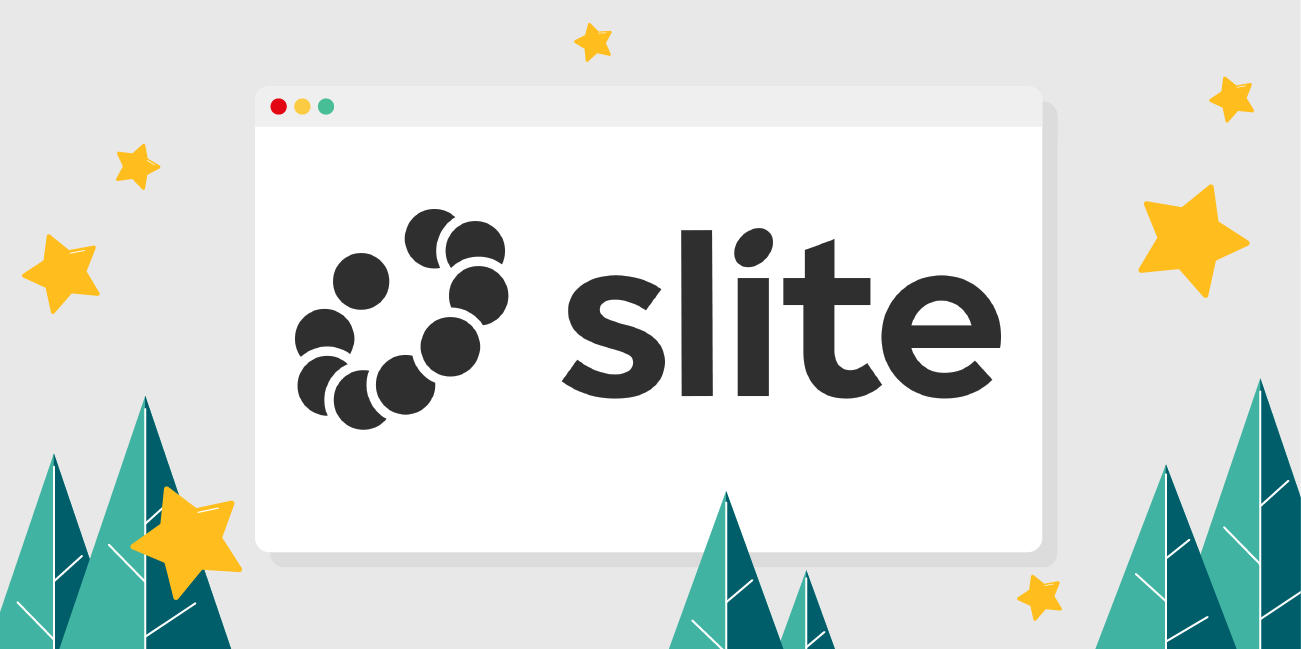 We're not sure if we should call Slite a lite version of Guru, but the two platforms are very similar. If you liked Guru, you should probably compare the two to find out which one suits your specific needs better. A centralized knowledge base software, AI assistant, instant answers and great collaboration features are collectively the hallmark of Slite.
However, Slite is a relatively new platform and still a bit rough around the edges. This is not a serious drawback, especially since its support team is helpful and constantly tries to improve themselves. But if the drawbacks keep getting in your way, you might feel that you're paying to test a beta version.
Core Features
The AI-powered assistant can handle your queries so you don't have to browse the actual knowledge base.
You can import your previous documents easily into Slite.
All activity to the AI assistant and the knowledge base software is tracked so that you have all the information to improve things.
Perfect for multiple uses other than knowledge base creation, like employee onboarding, regular note taking, and strategic planning documentation.
Pros
All answers can be manually verified for a certain period, after which you will be notified about the re-verification requirement.
Integration with most external tools like Asana, Airtable, and Figma, for example.
Ready-to-use templates.
One-click summarization of knowledge base content to save on reading time.
Clean interface.
Cons
Inadequate access restriction.
The AI is not always as "smart" as it is supposed to be.
A minimalist editing tool with a focus on markdown restricts formatting options.
The software may be comparatively resource-intensive which might slow it down on some computers.
Pricing
Free: 50 docs and questions and answers (no access to AI)
Standard: $8 per member, per month
Enterprise: Custom plan
You can make monthly payments or get 16% off with a yearly payment.
10) Tettra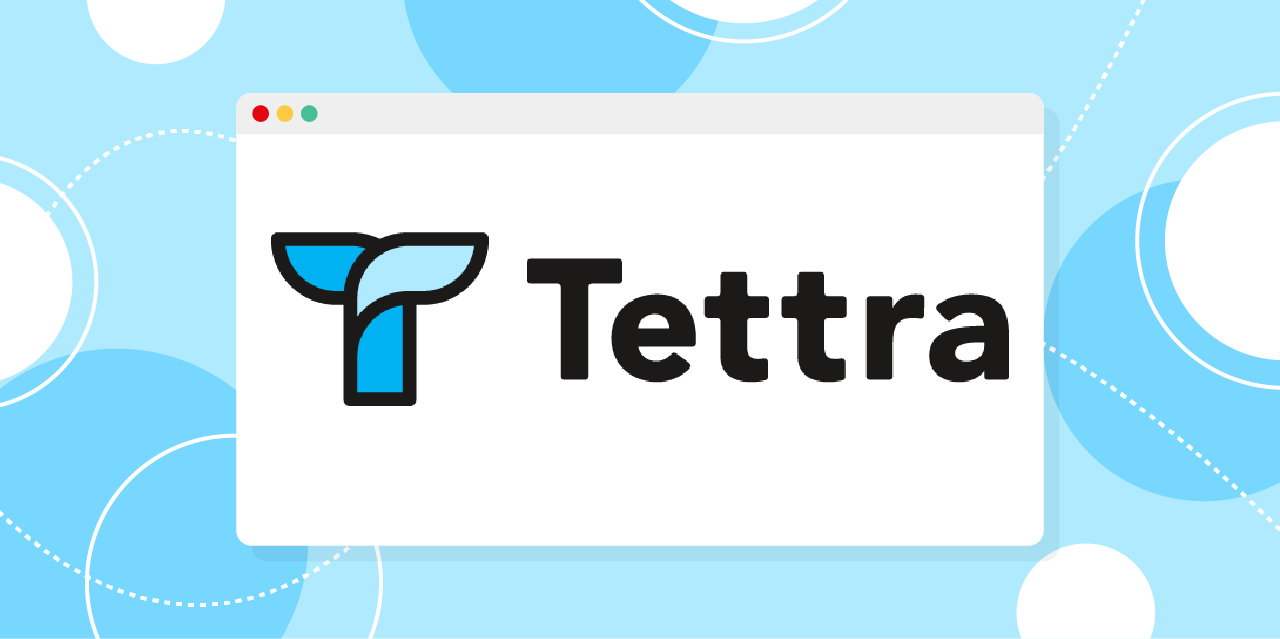 The USP of Tettra appears to be pretty much the same as most of the other options we have viewed so far (the closest being Help Scout): to minimize chatter. Slack and Microsoft Teams look like the major culprits so far, despite their obvious usefulness.
As for AI, that is a staple in the current times, so no surprise that Tettra straightaway advertises itself as an AI-powered system instead of mentioning AI as an add-on or a bonus feature. We do have a bonus feature to speak of: despite whatever drawbacks it may have (who doesn't?) Tettra is sleek and no-nonsense as a knowledge management software.
Core Features
Use the editor to create your knowledge base or import existing work from G-Docs, Notion, or your local files.
Answer questions in Slack and MS Teams via integration, and send updates about new content.
AI-powered tagging and search functions.
Pros
Analytics to know how your knowledge base is being useful and how it can be improved upon.
User-friendly: You may reasonably expect your entire team to readily contribute tribal knowledge.
Verification of answers from experts or suggested edits from teammates, all managed by AI.
Acts as a complete knowledge management solution in addition to its internal knowledge base and wiki features.
Cons
Formatting documents can be difficult at times, especially if you're focused on exact customization.
Pricing can be a problem for small teams.
The search function cannot always figure out inaccurate or misspelled queries.
Pricing
Starting: Free for up to five users (limited features)
Scaling: $8.33 per user, per month (free trial for 30 days, no credit card required)
Professional: $16.66 per user, per month (pay yearly to get 16.7 percent off)
---
If you wish to know more about Tettra and similar software, here's our article on Tettra Alternatives.
---
11) ProProfs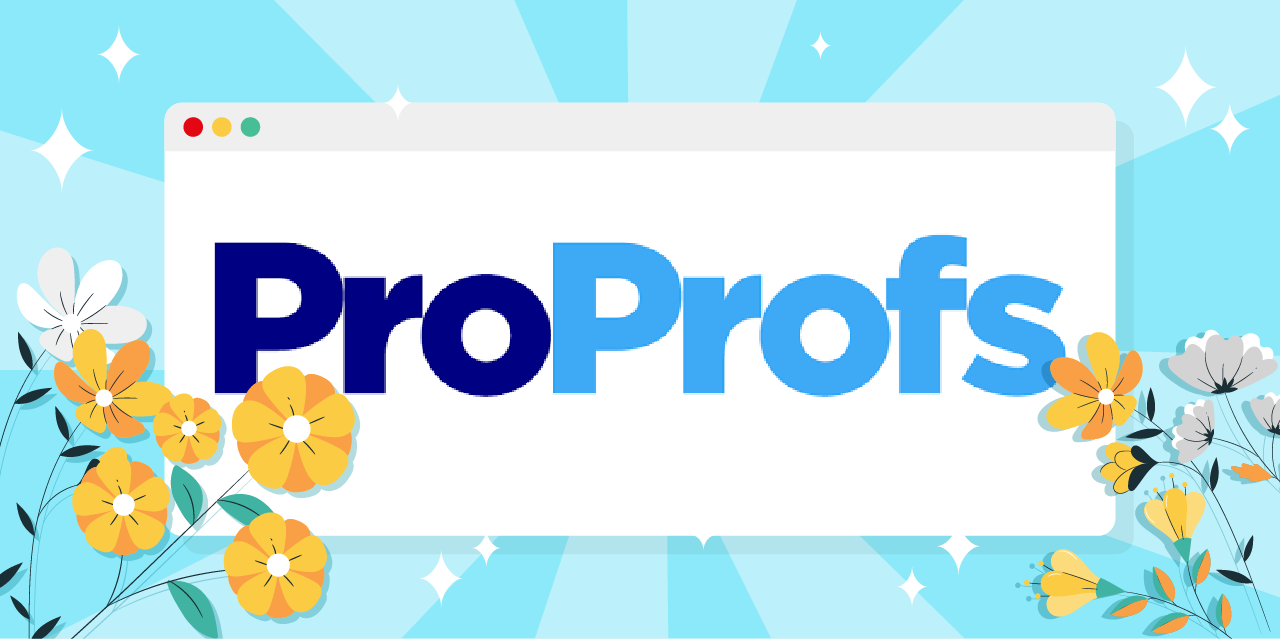 What we particularly liked about ProProfs Knowledge Base is that their homepage is full of the one thing that they focus on: creating an internal knowledge base. You may have to click here and there on some sites to figure out how things are done, but not with ProProfs. Just use the homepage to decide if they fit you well.
We find this attitude important because if their software is anything like their first impression, it should be a good enough investment.
Core Features
ProProfs is actually pretty straightforward about what they offer: an external and internal knowledge base software with centralized access and access control, seamless information gathering, multiple browser and device support, and 90+ languages for all your clients across the globe.
ProProfs offers separate platforms for chat, project, survey, quiz, poll, and training maker software, help center, and help desk. When you subscribe to the ProProfs knowledge base tool, you get chat, live support, and survey as part of the package.
Pros
You can create entire help sites for customers, an internal knowledge base, and user manuals.
Knowledge base content can be optimized for search engines to rank publicly for your chosen keywords.
Offers free, fully customizable templates that also support branding.
Easy import for existing docs and PDFs.
Integrate with ProProfs Chat, HelpDesk, and Survey software.
Revision history.
Dedicated onboarding manager (in addition to regular support).
Cons
We didn't find any major cons to speak of, nor did we find too many user reviews: just 27 on G2, 15 on Sourceforge, and 26 on Capterra. These being the major review sites (and the most trustworthy), we didn't explore further.
Not that this has to be some kind of red flag, but this certainly is curious for software that appears to be almost flawless. If we were to take a wild guess, we'd blame it on ProProfs offering custom domain and white label for $30 a month. Maybe we are looking at what has become primarily a franchise business model.
Apart from one or two negative remarks that seemed too subjective to list, here are the major problem areas of ProProfs Knowledge Base:
Works well on iOS and PC but sometimes underperforms on Android.
Integrations could be better.
Pricing
Annual Plan: $79 per author, per month (with unlimited users and groups); or save 38% by paying $588 annually
Custom Plan: If you have more than three authors, you can talk to a support agent and negotiate a plan
Free trial: Available for 15 days; no credit card required
You can also schedule a demo if you don't want to explore independently. This option might be worth considering since we came across more than one review complaining about how inadequate the limited trial period was to properly understand what the software offers.
12) Heroic Knowledge Base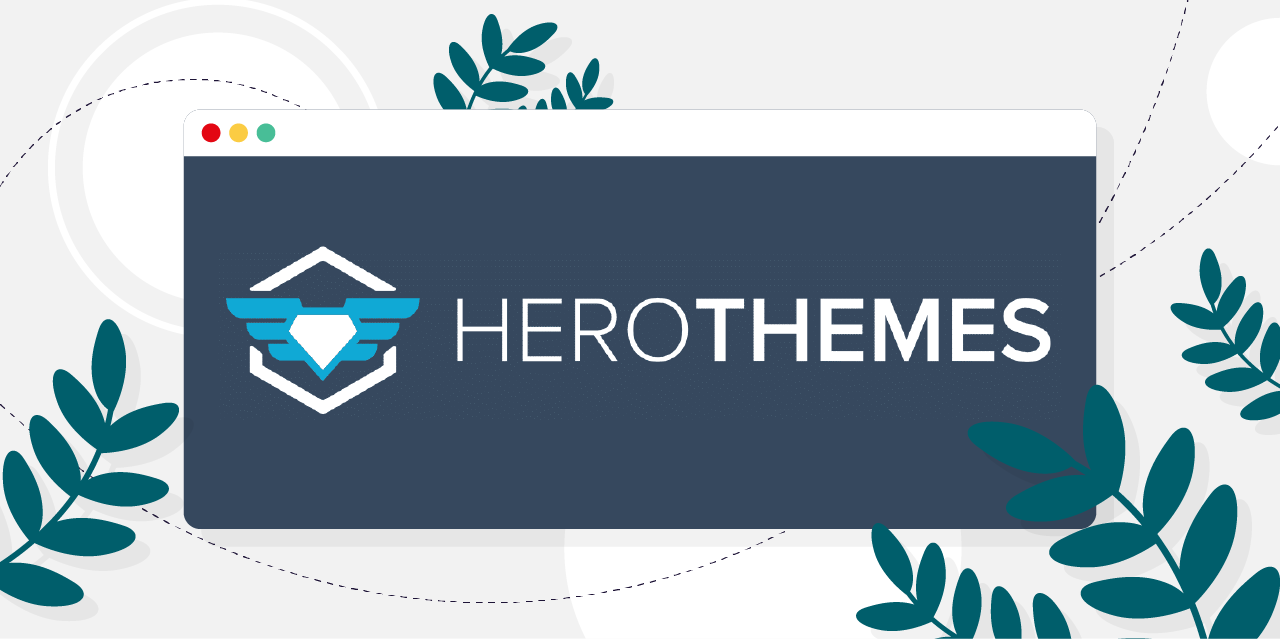 Heroic Knowledge Base is a WordPress plugin from Hero Themes. If you have a WordPress site for your knowledge base, it makes complete sense to use this plugin instead of a dedicated platform. And if you've worked with WordPress sites, you know the obvious advantages and limitations already. With a team to oversee the website-related matter for you, this could be the simplest solution.
Core Features
Heroic KB is good for creating a multilingual knowledge base (with WPML, the multilingual plugin for WordPress).
Online user guides, technical documentation, and product help documents, as well as standard operating procedures for your internal use, are all possible through this plugin.
It could be argued that most of this is already possible with WordPress alone, but there is a huge difference between getting it done manually and having a dedicated plugin to help you.
Pros
Access control over the entire site, individual categories, and single articles.
Add downloadable files with Heroic KBs support for attachments.
Automatic creation of a table of contents that serves as navigation for users.
The setup is extremely simple and comes with sample articles to give you a clear overview of how things should be.
Revision history, category icons, comments, feedback form, and email reports about usage statistics.
Cons
We couldn't find any reviews on G2, Capterra, or similar sites—and this is expected because WordPress plugins have a separate user base. There are multiple WordPress–related sites with good reviews, and the following are the only cons we could gather from them:
Steeper pricing than most WordPress plugins
Doesn't work on any other framework than WordPress
As with any WordPress plugin, there is always a chance that your site might crash without warning—but having a support team with expertise in WordPress–related matters should solve that problem.
The plugin is not available in the WordPress repository. This means you will have to rely on HeroThemes alone for support; WordPress.org expertise will not be normally available.
Pricing
Note: At the time of this writing, all prices were at an introductory 50% discount; renewals are automatic (unless canceled), annual, and at full price.
Heroic KB Essential: $149.50 (use on one site)
Heroic KB Plus: $199.50 (use on three sites)
Heroic KB Pro: $399.50 (use on five sites)
Paid demo for 14 days with an unconditional money-back guarantee.
HeroThemes also offers the Heroic Inbox plugin if you need a help desk software. If you need both the knowledge base and the help desk, the most economical solution is to subscribe to their bundle offer. You will find all the options in separate tabs on the pricing page.
13) HelpSite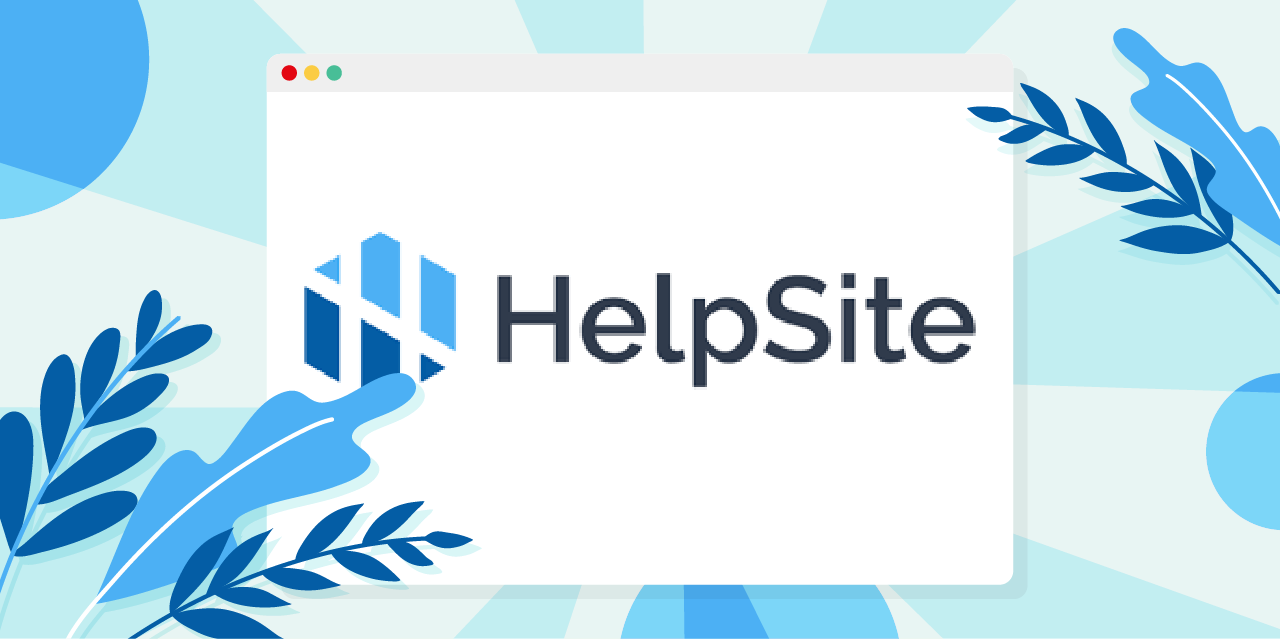 HelpSite gives you a responsive website (that displays perfectly on any device) with FAQ and knowledge base plus a smart contact form that tries to auto-suggest answers as a query is typed in. This helps your customer support team save time.
Core Features
Responsive website for a knowledge base with your own domain.
Smart contact form.
Fast search that suggests helpful answers as you type.
Customizable features.
Access restriction.
Pros
Fast setup.
Intuitive interface.
Reasonably priced.
WYSIWYG editor that shows you what a live editor would.
Cons
Not enough customization options unless you choose an expensive plan.
Lack of proper analytics.
Your company logo on the site will, by default, lead to the knowledge base and not to your company site.
Non-standard URL structure.
Pricing
Free: 25 articles, one team member, one site, HelpSite branding not removable
Standard: $14.99 per month, 250 articles, five team members, two sites
Gold: $49.99 per month, 2,500 articles, 50 team members, five sites
Plus: $99.99 per month, 10,000 articles, 250 team members, 25 sites
Enterprise: Custom plan but pretty much unlimited
You can save 10% with an annual payment.
---
The Knowledge Base in a Nutshell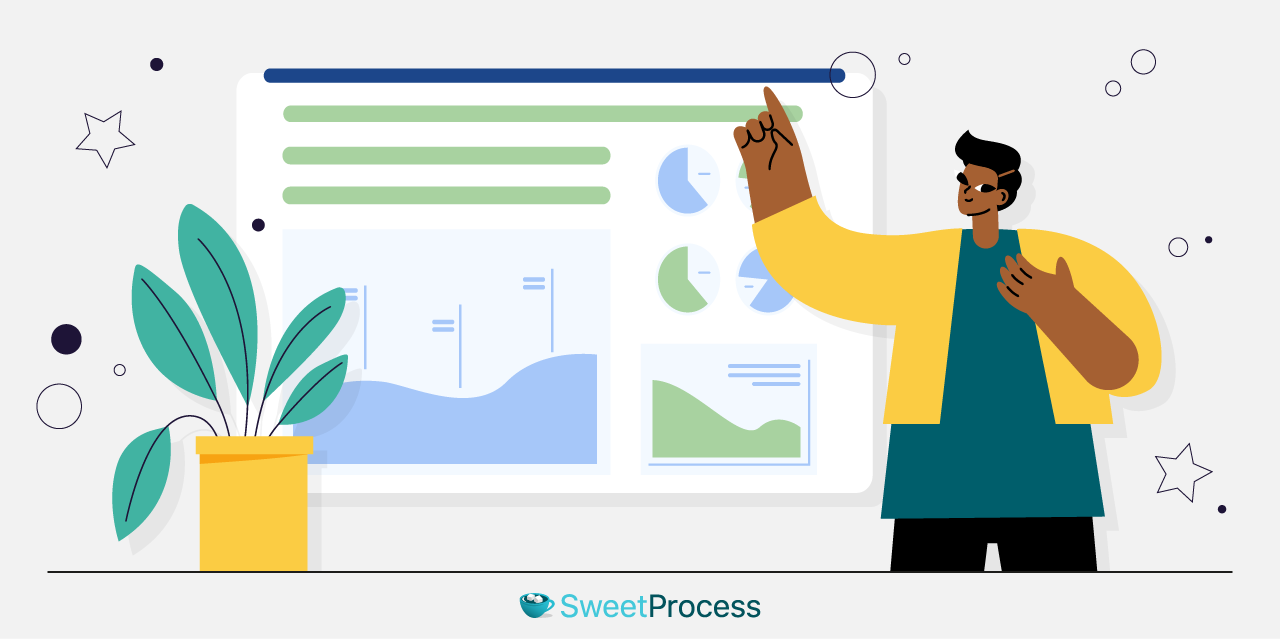 As promised earlier, if you are still undecided about which knowledge base platform to work from, here's some more info on the practical utilities of knowledge base for a business.
Internal Knowledge Base
The internal knowledge base contains your company knowledge and information, including SOP, employee manual, employee and customer onboarding templates or manuals—basically everything that your employees may need access to either on a regular basis or occasionally.
This is also where you have gathered your company's tribal knowledge: the collective wisdom of specialists, the very special tips and tricks that they employ to expedite work, the essence of their experience, as it were, which you don't find in some manual in a marketplace.
This reduces queries, streamlines workflow, and makes workers confident that they can access answers to just about any query that may crop up midwork.
The APQC 2021-22 survey on knowledge management trends reflects all we have observed and more. The following remark reflects the perceived state of knowledge management:
Overall, KM experts and practitioners who responded to our survey are optimistic about KM's outlook. Only 10 percent see KM thriving, but 50 percent say it is gaining ground. This is great news for KM teams ramping up to support emerging needs for succession management, upskilling/reskilling staff, virtual collaboration, and digital transformation.
A knowledge base, in how it answers queries and makes life easier for your employees, is a great tool for enhanced productivity (and, consequently, profit). The survey confirms this:
With the rise of AI and virtual work, respondents feel KM should emphasize its impact on productivity—especially for remote employees—and digital transformation. Other goals include minimizing siloes and making organizations more agile and data-driven.
---
Would you like to know more about the umbrella term "knowledge management"?
Read our comprehensive articles:
Knowledge Management: The No-Frills Guide to Company-Wide Improvement
and
Knowledge Management Systems: A Complete Guide to Improving Your Business Operations
---
We mentioned pLink at the beginning of this article, if you remember. They don't call us Sweet P for no reason. With reference to the survey details we have quoted above, please take a look at what pLink Leadership has to say:
One huge thing it's impacted is the way that I'm onboarding new folks. In the past, when we were training somebody new, because we are 100 percent virtual, that person is shadowing effectively and it's just very slow. Whereas now they go directly to SweetProcess to find out what they need to know or they can go there when they're doing something on their own.
In case you're wondering, pLink is certainly not the only satisfied customer we've had. Zen Media, for example, has found SweetProcess invaluable in streamlining its internal operations:
…if everyone in every franchise was making their hamburgers a little bit different, it wouldn't be McDonald's because you couldn't expect the same thing every time…. By having everyone on the same page with SweetProcess, they can have a more efficient and predictable result.
---
There's more where that came from, but what could be better than seeing for yourself what our customers see in us?
Here's the link again to our free trial in case your interest has been piqued already.
---
External Knowledge Base
There's oodles of information on how an external knowledge base, aka a self-help portal, gets you more customers, but do you even need to view statistics? When you shop, wouldn't you instead simply make a search and find the answer to your query while you're shopping instead of waiting for a customer service agent to assist you?
An external knowledge base answers your customers' or prospects' queries as they browse your company website and your live chat and help desk software are not overburdened.
In any case, just as you would find a person who claims to be an expert believable if they answer your queries about their subject matter, so would your customers find you dependable if you arrange to answer their questions with just a few clicks.
Also, since a knowledge base can be optimized for search engines, you could see a significant gain in organic traffic and conversion if your documents or write-ups rank high on a search engine results page.
And getting your support team ready is managed most efficiently if you have a properly organized knowledge base tool.
But wait, isn't this section about external knowledge base, and aren't employees, like, internal…people? Well, true and true, but your support staff has a specialized job, and as far as the internal and external aspects of a knowledge base are concerned, it is all about who should be accessing what.
You need your employees to understand how to run your business. So that part of your knowledge base can be accessible to them—selectively, according to hierarchy and need, if necessary.
You need your customers to understand what your business means for them, what it offers, how they find this, and get to that and figure out how those work. For all of that, you need an external and publicly accessible knowledge base.
Your support team is that category of your employees who must be proficient in and on the same page about answers to possible customer queries. It wouldn't do to have Bob answer in a sentence and Lisa in a paragraph, and someone else going round and round and never getting to the point.
You'll probably want to read about how AEJuice got their support team up and about with SweetProcess, but here's the gist about the aftermath of using our knowledge base tool straight from their CEO, Jacob Syrytsia: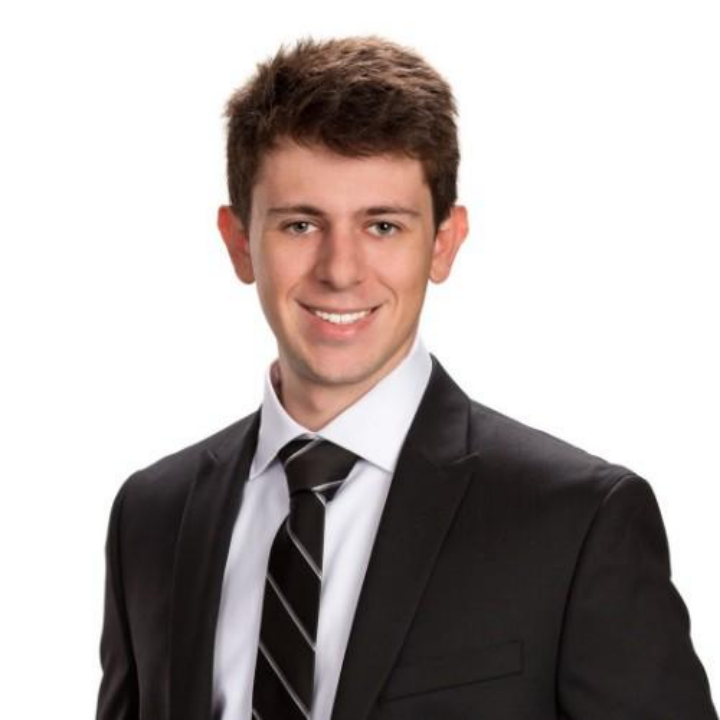 "I can now spend more time on bigger problems. SweetProcess frees your time."
Free trial, anyone? 🙂
Resolving the Knowledge Base Conundrum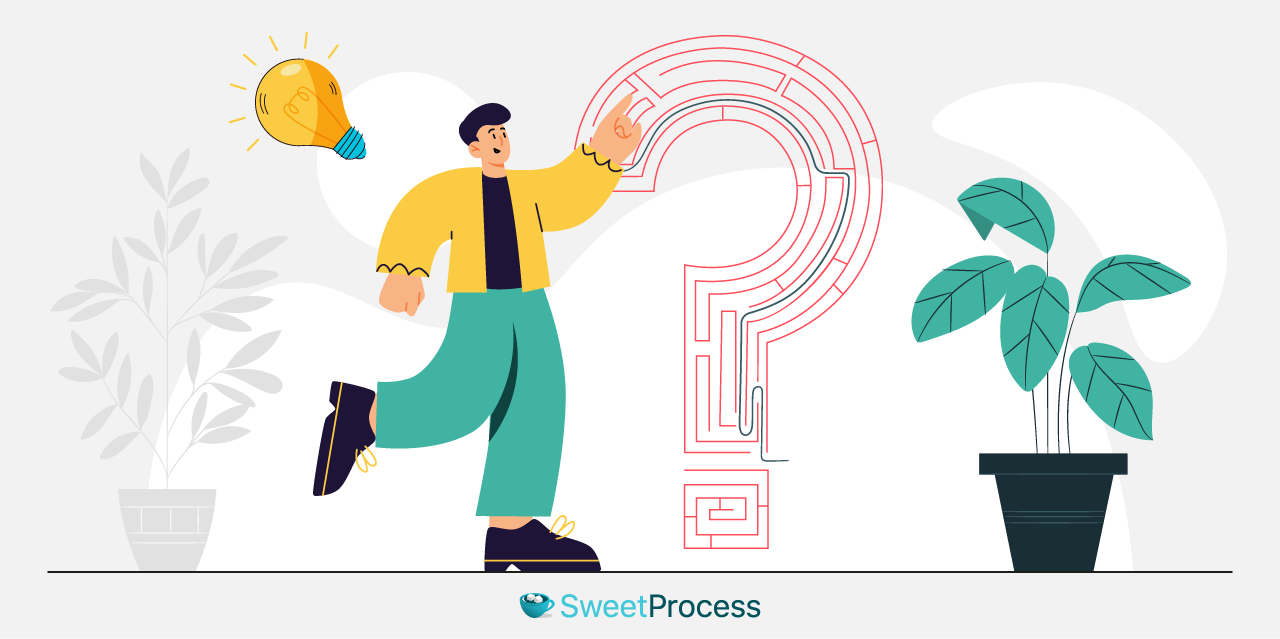 From what we have seen so far, it appears that you need a knowledge base solution that:
Collects internal and external queries into a database.
Allows any of your employees to add to and edit the database.
Comes with an editing tool with a low learning curve and is capable of generating rich, multimedia content.
Gives a visual representation (flowchart) of your workflow for instant overview.
Provides for easy incorporation of your existing SOPs.
Has a checkpoint so that only verified content is published.
Allows no-hassle import and export of your existing docs and data.
Has an access control system so that the database is accessed on a need-to-know basis.
Provides a platform for remote access and teamwork.
Has a robust search function.
Can integrate seamlessly with other related software.
Can minimize the workload of your support team.
Completely declutters your business for both your employees and customers.
We should, in all fairness, also add a fair pricing structure, a no-obligation, no credit card required trial, and the ability to work anywhere and on any device.
That last point reminds us: Please check out our app on Google Play and the App Store. Here's a screenshot that should convince you that the interface is clean enough for you to get work done on the go using your smartphone if required: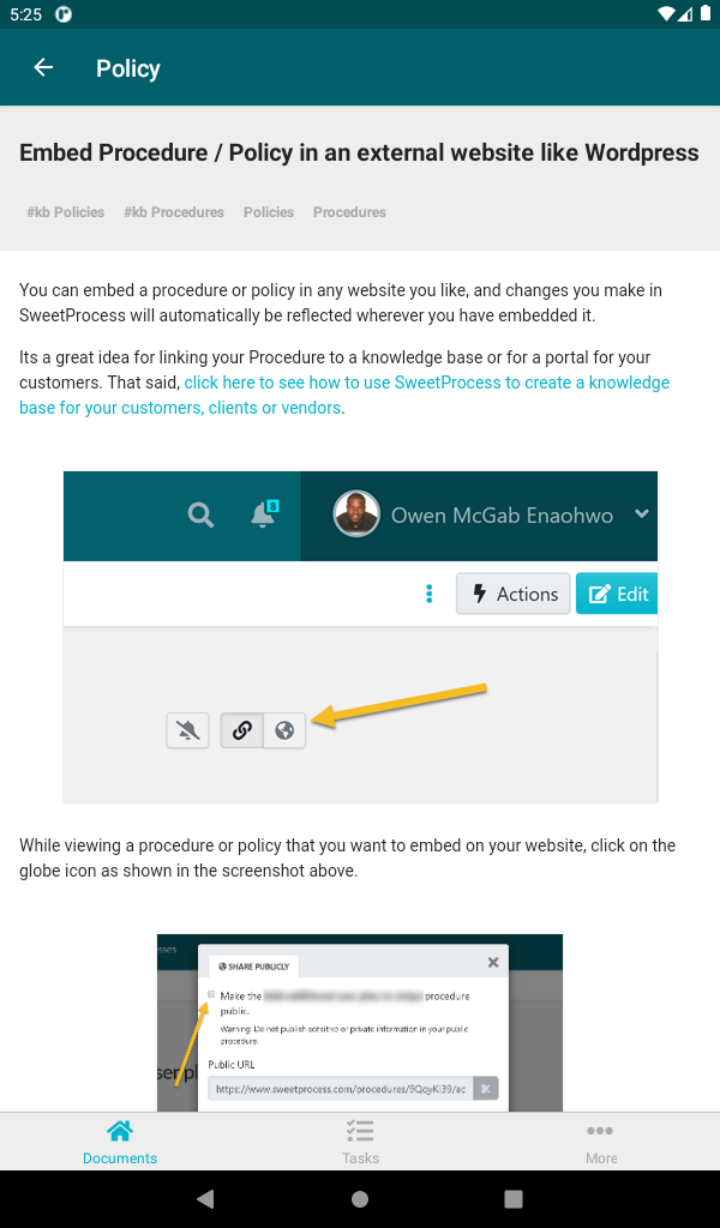 What of Artificial Intelligence?
Well, we do have Sweet AI, and it works with just one click (after you insert the title), and then you can edit the result if you wish: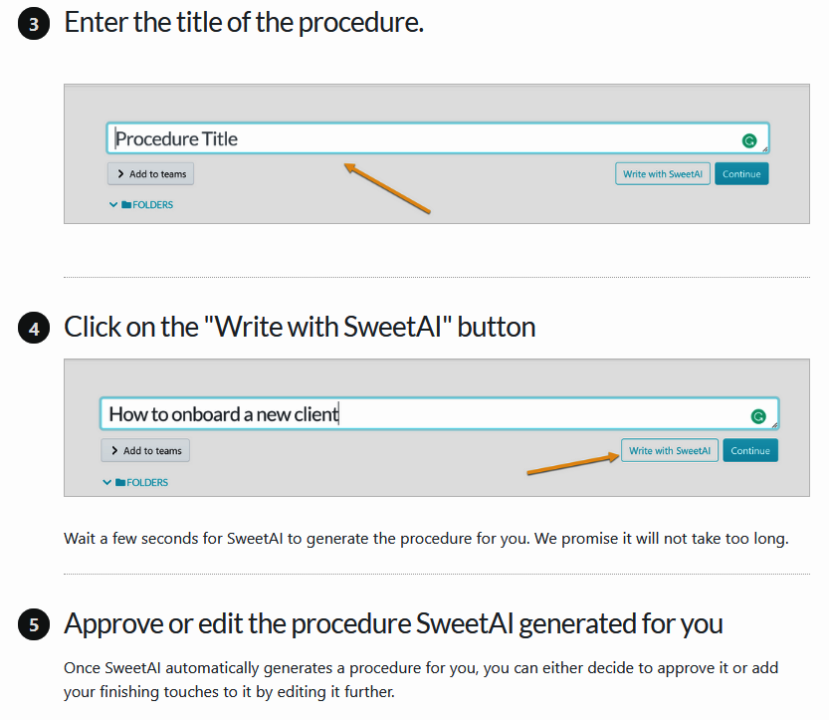 It does make your job easy, and we are proud of it, but we are even more proud of the fact that unless you are seriously averse to handling a keyboard, SweetProcess as a knowledge base software is almost as easy in manual mode as it is with AI.
As for AI-powered search and analytics, we know it is all the rage now. Still, our normal search function, version history, and collaboration tools work perfectly and without the glitches that you will notice with almost all AI search mechanisms at the moment. Please take a look at the "Cons" section of each software (with AI support) we listed. No part of those was pulled out of thin air.
We're more about a robust solution that has been tried and tested repeatedly and given our customers fantastic results than advertising a work-in-progress element just to go with the flow. Rest assured, we are on it—the element of AI—and once it is flawless to an acceptable degree and better than what we have right now, we'll showcase it as one of our offerings.
If You're Still on the Fence …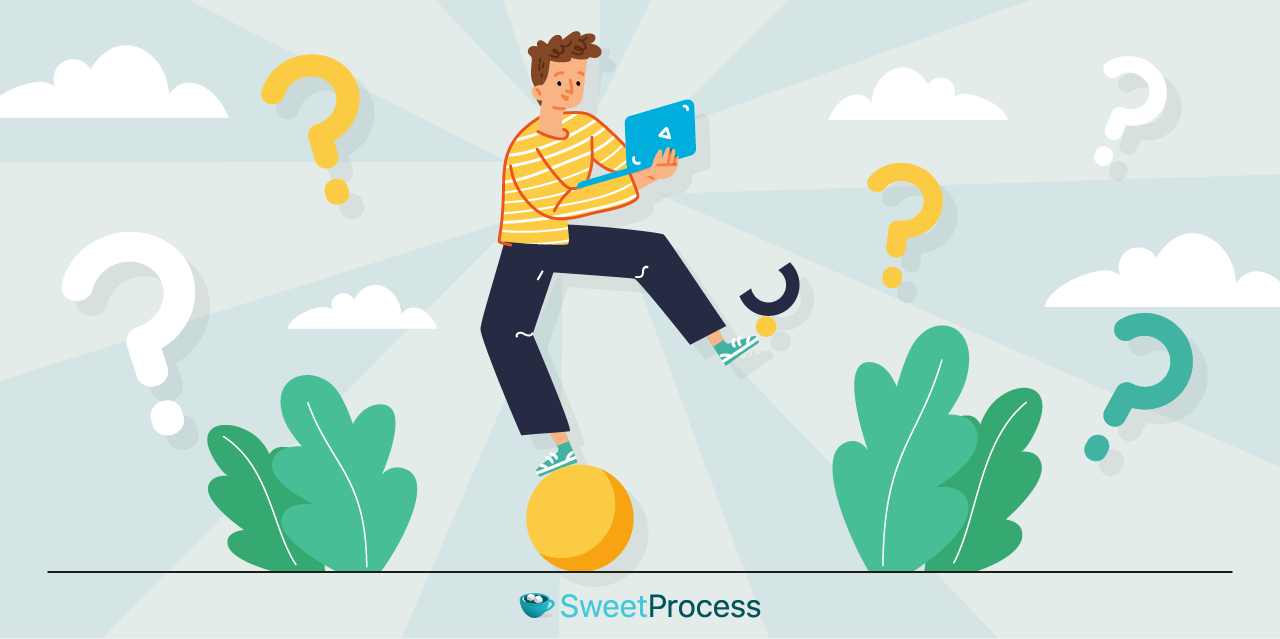 Proof of the pudding is in our customers. Please take a moment to read our archive of their stories or listen to audio recordings of the interviews embedded right there along with the text.
What Have You Got to Lose?
Take the full-featured trial without taking out your credit card.
If you don't like what you see, export all your work and never look back! (But leave us feedback, if possible, to help us grow.)
There's a 30-day unconditional refund guarantee when you decide to join us.
Along with the refund, we'll even offer you a free one-hour phone consultation over any issue your business may need help with.
Click here and find out for yourself what companies see in us.