SweetProcess vs. Bloomfire: Choosing the Best Software for Your Business
Last Updated on November 28, 2023 by Owen McGab Enaohwo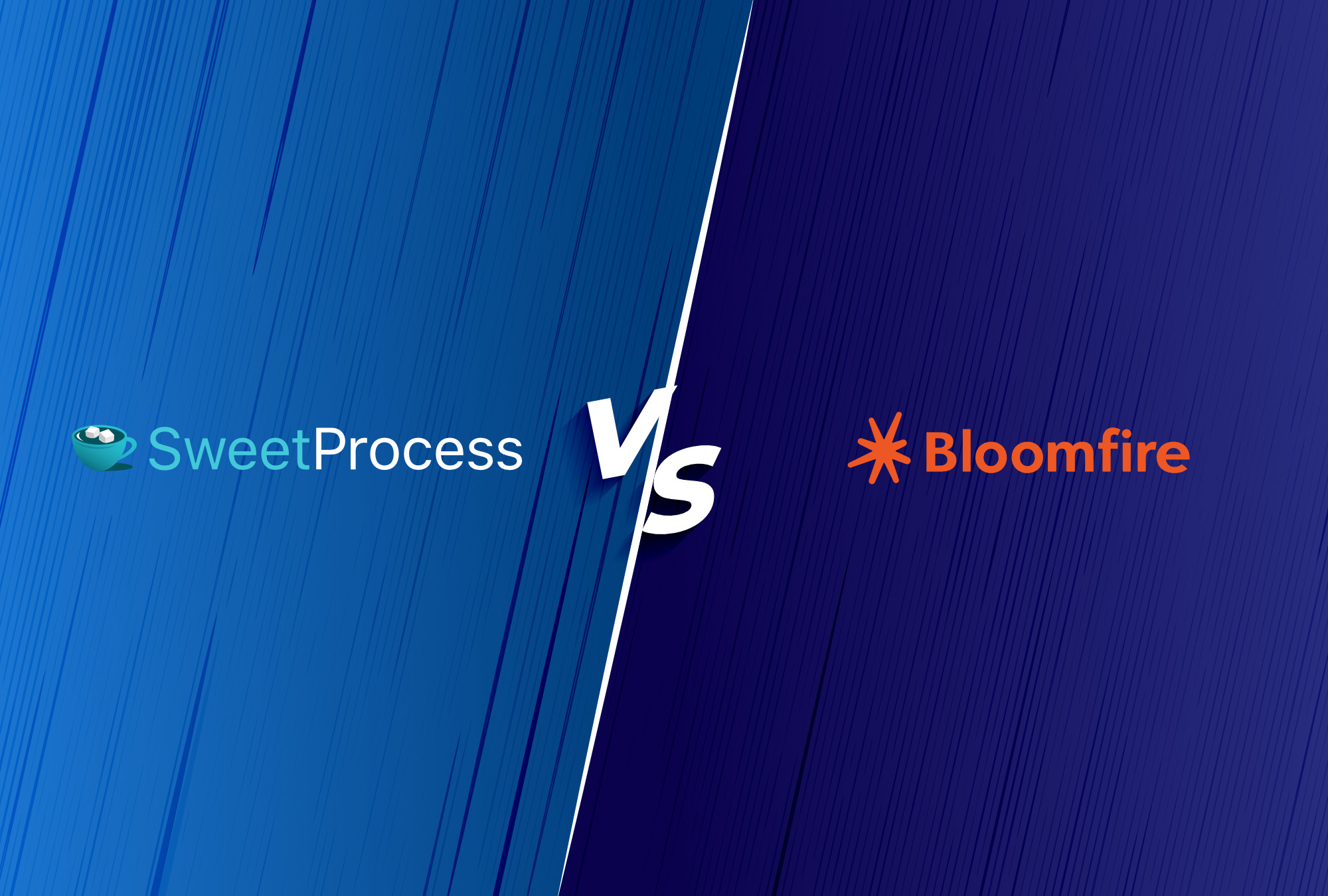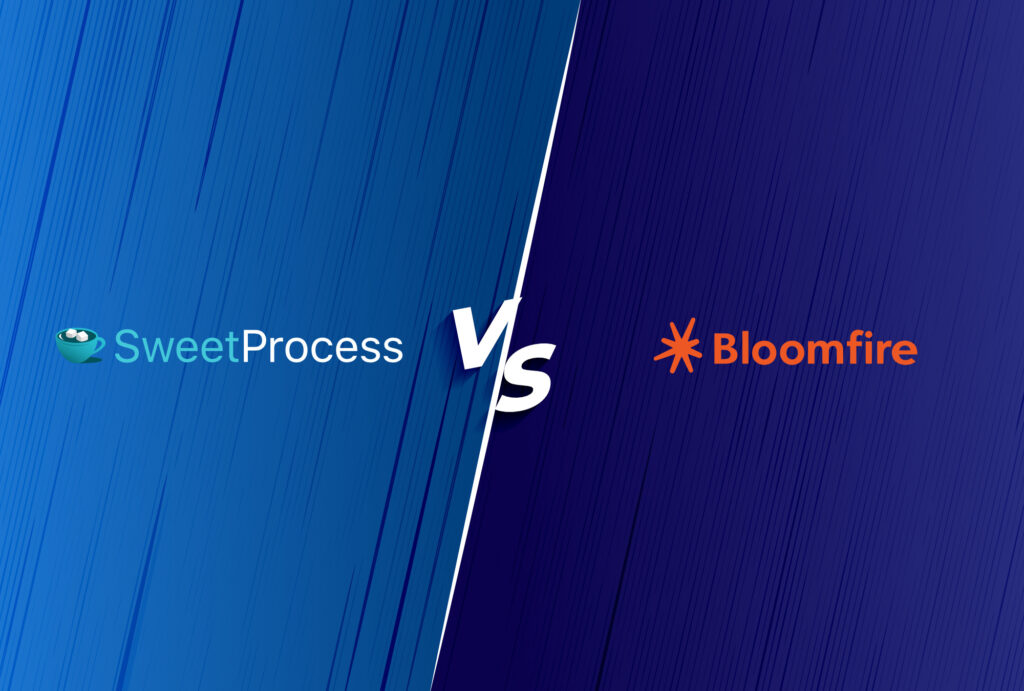 Having a reliable system for creating and managing standard operating procedures and policies is very important.
When it comes to executing this effectively, Bloomfire falls short. User reviews have revealed several shortcomings, including clunky navigation, difficulty finding information, bad customer onboarding experience, and much more.
If all these complaints can emerge from one software, then it is no surprise that you are unhappy with your experience.
This, however, leaves you with a bigger question to answer. Which software can you trust? This is not a decision you want to get wrong.
Whatever software you choose should not just be efficient but also fit into your company's goals.
A lot of software claim to be the real deal but are not. However, do not worry—we are here to make sure you choose the right one this time.
SweetProcess is another business management software mentioned in the same circles as Bloomfire.
But is it worth it?
We have done our research, compared both tools, and will share our findings in this article.
Here's what we've found about SweetProcess: It is super easy to use, offers one of the cheapest plans you'll see, gives you 24/7 support, creates your policies and procedures with its AI, integrates with over 1,000 apps, and its customers have a lot of good things to say. Read their reviews here.
And the best part is, unlike Bloomfire, you do not have to request a demo and wait for a call before seeing how SweetProcess works. Everything you need to know can be easily assessed, and you can make an informed decision without jumping through many hoops.
Let's explore each software in detail and let you know everything we found in our research.
Try out SweetProcess today to find out if it is a better alternative for your business. Click here to take advantage of its 14-day free trial; no credit card is required.
Full Guide: Bloomfire vs. SweetProcess – Table of Contents
SweetProcess and Bloomfire at a Glance
Policy and Procedure Documentation
Artificial Intelligence Assistance in Creating Documents
SweetProcess and Bloomfire: An Overview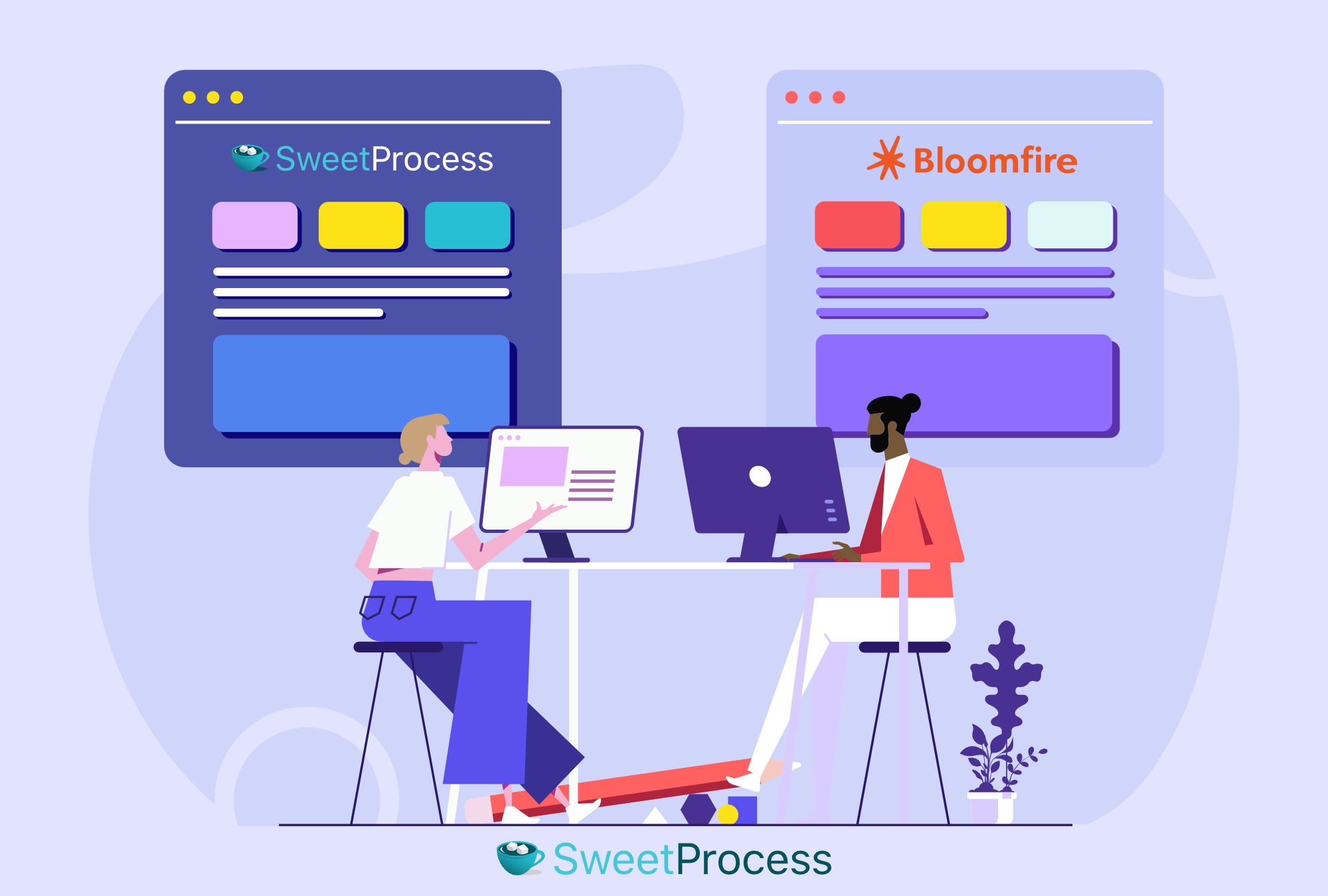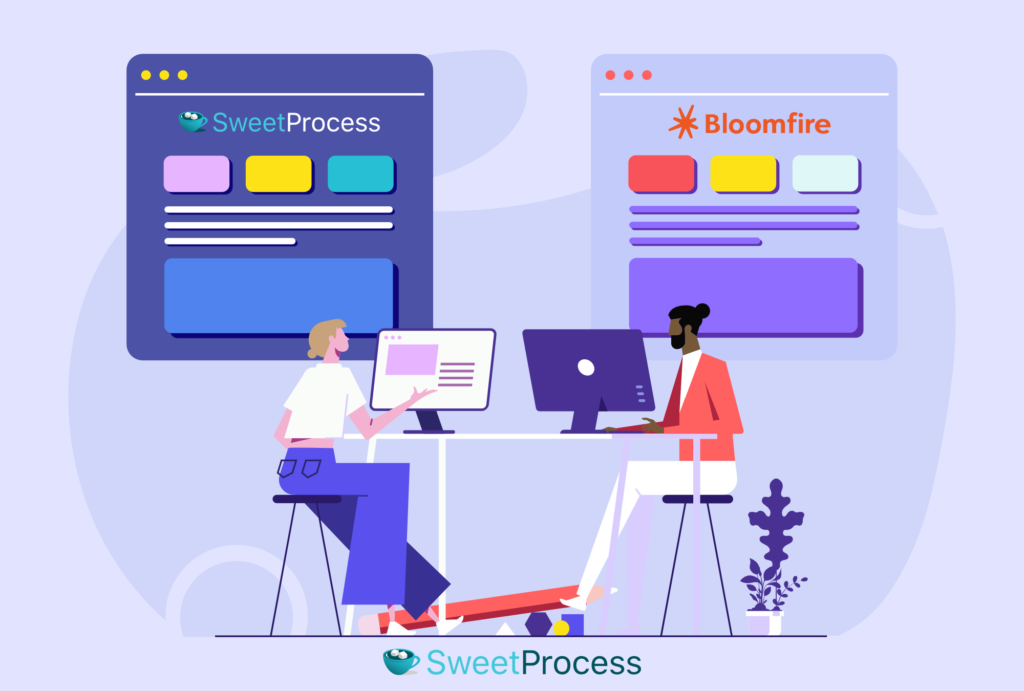 Before we begin a deep dive into both software and how they function, let's start with a quick introduction.
SweetProcess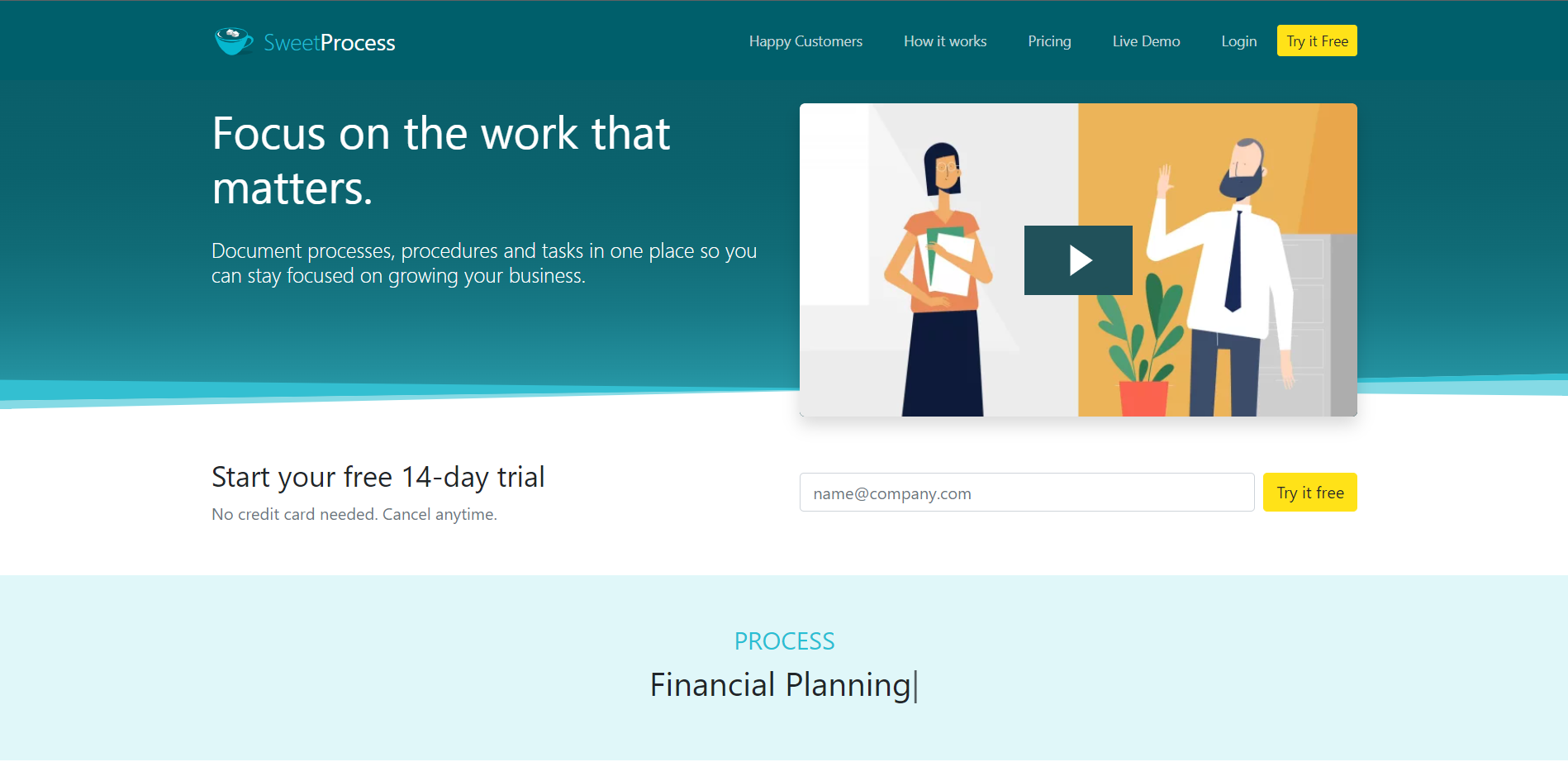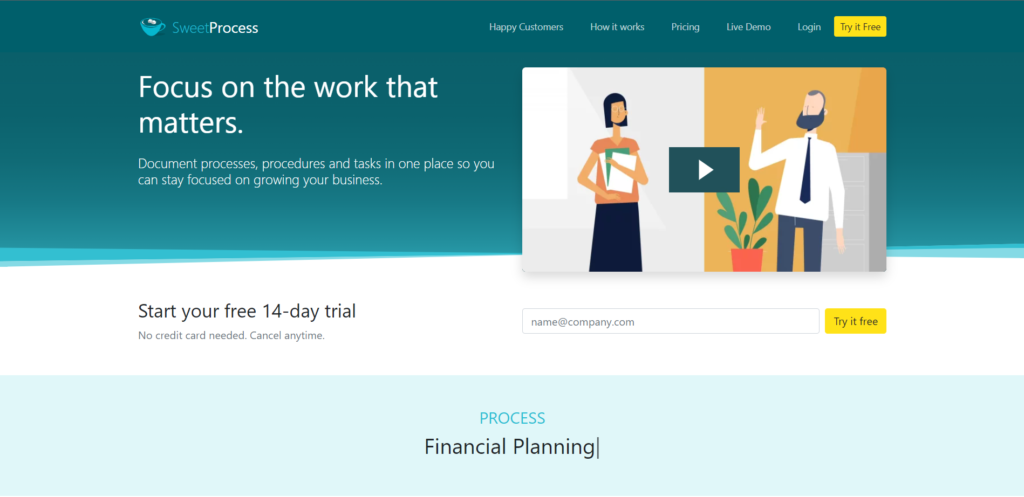 SweetProcess is business management software that allows you to create, document, and manage your company's policies, standard operating procedures (SOPs), and workflows. It centralizes knowledge in one place for easy access so you can focus on growing your business.
When creating a knowledge base that improves your company's workflow and gives everyone, employees and clients, access to the correct information at the right time, SweetProcess is all you need.
It is an all-in-one tool that small, mid-sized, and large enterprises can use. If you wonder if this is for you, the answer is yes!
Let's check out some of its best features. SweetProcess allows you to:
Document your procedures and processes so everyone within your organization understands how they should be executed. Instead of repeating the ideas in your head, you can get them out of your head and into the hands of your staff.
Keep your company's policies alive in a centralized knowledge base. You can create direct links to your policies within your procedures and processes.
Create a visually appealing illustration of your procedure for better understanding. Combine the multiple procedures you've created into an overarching workflow.
Break down your processes and procedures into actionable tasks to be carried out by your staff and team members. You can also track progress as every step of the task is checked off until completion. This leaves little room for errors.
Keep your team members involved in the entire process. Give them permission to suggest improvements to these documents, and give your managers the power to approve them. Remember, in all of these, you are still in charge.
Set up your team to reflect how your company runs. Restrict procedures, policies, and processes to just a few team members or give access to everyone, depending on whether they need to have access to such information.
Create beautiful knowledge bases for your policies and procedures. They could be public or private, whichever suits your business needs.
Get AI to do all the hard work for you. Automatically write your documents with the SweetProcess artificial intelligence tool. It creates policies and procedures tailored to your business. Just write the document title and let AI do the rest.
Integrate with over 1,000 apps. You can connect with your best tools directly via the API or Zapier.
These are just a few items on the features checklist. You have access to a lot more, including creating version history, creating process maps, embedding files and videos within documents, collaborating with team members in real-time, two-factor authentication for your account's security, email and phone support, single sign-on and offline viewing.
Thanks to the robust features of SweetProcess, you experience reduced errors and redos in employee tasks, improved employee turnover without the usual setbacks, and increased value added to your business. You also have more free time to focus on other important parts of your business.
You can check out these features on SweetProcess for free. The 14-day free trial period allows you to test the waters before committing. Sign up here for a 14-day free trial. No credit card is required.
Bloomfire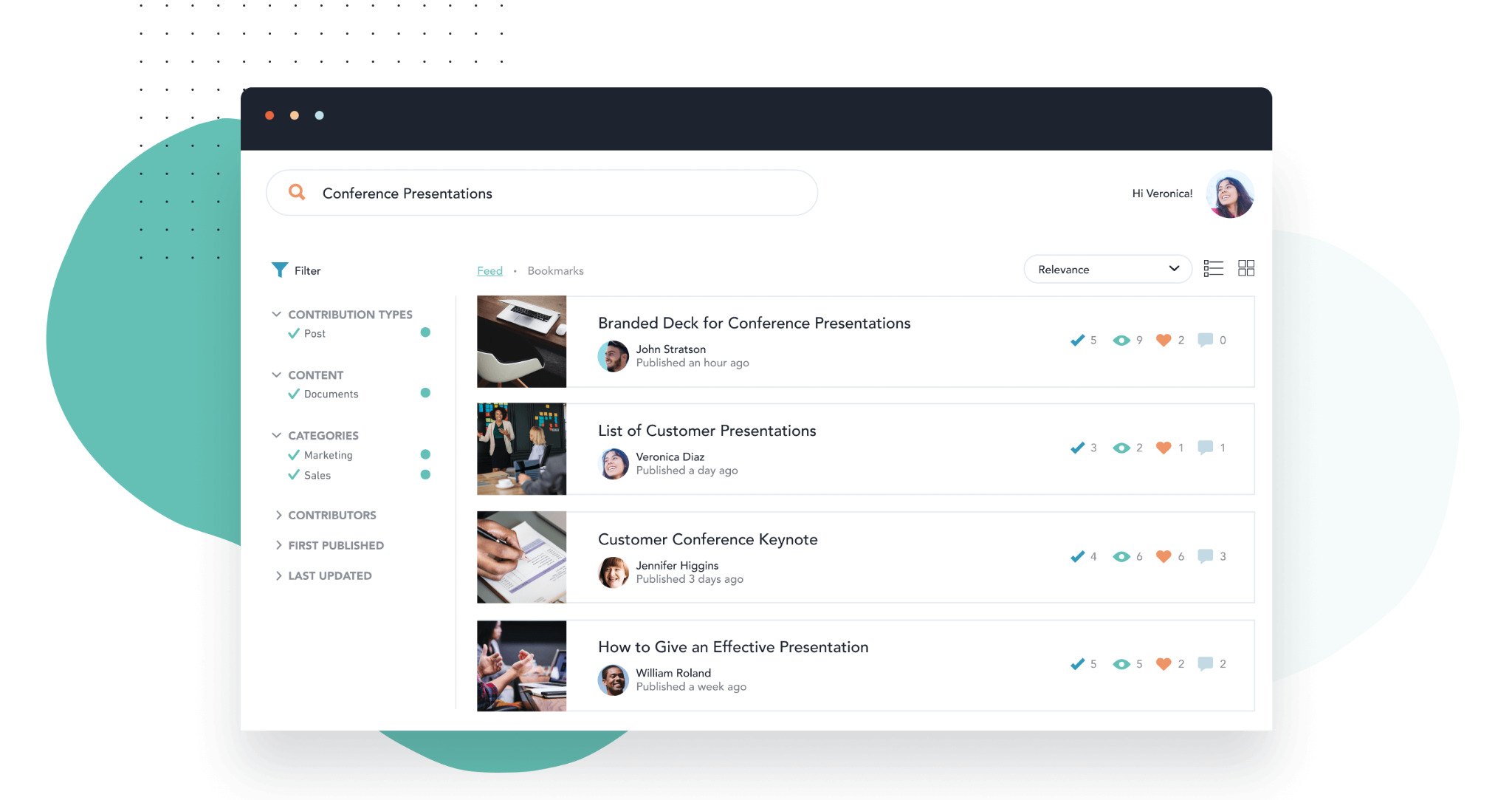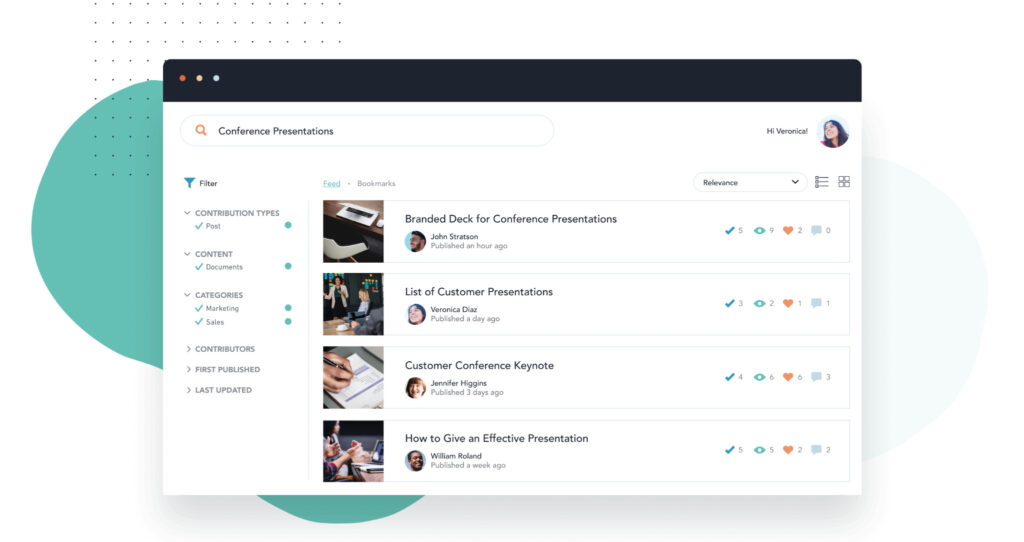 Bloomfire is a knowledge management tool that allows you to create, find, and share knowledge within your organization. Like any knowledge management system, it helps you collect and connect your organizational knowledge in one place. Employees can search through knowledge on the platform to find the information they need.
It contains collaborative features that enable users to ask questions and get answers, create comments, and like comments. Employees can stay aligned with the company's goals and constantly update themselves on any changes that might come up.
It can be used on different devices, including desktop and mobile. This makes it easy to access information from anywhere.
Some of Bloomfire's features include:
Content recommendation
Search and suggest
Reporting and analytics
Groups
Public content
Partner integrations
Whitelabel URL
Auto-tagging content
Content moderation
User roles
SSO API access
Q&A features
SweetProcess and Bloomfire at a Glance
Feature
SweetProcess
Bloomfire
Policy and Procedure Documentation
Embed videos and images
Import existing procedures
Export documents
Create policies and procedures with SweetAI
Share with team members
Embed videos and images
Import existing procedures
Export documents
Share with team members
Knowledge Base Creation
Create and manage knowledge bases
Make the knowledge base public or private
Group documents in categories
Share knowledge base
Create and manage knowledge bases
Make the knowledge base public or private
Group documents in categories
Share knowledge base
Ease of Use
Intuitive and super easy to use User-friendly interface
Users have complained about it being difficult to use.
Pricing
$99 monthly for a team with up to 20 active members, $5 for each additional active member
14-day free trial
30-day money-back guarantee
Equal access to premium features
$25 per user per month
AI Assistance in Creating Documents
Yes (SweetAI)
Not available
Integration
Integration with over 1,000 apps.
Via Zapier, integration extends to over 5,000 apps.
Limited number of integrations.
Help and Support
Phone support
Email support
Self-help center
FAQs
Blog
Resource hub
Knowledge hub
Email support
Help Center
Platform Supported
Web browsers
Mobile applications for Android and iOS users
Web browsers
Mobile applications for Android and iOS users
SweetProcess and Bloomfire: Which Is Better for You?
We've been introduced to both software. But which is better for you?
If Bloomfire does not meet your expectations, we get it. But how can you be sure that SweetProcess will be any better?
Let's take a deep dive into the core features of both software. By the end of this, you should be able to decide.
Policy and Procedure Documentation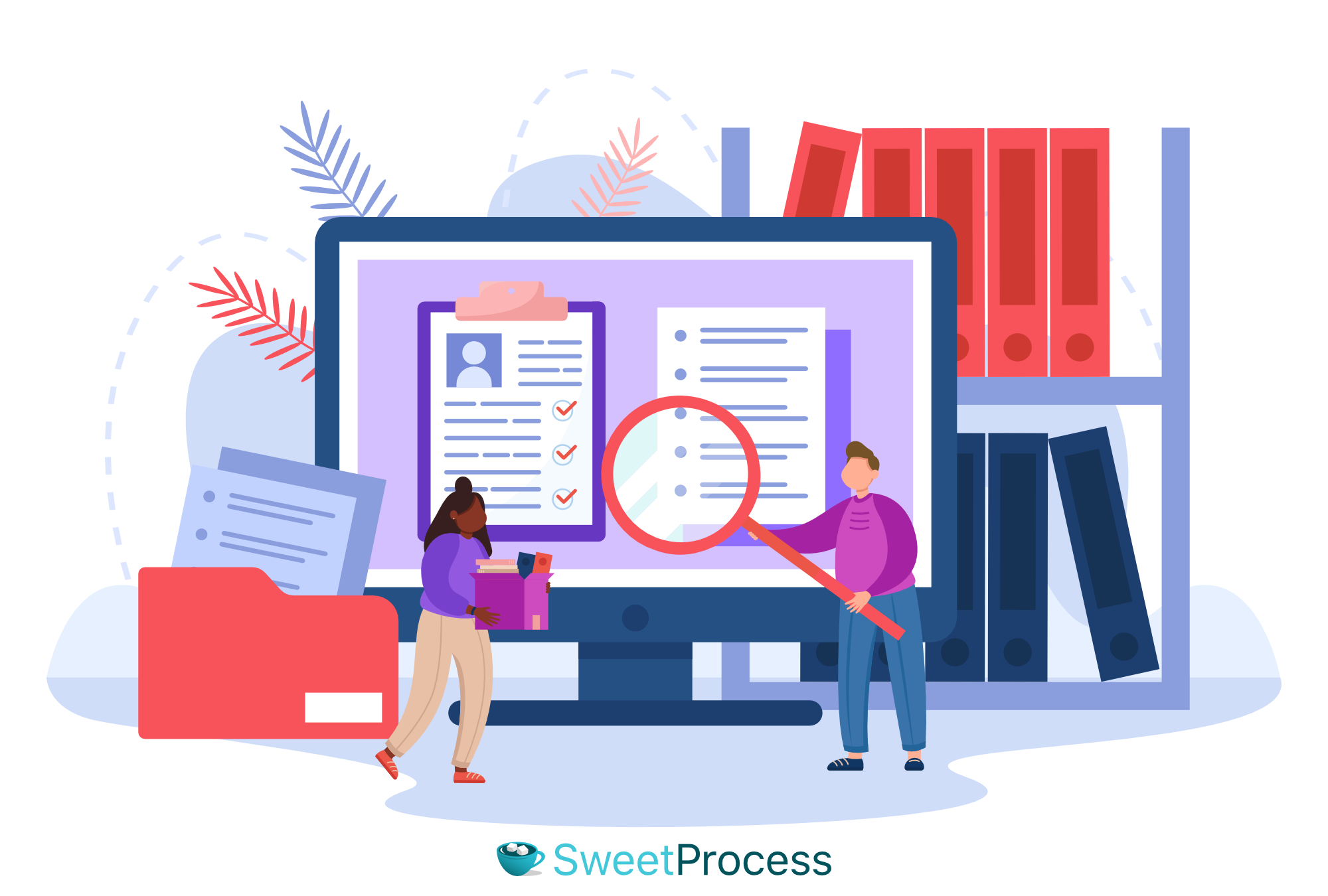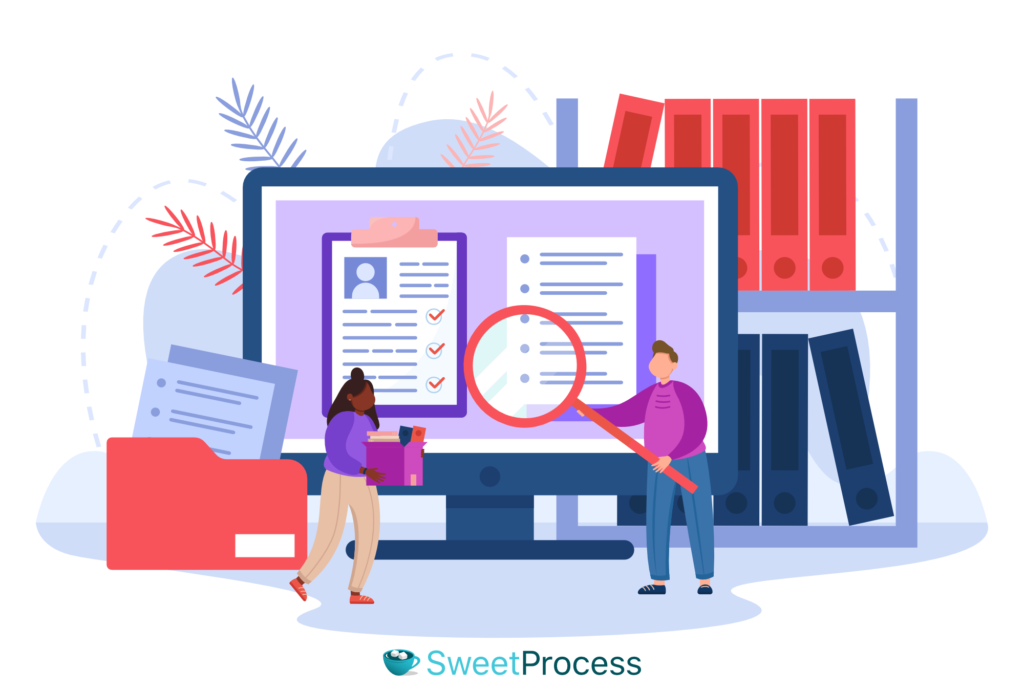 One of the most important features you should be looking out for is the creation of policies and standard operating procedures, among other essential business documents. How easy and efficient is the process?
SweetProcess
SweetProcess is your ultimate go-to when you want to properly document your policies, processes, and standard operating procedures (SOPs). Documentation is so easy that you can do it even if you've never created a policy.
And it can be completed in just a few steps. Like other features in the tool, this feature is available even in the free trial version. You can check it out today before you commit.
Users of SweetProcess agree that this process is seamless and highly effective.
Forensic Analytical Consulting built a more efficient workforce with the help of the SweetProcess business process documentation feature. They were having issues with productivity because their SOPs were ineffective. However, with SweetProcess, they created SOPs that were detailed and comprehensive, which was completely different from the PDF booklets they used before. Thanks to SweetProcess, their employees can access it easily and from anywhere.
You too can enjoy these benefits with SweetProcess, and it's pretty easy. Let's go through the process of creating a procedure in SweetProcess together.
How to Create a Procedure on SweetProcess
Login to your dashboard and click on "Create Procedure."


Type in the title of the procedure you're creating.


Go ahead to create your procedure step-by-step. Make your procedure visual by adding videos, links (including links to other procedures and policies), and images to the document.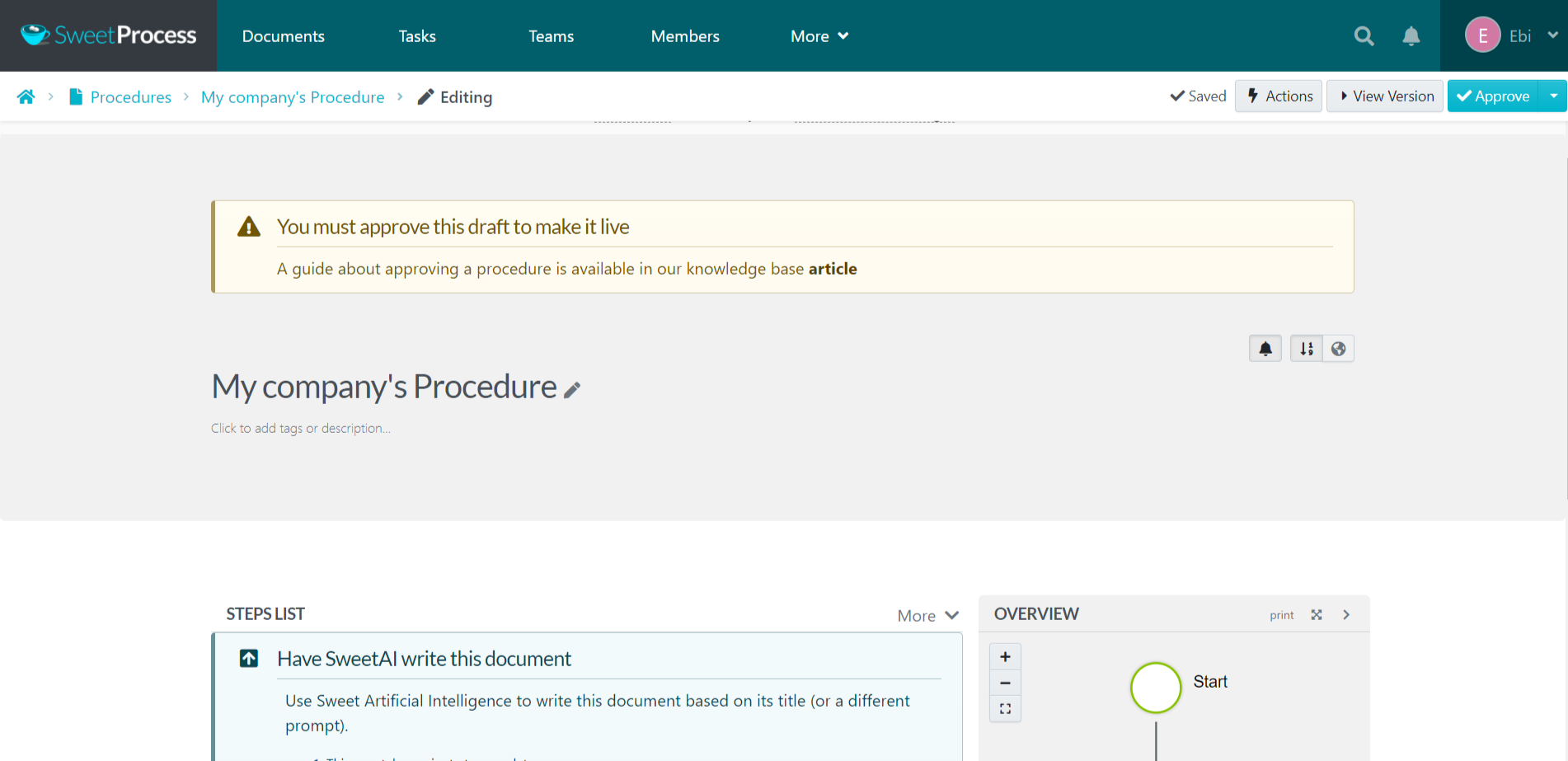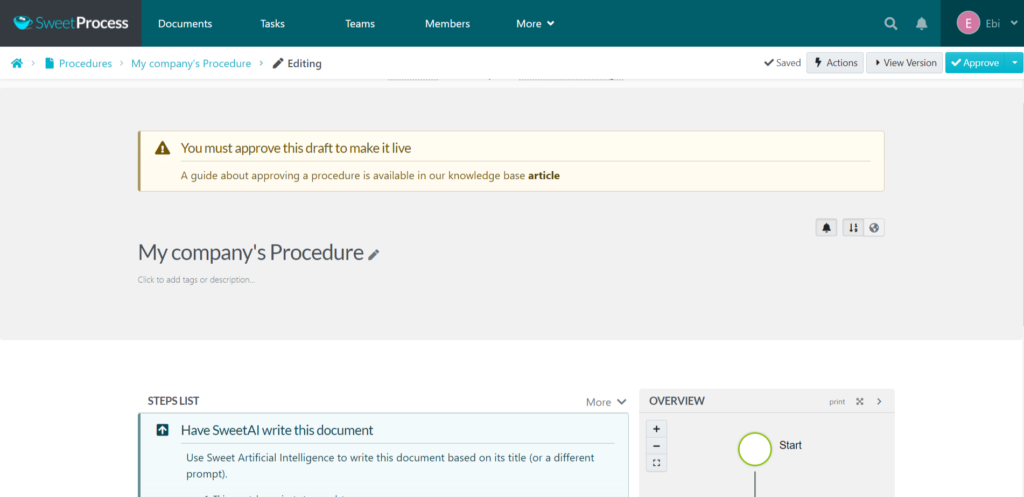 To simplify the process, you can ask SweetAI to write your procedure for you.
When you're done creating, you can request approval from the team leader, approve the procedure and notify other team members, or approve and request sign-off. Click on any of the approval options. Once it is approved, it goes live.


Your procedure is now live!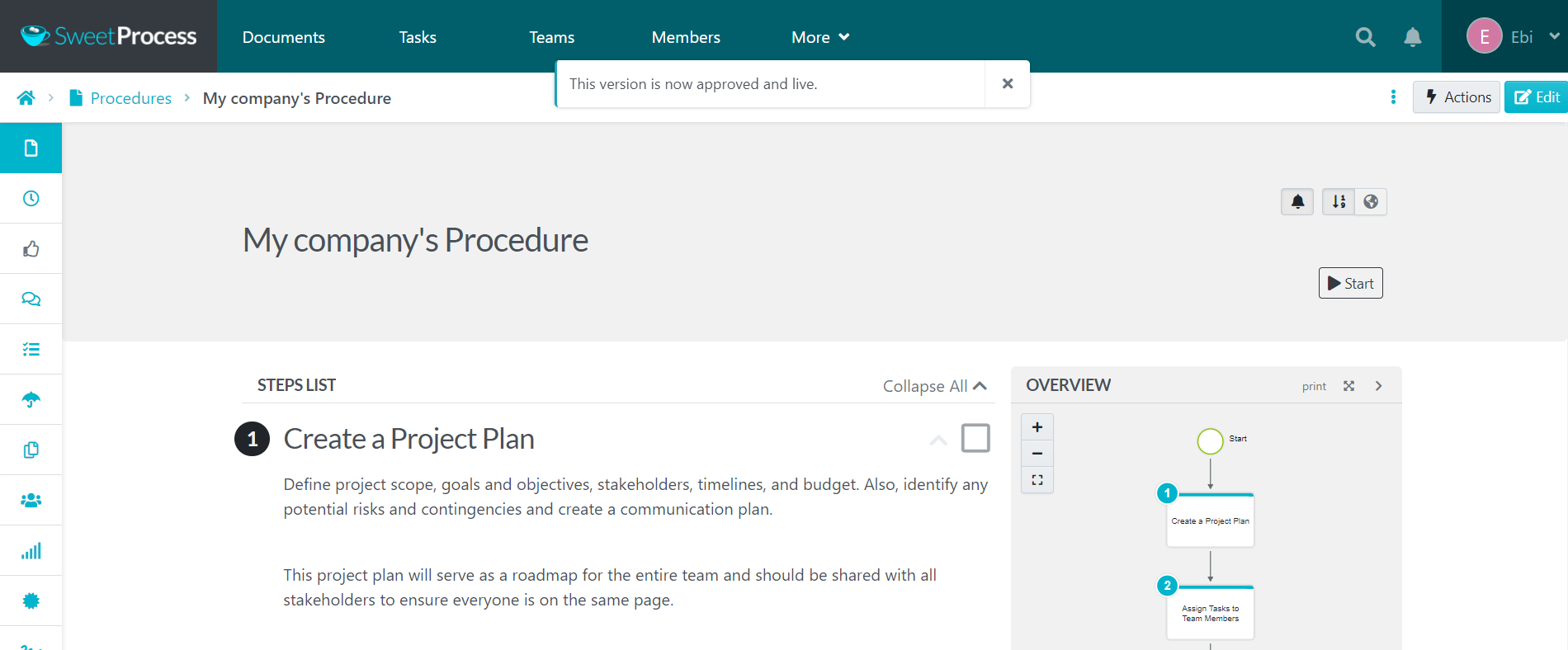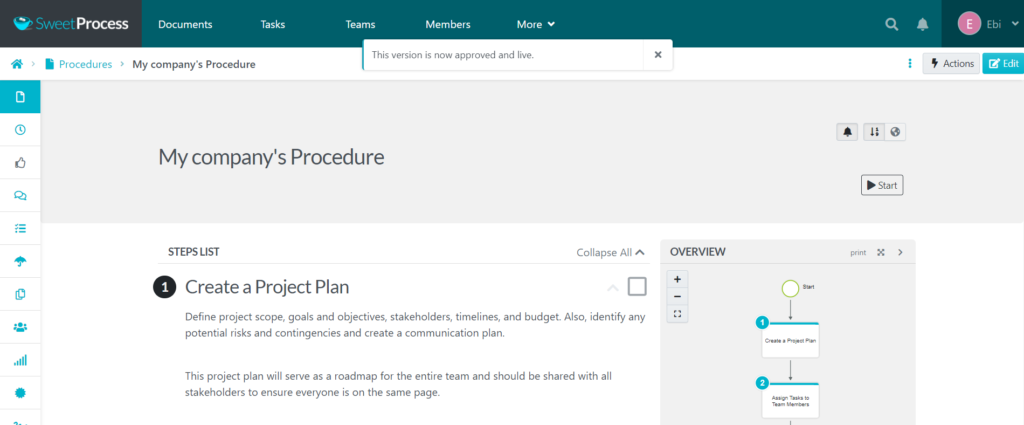 The exact process applies to the creation of policies and processes. Click on what you want to create, put in your title, create your policy or process, and then approve. Your policy or process goes live.
Bloomfire
Bloomfire also allows you to create documents, policies, and procedures. On Bloomfire, they are all called knowledge. They are not specifically categorized as processes, procedures, or policies, like SweetProcess. On Bloomfire, it does not matter what you are creating, it is a post. This is a far cry from SweetProcess's detailed labeling, which affects both the document structure and content creation process.
Bloomfire allows you to create and edit documents. You can also upload pictures and videos, embed links, and add tags. Its publishing process allows you to send it for approval, publish it quietly, or make it accessible to the public.
Here's how to create a post on Bloomfire:
Login to your dashboard. Click on "Add Contribution" and select "Create a post"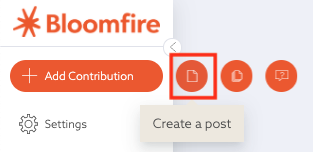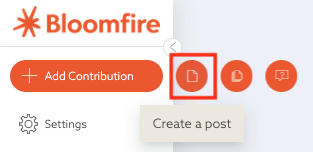 Add the title of your post and include a description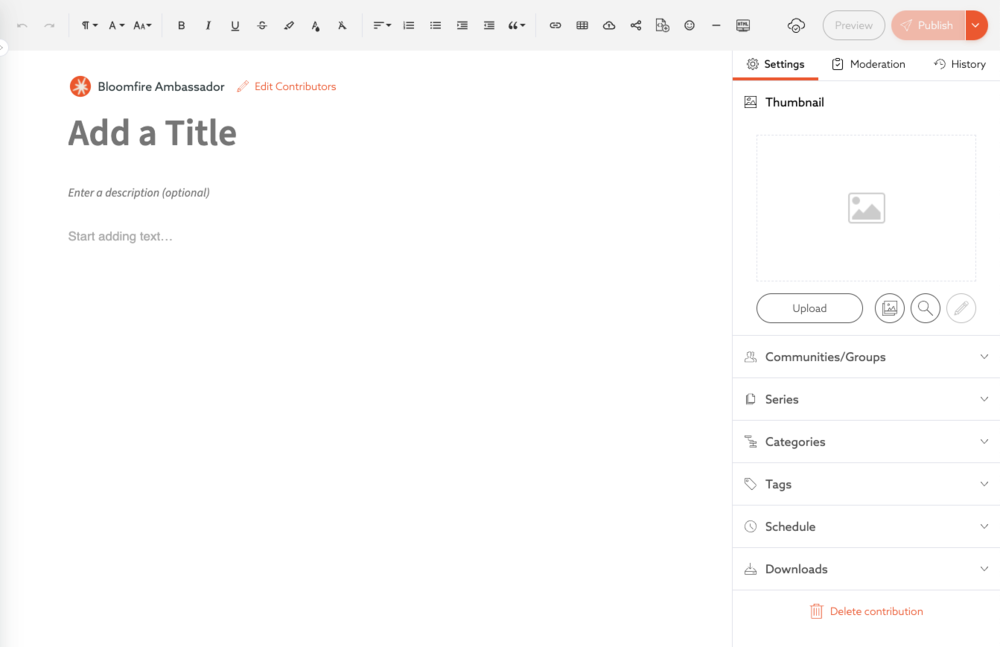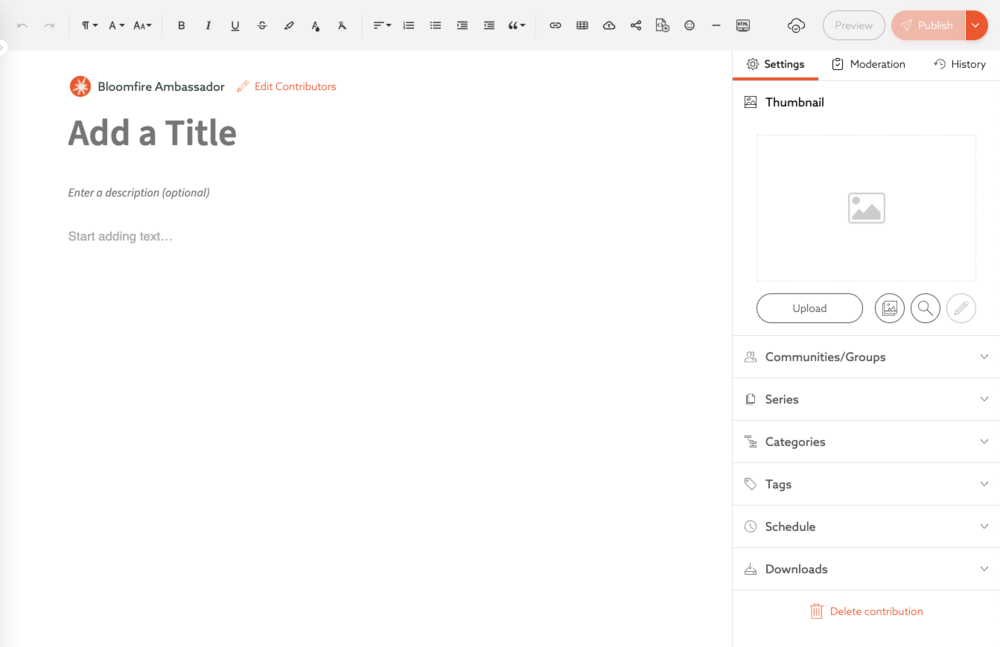 As you create your post, you can include your text, upload files, embed links, and even paste text.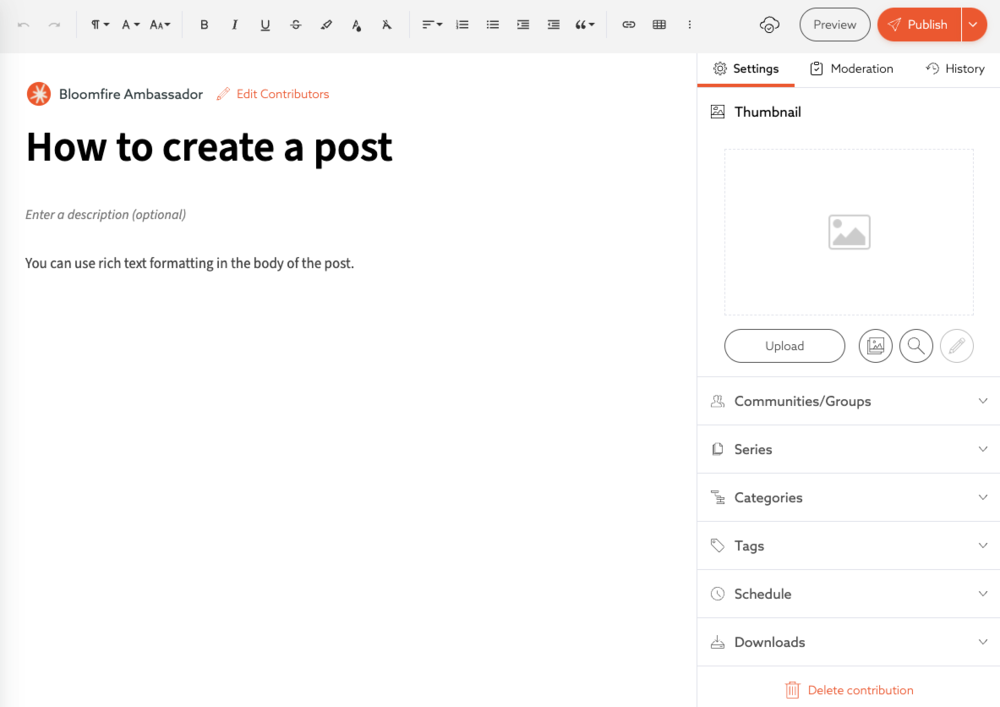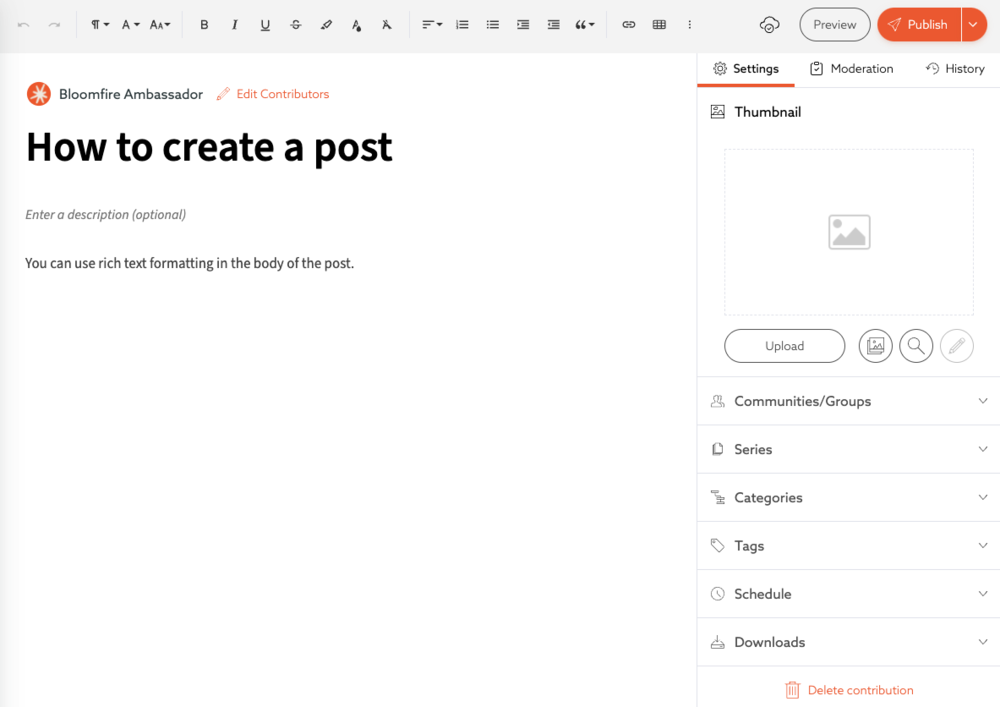 Before you publish your post, go to the content settings section. You can add tags, thumbnails, categories and more.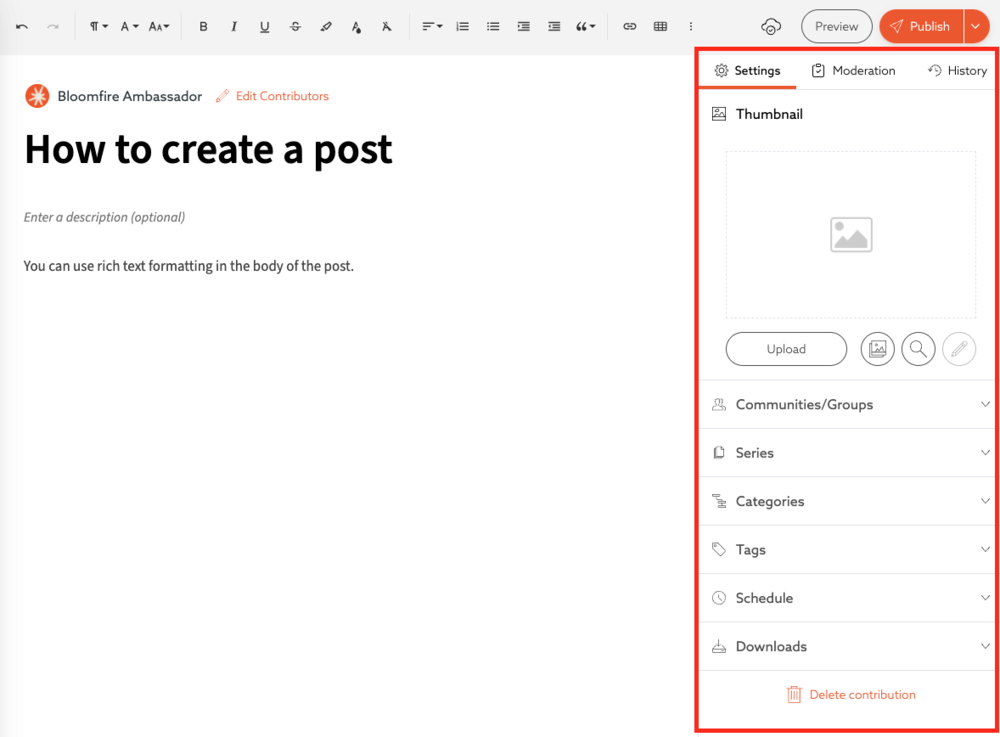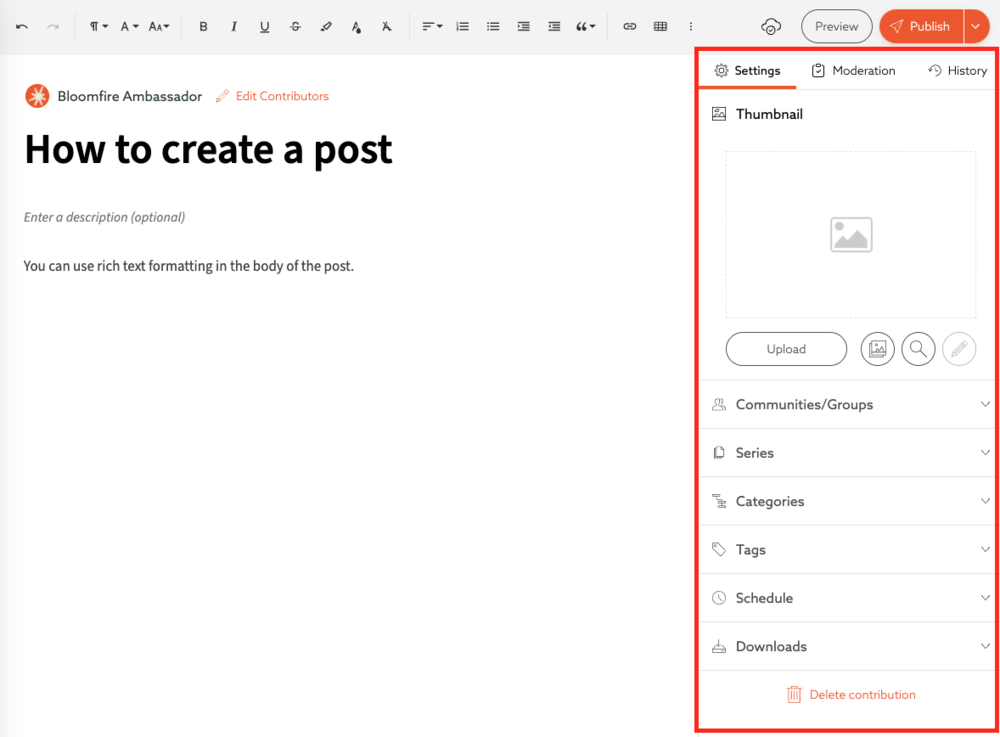 Once you are done, it's time to publish. Choose your preferred option from the dropdown. You can send it for approval, publish quietly, or make it public.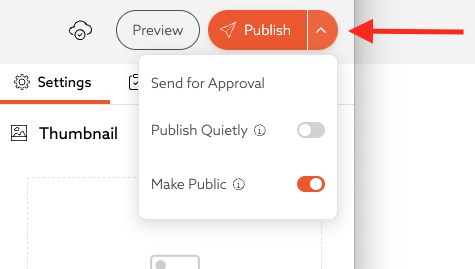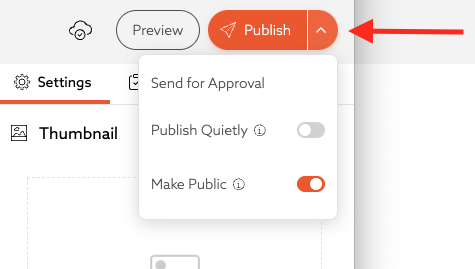 When you publish, your document goes live.

Knowledge Base Creation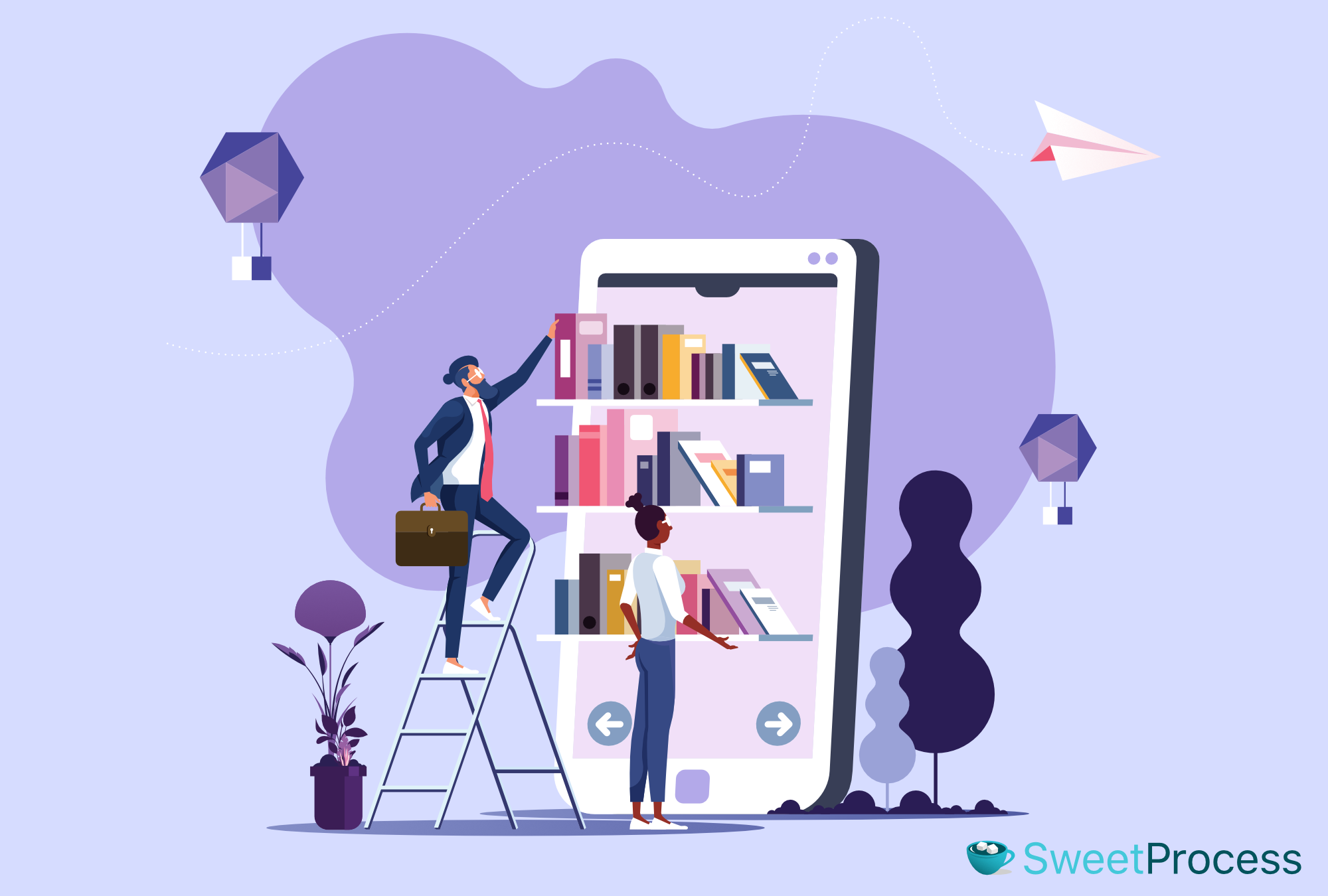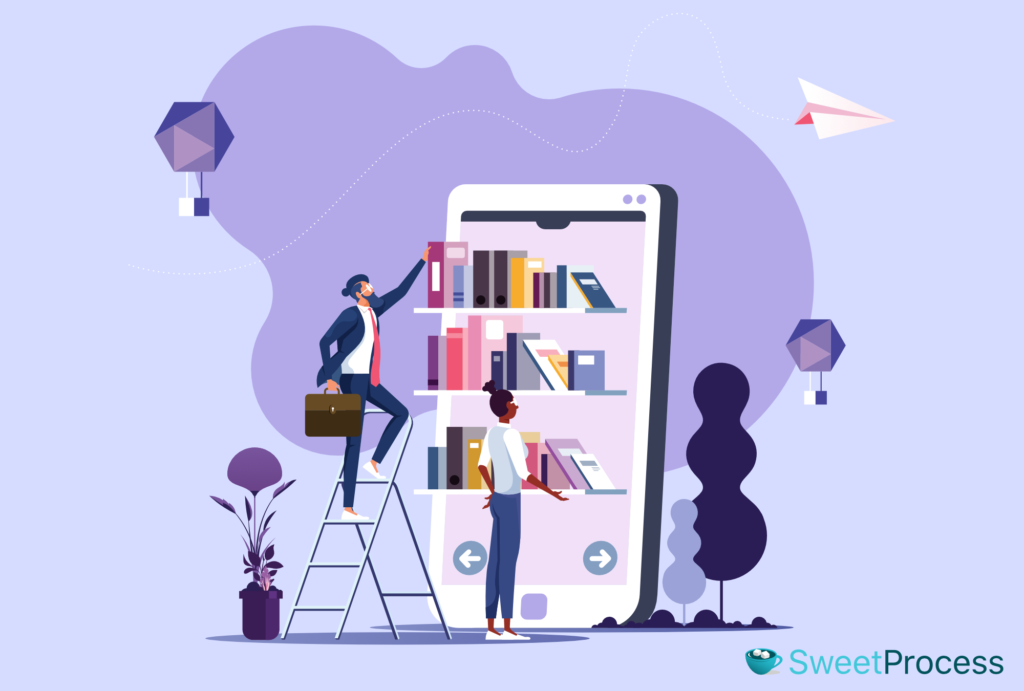 Every company needs a knowledge base–including yours.
Knowledge bases simplify processes like employee onboarding, training, adopting a new policy, and so on within your company. Your employees can find information about almost anything. Everyone knows what to do and at what time. This prevents mix-ups and miscommunications and makes your processes more efficient.
But how do you know which software suits your business better?
SweetProcess
SweetProcess is home to the world's best knowledge bases.
You can turn all your company's documentation, including policies and procedures, into an existing knowledge base. There is no limit to the information that can be stored: FAQs, videos, articles, user manuals, white papers, how-to guides, troubleshooting, and anything else that can help your team find the answers they are looking for.
Everyone can access it
It is not limited to employees alone: you can also create knowledge bases for your customers, that can be accessed from anywhere. This can serve as a self-help guide for them instead of having to always reach customer support.
You get to decide whether or not you want your knowledge base to be private or public. You can limit it to just a few people within your team or make it available to everyone with the link. The search feature in SweetProcess is advanced enough to aid you in finding documents in just a few clicks. Apart from the search function, your files can be filed under categories based on similar qualities. This also makes them easier to find.
SweetProcess is all you need to create knowledge bases that enhance employee efficiency and help you grow your company. Let's take pLINK leadership as an example. Before using SweetProcess, they stored their processes in a Word document with over 85 pages. Creating these documents was tedious because the company's operations changed rapidly. Most of the information in the document became outdated almost immediately after it was added.
SweetProcess gave them a better and more efficient way to document the information. For the first time, they were given tools that helped them properly create and store important processes. This change impacted employee training within the company. What used to take weeks to be completed was done in a few days.
How to Create a Knowledge Base on SweetProcess
Let's get you started on creating a proper knowledge base. The process is simple and easy.
Log into your SweetProcess dashboard. Click "More" and choose "Knowledge Bases" from the dropdown menu.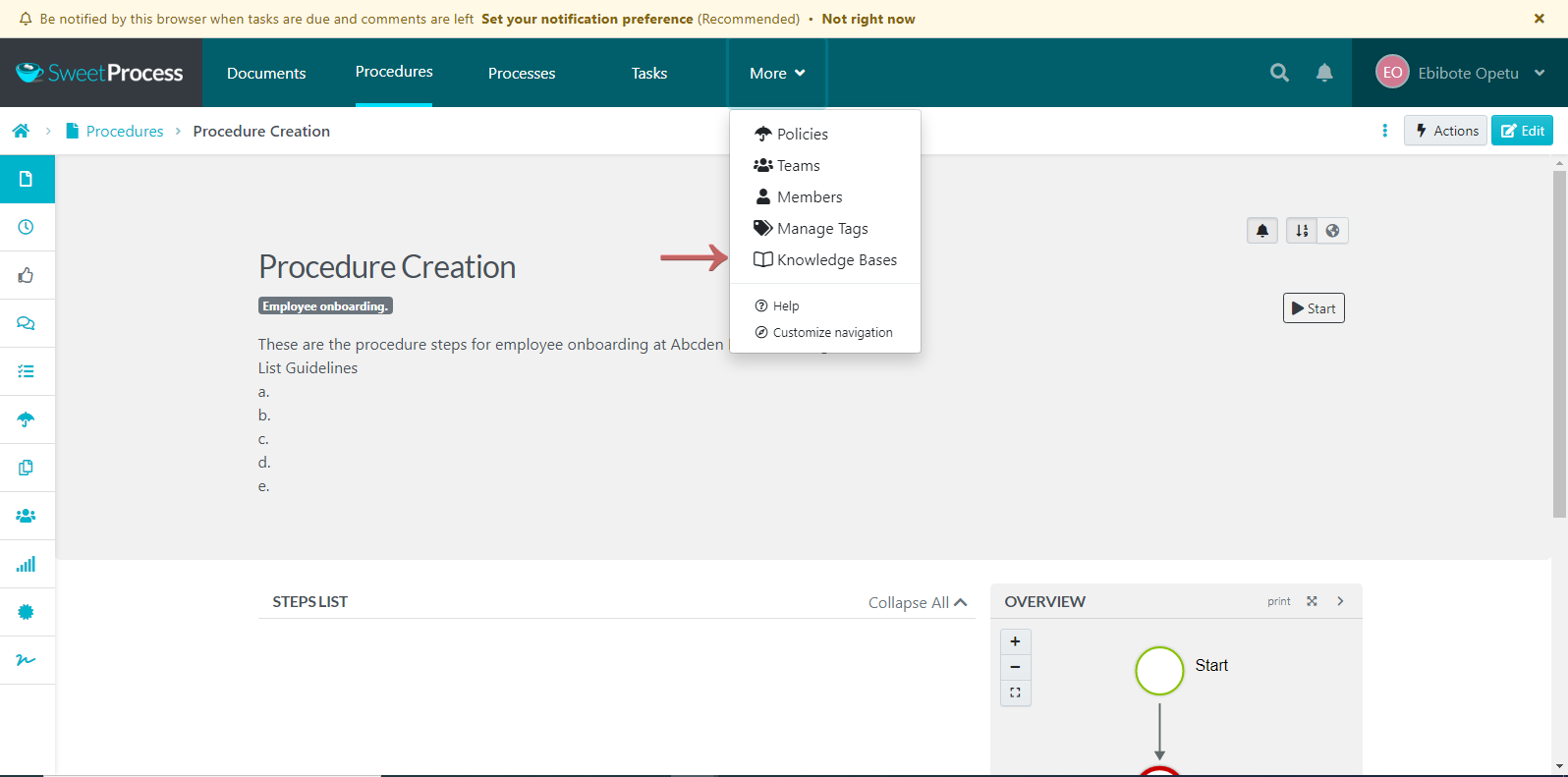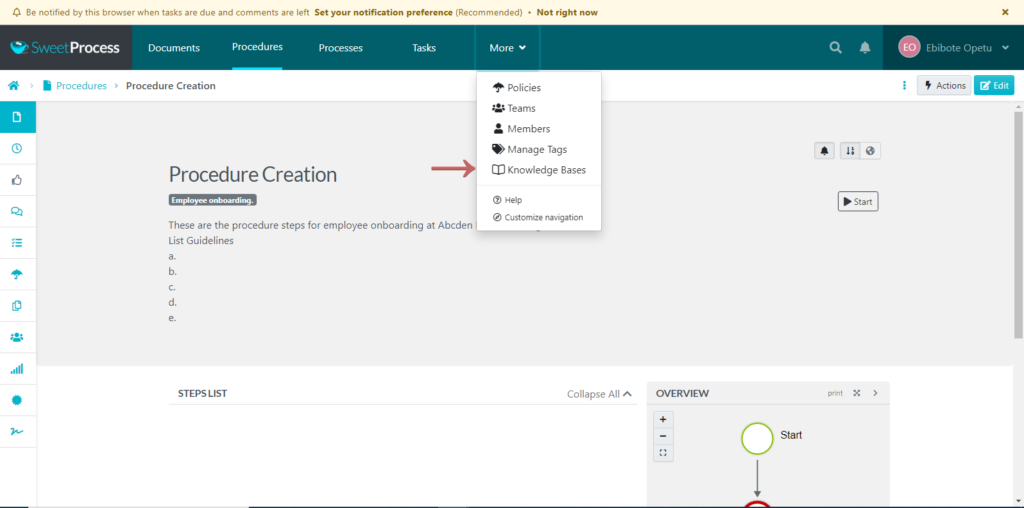 Click on "Create Knowledge Base."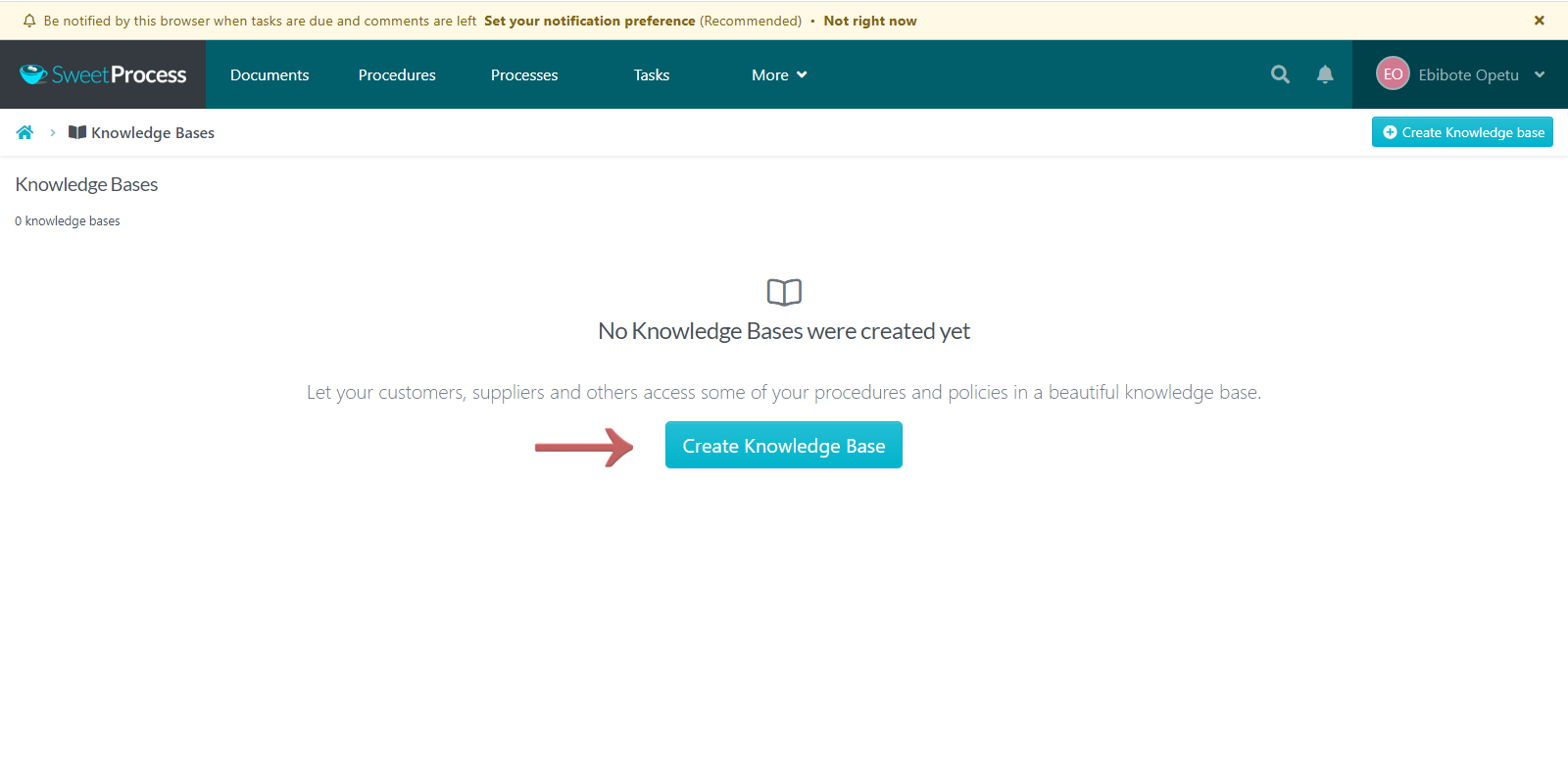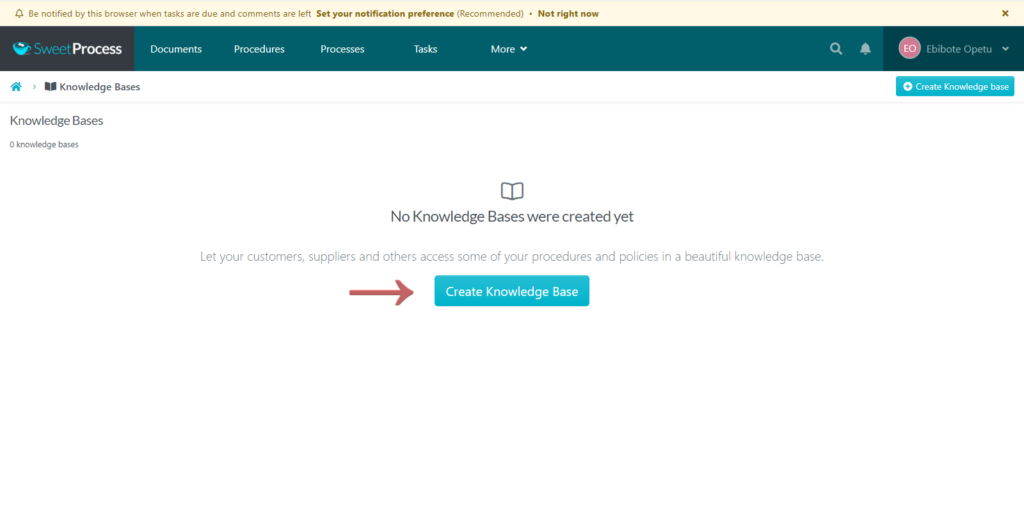 Input the title of your knowledge base.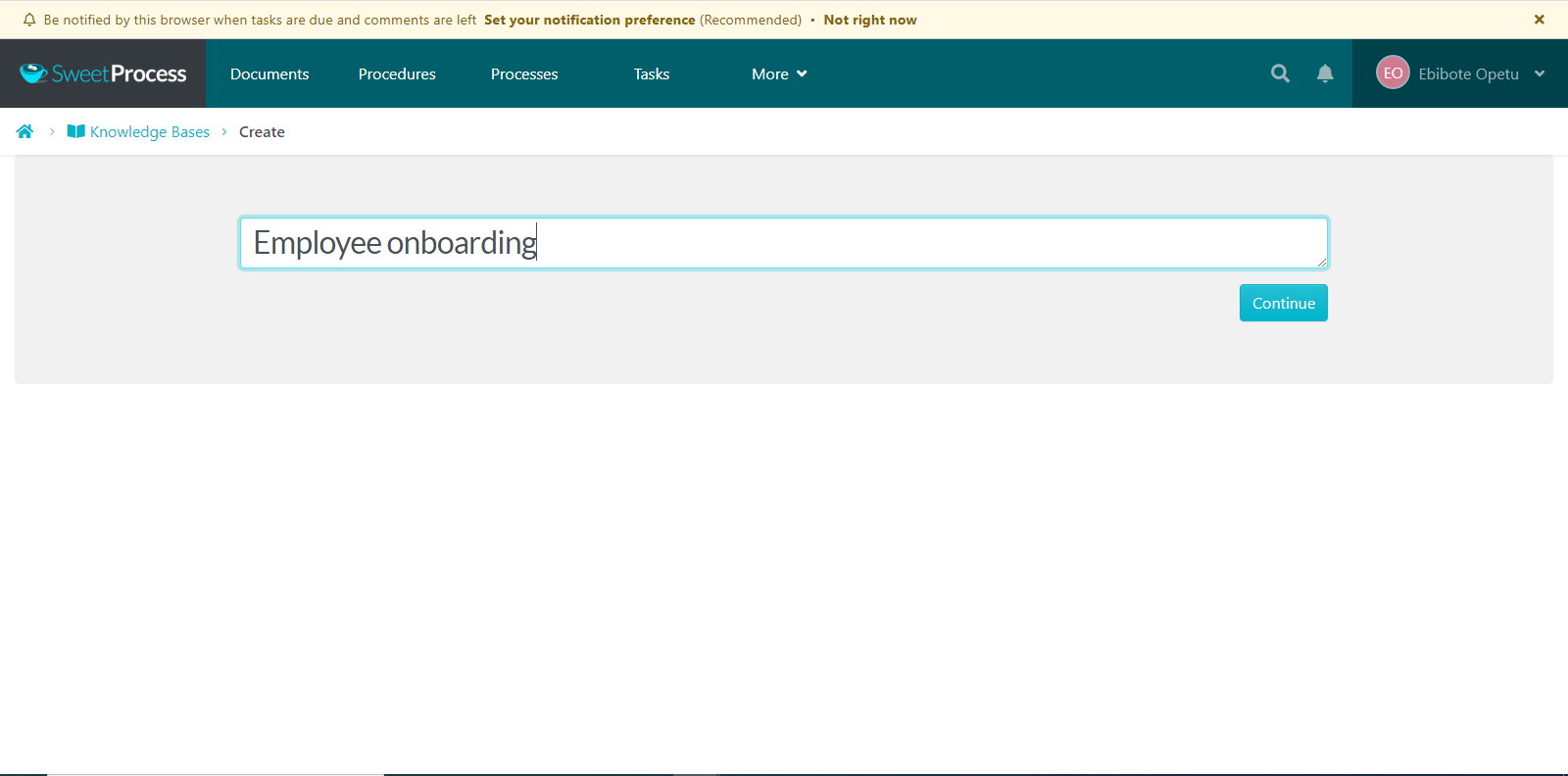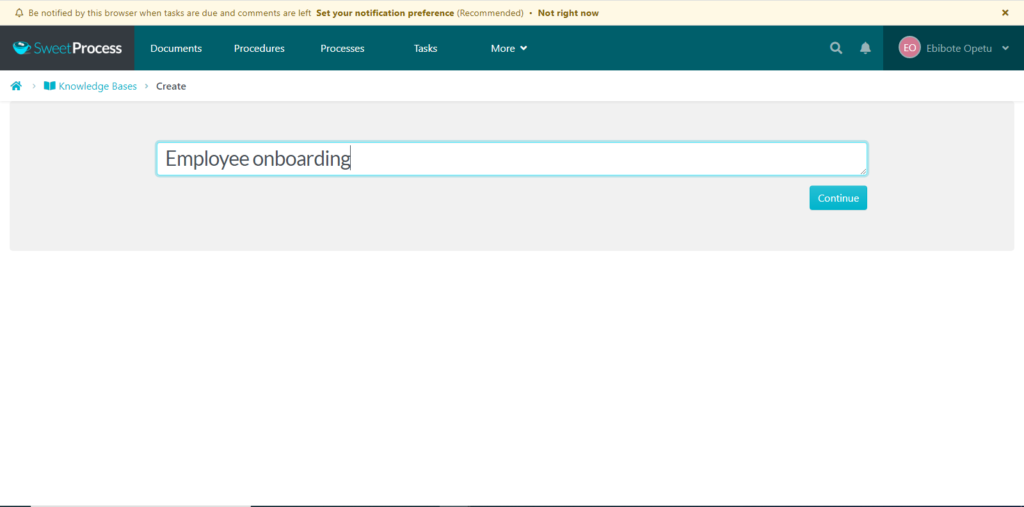 Create a category.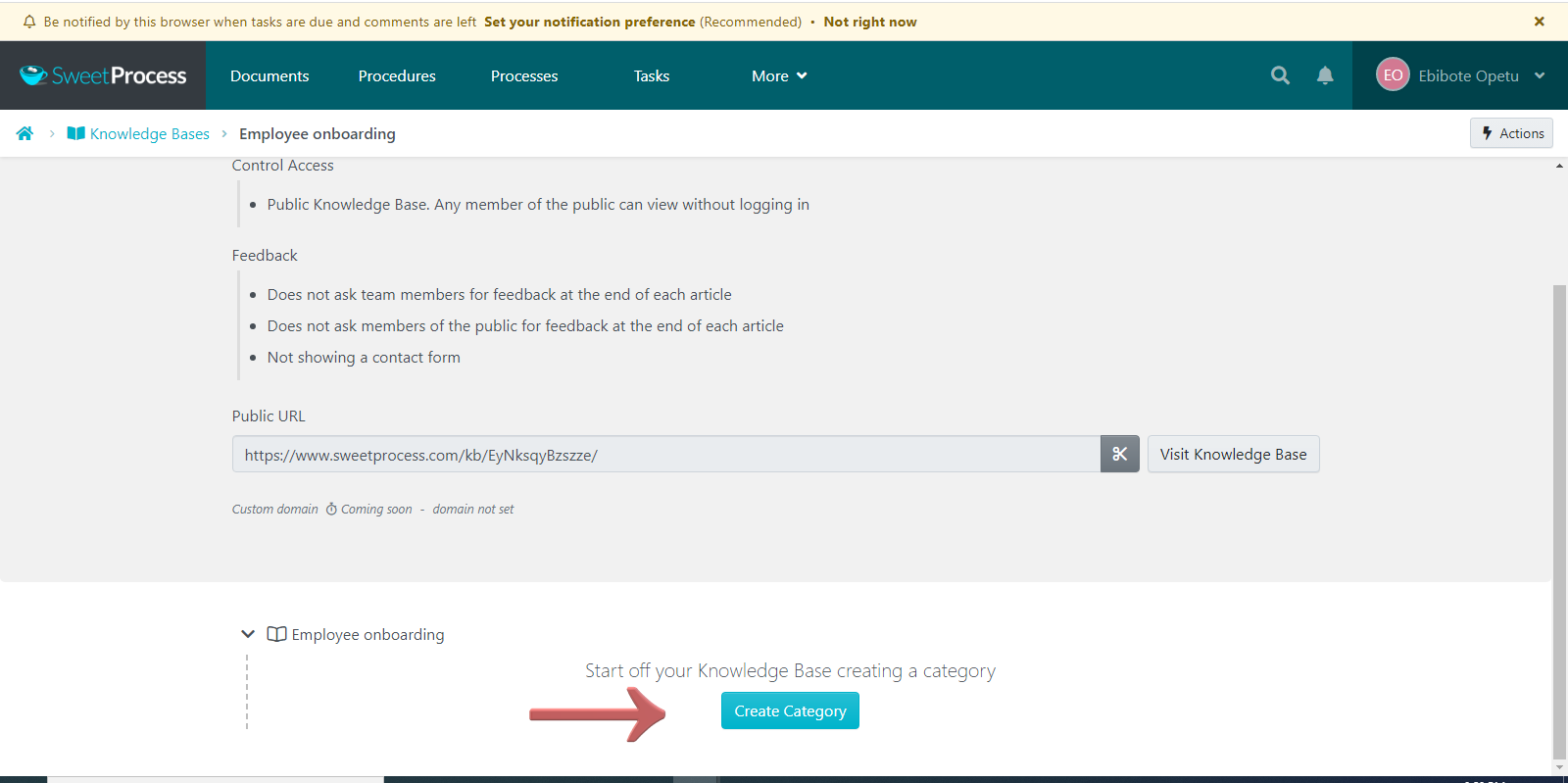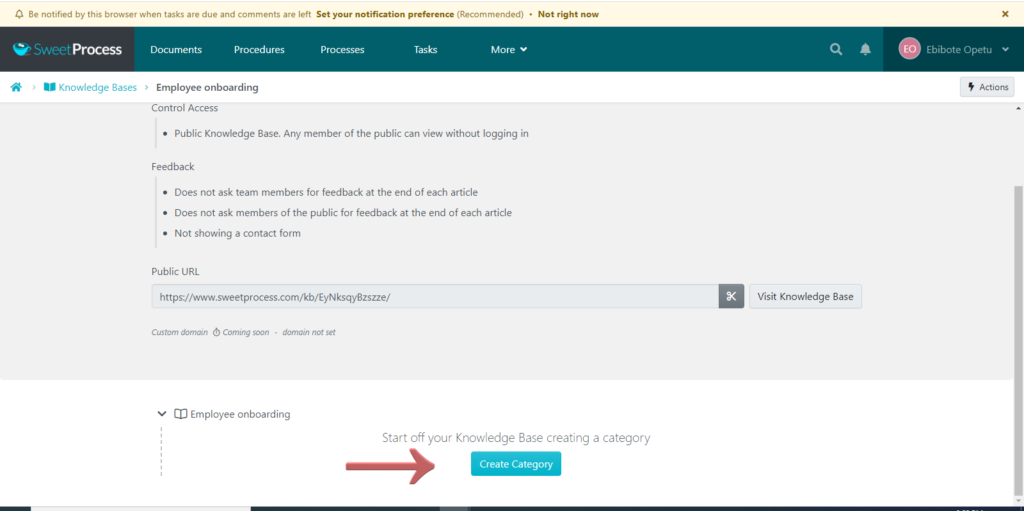 Click on "Add New Article" to upload your preferred policy, document, or procedure into the knowledge base.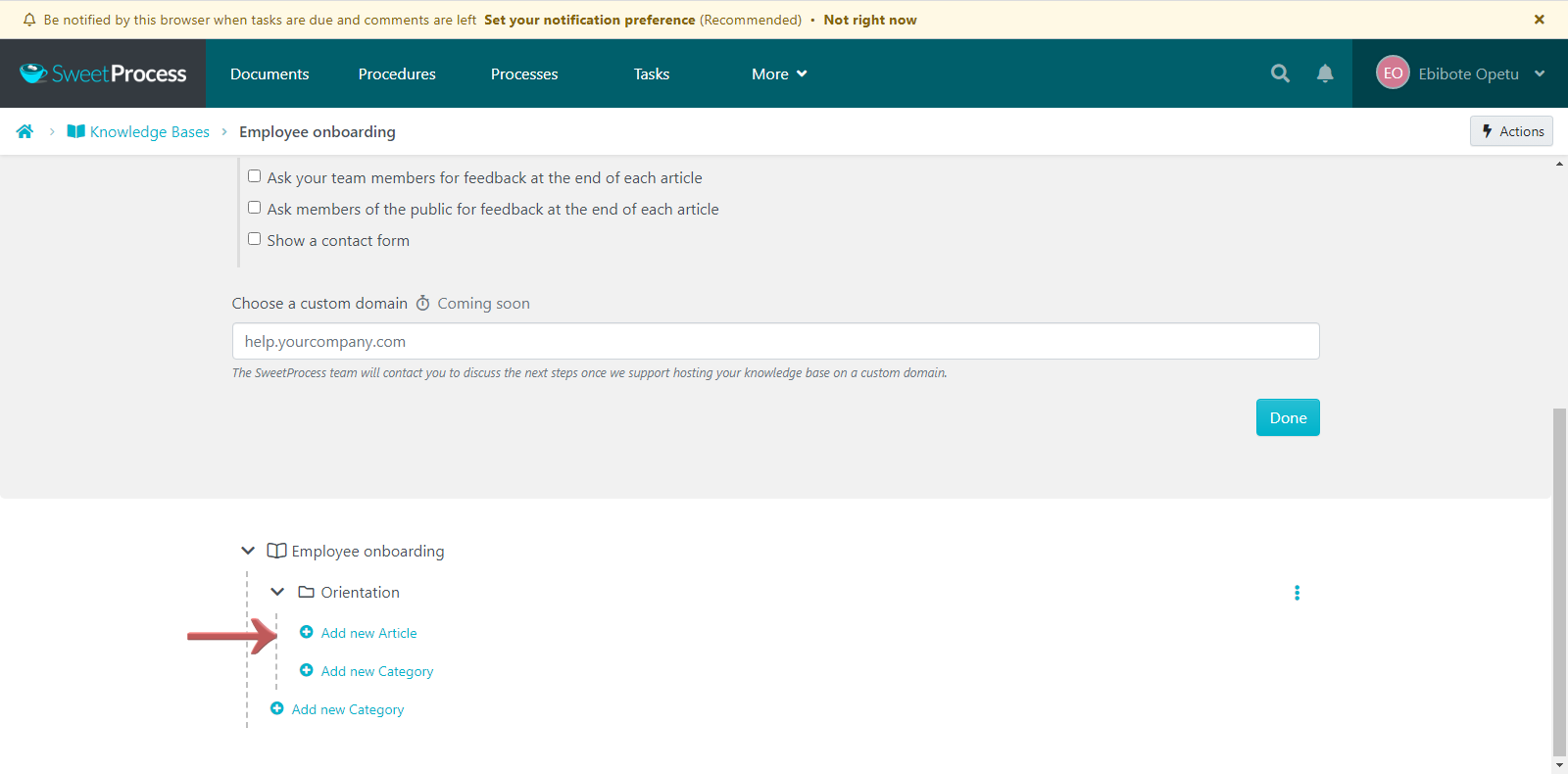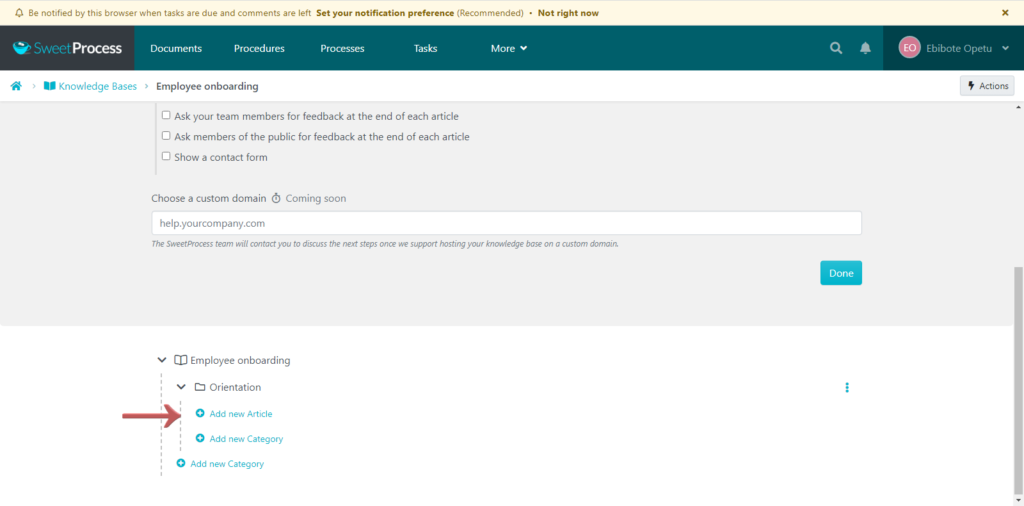 Now you have a knowledge base with as many categories and documents as you can create.
Set access control. You can control who has access to the knowledge base: the general public or just your team members.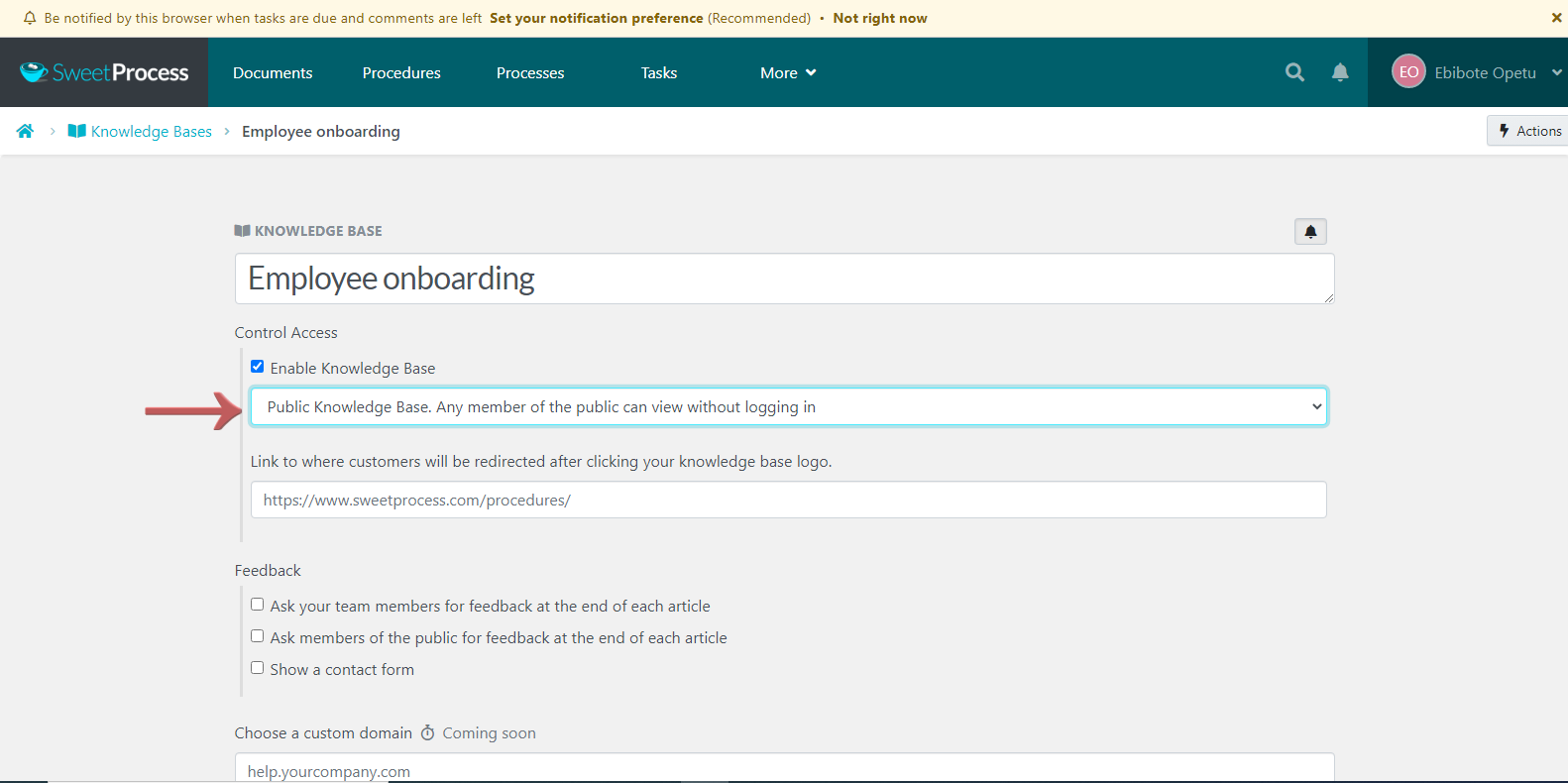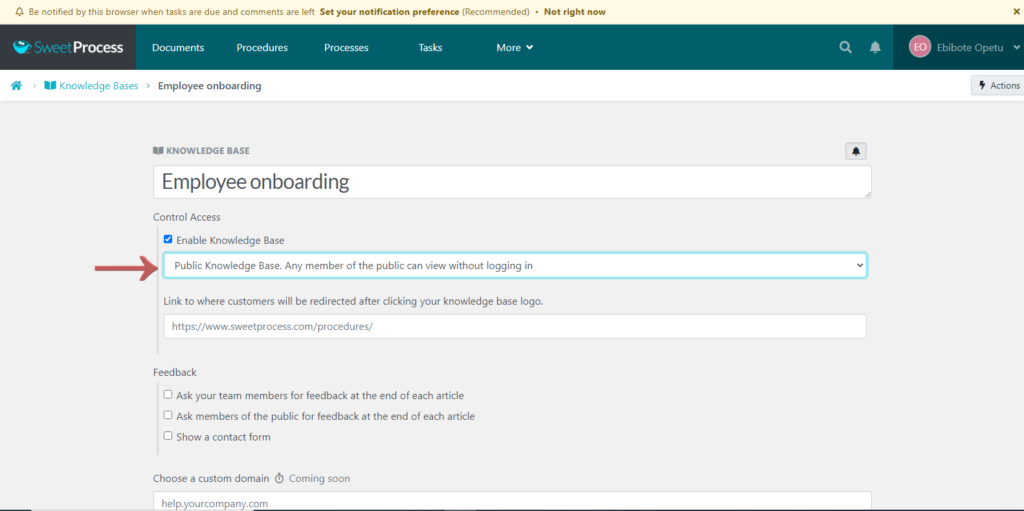 Bloomfire
Bloomfire also helps you create knowledge bases. However, on Bloomfire, they are not called that. Instead, you create a series. These are compilations of contributions within a community or group. It guides your team members through several pieces of content in a logical manner. You can include pre-existing posts, new posts, or other series in your new series.
It helps you centralize your organizational knowledge. It allows your team to record and access information in one place. This provides a single source of truth for the entire company. You can also organize your documents into categories.
From policies, internal communications, how-to guides, and customer insights to policies, they can be centralized with Bloomfire. Apart from centralizing these documents, you can go further and share them. It also allows team members to share informal posts, not just official documents.
Here's how to create a series on Bloomfire:
Log into Bloomfire. Click on "Add Contribution" and select "Create a series".

Give your series a title and description.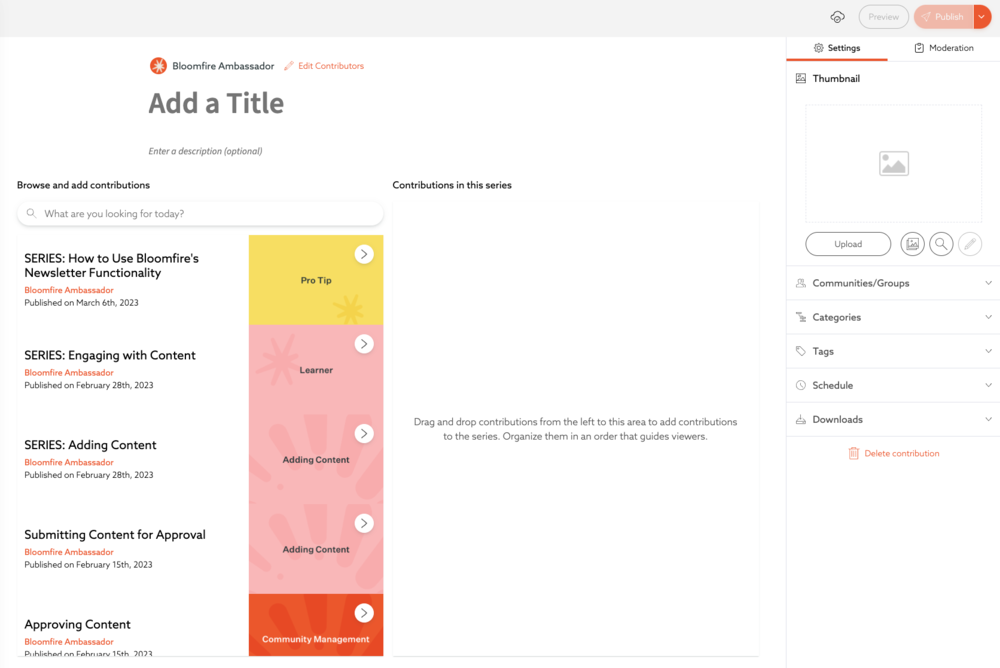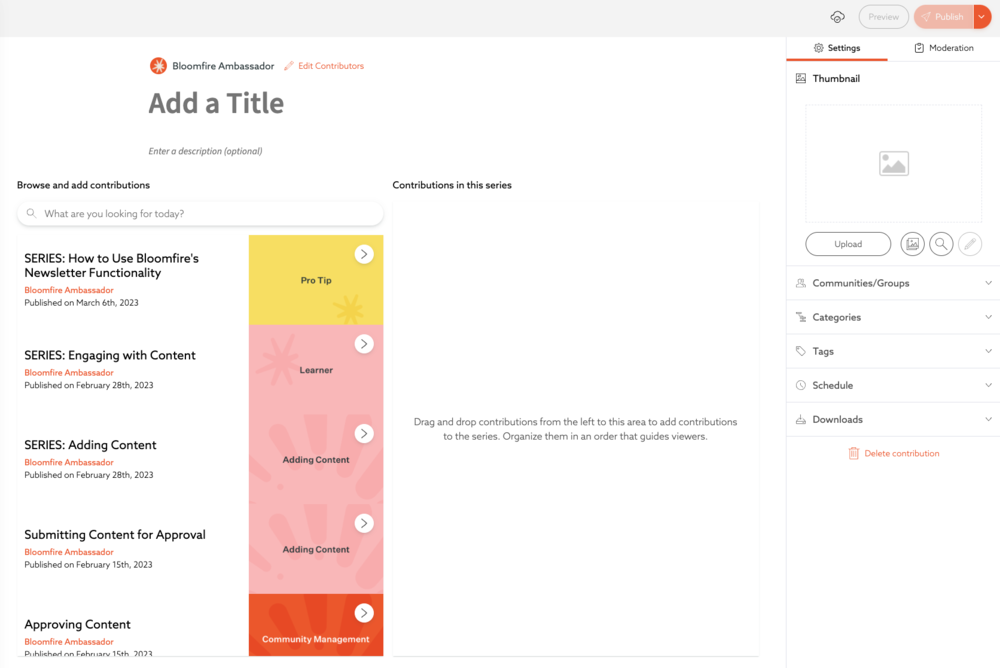 You will find a list of all your existing posts, series, and questions in the community or group you are working with. Take your pick from the list and add to your series.
Click on the post you need to select and add a contribution. All the contributions go under "Contributions in this Series.". You can reorder your contributions by dragging and dropping them vertically.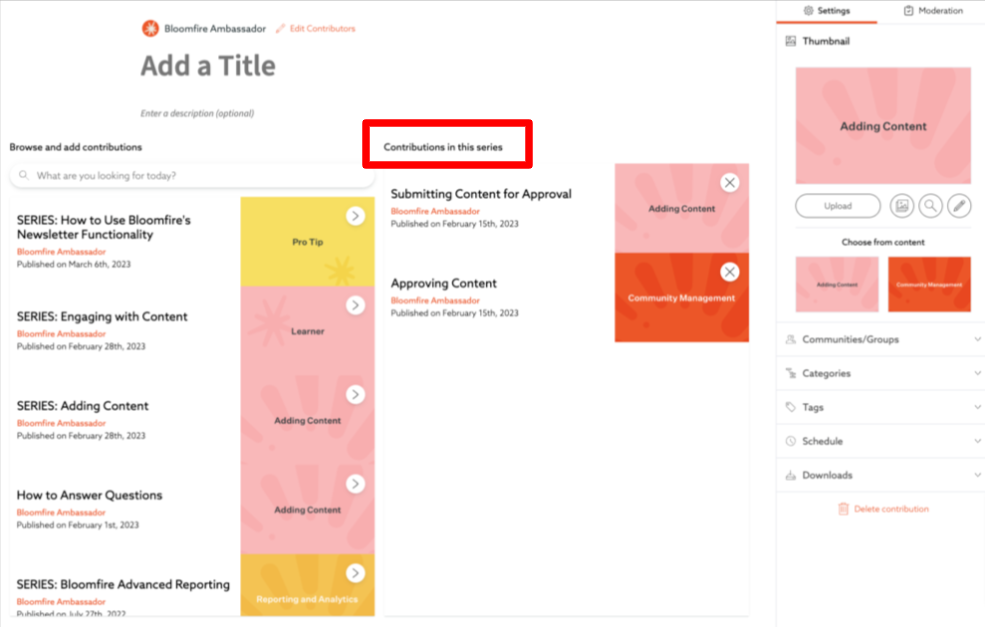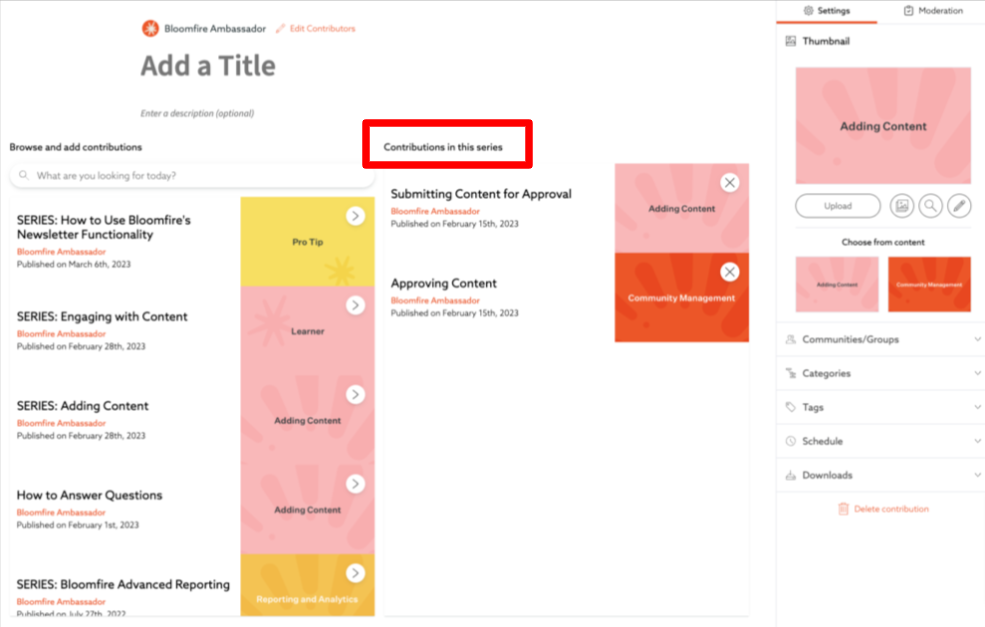 It's time to publish. Click on the "Send for Approval" button. Choose your desired actions from the dropdown list.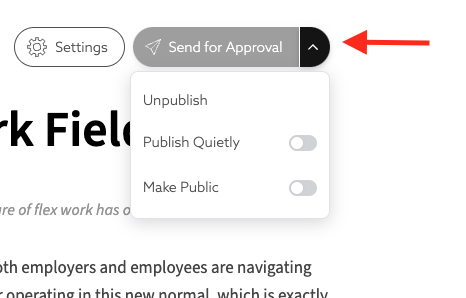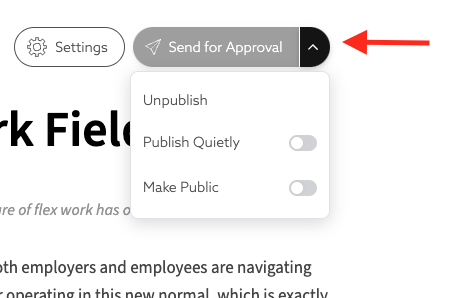 You have successfully created your series.
Pricing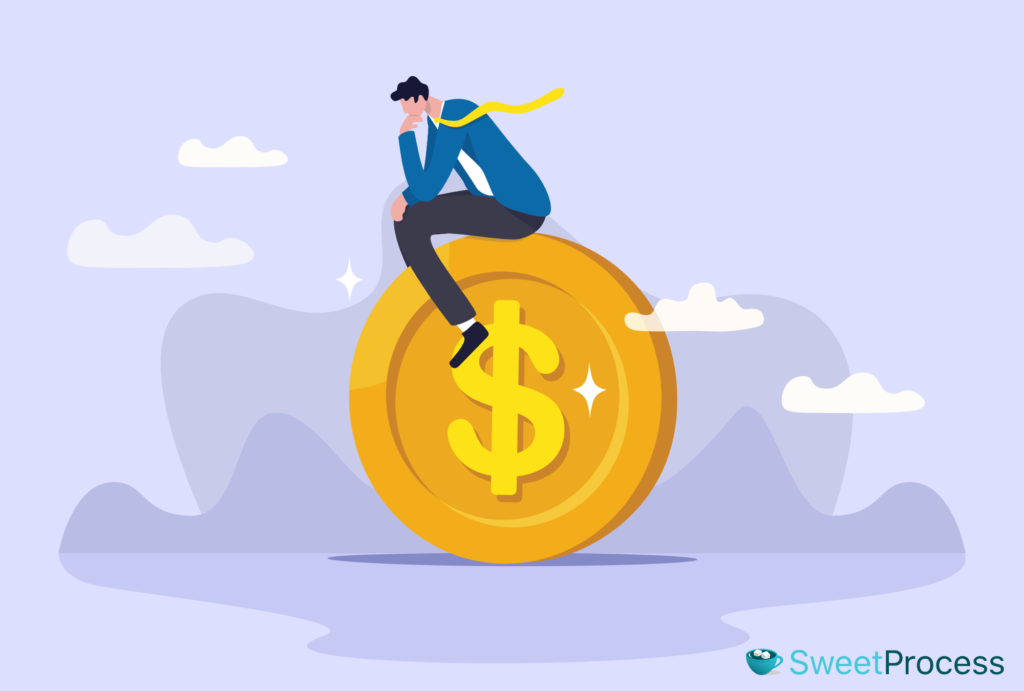 Pricing is another important factor in making a decision. The goal is to opt for the software that gives you the most access to premium features at a very affordable price.
SweetProcess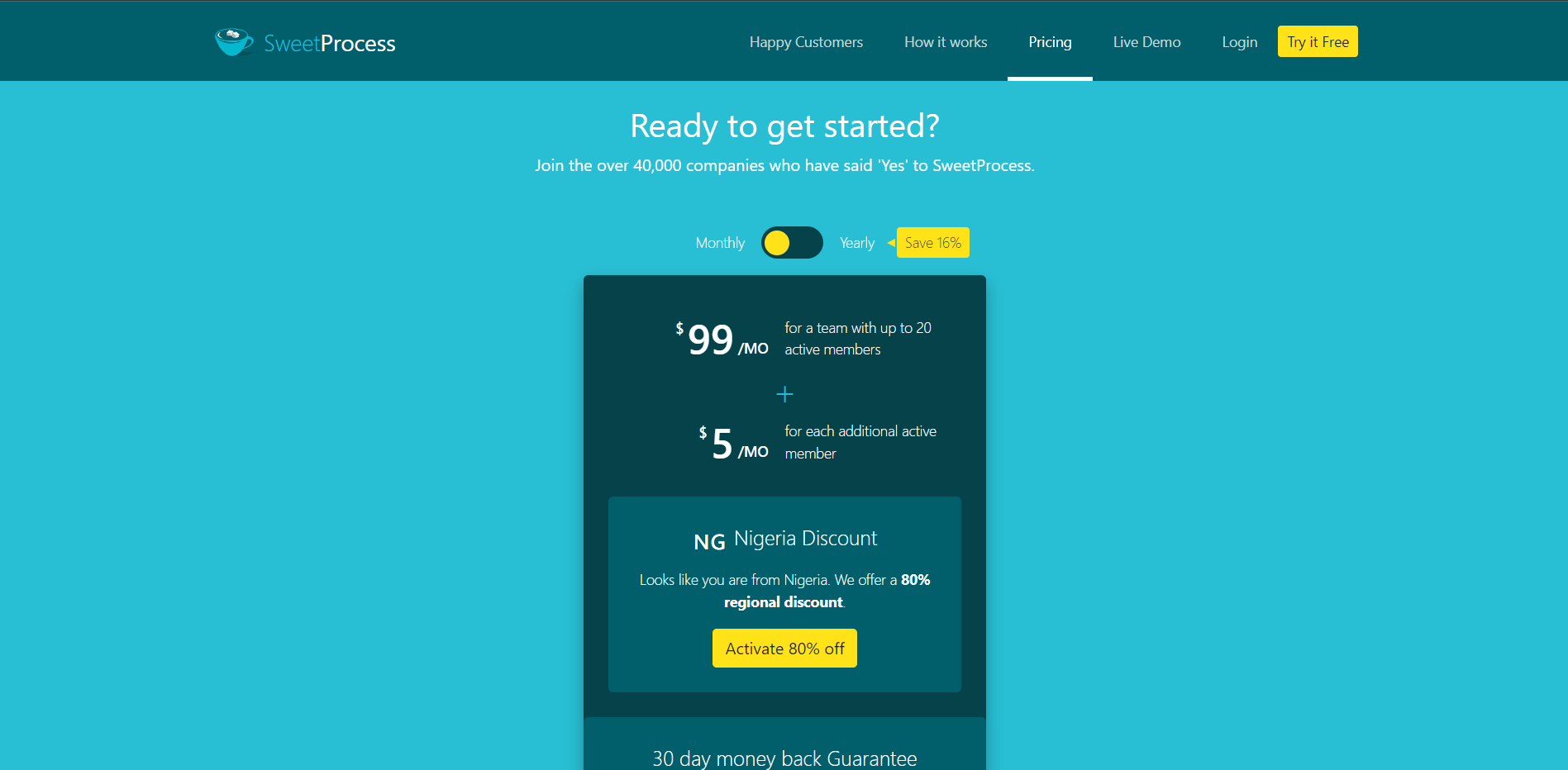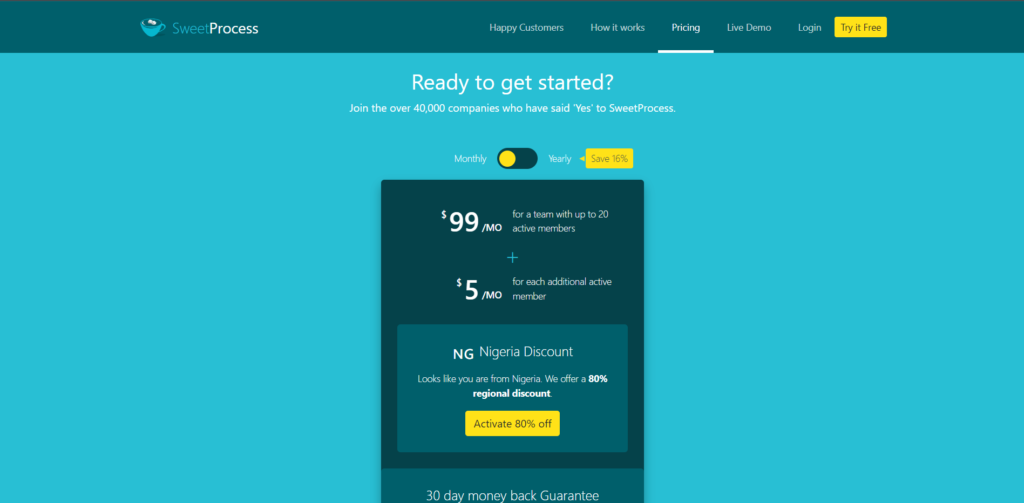 Fair Pricing
One of the remarkable parts of its pricing is that it is fair. One of the fears people have when using tools like SweetProcess is that they will be charged for every person added to the team. So, naturally, you add only people you can pay for.
But with SweetProcess, this is not the case. You can add as many people as you want, and rest assured that you will only be billed for those who use it. If someone on your team stops using SweetProcess, you will receive a prorated credit to your account.
Talk about a sweet deal. You never lose a cent using SweetProcess.
Every business has equal access to SweetProcess.
Many similar tools attach different prices to different subscription plans, giving you access to only what you can afford. If you cannot pay for the more expensive plans, you cannot access the advanced features in those plans. That sort of limitation is absent in SweetProcess pricing.
Everyone has access to the same plan and the same features, whether basic or advanced. You can do everything you need without worrying about features you cannot afford.
One thing SweetProcess is known for is its affordable pricing. It is affordable enough that even small businesses can afford it comfortably without breaking the bank. Honestly, the pricing is one of the cheapest in the industry.
For a monthly subscription, you pay $99 monthly for a team with up to 20 active members plus $5 for each additional active member. This is relatively cheap, right?
The deal gets juicier with the yearly subscription. You save 16% off the regular price. In the year plan, you pay $82.50 monthly for a team with up to 20 active members, plus $4.17 for each additional member. This is billed annually.
(The best part is that you don't have to have up to 20 employees, you can reach out to the team for details on special pricing for smaller teams, and you will still get access to all of the features.)
Another remarkable feature of SweetProcess pricing is the 30-day money-back guarantee. If you do not see any measurable improvement in your business after using the software for 30 days, your money will be refunded, no questions asked.
You also get a free one-hour phone consultation to brainstorm strategies to grow your business. You get your money back and new insights to help your company.
Nothing is as frustrating as paying for a tool and realizing after payment that it is not as good as the company claimed or does not suit your business needs. At that point, you've wasted money you can never get back.
SweetProcess eliminates the possibility of experiencing that. You can get started immediately with a 14-day free trial. No card is required. You can also cancel your free subscription at any time.
Check out SweetProcess without making any commitment.
Very few policy and procedure management tools offer such robust pricing plans for their users. However, SweetProcess understands the importance of providing value to its users at every point of their journey, and it does just that.
Bloomfire


Bloomfire does not have a detailed pricing plan like SweetProcess does. It will cost you $25 per user per month, to use the software. This pricing plan might put a strain on companies with larger teams that need all their employees to have access to Bloomfire.
And just like almost every other thing on the website, you barely have any solid information on the pricing until you schedule a call. This strains the decision-making process, especially if you need to make the decision on the spot.
Ease of Use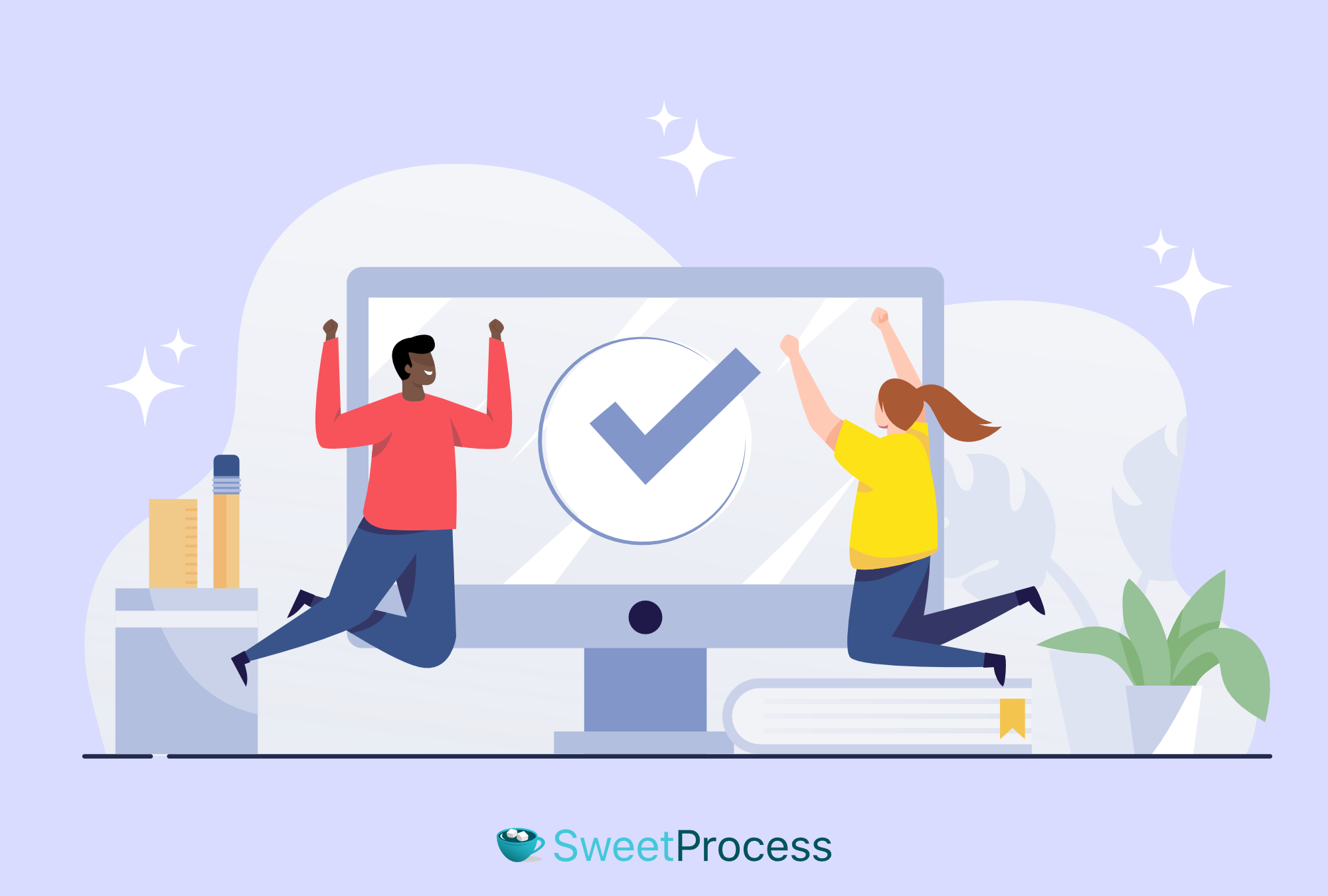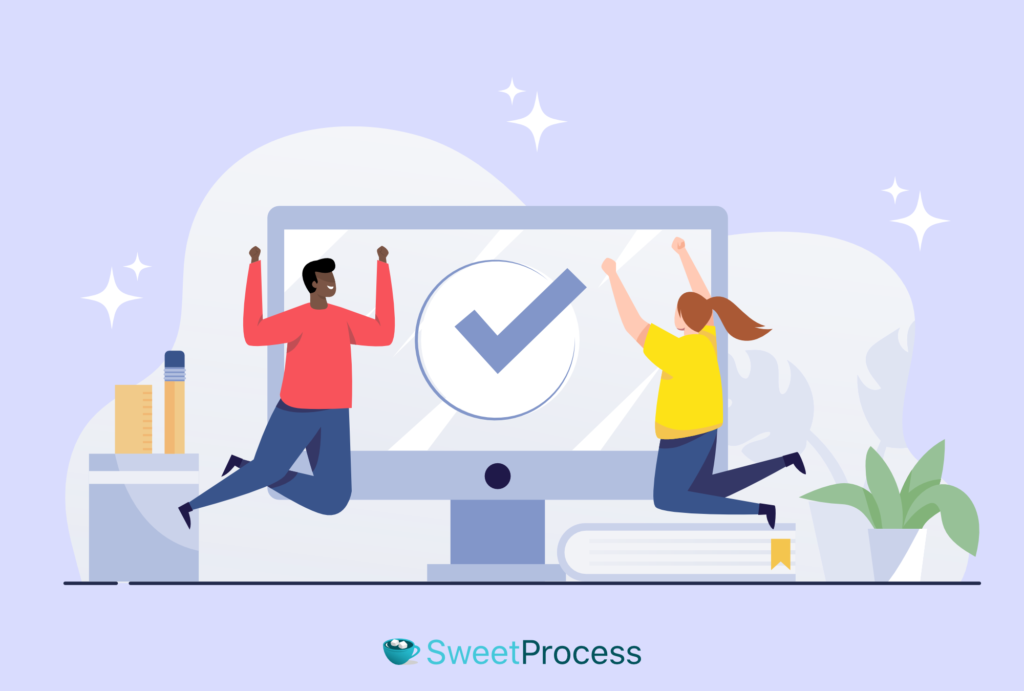 Take a minute to imagine just how much easier life would be for you if you actually got software that was easy to use. It doesn't matter if the software does the job if it takes you forever to complete simple tasks.
You need your software to be simple and not too techy for you.
SweetProcess
SweetProcess is intuitive and easy to use. You can easily navigate the software even if you have no prior experience working with it. It has a simple and user-friendly interface. Everything is where it should be. Its minimalist design provides clear navigation between features and makes it easier to use.
You don't have to spend hours learning how to use the software or ask your team members in your IT department to help out in executing basic functions within the software. With just a few clicks, you'll be creating documents and assigning tasks to your team members.
The screenshots shared earlier about the basic functions within the app should give a clue about how easy it is to use.
But it doesn't stop there. Let's explore the SweetProcess dashboard:
Simple and Easy-to-Navigate Interface
Once you're signed in, this is what your homepage looks like:


At a glance, you have access to major functions within the software, guiding you to where you need to go.
We've explored the documentation and knowledge base of the software. Let's try out other features, such as tasks.
Assigning Tasks
To assign tasks to your team members, just click on "Tasks." Then go to "Assign task."


You have the option to choose which document is being assigned, who it is assigned to, and the due date by which the task should be completed.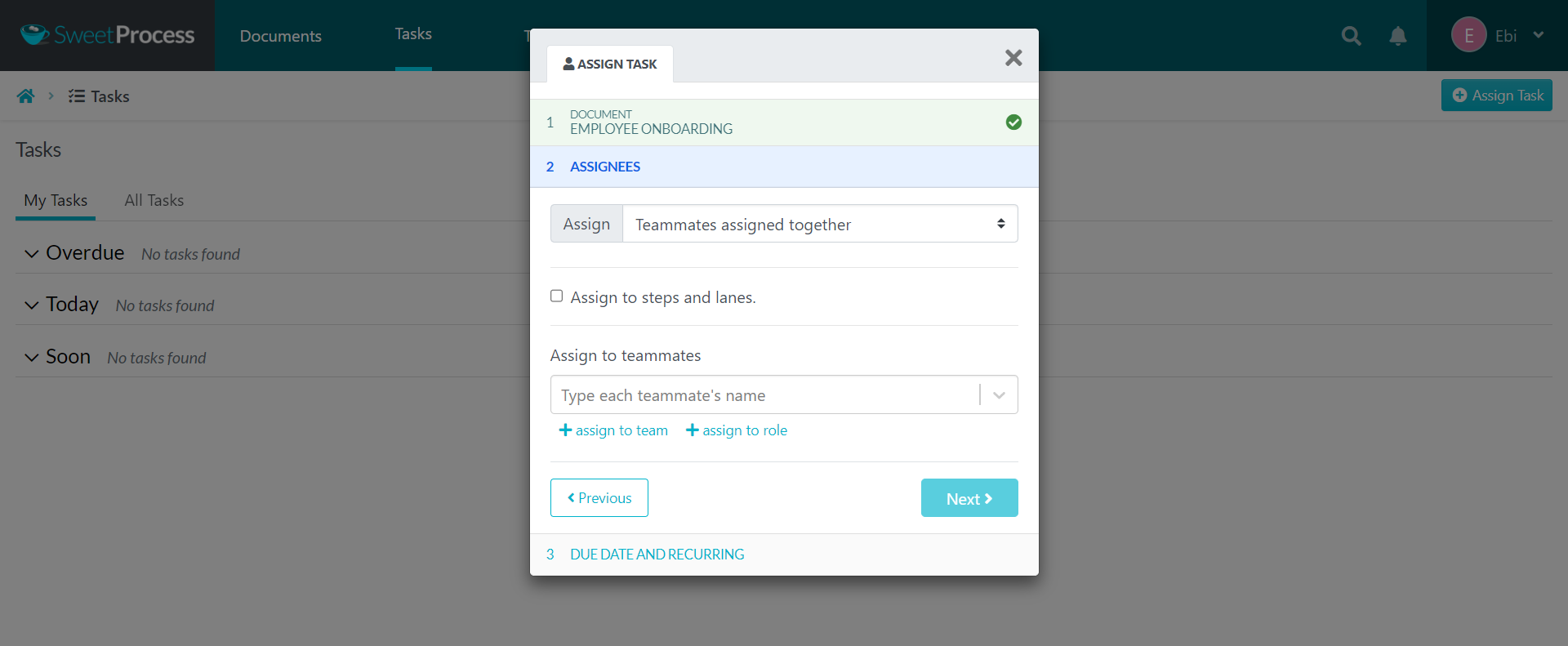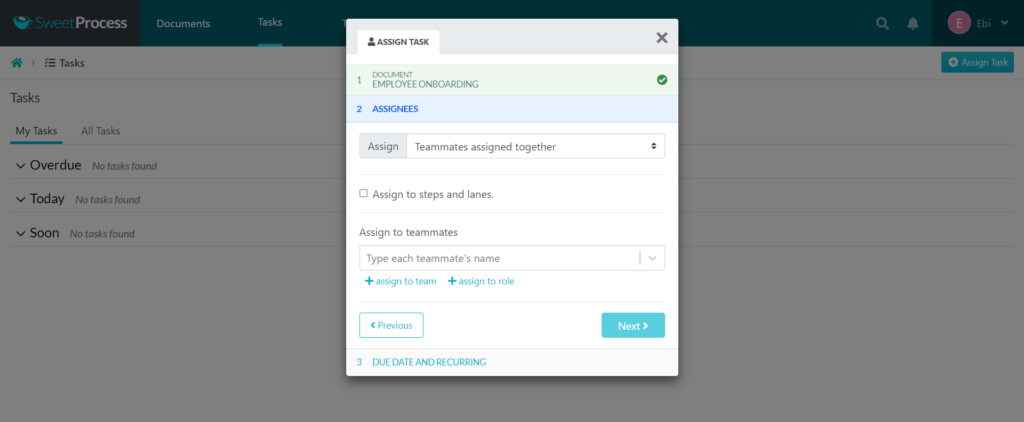 When you've successfully assigned the task, you can view your tasks here:


More than just creating documents and assigning tasks, you can organize and find documents easily.
The advanced search bar on SweetProcess is detailed and simple at the same time. You can search for documents by typing out the name of the document, filtering by team, filtering by tag, checking out recent documents, and so much more.
You never have to worry about losing your documents.


SweetProcess does not limit you to only documents created on the software. You can import existing procedures and policies so all your company's documents can be centralized in one place.


Documents uploaded can be added to specific teams that need them. They can also be filed in folders.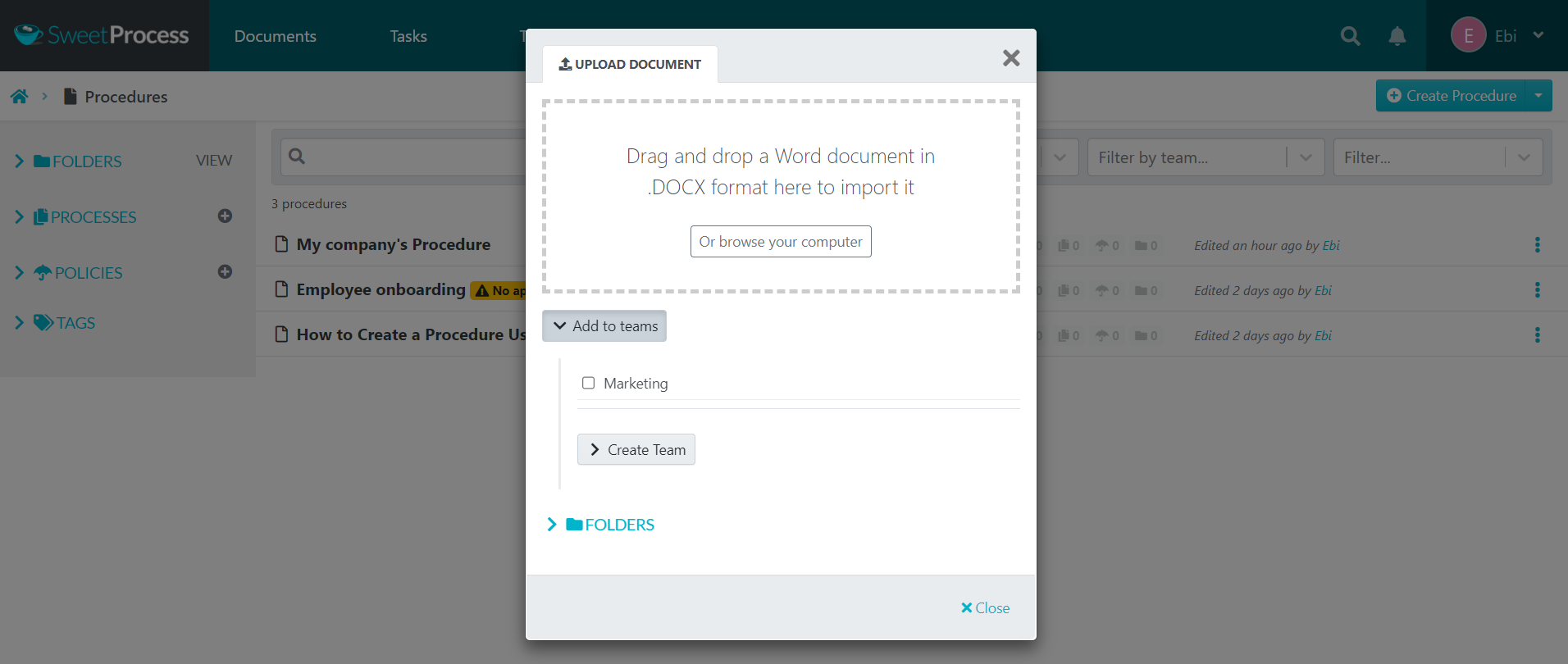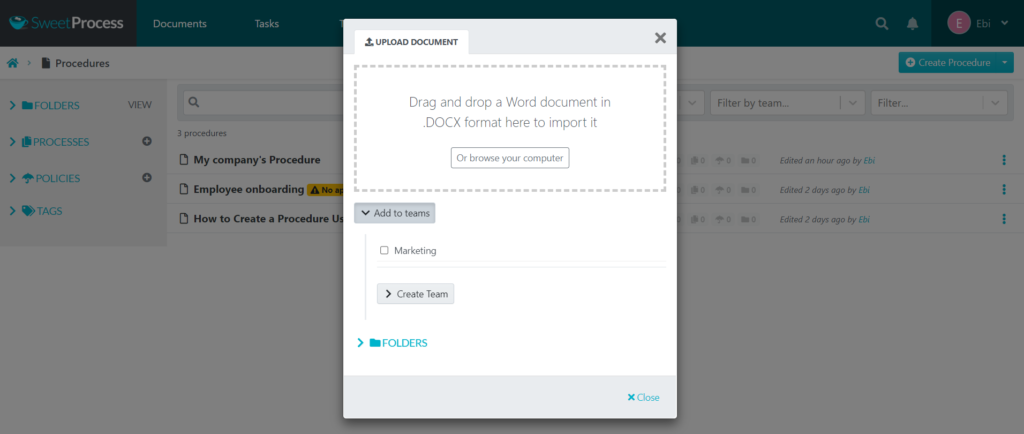 These are just a few of the easily accessible features. Once you take up the 14-day free trial offer, you can explore the rest yourself.
This is what a user had to say after using SweetProcess:
New York Times best-selling author Michael Hyatt said, "SweetProcess allows me to create well-structured, visually appealing procedures that I am proud to share with my teammates. Plus, it is super easy to use."
If you are looking for an easy and intuitive tool, SweetProcess is your best bet.
Bloomfire
Bloomfire might be easy to use, but it depends on who is using it. A user complained about design flaws in Bloomfire. According to him, he found it difficult to download assets. Also, the labels for options such as "Comment," "Bookmark," and "Share" were not explicit enough and seemed hidden. It required some knowledge of what these options did beforehand for you to find and use them easily.
Another user complained about its sluggish loading periods and occasionally irrelevant search results. Some users found the navigation and search to be challenging.
Such reviews do not speak well of the software's intuitive and easy-to-navigate interface.
These issues make users spend more time trying to understand how it works or how to navigate its features, which is neither time-saving nor cost-effective. Instead of focusing on using the software for documentation, they have to focus on learning how to use the software.
Artificial Intelligence Assistance in Creating Documents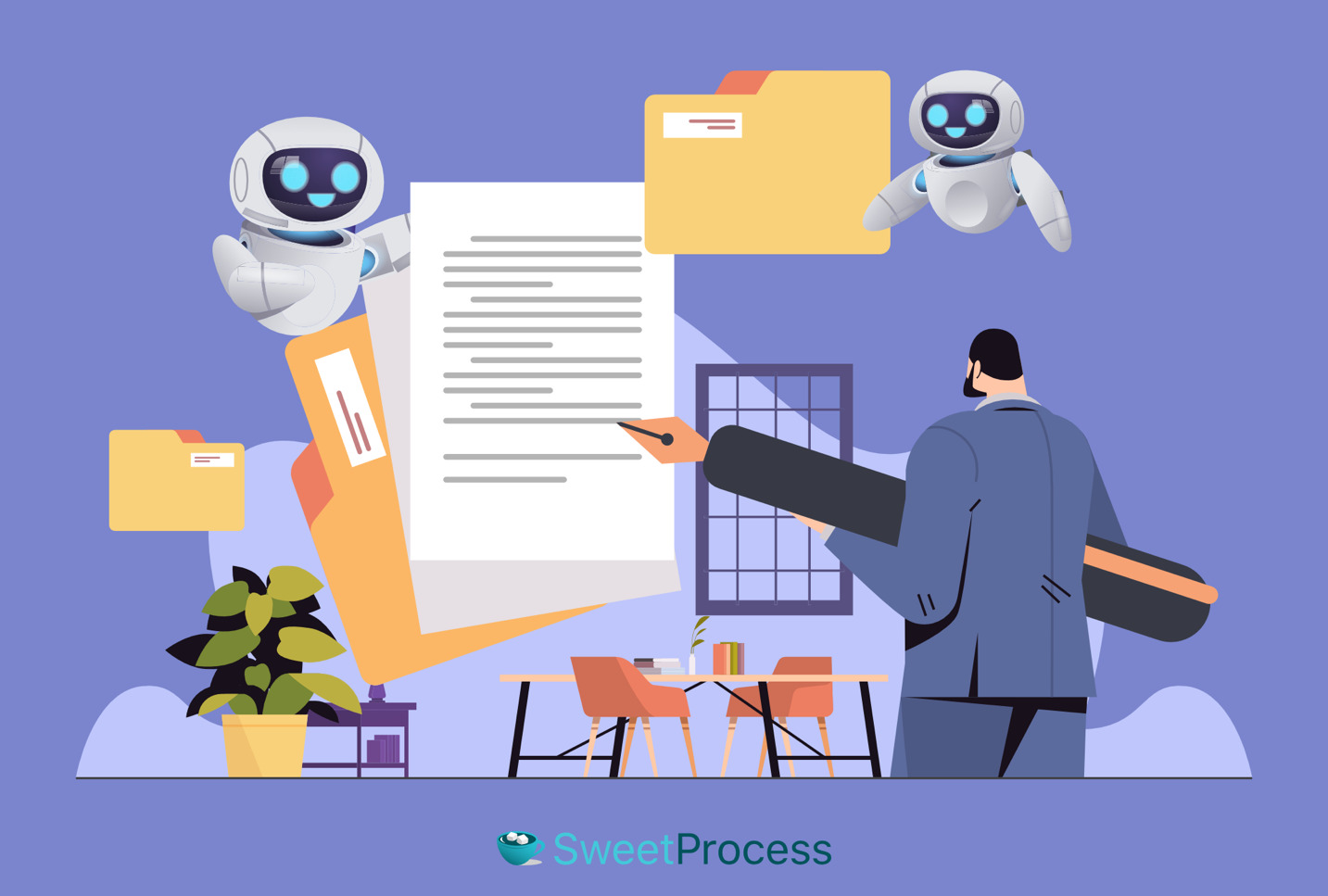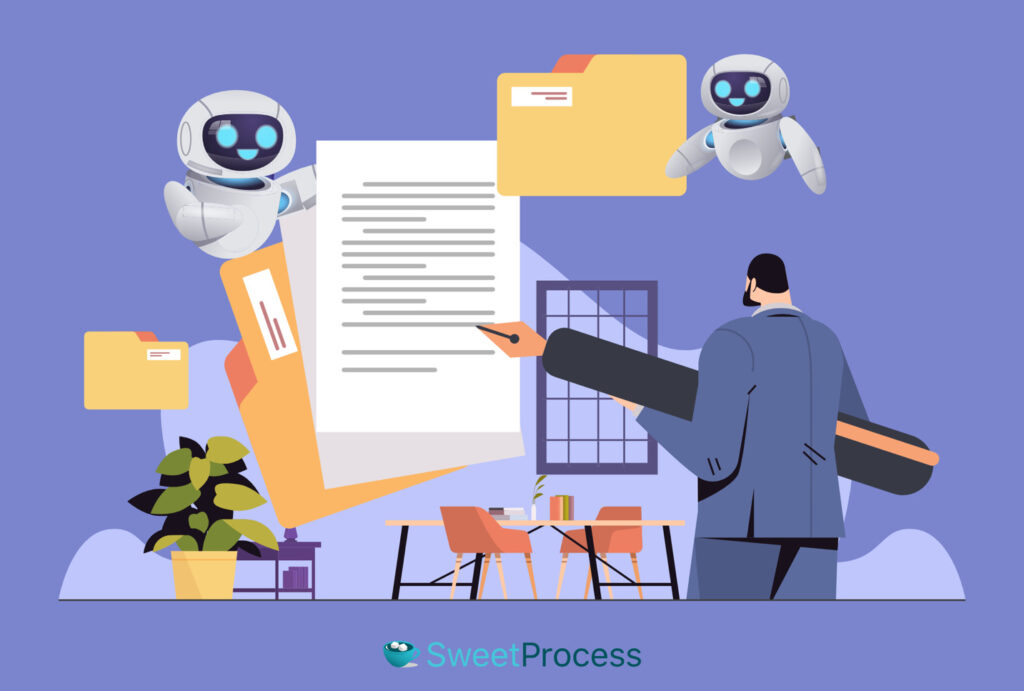 The process of creating policies and procedures can be mentally taxing, even with the help of great tools like SweetProcess and Bloomfire. You have to think about how to structure it, the right language to use, and so much more.
It goes a long way if you can find a documentation tool that also helps you do the actual writing. That's a huge plus.
SweetProcess
SweetProcess has an AI tool called SweetAI that helps you create documents. This is a recent development that has made creating policies and procedures a breeze. You barely have to do anything. All you need to do is insert the topic of your policy or procedure, and the AI takes it from there.
This is how it works:
Log into the SweetProcess home page and click on "Add."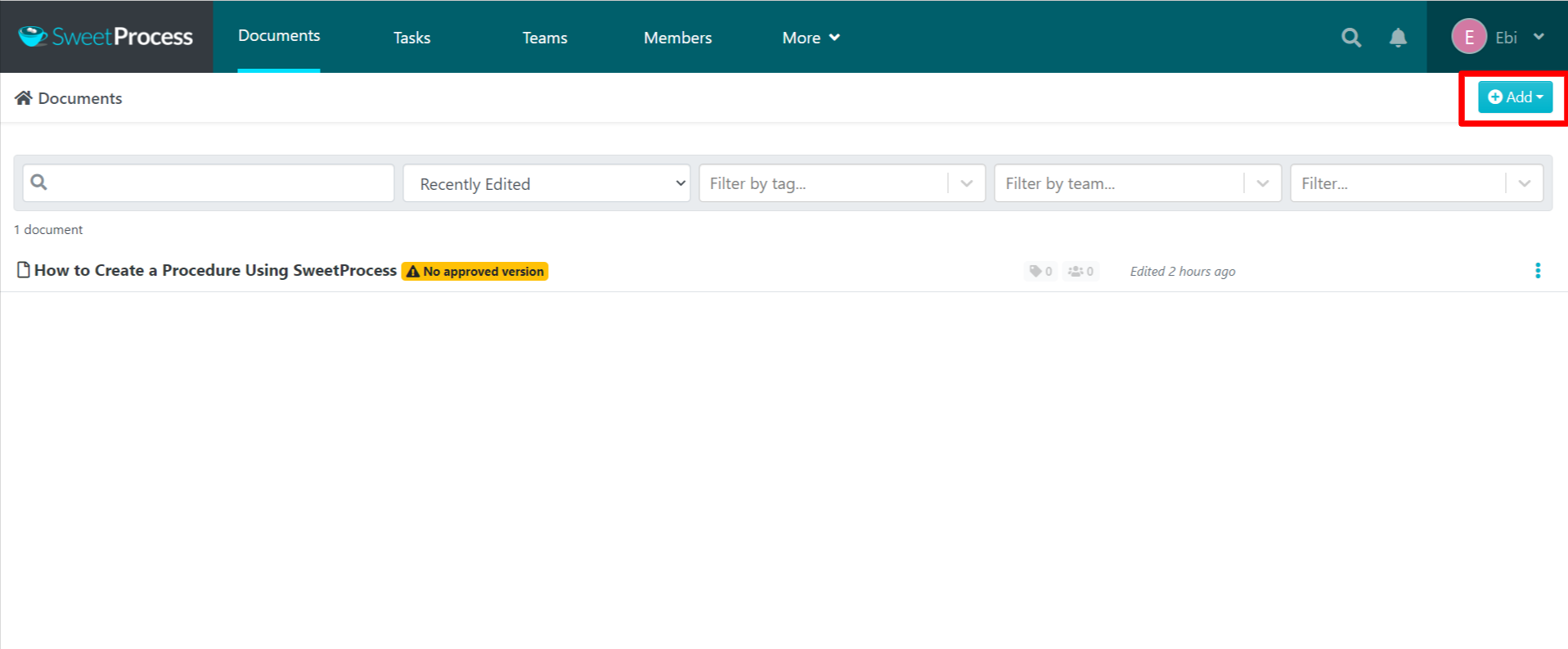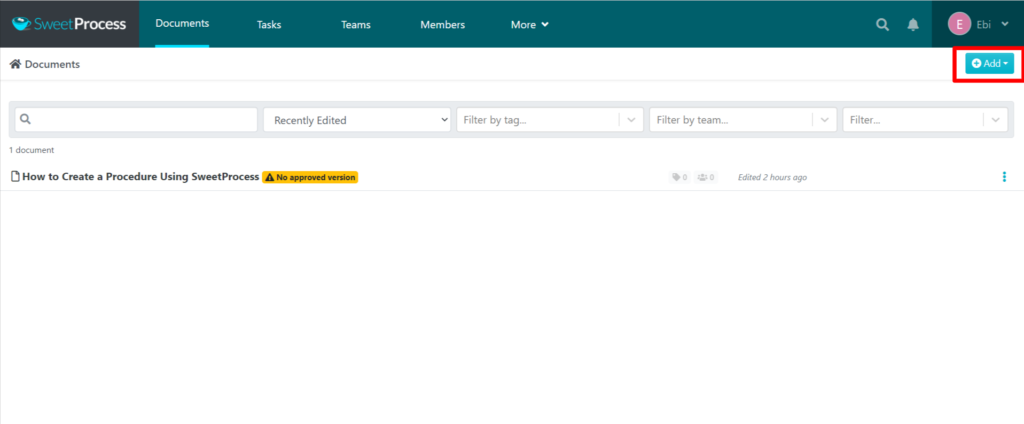 Select "New Document" from the dropdown options.


Insert the title AI of your procedure and click on "Write with SweetAI."


Let the AI work its magic.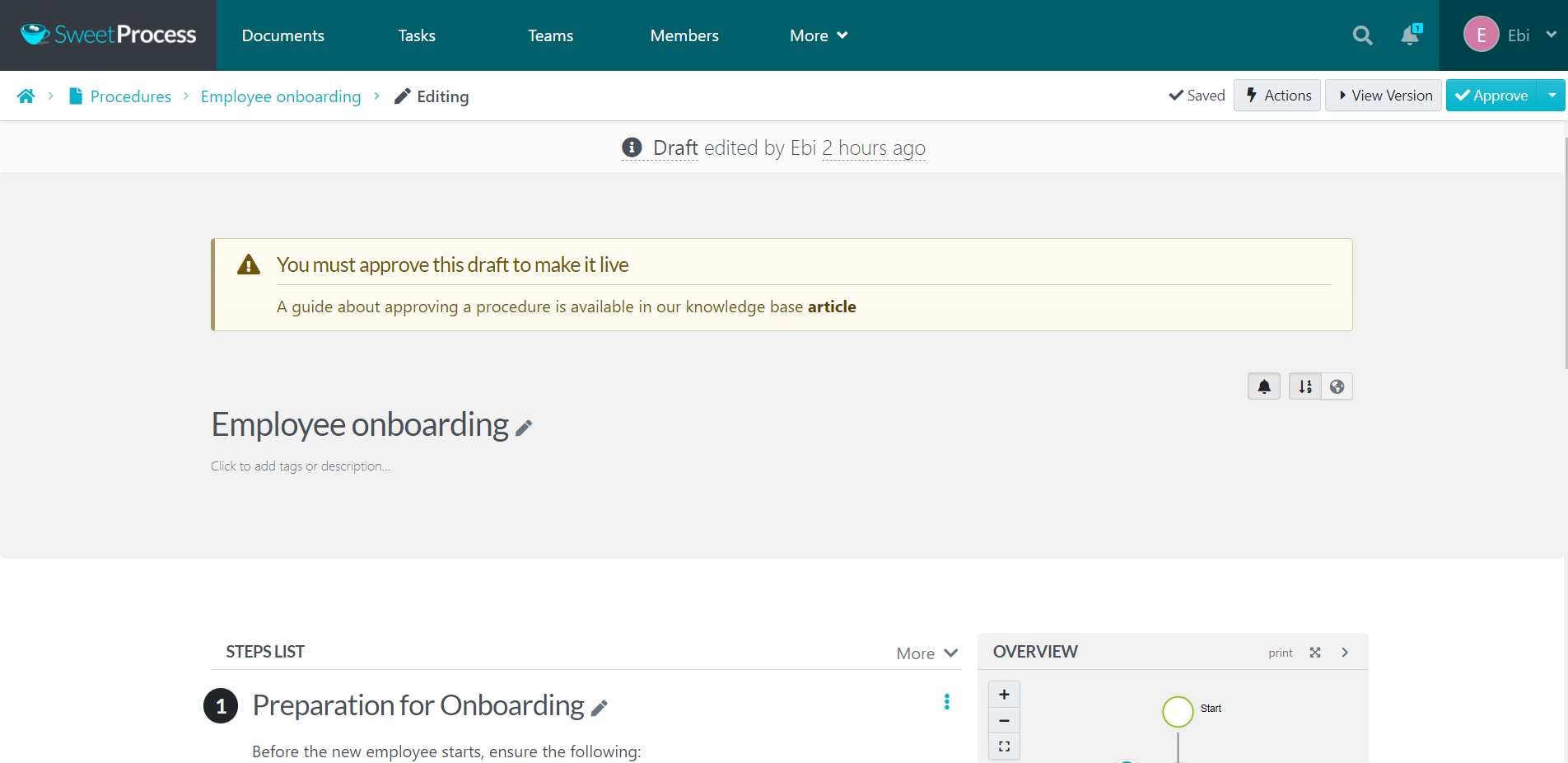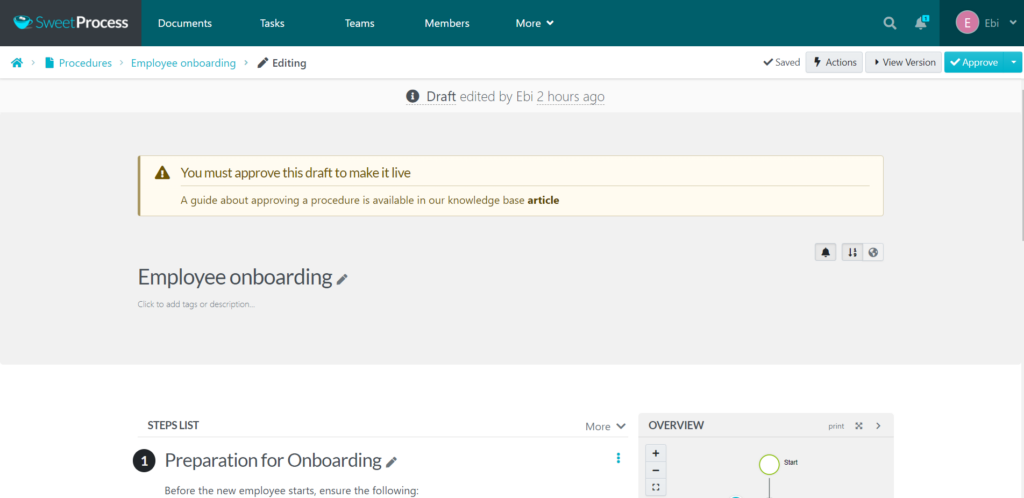 Here you have a well-written procedure for employee onboarding. The more information it has about your company, the better suited it is to your company. You can edit to suit what you have in mind. That's all.
Bloomfire
Bloomfire is lacking this feature at the moment. You have to either manually create the document or export existing documents.
Integration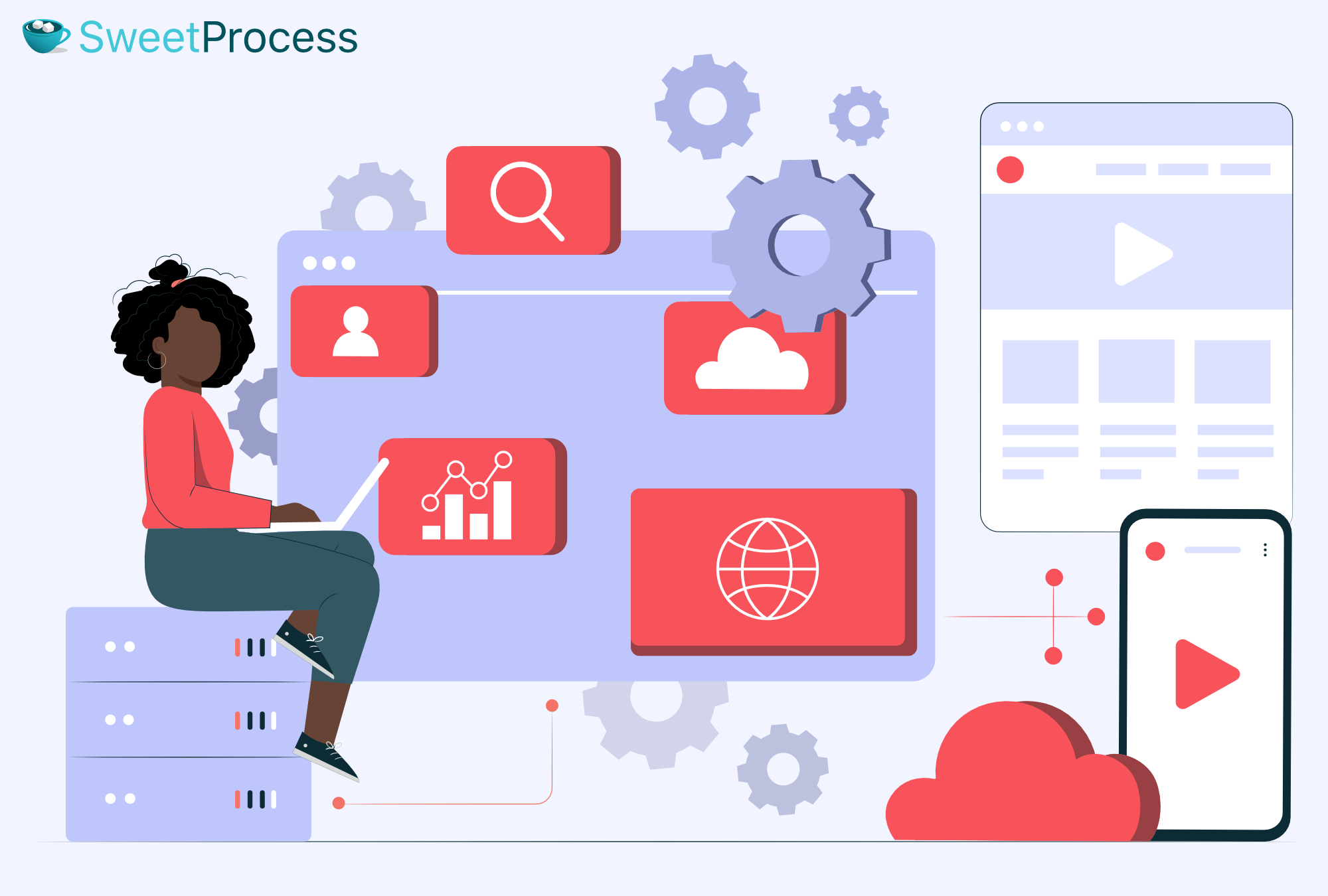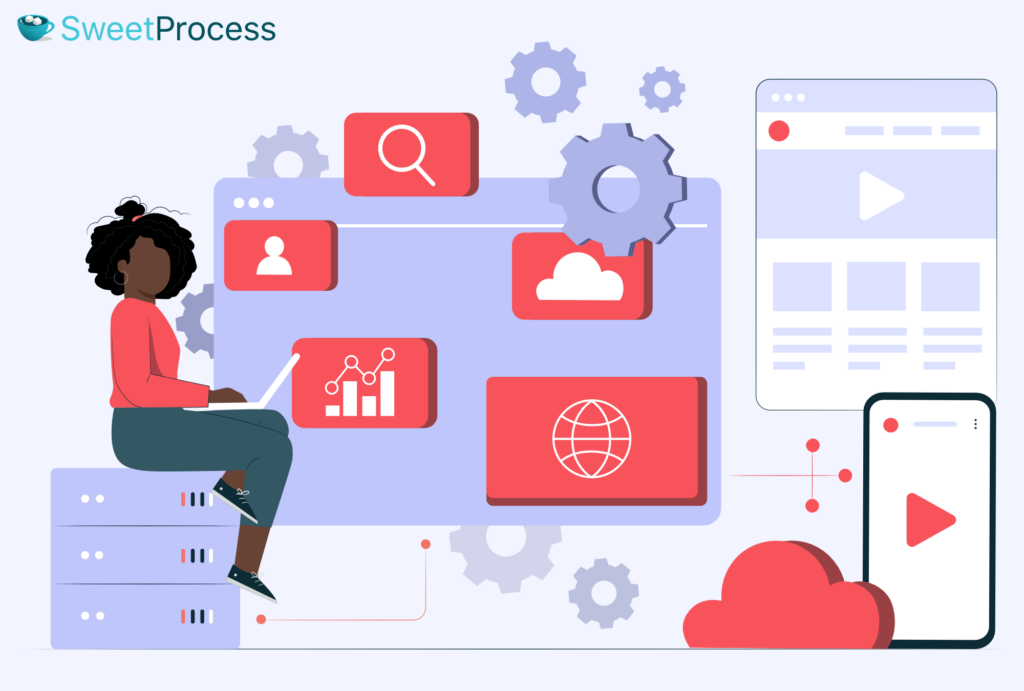 It's an added bonus when your policy and procedure management software integrates with other apps that you work with. This saves time and reduces the hassle of manually connecting with these apps to complete tasks. The more third-party tools you can integrate, the better.
SweetProcess


When it comes to integrations with other apps, SweetProcess is king. It allows integration with over 1,000 apps. You can connect with other apps either by using their API or via Zapier. You can work with almost any tool while using SweetProcess.
This is more than most tools will offer you. Everyone using the tool has access to this level of integration thanks to its favorable pricing plan.
It helps you automate your work, makes it easier to use SweetProcess, and carries out tasks within a shorter time frame.
It gets better:
When you integrate with your best tools via Zapier, you can connect SweetProcess to over 5,000 apps. All you need to do is think of the tool, find it, and integrate it. It's that simple. And you can do it; no code is required.
Bloomfire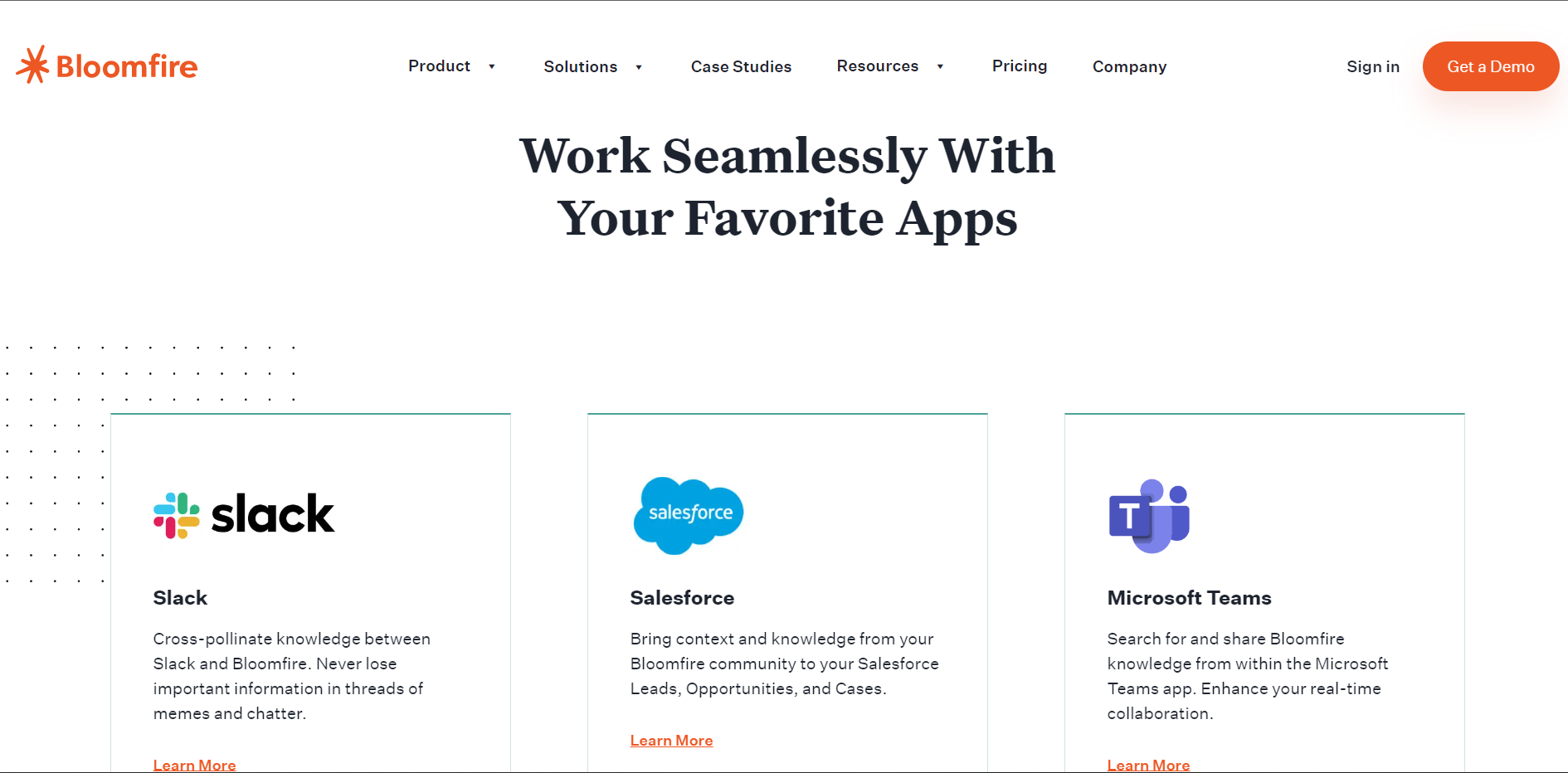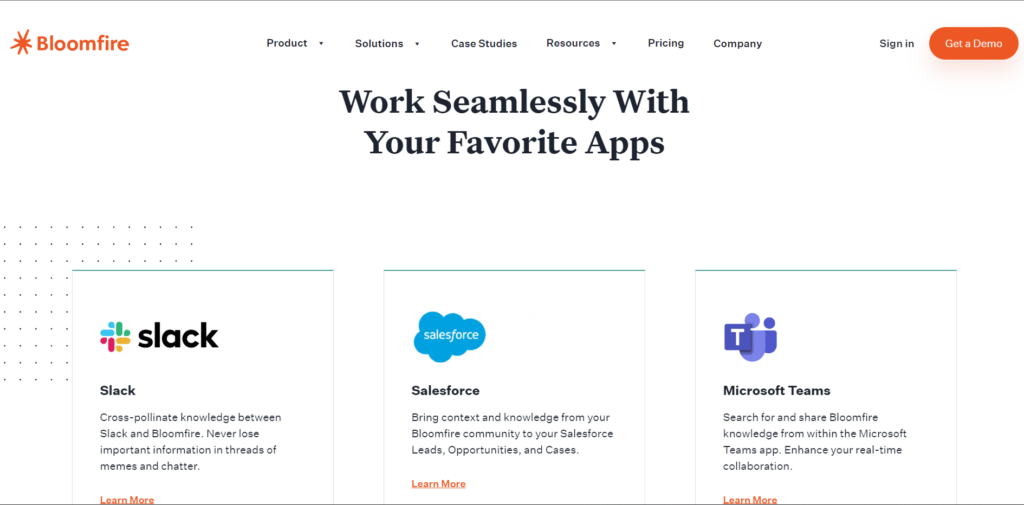 Bloomfire allows you to connect with other apps while you work. You can integrate with Slack, Salesforce, Microsoft Teams, Zendesk, Microsoft Dynamics, Tableau, Box, Dropbox, Google Drive, OneDrive, and SCIM.
If you need to work with other tools, you have to do so manually. This means you have to spend more time moving from one tool to another in order to complete tasks. All that extra time spent can leave you and your team members less productive.
Help and Support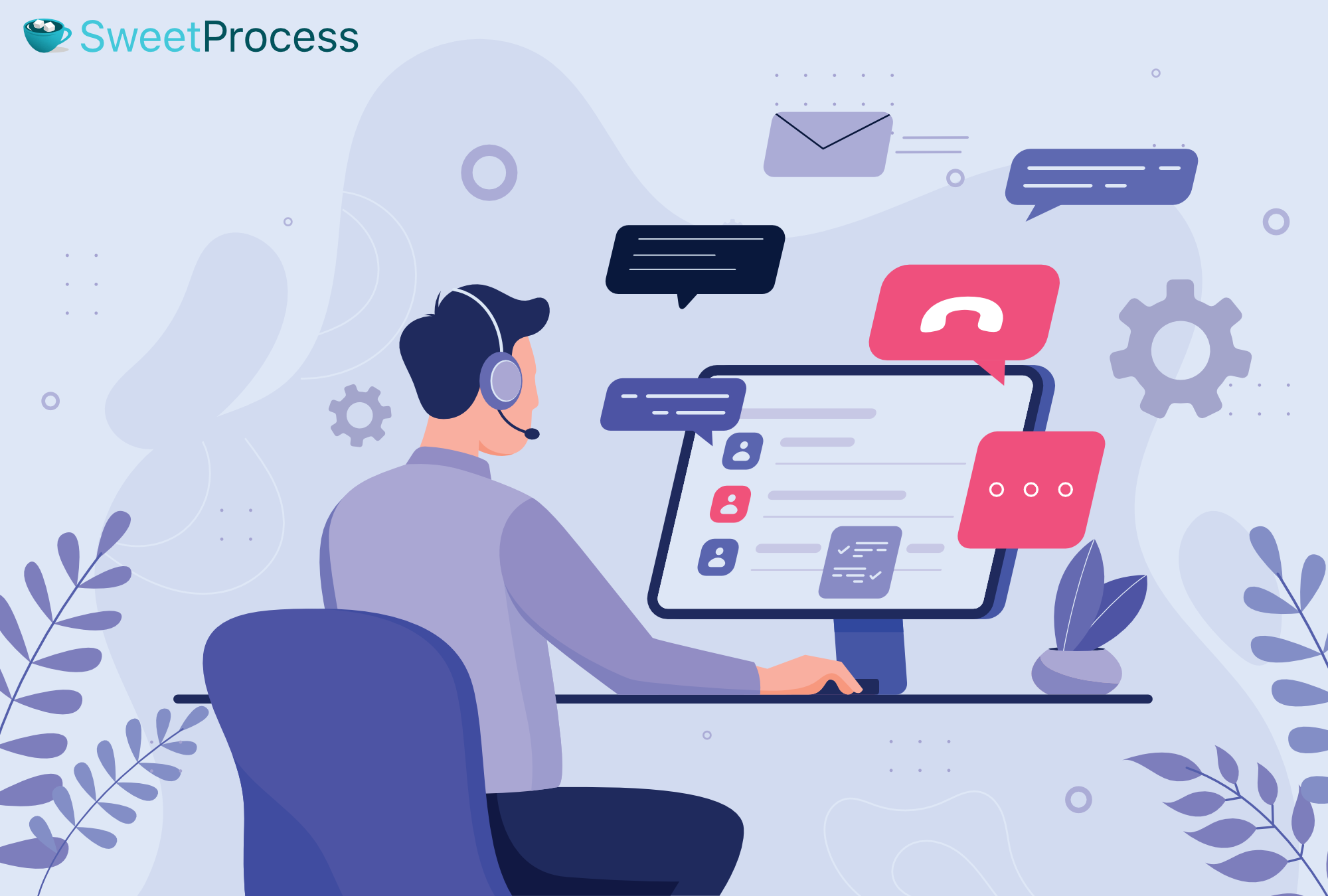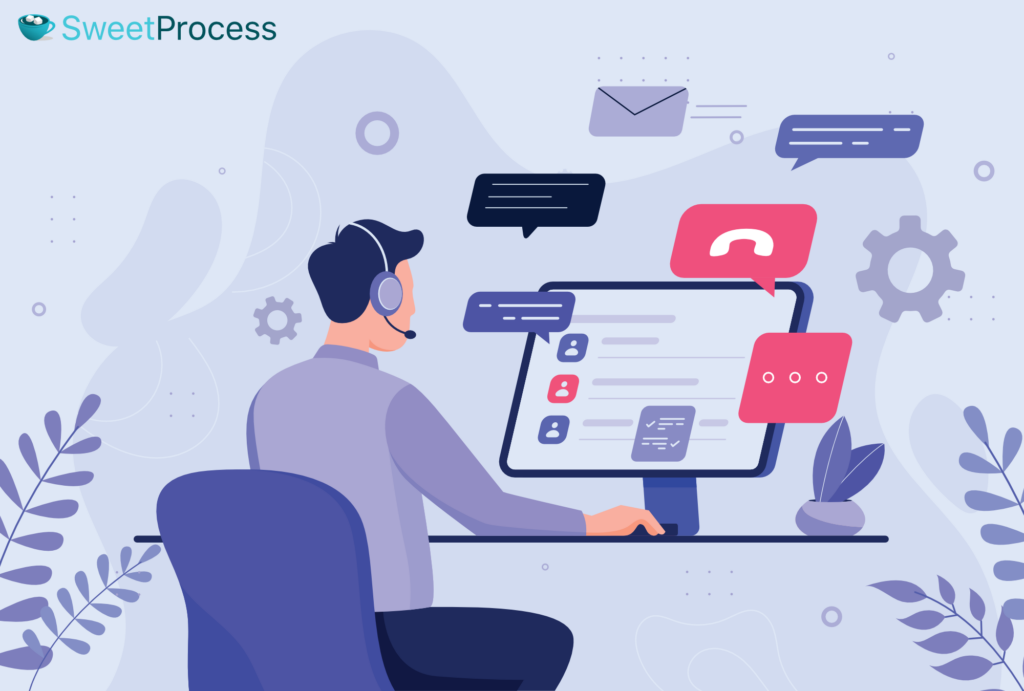 Yes, you love the features of the software, but does it give you quick and easy access to the support team? How quickly can you reach them, and how fast do they respond?
SweetProcess
Getting help on SweetProcess is super fast and easy, whether or not you are a user. Even before you sign up, you have access to a bunch of resource articles and templates—every piece of information you need to understand how the software works is on the website.
Contact Page: Speak Directly to the Support Team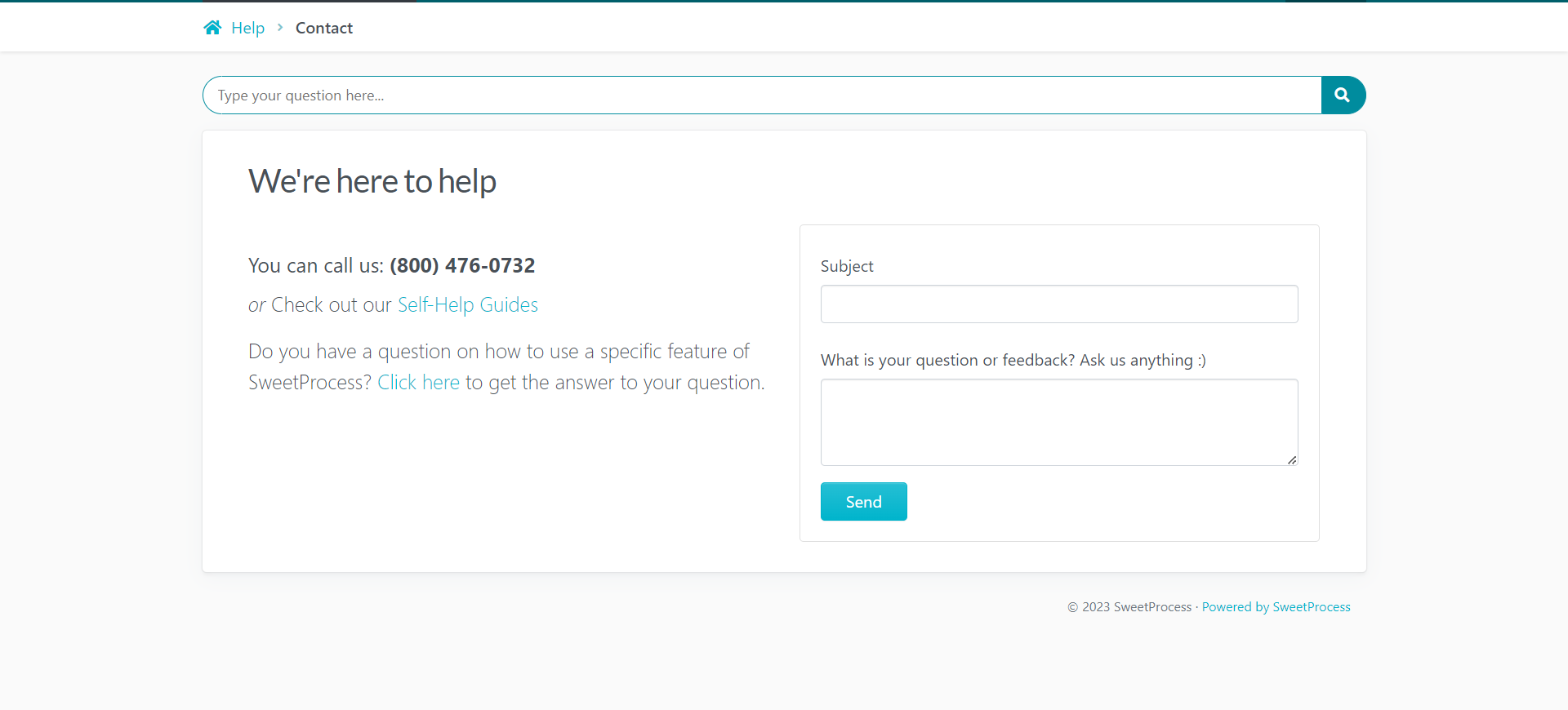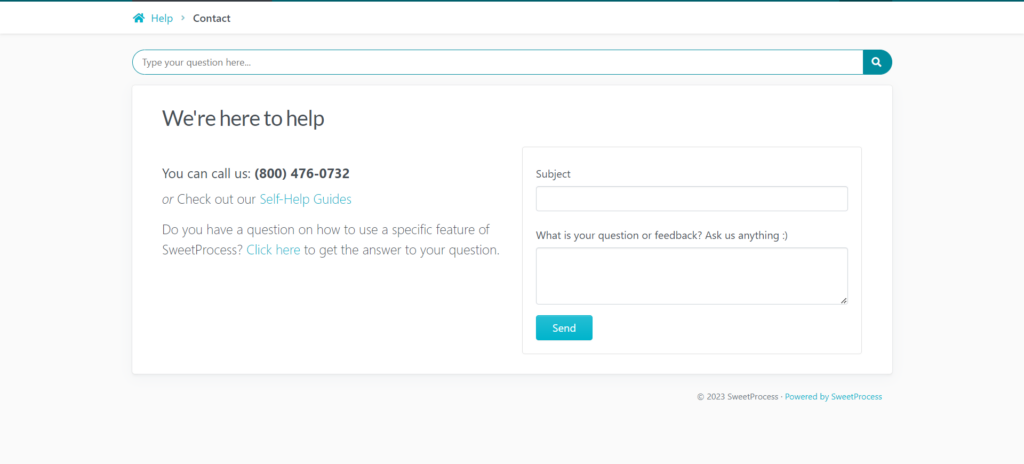 If you have questions, want to make inquiries, or need hands-on support, you can reach out to their customer support team in no time via the contact page. The best part of its system is that you can reach them via phone. They do not restrict you to email conversations alone.
If you prefer emails, you can do this via the Contact Us page. You will get a quick response from the team.
But that is not all:
SweetProcess Knowledge Base/Self-Help Center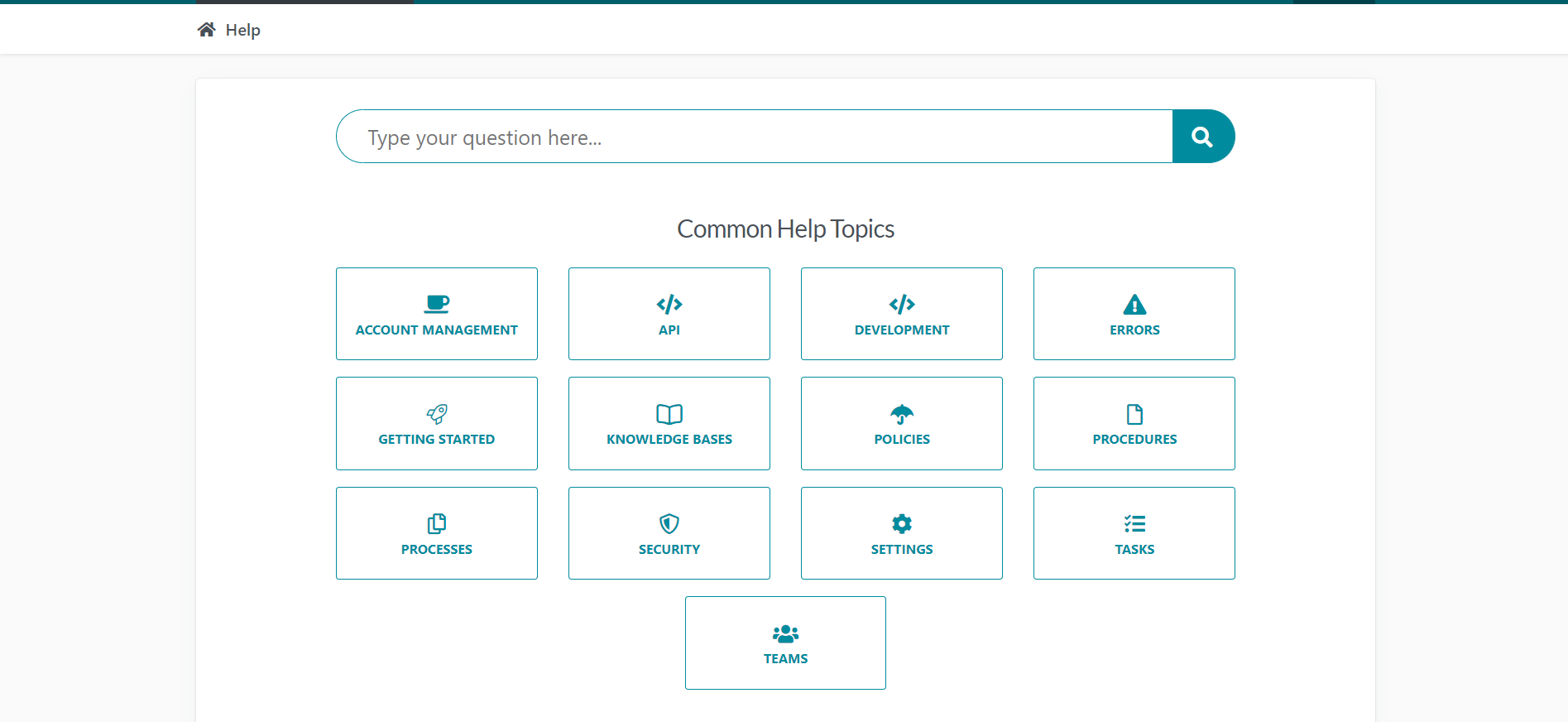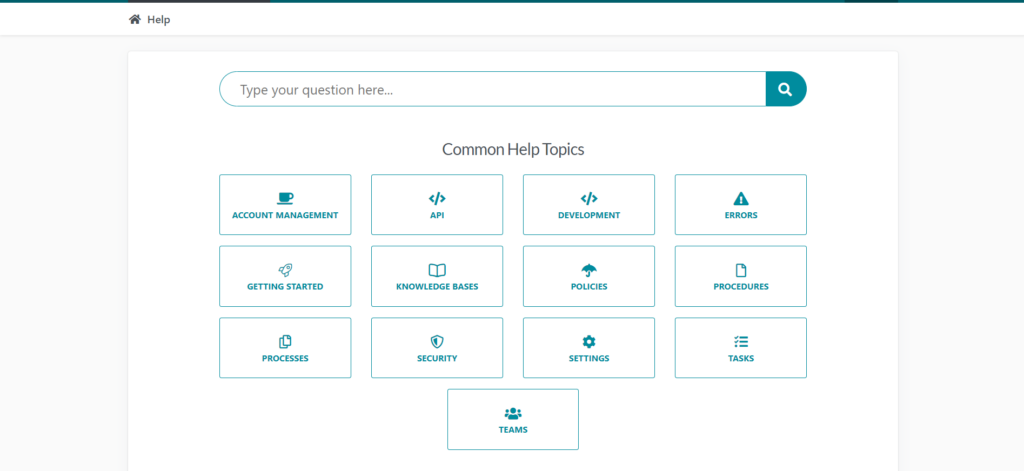 SweetProcess has a detailed knowledge base with answers to all the questions you need, from account management to security, development, procedures, processes, setting tasks, and so on.
This is a self-help center you can easily interact with if you do not want to reach out to the team. The advanced search tab on this page makes it very easy to type in your questions and get the information you need in seconds.
Live Demo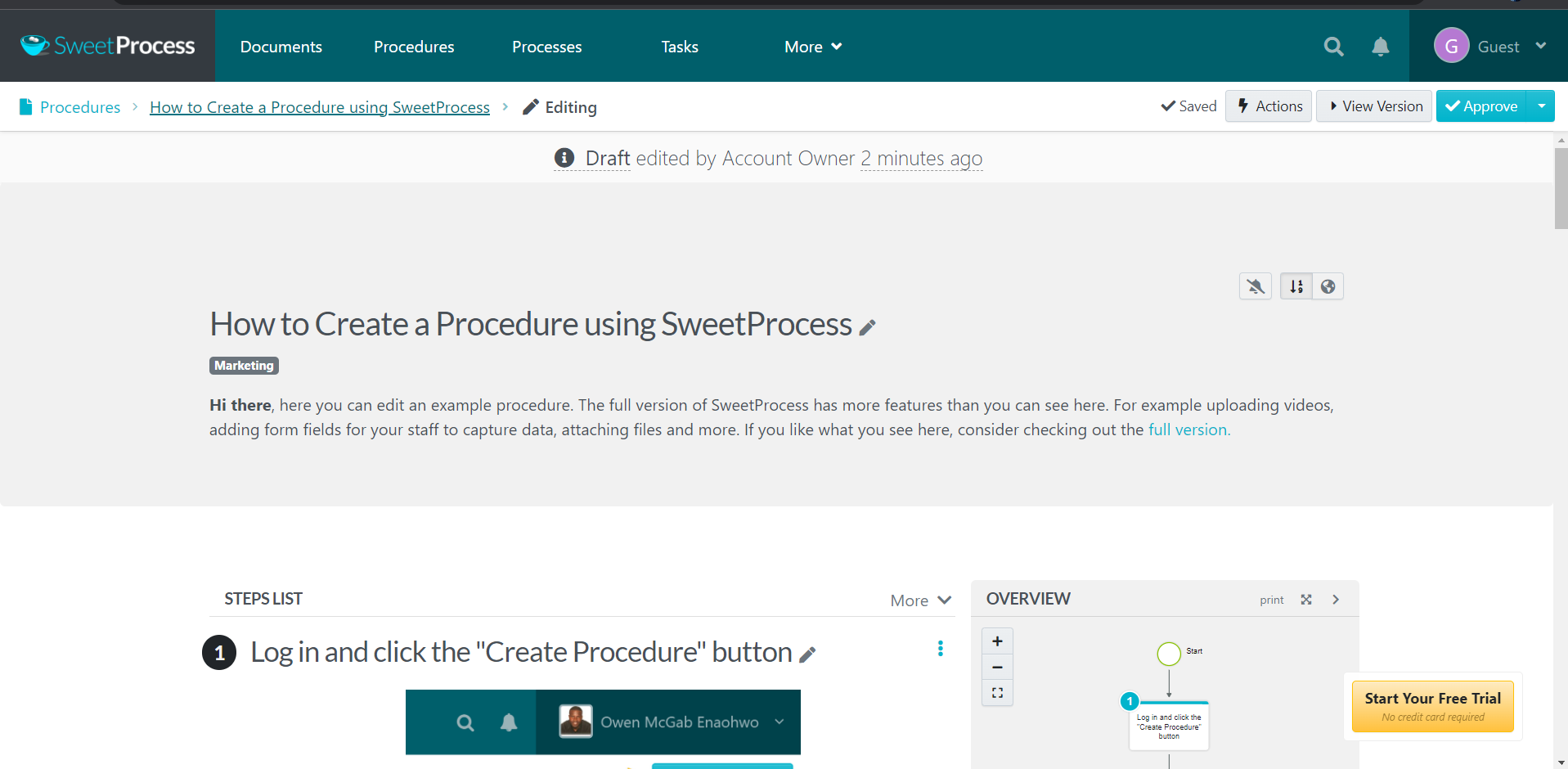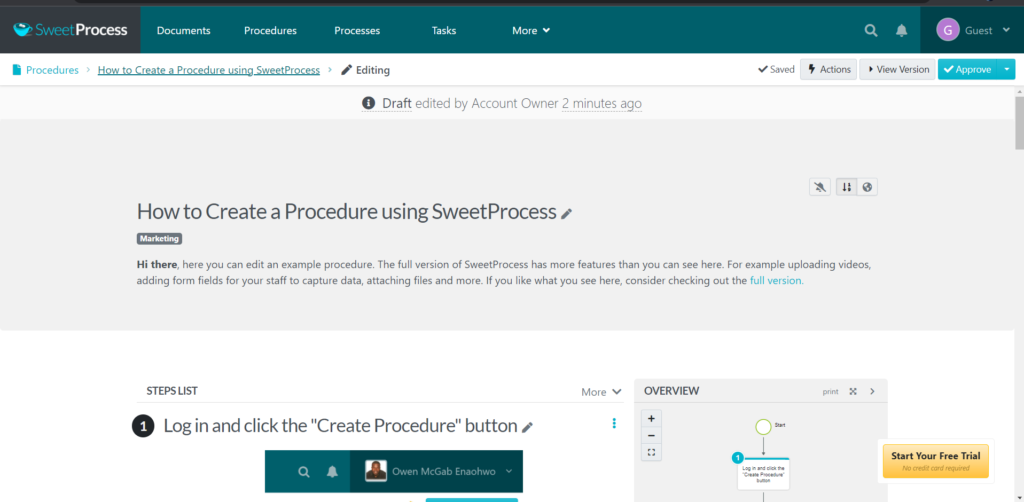 Take a sneak peek into how SweetProcess works with the Live Demo. It gives you an idea of what to expect when you finally use the software. You can easily become familiar with the interface.
You can take it a step further. Get into the software and try out all its functionalities to see if they resonate with what you are looking for. Try the 14-day free trial. No card is required here.
Bloomfire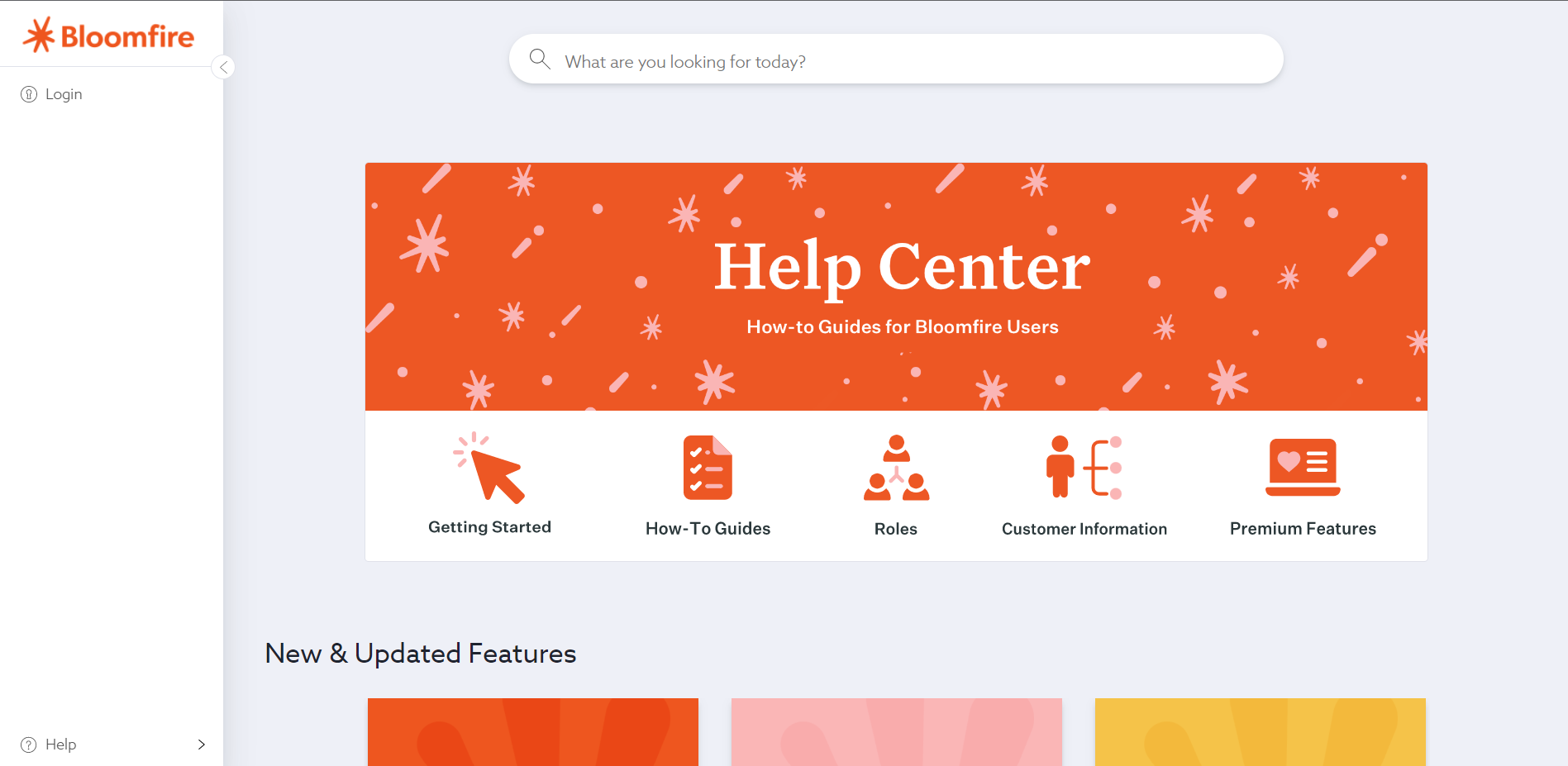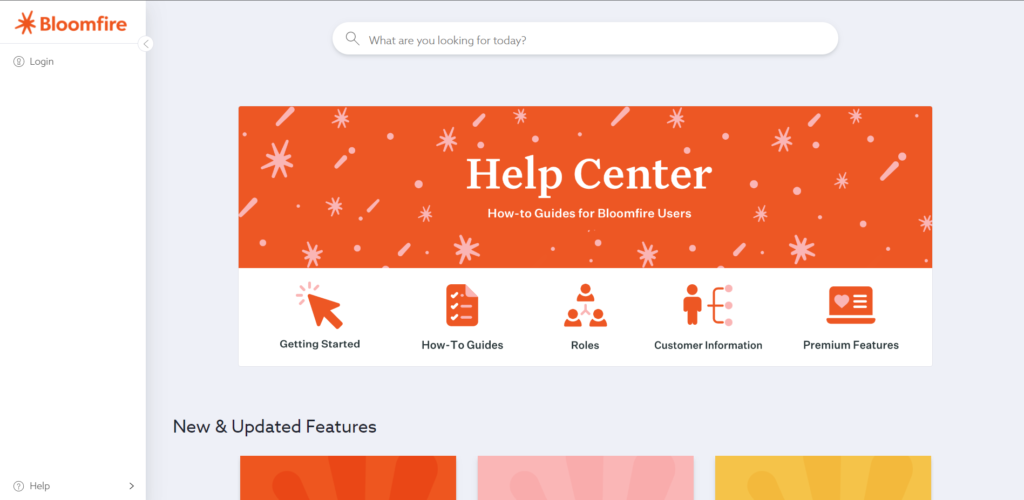 Bloomfire provides its users with different support options. It has a resource hub where you will find articles about business growth and knowledge management. Its knowledge hub contains blog posts about knowledge management. It also has a help center filled with how-to guides about getting started, customer information, premium features, and so on.
If you do need to contact the team, you have to send them an email. There is no other option for contact on the website apart from the address. You do not have phone access for quicker conversations and faster resolutions.
Platforms Supported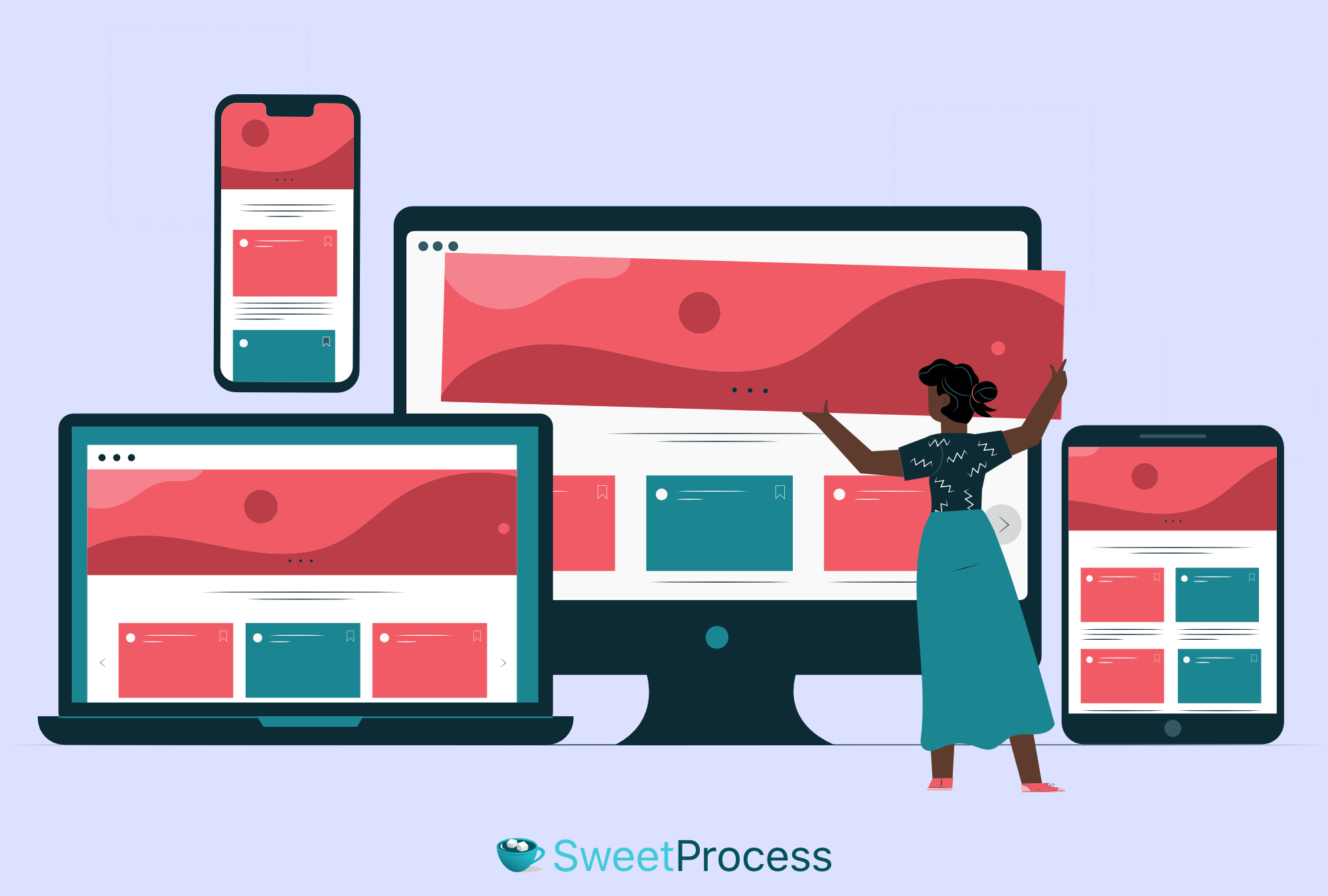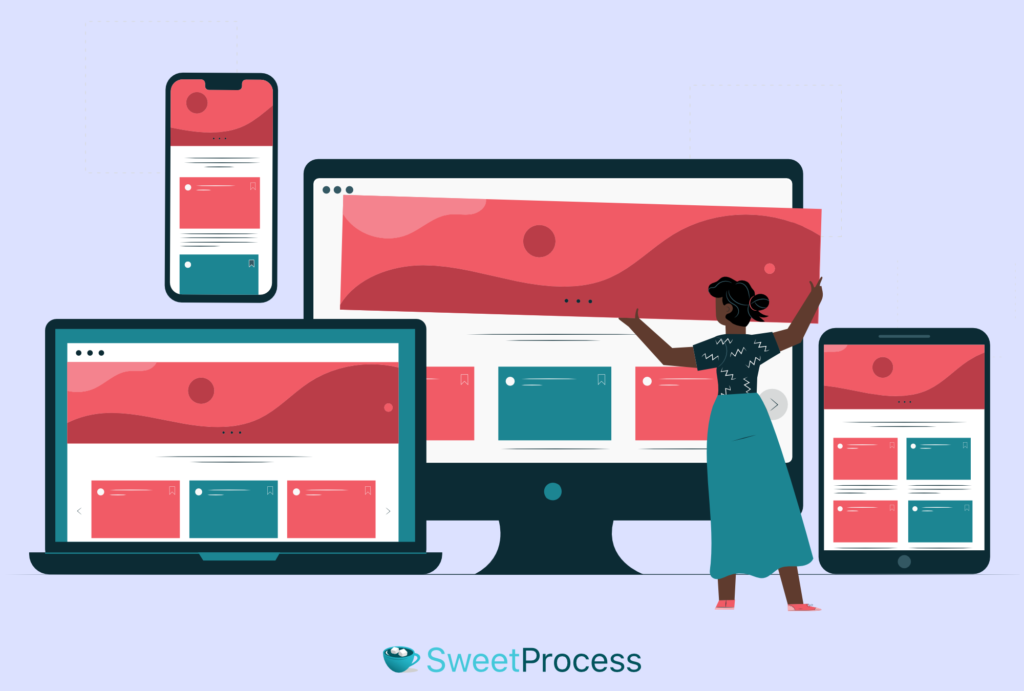 User experience is key. It is great to be able to create and manage your policies from any device you choose, whether it's your mobile phone or your PC. You need software that provides you with options.
SweetProcess
SweetProcess can be accessed anywhere in the world and on any device. Like most knowledge base management software, it is available on web browsers like Chrome, Firefox, etc. But it doesn't stop there. SweetProcess has an app version for both iOS and Android phones.
Multiple access to SweetProcess gives you the opportunity to interact with the software however you want and on whatever platform you desire. This gives room for more personalized interaction with the software. The app makes the software more appealing thanks to the unique user experience designed especially for mobile phones.
So, whichever you prefer—browsers or mobile applications—SweetProcess has got you covered.
Bloomfire
Just like SweetProcess, Bloomfire is supported on multiple platforms. It is available on web browsers. It also has mobile applications for Android and iOS devices.
This diversity in access makes it easier to work with software.
Putting It All Together: SweetProcess or Bloomfire?
You've got the full breakdown of SweetProcess and Bloomfire. At this point, you have enough information to make an informed decision.
You need policy management software that is easy to use, affordable, can be used on any device, gives you the assistance of an AI, provides multiple channels of customer support, and provides you with quality policy and procedure management tools. SweetProcess can do all these and more. It provides a robust suite of knowledge creation and management features that help you grow your business.
SweetProcess has helped several businesses across the globe increase efficiency and productivity
For example, Stone & Wood, a beer brewing company, turned its business performance around just by structuring its operations with the help of SweetProcess. It used to be hard to create standard operating procedures that people adhered to. It was also hard to update processes and procedures. This was because they were written in binders.
However, once they began to use SweetProcess, the employee onboarding and training processes became simplified. Documents were swiftly created and updated. They also created a knowledge base that all employees could access.
Another example is Onogo. They were faced with increased demands from customers and partners when they began expansion. It became very hard to keep up with the constant changes. They sought help in SweetProcess, and the narrative changed. Thanks to easy process and procedure documentation and the creation of a decentralized knowledge base, they improved operations drastically. They also achieved new levels of quality and assurance.
These are just a few examples of companies that have transformed their businesses with SweetProcess. Check out others here.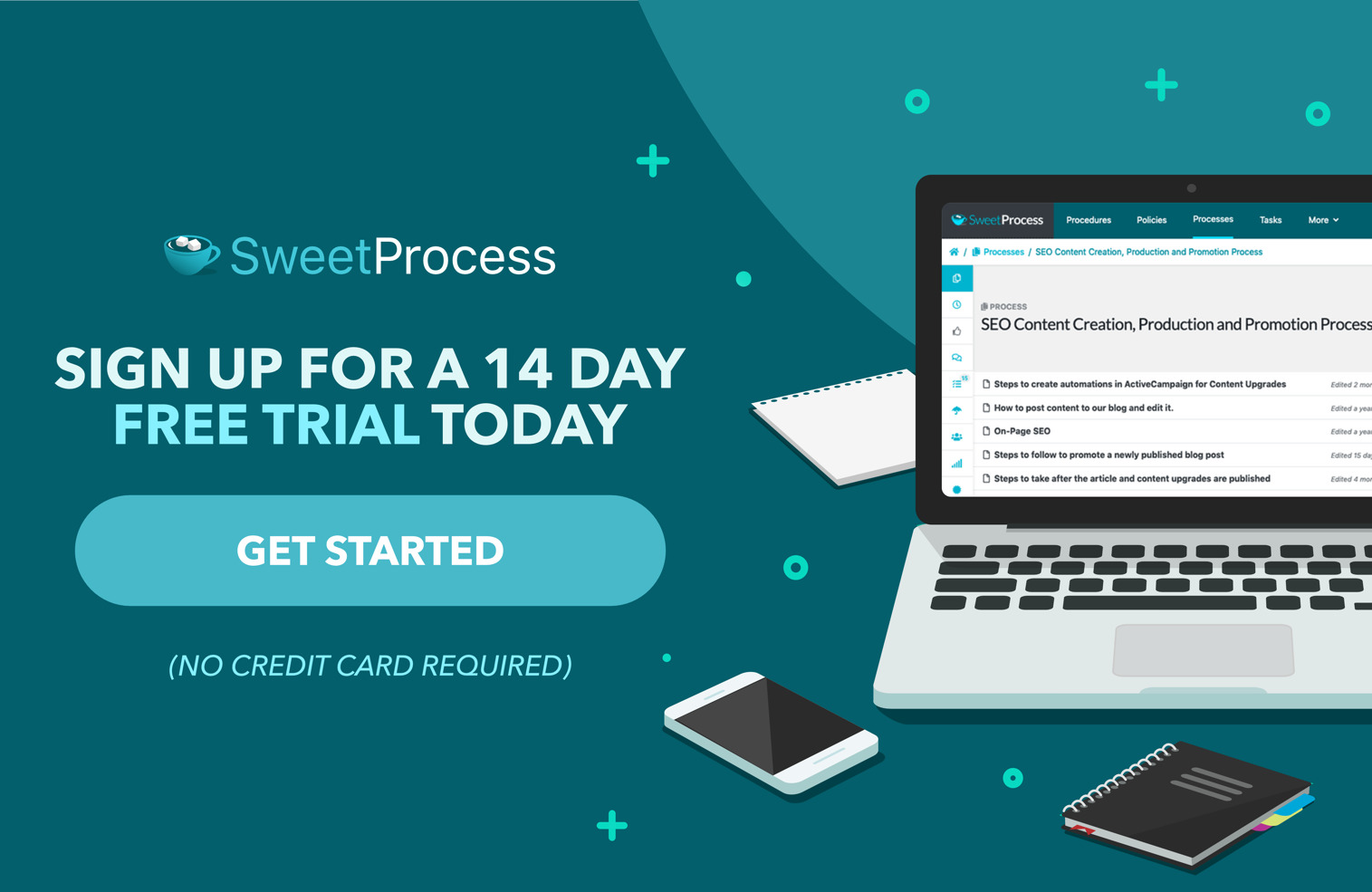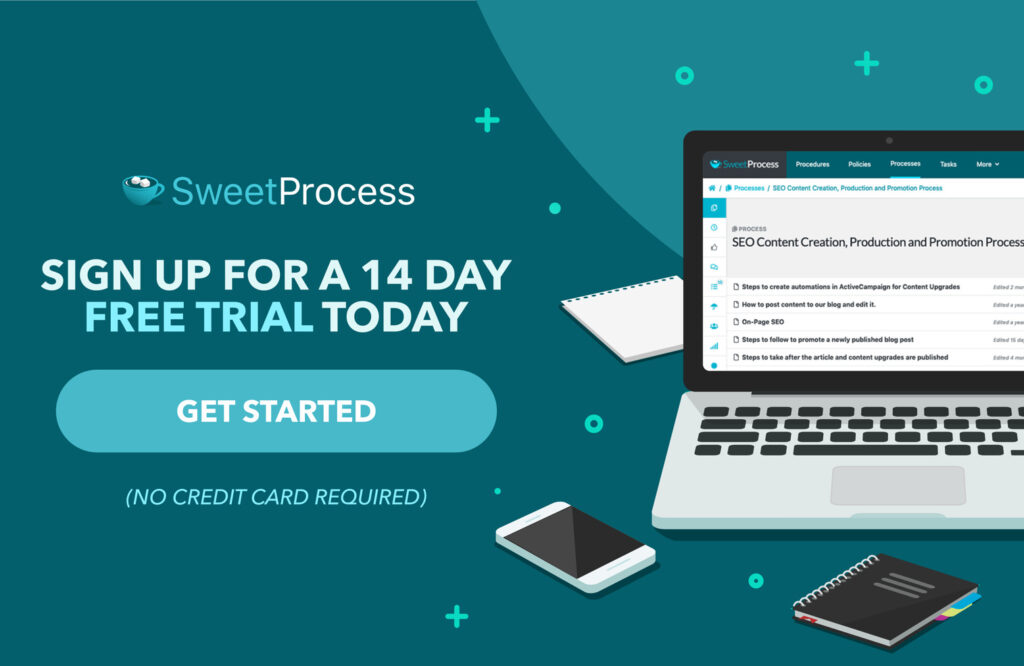 Don't be left out. Your company can be next. Take advantage of the 14-day free trial now and transform your business with SweetProcess