Metatask vs. SweetProcess: Choosing the Perfect SOP Tool For Your Business
Last Updated on August 30, 2023 by Owen McGab Enaohwo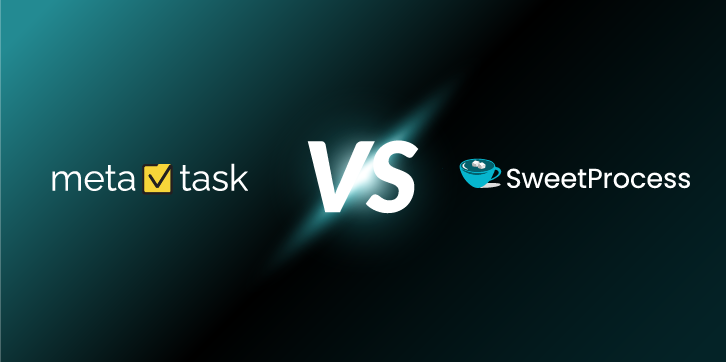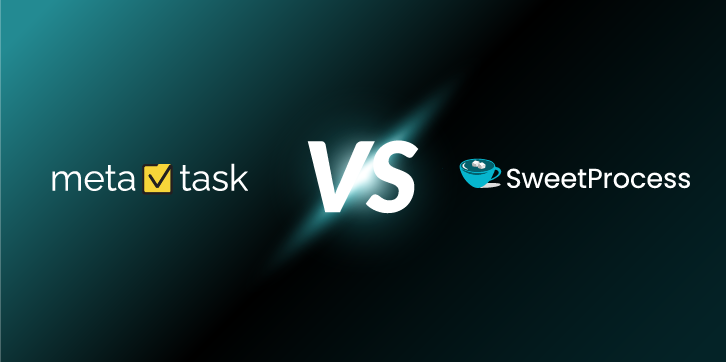 In 2020, the global business intelligence market was estimated at $22.26 billion. It is projected to grow with a CAGR of 8.7% over the years 2021-2028, reaching an estimated value of $43.03 billion by 2028. There is a rapid growth in demand for real-time operational insights, which is one of the key factors helping to boost the increase of this market.
Getting the hang of how employees effectively work a process can sometimes be hard. Nonetheless, thanks to the evolution of technology, systematizing operations has become super easy with business tools like Metatask and SweetProcess. These business operation tools streamline your business operations  and create policies, processes, procedures, checklists, and workflows.
In this resource article, we compare Metatask and SweetProcess and help you see how and why SweetProcess is the perfect SOP tool that your business needs. By the end of this article, you should have a better understanding of the core differences between Metatask and SweetProcess, and be able to make an informed decision to switch to SweetProcess.
Sign up for a SweetProcess free trial without a credit card.
Table of Contents
Chapter One: Overview of Metatask
Chapter Two: Overview of SweetProcess
Chapter Three: Comparison of Metatask and SweetProcess
Chapter Four: Factors to Consider When Choosing a Business Tool
Chapter Six: Why Choose SweetProcess Over Metatask?
Chapter One: Overview of Metatask

Metatask is a cloud-based business process management (BPM) tool that best suits business automation and workflow management. With Metatask, businesses can streamline operations and improve productivity by automating repetitive tasks and reducing manual errors.
Metatask is handy for businesses of all sizes and industries, from small startups to large enterprises. It proposes a user-friendly interface that requires no coding or technical skills, making it ideal for teams to get started quickly. Metatask can also integrate well with other software, enabling businesses to streamline their operations further.
Features of Metatask
Workflow automation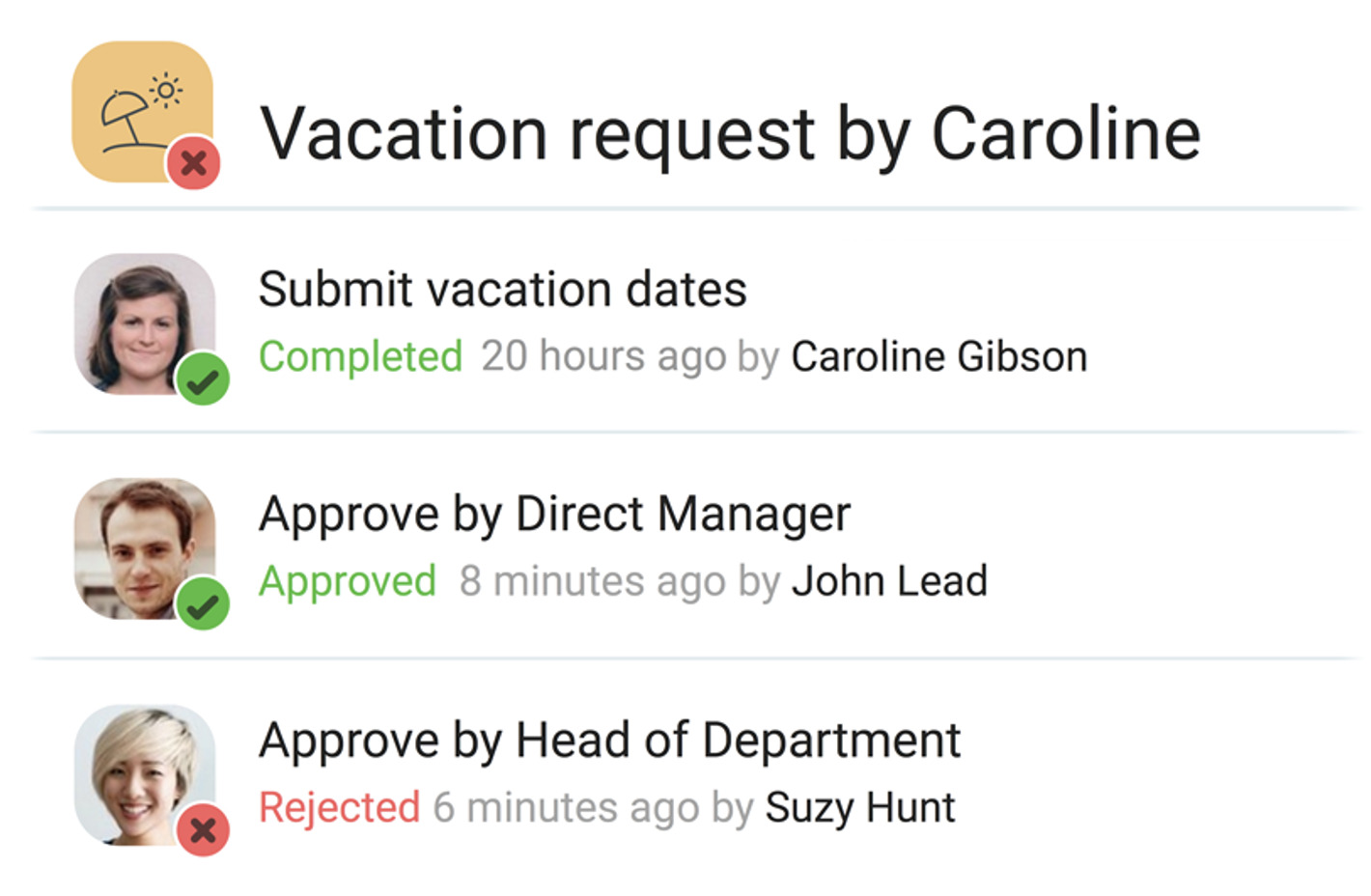 With Metatask, businesses can design unique processes that meet their unique requirements. Businesses are also able to automate tedious operations to cut down on human error that typically stalls progress at work.
Task management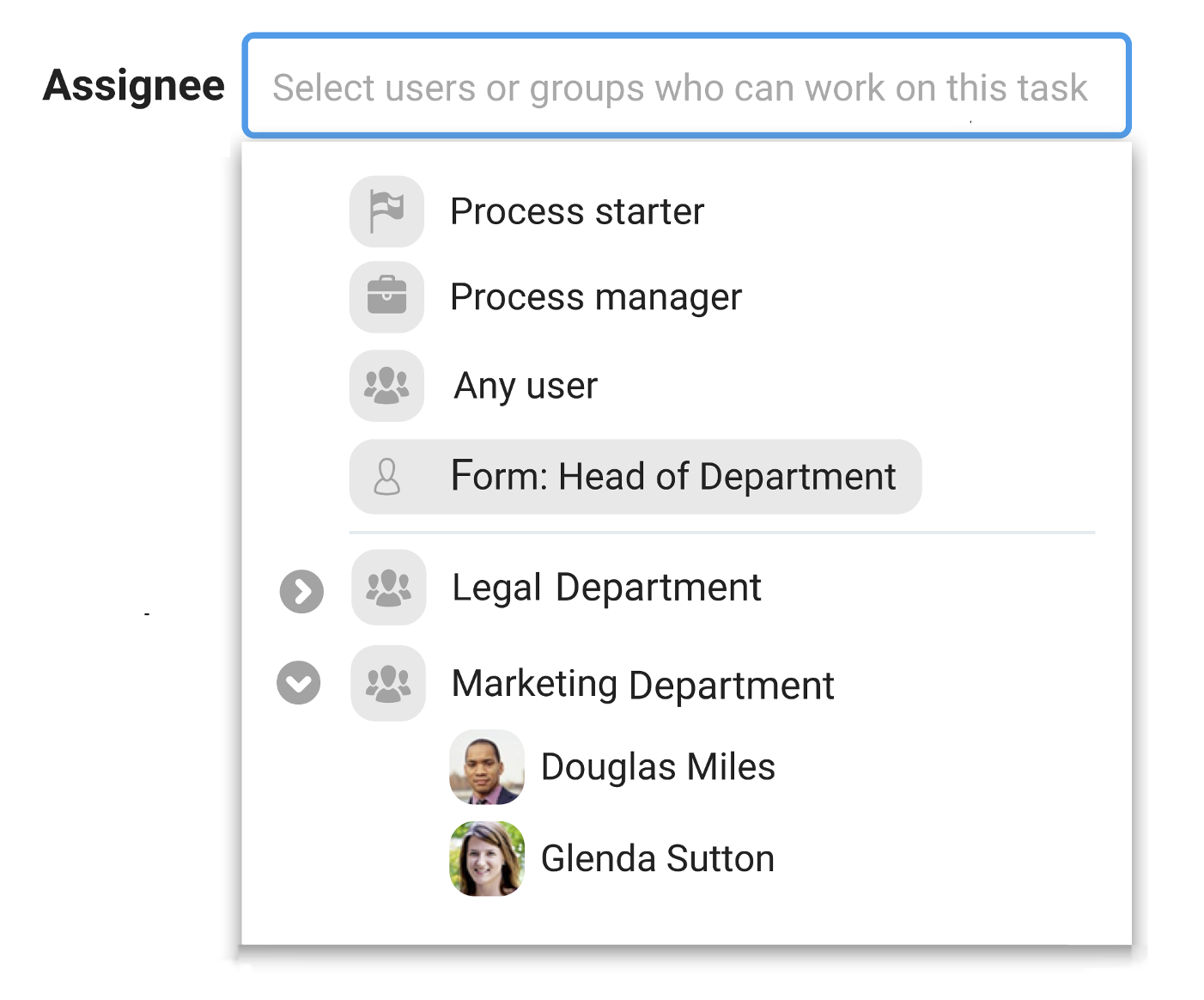 Metatask helps you ensure that tasks are completed on time. It also allows businesses to assign tasks to team members and track progress in real-time, any day and anytime.
Collaboration tools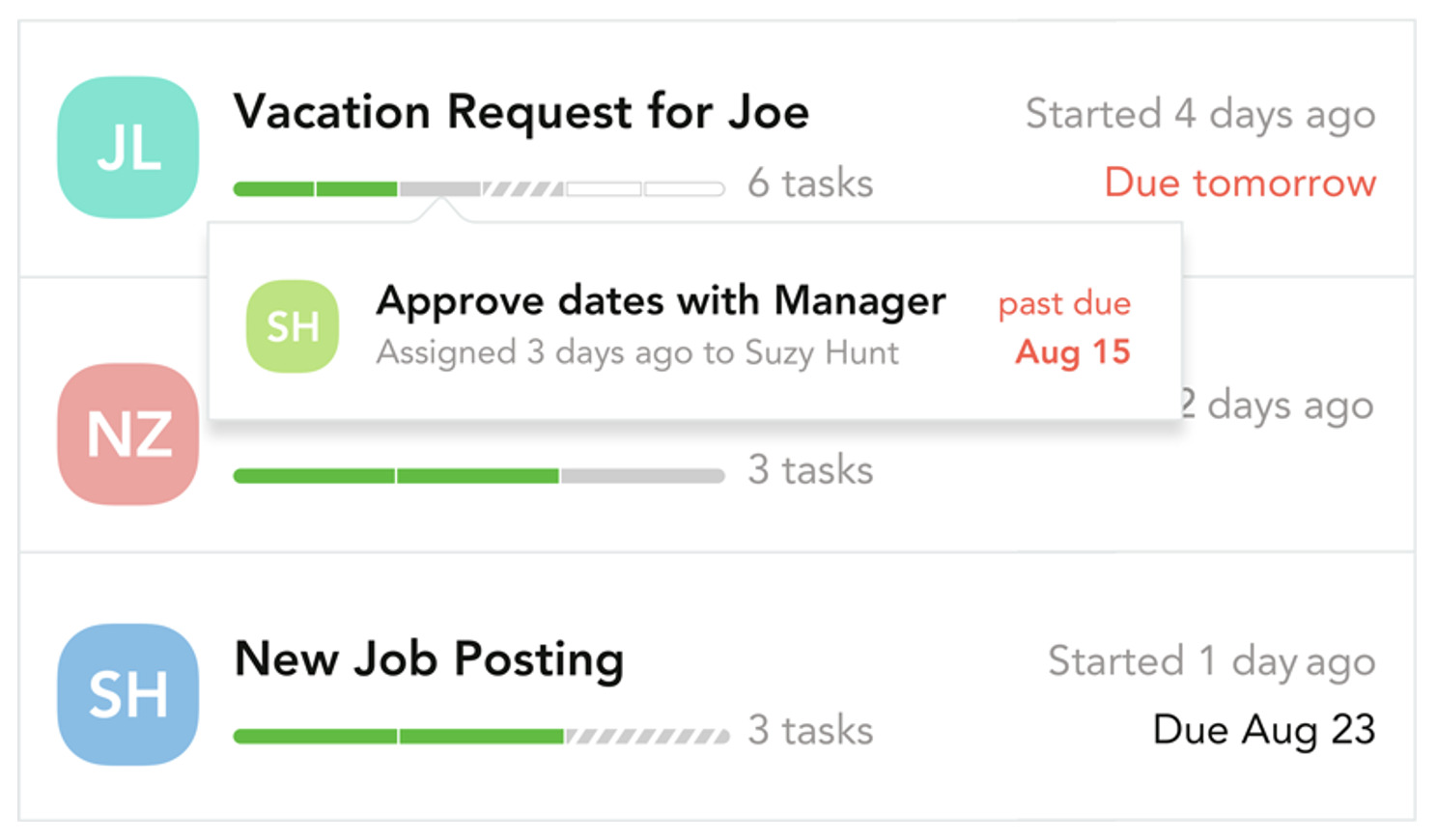 Metatask makes teamwork precise and less cumbersome. It provides collaboration tools such as commenting and file sharing for team members to work together effectively.
Reporting and analytics
Businesses are equipped to track key performance indicators (KPIs) and gain insight into their workflows using Metatask's reporting and analytics services. This helps companies identify their weak points and streamline their processes.
Integrations
Metatask can seamlessly integrate with a few other software, such as Google Sheets, Slack, and Zapier. This makes streamlining super efficient by connecting different tools and automating tasks that will promote efficiency.
Metatask Setbacks
Limited integrations
Although Metatask provides some software integrations, users claim that these integrations are few compared to those offered by competing BPM solutions.
Limited customization options
Workflow customization is possible with Metatask. However, some users still claim that the level of customization is insufficient for their particular needs, thereby slowing down progress.
Steep learning curve
According to some reviews, some users say it takes time and effort to learn how to utilize Metatask successfully, especially for teams not accustomed to utilizing BPM software. This is unlike SweetProcess , which has an easy-to-use interface and can be operated by anyone.
Limited reporting features
Even though Metatask offers certain reporting and analytics features, several customers have complained that more than these tools are needed to give them in-depth visibility into their business processes.
Pricing
Although Metatask doesn't cost an arm and a leg compared to competing BPM systems, some users have complained that it may be out of reach for smaller companies with limited budgets.
Businesses That Can Benefit From Metatask
Metatask is a dynamic business process management tool that can benefit businesses of all sizes and industries. Some types of businesses that can benefit from it are:
Small businesses
Metatask can be used by small businesses to automate their workflows and systematize their operations. This tool helps them save time and reduce costs. For instance, small firms can leverage Metatask to manage their customer service operations, automate their sales and marketing procedures, and optimize their HR and employee onboarding workflows.
Medium-sized businesses
Metatask benefits medium-sized businesses because it helps them to ramp up their workflows and improve collaboration between teams. For instance, medium-sized organizations can utilize Metatask to automate their accounting and financial procedures, manage project workflows, and enhance procurement workflows.
Large enterprises
Large conglomerates also benefit from Metatask because they can be empowered to improve their operational efficiency, reduce errors, and optimize their processes. Large businesses can use Metatask, for instance, to automate compliance procedures, manage supply chain operations, streamline IT functions, and more.
Sign up for a SweetProcess free trial without a credit card.
Chapter Two: Overview of SweetProcess

SweetProcess is a cloud-based standard operating procedures (SOP) software that is remarkable for helping businesses document and streamline their processes. SweetProcess was founded by Owen McGab Enaohwo and Jervis Whitley. They recognized the need for a more efficient and user-friendly solution for businesses struggling to systematize operations.
The software has since been tested and trusted by thousands of businesses in various industries, including healthcare, IT, and manufacturing. It equips businesses to create step-by-step procedures, assign tasks to team members, track progress in real-time, and generally get the hang of systematizing their businesses.
Overall, SweetProcess is one tool you shouldn't miss. It has feature-rich and user-friendly SOP software that helps businesses streamline their processes and improve productivity. Its emphasis on engaging and visual SOPs, detailed analytics, and flexible tasks assigned make it one of the seamless business tools to have around.
Features of SweetProcess
Artificial Intelligence Integration

SweetProcess recently integrated an AI feature that enables you to have policies and procedures tailored specifically to your situation. All you need to do is think of the document title, prompt SweetAI, and swiftly you are provided the results.
How to Use SweetAI to Create a Procedure
Step 1. Click on the "Procedures" tab

Step 2. Click on the "Create Procedure" button
When the page opens up, click on the "Create Procedure" button on the top right-hand side.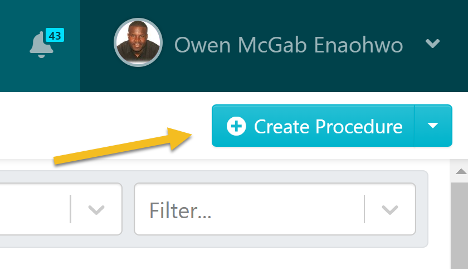 Step 3. Enter the title of the procedure

Step 4. Click on the "Write with SweetAI" button

Hold a few seconds for SweetAI to generate the procedure for you.
Step 5. Approve or edit the procedure SweetAI generated for you
Once SweetAI automatically generates a procedure for you, you can either approve it or add your finishing touches to it by editing it further.
Visual and engaging SOP creation
SweetProcess enables organizations to add images, videos, and screenshots to their SOPs, resulting in aesthetically beautiful and engaging procedures. In particular, for complex workflows, this makes operations more interesting and simpler to follow.
Flexible task assignment and tracking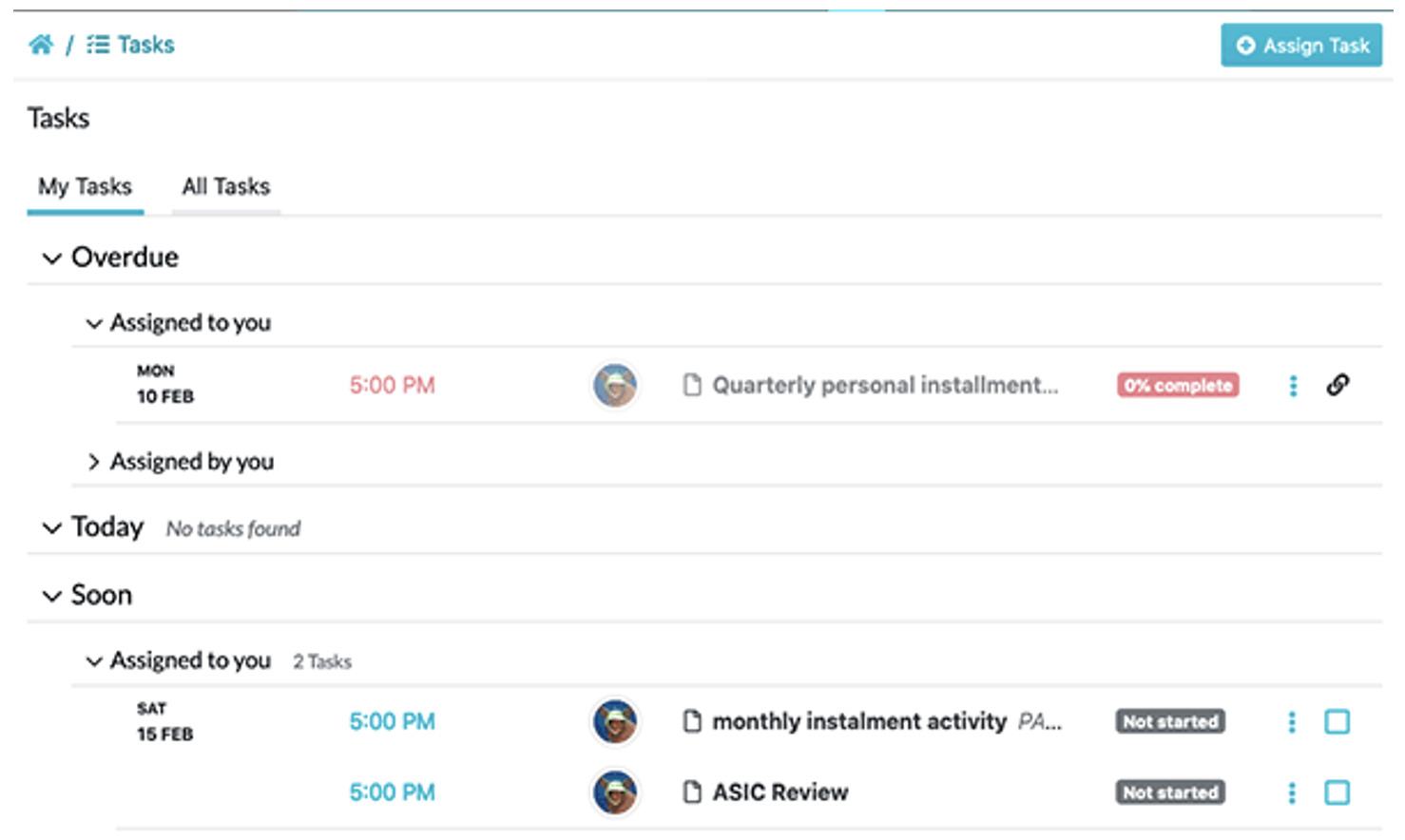 SweetProcess makes room for you to assign tasks to team members and track progress in real time. You can set due dates and reminders, and team members can mark tasks as complete as they work through the procedure.
Customizable access and permissions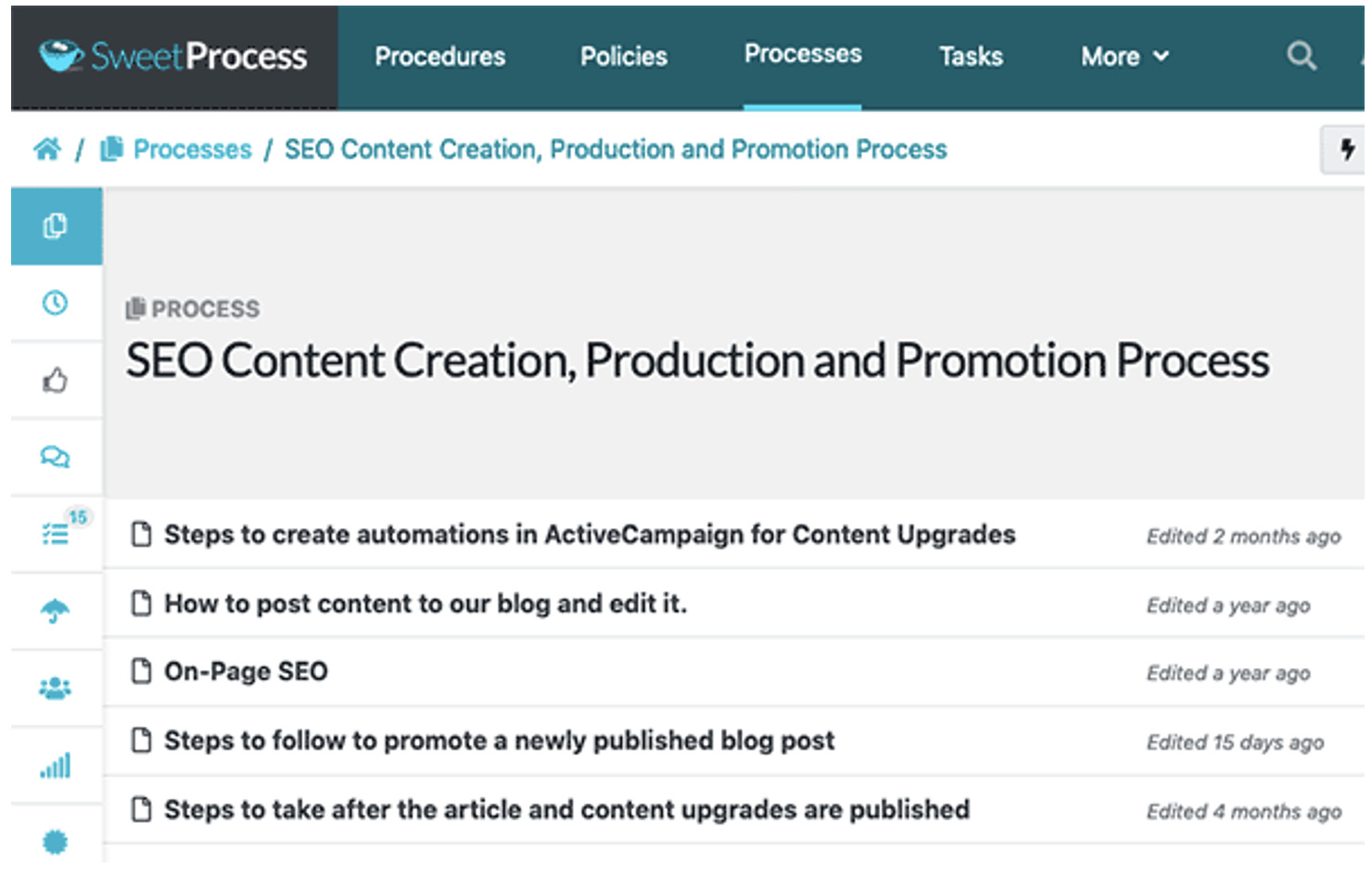 Customization of each team member's access and permissions is also possible with SweetProcess. This is so that they only have access to the tasks and procedures that are necessary for their position. This also makes certain that there isn't room for overworking or overshooting on unassigned tasks.
Analytics and Reporting
You can track completion rates easily with SweetProcess. It provides detailed analytics and reporting features that allow businesses to identify bottlenecks, and optimize their processes over time. This helps businesses improve productivity and efficiency.
Integrations
This tool integrates with a range of other software such as Zapier, Slack, Asana, and even more. This feature makes it easy for businesses to connect their workflows and automate tasks across the board and without limitations.
The mobile app
This powerful tool has a mobile app that allows team members to access their tasks and procedures from anywhere. This is especially useful for businesses with remote teams or employees who work on the go.
Customized templates
SweetProcess provides a range of templates for businesses to use as a starting point when creating their own procedures. This saves time and ensures that procedures are comprehensive and effective.
Sign up for a SweetProcess free trial without a credit card.
Businesses That Benefit From SweetProcess
Any company that wants to systematize its business operations, streamline its processes, improve productivity, and ensure consistency across teams can benefit from using SweetProcess. It is a versatile tool used by businesses of all sizes and industries.
Below are some of the types of businesses that use SweetProcess for documenting policies and procedures.
Service-based businesses
SweetProcess helps service-based businesses such as marketing agencies, consulting firms, and legal practices document and streamline their workflows. Perry Beebe, the managing director at All Residential Real Estate, a property consulting management company, uses SweetProcess to solve the problem of ineffective documentation and stay consistent in systematizing its processes, and the result has been outstanding.
Healthcare organizations
SweetProcess helps healthcare organizations such as hospitals and clinics standardize their procedures and ensure compliance with regulations. This can improve patient safety and reduce errors that typically are commonplace with businesses that aren't moving with the technology trends.
Manufacturing and construction companies
Manufacturing and construction companies benefit a lot from SweetProcess as it helps their operational efficiency and reduces errors by standardizing their processes and ensuring consistency across teams. One of the ways this happens is through quality control.
Tameer Inc., a mechanical construction company that specializes in HVAC, industrial and commercial refrigeration, and more, have been able to use this super business tool to ramp up SOP, manage time, and document policy and procedures that have helped in their massive growth.
Retail businesses
SweetProcess helps retail businesses such as e-commerce stores and brick-and-mortar shops streamline their order fulfillment, inventory management, and customer support processes. The super tool does this by ensuring all business operations are tracked in real-time.
IT companies
SweetProcess helps IT companies manage their software development, testing, and deployment processes, ensuring consistency and reducing errors.
Insurance companies
SweetProcess helps insurance and health organizations document their processes easily and build a standard knowledge bank useful for the entire staff. Zac Cullen, chief executive officer at Cullen Insurance Agency, found a savior in SweetProcess to create more processes without using Word documents. At the end of the day, their documentation processes eased, and work became much more efficient.
Non-profit organizations
This tool benefits not-for-profits by standardizing their processes and procedures. This widely used business tool enables them to operate more efficiently and make a greater impact.
Sign up for a SweetProcess free trial without a credit card. 
Chapter Three: Comparison of Metatask and SweetProcess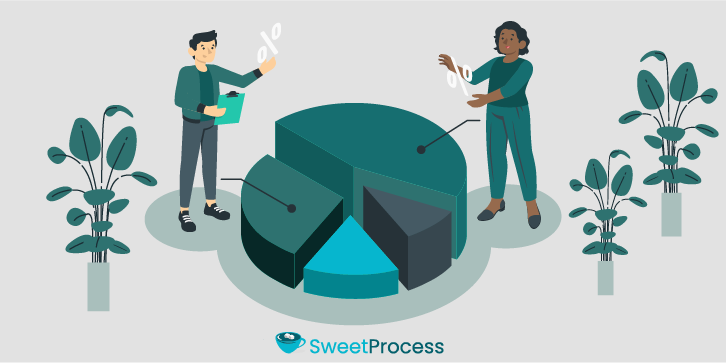 SweetProcess
Metatask
SweetProcess is more specialized for SOP creation and management, with a greater emphasis on visual documentation and detailed analytics.
Metatask is a broader BPM software that includes SOP features but may not have the same level of flexibility or customization as SweetProcess.
Businesses looking for a comprehensive SOP solution may prefer SweetProcess.
Businesses looking for a broader BPM tool may prefer Metatask.
SweetProcess has a more user-friendly interface and is designed to help businesses create visually engaging SOPs with images, videos, and screenshots.
In contrast, Metatask has a more basic SOP creation tool that may not be as intuitive or engaging.
SweetProcess has more customizable access and permission settings, allowing businesses to give team members different levels of access to specific procedures and tasks.
Metatask also has these features, but they may not be as flexible or granular.
SweetProcess provides detailed analytics and reporting features that allow businesses to track completion rates, identify bottlenecks, and optimize their processes over time.
Metatask also has analytics and reporting features, but they may not be as detailed or customizable as those offered by SweetProcess.
SweetProcess integrates with other software such as Zapier, Slack, and Asana, allowing businesses to connect their workflows and automate tasks even further.
Metatask integrates quite all right, but may not make it easier to connect with other tools that a business may be using.
SweetProcess has a mobile app that allows team members to access their tasks and procedures from anywhere. This is especially useful for businesses with remote teams or employees who work on the go.
Metatask also has a mobile app, but it may not have all the features available on the desktop version.
– Free trial for 14 days: unlimited users, unlimited features and workflows
– $82.50/month, up to 20 active users billed yearly, unlimited procedures and checklists
– $4.17/month for each additional active user billed yearly, unlimited procedures and checklists, custom branding
– Free plan: up to 5 users, limited features and workflows
– Basic plan: $5/user/month, basic features and workflows, up to 10 users
– Standard plan: $15/user/month, advanced features and workflows, unlimited users
– Professional plan: $35/user/month, custom features and workflows, unlimited users  
How Does the SweetProcess Free Trial Work?
Step 1
Begin by signing up for a free trial.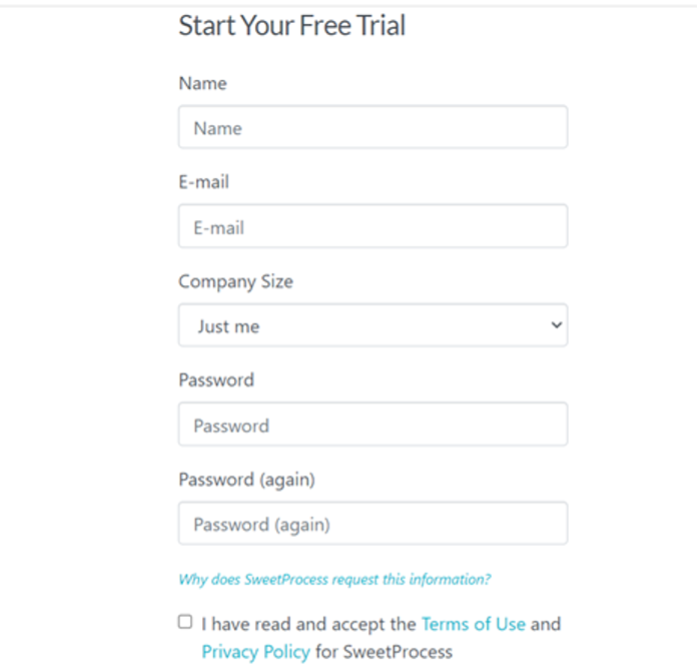 How secure is my information?
SweetProcess encrypts all of your data using the same SSL technology, a high technology used by banks to protect your online transactions. This ensures that the database saves your data encrypted. Ultimately this means that you have absolute control over who has access to your policies, procedures, and processes.
Does SweetProcess allow me to import my documented SOPs?
SweetProcess can be used to manage the effort of transferring all of your current SOPs into your new SweetProcess account. Users may use the migration service provided by SweetProcess as well as the Microsoft Word import utility.
Why bill me per active member?
The fair pricing structure of SweetProcess provides for you to only be charged when an active member logs in and makes use of the service. When they cease to be active, there is a refund policy. Additionally, you're not required to do any action to benefit from the reduced prices.
Do I need to install any software?
SweetProcess is entirely web-based because it was designed to be web-adaptable. This makes it incredibly simple to save all of your standard operating procedures in the cloud and make them available from any location. This is a feature many business owners have found really commendable.
Get started with SweetProcess for free without a credit card.
How to Document Processes With SweetProcess
Finding your way around this highly effective business tool isn't as cumbersome as users have described Metatask. It is easy to operate and it starts with a free trial.
Start a 14-day free trial on SweetProcess without a credit card.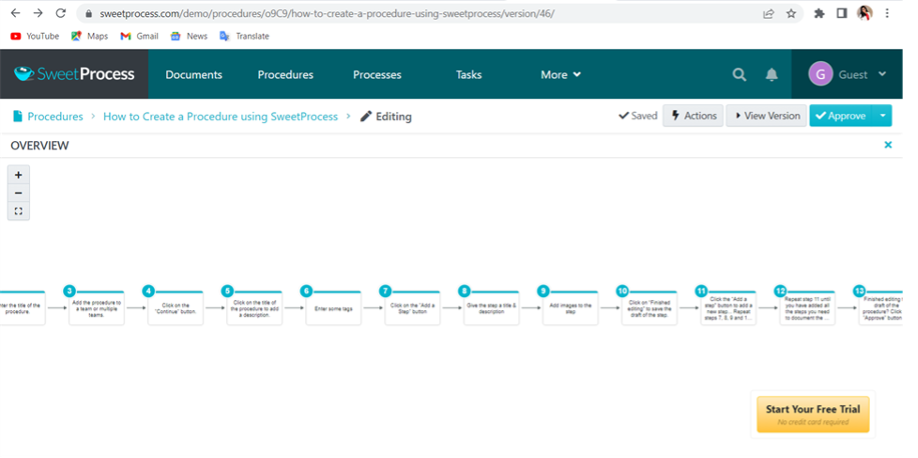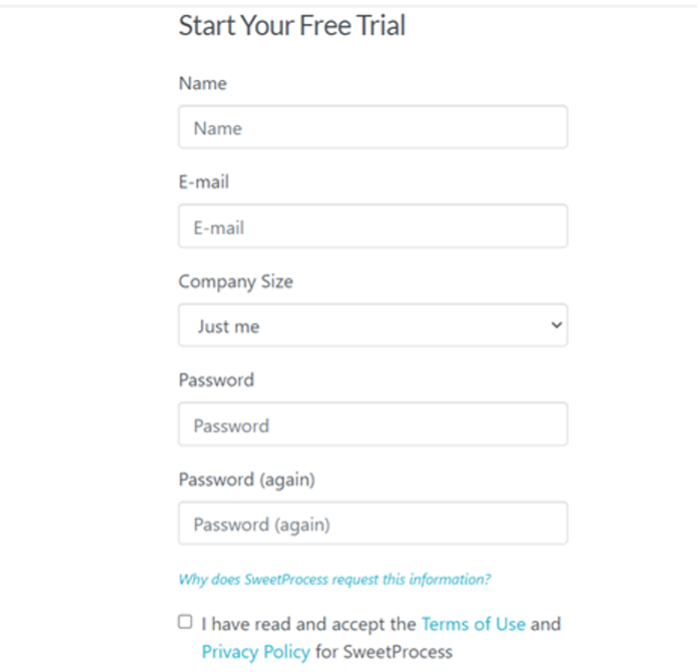 To begin, provide the relevant information required to sign on so that you do not miss out on any full options, as SweetProcess treats everyone equally, irrespective of your subscription or plan.
Log right in and create a procedure.

Thereafter, log all of your details in as needed.
Enter the title of the procedure.

Next, enter the title of the procedure that you want to document.
Add the procedure to a team or multiple teams.

Here you can click on a checkbox to navigate and add the procedure to a team, or on multiple checkboxes to add the procedure to multiple teams at the same time.
Click on the "Continue" button.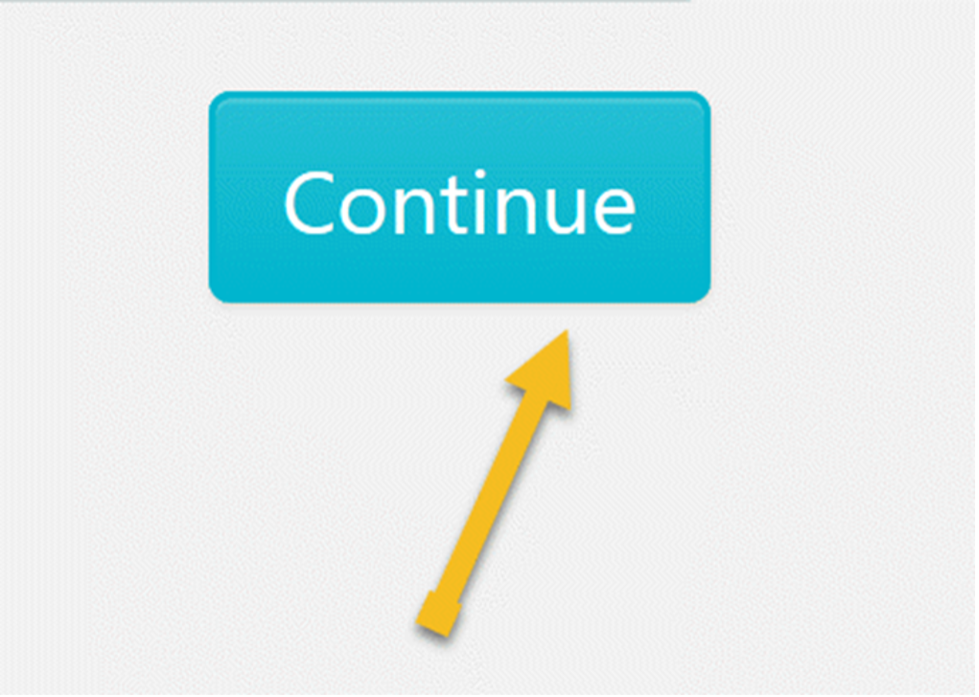 Step 5
Click on the title of the procedure you've entered to add the description.

Step 6
Enter tags.

By utilizing tags, you will be assigned an index keyword/phrase/term to a procedure that can be quickly identified.
Click on the "Add a Step" button.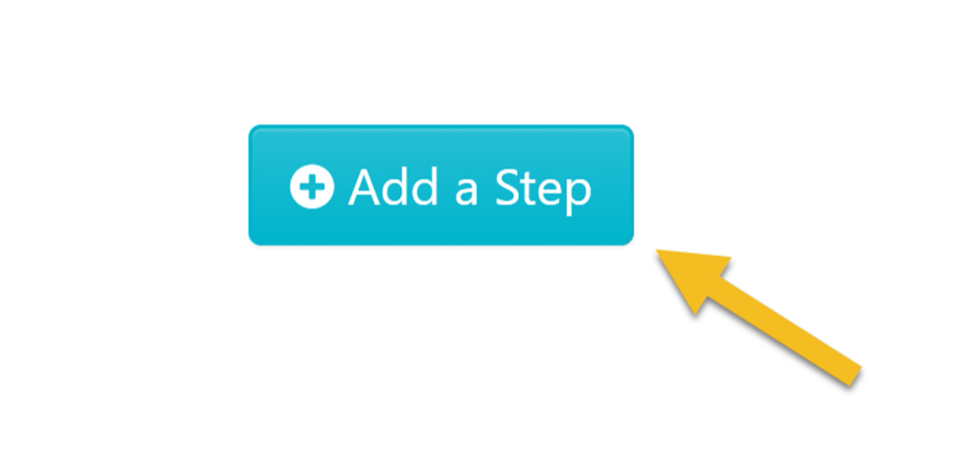 Step 8
Give the step a title and description.

Step 9
Add images to the step. You can drag and drop images from your computer into the image drop area.

Step 10
Click on "Finished Editing" to save the draft of the step.

Step 11
Click the "Add a Step" button to add a new step. Repeat steps 7, 8, 9, and 10 to enter and save the details of the new step.
Step 12
Repeat Step 11 until you have added all the steps you need to document the procedure.
Once you're done editing the draft of the procedure, click the "Approve" button to make it the live version of the procedure.
Step 14
Now click on "Procedures."

Start a 14-day free trial on SweetProcess without a credit card. 
 Chapter Four: Metatask vs. SweetProcess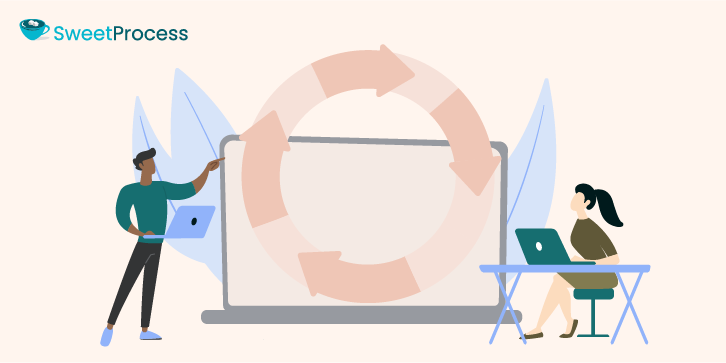 Standard Operating Procedure

Metatask helps with standard operating procedures and makes workflow easy. With this business tool, you can find customized, ready-to-use templates that can help you achieve any of your workflow needs.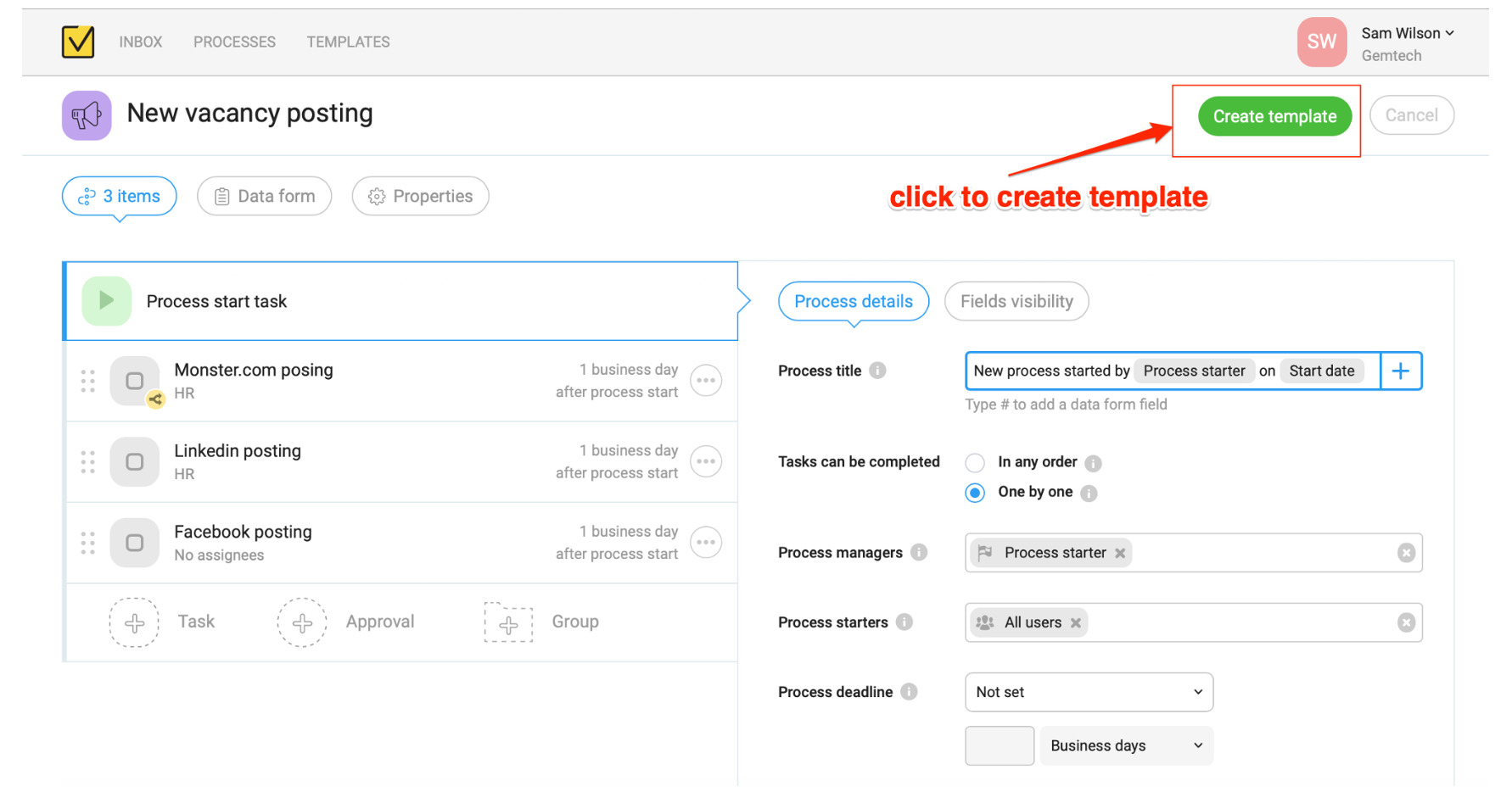 SweetProcess Standard Operating Procedures
SweetProcess makes documenting processes super effective. Stanley Kolosovskiy, the process coordinator at Atlantic Sapphire, a salmon farming company, needed standard operating procedures to guide them in their duties but couldn't find a perfect business tool. He came in contact with SweetProcess to help simplify their business operations. Now the team works efficiently and has good results to show for it.
Here are the things that you too can achieve with SweetProcess when you standardize procedures with it:
Unifies employees
Effective process documentation gives your business an edge. It unifies employees harmoniously and equips them with information that helps them to work coordinately, thereby militating against the issues that come with differences in experience and expertise among team members.
Quality assurance and sustainability are assured with SweetProcess. Troy Westley, the CEO at Operoo, was tired of micromanaging his employees although he had the goal to scale his business. SweetProcess helped him with seamless employee onboarding and training.
Implement efficient training and onboarding
Employee training and onboarding can be difficult without the appropriate tool. However, tailored training and onboarding are made simpler by SweetProcesss, allowing new hires to fit in with the corporate culture. This in itself promotes the success of the company.
Encourages multiple versions
Documenting processes with SweetProcess aids you to use multiple versions of documents. It gives team members the edge to distinguish between the papers required to complete related activities, decreasing the likelihood of a mix-up that could impede efficient workflow.
Efficient task management
SweetProcess makes assignments simple and attainable. This one action encourages the division of work and boosts output. Additionally, it allows for real-time data that enables you to monitor how workers are coping with their allocated jobs.
Sign up for a SweetProcess free trial without a credit card.
Documenting Policies: Metatask vs. SweetProcess
"Documentation policy," simply put, has to do with the strategy a company uses to implement document controls and processes throughout all departments.
Metatask
This tool describes and automates the most common business processes like requests and approvals in minutes, without the help of IT or consultants. This means that you can automatically assign tasks to your employees, set due dates, and coordinate how information and documents are collected and passed between participants of a process.
With Metatask you can assign work to groups and departments instead of specific employees. You are empowered to work smarter with employees by pulling tasks from the queue of available tasks instead of being manually assigned work by managers.
Implement structured paper collection
Replace paper forms, emails, and spreadsheets by using Metatsk built-in forms. You can also define custom rules, such as who can see form fields, who can edit data, and who must provide which pieces of information, all with a simple interface. Controlling data using required fields and many supported field types, like text, money, number, email, file attachment, and more is what you can do with this tool.
Track procedures and tasks in real-time
With Metatask, you can have quick chats on tasks in real-time. With real-time commenting, you don't need to keep conversations around tasks in your overloaded email inbox. Submit comments, answer quick questions, attach files or documents, and collaborate with other teammates without leaving Metatask.
Documenting Policies With SweetProcess
SweetProcess makes documenting policies and procedures super easy. Here is a detailed instruction on how to document policies with SweetProcess.
Click on the "Policies" tab.

Step 2
Once the new page pops up, click on the down-arrow button to the right of the "Create Policy" button.

Step 3
As soon as the menu appears, click on the "Upload document" button.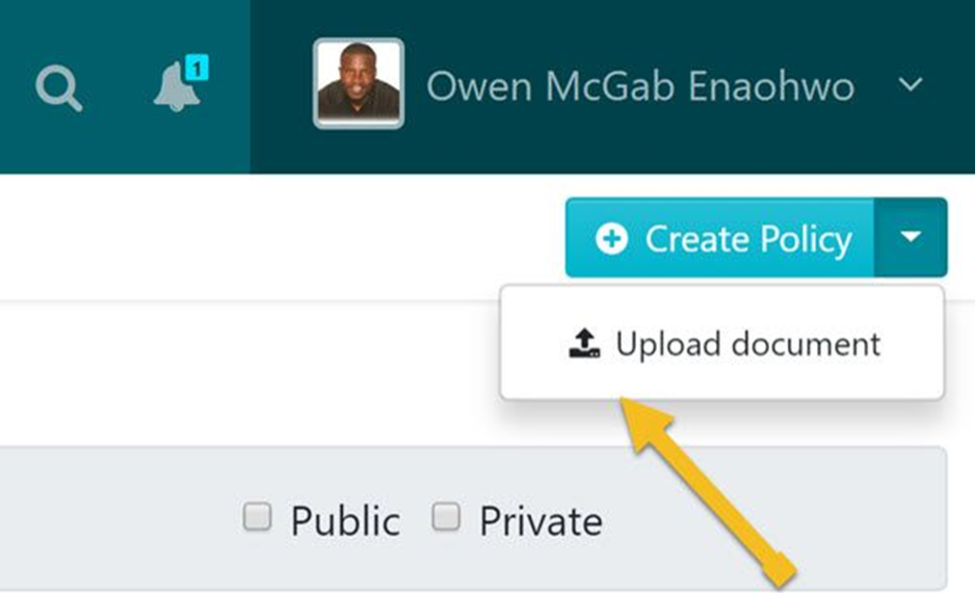 Step 4
Click the "Add to teams" button to add the policy to one or more teams when the "Upload document" dialog box has opened.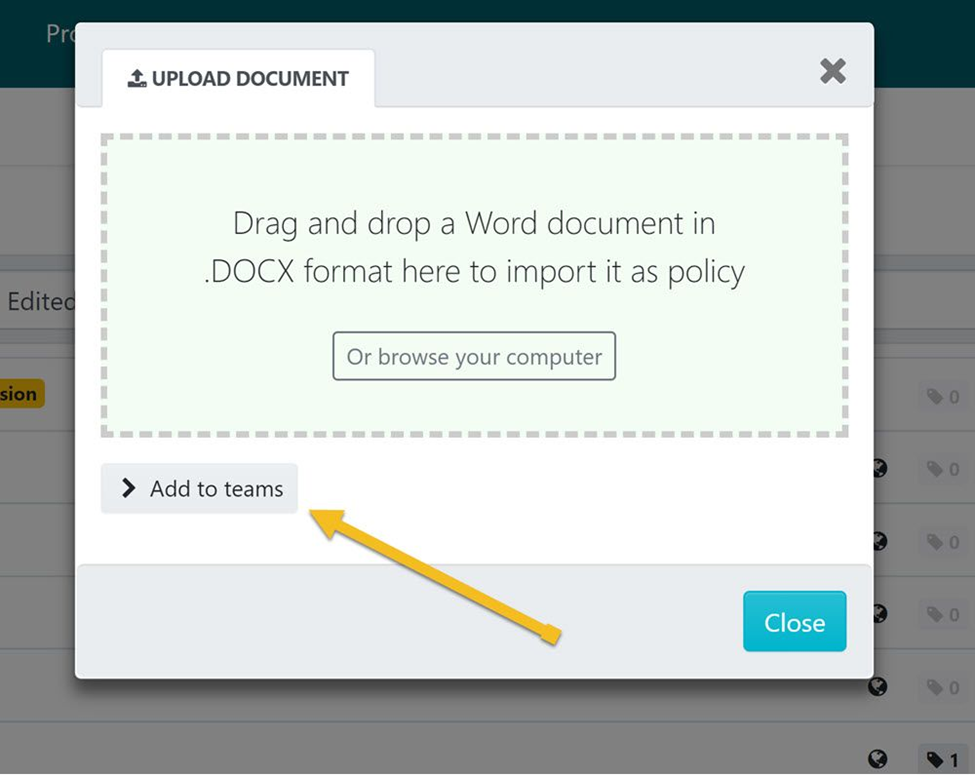 Step 5
Drag and drop the file into the "Upload Document" dialog box or browse your computer for the file and upload it.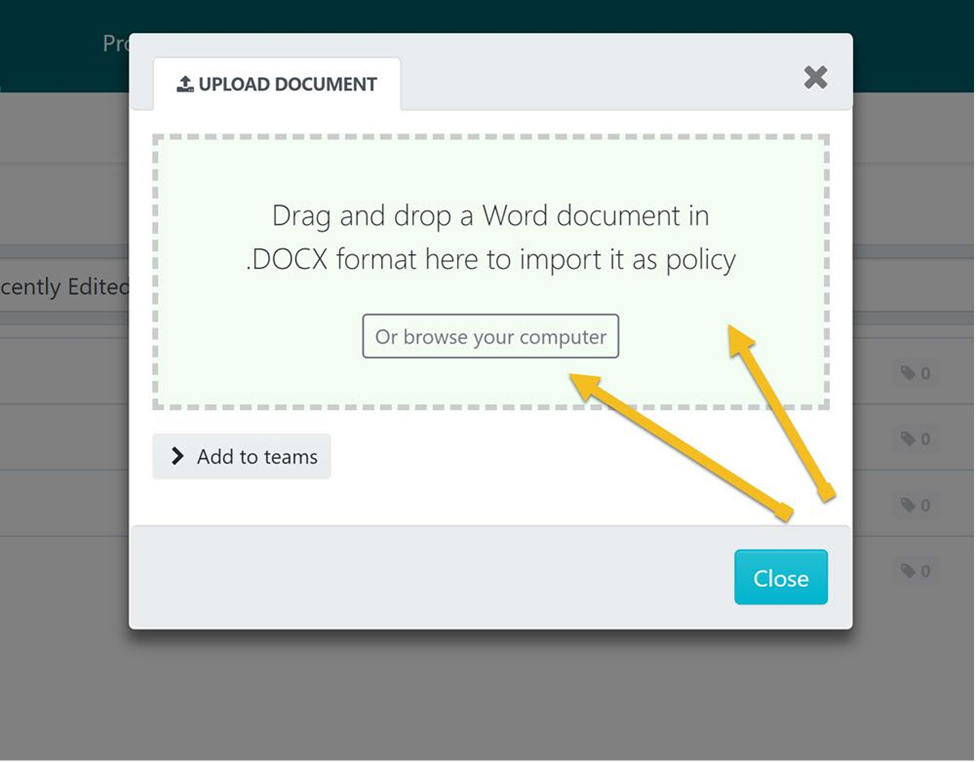 At this stage, the file will be processed and imported into SweetProcess.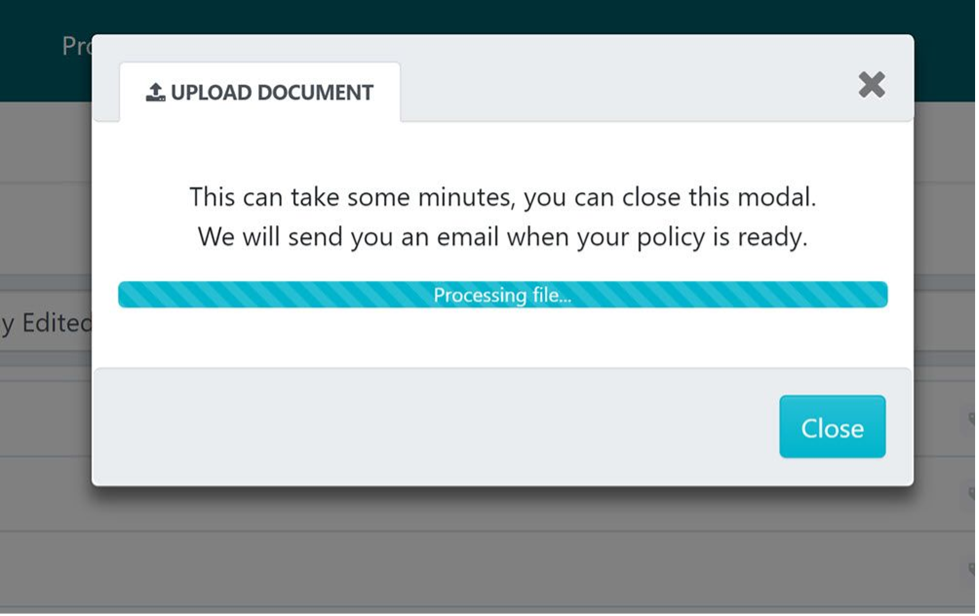 Step 6
After the policy has been imported, click on the "View policy" button.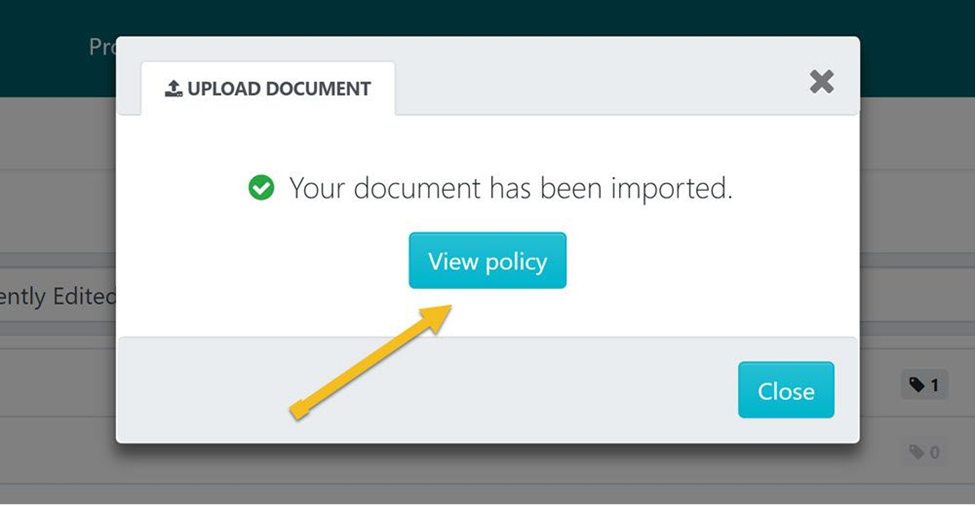 Step 7
Once the new page loads, click the "Edit" button to make changes or improvements to the policy you just imported.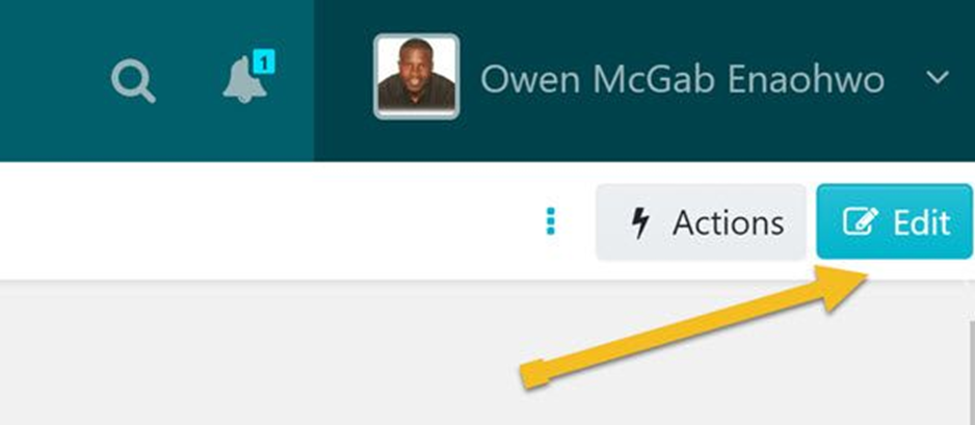 Step 8
Make all the necessary changes and improvements to the policy as needed.
Now it is time to input the changes and improvements until all the descriptions, images, and so on look exactly as you want them.
After making all necessary changes and improvements to the policy you imported into SweetProcess, click on "Approve" which is on the top right-hand corner of the page to approve the policy and make it live.

Note: If you do not have the ability to approve the policy, you will be able to request approval by clicking on the "Request Approval" button as shown below.

Start a 14-day free trial on SweetProcess without a credit card.
Chapter Five: Case Studies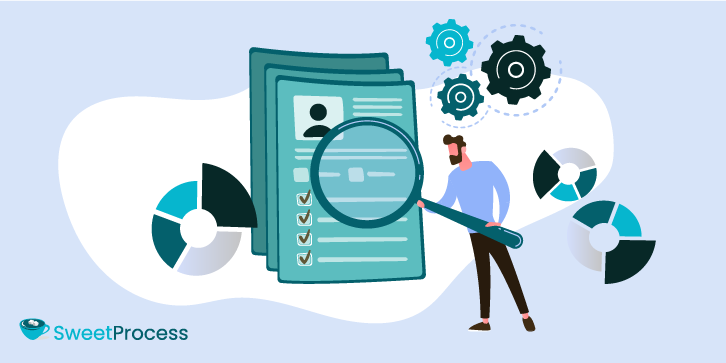 The success stories that come after using SweetProcess by businesses speak volumes. Users of SweetProcess haven't stopped talking about this business tool. Here are some of these testimonials below.
SweetProcess Creates an Enabling Work Environment
Ted Fogliani, the CEO of Shipcalm, an e-commerce-focused logistics company, couldn't manage things at his business as organizing processes and systems had suddenly become a tough task. He stumbled upon SweetProcess and was helped to create an enabling work environment for his employees and satisfy his customers' needs. Now he swears by SweetProcess.
The Team is Empowered to Scale Their Business
Eric Burnside, the vice president and director of business development at Independent Retirement, needed to systematize operations to scale the business. The team struggled with achieving this with other business tools until they were introduced to SweetProcess. Now the dynamics of operations have changed, and he and his team have been empowered to scale their business.
Reposition Organization Operations
Thomas Parker, the quality assurance and sensory coordinator at Stone & Wood, was faced with the challenge of maintaining quality assurance in its beer manufacturing business. He struggled with this until he stumbled on the SweetProcess business tool. They soon discovered that SweetProcess was able to reposition the organization's operations for the better.
Achieve Remarkable Growth
Alec McClennan, CEO of Good Nature Organic Lawn Care, had a goal just like any other company to systematize and grow. However, this wasn't possible until he found SweetProcess. SweetProcess has given the company the opportunity to accomplish more results, and they are putting it to good use even as they open new branches of their business.
Start a 14-day free trial with SweetProcess without a credit card.
Chapter Six: Why Choose SweetProcess Over Metatask?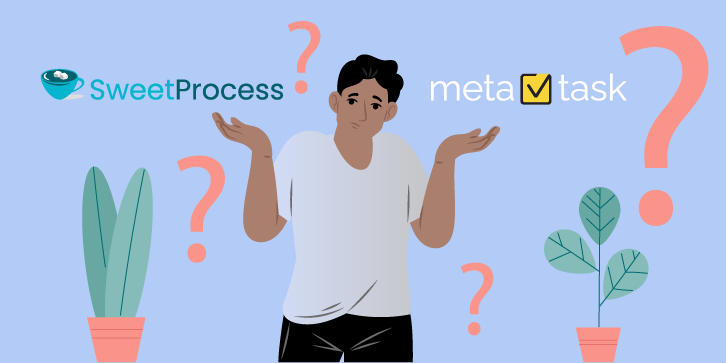 Increase Worker Performance and Eliminate Clumsy Procedures With SweetProcess
The lengthy procedures associated with routine work and ineffective procedures are two things that slow down work and results. SweetProcess helps you to focus on the job that counts by using an effective setup like SweetProcess and increased employee performance.
Boost Team Productivity With SweetProcess
It might be difficult to get workers to follow directions to the letter. Along with following directions, doing tasks correctly can be very difficult. SweetProcess empowers your team to work efficiently with processes thanks to this solution because they are now documented.
Decentralize Your Knowledge Base With SweetProcess
It might be challenging to consolidate information so that workers can access it and use it. SweetProcess empowers your staff by providing them with all the information they are required to carry out their obligations, including step-by-step instructions for each task. With their login information, employees can now continue working without missing any information.
Team Independence
Your team can work independently thanks to SweetProcess. By using this technology to document procedures, daily operations are significantly altered and templates for repeatable and recycled outputs are produced and your company can achieve its major objective of generating high sales.
Conclusion
A ton of businesses that use SweetProcess to achieve their aim can't be wrong. If a remarkable result is what you seek just like Stephanie Chavez, the chief marketing officer at Zen Media, then you too can achieve consistency in your employers' performance by using SweetProcess to transform your business.
Start your 14-day free trial without a credit card.