SweetProcess Reviews: What Users Say About Our Platform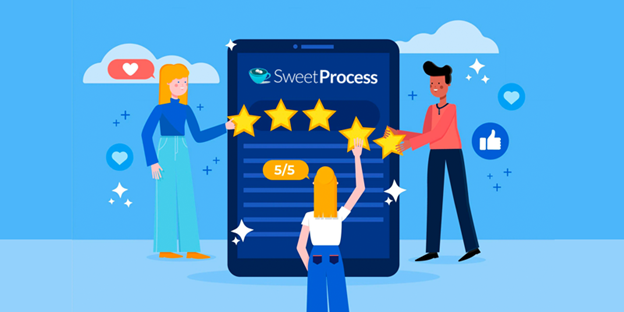 If new employees in your company struggle to hit the ground running despite spending time and resources to train them, then they're most likely finding it difficult to find the information they need.
To overcome this challenge, you need a system to document your organization's processes, procedures, policies, and tasks in one place.
That's exactly what SweetProcess does for entrepreneurs, business owners, and managers.
By using our software, your team can perform tasks just how you want them, and you can focus on tasks that align with your core competence. 
If you're a business owner or professional who leads any part of a business, be it the process, people, policies, or product, then you're SweetProcess's ideal customer.
In this post, you'll learn more about SweetProcess reviews from our website and third-party platforms. We'll share insights from customers using our platform and their overall experience.
SweetProcess is our tool, and we built it for teams that want to document their procedures, processes, and tasks in one place so they can focus on doing work that matters for their business growth. Sign up for a 14-day free trial to see how it works. No credit card is required.
SweetProcess Reviews: What Customers Say About Their Experience Using Our Platform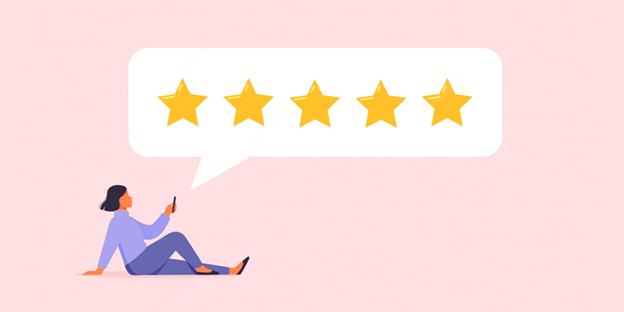 Let's get right into it. From videos to direct quotes that customers say to us and the ones customers wrote on third-party review platforms like Reddit, Twitter, G2, and Capterra, here's what SweetProcess customers are saying.
Our Customer Success Stories
Synergy billing is a revenue cycle servicing company that performs billing operations for federally qualified health centers and community centers across the US.
They build best practices and create strict adherence to processes, and serve companies that deal with a large degree of compliance.
Their job's credibility is essential. Otherwise, doctors won't get paid, and Americans will lose access to healthcare.
Before finding SweetProcess, the team at Synergy Billing used manual recording for processes, and this was slow and often led to having unnecessary multiple versions of the same document. The outdated versions confused the user and took more effort when solving problems.
With SweetProcess, the team now has a standard format for every document they create, so everyone in the operations team knows what to do and the tools to perform their tasks efficiently.
SweetProcess allows the team at Synergy billing to easily create procedures and processes and enables them to create and assign tasks to team members quickly.
It also provides the data to confirm accuracy. For instance, if a task is assigned to a manager to approve, it shows whether or not that person reviewed the document.
Megan Tully, director of business process management at Synergy Billing, said: "SweetProcess gave us the ability to have a standard format for every document we create, so everyone in operations knows what to expect from the documentation they use as tools to perform their function.
"It gives you the tools and resources to scale and the data to make data-driven decisions for the company." 
The Implant & Periodontal Therapy team is a healthcare company committed to providing comfort, compassion, and exceptional patient care. 
They are proud to offer the most advanced treatment options using state-of-the-art technology and experience to provide patients with the highest periodontal care possible.
Before using SweetProcess, the company struggled to expand because every process rested on one person. It became absolute chaos to manage tasks and activities, and when they launched in three outlets and over 25 employees, the problem became evident, and they needed help fast.
They depended on a single expert to perform specific tasks, which brought about lots of phone calls between offices and other outlets trying to get help from the expert. 
With SweetProcess, the problem was solved. All employees were able to get answers to all their questions, and they could navigate the platform without asking for help. In addition, they have all information accessible so that employees train and support new hires conveniently.
SweetProcess allowed Implant & Periodontal Therapy to create processes and procedures that employees can use to perform their tasks efficiently. It also helped them to access information easily and train new employees.
Dr. Richard A. Rasmussen Jr., DDS, owner and president of Implant & Periodontal Therapy, said: "SweetProcess is basically a very standardized, online, true operational manual for any kind of business."
Julie Matos, dental assistant at the clinic, said: "SweetProcess makes information easily accessible, and when we have any questions, or we want to learn how to set something up, see what we need and also for training purposes, it's right there on SweetProcess, with instructions and photos included, which in my opinion is the best part.
"It takes a lot of weight off our shoulders. If someone has any questions and can't get to them at the moment, we can refer them to SweetProcess to look through the process and steps."
King Law, a full-service litigation firm, started from one office. But as the company grew into 14 different locations, its procedures were everywhere, and everyone was doing things in their way. This caused them to execute tasks non-uniformly. 
Before SweetProcess, staff at King Law would send long email chains to get expert opinions on legal issues, and this took time and was frustrating as it affected the speed and accuracy with which legal matters needed to be handled.
Also, their policies were in different places, and their email boxes were cluttered. Everyone had different ways of handling tasks.
With SweetProcess, the King Law team could have their policy in one place. Now, they broadcast the policy to all employees, and everyone does their tasks in the way approved by the company. Furthermore, employees now understand how to do things without waiting for other attorneys.
Brian King, the managing partner at King Law, praised our platform, saying, "SweetProcess is the only program I'd start a law firm with today. If you have the right procedures and you combine that with the right team, there's nothing that may limit you to how far and wide that you may go."
John Hutchens, senior associate attorney at King Law, said, "With SweetProcess, we don't have to wait for that lag time that comes with feedback. Instead, you can simply go to SweetProcess, see steps, and execute accordingly."
Customer Case Studies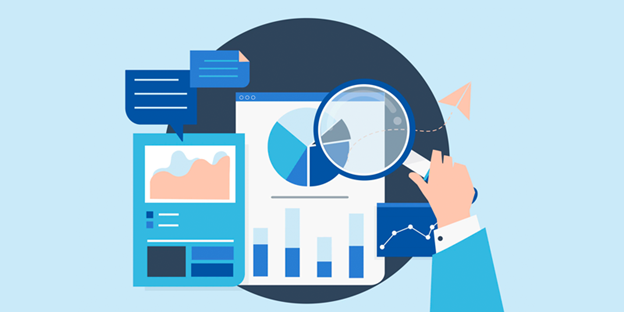 We have over 50 case studies by companies that have successfully used our platform. These companies range from healthcare, legal, manufacturing, education, and technology firms.
Clayton Panzeri, the senior customer service lead of ClickFunnels, felt pressure to manage a customer service team of 40 people and ensure everyone was on the same page.
At that time, ClickFunnels' biggest goal was to systemize the company and increase efficiency. However, they wanted a simple solution that they could start using fast without going through any learning curve.
By using SweetProcess, Clayton and his team became very efficient, had a lot more time to help other departments, and were not limited to their tasks alone.
In his words: 

Jennifer Schneider, chief design officer at pLink Leadership, understands that ​​a single piece of software is unlikely to provide you with all the necessary tools. So you're better off with a tool that allows integration with other tools to help streamline your operations.
pLink Leadership's big picture was to scale their business and diversify as much as possible. They wanted a system to access Google Drive without necessarily opening Google mail. They also wanted a situation where a prompt on SweetProcess could cause a trigger on third-party tools like Trello.
Jennifer and her team started using SweetProcess, and she found it simple to integrate with other business tools.
In her words: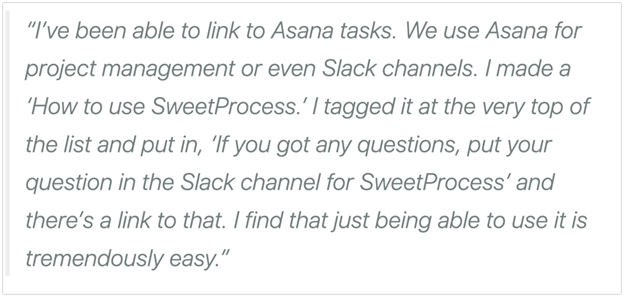 Don Houk, president at Next7 IT, explained how SweetProcess helped them achieve quality onboarding and training in that never-ending process of every business. 
Their team needed an effective workflow system to document their processes for optimal performance.
At that time, they used a tool that helped them create procedures but got lost on the computer whenever they needed to use it.
As if that wasn't bad enough, a task would be completed, only for the employee to find out that he had used the old procedure.
Thankfully, SweetProcess showed up for them.
Don and his team reduced operational setbacks by creating detailed procedures that boost employee productivity.
In his words: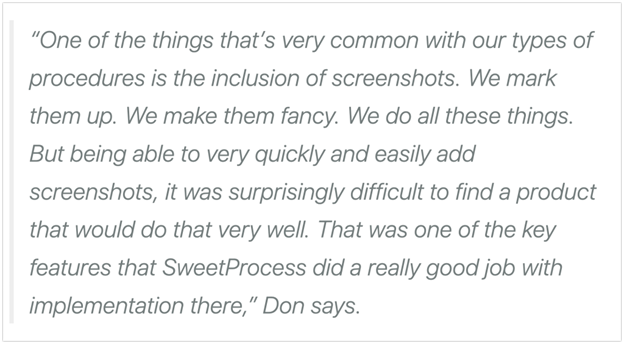 Perry Beebe, managing director at All Residential Real Estate, felt the need for operational consistency. 
All their procedures and processes were paper-based checklists, shallow and volatile. The documents were not in-depth, and they were quick to misplace.
SweetProcess allowed them to streamline their business operations.
The team at All Residential Real Estate created a list of tasks that employees needed to do, with clear and detailed instructions on how they were to execute the tasks.
SweetProcess eliminated its paper-based checklists and brought about well-detailed procedures, including videos and screenshots.
In his words: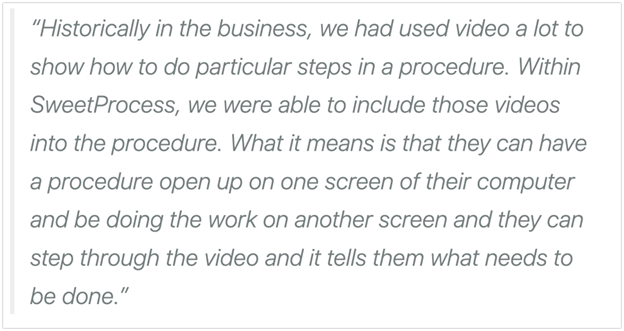 At All Residential Real Estate, SweetProcess' knowledge base feature allows the organization to distribute knowledge across the organization for consistent results.
Videos made this possible as Perry discovered that they are very effective at communicating information across the team, so he incorporates videos in procedures on SweetProcess to achieve consistent results.
At Thimbleberry Financial, Amy Walls, president and financial advisor, explained how documentation on SweetProcess worked for them.
Their old documenting methods on Microsoft Word worked until they started having good turnovers. After that, the team couldn't keep track of their activities again, which led to chaos in the system.
SweetProcess helped Amy and her team create documentation that meets the mark, spots errors, and enhances users' work by giving them all the necessary information.
In her words: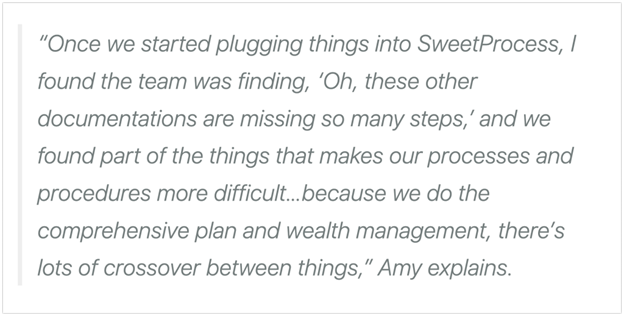 SweetProcess helped Thimbleberry Financial to spot the inadequacies in their processes so that team members have all the information to complete their tasks.
Katie Sullivan, marketing and customer experience director of Preferred Home Services, stated how SweetProcess frees her tons of minutes every day.
Katie provides guidance and answers questions whenever her colleagues are confused about tasks. SweetProcess helped Katie's team to find headway and get unfamiliar tasks done.
In her words: 

It is usual for team members to seek guidance when documentation is not adequate. However, instead of asking numerous questions, SweetProcess provides the team at Preferred Home Services some independence. 
The effective process and procedure documentation save time, so no one needs to explain things to them repeatedly.
G2 Reviews about SweetProcess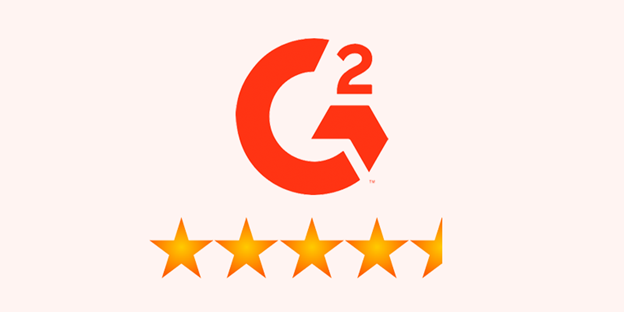 Here's what customers are saying about SweetProcess on the platform.
Joe K., a digital campaign manager, mentioned on G2 how SweetProcess is the best new hire and existing training platform he's ever discovered.
Eileen C., a marketing and operations manager, mentioned that SweetProcess is an easy-to-use organizational software with almost no learning curve.
Another reviewer who works in financial services explains how SweetProcess holds him and his teammates accountable for delivering their tasks on time as required.
Twitter Reviews about SweetProcess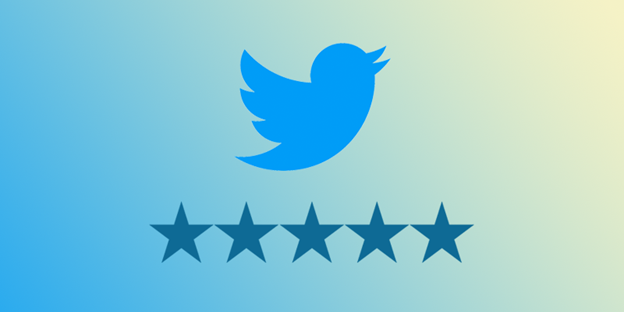 On Twitter, SweetProcess has lots of mentions. Business owners, entrepreneurs, and multinational brands share how SweetProcess has helped them document their processes and procedures.
Here are some of the reviews.
Bean Ninjas tweeted how SweetProcess can help businesses explain company cultures and workflows and improve productivity. 

Another brand, Websults, mentioned that SweetProcess is an excellent tool for documenting processes and tasks. In addition, they emphasized that it's incredible for cutting down training time and mistakes.

On the Gravitas Impact Premium Coaches platform, Mike Mirau said about SweetProcess: "It's simple, it's intuitive, and it allows you to diagram your process visually."

Aside from big businesses, many small business owners have captured value in terms of time, effort, and money using SweetProcess.
Here are some Twitter reviews from them:
Kelly O'Brien, senior content designer at HubSpot, was blown away when she tried our service. She immediately pronounced us her latest software crush.

Sylvia Adams, a digital marketing consultant for small businesses, told her followers how SweetProcess could help them eliminate that business bottleneck and the headache of training new employees.

Immediately after Warren Gibbons, who is a business owner, started using SweetProcess, he tweeted how he's using our platform to systemize his process. "Very cool," he wrote. "You should too."

ThisTechnologyThing also tweeted about SweetProcess's automation. They tweeted, "Use SweetProcess and automate what annoys you."
Does it annoy you or seem a time waster when your employees do things wrong or ask questions about how to carry out a task?
If so, you should document your processes and procedures on SweetProcess to clarify all process ambiguities. 

Brilliant Affiliate started using SweetProcess and tweeted that it is awesome, easy to use, and affordable.

Uniformly doing things is essential for educational organizations, especially in schools. This is so that stakeholders don't accuse you of being biased. 
Michelle Nezat, a podcast host, tweeted that at the school she attends, they are systemizing their processes using SweetProcess. So you can use SweetProcess in schools too.

Kelly Roach, a business consultant for entrepreneurs, asked her followers about their favorite tools for managing their business. And she mentioned that she likes SweetProcess.

Quita Gulley, a business strategist and analyst, also tweeted: "Looking for a tool to help you create systems in your small business? Check out SweetProcess."

At SweetProcess, our customer experience is excellent. We've lost count of the number of "impressed" our customers used to qualify us on Twitter.
Nathan Gotch (founder and CEO of Gotch SEO), Monica Rivera (a realtor), and Devesh Khanal (co-founder of Grow &d Convert) are some clients who used that word for us.
Here are their tweets: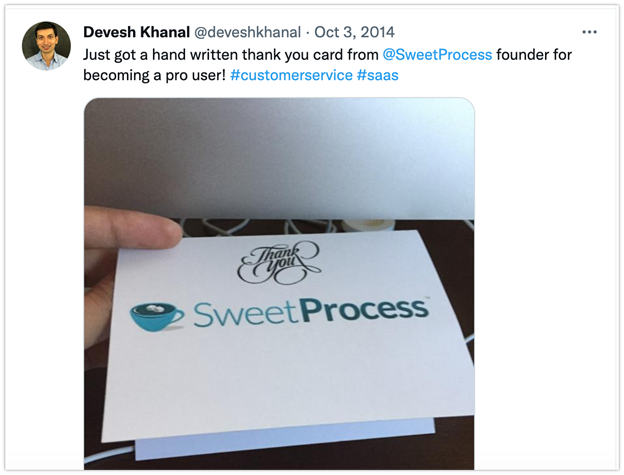 And lastly, Steven Mulkey, a college pastor, mentioned that our service is amazing, and told his followers that we thanked them for using our service.
We'll thank you too if you subscribe to our service.

Core Features and Use Cases: Why Customers Prefer SweetProcess Over Other Standard Operating Procedures (SOPs) Software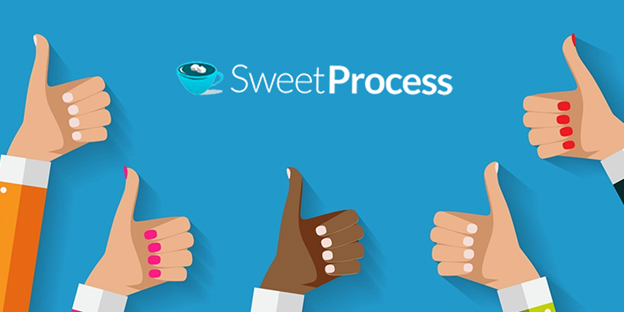 We built SweetProcess with features that make creating, assigning, and monitoring documentation seamless. This is why customers use us as their SOP software of choice.
Below are some of our core features that you might not find in other tools. 
Intuitive and Easy to Use
You need zero experience to use SweetProcess. With a few clicks, you're already creating documentation and assigning tasks to your employees.
From the SweetProcess dashboard, you have the simplest navigation to achieve everything from creating procedures, processes, policies, and adding tasks and members to managing tags.
Also, you can access SweetProcess from anywhere and work on your standard operating procedures in the cloud.
Here's what the SweetProcess looks like once you sign in:

For instance, if you want to create a task, you just click on "Tasks," and it will direct you to the task section, as shown in the screenshot below:

From there, you can assign and track tasks assigned to your employees.
Integrations With Other Apps and Software
By integrating SweetProcess with Zapier, you can plug in as many apps as possible to help you tailor it to some specific business use cases.
Using Zapier can allow you to do something automatically when an event happens inside SweetProcess.
For example, if you want to create a new task in SweetProcess every time you send an email with a specific subject line or from a specific person, instead of entering the task data manually, Zapier will do all the heavy lifting in the background and automatically create it for you.
Our team created a detailed guide on how to integrate SweetProcess with Zapier. You can find it here.
Document Procedures, Processes, and Policies
With SweetProcess, you easily take your job knowledge out of your head and place it in the hands of your team. In addition, it allows you to document step-by-step procedures.
Not only that, but it also allows you to keep your company's policies in the same place as your procedures and processes. And you can make an overarching workflow by combining multiple procedures.
Creating this documentation on SweetProcess is not rocket science. Just click on documents, procedures, or processes as you require, then start creating the documentation.

For instance, clicking on "Processes" will direct you to the page shown in the screenshot below.

You can create processes, search for other processes, and assign processes to your management team to review.
Organize and Find Documents Easily
SweetProcess provides a seamless experience when you organize and find documents in your flood of created procedures.
The platform is designed with the intuition that allows you to collaborate and refine documentation for your business growth.
With the search tool highlighted in the screenshot below, you can find and organize any documents and filter by tag, team, or create a custom filter.

Assign and Track Tasks Based on Documented Procedures or Processes
Generally, tasks are assigned to team members or departments. However, SweetProcess allows you to assign and track tasks based on specific documented procedures and processes.
For instance, if you've already created a procedure for channeling certain raw materials on the production line, SweetProcess lets you assign that procedure by team or individual. This is important so you can easily transfer the same procedure to another team when the previous one reshuffles.
Also, it allows you to convert your procedures and processes into actionable tasks for your employees and teams to complete, as well as to keep track of each step as it is completed.
On SweetProcess, here's how you can assign tasks:
Simply click on "Tasks," then "Assign Task."

Monitor and Track the Progress of Tasks Assigned to Users
As a team lead or line manager, keeping track of all the tasks you've assigned to your team is difficult. This will be worse if you're struggling with the work-life balance.
SweetProcess just made your life easier with the progress monitoring and section feature. You no longer have to stress when you ask yourself, Did Joshua finish the weekly brochure design? Or What stage is David in the customer retention training program he's designing?
You can easily log on to your SweetProcess platform, likely from your phone, and find the answers as you can track the latest activity or look back in the history of any task or procedure.
From your SweetProcess dashboard, click on "Tasks." Then click on the task you want to track or monitor.

On the next page, you will see a countdown line to track how much of the job has been done. The screenshot below shows an example of an overdue task that has not been started.

In this case, you can immediately reach out to the employee and inquire about the stage of the task. 
Import Existing Procedures and Policies
If you already have your procedures and processes written on another platform and you're migrating to SweetProcess, importing them is seamless.
In a few clicks, you'll move all your documentation to SweetProcess.
To achieve this, you'll click on "Procedures," "Processes," or "Policies," depending on the type of documentation you want to upload.
After that, you'll click on the inverted arrow beside "Create Procedure," as shown for the procedure in the screenshot below, then click on "Upload document."

Once done, the next page will prompt you to import the document.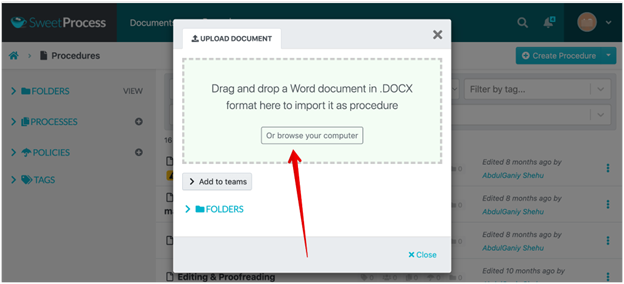 Create Process Maps and Flowcharts Automatically
SweetProcess removes the brain drain of having to create processes and procedures and going back to read them one after the other.
It automatically creates beautiful diagrams that will bring your procedures to life. That way, you get a pictorial view of your process, as one task leads to another.
Also, it allows you to explore every decision and step in detail and easily spot errors.
When creating a process, you'll see on the left side of the platform how each process builds and translates into a beautiful flowchart, as shown in the screenshot below.

Export Documents in Different Formats
SweetProcess lets you export documents in different versions. For instance, an expert comes to repair a line in your production line and needs to test the system.
Instead of adding them to your SweetProcess account to know how your entire system works, you can easily export the exact document they need into a Word or PDF format and share it with them while they go ahead with the test.
To do this on your SweetProcess platform, simply go to the "Procedure," "Process," or "Policies" that you want to make available offline.
Then navigate to the "Actions" tab, and click on "Export," as shown in the screenshot below.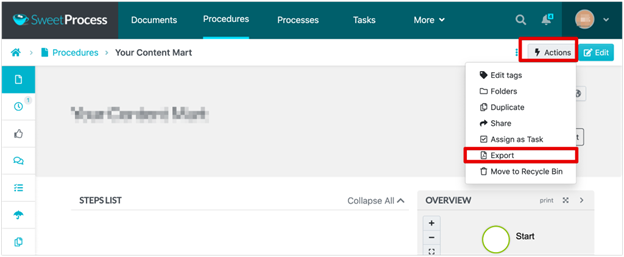 Create a Knowledge Base for Employees and Customers
With SweetProcess, you can create a knowledge base for your employees and customers. It allows you to make a beautiful knowledge base out of your existing procedures and policies so that your team and customers can get a response to their queries without directly getting in touch with you.
The SweetProcess knowledge base has features that include search, feedback forms, and tracking.
To create a knowledge base on the platform, click on "More," then "Knowledge Bases."

On the next page, click on "Create Knowledge base," as shown in the screenshot below.

Supports the Version History of Documents
SweetProcess supports history versions. This provides you with the details of who and what changes were made on a document. This will let you know the updated information on documentation and who approved it.
To find the history version on documentation, simply click on the documentation and go to the history version icon on the left pane.

You Can Become Our Next Success Story: See SweetProcess in Action
Though many SOP tools exist in the market, SweetProcess stands out in many areas.
You can't imagine the ease SweetProcess offers when you turn your procedures and processes into actionable tasks.
The intuition is so great that you'd likely do that with no effort, and your staff and teams can follow easily.
This is because the platform has no learning curve. All users do is log in and start using it.
It often happens in the workplace that employees get intimidated when you ask them questions about completing their jobs.
With SweetProcess, you don't even ask; you just track as every step is checked off until the employee completes the task. 
Also, it reduces the error in results as you can correct new employees when they're going down the wrong path in completing a task.
SweetProcess also tracks highlighted changes for every change made to every procedure, process, and policy.
That way, you can know when changes are made on such important documentation and if you, as the business owner, feel otherwise about them, SweetProcess allows you to roll back to any version at any time.
SweetProcess also allows you to give every teammate the ability to suggest improvements and give managers the power to approve them.
That way, it lets you work as a team to update procedures, complete tasks, discuss changes, and submit them to a manager for approval.
You can also create beautiful diagrams that will bring your procedures to life, allowing you to explore every decision and step like never before visually.
SweetProcess is an excellent tool for businesses to centralize all business processes and bring everyone on the same page.
Want to see the tool in action and build your company's first procedure? Get started today by signing up for a 14-day free trial. No credit card required.