Top 10 Organizational Chart Software Programs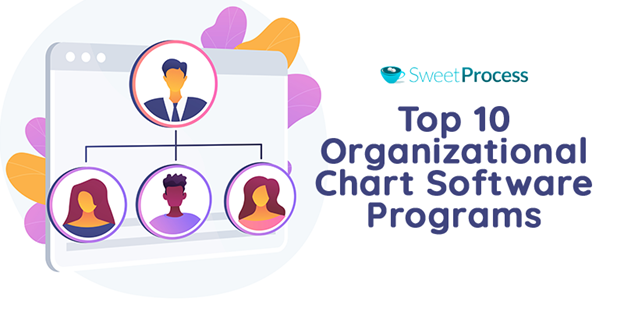 The humble organizational chart is often considered as a kind of obsolete diagram that still remains in the project process. It shows where everyone's at, and that's about it.
Most new recruits will take one quick look at their new employer's organizational structure and move on. Employees may even use the chart to remind themselves of where they can be with a bit of hard work and luck.
But is that really all there is to an organizational chart?
Modern cloud-based organizational chart software not only enables companies to visualize their structure in creative ways but opens up new productivity possibilities that were not previously available. Dynamic and changeable modern enterprises need to change their organizational structure on a dime.
Sixty percent of employees surveyed also feel that their industry is affected by unpredictable market conditions. Companies that embrace agile methodologies can reduce their time to market by around 40 percent.
Cloud-based tools, such as the ones discussed below, form a critical part of the new normal. They allow for more productive business practices at far lesser costs.
Let's take a look at what an organizational chart software is and which ones might be a good fit for your specific needs.
What is an Organizational Chart?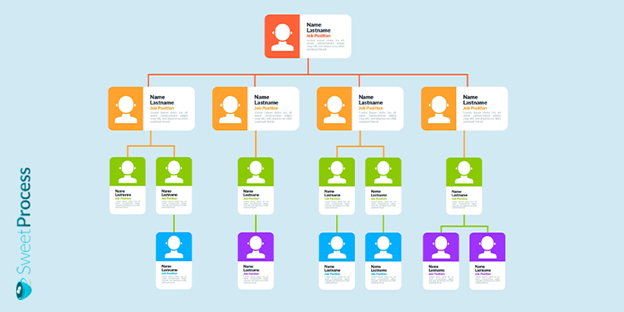 An organizational chart is a graphical representation of an organization's internal reporting structure. While it may seem like a simple illustration, the complex nature of modern enterprise often requires elaborate charts that can depict different inter-relations between different positions.
In its simplest form, an organizational chart will show a top-down hierarchy displaying all the management levels and positions as well as responsibilities. Different departments within a company can have their own organizational charts. However, departmental organizational charts usually are designed such that they fit in with their parent organization's structure.
While humans have been using charts to depict relationships for quite some time now, it wasn't until the latter half of the 19th century that they saw use in businesses. General Daniel McCallum of the Erie Railroad Company is credited with creating the first organizational chart when he was made general manager. When tasked with overseeing 500 miles worth of railroad operations, he realized the old ways of doing things wouldn't suffice. His organizational chart, therefore, took into account multiple new positions and management methods.
Organizational charts saw their next iteration take shape during the early technological era in the 20th century. In 1917, Herman Hollerith of the Computing-Tabulating-Recording (CTR) Company came up with a more hierarchical version of McCallum's design. Hollerith's design became the basis for organizational charts as we know them today.
Types of Organizational Charts
Four types of structures in organizational charts are widely used. These include:
Hierarchical Organizational Charts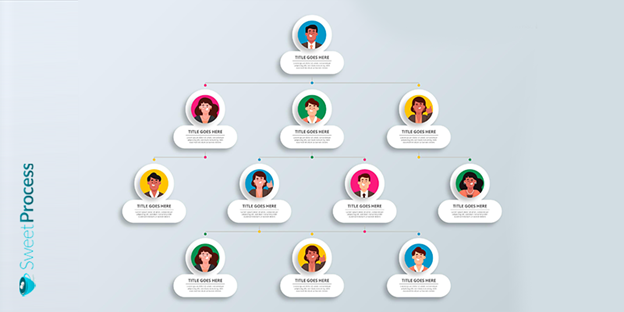 These are simple, pyramid-shaped charts. Hierarchical structures place people with the most decision-making power at the top with one or more management levels.
Most organizations that follow a hierarchical structure have a general manager, director, or CEO at the top, with department managers who answer to them. The department managers have teams that are deputized with projects and tasks.
Matrix Organizational Charts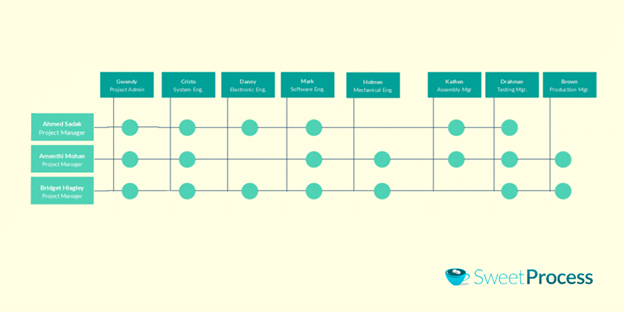 In larger organizations, specialized projects often require cross-departmental collaboration. In such cases, a matrix-like organization chart is a better fit than a simple hierarchical one.
A matrix-type organizational chart allows for project managers to command teams that span entire departments. While traditional roles like marketing, finance, product development, and sales have their own managers, people from each department can collaborate on different projects and answer to a specific project manager here as well.
Divisional Organizational Charts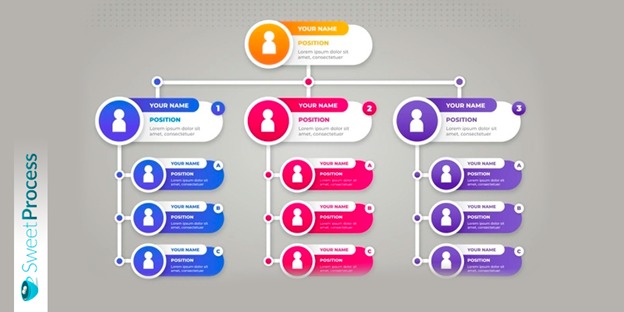 Larger companies that span entire countries or even continents usually require divisions that specialize in creating value for specific geographies, tastes, or requirements. These divisions may have entirely different organizational structures and management styles.
Flat Organizational Charts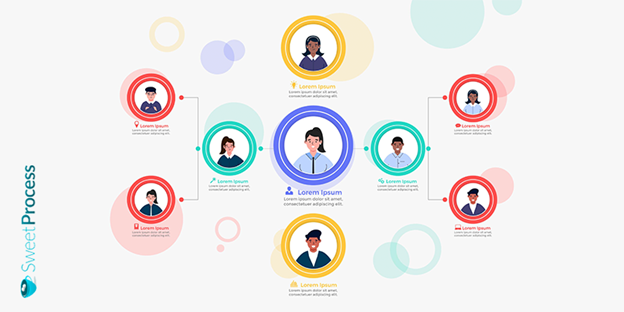 Flat structures do away with, or minimize, hierarchies for want of organizational fluidity. Flat organizational charts are becoming increasingly popular as modern enterprises often have to pivot on a dime to respond to a changeable marketplace.
Concepts such as Agile and DevOps are versions of flat structures that allow for employees to move between teams and corporate positions depending on where their skills are needed at the moment.
Components of an Organizational Chart
While the overall structure of an organizational chart may vary from company to company, it should have some fundamental elements so that it can get the idea across.
Chain of command: The basic hierarchy that illustrates the line of authority within an organization.
Span of control: The number of employees that report to a manager.
Departmentation: The number of departments or job titles required to complete a function, task, or service within an organization.
Delegation: An illustration of who reports to whom and what tasks a manager can deputize to an employee.
Job design: Task descriptions that enable the fulfillment of a process or procedure.
In addition, modern organizational charts can also include pictures of employees and add personal details such as email addresses or phone numbers.
How to Know if You Need an Organizational Chart Software in Your Company
While the importance of an organizational chart is undisputed in any company and can be created freely, charting software is an investment. Any product you purchase will be a recurring expense. You need to be sure whether or not it should be added to your tech stack.
Here are some indicators that may help you understand whether you need an organizational chart software:
Your market is highly dynamic: Although the speed of business change applies to virtually every company now, SaaS, IT, and tech companies will be very familiar with it.
A high rate of change should be easy to identify in your company:
Are your teams constantly juggling between different products or product features?
Do you have to assign and reassign people on a regular basis?
Do your product/services frequent updates?
Are you using agile, DevOps, or scrum project management methodologies?
If you answered yes to any of these questions, then an organizational charting software is a must for you. A rapid business environment demands a nimble work culture, which means you need to constantly update your organizational chart.
Your company is growing fast: Small companies with fewer than ten employees or startups can easily make do with manual charts. However, manual charts can become painfully tedious to update and maintain once your company has grown past a certain stage.
If your organization has grown to over 100 employees, then you need a tool that can allow everyone to find accurate information about their colleagues as quickly as possible. An organizational chart software can prove invaluable here.
You wish to simplify your onboarding process: Onboarding new employees can be one of the most tedious tasks. However, a good onboarding process can result in an 82 percent increase in employee retention.
Organizational chart software can help you bring new hires up to speed. All you have to do is create an account for them and give them access to your company's chart.
Most charting tools feature interactive and intuitive interfaces that can help employees understand their positions, who they answer to, and what their responsibilities are. A new recruit can also click on a position to get more information about it.
You want all your structural and organizational data in one place: As your company evolves, so does its knowledge. In most cases, a company's corporate knowledge exists in disparate silos and is rarely a unified whole. Employees also have a hard time finding relevant information when they need it.
An organizational charting system is designed from the ground up to help you collate all your structural information in one easy-to-sift database. Since data and knowledge of each position is recorded as per your corporate hierarchy, not only can you update it easily, but employees can find relevant information in a few clicks.
You want to see a clearer picture of your organization: A simple hierarchical diagram can only illustrate how power and responsibility flow through your company. However, organizational charting software can help you see more. Since these tools are cloud-based and come with third-party integration, they can pull information from other services on demand.
For example, you can integrate your organizational chart software with your payroll and HR software to see a snapshot of the company-wide payment structure as well.
You want to demonstrate your organization's culture: A simple flowchart can only go so far to show off your company's way of doing things. An organizational charting software, on the other hand, gives you more creative license. These tools come with many templates and editing features that let you not only create a chart but accentuate your culture as well.
Does your company like to keep it casual and have a carefree demeanor? You can show it through your organizational chart. Want to emphasize your organization's proud tradition and history? There's a chart template for that too.
You want to take collaboration to the next level: Modern cloud-based software comes with many collaboration tools that allow people to exchange ideas right on the chart itself. Some of the tools have their own internal messaging as well.
Your company works remotely: If most of your employees are located in other cities or countries, then they will have a hard time understanding your company structure. An organizational chart software can prove invaluable to not only onboard new remote employees but help everyone stay on the same page.
Features of a Good Organizational Chart Software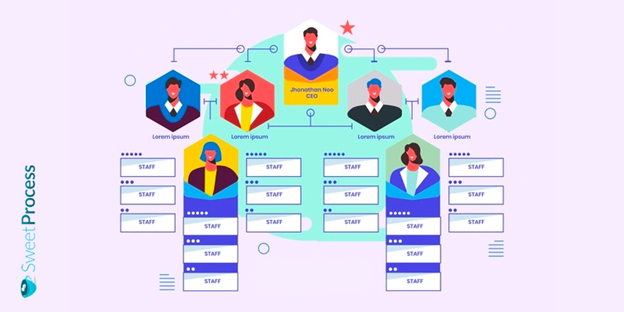 Not all organizational chart software is created equal. Some tools offer a lot more for your money and have features as well as design elements that can help you create better, more collaborative charts. Here are some elements you should look out for:
It should show a clear illustration of how authority flows downstream
Each software has its own way of illustrating an organizational structure. Even though most will offer a decent enough snapshot, you may find some methods being better suited to your needs than others.
This is because you may have to show hierarchies and information that may be represented better in some tools over others. The best way here is to try out as many charting tools before deciding on which one to go for.
It's simple to use
Cloud-based tools were once touted for their simplicity and straightforwardness. However, as the market got denser with more products, companies decided to bloat their offerings with pointless features.
The best organizational charting tools continue to maintain a simple user interface that doesn't bog you down with needless details. You'll only need basic shapes to start.
More advanced features are ideally unlocked only if needed, and some tools may offer them at a premium. In other words, the interface should be less like Adobe Illustrator and more like MS Paint.
Onboarding requires as few steps as possible
A good organizational chart enables smooth onboarding. Still, what about the tool that you're going to invest in? If it has a complex signup process, and the new recruit needs to complete a week-long course to use it, then it will sour the onboarding experience.
Ideally, you want a tool that requires only an email address and name for signup and one that your new recruits can understand with minimal training. All the apps and software covered below are fairly simple to use and also have extensive documentation.
Offers multiple delivery models
Even though downloadable tools do have their place, they present several challenges too. For instance, any chart or file created on a Windows- or Mac-based software needs to be shared via email or an online file-sharing service. This can lead to versioning or duplication problems where it becomes difficult to trace required files.
A web- or cloud-based organizational charting software can be accessed remotely and allows for all versions of all files to be located on a central database. Cloud-based software can also be accessed from anywhere, so are ideally suited for remote operations.
It enables secure collaboration between employees
Part of the advantage of having a service hosted on the cloud is that it enables secure communication between a remote team. Cloud-based enterprises usually have far more robust security measures in place than on-premise systems.
Most, if not all, of the organizational chart software discussed in this article, use multi-factor authentication, 128-256 bit encryption, internal and external firewalls, redundant data-backup systems, disaster management, and anti-malware security systems.
Questions to Ask When Choosing an Organizational Chart Software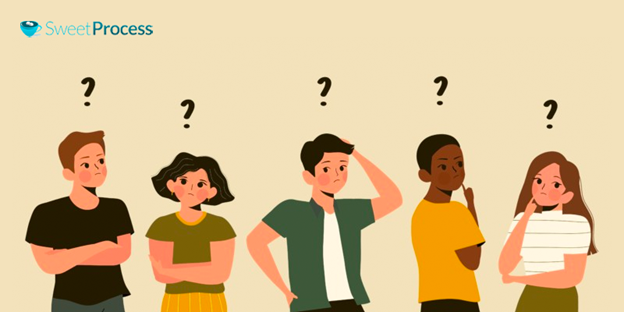 There are quite a few organizational charting tools available, and most of them offer decent performance. But there are a few questions you should ask yourself before deciding on which ones to try.
Does it have chart templates?
Creating an organizational chart can become very confusing very fast, particularly if you're new to it. This is why chart templates provide a good starting point.
The best charting software comes with at least a few basic templates of all major structural types. The more thorough tools go even further and offer creative designs that you can use with minimal editing.
Do a Google search for "organizational chart templates site:company.com" without the quotes to see if they have any. Replace "company.com" with the software website.
Does it have an easy-to-use, drag-and-drop interface?
The simpler a tool is, the better it is. The best organizational chart software has intuitive, drag-and-drop user interfaces which require minimal instructions. Users can take existing templates and modify their structure, color, fonts, and styles to suit their needs in as few steps as possible.
How many shapes and icons are included?
Simple boxes and arrows are, well, simple and may not help you put together that creative chart that you want. Good chart software offers a good selection of diagram shapes and iconography so that you can create a chart that's truly unique to your company and its culture.
Can it create charts by importing data?
In all probability, you already have a lot of data on employees that you'd rather not recreate all over again. An organizational chart software should be able to import data from popular formats such as Excel, CSV, and HRMIS databases and turn it into a chart.
How much chart customization does it offer?
Since your chart will be used by employees at all levels of your organization, your chosen solution should allow for enough customization to enable smooth operation. Some options can include brand-specific art, employee pictures, access restrictions, confidentiality, and people cards with personal details.
In effect, a good organizational chart software should be like a watered-down internal social media where teams and people can collaborate.
How good is its customer support?
This one's a no-brainer but you'd be surprised how many services skimp on customer service to keep their operational costs down. Customer support is particularly useful for products that allow users to customize the software on a more technical level.
For example, you might want to set up your chosen organizational chart software on a private cloud which will require technical support from the service provider.
How many tools and services does it integrate with?
Much like importing data, integration with popular applications and services can help you create more elaborate organizational charts. The best charting tools out there can integrate with tools such as Google Drive, Salesforce, Calendly, FreshBooks, etc.
Does it have a free/trial version?
The software should at least have a seven- to 14-day trial or feature-restricted free version so that you can try it out.
How is the software accessed?
How you prefer to access your charting tool will depend on how you work. For example, if your company works remotely, then a web-based delivery system will be better than a downloadable software client that needs to be installed on a computer. But, if you prefer to keep your data on-premise, then a downloadable, or private-cloud based version, will be a better option.
Each delivery model comes with advantages and disadvantages. Web and public cloud-based software can be accessed from anywhere, but are more susceptible to intrusions should an employee's device be compromised.
On the other hand, downloaded software can be managed in-house and will help you keep all your data on-premise. But your IT team will be responsible for its upkeep and version control and chart updating can become an issue as it will be hard for everyone to stay on the same page.
The Best Organizational Charting Software Out There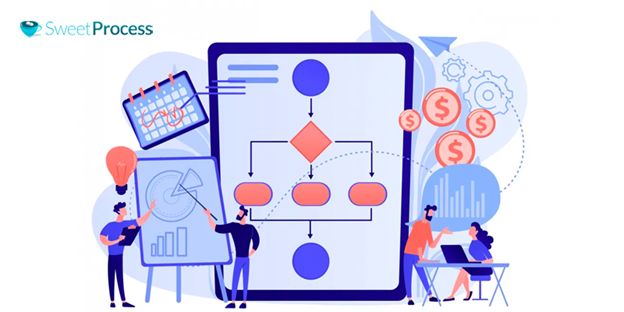 There are quite a few options out there that can help you create an awesome chart for your company. But not all tools are created equal. Some software are dedicated to organizational charts only while others offer them as part of a more exhaustive list of flow charts.
We've gone through all the tools with good charting features, and have a list of 10 options that offer the best bang for the buck.
Lucidchart
Features: Collaborative diagramming, data-in-context, integrates with almost every popular app, easy to scale your charts as your company grows
Price: Starts at $7.95/month
Free version: Yes
Lucidchart is one of the most used charting tools in the world, with 96 percent of all Fortune 500 companies using it. The company even boasts it has 15 million users in 180 countries.
While Lucidchart is primarily known for its exhaustive flowcharting features, its organizational chart section is by no means the product of an afterthought.
Lucidchart offers the same filters, data overlays and auto layouts. Upon signing in, you are taken to the charting editor which has a basic flowchart and shapes listed neatly on the left.
You will need to add "org-chart" from a drop-down list of shapes to add it to the editor. Once the org-chart option is available under the tools header, you can drag and drop it to the editing screen and start working.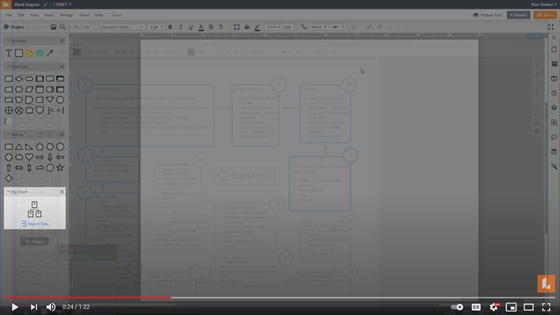 The great thing about Lucidchart is that it does a lot more than just organizational charts. So you can visualize other company processes and see how they work in relation to the organizational chart. Since you're working on a common editor, you have access to Lucidchart's entire shapes library for your organizational chart.
Lucidchart has particularly strong collaboration features. You can either use Google Hangouts, which is integrated into the editor, or use the in-built chat.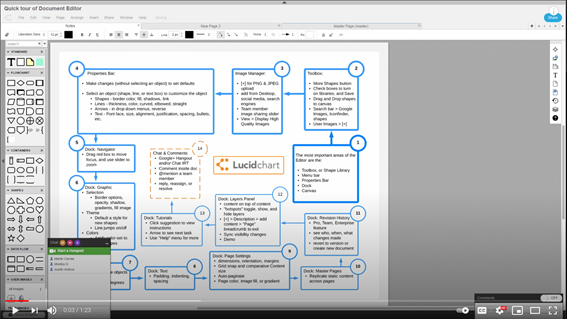 You can send invites to other members to collaborate on a particular chart. Once accepted, their name will appear in the Google Hangouts chat box on the bottom left. A chat can be done on individual diagrams, but you can also assign comments to particular shapes and tag people in it.
Creately
Features: Available in web-based, Windows or Mac versions, minimalist design, great collaboration tools
Price: Starts at $3.25/month/user
Free version: Yes
Like Lucidchart, Creately isn't restricted to just organizational charts, and covers as many bases as possible. Its user interface starts you off with roles rather than flowcharts and shapes. Once you're logged in, you are presented with the option to select templates based on a corporate function, such as marketing, finance, operations, HR, etc.
You can either go with a template from the drop-down list and edit it as you see fit, or start with a blank document. If you go the latter route, then you will need to go to Browse More Shapes > Business > Organizational Charts. This will open a shapes library on the left hand of the editor. You can drag and drop the shapes that you wish to get started.
Again, the default editor comes with basic shapes that are used in all flowcharting projects. Organizational chart–specific shapes are added to the bottom of the list. These come with a photo option and have name and position already added to the default shape.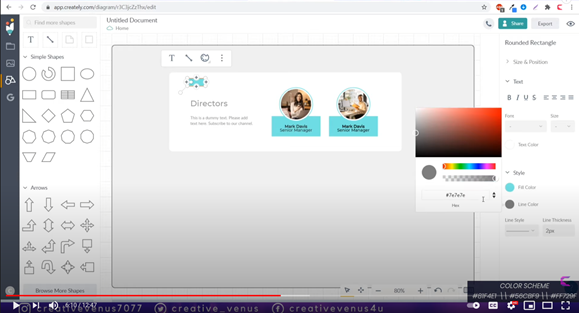 You can add photos and edit the names and titles from the shape card. The default shapes provided by Creately can then be used to create any manner of organizational chart, complete with brand-specific colors, logos, descriptions and positions.
Creately also makes it very easy for your team members to collaborate with each other. You can invite people to collaborate on a project through email and there's also a video-call button in the editor if you want to discuss things more personally.
Organimi
Features: Built for organizational charts from scratch, drag-and-drop chart builder, unique iconography and layouts, photo boards, private and public charts, smart charts
Price: Starts at $10/month
Free version: 14 days
Unlike the first two options, Organimi is purpose-built for organizational charts only, which means you don't have to bother with features and shapes that you won't need.
Organimi's laser-like focus on org charts means that it has a lot of features that are useful, and aren't buried under several clicks worth of options. Tasks like adding data to a name card, creating new fields, and sending out invites are all available right in the editor.
The software has a bigger emphasis on artistic design over other options, which is clearly evident in the number of color and shape options that it provides.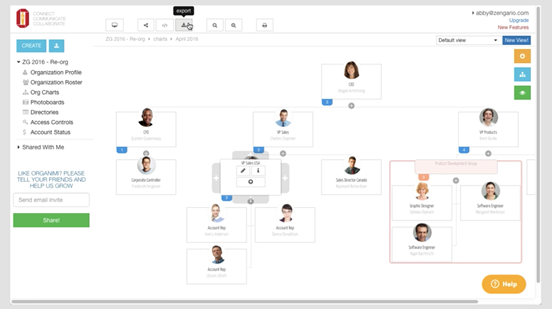 Starting with Organimi is easy. After signing up, you need to add in your organization's name. Next, add in each member either manually through the card provided or by importing data from Excel, CSV files, Google Workspaces, LinkedIn, or Salesforce into the suite.
Once all company employees have been added to Organimi, you can either have the software create an organizational chart automatically from the data, or you can create a chart manually by using the shapes, boxes and templates provided.
Data in each position card can be customized to include any parameter. Organimi's photo board and directory tools are particularly useful for onboarding as they can show a company's entire workforce in one snapshot.
Finally, Organimi's premium concierge service basically lets you sit back while Organimi's team does everything for you. This will include everything from importing data, to figuring out how to present it and plotting it all on a custom-drawn chart.
SmartDraw
Features: Largest library of charting templates and symbols, CAD-like drawing abilities, custom SDK, great collaboration ability
Price: Starts at $9.95/month for single user
Free version: Yes
Earlier we stated that a good org chart software should be simple, like MS Paint. But there are some cases where more minute adjustments might be needed. If this sounds like what you're up against, then SmartDraw is what you're looking for.
The software is similar to Lucidchart and Creately in that it does a lot more than make organizational charts. But it's also one of the oldest in the market so not only is it more feature-rich, but the overall product is a lot more refined.
To create an org chart in Smartdraw, you can either use one of the hundreds of provided templates, or make one from scratch. To create a fresh organizational chart, you need to select the Org Chart option from the Popular Templates section.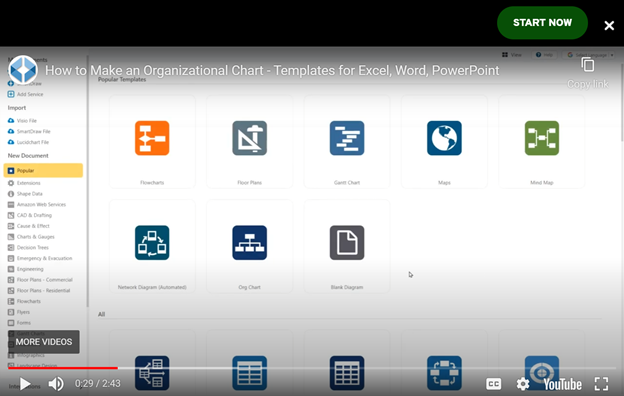 You will be presented with a basic two-level organizational chart. You can select the format for each of the boxes from the smart panel on the left side. Click on each box to add in personal information of a manager or employee. You can add in pictures from the smart panel and arrange the boxes by dragging them to the desired position.
SmartDraw integrates with MS Office, Google G-Suite and Confluence so you can import data and share your files directly through email, Excel, PowerPoint or Google Drive with just a couple of clicks.
The Org
Features: Easiest to learn, public charts allow for comparison and marketing
Free Version: Yes
All the charting tools discussed here help you create and manage your organizational chart for internal use. While you may show off your chart on your site or social media profiles, the tools themselves are designed to help you create flowchart for productivity only.
The Org, on the other hand, is all about showing off who you are. The editor itself is fairly simple and lacks any advanced shapes or collaboration features found in the other options. But you can create a simple, straightforward organizational chart and publish it online.
What will this help you do?
For starters, you can show potential new hires how you work. People interested in joining your company can get a quick snapshot of your organizational structure. Next, you can also compare your organizational charts with those of your competitors or other companies.
Finally, large companies may be better off having a public organizational chart rather than a private, hard to find one. Brands such as Tesla, Google and Amazon have their organizational charts published to The Org.
SweetProcess
Features: Document processes, procedures and policies; steps can be added to each as checklists and can include videos and/or pictures; enables training on the job
Price: $99/month for up to 20 members plus $5/month for every additional user
Free version: 14 days
Process documentation is an integral part of any organizational management effort. Without having clarity on how each business process within a company operates, the structure may fail to hold.
This is a crucial problem that many of the organizational chart software fail to take into account. Sure, you can add in personal information. But what about policy-, process- and procedure-related data that employees may need?
For example, let's say a new recruit has just joined your marketing department. You give them access to your organizational chart software and they quickly understand the reporting structure of the company and their team.
However, your charting tool itself cannot go deep into the processes that the new hire will be required to carry out. This is where SweetProcess can really help you out.
Being a process documentation system, you can record all your company processes, procedures and policies and turn them into trackable checklists. These checklists can be assigned to employees, and tracked by their manager through a dashboard.
Managers or team members with editing access can change the documents assigned to them. Version control itself isn't a problem here since all changelogs are saved to a central database.
Organizational chart software do offer a complete set of tools to create charts. But with the help of SweetProcess, you can add greater depth to each position and role. Employees can see both whom they report to, and what the details of their tasks are.
Canva
Features: Focus on graphic design means you can create more artistic charts, photo editing, over 250,000 templates, royalty-free photos, cloud storage, great collaboration tools
Price: Starts at $66/month/person
Free version: Yes
The cool thing about Canva is that it's more geared toward graphic design and art rather than organizational structure. You really have all the power of apps such as Photoshop and Illustrator all rolled into one.
But what makes Canva really stand out is that it also offers an org chart tool. While the chart editor itself has very basic drag-and-drop features, you do have the rest of the tools from Canva to really turn your org chart into a work of art!
You can adjust the tint, brightness, color, hue, saturation, etc. on each element to make an org chart that really speaks to your brand. It's hard, if not impossible, to create a chart that looks like this in any of the other tools:
Check out some of the other samples they have on their website. If you like a particular design, you can just edit it to create your own version.
Pingboard
Features: Rich employee profiles, cloud-based employee directory, away message tells who's working and who's not, one-on-one meetings, employee milestones
Price: Starts at $99/month/50 users
Free version: 14 days.
Pingboard is best thought of as an HR/team management app behind an organizational charting system. It certainly does come with a very easy-to-use org-chart editor, but its real value lies in the plethora of features it offers under the hood.
You can import data from any of the major HR systems, Excel or CSV sheets or IT systems. Pingboard creates an intuitive, easy-to-navigate employee directory which is automatically updated as you make changes to the source file. These changes are also updated to the org chart automatically.
Besides automated employee directory and charting, Pingboard also makes reaching out easier. Employees can also email, message, call or send a Slack message directly from the app. The app also has a rather ingenious flash-card game where the user is shown an employee card and asked questions about them.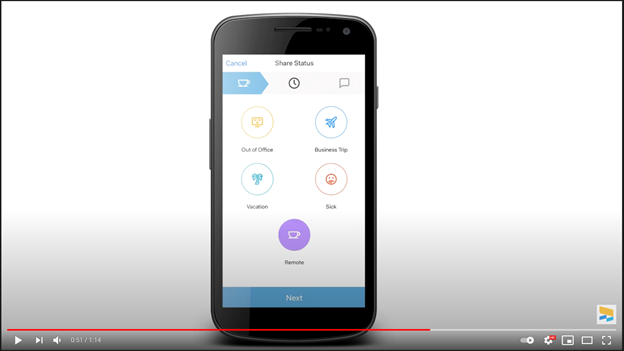 Perhaps the best feature Pingboard offers is its status update. Users can choose from Out of Office, Business Trip, Vacation, Sick or Remote to let their peers know whether they are available or not.
Gliffy
Features: Integrates with Atlassian marketplace, huge selection of templates, feature rich editor, easy to import and export data
Price: Starts at $9/month/user for a team of upto 9 people
Free version: 14 days
Gliffy doesn't come with any organizational charting functionality like the other tools on our list out of the box. The templates it provides are more for processes and procedures which can be modified to look like an organizational chart, if you wish.
So, why did we add Gliffy as one of the recommended software even though it's clearly not an organizational chart software? For starters, it is one of the most affordable options. If you don't want to spend a lot of money on managing an org-chart tool, then Gliffy might interest you.
Second, its lack of direct organizational charting options might even work in your favor. Gliffy does have a very powerful editor that lets you edit its shapes as you see fit. You can change color, add photos and any data you wish to any shape.
This means you're not restricted to the designer's thinking when making your organizational chart, and have more freedom to play here.
MS Visio
Features: Integrates with other MS products, offered as desktop or web-based app
Price: Starts at $5/month/user with Plan 1 (web-based app only)
Free version: 30 days
There's certainly an advantage to going for interfaces you're well acquainted with. For example, many of us grew up working with MS Word, Excel and Paint. The interface hasn't changed much and is pretty much etched into our collective unconscious.
So an app that provides required functionalities with the same UI has an obvious advantage—it doesn't require as much training as a brand-new product. This piece of wisdom certainly rings true for MS Visio. The software's interface, look and feel is instantly familiar, particularly the top tools panel.
Visio isn't geared directly toward org charts, but does offer them as part of a larger flowcharting solution. Its inbuilt integration with MS products really shines here. You can simply highlight the fields in an Excel workbook, and turn it into an org chart. Likewise, you can create charts straight from MS Active Directories as well.
Visio also allows you to create reports and data graphics. However, you will need to invest in MS Power BI, which is a business intelligence tool sold separately if you're interested in insights and analytics.
Why SweetProcess Is a Must for Any Organizational Charting Solution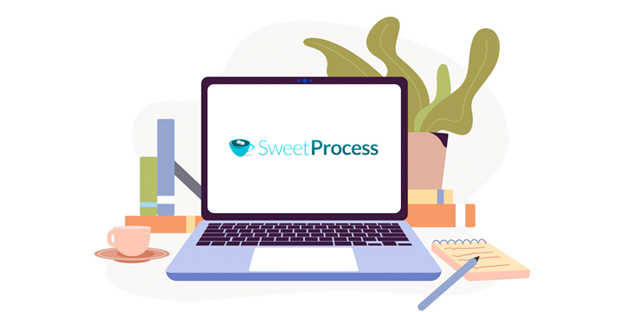 We've covered in depth why organizational chart software is nearly indispensable for any modern business. They offer a level of structural clarity that no other tool offers.
They are also able to keep up with fast-paced structural changes since managers and assigned employees alike can edit the charts as and when required.
However, a mere understanding of who answers to whom can only go so far as to enable organization-wide productivity enhancement.
So, while an organizational chart software can help someone find who they're looking for, its utility ends there. Often, the employee will require more detailed documentation and information to execute their tasks.
This is where SweetProcess can really help you out. In fact, usually it's the combined use of structural and procedural know-how that results in desired outcomes.
For instance, Joan Rosal of MultiplyMii Metro Manila discussed the importance of strategic planning and streamlined communications in her recent interview with us. MultiplyMii is an offshore staffing solution that aims to pair the best talent from the Philippines with the best employers around the world.
The task was made difficult by different time zones, expectations and communication problems, all of which needed streamlined structural changes. Even though MultiplyMii was catering to a range of requirements both on the employer and the prospective's end, they needed to be on the same page.
The importance of proper structuring was also evident in the case of Stone & About, a brewing company based in Australia. Maintaining their product's quality consistently was a primary concern of Thomas Parker, quality assurance and sensory coordinator at Stone & About.
Binders of Word documents aren't exactly easy to make sense of on the run, so Parker took it upon himself to overhaul his company's structural system.
He used SweetProcess to document each and every process. What really made SweetProcess stand out from the pack for Parker was that it can turn theoretical information into actionable checklists that can be assigned and tracked.
Finally, any online tool, be it process documentation or organizational chart software, is only as good as the strategy they support. Nowhere was this more visible than with how Bundren Painting used SweetProcess to streamline their communication.
Mike Fiorenza, COO at Bundren Painting, came up with a color-coded method of evaluating concerns where red means an activity needs to stop, yellow means things the company needs to think about doing, and green means things the company needs to keep doing.
Mike also explained how he used the four Ps, or people, performance, priorities, and problems on a scorecard to help his team perform better.
Conclusion
All the organizational chart software above make a compelling case. However, whether they actually belong in your company's tech stack ultimately depends on your requirements.
While they do, in fact, allow organizational charts to be more than they are through collaboration and real-time location-independent editing, let's not forget that they also carry a long-term price that you have to pay.
You can always go with a free version of any of the org-chart software mentioned above that offer them if you think your organization needs the capabilities.
Have you tried an organizational chart software before? If so, what are your thoughts, and did they add value to your company's efforts? Feel free to leave a comment below and let us know.