11 Best Daily Checklist Apps For Employees
Last Updated on November 7, 2023 by Owen McGab Enaohwo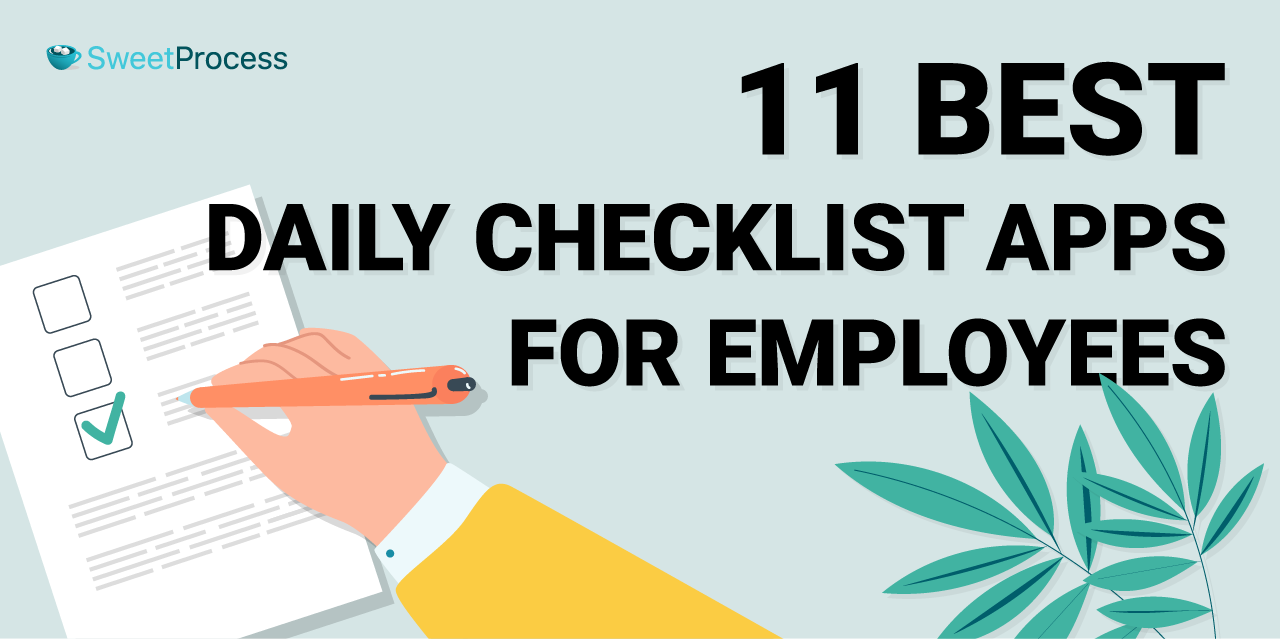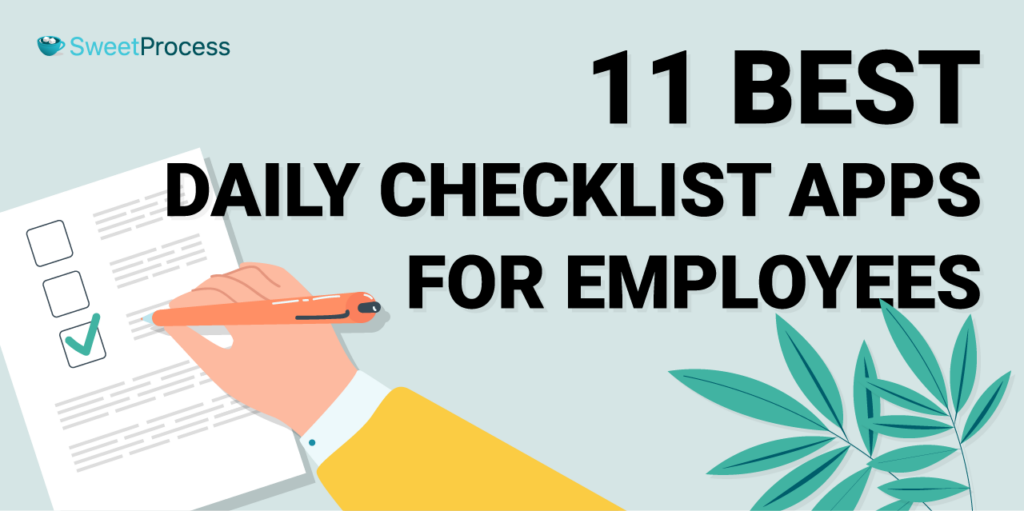 Just how important is a checklist? In some cases, it can save your life.
On October 25, 1999, a Learjet 35 business jet which set out for Dallas lost cabin pressure, causing hypoxia (lack of oxygen) for all six passengers onboard. The aircraft was on autopilot, climbing past its required altitude and deviating from its assigned route. It flew over the Southern and Midwestern parts of the U.S. for almost four hours before crashing into a field near Aberdeen, South Dakota, leading to the tragic death of everyone onboard.
The National Transportation Safety Board (NTSB) carried out investigations. One of the possible causes stated that the pilots failed to follow a defined set of procedures as soon as a problem surfaced. In some accidents, it was noticed that pilots who didn't wear oxygen masks right away when there was a problem with the cabin pressure lost their ability to think clearly and act quickly due to a lack of oxygen. In this particular scenario, it's unclear why the pilots didn't get enough oxygen in time to prevent this, but we know they certainly had a checklist problem.
Similar to the airplane crash on the outskirts of South Dakota, killing all on board, businesses can also crash when they fail to adequately prepare for the cumbersome activities they're faced with daily. And if you think your business and employees are spiraling out of control, guess what? You're right—they are.
Right before we dive in, it's only fair we give you a 100% chance of skyrocketing your task management skills to the next level with our 14-day free trial at SweetProcess. If you're a fan of getting things done on time, every time, you'll be sticking around for much longer. Try out our 14-day free trial at SweetProcess.
Table of Contents
11 Best Checklist Apps for Employees
7 Top Features to Look out for in a Checklist App
How to Choose the Right Daily Checklist App for Your Employees
Benefits of Using a Checklist App for Your Employees
Create and Manage Your Company's Checklists in One Place Using SweetProcess
11 Best Checklist Apps for Employees
1. SweetProcess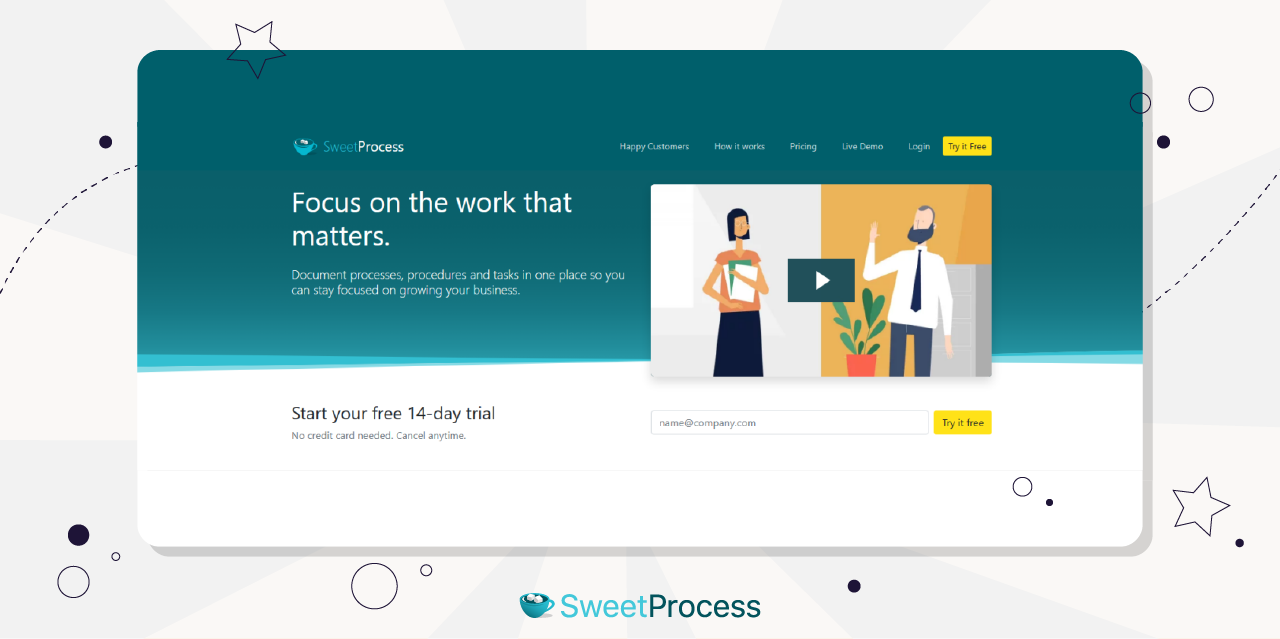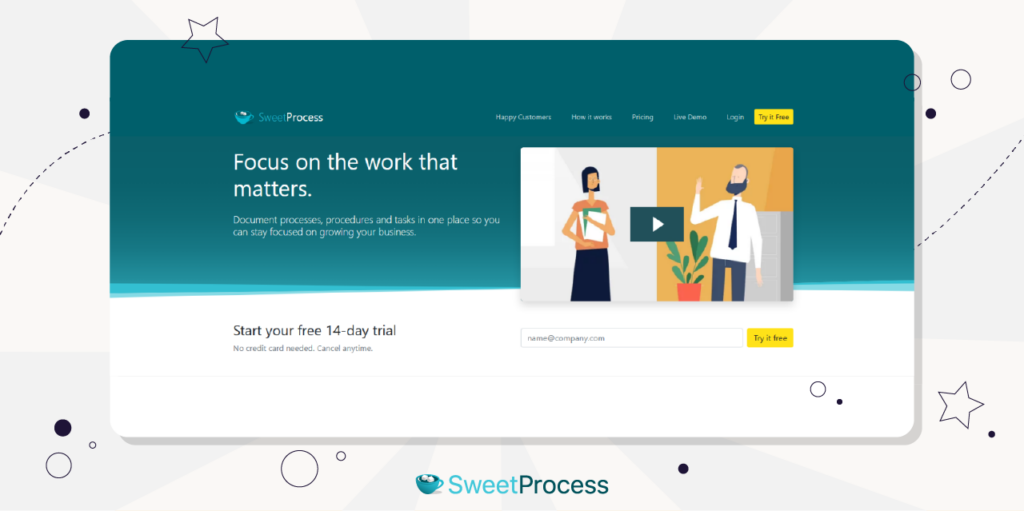 What better way to start a checklist app recommendations list than with our very own SweetProcess? SweetProcess is a business management software designed to help companies and business owners like yourself streamline their tasks and processes.
With its intuitive interface and customizable features, SweetProcess makes it convenient for businesses of all sizes to create well-organized and easily accessible checklists, optimize their operations, and achieve better outcomes. Whether it's for financial planning, customer support, accounting management, new employee onboarding, product development, or any other recurring tasks, SweetProcess is an essential checklist app to enhance overall efficiency and effectiveness in the workplace.
Key Features
SweetProcess offers many amazing features that you rarely find on other checklist apps.
We've made it possible for SweetProcess to give its users the ability to create checklists for their employees.
To do this, here is a step-by-step guideline to help you out:
1) Click on the "More" dropdown menu on the homepage of your SweetProcess account, and then click on the "Procedures" tab.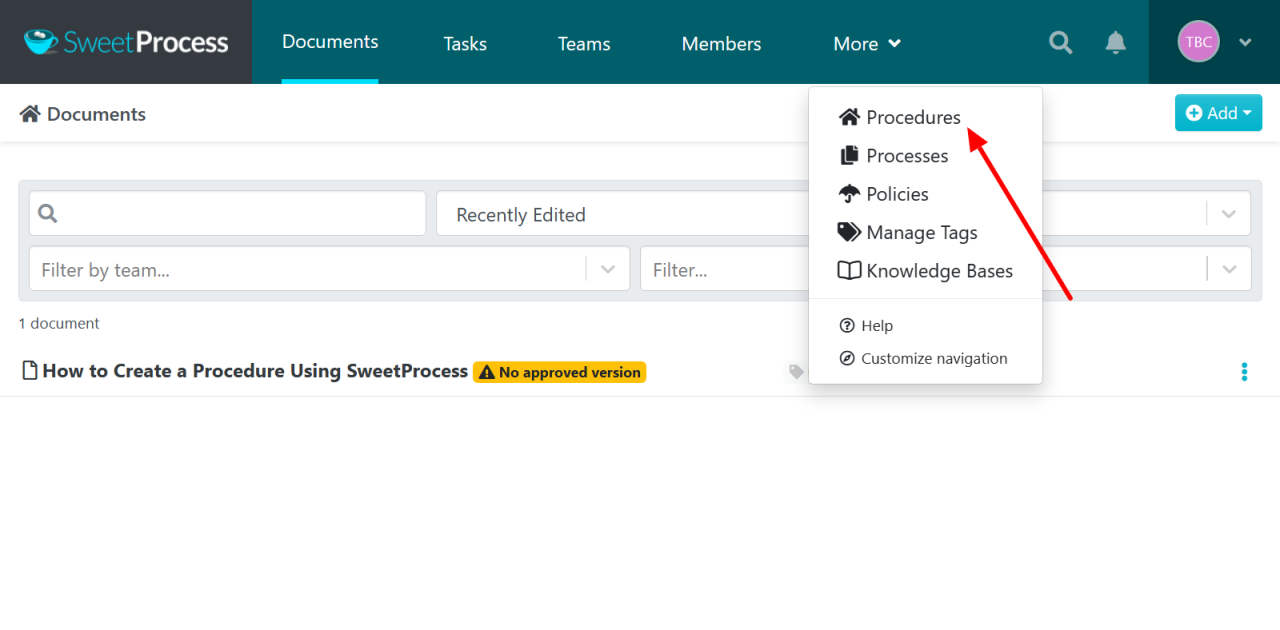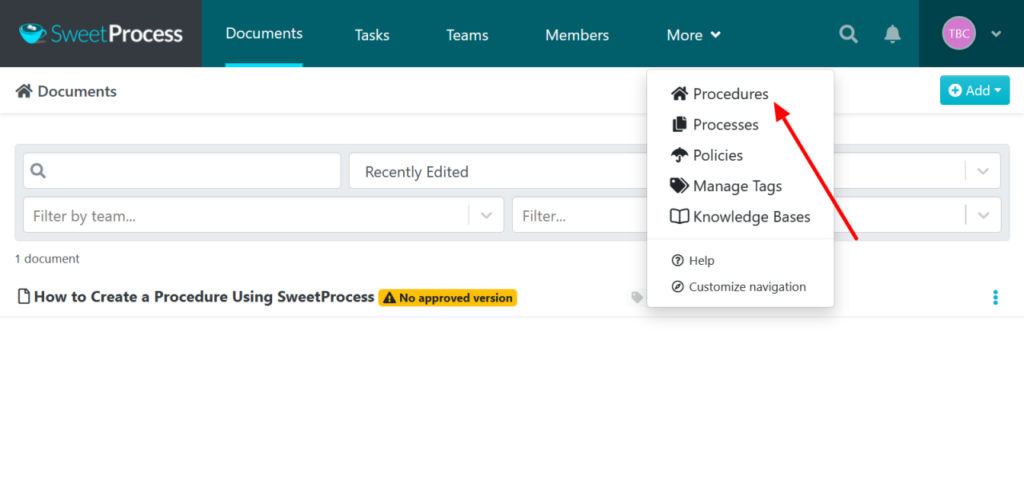 2) Once the page opens up, click the "Create Procedure" button on the top right-hand side.


3) Insert the procedure title. SweetProcess has also made writing your job much easier with the new "Write with SweetAI"feature, as this new feature writes a document or procedure for you based on the title. That's sure to come in handy!


We wrote this in-depth article showing you how to write procedures automatically with AI and SweetProcess.
4) Add the procedure to a team or multiple teams.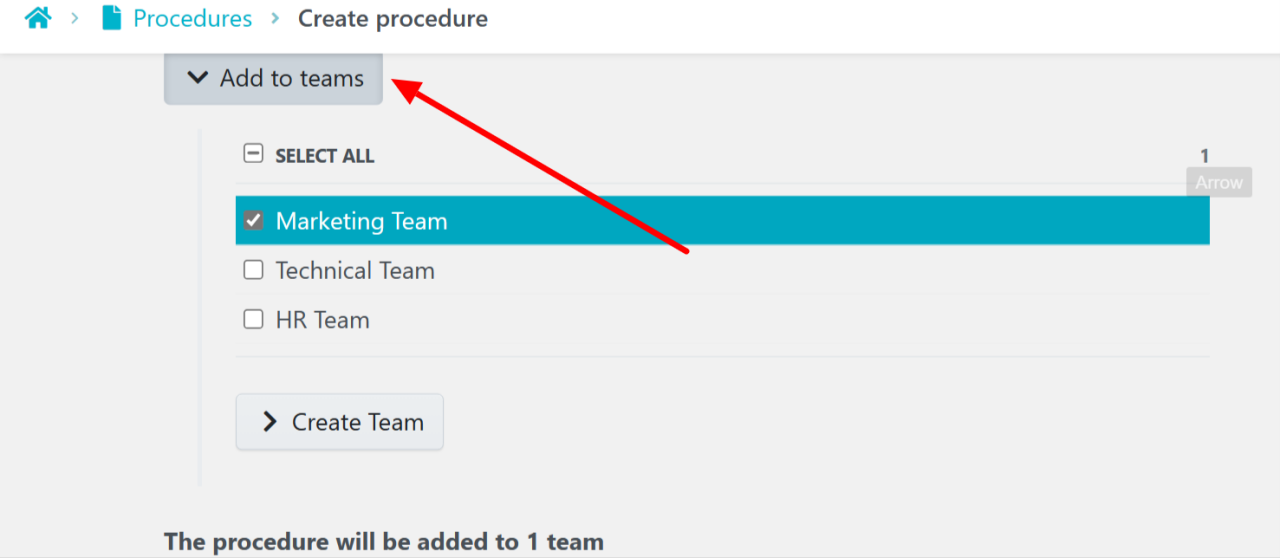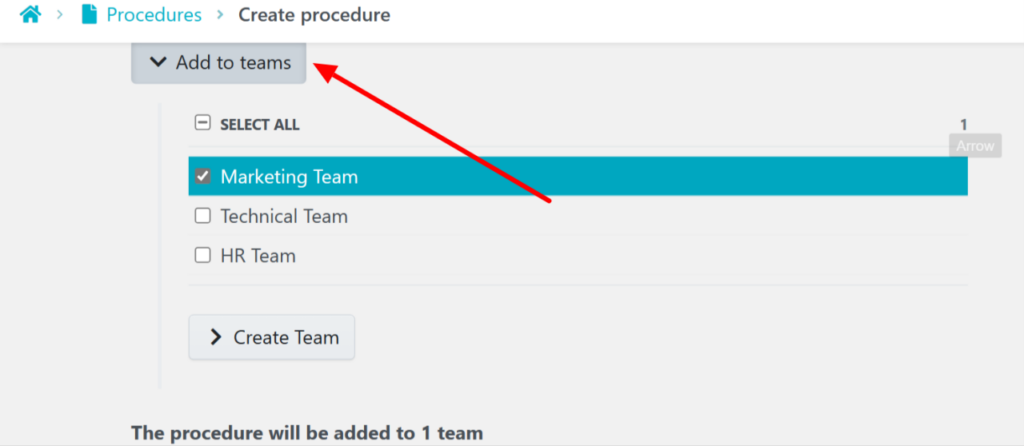 Click on any checkbox to add the procedure to a team or on multiple checkboxes to add the procedure to multiple teams at the same time.
5) Scroll down to the bottom of the page and click on the "Continue"button.


6) Click on the procedure title to add a description once you're on the editing page.


7) Scroll to the editing page's end and click the"Add a step"button.


8) Give the step a title and description.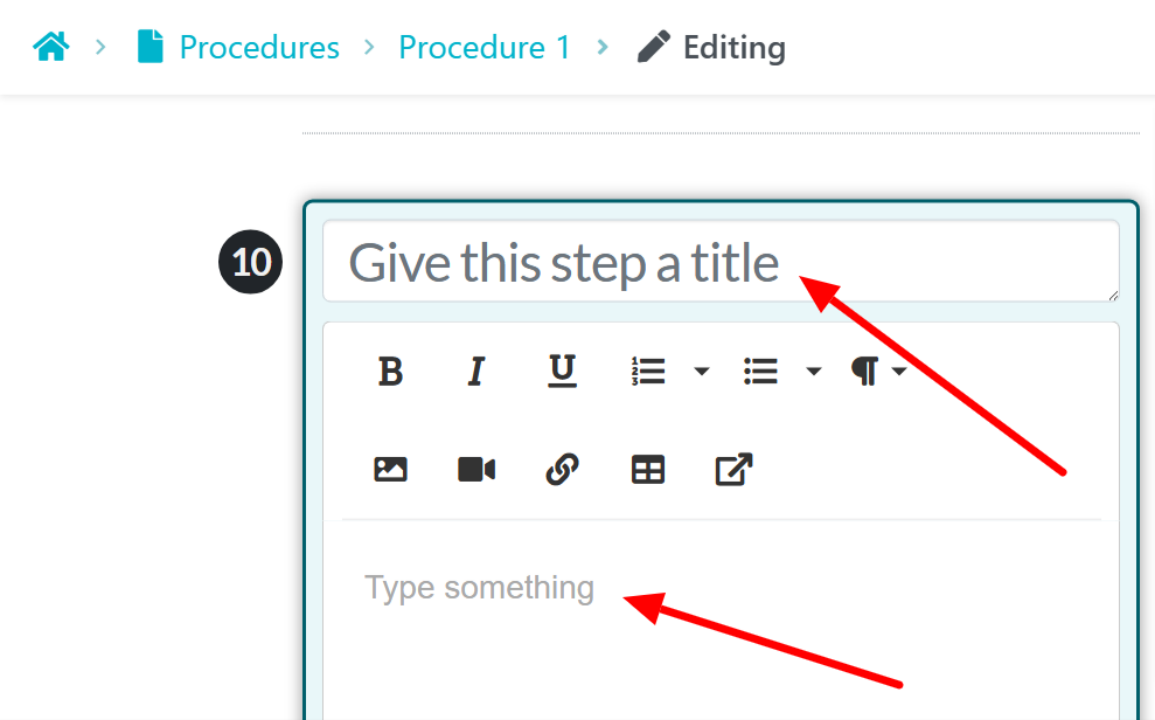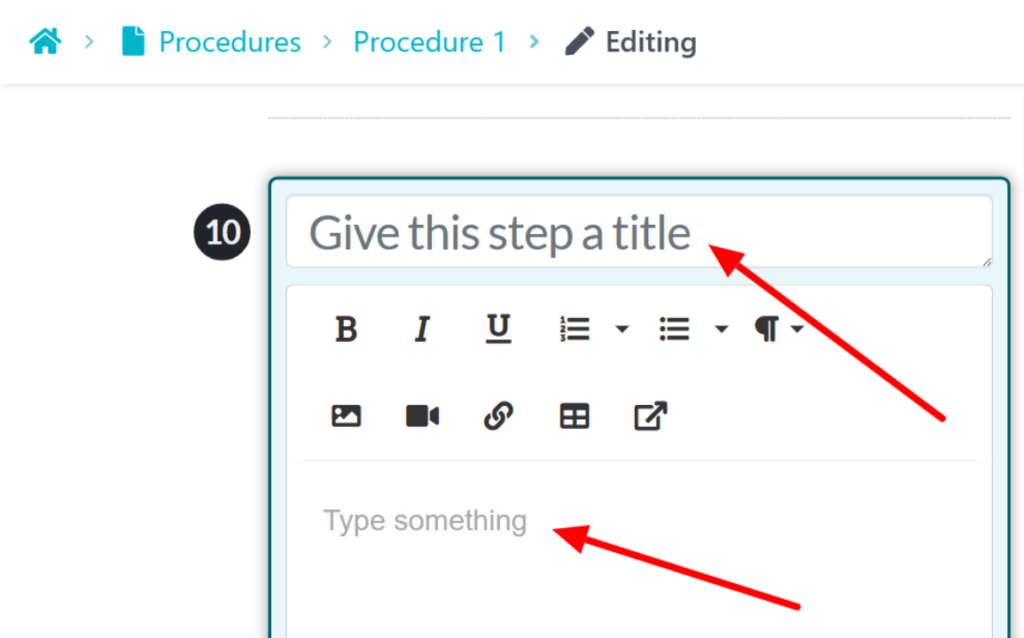 9) Attach files, images, and/or embed videos to this step if necessary. After, click on "Finished Editing" to save the draft of the step.


10) Click the "Add a Step" button to add a new step. Repeat steps 7, 8, and 9 to enter and save the details of the new step.
11) Then, you can repeat step 10 until you have added all the steps you need to document the entire procedure.
12) Click on "Approve" as soon as you are finished with documenting all the steps of the procedure, which is on the top right-hand corner, to approve the procedure and make it live.


Note: If you cannot approve the procedure, you should request approval by clicking on the "Request Approval" button as shown below.


When the procedure is approved, you should see a notification with the inscription"This version is now approved and live."
Congratulations! You just created your first checklist/procedure.


SweetProcess also helps you assign a checklist as a task to your employees.
With SweetProcess, you can assign a checklist or procedure as a task to your employees. Here's a step-by-step guide to help you do that.
1) Click on the three-vertical-dots menu at the right end of the procedure you want to assign to your employees.


Once the menu opens up, click on the "Assign as Task" option.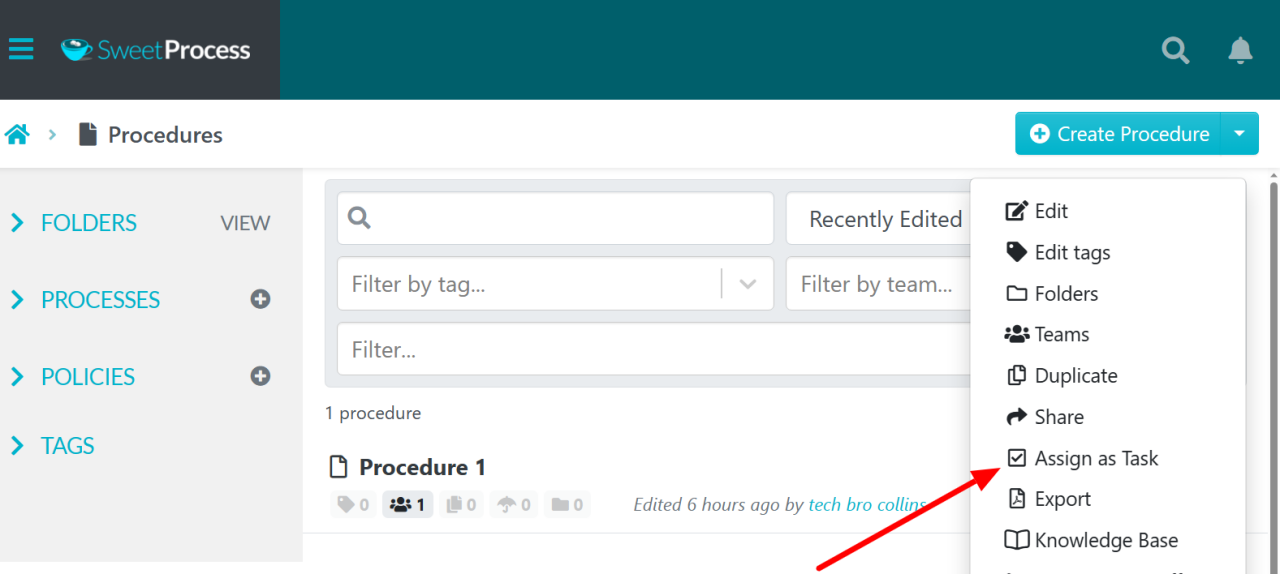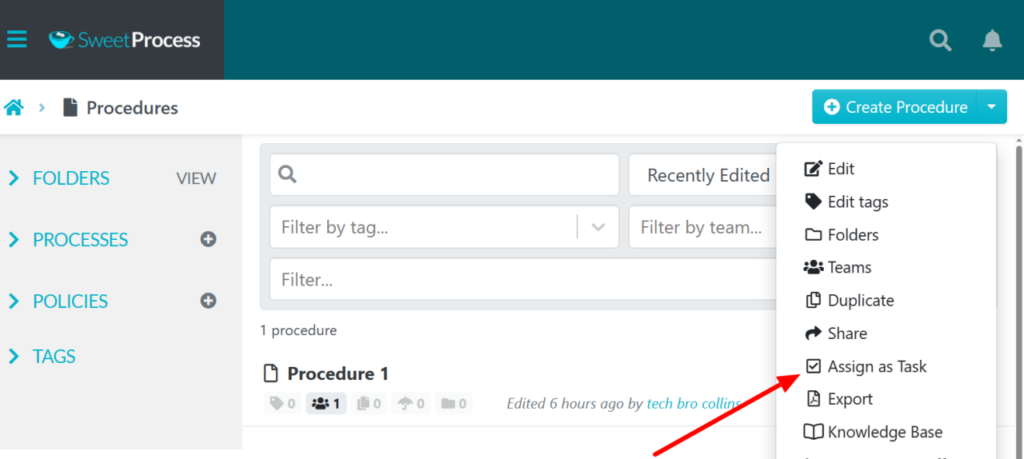 Alternatively, you can assign a task or tasks to your employees by clicking on the procedure and moving to the procedure page. From there, you can click on the "Actions" menu on the top right of the screen.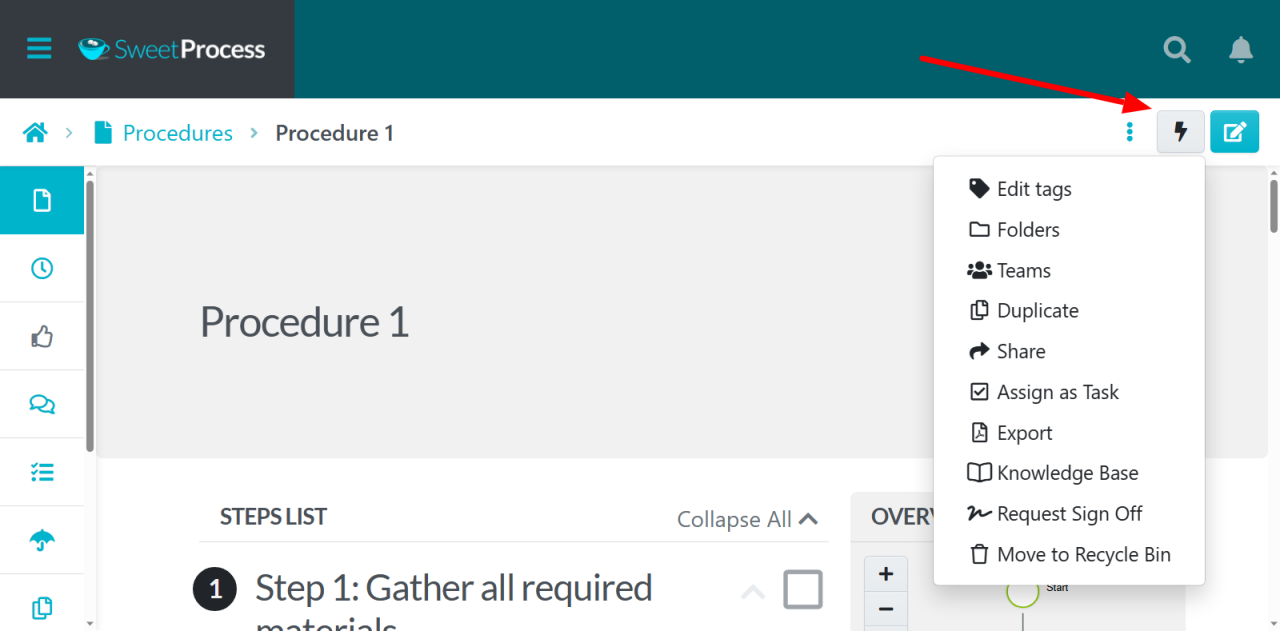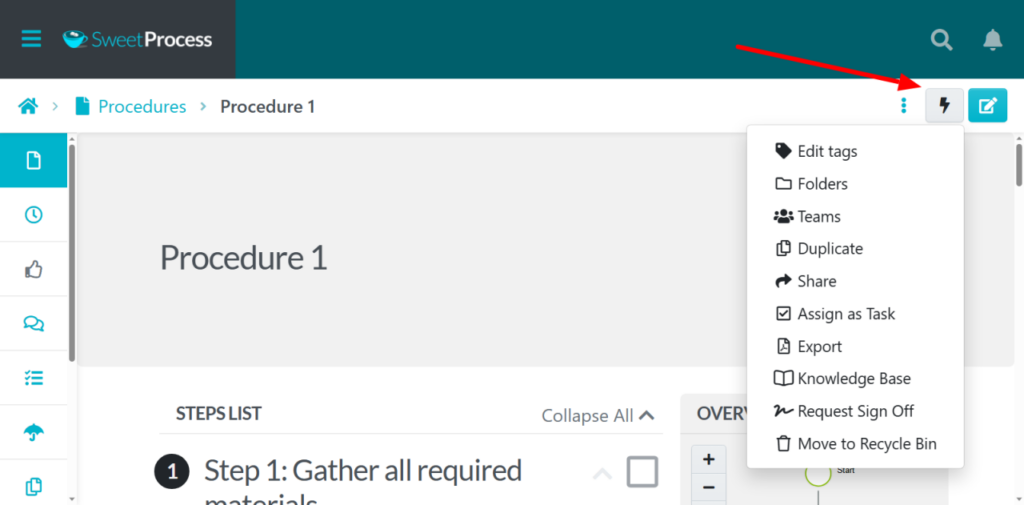 2) As the team manager, you can choose to assign a single task to your team to work on together or multiple tasks for each team member to work on separately.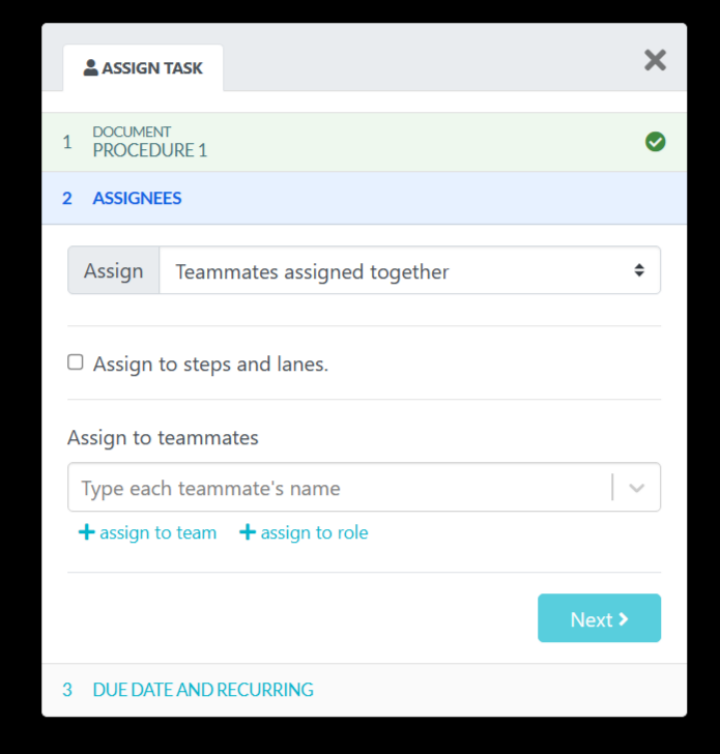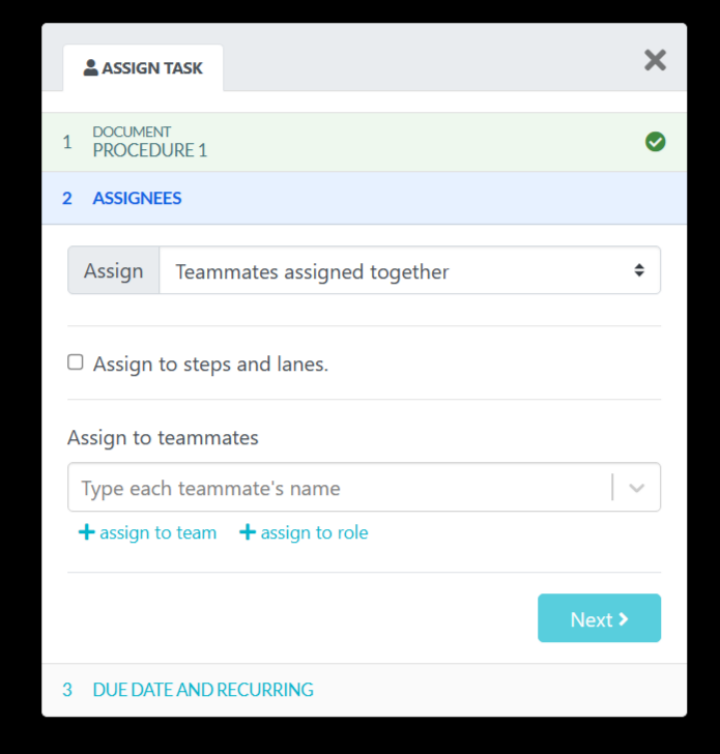 3) All you need to do next is fill out the remaining details on the task form.
4) By default, the task will simply be a "Once Only" task, designed to be completed a single time and then finished. However, many tasks should be repeated every day, week, month, or year! We support a huge variety of repetition rules. Simply change the "Repeat" dropdown from "Once Only" to any other option.
5) What's left at this point? All you need to do now is assign the tasks to the respective employee or employees. These employees will receive a notification about the new tasks assigned to them. On the start day, the due day, and the day after the due day of the tasks, they will receive notifications in the form of reminder emails. They will also get notifications once the tasks have been marked complete.
SweetProcess also has some cool features to offer its users, such as being able to:
Manage employees' checklists on SweetProcess.
Create a checklist for your procedures on SweetProcess.
Monitor the progress of employees' tasks on SweetProcess.
Limitations
Limited integrations: The integrations with other platforms are somewhat limited compared to other workflow management tools.
Pricing
SweetProcess offers a 14-day free trial, and you can choose to pay for our premium options.
For a monthly plan, we charge $99 for a team with up to 20 members, plus $5 for each additional member.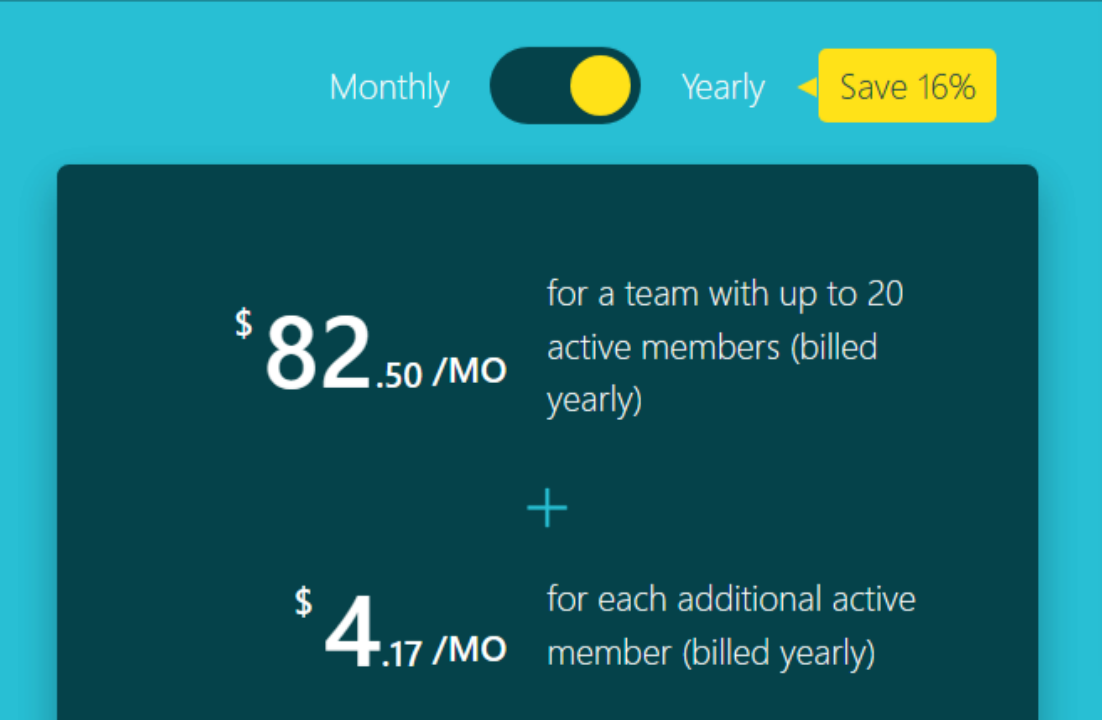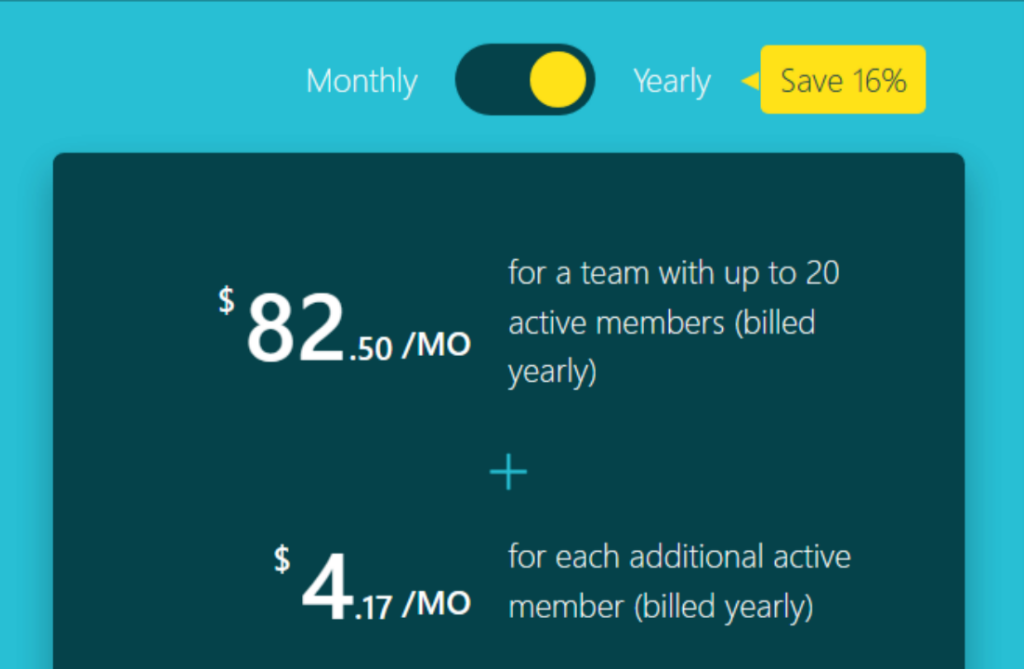 For a yearly plan, you save 16% on your purchase, and we charge $82.50 per month for a team with up to 20 members, plus $4.17 per month for each additional member.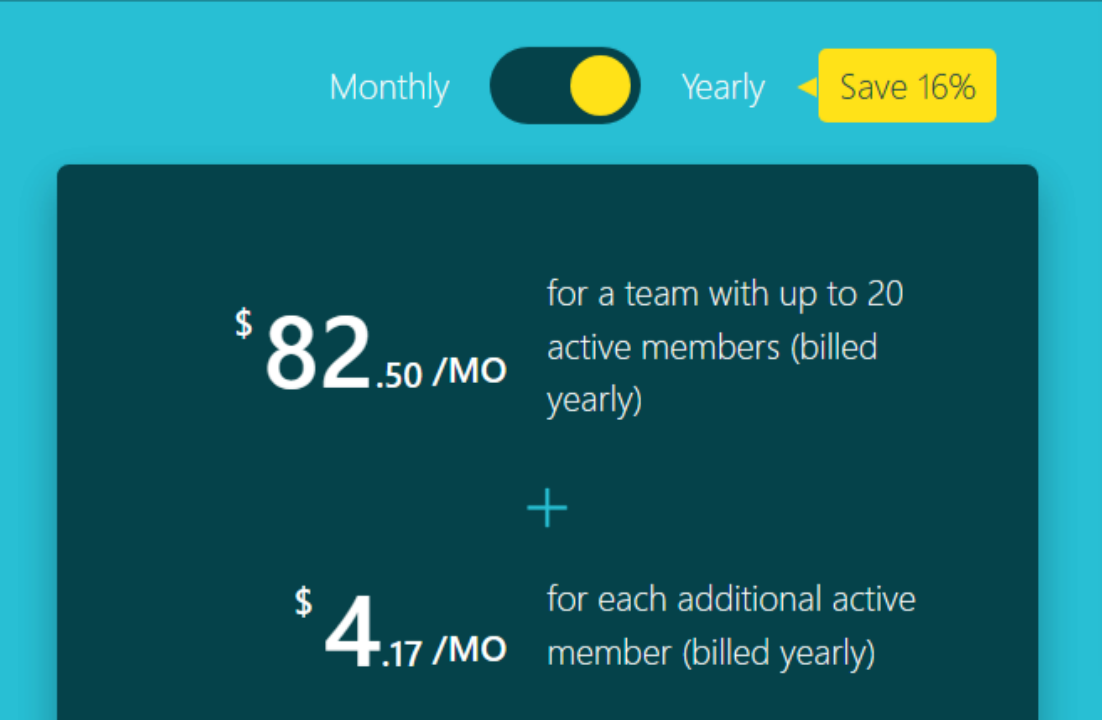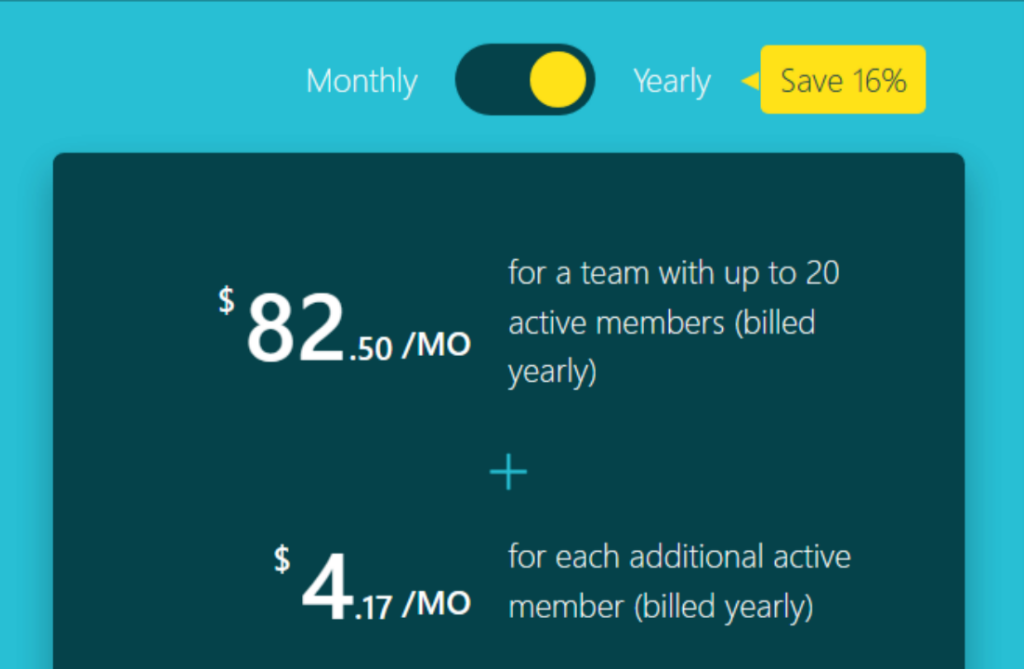 For teams with more than 20 employees, you can contact us for our special pricing for smaller teams.
2. Checkli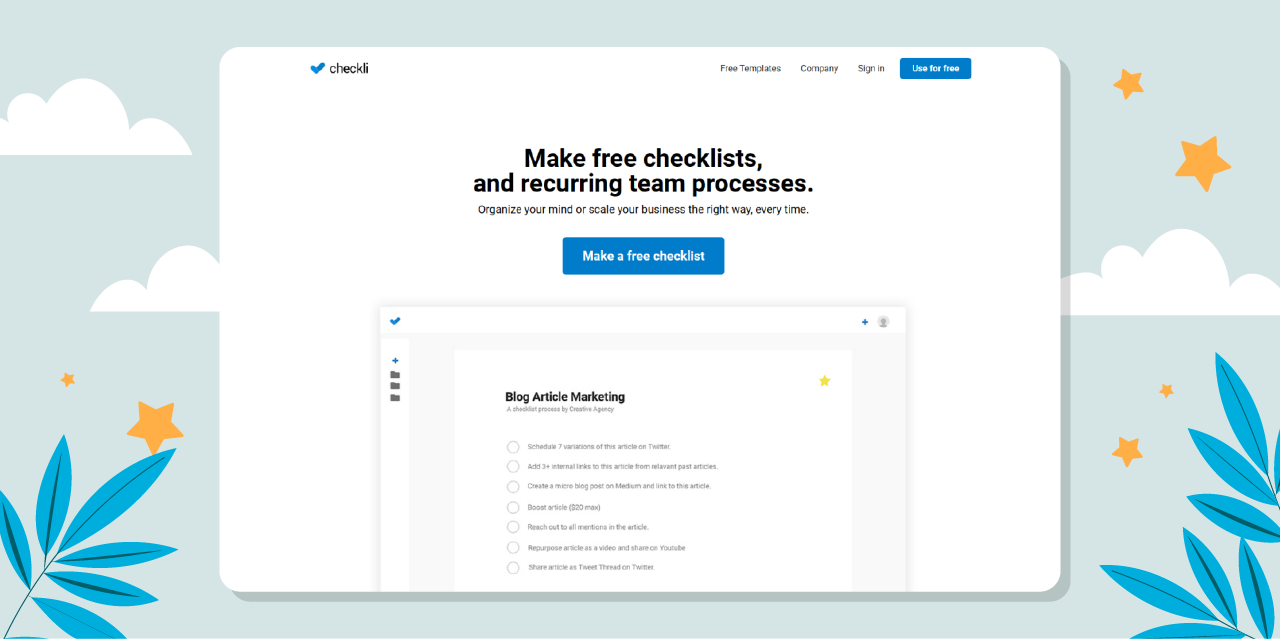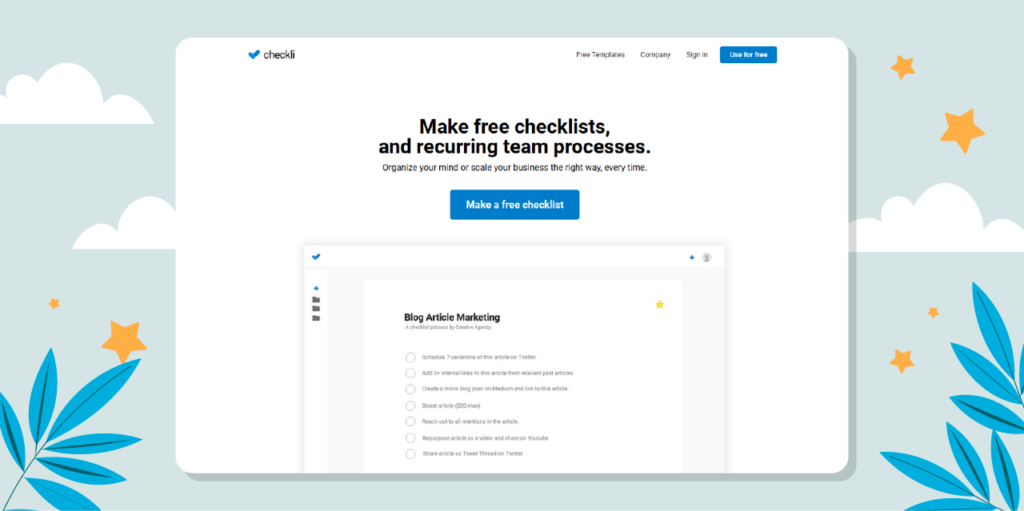 Checkli is the second on our list for a reason. It's a fantastic checklist app! With Checkli, you can search and find checklists crafted by successful business owners, founders, and entrepreneurs. This allows you to choose your desired checklist from a vast library of tried and tested templates proven to maximize productivity.
Checkli is also widely known for its simplicity and ease in creating, managing, saving, and sharing checklists and team procedures to your private account or with your team.
However, the Checkli app is limited to just iOS devices, but it can be accessed from the web across all devices.
Core Features
A free checklist library home to thousands of expertly crafted checklists from professionals worldwide.
Pros
One great thing about this app is the wide range of customizable features it offers. Users can tailor their checklists to their specific needs and preferences, making them as detailed or general as they like. This feature allows for a more personalized experience and increased productivity.
Unlimited Custom Checklists and Seamless Collaboration
Create, save, and share unlimited checklists with intuitive features that allow you to customize your lists to fit your unique needs and preferences. Share your lists with a wide range of audiences, from coworkers to family members, and stay on the same page with everyone. Get organized with our checklist tool today.
Cons
One downside to this app is that the free plan only offers access to a few features. Users need to upgrade to a paid plan to access more advanced features. This can be a drawback for those on a tight budget or who don't need all the bells and whistles.
Another drawback of this app is that the mobile version is only available for iOS devices. This can be frustrating for Android users who want to access their checklists on the go. However, the app is still accessible via the web on non-iOS devices.
Pricing
SweetProcess only charges a monthly fee of $99 for up to 20 employees. We are unsure if a Checkli account can be used by more than one employee, but if we were to create an account for 20 employees, it'd cost around $500. By choosing SweetProcess, your company can save approximately $400 per month compared to using Checkli's Pro plan.
3. Checklist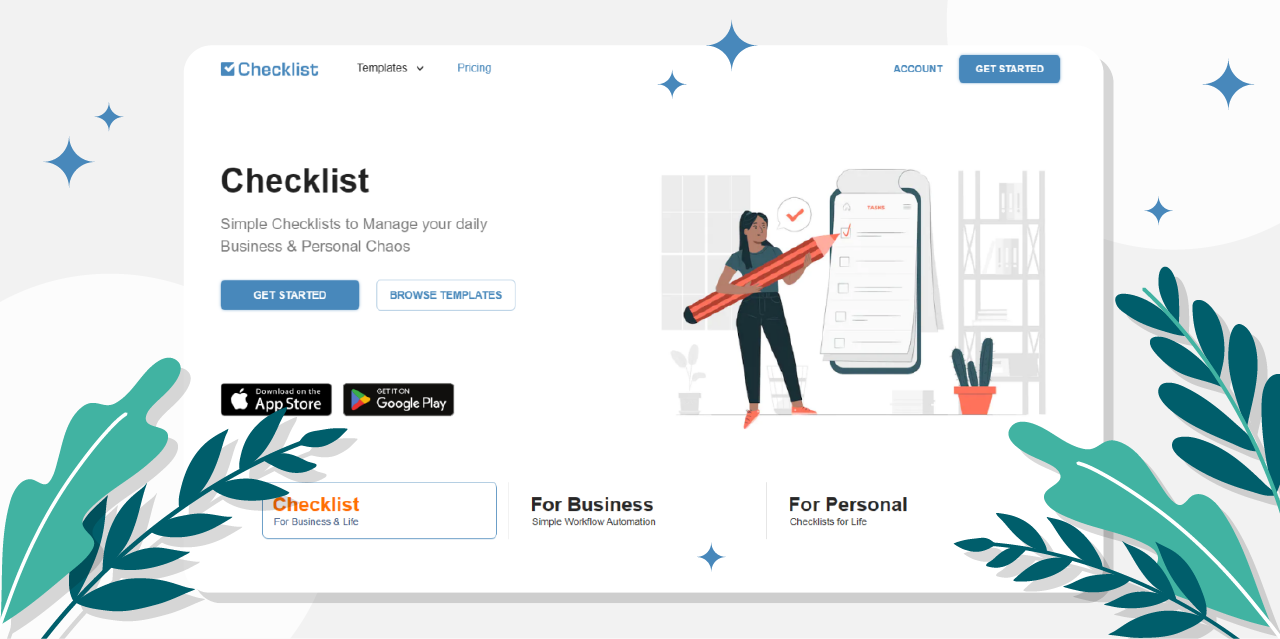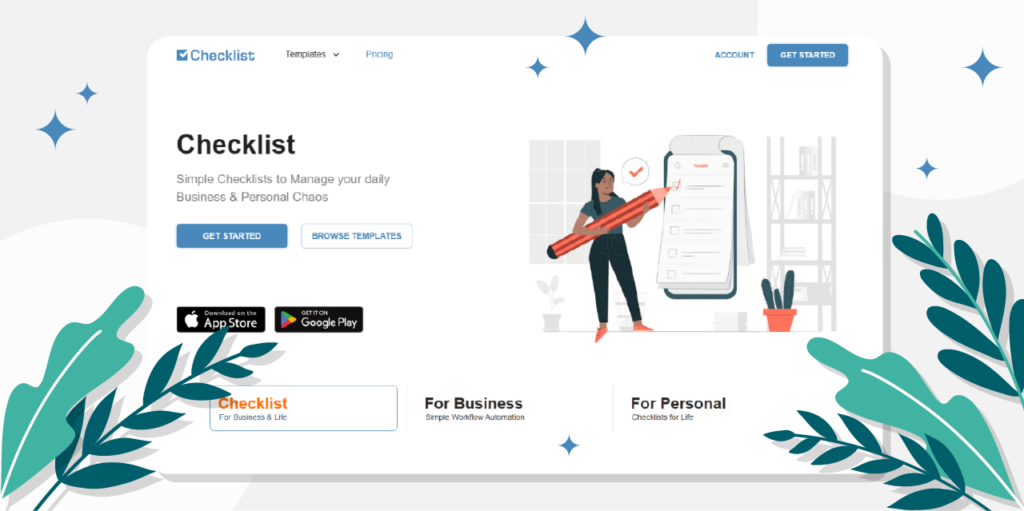 Checklist is a simple yet breathtaking checklist app built with ease for individuals and business owners to manage their tasks and processes efficiently. This checklist app was inspired by the founder's need for a comprehensive moving checklist, and then he later expanded it to meet the needs of similar target audiences.
Checklist offers a lot of amazing checklists for various processes such as school assignments, financial planning, and much more.
Core Features
Checklist's reminder system is robust, allowing users to set reminders for individual tasks, checklists, or even entire projects. The reminders can be set to repeat at specific intervals, ensuring that important tasks are never forgotten.
With Checklist, users can collaborate with team members in real time. This feature enables users to work together on projects, assign tasks, and track progress. The real-time collaboration features include leaving comments and feedback on individual tasks.
Checklist's dashboard is fully customizable, allowing users to personalize their task management experience. Users can choose which checklists and tasks to display on the dashboard and customize the background and color scheme to their liking.
Checklist offers unlimited checklists, making it easy for users to manage multiple projects simultaneously. Users can create as many checklists as they need, and each checklist can be customized with its own set of tasks and reminders.
Pros
Effortless Synchronization Across Devices
One of the standout features of this app is its ability to synchronize across different devices seamlessly. Whether at home, work, or on the go, you can access your checklists and stay organized wherever you are.
Customizable Checklists for Daily Tasks
Another key feature of this app is its customizable checklists for daily tasks. With the ability to create and personalize checklists for various purposes, such as daily tasks, event planning, travel, project management, and many more, you can ensure that you stay on top of your to-do list and accomplish your goals efficiently.
Cons
The website can be quite slow at times, frustrating, and time-consuming for users trying to access their checklists quickly. This issue may be due to various factors, including server issues or a high volume of traffic on the site. Regardless of the cause, it's something to be aware of if you're considering using Checklist for your needs.
Some users have reported feeling a bit confused by the interface of checklist.com. While the site is generally fairly intuitive to use, some features or functions may be less than clear at first glance. This is something to remember if you're new to the platform and may require some additional exploration or experimentation to get the hang of things.
Pricing
Monthly plan
Free plan: $0/month
Pro plan: $7.14/month
Enterprise plan: $13.2/month
Annual plan
Free plan: $0/month
Pro plan: $5.95/month
Enterprise plan: $11/month
4. Todoist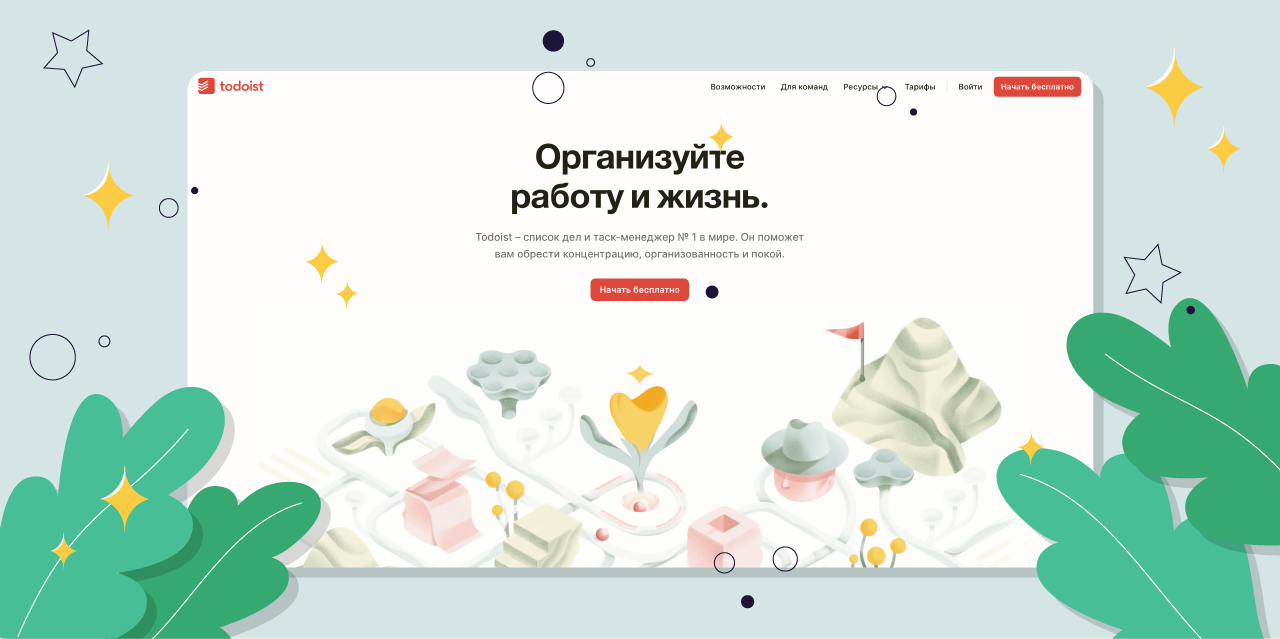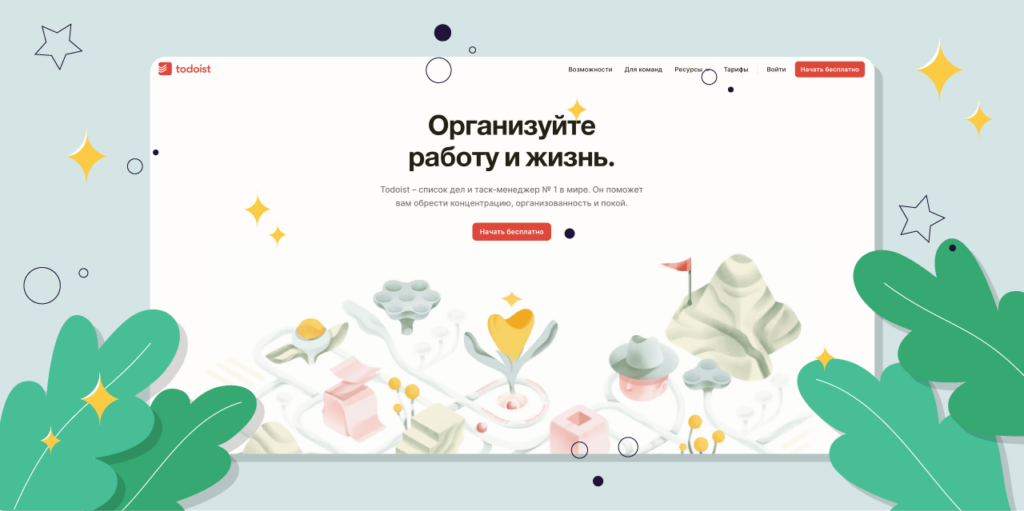 Another recommended checklist (to do list app) that business owners and founders use worldwide is Todoist.
This task management software available for most devices and platforms (web, Windows, macOS, Android, iPhone, iPad) places simplicity and ease of use at the forefront of its operations. This app offers users everything they need to complete their daily tasks and achieve those goals.
Core Features
This feature helps you build your task views to fit your personality and workflow. You can customize the task views according to your preferences, such as by project, due date, priority, or label. This feature helps you stay organized and focused on the most important tasks.
Todoist awards points for accomplishing tasks and using advanced features. The more you use the app, the more points you earn. You can use these points to improve your productivity and compete with your friends or colleagues. This feature gamifies task management and motivates you to complete your tasks efficiently.
This app allows integration with third-party apps such as Google Calendar, Zapier, and even Amazon's Alexa. This feature lets you connect Todoist with your favorite apps and services to streamline your workflow. For example, you can create tasks from your emails, add events to your calendar, or automate repetitive tasks using Zapier. Todoist works seamlessly with other apps to save you time and boost your productivity.
Pros
The intuitive and user-friendly design of this task management tool makes it effortless to navigate and get things done. Whether you're a beginner or an experienced user, you'll find it easy to use.
The card-based layout is an efficient and visually appealing way to organize tasks. You can move cards around, add details, and easily track progress. This feature is particularly helpful for those who are more visually oriented.
The checklist template library is a treasure trove of customizable templates for tasks, from grocery lists to project management. You can easily create personalized checklists or use one of the many pre-designed templates.
Generate reports to track progress and performance. This tool allows you to monitor your progress and see how you're doing. You can also use the reports to identify areas where you need to improve and adjust accordingly.
Collaborate by sharing tasks and lists with others. This feature is great for teams, families, or anyone needing to collaborate. You can share tasks, assign them to team members, and receive feedback and updates in real time.
Synchronization Across All Devices and Platforms (Android, iOS, Windows, Web)
This tool is available on all major platforms, including Android, iOS, Windows, and the web. You can access your tasks and lists from anywhere, anytime, and on any device. This makes it easy to stay organized and productive no matter where you are.
Cons
Unfortunately, this tool lacks in-depth analytical capabilities. While you can generate basic reports to track progress, you won't be able to do any advanced analysis.
The free plan has limited features, including a lack of reminders. You'll need to upgrade to a paid plan if you want access to more advanced features.
No Time-Tracking Features
This tool has no functionality for tracking task durations. If this is a vital feature for you, you'll need to look for another task management tool that offers it.
Pricing
Todoist has a free plan. But, the premium plans cost $4 and $6 for personal and team workspaces, respectively.
5. Memorigi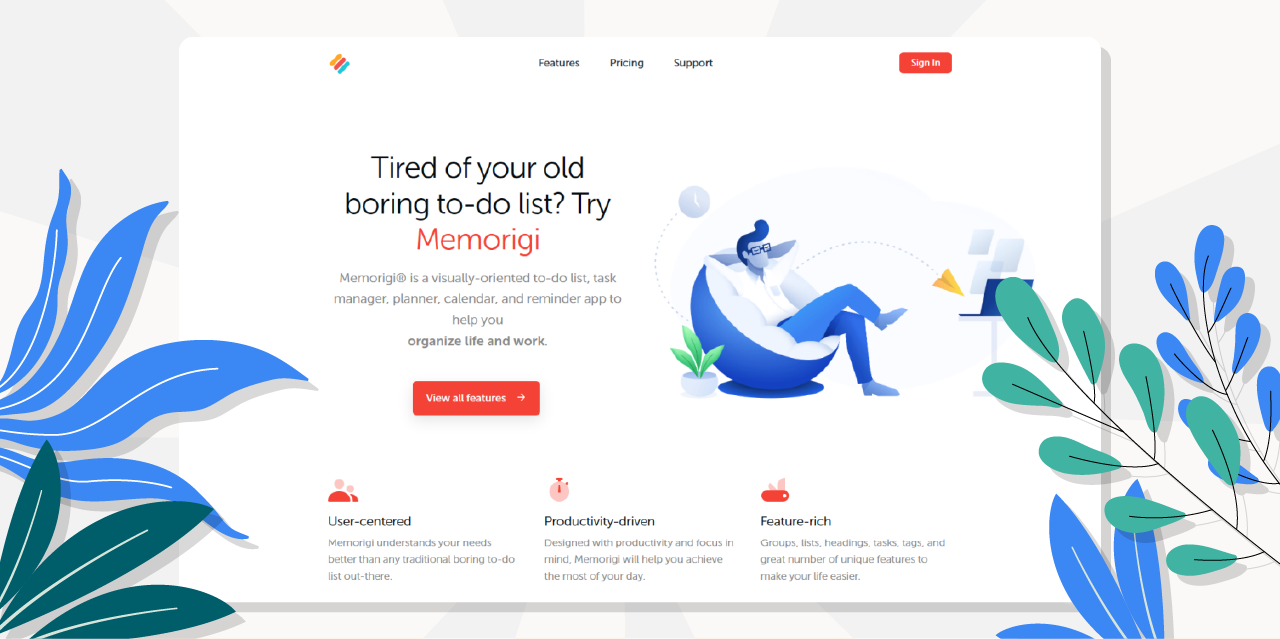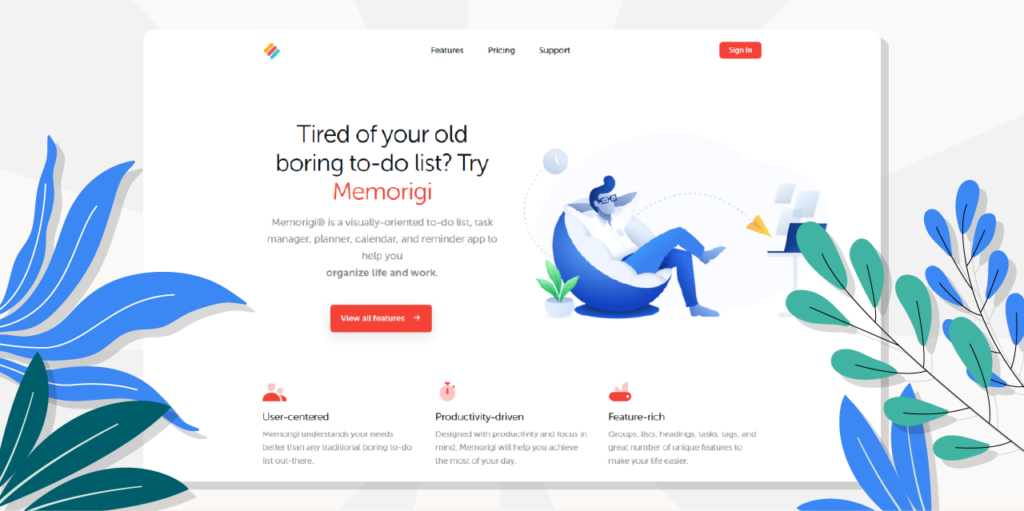 A task planner, to-do list, calendar, and so many features all in one, Memorigi is a fantastic app that was built to help the average Android user keep track of their tasks at hand and never miss a crucial step when trying to hit a goal like building new habits or changing your work routine.
Core Features
This is a powerful method that aids in the efficient completion of complex tasks. When faced with a complex project or extensive undertakings, breaking them into smaller, more manageable subtasks can significantly streamline the process and contribute to better organization and productivity.
Pros
The app has a clean and modern design that is easy on the eyes. The interface is easy to navigate, and the app is intuitive, making it easy for users to use it immediately.
Ability to Group Tasks in Different Folders
You can create custom folders to organize your tasks based on projects, priority, or any other criteria. This feature makes it easy to find specific tasks and stay organized.
Cons
Unfortunately, this app is only available for Android devices. If you are an iOS user, you won't be able to use this app.
Limited Task Management Features
While the app is great for basic task management, it lacks some advanced features like project management, collaboration, and time tracking. If you are looking for a more comprehensive task management solution, you may want to consider other options.
Restricted Sub-task Functionality:
Creation of sub-tasks is only available with the premium plan, potentially limiting the effectiveness of task management for users who opt for the free plan.
Pricing
Memorigi has a free plan, but the Premium plan costs $4.17 per month ($49.99 per year).
6. Process Street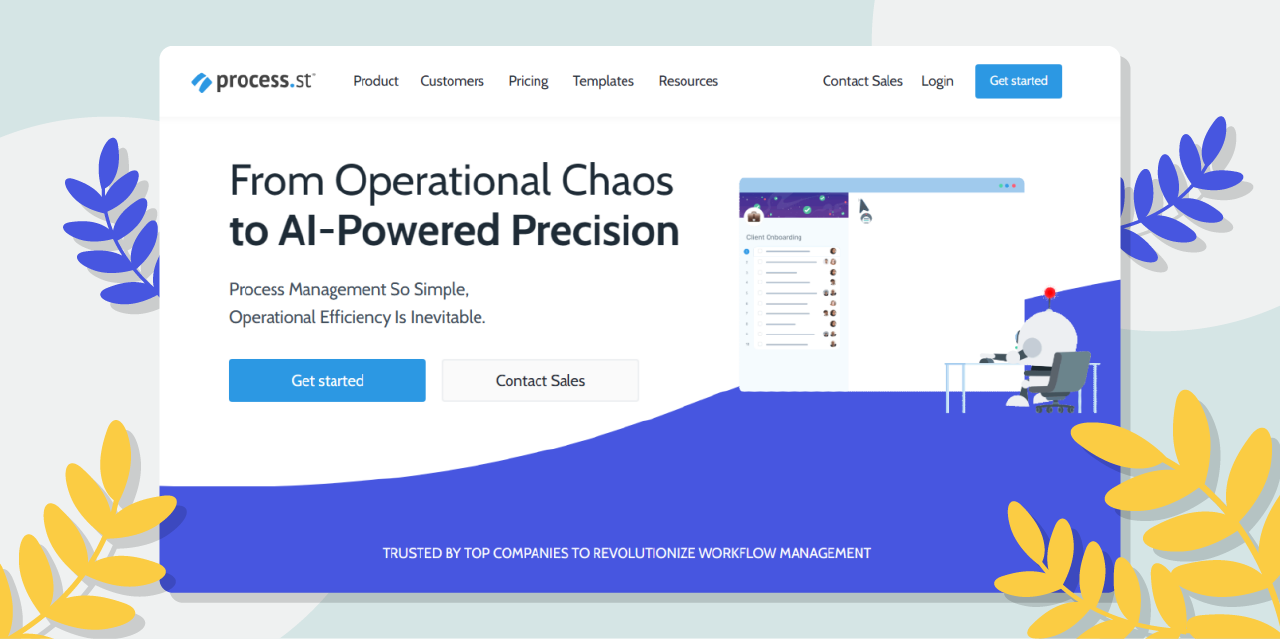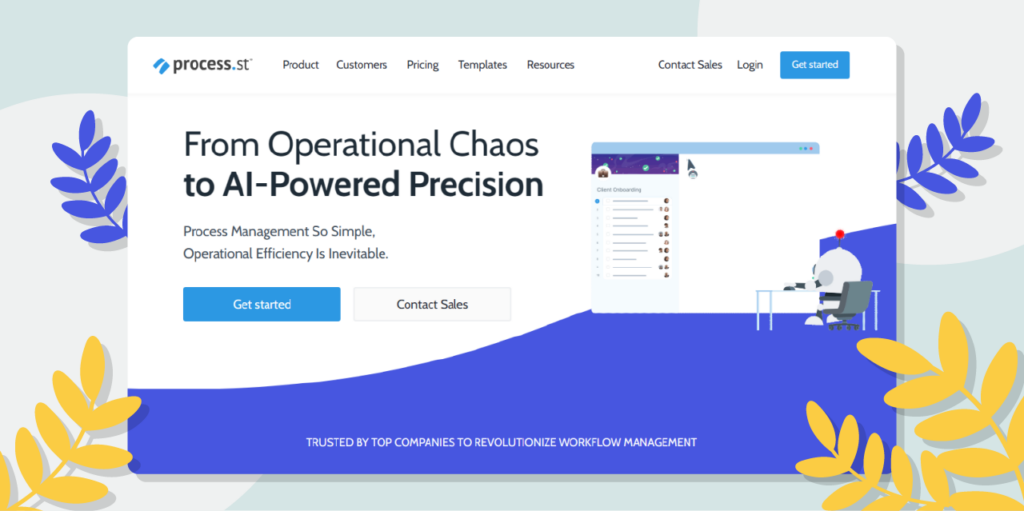 Process Street is up there as one of the many reputable brands in the checklist app space. Trusted by many companies such as Spotify, Airbnb, Accenture, and many more, this daily checklist app is known for its simplicity and ease of use for teams worldwide.
Core Features
Pros
Easy Process Documentation
With Process Street, you can create checklists of steps to document your company's processes. This makes it easy for everyone on your team to follow the same process, regardless of their department.
Task Automation and Reporting
Process Street offers automation features that help streamline tasks for employees. You can set tasks to reoccur, customize email reminders, or even notify the next team member to complete a task automatically. This saves time and effort for everyone involved.
If you have a complex workflow, you can use Process Street's conditional logic feature to hide or show elements of the process based on the options or outcomes you choose. This ensures that employees see only the processes that are relevant to their roles.
Cons
One of the challenges of using Process Street is the difficulty in learning how to navigate the platform. For new users, finding specific features can be a bit daunting. As a result, it might take some effort to persuade key stakeholders to use the platform for documenting company procedures and processes.
Cumbersome and Confusing User Interface
While working on a specific process is manageable on Process Street, the user interface can be clunky and confusing. It may take some time to become familiar with the platform.
At present, Process Street does not offer comprehensive AI support. Consequently, all processes must be created manually. Even if you have a large number of existing processes, you will need to start from scratch on the platform.
Pricing
Startup: $ 100/month or $1,000/year
Pro: $ 415/month ($5,000 billed annually and comes with a 14-day free trial)
Enterprise: $ 1,660/month ($20,000 billed annually)
There are three pricing options available: Startup, Pro, and Enterprise. The Startup plan requires a monthly payment of $100, while the Pro and Enterprise plans, respectively, begin at $415 and $1,600 per month.
The Startup premium plan allows you to include up to five employees in your account. As a result, each employee costs approximately $20 per month. Therefore, if your team has about 20 employees, the total monthly cost would be around $400.
SweetProcess only charges a monthly fee of $99 for up to 20 employees, which is significantly less than Process Street. By choosing our platform, your company can save approximately $300 per month compared to using Process Street's startup plan.
To gain more insight into how our tool measures up against Process Street, you can refer to our comprehensive blog post comparing Process Street and SweetProcess.
7. TickTick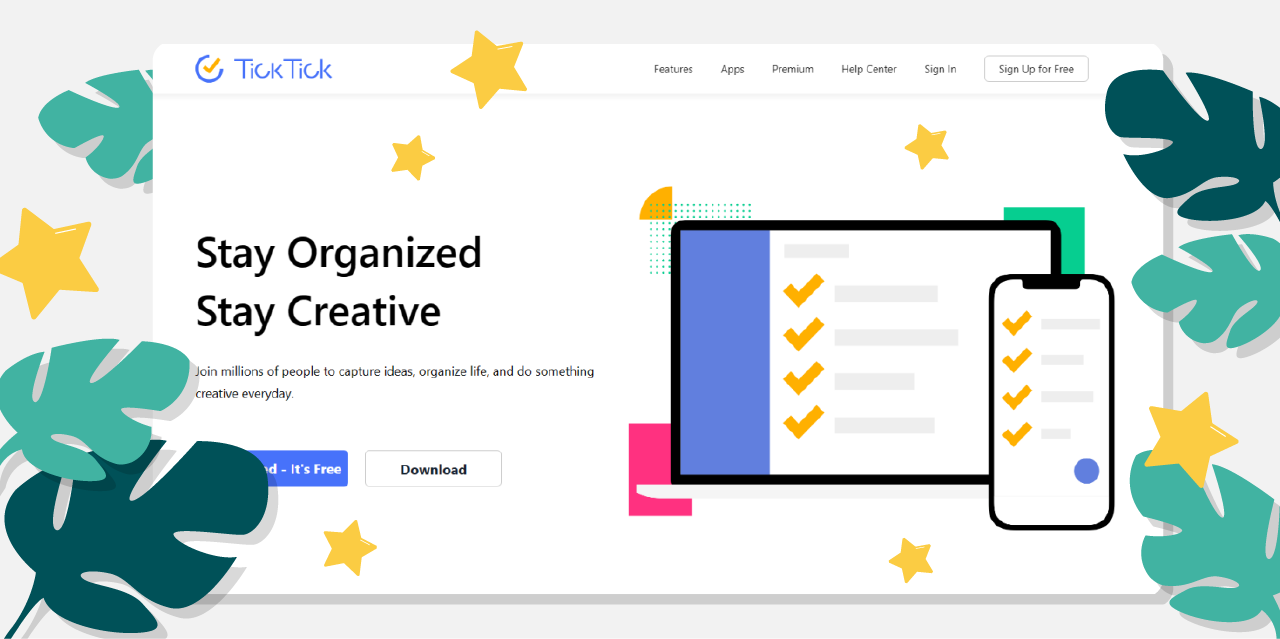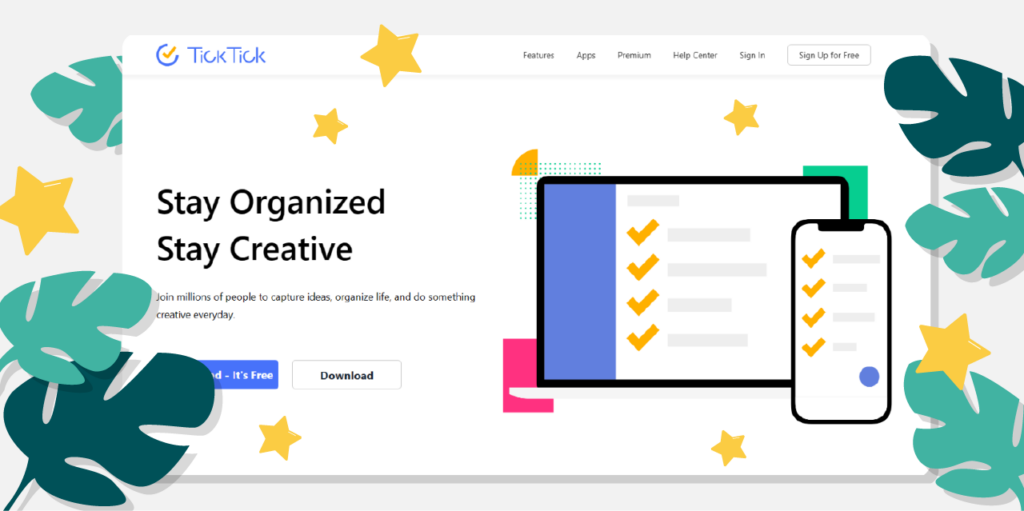 TickTick is an amazing checklist app available on multiple platforms for managing your to-do lists and checklists. With TickTick, adding tasks that recur and setting due dates can easily be done by using natural language inputs like "tomorrow," and tag tasks with the # symbol for filtering purposes.
TickTick also allows you to share checklists with others, giving them the ability to edit and complete tasks or add new ones. It's available on Android, iOS, desktop, and web platforms, making it a highly accessible and useful app.
Core Features
One of TickTick's unique features is "habits," which is similar to recurring tasks. Habits are represented differently within the app, and you can monitor them through the calendar view, which shows the frequency of your habits over the month. You can even indicate how many times daily you should perform a habit.
This feature allows you to create custom views of your tasks that you can conveniently filter, such as viewing all overdue project-related tasks for the day. TickTick also includes a Pomodoro tracker and timer, which helps you focus on your tasks in short, efficient periods.
Other features of TickTick include:
Built-in Pomodoro tracker
Add tasks with voice input
Habit tracker
Achievement scores
Smart views with tags
Pros
The app is available on Android, iOS, desktop, and web, making sure users can access and use TickTick on various devices seamlessly.
Users can add recurring tasks and set due dates using natural language input, making task management more productive.
Allows employees to track habits separately from tasks, providing a visual representation of habit performance over time.
Cons
Notifications can be hard to notice.
No free trial.
Pricing
Annual plan for $27.99 (less than $2.40/month)
8. Any.do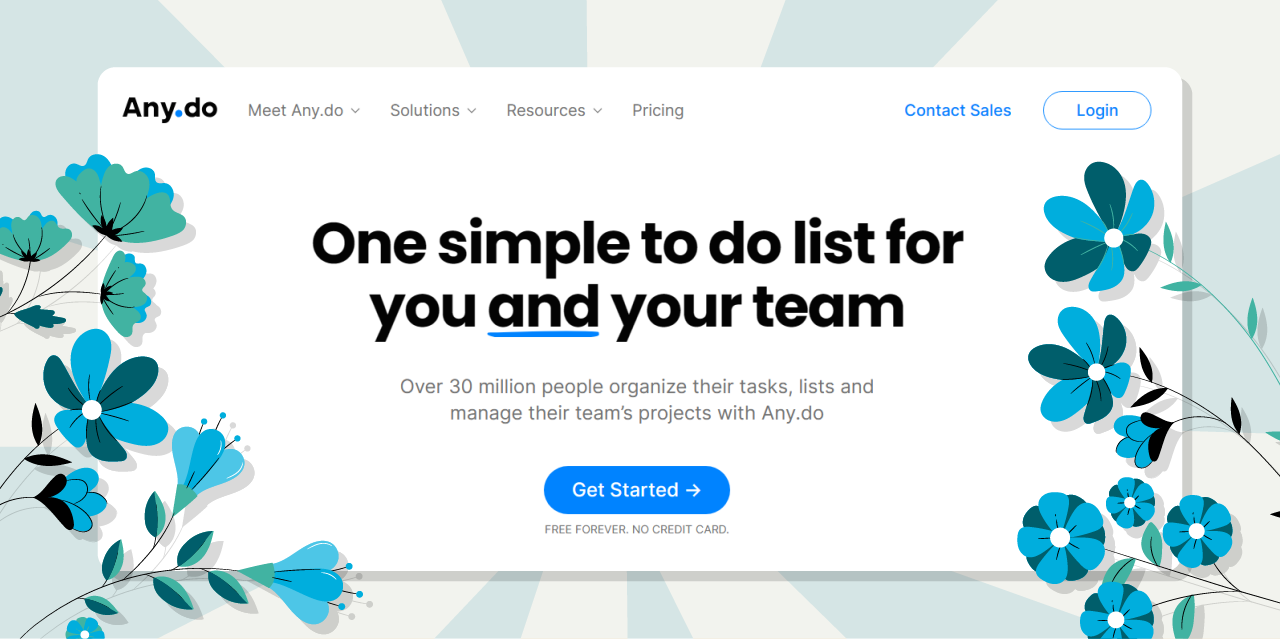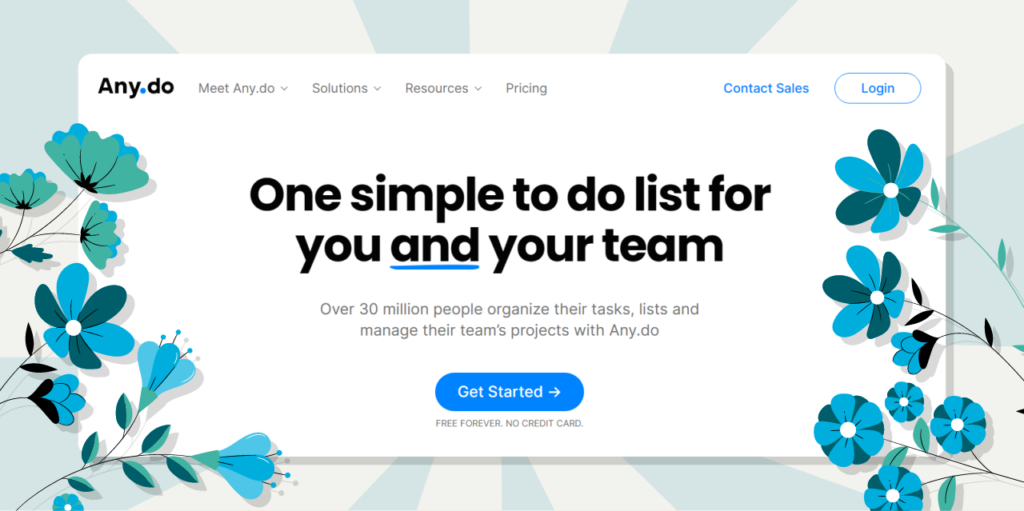 Highly regarded as a task management app, Any.do stands out for its well-designed interface and the numerous features it has to offer to its endearing users, and while Any.do might seem or look like a basic task manager at first glance, this simplified app offers so much more than that.
Any.do allows its users to create tasks and checklists, schedule due dates for events, and also set reminders, making it a popular choice among over 30 million users all over the globe.
Core Features
One distinctive feature we can take away from this checklist app is the Any.do Moment, which prompts the user to review their tasks for the day and commit to completing them before that day is over.
This checklist app also offers location-based reminders, which alert users to perform tasks when they are at specific locations. This feature adds convenience and ensures tasks are accomplished efficiently.
Pros
Multiple Device Synchronization
The daily planner app allows you to synchronize your planner across all your devices. This means you can access your planner from your laptop, desktop app, iPad, or phone, making it easy to manage your daily schedule on the go.
The app offers a range of customized themes that you can choose from to match your different project needs. This feature helps to keep your planner organized and visually appealing.
With the daily planner app, you have unlimited use of the planner, which means you can create as many schedules as you need.
Integration with Other Calendars
The app seamlessly integrates with Google Calendar, Outlook, and iCloud Calendar. This means you can easily import and export events between your different calendars.
The app sends reminders about tasks and missed calls, helping you stay on top of your schedule and never miss an important event.
Cons
The app's customer support service is weak and may not be able to provide timely solutions to users' problems.
Some of the app's advanced features might take some time to learn, which may be frustrating for some users.
Pricing
9. Workflowy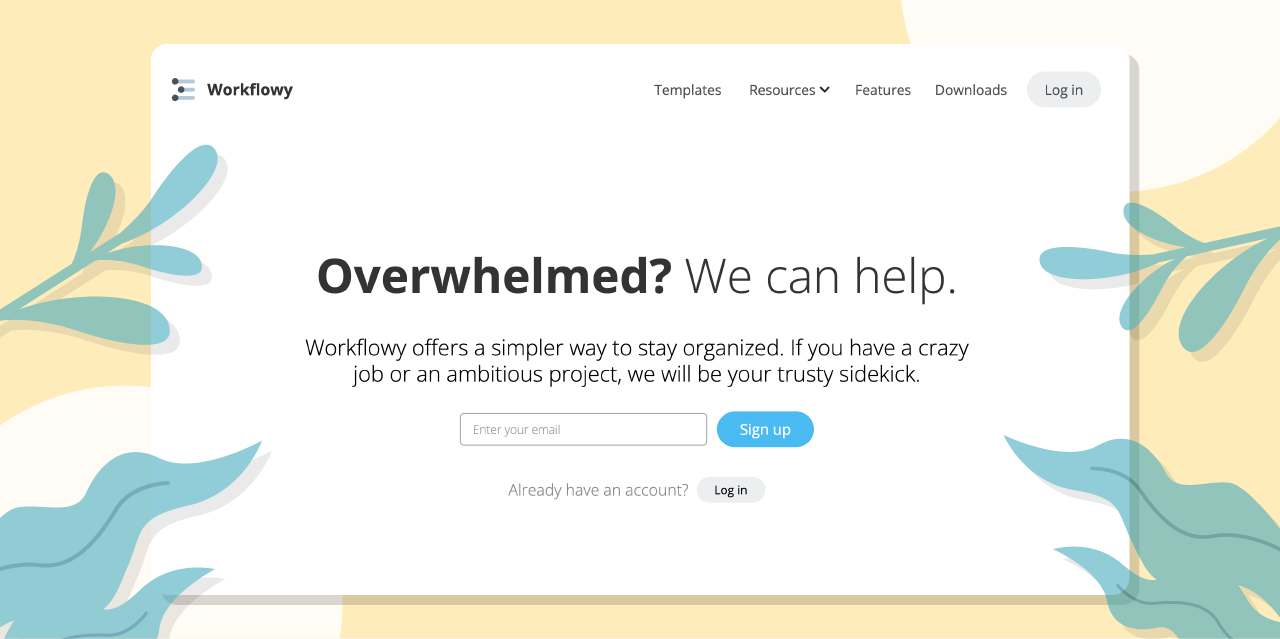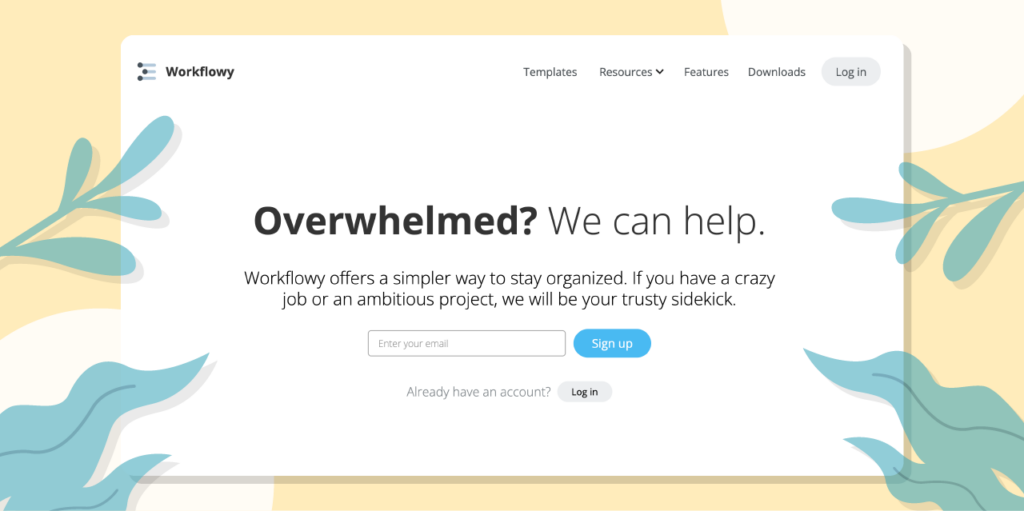 Workflowy is another checklist app that allows you to organize your personal tasks and to-dos into simple lists.
Core Features
Organize your tasks and projects visually using a Kanban board, which allows you to easily move the checklist items from one stage to another.
Quickly find specific tasks or notes within your Workflowy account by using the full-text search feature. This can save you time and effort when looking for specific information.
With Workflowy's cloud sync, you can access your account and work on your tasks from any device with an internet connection. This also ensures that your data is always backed up and secure.
Pros
Collaborate with others in real time on shared lists or projects, making it easy to stay on the same page and work together efficiently.
Workflowy's dark mode is easy on the eyes and can reduce eye strain, especially when working for long periods in low-light conditions.
Available on All Your Devices
Whether you're working on your laptop, tablet, or smartphone, Workflowy is available on all your devices, making it easy to keep track of your tasks and projects wherever you are.
Cons
Workflowy's pricing may be a bit steep for some users, especially for those who don't need all the features and functionality.
Without internet access, you won't be able to access your Workflowy account or make changes to your tasks and projects. This can be a downside for those who frequently work in areas with limited or no internet access.
While Workflowy offers some great features, it may not have all the bells and whistles that some users are looking for, such as advanced project management tools or integrations with other apps.
Pricing
There are two plans available on Workflowy: the Basic plan and the Workflowy Pro plan. The Basic plan is free, while the Workflowy Pro plan costs $4.99 per month. However, if you choose to pay for an annual subscription, you can enjoy a 20% discount, making it $4.08 per month or $49 annually.
10. GoodTask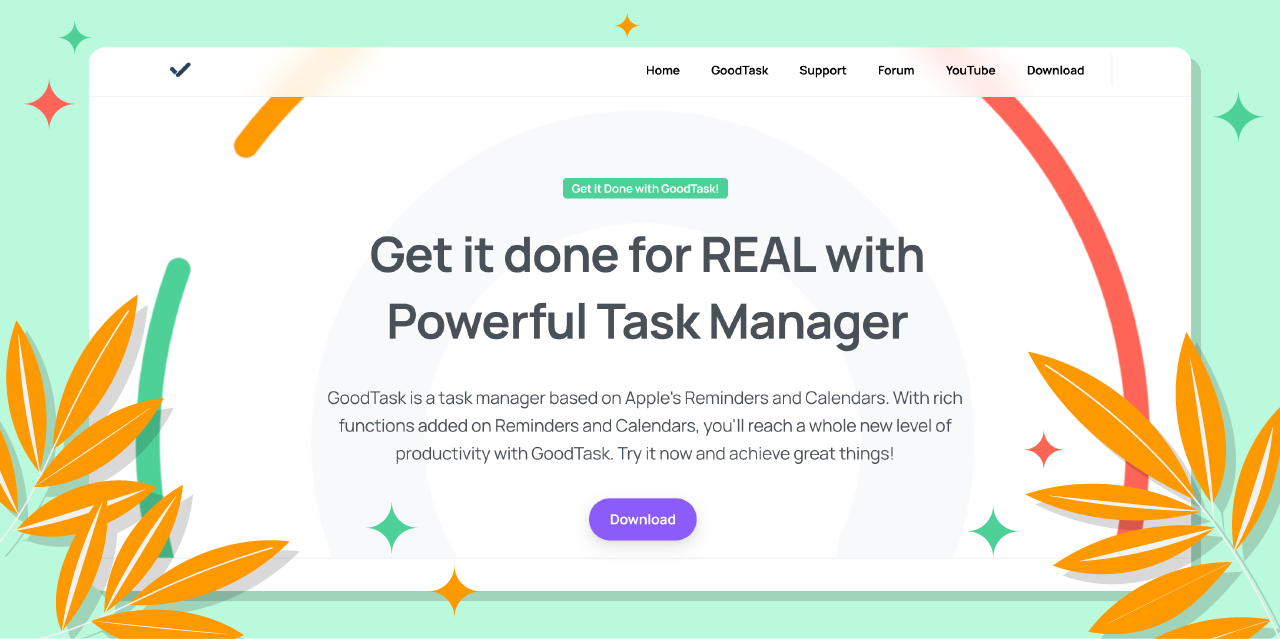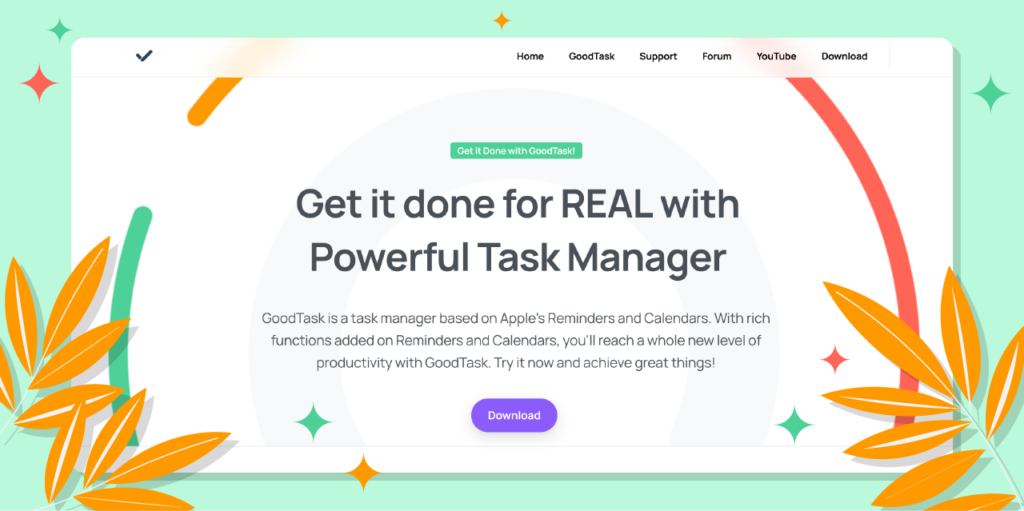 GoodTask is another checklist app in today's world. It can serve as a fantastic daily checklist tool and at the same time be used to handle large business projects.
But note, GoodTask is only available for Mac and iOS users at the moment, and it synchronizes with the iOS reminders and calendars (unfortunately for Android users).
Core Features
Integrates with iOS Reminders and Calendars
One of the primary features of this productivity app is its integration with iOS reminders and calendars. This allows you to easily keep track of your tasks and appointments all in one place.
Another core feature of this app is its customizable appearance. You can adjust the color scheme and layout to fit your style and preferences.
Smart Lists are an incredibly powerful tool for filtering your tasks exactly the way you want. You can easily view your tasks, including specific #tags or exclude certain #tags. Combine specific lists and calendars to get a more complete view of your tasks. You can view overdue tasks or recently added tasks with ease.
Finally, check your tasks on a daily, weekly, or monthly basis to ensure you are always on top of your to-do list. With Smart Lists, you can easily achieve more and stay on top of your game.
Pros
One significant advantage of using this app is that it synchronizes seamlessly with your iOS reminders and calendars. This feature ensures that you never miss an important task or appointment.
Cons
Limited Availability
One notable downside to this app among many others, is that it is only available for Mac and iOS users at the moment. Users of other operating systems will have to wait for a version that is compatible with their devices.
Pricing
At the moment, GoodTask can be accessed on macOS, iOS, and iPad devices. You have the option to download it from the GoodTask website or the Mac App Store. For iOS devices, simply head to the iOS App Store.
The app costs $19.99 per month, but just like SweetProcess, you can take advantage of a 14-day free trial if you're just testing the waters. It's recommended that you give it a shot to gauge how much it can enhance your productivity.
11. Coast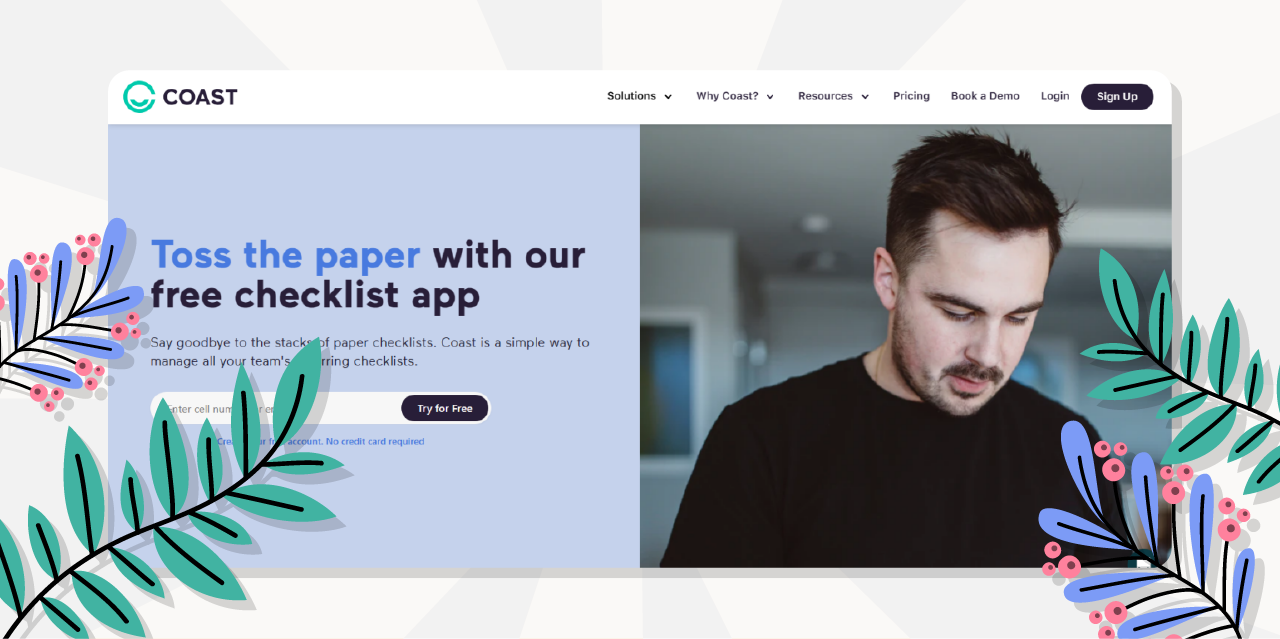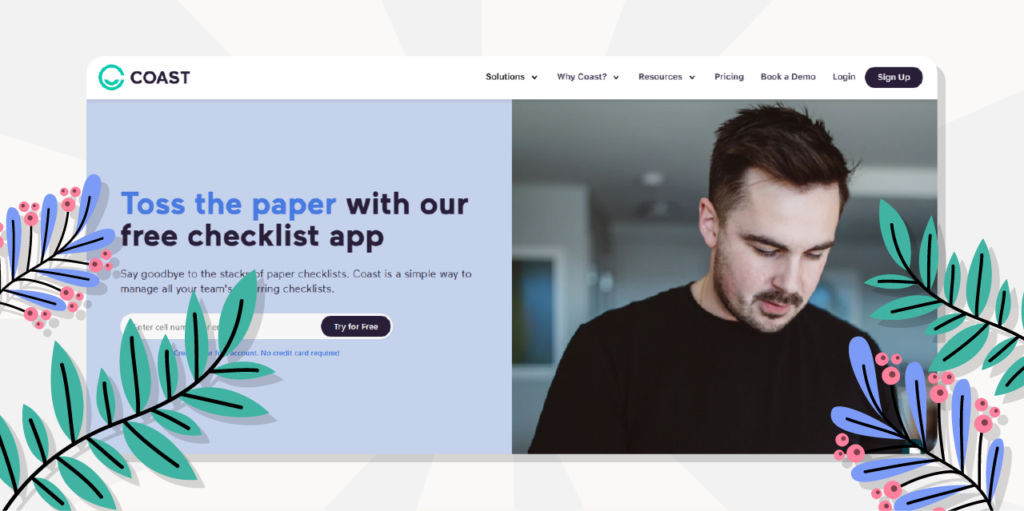 The Coast mobile app streamlines work communication, task tracking, and team collaboration. It is a trusted tool utilized by numerous businesses like McDonald's, Marriott, and Planet Fitness. By using Coast, you can enhance your workflows, reduce paper usage, and save time by eliminating the need for email, texting, spreadsheets, and paper checklists. Sign up now to experience efficient and quick task completion.
Core Features
Maintenance Reports and Dashboards
Get real-time insights and identify trends to optimize labor and maintenance costs.
Find anything shared within chat groups, including messages, tasks, schedules, and files, with Coast's comprehensive search functionality.
Communicate easily with individual team members or organized chat groups, eliminating the need for scattered text messages and emails.
Pros
Users can tailor the app to their preferences by choosing the features they want and hiding unnecessary ones, providing a personalized user experience.
The read receipts feature enhances accountability, allowing users to see who has viewed messages, tasks, or scheduled shifts.
Cons
While using the Coast checklist app, users may experience some challenges that could impact their overall experience. For instance, the app's connection can sometimes be poor, causing delays when connecting to the server via mobile data.
Additionally, when two people work on the schedule simultaneously, the app may glitch, which is frustrating.
Users have reported that the customer care support is weak.
Navigating the app on a phone might be slightly more challenging than on a PC.
Pricing
Starter plan: $22 /month ($20 billed monthly for an annual subscription—10% discount)
Pro: $38/month ($34 monthly for an annual subscription—10% discount)
Enterprise: Custom pricing
Let's begin with Coast's free plan, perfect for teams who want to stay organized. Their starter plan is available for $22, while the Pro plan costs $38. For larger teams that require reporting, control, and support, the enterprise plan is available. But you'll have to contact the team at Coast for an arranged price.
With the Starter plan, only one user can access the account, resulting in a monthly cost of around $22 per employee. If your team has 20 employees, the monthly cost would be approximately $440. This goes for all plans.
Our SweetProcess platform charges a flat monthly fee of $99 for up to 20 employees, which is significantly less than Coast's Starter plan. By choosing our platform, your company could save approximately $340 per month.
7 Top Features to Look out for in a Checklist App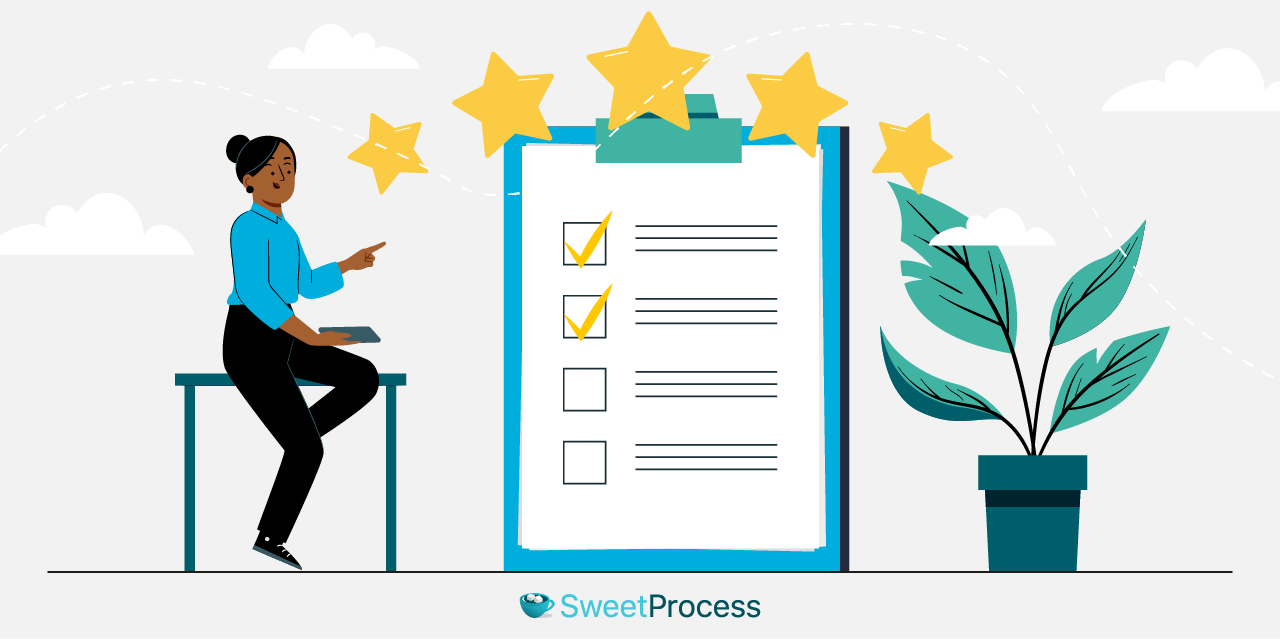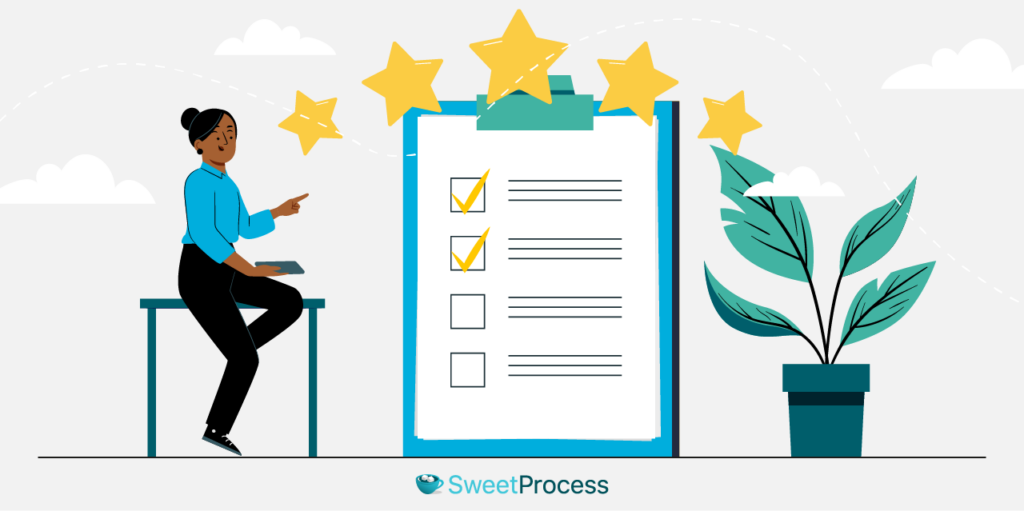 Information Capturing
A top-notch checklist app should easily allow its users to capture various kinds of information, such as images, texts, videos, and even voice notes. This will help you create defined and comprehensive checklists for yourself or your employees.
Design
Who wants to use an ugly-looking, hard-to-navigate checklist app? Nobody! If you want your employees to light up with a smile whenever they go about trying to implement a checklist app into their work routine, a good design is very crucial as it improves their attitude to get their tasks done.
Task Visualization
Good checklist apps usually have certain features that make visualizing tasks fun and appealing. Visual elements like color-coded categories and tags, color-coded labels, progress bars, and indicators will all help your employees glance over at their tasks' status at intervals. These features also help its users stay organized and miss vital steps or data.
Task Organization
An excellent management system should be able to create subtasks, sub-checklists, and even set deadlines for your team. These features will allow your employees to be able to work on complex tasks and build seamless workflows within the app.
Time Tracking
Time is a non-renewable, limited, but investible resource. For any business, time is of utmost significance when getting things done. Time is money. And if you're choosing the right checklist app, make sure it has time-tracking features incorporated into its system. It should have features that enable your employees to track their task completion times and track how long they've worked on a project, resulting in increased productivity.
Sync and Sharing Options
The significance of having a checklist that can be synced and shared across devices and tools cannot be overemphasized. A good checklist app should allow for easy collaboration between you and your teammates, as this can help foster good communication within the team and help you control the project at hand.
Reporting Features
Look out for a checklist app that reports on your productivity based on your checklist use data. These reports are of utmost significance if you want to up your productivity game and make the required changes to your work routine and that of your employees.
How to Choose the Right Daily Checklist App for Your Employees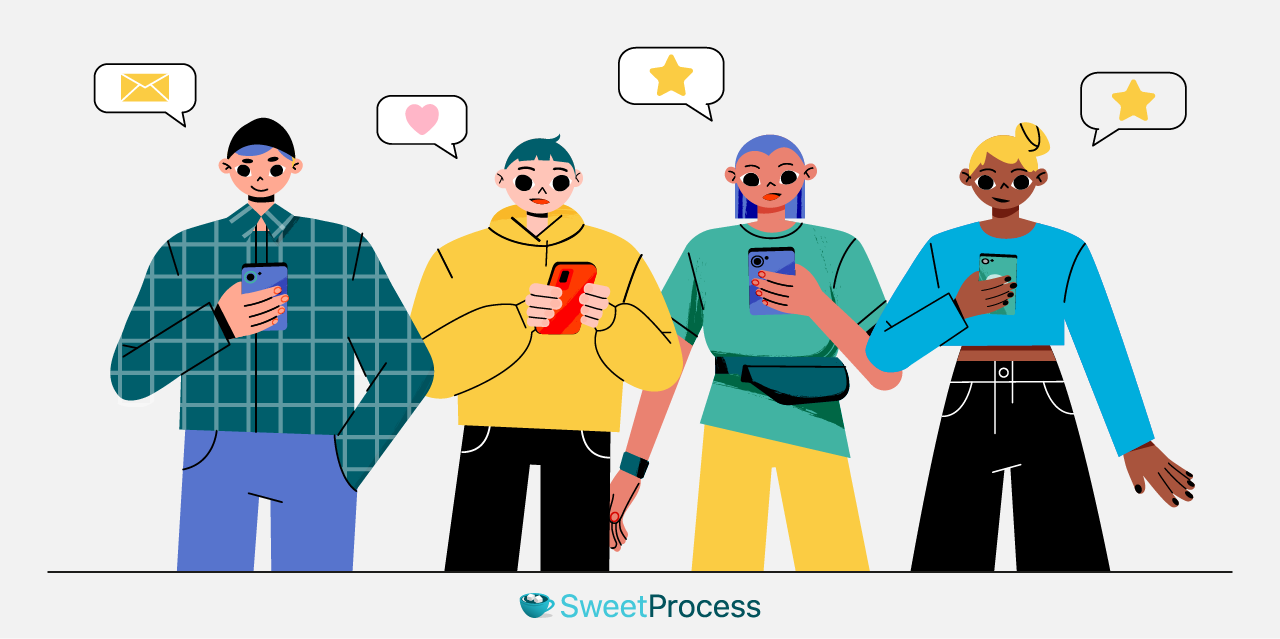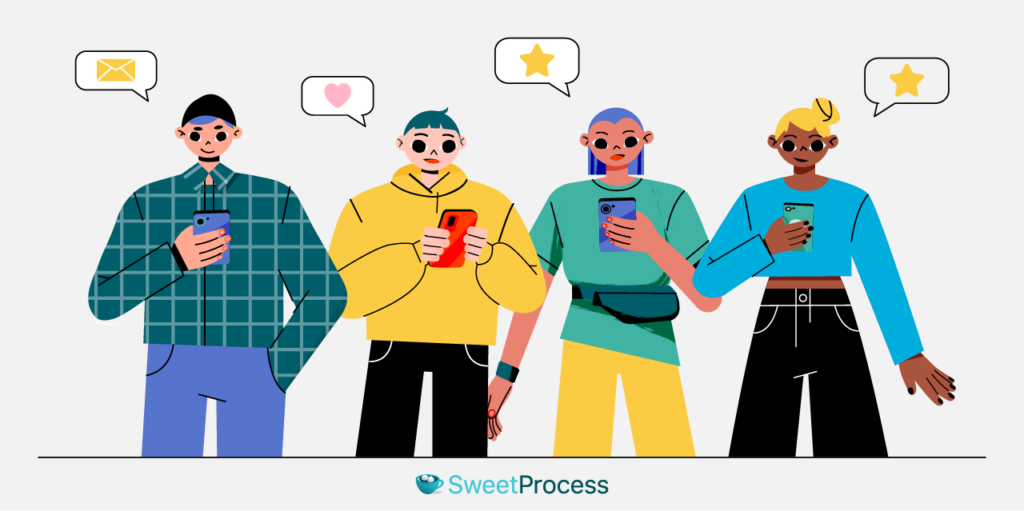 Ease of Use
Simplicity should be your number one priority when it comes to looking for the right daily checklist app for your employees. Look out for an app with a simple and intuitive interface. This necessity will help your workforce easily navigate and use the checklist app itself without unnecessary and time-wasting hassle.
Type of List
Examine the app's structure and how you can create different checklist types, and be sure that these lists are tailored to meet your business goals.
Budget
There are a bunch of free checklist apps out there, but they often have limited features that might not give you and your employees the full capacity to ensure productivity.
You should find a cost-effective checklist app that will not break the bank, or put a strain on your company's finances. Consider it as a little investment.
Reputation
Make sure to read user reviews and ratings to find out what others have to say about a checklist app before diving in. There are a lot of dishonest checklist apps out there to extort you, so it's safer to learn from the experiences of others. Use your research to make an informed decision before choosing to use a checklist app.
Storage Capabilities
Make sure that the checklist app can handle the voluminous number of checklists and data if your team generates that much. It'll come in handy in the future to prevent setbacks or unforeseen glitches.
What is a Checklist App?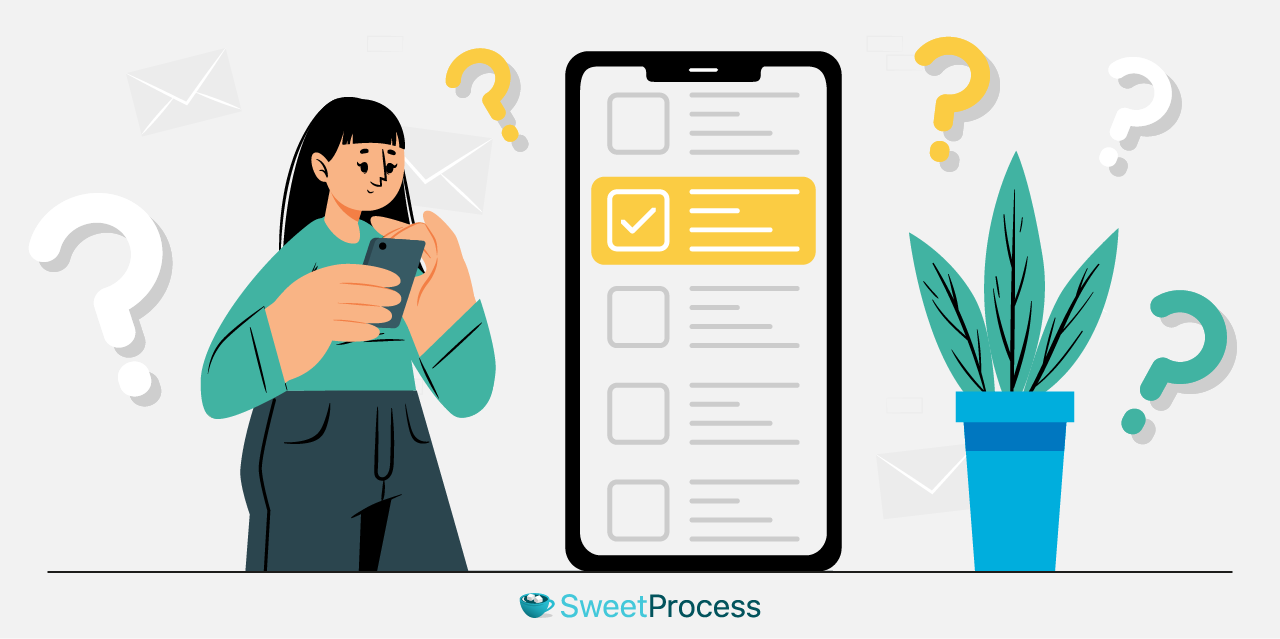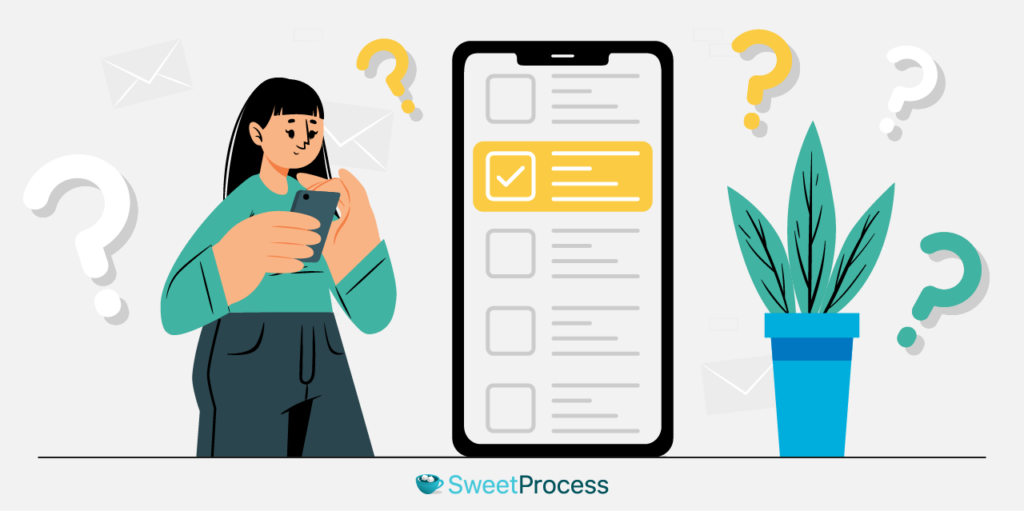 A checklist app is a software program that's more or less like a super-organized personal assistant right on your smart device (mobile phone or PC).
This digital tool allows you to edit a digital checklist and keep track of all your to-dos, tasks, and events in one organized space and have a group of individuals, employees, or students check off these tasks once they are attended to.
Most checklist apps even allow you to integrate other apps or third-party features to supercharge the process of completing your tasks. So, you can say goodbye to scribbled and scattered notes all over your living space or hub.
And if you're a sucker for being productive in your workplace, school environment, or at home (attending to chores), you'll know how electrifying and satisfying it is to cross a task off that rumbled paper checklist.
Now, brace yourself for the digital equivalent of that feeling. With a digital checklist, you can just tap the little checkbox right next to an uncompleted task, and you'll find yourself feeling like a productivity gangster every single time.
Benefits of Using a Checklist App for Your Employees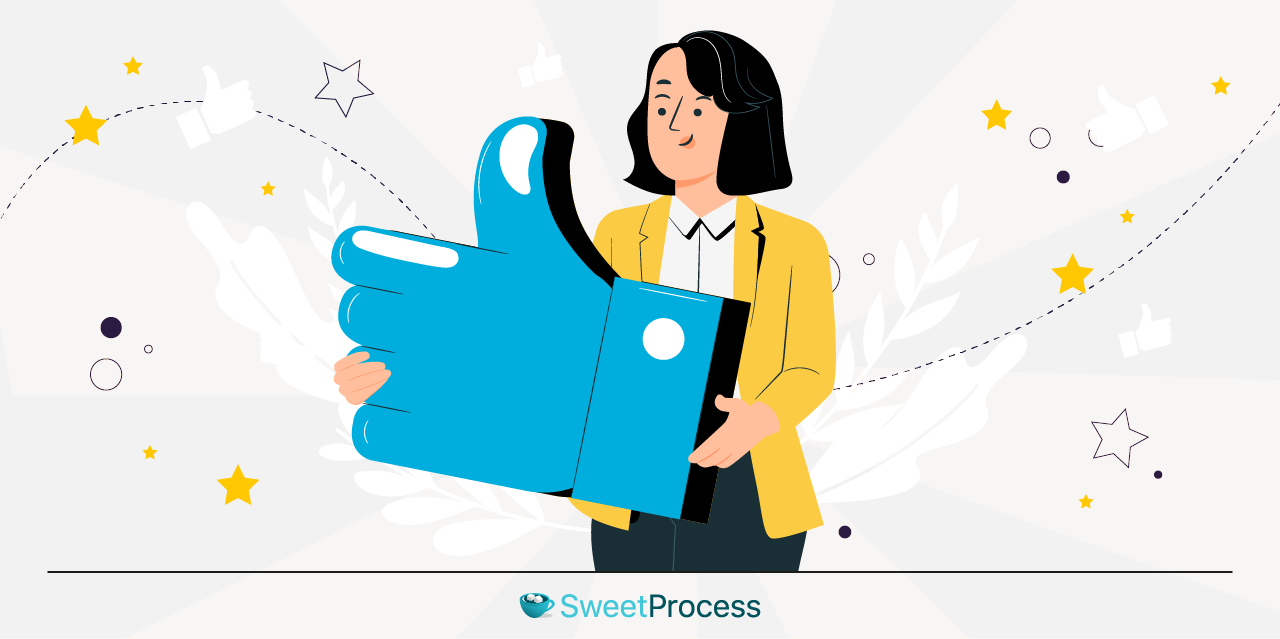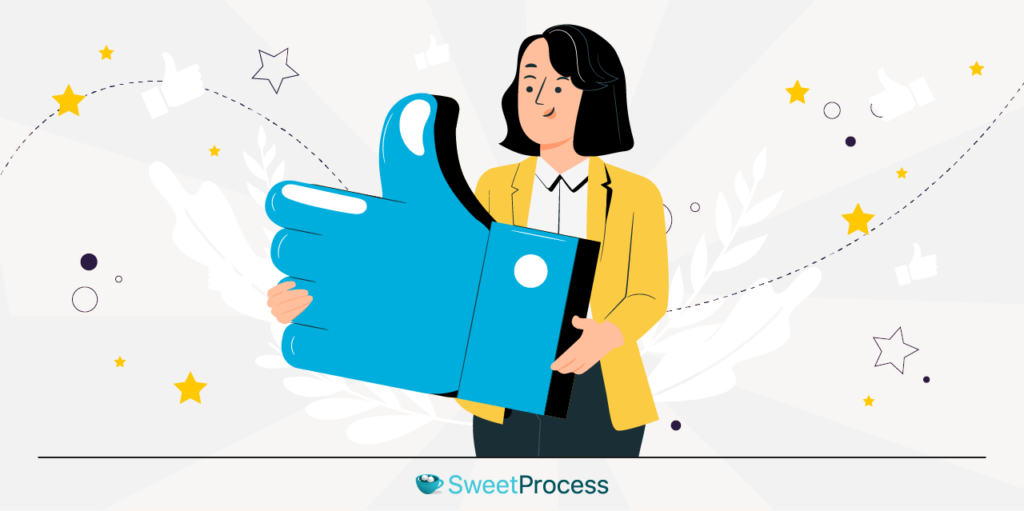 Break Down Tasks
The most significant part about using checklists is that they help to break down large, cumbersome tasks into smaller, bite-sized chunks. It's like tackling a big box of pepperoni-flavored pizza, slice by slice, with each slice more satisfying and less overwhelming, bringing you to an empty box in the end. And a full stomach, of course!
Set Reminders
Checklist apps help you and your team remember vital events or deadlines in your place of work. Your employees don't have to worry or stress over missing crucial meetings or important stuff because they have a digital alarm clock that alerts them whenever they have something coming up.
Track the Progress of Tasks
Aside from the fact that checklist apps help break down large chunks of tasks into bite-sized, accomplishable ones and help remind you and your employees of vital stuff, they can also help track everyone's tasks and see how far they've gone. Think of this as having a progress bar in the working environment—you'll know who's cruising off and texting away on social media and who's working their butt off or who might need a little assistance.
Delegate Tasks Effectively
With checklist apps in the work environment, you can say goodbye to confusion and messy handovers. You can delegate tasks clearly and effectively. It's like having a virtual assistant manager who knows who's responsible for what, and for who, and at what time.
Improve Team Communication
No more unnecessary meetings, endless emails, and chaotic group chats—good checklist apps always have certain features that allow team members to use their notes and comments section to talk about suggestions, brainstorm ideas, and take a crack at work-related jokes.
Motivate Employees
Crossing things off a checklist can make one feel satisfied and super productive. Bring that feeling into a work environment, and the result is a bunch of happy employees all fired up and motivated to complete tasks. Seeing progress and getting things done boosts motivation like a power-up in a video game!
Sync Tasks Across Devices
These digital checklists can be synced across various types of devices so your employees can access their assigned tasks or to-do lists anywhere and anytime.
Create and Manage Your Company's Checklists in One Place Using SweetProcess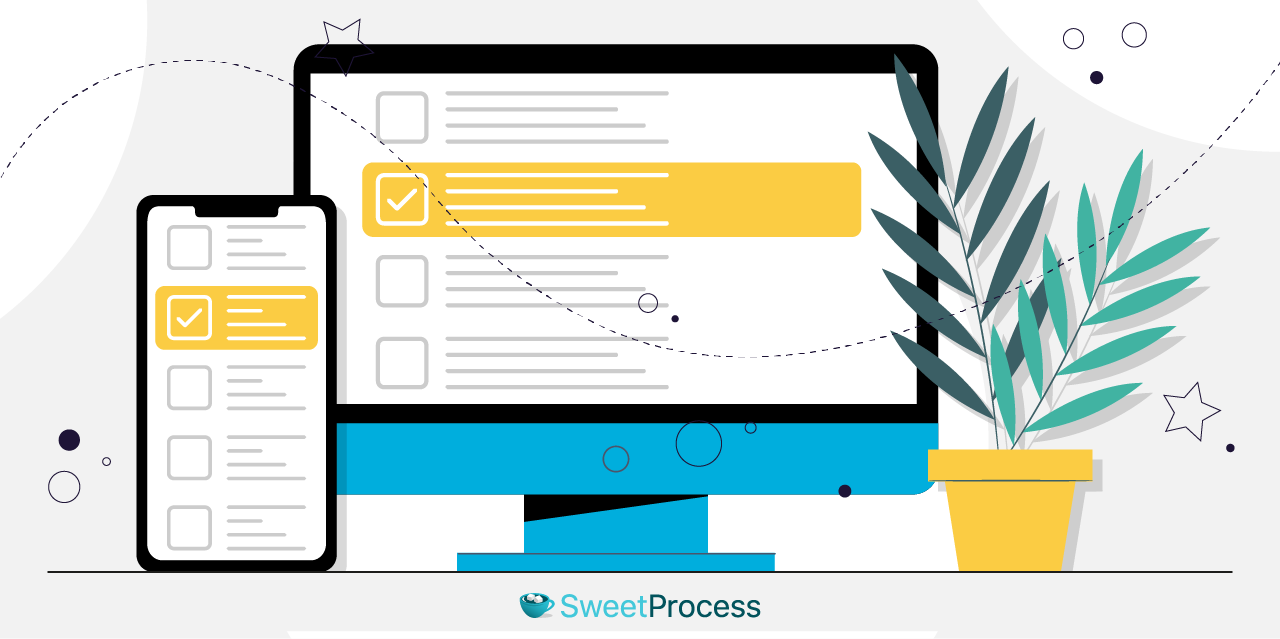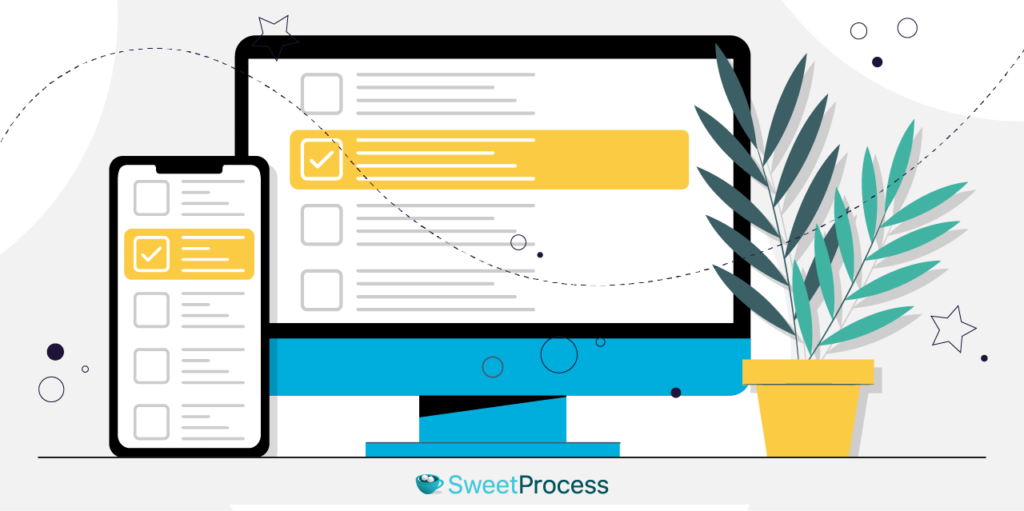 In the ever-dynamic world of business operations, the need for streamlined, effective, and efficient processes is key to building a business empire.
But thanks to SweetProcess, you can create and manage your checklists as well as your team's, all in one place, thereby boosting your company's productivity.
Whether it's from being able to create checklists for your employees, assign a checklist as a task to your employees, or manage employees' checklists, we've got a lot of amazing features designed to help you and your employees build a thriving workspace.
We have lots of case studies from our loyal partners who have used our solutions to supercharge their business operations. For example, learn how Thimbleberry Financial, a financial planning firm based in Portland, overcame operational obstacles through innovation.
Initially relying on traditional documentation methods, President Amy Walls found her team struggling with clarity and turnover. However, she soon embraced SweetProcess, a workflow documentation tool recommended by her business coach.
Follow Amy's journey as she describes how SweetProcess transformed employee onboarding, streamlined documentation, and fostered seamless collaboration. This inspiring case study details the evolution from doubt to success. Read the full case study to discover more.
We can also take a look at how Rise25, a leading podcast and content marketing firm, achieved efficient workflows with SweetProcess. Co-founder Dr. Jeremy Weisz's quest for operational clarity led the company to explore effective business process documentation.
Although they initially used scattered Google Docs, they faced difficulties keeping up with demand. The turning point came with the implementation of SweetProcess, which revolutionized their operations and increased customer satisfaction.
Discover Rise25's journey from bottlenecks to streamlined success in the full case study.
Then comes Kevin Trapp, the director of operations at Forensic Analytical Consulting Services (FACS), as he describes how SweetProcess changed the game for their environmental health consulting firm. As FACS expanded, they struggled to maintain consistency across locations due to their complex and rarely used standard operating procedures (SOPs). Kevin sought a change and discovered SweetProcess, which turned out to be the turning point for FACS.
Despite having SOPs in place, FACS faced a lack of process adoption, leading to an overwhelming reliance on Kevin for guidance. This dependency hindered productivity and growth. Kevin turned to SweetProcess for a solution, which was user-friendly and allowed for linking to specific SOPs, eliminating the need to sift through lengthy documents.
SweetProcess proved to be a game-changer for FACS. It enabled efficient process documentation, streamlined onboarding and training, and created a culture of self-sufficiency, enabling employees to access crucial information independently.
Kevin's advice to businesses is to opt for user-friendly tools like SweetProcess and start small by accumulating processes gradually. Discover how SweetProcess transformed FACS from dependency to efficiency by exploring the full case study.
After reviewing the side-by-side comparison of various checklist apps and examining our case studies, it is evident that SweetProcess is the superior choice for creating checklists and establishing business workflows.
Not only is it more affordable, but it also simplifies the process. Additionally, you can take advantage of a 14-day free trial to explore all the features without any obligation. Don't hesitate—sign up for SweetProcess now!
FAQs About Checklist Apps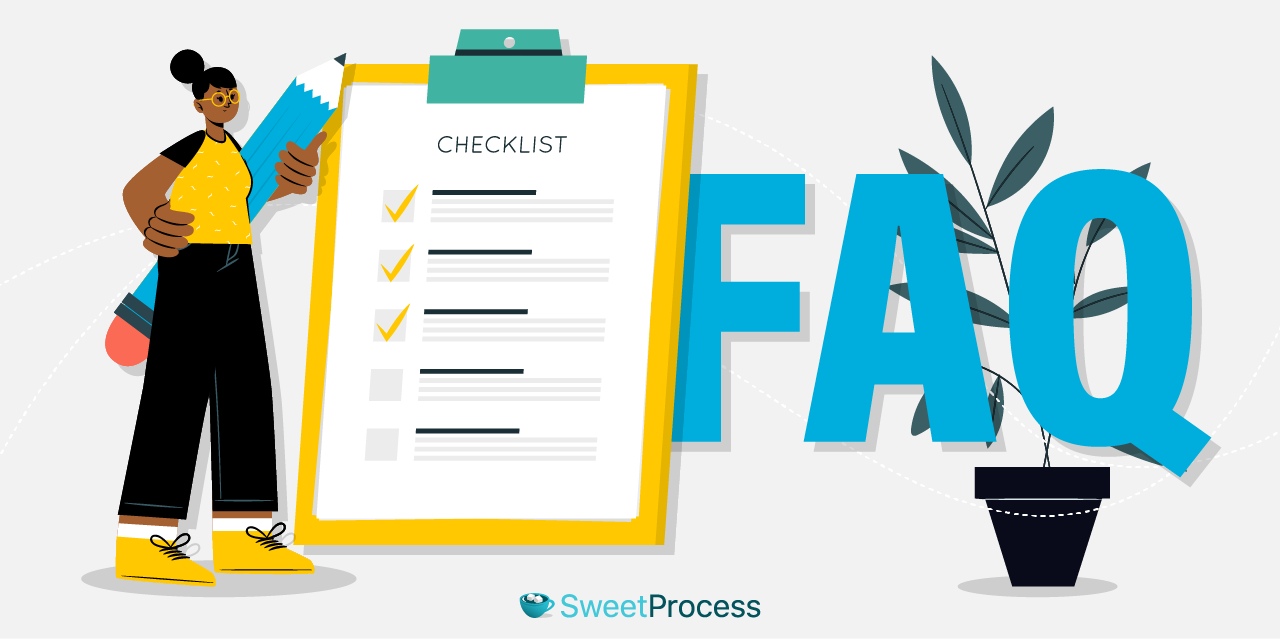 What should be on a daily checklist?
A daily checklist should contain some essential tasks such as scheduling meetings, checking emails, reviewing projects and even incorporating time for breaks and self-care to maximize productivity each day.
How do you create a checklist for daily routines?
To create a checklist for daily routines, here are some steps you need to follow:
List all your to-dos or vital tasks you need to accomplish before the day ends.
Prioritize the tasks in order of urgency and significance.
Set realistic time frames for each task you want to complete.
Use digital tools or apps such as checklist apps for seamless task management.
Review and make necessary changes to your daily routine regularly for optimal productivity.
What makes a good checklist?
A good checklist app should be user-friendly, well-organized, aesthetically appealing, and easily navigational. It should also allow for easy creation and sharing of tasks, deadlines, and responsibilities, as well as foster team collaboration and productivity.
Is there a free checklist app?
Yes, there are some good checklist apps out there that are also free. Google Keep, Google Tasks, TickTick, Checklist.com, and even Notion are options to choose from, among many others.
What is the best app to make a checklist?
SweetProcess. Our app offers so many amazing features, such as an intuitive user interface for the easy creation of tasks and procedures, a centralized tasks management system, and effective collaboration among team members.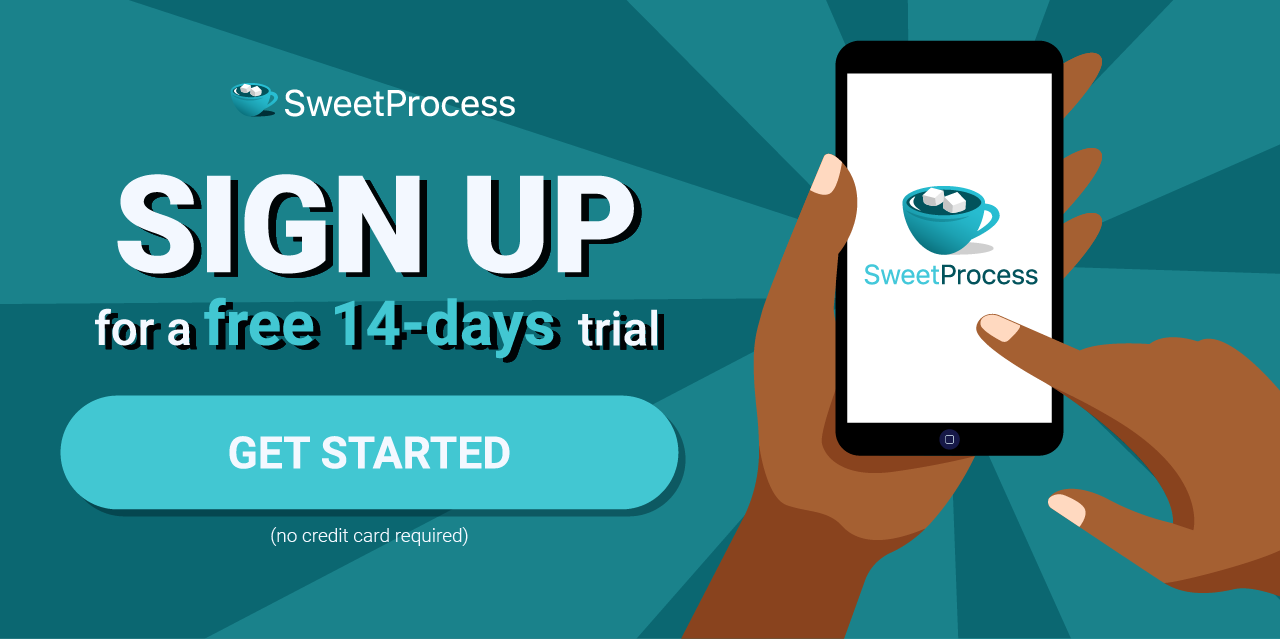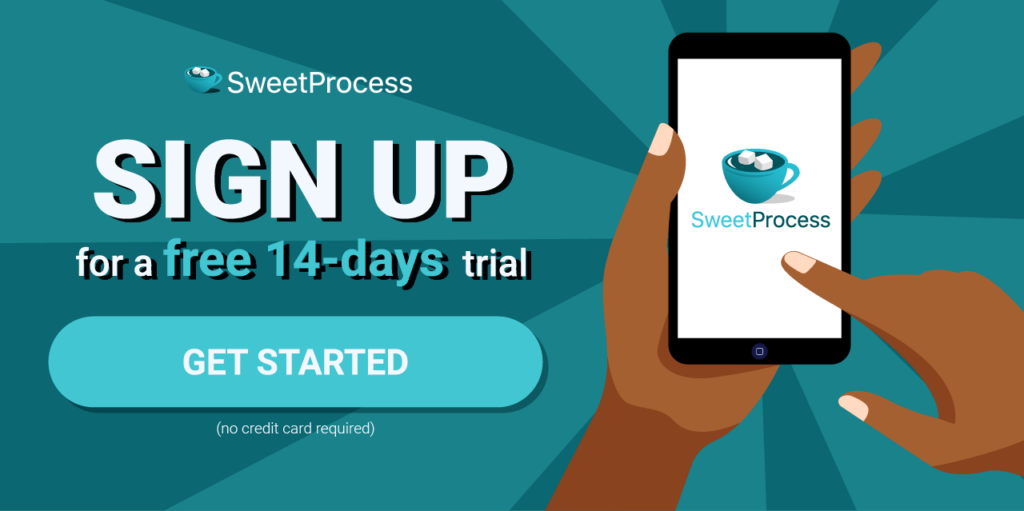 Get Your Free Systemization Checklist

5 Essential Steps To Getting a Task Out of Your Head and Into a System So You Can Scale and Grow Your Business!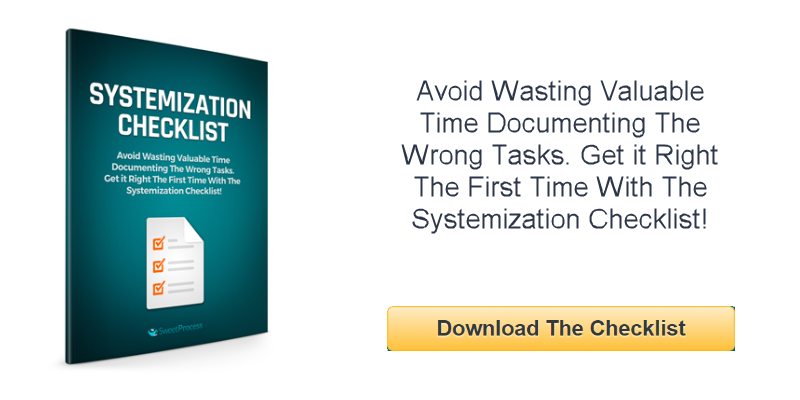 12 responses to "11 Best Daily Checklist Apps For Employees"