Whale Alternatives for More Efficient Policies, Processes, and Procedures
Last Updated on May 27, 2023 by Owen McGab Enaohwo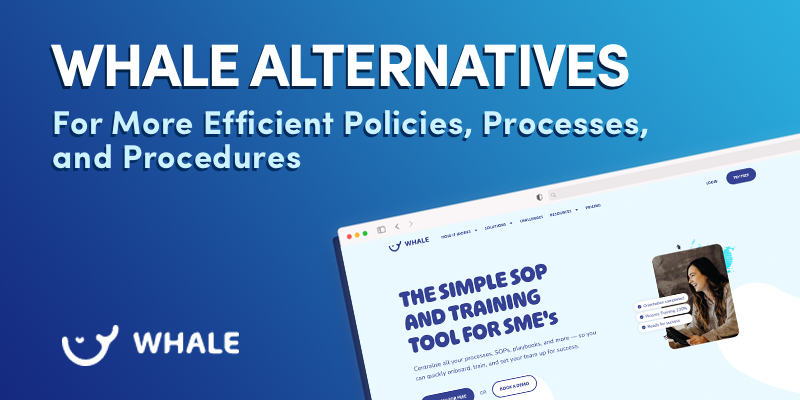 Productivity solutions of the SaaS persuasion are a dime a dozen. Since all such solutions have some kind of knowledge storage and documentation feature, they might suffice, or at least you would think they would help. Unfortunately, they rarely do.
Many process mapping tools either fall short or miss the target entirely. While it is an awesome process documentation tool, Whale has certain issues you should know about. Let's take a look at what Whale gets right, and what it doesn't. Furthermore, we've put together a list of seven Whale alternatives that do process documentation better.
Start your 14-day free SweetProcess trial
About Whale
Whale is an SOP and corporate knowledge documentation software for companies interested in centralizing all their know-how in one system. Employees can access, as well as edit, specific documents quickly and easily through Whale's web portal and browser extension. Let's take a look at what Whale does and how it does it.
The software uses a kanban-styled interface where you can organize your SOP and core knowledge base. Each card can be used as a playbook for storing relevant SOP checklists, data or any other information necessary.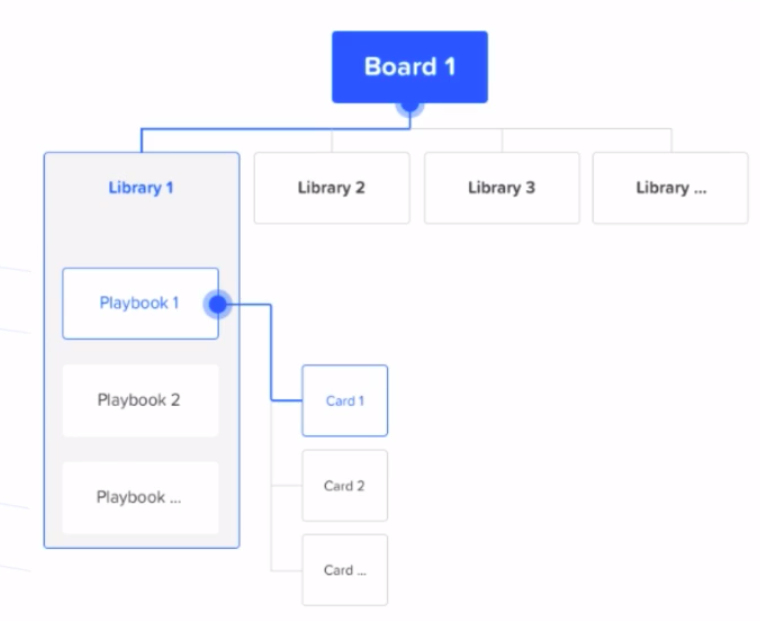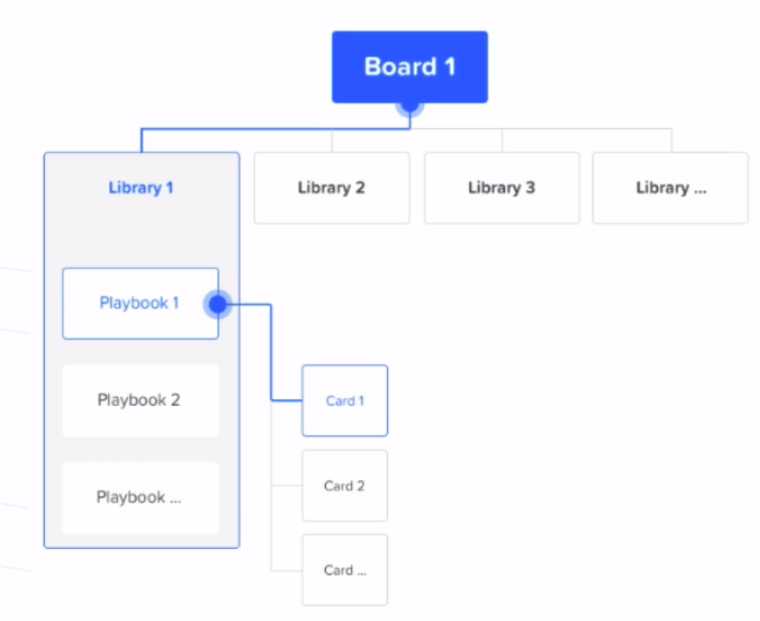 Processes and SOPs can be assigned to task owners who may delegate them to other team members. Users can make suggestions to the documents they are granted access to, which can be reviewed and added to the core content by the document owner.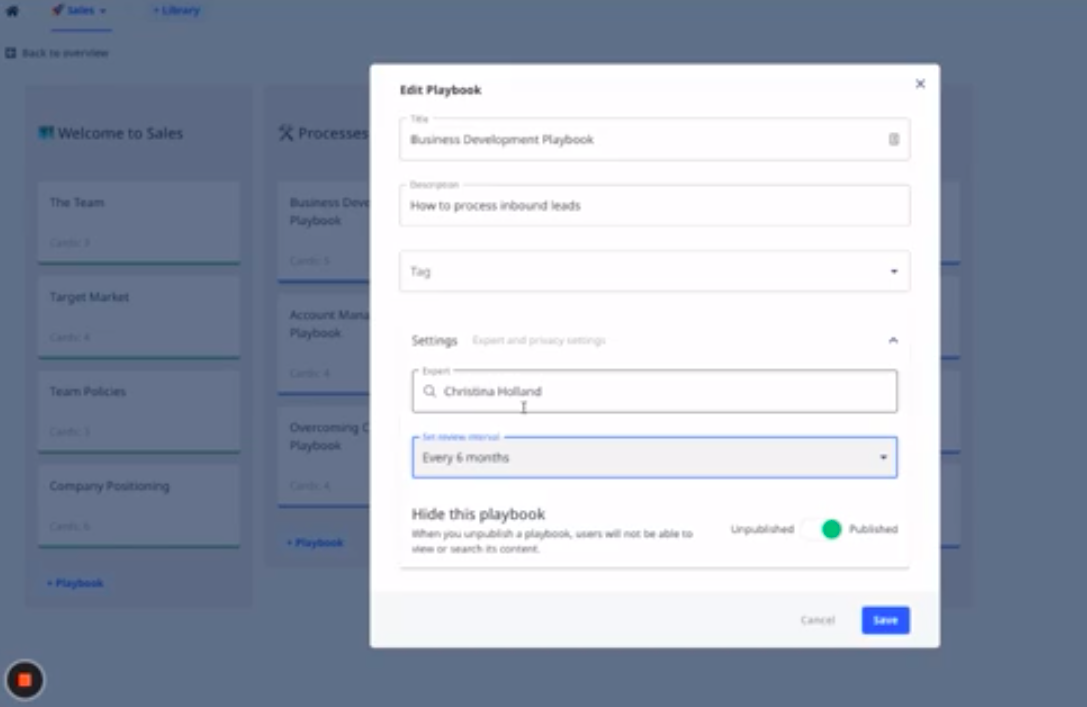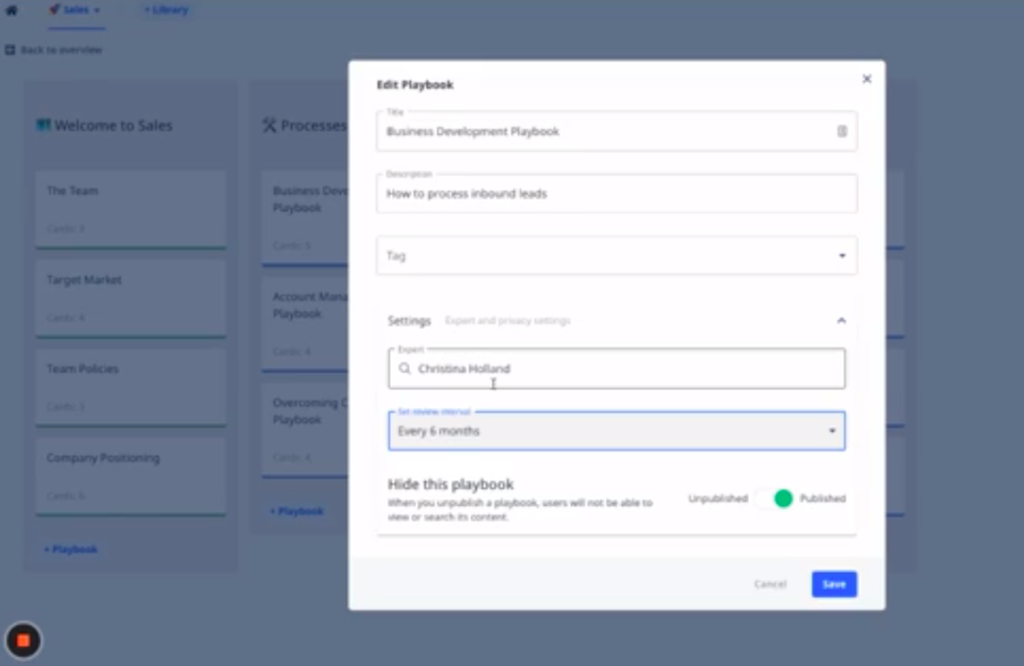 Whale starts at $5/user/month for their Starter package (five users minimum). There are a lot of things that Whale does right. But it's by no means the only SOP documentation and implementation solution out there and in many ways it is not ideal.
While Whale gets many things right, it's not perfect. We constantly ran into issues with its editor which has functionalities much more limited than its peers. For example, it doesn't like MS Word very well, and documents uploaded in .docx formats need some work before they show correctly. Likewise, the software doesn't have the out-of-the-box integration options that most process mapping tools today do.
Below are a few Whale alternatives and the use-cases where they are probably a better choice. They not only address Whale's drawbacks, but are much more specialized in their implementation.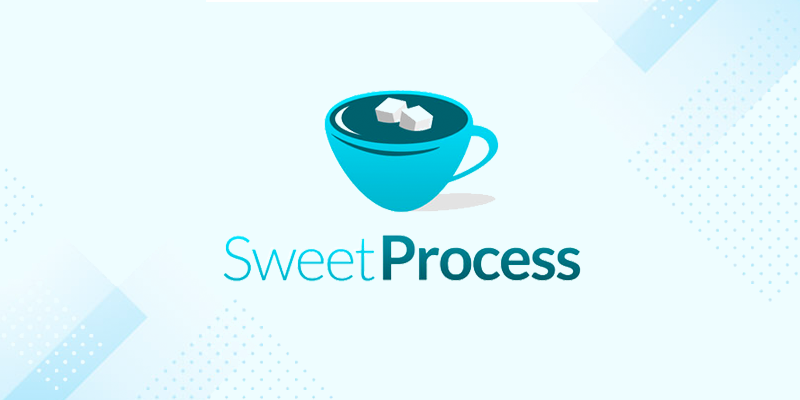 Since we're talking about all things processes, we'd like to throw our hat in the ring as well. Unlike the other Whale alternatives in this list, SweetProcess is the only tool dedicated to helping companies (of any kind) document, understand and implement process-based workflows as fast as possible.
In that, SweetProcess is as simple as it gets. You create an account, add team members, and start documenting your process knowledge right away. Assign them to people with the appropriate permissions, and you're off to the races.
Pros
Uses a well-tested, three-stage documentation hierarchy
Simplest process documentation system
Not use-case or business-type specific
Pricing
Monthly: $99 per month for a team of up to 20 people; $5 per month for every additional member.
Yearly: $82.50 per month for a team of up to 20 people; $4.17 per month for every additional member.
Special discounts are available for smaller teams upon request.
SweetProcess has a free, cancel-any-time, 14-day trial period.
We offer a 30-day, money-back guarantee which doesn't include the free trial period, if availed.
Well-tested information hierarchy system
Too many SaaS-based products out there try to be the proverbial jack of all trades and never get one of them quite right. SweetProcess attempts to be the opposite. The entire system is built from the ground up to help companies get all their process-based knowledge under one roof and make sense of it as efficiently as possible.
SweetProcess is a viable Whale alternative in that it delves much deeper into process philosophy. Our documentation system is divided into three categories: policies, processes and procedures, all of which are well-established tools in their own rights.
Policies: Top-level guidelines that dictate what an organization can and cannot do. A policy is akin to a map that illustrates the general course of action that needs to be taken.
Processes: Outline the various tasks that need to be completed in order to achieve the vision laid out in a policy.
Procedures: The exact steps required to carry out a process.

So, policies have processes which have procedures. All organizations have various levels of each three attributes. In fact, it's hard for any one of these to work without the remaining two.
Without a policy, your organization can quickly lose sight of its overarching goals and become mired in day-to-day operations. In the absence of process and procedure information, teams end up wasting their time trying different things and getting nothing done. Even the Sith from Star Wars.
Most process documentation systems (in this list and without) concern themselves with processes and nothing else. SweetProcess, on the other hand, includes all three layers in one system.
Onboard and manage team members
While hiring seems like a straightforward process, it's anything but. Onboarding can make or break your company, which is why it has to be as simple and enjoyable for new hires as possible.
SweetProcess makes it very simple for managers to invite their team members to sign up and get started. You only need to add the member's name and email address which sends a welcome email to them. 

The manager can assign the new user a name in SweetProcess, which the latter can change or keep after signing up. If you have a lot of people to add, SweetProcess also has a bulk invite feature with which you can upload all the new member details using a CSV file.
You can track all the new signups from the Members tab. Once a new user signs up, they are greeted with a welcome message and given access to videos as well as instructions on how to get started. They can also use SweetProcess's exhaustive Help section to learn more about its features. Managers can create teams and add members to it just as simply from the drop-down menu.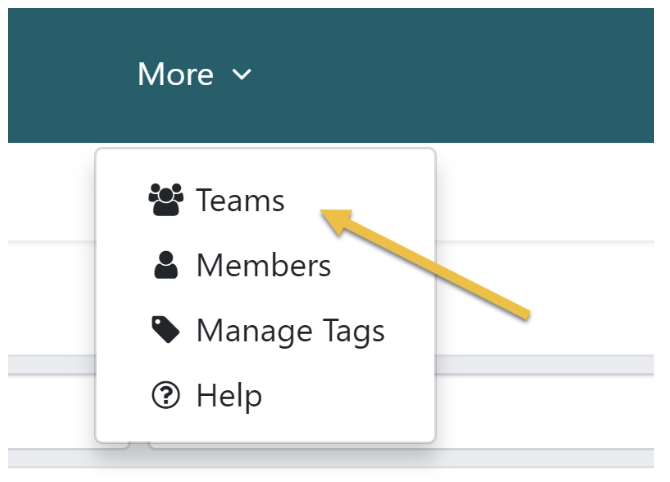 Your Teams menu will look something like this once you're done adding members to them:

And, here's how an individual Team menu looks:

You can assign policies, processes and procedures to certain teams, roles or members from your Teams tab, or from the Process tab as well.
Issue and track tasks from anywhere
Of the three document types, processes and procedures can be turned into checklists that managers can use to delegate and track tasks. A process can have several procedures, or you can have independent processes and procedures.

Once a task is issued, the member it is assigned to will receive an email notification. The team manager and people assigned to the task will receive updates when it's complete or overdue.
Procedures can include forms that members can fill out during the course of a task. Likewise, each checklist has a comments section where all people involved can discuss issues.
Changes can be made to policies, processes and procedures on the fly and all edits are reflected in the process activity tab on the right-side menu of every document.
Integration options
SweetProcess can work with over 5,000 different apps via Zapier, which is a no-code integration platform with virtually every cloud-based productivity app out there. Pairing two apps together is pretty easy. Simply enter the name of the app, add a description, answer a few questions and click Done.
Apps like Trello, Slack, Gmail and Google Drive are popular choices for integrations. Zapier supports six SweetProcess Triggers & Actions (combined), which allow you to automate certain workflows between different apps.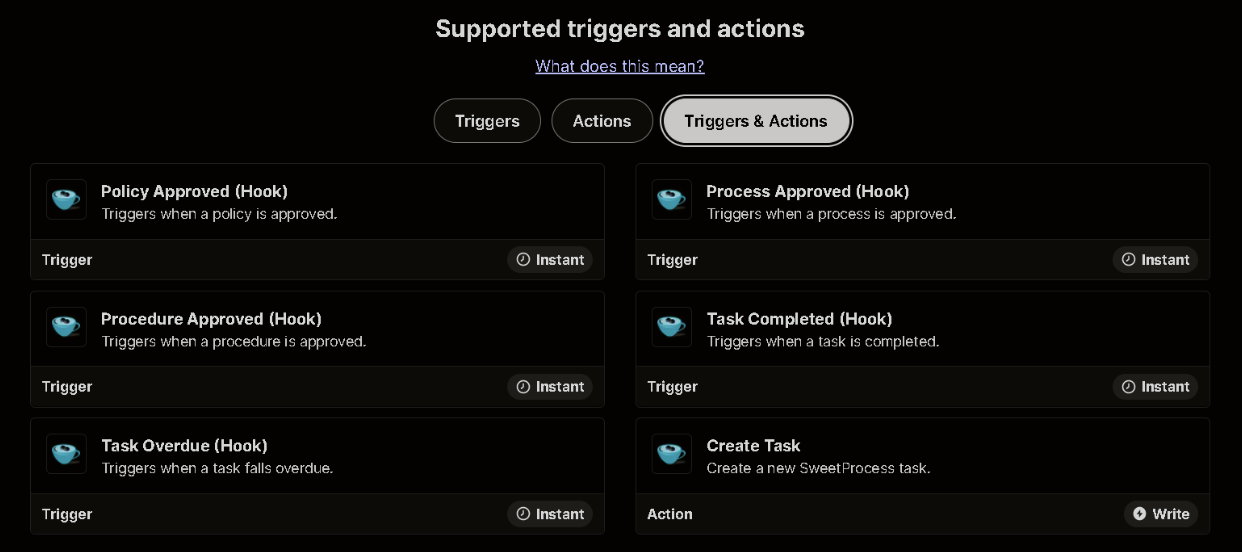 Given its use-case agnostic design, powerful documentation and information capture features, and team management, SweetProcess is the perfect Whale alternative for companies that want a do-it-all tool that sticks to the basics.
Case Studies
Companies from different industries and problems have used SweetProcess to guide their organizations to success time and time again. Here are some examples:
Try out SweetProcess with our 14-day free trial.
If you have highly specific requirements, we suggest you check out some of the apps below.
Klutch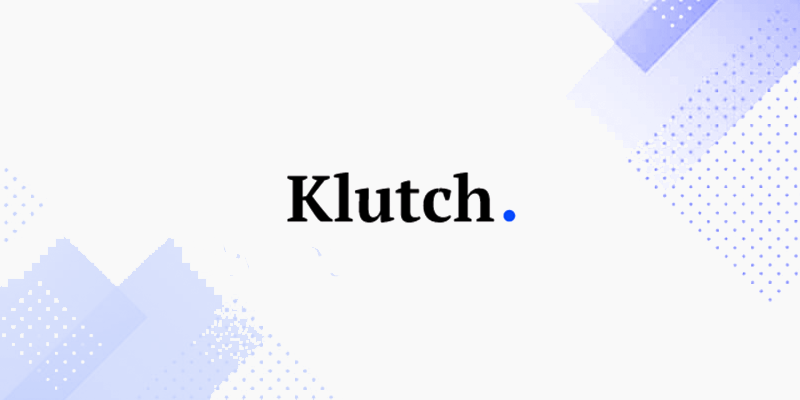 Klutch is an SOP management software with a special emphasis on automating customer responses while also helping you tackle internal issues.
Pros
Specializes in managing SOPs and processes for customer-facing teams
Handy Chrome extension for integrating canned messages with email
Easy to integrate and saves time
Smooth and unlagged functioning
Excellent customer support
Cons
The UI/UX may take some time to get used to
The free package only allows 50 items
The free version only allows 2GB of storage
Pricing
Basic version: Free to use and includes the following features:
Up to 50 items
Up to 2GB storage
Unlimited members
Pro version: $4/month and includes the following features:
Unlimited items
Up to 100GB storage
Unlimited members
External sharing
Premium support
Klutch's user-index is broadly divided into "Responses" and "Pages."
Responses
Klutch comes with a huge repository of response templates which your customer-facing team can either use as is or personalize. Additionally, Responses also allows you to:
Fill out forms and emails with a click
Get access to stored responses from all devices
Keep frequently-accessed scraps of information and links handy
Smoothly access employees in the sales team
For teams that have to solve customer issues on the clock, these features can really help save a lot of time. Klutch capitalizes on the fact that many of the responses teams send out are often repetitive, albeit with some changes and personalizations. Indeed, after going through a few of their templates, it becomes apparent that much of what we write in response to customer queries is the same!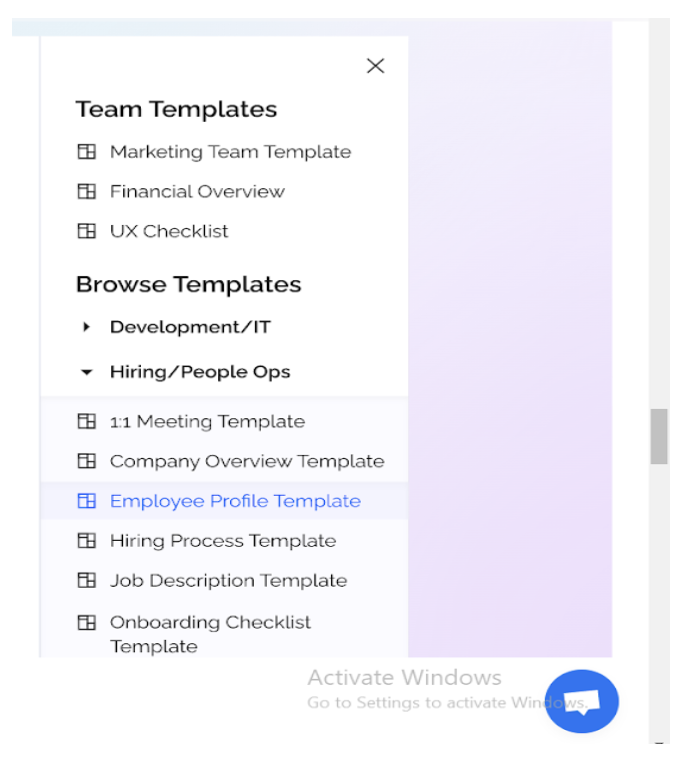 Pages
Klutch gives you access to a pretty decent document management and sharing platform specifically designed to suit customizing and organizing canned messages on your page.
The Pages allow you to add call-outs like Post-It notes, checklists, embedded responses and a subpage within the page, among other features.
With Pages, you can share these documents with your team members (so long as they're granted permission). As the owner of a document, you can allow John and Harry to only view the doc, while Michelle can edit it.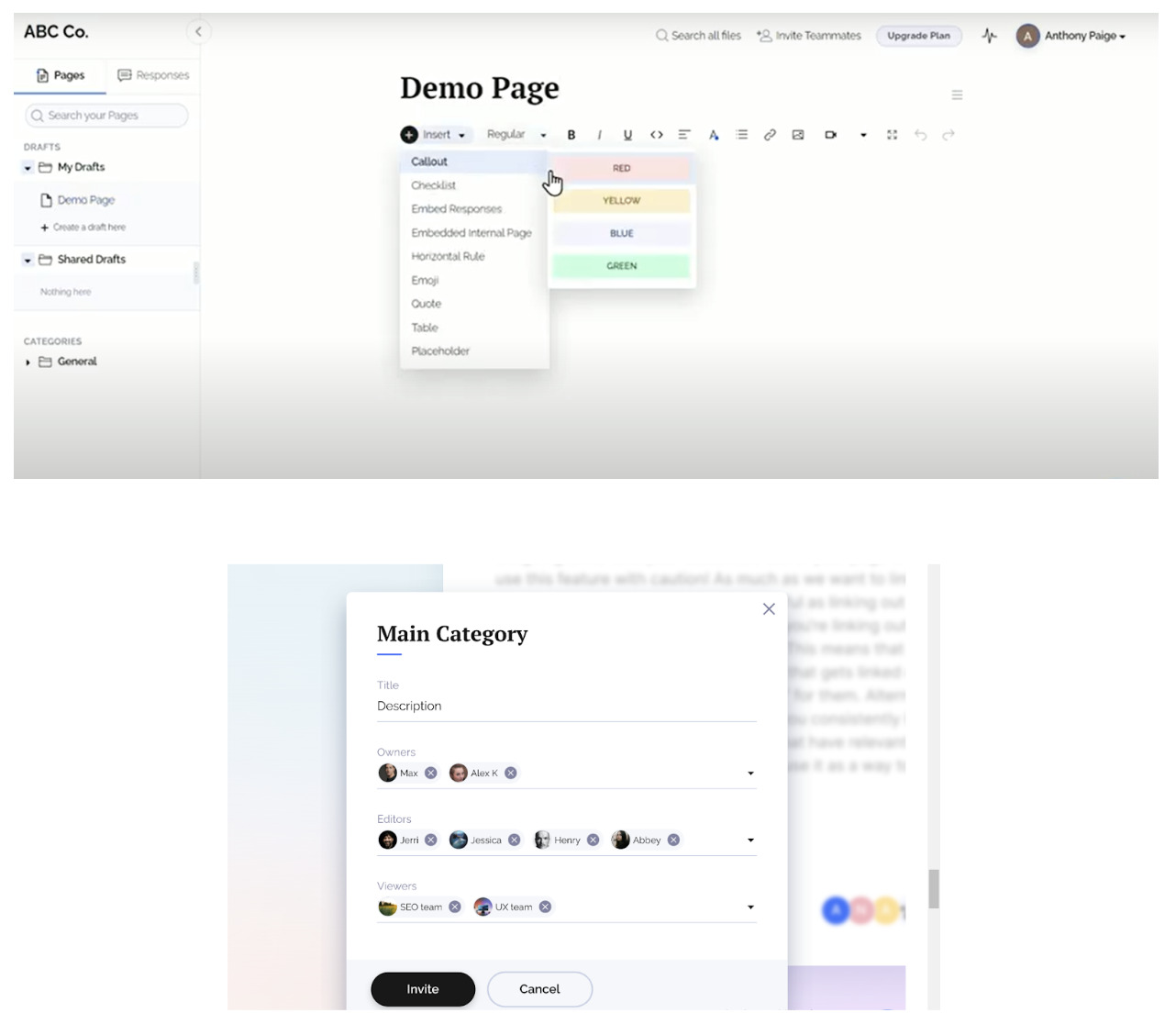 A simple, straightforward category organizer for all your corporate know-how
Klutch's user interface also impresses. The dashboard is very intuitive and managers and team members alike can easily get a snapshot of their permissions and work. The organizer categorizes split into Owners, Editors and Viewers.
Pages and/or Responses can be added to your categories. You can organize your response templates as drafts and docs into separate files, flag them, tag your teammates on them and sub-group them into priorities within each category. In a way, the tool completely relieves your team from cognitive pressure built by the many small tasks that fall between the actual job.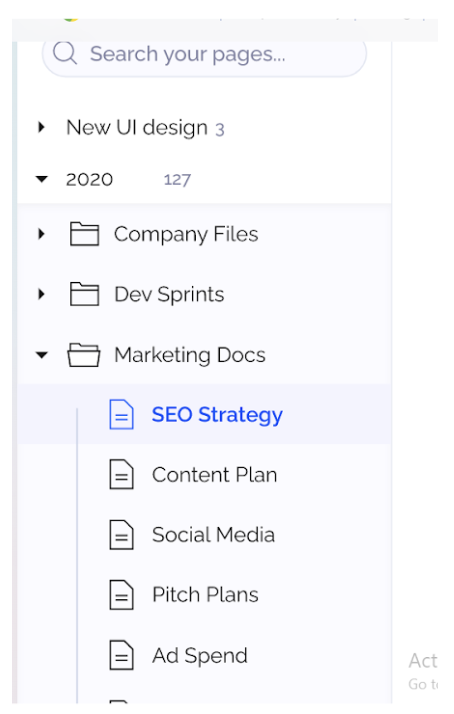 Integration options
Klutch can integrate with over 5,000 applications via Zapier. We tried a couple of integrations and they were, for the most part, very easy to start working with. For example, their Chrome extension gives you access to all your pages and responses templates. Simply import the template you wish to use and send a response away.
Trainual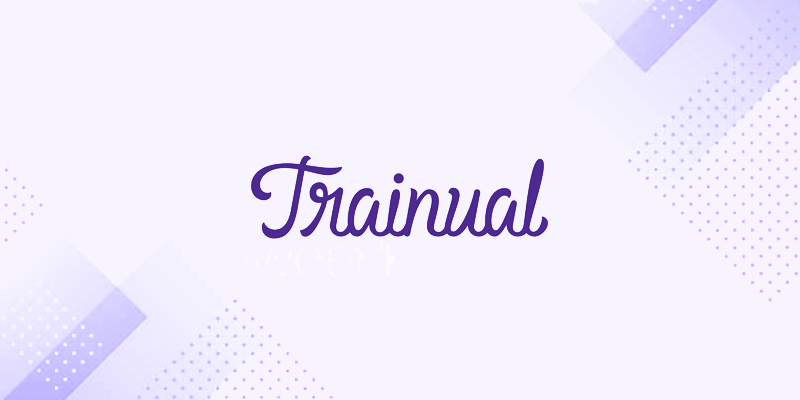 A viable Whale alternative for companies interested in something more onboarding specific, Trainual facilitates seamless orientation and training programs including the development, execution and measurement of their impact on trainees.
Besides onboarding, Trainual also provides a consolidated platform that holds all organizational and human resource information including names, roles, processes and responsibilities for easy access and navigation for inductees and existing employees alike.
Pros
Specializes in SOP and process documentation for hiring and onboarding
Reports' section illustrates training status very well
Fast customer support
Cons
The UI/UX may take some time to get used to
The free package only allows 50 items
The free version only allows 2GB storage
Pricing
Build: Starter package at an affordable $49/month with a five-seat access
Train: Upgraded version at $99/month with a ten-seat access
Scale: Premium package at $199/month with 20-seat access
Trainual is used by more than 7,500 businesses and has credibly ranked as the number one onboarding software for training management and SOPs for three years straight. The tool is perfect for companies of all sizes and structures interested in a Whale alternative more focused on the hiring process.
There are a few things that Trainual does better than the other guys. Here's the lowdown on Trainual's features and how they might help you.
Label, structure and allocate training action items
We really like how easy Trainual makes it to start out. After creating your account, you're immediately given options on what you'd like to do first.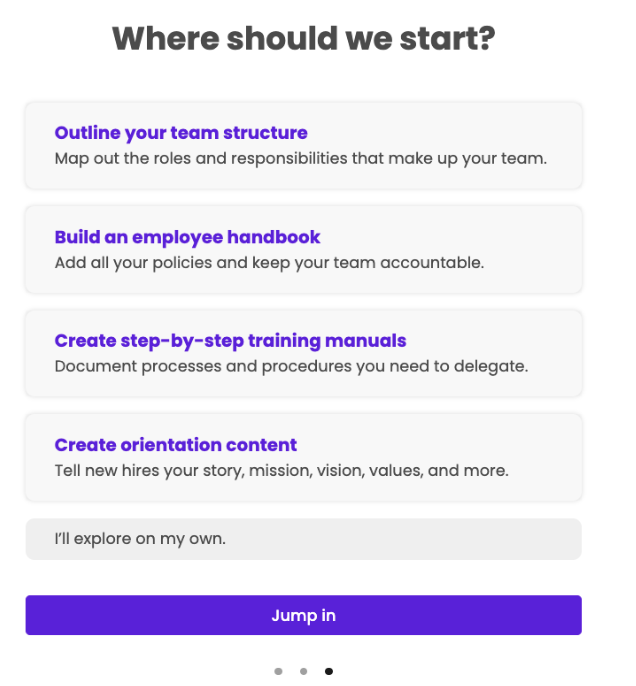 Trainual offers four organizational structures: people, policies, processes and reports. If you're new, it's best to start out with creating a team structure that lets you invite your teammates to signup and assign them roles.
Once permissions are assigned, you can start creating your policies and processes. Both options already have numerous templates to choose from.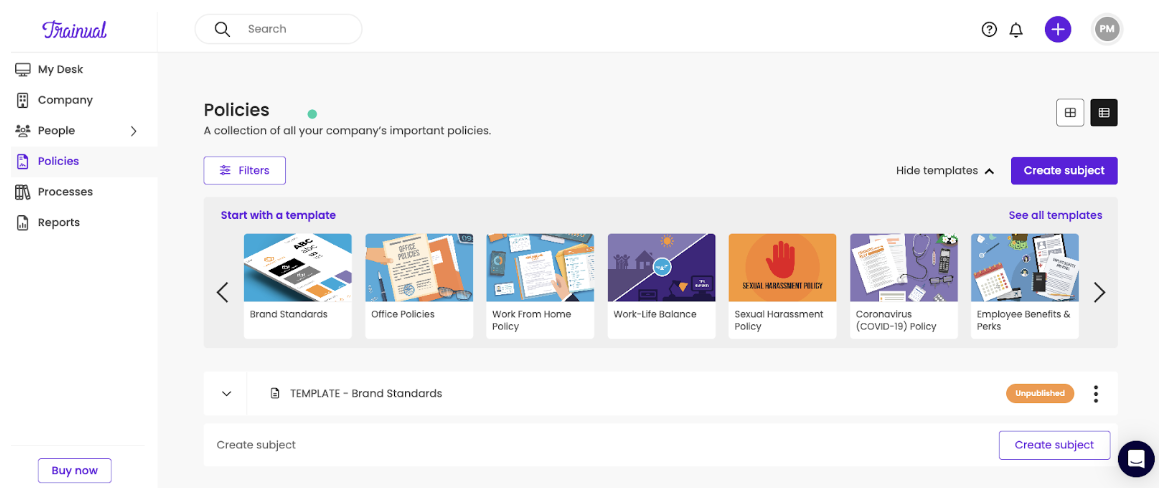 You aren't restricted to templates and can create your own training documents from scratch. Trainees can access training modules and the admins can stay updated on the trainee's performance by tracking progress.
Simple, adaptive organizational structure
With Trainual, organizations (trainers) are no longer restricted to a written method of documentation and can rely on simpler, clearer formats. Trainers can record their screens to demonstrate the how-to's within the modules while recording their voice to go with the video.
PDFs, documents, videos, audio instructions and images can be attached to each SOP for greater depth, if needed.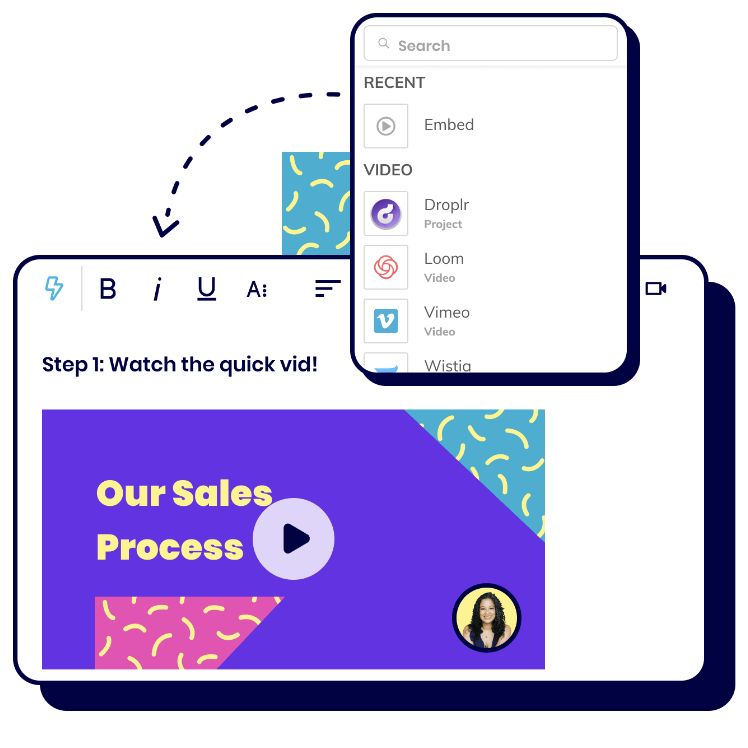 Optimized onboarding and training cycles
The software provides excellent features to help trainees stay accountable to their training process and manage their time better. If you're already using an HR app or software such as Quickbooks, BambooHR, or Justworks, you can easily pair it with Trainual.

Trainual also enables admins to track the training progress and test the trainees with quizzes and assignments before they commence work. Each module is presented with an estimated time to finish, helping employees prioritize their to-do's better.
Managers can oversee the progress each trainee is making through the Reports tab.

A centralized platform for regular documentation and organization for inductees and employees
Trainual provides a centralized platform to preserve and manage all documents in an organized and segmented manner. The software allows users to systematically categorize all files for instant access and navigation, making Trainual the one-stop storehouse for all minor and major information, along with labels that indicate if a document is specifically directed at a certain trainee.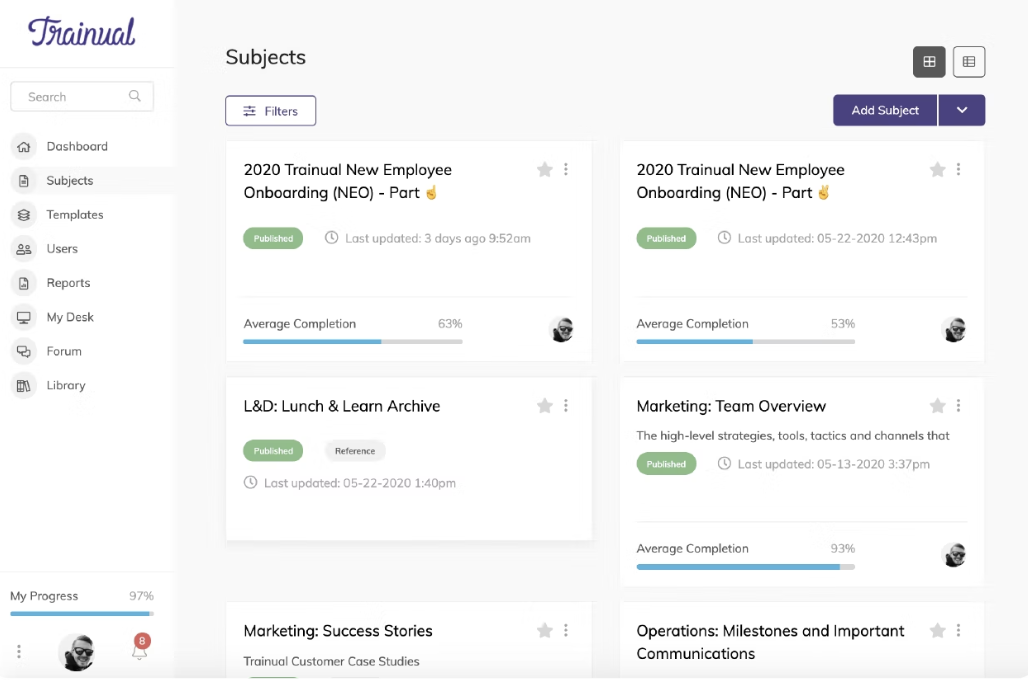 Seamless integration
Trainual will seamlessly sync with almost every popular application including messaging, payroll and human resource management systems out of the box. The software readily integrates with 33 apps at the push of a button, but you can use over a thousand different third-party software using Zapier.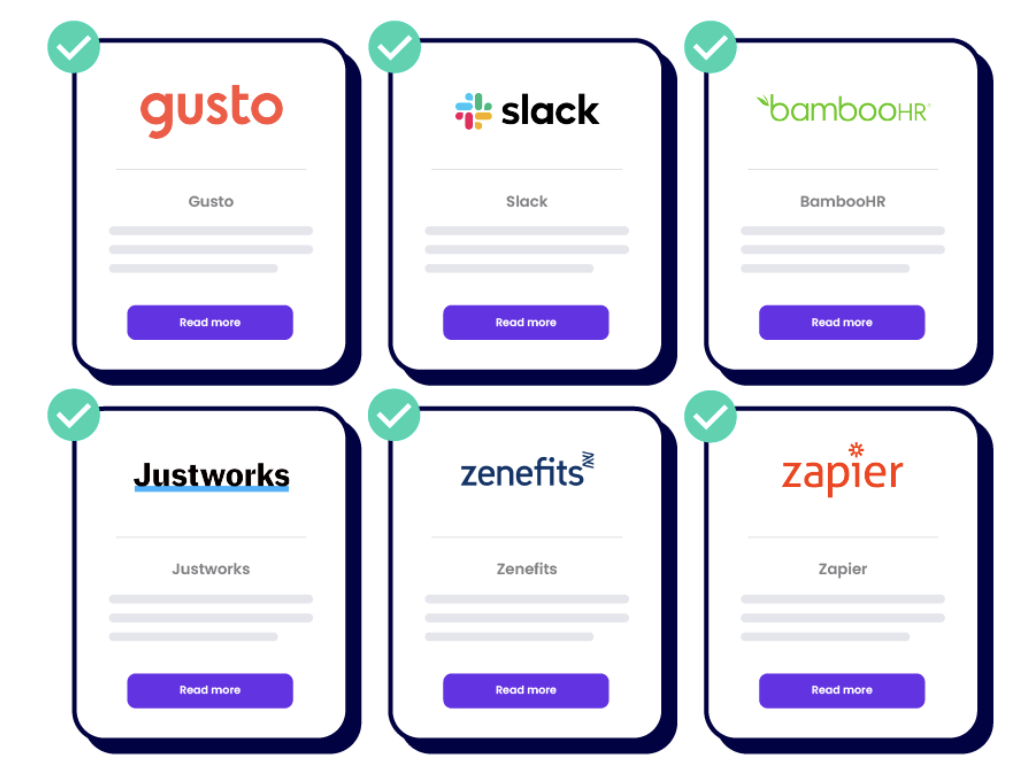 Trainual really is the best tool if you want to give new employees an enjoyable, easy onboarding experience. The software also has good SOP documentation and distribution features for day-to-day operations, but leaves some things to be desired.
iAuditor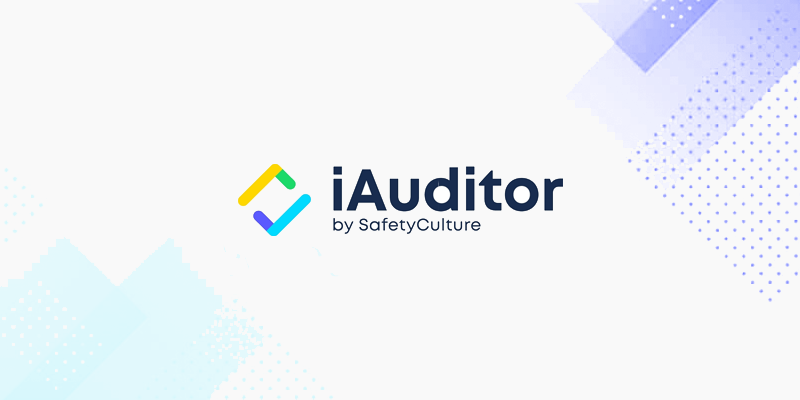 iAuditor is a mobile-first consolidated inspection, issue-detection, and mitigation platform offered by Safety Culture. It enables teams to virtually inspect action items and carry out quality checks.
Being an audit tool, iAuditor has robust built-in SOP documentation features which, when coupled with its powerful mobile application, can help teams capture, share and edit procedure-related information almost instantaneously.
Pros
Specializes in SOP and process documentation for inspections and audits
Great industry-specific auditing SOP templates
Mobile-first approach makes capturing information easy
Excellent customer service
Cons
Website version is prone to glitches
New templates aren't as efficient as the pre-existing ones
Updating documents can be confusing as they often fail to sync between devices
Pricing
Free package for small teams up to ten people
Premium package for $19, good for teams wanting to scale
Enterprise package is a personalized plan (charged as per customizations)
Fire and forget workflows for faster management
iAuditor offers an efficient workflow ideally suited for inspection processes. The software helps team leaders delegate tasks via a dual-facing application that first issues jobs, deadlines, and its respective priorities to the workers and later reports status updates back to them.
If a flagged item needs to be resolved, you can assign a follow-up action post-inspection to make sure that the all-action items concerning the inspection are taken care of.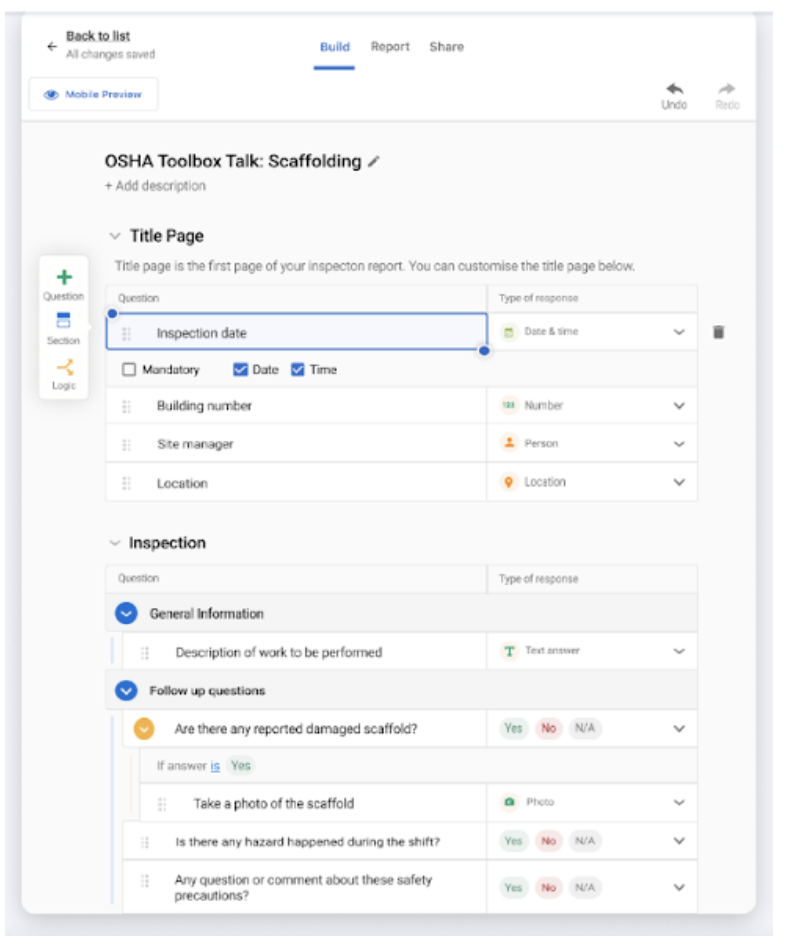 Consolidated dashboard for tracking tasks, issues, and compliance
Managers can select which metrics they wish to track through an interactive dashboard. iAuditor presents all the information in an easy-to-understand format using statistics and graphs.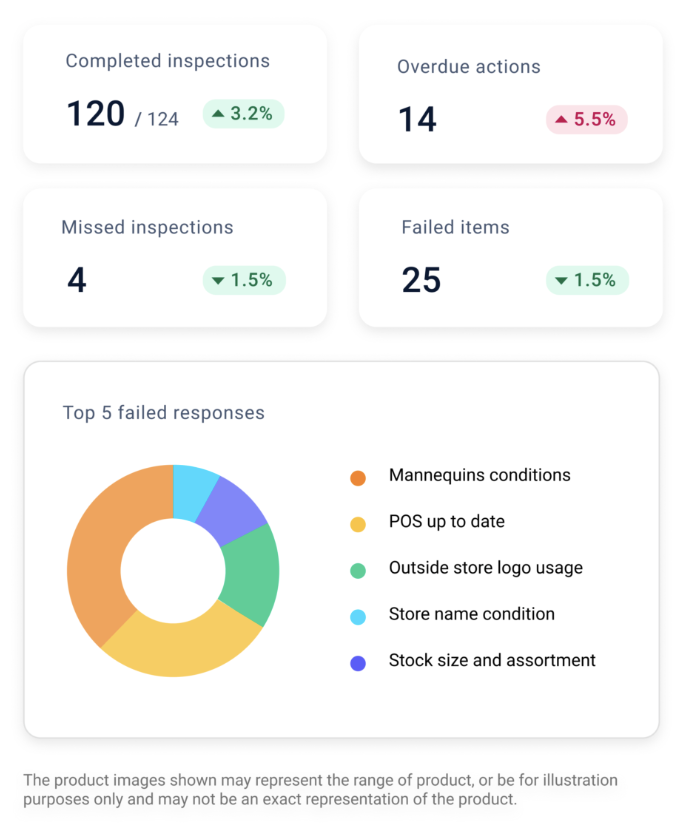 Managers can instantly reach out to stakeholders who are falling behind and take corrective actions from the dashboard. iAuditor has a rather unique issue tracking and resolution system that uses a QR code to send alerts and capture relevant data.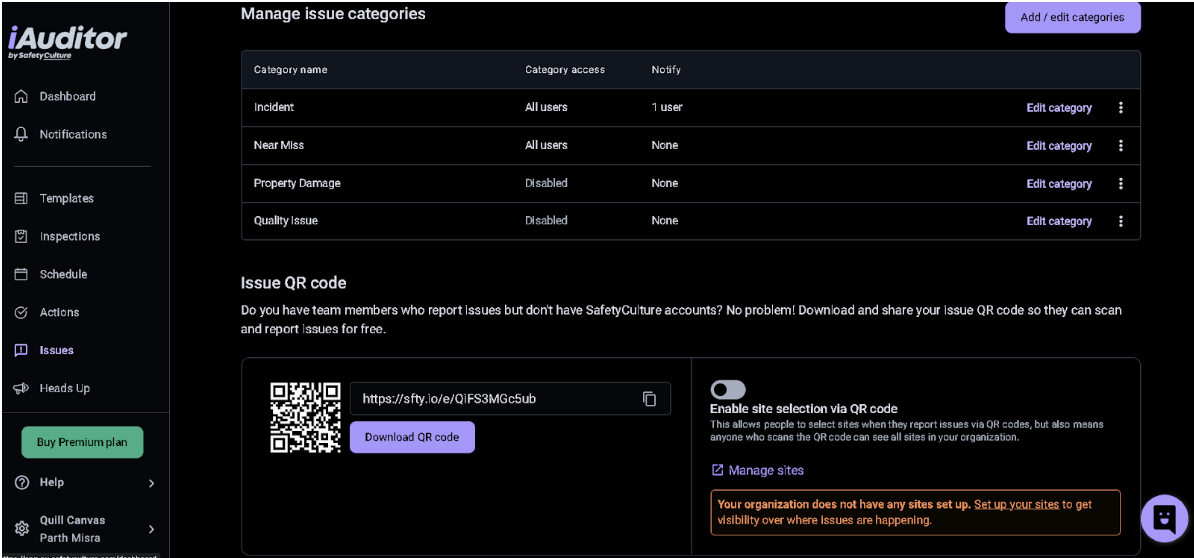 If a problem is detected, the person in charge scans the QR code given in the Issues tab, adds categories related to the incident, calls out related persons/departments, lists out questions (if any) and clicks Done. iAuditor lists out all the issues, their categories and who's responsible for them.
Integrations
iAuditor offers use-case based integrations out of the box.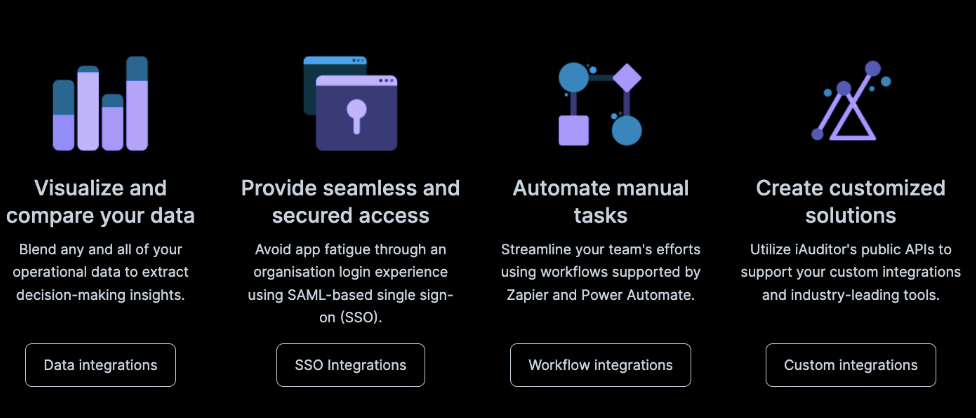 Data, SSO and Workflow app integrations are fairly straightforward and there are hardly any scenarios that the included features cannot help you out with. If you have highly specific use cases, iAuditor's public-facing API enables integration with almost any app out there.
We really found iAuditor to hit all the right notes as far as inspection duties go. Sure, you can't use it for regular teamwork and not all companies will need it, but those who do will see their work become dramatically efficient.
Lessonly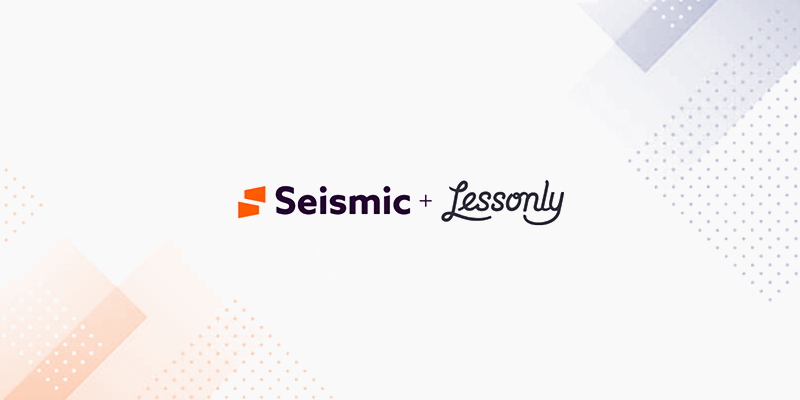 Offered by Seismic, which is a complete customer-facing team training solution, Lessonly breaks down SOPs into enjoyable, understandable, solution-oriented training modules. Over 2,200 customer-facing teams trust Seismic for their marketing and sales enablement.
Pros
Specializes in SOP and process documentation for training and retention
Makes it easy to gamify SOP learning
Versatile and adaptable system
Clean user interface makes learning less taxing
Cons
Back-end troubleshooting leaves something to be desired
As the name would imply, Lessonly is all about helping your team understand and learn the SOPs you create. While Lessonly does a great job at helping companies build SOPs and collaborate, it's more focused on the training and dissemination of knowledge.
The rationale being, creating great SOPs is pointless if they don't become muscle memory. Lessonly has several great features that can help you overcome your training woes. Here are the best of them:
Consolidated sales training platform
Being a Seismic product, Lessonly taps into the service's already exhaustive interactive sales courses. The software simulates real-life scenarios with role-plays and video recordings. It gamifes learning to help team members understand SOPs in more real-time settings through sales playbooks and guides.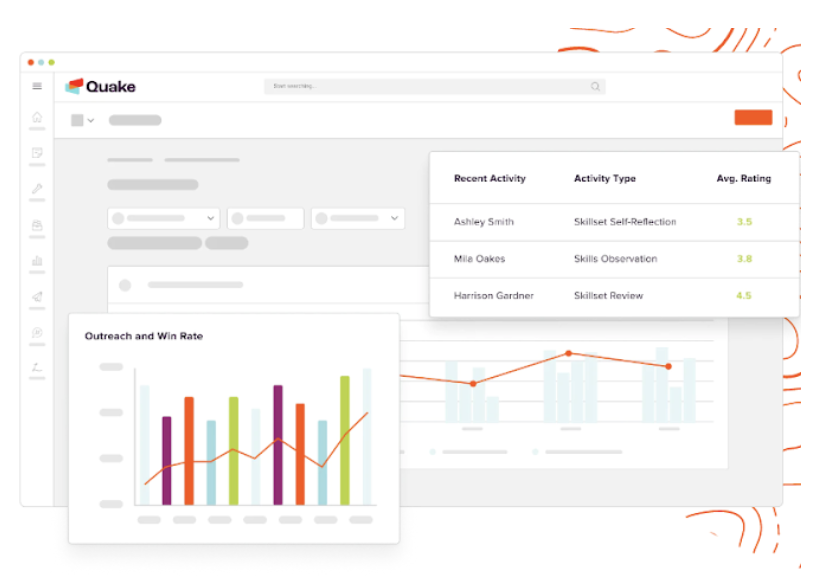 Faster ramp time through consistent and measurable training
Lessonly's enablement cloud facilitates large and small companies to build need-specific coaching and training solutions for new teams. The software provides a ten-day ramp cycle for a sales team that builds skills two times faster than most competing solutions.
With intuitive training tools that facilitate a rounded learning experience for sales teams, Lessonly can help  representatives close 76% more leads than competing solutions. The software has an already robust sales enablement template divided into objective (data score) and subjective (person score) which managers can use to track each salesperson's performance.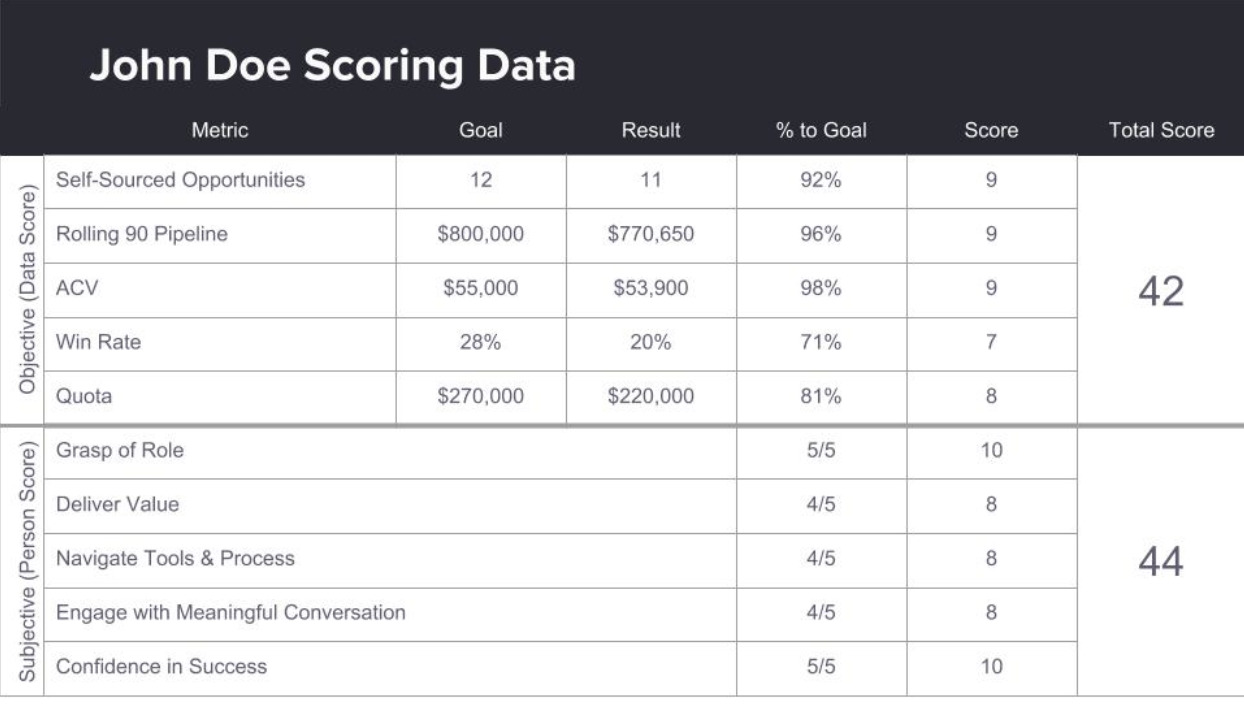 Intelligent data-driven systematic sales courses
Lessonly is backed by data-driven algorithms that modulate responses, reports, feedback, and recommendations for each individual user. This data-driven approach helps teams to identify gaps within their training efforts and their execution. This personal yet automated approach allows Lessonly to train sales teams 62% faster than conventional SOP training procedures.
Integration options
Lessonly allows teams to make their work easier and more efficient by integrating their CRM, email tools, collaboration software, content authoring software, and many other applications. Lessonly integrations are managed via Zapier. While some apps are readily available for integration, up to 5,000 other applications can be paired as well through Zapier's no-code workflow.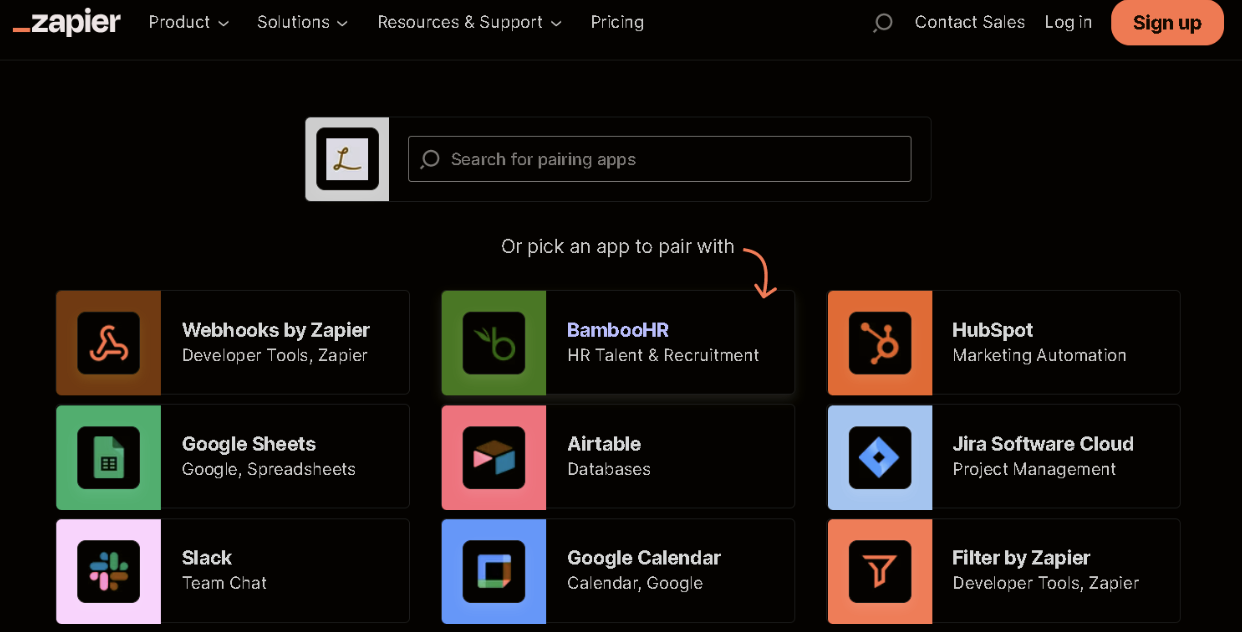 If your sales and management team will benefit from a coaching platform that can vastly shorten the ramp cycle and enhance productivity with interactive course models, Lessonly might be for you.
Gluu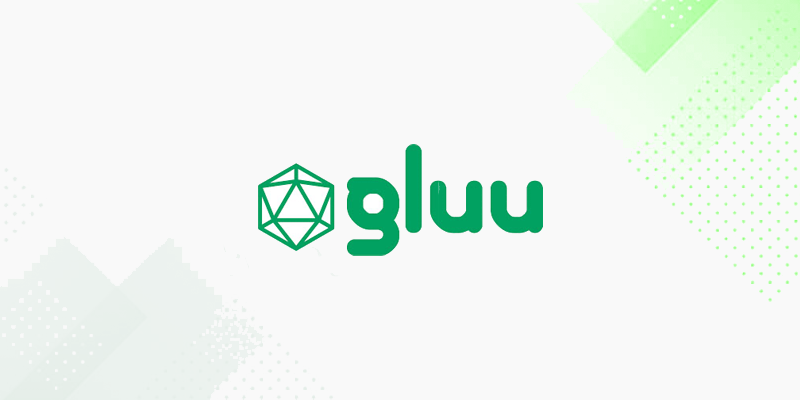 Gluu is a consolidated process operation platform that uses a single interface consisting of task details and instructions. Instead of the conventional one-for-all task management or CRM platforms with absolutely no essence of personalization, Gluu extends a personalized interface for each user where they are at the center of the process.
This enables them to not only have a crystal clear understanding of the tasks delegated to them, but a thorough idea of the process to follow in order to deliver them.
Pros
Has a unique just-in-time SOP task management system
Excellent user experience
Fastens organizational communications and task management
Excellent knowledge base
Cons
Some users may sometimes experience minor interface glitches
A few tools are not fully automated and are hasslesome to navigate
Pricing
Gluu maintains a sweet balance between standardization and personalization which reflects in its pricing structure as well. Users can try the Starter and Pro packages within the same plan and assign users separate plans that suit their roles before deciding on which plan to go for.
Starter: $11
Pro: $23
Enterprise: Custom rates as per requirement and ticket size
Here is everything you can do with Gluu for your organization:
A fully integrated document execution platform
Gluu is different from the other SOP systems on our list in that it gives you a visual overview of your processes as a starting point. The details come after. Gluu divides its work structure into three sections: categories, groups and Processes. After login, Gluu presents you with a list of processes to pick from.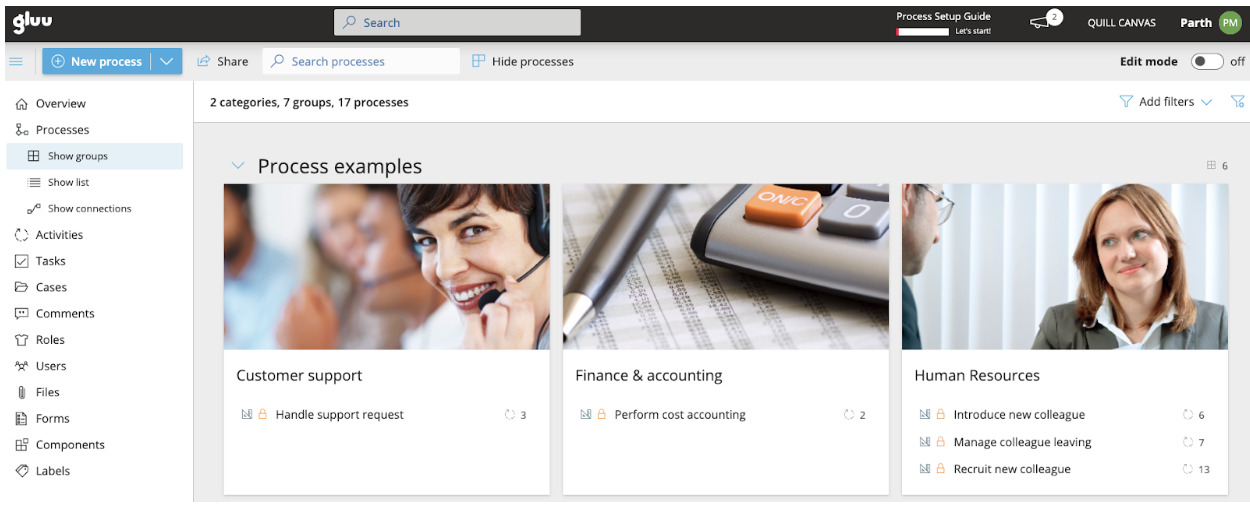 Pick the process you wish to start out with and you're taken to a process map you can edit. Each process map has its own comments section, issue classification, cases section, responsibilities and file attachments.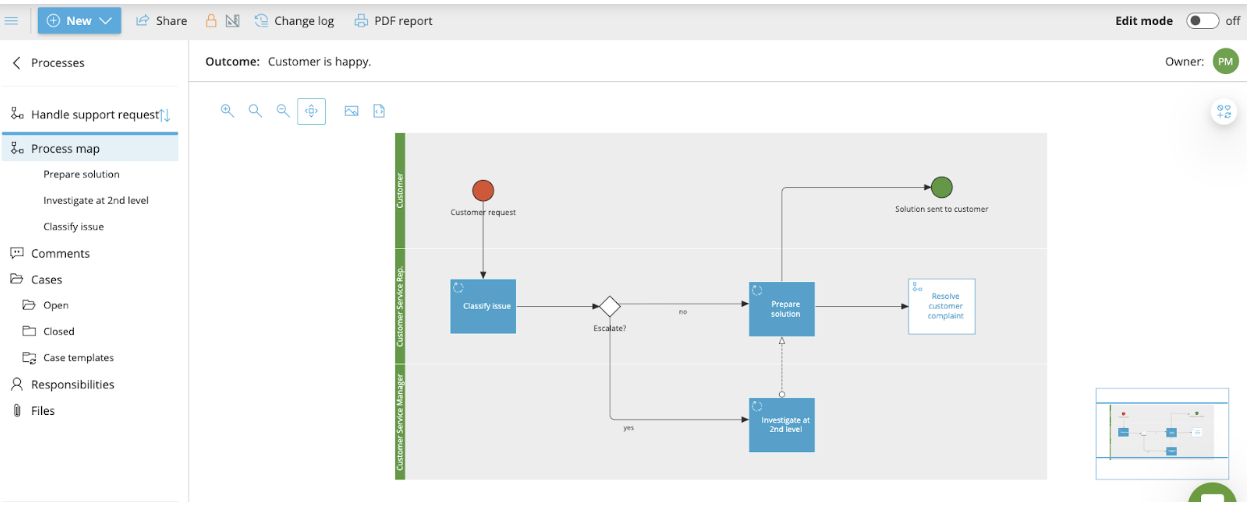 Processes can be assigned to users who can either be an owner or an editor. You can also move any of the steps from one responsibility to another. For example, if you wish to move "Investigate at Second Level" to Customer Service Rep, you can do so by dragging the box up to the required level. Edits can also be made by clicking on the task box.
Centralized performance overview dashboard
Gluu has one of the best dashboards we've seen in a process mapping tool yet. The software facilitates real-time overview of process compliance and quality checks, along with instant task updates and automatic initiation of respective communication and notification.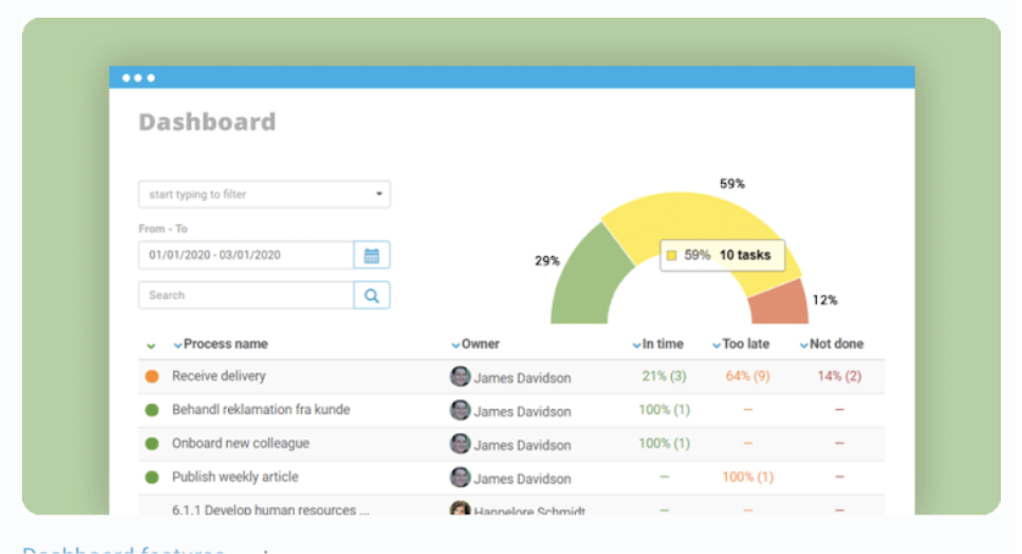 Managers can schedule task compliance checks so that they're ahead of any problems. All case compliance issues are visible in the central dashboard and owners can reach out to concerned stakeholders from therein. Managers may apply filters like process, role, and data to hone in on issues as well.
Establish and automate standardized map flows to organizational roles
Gluu allows users to seamlessly delegate tasks and communicate with all stakeholders within the same workflow. All business processes can be turned into separate loops of repeated systems and processes in a few clicks.
Trivial tasks like figuring out workflow, communication, reporting, and frequent follow-up calls are contained within an established process and need not be figured out every time.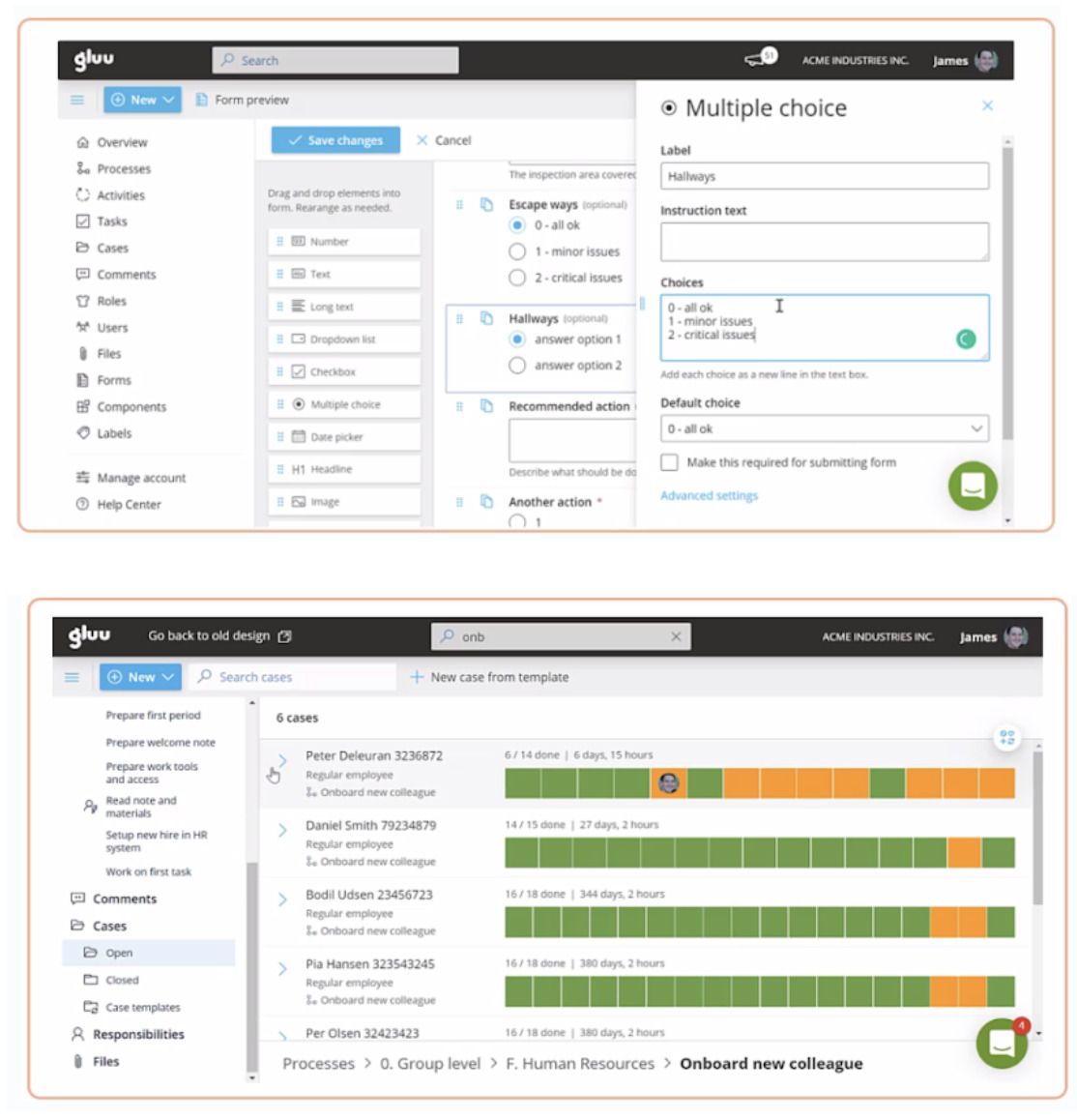 Integration options
Integration in Gluu is handled via Gluu Server. You can integrate your Gluu account with server-side apps, single-page apps, native apps, and off-the-shelf apps. Gluu uses several different software for integrating each of the different categories. Integrating a third-party app with Gluu does require some coding chops, so it isn't nearly as easy as the other apps we've covered.
ProcessMaker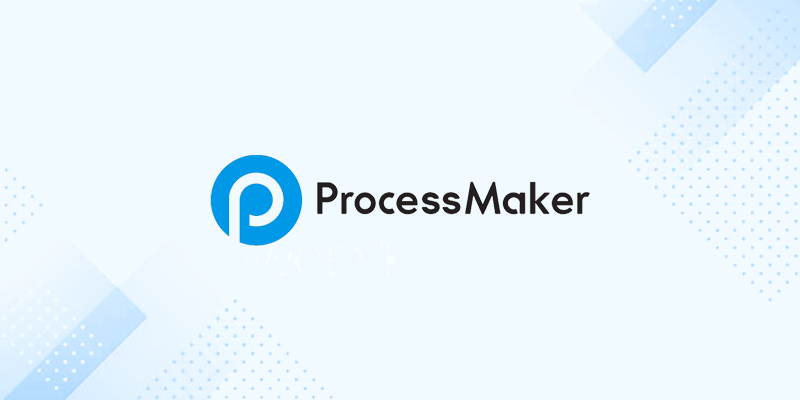 ProcessMaker is a powerful process documentation tool that allows users to customize the software using low code. The software empowers business units and departments to design and run their own workflow by embedding it into an application with minimal coding experience.
Pros
Offers a low-code platform that lets you turn ProcessMaker into whatever you want
Excellent support team
Very short change and building cycles
Cons
Prone to external vulnerabilities
Minor process glitches and errors
Pricing
ProcessMaker has a rather elaborate pricing plan—not a surprise given its extensive feature base.
Low-code platform: (Enterprise business process automation):
$1,495/month + per-user pricing for Standard
$2,479/month + per-user pricing for Enterprise
In addition, several custom pricing options are offered for different industries like banking, higher education, AI-driven document processing, and white-label processes.
An award-winning business process modeler
ProcessMaker's process modeler is BPMN 2.0 (business process modeling notation) compliant. BPMN is a standardized system of symbols, processes and notations which visualizes a business process from start to finish.
The system has three levels of visualization: introductory, descriptive and analytical. ProcessMaker enables each of the three levels to be visualized pretty well.

If you've tried Gluu, ProcessMaker's BPMN tool will seem familiar. The drag-and-drop flowchart-like interface in ProcessMaker is indeed quite similar to the one in Gluu, but is much more feature rich.
Powerful form-building tools
ProcessMaker has some of the best form-builders out there thanks to its low-code function. While most productivity solutions have some customization, they are almost always limited to color, number of fields and a logo.
With ProcessMaker, you can customize a form template to virtually any form you desire. Simply drag and drop which feature you want where, add labels and permissions and move on to the next field.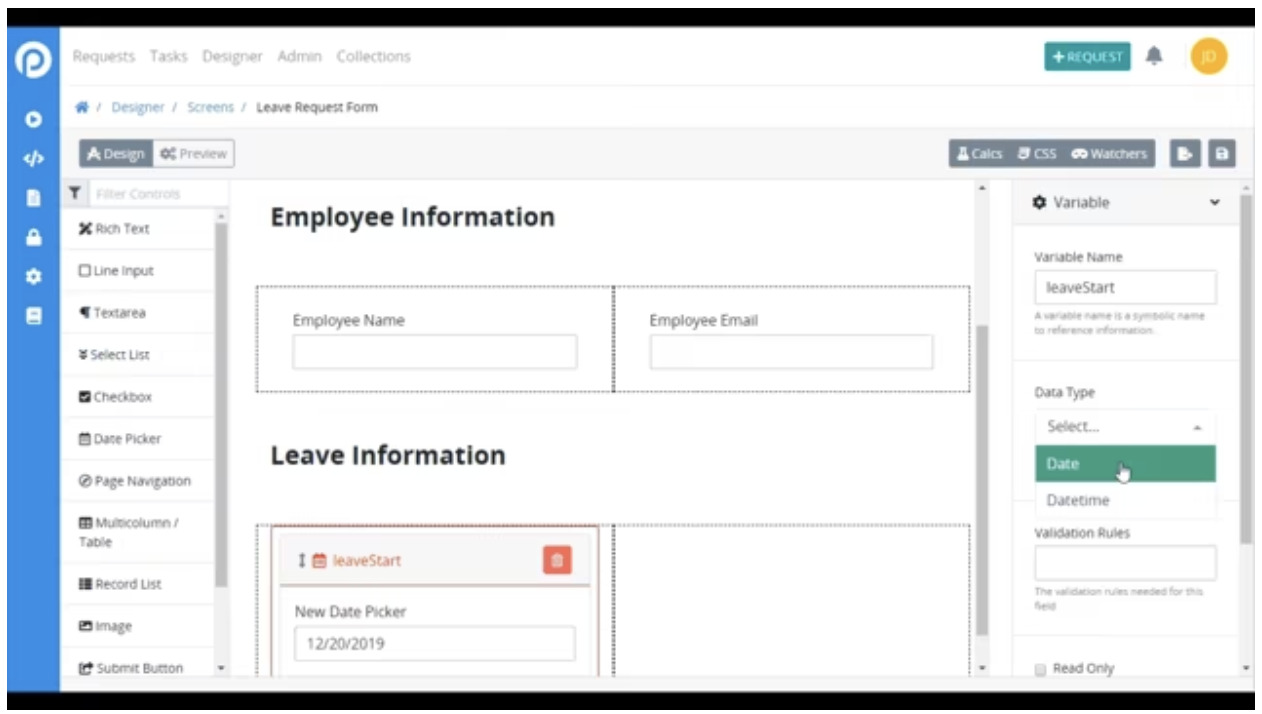 The forms can be used for capturing and displaying data as well as creating decision approval screens without having to rely on software tools that charge hefty compensations while offering limited templates that never quite cater to your exact requirements.
Action by email
ProcessMaker has a unique "action by email" feature (available in ProcessMaker Enterprise only). The feature enables users to approve or reject requests from their email by embedding links in a message.
Likewise, information can be sent straight to a ProcessMaker form through an email as well. Users can work offline if they so choose. Whatever process inputs they provide are saved on their devices and submitted to ProcessMaker once they go online.
Combined with ProcessMaker's already powerful low-code platform, developers can easily have teams carrying out processes without ever needing to login to their accounts.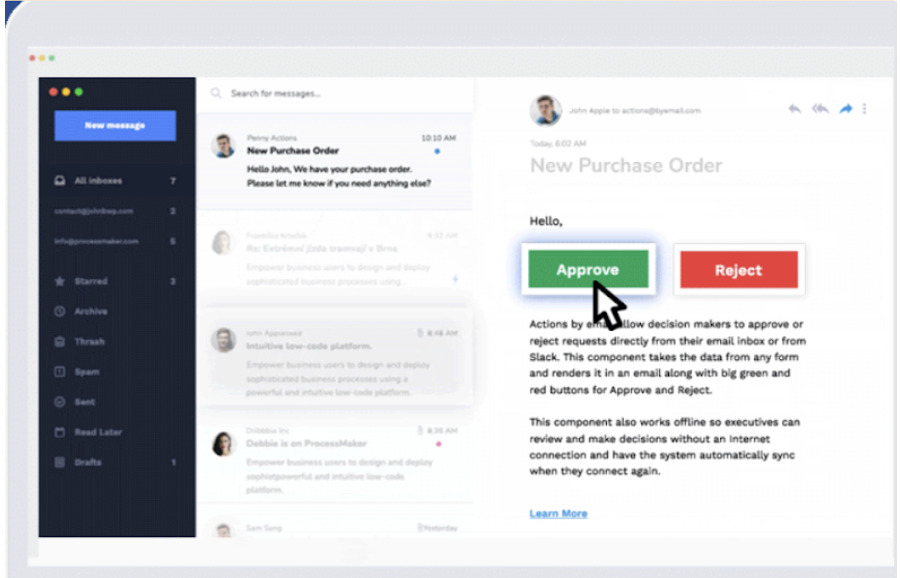 Visual dashboards and dashlets for comprehensive performance monitoring
Much like its forms, ProcessMaker's dashboards are endlessly customizable. Users can make smaller dashlets to focus on more immediate concerns and issues if they want to, or get a bird's eye view of their entire operation.
ProcessMaker makes it easier by converting and consolidating all data and updates regarding the objectives and SLA into visual data using charts and graphs. You can also receive specific business activity notifications and updates when process conditions are met.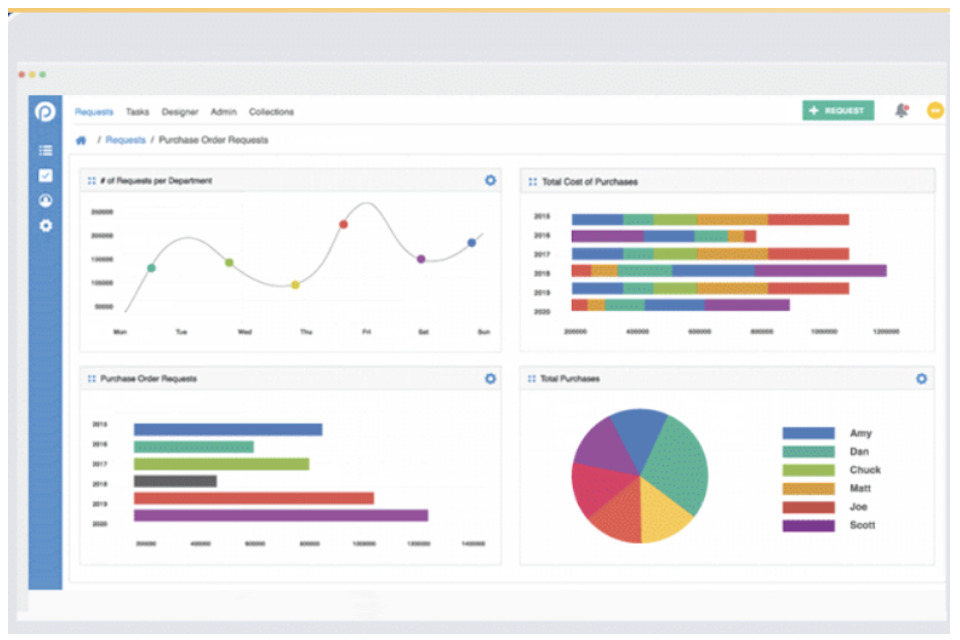 Recently, ProcessMaker acquired Doculayer, an AI-powered document processing tool that can extract meaning from documents, classify them and organize their data into user-defined tables. Once integrated into ProcessMaker, Doculayer will help users forgo tedious organizational tasks and chores.
Integration options
ProcessMaker offers integrations through what it calls "connectors." The software has a different connector for every function. Document storage connectors include out-of-the-box integration with cloud drives and storage solutions like Google Drive, Dropbox, OneDrive.
Process connectors integrate with SAP, QAD and MS Dynamics, and Salesforce. Communication connector includes SAP S/4Hana with which users can automate custom approval sequences.
If your company is looking for a tool that can seamlessly build and embed workflows into an application, along with providing master data management and document storage facilities, ProcessMaker might just be one of you.
So, Which Whale Alternative is Right For You?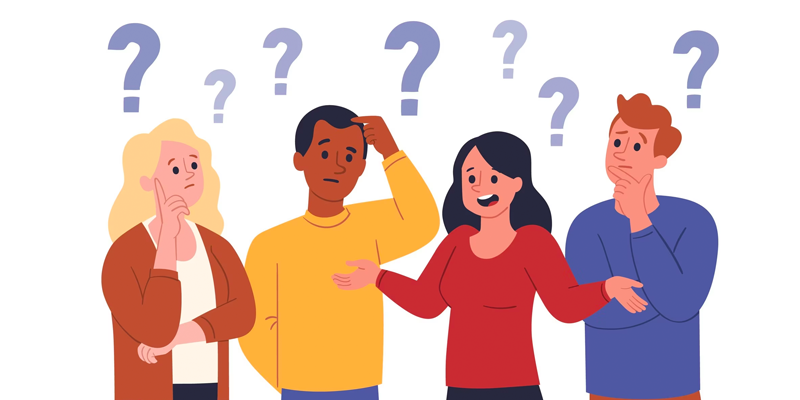 Documenting and implementing processes can get very tricky very fast. Your organization's processes are always fluid and changing, subject to the situation and challenges they attempt to address, and keeping them updated with old, legacy tools is hard work.
The tools discussed above offer features that make them very attractive in certain situations. However, all of them treat processes as means to pre-defined ends. So, if your problem doesn't fit the scope of the tool, it will have limited to no utility. That doesn't have to be the case.
SweetProcess, on the other hand, delves exclusively into policy, process and procedure knowledge. There are no bloated features that get in your way. From the moment you create your account, you get straight to documenting your process data.
By being super-focused on processes, SweetProcess as a tool becomes ideal for virtually any business model. But don't take our word for it. Signup for our free 14-day trial (no credit cards) and give it a whirl.