Whale vs. SweetProcess: Which is better for documenting your procedures, processes and policies
Last Updated on August 19, 2023 by Owen McGab Enaohwo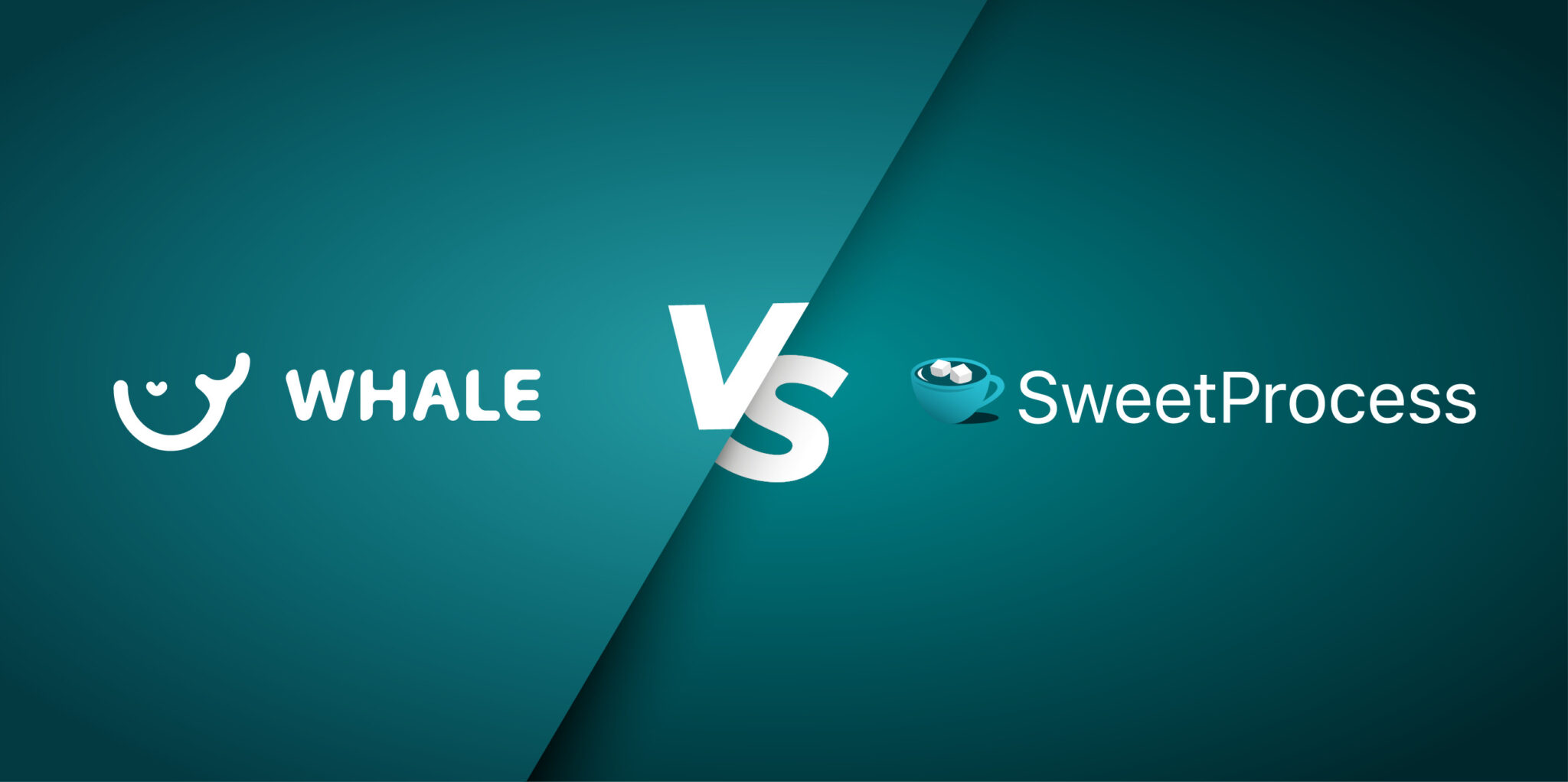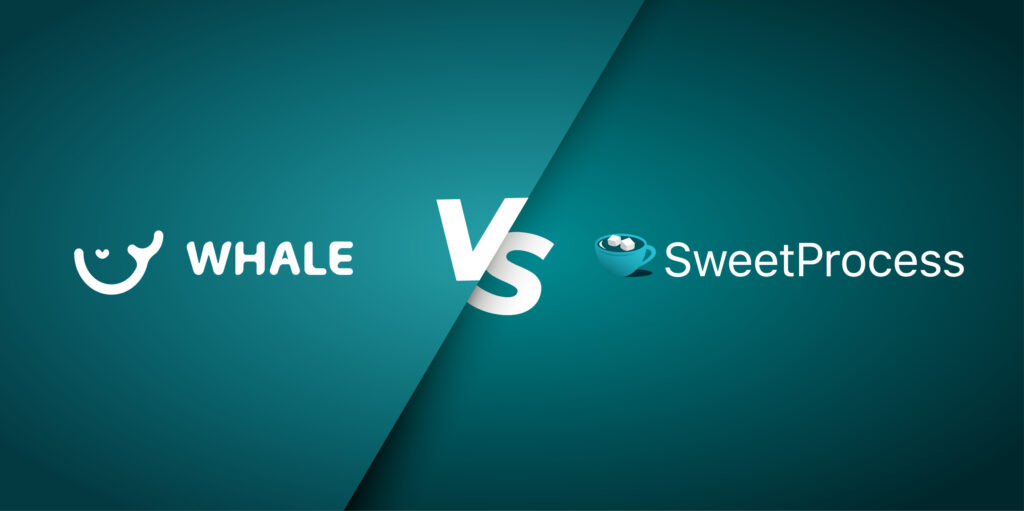 In a sea of cloud-based business process management tools, it's easy to get lost when trying to navigate the murky waters of making your processes more efficient, especially since project management and process management are treated as synonyms when they're clearly not. Enter Whale and SweetProcess, two tools dedicated to taming the chaos and bringing order to your workflows. But while they share a common goal, their approaches couldn't be more different. 
Whale makes a splash with its visual process mapping and intuitive design, while SweetProcess dives deep into meticulous documentation and step-by-step procedures. Finding the right fit for your team is like discovering the perfect wave to surf on—it takes patience, skill, and a keen eye.
Take your process management to the next level with SweetProcess. Start your 14-day free trial today, no credit card required.
Table of Contents
SOP Documentation Process/Data Capturing
Introducing Whale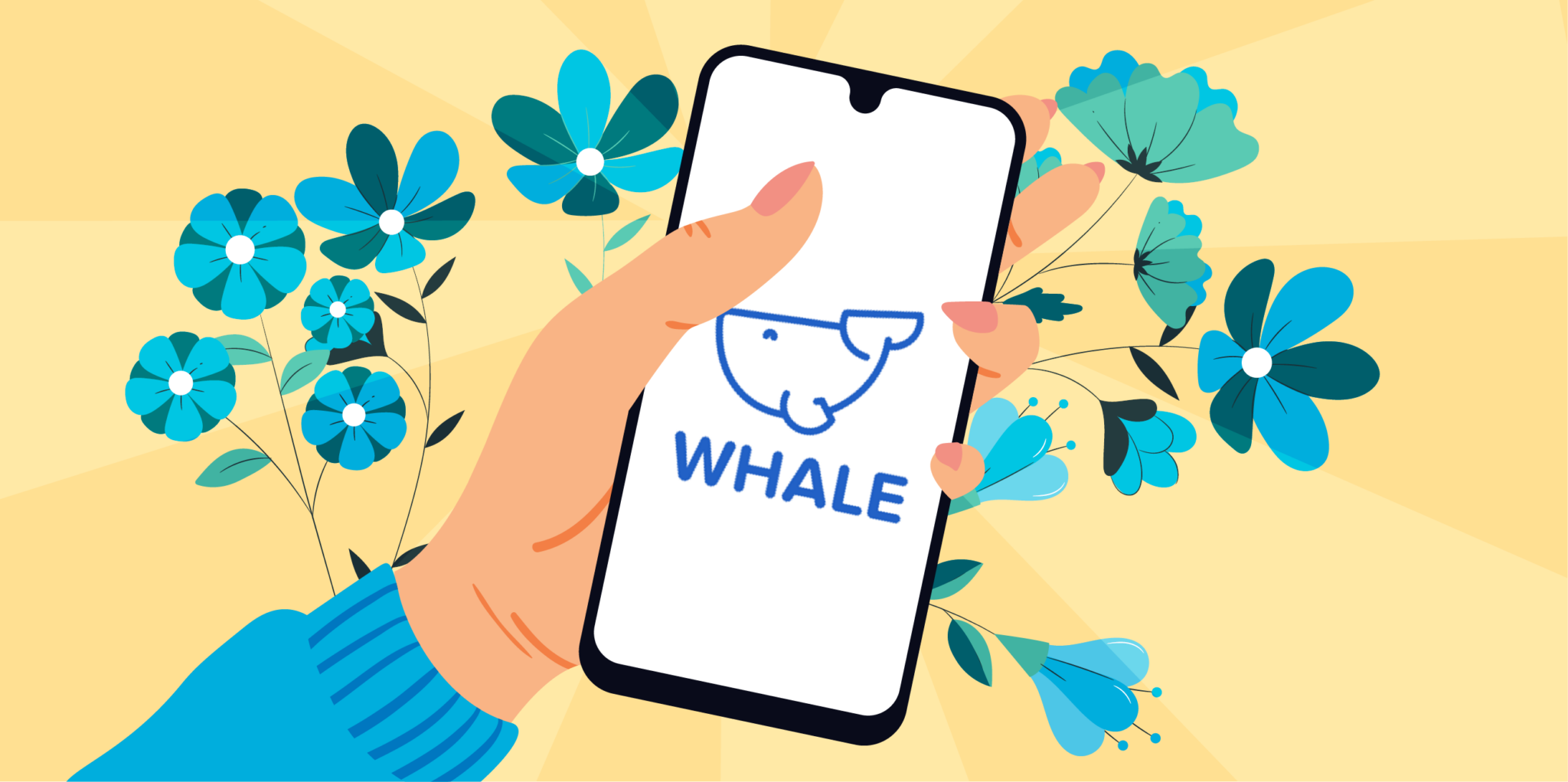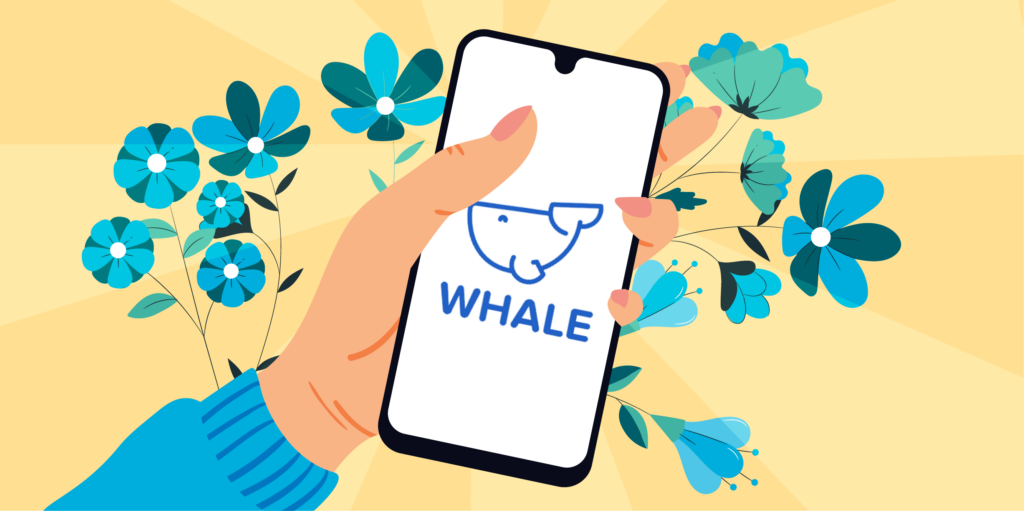 Whale advertises itself as a documentation and training tool. It places a special emphasis on standard operating procedures (SOPs). Whale was born when its founders, driven by the need to solve their problems, set out to revolutionize process management.
In 2018, while leading an IT services firm, Whale's co-founder and CEO Gary Vanbutsele found himself constantly putting out fires and struggling to empower his team. Realizing the need for a pragmatic approach to managing processes, the seed for Whale was planted. Their vision was not only to facilitate their own business growth but also to assist others in scaling their operations effectively.
With this foundation, Whale emerged as a powerful solution designed to empower teams with information and knowledge sharing. By providing a comprehensive platform for process management, Whale enables organizations to create and optimize SOPs and employee onboarding and training. It fosters a culture of efficiency, empowering teams to easily navigate complex workflows and ensure consistent, high-quality outcomes.
Introduction to SweetProcess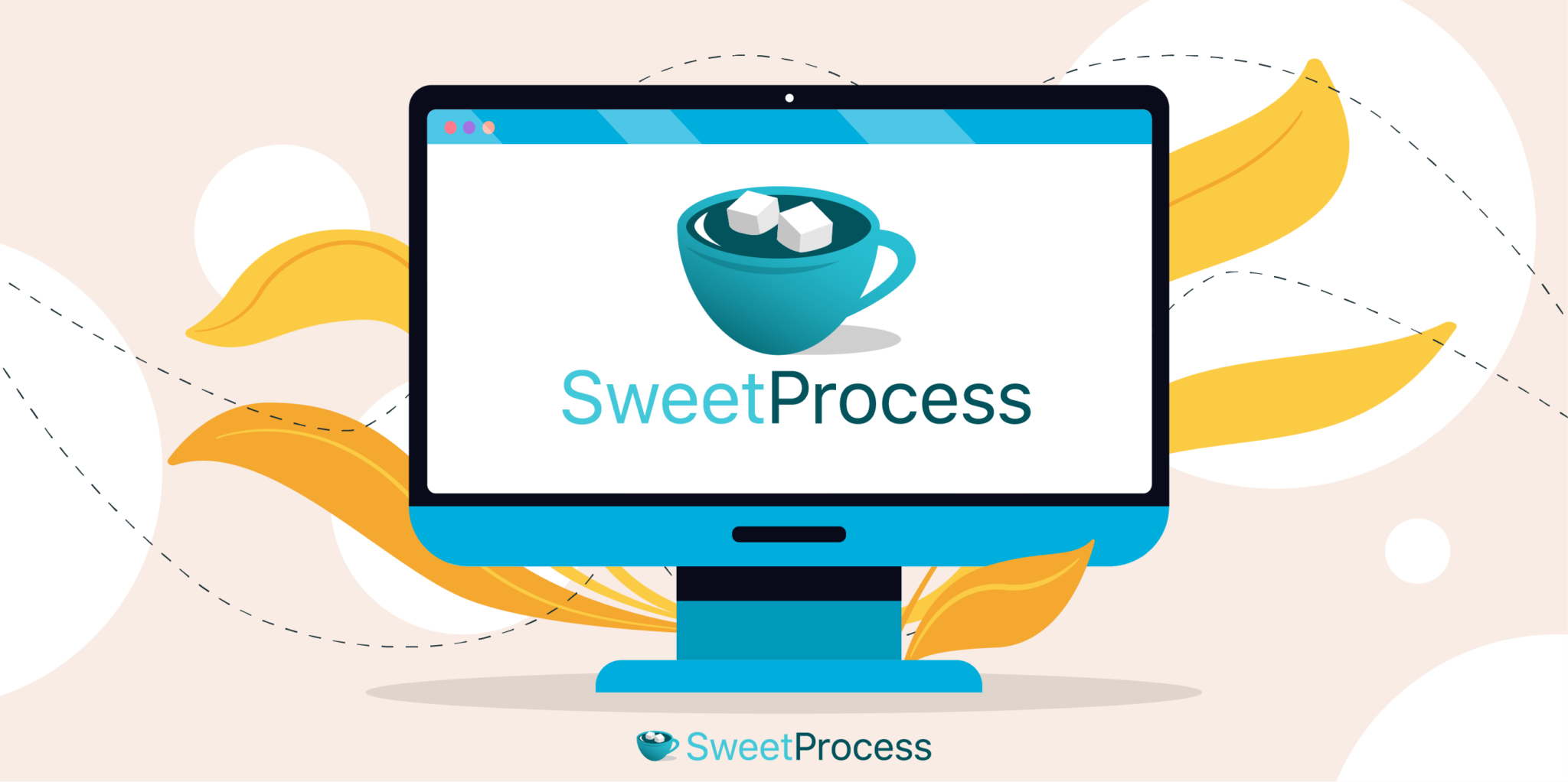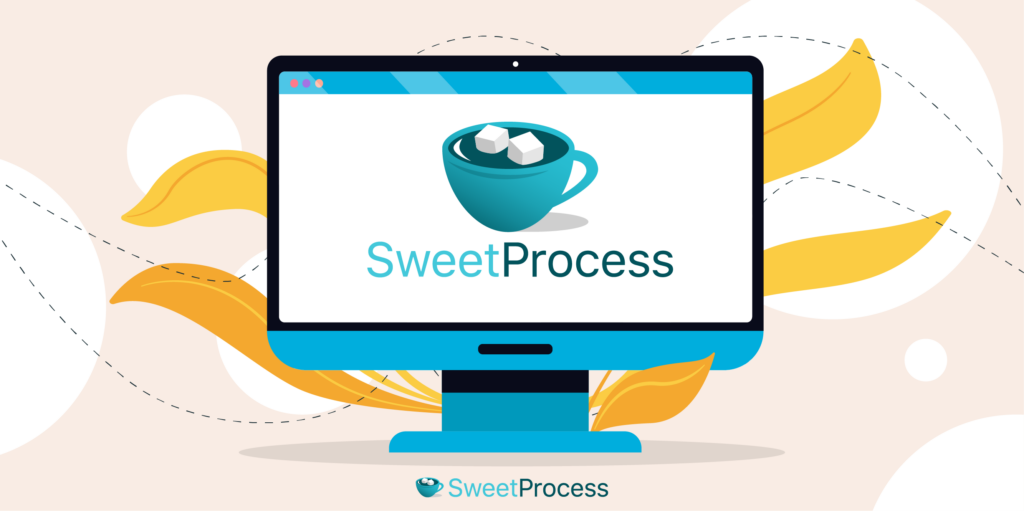 Unlike other process management solutions, SweetProcess doesn't tiptoe around the idea and gets straight to the point. SweetProcess is different from other tools in the market in that it uses a clear and well-proven hierarchy of policy, process, and procedure to guide information flow within a company.
While most tools overlook or blur the lines between policies, processes, and procedures, SweetProcess recognizes the importance of maintaining a structured approach. It starts with policies with overarching guidelines that govern the organization's overall behavior. Policies flow seamlessly into processes, outlining the high-level steps and activities required to achieve specific goals. Finally, processes are further broken into detailed, step-by-step procedures for executing specific tasks.
What makes SweetProcess exceptional is its ability to transform these policies, processes, and procedures into actionable checklists that can be distributed easily across teams, regardless of whether they are in-house or remote. These checklists are critical to empowering teams to execute tasks efficiently, track progress, and maintain consistency throughout their operations. With features like task assignment, collaboration tools, version control, and notifications, SweetProcess ensures that checklists remain up-to-date, actionable, and aligned with organizational goals.
SweetProcess is constantly seeking innovative ways to enhance user experience and efficiency. Recently, it integrated AI technology to create policies at the click of a button. This addition, called SweetAI, can write policies by keywords or titles entered by the user. The engine takes the user's organizational information that they have entered, preferences, and working style to generate policies specific to them.
Streamline your processes and transform your business with SweetProcess. Start your risk-free 14-day trial today!
Features Comparison
Features
SweetProcess
Whale
Starter
Growth
Scale
Unlimited documentation
✓
✓
✓
✓
Templates
✓
✓
✓
✓
Assignments
✓
✓
✓
✓
Add images and videos
✓
✓
✓
✓
Unified search
✓
✓
✓
✓
User groups
✓
✓
✓
AI assistant
✓
✓
✓
Version history
✓
✓
✓
Add tags
✓
✓
✓
Analytics
✓
✓
✓
Zapier integration
✓
✓
Slack integration
✓
✓
Turn documents into checklists
✓
Minimum price (Annual)
$82.5/month
$25/month
$100/month
$300/month
Try SweetProcess with zero payment obligations and witness the impact it can have on your team's efficiency.
Signup and Onboarding Process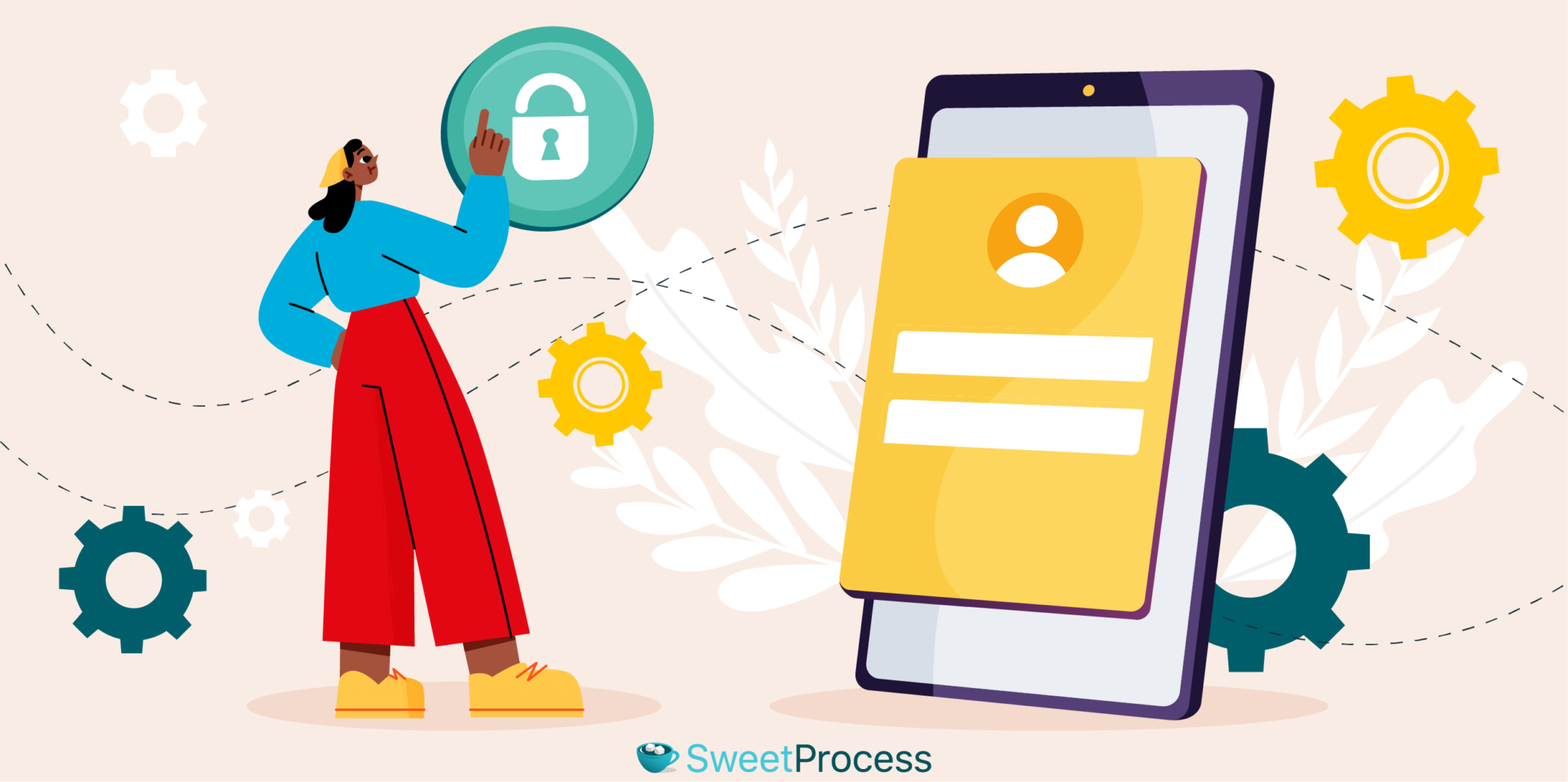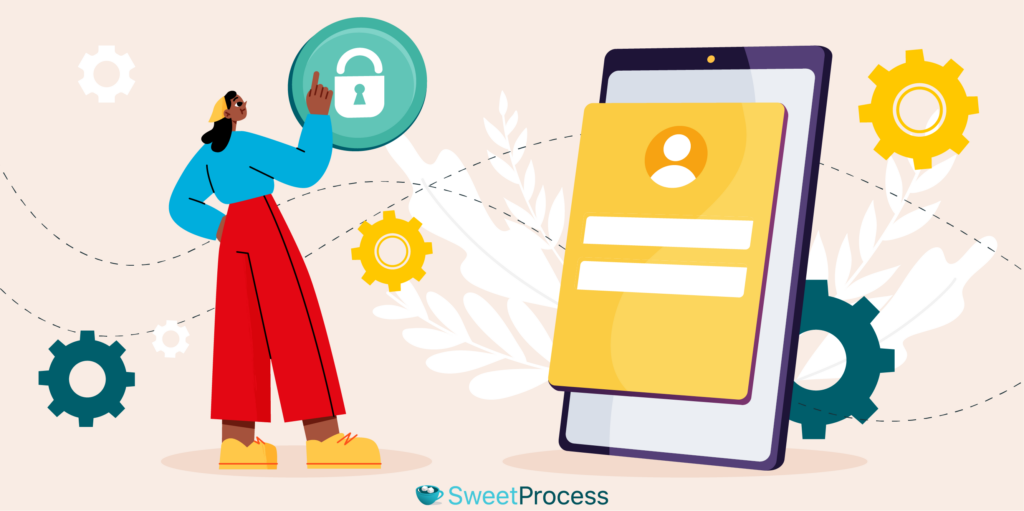 Whale
Like most SaaS tools today, Whale has a fairly simple signup process that requires your work email and physical address. However, you will need to input your credit card information if you want to try the software out. Whale also asks for your organization's main goals and helps you start with process templates for major organizational roles.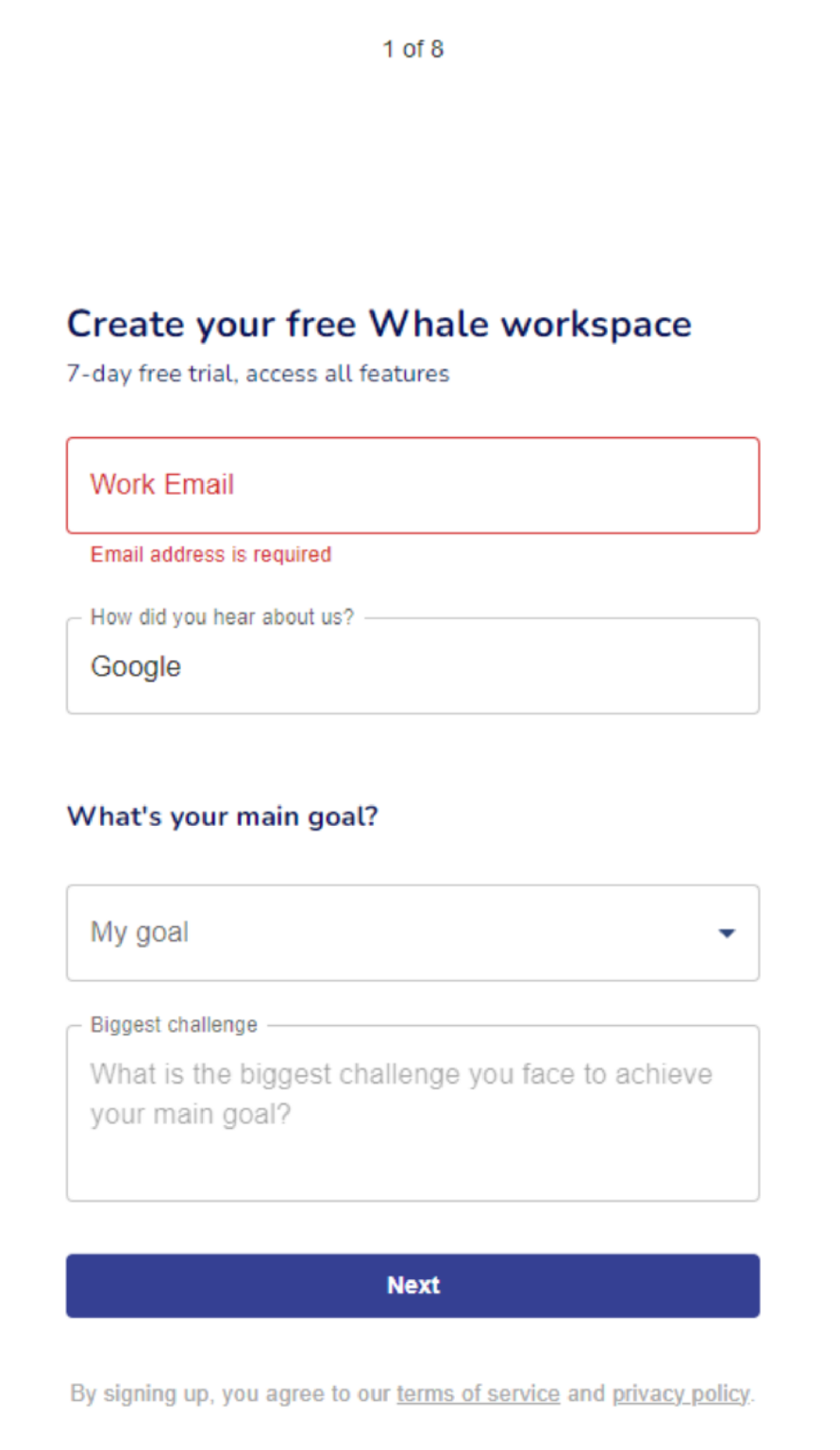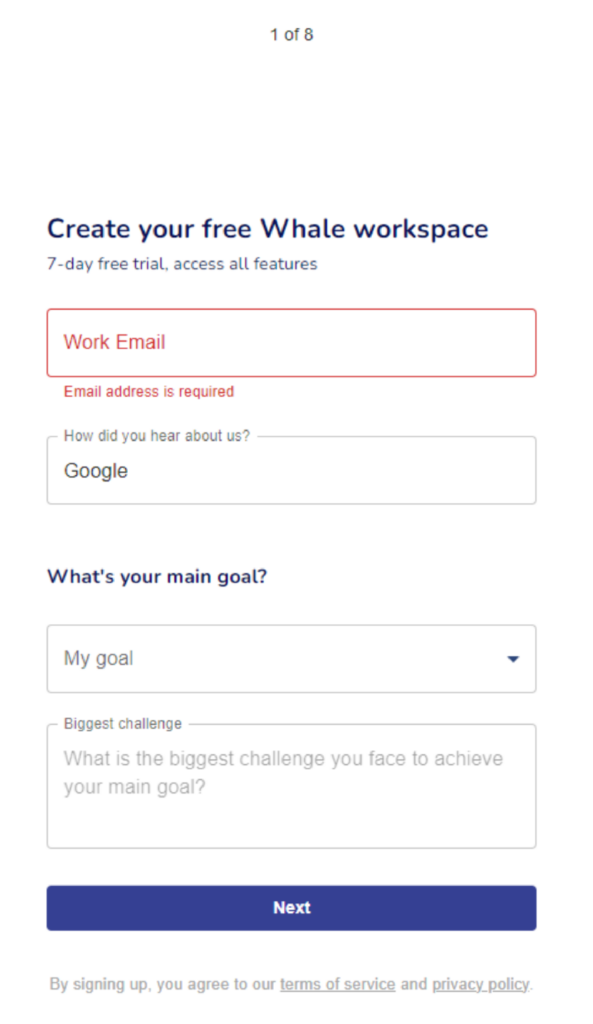 Once you're done signing up, you're taken to the main account dashboard. You can either start creating or uploading your process data to your account. You are then taken to the main dashboard, which welcomes you with an introductory video followed by a quick guided tour. Whale also presents a starter guide which consists of three sections on how to use the app.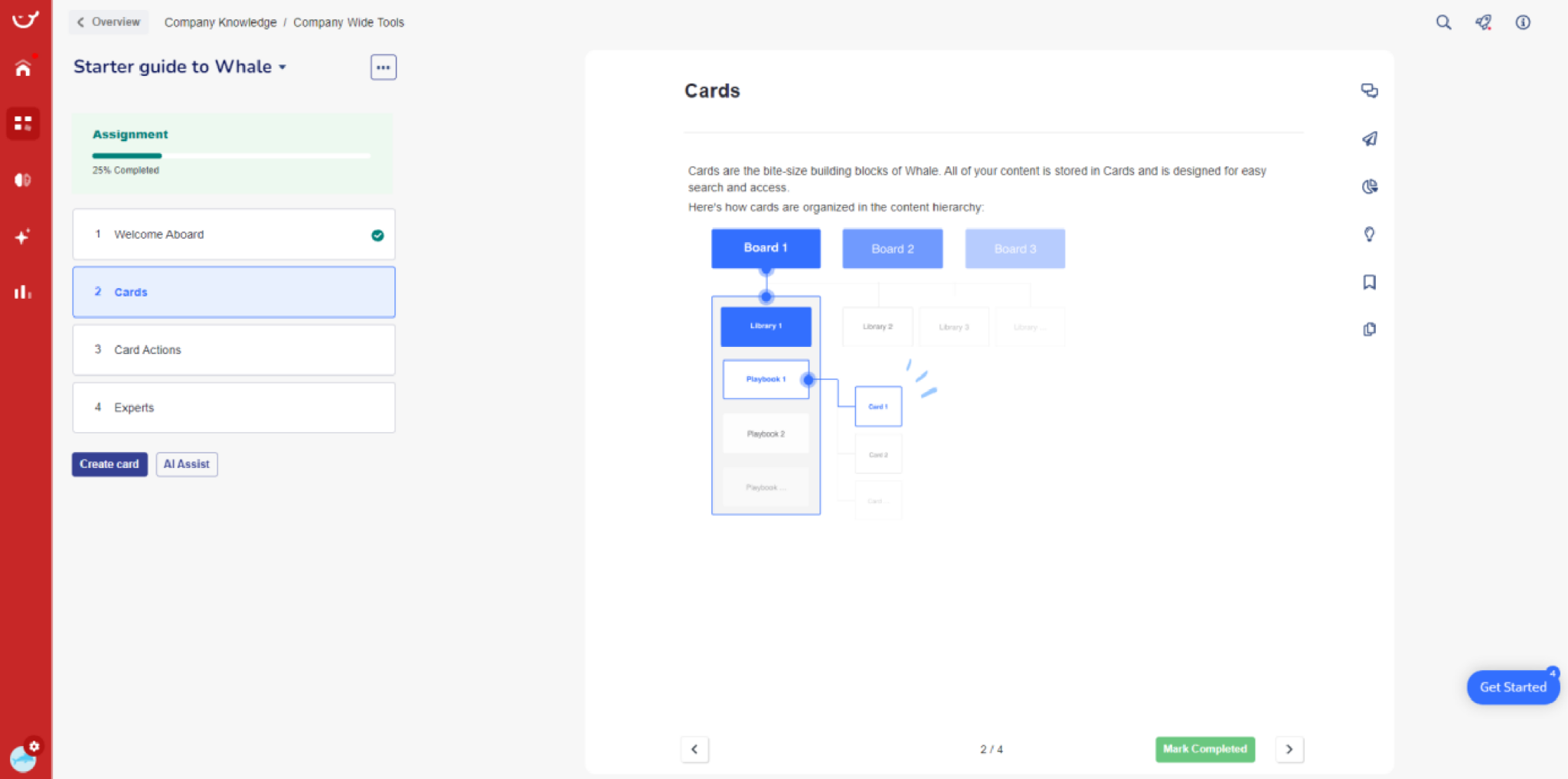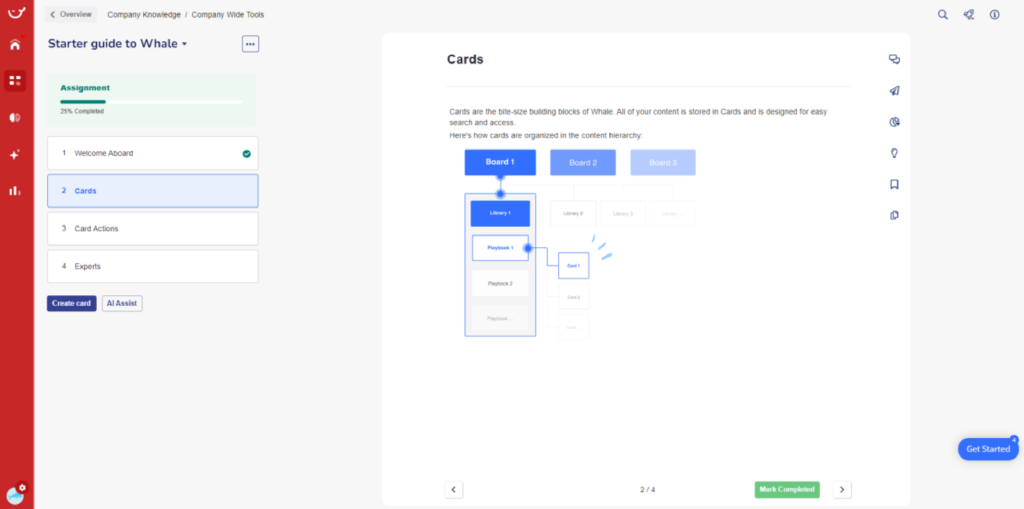 Workspace in Whale is divided into Boards, Playbooks, and Cards. Boards are the topical categories, while Playbooks are the instruction manuals. Cards are the tasks that need to be completed within them. All three can be assigned to either users or user groups. You can access your company boards by clicking on the four-square icon on the left side of the screen.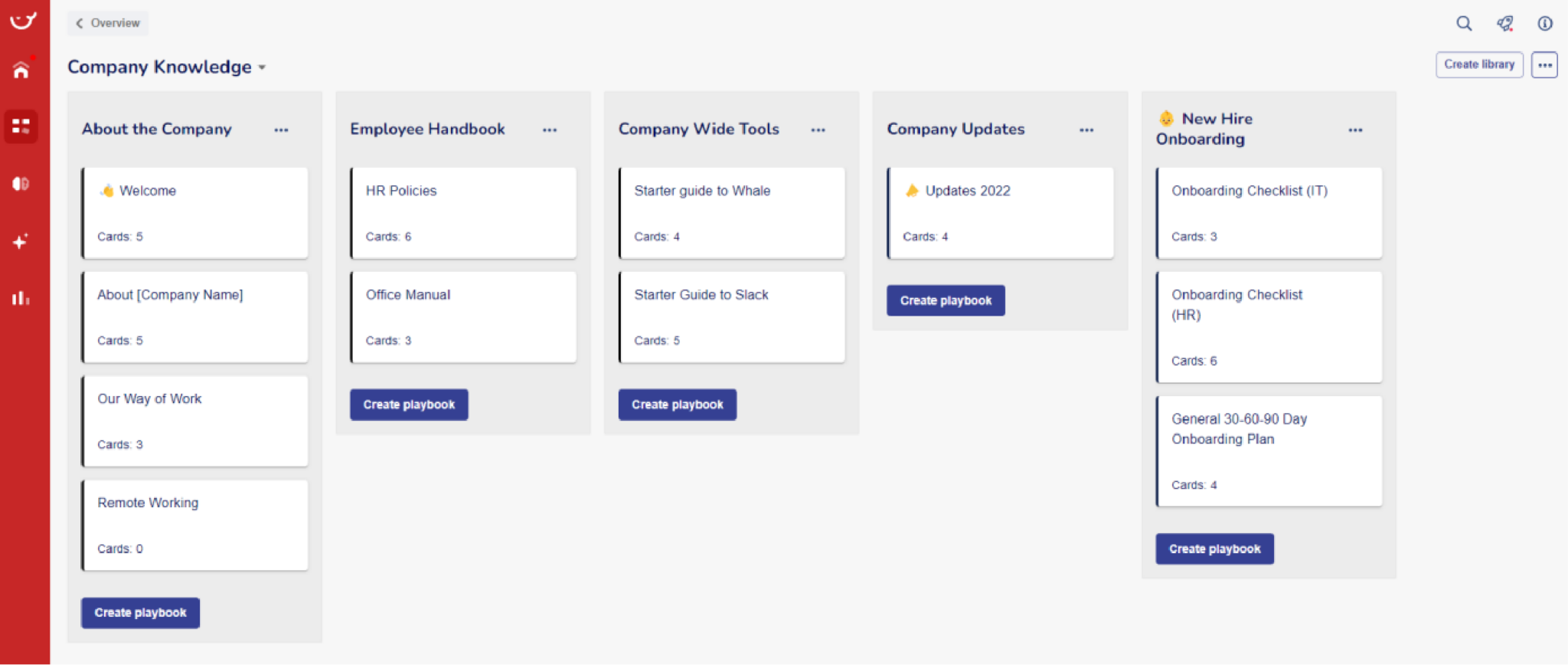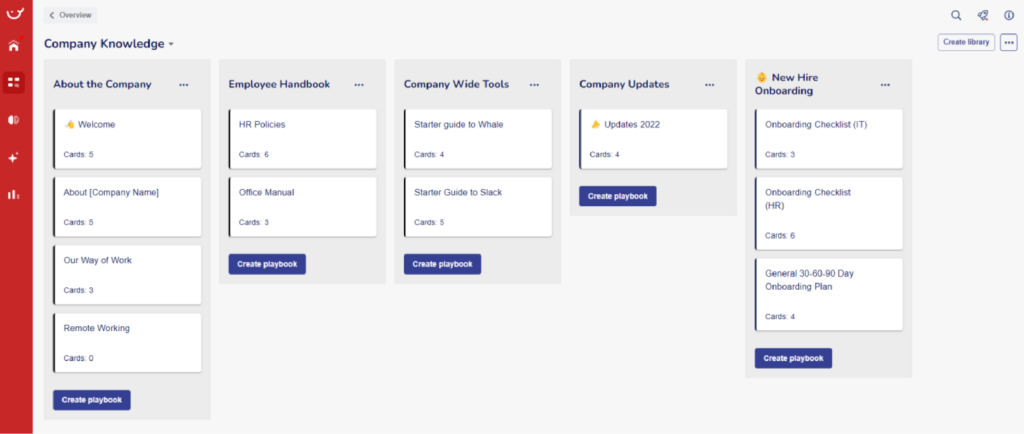 New users can be invited and onboarded through the User Management in the Workspace Settings tab from the bottom left.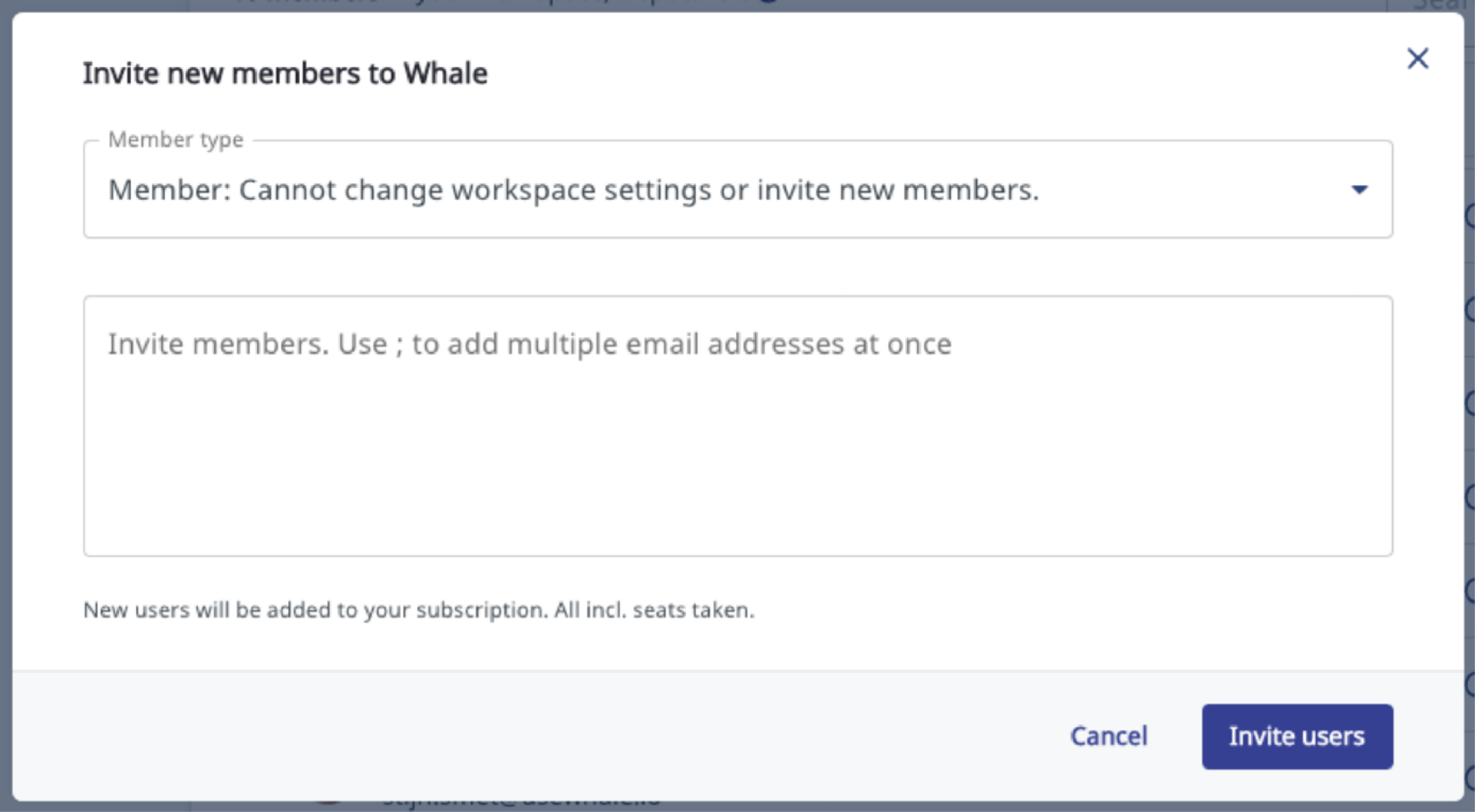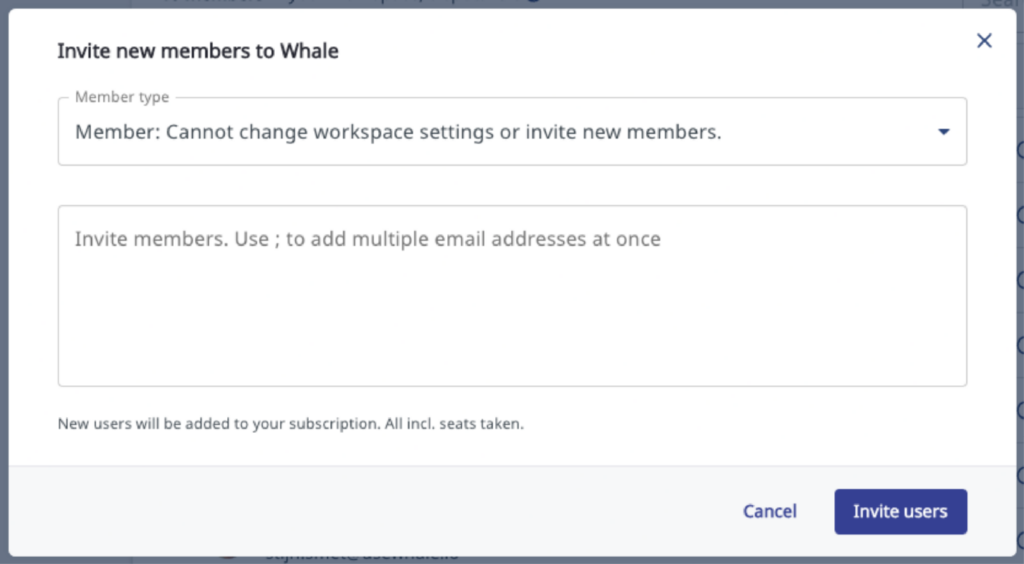 The user signup only requires them to click on the link sent to their email. Your new addition is then taken to their dashboard with the same introductory video and walkthrough. Their dashboards are populated with the boards and cards they have been assigned.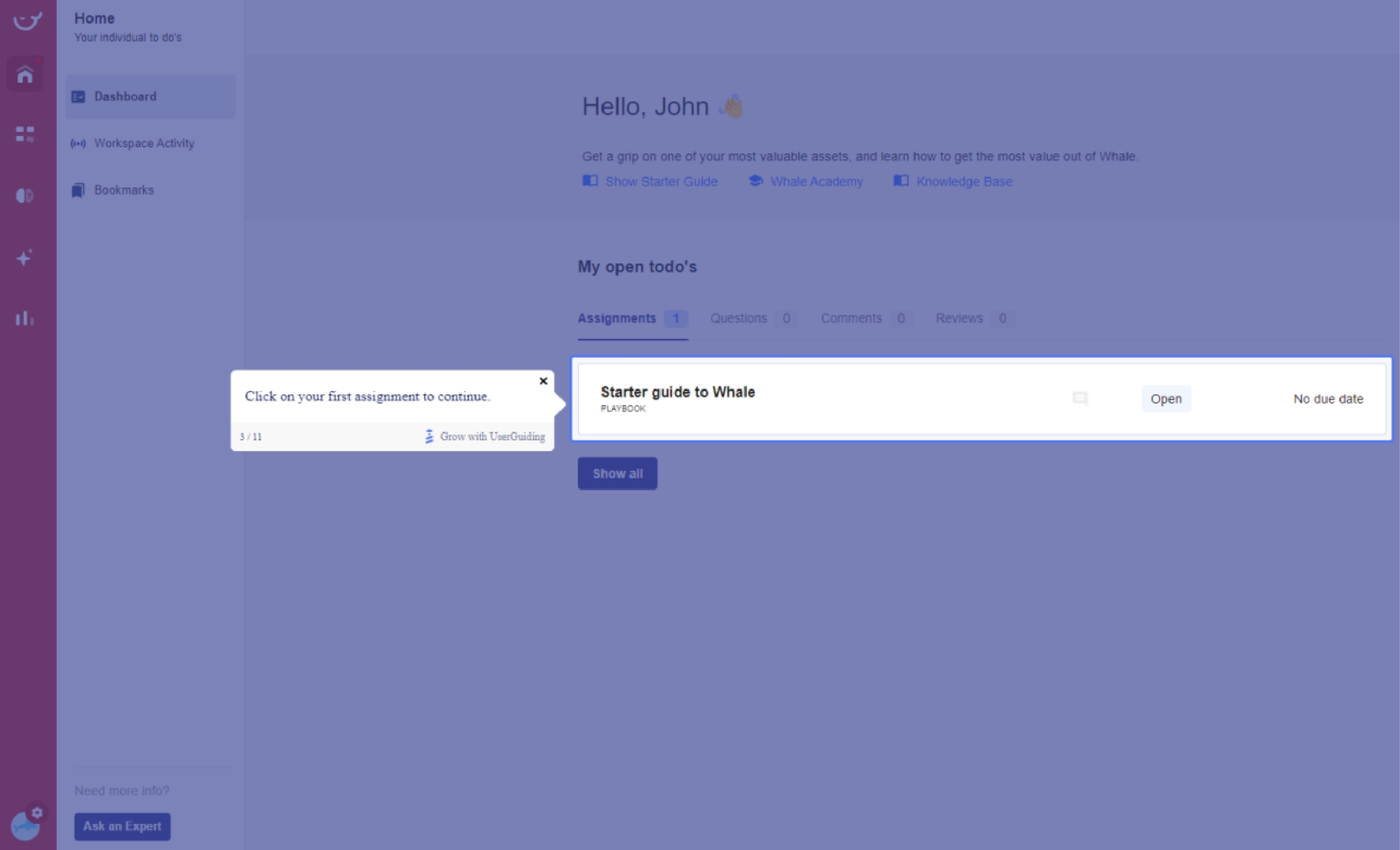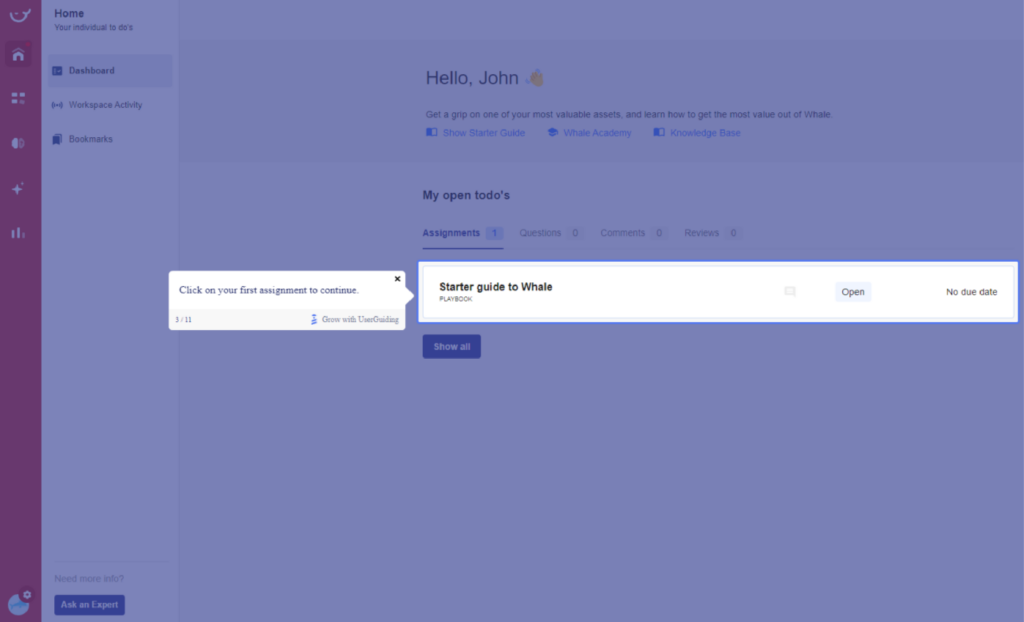 All boards and cards administrators assign users will be reflected in their dashboards. You can bring your team up to speed on how to use Whale via content that you upload to your account and through Whale's own knowledge base, which consists of videos, guides, and courses. More on training material in the next section.
SweetProcess
SweetProcess's onboarding process is based on a different philosophy. By default, all new users are enrolled in the 14-day free trial, so you don't need to input any payment information to get started.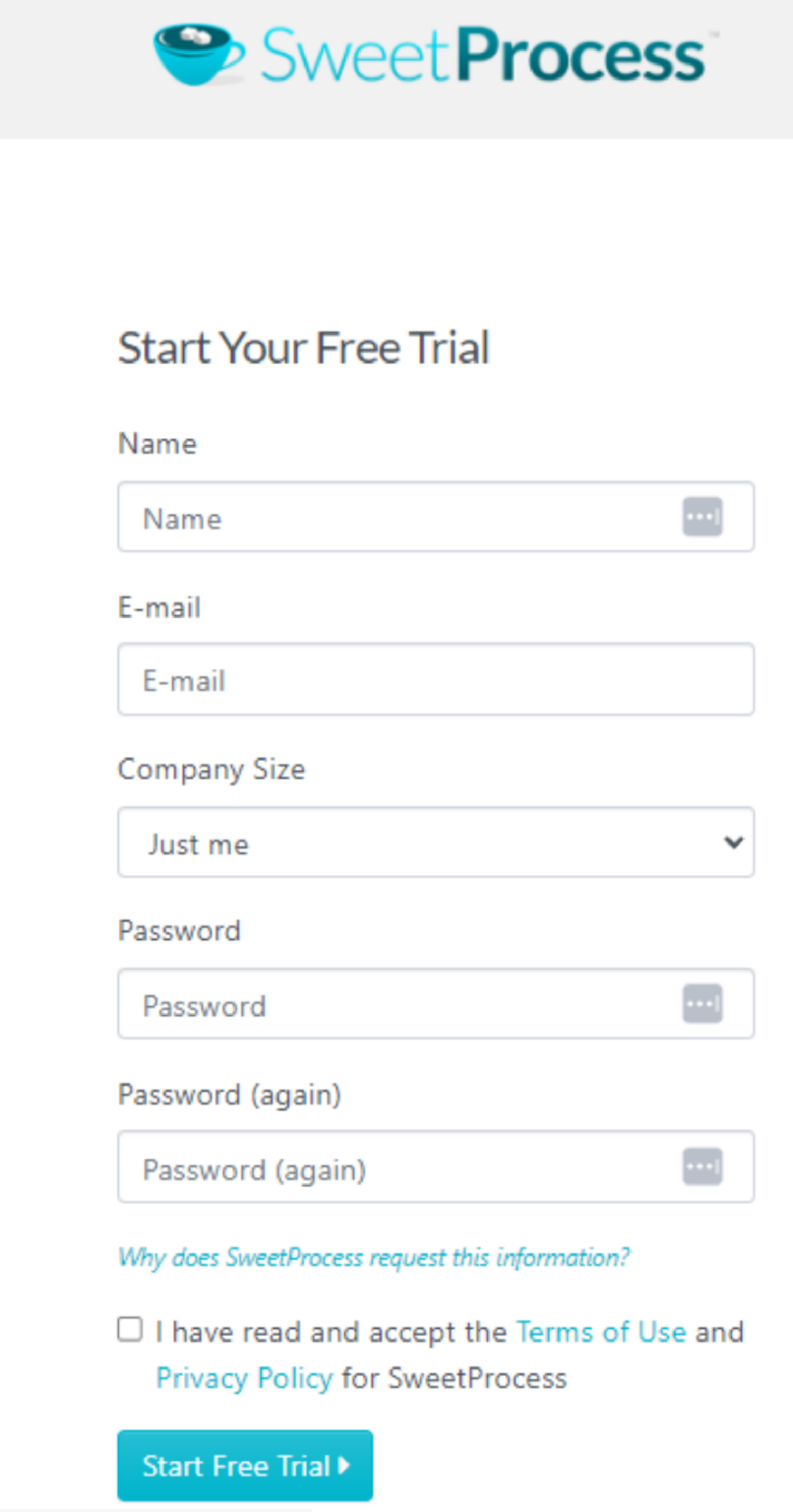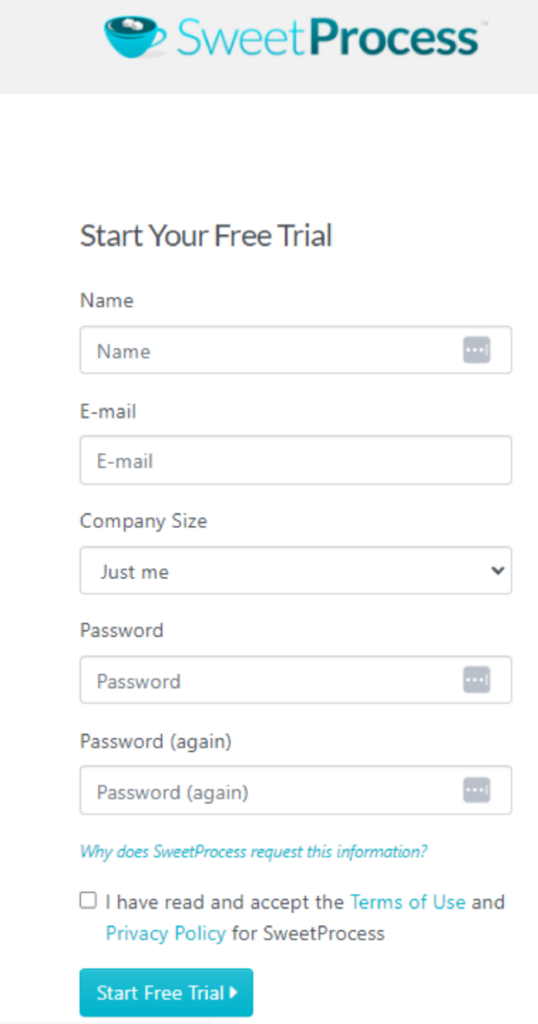 You can select which company departments you want to add to your SweetProcess account; however, this can also be done from the main console later. You also have the option to select policies, processes, and procedures to begin with. SweetProcess has several templates on most standard company SOPs. You can either upload your own documents or pre-populate your account with process documents created by SweetAI while signing up.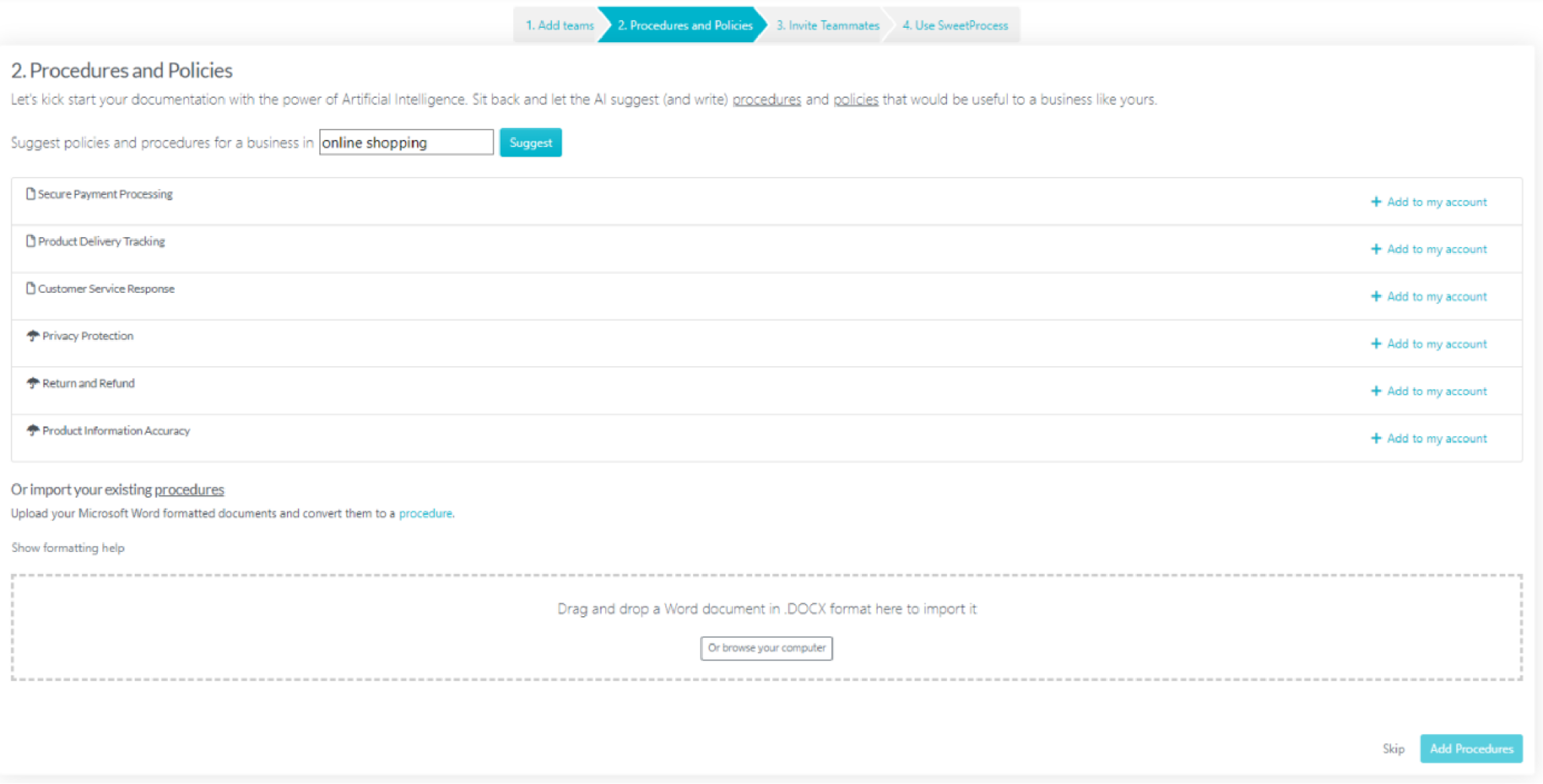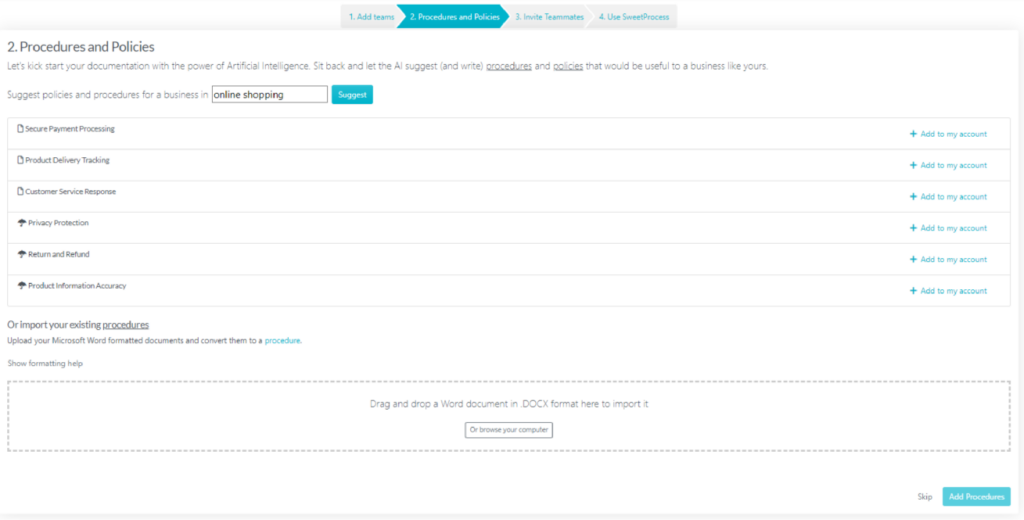 The next step SweetProcess offers you a quick interface to invite your team members over. Type in the name and email addresses of your key team members, and a welcome email will be sent to them. 


Once your signup is complete, you are taken to the main dashboard. Every first signup has a welcome message and an app tour, which includes a video and a highlighted step-by-step guide of what all the major sections and tabs mean and do.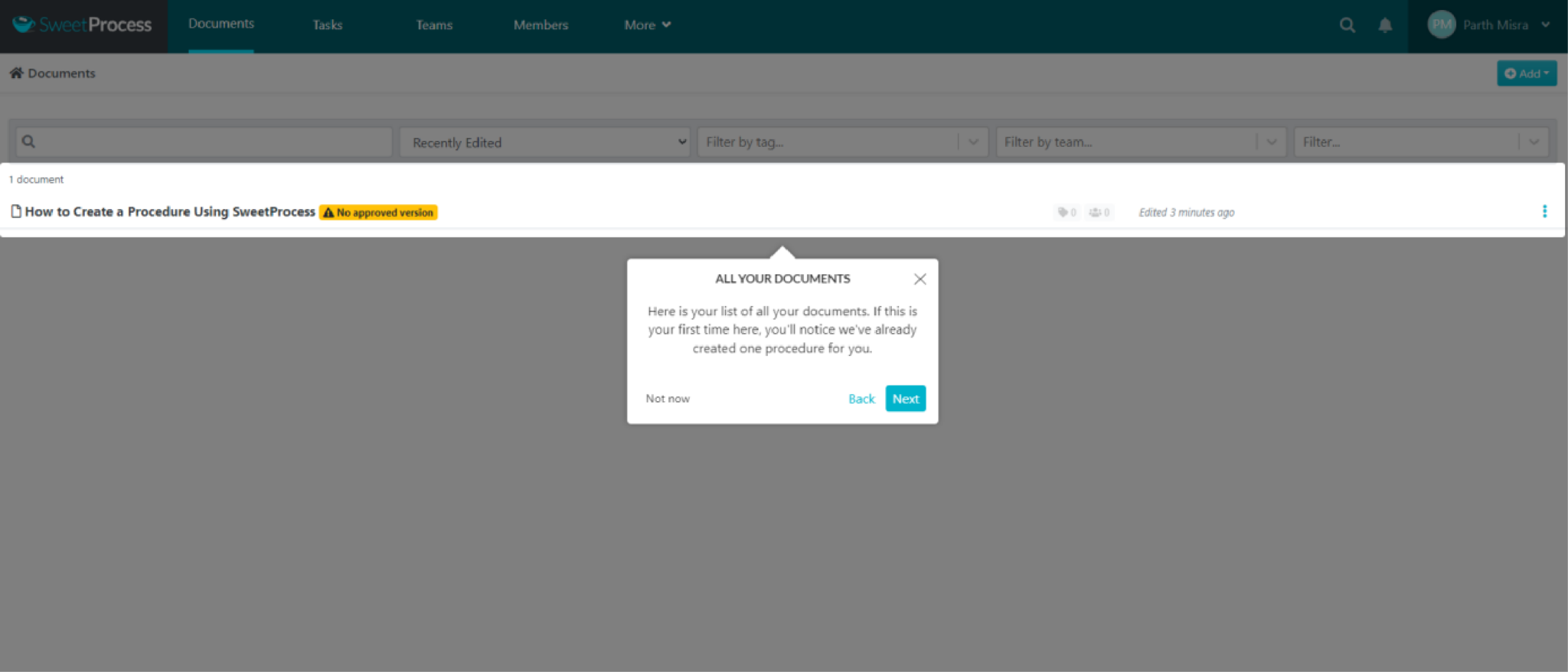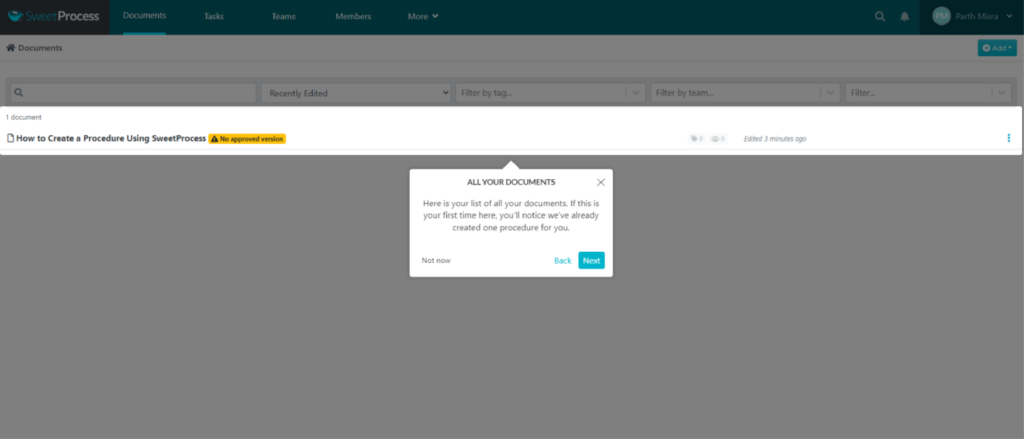 Additionally, the first document in the dashboard is a template for creating a procedure using SweetProcess. You can use this document to reference how to frame step-by-step instructions for each task. Given SweetProcess's every document as a checklist feature, onboarding can be turned into a trackable procedure. You can create processes and tasks for newly onboarded members, which they can use to understand how SweetProcess works.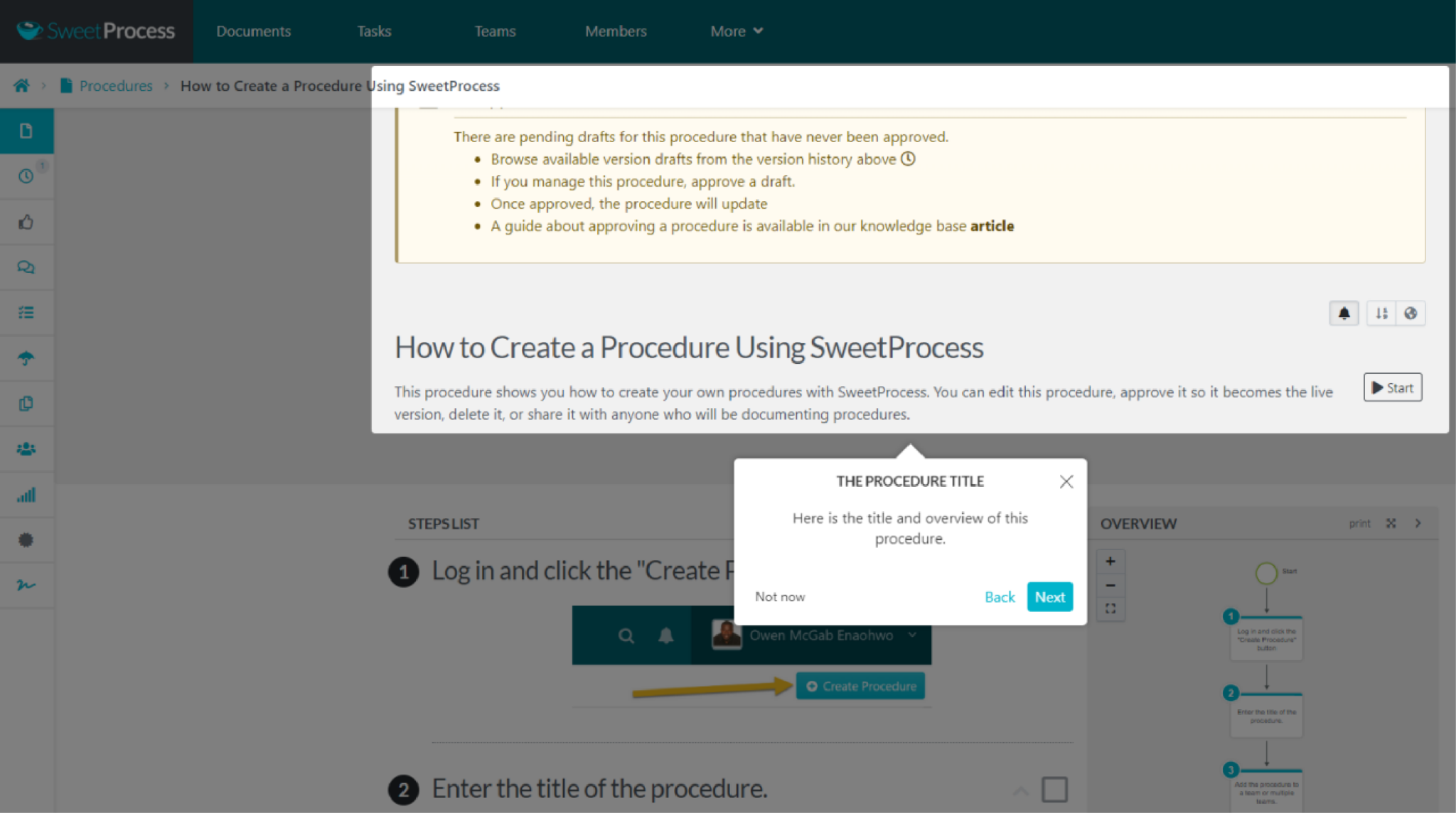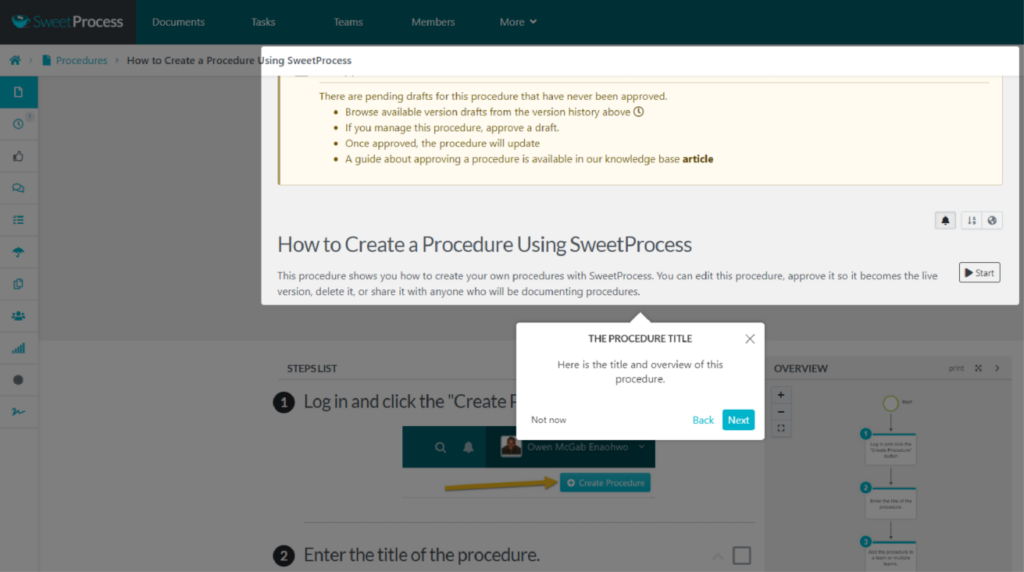 SweetProcess also has a vast knowledge base with more detailed entries on using the app to document and use process documents. It is best to make a list of documents that your team is likely to need during their introduction to the software. These can include entries from the Account Management, Getting Started, and Knowledge Bases sections.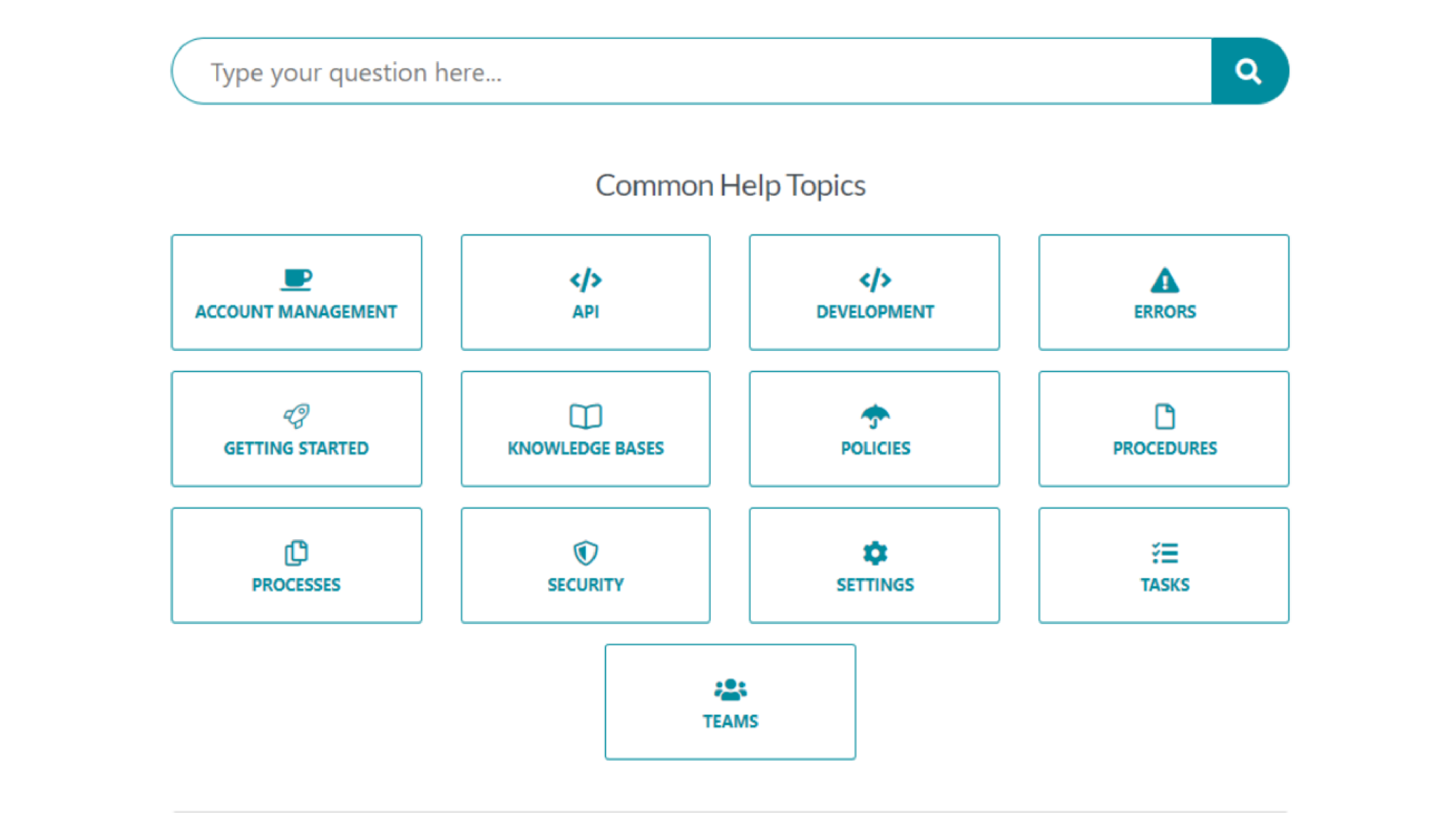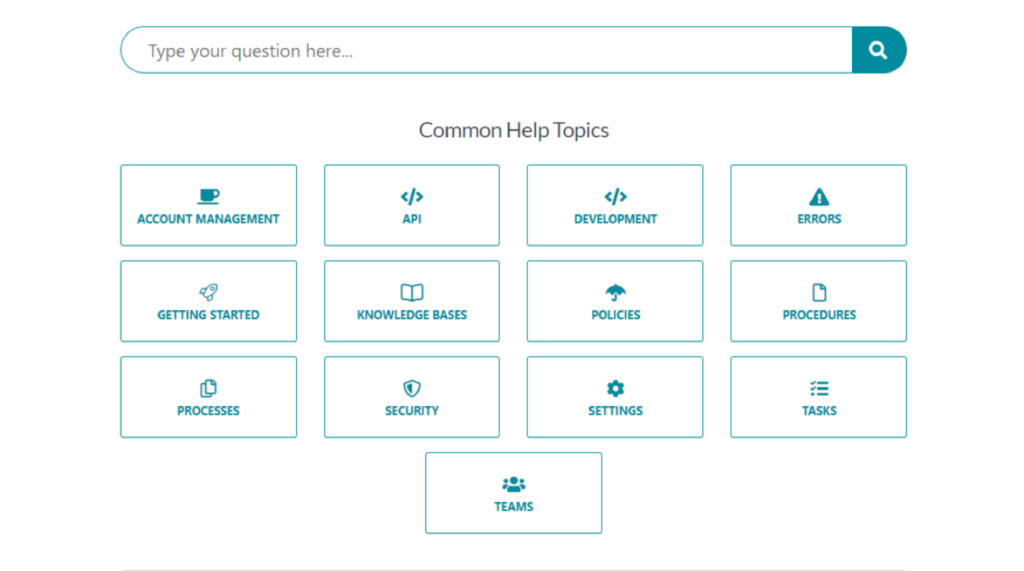 Verdict
Both SweetProcess and Whale have relatively easy signup and onboarding procedures. You can get started with either of them in less than a minute. Likewise, inviting team members to sign up with each app is simple for account managers and invitees alike. Team members only need to click on the links in the welcome email to get started and only need to fill in their preferred usernames and passwords to log in.
But this is where the similarities end. Whale places a premium on the primary account holder's signup experience. The section to invite additional members is buried in the settings tab and isn't immediately available. This is in stark contrast to SweetProcess's invitation process, which allows you to fire away welcome emails during signup.
We feel that invitation and onboarding should be a more central part of any cloud-based productivity tool since they exist to enable remote collaboration. The overall experience of users signing up with either software is fairly easy.
That being said, SweetProcess's emphasis on inviting people and creating teams and guided tours makes it very easy for both administrators and team members to get the lay of the land and start working quickly. These features alone make SweetProcess a superior tool for fast, efficient onboarding.
New User Training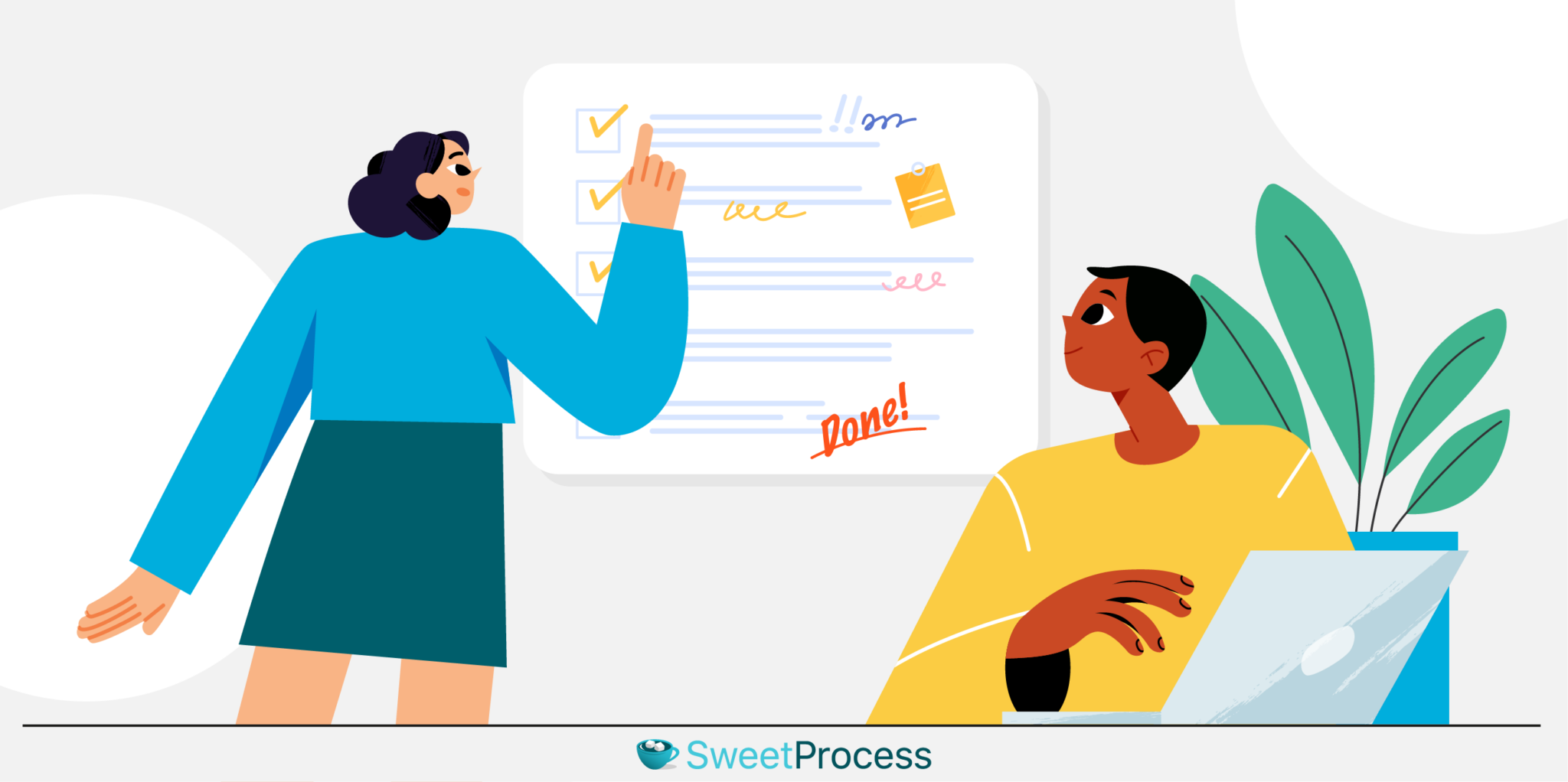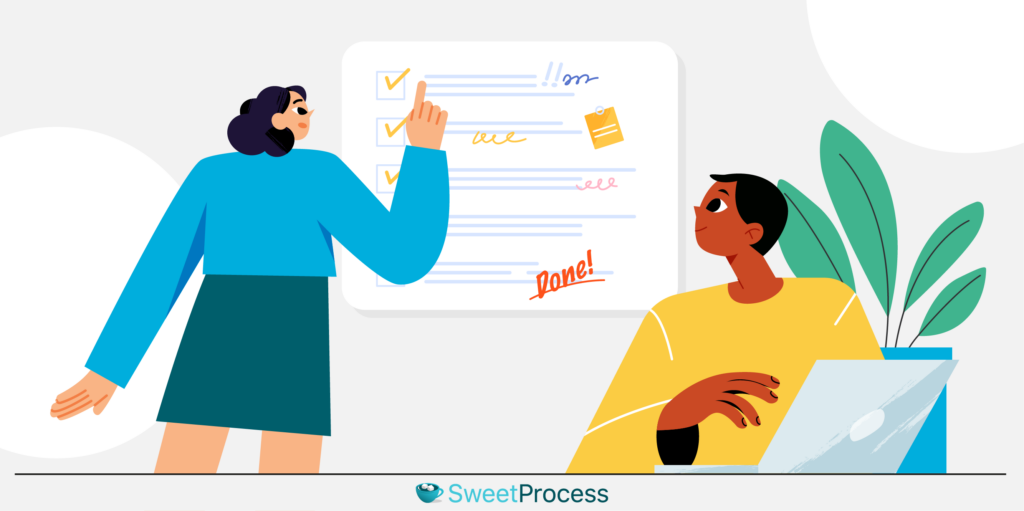 Whale
Whale includes automated training, which it calls "Training Flow." These are essentially fire-and-forget modules that you can program with content and steps and then assign to new users. A Training Flow can be assigned to groups, individual users, or all new users who sign up with Whale.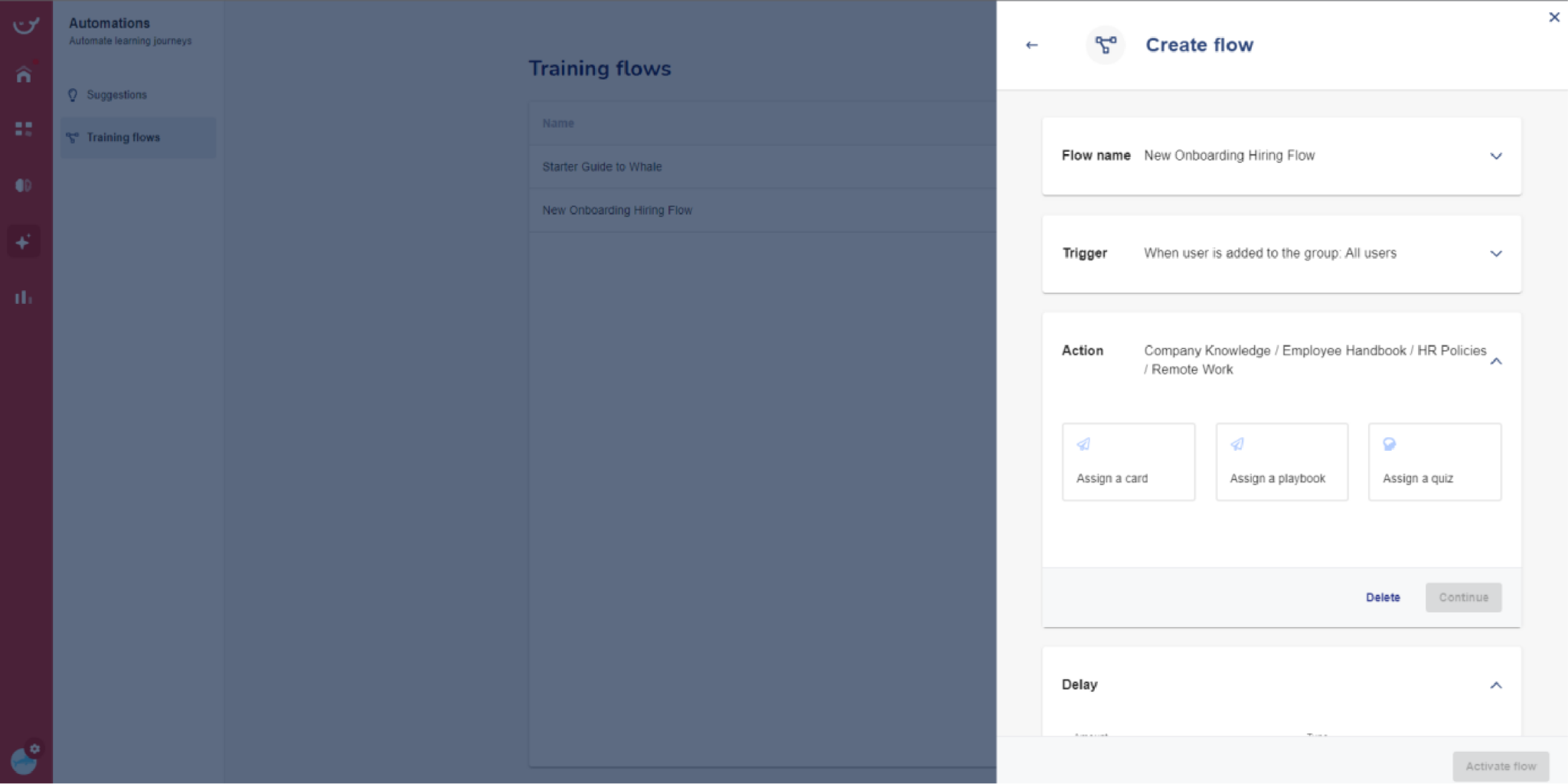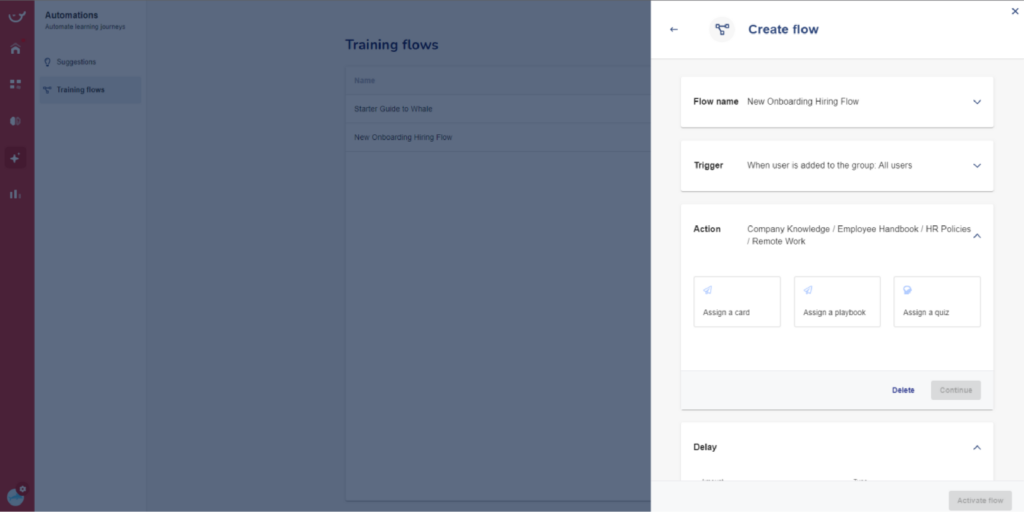 Likewise, each Training Flow can include a Quiz, Playbook, or Card. While Playbooks and Cards work the same way (i.e., sections with text that the assignee can check off at the bottom), Quizzes present them with single questions that they answer to move to the next one. You can change what triggers a certain Training Flow; for instance, when a user is onboarded to a certain group, or whether the user is a member or admin. 


All activity by members is reported to the administrator's analytics dashboard. You can see how each team member is performing and also the progression rate for every assignment.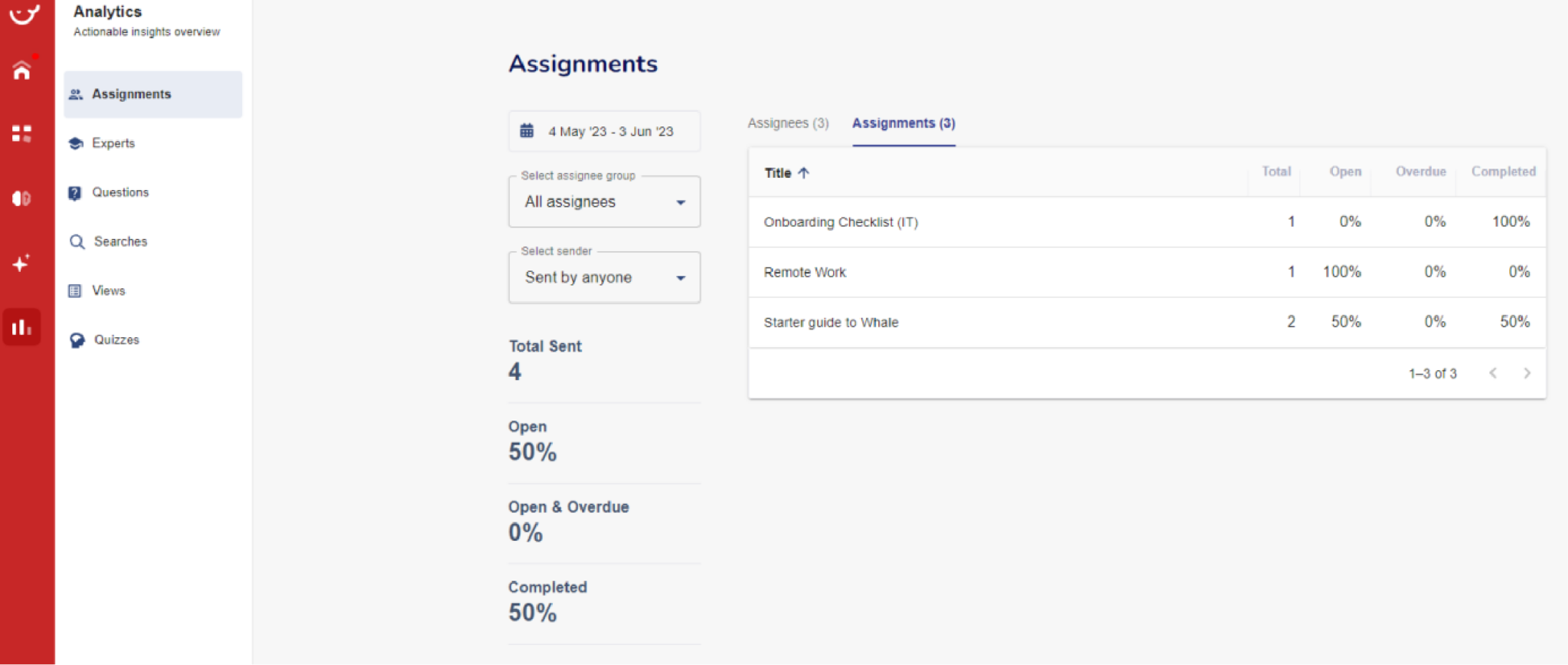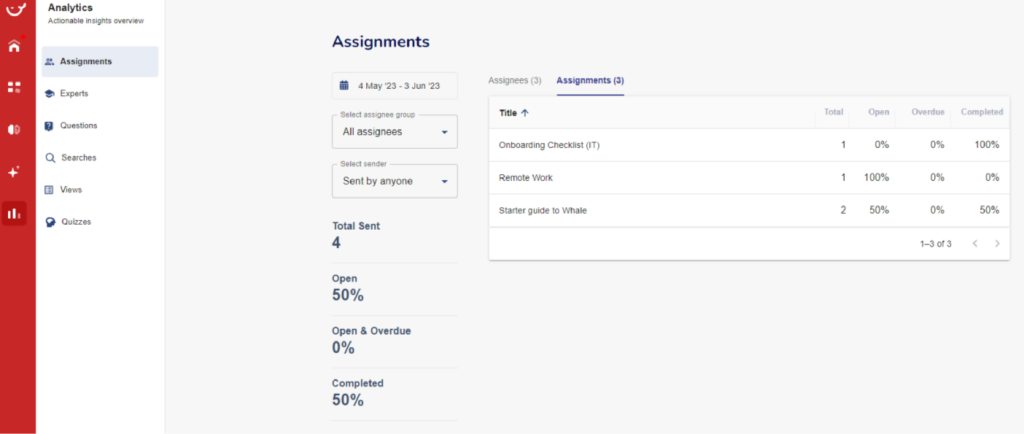 While Training Flows are great for instructing team members on processes and SOPs relevant to your organization's way of working, Whale also has a large knowledge base with pieces on the fundamentals of using the app.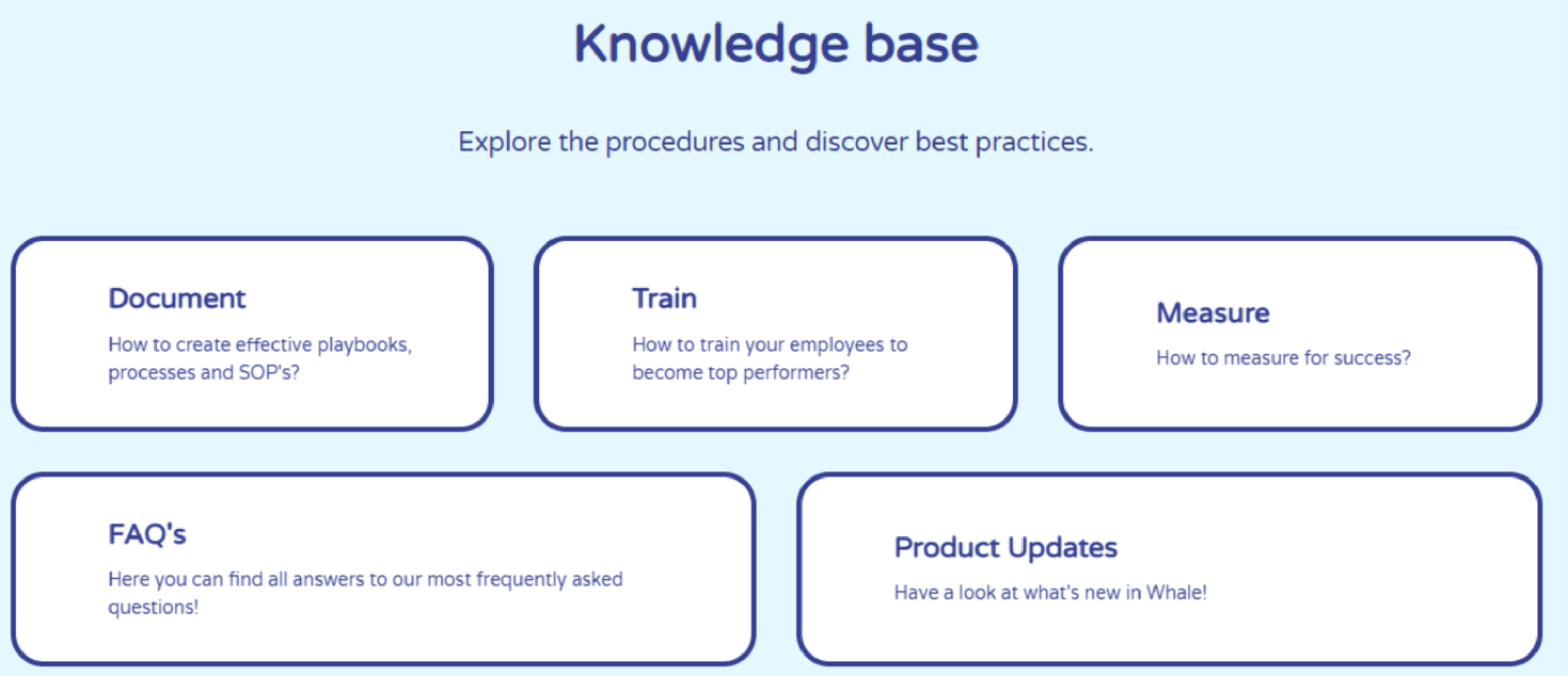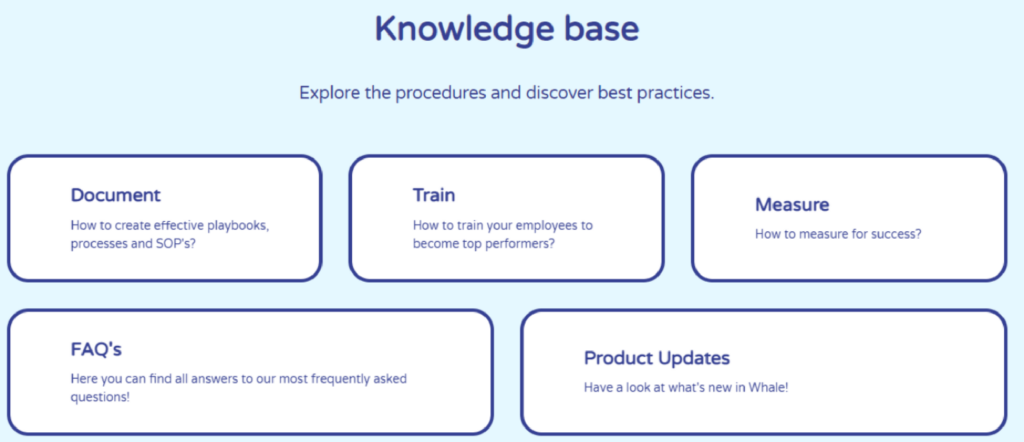 Whale also provides a chatbot at the top-right corner if you or any team member wishes to find information fast. Mostly, the chatbot will reproduce articles from the knowledge base in its window. If inquiries fall beyond the scope of the Whale's database, the chat is simply redirected to a customer service rep.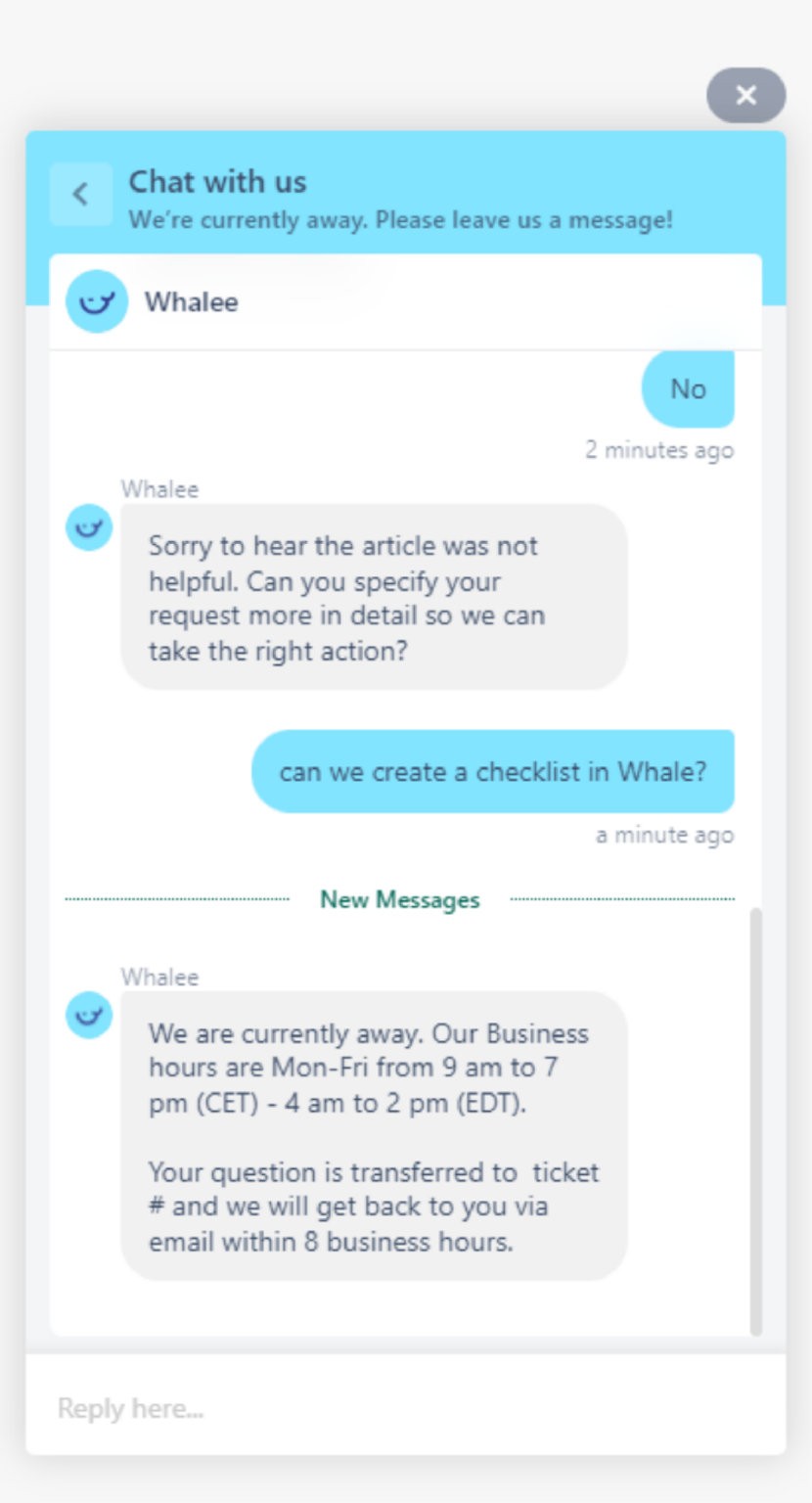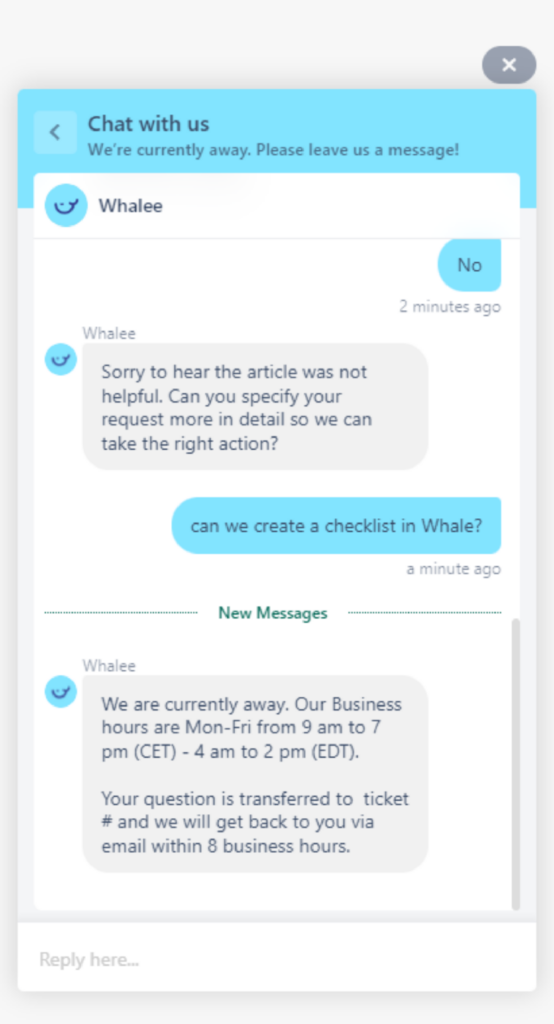 All Boards and Tasks have their comments section where users can discuss issues. This works like a message board with all assigned members in the Board/Card group. Finally, members can use the Ask an Expert button at the bottom right of their dashboard to send questions directly to their supervisors.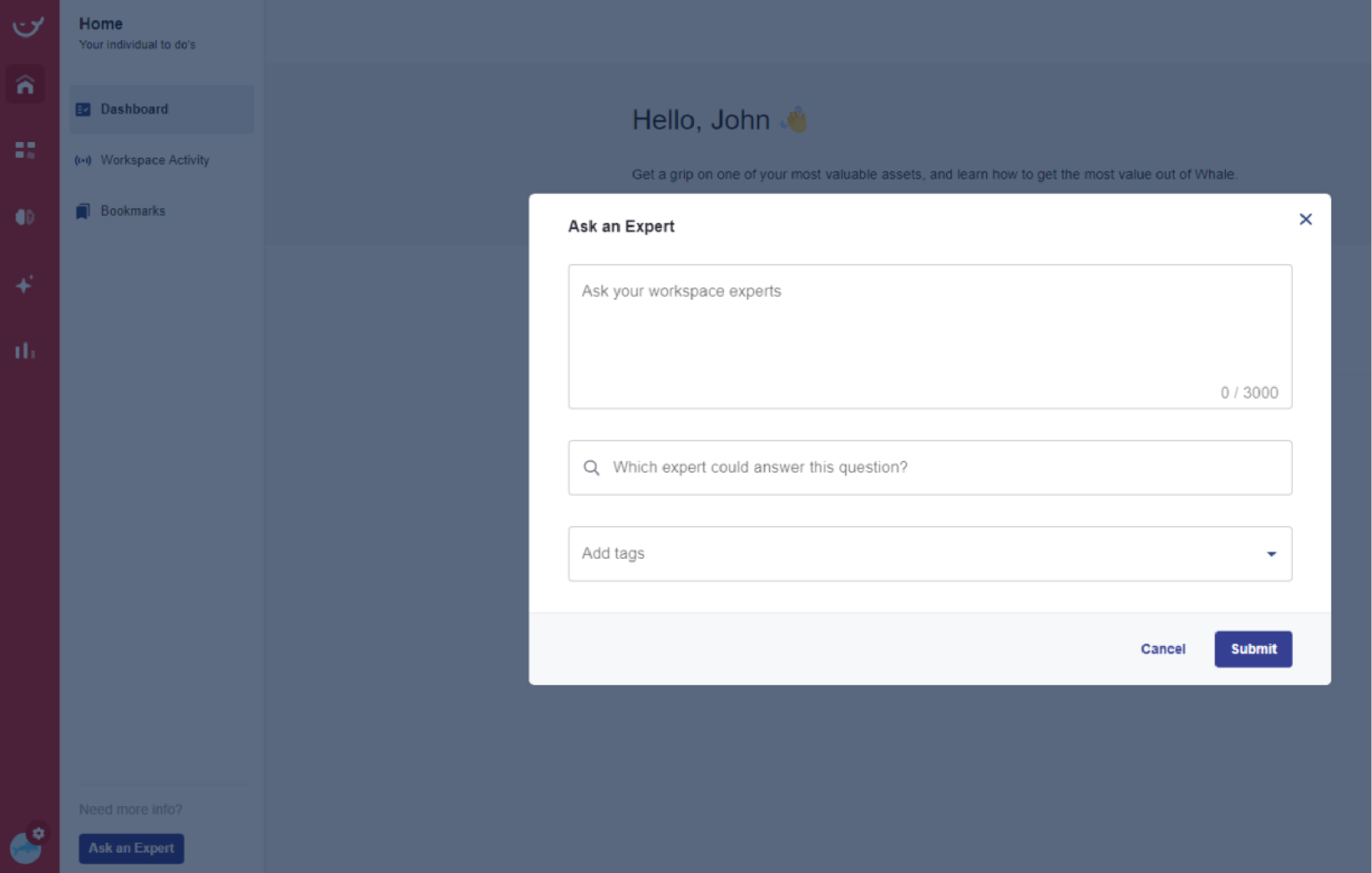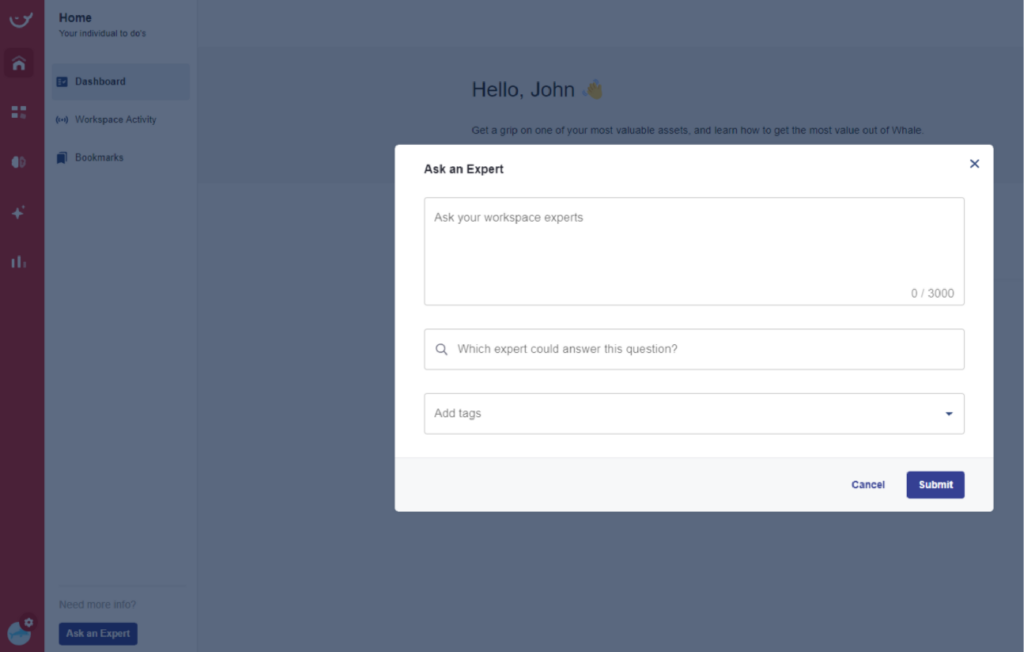 SweetProcess
SweetProcess offers two options for training purposes. Firstly, you can create an onboarding or training-specific knowledge base and share it with your team members as they are added. Knowledge bases have a couple of advantages.
Firstly, it saves you the effort of training each person individually. Secondly, you have a ready-made repository or training material that your team members can reference at any time.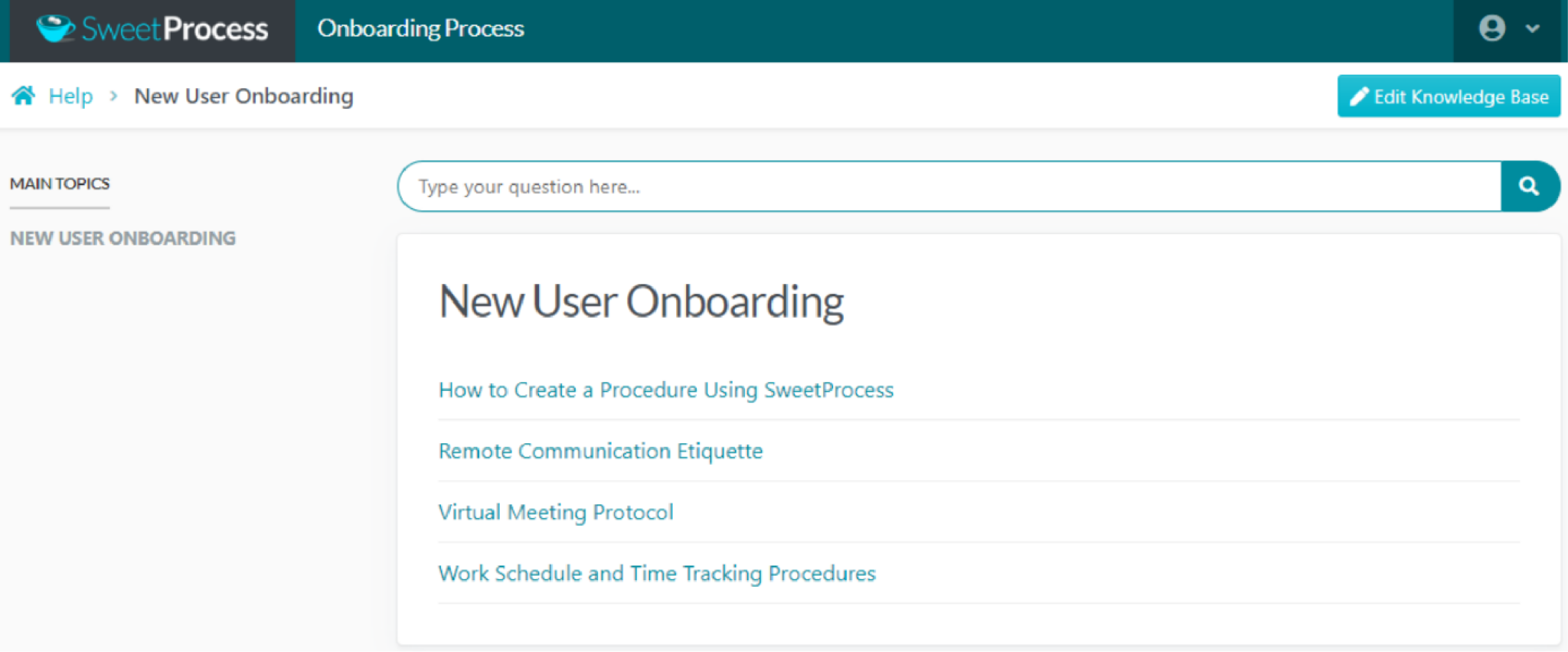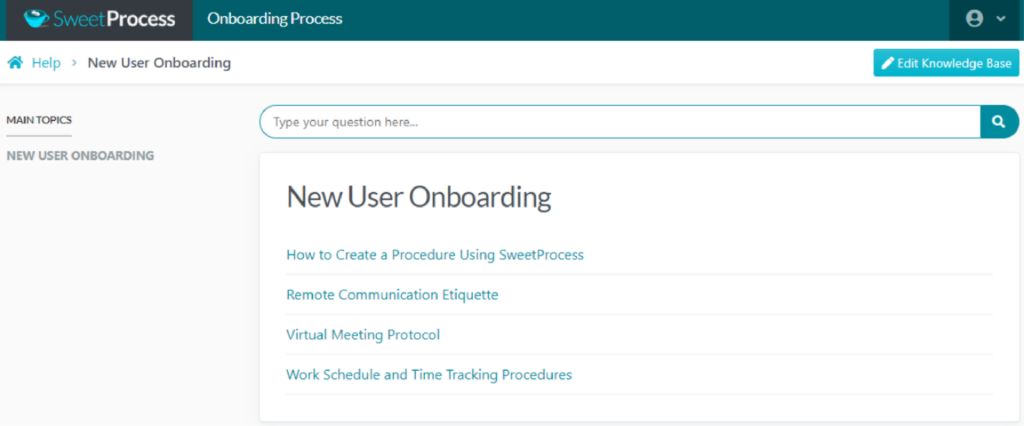 Knowledge bases are great if hands-on training isn't required, but that won't always happen. Sometimes, you need to ensure that everyone has read and understood the processes before being assigned their responsibilities. To this effect, administrators can set up specific training tasks for new hires if they wish. All assignments can be managed through the Tasks tab. In the example below, we set up a training task for a newly added member.


The tasks include understanding the company's remote communication etiquette and virtual meeting protocols. You can add a due date and set the tasks as one-time, repeating daily, weekly, monthly, or yearly. Processes and procedures are essentially the tasks that can be assigned to persons, teams, or roles. Whenever a task is assigned or changed, it triggers an email notification to the assignee.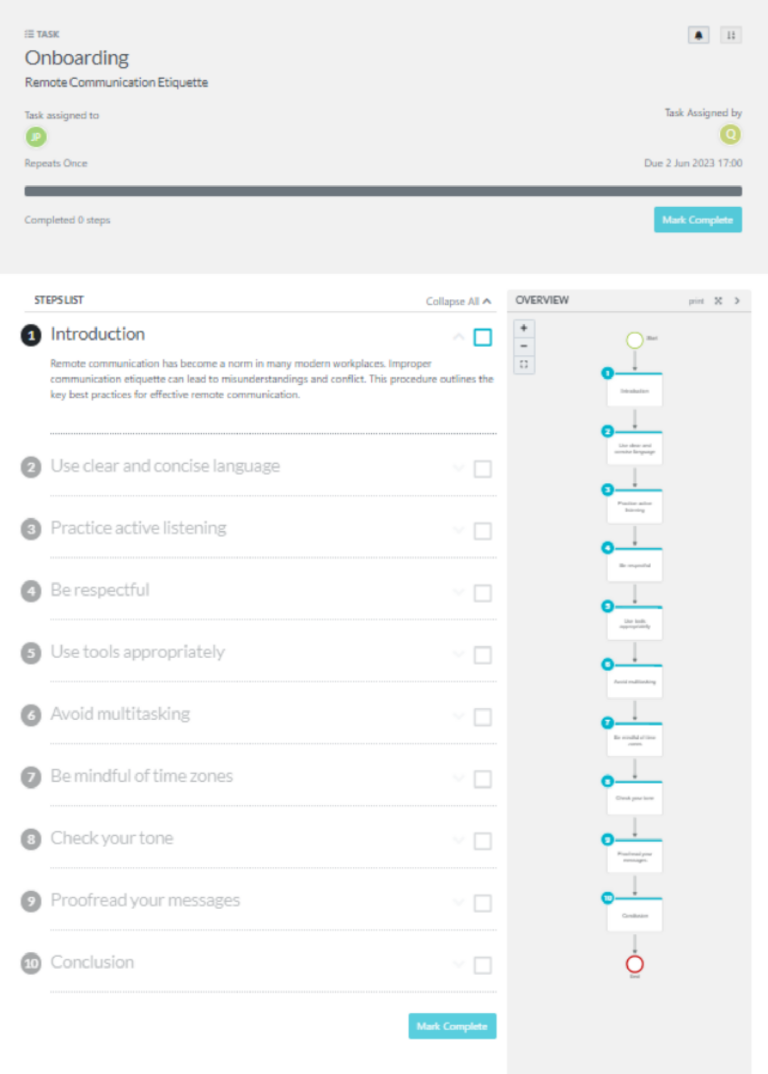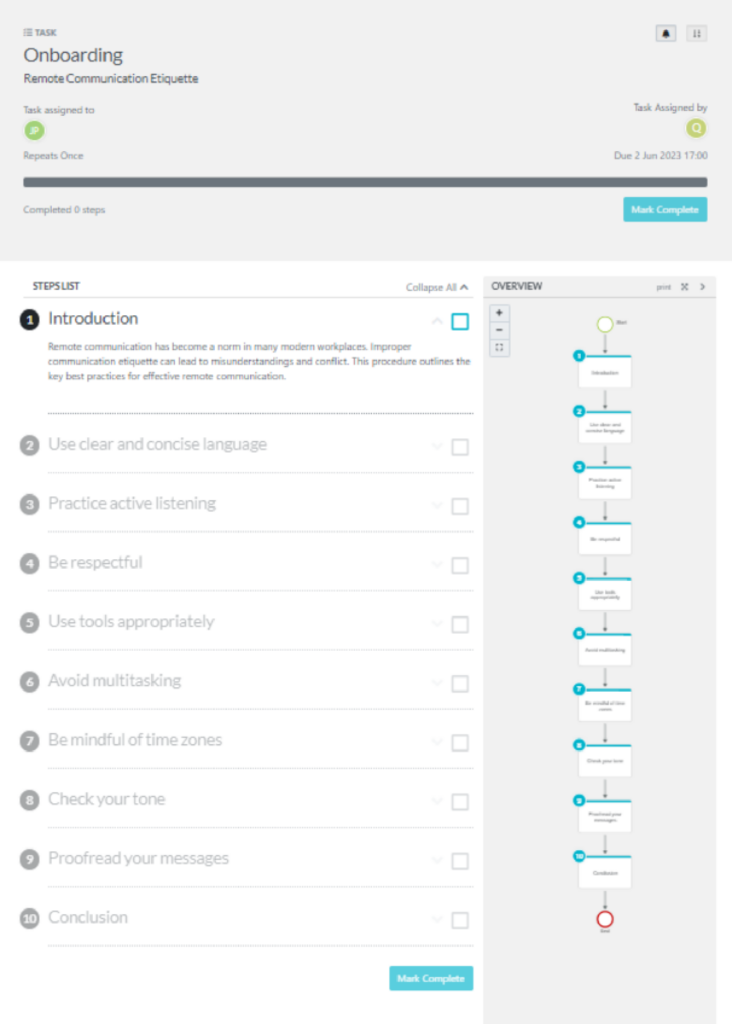 As the assignee(s) check off each step, a progress bar shows how much is left. You can track each task's progress from the Tasks tab and make any necessary changes. Each task has its own comment section where the assignee can post their questions and discuss issues with the administrator or their team members.
Verdict
SweetProcess and Whale both place a heavy emphasis on training. Whale's Training Flows are definitely a well-designed and easy way to set up and automate onboarding and new process education. Their quizzes are a great way to keep everyone updated at all times.
That's not to say that we didn't find room for improvement. The standard training processes largely consist of long-form content, which the reader checks off by clicking on the "Next" button below. There is potential for confusion and misunderstanding here as people may simply click on it without going through the document. This is where SweetProcess's hierarchy can prove useful.
Though policies may only need a cursory read-over since they are general guidelines, processes and procedures require a thorough review. You cannot afford to skip over important steps, as it can spell disaster in your day-to-day operations. SweetProcess turns all assigned processes and procedures into checklists precisely so that every step is well understood by the trainee.
While Whale has a chatbot, in practice we found it to work more as a search field rather than an AI-powered tool. All queries returned links to documents from the help section. Specific inquiries were routed to the customer support team. The chatbot is also incapable of retrieving information from documents that users upload and is restricted to Whale's own knowledge base.
Whale's approach to training and working, in general, is great for policy-based documents but leaves something to be desired when dealing with more granular stuff. For example, we had to repeatedly go back and check documents for a step, which took some digging. SweetProcess makes it easy for teams to find information as all process and procedure documents have their own flowcharts right next to them.
Simplify your team's learning curve with SweetProcess's easy-to-use system. Sign up here!
SOP Documentation and Data Capturing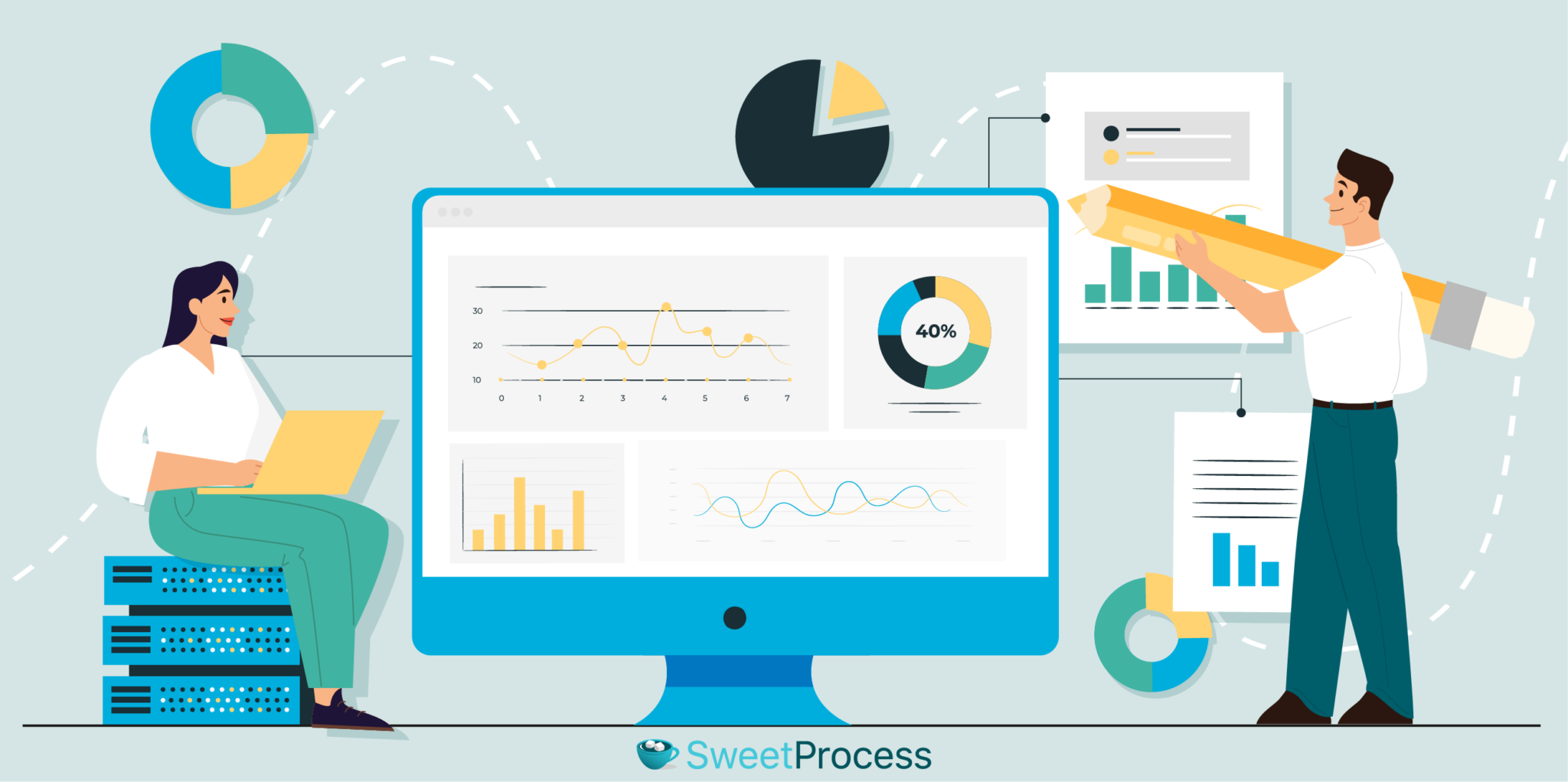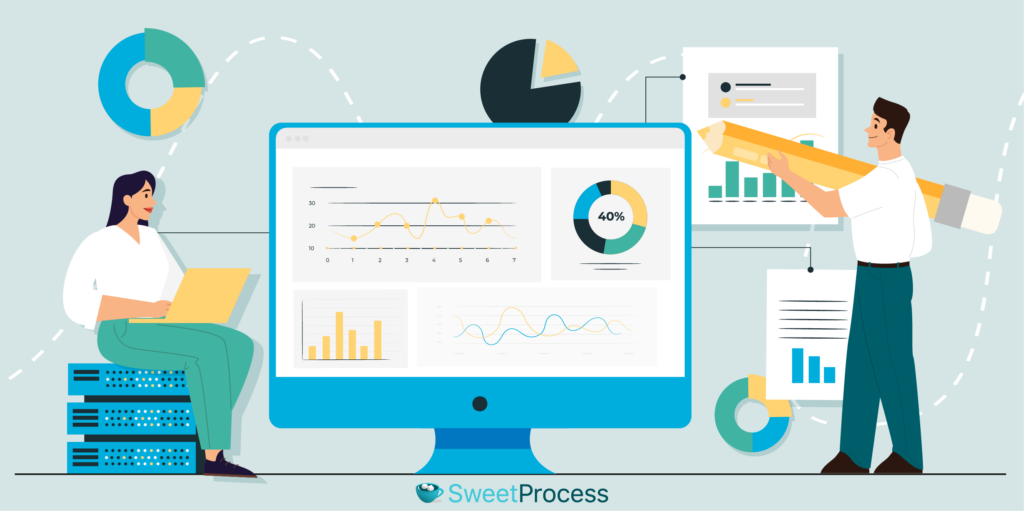 Whale
Right, so we've signed up with the app and have onboarded our team. They are trained and ready. But what will a typical day look like once it's business as usual? There are two tabs you will be spending most of your time on: the main dashboard with all your pending work, and the boards which organize your company knowledge.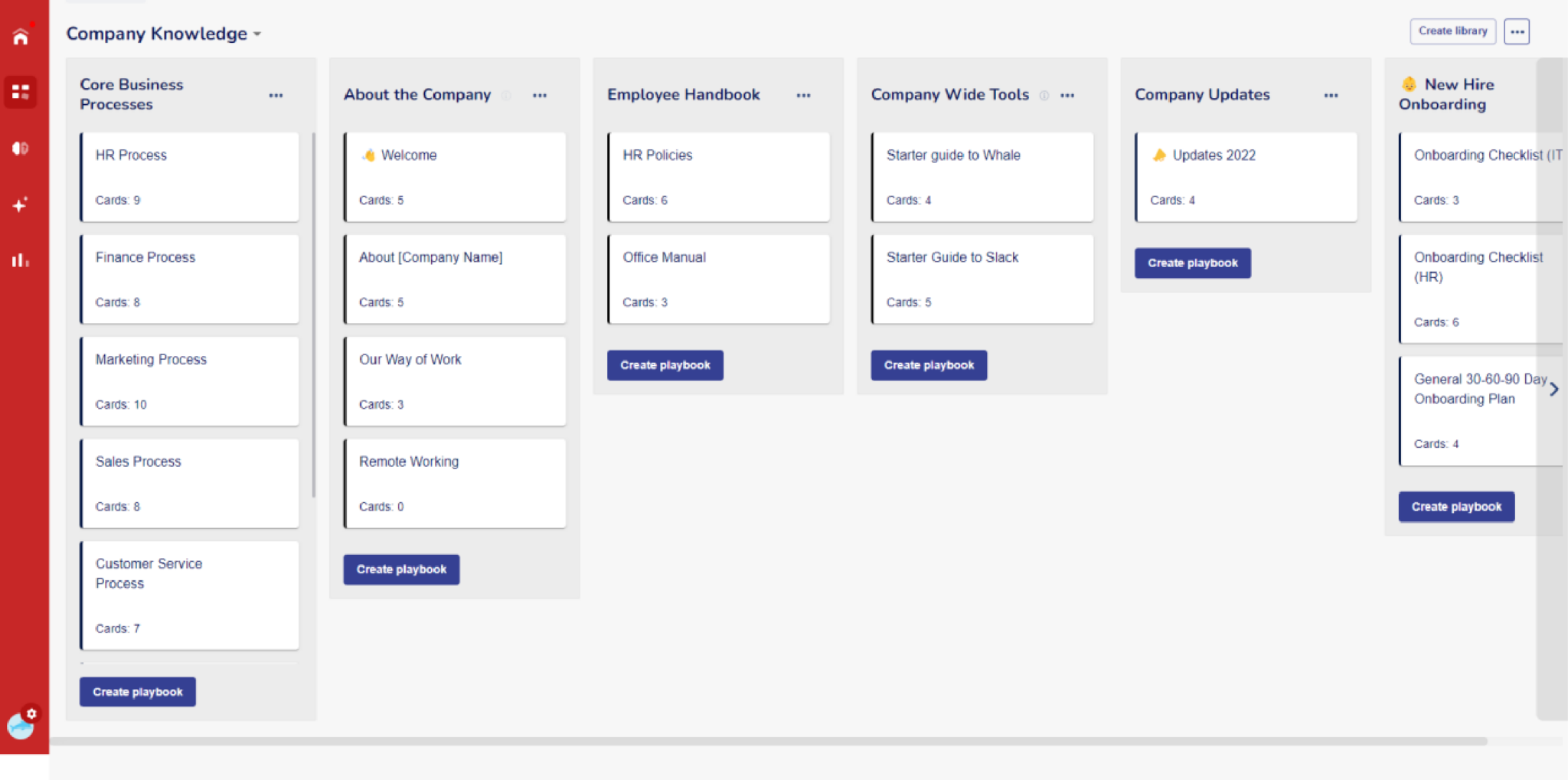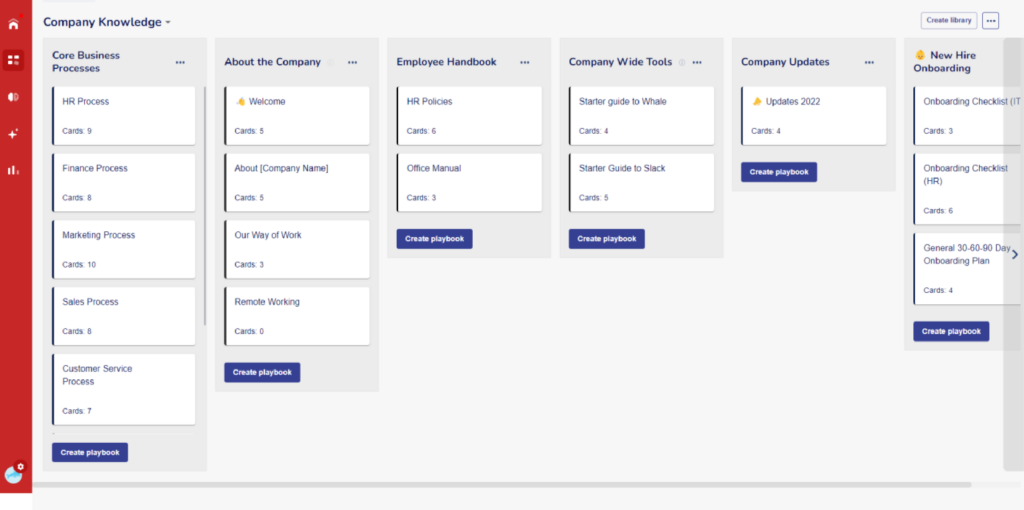 You can add boards by clicking the "Create Library" tab above. The opening screen presents you with a list of business categories and the associated process templates. Most categories are covered here, and you only need to select the template list to add the library to your board list.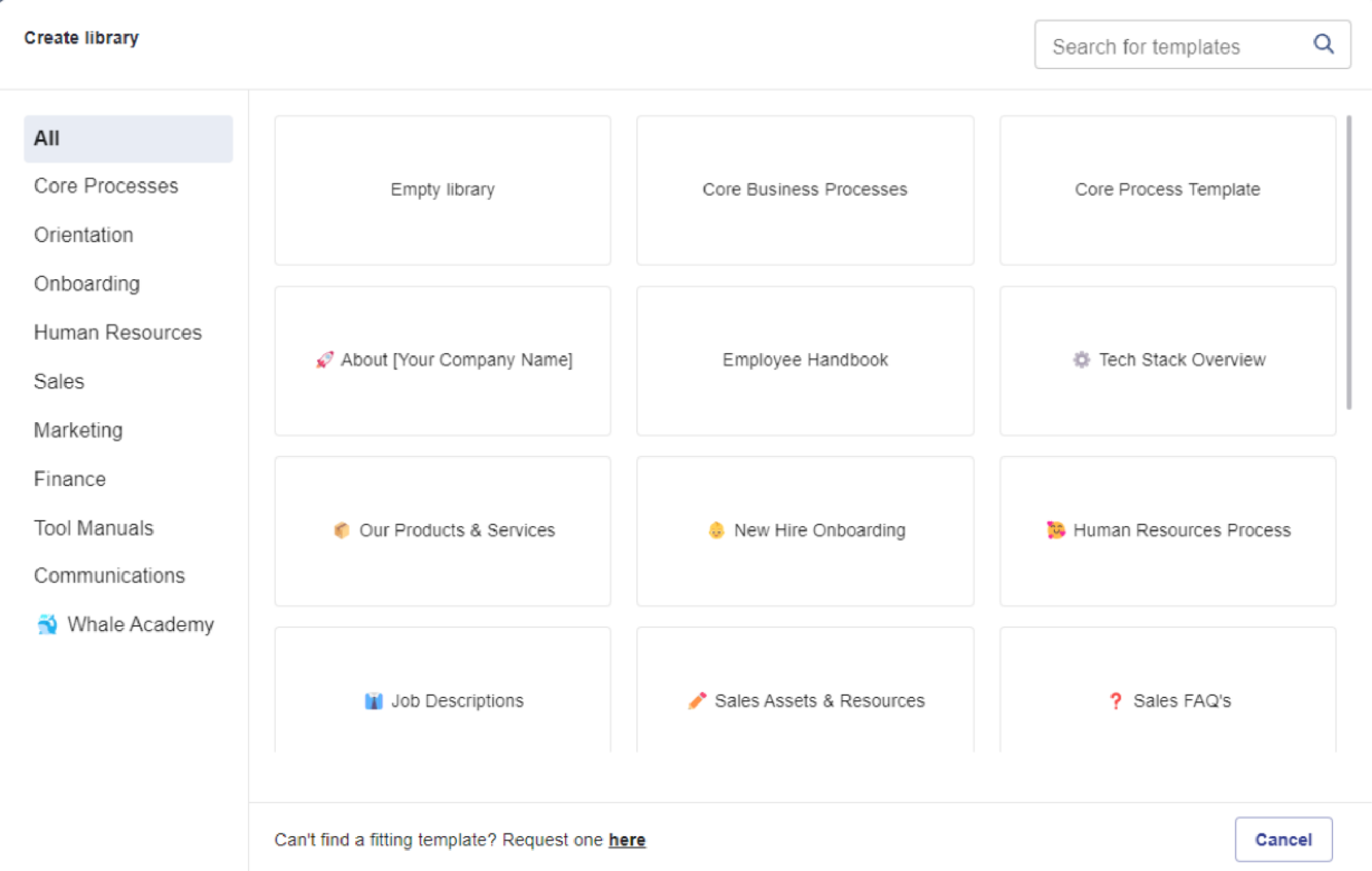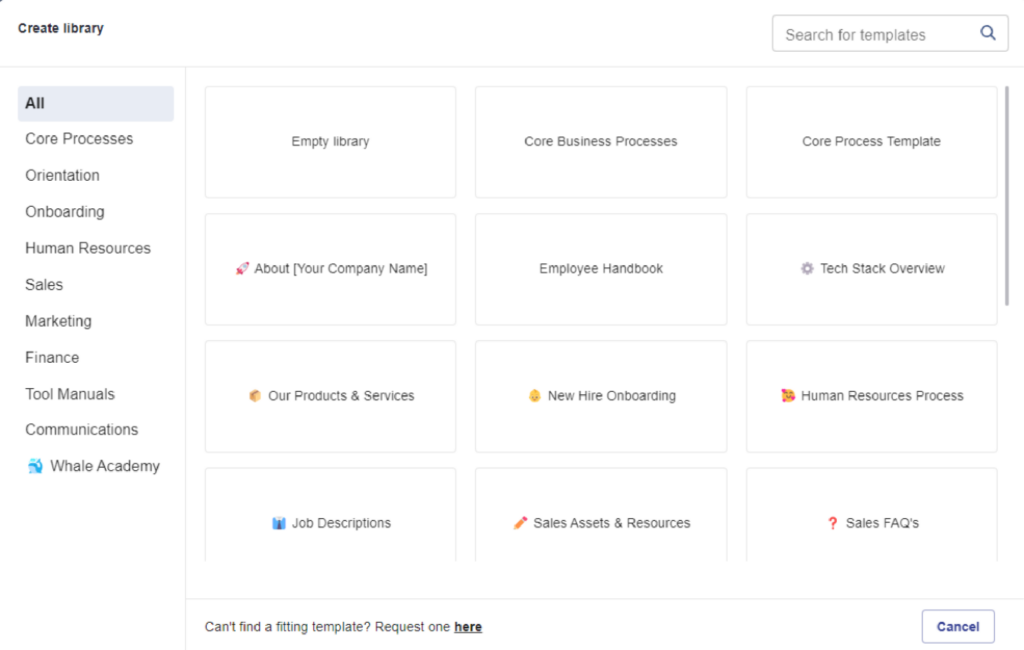 In the screenshot above, we've added Core Business Processes from the list of provided functions. Let's take a look at the marketing process playbook here. The section is already filled with some generic process information which is generated from the templates provided by Whale.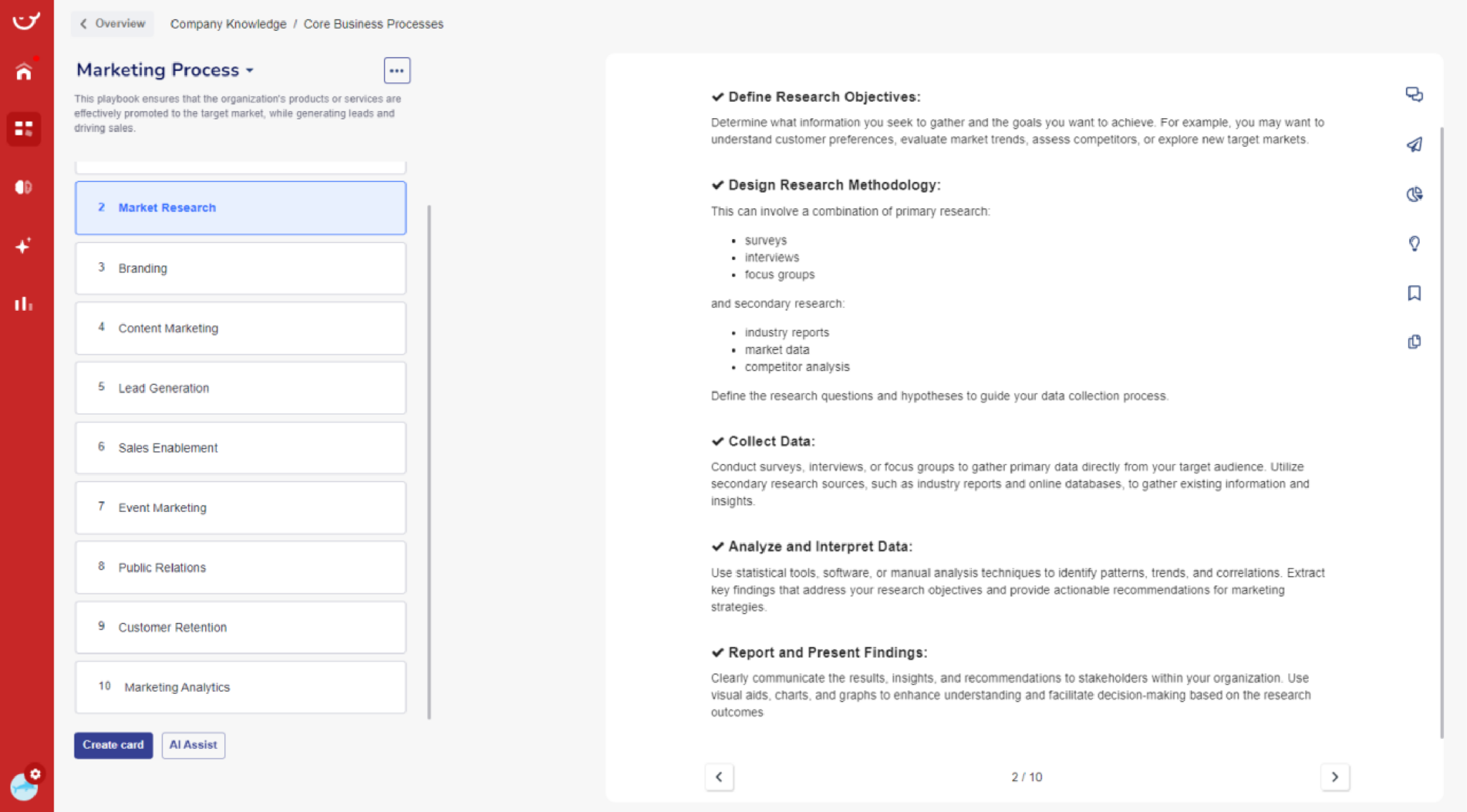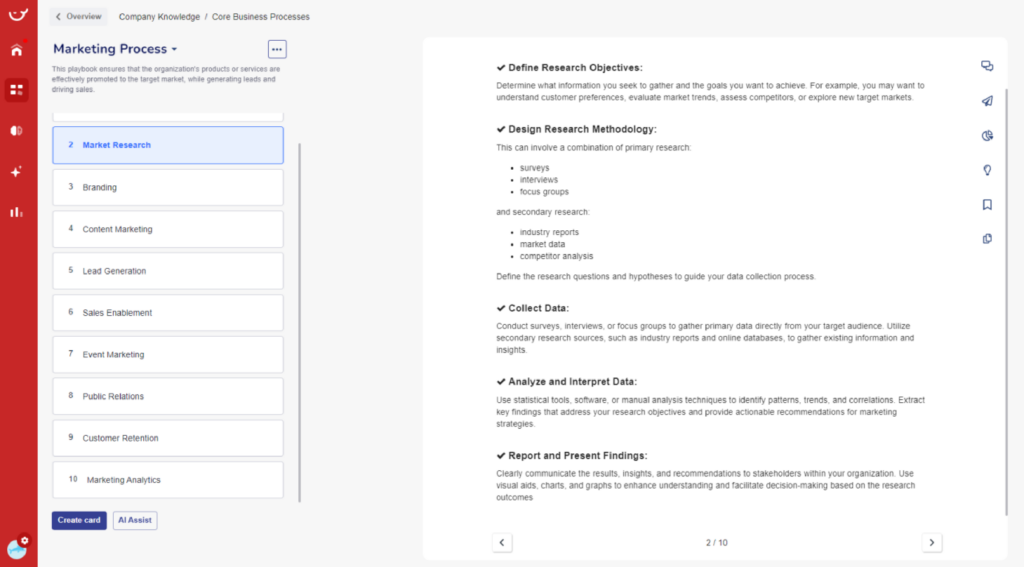 You will no doubt have to make changes to the cards to reflect your strategies and processes more accurately. To do that, either edit the cards or replace them with your own. To make your own cards, click on the "Create Cards" tab below, or use the "AI Assist" feature to automatically create new cards.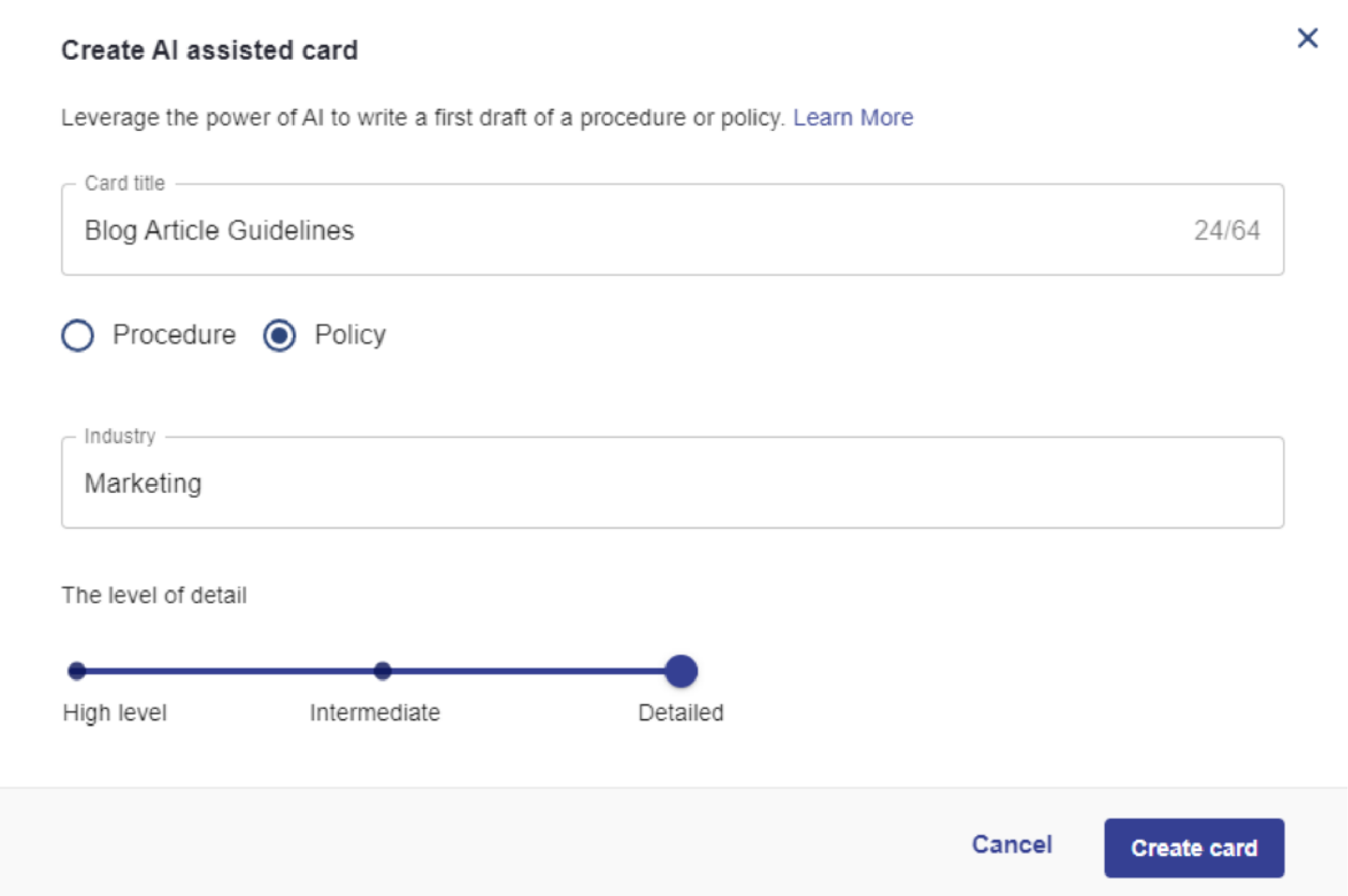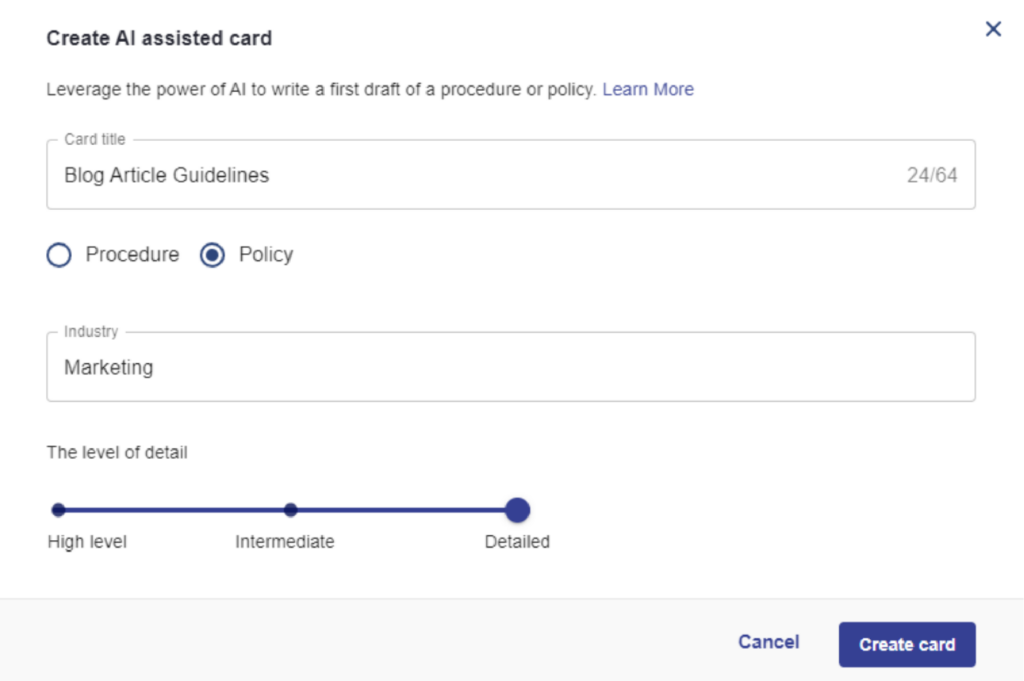 The Create Cards link takes you to a Word editor where you can copy-paste data from your existing documents. The AI assistant, on the other hand, requires you to provide the card title, industry, and level of detail. Upon completion, you're taken to the Word editor which is already populated with the content that the AI assistant has created.
Next, you need to assign documents to users in order to put them to use. You can do so by clicking on the arrow icon on the top right-hand corner of the card, which opens up the assignment menu. Select the users the card needs to be assigned to, and set the due date if needed.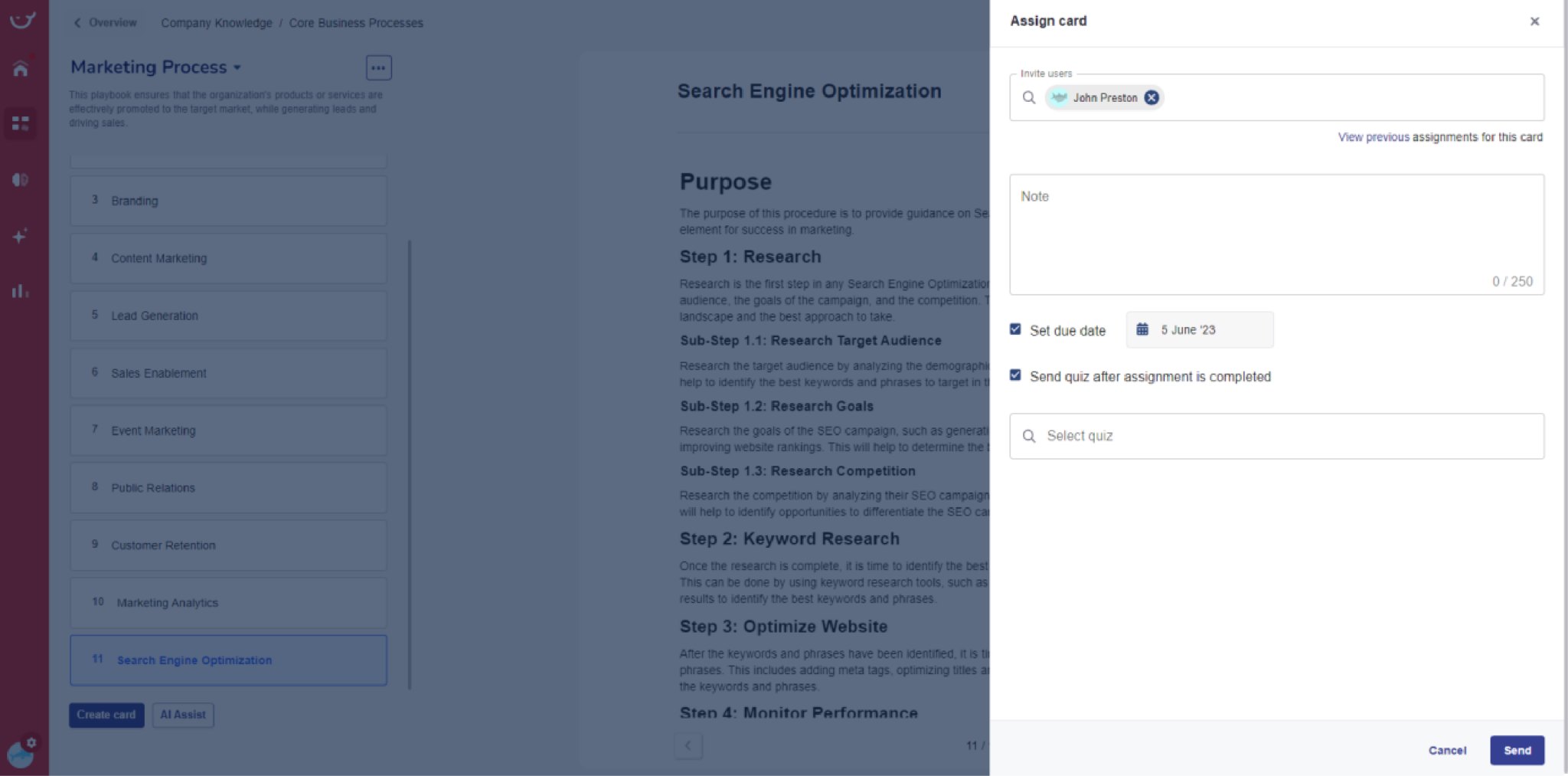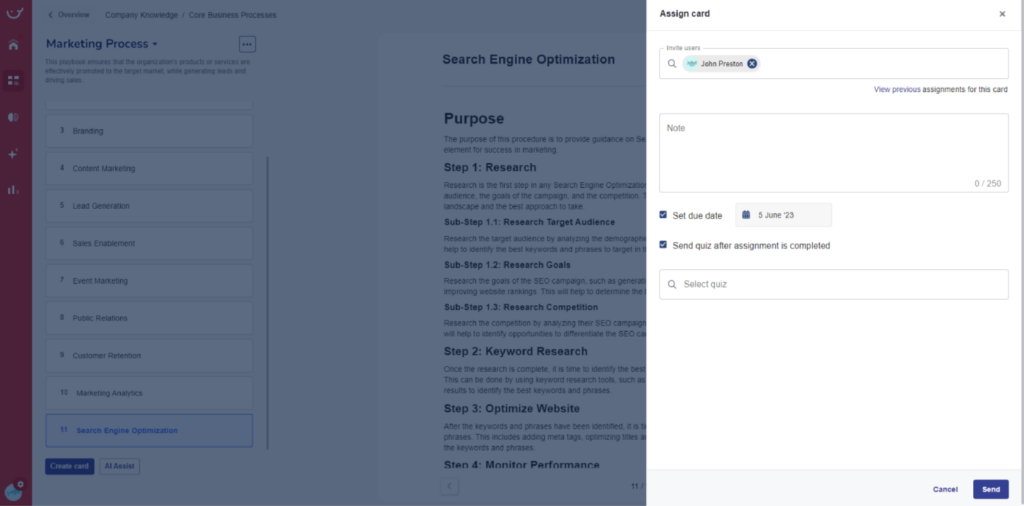 One cool feature Whale offers is to follow up a task with a quiz from the card assignment menu. You will need to create custom quizzes for each task, which can be done from the "Quizzes" tab on the main menu. Quiz reports can be accessed in the Analytics tab.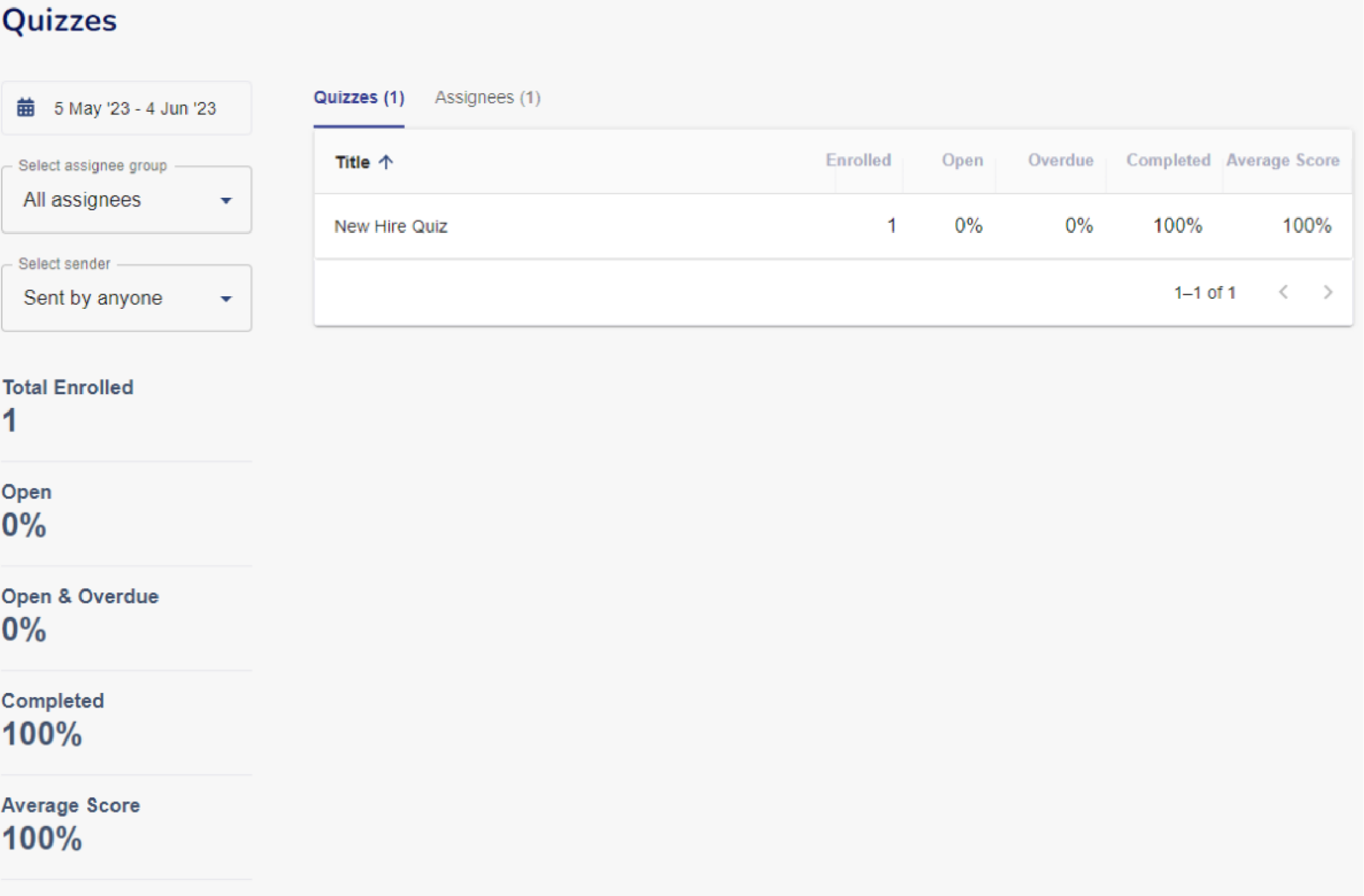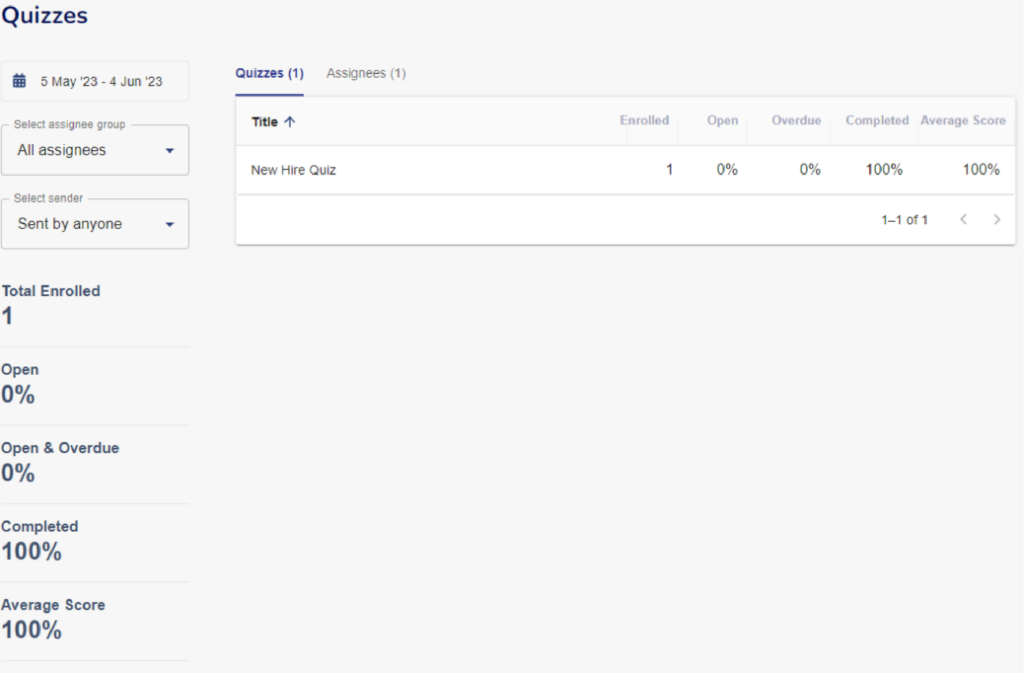 The rest of the workflow goes exactly as demonstrated in the New User Training segment. Your team members receive their assignments, and all reports are shown in your Analytics sections.
You can also integrate Whale with a number of different applications via Zapier. Whale supports most popular productivity applications like Slack, OneDrive, MS Teams, and Google Drive. Furthermore, the app also has a nifty Chrome extension with which you can search for documents or manuals without needing to log in to the website. 
SweetProcess
SweetProcess does away with boards and instead takes you straight to your documents tab, which has a list of all the documents (policies, processes, and procedures) you've uploaded to your account. The Document tab looks like this and has a list of all your content.


However, you're more likely to spend your hours on the Tasks tab, where you can manage your own work and what you've assigned to others. 


We briefly touched on how SweetProcess uses a hierarchical structure that segments policy from processes and procedures, things that are often confused as synonyms. We cannot emphasize enough why policies, procedures, and processes are different and serve specific purposes. Consider the following diagram that explains how these three are different using a map as an analogy.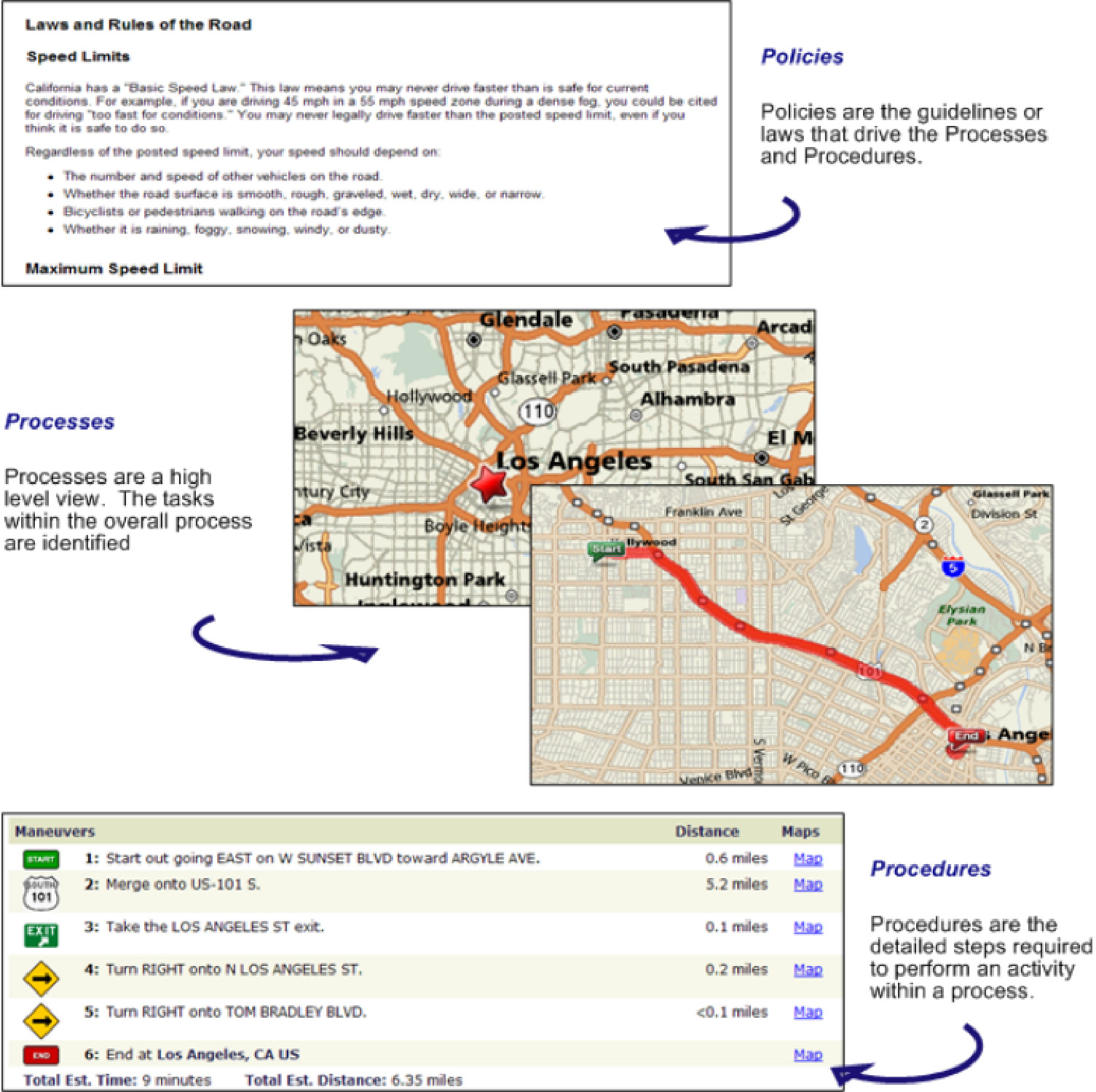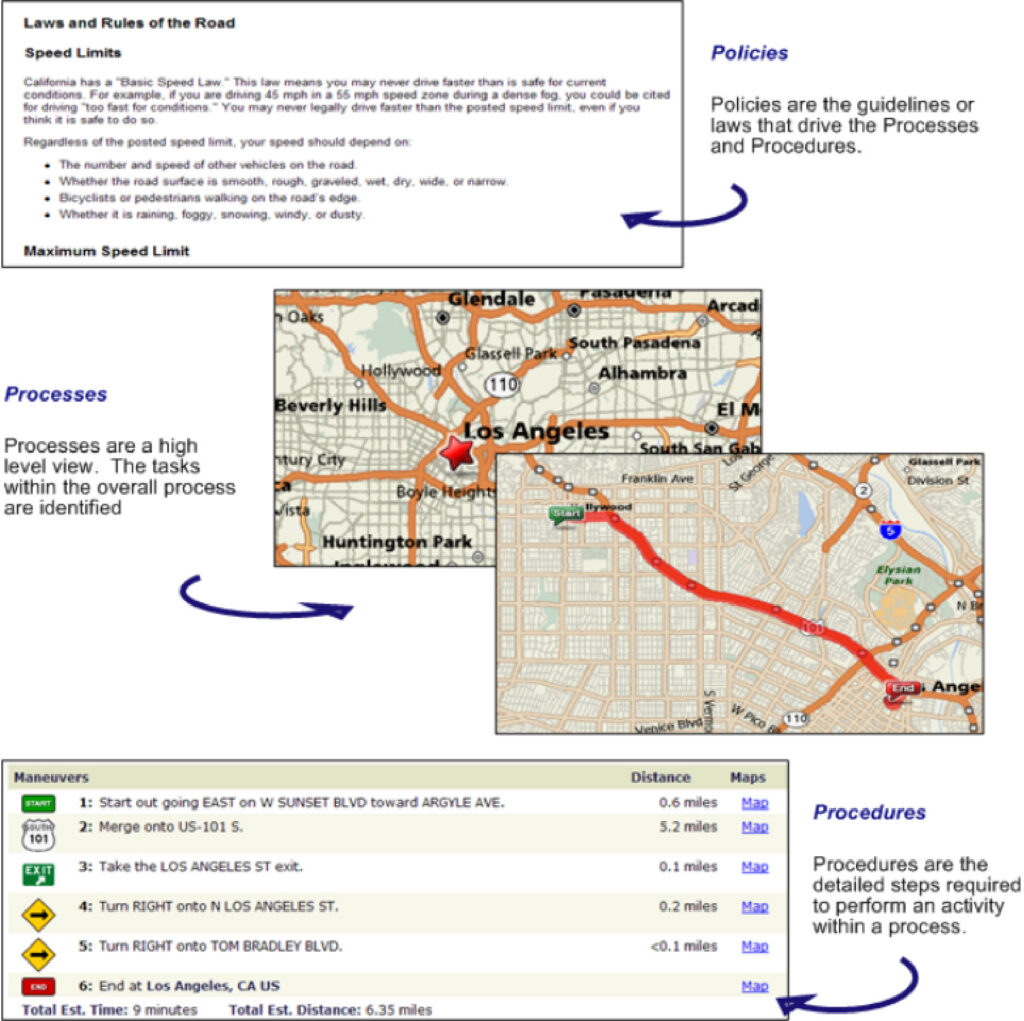 In this example, the speed limit, road etiquettes, and driving rules are akin to policies.
Processes are the high-level tasks that identify what needs to be done, e.g., get from place A to place B. They may include stops or sub-steps that facilitate the overall journey.
Finally, procedures are the individual steps that a person takes to finish each process. The turn-by-turn distances and places to stop will be procedures in this case. So, policies have processes that have procedures.
SweetProcess's task organization philosophy follows this hierarchy right from the time you log in. You can start by creating a policy, process, or procedure. Simply click on the "Add" button on the top right hand of the screen and select "New Document" from the dropdown menu.
Give your document a name and check the radio button for the document type. The new document can either be added to a team, a folder, or both from this menu. Remember, policies are general guidelines that people can read and sign off, but processes and procedures will be checklists, complete with their own workflow diagrams.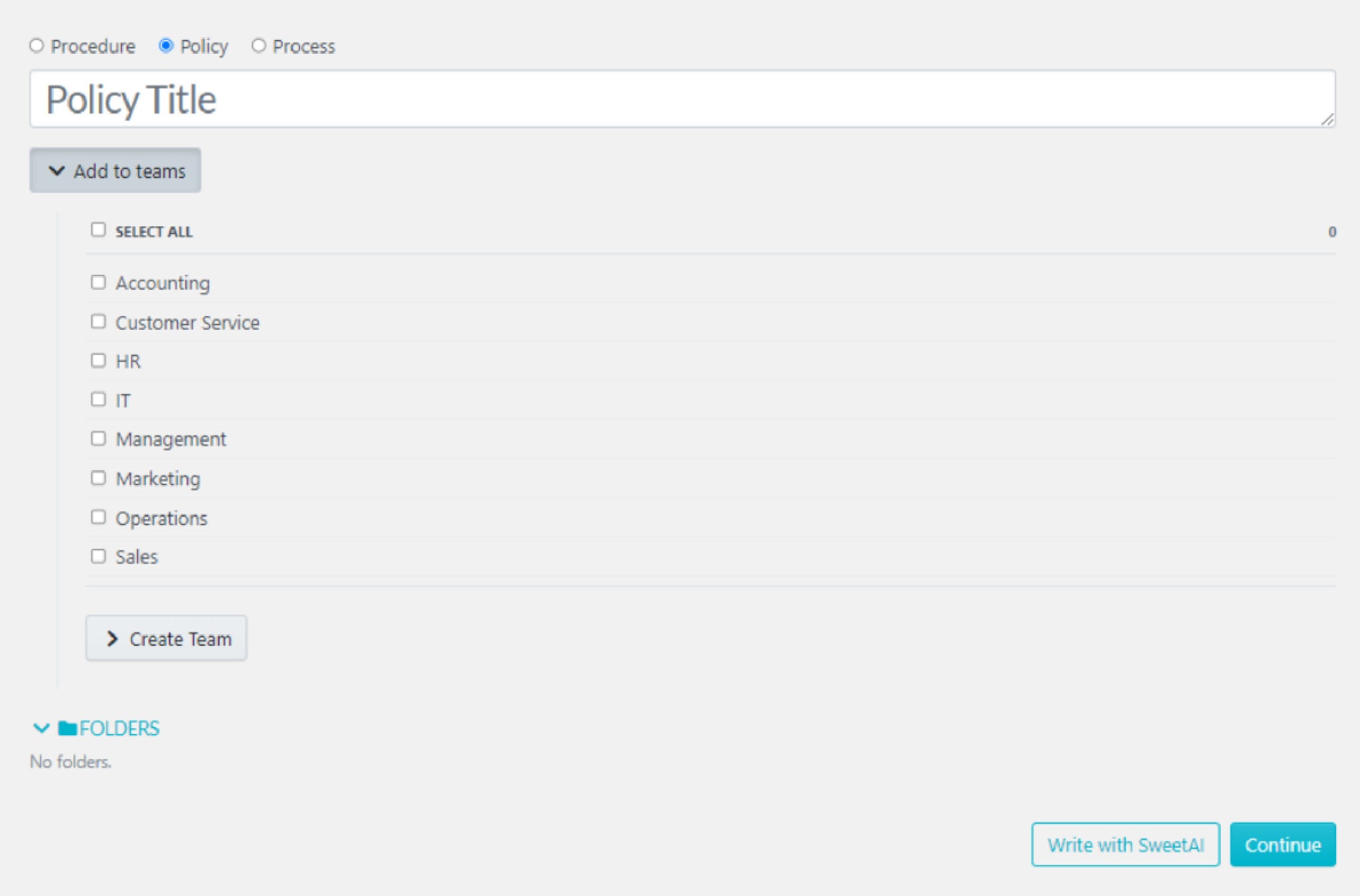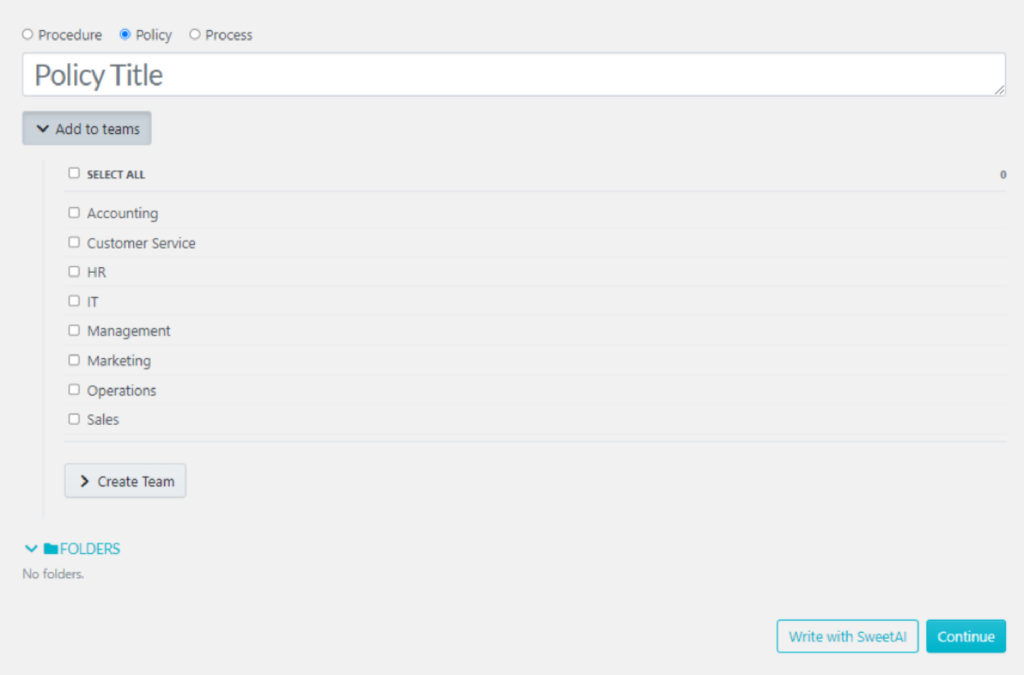 On the next page, you're given the option to either edit the document content yourself or use SweetAI to fill it out faster. We recommend you use SweetAI if this is your first such document.
Our internal testing and feedback from our clients confirm that it gets most of the general guidelines right, which means minimum editing later on. Processes and procedures require more specific input, so manual input may be better, but we encourage you to try it out and see for yourself.
A typical procedure on SweetProcess looks something like this: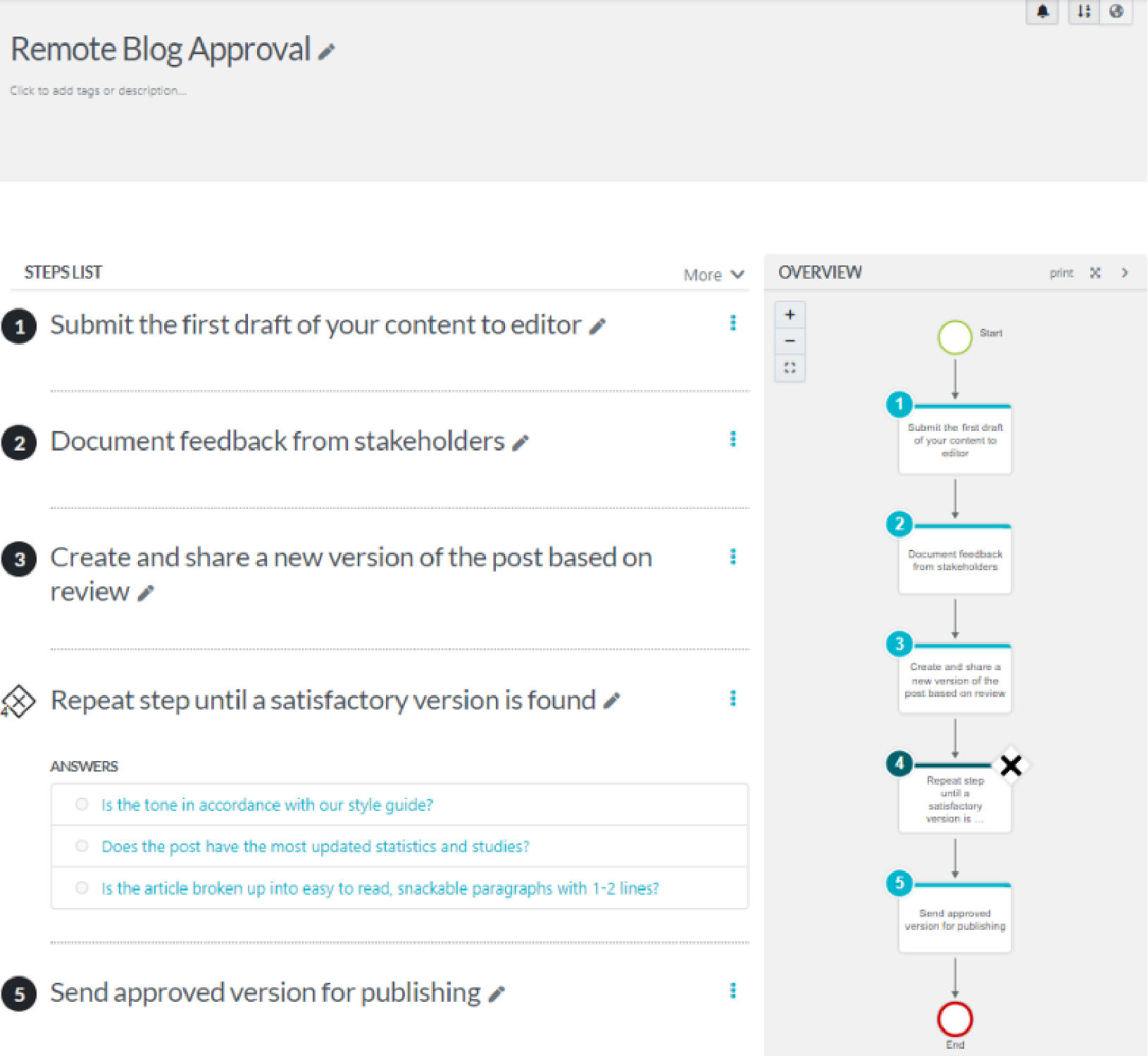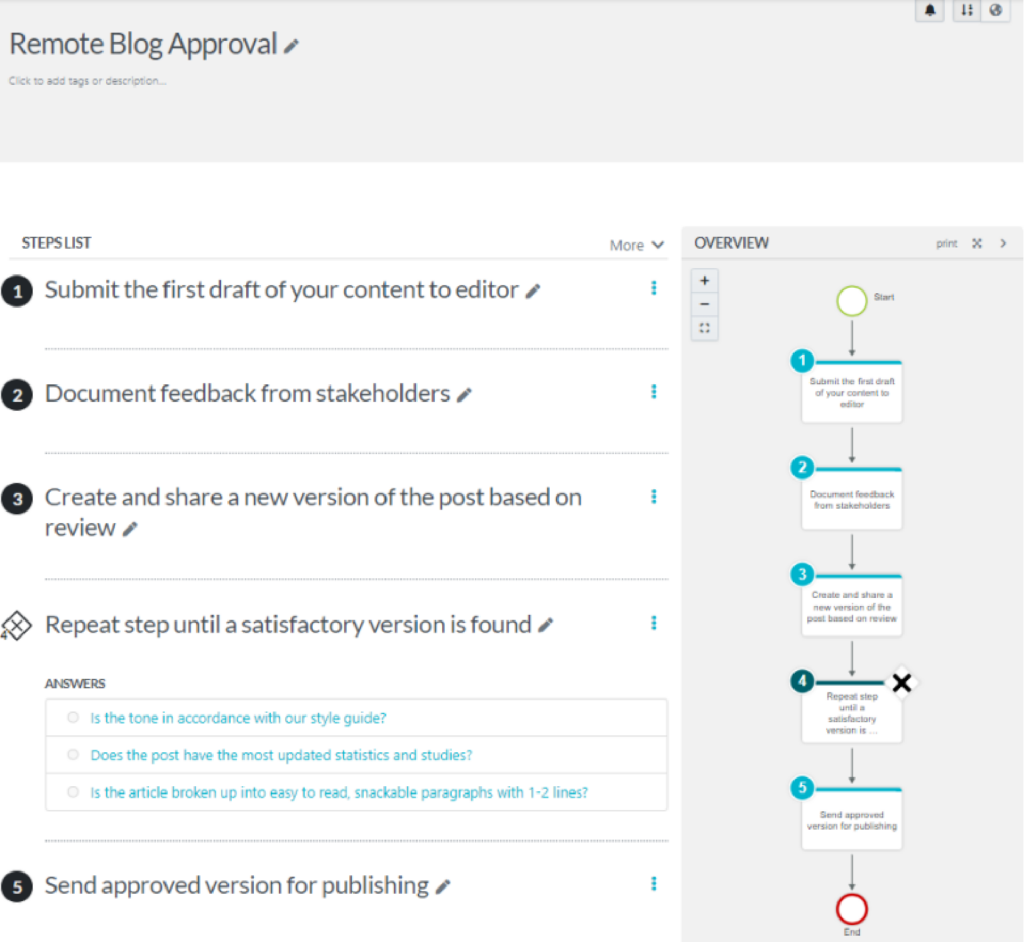 Notice that the entire document follows a simple workflow from start to finish. You can have decision steps (shown as the crossed diamond) added anywhere in the document.
Decision steps give the user one or a series of choice(s). They can either end the procedure right then and there or continue based on the input. Each decision takes them down a different path.
Each entry can also have a list of associated documents that can be accessed from the left-side menu. So, every policy can have processes and procedures, processes can have policies and procedures, and procedures will have top-level processes and policies added to them.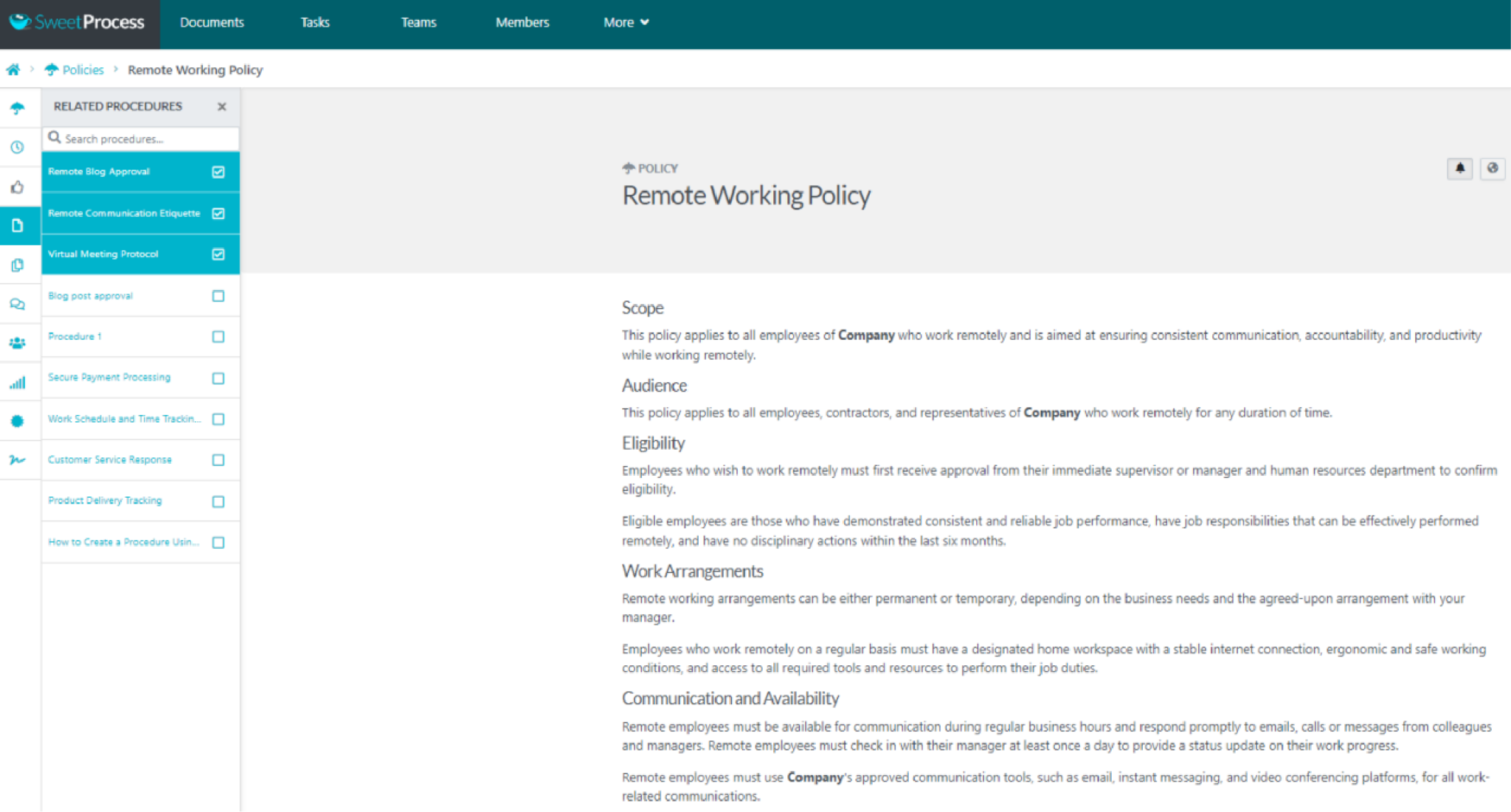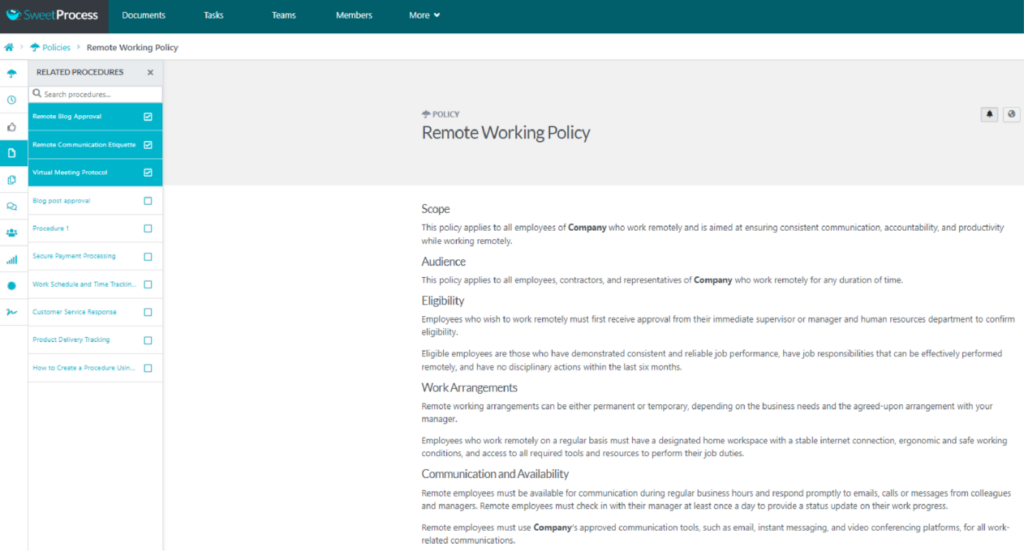 Document assignments to team members can be done through the Tasks tab. One cool feature that SweetProcess offers is that you can assign steps within a process or procedure to a different person. For example, in the assignment on Remote Blog Approval below, John is the primary assignee, but Step 4 (versioning) is assigned to Quill.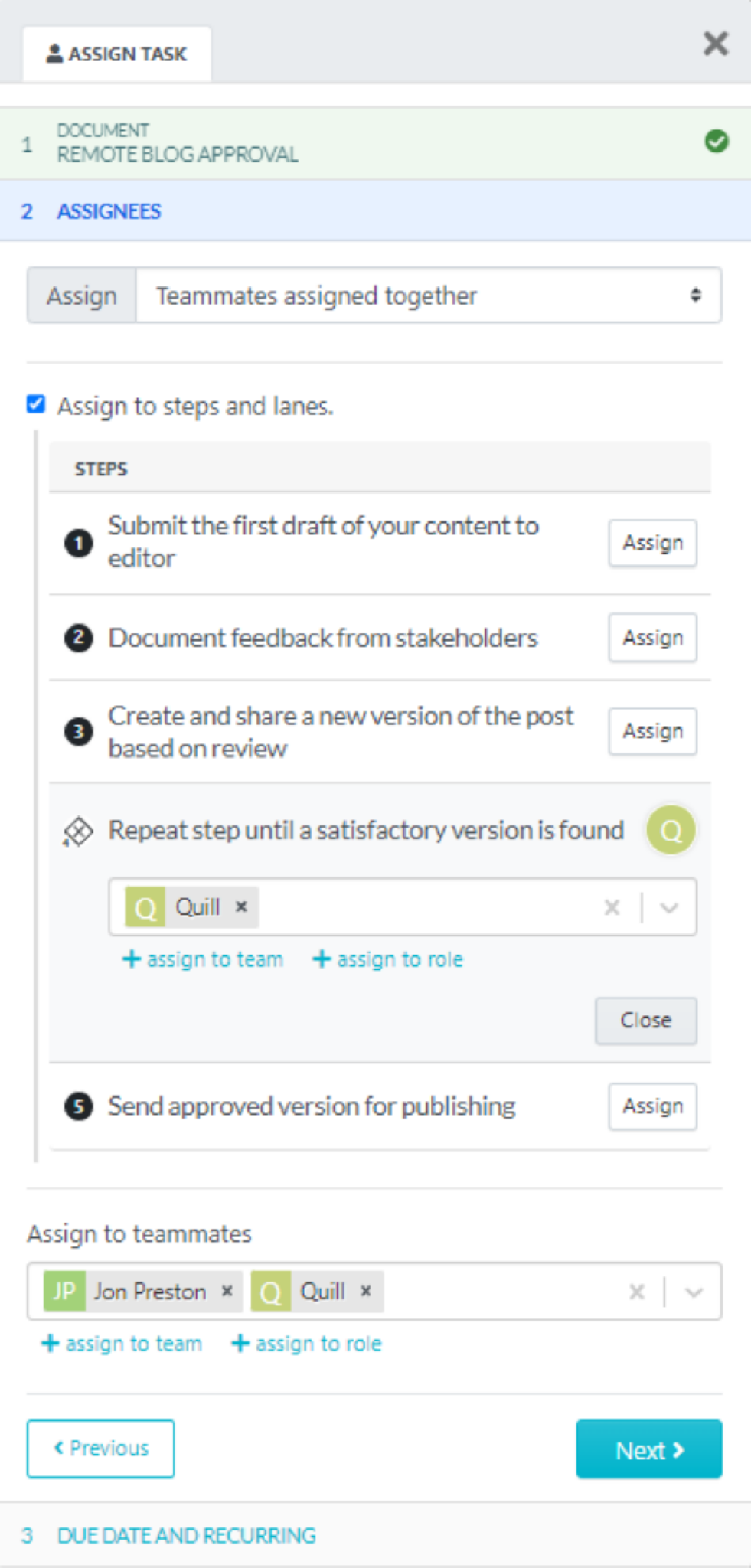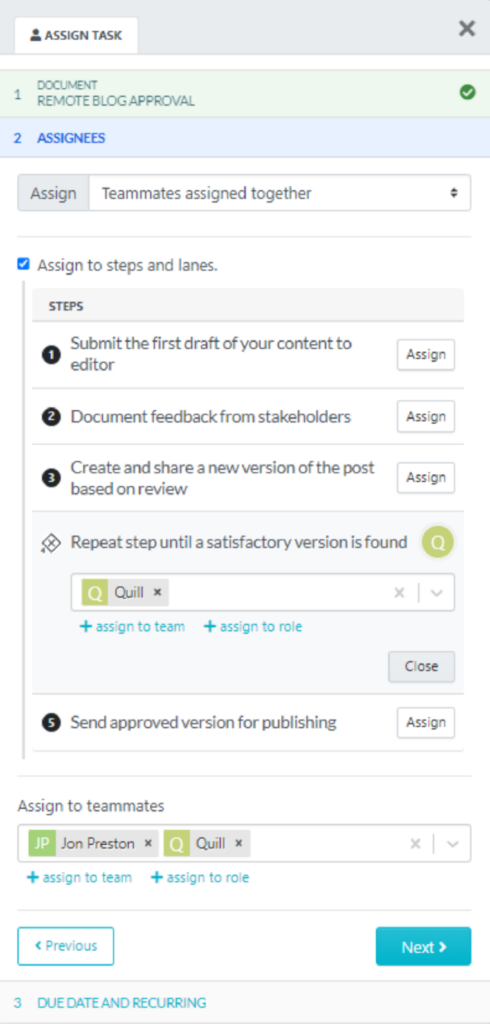 In this case, each of the assignees will only be able to check the steps that have been assigned to them. As we saw in the training section, all assigned material can be tracked from the Tasks tab.
SweetProcess can integrate with over a thousand different apps, either through Zapier or its own API and webhooks. Both features have their advantages. Zapier allows for out-of-the-box click-and-connect integration with several different apps.
Between the two, Zapier is the better option if apps in your tech stack are already on there and integrate with SweetProcess, although it's limited in the number of apps and what actions can be allowed. The API plus webhooks combo enables you to create custom connections completely tailored to your requirements but is a bit more complex than a Zapier integration.
Verdict
Whale has an attractive Kanban-style interface, which is also used by some of the most popular productivity apps out there. Its workflow division of boards, playbooks, and cards is easy to understand and intuitive to implement.
We were also impressed with Whale's AI assistant as it came up with fairly relevant text. Although, since company processes are fairly specific, any AI tool's ability to create process-based documents will always be limited.
Whale's SOP creation is pretty straightforward and enables users to create new documents fast. The process creation part of Whale is also where we encountered some difficulties. Firstly, whether you use a template or an AI assistant, the output is rarely practical. You have to spend a lot of time reworking the cards to make them your own.
The only true fast way to have your own process documents is to upload the ones you currently have to the system. Any changes that are then required will be minimal. The template and AI writing tool are useful for companies that don't have any process data and provide a good starting point to craft useful documents.
Next, we also found the lack of checklists in the process flow rather limiting. Users can open a playbook, read a card, and move forward, but managers won't be able to track their progress on a step-by-step basis. However, the lack of checklists is somewhat offset by Whale's Quizzes feature. You can set specific quizzes to trigger automatically once a user is done going through a card.
It's worth noting that quizzes, while useful, don't provide the same level of utility that checklists do. As such, quizzes may help you test your team's knowledge, but not track their performance in the field.
SweetProcess's approach here is different from that of Whale. The app prioritizes task management over document organization and focuses on implementation instead. Two things exhibit this.
Firstly, all data that you upload is divided into policy, process, and procedure formats. While there are no boards with all your corporate know-how, you can use SweetProcess's powerful search engine to find the documents you're looking for.
Next, all files have a list of associated documents on the right side. So, policies will have processes and procedures attached to them, processes will point to the policies and procedures, and procedures will have the policies and processes exhibited.
Creating your documents is equally easy with SweetProcess. You can either write the SOPs yourself or have SweetAI write them for you. SweetAI has some advantages over Whale's AI assistant, though. Because the tool is trained on specific document types, it is capable of differentiating between policies, processes, and procedures, writing text that is truly unique to each type. You can also provide more specific input using the title field as a command space. By inputting a more detailed description of what you want, the resulting text requires less editing than one with a general prompt. In this sense, SweetAI is definitely more user-friendly than Whale's AI assistant.
Finally, while Whale's Zapier-based integration is easy to implement, SweetProcess allows for better integration through its custom API. You can hook SweetProcess with literally any cloud-based app out there, meaning regardless of whatever app you are currently using, it will work with SweetProcess. 
Customer Feedback and Reviews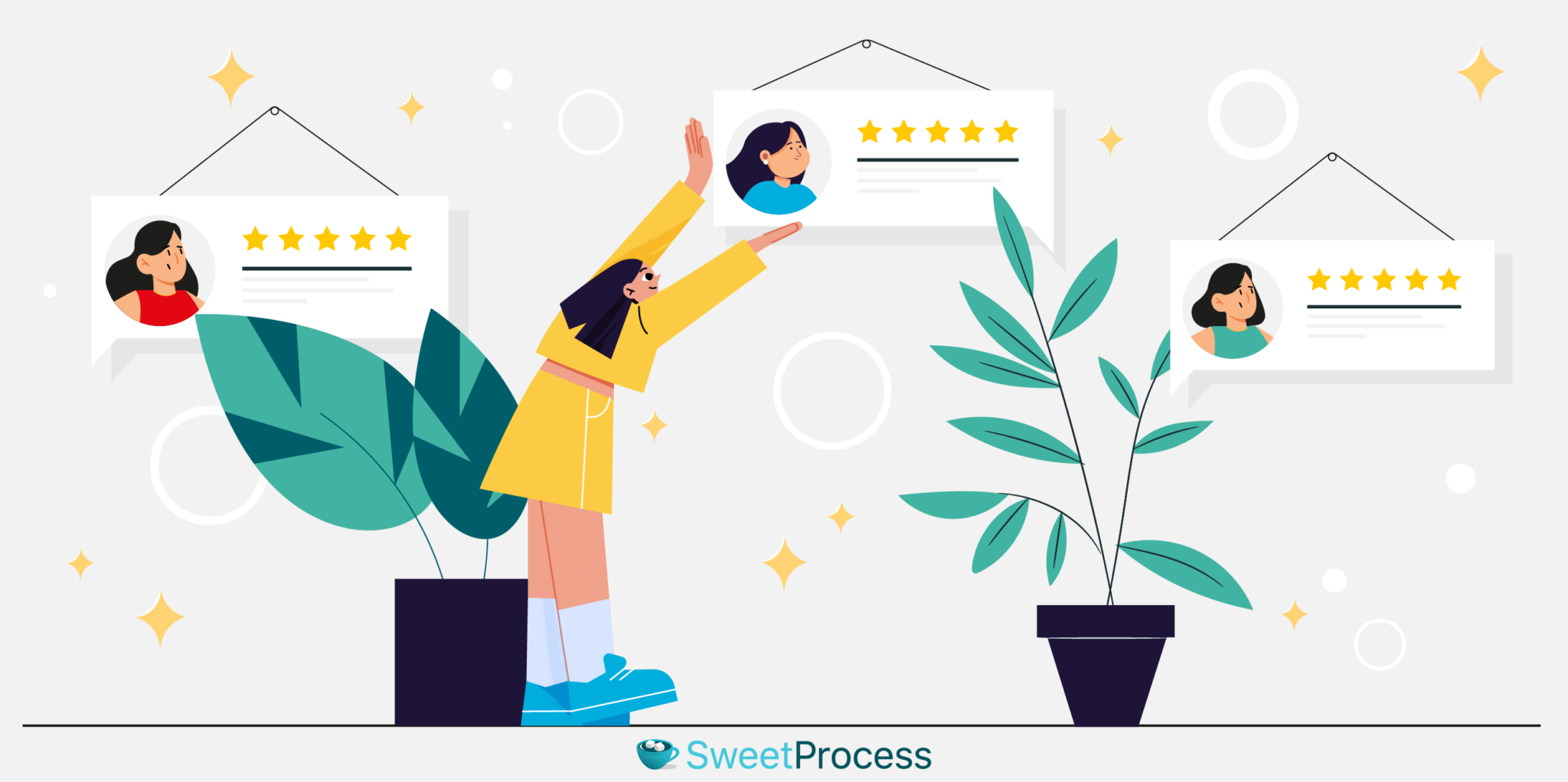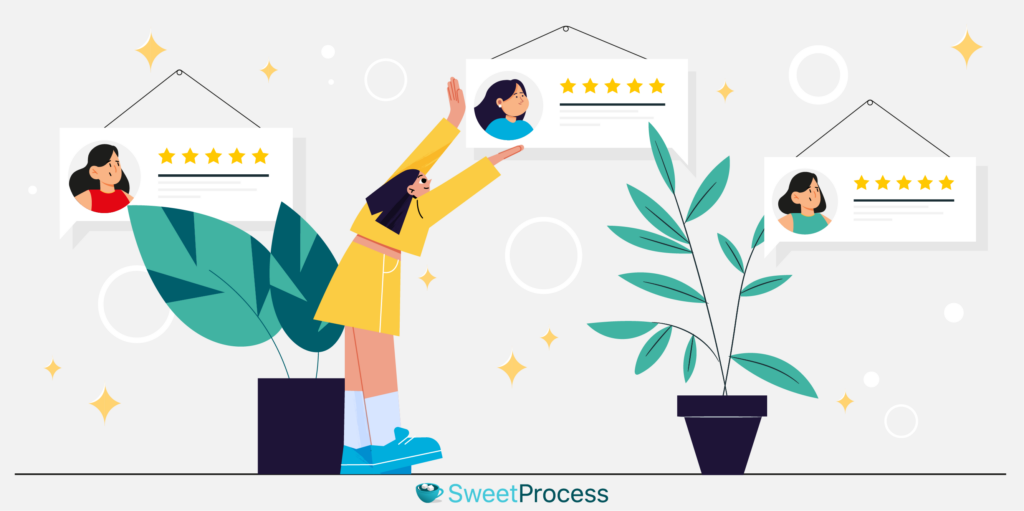 Whale
Whale offers a range of modalities for reaching out to its customer support base. You can either use the integrated chatbot, which directs inquiries to customer service if it cannot come up with an answer. Additionally, you can also reach out to Whale through their social media accounts. This is in standing with most modern standards. We found their response time to be short and effective.
Whale's user reviews offer a range of opinions on the app's features and performance. While some users applauded the platform for its benefits, there were some observations on how Whale can improve its offering.
Whale has been praised as one of the best onboarding tools out there by several users, citing its ability to automate document assignments and streamline the onboarding process. However, some users noted the editor sometimes does not copy the style exactly like you had it set up in MS Word.
Similarly, another user agrees on Whale's strength in organizing processes and procedures with embedded video and image capabilities. At the same time, there were also reports that the app was sometimes slow to load on some computers.
Additionally, Whale's Word editor was found to be a little lacking and doesn't readily accept content from MS Word documents. The app also doesn't have any integration options with available EOS tools.
While several users highlight the benefits of centralizing training material and improving the knowledge base structure, there is no mention of outstanding customer support or exemplary assistance provided by the Whale team. This absence suggests a lack of significant positive impact or exceptional support experiences.
SweetProcess
SweetProcess has a long history of providing exceptional customer service and has reviews and user feedback to back up its claim as the best process management tool out there. Most of our customers appreciate SweetProcess's user-friendly interface, which makes it easy to document procedures, processes, and policies.
SweetProcess recognizes the importance of sharing customer success stories which are frequently posted on our website. Real-life experiences showcase not only how effective SweetProcess can be when used as part of a plan, but also creative ways to put the various tools to work.
For example, Rhumbix, which creates software for real estate developers, greatly enhanced its operational and onboarding process with SweetProcess. According to Rhumbix COO, Drew DeWalt, "SweetProcess allowed us to create clear and detailed step-by-step instructions for new hires, ensuring consistency and reducing the learning curve. With SweetProcess, we could easily track progress and ensure that all necessary tasks were completed during the onboarding period."
Thoughtbot, a software firm, started using SweetProcess and saw an immediate improvement in operational efficiency. Chad Pytel, CEO of Thoughtbot, says, "SweetProcess has revolutionized our internal processes, enabling us to streamline operations and improve overall efficiency." In an interview with SweetProcess, Pytel emphasized how the tool helped document and standardize their company's workflows, making it easier for team members to collaborate effectively.
Furthermore, Pytel specifically cited SweetProcess's impact on employee onboarding. He says, "New hires can quickly grasp our procedures and best practices, reducing their ramp-up time and allowing them to contribute faster." He also noted how SweetProcess's intuitive interface and clear instructions were crucial in promoting consistency and ensuring high-quality deliverables across projects.
Pytel concluded, "SweetProcess has become an invaluable asset for Thoughtbot, enhancing productivity and maintaining a strong knowledge base within our organization. It has empowered us to scale our operations efficiently and deliver exceptional client results."
Overall, SweetProcess receives glowing reviews for its customer service, intuitive interface, and numerous benefits. With its ability to enhance accountability, streamline processes, and improve communication, SweetProcess is an invaluable asset for businesses of all sizes and industries.
Ready to make your mark as a SweetProcess success story? Start your journey today by signing up here.
Plans and Pricing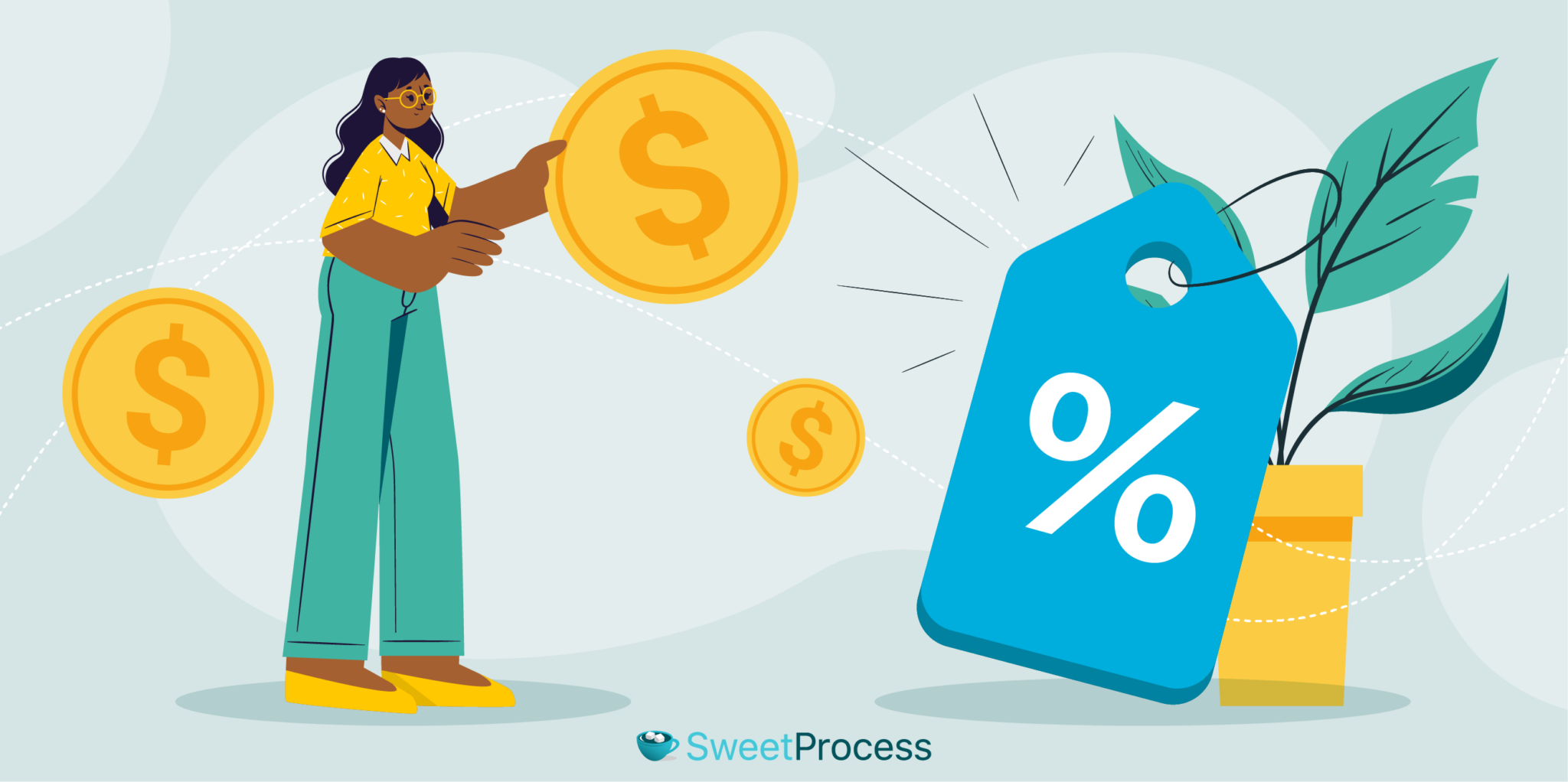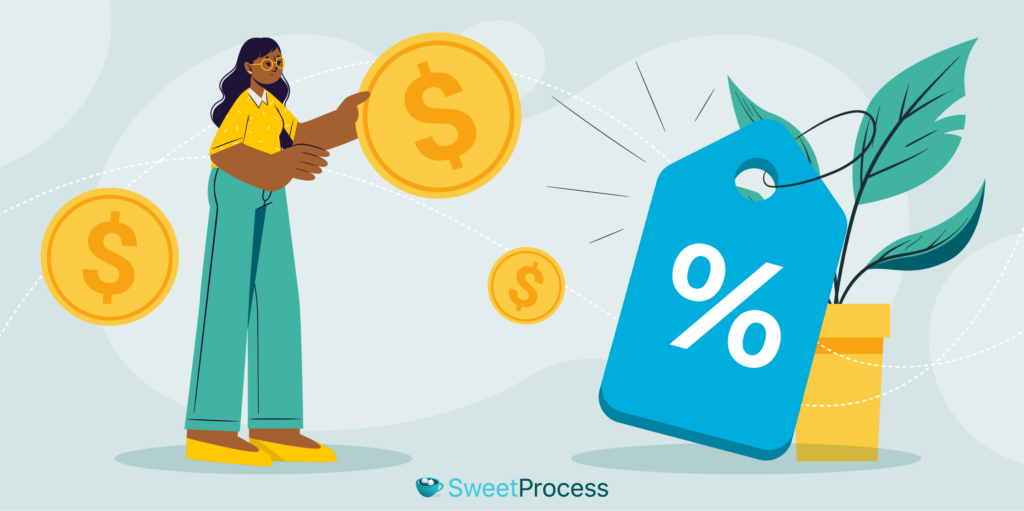 Whale
Whale offers three pricing tiers: Starter Pack, Growth Pack, and Scale, payable yearly or monthly. In the yearly pricing, the Starter Pack starts at $5/user/month (with a minimum of 5 seats), followed by the Growth Pack at $10/user/month (minimum 10 seats), and the Scale Pack at $15/user/month (minimum 15 seats). If paid monthly, the Starter Pack is $6/user/month, the Growth Pack is $12/user/month, and the Scale Pack is $18/user/month. Each pack includes the features of the one below it, providing more functionality as you move up the ladder.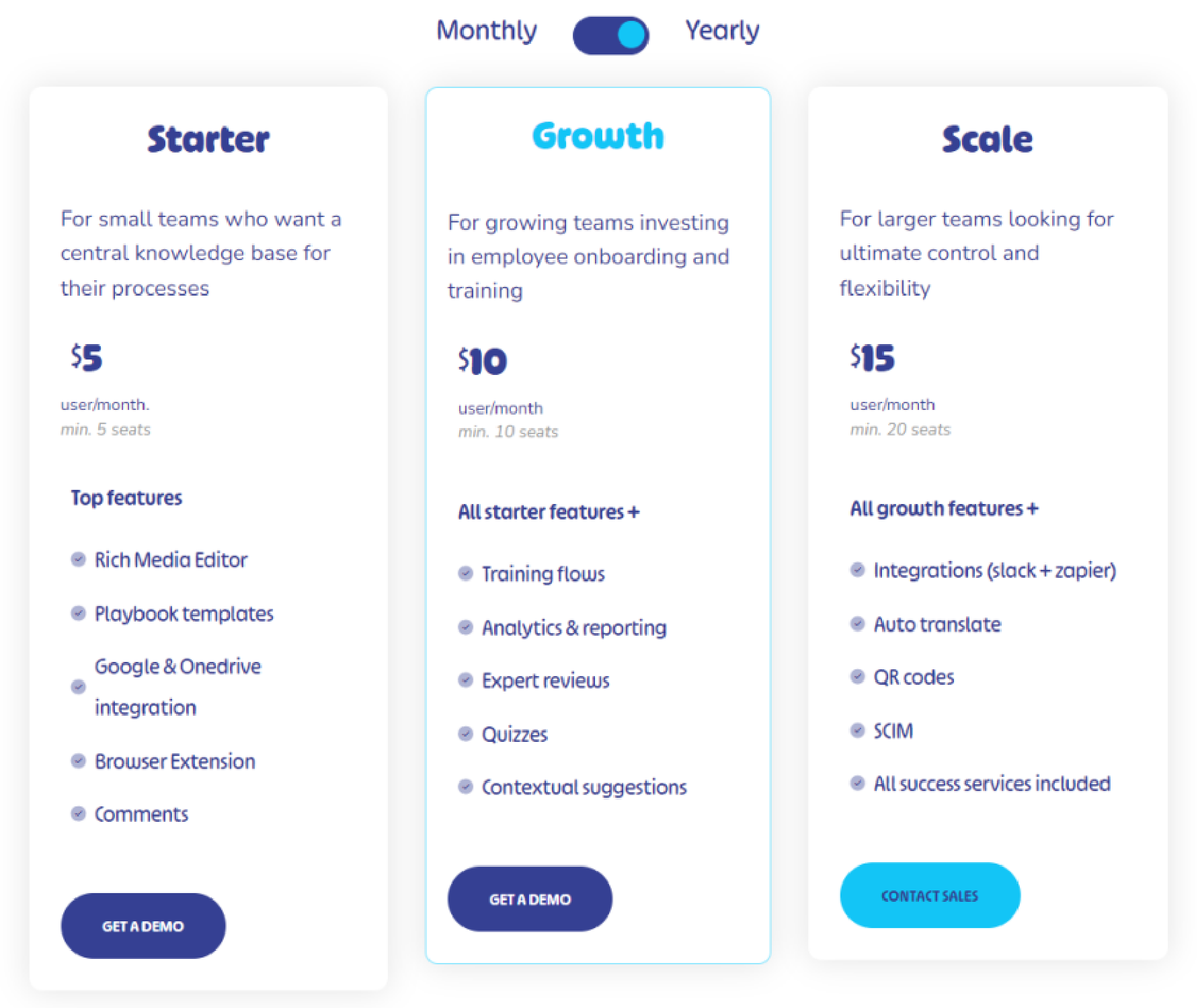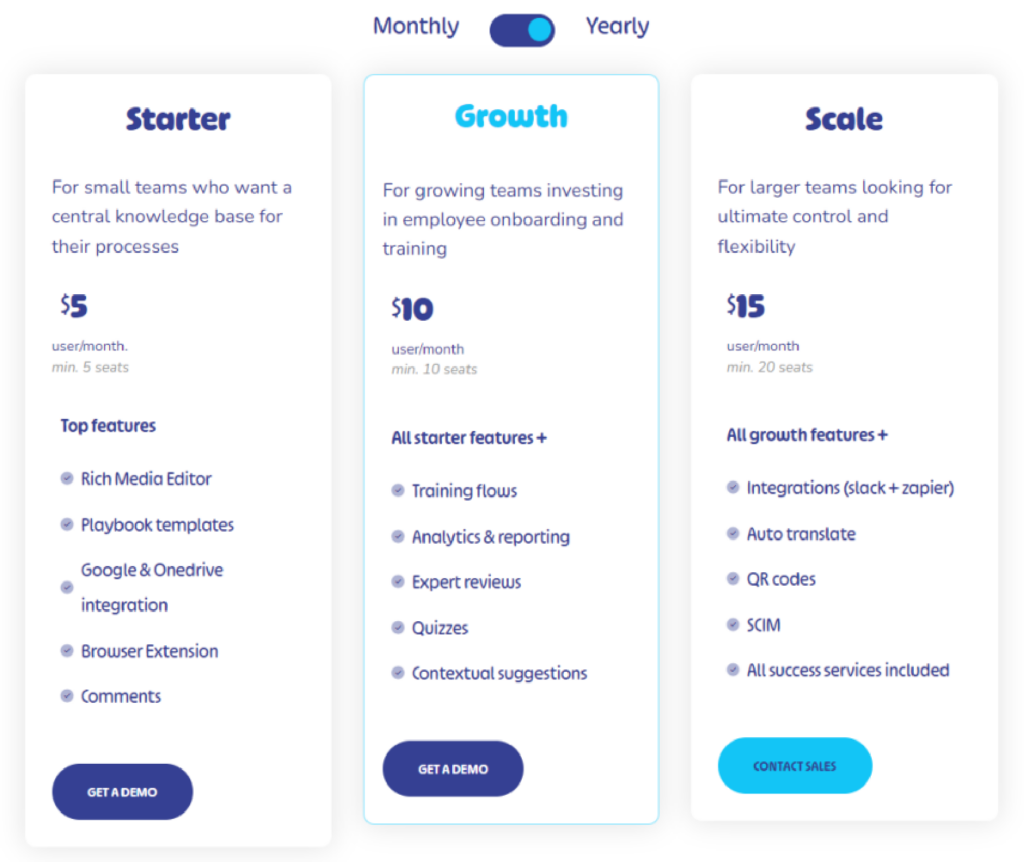 While Whale's pricing offers flexibility, it lacks a free version, making it difficult for potential users to experience what it offers before committing. You can use their guided tour or take their free seven-day trial (which requires a credit card to activate).
If we take a closer look at each tier, a few things spring out. Firstly, the functionalities in the Starter Pack are the bare minimum for process management software. You can integrate your Google Drive, document your process data, use provided templates, and have a Q&A section. These features are enough to get your data in one place but lack the elements needed to turn them into actionable documents you can assign and track.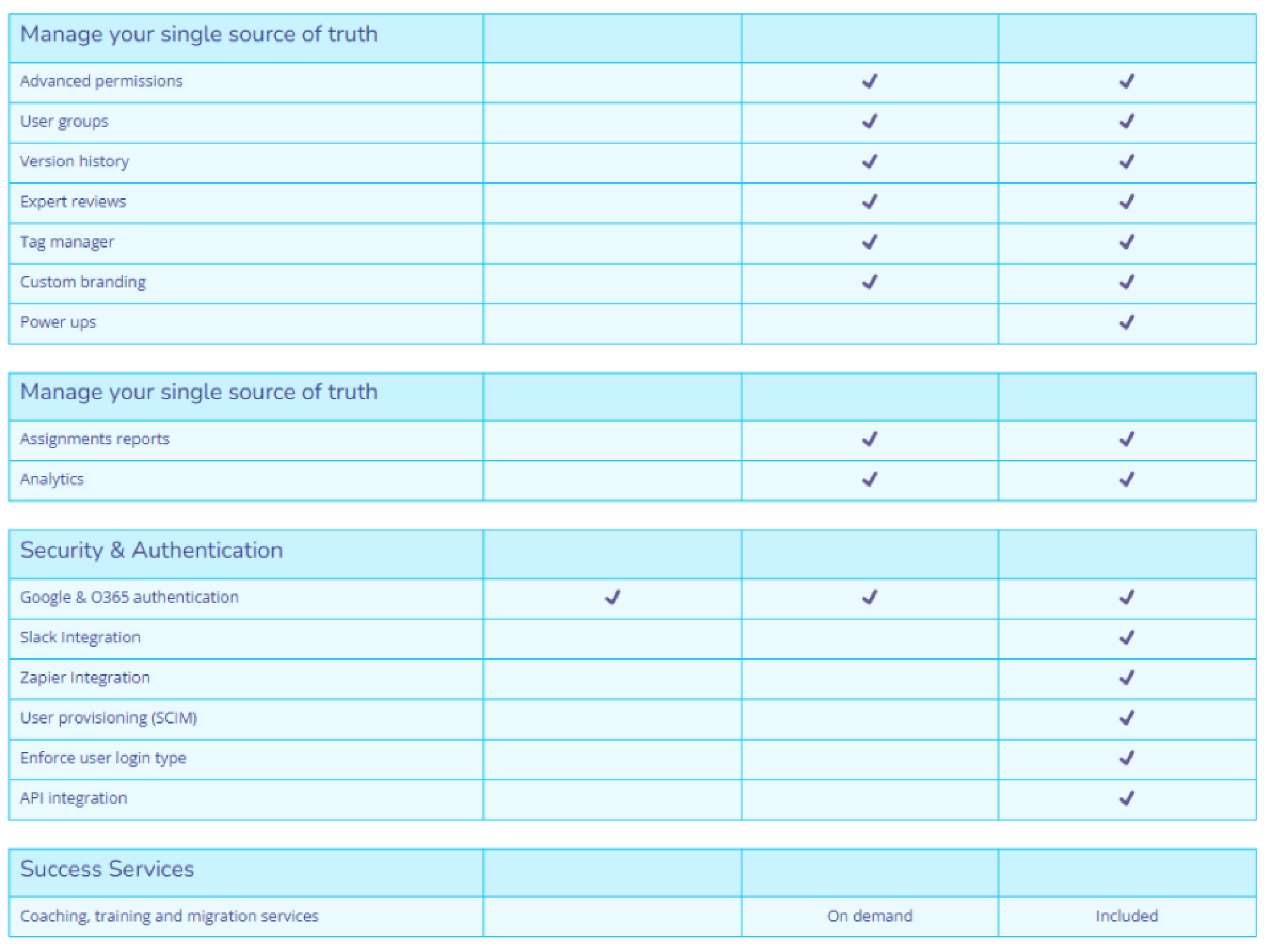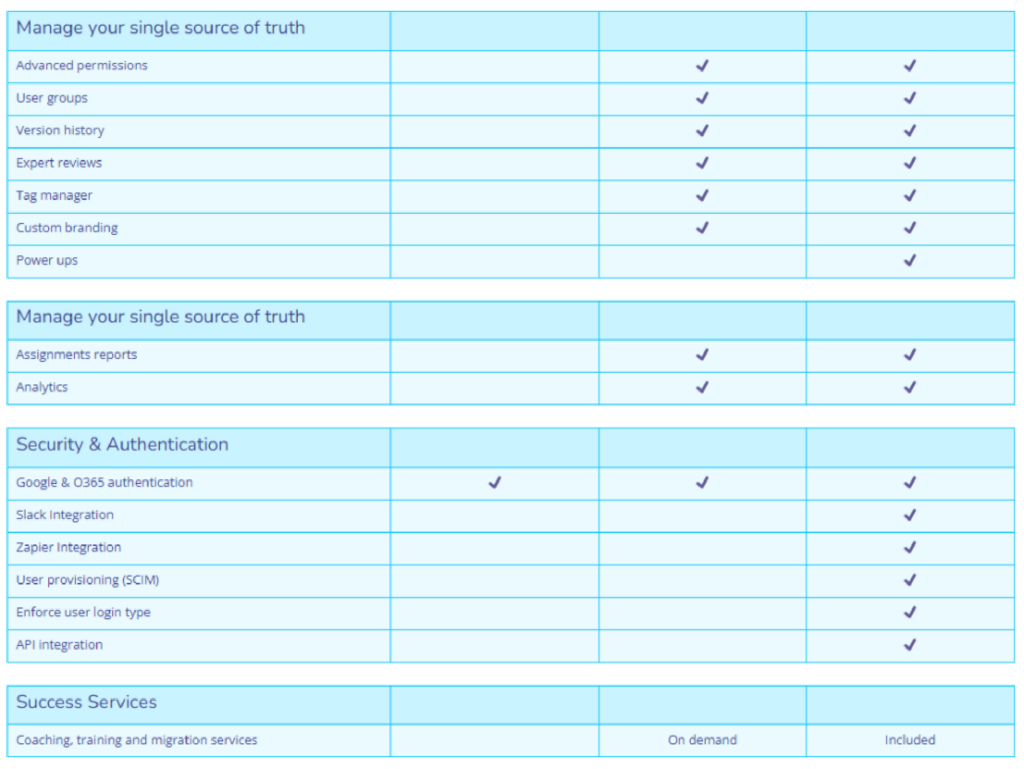 Features like advanced permissions, user groups, tags, reviews, version history, and analytics are available in Growth and Scale segments. However, these attributes should be fundamental to a modern SaaS tool as they are pivotal to making processes work. 
SweetProcess
In contrast, SweetProcess has a far simpler pricing structure devoid of lengthy feature divisions. The monthly pricing works out to $99/month for a minimum of 20 users. Every additional seat is priced at $5/user/month. Annual payments are $82.50/month for a team of 20 users, with every additional seat being $4.17/user/month. If you run a smaller team, SweetProcess can offer you custom pricing that best suits your needs and budget. Region-specific discounts are also available from time to time.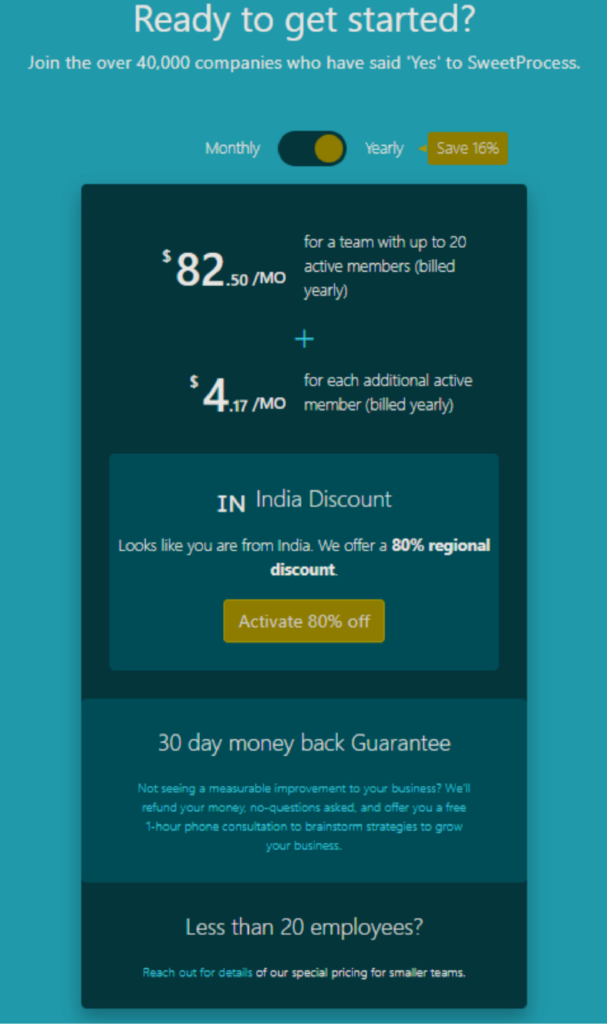 In addition, you can try the platform out with the free 14-day trial, which includes all the features SweetProcess has to offer and doesn't require any credit card or payment info to activate. If more time is needed, you can proceed with a paid plan; however, SweetProcess also has a 30-day money-back guarantee. Combined with the free trial, you have around 45 days to decide whether to add SweetProcess to your tech stack. As far as process management software goes, few offer one and a half months of free and refundable time to new users, which is a point to SweetProcess's credit.
Verdict
While pricing is important, a tool's utility is decided by the user's requirements. Both are reasonably priced for what they offer. At the face of it, Whale may seem more affordable to start out with since its annually charged Starter Pack begins at $25/month while SweetProcess starts at $82.50/month when billed yearly.
But, as we noted, the features available in Whale's Starter Package will, at best, help you collate your company knowledge. More useful aspects like version history/control, permissions, analytics and assignment reports are available from Growth Pack onward, starting at $100/month annually, about 21% more expensive than SweetProcess. Whale's Scale Pack is available for $300 per month (annual pricing), three and a half times more than SweetProcess.
When we consider that you can try SweetProcess's entire feature for free and have a month-long money-back guarantee, it easily comes out as the more economical option. It's also worth noting that many teams benefit from SweetProcess's free trial lead time. The productivity gains the clients enjoy from all unlocked features during the trial period often end up paying for the investment before they start investing in the platform. 
Conclusion
To sum things up, it is evident that both tools are excellent choices for process documentation and management. However, SweetProcess emerges as the better option thanks to its diverse features and user-friendly interface.
Whale certainly impresses with its visually appealing design and intuitive user experience. It offers collaborative features and integrations that enhance teamwork and streamline workflow management. Its Kanban-style content presentation is easy to work with and facilitates quick user onboarding.
On the other hand, SweetProcess not only provides a clean interface but provides advanced process knowledge-specific functionalities that set it apart. Furthermore, the software is so easy to use that users can jump in and start implementing it right from day one. SweetProcess's emphasis on using trackable checklists means everything a team member does is tracked automatically and reported to the management team in real time.
While Whale offers a solid foundation for process management, SweetProcess's broader range of features and its proven effectiveness in real-world scenarios make it the preferred choice for businesses seeking comprehensive process documentation and optimization.
Take the complexity out of your business processes and enjoy effortless user onboarding with SweetProcess. Sign up now for a smoother workflow!