How to Choose the Best Business Process Management Software for Your Company.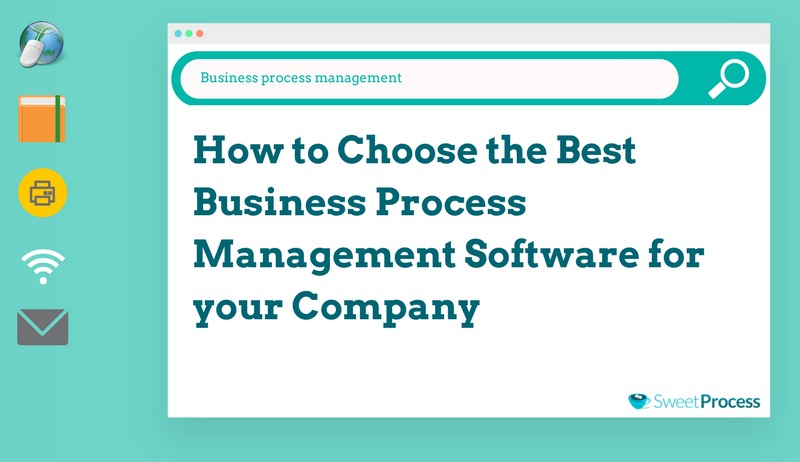 There is no shortage of business process management software on the market. In fact, at varying levels of scope, there are hundreds. While this large amount of options is in itself a good thing, it also presents a challenge as some buyers assume all business process management (BPM) software are the same and that the selection process is an either-or scenario.
This is far from the case. In fact, business process management software (BPMS) differ in type, scope, and implementation.
Moreover, for yet other users, the options overload can create analysis paralysis, as they move in an endless loop from one software product to another trying to make a decision.
This guide proposes a workflow to streamline the BPMS selection process and help BPM software buyers predict high success levels in software/business best-fit matching.
Table of Contents
Chapter 1: What Is BPM? A Simple Definition Without the Usual Jargon
Chapter 2: How Business Process Management Software Is Categorized
Chapter 3: To Automate or Not to Automate – That Is the Question
Chapter 4: Making the Case for Business Process Management Software – A Pain and Benefits Primer
Chapter 5: What Should You Look For in a Business Process Management Software?
Chapter 6: Getting Employee and Executive Buy-ins
Chapter 7: 10 BPM Implementation Pitfalls to Watch Out For
Next Steps
Chapter 1: What Is BPM? A Simple Definition Without the Usual Jargon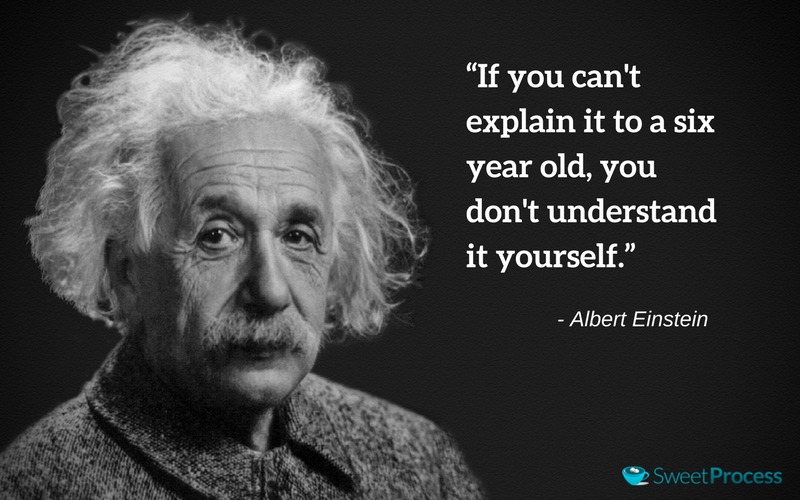 The definitions you find for BPM can make non-BPM experts cringe. Obscure words and dense writing usually characterize these descriptions. Let take a look at a few examples to show you what I mean:
The first definition appeared in a BPM.com blog post written by Nathaniel Palmer:
"Business process management (BPM) is a discipline involving any combination of modeling, automation, execution, control, measurement and optimization of business activity flows, in support of enterprise goals, spanning systems, employees, customers, and partners within and beyond the enterprise boundaries." ­
What worries me about that definition is that BPM.com says they arrived at it in collaboration with industry experts after a decade-long conflicting debate over the meaning. No wonder the definition bends over backward in an effort to accommodate everyone.
Next, the BPM Institute comes down a notch. However, its definition, while more accessible, is still dense:
"… the definition, improvement, and management of a firm's end-to-end enterprise business processes in order to achieve three outcomes crucial to a performance-based, customer-driven firm: 1) clarity on strategic direction, 2) alignment of the firm's resources, and 3) increased discipline in daily operations."
Compare those definitions with the one below from Stefan Koster's thesis:
"Business process management is a management discipline that takes a systematic, structured approach to support explicit process management using methods, techniques and tools, and involving humans, organizations, applications, documents and other sources of information, with the aim of reaching the organization's objectives by aligning the business processes with these objectives."
These are all academic definitions. You know the type: ever expanding to accommodate every known and new aspects of a concept.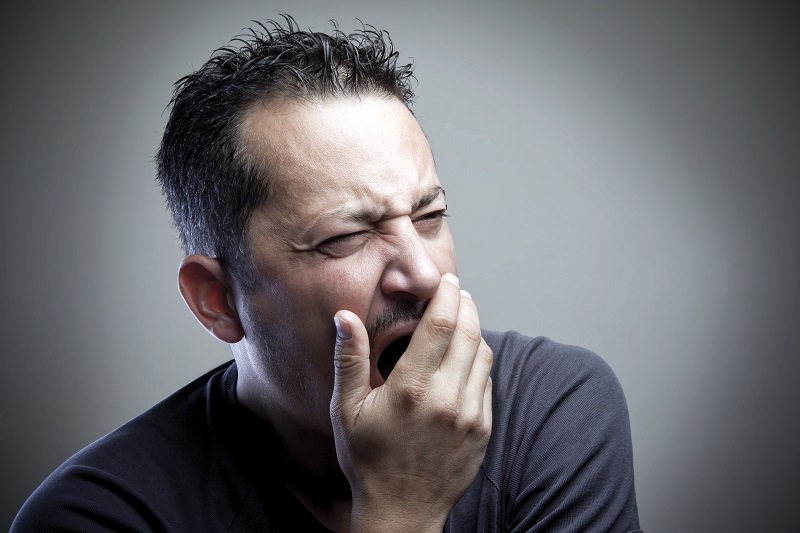 Image Credit: Barış URUNLU
While technically accurate, these definitions are a bit complex and opaque. How can BPM be defined, or rather described, so everyday people can understand?
Well, let's consider one I found on from Villanova University's web resources:
"… a collection of methods, tools, and techniques used to make business processes more efficient and effective … As technologies and markets constantly change, BPM helps organizations monitor, analyze and control business processes to make sure that they are keeping pace with the demands of an evolving marketplace."
While that definition is complete in and of itself, you may have a number of follow-up questions. One that readily comes to mind is, why the term business process management? Could it not have been called something else? Well, yes, but I strongly doubt it would be easy to come up with another term that completely covers three main facets of a business. First of all, let's consider the significance of processes.
The Process Dimension
First of all, what is a process? It is a sequence of interdependent tasks carried out to achieve specific organizational goals. The latter could be anything from profiling a client every time one is captured to applying for a damaged equipment replacement.
The image below details a car sales process at a typical dealership: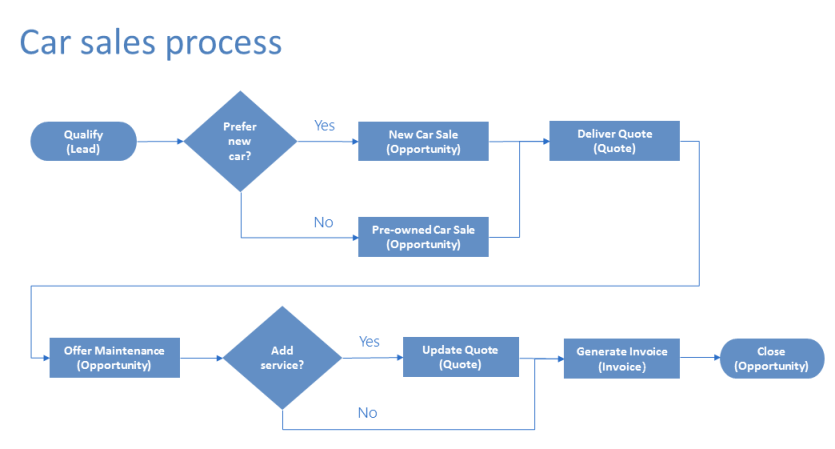 Image Credit: Microsoft Dynamics 365
Business process management takes an ongoing look at organizational processes to ensure they are as efficient as they can possibly be.
Jeff Sipes, a process improvement, and manufacturing strategy expert, has this to say:
"BPM began to fill the void left by the other improvement methodologies. That void focused on process. More specifically, it focused on business processes that cut across functions and addressed the bigger flow of information and product/service. As automation and information technology became drivers of business competitiveness, the need for a way to manage the business process (horizontal focus) emerged. BPM is positioned to fill this need."
This brings us to another matter that has generated much discussion: the question of whether BPM is a software or technology.
According to Nathaniel Palmer, VP and CTO of BPM.com, it is more than software or technology. He correctly identifies it as "something you do," "a practice," and "not something you own or buy".
If BPM is not technology, then where does technology come in?
John Morris, also of BPM.com, explains,
"BPM technology enables business-side staff to directly imagine, model, make and use automation artifacts for any desired business process, minimizing IT-side mediation."
So while BPM is a practice, business process management software is the vehicle that enables it.
Much of the rush in organizations implementing BPMS can be traced to the economic downturn and increasing commoditization hitting most industries. To maintain growth, executives are forced to squeeze out the last juice of profit and stamp out losses enterprise-wide and make tough decisions on how to allocate scarce resources.
According to John Kopcke, geopolitical uncertainties worsens the precarious situation, thereby making planning and modeling at once harder and more important than ever before. Add to this the ever-changing regulatory and reporting rules that make companies scramble to have faster, yet more detailed, information about results and performance.
As companies evolve to cope with these challenges, they require an unprecedented level of process visibility so they can tweak the knobs and oil the gears that impact their performance. Only this level of visibility can deliver the critical insights that executives leverage to achieve organizational competitiveness.
Another factor to keep in mind is that like software development, BPM is reiterative. An optimized process is never considered completely optimized; it is simply re-queued for further optimization.
So you would not be wrong to view BPM as a field that seeks perfection, knowing it cannot attain it, but willing to accept the closest it can get in the meantime.
Having established what BPM is and how BPMS enables the former, let's dig deeper into the different categories of business process management software available on the market.
Chapter 2: How Business Process Management Software Is Categorized
To many, BPM software is amorphous and fits into one category. However, that is far from the case. Thankfully, Forrester has developed a BPMS categorization designed to increase understanding of this multi-faceted market:
Integration-centric BPMS (Enterprise Service Bus)
Human-centric BPMS

People-intensive BPMS
Decision-intensive BPMS

Document-centric BPMS (Dynamic Case Management)
Let's look at these categories in closer detail:
1. Integration-centric BPMS
Integration-centric BPMS solutions support process improvements involving a high degree of interactions between applications at a system-level, rarely involving human participants.
These products contain a high amount of repetitive transitions in a series of connected processes. An example of this type of business process would be automating high volume trade reconciliation at a financial brokerage, creating a straight-through process.
2. Human-centric BPMS
Puts a focus focuses on the human element of the process while designing the workflow. This approach becomes necessary because, in any business process, there is a range of activities or actions only humans can perform. Judgment and decision-making are often key, and these are best carried out by humans.
Human-centric BPMS focuses on two types of processes: people-intensive and decision-intensive. Here is how they differ:
People-intensive: normally consists of a high level of interactions between people involved in routing, approving and fulfilling requests. Typical scenarios include processing expense reports and bringing new employees on board.
Decision-intensive: comprises thorough information gathering and timely invocation of applicable business rules and real-time analysis of business intelligence. Typical scenarios would include mortgage and underwriting operations.
2. Document-Centric BPMS
Documents play a crucial role in achieving the objectives of an organization. Document-centric BPMS makes use of scanned images or electronic documents to support approval, decision-making and planning efforts. It is usual for core activities to lead to the generation of standardized documents, which allows the next step in the process flow to be advanced.
Deploying a document-centric BPMS can optimize and improve work processes by understanding the document flow that people use in their tasks. This makes any obstacle that clogs the process become evident for removal.
Applicable scenarios wherein document-centric processes are deployed would span companies involved in contract management, procurement processes, law, engineering, as well as health institutions relying on clinical tests and medical reports.
Now we know the categories of BPMS, how about the various types?
Types of Business Process Management Software
BPM software has evolved over the years to fit varying levels of sophistication and automation. Here are the various types available:
BPM Software:
An application aimed at streamlining business processes and workflows in order for them to become more efficient and adapt to ever-changing environments.
BPM Suites (BPMS):
These came about as a convenience upgrade from vendors who initially served "pure-play" BPM software. IT departments and managers had it up to their necks trying to make decisions on which software to piece together to achieve the level of process control their organizations needed. It was becoming a cost, time, and maintenance nightmare.
In response, some vendors rose to the occasion by expanding their solutions to cater to the full process lifecycle with single, integrated, in-house solutions. These came to be called BPM suites. They have a lifecycle that spanned modeling, integration, automation, management, monitoring, analysis, simulation, and improvement – with a singular objective of creating the nimbleness needed to repetitively cycle, fine-tune and optimize your business activities on an almost real-time basis.
Intelligent BPMS (iBPMS):
iBPMS is a Gartner concept referring to the transformational discipline that helps organizations achieve their strategic goals usually through a span of iterative phases from design to execution to monitoring and ultimately process improvements. This new genre came about by integrating BPMS with Business Intelligence (BI) suites to make BPMS systems more intelligent and adaptive.
As software suites, iBPMS address the increasing need for business managers to adapt quickly to events that impact their business and gain better insight into business operations so that they can take the right corrective actions. Through iBPMS, adaptive enterprises continuously align their business objectives with operational policies and procedures with complete transparency, visibility, and control. It does this by providing stakeholders across the value chain with complete visibility and control of their processes and policies.
Stakeholders are effectively put in the driver's seat; they can see what is going on across the whole organization and proactively make changes to bring about both process and outcome improvements.
BPMS Approaches or Frameworks
There are two business process management software approaches or frameworks:
Vertical Solutions
The BPM solutions in this type of framework are designed particularly for a specific industry or process type. the focus is on a specific set of coordinated tasks for each and every business process. The solution usually comes with a collection of premade templates that widely apply to the industry.
While the templates come out of the box, the adopting organization may have to do a tweak here and there to make it appropriate to their exact use case before the solution is deployed.
For example, BOK Financial Corp., a multibank holding company based in Tulsa, OK., implemented business process management software tailored to the financial services industry, and they were able to reach value attainment in a very short time.
Reg Ripperger, the company's vice president and manager of Executive Information Systems at the time had this to say:
"Because the system was geared toward financial institutions, we could do a lot of things right out of the box, and therefore, we could move to some advanced functionality quicker."
Examples of vertical solutions are:
Telecommunications: Processes to integrate disparate systems and monitor execution variation across business segments.
Insurance: Underwriting automation, consolidation, integration, and processing of claims.
Banking & Financial Services: Card dispute resolution management, retail lending, collection framework, credit check, recoveries solutions.
Retail: Reverse logistics.
Life Sciences and Healthcare: Prior authorization systems, member enrollment solution, grants management, event reporting.
Travel and Hospitality: Franchise on-boarding.
Horizontal Solutions
The BPM solutions in this framework can be applied across several industries. This places a focus on using technology to design and subsequently develop business processes. Horizontal solutions typically alternate between formulating new technology to come up with new business processes or reuse existing technology to improve already existing business processes.
Some horizontal solutions stay horizontal because they want to be flexible. There are others though that are horizontal out of a lack of domain expertise needed to create industry-specific process templates for their solution.
Examples of horizontal solutions include:
Bid management
Employee onboarding, offboarding, vacation requests
Loyalty framework
Having come this far, I am sure you are wondering if you should be worrying about automation and process optimization at this time. Well, let's find out!
Chapter 3: To Automate or Not to Automate – That Is the Question

Image Source: Cambridge Dictionary
Does this sound familiar? For a lot of organizations, it would.
You may have observed organizations where processes are stored in the heads of employees who often have to freestyle or approximate as closely as they can to what process managers envisioned.
Sometimes, things go well, and you are forced to wonder how they manage it! Other times, things fall terribly south and justify why BPM and process automation should be standardized across industries.
While some may think that there is some method to the madness their organizational chaos exhibits, this approach doesn't scale and exposes them to needless risk. To put it mildly, manual processes are broken, inefficient, time-consuming, prone to errors, and come with a whole boatload of problems. This has landed a good number of companies in the deep end of the pool with poor results that were completely avoidable.
Let me tell you a story that demonstrates the huge gains possible with BPM. It happened in 1935, and the main actors are the US Air Force and Boeing.
The Air Force was shopping for a new bomber and invited a number of aircraft companies for a tryout. Boeing entered a prototype of what later became its B-17 aircraft. Even though the plane was technically ahead of the pack and handled by a well-trained and experienced pilot, tragedy struck.
Moments after takeoff from Wright Field, Ohio, it stalled, crashed and burst into flames, killing Military Aviator and Test Pilot Major Plover Peter Hill and Boeing Test Pilot and Observer Les Tower.
What went wrong?
This was all due to a simple routine step that had been forgotten. The pilots had taken off with the flight control surfaces locked down.
Due to this tragedy, pilots began to adopt the use of checklists for takeoff and landing. This might seem to be a small thing, but it has significantly reduced air mishaps over the years.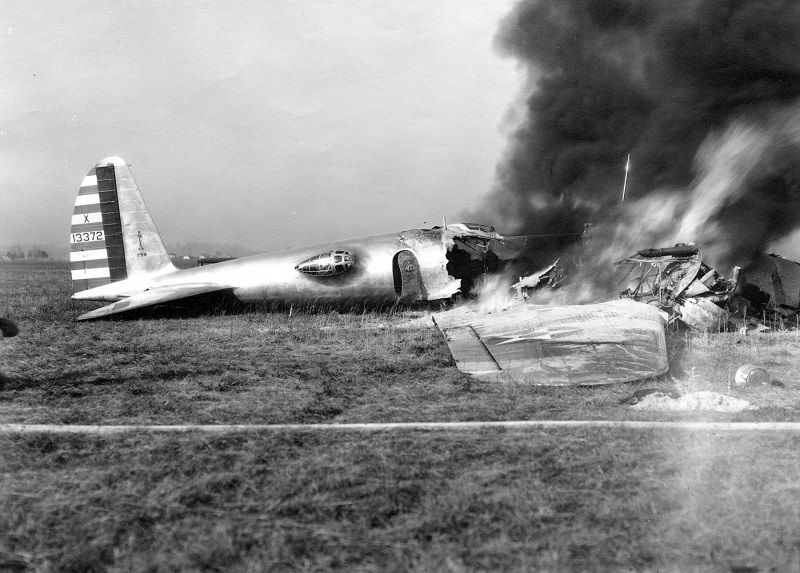 Image Credit: U.S. Air Force
What an expensive lesson and a lost opportunity for Boeing. But something good came out of it in the field of medicine more than 80 years down the line.
Atul Gawande, a surgeon, relates in his book, The Checklist Manifesto – How to Get Things Right, how he implemented processes at John Hopkins Hospital.
It all began with a visit to Boeing.
"I got a chance to visit Boeing and see how they make things work, and over and over again they fall back on checklists. The pilot's checklist is a crucial component, not just for how you handle takeoff and landing in normal circumstances, but even how you handle a crisis emergency when you only have a couple of minutes to make a critical decision."
It was not difficult to see how a systems approach could be applied to medicine.
At the heart of Gawande's idea was the notion that doctors are human and that their profession is like any other. "We miss stuff. We are inconsistent and unreliable because of the complexity of care," he says. So Gawande imported this basic idea from other fields that deal with complex systems.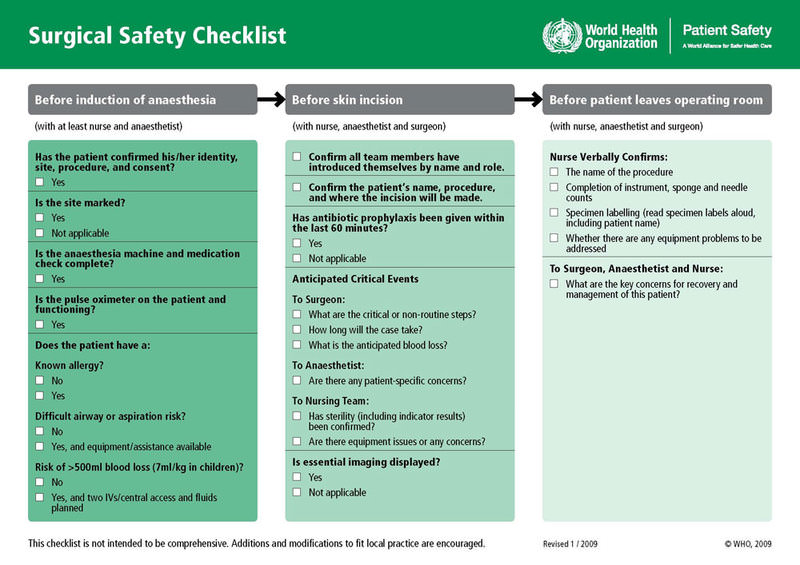 Amazing Results:
A post-implementation survey of the medical staff showed that 78% had noticed the checklist preventing a problem, while 98% of surgeons, including those who thought using a checklist for surgeries was a waste of time, would prefer the checklist to be used if they ever needed to undergo surgery.
You may have noticed that both in-flight operations and surgery, BPM is not necessarily technology based.
A simple paper-based checklist can do the trick.
However, if simple paper-based checklists can work in aviation and surgery, why would you want to use BPM software for your business that is not even as mission-critical?
Truth be told, businesses can make fairly simple but high-value changes without the use of BPM software. If you can recall, I established earlier that you can practice BPM without supporting automated tools; BPM is a methodology, after all, and not a technology.
Now comes the "but" I know you were already expecting.
Without an automated technology, your processes as captured on paper are "as-is," without much prospect for process improvement or bottleneck identification and removal.
More so, even in businesses using simple modeling tools, teams are often challenged and struggle to keep up with collected data, not to mention keeping up with changes to it.
If simple tools struggle to cope when the improvement stakes increase, you can bet that paper-based processes simply will not cut it. Apart from the disadvantage in capacity, there is also the fact that paper processes are not integral to operations, which often results in their being conveniently forgotten and gathering dust.
On the positive side, technology-driven automation provides much-needed constraints, enables improvements and allows the process to adapt to business changes.
Smart businesses, both large and small, have used BPM software to consistently increase efficiency, control, and agility across mission-critical processes, and that has resulted in a significant return on investment and a competitive lead for the early adopters of the technology.
This was the case for Audrey Darrow, President of Earth Source Organics, who increased her business earnings by hiring a Systems Consultant to systemize her entire business. In that compelling business process management case study, her business went on to generate $1.3 million in annual sales after the systemization.
If you are one of those just getting into the BPM arena, there is good news and there is bad news.
Let's start with the bad news.
You are likely far behind your competitors. But does that put you at a marked disadvantage?
Not really, and this brings us to the good news!
You can use early adopters as guinea pigs and learn from their mistakes, leveraging on what has been shown to work.
Having come this far, you may have begun to see why so many businesses are adopting the use of BPM and why you should do the same.
But I understand if you may still have some doubts.
Our mission is to clear those doubts. In the next chapter, we review business pain points that have fueled BPM adoption and its benefits.
Chapter 4: Making the Case for BPMS – A Pain and Benefits Primer
Every organization has in place common repetitive business processes designed to help it meet set objectives. However, for whatever reason, these processes may be inefficient, slow, duplicative and even redundant.
So how does business process management software come to the rescue?
BPMS puts all business processes under intense scrutiny. To quote David W. McCoy, a Gartner Analyst:
"BPM brings attention to the highest-value processes — the ones that are most aligned with the business goals and strategy — for the best return on investment."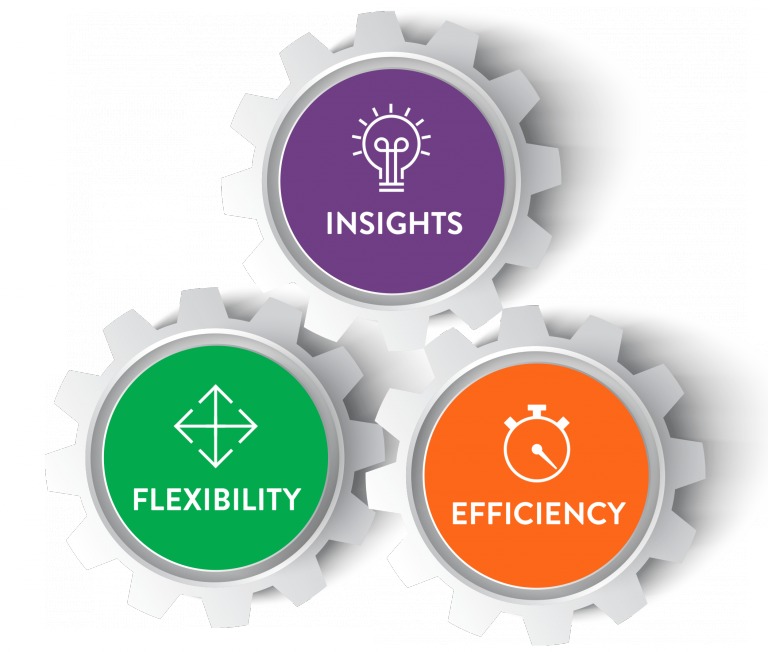 Image Credit: Pyrus
Let's take a moment to look at some of the business problems that have contributed to the ongoing rush toward BPMS.
Business Pain-Points Driving BPM Adoption
Why are an increasing number of businesses around the world adopting BPM? Well, I would say that is because it tackles many of today's critical business challenges. Let's point the spotlight on a few of them:
Globalization:
Most successful enterprises work with customers, suppliers and other market partners on a worldwide scale, often having subsidiaries across various countries and continents. As Friedman says,
This level of complexity in the value-chain of modern businesses requires seamless integration of processes and the instant exchange of information on a planetary scale in real-time if processes are not to get lost in the global maze.
Commoditization:
In the current business climate, executives are under constant pressure to avoid commoditization and differentiate their service offering. When this fails, the only option left is to compete on price. In order to survive, companies in commoditized markets must achieve higher efficiency levels and cost control.
Productivity:
Businesses are pressed to produce more, generate more value with fewer resources in less time. Rinse and repeat. This mantra guided Toyota to become the biggest automotive manufacturer in the world.
– It has since been standardized into the Lean Framework, which is available for companies to use in achieving continuous improvement in productivity.
Innovation:
Innovate or Die. It is no longer news that companies that fail to innovate will fall behind in this volatile, global marketplace where commoditization is commonplace.
– Remember Blackberry and Nokia? Multibillion-dollar examples of what happens when innovation takes the last row in a business.
– While those negative examples both fit in the product landscape, keep in mind that innovation is not a product-only thing. Innovation can be seen in services, packaging, and customer care, even in store layout and design and delivery.
Speed:
To demonstrate a case that fits this need for speed, think Robinhood — the free stockbroking firm that has swept the stockbroking industry off its feet since 2013. As of today, it has a valuation of $1.3B and has trade volumes of more than $3B.
Compliance:
Regulatory and policy compliance requirements are putting a strain on the nimbleness of companies and resulting in a drain of value. Writing custom software to adapt to those fast-changing requirements are driving IT costs upwards.
Information Overload:
There is so much data out there, but so little information. Businesses need a way to bring together their silos of data and make meaning of it all in a manner that can inform business decision and predict market direction.
Loss of Enterprise Knowledge:
What separates a startup from a flagship industry player? Apart from capital, it is know-how. The people in your business have a lot of process knowledge.
– When process knowledge is allowed to remain in the heads of process owners and participants, you stand a high risk of losing process know-how when these persons leave your business. Businesses need a centralized process repository to mitigate this risk.
Changing Nature of People and Work:
We are rapidly moving from routine work where efficiency is paramount to knowledge work where flexibility and effectiveness are the foremost drivers.
– Add to this the changing place of work — in-office, remote, mobile, social, and the increased dependence on information and communications technology, it is clear that the nature of workers and work is changing. Businesses need newer approaches to tackle this dynamism.
Customer First:
With the era of monopolies long gone, all efforts you make to improve efficiency should also target customer satisfaction. Customers have options — more than at any other time in history. Coupled with this is the fact that they are better informed.
– If you don't care about customers, customers will not care about you. To keep customers loyal, you need to measure your performance in terms of customer satisfaction and not just bottom line.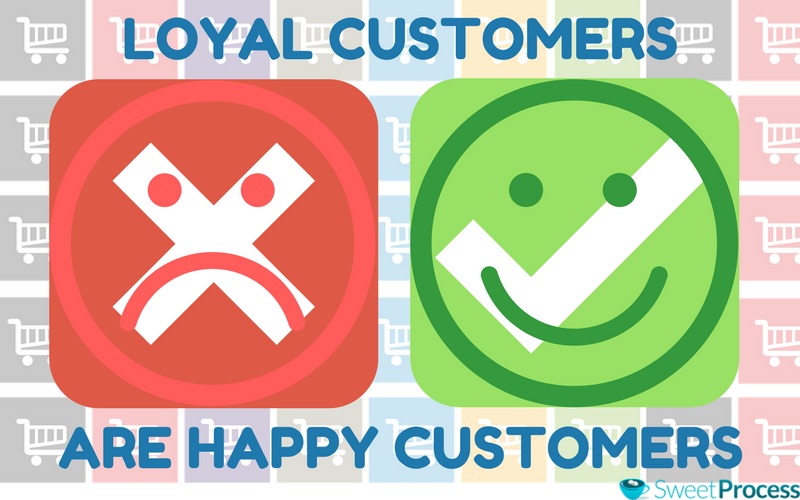 Risk Management:
Risk management is sadly left to just a few persons in too many organizations. When you know exactly how your teams work every day, not just how they are supposed to work based on dust-covered process documents, you can build risk management into their processes to ensure there is now only one acceptable way to perform a process — the right way — which will truly mitigate business risks.
With this kind of problems addressed, you must be anticipating that BPM is a game-changer. If that is what you had in mind, you're right!
Let's take a small departure from looking at the problems addressed by BPM and consider the benefits of BPM software implementation to your organization.
Business Benefits Driving Business Process Management Software Adoption
The value propositions for BPM are numerous: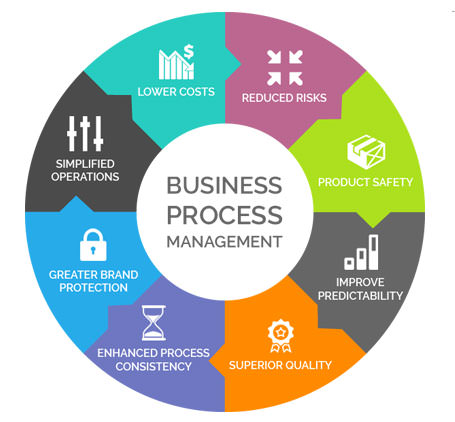 Image Credit: AcknoTech
1. Decrease Costs:
Monitoring the length of your process cycle times keeps you on top of bottlenecks, inefficiencies, and errors that have an impact on costs and empower you to remove these money gobblers.
– This would result in markedly shorter lead times that can yield a positive impact on how your organization sells your products and how much time customers have to wait to have their orders fulfilled.
– Over time, these enhancements result in a faster time-to-market and an improved company image, which ultimately increases sales and revenues.
2. Improve Agility:
While decreased cost and revenue boost are identifiable as immediate benefits an organization gets from implementing BPM, improved agility is the train that delivers the goods.
– To stay abreast of rapidly changing market conditions, organizations have to make frequent necessary changes to their best practices. Efficient BPM systems empower business owners to make in-flight process modifications that may range from pauses, rerouting and re-execution of business processes in real time.
3. Enhanced Visibility and Transparency:
BPM allows companies to record, monitor and measure end-to-end activities within business processes. This drives accountability and transparency into the organization, highlighting low-hanging improvement opportunities.
– The enhanced transparency also allows management gain a better understanding of their processes, allowing them to modify structures and processes efficiently while keeping track of outcomes.
4. Reduced Fraud:
When process participants are aware that a process is being monitored and audited, either manually or by a system, they are more conscious of their actions and the incentives to commit fraud is significantly reduced.
– For example, a variance that one can get away with in a manual process is almost impossible to conceal when processes are both automated and monitored and access protected and logged.
5. Automation:
BPM enables businesses to automate a high volume of decision making, reducing the need for human intervention, which in return reduces labor costs, and human error while increasing productivity.
– Employees once burdened with mundane, repetitive tasks are now freed up to take on more complex work — often more suited to their skill set. The optimal use of human resources that results fosters expansion and allows you apply resources on high-value activities.
6. Flexibility:
In business, flexibility is everything. While BPM is a route to achieving control and enforcing governance, it is also critical that businesses remain nimble and able to adapt to changing market circumstances.
– This is arguably the whole point of implementing BPM software — to detect and react to change. A well-implemented solution can be paused, processes adapted and resumed without any loss of data integrity.
7. Efficiency:
Most processes are very wasteful as a result of manual inputs, poor hand-offs between departments and an inability to monitor all running processes.
– After BPM is deployed, these problems are eliminated and the benefit is seen in full-time equivalent time saved, reduced redundancies and less likelihood for process reworks and errors, reduced process execution costs, increased participant productivity, increased cash flow and significantly reduced working capital requirement.
8. Effectiveness:
After an organization attains a certain level of efficiency, it becomes natural for them to shift their sights to making their processes more efficient.
– Amongst other things, greater effectiveness brings the ability to handle exceptions better and faster, make more informed decisions, and implement processes consistently.
– All of these will yield a much higher customer experience. For regulated processes, the disciplined approach employed by BPM lends even yields an added benefit — avoidance of fines as a result of incorrect or untimely execution of the process.
9. Attain Process Consistency:
Physical distance, time zone, cultural differences and an increasingly mobile lifestyle all add layers of complexities to getting things done in the global economy.
– BPM software empowers your staff with the knowledge and information they need at the right time to advance process execution. Process knowledge is stored centrally and shareable across authorized process participants.
– The BPM platform pulls together disparate information, adds context, encourages collaboration, and instills process discipline. The result is that process outcomes are both predictable and sustainable.
10. Advance competitive advantage:
In the current economic climate, business process flexibility is not negotiable if organizational survival and competitive advantage are not to be put on the line.
– BPMS enables organizations to build flexible, responsive systems with speedy integration into existing software infrastructures.
– By using a seamless enterprise-wide solution to handle all internal or external business processes and tasks, organizations can realize increased efficiency and visibility with lower costs and quicker time to market.
11. Continuous process improvement:
Having a BPM solution allows organizations to proactively identify process bottlenecks and redundancies to enable continuous business process improvements.
– Easily retrievable reports can be generated using data points from different backend applications and analyzed to pinpoint processes and skills gaps that may be holding the company back.
– Interestingly, every new improvement peak reached is the starting point for the next improvement cycle, ensuring continuous process improvements.
12. Bridge the Business/IT Gap:
With the implementation of BPM, the age-old divide between business and IT stands a chance to be bridged. The focus shifts from "applications" to "processes," along with the applications that support them.
– IT no longer comes with a solution and compels business users to adapt to it. The business activity monitoring feature of BPM means that business users with no programming skills can monitor process activity in real time, sometimes making "in-flight" adjustments using simple drag-and-drop interfaces.

13. Simulate Process Outcomes:
Implementing process change in an organization involves uncertainties and indeterminate costs.
– The ability to run simulations which BPM brings to the table allows a company to examine the change being considered and determine its the potential impact on the company's process, thereby fulfilling one of BPMs pillar attributes — continuous improvement.
– Simulation can also find applications in testing process design, measuring performance and identifying bottlenecks.
14. Automated and consistent decision-making:
BPM software uses a business rules engine to automate and streamline the decision-making process. Ideally, the rules, policies, and procedures governing a process workflow are readily accessible and changeable even when a process is in use.
– This means process owners can introduce exceptions to standard business rules without having to re-architect the whole process, or worse, take the process offline.
– And since BPM automates the decision-making process, decision making is faster, more consistent and in tandem with predefined rules that align with your organizational goals.
15. Centralized Business Rules:
Instead of having business rules operating in silos across your organization — some written in dust-covered manuals, some held in the minds of subject matter experts, and yet others embedded inside legacy applications — a well-implemented BPM system enables your organization to centralize business rules and make them available on-demand to any process or application.
– This also makes it possible for you to remove repetitive steps from a process without affecting the business rules behind the process.
16. Advance Staff Satisfaction:
Automated bureaucratic aspects of work help employees focus 100 percent on their work.
– No more endless emails going back and forth, boring staff meetings to clarify who does what, as process hand-offs and pickups are automatically handled by the BPM system.
– No more launching 10 backend applications to pull all the information you need to handle a task, as the BPM application collects this information and presents it to the employee in one user-friendly dashboard to empower decision-making.
– There is minimal paperwork and all documents are centrally stored in the system and accessible and shared by process participants. Happy employees are more productive. Period.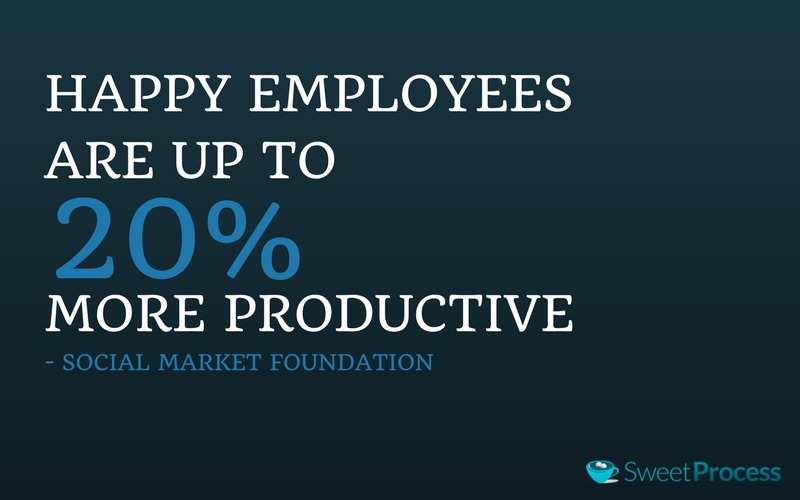 17. Consistency, Repeatability & Transferability:
Ask three persons in your organization how a certain process works. You may be surprised to hear three different versions.
– BPMS brings consistency to the way things are done. When people are unsure how a manual process runs, they create ad-hoc solutions to fill in the gap. With BPM implemented, there are no uncertainties as everyone understands the process, how and at what point they fit into the process cycle and how their role impacts value delivery to clients.
18. Improve Customer Experience:
Fragmented data, disjointed systems, and multichannel interactions make it difficult to deliver a consistent customer experience.
– Yet, according to Michael Maoz, a vice president and distinguished analyst with Gartner, the majority of surveyed companies handle the various aspects of the customer experience through stove-piped departments without the BPM technologies or organizational structure to provide for a cohesive oversight of the operation as a whole.
– This puts customer service out of harmony and results in lower customer satisfaction and net promoter score (NPS). With BPM, customer touch-points can be unified, making it easier to personalize the customer experience, leading to happier customers.
19. Reduce Corporate Risk:
Risk management is sadly left to just a few persons in too many organizations. When you know exactly how your teams work every day, not just how they are supposed to work based on dust-covered process documents, you can build risk management into their processes to ensure that there is now only one acceptable way to perform a process — the right way — which will truly mitigate business risks.
20. Automate Regulatory and Certification Compliance:
Companies are required to adhere to different regulatory requirements ranging from Know Your Customer (KYC), taxation policies, export/import laws and a lot more depending on the industry.
– A comprehensive BPM implementation guarantees that organizations comply with required standards and remain up to date with the law. It also promotes safety and security measures by properly documenting procedures and facilitating compliance.
21. Retain Knowledge:
If a startup were to launch in your industry, how long would it take them to develop the know-how your organization has developed over the years? Two years? Three? How much will it cost them? Millions of dollars?
– Process knowledge is a valuable asset that should be captured and reused rather than allowed to sit in the heads of your subject matter experts. This is important because employees get sick, leave your company or even lose their lives, and you do not want them to leave with valuable process knowledge sitting in their heads. Enterprise knowledge should be organized in a centralized, searchable and shareable library.
22. Business transformation or change management:
The business environment is fast changing. To stay competitive, or even to keep head above water, organizations are regularly undertaking business transformation.
– These efforts are supported and even delivered using business process management to ensure change happens at a controlled pace that stakeholders at all levels can keep up with.
23. Automate employee onboarding:
Onboarding is a critical factor in business success due to the level of impact it has on employee engagement, retention, and productivity. By employing (no pun intended) automated workflow management systems, companies are able to create a predictably seamless experience for new hires.
– New team members need to acquire an understanding of their role in processes and how those processes fit into the big picture if they are to be fulfilled. BPM can be used to manage the complete lifecycle of recruiting, from prospect intake through the interview to the offer.
– Appropriate handoffs are then automatically made to HR for employee onboarding. Companies will be able to properly record and store company and employee data, including job postings and approvals, employee applications, agreements to background checks, payroll forms, and insurance information.
That's quite a benefits list! If that has not sold you, nothing will.
But before you take the plunge, how do you determine which BPMS is the right fit for your organization? That brings us to considerations for software shopping.
Chapter 5: What Should You Look For in a Business Process Management Software (BPMS)?
As BPM initiatives vary in skill level and experience, the appropriateness of one software solution for each use case may vary. So, there is definitely no one-size-fits-all in the BPMS market. While some are targeted at low maturity businesses, others are more suited for medium or even high maturity scenarios.
It will be a useful exercise, first of all, to assess your business in terms of business maturity and integration of BPM methodologies in your business. Remember, no two companies are the same.
Low Maturity Scenario: Focus for businesses at this stage is mainly on analysis and process modeling. A tool for capturing processes and making it available for staff use is critical. Also helpful are support, training and process models to be adapted.
Medium Maturity Scenario: Based on existing process models, organizations at this stage seek a deeper understanding of the relationship between processes. Their focus shifts to monitoring and evaluation with the help of key measures related to performance aspects of IT governance.
High Maturity Scenario: The handling of key measures becomes more important. High maturity organizations require monitoring of real-time data, which can be used for detailed reporting, bottleneck detection, and futuristic simulation.
General Factors to Consider
Below are the factors to consider.
Acquisition Cost:
Traditional BPM software requires you to purchase expensive on-premise software license coupled with annual maintenance fees that are also prohibitive.
– If you are a large bank or Telco, this may not be an issue as you likely have no financial constraints. But for the rest of us guys, SaaS BPM suites are the answer to our well-worded prayers. So the size of your company does matter.
Ease of Use:
Keep in mind that a poor user experience slows user adoption while an intuitive user experience drives adoption. This applies for business users as well as model builders and IT.
– Is the software fully responsive? The answer to this question informs how much the BPM software can support your mobile workforce. A smart idea is to include end-users in the product evaluation and allows their feedback to influence your decision.
Deployment time:
This varies. Some BPM platforms work straight out of the box and come with industry-specific process templates that need at worse just a few customizations.
– Others require months of custom coding and process building to get your first process online. Your sweet-spot maybe somewhere in between, but you need to find it first before you make an order.
Customization:
How ready is the BPMS platform for use? Will it require heavy customization and custom coding before it can be used in your sector? Does it come with some ready-to-use process templates that you can adapt to speed up your time to value? How easy is it to change a process that is currently running?
Vendor Capabilities:
Is the vendor a new entrant in the BPMS space? How long have they been running as a business and what does their client base show about them? A vendor with a high number of active clients may be indicative of a stable product, while one with a lot of drop-offs should raise a red-flag.
Process Model Portability:
All good things come to an end — or so the pessimist school suggests. When you have to leave this BPM platform, how convenient would it be to move your process templates and data across to a new system? Do they encode data using interoperable data formats?
Support and Training Availability:
You are wise to choose a BPM tool that offers a service level agreement. Do they offer phone, email, or chat support? Of the three, it is easy to hide a low support staff count with emails.
Performance for Large User Bases:
Some BPM applications are meant for small teams. When faced with enterprise-level use, it soon unravels. You should consider the BPM platform's load balancing capabilities to ensure your applications are always available, especially if you anticipate a large deployment.
Top Features to Watch Out For in a BPMS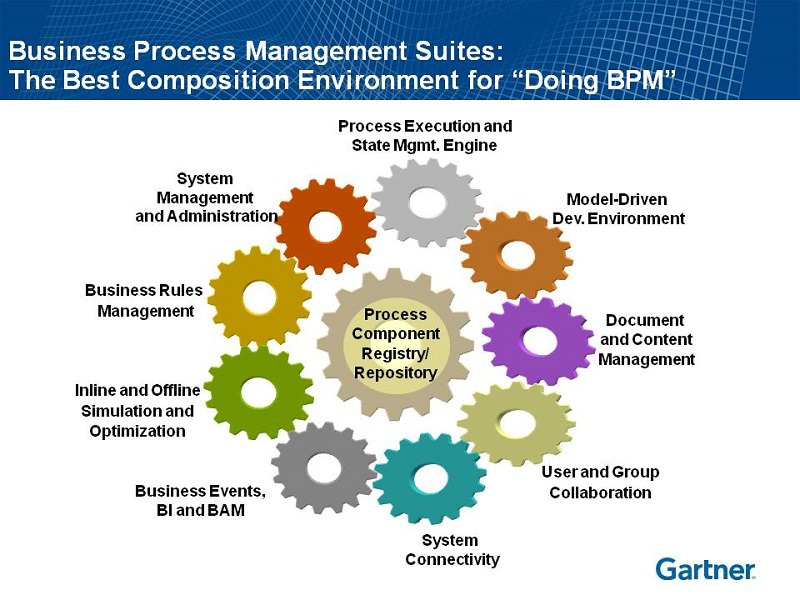 Visual Process Diagramming Tool:
A must-have. It allows the user to structure the process path while the system automatically handles the exception paths when operating.
Drag and Drop Form Designer:
Business processes generate documents and data. BPM software is used to capture and carry data along the process. Leverages on your team's Web 2.0 skills to create highly interactive forms.
Chained Forms:
Define a form workflow; users must complete forms in the proper sequence, maximizing process consistency.
Business Rules Management:
Business users can translate changing business objectives into dynamic rules-based applications. Rules and applications are kept separate, and changes to one do not affect the other. Rules can be created and loaded onto existing processes.
Email Integration:
While social collaboration tools and chat systems are making email less important for use within an organization, it is still essential to contact clients, partners, or suppliers, which makes it a useful feature in BPM software.
Billing/Invoicing:
Many BPM apps provide a built-in billing and invoicing feature that serves as a natural endpoint of your business processes that generate revenue.
Process Analysis:
Cockpit dashboards enable you to monitor key performance indicators. Visually meaningful content helps you understand the big picture.
Task Claim and Revocation:
This ensures no two persons can work on a task in parallel. This feature reduces redundancy.
Role-based Access Control:
Documents and data are kept from those whose roles do not require access. Users get to just what they need and nothing more.
Integration with Existing Software Systems:
Yes, BPM is the software to bring all your software together. This feature is core, especially if you have multiple backend software that functions in your processes.
Support Ad-hoc Case Processes:
Sometimes, a decision-maker may need additional information not required in the initial process. This feature would allow ad-hoc processes not on the typical process path to be launched and associated with a case.
Process Performance Metrics:
Define the business objectives and metrics that best reflect your business needs. Make data-driven decisions based on real-time visibility into business activities.
Process Versioning:
Have access to process versions and choose which one should be active. Have confidence that your best process is deployed in the field.
Deployment:
Cloud
SaaS
Mobile
On-Premises
Social
It is important to bear in mind that a solution does not need to have all the above features to be taken seriously as a BPMS. These are typical features. Depending on the core focus of the particular solution, some of these features may likely be absent.
What is important is your understanding what you need and would likely need in the near future.
Being convinced your organization will benefit from implementing business process management software is one thing. Getting your organization to see things from your point of view is quite another.
So, how do you get decision-makers and stakeholders to also recognize the need and buy into your BPM project? We talk about that in next chapter.
Chapter 6: Getting Employee and Executive Buy-ins
Without strong buy-in from key stakeholders, a BPMS project is dead on arrival.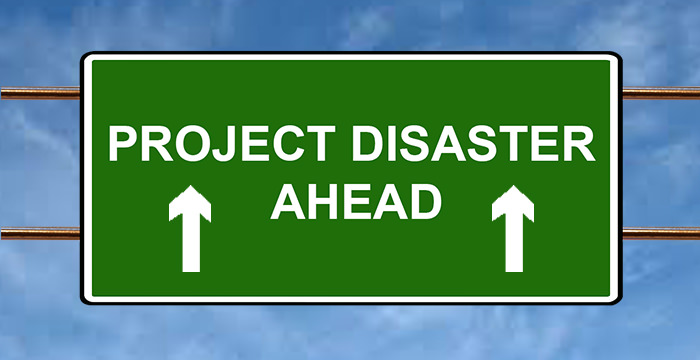 Image Credit: Invensis
Here are some ideas on how to get buy-ins from stakeholders:
Getting Employee Support
The project sponsor should seek to answer questions like:
Will I still have a job here when this BPM effort is concluded?
Employees may fear that automation and process efficiency may make them redundant and eventually cost them their jobs. You should be prepared to allay their fears or show them why this will not happen.
– Faun deHenry, a long-time BPM practitioner, has "observed executives getting 'buy-in' from employees when they responded to these questions directly and succinctly."
How does the BPM effort benefit me, my team, and my department?
Everyone wants to look good. Like executives, employees are even more interested in something if they get credit and end up looking smarter. So be generous in giving recognition.
– Some suggestions I have heard include gamifying the process by awarding user(s) of the month, most innovative improvement suggestion, or process of the week (POW).
– Remember, no one gets tired of asking, "What's in it for me?"
It is also important for the project sponsor to keep these tips in mind:
Educate and Communicate:
Ensure people have the training, ongoing support and resources they need to get involved with your continuous improvement initiatives. A great idea would be to hold periodic drop-in sessions for users to have their questions answered by a process sponsor.
Focus on Employee Experience:
Keep in mind that employees create the customer experience. So if employees are jumping hoops to get their job done, it would be very unlikely that they would be able to create a great experience for the customer.
– Design processes in such a way that it creates a stimulating, motivating environment that gives meaning and purpose to work. At the end of the day, something that improves both the employee experience and customer experience is never going to be a hard sell.
Test the System with Actual End Users:
While you are evaluating the system, give end users the opportunity to dig deep and communicate their observations about the BPM software/platform. They will be in the ones in the trenches, directly working to provide value to your customers.
– It is important that they make inputs in the tool selection that may soon be their work yard, instead of having something unusable shoved down their throats. And one other thing, make sure their feedback informs any decision you eventually make.
Involve Front-end Users in Process-mapping:
According to Tom Baeyens,
"We need to think bottom up instead of top down."
BPM should be a tool that allows employees, managers, and CxO execs to
"scratch their own itch."
– Ask for input and feedback from employees.The executives may get "buy-in" from employees when they respond clearly to these questions! No idea off agenda recognizing change is encouraged. And the new processes would be their processes.
Incentivize Participation:
Doing so can drive employee motivation to give your new processes a spin. We are not talking brown envelopes here. A movie ticket or a healthy snack for lunch from the BPM team may be all it takes to break the ice. You know what works with your team.
Getting Executive Buy-in
If senior management is not convinced about how BPM helps them to get their job done, why would they want to support, promote or fund it? In fact, chances are they would consider it as just a nice-to-have with bells and whistles that would just end up a waste of everyone's time.
In answering the question: "Why do BPM projects fail?" Laurence Goasduff, a Gartner Contributor, had this to say:
"Often, a BPM program fails due to the lack of a BPM champion, or an executive sponsor for a BPM project. To gain business buy-in BP directors need to find a BPM champion to drive the vision of the BPM program and/or choose an executive sponsor from the business for each BPM project, who is responsible for removing political obstacles, securing funding and resources, and advertising the project's success on completion."
When justifying investment in BPM, avoid technology talk and focus like a laser-beam on the financial case. While you may be very excited about the technological advantages that BPM implementation may bring to your organization, it may disappoint you that senior management is not wired to think that way.
Business leaders are normally not interested in methods, tools, and approaches. What do you think keeps senior management awake at night? If you said money, you've got my full marks! The more senior the business exec, the more critical it becomes to talk in financial terms. For the CEO, COO, and CFO, only two phrases typically resonate:
How much revenue does it create?
How much profit does it add to the bottom line?
An additional question to consider is, "What is the link between delivering on a current strategic initiative and the BPM system?"
In the words of Ian Gotts, a tech advisor, and BPM disruptor:
"External stakeholders don't really care about operational processes. They absolutely don't care about process analysis. And if you talk about BPM they'll look straight through you. Never talk to an exec about BPM. Execs care about results. Outcomes. Impact."
Get a BPM Champion or an Executive Sponsor for a BPM project
Often, BPM projects and programs fail because of failure to get a BPM champion or an executive sponsor on board. Business process directors need to consider that as their first task.
The advantage of having frontline business leaders committed to the program or project is that you have someone who has the weight required to drive the vision of the program and remove political obstacles, secure funding, and resources as well as publicize the project's success on completion.
Who Is an Ideal Executive Sponsor?
Based on the above, FlowCentric identifies an ideal Executive Sponsor as one who:
Has authority over the processes;
Is able to clear political obstacles;
Can secure funding and resources;
Is strongly motivated by the business need behind the BPM project;
Will advertise the project's success on completion.
At this point, you are all primed for a rewarding journey into process excellence. But truth be told, a number of BPM projects have tragically met with failure, costing the implementing organization more money at the end.
It's time to learn from the guinea pigs that went ahead of you.
Chapter 7: 10 BPM Implementation Pitfalls to Watch Out for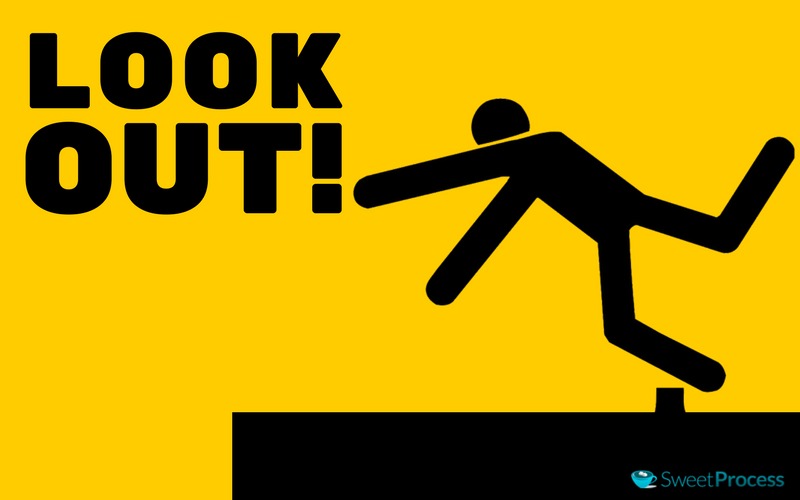 As you may have seen, implementing a BPMS is serious business. It would be tragic to go through all the pain and still end up with a failed project. Here are some pitfalls to be wary of as you continue on your BPM journey:
1. BPM as a solution to an unidentified problem:
BPM has become a buzzword, and for some businesses, it may just seem fashionable to use BPM software. However, for BPM to deliver value, understanding what it is meant to solve is critical.
A BPM initiative should be fact-based, rather than a knee-jerk reaction to those who make the loudest noise. At the onset, allow some time to set expectations and gather benchmark metrics before initiating process improvements efforts.
2. Functional siloed culture:
This is a metaphor drawn from the large silos strewn across the agricultural Midwest. It suggests that each department on an organization chart is a silo and that its stands alone, not interacting with any of the other departmental silos.
Nothing can be farther from the truth!
In any organization out there, several units must work in sync to achieve process advancement. If both the organization and customers must get value from business activities, then departments must see themselves as links in a chain; otherwise, they are blockages in the wheel.
3. Management does not see the benefits of BPM:
The implementation team may have delivered cogent value to the organization. However, they are just so busy optimizing processes and making changes that they fail to keep a record of these achievements or to communicate improvements to management.
This is a tragic misstep and could lead to management erroneously concluding that BPM is just a drain on time and money and thereby lead to calling the project off. At the start of any BPM project, the process team must agree on how success is defined and measured.
Understand what the team seeks to improve and agree on the corresponding improvement metric. Articulate this metric to top management and stakeholders at all levels to demonstrate the benefits delivered. The key here is to learn the language of the organization and use that language in communicating outcomes.
4. Automating failure:
The most important aspect of BPM is not "automation," but "process." If you spend resources automating a mess, it is almost guaranteed to deliver a mess. Keep in mind that automation is not a magic wand that waves away process inefficiencies.
So take some time out and really examine your processes. Is this still the best way to achieve things? Most likely, most of your processes are organically grown and are not reviewed. Use this opportunity to closely examine the process with the people involved and make it as simple as possible.
5. BPM is seen as an IT-subject:
When an organization starts to implement BPM as a new IT project, the implementation has already failed. If you are not wary of this pitfall, BPM may end up widening the Business-IT divide, rather than bridging it. For BPM to succeed, IT should play the role of a process guardian, not process owner.
The processes should be owned and implemented by business users — persons who know where it pinches most. If the improved or newly automated process does not succeed in improving the end user's overall experience and make them more productive, then the project is likely doomed to fail.
6. Going with your "gut" feeling:
BPM brings to the table the visibility, transparency, and metrics that enable fact-based and data-driven decisions. If you throw all that under the table and go with your gut-feeling and "the way things have always been done" when making decisions, you would be squandering the significant investment your organization has made in BPM. Do yourself a favor — let the data do the talking. You paid for it, my friend.
7. Lack of management buy-in:
When leadership fails to give support to a BPM project, there is a lot of confusion and waste of resources. Process improvement or any kind of significant change in how things are done is difficult to pull off in any organization. It usually requires commitment and ongoing support and leadership from the top echelon of the business.
With this kind of support structure in place, improving processes becomes relatively easy, depending on the choice of BPM tool you make. It is critical to get executives to buy into these policies and ensure they hold process owners accountable for business outcomes.
8. BPM used to cut jobs:
People make processes work, so if your process improvement effort is an ambush to justify a reduction in headcount, expect subtle resistance and sabotage at every point, and dampened team morale.
While redundant jobs may eventually go, let this be a byproduct of your going after friendlier metrics. And of course, if your employees re-engineer themselves out of a job, it is only fair you retrain and relocate them somewhere else.
9. Creating Rigid Solutions:
BPM is meant to foster flexibility and help create adaptive processes. If you hardwire insights gained early in your process improvements efforts, ongoing improvements when market or governance changes occur may turn out to be expensive. Design your process for flexibility.
10. Forgetting to celebrate:
When you deliver a new product in four months against previous 10-month duration, you may not need a reminder to loosen the tie and celebrate with your team.
But with BPM, initial process gains may be small and incremental. This does not mean they are not deserving of celebrations. The BPM champion must make sure he serves as an umpire and call out those gains loud and clear for all to hear.
The thing is, when process participants know they are making an impact, no matter how small, it can encourage them to take on more process ownership.
Next Steps
In a blog post published barely a year ago, Bob Larrivee, AIIM's chief analyst, revealed organizations that have made the leap to implementing BPMS
"are already seeing a very real return on investment (ROI), according to the AIIM research — 41% said they are seeing payback within one year, of which 17% cite ROI within just six months."
Clearly, the business process management sector is growing rapidly, and a review of the marketplace will readily show that new software solutions are springing up on nearly a monthly basis. However, jumping after the next shiny new thing is a recipe for failure. Before choosing a business process management software for your organization, take pains to examine if it has all the right features for your unique circumstances.
Downloading our Business Process Management Software Comparison Matrix will be both a guide and a safeguard.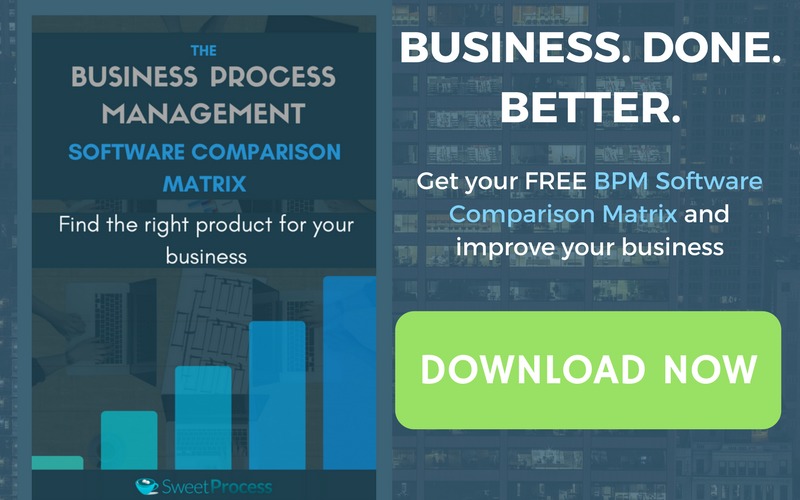 Get Your Free Systemization Checklist

5 Essential Steps To Getting a Task Out of Your Head and Into a System So You Can Scale and Grow Your Business!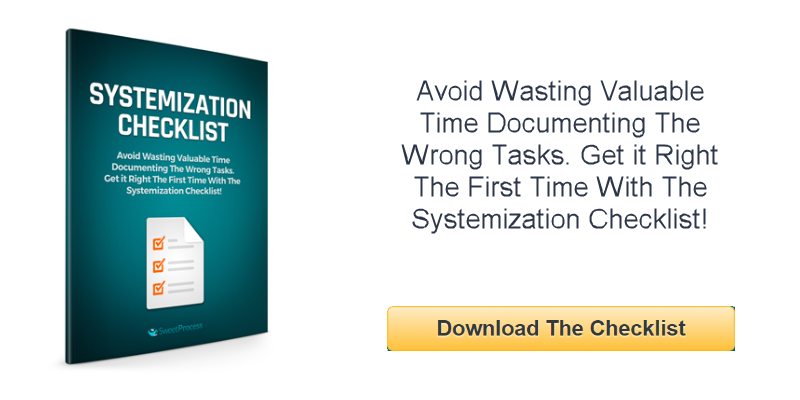 6 responses to "How to Choose the Best Business Process Management Software for Your Company."