7 ProcessMaker Alternatives to Organize Your Company SOPs
Last Updated on May 19, 2023 by Owen McGab Enaohwo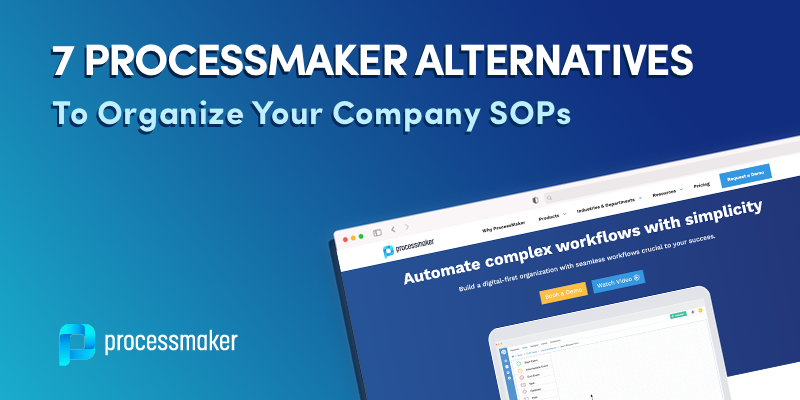 ProcessMaker offers a low-code web-based process management platform that empowers business users to design and deploy solutions to solve complex process and workflow issues. It comes with an adjustable process building interface that enables users to create and edit standardized process diagrams.
However, these key features don't justify why you'll want to subscribe to such a buggy and pricey SOP tool.
In this article, we'll show you ProcessMaker alternatives with their key features, as well as the pros and cons of each option so you can pick the best fit for your business needs.
SweetProcess is our software, and it's designed for businesses that want to seamlessly document their procedures and focus on doing what brings real business growth. Without inputting your credit card information, you can sign up for our 14-day free trial to see how it works.
TABLE OF CONTENTS
Cons of ProcessMaker: Why Are Users Looking for ProcessMaker Alternatives?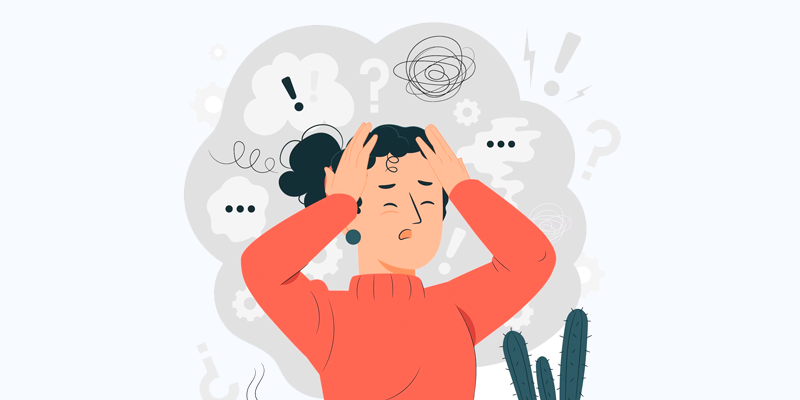 Here are some cons of ProcessMaker that makes users search for the tool alternative.
Bad customer service
When you run into issues, their technical support team is not as helpful as expected. You'll waste time waiting to get help from their support team when you face challenges using the software. Although they might reply to your inquiry, over time their response rates slow your business operations to a halt, and some ProcessMaker users have complained of their poor customer service.
Buggy mobile app
Although the desktop (web version) works okay, their mobile app has more bugs, and frustrates the software user experience. Debugging ProcessMaker is hard to sort, you can't easily change processes when the software lags while formatting or designing complex workflows since it makes you unnecessarily spend time trying to fix the software glitch.
Pricey license fee
The software subscription is expensive, and if your company is big, that's a huge revenue drain. The main issue is that the license is on a per-user basis. A tool that needs many licenses as such, eventually slows down the business, unlike SweetProcess that charges only active users.
Now that we've looked at some downsides to using ProcessMaker to document SOPs, let's highlight some of the best alternatives you can switch to. 
7 Alternatives to ProcessMaker for Documenting Systems of Operating Procedures
Let's look at the top seven ProcessMaker alternatives to help document your SOPs.
SweetProcess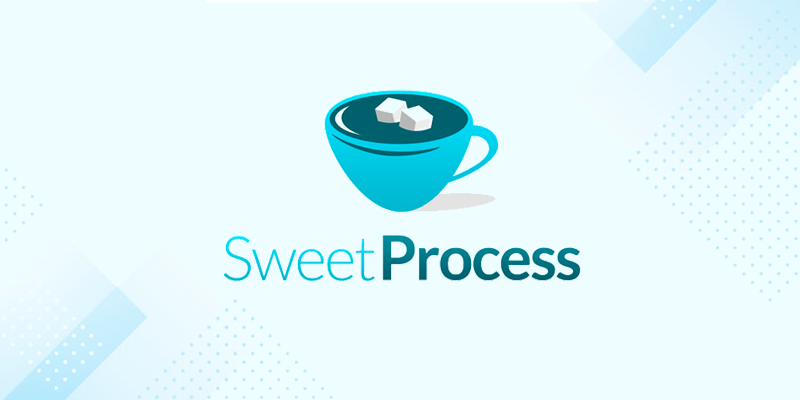 SweetProcess is a web-based business process management software that enables users to document your system of operating procedures and assign and keep track of tasks—all from one central point.
It allows you to document repetitive tasks without trying to manually sort them out so you can easily look up task progress reports, onboard employees, and assign and track tasks.
With the reliable UI, you won't face glitches when finding information or locating a file segment using the search bar. This makes it super-easy to focus on activities that directly add to your bottom line.
If you'd like to see how SweetProcess works in real time, simply sign up for a free 14-day trial period. No credit card is required.
Below are some of the essential features of SweetProcess:
Creating and documenting SOPs without having to micromanage your staff
Assigning and managing tasks from a central point
Helping your teammates bring suggestions and approve or reject them with just a few clicks
Integrating flowcharts and process diagrams for your team members to envision
Creating knowledge bases to onboard new hires and get them up to speed with your business operations
Assigning and tracking tasks from one dashboard
Remotely keep tabs on staff who are either slacking or serious about their tasks
Secure your SOPs with two-factor authentication
Affordable license fee. You won't be charged for inactive teammates
If you'd like to see how it works in real time, sign up for a free 14-day trial. And if you like SweetProcess, you can choose to become our customer. No credit card is required for the trial.
See How SweetProcess is Intuitive & Super Easy to Use
On your dashboard, you'll see all the essential action buttons you need to get redirected to wherever you want, as you can see in the image below. To get access to the drop-down menu below the ''More'' tab, simply click on it to enable the options display.

With the key buttons shown in the screenshot, even a rookie can effortlessly work around SweetProcess without any guidance.
For instance, let's say you want to make a process. Simply click on "Processes" and you'll be guided every step of the way.

You can even add titles to the processes you build and assign them to various teams as tasks, as you can see in the image below:

Similarly within your dashboard, you can create policies, documents, and procedures. SweetProcess lets you create training manuals for training new employees.
Let's say you create all the steps your employees need to recall when following a procedure. The checklists come in handy when they get stuck, and you won't have to leave your responsibilities to instruct them.
As you can see in the image below, you can easily search and find documents with the search bar.

Here's How to Search Documents on SweetProcess
To find folders in your SweetProcess account, simply scroll and click "Documents" on the main menu. This will show a page with a list of options that allows you to choose a file from one of your documents. The SweetProcess search bar enables you to find documents based on their names, relevance, and tags. You can also filter through the documentation by:
Documents you've contributed to
Papers pending approval
Documents you haven't signed
Documents with a close or an expired review date
Copies with unapproved drafts
You can also sift through public or private documents based on teams or the ones that are recently edited. Look at what the search interface looks like:

Here's How to Create Processes or Procedures With SweetProcess
Simply click on "Procedures" or the "Processes" tab and then select  "Create Procedure" or "Create Processes" to begin.

To make it effortless for your team members to find, create a title to the procedure or process.

Add the procedure you've created to a particular team or different teams and click continue, as shown in the screenshot below.

You make the instruction clearer by including a description and adding videos, screenshots, and tags. Then select "Finished Editing" on the right-hand side of your screen to save the process or procedure.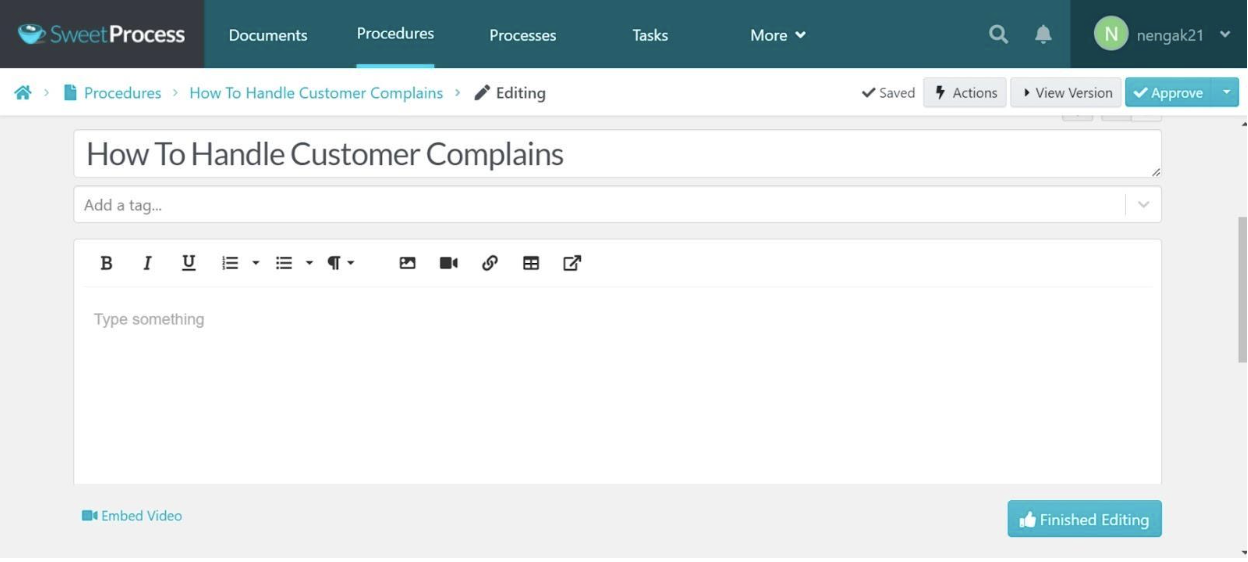 How to Import a Procedure or Process Into SweetProcess
When you're on the "Procedures" tab, click on the down-arrow switch at the right of the "Create Procedure" tab and select "Upload document."

Once the dialogue box pops up, you can add the procedure to a team and search your computer to select the document you need to upload. Once done, it will import the file into your SweetProcess dashboard.
Here's How to Export Documents From SweetProcess
Go to the "Documents" tab and choose the document you want to export. Then click on the three vertical dots on the right-hand side of the document you want to export.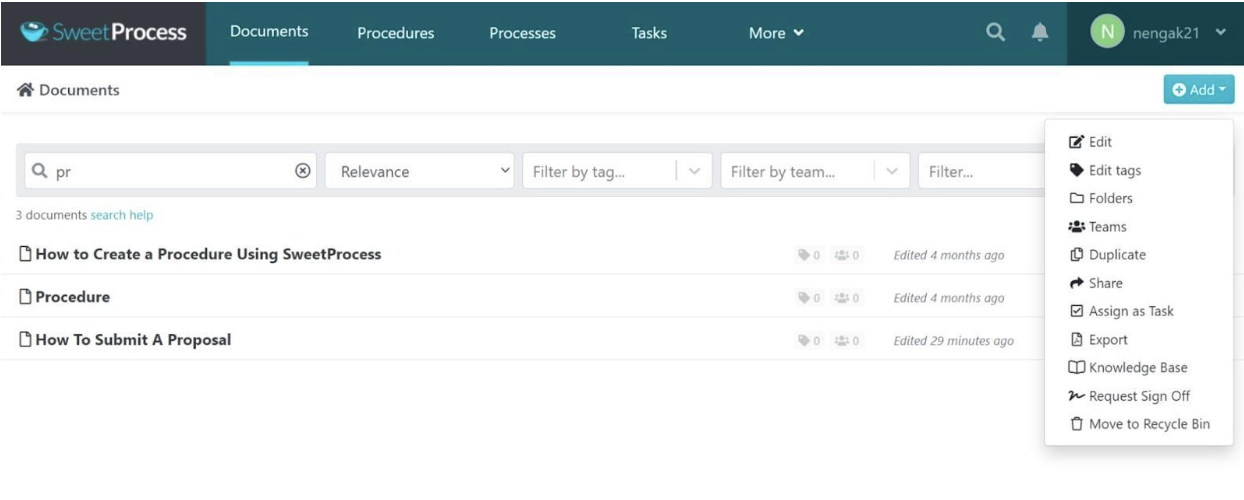 Then click on the "Export" tab and choose the document format you prefer, either a Word, PDF, or HTML.

Here's How to Assign and Monitor Tasks With SweetProcess
To allot tasks on SweetProcess, click on "Tasks" and then click the "Assign Task" button. Click on "Select Teammate" to assign a suitable person to handle the task.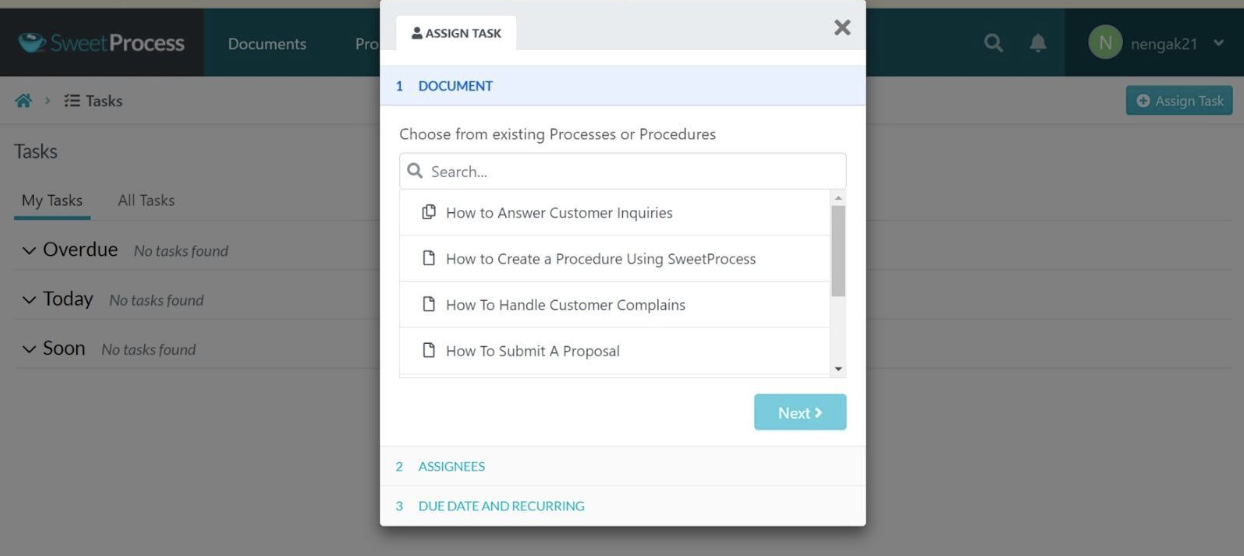 When you want to monitor the roles you've assigned to your employees, all you need to do is select the "Tasks" tab to glance at the completed assignments or the ones that are due soon, passed the submission date, or have been completed.

Here's How to Create a Knowledge Base With SweetProcess
Supposing you want to assemble your company training manuals into a knowledge base (FAQs segment) for your clients or staff members. Simply log in to your account and click on the "More" button, then select "Knowledge Base."

After this, select "Create Knowledge Base" and add a title. Then you can add a title you want to the knowledge base and click on "Continue" to save changes.

You can also put in the public URL, add category names, and control who gets to see the SOP document.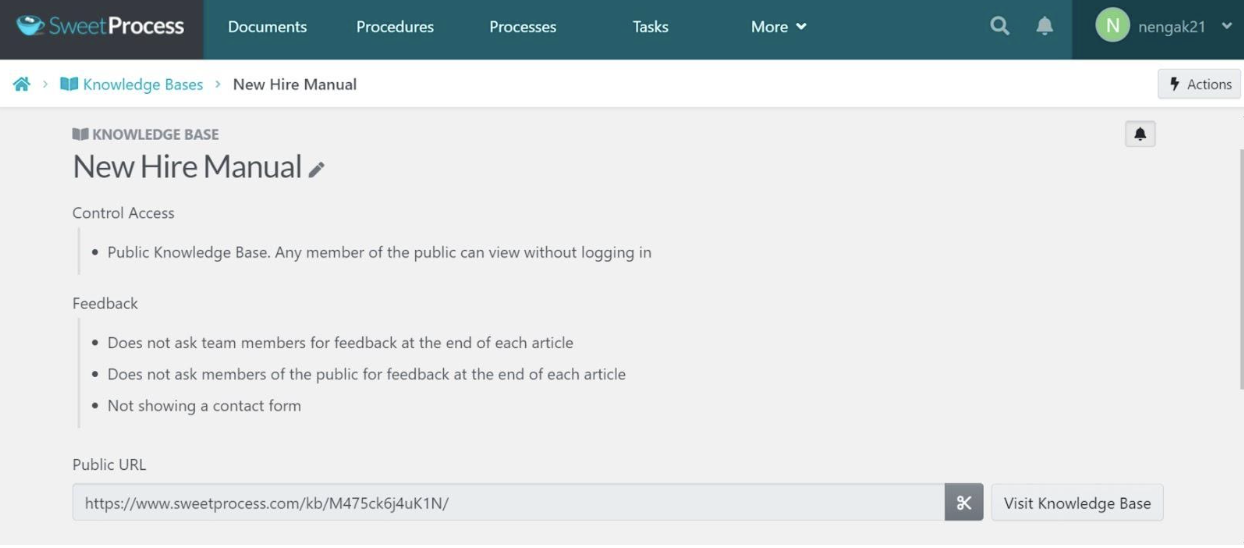 Here's How SweetProcess Supports the Version History of Your Documents
With SweetProcess, keeping track of when exactly a procedure was adjusted or edited is easy to figure out.
"You know what changes were made, so it makes it very easy to see the changes and the edits from one time to another. You can see the difference. You don't have to read the entire procedure—you can see what was edited or added,'' says Eric Burnside.
Eric Burnside, vice president and director of business development at Independent Retirement, in an interview pointed out how SweetProcess met their needs by helping them sort out the versioning lapse they had in their company SOPs.
To track an SOP version history, to go over your documents, procedures, or processes tab and select the one you want, to track who created it or made adjustments. Then click on the "clock-shaped" icon on the left-hand side of your screen.

As you can see in the image above, it's showing you:
When the live version of a document or procedure was uploaded
Who approved it, and their name
Here's How SweetProcess Lets You Easily Create Flowcharts and Process Maps
Another amazing element of SweetProcess is how it allows you to bring out the graphical sketch of how a procedure will look from beginning to end.
With this visual illustration, your teammates can mentally have a picture of the steps they need to take to complete a procedure.
Here's how simple the process map you create will look: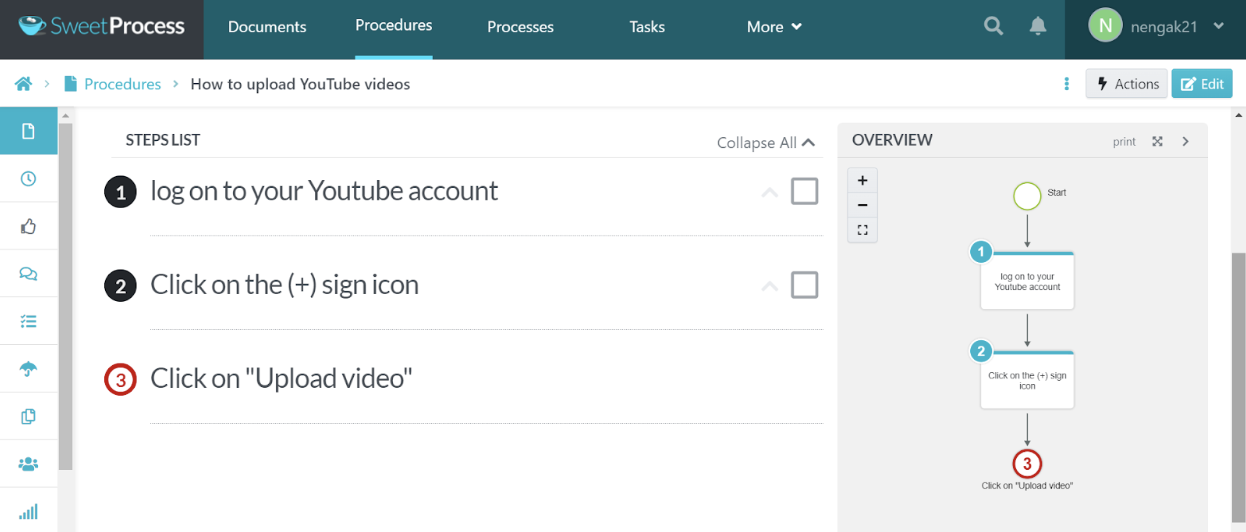 SweetProcess Pricing
SweetProcess pricing is straightforward, and you are only charged for your active teammates. There are no extra charges for your teammates who don't use the software, and service charges will be suspended if we notice you stop using our software after a while.
The plan starts from $99 for a team with 20 active members. Each extra active member costs an additional $5 monthly. But you can enjoy a 14-day FREE trial to see how it works first before deciding to subscribe.
You can get started on SweetProcess in minutes. Aside from that, you are eligible for a 30-day money-back guarantee if you don't notice any measurable improvement in productivity or efficiency with SweetProcess. Besides the refund, you'll get a one-hour free consultation with the SweetProcess team to brainstorm ideas to help grow your business.
Scribe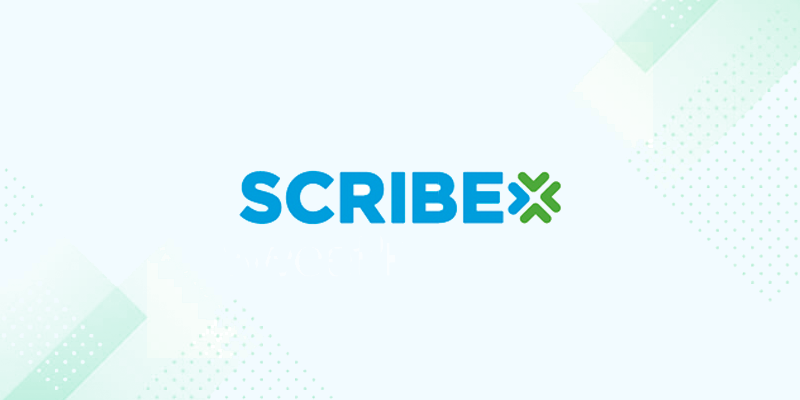 Scribe is an onboarding training platform that allows companies to instantly turn any business process into a step-by-step guide, it helps you quickly create training manuals from any process you do on your computer.
Right within your dashboard, just click "Record" in the browser extension or app, and Scribe will help you turn your keystrokes and clicks into written guides and screenshots.
You can edit steps and screenshots to give your team members or customers captivating guides in seconds. You can now share the link or embed it in your help center or team project management tool. And in case of any process alterations, you can easily update the manual so the guide gets modified for anyone with the link.
Features of Scribe
Onboard new employees
Auto-generates business SOPs
Create training materials
Ask and reply to questions about ongoing projects
Transcribe audio procedures into text
Easily embed into any knowledge base or CMS
Enterprise-grade security and control
Edit screenshots, flag or hide off sensitive information, add text, custom branding
Step-by-step instructions
Screenshot annotations
Workflow configuration
Pros of Scribe
Instant process transcription: This feature saves a lot of time that would've been spent writing, and creating process steps in a detailed format to guide new hires and clients with peculiar inquiries.
With Scribe, you can quickly put together your staff training materials. All you have to do is turn on the extension through a few steps and create an amazing training resource for your team.
Scribe is intuitive and straightforward to use. The Scribe team has put thought into how businesses instruct new hires and employees to learn. You can make a tutorial for team members in minutes, as the entire recording process is simplified.
Scribe allows you to build step-by-step tutorials by capturing workflows in a visual format with less effort or hassle.
Editable workflows: You can adjust your recorded manual and add more details and information to your steps to make it more self-explanatory to your team members.
Cons of Scribe
Despite how it saves time by auto-generating guides for staff training, there's still an enormous difference between a human scribe and a tool, as the errors tend to inaccurately describe process steps. It captures what's not needed, and editing them is hard.
There's no single-user plan for you as a solopreneur.
The recording tracker tends to "ignore" certain operational steps. When trying to create SOPs, the software doesn't pick up on every URL link you click or webpage you open.
You can't edit an operational guide while recording, especially if you sometimes misclick a button or forget to prepare some things in advance. This means you'll have to review errant clicks after recording.
Scribe Pricing
Asides from the 14-day free trial plan Scribe offers, it comes with three different paid plans:
Basic plan: Free, includes individual projects only, and allows you to create unlimited guides and pages. Plus, it works with any web app, allows for quick customization, and it's shareable with links.
Pro plan: $29/month per user. This includes everything from the Basic plan, plus branded guides and customizable screenshots, and you get to export them to Confluence, HTML and Markdown.
Enterprise plan: Here you get access to everything in the Pro plan plus, SSO and directory sync, auto-redaction for sensitive data, knowledge base integration, document security, and custom quotation with knowledge base integration.
Dozuki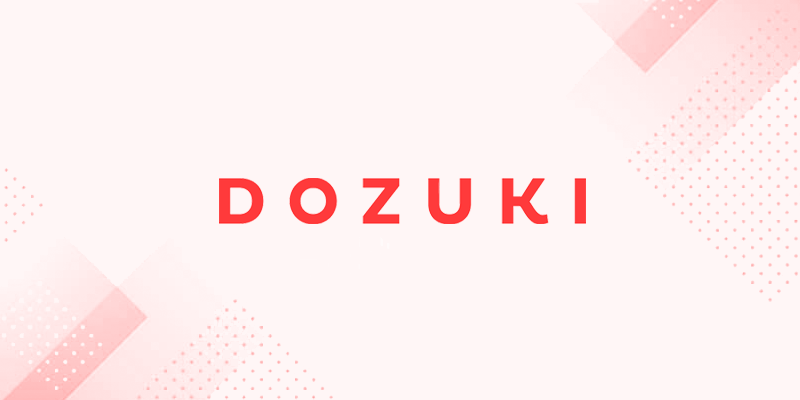 Dozuki is a web-based documentation tool for creating engaging training programs, managing compliance standards, boosting operational efficiency, and documenting business processes.
Dozuki enables companies to implement standardized procedures across their workforce and can carry out effective communication in your company through real-time business process updates.
In addition, Dozuki helps organizations attain ISO 9001 certification, abide by FDA regulations, and continue to be ITAR compliant with relevant advice that helps companies achieve their KPIs while maintaining the industry standards.
Features of Dozuki
Drag-and-drop editor
Process templates
Workflow and task tracking
Intuitive authoring
Automated assignments
API integration
Local hosting
Zip document uploader
Process analytics
Single sign-on
Supports over 80 languages and has a built-in translation tools
Pros of Dozuki
Excellent for employee training: Dozuki helps your company to fill up the skill gaps right off the bat. This helps you ensure high-quality staff training to a large extent while ensuring that your standard of operating procedures is still adhered to.
Saves time spent orienting new hires: With Dozuki, you can track the flow of information and assess employees' comprehension of their job description while they understand and comply with your company's processes.
Helps to simplify knowledge sharing: Dozuki helps to circulate knowledge within a company with ease since you can observe, update, and ensure appropriate procedure circulation. You can even attach images and videos to your manual process to speed up the learning process.
Easy to arrange: Dozuki makes organizing and storing business process documentation effortless. It even allows you to store zip-format documents.
Remotely reduces process authoring time: As you document your procedures, Dozuki allows you to convert them to a training handbook that several employees can use. This saves you from teaching each staff using different methods.
Cons of Dozuki
The price range is quite high:The pricing plan appears to be high, as it is based on the number of users. And another downside is even if some of your team members are not actively using the tool, you'll still be charged for them which reduces your profit margin, especially if you run a company with a large staff.
Knowledge check elements need fixing: You may experience limitations when using certain features in Dozuki, like the test grading system, training plan, and checklist preparation for each employee.
Lacks quizzing element: Dozuki does not have a quizzing feature, and it sometimes restricts workers from being updated with their onboarding documents.
Template configuration is inflexible: Although Dozuki provides you with process templates, you may face constraints while trying to configure certain items out of the box.
Dozuki Pricing
Asides from the free plan, Dozuki offers four pricing plans:
Basic plan: $17 per user, monthly (up to 50 users)
Essential plan: $14 per user, monthly (minimum of 120 users)
Premium plan: $12 per user, monthly (minimum of 250 users)
Enterprise plan: $10 per user, monthly (minimum of 400 users)
 The pricing plans of Dozuki largely depend on the number of users. However, contact the sales team to confirm the price that fits your business needs.
MaintainX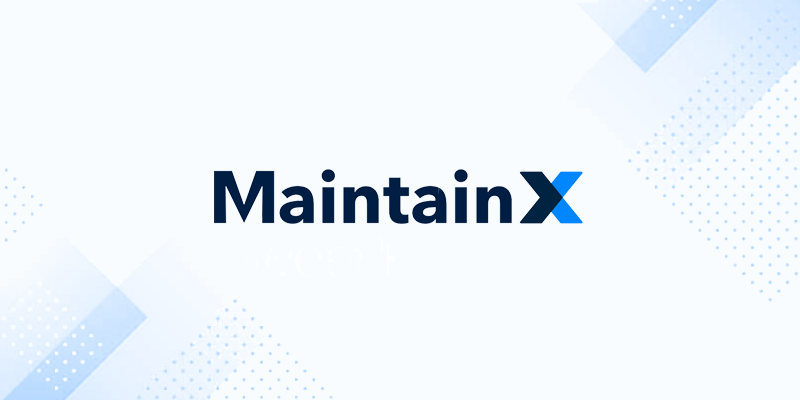 MaintainX is another great tool for streamlining digital workflows and reducing unnecessary paperwork in businesses. The goal of minimizing paperwork is to save you more time to crush your business goals. Ranging from giving real time business insights from the field, it helps operational managers become more productive.
MaintainX enables users to digitize paper operations such as safety, inspections, and checklists while receiving real-time data from the field. The tool is useful in the educational, hospitality, manufacturing, property management, and club markets.
Features of MaintainX
Tasks reporting function
Process checklists
Inventory and parts tracking
Build, assign, and handle work orders
Work requests approval
Attach files and PDF to work orders
Preventive maintenance
Free assets and locations imports
Offline mode
Time and cost tracking
Meter-based maintenance
Team chat feature
Pros of MaintainX
Easily build, assign, and monitor tasks: MaintainX allows you to articulate pending tasks via comments and real-time conversation. In addition, the user interface makes it simple to glance through work history and organize tasks based on priority.
Automate work orders: MaintainX enables you to handle projects more efficiently by pre-setting recurring work orders.
Standard review checklists: You can efficiently articulate SOPs to your teammates with MaintainX. You can also stipulate the due dates for important checklists and get instant alerts if inspections are past due.
Easier preventive maintenance setup: Just as the name implies, MaintainX makes it easy to sustain daily, monthly, or weekly repeated job processes. You can schedule recurring workloads to resolve possible issues before they hinder your company's operations.
Cons of MaintainX
Glitchy mobile app: The mobile app does not refresh and update data changes and revisions by default. This implies that you have to manually update the tool every single time you make a change.
Most key functionalities are only accessible on the paid versions. If you want advanced features like corrective actions, time tracking, offline mode, and more, you have to subscribe to one of their premium plans.
Adjusting the management system is time wasting: If you restart the SOP tool, you may burn way too much productive time waiting for it to restart.
Doesn't allow for long-term project scheduling: Although one can schedule a project over a long span of time, it tends to stop on its own. Hence, long-term project scheduling is not reliable.
MaintainX Pricing
MaintainX pricing is flexible based on various business needs. It offers both free and paid plans. The paid plans comprise Essential, Premium, and Enterprise packages.
Free plan: This is a good way to start if you want to test the program before making a financial commitment. It comes with unlimited work orders, messaging, two repeated work orders, five work orders with images, and two work orders linked with monthly procedures.
Essential plan: This plan is built for small businesses and goes for a monthly fee of $8.33 per user. With this, you get access to every functionality in the free plan, plus three work orders and attached procedures.
Premium plan: This plan goes for $32.50 a month per user and is created for small and medium-scale businesses. On this plan, you have unlimited access to everything in the Essential plan and some advanced features like purchase orders, parts inventory, offline mode, reporting work order filters, etc.
Enterprise plan: This is a customized plan that incorporates all the premium plan's features as well as other enterprise-level functionalities. Contact their customer support to get a pricing quote.
Tallyfy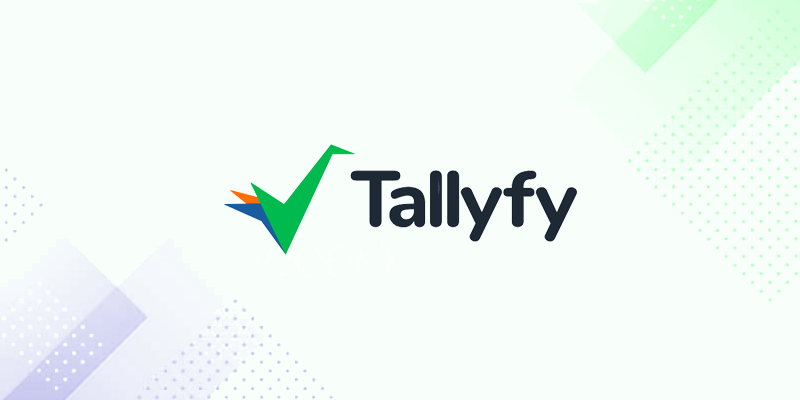 Tallyfy is workflow management software that allows you to automate continual processes in your company without complex documentation or coding of flowcharts and diagrams. It helps to supervise different processes in real time on a visual dashboard.
Within the dashboard, you can glance through all the pending tasks or requests and save time that would've been spent sending work emails and chats. Tallyfy also comes in handy for client-facing employees and internal workflows.
Features of Tallyfy
Below are some key features of Tallyfy:
Business process automation
Business calendar manager
Real-time workflow tracking
Data view in charts or tabular format
Create client-facing workflows that show ongoing tasks
Automation and workflow management
Process change tracker
Tracking and assigning tasks
Task approval and reject buttons
App integration with Gmail, Slack, Power BI, Zapier, and Outlook
Automated role supervision for efficient collaboration
Pros Of Tallyfy
Makes it easy to create forms for routing and data collection through different workflow solutions
Free 14-day trial period
Every team member can track the process status at any time
Tallyfy displays or hides tasks according to priority
Customer support, either through the website, email, or call
Cons Of Tallyfy
The platform is inflexible in customizing your dashboard.
The interface isn't fast, and it slows down productivity.
You'll have to create workflows from scratch as the platform doesn't have pre-built process automation templates.
Their website UI is not visually appealing to some subscribers. A non-visual interface can discourage some users.
Tallyfy Pricing
With Tallyfy, you can pay for the monthly or annual plan. Their software plans are into two categories: Tallyfy Docs and Tallyfy Pro.
Tallyfy Docs: If you opt for Tallyfy Docs, you will be charged $5 for each member monthly or $500 per person annually. This plan allows a minimum of 10 team members and additional unlimited guests.
Tallyfy Pro: This plan goes for $30 per user if you pay monthly and $300 per member annually. With a minimum of four members, this plan allows you to bring in unlimited guests.
Whether you go for Tallyfy Pro or Docs, you stand the chance of enjoying two months for free when you subscribe to an annual plan.
To see how this SOP tool works, you can sign up for a 14-day free trial period to be sure their features meet up with your expectations, and if it's ideal for your company's needs.
Process Street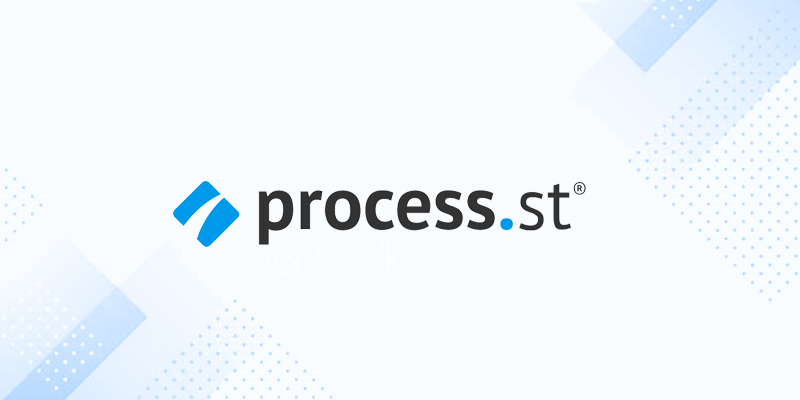 Process Street is a business process management platform that allows teams to create, share, manage and transform their core processes into powerful no-code workflows. It's a fully web-based tool that works like a project manager, time manager, and tracker.
Ranging from employee onboarding, setting up new hires for success, to building many workflows like employee onboarding, client onboarding, and talent screening, it's one of the best alternatives to ProcessMaker for day-to-day business process management.
Features of Process Street
Customizable business process templates
Collaboration feature for easy sharing among teammates
Complete process view of all workflows to see how they interact
Project, activities, and task tracking with Gantt charts or timeline views.
Software integration with other apps
Employee onboarding platform
Team knowledge documentation for new hires
Create procedure documents in seconds
Process approval
Forms for structured data capturing
Schedule recurring workflows
Pros of Process Street
Process Street allows you to create and share processes or documents for your teammates, so you can "spy" on them to be sure they've completed their work.
The activity feed will inform you as soon as someone finishes a task.
With the conditional logic element, Process Street allows you to render dynamic and elegant checklists and workflows that comprise the popular "if/then" logic.
With the Zapier integration, Process Street enables you to connect over 1,000+ apps for efficient workflows.
You can manage recurring workflows and send daily reminders to all members within your dashboard.
Cons of Process Street
Although it is a web-based app, Process Street is only found on the iOS app store. Unless you're an Apple user, you don't have easy access to your SOPs and are unable to monitor your teammates' activities while you're not in the office.
Process Street is costly, especially if you're just starting as a small company. Even though it offers a 14-day free trial, the pricing starts at $25 per user every month, and any extra users attract more charges.
Process Street is hard to work around. As a new user of the platform, it's tricky to operate the software, and having to learn the ropes might cut down some of your productive time.
It's time-consuming. if you want to save time and duplicate an assigned task, Process Street won't allow you to move the task from one workflow to another.
Because of its glitchy user interface, you can't easily give out permissions to sub-folders without affecting the main folder it's linked to.
Process Street Pricing Plans
Process street has three pricing plans:
Free plan: Also known as the "Free forever plan", this plan enables you to run a single active workflow as a member, and you can add unlimited members for pages. You can sign up for their 14-day free trial. However, its file capacity is limited to 5 MB.
Pro plan: This plan costs $25/month and lets you build an unlimited workflow, role assignments, pages, workflow runs, task permissions, role assignments, etc. It comes with unlimited storage and a capacity of 100 MB/file.
Enterprise: This plan is customizable, and it includes all the features in the Pro plan, but you have to contact their support team to get a personalized quote.
ProcessKit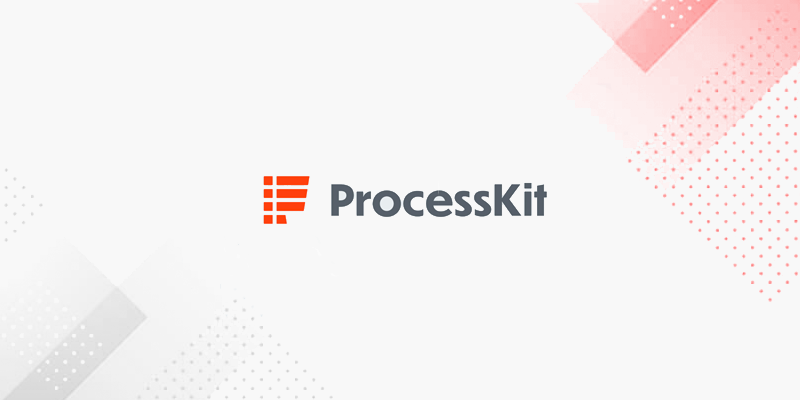 ProcessKit is a business process management tool built to help you simplify your processes and keep track of their progress. It integrates with Zapier, a third-party automated workflow tool, and allows you to customize your processes based on your taste.
ProcessKit brings your company's system operating procedures together with your projects to enable your team to automate and streamline continuous tasks, track project progress, and speed up your productivity. And like virtually every other SOP tool in the market today, it offers the following features.
Features of ProcessKit
Customizable process templates
Automatic progress notification
Process automation
Progress tracking at every stage
Integrate everything with Zapier or webhooks
Preload tasks with instructions, videos, and dynamic content
Delegate onboarding tasks
Dashboard creator
Restricted access option to specific tasks
Create reports from different tasks, comments, and projects
Pros of ProcessKit
It enables you to create projects in various templates and then adapt them based on particular needs.
It is a web tool, and anyone on your team can access it from anywhere.
Tasks and comments can be tracked. You can trace all assignments, suggestions, or contributions from every team member who says something on an ongoing project.
ProcessKit enables you to build projects in different templates.
ProcessKit also allows you to integrate with Trello, Slack, Asana, and GitHub.
Cons of ProcessKit
Customer support is only available via email. If you need emergency assistance or have an urgent inquiry to make, you'll have to email them and wait for their response, because you can't text them using a chat box or phone call.
You have to create your business processes from scratch, making your entire business process documentation harder than necessary.
There's no android version. For now, you can't find the Process Kit app on the Google Play Store.
The setup is tricky, especially for a first-time user. The learning curve might be steep for you as a new user.
It does not have a desktop version. Unfortunately, while it's accessible on iOS devices, you can't access the software using a desktop device.
ProcessKit Pricing
ProcessKit offers a 14-day free trial (no credit card required) and goes for a monthly fee of $49. It enables you to handle unlimited projects, processes, and tasks.
You can use it among three team members and add unlimited guests. In addition, it costs an extra $19 per month for every additional team member.
Here's How SweetProcess Can Make it Easy to Document Your SOPs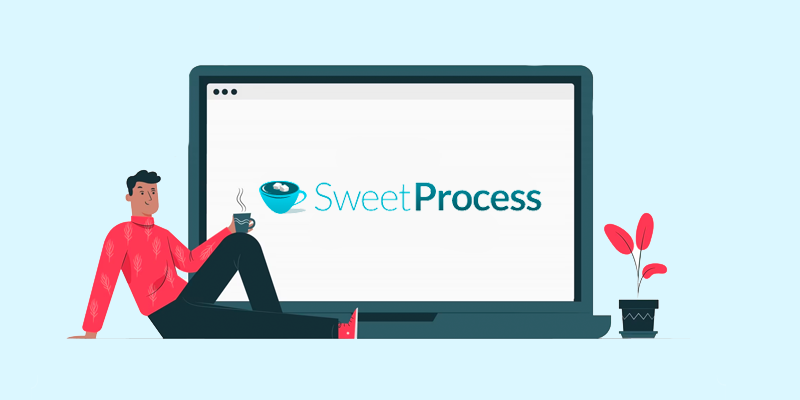 SweetProcess is a business process management software that enables users to effortlessly build, document, and manage SOPs. It also helps to assign and track tasks, track employees' performances, and create an expert knowledge base that trains employees on their tasks.
For example, Sarah Brenner, the director of quality assurance at Belvidere Community Unit School District 100, was entrusted with organizing their business operations. This entailed making her expertise accessible to both parents and guardians. But the organization didn't have the structure to effectively create, store, and put out its standard operating procedures.
Even though they've documented some SOPs, they were mostly stored in Word and Google Docs. The files were disorganized, cluttered, and most staff members didn't even notice such documents were accessible. Hence, Sarah had to find an answer, and that was when she found SweetProcess.
It's been over two years now, and Belvidere Community Unit School District has been profiting from having a single knowledge base and efficient employee onboarding platform. 
Here's another instance of how SweetProcess helped document SOPs.
Kevin Trapp, the director of operations at Forensic Analytical Consulting Services Inc, is tasked with the role of maintaining efficacy and consistency in the company. But as they launched different branches, ensuring consistency across the organization became hard.
Even though they had SOPs, their operating procedures were not helping them streamline their operations, and their staff would rather not follow such complex guides.
In his words:
"In a previous world, we were using PDF files for documenting SOPs. I guess the fact that we were doing it was a good thing, but the challenge was it would just sit on our server, buried in a folder somewhere. We would refer to it in emails, but frankly, I was confident that nobody was actually looking at it."
It became obvious that their agency needed an efficient system.
He searched for a suitable system and found SweetProcess. Since then, their productivity and consistency in operations at the organization became better.
According to Kevin, SweetProcess has been a game changer in the organization. He even has this to say:
"I was excited when I found SweetProcess. It was robust enough to complete what I was trying to accomplish, but it was also simple enough that it didn't overwhelm any of the users or any of the management team in trying to help them understand what the vision was. And the rest is history."
If you want to see how it works in real-time, you can actually do that without paying a dime during the 14-day FREE trial period. Click here to sign up for a free trial of SweetProcess now!
Conclusion
There are several substitutes in the marketplace to help you get around ProcessMaker's limitations. Most of these tools either have a decent mobile app, responsive customer support, intuitive UI, fewer software bugs, accurate task tracker analytics, or infrequent onboarding issues.
Each of these ProcessMaker alternatives have a distinctive use case. Simply go through the list and pick the tool that is fit for your needs, budget, staff count, or specifications. However, SweetProcess stands out, because it gives you access to:
Build procedures, policies, and processes
Embed files and videos
Assign and track employees' task progress.
Print documents offline viewing
Edit images and screenshots
Sign up with just a few clicks
Collaborate with your teammates in real-time
Centralize company knowledge base
Pick and adjust SOP templates
Manage tasks using tags
Track version history
Generate progress reports
Integrate with Zapier + 1,000 apps
Email and mobile support
Want to see how SweetProcess can help you seamlessly document your system of operating procedures without the usual boring and manual work? Sign up for a 14-day free trial of SweetProcess to decide whether to subscribe if you like it. No credit card information is needed.