Dokit Alternatives: 13 Best Platforms to Help You Organize Your Business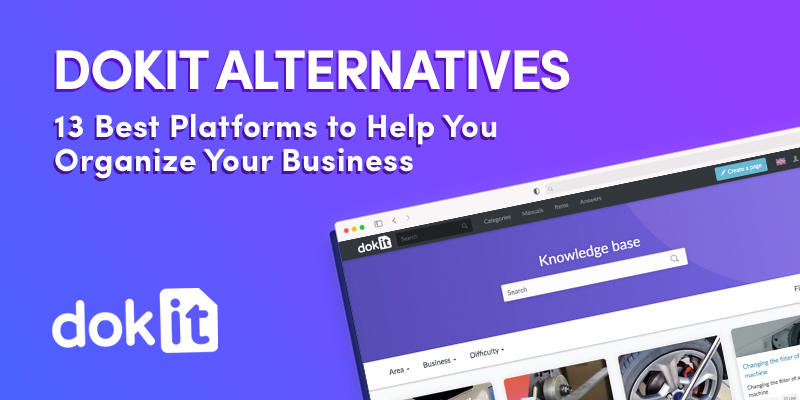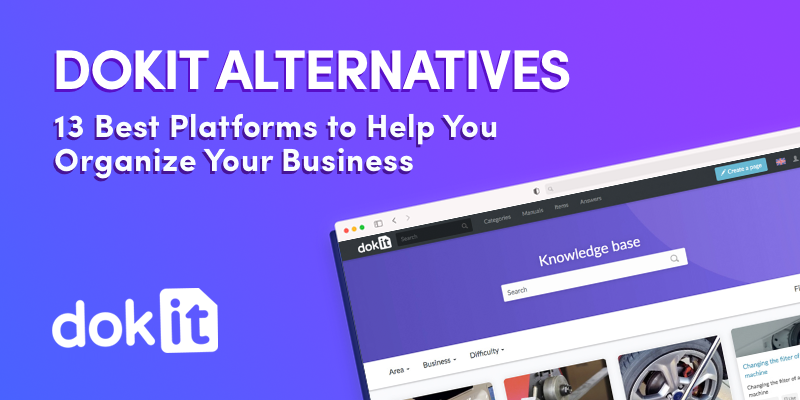 An electronic document management system (EDMS) is essential for a business to stay organized.
For easy accessibility of documents and collaboration, it's important to have an EDMS that is easy to use and provides a rich set of features.
When choosing the best platform, many organizations consider factors like ease of use, availability on mobile, and pricing. Dokit is one of the leading EDMS solutions today, but it's not perfect. There are plenty of alternatives to consider.
Some users complain of limited features like a lack of in-product messages and checklists when using Dokit. Others report Dokit doesn't offer interactivity.
For these reasons, we have compiled a list of Dokit alternatives that offer a variety of features that may better suit your business's needs.
Table of Contents
The Ugly Side of Dokit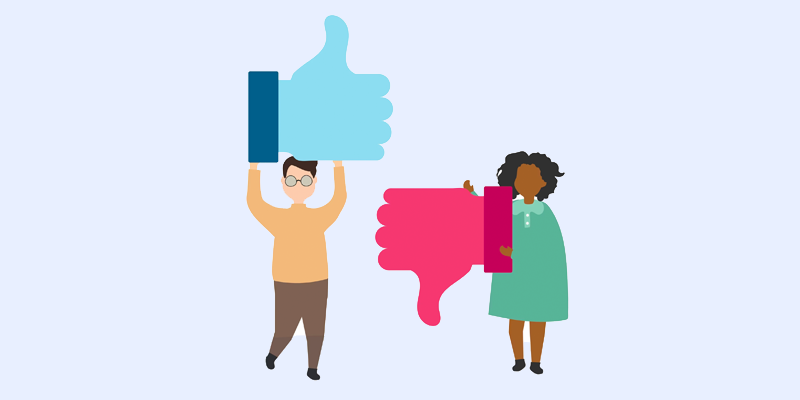 Before we dive into Dokit alternatives, it's important to discuss Dokit's downsides. What is it that makes Dokit an unattractive solution for some? Here are some of Dokit's biggest drawbacks.
Dokit Can Be Expensive
Depending on the size of your business and the features needed, Dokit can be quite costly.
The Dokit Starter package starts at $60, providing the following:
Single author
Unlimited readers
Unlimited content entries
10 GB of storage
However, this pricing is above the industry average for electronic document management systems, which is $18.23.
This makes Dokit not only expensive but also less budget friendly for smaller businesses. Dokit does not offer customization of plans.
Limited Free Trial Features
Dokit offers a 15-day free trial, but some features are limited. You won't be able to access its comprehensive feature set.
It is, therefore, difficult to test Dokit's features to determine if it is the right fit for your business.
Price for Custom Integrations
Integrations are key for Dokit users to connect with other tools and platforms. Dokit charges an additional fee for custom integrations.
This makes Dokit costlier than most competitors and can be a hindering factor for small and midsize businesses looking for a budget-friendly solution.
The developer determines the additional pricing.
Full Functionality of Features Requires a Web Browser on a Computer
To fully access Dokit's features, you must use a computer and a web browser.
For example, to manage the dashboard and create projects, Dokit requires a computer web browser. Dokit's mobile app doesn't provide all the features available on desktops. This makes Dokit less appealing to users who prefer using their phones or tablets for work.
And in today's world, people prefer solutions that are equally accessible on all devices. Dokit doesn't offer this flexibility considering mobile access has become a must-have feature for most businesses.
Requires One to Be Tech-Savvy to Integrate More Plugins
Integrating Dokit with third-party plugins requires technical knowledge.
Dokit has a powerful API, but it can be difficult for non-technical users. The API requires developers to build web services and custom code to integrate Dokit with the desired plugins.
Therefore, Dokit may not be suitable for businesses looking for an easy-to-use and customizable electronic document management system.
Dokit Doesn't Provide Training Materials
Dokit doesn't provide training materials to familiarize users with the system. It has a comprehensive knowledge base but doesn't offer resources such as tutorials or webinars.
Although they have a hotline for support, they don't offer any training materials to users. Therefore, users must rely on their knowledge and experience to use the product. This may be challenging for businesses that are just starting.
Given Dokit's drawbacks, let us look at Dokit alternatives to help you choose the best tool for your business.
1. SweetProcess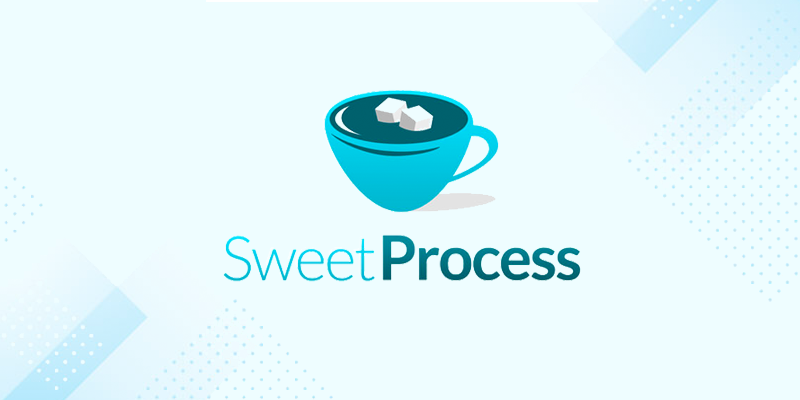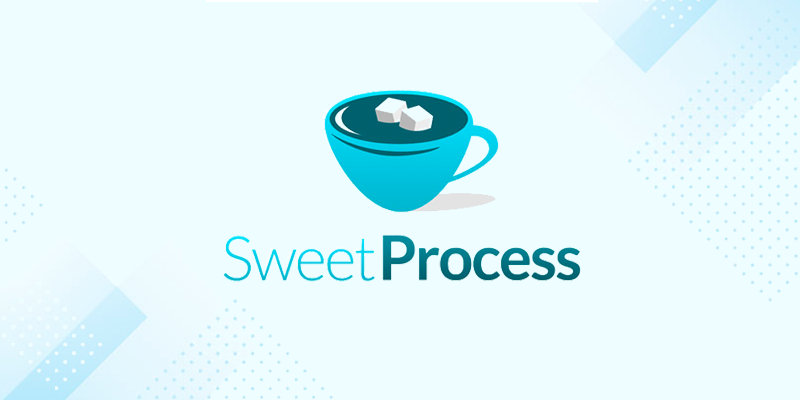 SweetProcess is a business process management software that helps you create, document, and automate processes. It includes process mapping, task assignment, and process automation tools to help streamline your business operations and improve efficiency.
Some use cases for SweetProcess include creating and managing standard operating procedures, automating repetitive tasks, work instructions documentation, and creating knowledge bases.
SweetProcess is designed to be user-friendly and easy to use for businesses of all sizes.
To help you get started, SweetProcess offers a 14-day trial with no credit card needed. This allows you to test the platform and determine if it meets your needs before committing.
Some key features include:
Document procedures: Procedures help you document your company's manuals or user guides.
Team collaboration: Team members can collaborate and discuss processes to ensure everyone is on the same page.
Task assignment: You can assign tasks to team members and set deadlines. The platform groups your tasks into "Overdue," "Today," and "Soon" categories.
Integrations: SweetProcess offers a range of integrations with third-party applications (over 1,000 apps), which helps you bring all your data together in one place. You can integrate with apps such as Slack, Microsoft Teams, Mailchimp, Gmail, Evernote, etc.
Version history: This tracks all changes made to processes, procedures, and policies, so you can easily refer back to previous versions. This is especially essential if you need to try out different versions of your processes.
Single sign-on system: Allows users to access the platform from any device.
Mobile access: The SweetProcess platform is also optimized for mobile, so users can access it on their phones and tablets. This makes it easy for your team to access, comment on, or update processes while on the go.
Some features, like integrations, make SweetProcess easier to use compared to Dokit. The user doesn't need to be an expert in coding or web services to integrate SweetProcess with their existing tools, making it a great Dokit alternative.
SweetProcess Pricing
SweetProcess believes in a "fair and simple pricing model." They charge you for the people using the platform at any given time. In cases where a user in your organization becomes inactive after some time, they will send you prorated credit for the unused time.
The plan starts at $99/month and allows up to 20 active users. For any additional active member, you pay $5 per month.
What if you want to pay annually? You will save 16%. The plan will be $82.50 monthly for up to 20 active members. For any additional active member, you pay $4.17 per month.
You also get a 30-day money-back guarantee if you find SweetProcess isn't the Dokit alternative for your business.
If your team has less than 20 active members, reach out to SweetProcess and they will work with you to come up with the most suitable plan for your current needs.
In conclusion, SweetProcess is an affordable Dokit alternative with a range of features that make it easy to use and customize for businesses of all sizes. It's a great option for those looking to automate their processes and streamline their operations.
How to Create Visual Step-By-Step User Guides Using SweetProcess
SweetProcess makes it easy for you to create user guides or standard operating procedures for your organization. When creating procedures and processes, SweetProcess automatically creates flowcharts for you. This helps team members better understand how to complete tasks most efficiently.
The platform also allows you to add text and video content to your user guides, which helps users quickly get up to speed on the process.
To create a user guide/procedure, log in to your SweetProcess account and select "Create Procedure."


Give the procedure a title. Click "Add to teams" to assign the procedure to a team or different teams.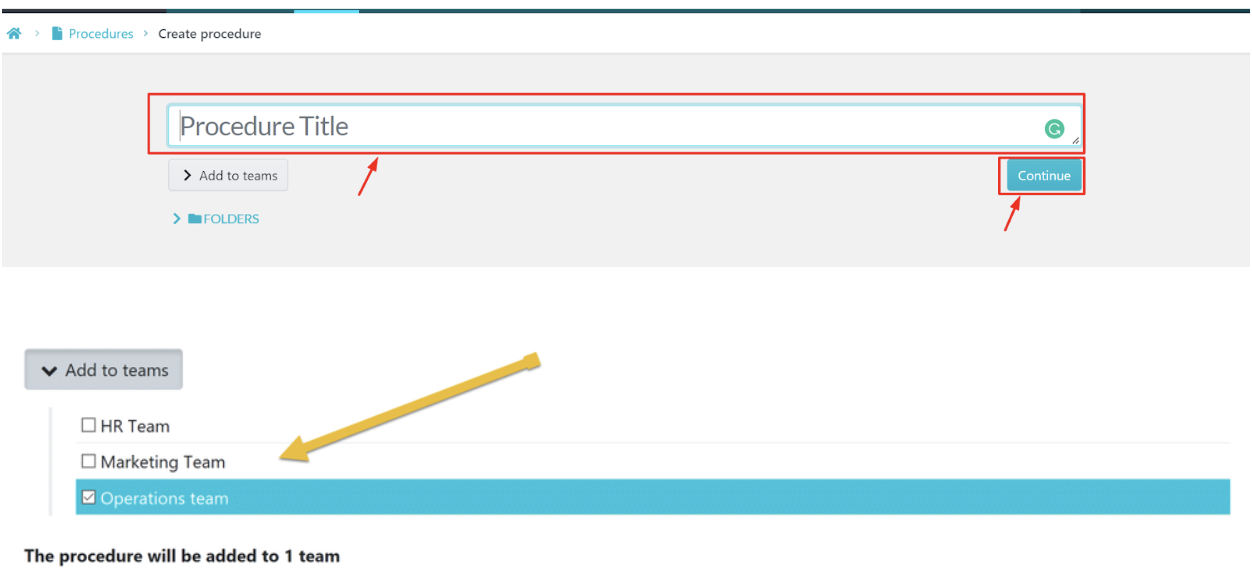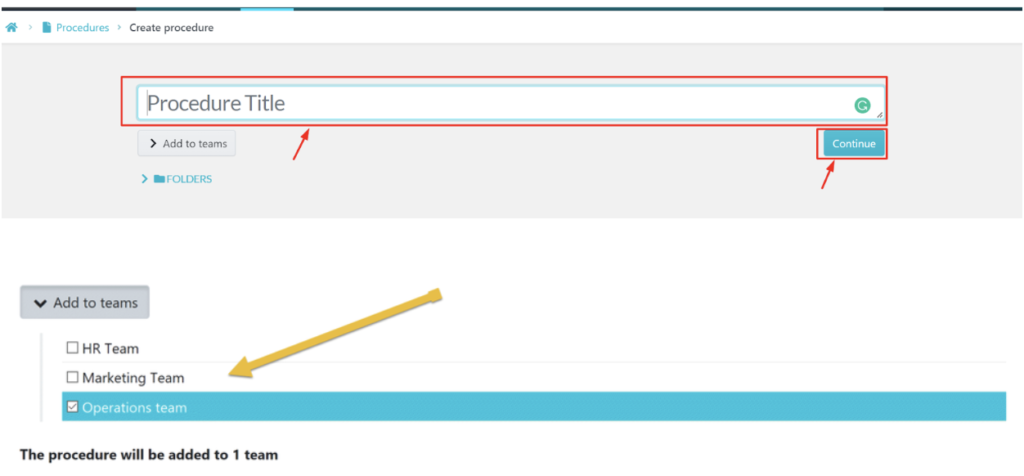 Next, add the description to your procedure. In the description panel, you can add tags, images, embed videos, and add steps. This allows you to create detailed instructions for your user guides.

Once you have added the description, click "Add Step" to add steps to your procedure.

To save the draft, click "Finished Editing." To make the procedure live, click "Approve" in the top right-hand corner.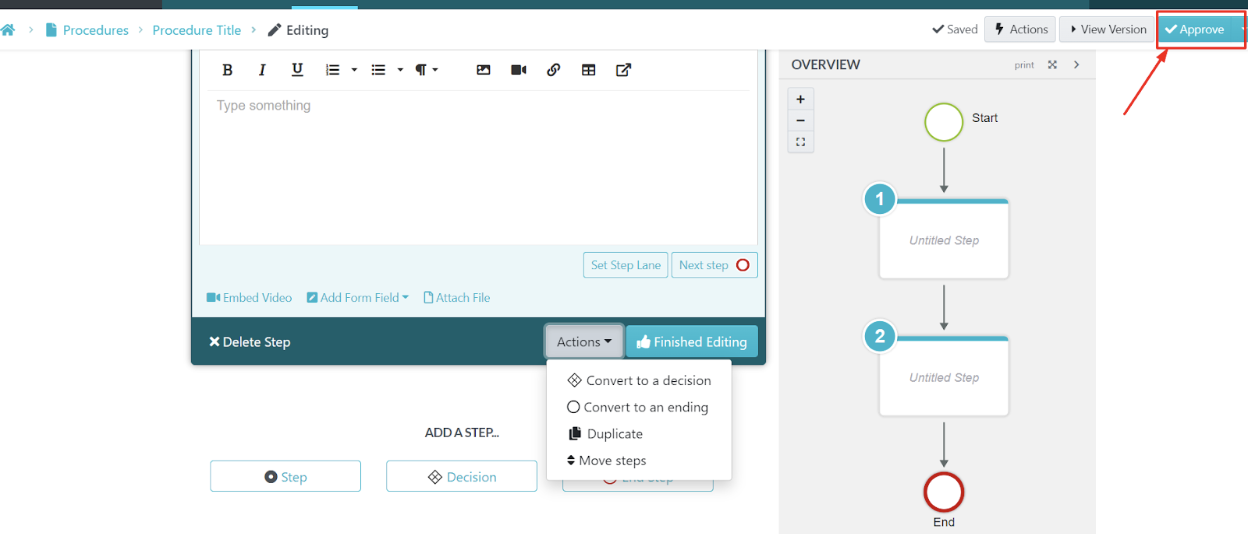 Now you have created a user guide using SweetProcess.
How to Assign, Monitor, and Track Tasks Using SweetProcess
You might need to assign tasks, monitor progress, and track performance in your organization. SweetProcess makes it easy to do this with its task management feature.
With this feature, you can assign tasks to individual users or teams. You can also set deadlines, add comments, and attach files related to the task.
The platform also allows you to monitor progress and track performance. You can easily see the progress of a task and which users are assigned to it.
To assign tasks, log in to your SweetProcess account and click "Tasks." Select "Assign Task."

Next, choose the task to assign from existing procedures or processes, or you can create a new procedure by clicking "Add New Procedure."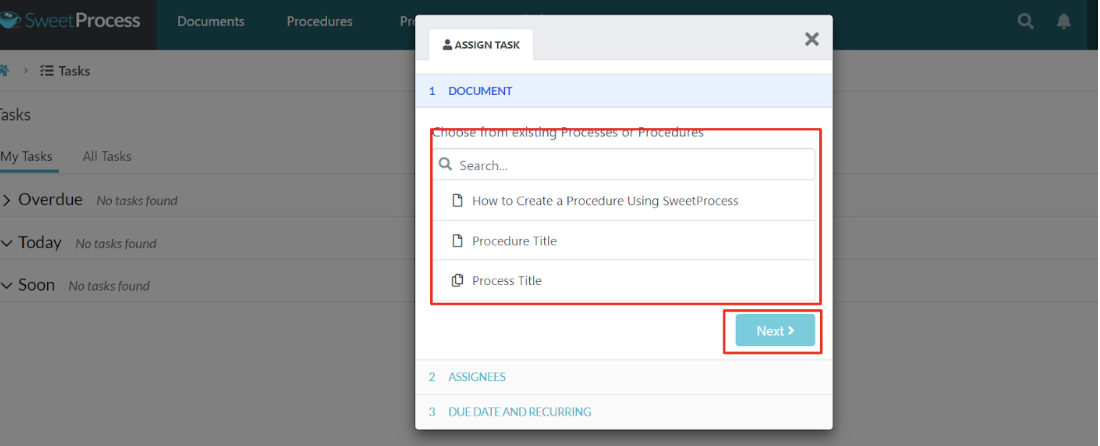 Assign users or teams. Teammates can be assigned tasks together, or they can be assigned their own tasks. You can also assign tasks by role.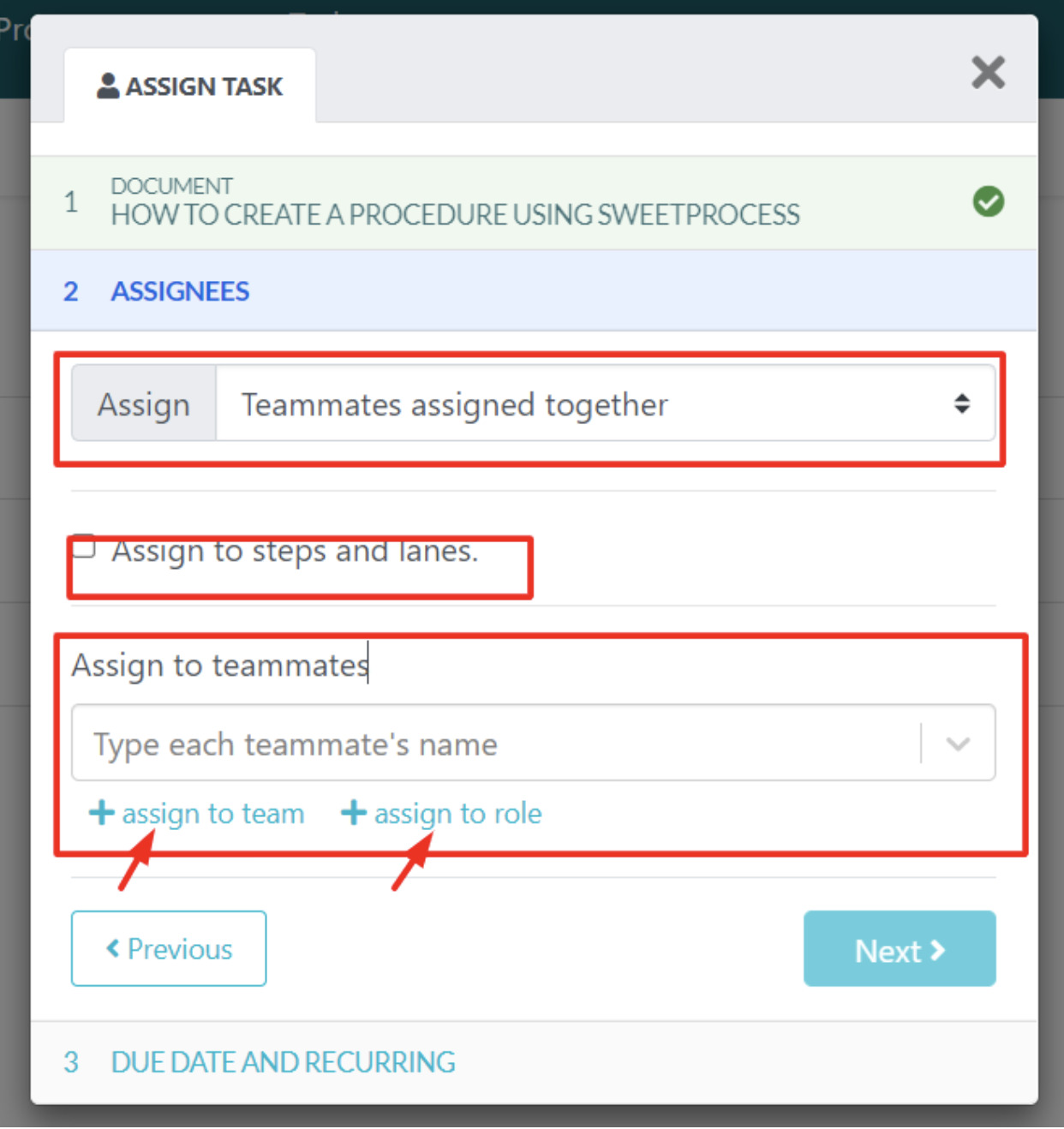 Click "Next" to add the due time and date. You will also name your task at this stage. For repetitive tasks, click on the "Repeat" button to get a drop-down box to choose how often you want tasks repeated—once only, daily, weekly, monthly, or yearly.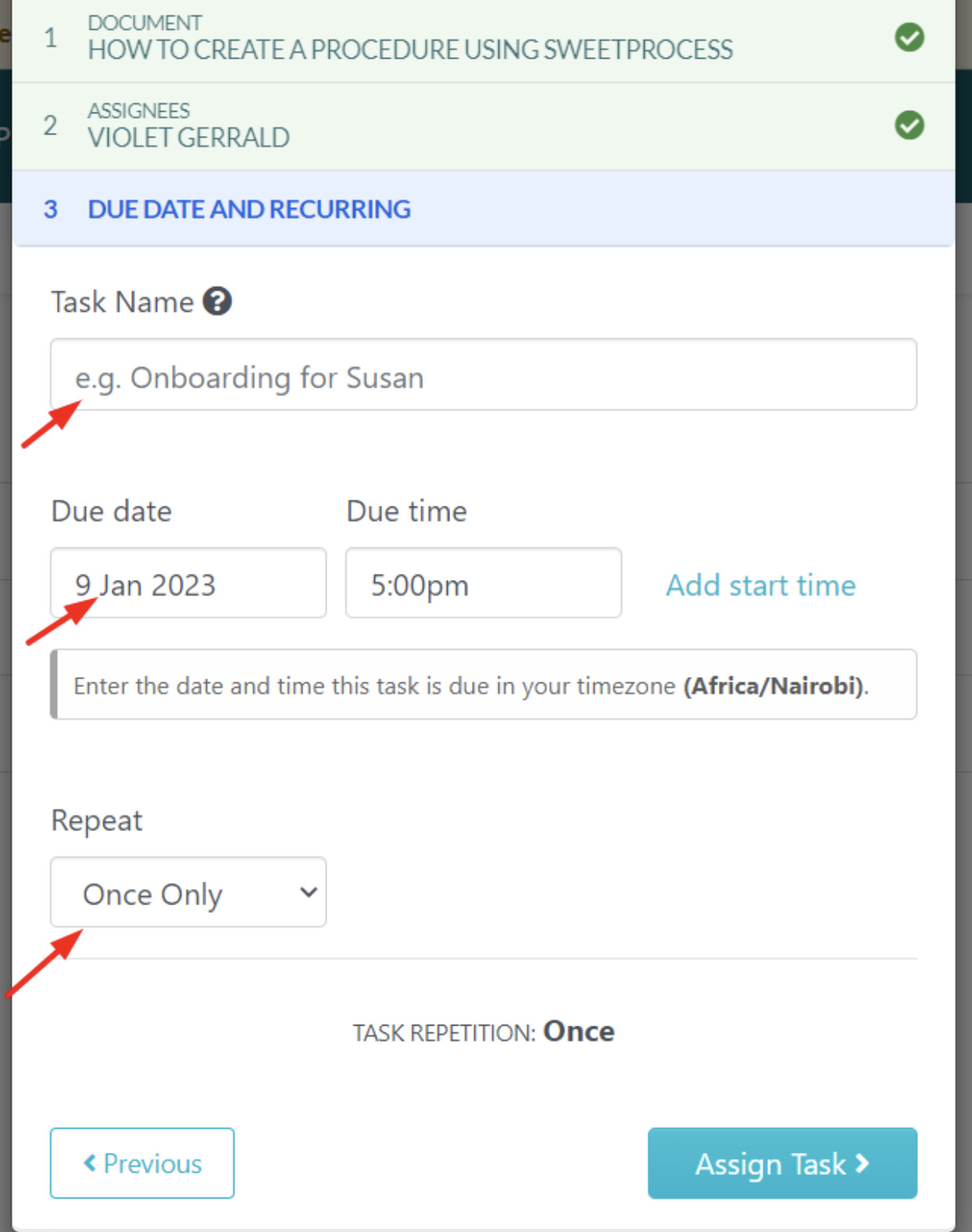 All assigned tasks will be under the "My Tasks" dashboard. They are grouped into "Overdue," "Today," and "Soon" categories. This helps you quickly identify which tasks need to be completed and when they are due.

To monitor the progress of a task, users are notified when they are assigned tasks. When they log in to their SweetProcess account, they will see all the tasks assigned to them under "My Tasks."
SweetProcess offers a checkbox on the far right side of each task, ensuring you can easily monitor who has finished what and which tasks are still awaiting completion.
When employees are done working on a task, with a simple click to mark it as done, the status changes from "Started" to "Completed." Therefore, task management is made straightforward.

Step-by-Step Flowcharts Are Created Automatically in SweetProcess
When creating processes, SweetProcess automatically generates a flowchart for you. This allows you to visually represent your processes with flowcharts that are easy to understand. Team members can then see how the process works, making it easier for them to identify potential areas of improvement.
The flowcharts also make it easy to spot redundant and unnecessary steps. This helps you streamline your processes and ensure they are more efficient.
When creating a procedure or a process, on the right-hand side of the page you will see "Overview," which shows the flowchart of the procedure or process you are creating.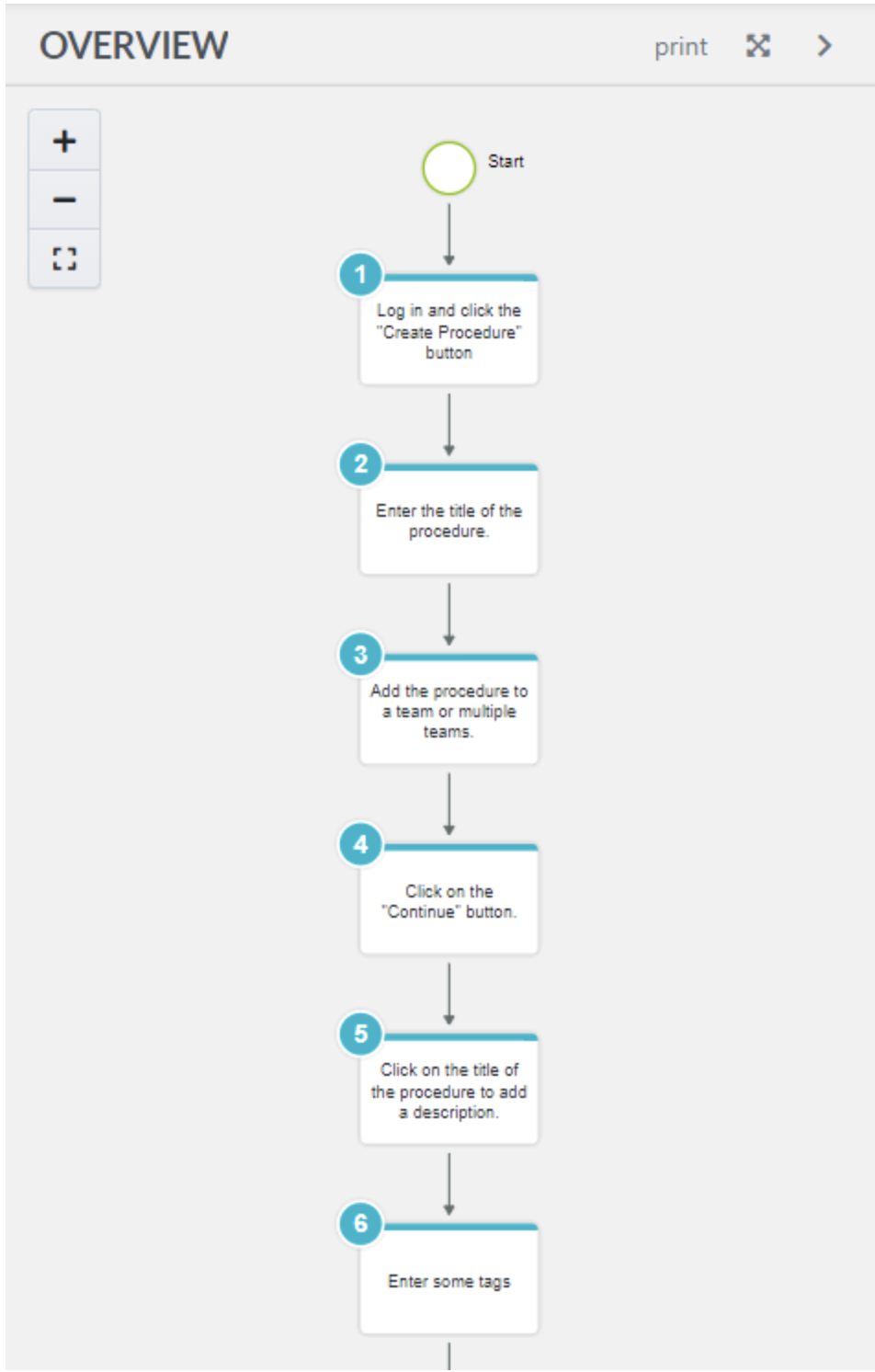 You can download the flowchart as an image file to use in presentations.
SweetProcess Allows You to Export Documented User Guides or Procedures
Exporting processes and procedures to access them outside of SweetProcess is really easy.
The platform allows you to export the user guide or procedure in PDF, Microsoft Word, or HTML formats.
To export a procedure, click on the "Procedures" tab to see all the procedures on your dashboard. On the right-hand side of the procedure you want to export, click on the three horizontal dots.
On the menu appearing, click on "Export." Choose the format and click export.

How to Create Manuals Using Knowledge Base Feature in SweetProcess
A knowledge base is a well-organized repository of data. The information is organized and structured to enable easy access and retrieval.
The knowledge base feature in SweetProcess helps you create comprehensive user manuals quickly and easily. These manuals are especially essential when onboarding new team members.
Also, the knowledge base can be set to be public or internal to your organization. It is also organized into categories and subcategories for easy navigation.
To create a manual, click on "More." On the drop-down menu, click "Knowledge Base." Name your knowledge base and click "Continue."

On the next page, click "Control Access." On this option, choose whether you want to make the knowledge base public or private. You can also choose whether you want to receive feedback from the public or your team when the knowledge base goes live.

Next, click "Create Category." Choose a category from the drop-down list, give it a name, and click "Continue."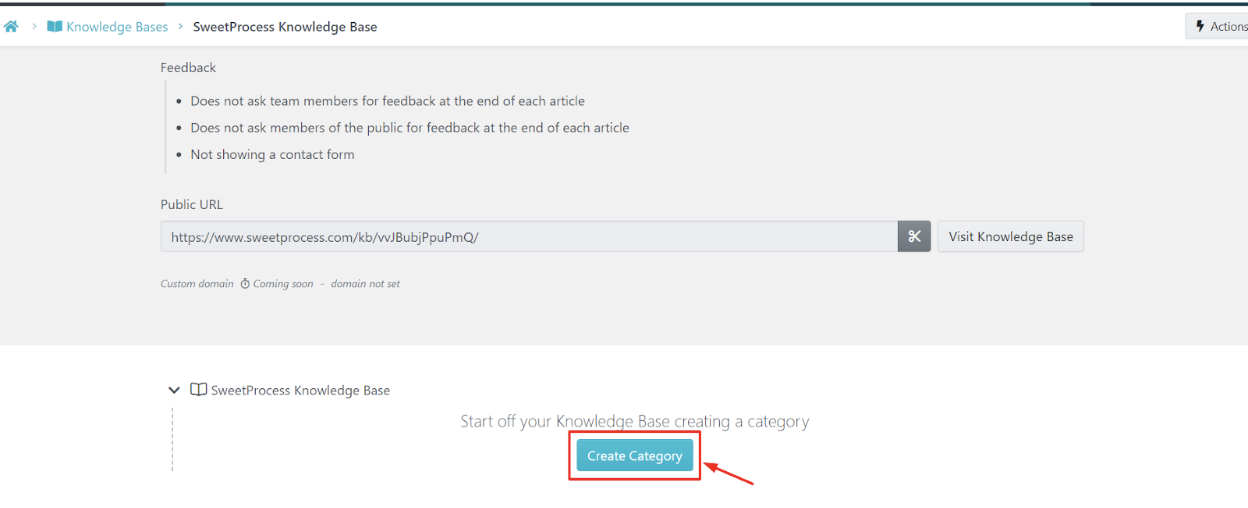 To add existing procedures and processes to the knowledge base, click "Add New Article." Then choose the procedure or process you want to add.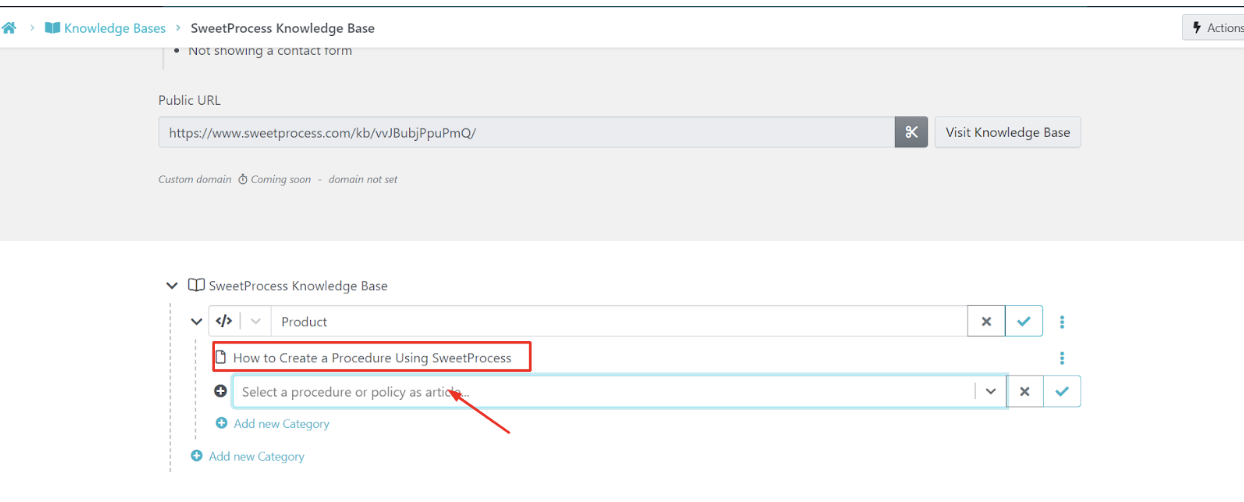 Click "Done" to save your changes. Your knowledge base is now ready to be shared with your team members or customers.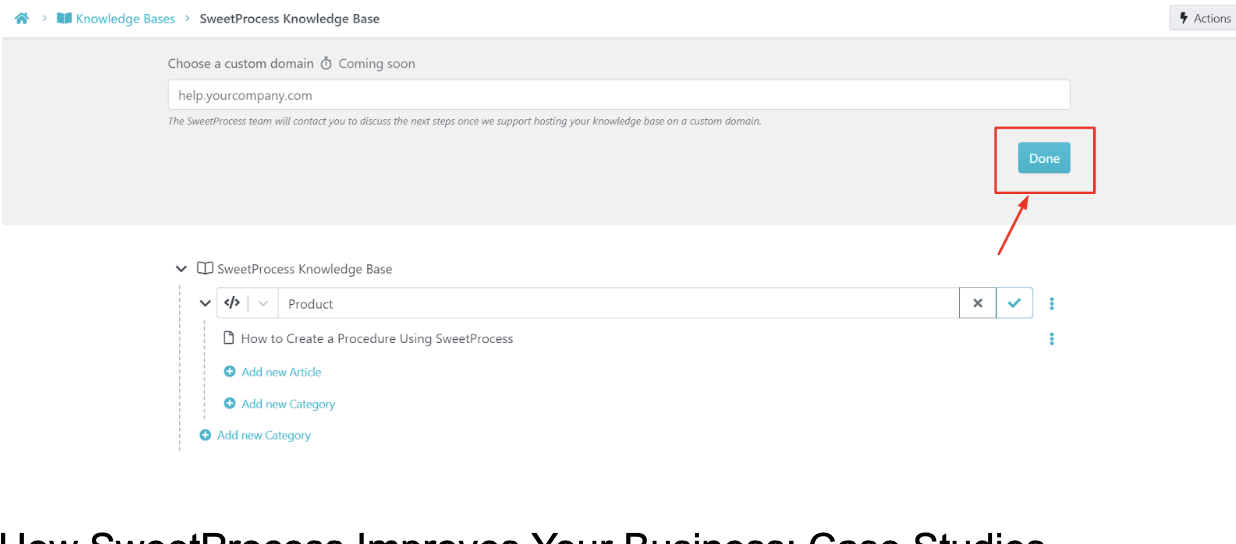 How SweetProcess Improves Your Business: Case Studies
You might be wondering why SweetProcess is our top Dokit alternative. We have already explained its core features, but how do these apply in real-life scenarios? Here are some case studies to help you understand the power of SweetProcess.
Case Study 1: How pLink Leadership Used a Knowledge Base to Streamline Operations
pLink Leadership is a virtual executive coaching and leadership development company that helps businesses accelerate their growth.
Before using SweetProcess, pLink Leadership documented their processes in a Word document. The 85-page document they started with was so big that it frustrated their team members. It was so hard for an employee to find the information they needed. This documenting method was inefficient.
To add salt to the wound, as the business grew and processes increased, the information became outdated, and it was a nightmare when they tried updating the information. This further slowed down their operations.
Chief Design Officer Jennifer Schneider set out to find a solution for the mess. She discovered SweetProcess. She was impressed by the software's adaptability to different industries and its user-friendly interface.
"From a user-friendly interface to really understanding a lot of the programs that I found out there, they're online, but they were meant more for like a mechanical industry or something that was very step-oriented."
—Jennifer Schneider, Chief Design Officer at pLink Leadership
With SweetProcess, pLink Leadership was able to:
Organize creating and updating documentation: They were able to organize their processes and automate the documentation and updating of procedures.
Create a central knowledge base: Employees could access processes, procedures, and policies in one central place. This helped the team execute tasks efficiently without mistakes.
Onboard and train employees seamlessly: pLink Leadership was able to onboard and train their new employees in no time. The employees could easily search and quickly find the information they needed. In case of additional questions, they could pop on a conversation with the training team.
Integrate with existing systems: pLink Leadership integrated SweetProcess with their existing systems. This gave them a unified system that enabled them to create, edit, and update processes faster.
Improve collaboration and knowledge sharing among team members
Case Study 2: How TechQuarters Streamlined Their Business Procedures and Processes
TechQuarters is an IT company based in London that helps businesses leverage cloud technology to meet their IT needs.
As TechQuarters began to grow, they realized they needed to implement a central system to document their business processes and procedures. This would help them streamline their operations and onboard and train new employees without hassle.
To avoid the mistake that most small companies make when scaling, Mark O'Dell, operations director at TechQuarters, decided to look for the right workflow software to document their procedures and processes. That's how he stumbled upon SweetProcess.
One of the features that impressed Mark was the flexibility that SweetProcess offers.
"It allowed us to bring different types of media and different bits and pieces into the system."
— Mark O'Dell, Operations Director at TechQuarters
With SweetProcess, TechQuarters was able to:
Create an organized and centralized knowledge base: They created a central repository for all their business information. This enabled them to easily access the information they needed and update the processes whenever necessary.
Effectively document processes and procedures: TechQuarters uses spreadsheets and Microsoft Word documents to document their processes. This made it very hard to retrieve and update information. SweetProcess enabled them to document processes quickly and easily, making the job easier for the employees.
Improve collaboration: Some employees are more experienced in certain tasks than others. With SweetProcess, these employees could share their knowledge and expertise with the entire team. This is especially important when it comes to handling clients' requests.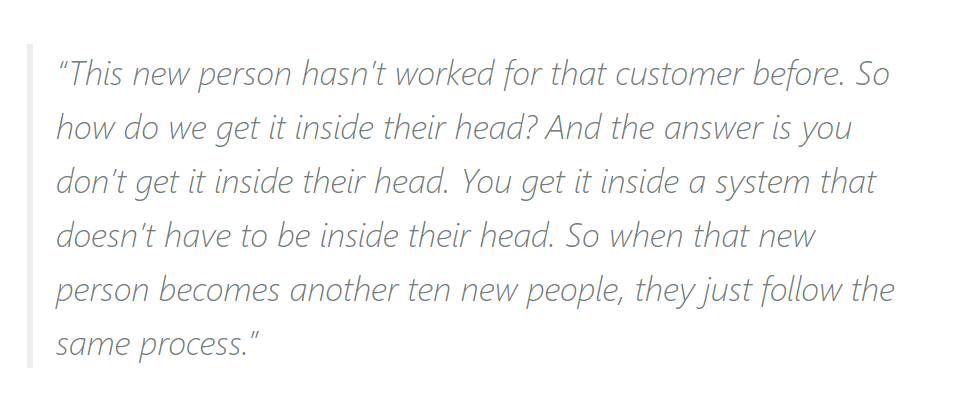 Training, onboarding, and offboarding became easier: New employees could easily access the knowledge base and quickly learn the processes without making mistakes. For a team of new hires, TechQuarters ensured they were all on the same page and going through the same process. In addition, when an employee left the company, TechQuarters could make sure the person left without taking any confidential information. They quickly reviewed and removed the employee's access from all systems.
Create document versions: Some tasks require different versions of processes and procedures. With SweetProcess, TechQuarters was able to quickly create, review, and update multiple versions of documents which would almost be impossible when using manual documentation.
Case Study 3: How Spark Marketer Used SweetProcess to Document Their Standard Operating Procedures
Spark Marketer is a digital marketing agency that helps small and medium-sized local businesses grow through targeted marketing campaigns. It works mostly with chimney businesses.
One of the major challenges faced by the organization was a lack of documentation, leading to a reliance on tribal knowledge. This brought disorganization in the workplace. Employees who made mistakes were let go without being given specific feedback on their performance because there was no system in place to track and measure it.
The absence of standard operating procedures (SOPs) also created a lack of confidence in employees' abilities, as they were not guided by any operational standards.
Spark Marketer initially used Google Docs to document their processes, but as the business grew, it became increasingly difficult to manage and update the documents. Then Carter Harkins, co-founder of Spark Marketer, found SweetProcess and signed up for a free trial.
What did they get from SweetProcess?
Grouping relevant information into a knowledge base: Spark Marketer could group procedures and processes together and make them easily accessible to their employees. Employees could only see the processes relevant to their tasks, saving time and increasing efficiency.
Efficient process documentation: Spark Marketer noted that manual tools such as Google Docs had become inadequate for their growing business. SweetProcess provided an easy-to-use platform that made it simple to document processes using text, images, videos, and charts.
Employee training: Ensuring employees can get the job done independently was one of the things Spark Marketer was after. SweetProcess provided the ability to easily create and access process-based training materials, helping employees quickly become familiar with their duties as soon as they were onboarded.
SweetProcess is a great Dokit alternative for any business looking to document and update its processes and procedures. With its intuitive design, automated workflow system, and visual representation of procedures, it's a great tool for businesses of any size. Plus, its scalable pricing plan ensures that businesses can get the most out of it no matter their budget.
2. Zoho Desk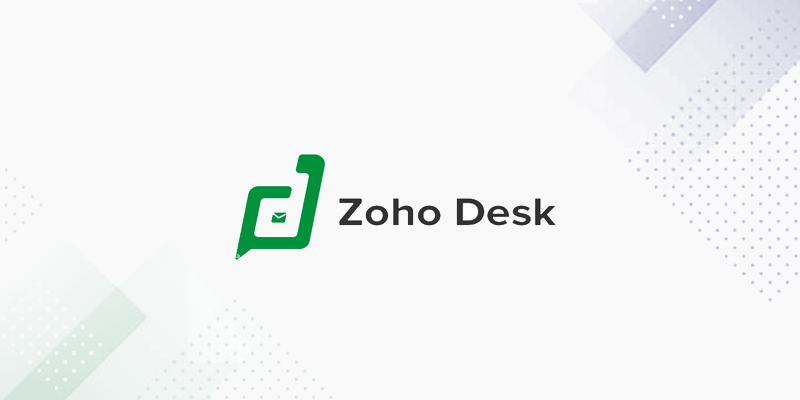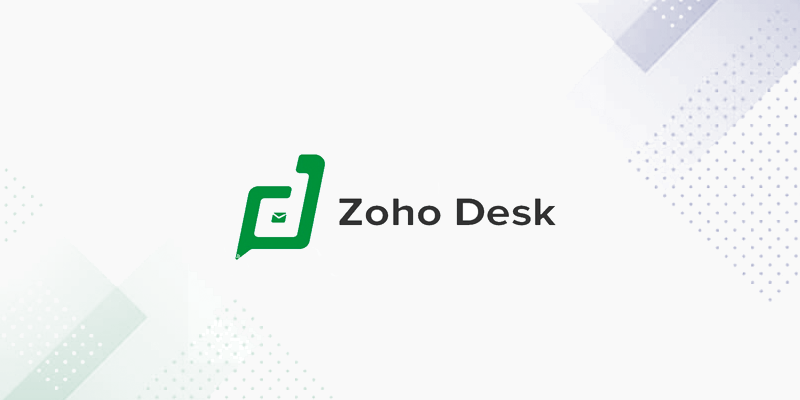 Zoho Desk is another Dokit alternative that can be used to create a central repository of knowledge and automate processes. The automated workflow system in Zoho Desk ensures that tasks are completed quickly and accurately without any human intervention.
For example, with Zoho Desk's knowledge base system, businesses can create comprehensive guides that cover all the processes in their organization. This eliminates the need for manual documentation and helps customers quickly find the answers they need.
Another great Dokit alternative is Zoho Desk's inbuilt customer support tool. This helps businesses provide accurate, timely customer responses and increase satisfaction. Plus, its customizable ticketing system allows businesses to easily track and manage customer requests.
Features
Ticket management: Zoho Desk provides a centralized system for managing customer requests. For example, the omnichannel feature allows customers to get in touch via different channels, and then the tickets are organized under one dashboard.
Automated workflow: You can automate repetitive tasks such as assigning tickets to different departments and sending out automated responses with Zoho Desk. This increases efficiency while ensuring that customer requests are handled promptly.
Integrations: Zoho Desk integrates with a wide range of third-party applications, allowing you to get the most out of this Dokit alternative.
Zia: This is a conversation AI assistant that can provide instant answers to customers, identify potential problems, and provide insights.
Pros
Zoho Desk has a user-friendly mobile application for both iOS and Android devices.
Better organization with one dashboard.
Ability to integrate with a wide range of third-party applications.
Cons
Zoho Desk doesn't have a desktop app.
The user interface can be confusing for entry-level users.
Pricing
Zoho Desk provides three plans starting at $18 per user per month for the Standard plan, $30 per user per month for the Professional plan, and $45 per user per month for the Enterprise plan.
3. ProcedureFlow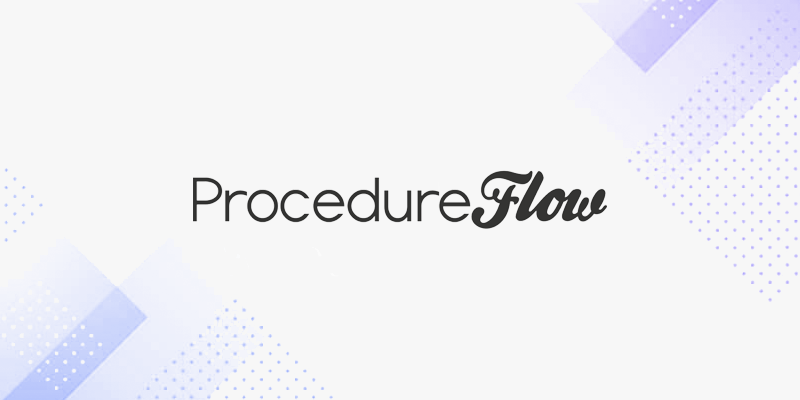 This knowledge management platform helps businesses and organizations streamline processes and procedures by creating interactive, step-by-step flowcharts.
Some key features of ProcedureFlow include creating interactive flowcharts, assigning tasks and responsibilities to team members, tracking progress and completion of tasks, and collaborating with team members in real time.
The collaboration feature also allows users to suggest changes in draft format. The manager can then review the process by comparing the suggested versions side-by-side to know which changes to approve.
Features
Process insights: This feature lets you monitor team engagement. With this, you can identify areas for improvement and make data-driven decisions to optimize your team's performance.
Collaborate and share: Team members can easily work together to build and improve procedures. They do this by suggesting changes that the managers review and quickly push updates live with notifications to all employees.
Process central: You can combine your organization's processes in one central location for easy access and management.
Pros
Availability of training videos and helpful forums.
It's easy to set up and maintain.
Flexible and great for collaboration.
Cons
The learning curve is a bit steep. It takes time to know how to create procedures.
ProcedureFlow doesn't have an autosave feature.
You can't embed PDF files in the platform.
Pricing
ProcedureFlow has three pricing plans made for different team sizes.
Teams: Ideal for those getting started: $25 per month per user billed annually.
Standard: This is ideal for growing teams: $27.50 per month per user billed annually.
Enterprise: For larger teams: $32.50 per month per user billed annually
4. MangoApps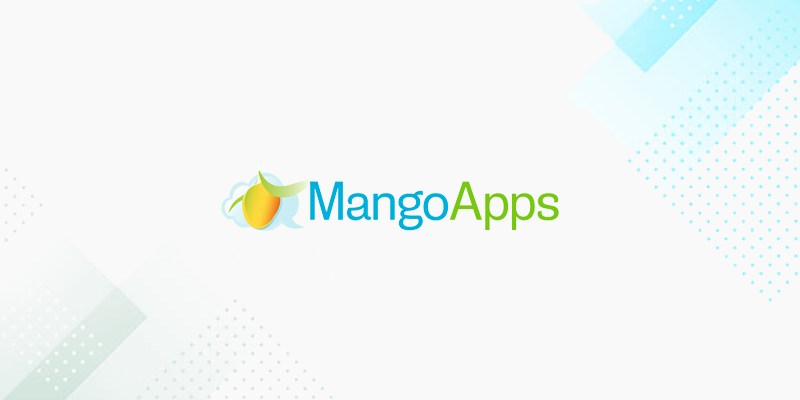 MangoApps provides tools for managing projects, internal communication, human resources, and more. It's designed as an employee hub to coordinate teams' communication, engagement, training, and collaboration.
It provides a simple dashboard where users can track progress, view deadlines, assign tasks, and more.
Features
Documenting repetitive workflows: You can collect information and track activities with interactive forms and tracker spreadsheets. This reduces the time needed for repetitive tasks and helps you measure results.
Centralize company repositories: This allows you to store all your important documents, like spreadsheets and training materials, in one place. You can also easily share these documents by giving each employee private access.
Streamlined employee onboarding: Using their intuitive learning management system, you can easily create and track employee training. You can also use audit-ready certificates and transcripts to track employee compliance.
Team collaboration: With the task management feature, you can easily assign tasks, prioritize deadlines, and track progress. You can also organize conversations in topic-based workspaces to ensure everyone is on the same page. The employees can comment and react to tasks and documents to create engagement.
Pros
More features compared to similar SaaS offerings.
Excellent customer support.
Great as an organization's intranet.
Cons
It cannot be used for team meetings.
The user interface needs improvement.
Affects an organization's intranet when new features are released.
Pricing
MangoApps has a "per user" pricing model. For as low as $1, you can start with their four turnkey packages or build a custom package. To get the pricing, request a quote from MangoApps.
5. Process Street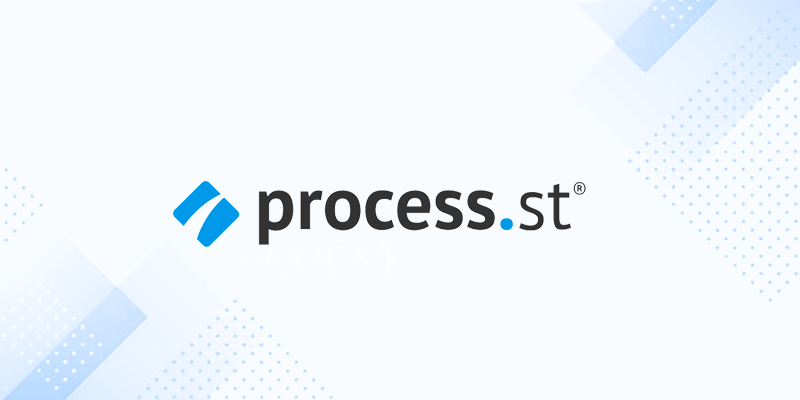 Process Street is a process management platform that allows you to easily share and collaborate on your company's core procedures—from employee onboarding to customer implementation.
With Process Street's powerful no-code workflow builder, you can create streamlined processes that will make a real difference in your team's productivity.
Process Street is a better alternative to Dokit as it allows teams to manage their team wiki and company handbook all in one place, free of charge.
Features
Conditional logic: This feature allows teams to customize their workflows based on specific conditions. Therefore, teams can create dynamic and efficient processes that adapt to different situations.
Approvals: Whether a single instance or a multi-stage process, Process Street allows you to easily set up sequential approvals.
Integration: Process Street integrates with more than 3,000 apps.
Pros
Has great tools for process mapping.
Intuitive and easy to learn.
The checklist feature ensures team members take individual responsibility for their work.
Cons
Reporting tools only show the checklist due date, not the subtasks.
It's hard to organize the checklists.
There is a bit of a learning curve.
Pricing
Process Street has three plans:
Startup: This is a discounted version of the Pro plan. It's $100 per month.
Pro: This is the most popular plan starting at $415 per month.
Enterprise: Ideal if you want to scale your knowledge repository. This plan is $1,660 per month.
The Pro plan starts with a 14-day free trial and requires no credit card.
6. MediaWiki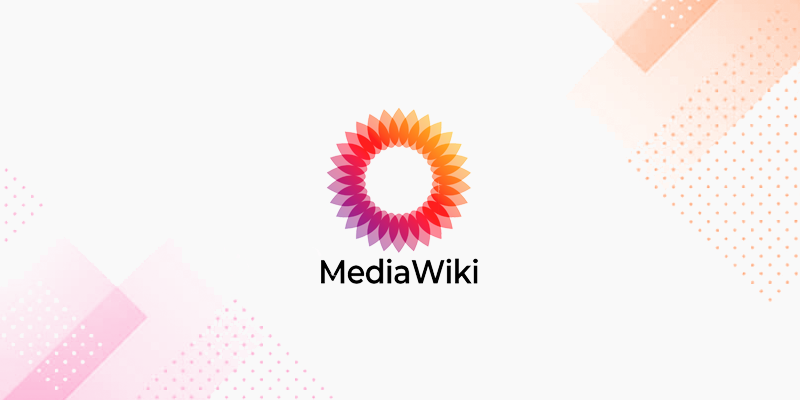 MediaWiki is the most popular open-source wiki software. It's used by millions of people, including businesses, organizations, and educational institutions, to create and manage wikis.
For example, Dokit is built on top of MediaWiki. Dokit uses MediaWiki's core functionality but adds additional features and tools specifically designed for documentation. However, MediaWiki has a more feature-rich and complex interface than Dokit, which may be more suitable for experienced users.
MediaWiki is highly customizable and can be extended with various extensions and plugins. Therefore, it is highly scalable and can handle large amounts of traffic and data.
With this tool, you can automate business procedures and processes, share information with other users, and store documents.
Features
Easy data sharing: MediaWiki allows for real-time collaboration and editing of documents.
Documentation: MediaWiki can be used to create and manage a centralized repository of documentation for a business.
Automatic backups: MediaWiki has an automatic backup feature to ensure that your data is backed up regularly. It's able to track changes and keep a history of revisions.
Pros
Highly customizable and extensible.
Free and open-source software.
Lightweight and fast.
Cons
Lack of support for mobile devices.
The user interface can be a bit clunky.
Not suitable when you want to restrict access to part of the wiki.
Pricing
MediaWiki is a free and open-source software. So, it's free to use. However, the hosting and maintenance costs may vary.
7. DokuWiki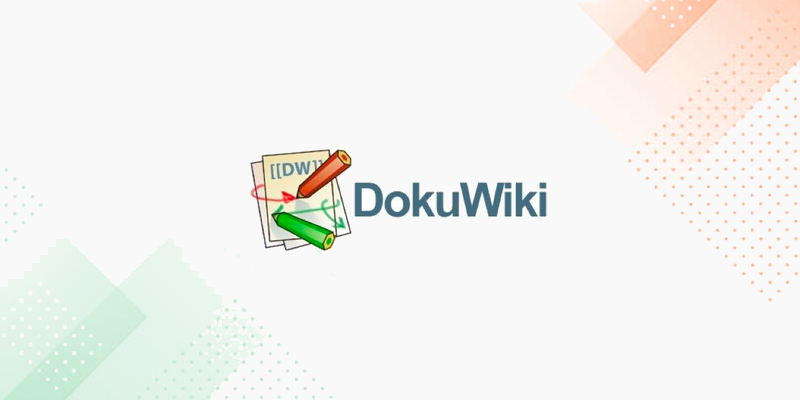 DokuWiki is another open-source wiki software. It's a great Dokit alternative because DokuWiki is highly customizable with various plugins and templates available to extend its functionality. Dokit offers customization options, but they may be more limited than DokuWiki.
DokuWiki has a simple syntax for editing and inserting text, making it easy to use. It also offers an online editor with syntax highlighting and a live preview feature. DokuWiki also has a powerful search and indexing system that lets you quickly search for information.
Features
Instant editing: DokuWiki supports an instant-edit feature, allowing users to edit text instantly without opening a new window.
Ease of use: DokuWiki's syntax is easy to learn and use, making it ideal for users with no coding experience.
Search and index: DokuWiki's powerful search and indexing system makes it easy to quickly search for information.
Pros
Highly customizable and extensible.
Free and open-source software.
Easy to learn syntax.
Cons
Limited formatting options: DokuWiki uses a simple formatting syntax, which may not offer as many formatting options as more advanced tools.
No built-in revision control: DokuWiki doesn't have a built-in revision control system. It can be more difficult to track changes and keep a history of revisions.
Pricing
DokuWiki is a free, open-source software platform that doesn't have any upfront costs. However, there may be costs associated with using DokuWiki, such as hosting fees, customization costs, and training costs.
8. Dozuki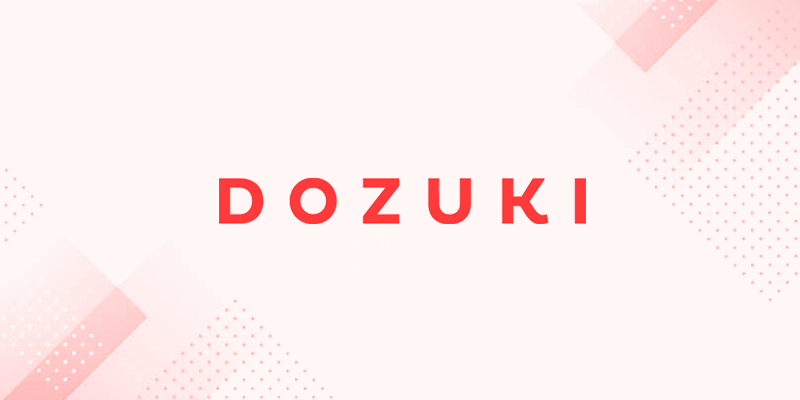 Dozuki is a digital platform that allows companies to create, implement, and maintain digital procedures that can be easily accessed and followed by employees.
The platform includes tools for creating and editing step-by-step instructions, user guides, and product manuals, as well as the ability to organize, categorize, and tag content for easy retrieval.
Dozuki is a better alternative to Dokit as it's specifically designed for the manufacturing industry.
Features
Content libraries: Dozuki provides users with pre-built content libraries that contain training overviews of different fields like lab safety, construction safety, etc.
Wiki pages: Dozuki's wiki pages feature allows you to create, edit, and share a wide range of content in a flexible format. The wiki pages are designed to be collaborative, enabling multiple users to work on them simultaneously, making it easy to create and share information.
Scheduled releases: This feature enables you to schedule the release of new content, such as product manuals or user guides, at a specific date and time. The recurring releases make it easy for you to keep procedures up-to-date.
Pros
Industry specialization.
Its guide formatting feature ensures consistency.
Ease of use.
Cons
No autosave feature.
Lack of full features in its mobile app.
The platform uses minimum photo resolution.
Pricing
Dozuki has not made its pricing information public. However, the various pricing plans are available at request.
9. Trainual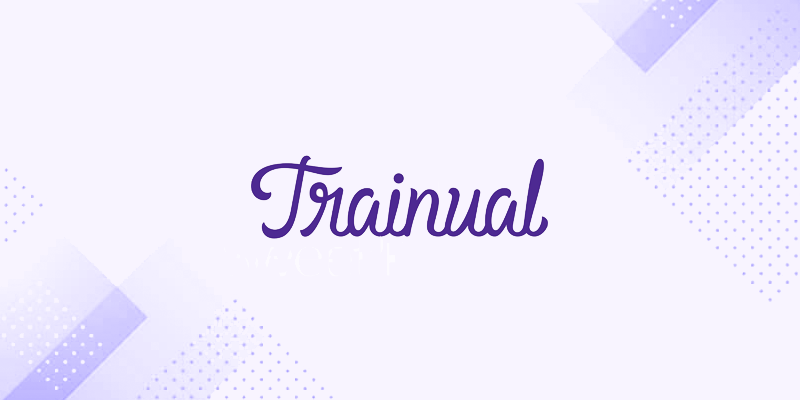 Trainual helps businesses organize and standardize their training and processes. The platform allows you to document and standardize procedures, create scalable and repeatable processes, and assign training tasks with built-in accountability.
Trainual has an automated onboarding module where you can assign standard operating procedures by role, location, or department.
Features
The searchable, trackable employee handbook: Your employees can easily search information by keywords. Additionally, Trainual's eSignature feature allows you to verify that employees have read and understood the handbook, ensuring everyone is on the same page.
Org charts: This feature makes it easy to see who is responsible for what and how different roles and departments are structured. This can help you identify areas where you may need to make changes or improvements, and can also help you identify potential roadblocks to growth.
Processes and policies templates: Trainual has 250 free templates you can use to start documenting your processes and policies. Examples of the templates include hiring process templates, work-from-home policy templates, and more.
Pros
Trainual integrates with popular tools such as Slack and Loom.
It's easy to see reports and track completion.
A minimalistic and easy-to-use interface.
Cons
It doesn't integrate with PowerPoint.
Steep learning curve.
Pricing
Trainual has two price plans.
Train: $124 per month, this plan includes 10+ users.
Scale: $249 per month with 20+ users included.
10. Nuclino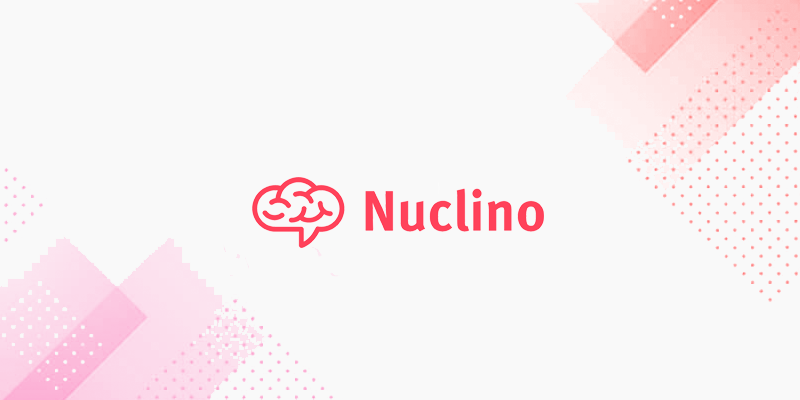 Nuclino is a collaborative real-time document editor that allows you to create and organize notes, ideas, and tasks in a shared workspace. You can use Nuclino to collaborate with your team on documents, take meeting notes, manage projects, and more.
Features
Collaborative editing: In Nuclino, multiple users can edit a document simultaneously, syncing changes in real-time.
Integration: Nuclino integrates with several other tools, including Google Drive, Trello, and Slack.
Version history: Nuclino keeps a version history of your documents so you can always go back to previous versions.
Pros
Mobile app: The Nuclino mobile app allows you to access your notes and collaborate with your team on the go.
Task management: You can create and assign tasks within Nuclino and track due dates and priorities, which makes it a useful tool for project management.
Cons
Limited formatting options.
Not suitable for big databases.
Pricing
Free: Ideal for teams that are getting started.
Standard: $6 per user per month, this plan starts with a 14-day free trial.
Premium: $12 per user per month; ideal for large teams and businesses.
11. Notion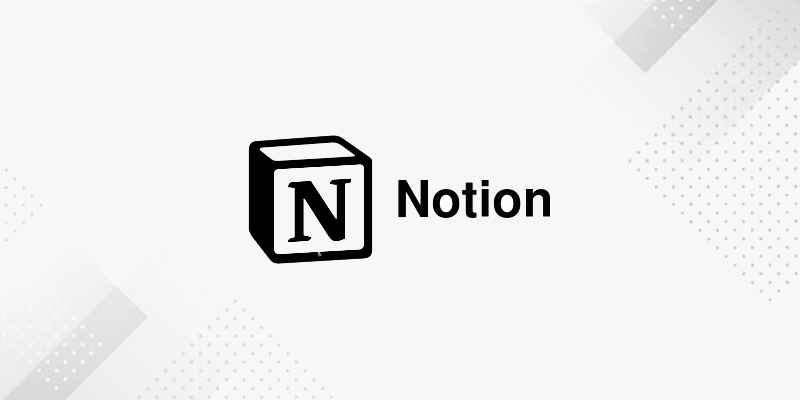 Notion is a note-taking and collaboration tool that allows teams to create and share documents. You can use Notion to brainstorm ideas, write blog posts, create project plans, and more.
With its drag-and-drop feature, you can build workflows and craft dashboards and websites.
Features
Databases: Notion's database feature allows you to create and organize information in a structured way. You can use databases to track tasks, manage projects, or store any other type of data.
Wikis: Notion allows you to create wikis for organizing and sharing information. You can use wikis to create a knowledge base, document your team's processes, or create a company handbook.
Pros
Flexibility: Notion can be used for note-taking, project management, and team collaboration.
Integration with other tools.
Mobile app.
Cons
Learning curve: It may take some time to get used to using the tool effectively.
Limited fonts and styling.
Pricing
Free: Unlimited blocks for individuals and limited block trials for teams.
Plus: $8 per user per month billed annually and $10 if billed monthly.
Business: $15 per user per month billed annually and $18 if billed monthly.
Enterprise: Contact Notion to get a quote.
12. IT Glue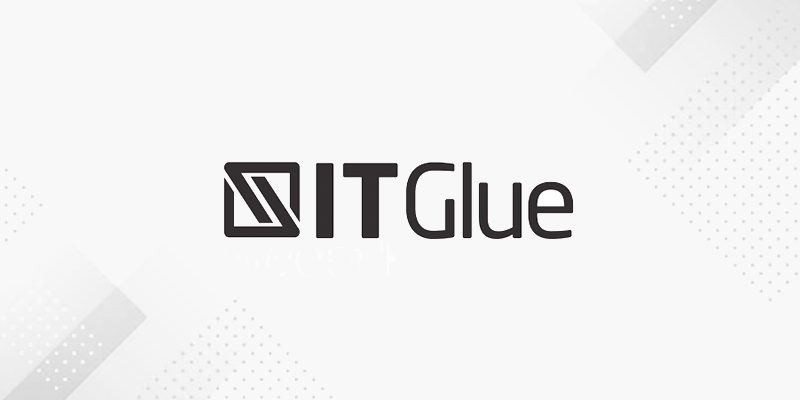 IT Glue is a cloud-based documentation platform made for managed service providers (MSPs) and IT professionals. It helps you organize and document processes, passwords, vendor information, and standard operating procedures.
The platform is also SOC 2 compliant, which means it meets industry security and availability standards. This compliance ensures that IT Glue is secure and user data is protected.
Features
Relationship mapping: This feature lets you easily link related items together, providing quick access to all the necessary information. With this tool, you can quickly identify and understand the connections between different documentation elements, reducing research time and increasing efficiency.
API allows for seamless integration with PSA, RMM, and BDR systems, providing an efficient way to manage and organize your documentation.
Access control: Using this feature, administrators can set different levels of access for different users and teams, ensuring that sensitive information is only visible to those who need it.
Pros
Relationship mapping allows for easy access to all relevant information.
A self-service culture that reduces the need for constant communication and "shoulder tapping."
Ability to create custom document templates.
Cons
Limited to IT-related documentation: The platform is not suitable for other types of documentation.
A bit expensive for small and medium-sized organizations.
Requires some additional features.
Pricing
IT Glue offers a variety of pricing plans.
Basic: Starts at $29 per month per user.
Select: Starts at $34 per user per month.
Enterprise: $39 per user per month.
All plans have a minimum requirement of five users.
13. Foam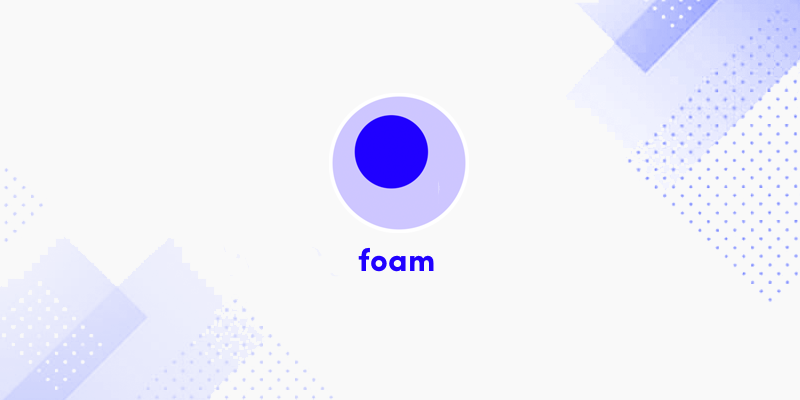 Foam is a free, open-source tool inspired by Roam Research that helps individuals manage and share knowledge. It is built on Visual Studio Code and GitHub.
Features
Foam doesn't have any features like traditional SaaS software because it's an open-source tool. It only comes with recommended extensions that you can install. However, you can use the code to build any tool you want.
Pros
Open-source and extensible: You can build and customize the tool to suit your needs.
Cons
Learning curve: It requires you to be familiar with coding and web development to use it effectively.
No collaboration features.
Pricing
Free of charge.
Conclusion
Dokit alternatives offer a wide range of options for businesses that need to organize their operations. From Nuclino's version history and mobile app to Notion's database feature and drag-and-drop workflows, there is something out there for everyone.
However, SweetProcess stands apart from the crowd with its intuitive user interface and powerful automation capabilities. It's the ideal choice if you want to streamline your business procedures and processes in one place without learning how complicated software works.
If you're ready to take your productivity up a notch, why not start with a free trial today—no credit card required? Try SweetProcess now and streamline your business processes.