10 Most Effective Business Process Automation Software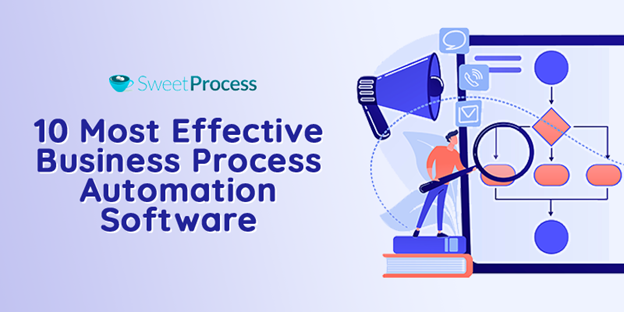 With the COVID-19 crisis escalating globally, more pressure is mounting for organizations to pursue digital transformation. Most organizations are now shifting employees to remote work and digitizing customer offerings.
However, according to The Sorry State of Digital Transformation Report, nearly 22 percent of organizations don't use automation software. Yet automating processes is essential to improving customer satisfaction and growing revenue.
If you wish to attract droves of happy customers, start automating your business processes. This is a surefire way to improve customer service that guarantees a high return on investment (ROI).
Chapter 1: Business Process Automation: The Basics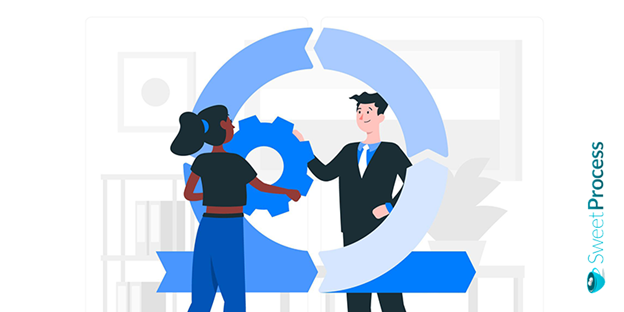 In this chapter, we will focus on the basics of business process automation and how it differs from robotic process automation.
What is Business Process Automation?
Business process automation (BPA) uses technology to perform a range of repetitive back-office tasks to streamline your business operations.
Instead of relying on humans to perform menial and simple tasks, your organization now relies on technology to take care of it. Technology is more efficient, cost-effective, and streamlines processes faster.
Organizations that use business process automation not only improve their digital processes but also impact their entire business process.
When BPA is paired with other processes, it can help organizations to:
Experience better customer engagement (improving efficiency).
Empower non-technical users to design their business processes.
Understand the overall end-to-end process of a business.
Speed up everyday operations.
Eliminate recurring manual-based processes.
Make informed decisions faster.
What is Robotic Process Automation (RPA)?
Robotic process automation (or RPA) is a form of business process automation technology that uses software robots (bots)—or artificial intelligence (AI)—to automate repetitive menial tasks performed by humans.
RPA enables organizations to perform processes at a high volume and quickly prioritize more complex tasks, reducing the need for human resources.
This form of automation generates a high ROI and speeds up the digital transformation efforts of any organization.
Business Process Automation vs. Robotic Process Automation
From the above definitions, both BPA and RPA have similar goals: to execute business functions effectively in an organization.
The first to be introduced to the technology market was BPA, which can also effectively implement RPA within its system.
Three key factors differentiate these two automation processes:
Integration
Workflows
Pricing
Integration
BPA's work is to streamline business processes—enhancing fast and more accurate decisions in an organization.
On the other hand, RPA's work is to replace time-consuming, repetitive, simple human tasks with technology.
In other words, BPA addresses the end-to-end process in an organization. 
RPA integrates into existing BPA software such as customer relationship management (CRM) and enterprise resource planning (ERP)—and it doesn't affect existing business processes in any form or way. It focuses on automated processes.
Ever seen chat boxes that pop up on websites saying, "How can I help you?" Here's an example from Outgrow: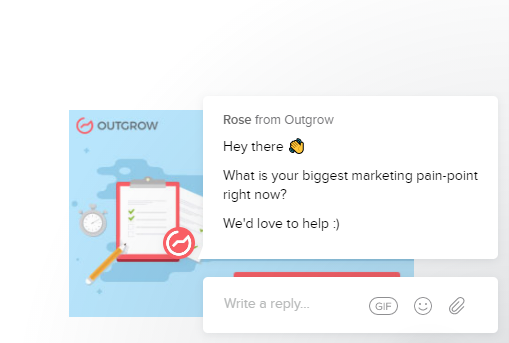 That's a great example of an RPA implemented within CRM software. These robots review emails, submit forms, populate vendor-specific forms, and handle many other procurement automation processes.
Compared to RPA, BPA uses a more invasive form of integration. It takes over other existing systems and implements its own system.
Workflows
Despite using different forms of automated processes, both BPA and RPA enhance efficiency and effective workflows in an organization.
However, BPA uses a more complicated workflow. That's because it uses a single processing model to create workflows that integrate diversified systems.
To automate tasks in an organization, BPA uses these diversified systems to exchange and extract information with each other—a process that requires database access and APIs, and heavy IT support for coding and development.
RPA robots completely replace human tasks with ease. They can send emails, move files, even copy and paste, and perform other simple tasks.
The entire workflow is recorded and repeated by the system robots. The robots can also access existing user interfaces on a desktop. That makes it good for business users who want minimal human involvement.
Pricing
The prices of each software vary.
BPA software pricing depends on the size of the organization.
For example, BPA prices can range from $10,000 to $100,000 yearly—especially if it's software designed to handle complex business processes for multiple users in a big company.
However, RPA pricing depends on the subscription.
For example, yearly subscriptions of an unattended robot may cost $8,000. While attended bots' yearly subscription prices range between $1,200 and $1,800, and studio licenses range between $2,000 and $3,000.
Chapter 2: What is Business Process Automation Software?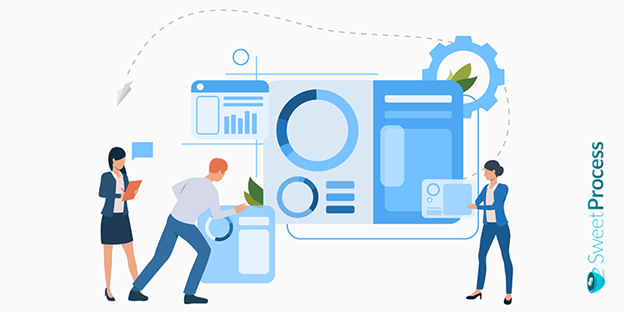 Business process automation software allows organizations to partially or completely automate their business processes.
BPA software is similar to RPA software. In fact, they share the same goals. The only difference is that the latter software works more like humans: It uses machine vision and screen scraping to manipulate software.
BPA software, in contrast, automates the business processes of an organization then integrates them into the software being automated.
What Does BPA Software Do?
BPA technology reduces costs and increases productivity in an organization.
It allows a company to automate responses to customers
If you own a website, you most likely have a customer support software that allows you to do this.
Let's say the software has a problem with users logging in through Facebook, for instance.
Just create an automatic response to any message with the keyword "Facebook" saying it's a known issue and it will soon be resolved. This allows your customer support team to attend to other unknown tickets.
It automates the approval process
Let's imagine you're working in procurement and are ordering pieces of new machinery. To complete this order, you need the approval of five different managers.
Now imagine working without an automation process, you have to hunt down each manager and ask for their signatures.
With a business process automation software in place, all you need is to click "start the approval process" and you're done.
It leads the entire employee onboarding process
If you've worked in an organization before, you're aware that onboarding is a very structured process. (Email person A, fill in documents B, C, and D, etc.)
So instead of doing the whole thing from scratch, you can let the business process automation software lead the entire process for you.
As long as a business process involves 1) a series of predictable steps, and 2) it's repetitive, odds are that that process can be automated.
How is BPA Software Used?
How you use BPA software will depend on the type of business process you want to automate. There's no one-size-fits-all miracle software that can handle all the business processes of an organization.
For example, your social media automation software can't be used to streamline other business operations.
You have to research the right tool for the process you need. Here are a few examples of how BPA software can be used.
Examples of Processes That Can Be Automated
Operations management
To keep track of the who, what, and when of your business, automate the entire logistical part of the process.
Project management
To avoid emails, information files, or to-do lists getting lost in miscommunication, use project or task management software.
Customer support
To save your support team from the hassle of responding to hundreds or thousands of complaints about an issue, use customer support software to automate some replies.
Social media management
To free up precious time, use social media automation tools to schedule your posts throughout the day, week, or month depending on your preference.
The benefit of using BPA software is that it gets work done efficiently. It enhances the customer experience, and also provides insights into areas that need improvement in your organization.
But most importantly, it guarantees a higher return on investment.
Chapter 3: The Benefits of Business Process Automation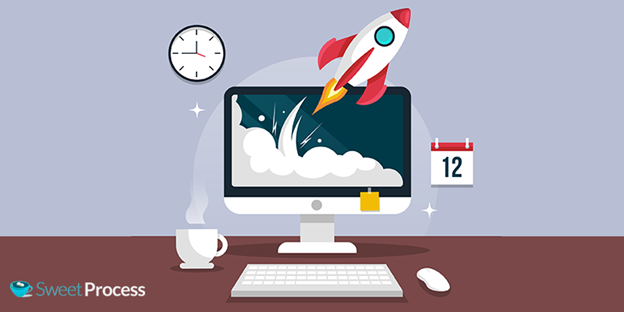 Once you've automated your processes, you can expect to see multiple benefits leading to better customer experience and market performance.
1) Saves money
Organizations lose at least 30 percent of revenue each year due to inefficient business processes. Meaning, business processes that are executed manually often lead to a waste of significant resources.
Switching from manual to automated business processes allows for error minimization. By automating processes, organizations can increase profit margins and reduce the cost of operations significantly.
That's because waste is eliminated and resources are optimally utilized, leaving you with enough room to renegotiate terms favorably and manage contracts with efficiency.
2) Speeds up document review and approval
Manual business processes can make maintaining data and documents a nightmare—it's time-consuming, and odds of making errors heightened.
However, when you automate document management processes, you speed up document review and approval time, making it effortless. Retrieval and organization of data are also simplified.
Accurate information moves smoothly between processes and confidential data is secured easily, increasing productivity in your organization.
3) Increases transparency
With BPA software in place, you can track and monitor multiple processes and establish their key performance indicators (KPIs) while they're running.
This level of transparency provides insights into areas that need critical improvement in your organization. However, it's only possible when you automate your business processes.
Transparency in business processes helps teams to stay informed about task assignments, improve accountability, and also helps high performers get the recognition they deserve in an organization.
4) Helps monitor document progress
Imagine having to make calls to an employee and make follow-ups. Then engage in a back-and-forth on email to clarify certain details.
If done manually, such a process can take up to a week or more to automatically route information to the right person at the right time.
BPA software reduces the processing time of documents and information to just a few hours. Automation also helps you monitor document progress and status with full traceability of sent, opened, and signed documents.
5) Enforces company policies
Not complying with relevant industry and legal regulations is a costly move for organizations everywhere. But the good thing is, business process automation software helps businesses stay compliant.
It enforces company policies by keeping log records of task performance names, details of the given tasks, and the time when they were completed.
This information is helpful because it's traceable and under control, ultimately ensuring better compliance with relevant regulations.
6) Streamlines communication
To know what's going on with your business processes, you have to get in touch with a supervisor or team leader. And, even then, miscommunication is likely to happen—that can lead to costly errors.
Business process automation software helps to streamline such communications within an organization. It can even help simplify customer-facing processes such as sales and customer service, etc.
Automation of processes also retains all process-related communication within the workflow to make the execution of processes easier and faster.
7) Reduces manual processes
According to a recent study, office workers spend nearly two-and-a-half hours a day on destructive tasks, such as processing documents, approving paperwork, and searching for information.
Business process automation software can complete repetitive tasks in a short time. So you're likely to see faster turnaround times of manual work.
Automation is cost-effective due to fewer manual interventions. Also, it saves time, which is the key benefit of every BPA software.
8) Reduces meetings
Since BPA software can effectively handle all mundane recurring tasks in an organization, you find yourself in a position where you reduce meetings to enhance your workforce allocation.
Doing so helps you redirect your employees into tasks that engage their brains more into developing strategies and more important functions.
9) Improves workflows
Automation of processes improves consistent workflow, especially in an organization involving many employees and stakeholders.
And where everything can be messy: Everyone has multiple tasks to complete, different filing methods, and different habits, and so on.
For the business process to be more effective, a BPA software whose steps follow each other systematically is a clever shortcut for improving workflow. That's because no document will get lost, and no critical steps will be missed.
10) Reduces human errors
It doesn't matter how capable your employees are, to err is human. Mistakes will always happen. In fact, they're inevitable.
However, automating business processes helps you fix common errors in the workplace: constant delays, inefficiency points, manual slip-ups, and many more, as they occur.
Removing the risks of these errors (automating processes) makes your business processes smoother.
It helps you avoid redundant business operations. BPA software can help you take preventive measures against recurring errors in your business.
Chapter 4: Does Your Business Need Business Process Automation Software?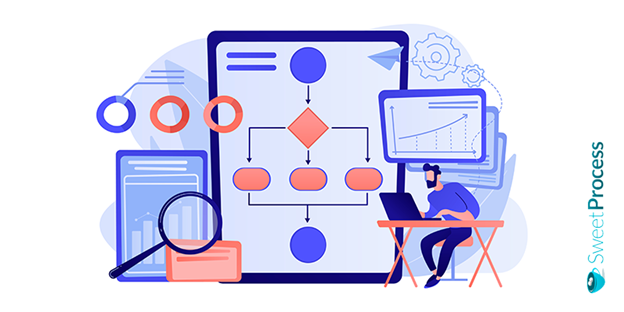 A strong correlation exists between businesses implementing BPA software and higher performance. You need to automate your business processes if you want to increase efficiency and boost performance.
Questions to Ask to Decide if Your Business Needs This Software
Here are some questions to help you make an informed decision about employing the use of business process automation software.
1. Do you struggle with too many meetings?
Most organizations struggle with many back-to-back time-consuming meetings. To automate this process, use BPA software.
This software will drastically reduce time in solving problems, make faster decisions, and streamline collaborations—without your employees having to physically attend a meeting in some office.
Just launch a meeting straight from the BPA software. It's the best way to save time, boost productivity, and enable instant decisions. 
2. Does your business have too many manual processes?
Creating daily reports and compiling data manually is a tedious and time-consuming task that can also lead to costly errors.
Get rid of manual reporting and instead implement business process automation software in your organization.
BPA software will automatically create accurate reports with real-time updates. Your team will have more time to focus on critical tasks.
3. Is the document review process slowing down your business?
Waiting for document approval or review from the manager or supervisor before your team can start the work can often lead to delays.
What if the manager or supervisor is on leave or out of the office? This can throw your team off-schedule and even lower their morale.
Business process automation software makes getting document approvals or reviews as easy as clicking a button.
Once you add the data and files to the workflow, your superior gets a direct notification, checks relevant files, and approves or rejects them right away. BPA software can save you precious time.
4. Do you think streamlined processes will improve employee performance?
Yes. The major benefit of business process automation software is that it automates processes faster, providing a friction-free environment for employees to get work done efficiently.
Teams don't need to spend time waiting and reminding managers for approvals or reviews because it happens instantly. This helps increase productivity and enhance employee performance of day-to-day tasks in an organization.
Business Process Automation Software Use Examples
For a better understanding of business process automation software, here are some compelling BPA software use cases.
1. Employee onboarding
Hiring employees is a tedious and time-consuming process.
That's because the process involves a lot of hiring paperwork: relevant documents, setting up bank accounts, planning training sessions, setting up induction sessions, filling out employee information forms, and more.
Without using BPA software, this hiring process becomes inconsistent, informal, and disjointed—and can even result in:
Low productivity.
Employee dissatisfaction.
Missing out on some crucial tasks.
Endless hiring paperwork.
Automating the employee onboarding process ensures that you have a smooth transition from one task to the next.
BPA software also provides visibility into the status of the hiring process while updating your would-be employees.
2. Purchase orders
In most organizations, purchase orders are a recurring, day-to-day task that requires a lot of paperwork.
Employees fill out a form and send it out to the purchasing team. Once examined and approved by the relevant authority, a purchase order is created and a copy is sent to the supplier as well as the inventory team.
If the request is rejected, say because of budgetary constraints or inadequate information, the purchase order is sent back to the requesting team.
Without automating this business process, several issues could crop up, including (but not limited to):
Errors while taking delivery of the supplies.
Errors in the purchase order.
Incomplete records.
Impacted productivity.
Delayed purchase order approval.
Business process automation software makes workflow easier and faster to execute, and also enhances accurate data recording, transparency, and improves accountability in an organization.
Pros and Cons of BPA Software
Every software has upsides and downsides. BPA software is not an exception.
Pros
Increases efficiency
Improves scalability
Enhances versatility
Improves flexibility
Cons
Employee displacement
It's expensive to invest in automation
The limited capacity of machines
Security concerns
Chapter 5: 10 Best Business Process Automation Software
Many organizations recognize the need for automating business processes. Because of this, there's a sudden uptick in demand for BPA software.
This demand for automation has sprung up several companies ready to cater to the needs of businesses. While the software on offer comes with distinct features, they all share a similar goal: to automate business processes.
The top 10 business process automation software include:
Whether you manage a team or you're hiring your first worker, SweetProcess gives you the systemization you need to scale and grow your business.
It allows organizations to create well-structured, visually appealing procedures that they can share with their teams. Plus, it's super-easy to use.
This business process automation software helps you upload your knowledge into your employees' brains so they can grow your business. It empowers your team with all the information they need to do their job right. It also refines processes so that you can continue to grow your business.
Features of SweetProcess include:
Document management
Forms management
Graphical workflow editor
Mobile access
Task management
Workflow configuration
SweetProcess offers a simple pricing plan with all its features included.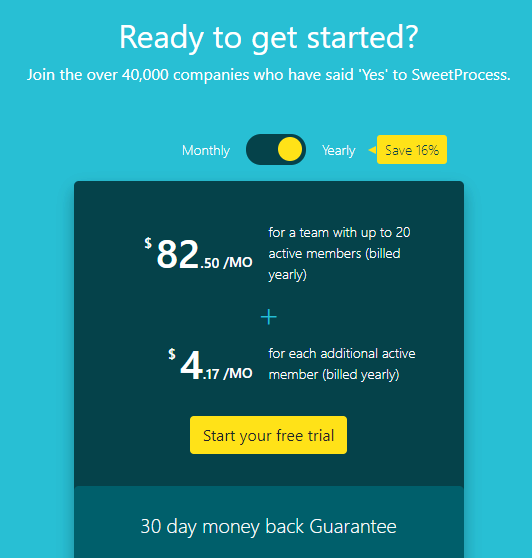 Smartsheet is a dynamic workspace that empowers teams to manage projects, automate workflows, and rapidly build new solutions using no-code tools they love and backed by the security IT needs.
This BPA software is an incredibly flexible and easy-to-use tool that has promoted visibility to workloads, communication, and process improvement for organizations, and has revolutionized how businesses work.
If you are looking for a way to quickly manage data gathering and performance reporting from various groups in your company, Smartsheet is your platform.
Features of Smartsheet include:
Connectors and integrations
Data shuttle
Control center
Core capabilities
Dynamic view
Professional services
More premium add-ons
Smartsheet Individual, Business, and Enterprise pricing plans include core dynamic work capabilities for all your business process automation needs. You can equally get started with a 30-day free trial.
The beauty of Kissflow is how quick and easy it is to use for anyone looking to automate their business processes. This BPA software provides a simple, optimal, and efficient platform to manage and track all of your workflows.
It takes repetitive rule-based business processes off your hands and automates them with ease, accuracy, and total flexibility. Kissflow is the simplest business process automation software.
If you want to bring down operational costs by replacing repetitive manual tasks with an automated approach, this is the best tool you need for your organization. You'll save time and money.
Features of Kissflow include:
Process management
Case management
Project management
Collaboration
Analytics
Integrations
Digital workplace
Kissflow offers flexible pricing that includes all its business apps and features built for every business need.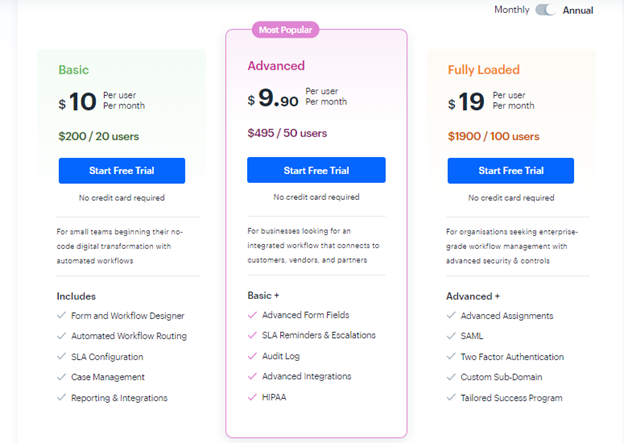 Laserfiche helps you manage mission-critical processes in your organization by using configurable, easy-to-use reports to measure business process success. Although it's easy to learn, it's difficult to master.
This BPA software evaluates employee workloads using dashboards and visualizations. If you're looking for a process automation tool that increases efficiency and accuracy, this is it.
Laserfiche keeps work moving smoothly by ensuring all your business tasks are completed on time with automatic recurring notification emails.
Features of Laserfiche include:
Workflow automation
Workflow mapping
Robotic process automation
Real-time updates
Laserfiche has not provided pricing information on its site. This is common practice for software sellers. Contact Laserfiche to obtain current pricing.
Comindware is a business process software that boosts team productivity and saves labor costs thanks to streamlined processes.
This BPA software makes it so easy to replace numerous Excel files and cumbersome systems with one single integrated solution with minimum IT staff engagement.
If you're looking for a BPA software that's geared toward improving your business operations performance, and enhance visibility into business processes, Comindware is the best automation tool for you.
Features of Comindware tracker include:
Graphical workflow builder
Electronic forms design
Workflow automation
Combine processes and tasks management
Outlook workflow tool
Workflow tracking and reporting
Team collaboration
Workflow engine
Integration with other enterprise apps
Comindware offers a flexible subscription-based pricing model that makes the industry's most powerful automation technology affordable for every business.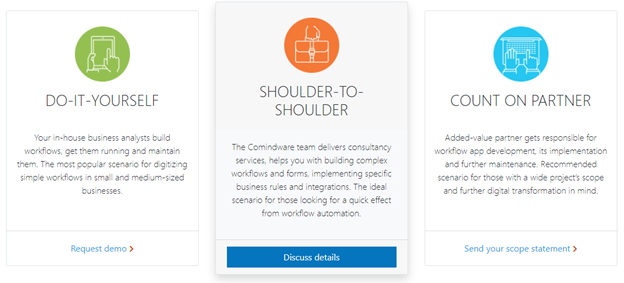 ConnectWise Manage business automation software puts automation in your hands by proactively monitoring, managing, and supporting your business processes. It's the most powerful tool to help your business accomplish whatever you want.
This BPA software drives accountability from a time standpoint and makes sure customer requests are addressed efficiently. It also ensures organizations improve their productivity for the entire team.
Features of ConnectWise Manage include:
IT automation
Endpoint management
Asset discover
Patch management
Remote monitoring
To get ConnectWise Manage pricing, fill out a form on its website and tell them about your business. They'll put together a quote to fit your needs. However, you can still choose a price plan with the features you need.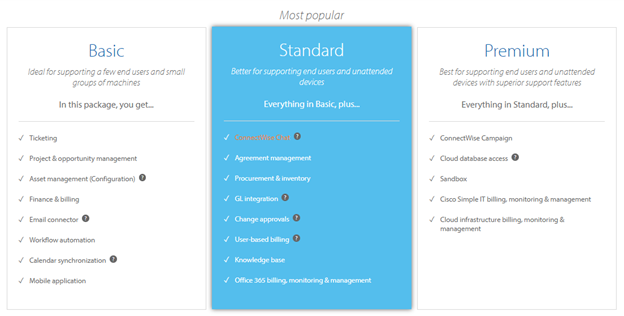 Bonitasoft business process automation software helps reinvent your organization. It automates business processes by engaging people across departments and then measuring effectiveness over time.
This BPA software is an open-source digital process automation platform that also combines process improvement techniques with business process automation technology to enable great user experiences.
If you want your employees to get their work done easily and smoothly, use Bonitasoft to automate all your business processes.
Features of Bonitasoft include:
Simplified expression editor
Fault tolerance mechanism
Stronger open-source DNA
Administrator application
Bonitasoft has not provided pricing information on its site. For specific pricing details based on your country and currency options, contact support.
Wrike is perhaps the best business process automation tool with extensive features that maximize performance, accelerate growth, and improve customer experience.
This BPA software is the best fit for how businesses work. It's customizable enough for each person on your team to easily see the big picture and get things done.
It also improves collaboration dramatically, allowing organizations and their employees to figure out how they can better help each other.
If you want to accelerate results through smart automation and project risk prediction, opt for Wrike to help you achieve your goal.
Industry-leading features of Wrike include:
Visual proofing
Digital publishing
Shared team calendars
Project portfolio management
Time tracking
Advanced analytics
Resource management
Enterprise-grade security
Wrike has a pricing plan for all your teams. You can choose to enhance your pricing plan today to unlock more value for your employees.

Compared to other business process automation software, Quixy is a no-code application development software. It helps to easily create custom applications to support the company's business processes.
This BPA software models, automates, monitors, and optimizes business processes and workflows for maximum value.
If you want to automate all your critical processes and create a single source of truth for all collected information, Quixy is for you.
Quixy is powerful too. It not only automates but also manages, optimizes, and tracks all work across the organization on one digital platform.
Features of Quixy include:
Process overview
Real-time process monitoring
Application deployment
Data security
Access control
Scalability
Lifecycle management
Workflow automation
Real-time updates
Quixy pricing plan includes all its app features. Make sure to choose a plan that suits all your process automation needs.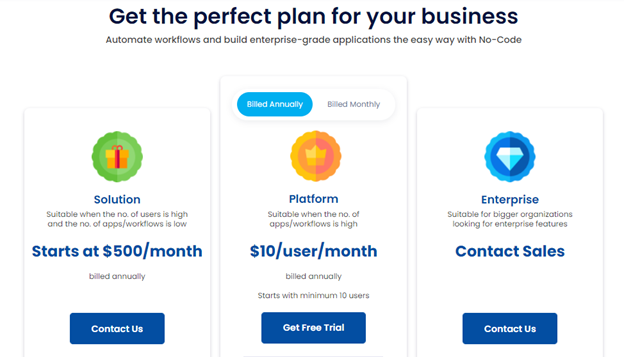 Process Street is a simple business process automation tool. It is also the most powerful way to manage your team's recurring checklists and procedures.
You can tell how much thought went into creating this BPA software just from its click reduction and ease of use.
Process Street is the simplest way to manage recurring workflows for your team. It's an elegant yet efficient checklist tool. 
The overall design and the simple way to update or change a process make this an ideal BPA software for your business.
If you're looking for seamless software that can track individual project processes without being weighed down by unnecessary features, this is it.
Features of Process Street include:
Permissions for sharing
Data unification
Accessibility
Process routing
Process overview
Process analysis
Real-time process monitoring
Desktop application
Process Street has super simple pricing plans, and they all start with a 14-day trial of standard features.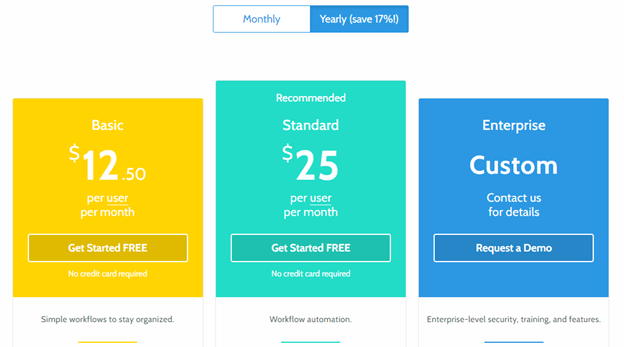 Chapter 6: Features of Effective Business Process Automation Software
Ensure that the business process automation software you've chosen has the following features.
Dynamic form builder
Your organization will benefit more from business process automation software with a dynamic form builder. That's because a dynamic form builder uses simple drag-and-drop features with multiple drop-down, calculations, maps, numbers, texts, and other more exemplary features.
Intuitive designer
This is for your employees to model business processes with little effort. So choose a BPA software with an intuitive designer complete with visual modeling tools. All your employees need to do is familiarize themselves with the sequence of business steps, and the software will take care of the rest.
Process complexity
Choose a BPA software that can adapt to increasing process complexity with ease. Business processes change along with organizations in terms of scale and complexity. So ensure the BPA software you choose is flexible enough to adapt to new complexities such as parallel branches or additional steps. 
Integration friendly
The BPA software you choose should integrate easily with the software you already use to achieve your process goals. Otherwise, soon the software will become a liability. Business processes such as data transfers between applications should be automatic rather than manual and time-consuming.
Customizable notifications
Look out for a business process automation software with customizable notifications. This feature allows your employees to receive email notifications or push notifications as prompts whenever they steer hands-off processes.
Chapter 7: How SweetProcess Can Streamline Your Business Processes (With 3 Actual Examples)
Streamlining business processes simply means improving your company's everyday tasks and making them more efficient.
Following are three ways SweetProcess can streamline your business processes.
1) Centralized Knowledge Base
The absence of a centralized knowledge base in an organization can hinder the smooth flow of information.
For example, superior employees will share bits of information within their circle, leaving less privileged employees in the dark—and unable to perform certain tasks when the need arises.
SweetProcess can remedy this situation.
It offers a centralized knowledge base for its customers. The information they need (for any specific tasks) is just a click away.
Business intelligence & Lean Six Sigma champion at Turkstra Lumber, Jamie Ramsden, and his team leveraged this feature on SweetProcess. According to him, using SweetProcess was their biggest win.
2) Effective Business Process Documentation
Most organizations document business processes but choose to do so on Excel sheets, which limits their results and efficiency.
SweetProcess offers effective documentation by using a more visual approach, which gives users a clear picture of what they're doing rather than using tons of texts when documenting their business processes.
The CEO of ShipCalm, process-driven Ted Fogliani, was keen on streamlining the operations of his company, and he found a home in SweetProcess. 
According to Ted, the best standard operating procedures are those that are easy to use in a few minutes.
So when he set out to find a business process automation tool to implement in his own business, ease of use was his top priority. In three minutes, Ted and his team were able to use SweetProcess without getting confused.
3) Seamless Employee Onboarding and Training
Onboarding a high number of employees manually is a demanding and time-consuming process—never mind the unending training of the new employees, which also demands so many resources.
If you're unclear about the tasks these employees need to do, they will ask questions. And your team will be on the receiving end of these questions.
As director of operations at Forensic Analytical Consulting Services Inc., Kevin Trapp came to learn that SweetProcess can lift the employee onboarding and training weight off your team's shoulders with ease. 
SweetProcess is helpful in the organization's employee onboarding. New employees can be directed to the standard operating procedures in the system to learn all they need to know.
Chapter 8: Conclusion
Are you looking for the best business process automation software for your organization?
SweetProcess can be a perfect choice. That's because handling business processes manually is a slow and discouraging affair.
But it doesn't have to be difficult.
SweetProcess will automate all your document processes, procedures, and tasks in one place so you can stay focused on growing your business.
Try SweetProcess. It's an intuitive, simple tool to help you and your team understand what you're doing (without losing your minds). The cream always rises to the top—so does an exceptional BPA software.
Want our "Ultimate Checklist to Choosing Business Process Automation Software"? Grab the FREE download to get your business up to speed with automation today.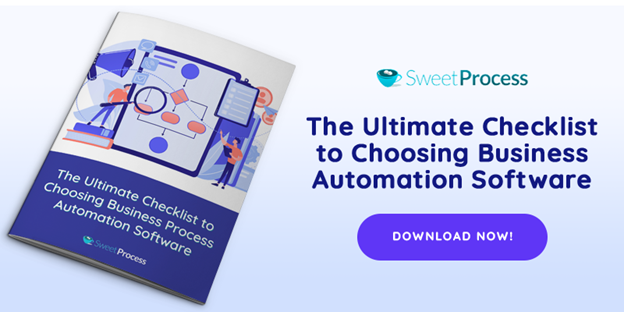 Get Your Free Systemization Checklist

5 Essential Steps To Getting a Task Out of Your Head and Into a System So You Can Scale and Grow Your Business!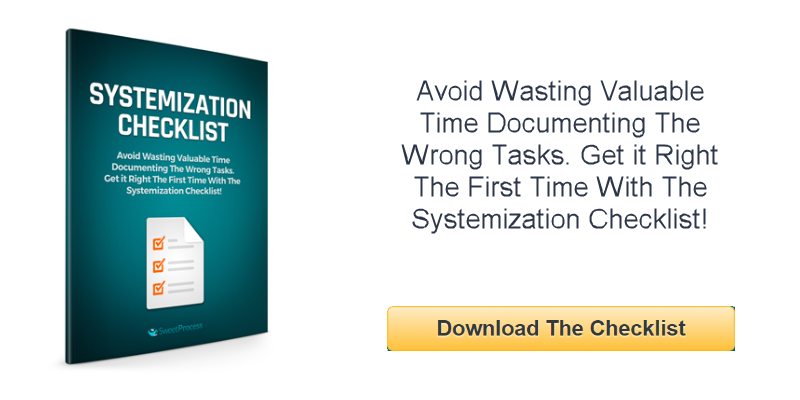 One response to "10 Most Effective Business Process Automation Software"