Learning Management System: A Definitive Guide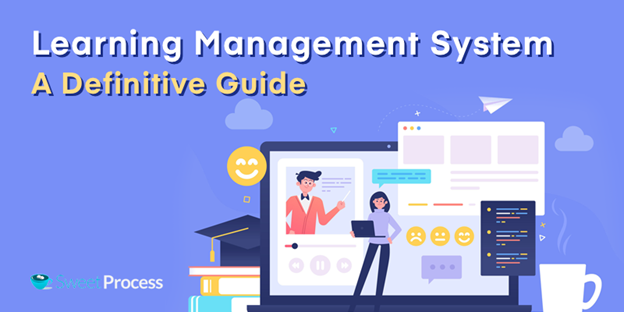 Have you ever wondered what the first day at work is like for your new employees? Tom Vranas, Everywhere Wireless's vice president, has. It is much like the first day at school. It is a new environment. New hires are a little overwhelmed and nervous and do not understand the culture of their new workplace. 
To bring their new employees up to date, fast-moving organizations will bombard them with tons of paperwork and documents to fill. They will give them applications to master before filling the huge shoes they place in front of them.
Other companies will take the opposite path and let their new employees learn as they go. They will leave the new starters to flounder and ask questions or concerns at every turn in their efforts to meet company expectations. 
Part of Tom's responsibilities at Everywhere Wireless is to boost the business's processes. During Everywhere Wireless's infancy, the company would use standard operating procedures as their key employee knowledge distribution channels.
This system did work perfectly when the Chicago-area business had but a handful of employees. The shift came when the internet service provider company expanded, hiring more employees to support their award-winning consumer-centric ISP service.
Tom Vranas quickly found out that their manual onboarding and training processes placed their business model at risk. Data shows that new hires who fail to learn your company's workflow, understand their new role, or build working relationships with the rest of the team will not linger long in your company. 
An average of 17% of new hires who fail to grasp their role and position in a new job will leave a company in their first six months of employment. Did you know that new employee-finding fees can go as high as $4,000 per new hire? The cost of replacing talent could cost your business 90% to 200% of their yearly salary. 
These costs will escalate as per the number of people who take part in your onboarding process. A business that trains and equips its employees effectively via learning management systems has fewer startup costs and less anxious employees.
Proper training and onboarding process via learning management systems lowers employee turnover rates. It also develops realistic workplace expectations and saves the supervisor tons of time and headaches.
Excellent onboarding and employee training processes can enhance retention by 82% and increase productivity by 70%. To scale up their training and employee onboarding process, Everywhere Wireless turned to learning management systems.
Chapter One: An Introduction to Learning Management Systems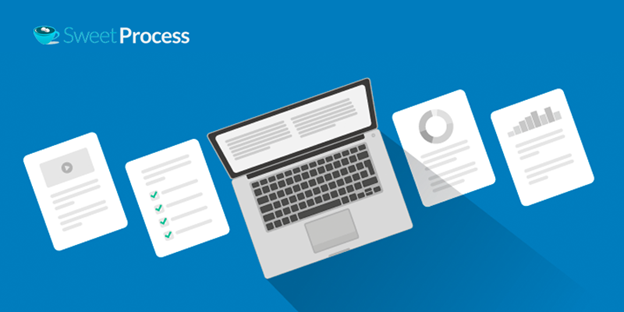 A learning management system (LMS) supports easy, efficient, and fast development and delivery of client, employee, or partner training. 
An LMS will convey your company's training content to all stakeholders but will help track training efficiency and completion. In this case, Everywhere Wireless chose SweetProcess's workflow software and scaled up its training and onboarding processes. 
In 2019, the global LMS market size was worth $8.76 billion. It will exceed the $38 billion mark by 2027. Interactive and smart learning platforms have become indispensable in managing learning material, especially during the coronavirus pandemic period. 
Most learning institutions and businesses are now pursuing online employee training programs as remote working and onboarding become the new norm. Data by Gartner shows that over 50% of employees will work remotely past the pandemic. Their employers will need to onboard new hires remotely and find ways to maintain their internal culture amongst remote disparate teams. 
Like Tom Vranas, these business owners will need to answer questions such as "How will my recruits fit in with the old team when it takes weeks before they can physically meet?" In such instances, inefficient onboarding and training processes could leave some employees feeling left out and later develop a feeling of not fitting in.
The experienced employees, on the other hand, working in an online environment will begin to question their decisions if they are left to struggle without training or support. Learning management systems help educators, subject matter experts, and business professionals communicate and deliver content to their target audience. They can leverage the automated LMS processes to track records, administer assessments and monitor progress.
History of Learning Management Systems
Sidney L. Pressey invented the first learning management system in 1924. His teaching machine was way ahead of its time. The multiple-choice questions and practical exercise typewriter kind of machine came three decades before B. F. Skinner popularized the use of learning machines. 
B.F. Skinner, a behaviorist, psychologist, and author created the Skinner teaching machine in 1954. Leveraging his response-and-reward learning theory, he built a mechanical device whose learning experience surpassed that of the classroom.
Other milestones in the development of learning management systems include the 1929 invention of the problem cylinder. The device, invented by Milton Ezra LaZerte, tested learners' knowledge without an instructor's support.
The University of Houston introduced distant learning via televised college courses in 1954, while the SAKI, short for self-adaptive keyboard instructor, personalized the learning machine experience. SAKI was developed by McKinnon Wood and Gordon Pask in 1956.
Dr. Donald Bitzer invented the PLATO, or the programmed logic for automatic teaching operation, in 1960. PLATO's main selling point was its self-paced learning feature. It also had a collaborative or social learning environment.
In 1968, Hewlett-Packard came up with the HP-9100A, a computerized and fast-learning machine. The HP-9100A is, therefore, the predecessor of the modern LMS. Project Athena, a 1983 MIT learning management system, would link learners and tutors, giving them access to files from any desktop computer on their campus. 
Moodle, short for modular object-oriented dynamic learning environment, was the first open-source LMS. Moodle was a downloadable application that allowed learners to choose the educational content that they wished to export or store into their desktop computers.
The LMS's plug-and-play model lowered the barrier of entry to faster learning content. The sharable content object reference model, or SCORM, hit the learning scene in 2004, paving the way for modern LMS platforms. 
Who needs an LMS?
The better question is, who doesn't need a learning management system? A survey done amongst 388 professionals in the talent development field reveals that 83% of businesses use these learning systems. More insight into the LMS use shows that 73% of organizations are ramping up the use of the LMS platforms.  
While 76% of LMS users deliver e-learning content, 71% of subscribers use learning management systems to manage enrollments. Sixty-six percent of users use LMSs to track learner activities. Organizations that need LMS the most include businesses of all sizes, nonprofit and for-profit organizations, learning institutions, and e-learning platforms. As it stands, 42% of large Fortune 500 companies use LMSs to onboard and train their workers. 
There are two main segments of LMS users:
The Learner
The learner is also the end-user. The content in an LMS is designed to meet their training needs. The LMS provides features such as tracking tools to keep the learner's progress up to date.
Administrators
The administrator monitors and manages the LMS. They can create content, assign it to learners and monitor end-user progress.
Myths that are associated with an LMS
In an age where most workers need to upgrade their technology and customer relations skills, all businesses need to keep employee growth part of their core business strategy. Like Tom Vranas noted, your helpful staff cannot spend their time at work dealing with onboarding or training challenges that you can easily fix with an LMS.
Most small and medium-sized businesses believe the myth that LMS platforms are meant for Fortune 500 businesses. For this reason, most of them lag and have not yet joined the LMS bandwagon. Some of the misconceptions limiting the adoption of LMS platforms include:
1. We cannot afford an LMS.
A business may delay their adoption of learning management systems if they have the false idea that LMSs are a luxury meant for large conglomerates. The fact is that smaller businesses will benefit more from LMS use because they kick off their employee training and onboarding processes right from the very start.
Starting LMS use early will enhance business knowledge retention, embed digitization in your business, and help create a long-lasting awesome corporate culture. Most of these platforms have flexible payment and subscription features that you can leverage to start small and scale as your business grows.
2. Learning management systems are tedious and slow.
Businesses that have not fully embraced digitization may mistakenly assume that the process of creating LMS content is tedious and slow. They will therefore relegate employee training and management to the back burner. The costs of such decisions can be catastrophic for a growing business.
Choose the right LMS and you will have an easy time creating and modifying your content to suit all stakeholder needs. The best LMS platforms have easy-to-use templates, intuitive processes, and database content repurposing features.
For this reason, you will not need to create all your LMS content from scratch. Even better, some businesses become so good in content creation that they eventually monetize it, creating an additional income stream.
3. You will need an in-house expert to run your LMS.
Modern LMS platforms are very different from the legacy, clunky models that required an instructional designer to create content. They are easy to install, customize, use and the best of them have ample support from their teams. 
You could choose to bring a professional content creator in at first or outsource the process to external service providers. That said, you can easily populate your LMS with custom training content if you use them early enough in your business.
4. LMS are single-use platforms.
The LMS platform can integrate with other office-use software and enhance data exchange via APIs. LMS can cut down on admin overload by integrating with various content marketplaces, your CRM, HR, sales, and marketing systems.
Most learning management systems can host webinars and in-person or live events. They also have built-in community-nurturing features such as comment threads, forums, chats, and instant messaging.
5. Learning management systems cannot teach practical skills.
Most business owners have a false view of LMS training. They believe that LMS content can only be text, video, and image-based. In contrast, LMS platforms can run virtual reality and simulation quality training for practical or hands-on skilled workers.
Your staff can demonstrate skills to new workers via an LMS, saving time and eliminating risk. The user can also record training skill evidence and upload it on the platform for the supervisor to sign off on.
Chapter Two: Features of a Learning Management System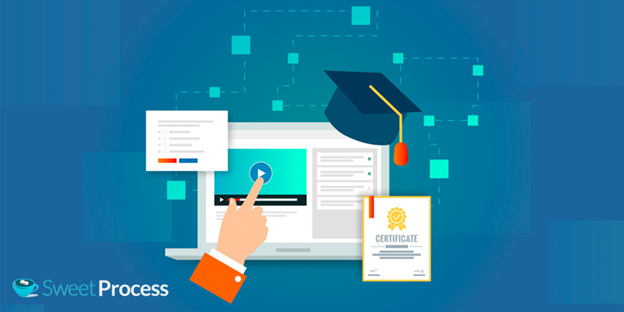 There are many types of learning management systems in the market. Like vehicles, they all have various features that best meet different content creators and the end user's needs. Therefore, you need to know the main features of a learning management system platform before purchase.
Major Features of Learning Management Software
The critical features that every LMS should include:
1. Integrations
Your LMS of choice should seamlessly integrate with other office-use platforms. It should also allow the learning and development team to effortlessly incorporate other forms of information into the systems.
2. Technical support
We cannot overemphasize the importance of this feature. When things go wrong, as they are wont to do, you will need a responsive and fast support team by your side. You will need them to manage your customization features and walk with you during every step of the LMS adoption and adaptation process.
A good illustration of the need for technical support in LMS comes from our previous Everywhere Wireless example with SweetProcess. Tom, the business's vice president, says, "We kept going back. I've had dozens of conversations with Owen through this process, wanting to get it right… Our evaluation was like a three-month-long thing. We kept going back and kept asking for a demo, and they obliged us. They never pressured us."
3. Data tracking
The administrator should easily track learner data in LMS storage. They can then use the data to enhance the LMS's content. Data tracking also will help the administrator personalize the learning environment. A good LMS should also have offline learning data via offline data capture processes.
4. Personalization
A good LMS should provide content to users as per their history or role. The LMS should offer them adaptive quizzes and assessments that reflect their performance and address their pain points. A learning management system that has personalization features keeps learners more invested in the learning process.
5. Communication management tools
A feature-rich LMS should have ample automatic notifications and communications features and alerts. Auto alerts and notifications will provide quick feedback to all stakeholders and support oversight.
6. Centralized data storage
An efficient learning management system should have ample centralized storage for all forms of learning content. It should also support user-friendly data access, increasing organization and consistency in learning or training. A central training content depository also supports blended learning for distributed teams. 
7. Analytics and reporting features
Data tracking is a very useful LMS feature. Reporting and analytics features will reveal more insights from your data, help identify large-scale patterns, and support the reiteration of content and business strategies.
8. Mobile and remote-work friendly
Over 22% of the American workforce could work remotely by 2025. It is, therefore, crucial for a business to adopt LMSs that can work effectively with remote or distributed teams. Your LMS should support and train on-the-go initiatives for mobile groups such as retail, construction, or healthcare workers.
9. Compliance
To keep up with compliance requirements, a learning management system should record and track training and send reports to management. These reports will prove that your organization gives corporate policy or government regulation compliance the seriousness it deserves.
Signs That Your Business Needs an LMS
So, what are the signs that imply that your decision to acquire an LMS is long overdue? For Everywhere Wireless, the pressure of rapid growth as their operational demands increased was the defining moment, the pain point that drove them to the search for an LMS.
The consumer-centric service, internet service provider, had a massive knowledge-distribution problem that had failed to scale with the growth of their business. Team members were constantly asking questions to get things done, a situation that was getting every worker flustered.
Giorgio Piccoli, the president at Americanflat, had been documenting his business's processes since its infancy. Therefore, his high-quality wall art workers had ample tribal knowledge to guide their onboarding and training needs. His streamlined processes, however, did not scale to match Americanflat's expansion. 
Soon, Giorgio realized that his business had a knowledge imbalance amongst his growing number of employees working in diverse regions and time. "SweetProcess came into light as our company grew. When we were six people in a shared office, it was really easy to be able to share that kind of tribal knowledge amongst the different people on the team…and then we realized that as we transitioned to a fully remote team, we needed ways to be able to transition the knowledge from one person to another. SweetProcess really enabled us to be able to do that," Georgio says.
For Stephanie Chavez of Zen Media, the light bulb moment came when she reviewed the business's disorganized processes. Every employee saw to their process, creating a lack of uniformity and disorganization. 
Stephanie, Zen Media's chief marketing officer, chose to go the LMS route and create a structured workflow that works for all Zen Media's employees. Through SweetProcess, Zen Media created a central knowledge base that cut down reliance on tribal knowledge, making critical business data available to all employees at all times.
"What happens if one of the employees is out or sick? Every client is a little bit different—the way we research their content topics and their hashtags and whatnot, they are all different," adds Stephanie.
To add to the experience of the business leaders listed above, other signs that your business needs a learning management system include:
1. You have remote learners.
Training disparate remote teams can be difficult for a business that runs without a learning management system. The LMS will help all stakeholders from any location in the world access training material. The LMS will also enhance progress tracking, accountability, and content access control.
2. Your business has workers with diverse specializations.
Basic learning or training content may work for all teams across the board, but there are cases where individual groups require specialized content. For this reason, you will need an LMS that easily sets up specific training for all roles or topics. A learning management system can help create and administer compliance, team, HR, partner, or manager training content efficiently.
3. You need business reports.
Every business needs to track its training ROI, performance, and trends. Your LMS will automatically create reports on these metrics. Using the scheduled reports feature can easily track the impact of training and development on your business.
4. You need a knowledge base.
Most of your long-time employees have all your business's processes at their fingertips. They are highly knowledgeable and competent. Therefore, the new hire gets into a high-stakes environment and will need all the information available to make strides and become as productive as the long-time employee.
Tom Vranas of Everywhere Wireless chose to use an LMS, citing this business reality as an example. He says, "There's this set of institutional knowledge that existed. We had people who had been at the company, you know, four, five, six years, and they just know how it works, but we're onboarding people all the time."
Tom chose the SweetProcess LMS to ensure that all the valuable knowledge in the hands of the established employee benefits the new hire. When the experienced employee leaves your business, they do not have to take that practical knowledge along with them.
A centralized knowledge base will ensure no knowledge gaps in your business by consolidating all invaluable business process data in a centralized location.
5. There is too much time-wasting on manual tasks.
Manual tasks are not only time-wasting but increase error. A learning management system will shoulder manual chores and free your trainers and managers by automating training. A good LMS will, for instance, support bulk import user contact lists, communication between user and trainer, and issue progress reports and certificates. It will also distribute training to material, eliminating the use of costly paper. 
6. Your current LMS platform is not working for you.
A learning management platform should scale alongside your business. If your LMS is still playing catch up with industry trends and not meeting all your business's training needs, then look for a scalable LMS. All learning management systems should have ample support and customization features too.
Why You Should Choose the SweetProcess LMS
Americanflat, Zen Media, and Everywhere Wireless are just a few examples of firms using the SweetProcess LMS to scale up their employee onboarding and standard business knowledge base creation process.
SweetProcess is a process, procedure, and tasks documentation platform. It is a perfect choice for businesses that are in the process of onboarding new employees or that are searching for effective team training and collaboration tools.
Some of the SweetProcess features include:
Easy step-by-step documentation of processes and procedures.
A policy creation tool that will directly link your policies to procedures, task assignments, and tracking tools.
Easy content administration and improvement tools.
Ample knowledge base–creation tools.
Integration with over 1,000 other apps, including Zapier.
Visual process map creation.
Images, videos, and files embedding tools.
Real-time team collaboration features.
Single sign-on and two-factor authentication security features.
Americanflat, Zen Media, Everywhere Wireless, and other businesses that use SweetProcess LMS features cite the benefits below:
Improved customer experience through easy information access
Tom Vranas says that his business tried out 70-plus LMS platforms before settling for SweetProcess. Everywhere Wireless's selling point is its ability to maintain consumer trust. The firm's wins in offering customer-centric service have netted it top-notch clients such as Google, Amazon, Nike, and CBS.
To fulfill their high speed and 99.99% uptime promise to their customers, Everywhere Wireless uses SweetProcess's LMS features to address their customer's pain points quickly. The learning management platform helps them increase customer satisfaction, enhance retention, and bring in new customers.
A huge benefit of the LMS platform is the ease of access to learning materials. This body of business knowledge eases the training process, helping employees develop and perfect their work-related skills.
Everywhere Wireless's employees use the SweetProcess LMS to access all the information they need to attend to their customers' queries avoiding the clutter and disorganization of manual documentation processes.
Decentralized knowledge base creation
There is a great danger in spreading out documents and learning content on various devices, including Post-it notes, printouts, and hard drives. You could lose your hard-earned knowledge. Secondly, some of your employees will find it difficult to access it. Build an efficient decentralized knowledge base using SweetProcess's graphs, images, videos, text, and chart features and bring organization to your training and onboarding strategy.
Efficient employee onboarding
Before SweetProcess, Everywhere Wireless had manual employee training and onboarding processes that were unstainable. Tom says, "In 2019, we hired twenty people, and so we had to look at all of the systems from onboarding, recruiting, to the knowledge management system. We hit some pretty significant growth, and we continue to hit that growth. It just came to the point where you can't count on tapping on the guy's shoulder again and again—that's going to drive that guy crazy." 
SweetProcess eased the onboarding process, ensuring high-quality training of their new hires and freeing the rest of the staff from dealing with a daily barrage of newbie questions.
Increased business content security
Americanflat cites SweetProcess's ability to secure its content as vital to the learning management system choice process. "Security is really important for us. Everything is in one place. It's also secure, and everyone has their logins, and it's encrypted. It's an important part of our technology stack," Giorgio says.
Quality control and assurance
Zen Media chose SweetProcess to create a structured workflow for the company's team. Stephanie Chavez notes that when every employee operates at their level of choice, then there will be a lack of uniformity in results.
SweetProcess's learning, training, and content documentation features help all Zen Media teams produce consistent, high-quality results, enhancing customer satisfaction and loyalty. "By having everyone on the same page with SweetProcess, they can have a more efficient and predictable result," says Stephanie.
SweetProcess has a sweet and easy sign-up process and a free 14-day trial feature. Use the free trial to test drive the SweetProcess LMS. SweetProcess has a 30-day money-back guarantee and special prices for small teams or businesses.
Chapter Three: Types & Implementation of Learning Management Systems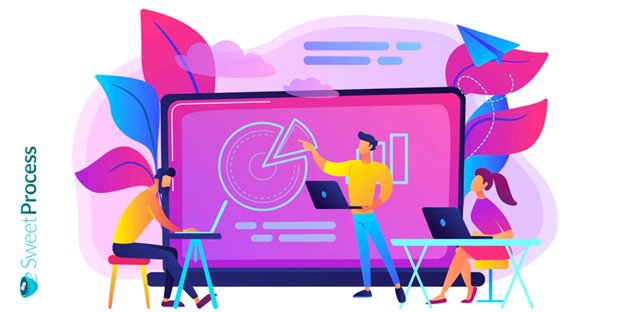 As you can see in the chapters above, a learning management system might be all that is standing between you and business excellence. If you are thinking of making training and development part of your business strategy, you need to choose the right LMS platform.
Types of LMS
Below are the different types of learning management systems in the market.
Enterprise LMS
This category of learning management platforms is designed for large institutions or businesses. It can meet the training needs of 500 or more users at a go. It can also scale to meet user needs and has a lot of premium inbuilt features.
Individual solutions
The individual learning management system is feature-packed and designed for individual or small business use. Most LMS providers build enterprise-grade platforms but offer small business and single users an individual plan that best suits their needs and budgets.
Commercial systems
Commercial LMS design targets large learning institutions, providing easy-to-deploy features and robust customer support. 
Free or open-source LMS
There are tons of open source and free LMS platforms out there for individual use. You will need some technical expertise to use them with customer support. You might, therefore, need to hire an expert to customize an open-source LMS to match your needs.
Cloud-based SaaS learning management system
Most LMSs today use the service as a software (SaaS) model to reach their customers. They are easy to deploy and offer all the training features you will need, plus free upgrades from cloud servers. They are scalable and have top-notch support from their developers.
On-premises learning management systems
The on-premises solution is a stand-alone licensed product that sellers install on a buyer's server. These LMS solutions might require special hardware purchases and physical support from the seller. They are therefore less cost-effective than the SaaS option.
How to Choose the Best LMS
Now that you have the types of learning management systems at your fingertips, below are some questions you should answer when choosing a learning management system for your business.
1. What are your business's LMS needs?
Recommendations are often a good place to start when choosing an LMS. That said, the learning management system that works for your peers or competitors may not necessarily suit your business. For this reason, you need to have a clear picture of your training needs before embarking on this journey. Consider factors such as:
Your budget.
Ease of the platform.
Number of departments that need to use the LMS.
Monetization features, if you plan to sell your content.
Data reporting features.
2. What does the research say?
Next, study user reviews to understand user sentiment toward your platform of choice. Visit the vendor's site and read testimonials and case studies on software review platforms.
3. Can you try out the platform for free first?
LMS vendors understand that you need ample time to accustom yourself to their platform before you can comfortably commit. A free trial period will help you get a feel of the system's ease of use, technical challenge, and customization options. Give a few LMS's a try and choose the one that ticks all your needs' boxes.
How to Compare Learning Management Solutions
If you have answered questions one, two, and three and are still torn between a few LMS platforms, here are some of the features you should compare them with when making a final choice.
Integrations
The market for a stand-alone LMS is as vast as that of the asparagus steamer. Rather than struggle with an asparagus-sized pot, most asparagus lovers simply toss their veggies into a multi-use steamer basket, pan, or oven with some butter and garlic. Yum!
When buying a learning management system, go for feature-packed platforms that work with your existing software. An LMS that integrates with your recruiting, performance, administration, or payroll system will eliminate data duplication and clunky, expensive paperwork use.
Vendor forte
If you are running a small business and choose a learning management system from a vendor that is not familiar with SMBs, the chances are that you will not get your money's worth in customization, pricing, or support.
You might also need to consider working with a vendor that has interests in your industry. There are times when a niche or lesser-known vendor may offer more support and integrations in your niche than a big-ticket vendor will.
LMS Implementation
You have made your comparison and have finally settled for the learning management system that best meets your business's needs. Next is the implementation step. So, how do you successfully put your LMS into action?
1. Create an LMS implementation strategy and team
Your LMS-use execution strategy should start way before you have made a purchase. Starting early will help you choose the right team, who will have their say when making the LMS platform purchase. Your team should have members from all your departments and stakeholders, and third parties that will need to use the system.
Create spots for a team leader, project manager, e-learning specialist, a learning and development administrator, and an I.T. expert. The vendor should be in close contact with your core team to ensure a smooth flow of communication.
2. Design an LMS implementation timeline
Your team should develop an effective and realistic implementation timeline that gives clear details on when certain tasks and phases will come to effect. Have room for glitches, testing, and reiteration processes. 
3. Prepare your systems for data migration
Your LMS implementation process length highly hinges on the type of LMS platform that you choose. The installation of on-premises learning management systems will take longer than cloud-hosted platforms. The number of integrations envisioned in your implementation strategy will also affect your data migration timeline.
You should take this opportunity to pore through your data and only migrate useful and actionable data to your new LMS platform. Archive or delete data that you do not need but seek advice from your legal department first. 
4. Run a trial process, and welcome feedback from users
You need to test your LMS before fully launching it. Create a test case that will channel your internal staff and other stakeholders to go through the system. Ask them for feedback and report any issues to the vendor. There should also be a training phase for all users guided by the vendor.
5. Implement full LMS use
You can choose to perform an overnight changeover to the new system or gently phase out from the legacy to the new system. Some experts say that running the old and new systems parallel to each other before change preserves data integrity and is more comfortable to the LMS's users.
Chapter Four: LMS Implementation Best Practices
The implementation of a learning management process is not a straightforward procedure. Your execution team will have a lot of teething problems when dealing with all stakeholders. Remember that there are many myths associated with LMS use for you to overcome.
Some stakeholders may object to LMS investment citing tight budgets. "Why do we need to invest in this right now?" they may ask. The answer to this question is that a trained workforce equals productive employees. Skilled employees attract and retain clients, increasing your ROI. 
Let the skeptical management team understand the tangible benefits of training and development. After all, 56% of HR managers agree that training and development is a crucial business enabler. sixty-two percent of HR managers say they have failed in meeting employee learning needs. 
Millennials make 50% of the current global workforce, and 86% of them will hold on to their current job if training and development is part of the package. Employee retention, satisfaction, and skill development translate to better brand knowledge and better customer experience. 
Others may not support LMS implementation strategies because they believe the myth that LMS software is expensive. The right response to this criticism is that the value of LMS is tied to its organizational and time-saving benefits. A business that trains its teams remotely cuts down on travel time and work disruption costs.
The learning management system will increase collaboration, provide efficient skill training, and provide compliance and development data. The efficiency of LMS training and development coupled with its minimum infrastructure costs translates to high value for money spent. In addition, LMSs provide timely training and collaboration in a social setting, strengthening employee bonds.
Expenses You Should Factor in Your Learning Management System Budget
Some of the "hidden" LMS implementation costs that teams tend to overlook include:
1. Pay per user charges
Besides the installation and set-up fee, some vendors might have a user cap per the LMS's license. Only a number of employees can use the system at a time. Should business grow and users increase, then you will need to pay more for each new user.
There is also the option of an upgrade to a different package. The benefit of the pay-per-user option is that you can pay a little less if you only have minimal new or temporary users logging in to the LMS. One other feature that is worth pursuing is the charge-per-active-user option. There are vendors also that charge for users that have trained on the system within a period.
Various types of LMS licenses:
Active user where you only pay for the users who actively engage with the LMS or when they login to their account.
A registration model that calculates specific metrics such as course registrations, certifications, or content purchases before billing.
Product-based registrations that are easy to monetize.
Revenue share licenses that have a monetized content revenue sharing model between LMS vendor and buyer.
Unlimited permits that do not take the number of users or content usage into consideration and have enterprise prices.
2. Support charges
Have a detailed conversation on the level of support that you should expect from your vendor. For example, are phone calls and chats free? Will you pay more when the system has a glitch and needs vendor attention?
Should your business grow and need to scale three years down the line, how much will an upgrade cost you? Please get to the nitty-gritty of support, updates, and upgrades cost and factor them into your budget.
3. Training
Your team will need basic training during the learning management system implementation process. Is your vendor going to provide training for free, or does it come at a cost? Some vendors will factor in training as part of the package and dispatch one-on-one support teams to show your employees and implementation team the ropes. 
4. Content design
You can populate your new learning management system using in-house resources or hire a third-party content creator. In-house content development will cost you payroll hours while content providers have their design, revisions, and maintenance charges.
5. LMS integration and data migration
Your learning management system should function seamlessly alongside your office toolbox. For this reason, you might encounter data migration and integration fees from experts. You might also need to replace legacy CRMs to ensure integration.
Common Complaints with Learning Management Systems
If your LMS implementation team has done its homework, your employees should enjoy LMS use as soon as their training phase is complete. Some of the complaints that might crop up with use include:
Operating systems limitations
The work environment has tons of devices that run via diverse operating systems. Therefore, your workplace learning management system should be compatible with different OSs, browsers, and mobile devices.
Compatibility with mobile devices, for instance, is critical because most people spend an average of  3.7 hours per day looking at their mobile devices. A mobile compatible LMS has benefits such as:
Ease of use.
More e-commerce opportunities.
Real-time feedback.
Increased accessibility.
Poor reporting features.
Your learning management system can provide invaluable user data on metrics such as learning and development content retention, comprehension, or user responsiveness. Unfortunately, some LMS might only provide canned reports that offer little insight for improvement purposes.
Confusion
The best LMS platforms are easy to use. After completing their training period, your employees should breeze through the modules and tasks in a well-designed platform. If the LMS's design is poor, there will be multiple complaints, making the platform a barrier to the learning process.
Useful Business Data Points You Can Mine from Your LMS Integrations
Business software eases access to big data, but it can also overload users with so much data that they reap minimal actionable insights. For this reason, every learning management system user should have a clear picture of the data that they seek to mine from their software when creating reports.
Understanding the data metrics that you are looking for also enhances data privacy and storage. Some metrics that learning management systems integrations provide include:
Hidden talent or employees who are best fit for leadership roles as per their training and development reports.
Individual employee training and compliance reports.
Team leader performance data. 
Internal marketing and motivation metrics.
Performance trends.
Training costs.
Customer engagement metrics.
How to Keep Your Learning Management System Secure
Some businesses overlook the privacy and security of their learning management systems. Software is vulnerable to various security threats, and it is important to place robust security practices in place.
First, the LMS administrator should be in tune with the LMS's security settings and configurations. They should enable these settings and keep them up to date. Processes like multifactor authentication will help secure access to the LMS. All users should have assigned permissions to limit data exposure and the effect of compromised credentials. 
It would be best to purchase an LMS with single sign-on (SSO) technology for better security. SSO will lower the scale of security attacks and help your administrator or IT team control and manage user access.
All your employees should have ample cyber awareness training to help them understand the importance of data privacy and protection. This form of learner awareness will lower the possibility of succumbing to phishing emails and scams and allow them to screen compromised passwords. 
Trends to Look Out for in the Learning Management Sector
So, what trends should we expect to see in the learning management systems sectors in the future? Learning about trends will keep your learning and development strategy fresh and enhance training efficiency.
Some trends that should impact the LMS industry include lessening focus on regulatory and compliance training and tracking; and increasing soft skills training for leadership and work life. These are highly transferable skills that add a lot of weight to an employee's resume.
As automation, machine learning, and AI take over most routine jobs, the market is getting increasingly hungry for employees with emotional intelligence skills that enhance collaboration, creativity, flexibility, and negotiation skills.
Learning management systems are coming of age and adopting new learning technologies. Expect to see increased novel content delivery technology such as virtual reality, mobile learning, interactive video, gamification, and blended learning.
The Final Word
The coronavirus pandemic has led to explosive growth in the learning management systems sector as businesses seek continuity in remote work settings. LMSs support health and safety initiatives, guarantee efficiency in training and employee onboarding processes, and enhance collaboration.
Businesses will rely on learning management systems more as remote work becomes the norm. For this reason, all companies must choose the best learning management system that will scale alongside their business, is flexible, and easy to use, such as SweetProcess. 
SweetProcess's multi-use features will tend to your business's employee onboarding and training needs. It will also help create, manage and control your processes, procedures, and policy development needs.
Check out what SweetProcess can do for you with our 14-day free trial – no credit card required. We also have a downloadable worksheet to help you choose the best LMS and features to fit your business needs here.