The Complete Remote Working Guide for Employers
Last Updated on November 17, 2023 by Owen McGab Enaohwo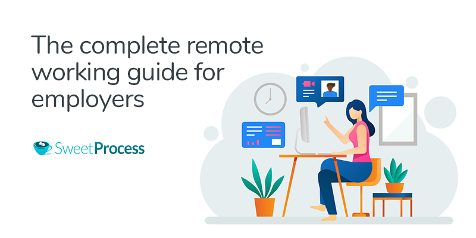 There isn't a single organization in the world today that can claim immunity to the Coronavirus pandemic. The reason is rather simple. Businesses need people to run them. Since everyone is in lockdown, they can't do their part to keep their respective organizations operating like normal.
And this "damned if I do, damned if I don't" scenario is having a catastrophic impact on the world. We all know how many people are losing their jobs and how many businesses are being shut down.
Remote working as a trend was already gaining momentum before the Coronavirus came along. Companies were decreasing expenses because they no longer needed to provide their employees with tools, office spaces, electricity, janitorial services, and furniture, while gaining far greater productivity than ever before.
While there's little that can be done to correct the worst aspects of this pandemic, except for waiting it out, many companies can still operate in low-power mode through remote work.
One study stated that employers stood to save $11,000 per employee per year just from having them telecommute to work. The increased savings was due to lower infrastructure costs, reduced absenteeism and turnover, and better disaster preparedness.
The benefits that remote working has on productivity are well documented too. A nine-month-long study by Stanford University found that remote employees were 13% more productive than their office-going counterparts.
I can go on for hours on the advantages of remote working, but if you're interested in finding out more, check out this survey by Zapier that proves remote work is here to stay.
The takeaway is that working remotely is the way of the future. It leads to happier, more productive employees and lets companies save more money.
So, without further ado, here's how you can turn your organization into a remote one:
The Complete Remote Working Guide Chapter Index
Chapter 1: The Case for Making Remote Work Part of Your Organization
Chapter 2: Preparing Your Team for Remote Work
Chapter 3: Getting Remote-Work-Specific Technology in Place
Chapter 4: Making Remote Work Easy
Chapter 5: Virtual Team Building Exercises to Try When Remote Working
Chapter 6: Language Mistakes to Avoid
The Case for Making Remote Work Part of Your Organization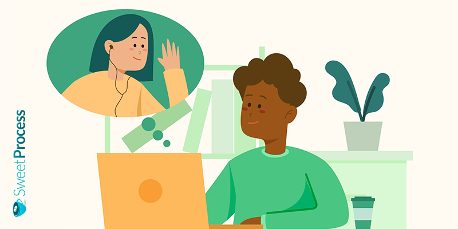 Granted, it doesn't look like much of a choice right now, but it's important to understand the value a new way of working can bring, regardless of the circumstances. For the most part, remote working has been portrayed as exclusively beneficial to employees, sometimes at the expense of employers.
Nothing can be further from the truth. While being able to work on one's own terms and not needing to commute daily are something that employees will find desirable, companies stand to gain a lot by shifting to a remote working culture too.
Reduced Operating Costs
Employers no longer have to provide any of the usual amenities they must provide to regular office-going employees.
For instance, the average office space rent in New York is $14,800/month, in San Francisco it is $13,032/month, and it's $4,192/month in Atlanta. Regardless of wherever you put an office, you can expect to pay a lot.
Likewise, the average SMB spends 6.4% of its annual budget on IT related expenses. All of these expenses and more can be circumvented by adopting remote working policies.
We have stories that prove how effective remote work can be, too. IBM saved $50 million in real estate costs by letting its employees work remotely.
American Express said that it saved $10 to $15 million annually by adopting remote working practices. Finally, the insurance company Aetna saved $78 million per year by letting go of its massive 2.7 million square foot office when it went remote.
A State of Remote Work 2019 survey by Owl Labs found that more than one third of the workers surveyed were willing to take a pay cut of up to 5% in exchange for the option to work remotely.
Increased Productivity
There's ample proof that letting people work from wherever they want increases output. A Harvard Business Study of patent office workers found that their output increased by 4.4% when they started working remotely.
But what about the creativity boons of working with like-minded people?
The most intriguing find of the study was that if the workers were located within 25 miles of their peers with similar job profiles, then they managed to learn from one another informally.
This is good news for companies moving into remote work because of the lockdown since their employees are likely to be within one city during a lockdown anyways.
Better Talent Retention
It takes money to train an employee. Which is why when (good) employees leave, they take more than their unique talents with them. Employee Benefits News found that when employees leave a company, it can cost a whopping 33% of their annual salary to train a new employee.
A strong remote work culture can help prevent your talent from leaving. A full-time remote employee is 22% more likely to be happy than an employee who never works from home.
A Fex job survey of 3,000 U.S. employees also found that 61% admitted they either left, or were considering leaving, an employer who did not have flexible work policies, while another 76% said they would be more loyal to their employer if they were allowed to work remotely.
Many employees often need to move away from the city where they work due to family commitments or personal issues, which is something that will happen with greater frequency as the current lockdown continues. Remote working can help them relocate while continuing to work either full or part-time.
So, remote work can help you not only cancel out costs, but it can also increase output and keep your people from leaving. In other words, it's a win-win for both parties. However, creating a workplace culture that can leverage the many advantages of remote working requires a steady hand.
In the next chapter, we discuss how you can prepare your team to work remotely while keeping its eye on the ball.
Preparing Your Team for Remote Working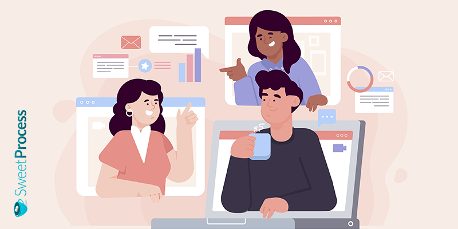 Managers need to bring about both strategic and personal changes when instituting a work culture transformation.
Let's take a look into each of these changes, and how to best execute them.
Strategic Changes
A manager's overarching goal is to make sure the company's commitments to its customers and shareholders are constantly met. Obviously, this means all team members not only complete their tasks on time, but the management also has a full overview of each task. And this is where things can start getting murky.
The obvious questions that managers need to ask themselves are:
How can they define and measure productivity?
Should it be judged by hours or by output?
If the latter, then what would good quality output be quantified as?
Managers have relied on the number of hours clocked in for a long time, and for the most part, it worked. While this was a good strategy for factories producing tangible goods, productivity in knowledge-based industries is harder to quantify. An employee can clock in 80 hours, but will it really mean they have solved as many problems as that much work might imply?
This is the primary question that drives productivity tracking in remote work.
Instead, managers need to start breaking down tasks into deliverables and tracking how long it takes to complete each. Furthermore, the effectiveness of each deliverable needs to be tracked as well.
For instance, Matt Mullenweg, CEO of Automattic, the company behind WordPress, says "…we focus on what you create, not whether you live up to some ideal of the 'good employee. For developers, that might mean looking at how many commits they've had over a given time period. For the support staff, that could be the total number of tickets answered."
The bottom line is that the deliverable and its quality is all that counts. Obviously, this means rewriting your KPI rules to become more remote work friendly. Here is an awesome list of KPIs you can look into when deciding on what to use. Of course, this is not to say that all your existing KPIs have to be thrown out. Most of the time, the issue boils down to tracking the KPIs rather than coming up with new ones.
Personal Changes
Remote work brings the opportunity to instill a culture of intrapreneurship, where team members act as entrepreneurs working within a company. An intrapreneurial culture lets each employee become a powerful change agent who is committed to adding value to the organization in his or her own way, rather than just completing a job.
Some employees will already exhibit a strong entrepreneurial streak which you can leverage. However, others can be trained to become more independent as well. Some ideas that can help you get started:
Empower your employees: Instead of just assigning tasks, ask your colleagues to chime in and share their opinions on each project. Letting your employees take the helm will help them gain confidence and the resulting first hand experience should result in better insights and ideas.
Increase your organization's risk-taking potential: An intrapreneurial culture requires the organization to absorb the risk of new experiments carried out by employees. Your employees must know for a fact that you've got their back, otherwise you probably won't get the desired response.
Be transparent: Siloing goes against the intrapreneurial grain. Allowing employees to access information is crucial not only to help them come up with new ideas, but help them have greater confidence in their company.
Reward the achievers financially: Don't just pat someone on the back when they produce something remarkable. Instead, give them a share in the company's profit that will result from their creativity.
Here are a few ideas on how you can foster intrapreneurship within your organization.
We have covered how remote workers can create their own processes and set up their remote work environments in the complete guide for working from home, so do check it out.
Getting Remote-Work-Specific Technology in Place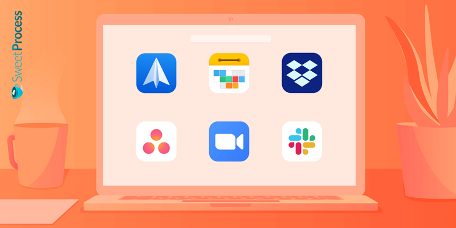 Remote work as we know it today wouldn't exist without cloud-based productivity software. However, given the sheer number of options available, finding the right tools for your tech stack can seem like quite a chore.
Below are five of the best, most well-tested apps that have sufficient features to power most remote collaboration efforts. The tools here have already been discussed in our working from home guide. However, here we will be discussing their benefits from an employer's perspective.
The tools are divided into emailing, teleconferencing, storage, collaboration, and process documentation.
Emailing
Gmail and Microsoft Outlook continue to be the most popular email services and offer all the functionalities one could ask for. Both the tools are already deployed by large organizations and have been tested thoroughly, making them ideal for companies of any size.
Gmail
With its intuitive UI, easy search feature, AI powered autocomplete, and reminders, Gmail is easily the best email service for both private and corporate settings.
IT teams will need to leverage certain features in order to ensure company data remains secure. In a nutshell, they are:
In addition, be sure to use Google's security tips and update your team on the latest email security best practices.
Outlook
Microsoft's email client has a long following in the business world and with Outlook 365, it gets better. You can review Microsoft's admin best practices for a better idea on how to go about managing users and teams.
Additionally, here are a few security features that should be turned on for remote work:
For a more exhaustive list of options, check out Microsoft's entry on user account management.
Teleconferencing
As the majority of work moves to homes, people are left only with video conferencing to get some semblance of human interaction.
While there are quite a number of options like Hangouts and Skype (and both would make great choices if they're what you're used to), we feel that Zoom offers the best functionalities and features for work related teleconferencing.
Zoom
Features: 100 users per session, custom backgrounds, extremely low latency
Price: $14.99/month/host
Free version: Yes
The meteoric rise of Zoom is well documented and it's for a good reason – it's a great tool available at a great price. But even while users might be itching to get on Zoom calls, turn on their favorite backgrounds while discussing projects, there are a few things that IT admins need to be aware of:
Zoom Dashboards: Gives you a bird's eye view of all the user activity. Comes loaded with graphs and statistics on users, meetings and Zoom rooms. The dashboard is a great way to gain better visibility into network usage and bandwidth allocation.
Information Barriers: In order to help IT teams comply with legislative requirements and implement more granular security policies, Zoom offers information barriers. Hard blocks that disallow two users who belong to conflicting groups and soft blocks which allow users to participate in meetings but regulate in-person chats and file transfers can be set up here.
Role Based Access Control: Each user in Zoom has a system role which can either be owner, administrator or member. RBAC roles come with a default set of permissions that cannot be changed. Only owners can assign roles to people who can then edit certain pages based on permissions granted to them.
There are quite a number of options that administrators have to both manage communications and understand how those interactions are playing out over time. Check out Zoom's admin management section for more on how you can control each meeting.
Storage
At this point, your organization probably already has its own storage setup which can be located either on-premise or public cloud based.
If your IT systems are largely on-premise, then you will need to work with your teams to come up with the most secure way to manage remote network access, depending on the product and network configuration you use.
However, if you are looking to augment your network infrastructure with public cloud, then the best option right now will undoubtedly be Google Drive.
Google Drive
With the highest storage space offered, well-rounded productivity apps, and excellent network security features, Google Drive again emerges as the best service for teams looking to work remotely. We covered some of the more prominent security features of Google Mail (a part of Drive) above.
Here are a few others that you can try out to really take your network security to the next level:
While the features mentioned above will keep most of your data in Google's public cloud safe, it's best if specific strategies are implemented for your organization's particular challenges.
Collaboration
At first glance, Google Drive seems perfectly adequate for basic online collaboration, thanks to its free office tools and the collaboration capabilities that are built into them.
However, there are plenty of things that it doesn't include to become a true project management software option. It can't help you get a bird's eye view of your projects. Nor does it help managers delegate and track tasks.
You can manage and collaborate with your colleagues on the file level. Drive offers no visibility into how those files tie into the tasks or strategies they are a part of.
Modern cloud-based collaboration tools are a special breed of software that provide a virtual space where entire plans can be drawn out and worked on. These tools have powerful time tracking capabilities, allow for seamless communication and make it very easy for managers to assign and track tasks to their teams.
While there is a plethora of collaboration tools available, let's take a look at the two best options available:
Asana
Features: Very intuitive UI, achievement tracking, powerful automation takes care of repetitive tasks
Price: Free with basic features for small teams and individual users; $10.99/month/user for more advanced features
Free trial: Yes
Created by Facebook co-founder and Google employee Dustin Moskovitz, Asana has all the features you need to run your teams and lets you add more as you need them.
Even with their free plan, you get a ton of features like the ability to create unlimited tasks, assign tasks to team members, attach files to them, assign due dates to tasks, and get status updates.
Asana does have a complicated pricing structure that can take some research to make sense of; however, it's still fairly easy to get started. Even their free plan has enough features to get the gist of it so, it's highly recommended if you're interested. Also, here are a few ideas on how to reduce Asana pricing.
Asana is also one of the most secure cloud services currently available. Their statement of security goes into great detail on the number of technologies and measures they have instituted to keep their client's data safe. So, suffice to say, your data will be in good hands.
Asana recently rolled out a new admin console that gives deep insights into each user's behavior and activity. The console greatly simplifies member provisioning, complete with the number of invites sent, registered members and guests.
You can manage app integrations from the Apps section of the console which has a link for all compatible apps, too.
Speaking of integrations, you can integrate your Asana account with a variety of different apps either through their API or Zapier. As straightforward and easy to use Asana is, it lacks some features that are quite basic to project management such as time tracking and real time chat which can be added to your account via integration.
Even though modern project management software are very intuitive, they can seem rather overwhelming when you use them for all your organization's departments. Asana has you covered here with their templates for marketing, IT, operations, design, product, sales, customer success, engineering, IT and HR. Each section has its own set of templates for every intended function within a department.
Basecamp
Features: No per-person pricing, comes packed with management features, powerful mobile app
Price: $99/month
Free trial: Yes
If you'd rather not go through the tedium of finding complementing apps to make your remote working experience more streamlined, then look no further than Basecamp. Not only does the software have all the basic functionalities that Asana does, but it also comes with excellent time tracking, live chat and a web board where teams can discuss ideas.
Like Asana, Basecamp has multiple layers of security ranging from physical to software to user training. Every employee at Basecamp is constantly being trained on the latest security techniques and their computers are hardened with an automatic test suite called Shipshape which routinely audits the developer environment. Basecamp carries out regular penetration testing under their HackerOne banner to find and fix loopholes.
One gripe users have with Basecamp is the absence of a dashboard or project visualization space. They did add Hill Charts specifically for projects with hundreds or thousands of tasks but that really is a basic addition that leaves a lot to be desired.
There are plenty of app integrations that can fill this space, though. Weekdone, Klipfolio, Ganttify and Easy Insight are some apps that offer specific project visualization capabilities that are an ideal fit here. In addition, Basecamp can be integrated with over 750 apps through Zapier as well.
Basecamp's task hierarchy is divided into three sections – Headquarters, Teams and Projects. HQ is your company, which can have multiple teams which can have multiple projects.
Basecamp refrains from following per person pricing, preferring to offer their services for a flat $99/month at which price you get all their features and can add as many users as desired. They run a free 30 day trial as well in which you can test all their features.
Process Documentation
Many companies often mistakenly assume that their procedures, policies and processes are static tools that have to be updated at predetermined times. While this process may have worked in the pre-cloud era, today processes are often playing catch up with new market realities and capabilities that cloud service providers constantly keep adding to their products.
In order to ensure your policies, processes and procedures are constantly in sync with your team's and tool's capabilities, you need a fast, dynamic method of capturing and disseminating technical knowhow to your team members. This is where SweetProcess can help you out.
SweetProcess
Features: Document processes, procedures and policies, steps can be added to each as checklists and can include videos and/or pictures, enables training on the job
Price: $99 per month for up to 20 members, plus $5 per month for every additional user
Free trial: 30 days
SweetProcess is a cloud-based productivity app that lets you create a database of policies, processes and procedures, share them with your team and update them in real time. Upon signing up, you can create a team and members to it. Any policy, procedure or process can be added to a team or a member.
Also, it's important to understand the distinction between a policy, process and procedure. While these are used interchangeably, they refer to very distinct objects:
Policies: your company policies are essentially a map of where you want to be. They provide a general guideline of what is expected from a team or employee.
Procedures: are a set of tasks that can help you accomplish your goals.
Process: is a step by step instruction to complete a task.
While processes are usually a part of procedures which fall under a policy, you can create individual documents with no connections to higher entities if you see fit. SweetProcess automatically updates all teams and members when a document is updated and any member with sufficient privileges can also edit the documents.
Finally, all documents can be used as checklists to complete tasks, too. Once a task is completed, an update is automatically sent to the concerned team.
SweetProcess can prove particularly useful in time such as these as it provides an easy to reach repository of your company's process knowledge which your team members can access remotely
Making Remote Work Easy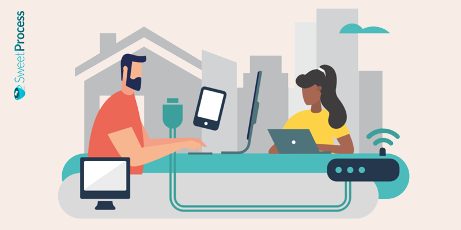 Suffice to say, a manager's role will look very different when his or her team is no longer working under the same roof. But, as hard as it may seem, remote work has a long history behind it already. Which means all that you are about to go through has been faced before, and there are realistic and effective solutions that you can use as templates to craft your own remote working strategy.
Here are few ideas to try out:
Let Processes Be Your Guide
While your business process is important as it is, it becomes absolutely indispensable when working remotely. Not only does it help people find answers when they are stuck, but it provides employees with clear instructions on what to do and what to avoid.
Make sure that each member of your team has access to the knowledge they need to complete their roles.
Again, SweetProcess can greatly decrease time spent hunting for the correct policy or checklist because an employee only needs to search for the correct document. Once they have their checklists, they can check off each task or make notes if they find irregularities or are faced with unexpected challenges to involve the entire team.
Have Daily Check-Ins
Simply having a chat with each member of the team cannot only uncover hidden challenges they might be facing, but it can also build morale. This isn't the same as having a team meeting, though, so it's best if you get to know each team member's schedule so that you don't end up disturbing them when they are working. Zoom allows for some very creative meetings, too, so do try them out.
Temper Your Team's Expectations
It's easy to think sky's the limit as far as productivity goes when working from home, particularly since all that commute time has suddenly become available. However, since this is a new paradigm that everyone's operating in, it's best if you take things slow and easy. Do remember that being given an option to work from home and being forced to do so with no end in sight are two completely different situations.
First, scale back the work volume (if possible) by 10%-30% for the first two weeks to see how everyone's coping with the isolation. You will likely find team members who will be performing better than ever, while there will be those who will struggle endlessly. Both are absolutely normal and will "level out" as they establish new routines.
Next, you can gradually adjust your task assignment rate once you have a clear idea on what the productivity thresholds of your team is and where bottlenecks lie.
Consider using the Gallup Strengthsfinder tool to know your employee's strengths and weaknesses.
Make Sure Your Team Understands the Tools
During the two weeks when you are scaling back work to let your team adjust, this will also present the best opportunity to train your team on any new tools they are going to use.
Use your daily check-ins to understand if a team member is facing issues understanding something and guide them if necessary.
Keep Your Focus on the Final Product
We've covered this before, but it really is that important. When people work from home, they start to delve deeper into their own working styles which is something that you'd want.
So, instead of managing your team's activities, it would be better if you kept your focus on the outcome. You can always trace activities back from an outcome to detect inefficiencies and help the team members who are underperforming.
The collaboration tools given above make it extremely easy to keep track of each task so finding those weak links won't be hard.
Virtual Team Building Exercises to Try When Remote Working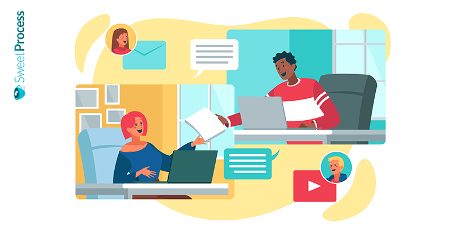 The saying "All work and no play" applies far more to remote work because your team members have no way to unplug from their work and have fun for a change. In a scenario where workers are under quarantine indefinitely, they may also be dealing with a lot of anxiety.
Also, there's always the chance that your team members will gradually lose touch with one another as time goes by. The idle chit chat, friendly leg-pulling, and casual banter that helped everyone relate to one another has been replaced by a vacuum of uncertainty and isolation.
Remote team building exercises can really prove useful here because they not only help everyone unplug, but they also encourage taking on adventurous challenges along with their buddies which will increase team bonding.
Here are a few ideas to try out:
This game requires each employee making a video of their home and their families, and then sharing it with the team. The exercise lets everyone get a sneak peek into the personal lives of their team members and get to know them better.
Ask your colleagues to share some personal facts (work appropriate, of course), compile them in a document, and send it to your entire team. Each participant will now have to guess who each fact belongs to, and the person who gets the highest number of correct answers wins.
If your team all live in the same area, consider giving away a gift card to a local restaurant or business as the prize!
Bingo is pretty easy to play, so you can make your own number cards and distribute them to your team. But let's not waste a great opportunity. You can replace the numbers on the cards with activities that your colleagues are likely to do when they are alone.
This one's run by a dedicated remote activity agency that organizes the event on your behalf. Tiny Campfire sends a care package to all participants a week before the event which contains a little candle, some colors and other items particular to your event.
On the day of the event, a link is sent to your team and the game is afoot! Experiences include ghost stories, icebreakers, competitions and more!
Works exactly like its real-world namesake, only now you will be playing it virtually. Assign everyone a number and ask the first person to start a story by speaking out one complete sentence and one incomplete one. The next person has to pick up from the incomplete sentence and repeat the story.
It's always fun to ask the first person how they thought their story will end once the game finishes 😉
Some of the links given above have long lists of event ideas, so you're not going to be running out of ideas anytime soon. You can also ask your team to vote which ideas they will like to try and take it up from there.
Language Mistakes to Avoid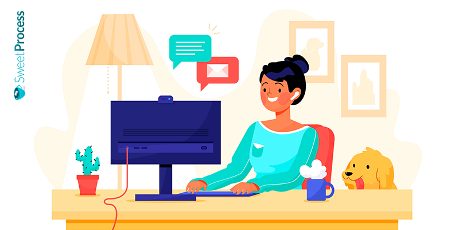 We all have our personal brand of expression that consists of cherry-picked verbiage, idioms, and grammatical choices that may or may not be generally understood. People often have to rely on our body language to get a complete picture of what we're trying to say.
While we may be used to "self-editing" ourselves when we write documents or emails, working from home means more phone calls, messenger conversations, and video conferencing. This means more opportunities problems!
When working remotely, your colleagues will no longer have you standing in front of them, which is why there's always a chance your ideas or intentions might be misinterpreted which can cause interpersonal strife and projects going awry.
Here are a few ideas on how to prevent this from happening.
Ditch the jargon
If a word is something you would label as "professional," then it's probably not one you'd want to use when communicating with your remote team.
Techno babble and biz speak may sound serious, but it almost always consists of useless filler words that don't add any value. Here's a list of typical jargon that is best left out of your chats and informal emails.
Write like you speak, or chat
Ever notice how your Facebook or Whatsapp chats are so much simpler than what you type in your emails? Writing emails or instructions automatically shifts us into "professional" mode, where we must "mean business" to be taken seriously, as opposed to innocent personal or online chats where we may be ourselves.
The problem with professional pretenses is that it adds a layer of complexity to communication solely to impress and intimidate, rather than instruct and educate.
Next time you're about to write an informal email, think about how you would've written it in chat. Better yet, type your entire email in a messenger app, and then copy it into your email. Of course, don't abbreviate simple words and do observe basic grammar rules.
Be mindful of homonyms and homophones
Homonyms are two or more words that have the same spelling, but different meanings and homophones are two words with the same pronunciation, but different spellings and meanings.
Both are best avoided when communicating with a remote team since the recipient will have no way to know which meaning you are referring to.
Once you're done writing an email, it's best to read it out loud and let it simmer for 5 minutes before you hit send. Ask yourself whether there's any possibility of misinterpretation. Also, here's a list of 200 common business homophones for reference.
Watch your tone
You get an email from your boss reading "Can you send that file TODAY???" How will you feel? Not good, right? All caps, bolded, italicized, and repeated words carry significance beyond mere word meaning, which needs to be factored into your communication.
Any tone that might come off as rude, hurtful, or sarcastic is best avoided as not only will it put off the recipient, but it may also turn an ally into an enemy.
Instead, try to find words that build confidence and camaraderie. So, instead of saying "Why didn't you show up?" you can ask "Is everything ok?" or "the problem here is…" can be written as "the situation here is…" and so on.
It's also a good idea to keep your use of emojis to a minimum. Oftentimes, we end up sending an emoji that seems right to us but is wildly inappropriate to the recipient. A simple "thumbs-up" or "smiley face" emoji will suffice if you really want to use one, but aren't sure what will be appropriate.
Keep it as short as needed, not as short as possible
While simplicity and directness are always desired in communication, there will be times when longer explanations make more sense.
Being very short in your communication has the inherent risk of being, well, direct. Overly short messages can be taken as confrontational, unemotional, condescending and sometimes, even rude. If you skimp on word counts, then you may also end up with a long string of questions that will take even longer to answer.
Regular exchanges, such as answers to basic questions, can be safely kept very short. However, you might need to elaborate in a tricky situation.
Longer explanations will be a better choice if you have to give someone critical feedback. This doesn't mean you should tip-toe around the problem or be needlessly wordy. Rather, the extra words are best invested in building a context for the subject so that the recipient may gain a better idea of the issue and what they need to do.
What We Can Expect Down the Road
As much as everyone hates the present state of affairs, all indicators do point to the inescapable fact that remote work is the future. By the look of things, we will be working from home for a while now. This will certainly result in more creative energy being directed towards fine-tuning remote working technologies and techniques.
Companies will also see at first-hand the various advantages of remote working, which may encourage them to adopt remote working policies.
Since remote working practices allow organizations to cut back on costs, access talent in different countries, rapidly test candidates to find the right fit, and maintain nimble teams, they offer an immense opportunity to forward looking brands.
On the other hand, companies that don't adopt remote working strategies will find themselves at a severe competitive disadvantage. They will pay more to get less done, while turning away deserving candidates who will gravitate towards brands that offer them greater flexibility and creative freedom. Suffice to say, there's no going back from here.
The ideas given above should provide a sufficient foundation to build a rock-solid remote work culture; however, they are by no means complete or all-encompassing. As remote working technologies evolve, we will see even easier ways to stay in touch and collaborate with one another.
What are your thoughts on remote work? Do you know of any strategy or tool that might make our work lives easier? Feel free to share them in the comments below!
We've also put together a Remote Work Policy Template to help you transition your staff to working from home easily. This is by no means a static document – it's easy to change/add/delete items to align with your company's mission and current workplace policies.

The policy covers:
Employee eligibility
Work expectations
Security responsibilities
Requesting permission for remote work
Communication rules
Tracking