Dozuki vs. SweetProcess: Which Will Best Document Your Company's Procedures?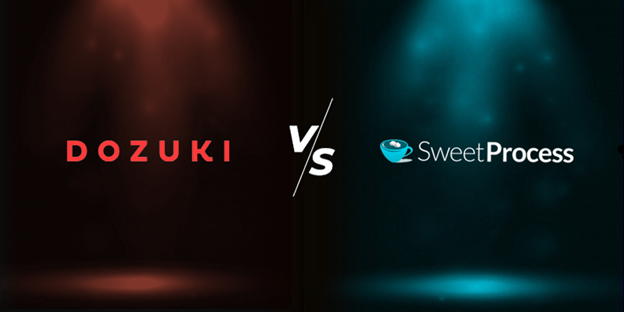 The business landscape today is constantly evolving thanks to changes in the workplace. More organizations are switching from fully working in the office to a flexible hybrid approach that allows their employees to split their time between working from home and the office.
Because of this factor, companies face challenges in upskilling their workforces and boosting productivity without meeting in an office.
Tools like SweetProcess and Dozuki come in handy to help with these new changes. However, Dozuki users have issues with the interface, knowledge testing feature, and onboarding problems for new users.
Managers and supervisors have had to assign and monitor tasks and communicate with teams across different geographical regions. This new task has led to the demand for collaborative tools that make it easier to manage all teams.
Organizations have to integrate all their business processes in a centralized place for all employees to access. Because of this fact, cloud-based documentation tools have become more common as organizations seek alternatives to their outdated documents and manuals that slow down operations.
If a company needs to manage remote teams, these tools come in handy because you can train and onboard new hires and current employees using one system. Additionally, if you need to introduce new processes, policies, and procedures, it becomes easier to implement this using a centralized platform with tools like SweetProcess and Dozuki.
If you need a tool in your business to upskill your workforce, make work easier, and boost productivity, which one should you choose between Dozuki and SweetProcess? Which platform is the best option for your business? This article will examine this in detail.
At SweetProcess, we allow you to test our software before you decide. No, we will not ask for your credit card details as you test drive it. Why don't you go ahead and start the 14-day SweetProcess free trial today?
Table of Contents
A Comparison of SweetProcess vs. Dozuki's Top Features
Which is Easier to Use Between Dozuki and SweetProcess?
Customer Feedback Comparison: Dozuki vs. SweetProcess
The Verdict Is In: And SweetProcess Takes It
What Your Workforce Needs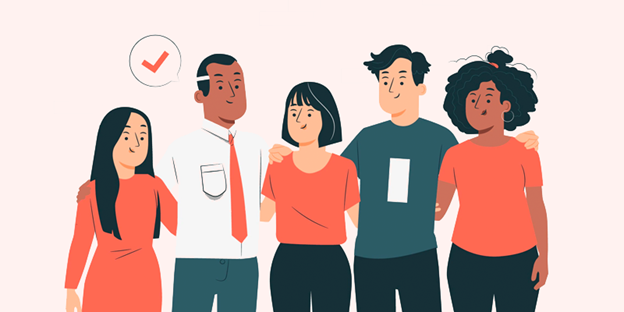 As a business owner or a company manager, one of your main roles involves handling and managing your employees. Whether you run a startup or a large enterprise, your team members are an important part of the business; therefore, they need to be constantly trained and upskilled to increase productivity.
When your workforce is well trained, they can perform their duties much better. Collaboration among remote teams also becomes more seamless when the staff is upskilled. To do this, you need a powerful solution to help you document your policies, procedures, and processes in one place. Fortunately, tools like Dozuki and SweetProcess have features that make it possible to upskill your workforce.
For your workforce to be efficient, they need:
Training
Centralized knowledge base
Regular updates about the standards of the company
Collaboration tools
Therefore, when choosing a tool to upskill your workforce you need to consider these factors. Between Dozuki and SweetProcess, which platform will work best for your workforce? This article will look at the two tools, compare their features, pricing plans, customer reviews, support, training, and ease of use to come up with a verdict on which is the best alternative.
An Overview of Both Tools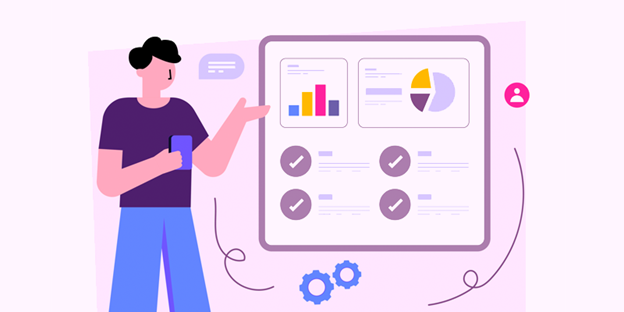 SweetProcess and Dozuki are tools that organizations use to centralize their business processes. The two platforms are designed differently and have specific features that make them attractive to users. Here's a detailed comparison of the two business tools.
SweetProcess in a Nutshell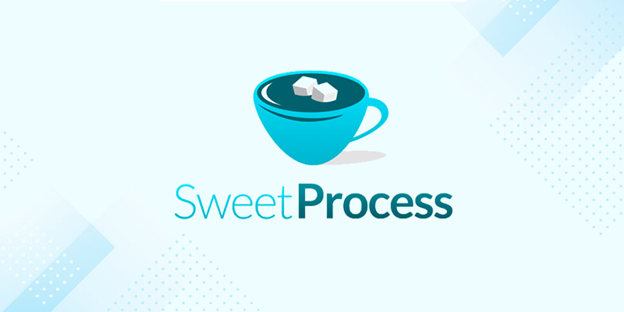 SweetProcess is a software that companies rely on to document processes, procedures, and tasks in one place. Whether you are managing a hybrid team or hiring your first employee, SweetProcess provides you with the systemization you need to scale and grow your business. This tool is cloud-based and automated which allows you to focus on growing the company.
With SweetProcess, you can manage tasks, implement policies, master processes, build public and private knowledge bases, and manage your workflow. If your company has had an issue documenting the wrong tasks, you can download a checklist from SweetProcess to help you save time.
SweetProcess offers membership plans that are transparent and all-inclusive. Every customer can access all features once they subscribe. It's an ideal platform to upskill your workforce because all processes are centralized. Since it integrates with over 1,000 apps, your employees will find it easy to use. Additionally, it comes with a 14-day free trial period that you can use to test if SweetProcess is a good fit for your business.
If you are looking for a tool to help you upskill your workforce, sign up for a free trial of SweetProcess today. No credit card required.
Dozuki in a Nutshell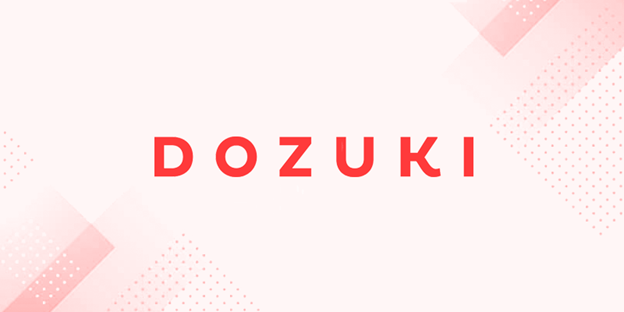 Dozuki is a leading platform used in manufacturing work transformation. Commonly used in the industrial sector, Dozuki captures expert knowledge and comes in handy if you need to launch connected work instructions for your company and upskill your workforce. The software has intuitive knowledge-capture tools that make it possible for experienced employees to share information and the experience with the other staff quickly and directly from the shop floor.
Your workforce also gets to receive real-time process updates that are based on insights from the shop floor. Dozuki is a perfect communication tool for industrial companies. By using it in your business, you'll boost employee performance because it provides easy access to documentation and provides a central knowledge hub for your business.
With Dozuki, you can draft electronic work instructions, change training manuals, and update your product support guides for the entire company. It's a cloud-based software that can be used by engineers, trainers, frontline workers, IT professionals, and company management. Unfortunately, Dozuki does not have a free trial period for its users.
Dozuki users have issues with inefficient user interface, reporting challenges, slow company customer support, and onboarding issues. Because of this, most companies are looking for alternatives like SweetProcess.
A Comparison of SweetProcess vs. Dozuki's Top Features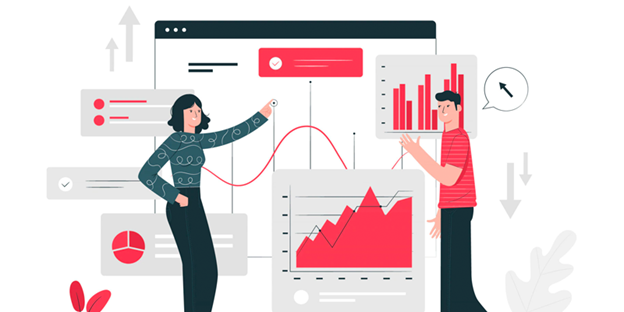 When selecting a tool to upskill your workforce, you need to evaluate the available features and whether they align with your business. Both SweetProcess and Dozuki have excellent features that make them ideal if you need a software to train your employees and create a centralized knowledge base for all team members. Which tool has the best features?
| | | |
| --- | --- | --- |
| Tool | SweetProcess | Dozuki |
| Common features | Real-time collaborationAssign and track tasks Integration with over 1,000 apps Email and phone supportSingle sign-on systemDocumentation of company proceduresLinks all processes to procedures and policiesEmbed videos and files | Real-time dashboardsAutomated assignmentsAPI integrationEmail and phone supportSingle sign onDocument controlIntuitive authoringTraining modulesMultimedia support |
| Different features | Process mapData capturePublic and private knowledge basesVersion historyTwo-factor authenticationPrint documents for offline viewing | More than 80 language support and in-built translation toolsBill of materialsCustom iOS and Android mobile appsLocal hosting |
Dozuki Vs SweetProcess: For Documenting Standard Operating Procedures (SOPs)
If you are looking for a tool to document your SOPs, SweetProcess makes it easy. Here are the easy steps to follow.
On the main dashboard, click on the "Procedure" tab
Tap on "Create Procedure" on the next tab.
You'll be prompted to add the title of the procedure and assign the procedure to the specific teams on the next page.
On the other hand, Dozuki focuses on standard training and documentation of work instructions for businesses. They provide templates that you can use for your standard operating procedures (SOPs) and work instructions. With Dozuki, you can create step-by-step instructions for a specific procedure.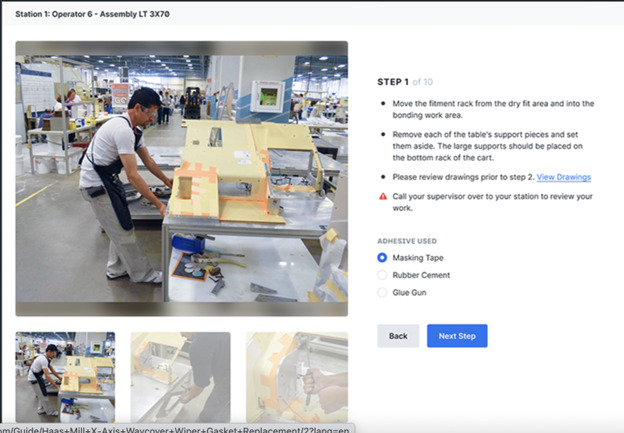 When documenting your SOPs, you can add photos and video instructions, capture how to complete procedures on the work floor and track who has been trained on different procedures. Additionally, their system has an in-built feedback loop that they use to continuously improve the standards.
Dozuki Vs SweetProcess: For Documenting Processes
SweetProcess is an ideal tool for process documentation. You cna use this tool in the following ways.
On the main dashboard, select "Processes" on the main menu.
Click on "Create Processes" at the top right corner
Add the process title and specific teams.
On the next tab, include the procedures, steps, tag and texts. Once you are done, click on "Finished Editing"
Compared to SweetProcess, Dozuki does not have a clear way to document processes. However, they offer an eBook with more information to improve how you document process knowledge, training materials, and more.
Dozuki Vs SweetProcess: For Documenting Policies
Creating a policy on SweetProcess is a straightforward process, follow these steps:
Click on the "More" tab on the main menu and select "Policies"
Select "Create Policy" on the next page.
Add a policy title and assign the policy to your team members.
Add your policy content on the next page. At this stage, you can attach files, embed videos, and add tags before saving the policy.
Dozuki is a tool that focuses more on standard work training; therefore, they don't provide features to document policies. This can be limiting to most organizations who need to document business policies.
Features Verdict
SweetProcess features are available for all users. The tool does not have confusing levels of membership; they are all-inclusive; therefore, once you pay for a subscription, you can access all features. To upskill your workforce, SweetProcess has a number of features to help with this including public and private central knowledge bases, integration with more than 1,000 apps, and collaboration in real-time.
On the other hand, Dozuki also has features that businesses can use to upskill the workforce such as training modules and real-time data reporting. However, you have to pay for the premium plans to access some features. Therefore, there's no standardized pricing for all users like with SweetProcess.
Based on this analysis, SweetProcess is more suited for small and large businesses. The tool's features are accessible to everyone who has subscribed. Additionally, you can take the free trial to determine whether the software is a perfect fit for your business.
Which is Easier to Use Between Dozuki and SweetProcess?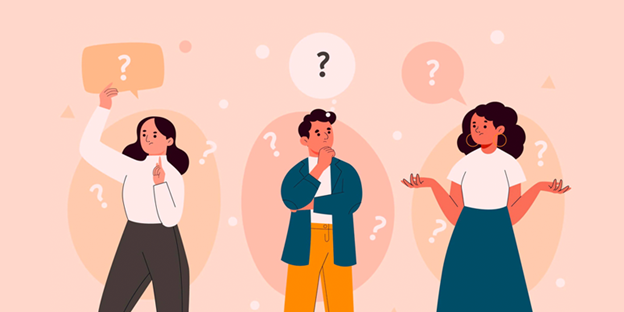 If it's your first time adopting a business documentation tool, you need to get one that's easy to use. Since your focus is on the team, the software should be one that each employee and team member can easily understand and use to execute their tasks. So, which is easier to use between Dozuki and SweetProcess? Let's find out.
SweetProcess Usability
SweetProcess is pretty easy to use and navigate. Here's how to use the tool.
Getting Started
Once you open the website, you can start with the free 14-day trial. This will allow you and your team to understand how the tool works. Getting started on the free trial is an easy step. On the main menu, select the "Try it Free" button.

This will direct you to the next page where you fill in your personal information including name, email, company size, and password. After adding all the details, accept the terms and conditions, and proceed to the next step.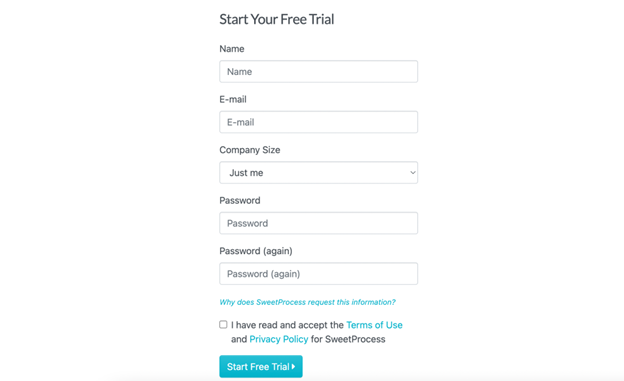 SweetProcess provides the option to take a tour of the dashboard; however, you can still take it later. This quick tour is vital because it shows you around the dashboard which you'll use to manage the business documents.

How to Use the Dashboard
The SweetProcess dashboard holds all the company documents. From here, you can navigate through different tabs. The dashboard has the main menu that you can use to create procedures, processes, policies, tasks, knowledge bases, and documents that you need for your business.

If your team or manager needs to create a process on SweetProcess, it's easy to do this from the dashboard. Select the "Process" button on the main menu and click on "Create Process."

On the next tab, add the process title. This will open a new tab where you can add additional details such as tags, images, and videos. Under the Process, you can add procedures, and as many steps as you like.

You can use similar steps to create a procedure from the dashboard. Select "Procedures" on the main menu and click on "Create Procedures" and fill in the necessary information.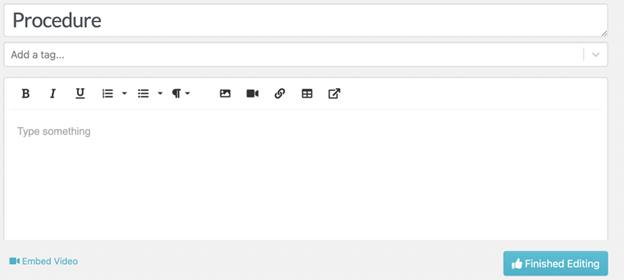 Apart from creating procedures and processes, you can also assign and monitor tasks. This is an ideal tool for collaboration especially if your team is in different places. To assign tasks to your team members, click on the "Tasks" button on the dashboard and select "Assign Tasks."

You can also select the specific employee the task is assigned to. Include the name, task name, due date, and time on the same page. As a business owner, you'll also need to track and monitor the tasks to ensure that they are accomplished on time. The SweetProcess interface is not complicated; you can monitor the tasks by checking the "My Tasks" tab to see what is due soon and what is overdue.

Furthermore, if your business already has existing documentation and procedures that you need to centralize for employee training and onboarding, SweetProcess comes in handy. From the dashboard, you can import your existing documents from Microsoft Word, Google Docs, or other platforms.
You can import these documents to make them accessible to all team members. This helps in capturing expert knowledge and making all company guides available to employees. To import your documents, click on the "Procedures" tab on the dashboard. Click on the down arrow button to the right of the "Create Procedure" button. Select "Upload document."

From here, you can add the procedure to teams and browse your computer to upload the Microsoft Word or Google Docs you need.
Creating a Knowledge Base Using SweetProcess
To upskill your workforce, you need a central knowledge base that everyone can refer to. This comes in handy when hiring new employees or when introducing new procedures in the company.
If you want to create a knowledge base using SweetProcess, log in to your account and select "More" on the main menu and click on "Knowledge Base."

Tap "Create Knowledge Base" and add a title. From the next tab, you can add the public URL that links to the knowledge base, add category names, and control access to the information. You can use this knowledge base to train your employees, boosting their productivity.

Learning Curve
If you are looking for a simple tool for your business, SweetProcess is the most ideal because it does not have a steep learning curve. Once you start the free trial, you can start creating processes and procedures immediately. This platform is perfect for small and large teams. Additionally, your team will easily navigate and understand how to use this platform even if they have basic knowledge of technology.
Dozuki Usability
Before selecting Dozuki for your organization, how easy is it to use? Let's find out.
Getting Started
To sign up for Dozuki, you have to pay for the service because they don't have a free trial period. If you want to learn how the tool works, you can watch a demo. However, this demo is not readily available on the home page. Dozuki requires you to provide your details such as name, email address, company size, and phone number.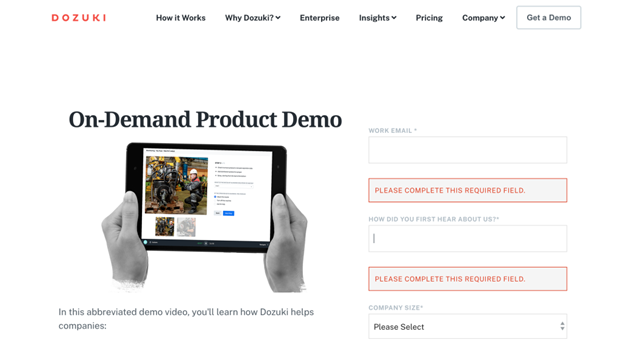 Therefore, you can't just login and start creating workflows and procedures for your company. You have to wait for Dozuki to send the demo or schedule a time to watch it after providing your information. Additionally, they don't have a clear sign-up button for new users which can be confusing for most people.
User Experience
To create your procedures and processes using Dozuki, you'll have to wait for the demo video from the team, especially if you are unsure about how to use Dozuki for your business. While Dozuki provides information about all the services they offer, users have to go through several steps before they can start using the tool to document procedures and processes.
Usability: Verdict
Dozuki and SweetProcess websites are well-designed for use. However, if you compare the two platforms, SweetProcess is easier to use than its counterpart. The interface and main menu has most of the tabs, whether you want to login to your account or get started on the free trial. You don't need to switch tabs to access most of the information.
In addition, once you access the SweetProcess dashboard, you can start creating procedures, processes, assigning and monitoring tasks, and creating knowledge bases for your employees. Furthermore, to create an account, you can use your Google account and get started on the free trial.
However, with Dozuki, the usability is not as direct. You can't get a demo on the website until you request one and provide your details. Therefore, it would take more time to get started and set up this tool for your business compared to SweetProcess. Since it does not have a free trial period, you have to pay to try out all the features for your organization.
Support & Training
To upskill your workforce, you need a tool that is easy to use and access information. Therefore, you need to ask yourself whether the software provider has a knowledge base you can use, a blog with more information, FAQs, videos, phone and email support and a social media presence. These elements are important in case you need more information on how to use the software to conduct your training.
Here's how these tools compare.
SweetProcess Support & Training
You and your team will enjoy using SweetProcess because it doesn't have a learning curve. But if you require further information, you can use the resources provided on the website to get started.
If you need a demo on how to use this tool, SweetProcess has a live demo page. You can access this directly on the homepage by clicking on the "Live Demo" tab at the main menu.

You can see how to create procedures, processes or assign tasks from this page.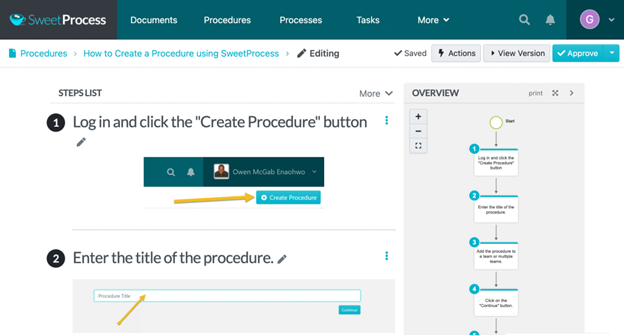 In addition, SweetProcess has an FAQ section on the homepage. This comes in handy if you need more information about the free trial, billing, information security, and how to use different features. You can also get more details by checking the blog section on the website. SweetProcess has a lot of articles on different topics to guide users. Furthermore, you can watch the video on the homepage on how this cloud-based tool works for your company.
In case the website does not address your concerns, you can contact the SweetProcess team for further assistance. You can reach them via support@sweetprocess.com or call the phone number +1 (800) 476-0732. They are also available on social media on Twitter, Facebook or LinkedIn.
Dozuki Support & Training
Dozuki provides some resources to the users on their website. For starters, they have a video on the homepage on what Dozuki does for your business. They also have an FAQ section where they provide information about getting started, technical specifications, plans, and trust and security.
In addition, Dozuki also has a blog and podcast section that you can use to get more information about how the software works. You can also use the Dozuki help guides for further details.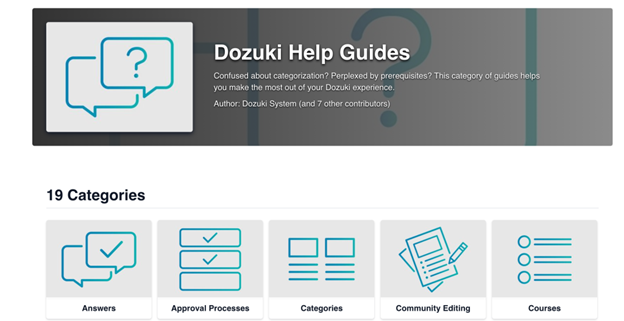 If this information does not address your questions, you can contact the team for assistance. You can either send an email, call them or write them a message from the website. Dozuki also has a social media presence on Facebook, Twitter, LinkedIn and YouTube.
Support & Training Verdict
Both Dozuki and SweetProcess have a blog, email and phone support, FAQ section and resources that companies can use to get information on how to use the software to upskill their workforce. You can contact their support teams for further assistance and more information.
However, if you compare the two, SweetProcess provides more support for the users. You can get a live demo on the home page without contacting the team. However, with Dozuki, you have to register your details and schedule a demo with the team. This can slow down the training process since you have to wait for feedback before proceeding with any further steps.
Customer Feedback Comparison: Dozuki vs. SweetProcess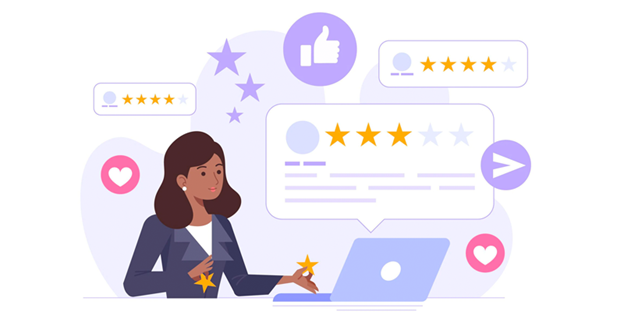 Customer reviews provide clear information and feedback on whether a tool is good. Therefore, before choosing between any two tools for your business, you should check what the customers are saying. This will let you know whether the software has any problems and whether it's a good fit for small and large enterprises. Let's take a look at the customer feedback for both tools.
SweetProcess Customer Feedback
Users who have used SweetProcess have positive things to say about the tool.
Helps With Accountability
SweetProcess is perfect for team collaboration because it sends reminders to all team members to alert them if they are holding the project up. They also remind you of the steps you need to take in a project. Because of this, this platform is ideal if you want to hold your employees accountable. The software keeps everyone on their toes, boosting productivity in the long run. Users found that the accountability and the simple task tracking helped to keep them on track to finish a project.
No Learning Curve
As mentioned, SweetProcess does not have a learning curve; therefore, new hires can start using it as soon as they get onboarded. Navigation is pretty easy; therefore, you can add the basic information and add steps later.
Ideal for Employee Training
Employee training is necessary if you want to upskill your workforce. You can create visually appealing documents and organize them to help with training of new hires. The easy-to-use interface makes navigation much easier during training and onboarding.
Dozuki Customer Reviews
While Dozuki is commonly used in the manufacturing sector to write electronic work instructions, there are some issues with the software. Here's what customers are saying about the tool.
User Interface Issues
Dozuki customers have raised issues with the inefficient user interface. An ideal tool should have easy-to-find buttons and menus. However, this software is challenging to use because you can't easily access all the features. Due to these interface problems, users spend more time learning how to use it which reduces productivity.
Other interface issues on Dozuki include the lack of a click-and-drag feature to organize guides. In addition, users find it difficult to add pictures and videos simultaneously in case they need to add media in the workflow and training software.
Additionally, Dozuki's organizational layout is not done properly. In some instances, the platform has duplicates on the same processes. When this happens, users can't access a systematic check to remove duplicate information.
SweetProcess avoids such issues by having a user interface that's easy to use and navigate. Users can access all features on the dashboard to ease the work processes.
Knowledge Check/Testing Problems
The Dozuki platform is not the best choice for most businesses because users have issues with the knowledge check and testing component. Users don't find it engaging and professional. These issues also mean that users don't have an auto-grading feature so they can't get instant feedback or grade employees during training using the platform.
Additionally, Dozuki does not have a checklist feature for companies to use when assigning tasks to team members.
The issues with knowledge checking and testing features make it challenging to use Dozuki if you need to upskill your workforce. The fact that you can't monitor and track how your employees perform is a disadvantage to the company. Because of this, Dozuki may not be the ideal tool if it's not meeting your needs.
SweetProcess does not have such problems. You can access the checklist feature and monitor all your staff after assigning tasks from the dashboard.
Lack of an Autosave Feature
When using this platform, customers have encountered challenges because they can't auto-save work in progress. This becomes an issue for most businesses because it can delay the completion of tasks and projects.
Additionally, now that most organizations have remote teams working on a project simultaneously, it could be a major setback if vital information is lost due to an outage or interruption. This means the team has to start all over again, which is costly and time-consuming for the company.
With SweetProcess, all your processes and procedures are saved automatically to avoid losing your work. You can access all the updated documents and revisions from the dashboard.
Difficulty in Finding What You Need
Your business needs a cloud-based documentation platform to make it easy for every team member and staff to find the company information and processes in a centralized place. This comes in handy in training new employees because all the knowledge is accessible to everyone.
But with Dozuki, this is a problem for most users because it's difficult to find what you need. New users have to spend more time searching for information if they can't find the right templates. In the long run, this affects employee productivity and overall efficiency.
SweetProcess users can search for existing documents, procedures, and policies without any problem.
The Mobile App Does Not Have All the Features
Although Dozuki has a mobile app to make it easy for users to access their workflows on the go, it is not fully featured. A mobile app is important because team members can keep up with the business processes and documentation from anywhere as long as it's installed on the phone.
According to customer reviews, the app's AI language translation tools are not 100% capable. They don't cover some key areas such as data entry fields. Additionally, the app does not have all the capabilities required to link with external tools. Therefore, if you have Dozuki in your company, the app does not have similar functions like the website-based platform.
Furthermore, an inefficient app is not ideal for the business because it makes it difficult to access information in real-time. This can slow down company operations.
Onboarding Issues
We've already established that Dozuki does not have a live demo on its website; therefore, new users have to request one from the team. This could be why the tool is so overwhelming at first. Users have onboarding difficulties because there is no program to introduce them to the software and how to use it.
An onboarding program is needed because Dozuki has coding and complicated programming tools that take some time to get used to. Because of this, your team members will have a hard time understanding the software. This could interfere with their execution of tasks and day-to-day operations of the company.
With SweetProcess, users will not have a problem with onboarding. There is a live demo for new users and a free trial period to test out the software.
Customer Reviews Verdict
Based on customer reviews for both tools, it's evident that Dozuki has some issues that hinder its functionality. The problems with the interface, mobile app, onboarding, knowledge testing, and autosave feature will affect programs in your business such as employee training. Therefore, this tool might present problems when you need to upskill your workforce.
SweetProcess, on the other hand, has positive customer reviews. It has no learning curve, it's ideal for employee training and good for team accountability. So, if you were to choose between the two based on the customer reviews, SweetProcess is the ultimate winner.
Plans & Pricing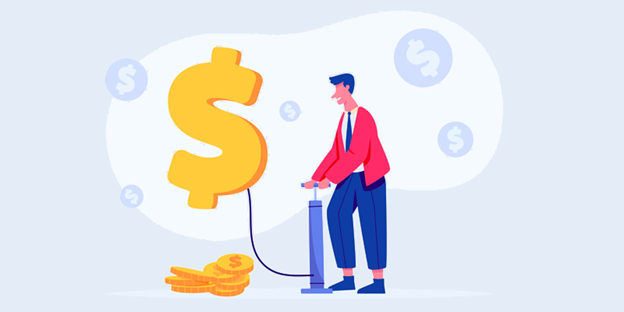 When planning your company budgets, you need to factor in the cost of getting a good software to document your procedures and processes. So, how much exactly will SweetProcess and Dozuki cost you? Here's the price comparison.
SweetProcess Plans & Pricing
SweetProcess is known for its transparent and direct pricing plan. Once you sign up, you'll only pay for the specific people using the software. Because of this, the tool allows you to add as many people as you want. What's more? When a member of your team becomes inactive on the platform, you'll receive a prorated credit to your account.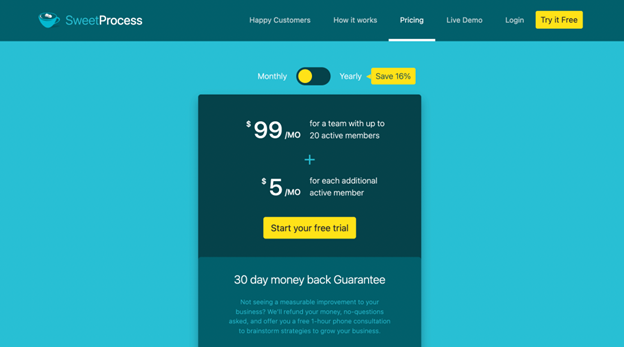 SweetProcess has a monthly plan and a yearly plan. If you choose the annual option, it will save your business money by up to 16.67%. The monthly plan costs $99 per month for a team of 20 active members, whereas the annual plan costs $82.50 and is billed annually. SweetProcess will charge you $5 per month for each additional member.
You are also eligible for a 30-day money-back guarantee. If you feel like you are not getting any measurable improvement in your business, SweetProcess will refund your money and offer a one-hour-free phone consultation to brainstorm strategies to grow your business. Additionally, If you have less than 20 employees, you can get special pricing for smaller teams.
SweetProcess has a 14-day free trial period for new users. This is a good period to try out the software before committing. You should take advantage of this trial period to determine whether the tool fits well with your company and existing software.
Dozuki Plans & Pricing
If you get Dozuki, they offer four pricing plans: Basic, Essentials, Premium, and Enterprise+. The Basic plan that costs $17 monthly per person is ideal for businesses looking for minimal support and training. This plan covers up to 50 users. If you take up the Essentials plan, you'll pay $14 per person monthly for a minimum of 120 users. This plan allows you to get hands-on support for software implementation.
The Premium plan is the most popular option which costs $12 per person every month and can support a minimum of 250 users. If you choose Enterprise+, you'll be charged $10 monthly for each user for a minimum of 400 users. You'll get end-to-end support, private cloud deployment, and 24/7 availability for this Enterprise+ package.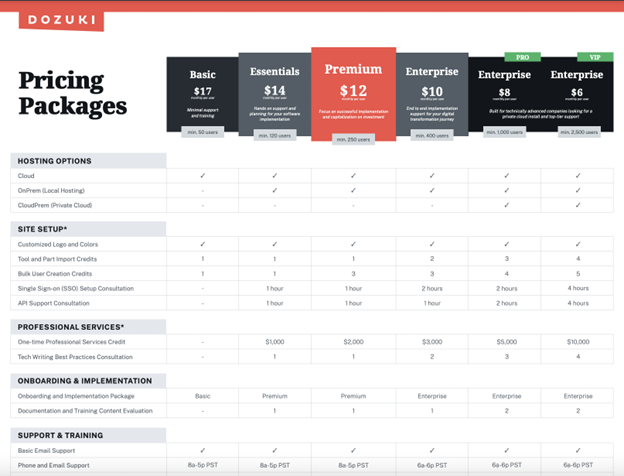 Plans & Pricing Verdict
SweetProcess and Dozuki operate quite differently in terms of pricing. While SweetProcess has a transparent, all-inclusive structure, Dozuki is not so open with their pricing. You have to request a quote on the website to get the information.
Additionally, Dozuki does not have a free trial like SweetProcess; therefore, you have to pay to use the tool. Although their costs are lower, some features are also only available if you pay for the premium plans.
The Verdict Is In: And SweetProcess Takes It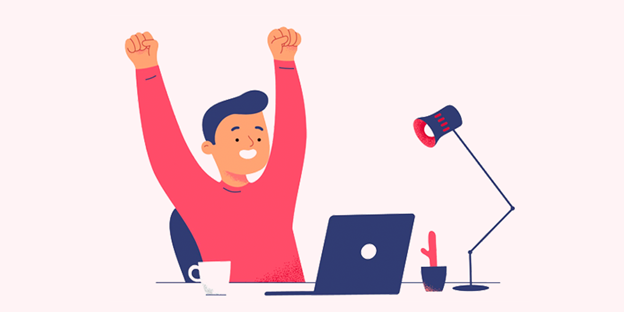 Upskilling your workforce can be a seamless process if you have the right documentation software. Your business needs a tool that has excellent features, is easy to use, with a good pricing structure, and offers support and training for you and your team members. SweetProcess is your best alternative because it ticks all these boxes.
With SweetProcess, your organization can centralize all the knowledge bases, procedures, policies, and processes to make training and onboarding easier. It also makes it easy to collaborate especially if you are dealing with remote or hybrid teams. Since SweetProcess has no learning curve and is easy to use, it has become a key part of several companies, both large and small.
Manny Cosme, the president and CEO of CFO Services Group, had a role to help small businesses streamline their accounting and bookkeeping needs. In the early stages of the business, the job was easier. However, as the organization expanded, it became difficult to pass on expert knowledge to new employees due to the absence of a standardized workflow.
This was risky for the group because it could lead to huge financial losses to the clients. Implementing SweetProcess in the business helped in creating a centralized knowledge base which became a go-to resource for his employees. Employee onboarding and training became easier because new hires could use the tool to get up to speed.
Now that the company had a centralized knowledge base, Manny had more time to oversee the entire company because his team members could find information easily using SweetProcess. This boosted efficiency in the company.
Eric Burnside, the vice president and director of business development at Independent Retirement, had an objective to couple the client base over a five-year period which meant streamlining business operations to drive growth. However, the business lacked well-documented procedures that affected the company's ability to transfer knowledge from one person to another.
All this changed when the company started using SweetProcess. They could now use a centralized software application that allowed every employee to access company information. Every team member became more efficient and well-grounded in their tasks because they could use SweetProcess to assign and monitor tasks.
Conducting training and onboarding became easier because they had the right tools. SweetProcess provided the company with custom training, and audio-visual learning opportunities that came in handy in upskilling the workforce.
Jamie Ramsden, the business intelligence and lean Six Sigma champion at Turkstra Lumber, was drawn to SweetProcess due to the ease of use. Initially, Jamie's team wasn't as coordinated, and documented all their processes on Excel sheets which was not as effective. Therefore they needed a software like SweetProcess.
When they started using SweetProcess, Jamie noticed that instead of creating texts, this software had a more visual approach which is ideal for training. He says, "SweetProcess automatically makes you a little flow chart as you enter your steps for any process. People understand things in different ways and a lot of our staff really like that if they can get a visual representation immediately."
SweetProcess is good for your team, especially if you need to use images instead of text to communicate procedures.
SweetProcess is ideal for small and large enterprises; therefore, you can adopt it for your company. If you are looking to upskill your workforce, sign up for a free trial of SweetProcess today. No credit card required.