11 Dozuki Alternatives to Boost Your Business Processes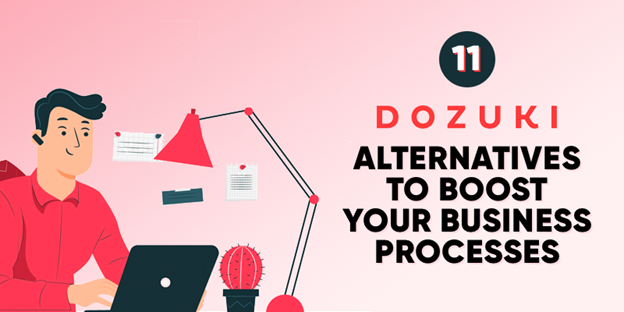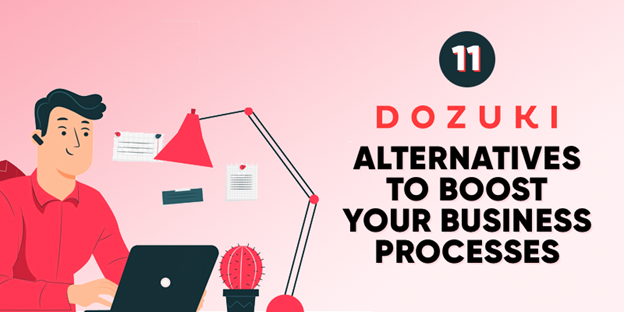 As the world shifts to digital procedures, companies are looking for ways to consolidate their business processes to boost efficiency. Organizations that previously relied on outdated manuals and guides now embrace cloud-based documentation platforms that allow them to access everything in one place.
Although platforms like Dozuki were established to provide such services, especially in the manufacturing industry, there are some issues the program does not address. It's used by companies as a tool for providing work instructions, but the limitations in its software are a problem for most users.
Whether you are an industrial company or in another field, you need software that has an efficient user interface, allows for easier reporting, has a functional mobile app, company customer support, and zero onboarding issues. Additionally, you should have basic functionality that allows you to find what you need easily and autosave your work. Unfortunately, these are major issues for Dozuki.
Thanks to digital transformation, the nature of business is rapidly changing. For this reason, you need to adopt tools with multiple functionalities that can integrate with your existing business software and meet your needs.
Fortunately, the market has some Dozuki alternatives that you can use to boost your business processes. This article will look at 11 of these alternatives and how they compare with Dozuki in terms of pricing, features, and benefits. You might find an option that's a perfect fit for your company.
Here are the alternatives we'll cover:
SweetProcess
Dokit
Trainual
Process Street
ScreenSteps
Poka
MaintainX
ProcedureFlow
IT Glue
Zavanta
ProcessKit
Click here to sign up for a free trial of SweetProcess now!
Contents
11 Dozuki Alternatives That Actually Get the Work Done
Optimize Your Business Processes With SweetProcess
Cons and Setbacks of Dozuki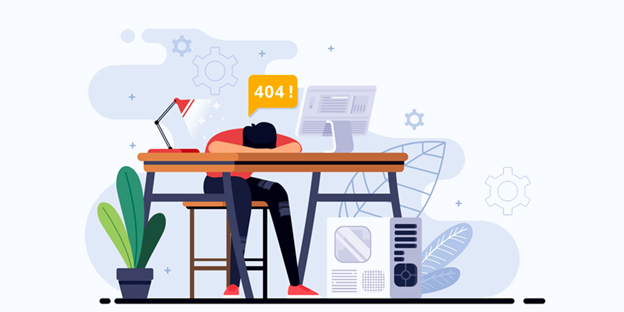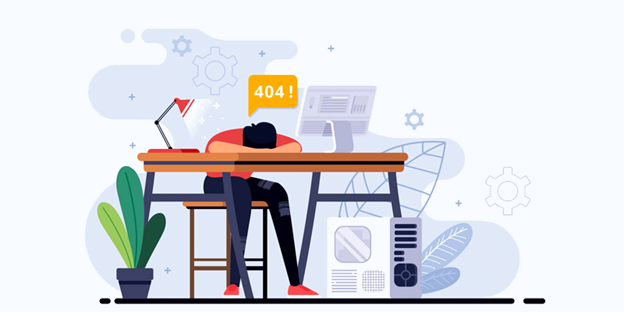 Having been in operation since 2003, Dozuki has been used by companies in the manufacturing sector to write electronic work instructions, update product support guides, overhaul training manuals, and improve the documentation process. However, the software does not function well for all businesses.
Let's look at some of the challenges that businesses are facing when working with Dozuki.
Issues With Knowledge Check/Testing
Dozuki users experience problems with the knowledge check and testing component. It's not engaging and professional for the user. Because of this, their software is not the best choice for most businesses.
Because of this problem, Dozuki users don't have an auto-grading feature; therefore, they can't get instant feedback or grade employees when training them using the platform. In addition, Dozuki does not offer a checklist feature which companies need to assign tasks to users.
Some Dozuki users found that the knowledge check/testing element was not as professional and engaging. They asked for an auto-grading feature and the ability to schedule training, as well as the ability to build a checklist when assigning work to a single user.
Every company needs software that has components to make it easier to handle business processes. Therefore, when the platform does not meet these needs, the company needs to switch to another provider and tool that works for the employees.
The "Media Manager" is Confusing
To make the documentation process easier, Dozuki allows organizations to upload photos and videos. Their standard format includes a media manager tab to add new media to the library. This is helpful when sharing standard work instructions and training staff on company procedures.
While this feature should make things easier, it can be very confusing for companies. Some users stated that once the image has been used, it cannot be saved to the server, which is not efficient. The platform has a flaw that leads to repetitive tasks instead of simplifying processes. Users can save time by using the photos already saved in the library instead of uploading them again each time.
A good software should simplify and automate tasks. Otherwise, this becomes a problem for users that need to use the same images on different projects.
No Autosave of Work in Progress
Dozuki users experience issues with the platform since it does not auto-save work in progress. This is a major setback for most companies since it could delay the completion of tasks and projects.
Most organizations will have different team members working on a project simultaneously. Therefore, if this information is lost due to an outage or interruption, they have to start all over again, which is costly and time-consuming for the company.
It's important for your software of choice to have features such as autosave. This protects your work at all times.
Inefficient User Interface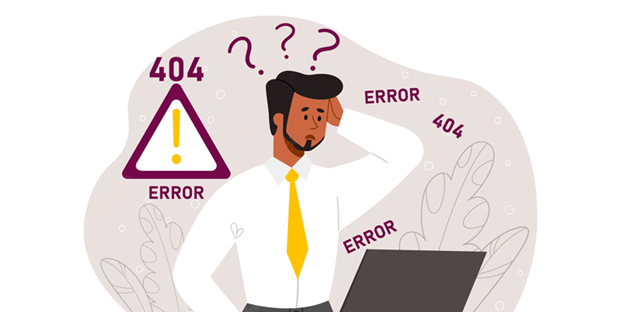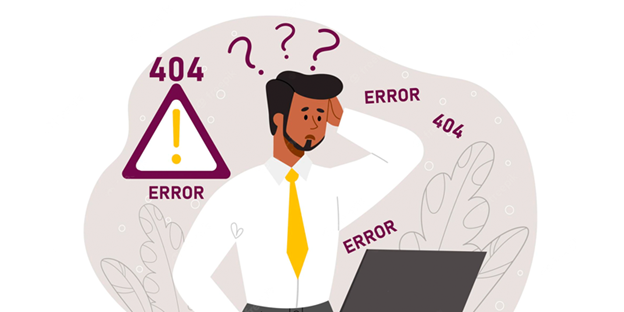 One of the downsides of Dozuki is the inefficient user interface. Users prefer an interface that makes it easy to find buttons and menus. However, this software becomes challenging to use when you can't easily access all the features. Because of this, users spend more time learning how to use it.
Users prefer having a click-and-drag feature to organize guides instead of selecting a guide at a time. It's also impossible to add pictures and videos simultaneously when you need to include media in the workflow and training software.
Dozuki's organizational layout for the different procedures is also not done properly. Their platform has duplicates on the same processes. The company does not have a systematic check to remove duplicate information.
Difficulty in Finding What You Need
Most companies use these cloud-based documentation platforms because every team member and staff can find the company information and processes in one place. This reduces the time spent training new people and performing tasks because the business processes are accessible to everyone.
However, with Dozuki this is a problem because users have a challenge finding what they need. Therefore, if you are new to the software and don't know how the layouts and templates are organized in the platform, you'll spend more time searching. This is disadvantageous for the company because it affects efficiency.
Rudimentary Reporting
There are multiple user complaints about the reporting features of Dozuki. For a software that's meant to streamline procedures in a busy environment like a manufacturing company, the reporting is rudimentary; therefore, it's hard to escalate the capabilities. These reporting features are too basic for a company that is expanding.
Some Dozuki users also had an issue with the work history reporting system because they don't provide the total of each guide completed at the end of the day. This is quite important for organizations for tracking progress and identifying areas of improvement.
Additionally, users find it hard to pull reports because the downloaded data doesn't match what's on the web version. This can be confusing for organizations because there are two sets of data. It would be more ideal if Dozuki had custom reporting options for their users.
Mobile Apps Not Fully Featured
Making the software available on a mobile app is quite important. All team members and employees can access the business processes and documentation on the go as long as they have the app installed on their smart devices.
While Dozuki has provided their users with an app, it's not helpful because it's not fully featured. Therefore, organizations can't use the app for similar functions like on the website-based platform. Some of the issues on the app include the AI language translation does not cover areas like data entry fields, and it does not have all capabilities to link with external tools.
An inefficient app is a problem for the users and organization as a whole. It makes it hard to access information in real-time, slowing down the company's operations.
Onboarding Difficulties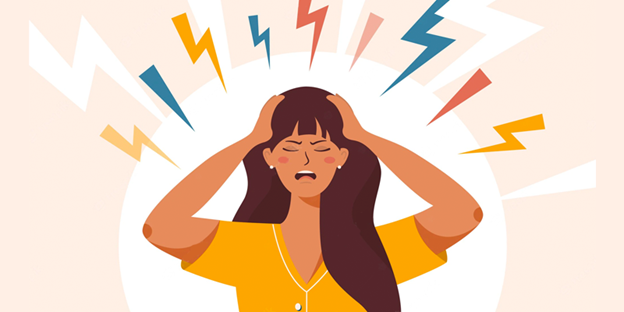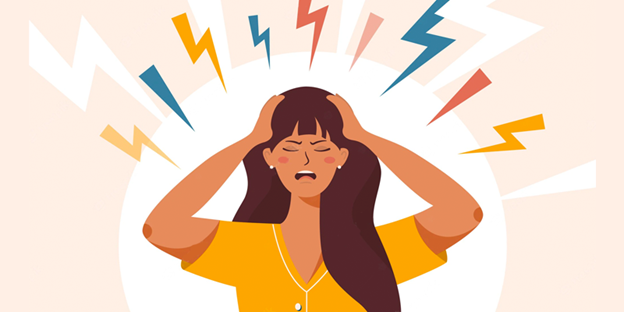 If it's your first time using Dozuki, it can be quite overwhelming. While the software provider offers a demo, there are still onboarding issues for some users. It would help if they had an onboarding program to make things easier.
These programs are necessary because coding and some of the complicated programming tools take some time to get used to. There are less features to help with this, making it hard for users to understand the software. These types of teething problems could affect the team members and interfere with execution of tasks.
Customer Support Issues
Statistics show that 60% of customers did more business with a company if they had good customer support services. Dozuki provides its users with a dedicated customer success manager to address any arising issues. However, this is not enough for some users because they don't get help when they need it.
When the Dozuki software has outages and minor bugs that lead to loading issues and lag times, the customer support team tends to be quite slow to respond. Due to slow feedback and assistance, the companies have encountered losses when dealing with an outage. Organizations prefer working with a company that responds and solves issues fast.
11 Dozuki Alternatives That Actually Get the Work Done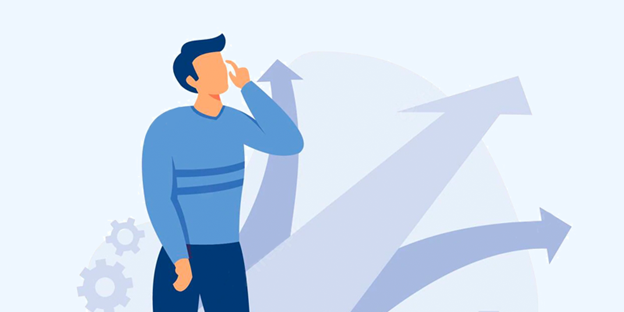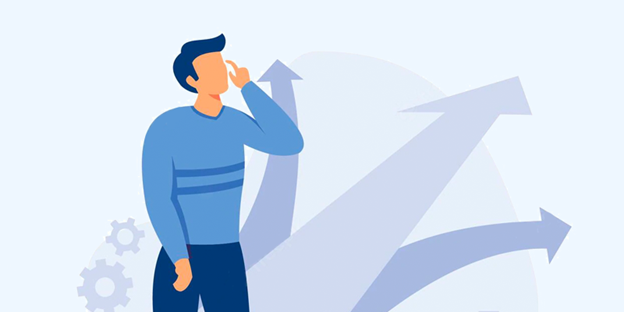 The software you choose for your business should meet all the company needs. Therefore, if you are encountering problems with Dozuki, it might be time to switch to another platform. Here are 11 Dozuki alternatives that you can consider based on their features, pricing, benefits and downsides.
1. SweetProcess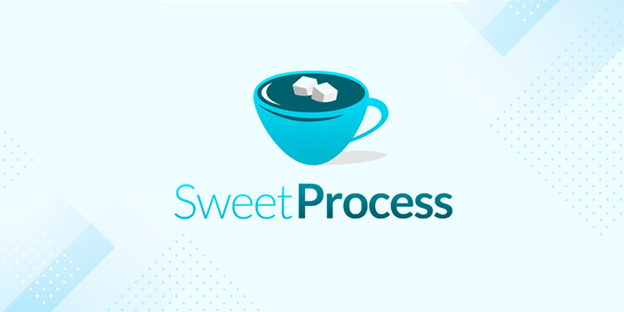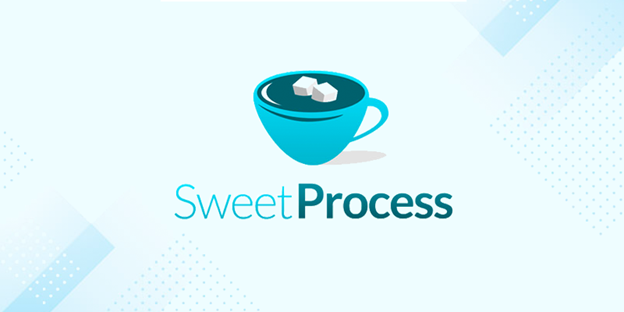 SweetProcess helps businesses document procedures, tasks and processes in one place. This software comes in handy for different business processes including new employee onboarding, customer support, financial planning or product development. When all the company tasks are handled and automated, you can focus on growing the business.
You can use SweetProcess to build a private or public knowledge base, document all the company information, manage tasks, and master processes. This platform is an ideal Dozuki alternative because it helps you with your checklists.
SweetProcess is perfect for your business, whether you are running a startup or a large company. Unlike Dozuki, this cloud-based workflow system has an efficient user interface, and a stellar reporting system. Users won't have an issue finding information because the home page has all the details about how the platform works, pricing, and features to expect.
If you need more information, SweetProcess provides some FAQs and blog posts to get you started. Once you are ready to begin, they have a free 14-day trial period.
Features
Single sign-on system
Team management
Collaboration in real-time
Users can see version history
Email and phone support
Integration with over 1,000 apps
Data capture
Assign and track tasks
Document company's step-by-step procedures
Link policies to procedures and processes
Combine multiple processes
Create public or private knowledge base
Embed videos and files
Two-factor authentication
Image editor
Print documents for offline viewing
Pricing
SweetProcess has a transparent pricing system that lets users know how much they need to pay. What's more, they only charge you for the team members using the software; therefore, even if your company adds employees from all departments, your bill will be limited to the primary users. When an individual becomes inactive, you'll get a prorated credit.
You can pay for the platform depending on your preferences and business needs. A monthly subscription will cost you $99 per month and covers 20 active members. SweetProcess will charge $5 per month for every additional active user.
However, you can choose the annual plan which allows your company to save by 16.67%. This will be billed annually. In addition, you are eligible for a 30-day money-back guarantee if you do not see any measurable improvement after getting SweetProcess. Apart from a refund, you'll get a one-hour free consultation with the SweetProcess team to brainstorm business ideas.
Benefits
Users get a 14-day free trial period.
The site is easy to navigate.
SweetProcess customer support via phone and email.
It has a fair and simple pricing structure.
Users get email reminders on their project.
It has no learning curve; you can start creating procedures and processes immediately.
All the procedures and processes are cloud-based.
It offers a free systemization checklist.
How to Find Documents on SweetProcess
Once you login to your SweetProcess account, select "Documents" on the main menu. From this page, you can view all your documents.


You can check the version history of your documents easily on SweetProcess. Select the specific procedure, process, or policy, and click on the clock icon. This will display your current version and past versions on the sidebar.


How to Create Procedures, Policies, or Processes With SweetProcess
To create a process, policy, or procedure, the steps are the same. Login to your SweetProcess account and select "Create Procedure."


Enter the title of the procedure.


Add this procedure to a team or several teams and click continue.


On the next tab, you can add a description to the title of your procedure, process, or policy. In this section, you can add some tags, embed videos, add images, and steps. Once you are done, you can click on "Finished Editing." You can repeat these steps to add other company procedures, policies, and processes.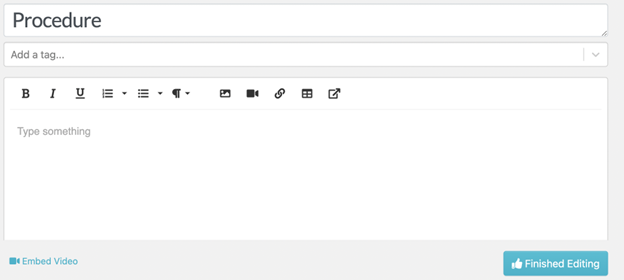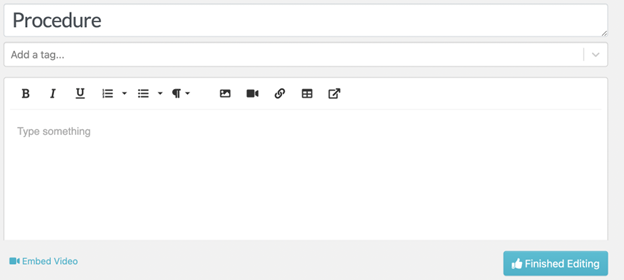 How to Assign, Monitor, and Track Tasks on SweetProcess
To assign tasks, select the "Tasks" tab on your account dashboard. Choose the "Assign Task" button.


You can do this from the existing procedure or process.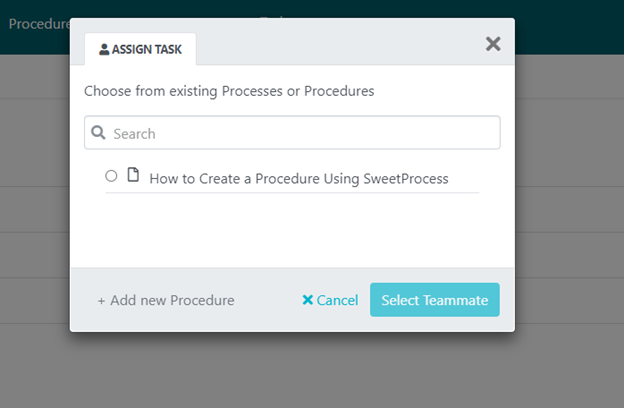 Select a team member to assign tasks, add their name, the due time and date, and include the task name.
To track and monitor these tasks, check the "My Tasks" tab to see what is due soon and what is overdue.


How to Create a Knowledge Base Using SweetProcess
Creating a knowledge base for your customers and clients with SweetProcess is easy. Login to your account and select "More" on the main menu, and click on "Knowledge Base."
Select "Create Knowledge Base."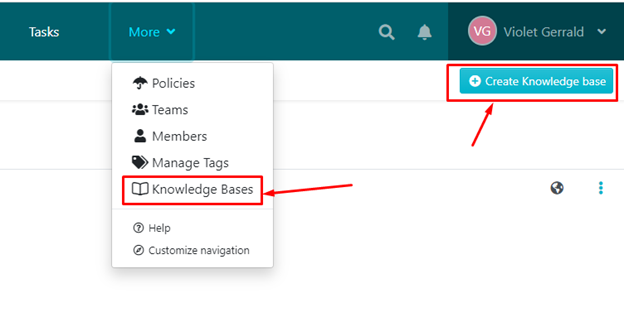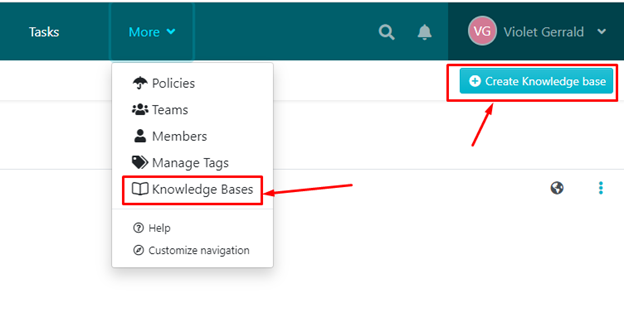 Add a title.


You can add the public URL that links to the knowledge base, add category names, and control access to the information.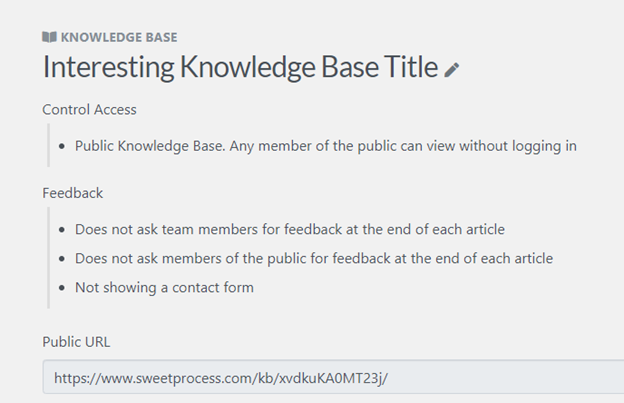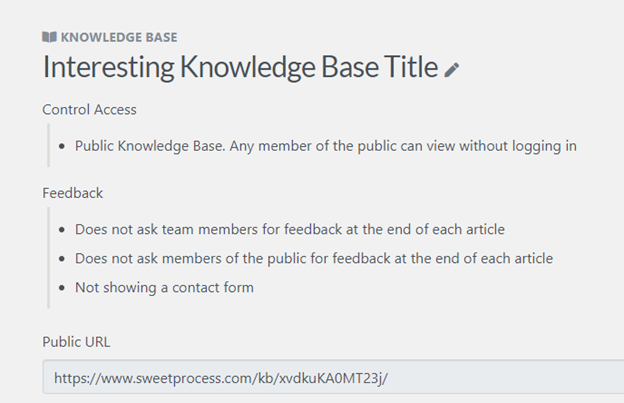 How to Import a Procedure or Process Into SweetProcess
To import a procedure or process, select the "Procedures" tab, and click on the down arrow button to the right of the "Create Procedure" button. Click "Upload document."


When the dialogue box opens, add the procedure to specific teams and browse your computer to upload the document you need. Your file will be imported into SweetProcess.
Yes, it's that easy and seamless to use SweetProcess as a Dozuki alternative. Ready to take the dive? Start your 14-day free trial of SweetProcess now (no credit card required).
2. Dokit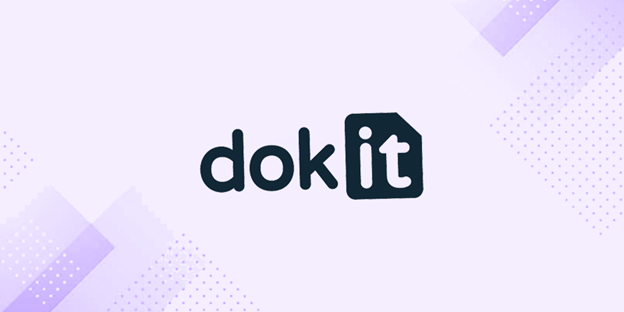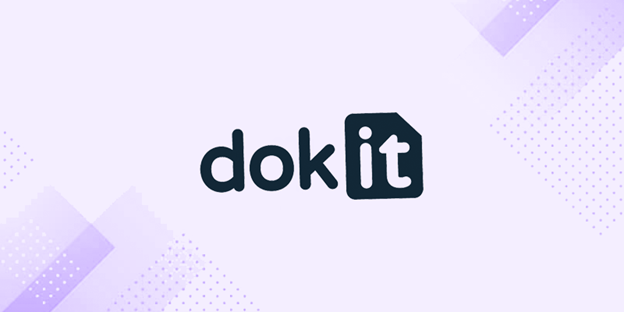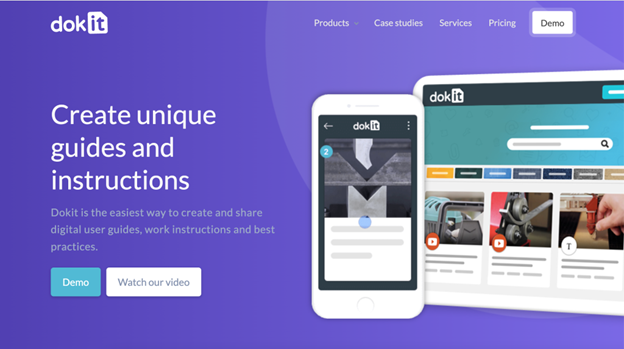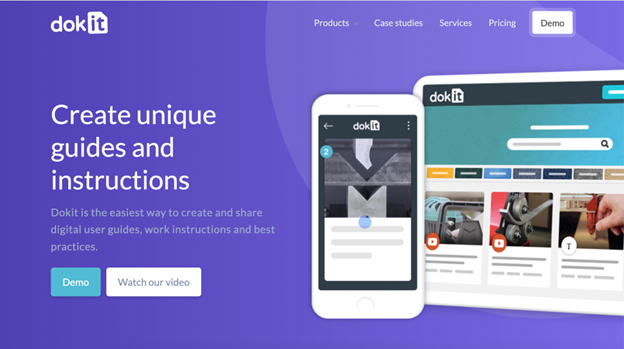 Dokit is an all-in-one collaborative platform that companies can use to create, organize and share manuals, digital user guides, best practices and instructions. This tool is ideal for manufacturing companies because it increases productivity and accelerates employee training, thanks to standardized work procedures.
Apart from industrial companies, this Dozuki alternative can also be used by companies in all sectors to share best practices. If you choose Dokit for your company, you can use both the Dokit app or Dokit platform. Your customers and team members can benefit from using the app because it comes with visual step-by-step instructions, it's available on most devices, and continuously updated.
Dokit's interface is visually appealing and simple to navigate. You can switch between the Dokit platform and app easily, and access pricing information from the home page.
Features
Visual editor
Page templates
Media gallery
Multilingual
Document importation
Revisions tracking
Notifications
Comment section
Version management
Workflow validation
User permissions
Image annotation
Drag and drop
Pricing
Dokit has three pricing plans to choose from; Starter, Enterprise and Tailor-made. If you are a small business, the Starter plan is ideal and will cost you 60€ per month for a single author. The Enterprise plan starts at 300€ per month. With this plan, you can distribute your documentation at large scale. This option allows five authors.
On the other hand, you can request for a platform customized according to your preferences. This plan comes with most of the features including offline access, dedicated domain name, and advanced customization. You have to talk to the Dokit team to get these services.
Benefits
Integration with most apps
Simple for team members and clients to understand
Sends reminders about projects
Site is visually appealing
The mobile app is a plus
Users can track revisions
Downsides
Completely browser-based
It has limited features
Members are limited
Issues when setting up
There are lagging issues
Inability to track tasks
3. Trainual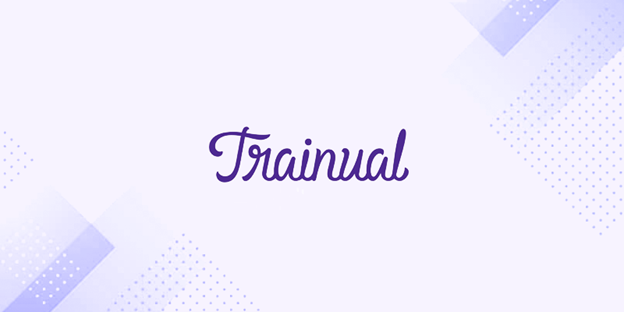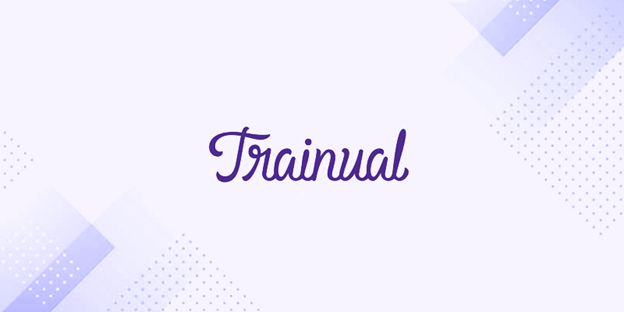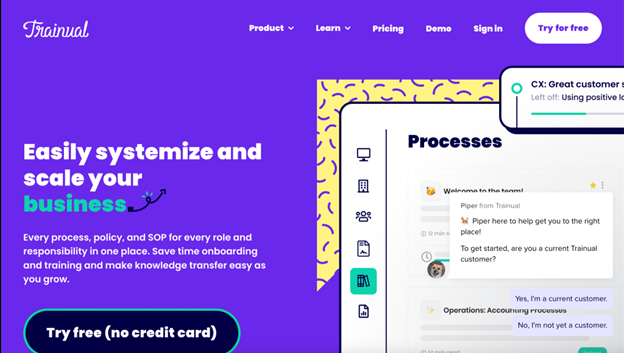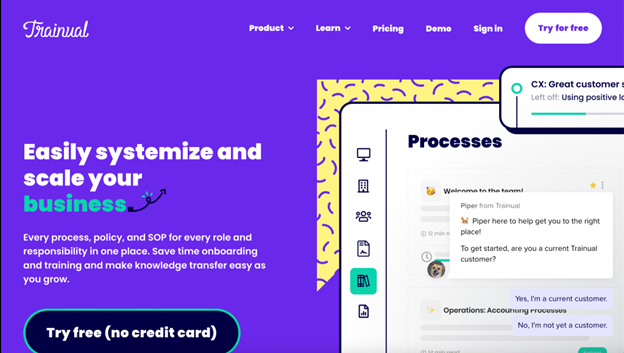 If you are looking for a software to systemize your employment and onboarding system, Trainual is one of the alternatives to Dozuki. Trainual is a knowledge-transfer platform that puts together every company policy, process, and standard operating procedure for each role in one place.
Organizations that use this platform can save time on training and onboarding new employees because there is a standard playbook. This ensures that everyone gets trained consistently and content is updated so that every team member is aligned. Trainual is ideal for business owners, human resource professionals, and managers.
Additionally, there is a trackable employee handbook that you can use to test that employees understand the company procedures and track who's reviewed the company policies. Trainual provides more than 250 templates to help you get started.
Features
Integration with other apps
Templates
Customer support
Trackable handbook
Organizational charts
Pricing
You can choose between three Trainual payment plans: Build, Train, and Scale. The pricing structure is based on whether you pay monthly or annually. Annual payments will save you 20%. The Build plan costs $61 per month for five people; annually, this will cost you $49.
If you choose the Train plan, the monthly plan costs $124 per month for 10 people while the annual option is $99. For 20 team members, you can take up the Scale plan that costs $249 per month if you pay monthly; $199 if you prefer making an annual payment. You can choose the plan that aligns with your business, upgrade, cancel, or downgrade at any time. Trainual has a free seven-day trial.
Benefits
Free trial period
Easy to use and navigate for employee training and onboarding
Additional webinars and articles for users
More than 250 templates for users
Easy integration with most apps
Users can embed videos and images, making it visual
The system is intuitive
Downsides
It has a learning curve for new users
Limited sharing capabilities
Better features available on the premium plans
It can be costly for some users
The search engine is not seamless
Few interactive activities
Some of the embedding features are hard to understand
4. Process Street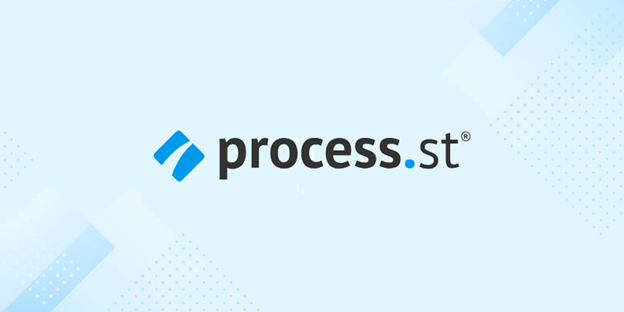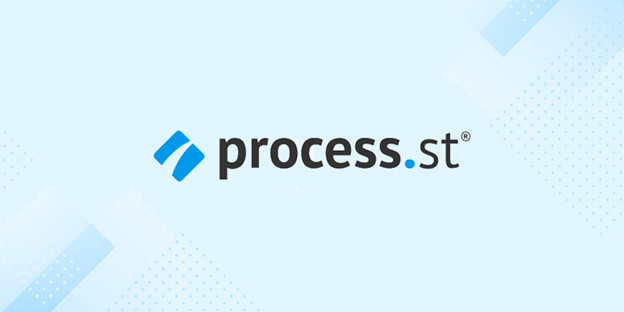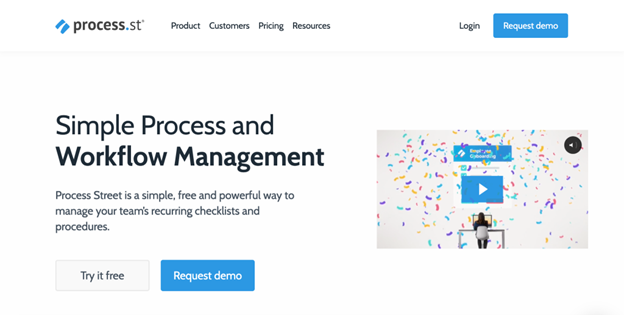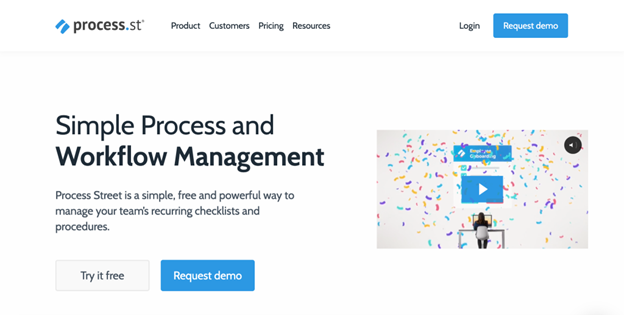 Process Street is the simplest tool to manage your recurring workflows, checklists, and procedures. Using a workflow software like Process Street improves productivity, lowers company costs, increases flexibility and accountability, and provides a faster update.
You can use this software in different departments including marketing, sales, legal, human resources, and IT. It allows you to view all the ongoing process workflows at a go, collaborate and communicate with your team securely, manage multiple organizations, and control the people who handle specific workflows and edit documents.
With Process Street, you can create documents in a few seconds. Compared to Dozuki, their interface is not problematic; therefore, users don't have issues using it. They provide a demo video on the homepage, so if you are a new user it becomes easier to understand the functionality. Additionally, their no-code checklists come in handy for users when they need to manage, automate, or share business processes.
Features
Zapier integration with over 1,000 apps
Single sign-on
Data encryption
Create procedure documents in seconds
Multi-tiered permission
Activity feed
Documented team knowledge
Conditional logic used to create dynamic workflows
You can form groups
Single-instance, sequential, and multi-stage approvals
You can add visual and audio files
Automated tasks with scheduled workflows
Pricing
Process Street has three payment plans: the Free option, Pro, and Enterprise. Unlike Dozuki, Process Street has a "Free forever" plan that users don't need to pay for. Users can access 100 integrations every month, one active workflow, unlimited pages, email and chat support and all core features on the Free plan.
When you upgrade to Pro, Process Street will charge you $30 per member for the monthly plans and $25 per person if you pay annually for 50 members. If you need a custom plan, they have an Enterprise plan. With this subscription, you'll get more features including a dedicated success manager, personalized team training, fully managed workflows, and API access. The yearly plan is cheaper than the monthly option by 17%.
Benefits
They have a free subscription plan.
The software connects with multiple apps.
Ability to reschedule recurring checklists.
Structured documents can be created in seconds.
Team members can receive notifications via the mobile app or email.
The team has control permissions to limit access to information.
You can assign guest permissions.
You can use the comprehensive help articles or chat live with customer support for assistance.
Downsides
Additional features are on premium versions.
Users have issues finding archived lists.
Issues with user permissions.
It's hard to find archived lists.
Setting permissions on the subfolders affects the main folder.
5. ScreenSteps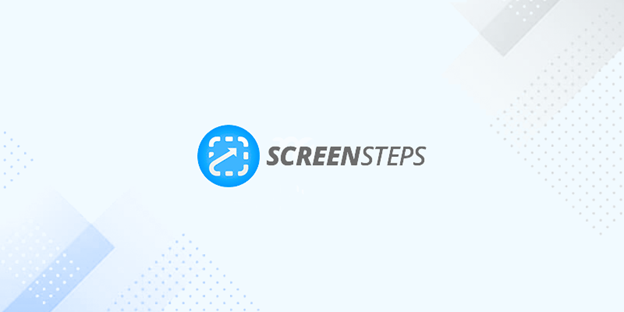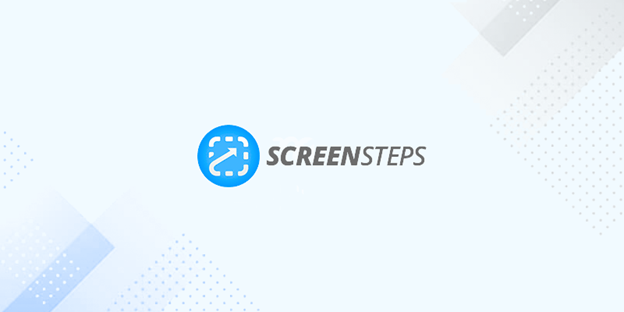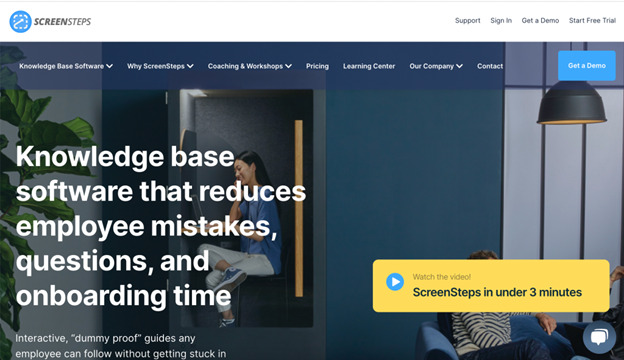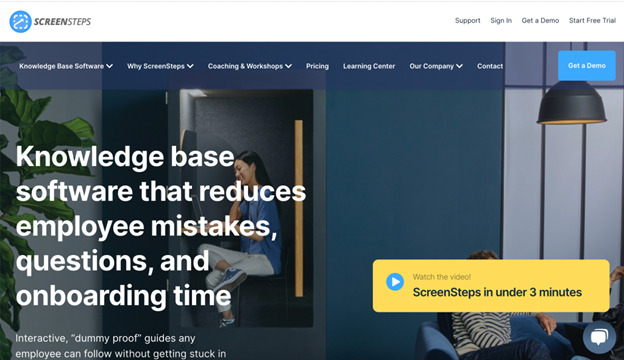 ScreenSteps is a knowledge base software that helps organizations reduce onboarding time, mistakes and questions. They help businesses develop interactive guides that all employees can follow without getting stuck. ScreenSteps comes in handy for all employees, call center agents, content authors and trainers, managers, and directors.
By simplifying company procedure, ScreenSteps saves companies money and time. With this software, you can empower call center managers to handle any customer calls, reduce training time by 90% thanks to zero memorization, and transform complex business procedures and processes into manageable operations.
Features
Online searchable knowledge bases
Courses
Troubleshooting guidelines
Permissions management
Authoring management
Content certification
Content creation
Zero memorization
Pricing
ScreenSteps offers three pricing structures: Standard, Advanced and Enterprise. The Standard plan costs $239 per month if you pay monthly and $2,500 per year if you pay annually, and handles 25 active members. The Advanced plan goes for $479 per month and $4,500 per year if you are on an annual subscription.
If you want the Enterprise plan, you'll have to contact the team for more information. This plan comes with additional benefits such as a success manager, notifications and checklists, and workflows. ScreenSteps has a free 14-day trial period for new users.
Benefits
Free 14-day trial period
Reduces time spent onboarding and training new employees
Responsive customer support team
Helpful training materials
User friendly
Integrates with different apps easily
Downsides
It can be a bit pricey for small businesses.
Lack of in-built customization.
It has occasional bugs.
Lack of self-service features.
The help center is not efficient.
It has a learning curve.
6. Poka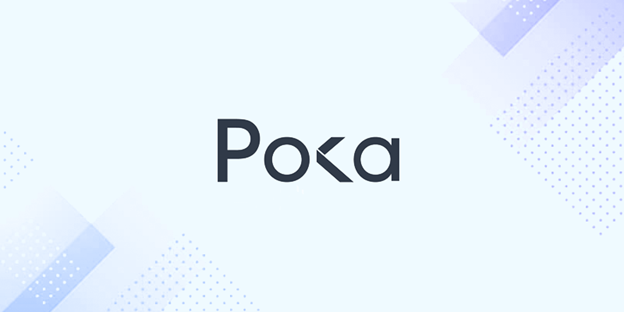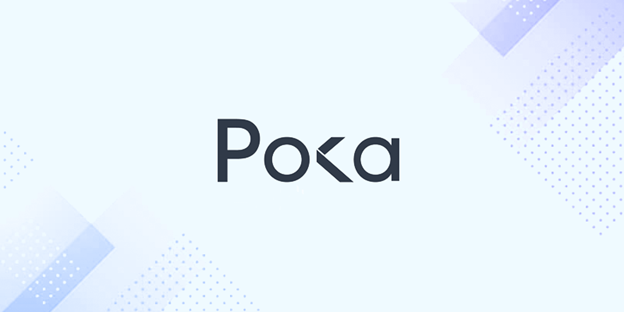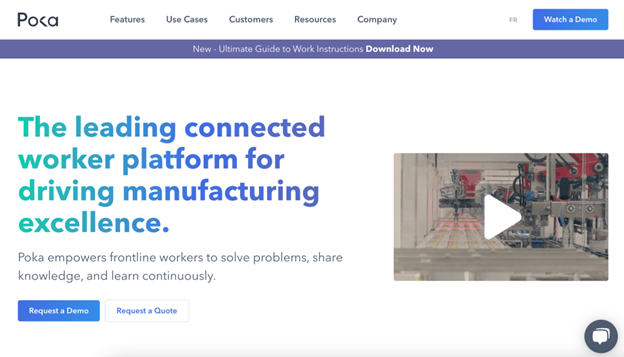 If you are looking for an alternative software to use in the manufacturing industry away from Dozuki, Poka is an excellent option. This comprehensive platform was built for factory workers and manufacturers to reduce costs and accelerate performance. Poka allows frontline workers to share knowledge, solve problems, and learn continuously.
With Poka, companies can overcome manufacturing challenges that come up with ineffective communication, outdated processes, and knowledge gaps. The software centralizes and manages all work instructions, digitizes all factory information, ensures product continuity, and enables problem-solving.
The user interface is also simplified for all users to use. In case you have queries, you can visit the FAQ section for answers.
Features
Cloud services
Multiplatform software found on desktop and mobile apps
SaaS security standard
Caters to more than 14 languages
Integrations with API
Customized workflows and permissions
Pricing
Poka does not provide a pricing structure on the website. Users have to request a custom quote depending on their business needs. The company offers different product modules at varying prices; therefore, you can select one that aligns with your operations.
Apart from the standard subscription fee, you can also choose to have add-ons such as additional languages, unlimited software integrations, monthly refresh and reset requests, and FDA compliance support.
Benefits
Employees are connected in real time.
The software accelerates employee skill development.
It has multilingual support.
The interface is easy to use.
It's easy to access training materials.
It connects all the departments in the company.
Companies can store and track training.
Downsides
Users have to request a quote.
The translation tool has issues on the app.
Users can't track new features.
The sharing setting is not flexible.
Difficulty in analyzing new forms.
7. MaintainX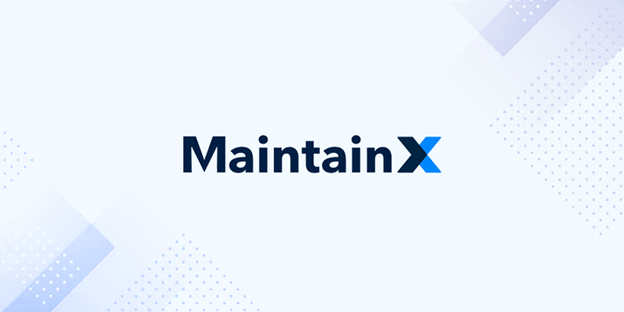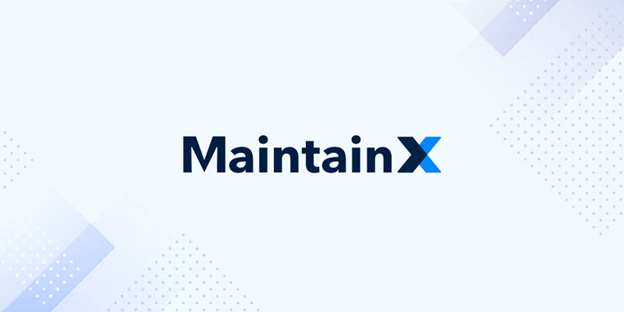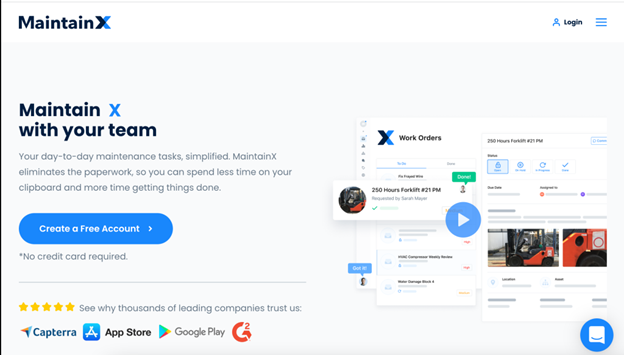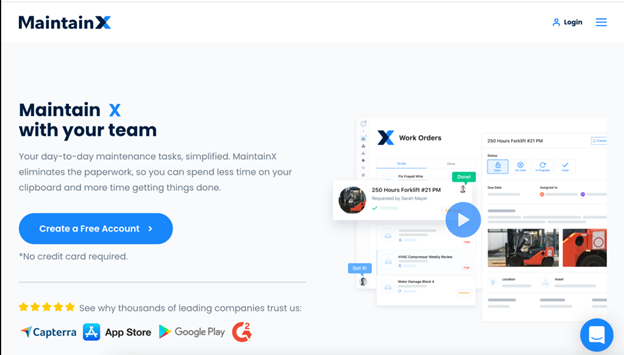 MaintainX helps businesses in simplifying day-to-day maintenance tasks. With this software, companies can eliminate paperwork so that employees can spend more time accomplishing business tasks.
Unlike Dozuki, which is tailored mostly for the manufacturing industry, MaintainX can be used in various sectors. You can use this software whether you are in manufacturing, facility management, the food and beverage industry, hospitality, club and associations, education and schools, property management, and fleet maintenance.
MaintainX has a desktop version and mobile app that users can use on the go. Both platforms provide the best user functionality, making it easier for companies.
Features
Create, assign, and manage work orders
Approval of work requests
Preventive maintenance
Keep track of parts and inventory
Checklists and inspections
Reporting
Communication and chat
Pricing
Compared to Dozuki, MaintainX has an advantage because it has a free Basic plan for small teams. If you run a small business, you can subscribe to the Essential plan that costs $10 per month per user for the monthly option, and $8.33 if you pay annually.
The Premium plan costs $39 per month per user, or $32.50 annually, and is ideal for small- to mid-sized businesses. On the other hand, you can choose to go with the Enterprise plan which works if you have multiple sites or plants. MaintainX will send you a custom quote depending on your business needs.
Benefits
It has a free option for small teams.
Users can access the mobile version on the app.
The software works in different industries.
It's affordable for small businesses.
The reporting feature helps track the status of reports.
Users can upload photos to communicate with the team.
The program has filters making it easy to find information.
Downsides
Communication with the client is restricted to the app.
Some features are only available on the premium versions.
The UI can be confusing at times.
The system occasionally lags.
8. ProcedureFlow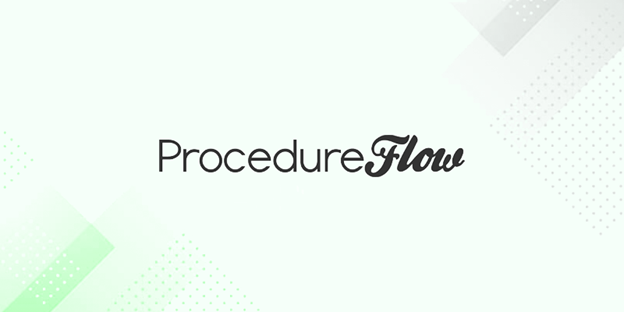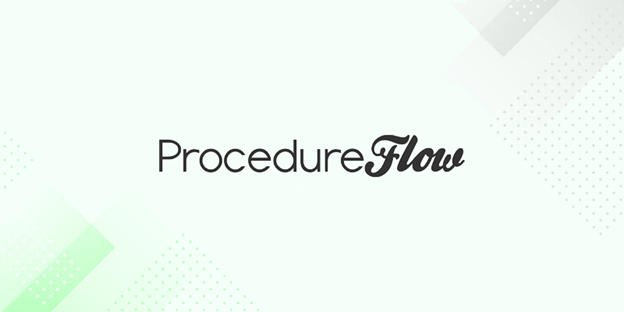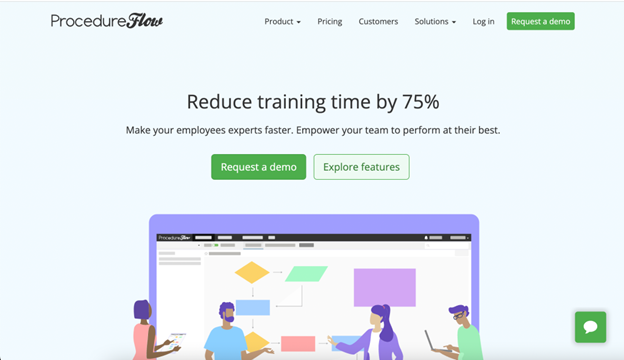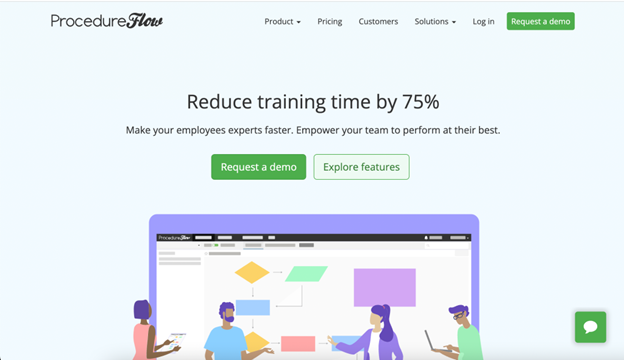 ProcedureFlow is a knowledge-based software that companies can use to make their employees experts. This software makes it easy to create and share information, as well as simple to follow and maintain. Therefore, if your business has complicated processes and procedures, you can use this platform to simplify them.
Companies benefit from using this software because the team members get accurate information simultaneously, whether it's a new hire or a tenured employee. Your staff don't need to memorize procedures, and will make fewer mistakes because they can follow the flow.
Features
Standard operating procedures
Hyperlinked flowcharts
Assign permissions and ownership
Simple approval systems
Notifications
Quick reports
Revision control
Pricing
ProcedureFlow has two pricing plans: Team and Enterprise. The Team plan costs $25 per user per month and is billed annually. With this plan, you can get access to all the features. For Enterprise subscribers, ProcedureFlow offers custom prices. Users can access additional features including a customer success team, offline backup, and reporting and insights.
Benefits
It reduces training time by 75%.
It helps the team to become experts much faster.
The processes are more visual.
Users can handle most of the functions.
Team members get notifications.
They have great training videos.
Downsides
The pricing is billed annually.
Users can't print information.
It doesn't have an autosave feature.
Issues with permission and administrative controls.
Some integrations are lacking.
9. IT Glue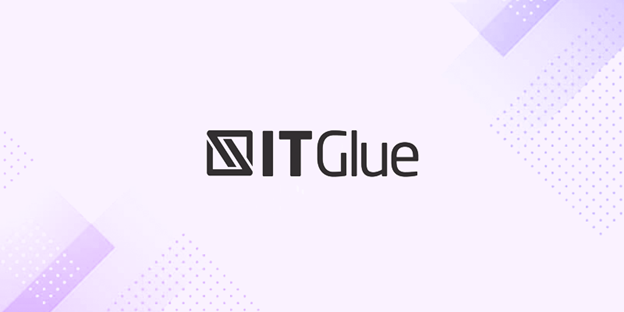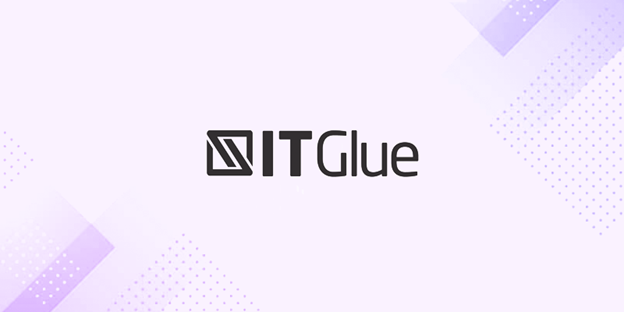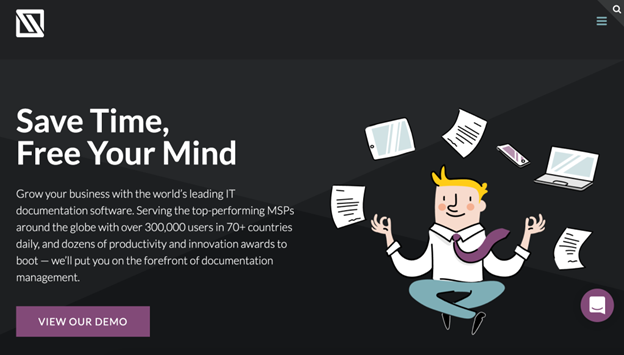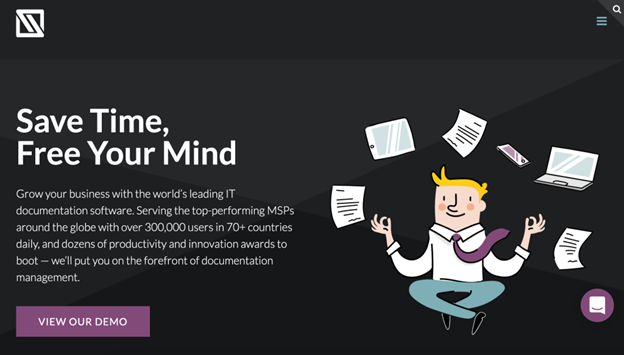 IT Glue is a leading IT documentation software. It's commonly used by managed service providers (MSPs) and internal IT departments to manage documentation. With IT Glue, organizations can find and track all their information in one place. This collaborative documentation platform helps MSPs create knowledge bases and organize their documentation in a way that's easy to access.
The IT Glue website has a user-friendly interface that makes it easy to navigate. They have provided the pricing information, features, and a knowledge base section that provides detailed information about how the platform works.
Features
MyGlue
Document automation
Runbooks
Integration
Mobile app
GlueConnect
Import and export
Vault
GlueFiles
Checklists
Premier onboarding
Single sign-on
Pricing
IT Glue has three pricing plans: Basic, Select, and Enterprise. The Basic plan costs $29 per user for five users minimum. This plan has all the main features except workflows, Runbooks, custom SSL branding, and office cloud editor. The Select plan costs $34 per user for five users and includes workflows.
To access all the features, you have to sign up for the Enterprise plan for $39 per user for five users. However, you can also get an option for one to four users for $47–$99 per user. Apart from these costs, IT Glue also charges a one-time $545 fee for standard onboarding and $1,419 for premier onboarding.
Benefits
Beneficial for IT professionals
Integration with multiple apps
Centralizes all information
Searching feature makes it easy to find information
The interface is easy to use
The permissions give access to many users
Downsides
No free trial
The pricing is quite expensive
Steep learning curve
It can be slow and clunky
10. Zavanta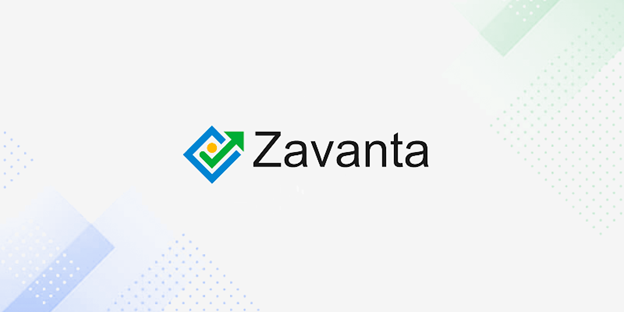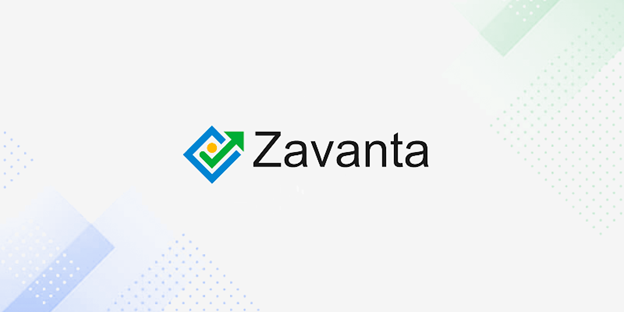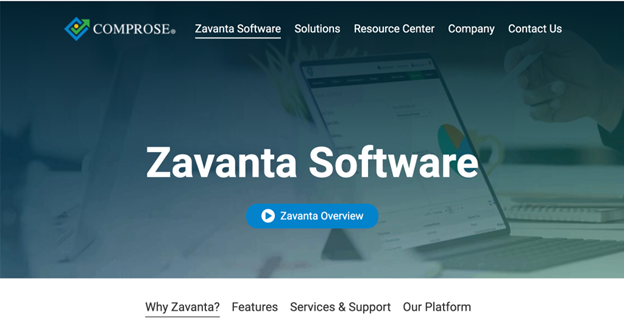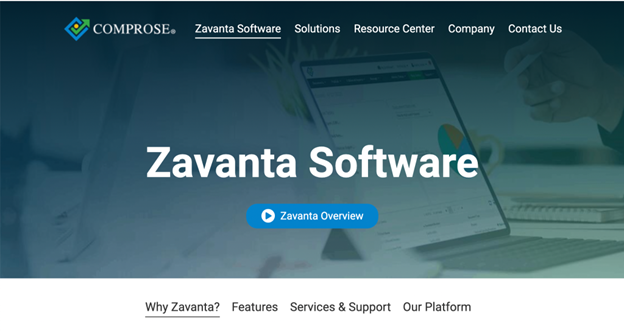 Zavanta software allows customers to modernize policy and procedure communication. It also links all the standard operating procedures (SOPs) that employees have to follow to comply with the policies. Companies can integrate this software with systems such as CRM to make the company more efficient.
With Zavanta, you can streamline all the life cycles. In addition, it comes in handy during knowledge transfer—your company experts can share their knowledge with the rest of the employees. Therefore, new hires can follow the set procedures with minimal supervision.
Features
Content overlays
Capture wizard
Built-in image editor
Updates
Public sharing
Feedback surveys
Quizzes
Dashboard analytics
Workflow designer
Pricing
If you want to pay for Zavanta software, you have to request pricing from the company. They offer Basic, Teams, and Enterprise subscriptions. All the plans come with an employee web portal built-in search engine, structured authoring, management automation, security controls, and access to self-help tools. Once you fill in the form, a product specialist will advise you on the best option.
Benefits
Ideal for creating company documents
Helps with employee training and onboarding
Integrates with most company apps and systems
You can provide feedback
They provide training videos
Downsides
Steep learning curve.
The pricing is not readily available.
It has a different overlay than other word processing software.
New users will need customer support to complete tasks.
11. ProcessKit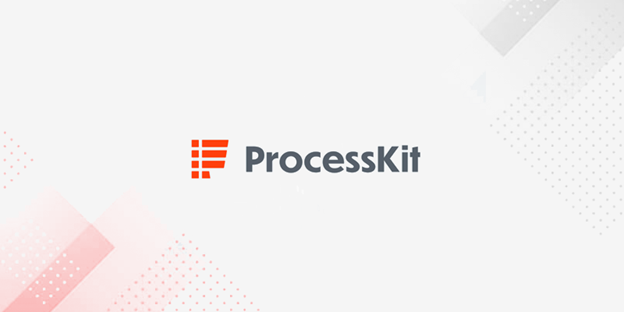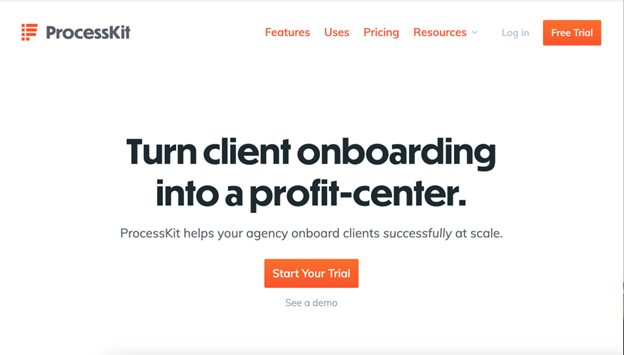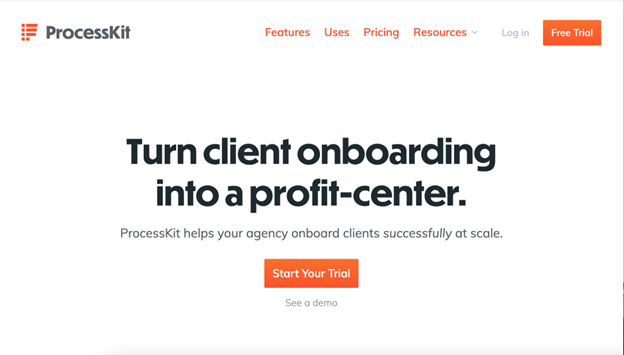 ProcessKit is a software used by companies or agencies to onboard clients at scale. It helps bring the company's standard operating procedures together with the projects so that your team members can automate tasks, track recurring projects, and scale operations.
This Dozuki alternative also comes with a process automation course for companies. You can use this course to make the business more efficient and predictable by automating the processes. ProcessKit helps build multi-year client relationships and improves company sales as the clients increase.
Features
Process builder
Process templates
Kanban lists
Template emails
Zapier integration
Bulk editing
Boards
Activity history
Mobile friendly
Multiple accounts
Pricing
Unlike most software, ProcessKit has an all-in-one plan for all clients. To use this software, you'll pay $49 per month, but if you prefer to subscribe annually, you'll save 20% and pay $39. This plan covers three team members and unlimited guests. For each additional team member, you'll pay $15 per month.
Benefits
Free trial period
Helps with onboarding clients
Integration with other apps
The mobile app is flexible and adaptable
You can keep track of all clients
Downsides
Setting it up takes time
It only has one pricing plan for everyone
It takes time to understand
The software covers a few members
Optimize Your Business Processes With SweetProcess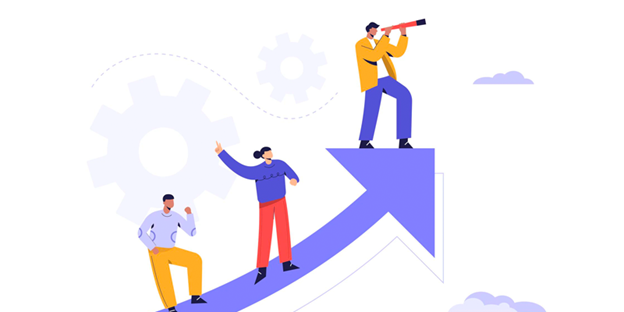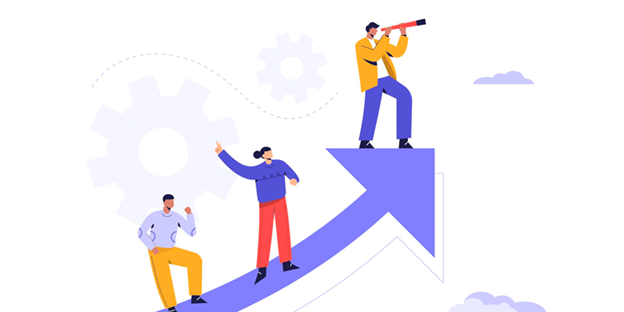 SweetProcess is software for all types of businesses that need a cloud-based workflow management system. You can use this platform to manage tasks, document procedures and processes, track productivity, and build private or public knowledge bases. SweetProcess will boost your business processes by ensuring that all your procedures are managed in one place.
Sarah Brenner, the director of quality assurance at Belvidere Community Unit School District 100, had the mandate to streamline the company's operations. This included making information available to all stakeholders; therefore, the organization needed a system to effectively create, store, and distribute SOPs.
While the company had some documented procedures, most of them were stored in Google Docs and Microsoft Word documents. These documents were disorganized and most of the employees did not know they existed. Therefore, Sarah had to look for a software to streamline the business documentation process, and this is how she discovered SweetProcess.
Since adopting SweetProcess, the company now has a centralized knowledge base, effective documentation for all team members, searchable information, and streamlined employee onboarding.
Branch operations manager Sarah Beach and certified financial planner Elian Levatino are part of the leadership team at a financial advising firm, Benchmark Wealth Management. As the organization expanded, they realized that they did not have universally accepted SOPs; therefore, employees performed their tasks differently.
The team documented all the processes in a notebook, which is outdated. Because of this, employees could not replicate uniform results. To resolve their operations problems, the team came across SweetProcess software which changed things in the company.
Thanks to SweetProcess, the company now has an easier learning curve for new employees during onboarding and training. In addition, they have moved away from the notebooks to an automated documentation platform, and employees are more independent.
Click here to sign up for a free trial of SweetProcess now!
Conclusion
Your company's business processes need to be efficient if you want to achieve company goals. To make this possible, you need effective software that can centralize and automate your documentation processes and procedures. While Dozuki has features that can help you accomplish these procedures, its functionality is not enough.
There are several alternatives in the market that can help you overcome the limitations of Dozuki software. Most of these tools have an efficient user interface, a functional mobile app, allow for easier reporting, provide customer support, and have zero onboarding issues.
Each of these alternatives has an advantage for your business. Ensure that you choose one that aligns with your business needs, number of employees, and budget.
If you want to start your journey to boost your business processes, sign up for a free trial of SweetProcess today. No credit card required!