9 Coasssemble Alternatives to Boost Your Employee Training and Onboarding Process
Last Updated on October 26, 2023 by Owen McGab Enaohwo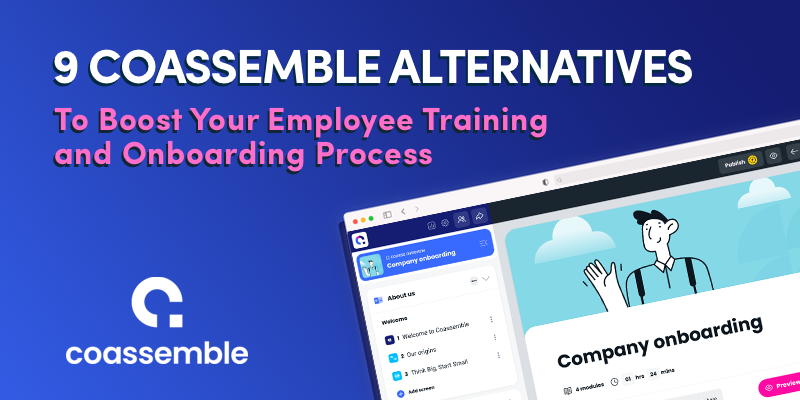 For your company to succeed, your employees should be properly equipped. Whether you are hiring a new team or have an existing team, you need to build a knowledge base with all the company procedures, policies, and processes. This makes the onboarding process more streamlined and enables your team to work together without any hiccups.
To effectively manage the workforce, business owners adopt tools to help with onboarding and training. One such tool is Coassemble, an online training platform that businesses use to share company content, employee handbooks, and remote work policies to drive business growth. While Coassemble is equipped with interactive quizzes and course builders to create engaging training programs for your team, it has some limitations.
What are the issues with Coassemble? Users have encountered problems such as:
The system runs slowly.
Poor handling of image uploading.
The system needs more interactive page options.
It can be a little challenging to learn.
It needs more templates.
Limited searching features.
If you are encountering any of these problems with Coassemble, you need to get an alternative tool that meets your business needs. The Coassemble alternatives in the market offer better features that could benefit your business greatly. This article will look at each alternative, the pricing, features, benefits, and downsides to help you choose the best option for your business.
SweetProcess
TalentLMS
Trainual
Lessonly
Process Street
Dozuki
ScreenSteps
ProcedureFlow
ProcessKit
A tool like SweetProcess is built for effective employee onboarding. You can use the cloud-based software to centralize your knowledge base and streamline your processes and procedures. You can try it by signing up for the 14-day trial period. No credit card required!
Table of Contents
Why Are Companies Avoiding Coasssemble?
Which Alternative Is the Best for Your Business?
Why Are Companies Avoiding Coasssemble?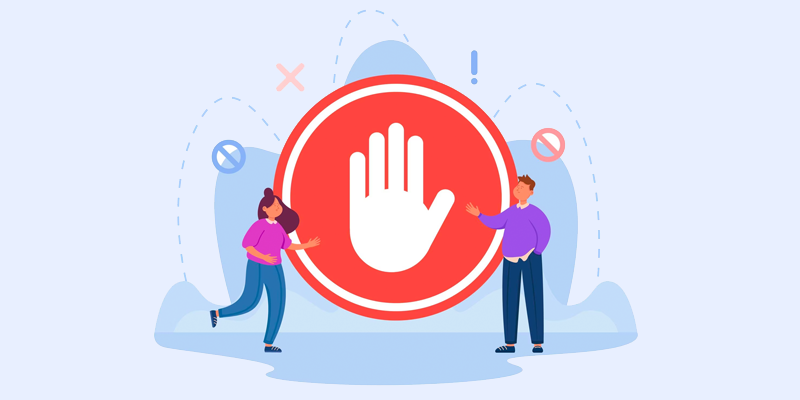 If you have encountered challenges with Coassemble, you are not the only one. While Coassemble was created to transform your knowledge into training content and deliver it to your team, it does not work for most organizations. Here are the reasons why.
The system runs slowly
There are multiple complaints from users about how Coassemble is slow. According to a user on GetApp, the website is slow compared to other platforms.
Additionally, some users in Australia point out that Coassemble is mostly slow on Friday afternoons, and the system does not update the changes during these slow periods. This is frustrating because companies can lose some of their work when the changes are not saved.
Some of the reporting pages also take time to load, especially when dealing with a larger organization. Furthermore, new updates or features affect the rest of the platform, and it goes down for a while.
Poor handling of image uploading
One of the key features of Coassemble is that it's very visual. You can create content that allows interaction, rewards, challenges, and maximum engagement. However, this comes with some challenges, especially during image uploading. A review shows that the cropping, quality, and sizing can be unpredictable, making it hard for business owners to share training content.
The system needs more interactive page options
Some users find that Coassemble has limited options as far as interactive pages. The site needs more interactive page options to improve the training process. This is important for organizations because employees will become more engaged. In addition, it makes it easier to understand the company policies, processes, and procedures.
It can be a little challenging to learn
According to a review on GetApp, Coassemble can be challenging to learn, especially for courses designed by the company. Users run into issues selecting the appropriate layouts and arranging the images in the template. Because of this, it's difficult to recreate some aspects of the training course.
It needs more templates
Coassemble does not have enough templates. These templates are vital because they could increase the types of engagement you have with the participants. Employees could use the templates to learn faster, which improves their task delivery.
Limited searching features
According to reviews, the searching features are quite narrow. Therefore, if employees need to look for information, they might not get what they need. Coassemble will become more user friendly if they provide such features to the users.
9 Coassemble Alternatives
For employee training and onboarding to be effective in your company, you need a platform with vital templates with no lagging issues. If Coassemble is not working for your organization, here are nine alternatives you can use, their pricing structure, key features, pros, and cons.
SweetProcess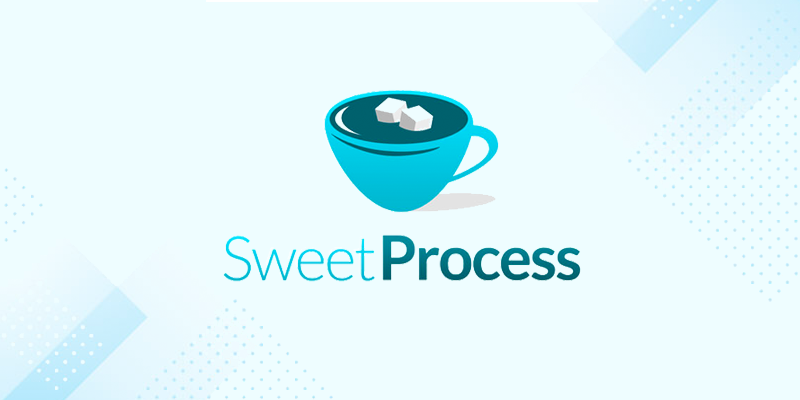 SweetProcess documents policies, procedures, and tasks in one place so you can focus on growing your business. With this cloud-based software, you can empower your employees with all the information they need to do their job. Additionally, you can rely on SweetProcess to turn your existing procedures and policies into a powerful knowledge base for your employees or clients. This comes built-in with feedback forms, search, and tracking features.
With SweetProcess, you don't have to worry about missing features, a lack of templates, a slow system, or a learning curve. This software is the ideal Coassemble alternative because it gives you the systemization you need to scale and grow your business. By documenting repetitive tasks in one place, your team spends less time on emails, and there's no more guesswork.
Unlike Coassemble, the process is visual for ease of use by all the team members. Training, onboarding, and documentation become quite easy with SweetProcess. Once you are ready to begin, you can sign up for the free 14-day trial period.
Features
Real-time collaboration
Single sign-on system
Integration with more than 1,000 apps
Team management tool
Documentation of the company's procedures
Links all processes to procedures and policies
Two-factor authentication
Public and private knowledge bases
Users can access the version history
Image editor
Email and phone support
Assign and track tasks
Embed videos and files
Print documents for offline viewing
How to Use SweetProcess
SweetProcess is the best option if you are looking for a Coassemble alternative. You can use the software for employee training and onboarding in these simple ways.
Getting Started
When you open the SweetProcess website, the registration process is pretty straightforward. You can sign up for an account by clicking on the "Try it Free" button.

On the next tab, enter your name, email address, and create a password.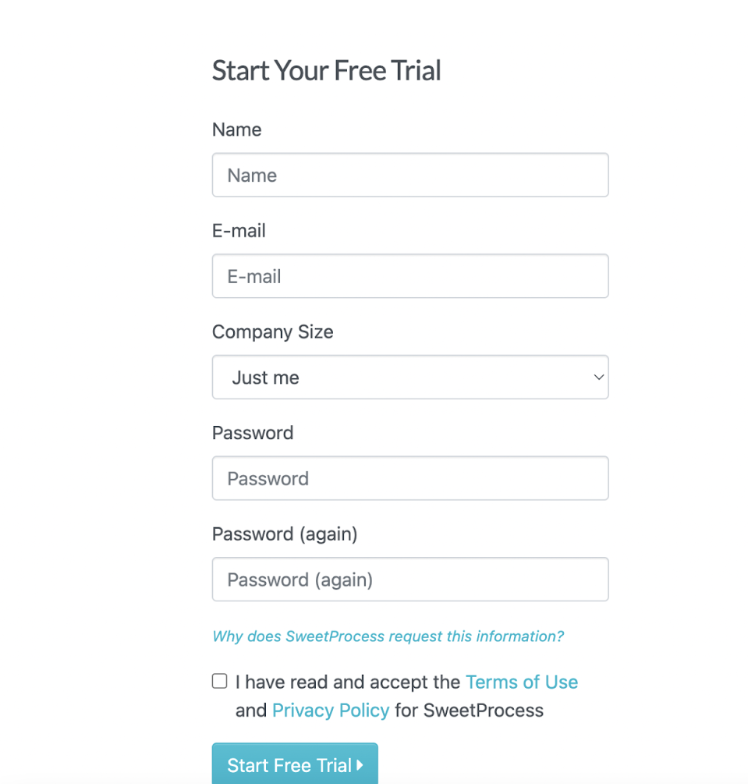 SweetProcess will then direct you to a page where you can choose to either take a tour of the software or proceed to use the software.
If you opt to take the tour, you'll get a brief overview of how SweetProcess works.

How to Access the SweetProcess Dashboard
Whether you are hiring a new team or training the existing team, you can access all the documents, policies, and processes from the dashboard. After logging in, you can navigate through each tab and create new procedures or knowledge bases for your employees.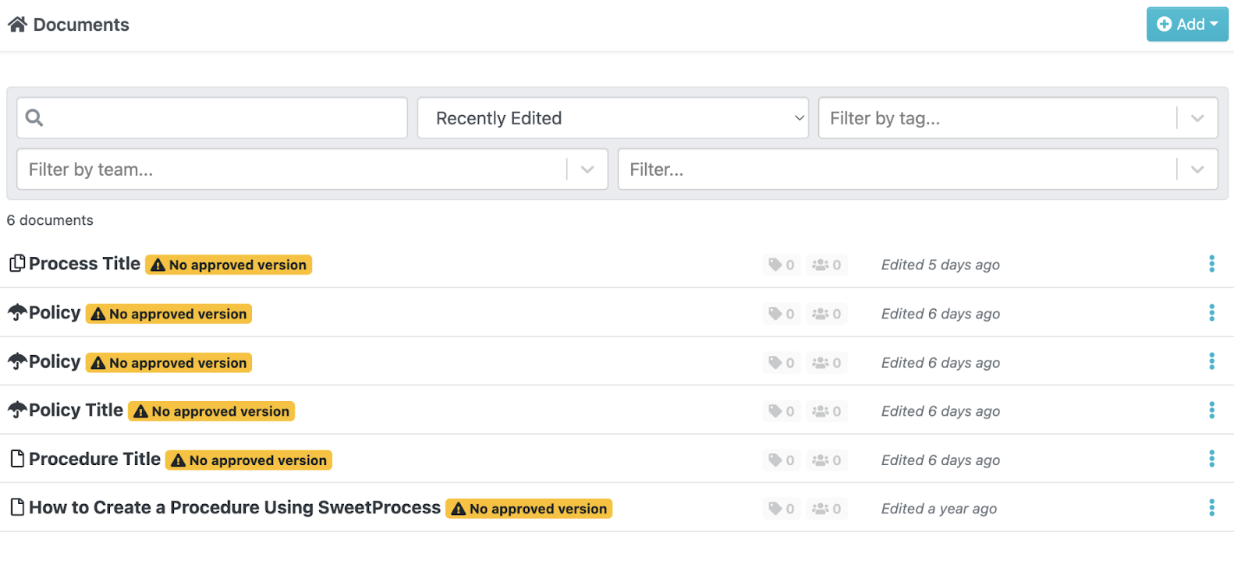 How to Create a New Procedure or Process on SweetProcess
Creating a procedure for your team is pretty simple. Click on the "Procedures" tab on the main menu and select "Create Procedure."

Add the title of the procedure on the next tab.

Add more information about the procedure, such as tags, images, and videos.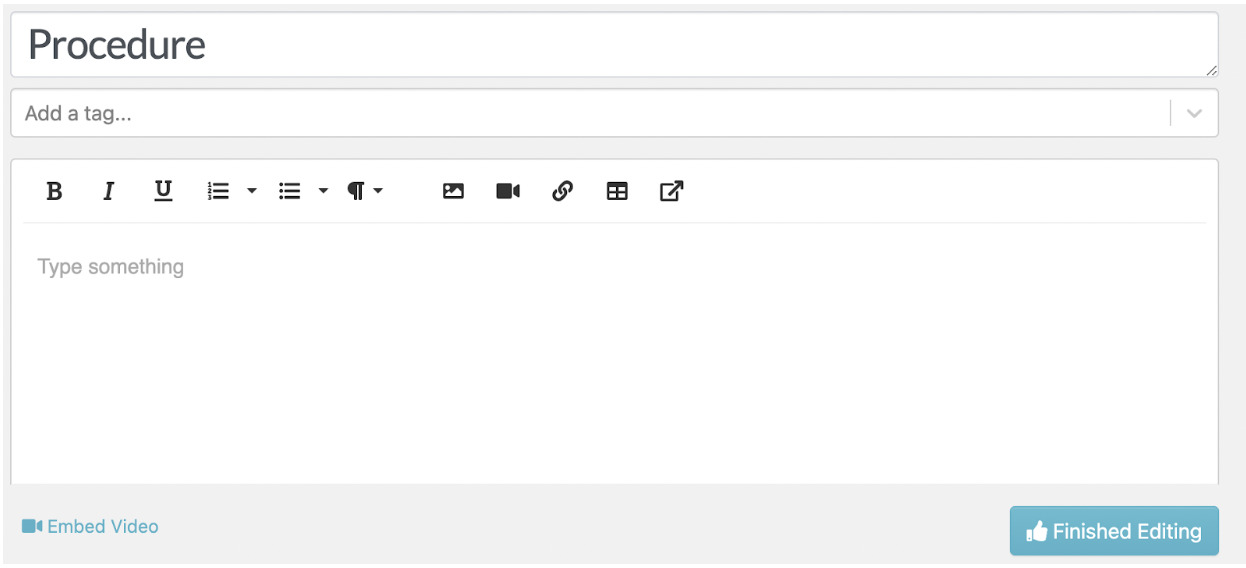 To create a process, select "Processes" on the main menu, click "Create Process," and fill in the necessary information.

How to Create a Knowledge Base on SweetProcess
You need a knowledge base with all your existing procedures and processes to onboard your new hires or clients. The knowledge base acts as a reference point for all company procedures to ensure that everyone is updated.
Follow these steps to create a knowledge base.
Log in to your SweetProcess account.
Click on the "More" button on the main menu.
Select the Knowledge Bases tab.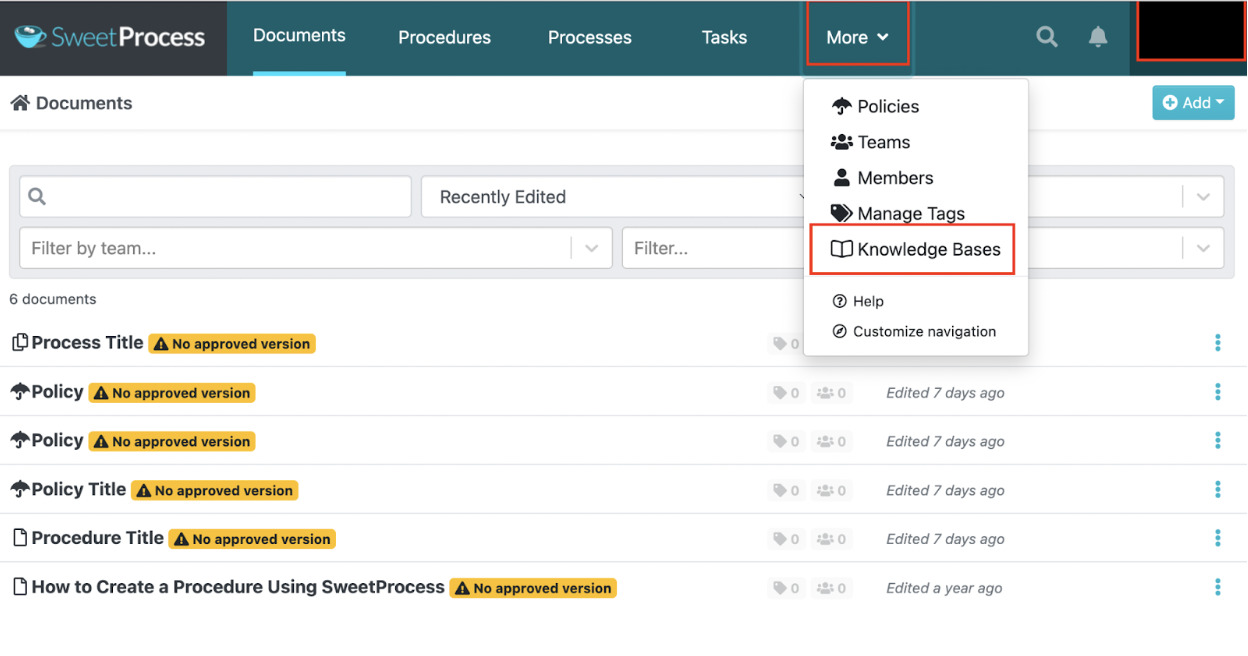 Click "Create Knowledge Base" and add a title.
Add the public URL that links to the knowledge base, category names, and control access to the information.

How to Assign and Monitor Tasks
You can also use SweetProcess to assign and monitor tasks. To assign tasks, tap the "Tasks" button on the dashboard and select "Assign Tasks."

From here, you can also select the team members to assign tasks from the dashboard. SweetProcess also allows you to include the task name, the team member's name, the due date, and the time.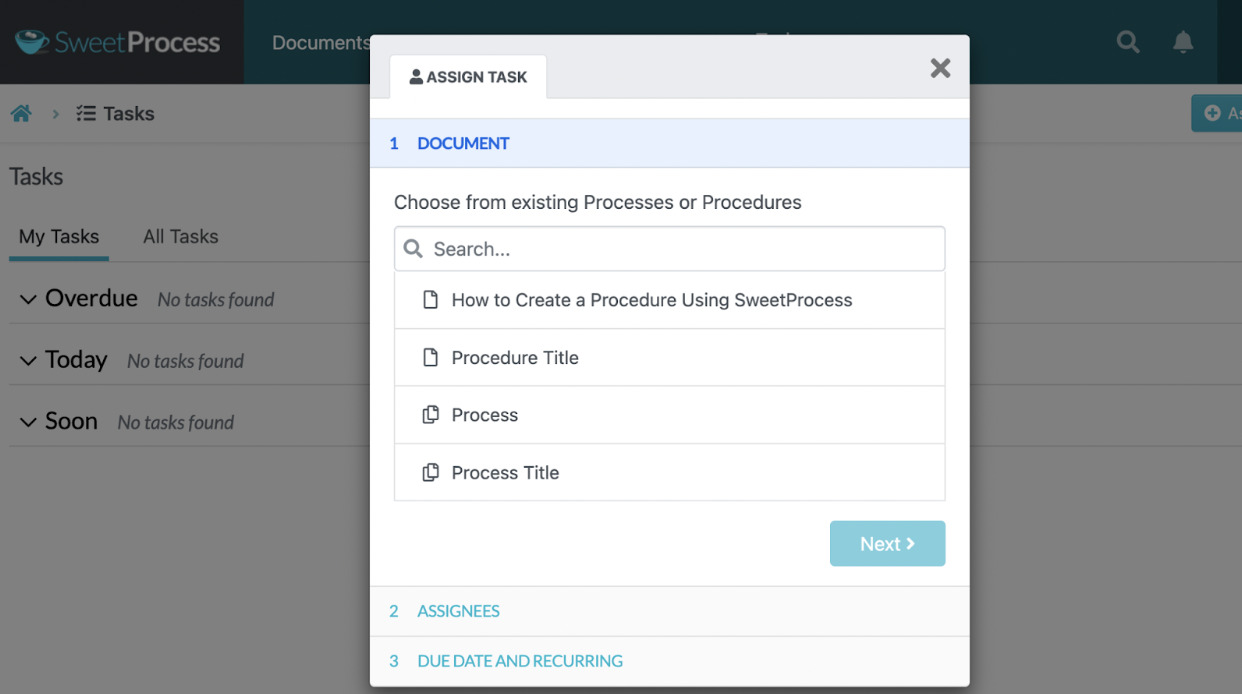 Once all the tasks are assigned, you can monitor the progress. Open the "My Tasks" tab, which displays the tasks that are due soon and what is overdue.

Pricing
The SweetProcess pricing model is subscription based. Fortunately, it's not tiered; therefore, all members pay the same amount of money to use the cloud-based software. Additionally, your business will only be charged for the members using SweetProcess. The monthly subscription for SweetProcess is $99 per month for a team of 20. In addition, you'll get charged $5 per month for every additional member.
You can also choose to pay the subscription annually, which saves you up to 16.67%. Once you pay this fee, you can access all the features of SweetProcess, including an unlimited number of processes, documents, and 1,000+ integrations.
SweetProcess offers a 30-day money-back guarantee if you are not getting value for your money. In addition, you can test out the tool for your business before paying the monthly or annual fee. Sign up for the free 14-day trial to get started. What's more, you won't need to provide your credit card information.
Benefits of SweetProcess
Free 14-day trial. You can use this period to test whether the tool is a perfect fit for your business.
SweetProcess has no learning curve. Once you sign up, you can start creating procedures and processes immediately.
Easy to navigate. The homepage covers everything you need, and you can easily access all documents from the dashboard.
Transparent pricing structure. SweetProcess is one of the most affordable tools.
Ideal for all types of businesses. This tool works for both small and large enterprises.
TalentLMS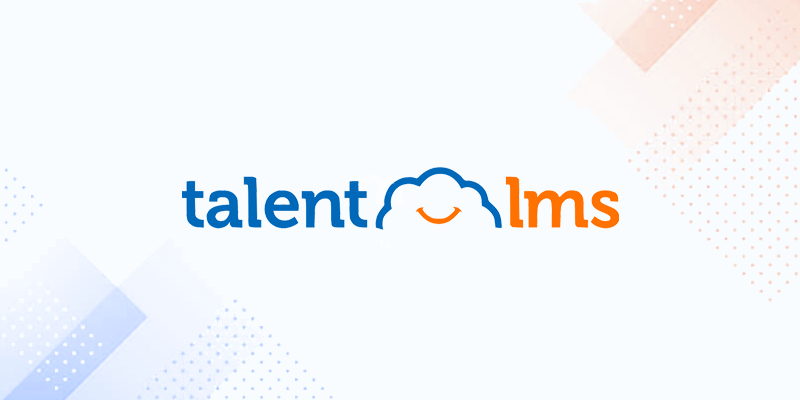 TalentLMS is a training platform that businesses use to build a smarter organization. This tool is designed to help great teams grow. You can use TalentLMS to create courses, design every course detail, keep your learners on track, and keep the learners engaged. You only need one account to train customers, employees, or your partners.
An advantage of using TalentLMS over Coassemble is that it integrates well with other business apps and services. The training will align with the workflow without any interruptions. Additionally, TalentLMS will help you grow your team faster because it has a library of ready-made courses covering all the soft skills. It also comes with expert support from the team to meet all your training needs.
Features
Blended learning
Video conference support
Assessments engine
Learning paths
Survey engine
Certification
Rich communication tools
Reporting
Extensible profiles
Single sign-on
API integration
Multilingual
Mobile access
Pricing
TalentLMS has six pricing plans: Free, Starter, Basic, Plus, Premium, and Enterprise. The Free option is ideal for five users and offers up to ten courses, while the Starter plan costs $69 per month for 40 users. The Basic option costs $149 per month for 40 users, Plus goes for $279 per month for 500 users, while the Premium costs $459 per month for up to 1,000 users. You can get the Enterprise customized plan if you have more than 1,000 team members.
Pros
It provides offline support. Your staff can download the courses into the mobile app and study offline.
Single platform for all your training needs. TalentLMS is designed to meet training needs for any type of business.
TalentLMS is feature-rich. This tool has a lot of key features that businesses need for training; therefore, you can implement them in your business.
Multiple payment plans. If you are starting out, you can choose the Free option and upgrade later as your team grows.
Cons
It's costly. Compared to other learning management system companies, TalentLMS is more expensive based on the number of users.
Integration issues. Although the software integrates with some business apps, it does not cover all programs used by companies.
The company increased prices. TalentLMS increased the costs and reduced the features on some plans, affecting the workflow in some businesses.
Trainual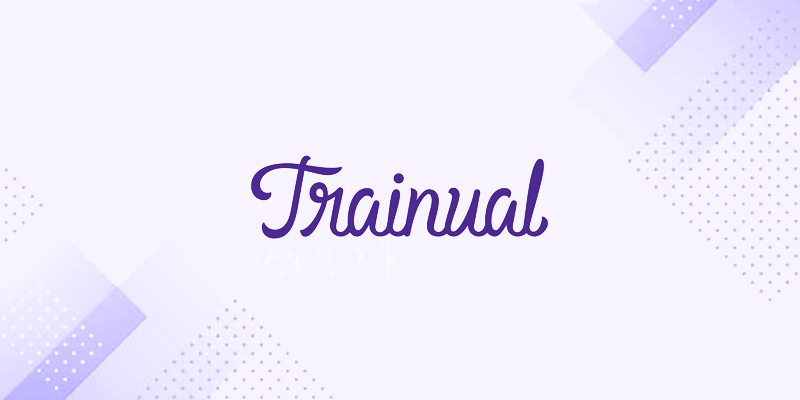 If you need a Coassemble alternative to help your business systemize your employee onboarding system, you can consider Trainual. As a knowledge-transfer platform, Trainual is used by businesses to centralize all the company's SOPs, policies, and processes for each role.
Trainual helps to reduce the time spent on training and onboarding employees because it comes with a standard playbook to guide new hires. Additionally, this tool is used by business owners and resource managers to test whether the staff understand company procedures provided in the trackable employee handbook.
Features
Organizational charts
Multiple integrations with other apps
More than 250 built-in templates
Trackable employee playbook
Customer support
Pricing
Once you sign up for Trainual, you can pay for the Train or Scale option. The Train option costs $99 per month for ten people, while the Scale option goes for $199 per month and is ideal for companies with 20 team members. In addition, Trainual has a seven-day free trial period if you want to test the system first.
Pros
Integration with multiple apps. Trainual integrates with existing business apps to make work easier. By using one centralized system, you can reduce duplication.
Trainual is more visual. Users can embed images and videos on Trainual, making training easier.
Seven-day free trial period. You can use this period to test the system's compatibility with your company.
It offers built-in templates. Trainual has more than 250 built-in templates to help new users get started.
Easy to use. Trainual is easy to navigate for employee training and onboarding. Businesses save time when using this software.
Cons
New users need more training. When you get the software for your business, you'll spend more time learning how to use it, which slows down operations.
Trainual can be expensive. The pricing plans are costly. You have to pay more to get advanced features.
The search feature is frustrating. This is a time-intensive process because the search feature does not produce the expected results.
Limited interactive activities. Trainual lacks interactive features that are present in other programs. These features are used in the learning system and to document SOPs.
Lessonly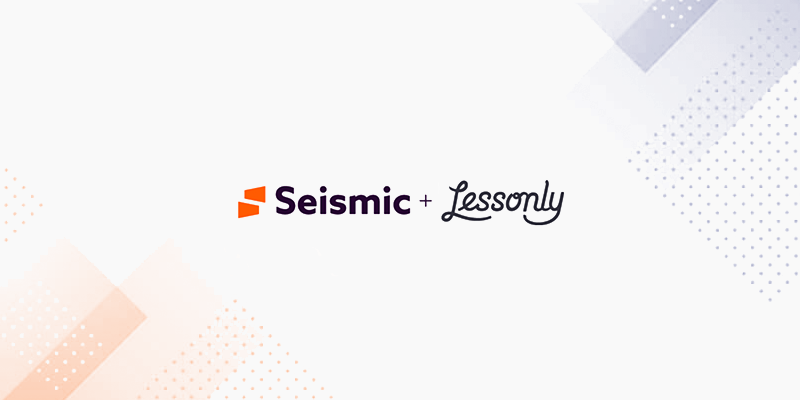 Lessonly by Seismic is a powerful, simple learning management software that business teams use to learn faster and improve their work. Most companies use this tool because it cuts onboarding time by half and increases employee productivity. Lessonly is used by sales, marketing, and customer service teams to close more deals and boost the customer experience.
As a Coassemble alternative, Lessonly can be used by growing businesses as well as large enterprises. In addition, it can work perfectly in the financial services, healthcare, and technology industries.
Features
Course builder
Assessment and quizzes
Learning paths
Content libraries
Assignment scheduling
Blended learning
Manager portals
Activity dashboard
Pricing
Lessonly's pricing is subscription based. It offers different pricing options, such as Pro, Pro+ Coaching, and Enterprise. Although they don't provide their pricing on the website, you can get a demo and then get the pricing according to your business. Unlike Pro and Pro+ Coaching, the Enterprise option is customized according to your business needs.
Pros
You can share content externally. Lessonly allows businesses to share content externally with teams that sell their products in an easy and fun way. This makes it easier for people to learn about the products and receive extra tips and training.
It makes onboarding easier. Lessonly is an excellent choice for inexperienced staff because it helps with seamless onboarding.
The system is well integrated. Businesses use this tool as a knowledge base system and link articles within training; therefore, they don't need a new system.
It's easy to build lessons. You can easily build many lessons on this platform to train new employees.
Easy to navigate. Lessonly is easy to navigate through each lesson, making learning more exciting by providing an interactive format.
Cons
Issues with the video. If a video is attached to the course, the video will buff, not play or play in slow motion. This affects the training plan if you have video content.
Limited text options. Some of the Lessonly text options are limited in terms of colors and sizing.
There's no mobile app. The only way to access Lessonly is through a web browser. It would be beneficial to have it as an app that allows all employees to access the training courses on the go.
Customization is limited. Font styles, page layouts, and background are all incredibly limited. It's not easy to add the company's brand to the training materials; it brands it as Lessonly.
Process Street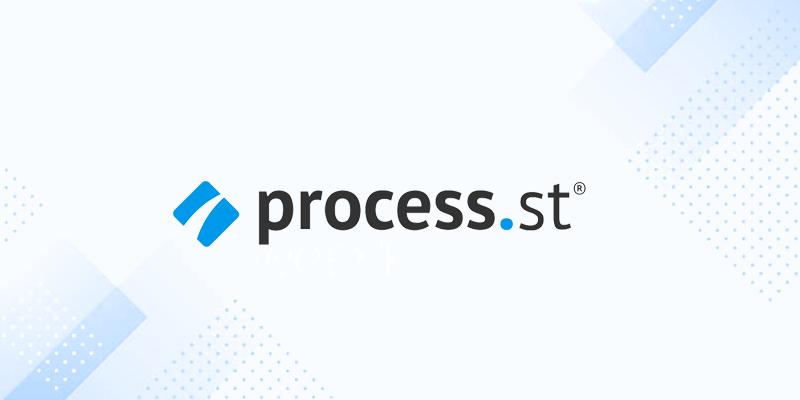 Another Coassemble alternative is Process Street. This workflow software will help your business manage checklists and automate procedures. It offers many features that can help you collaborate with your team, edit documents, monitor everyone, and view all ongoing process workflows simultaneously.
You don't have to worry about templates and visuals because, with Process Street, you can build templated checklists and workflows for your team to follow. In addition, it has no-code checklists if you need to automate, manage, and share business processes.
Features
Multi-tiered permission
Activity feed
Data encryption
Single sign-on
Conditional logic used to create dynamic workflows
Integration with over 1,000 apps
Visual and audio files
Create procedure documents in seconds
Documented team knowledge
Automated tasks with scheduled workflows
Pricing
Process Street offers three pricing plans: Startup, Pro, and Enterprise. If you prefer the Startup option, it will cost you $100 per month and covers five members. On the other hand, the Pro option goes for $415 per month. The Enterprise plan costs $1,660 per month. Process Street also offers a free 14-day trial period.
Pros
You don't need coding experience. Process Street is a no-code platform that's easy to use and doesn't require any technical expertise.
Multiple app integrations. This tool integrates with more than 1,000 apps; therefore, you can use it to boost efficiency.
Email and mobile app notifications. Your team members will be up to date with their tasks on the go thanks to the frequent updates and notifications.
Structured documents. Process Street has multiple templates in the templates library, making it easy to customize and create documents in a few seconds.
Cons
It's difficult to find archived lists. Users have a difficult time finding information that has been archived when they need references for new jobs.
Process Street is expensive. The Startup plan is quite costly, which is not ideal for small businesses.
The premium version has additional features. Businesses have to pay for the premium version to enjoy advanced features.
Overwhelming inbox tabs. Because of this, users find it hard to trace their information, slowing down workflow execution.
Dozuki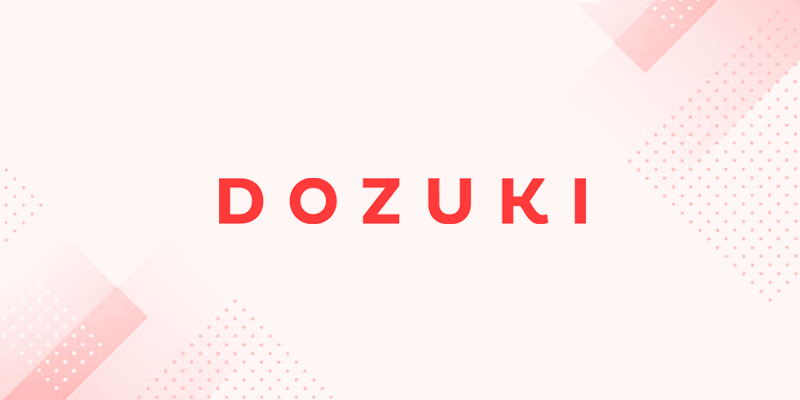 Dozuki is a documentation tool that businesses use to provide their workforce with expert knowledge. This tool can optimize your workforce with expert knowledge delivered through simple, accessible, and engaging training programs. Dozuki will help you achieve frontline digital transformation with its scalable Dozuki Process framework.
With Dozuki, you can standardize procedures, train your workforce according to the industry standard, capture data, analyze results, and improve your company's performance. You can rely on Dozuki as an alternative because it helps you update product support guides, draft electronic work instructions, or change training manuals.
Features
Single sign-on
Built-in translation tools
API integration
Bill of materials
Document control
Training modules
Automated assignments
Intuitive authoring
Migration services
Support for over 80 languages
Multimedia support
Custom iOS and Android mobile apps
Pricing
To use Dozuki, you can choose between four pricing options: Basic, Essentials, Premium, and Enterprise+. If you take the Basic plan, it costs $17 monthly per person for up to 50 users, while the Essentials plan costs $14 per person monthly for a minimum of 120 users. If you go for the Premium plan, you'll pay $12 per person every month for a minimum of 250 users, whereas Enterprise+ costs $10 monthly for each user and allows a minimum of 400 users.
Pros
Built-in translation tools. Dozuki has more than 100 languages; therefore, you can use it if you have teams in different countries.
Uses visual guides. Dozuki is highly visual, making it easy for employees to understand the processes and procedures and provide feedback.
Dozuki is ideal for larger organizations. The pricing structure can support organizations with large teams.
Reliable training tool. Dozuki helps you train your team to be experts. They have training modules that help standardize employee work instruction.
Real-time data collection. Companies can check data to resolve issues and identify improvements in real time.
Cons
Onboarding difficulties. Dozuki users don't get an onboarding program for new users; therefore, it can be overwhelming.
The system has recurring outages. Dozuki users experience occasional outages that interrupt company operations.
The tool can be too demanding. Some employees find this tool too overwhelming to use Dozuki in day-to-day work.
Dozuki is expensive for smaller organizations. The Basic and Essential plans are more expensive than the Premium option, which caters to 250 users.
ScreenSteps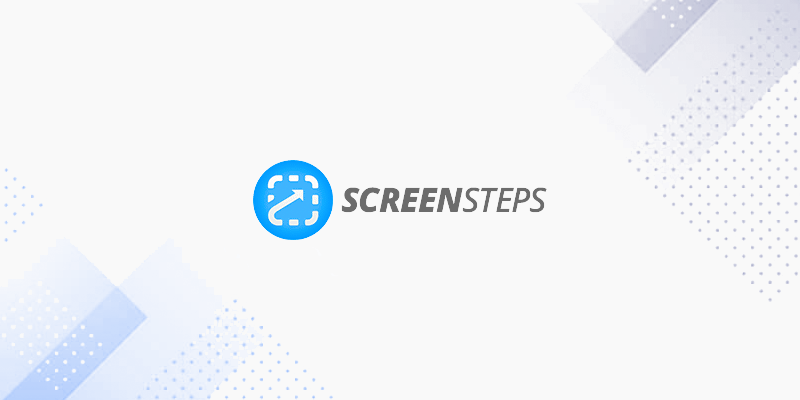 ScreenSteps is a knowledge base software that helps businesses reduce onboarding time, mistakes, and questions. With ScreenSteps, you can develop interactive guides for your employees to follow. This tool can be used by call center agents, managers, directors, content authors, and trainers.
An advantage of using ScreenSteps is that it simplifies company procedures, saving you time and money. If you have call center managers, they can handle any customer calls using the knowledge base. In addition, it reduces training time by 90% and transforms complex business procedures and processes into manageable operations.
Features
Zero memorization
Authoring management
Online searchable knowledge bases
Courses
Troubleshooting guidelines
Permissions management
Content certification
Content creation
Pricing
ScreenSteps has three pricing plans: Standard, Advanced, and Enterprise. The Standard plan costs $239 per month if you pay monthly and $2,500 per year if you pay annually, and it handles 25 active members. The Advanced plan goes for $479 per month and $4,500 per year if you are on an annual subscription. You can also get the customized Enterprise plan from the team. ScreenSteps has a free 14-day trial period for new users.
Pros
Free 14-day trial period. You can test out the software before signing up for a subscription plan.
It cuts down training time. This software reduces time spent onboarding and training new employees.
Responsive customer support team. You can reach out to ScreenSteps for assistance and feedback.
User friendly. ScreenSteps has valuable training materials that you can use to train your employees.
Integrates with different apps easily. If you already have existing business apps, you can use them together with ScreenSteps.
Cons
Occasional bugs. Users experience recurring bugs, which slow down the work and affect training.
It can be a bit pricey for small businesses. The pricing plans are quite costly if you run a startup.
Lack of in-built customization. The tool does not offer customization features that affect the process management system.
It has a learning curve. To use this software, you need to take time and understand how it operates.
ProcedureFlow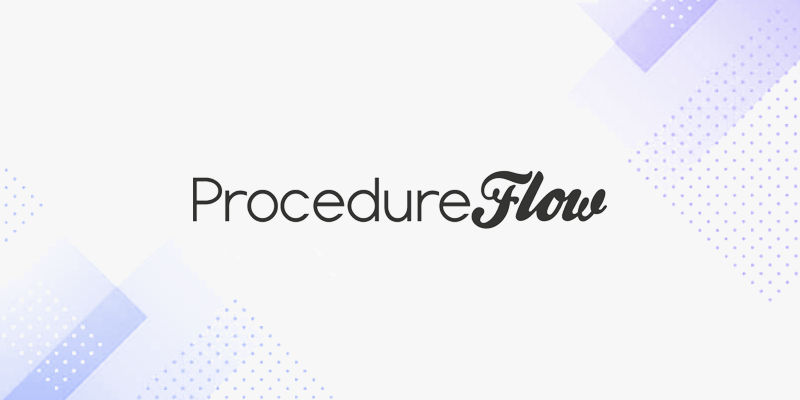 The other Coassemble alternative to consider is ProcedureFlow. This software simplifies business processes and procedures. You can rely on this platform if you are looking to create a next-generation knowledge base to accelerate employee proficiency from day one. Your employees can use this tool to create, share and maintain information.
Unlike Coassemble, which has visual problems, ProcedureFlow is quite visual, making it ideal for training. ProcedureFlow allows all your employees to get information simultaneously. It's also centralized; therefore, all your documentation is easily available, reducing errors.
Features
Quick reports
Revision control
Hyperlinked flowcharts
User notifications
Assign permissions and ownership
Standard operating procedures
Simple approval systems
Pricing
With ProcedureFlow, you can choose between the three pricing plans: Team, Standard, and Enterprise. The Team plan goes for $25 per user, per month and is billed annually. The Standard plan costs $27.50 per user, per month, while the Enterprise option costs $32.50 per month, per user.
Pros
It cuts down training time. ProcedureFlow reduces training time by 75%. Your new hires will have a reference point for company information with ProcedureFlow.
ProcedureFlow is perfect for remote teams. It offers collaborative features that update information regularly for the entire team.
Ease of use. ProcedureFlow is easy to use; therefore, you can introduce it to new employees.
ProcedureFlow sends real-time notifications. Team members get notifications of all processes in real-time, making it easy to track projects and tasks.
It offers visual processes. ProcedureFlow is visual, making it easy for employees to understand the procedures and processes.
Cons
ProcedureFlow only bills annually. When you sign up for this software, you don't have the option to pay monthly.
No autosave feature. Users can't access an autosave feature which is risky in case your computer has an issue or crashes when working on a task.
No printing feature. Users can't download and print videos or any other details collected with ProcedureFlow.
Issues with administrative permissions.Due to permission issues, managers or business owners can't configure controls for different roles.
ProcessKit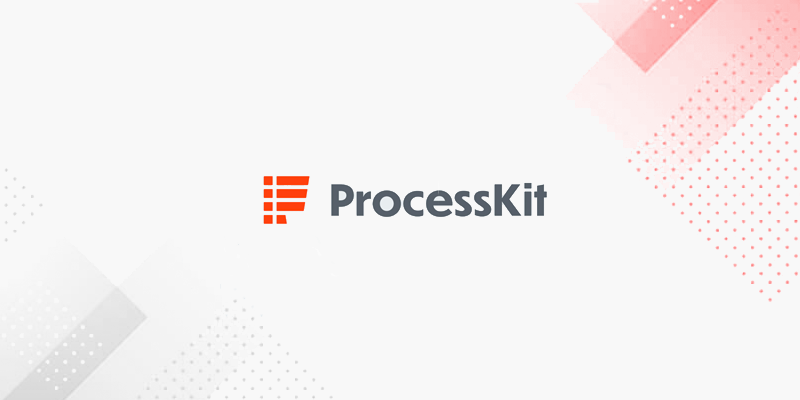 ProcessKit helps businesses with the onboarding process. You can use this process management software for repeatable processes such as new client onboarding, employee training and onboarding, marketing campaigns, and client deliverables.
This tool is an ideal Coassemble alternative because it offers a collection of templates that are ready to use and build on, making your work much easier. The client onboarding process becomes repeatable and predictable, thanks to ProcessKit. Furthermore, you can use the checklists to track progress at every stage.
Features
Client list
Delegate onboarding tasks
Automation
Repeatable process
Track progress
Pricing
ProcessKit has one single plan at $49 per month. If you choose the annual plan, you can save money by up to 20%. ProcessKit will charge you $19 per month for any additional team member. You can have up to three team members and unlimited guests. The payment also provides the opportunity to work on unlimited projects, processes, and tasks.
Pros
Mobile app. The app adapts to any process in your business. It comes with automation features to help you move the work forward without having to micromanage your team.
Fourteen-day free trial period. You can use the 14 days to test out the software before committing to one plan.
There are no multiple pricing plans. ProcessKit has a single pricing plan. All users pay for the same plan and get the same features.
ProcessKit sends notifications. You can track tasks easily because ProcessKit provides updates, due dates and shows specific tasks based on how the project is going.
Cons
It's expensive to add a new team member. While ProcessKit has a standardized pricing plan, adding a new member at $19 per month is expensive.
Setup takes time. It takes some time to set up ProcessKit for your business. Therefore, it is easier to use for those who are experienced in creating and managing processes.
It has a steep learning curve. If you are a new user, ProcessKit might be challenging to use. You need to be accustomed before building any process.
Which Alternative Is the Best for Your Business?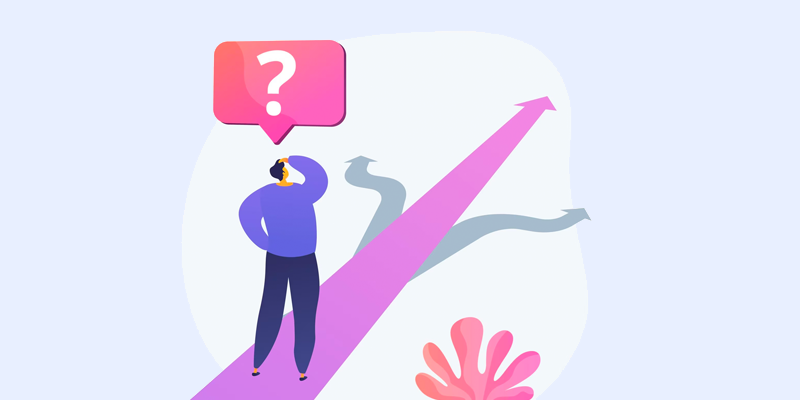 Here are some things to consider when looking for a Coassemble alternative.
The Benefits and Downsides
Take time to evaluate the benefits and downsides of each software before choosing one. Once you narrow down your options, you can read online reviews from other users to determine whether the software will be a perfect fit.
The Organization's Goals
Before choosing a software, you need to first define the company's objectives. If your plan is to improve your employee onboarding and training process, you need a tool that can help you achieve this.
The Features
Every software is different and comes with distinct features. You should examine all the features to determine whether they are ideal for your business.
Why SweetProcess?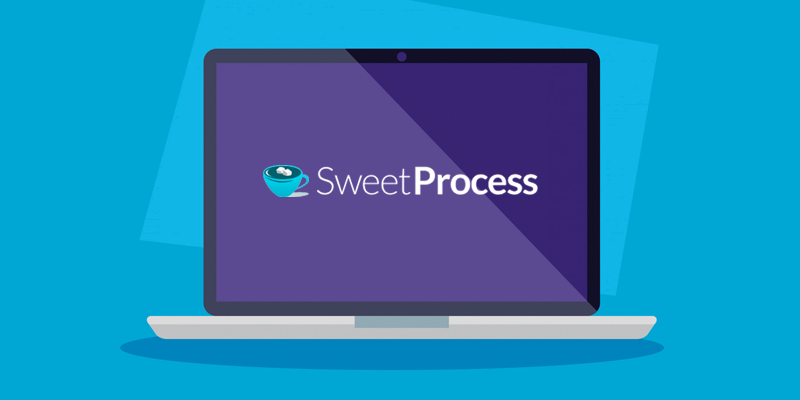 Whether you manage a team or you're hiring your first employee, SweetProcess will help you with the onboarding process. This cloud-based software manages tasks, documents procedures and processes, tracks productivity, and builds your company's private or public knowledge bases. You can empower your team by documenting all the company information in one place.
Let's look at some companies that have benefited from using SweetProcess in their operations.
Sarah Beach and Elian Levatino are part of the leadership team at a financial advising firm, Benchmark Wealth Management. The organization was expanding rapidly, but they had a problem—it did not have universally accepted SOPs. Because of this, employees performed their tasks differently.
One of the major problems was that the company documented all its processes in a notebook, which was outdated. This meant that the team could not replicate uniform results. However, the company came across SweetProcess, which solved its operations problems.
Since adopting SweetProcess, the company now has an easier learning curve for new employees during onboarding and training. Additionally, they have moved away from notebooks to an automated documentation platform, and employees are more independent.
Manny Cosme is the president and CEO of CFO Services Group. SweetProcess provided a centralized knowledge base for the organization and became a go-to resource for his employees. Initially, the company lacked a standardized workflow, and its documentation was ineffective, affecting its performance.
The organization had a challenge passing on expert knowledge to a new employee. However, implementing SweetProcess in the business helped with employee training and onboarding. Manny has more time to oversee the entire company because his team members can find information easily using SweetProcess. They have built a centralized knowledge base and use the platform for comprehensive documentation.
Sign up for the SweetProcess free trial today!
Summary
Employee onboarding and training can be challenging for businesses. However, you can streamline the process and improve your company's efficiency. Although Coassemble offers some key features, it's not the best option. You need a tool that has the best features and templates, integrates well with other apps, and is easy to learn and use.
SweetProcess will simplify the employee onboarding and training process for your business. Start your free trial of SweetProcess today. No credit card is required.