How to Create a Strong Operational Plan for Your Business
Last Updated on April 11, 2022 by Owen McGab Enaohwo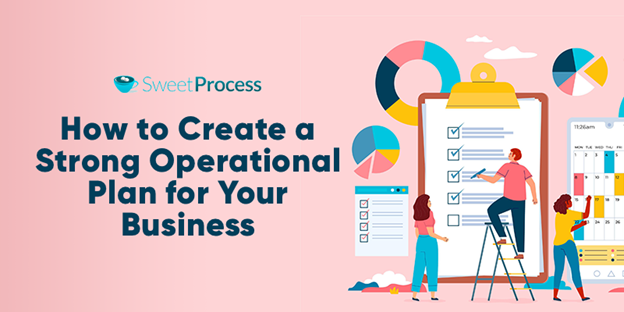 Is there a rampant lack of unity, evident confusion among employees, and complacency of stakeholders within your organization?
The lack of an operational plan negatively impacts the attitude of your team who may feel aimless with no sense of a greater purpose. They get lost trying to accomplish your company goals. So they come to work just for the paycheck.
The lack of a roadmap wears down the morale of your team because the future seems bleak, unpredictable, and out of control. These depressing conclusions pose a threat to employment—and affect the productivity of an organization.
Everyone is more productive when they have proper guidance on what they should be doing in an organization. A strong operational plan provides direction to your team and they know what's expected of them.
Drafting an operational plan isn't attractive, but it's a must for any business. Fortunately, you don't need to be a business guru to create one. This in-depth guide will help you get it right.
Operational Plan Full Guide – Content Index
Chapter 1: What is an Operational Plan?
Chapter 2: The Importance of an Effective Operational Plan
Chapter 3: Steps to Creating a Successful Operational Plan
Chapter 4: Key Items to Include in Your Operational Plan
Chapter 5: Questions That a Good Operational Plan Answers
Chapter 6: Software to Help Implement Operational Plans
Chapter 7: Operational Plan Examples
Chapter 8: Using SweetProcess for Operational Planning and Other Business Processes
Conclusion: Create a Strong Operational Plan That Supercharges Your Business
Chapter 1: What is an Operational Plan?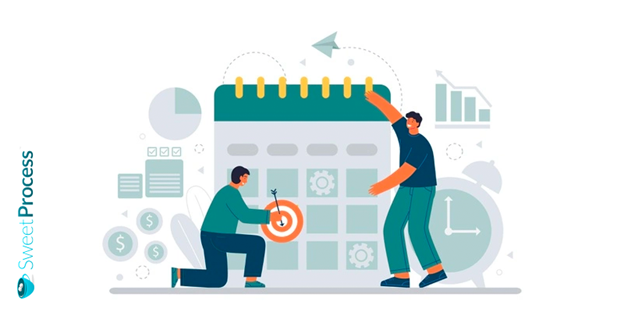 You may have mapped out your long-term strategies covering at least the next five years. But your organization still needs additional planning to help it get into the future successfully. Some of the planning will take a year to develop.
To make sure your company executes against the set long-term goals and stays on track throughout, you'll need a strong and effective operational plan.
What is an operational plan?
An operational plan is a strategic plan turned into a detailed map clearly defining what actions your company's team members need to take on a weekly or daily basis.
It includes action milestones and items that each department or team member in your organization needs to complete before you can execute your strategic plan.
When drafting an operational plan, summarize each team member's responsibilities for the next financial year. How long it takes to create your operational plan will significantly depend on how quickly your organization moves.
For example, if teams want to focus on the long term, then draft a detailed operational plan with an extended timeline (at least more than a year).
That said, if you're a fast-paced team with a hastened roadmap, draft an operational plan covering at least the next half year.
What are the different types of operational plans?
An operational plan is more department-focused. Only two types of this plan exist in the business world: standing and single-use.
Single-use operational plan. As the name suggests, this is an operational plan that is only used once before being discarded when a project is complete.
Using this operational plan is favorable only when your project doesn't match another project in your organization (or isn't likely to be used again). The best way to get the most of the single-use is to customize it to fit your project.
Standing operational plan. Unlike the single-use, a standing operational plan is used frequently and repeatedly. The organization will use this plan for different tasks and new projects cropping up frequently.
When you have a standing plan, you don't have to reinvent the wheel every time. But you will sacrifice time to make it more flexible for your project.
Operational Plan vs. Strategic Plan
Compared to a strategic plan—a long-term strategic plan covers three to five years—an operational plan is smaller in terms of timeline and scope.
The goal of the latter plan is to summarize the daily individual tasks you need to take to attain your strategic goals (in your organization).
During the operational planning process, ensure to capture specific details in the document such as:
Specific key performance indicators (or KPIs) you need to track regularly to ensure your team members are progressing toward your company objectives.
Daily and weekly individual tasks that your team needs to take to effectively accomplish your long-term strategic plan.
In essence—and unlike a strategic plan—when creating an operational plan, make sure to focus on the implementation of specific (daily or weekly) actions.
What are the levels of creating an operational plan?
To effectively capture the specifics of what each team member is doing, create a detailed operational plan. For that reason, ensure to draft an operational plan at a smaller scale.
In other words, instead of creating an operational plan for your entire organization, draft one for each team member or department.
If you have a larger organization, draft a detailed operational plan for each specific initiative—more like a detail-oriented work plan.
For instance, let's focus on your IT department and draft an operational plan explaining how the department's daily tasks can support your organization.
In the operational plan for the IT department, make sure to capture how frequently team members meet, how they hire and equip new employees, budgeting details, and how frequently IT teams check their projects inbox.
Here are the three levels of creating an operational plan:
Timeline: Depending on how fast your organization works, your operational planning process should span six months to a year.
Stakeholders: Ensure the people involved in the operational planning process are closely related to the work so they can forecast what is to be included in the plan.
Scope: When drafting an operational plan, ensure to include the details of who, what, and when of each business activity. Zero in on a specific team member or initiative.
Operational Plan vs. Tactical Plan
An operational plan is about how things need to happen in an organization, while a tactical plan is about what is going to happen in an organization.
The tactical planning process supports strategic planning and includes tactics a company intends to use to achieve what's outlined in the strategic plan.
An operational plan describes ongoing plans (or the daily running) in a company. The scope of a tactical plan is less than one fiscal year and can be subdivided into a strategic plan with actionable objectives.
Unlike an operational plan, a tactical plan asks specific questions about what needs to happen to accomplish certain company goals and objectives.
An operational plan asks an organization how it will carry out action tasks to accomplish its mission.
Key Components of a Tactical Plan
Creating a tactical plan greatly varies with each organization and its unique set of goals. That said, creating a successful tactical plan requires several key elements, including:
Flexibility
Timeline. (Duration needed to accomplish each action in a tactical plan)
Directly responsible individuals (or DRIs). (Who are the people responsible for the tactical planning goals?)
Resources. (May include outsourcing products, finance equipment, workforce, material, and more needed to achieve a tactical plan's success.)
Key performance indicators (or KPIs).
Actionable steps. (These are steps outlined to progress toward the end goal.)
Goals and objectives. (What would you like your company to achieve?)
Mission and background of the business.
Here are a few essential things to consider when developing a tactical plan for your organization's team members. (For the record, your tactical plan should answer these questions to help meet the objectives of your operational plan).
What's the timeline for achieving the set of goals?
Do you have specific tools or resources to help you accomplish these objectives?
Are there specific actions you need to take to achieve the intended outcome?
Chapter 2: The Importance of an Effective Operational Plan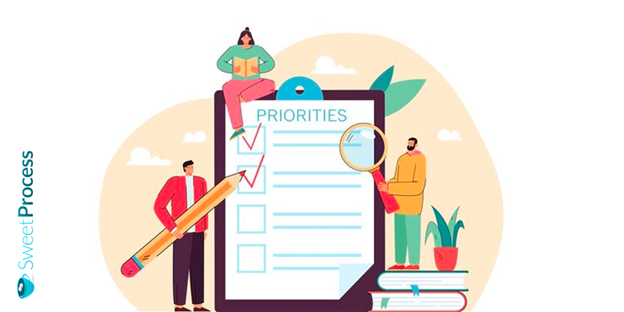 An effective operational plan serves as a practical manual that ensures quality management and accountability in a company's department are attained.
Each year, companies revisit their operational plans to identify weak revenue areas, revamp workflows, and define new growth opportunities.
Other top benefits of operational planning include:
1. Supercharges accountability in your business
Each business activity within an organization requires accountability. An operational plan establishes great accountability for each operation.
It also clarifies the expectations of each employee and department, making it easier for everyone to identify the activities they're responsible for and why.
Identifying inefficiencies in a department becomes easier when you have an operational plan in place. You just need to revisit the plan and identify where the inefficiency occurred and then fix the problem.
2. Optimizes resource management
The mismanagement of a company's resources often leads to low productivity levels and loss of revenue. But when you allocate resources to an operational plan, resource management processes in your organization are optimized.
By improving resource management in each department, everyone can get the necessary materials to perform daily tasks as required, leading to success.
An operational plan dictates which resources are needed, what the budget should be, who should be in charge of activities, and what activities are essential in the company.
When implemented properly, an operational plan can eliminate guesswork and minimize the misappropriation of resources that leads to losses.
3. Enhances workplace productivity
To maintain workplace morale and accountability, certain key performance indicators are needed to track employee performance.
And without setting specific goals for each role in your organization, you decrease the effectiveness of both operational and workplace productivity.
An operational plan optimizes the performance of an organization and ensures each department understands how their productivity levels and work quality has a direct impact on the entire organization.
4. Clarifies what each team member is doing daily
An operational plan clarifies the activities, responsibilities, and daily tasks of department heads and managers in detail. It also illustrates how team members in an organization play a key role in achieving a department's goals.
Without a well-defined operational plan, team members will have a difficult time measuring tasks against pre-defined outcomes.
5. Improves competitive advantages
To enhance workflow in an organization and ensure it runs smoothly, coordinating different parts of an operational plan is necessary. This coordination eventually allows team members to deliver high-quality deliverables without delay, keep their heads in the competition, and create outstanding customer experiences.
6. Boosts organization's profits
Having an effective operational plan keeps teams and projects on track. And when operations in an organization are managed properly, team members can boost a company's profits and bolster innovations—faster and better.
7. Increases operational efficiency
An operational plan is similar to a roadmap that aligns an organization's activities to achieve specific goals.
It acts as a guide to decision-making and management discussions that determine resource and budget requirements. In the process, it accomplishes set objectives and increases operational efficiency.
8. Gets everyone aligned with the company's goals and objectives
An operational plan sets up a sense of direction in which an organization must travel. It aligns everyone with the company's goals and objectives.
Operational planning offers much more foundation to an organization and ensures it establishes boundaries for efficient decision-making, compensates team members, evaluates success, and eventually scales new heights.
9. Allows organizations to be proactive rather than reactive
Organizations wish to foresee the future and prepare for any eventualities. Through operational planning, organizations can anticipate unfavorable scenarios months earlier and safeguard against them in the future.
With a strong operational plan in place, companies can end up being more proactive rather than reacting to situations as soon as they happen.
And because of being proactive, you can keep up with the latest trends and stay ahead of competitors.
10. Helps you hit your strategic goals
A detailed operational plan defines the short-term goals you need to achieve as an organization and then guides you toward attaining long-term objectives.
In other words, a strong operational plan can help you think through the actions you need to take to help hit your strategic goals. About 26 percent of workers understand how daily individual tasks directly relate to an organization's goals.
11. It makes success more likely
Every organization should set ambitious goals as it always gives you something to drive toward. But realizing these goals is practically impossible without a realistic operational plan in place. Creating an operational plan makes it more likely that your organization will succeed over time.
12. Improves teamwork and collaboration
When you create an operational plan, everyone, including department heads and managers, has a role to play.
Therefore, they won't need to step into each other's toes when handling day-to-day tasks. That's the beauty of the operational plan as it clearly pinpoints who is responsible for what task, and sets expectations on how and when these tasks are achieved.
Chapter 3: Steps to Creating a Successful Operational Plan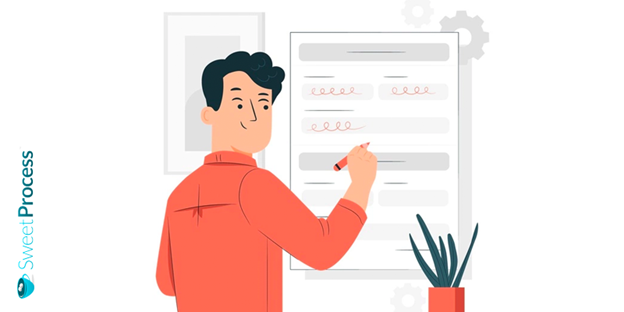 To create a successful operational plan, evaluate tasks your team is working on and everything you're doing on a day-to-day basis to achieve your company goals. Here are key steps to successful operational planning.
Step 1: Set up your strategic plan
The first step is to create a strategic plan if you haven't already. You need to have a vision and goals in place before you can break them down into daily tasks.
So, how do you create a strategic plan?
By determining your current position
By developing your strategies
By building your strategic plan
By sharing, monitoring, and managing your strategic plan
Step 2: Narrow down your scope
To create a successful and detail-oriented operational plan for your organization, narrow down your scope to a smaller department or team. However, this will significantly depend on the size of your organization.
If your company has several departments, you need to break down your strategic plans into action plans to fit all these departments.
For example, your marketing team is responsible for web promotion, content creation, social media, product marketing, and design.
To capture daily tasks within each marketing team, create an operational plan for each smaller marketing team.
Step 3: Identify your main goals
Identify and prioritize your main goals to create a simple operations plan. A simple operations plan is more likely to succeed than a complex one. Why? Because your company's marketing team can easily follow it to the letter.
When identifying your main goals, focus on three to five initiatives likely to contribute to your long-term goals and objectives. Then develop metrics to measure your key performance indicators (KPIs).
Step 4: Select the right KPIs
Predictive measurements or leading indicators are great key performance indicators that can help you predict the future. Compared to measurements of the past or lagging indicators, they're more helpful in guiding you to make early adjustments as you go.
Think of operational planning as a car where the windshield is the leading indicator and the rear-view mirror is the lagging indicator. Leading indicators look into the future while lagging indicators look back.
Step 5: Involve major stakeholders
When drafting an operational plan, think of the people you want to include in the operational planning process.
The members drafting the plan for your organization should be those close to the actions that the plan seeks to describe and execute.
For example, the head of the design team should be involved in the creation of the design team's operational plan. Once the plan is successfully created, the head of marketing should make the final approval.
Step 6: Write the operational plan
Your company's operational plan details all the actions your team members will undertake to achieve your set goals within a given timeframe. To create a successful operational plan, make sure to include:
The objectives of your team members.
That tangible "thing" (or deliverable) you expect the operational plan to achieve.
Quality standards and any other desired outcomes.
Your current operating budget (and other resource requirements) and staffing.
How you will monitor and report your progress from time to time.
If you're struggling to come up with details to outline in your operational plan, ask yourself these four questions:
What does my organization need to accomplish? Look into your yearly goals and you'll find answers to this question.
What specific tasks should my company complete to hit our set goals? Find out all the daily tasks you are currently handling with your team members.
Who should be handling the daily tasks? Make sure each team member is handling specific individual tasks to avoid confusion in the future in case a problem arises.
What are we using to measure progress and success? Make sure all your set goals are specific and achievable.
Step 7: Update your plan
Once you have an operational plan in place, share it with your team members to lend them visibility of the goals and specific tasks needed to get your company to success. Then systemize the operational plan's updates through a real-time progress tool.
Just like any other project planning tool, things will someday take a different turn and change.
So, to make sure key stakeholders and team members are updated regularly, make sure to actively monitor your operational plan and report on its progress.
Chapter 4: Key Items to Include in Your Operational Plan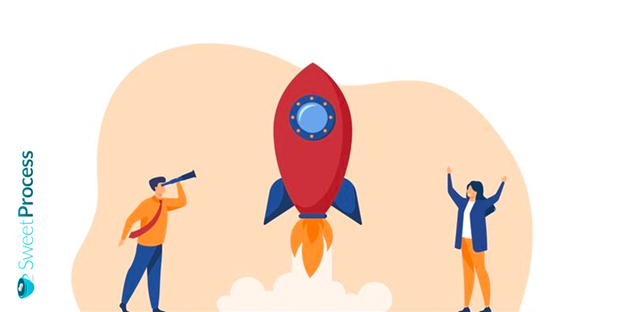 Every company's functional operational plan has key elements accentuating its purpose and direction.
Some of these essential elements include:
Mission Statement
An operational plan is more of a tactical tool that implements an organization's strategic plan.
A strategic plan complements the mission of an operational plan, answering the "why" for any activity, process, task, and project.
Without the mission statement, an organization will simply draft an operational plan but with no clear direction or purpose. Think of it as planning a journey without a real destination in mind. The efforts are futile.
Goals and Objectives
If an operational plan is complicated to grasp, team members in your organization won't follow it to the letter—and for a good reason.
The best way to avoid creating a complex operational plan is to set specific goals then break them down into small objectives.
Imagine creating an operational plan covering the next one year, and a goal to scale your sales by about 25 percent yearly. It's difficult to achieve such a goal.
But if you subdivide this goal into monthly objectives such as improving conversion rates in January, generating leads in February, increasing website traffic in March, and so on, your company's marketing team will quickly achieve this goal with ease.
Value Proposition
Why should someone become your company's partner, client, or customer? A value proposition is a brief description that answers this question.
Your company's value proposition explains to potential customers why your products offer more value for money than your competitors' offerings.
However, in the context of operational planning, a value proposition emphasizes your company's mission and strength, helping your team members to focus on why the organization is doing business in the first place.
KPIs
Drafting an operational plan is just half the journey. You should create an operational plan that can measure the effectiveness and success of your organization—or, better yet, a plan that clearly defines a list of metrics and key performance indicators (KPIs).
Predictive indicators are the best metrics and KPIs to measure because they show what a team expects in the future.
By predicting future outcomes, predictive indicators allow a company's marketing team to make early adjustments before it is too late.
Constant Communication
Your operational plan is only as good as the people willing to execute it. Before you begin operational planning, take time to discuss the selected KPIs with your company's team and relevant departments.
Being in constant communication with these people will ensure they fully understand why particular KPIs were selected, their importance to your organization, and how they'll help your organization achieve its goals and objectives.
SWOT Analysis
SWOT analysis—strengths, weaknesses, opportunities, and threats analysis—helps you to identify crucial aspects, happenings, and threats within your organization.
Running a SWOT analysis will provide you with clear insights into the daily operations of your organization.
Your organization's weakness might be the inability to attract local customers, while its strength could be its ability to enhance smooth business operations. Knowing this can help you improve certain areas of the organization.
Chapter 5: Questions Answered By a Good Operational Plan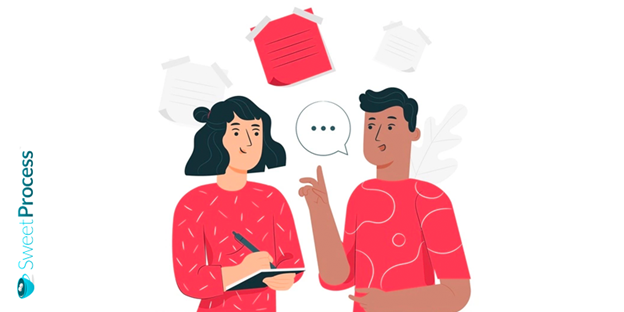 If you're a first-time business owner or have never created an operational plan, you may not know where to start. If that's your current dilemma, here are four top questions every good operational plan should answer:
#1: What yearly goals do we need to accomplish?
This question compels you to be clear about the specific goals you want to achieve as an organization.
Your goals should be reachable and challenging but not overwhelming that you have to tirelessly work yourself and your team to the bones to achieve them. More information about your goals should come from your strategic plan.
#2: What daily tasks do we need to complete to hit those goals?
Daily tasks could be anything you're currently doing in your organization or new work that needs to be kicked off right away. Daily individual tasks could be divided such that each includes one clearly defined action.
Completing a specific task every day brings you closer to hitting your goals because you'll end up making progress while having small accomplishments every day.
#3: Who is responsible for those daily tasks?
This question addresses a crucial aspect of any project in an organization: Who will take responsibility if any of those tasks fail?
Make sure someone in your team is responsible for each daily task. That way, there'll be no confusion about who to go to for questions or updates. When operational planning, be clear on who your teammates are, how they work, and the role they play.
#4: What are our success metrics?
This question is of utmost importance, and something many organizations forget to consider. If you cannot measure progress, you can't rally your teammates toward achieving specific goals for your organization.
To find out the right metrics for your organization's success, make sure your goals follow the SMART framework, which dictates that your goals should be specific, measurable, achievable, realistic and time-bound.
Chapter 6: Software to Help Implement Operational Plans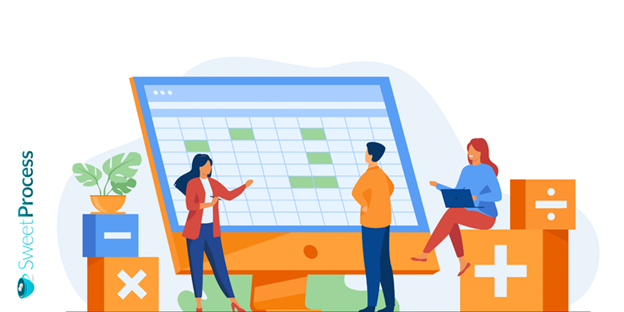 To improve efficiency and implement an operational plan in your organization, you need a comprehensive tool (or software) to help you share files with team members, maintain project budget, manage resources, create workflows, and track projects.
Here's a list of software to use to help develop your operational plan:
1. Monday
Monday has a rich list of features with a simple user interface.
If you're new to the software, you'll have little trouble learning how it works. The best part? It has a unique presentation that puts it ahead of the competition.
This top-rated software boasts a unique proprietary task management and dashboard system, which is designed to help you manage every step of a project, including budgeting, resource management, time tracking, and task management.
Despite being valuable, Monday fails in the pricing department. The most basic paid option (for three seats) starts at $24 (per month). The good news is that there's a free trial and even a free option for two seats.
2. Asana
Asana is designed with team members in mind.
It's accessible to everyone in an organization and provides useful team collaboration features and task management options.
In an organization, Asana empowers all team members in a project to work closely, communicate, and collaborate with their managers.
The most notable Asana feature is the workload management feature. It uses notifications and graphs to notify managers when members in an organization are assigned more work than they can realistically handle.
Asana lacks project reporting and budgeting features.
3. Trello
Trello boasts a healthy list of features with a simple learning curve.
This software is ideal for all kinds of teams and projects in an organization, including HR tracking, sales pipelines, customer support tracking, software development, marketing projects, and content teams.
If you're just developing an operational plan for your company, managing projects in Trello is fun. The software is ideal for mapping out and tracking your process.
4. SweetProcess
SweetProcess gives you the systemization to scale and grow your business.
Whether you're managing a team or you're hiring your first employee, SweetProcess helps you focus on the work that matters—including document processes, procedures, and tasks—and puts them in one place so you can focus on growing your business.
This software documents how team members need to do their job by harnessing the culture of defining and improving business operations.
If you have SweetProcess and you combine it with the right team members, there's nothing that may limit how far and wide your organization may go.
5. Wrike
Wrike is scalable and flexible. It helps you track and manage tasks.
This simple software is designed for fast-paced projects with continuously changing demands and needs. And when it comes to functionality, Wrike delivers in spades despite having a plain user interface.
Compared to its competitors, Wrike boasts project reporting and budget management features which can be useful when creating an operational plan.
Chapter 7: Operational Plan Examples
Having a business plan is not enough. A business plan should have (or complement) an operational plan.
To put it another way, if you don't set action plans and strategies (for your business operations), your business functions will not be complete. Here are examples of business operational plans:
Business Operational Plan Template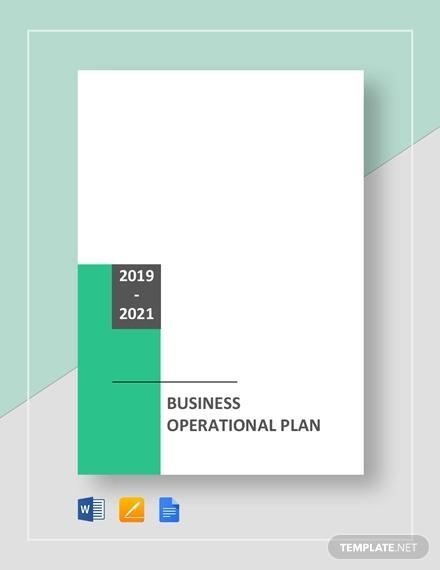 Source: template.net
File format: Google Docs, Microsoft Word, and Pages
Size: A4
Operational Plan Template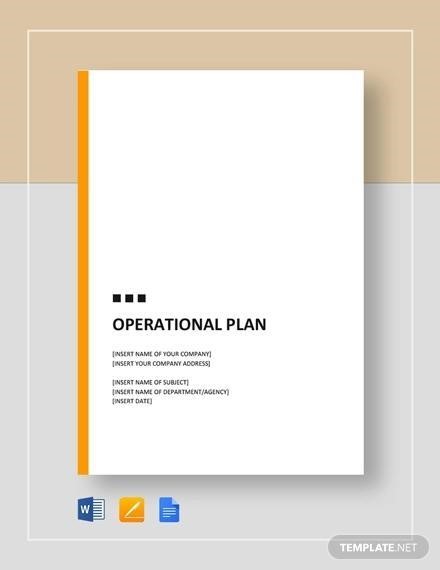 Source: template.net
File format: Google Docs, Microsoft Word, and Pages
Size: A4
Startup Operational Plan Template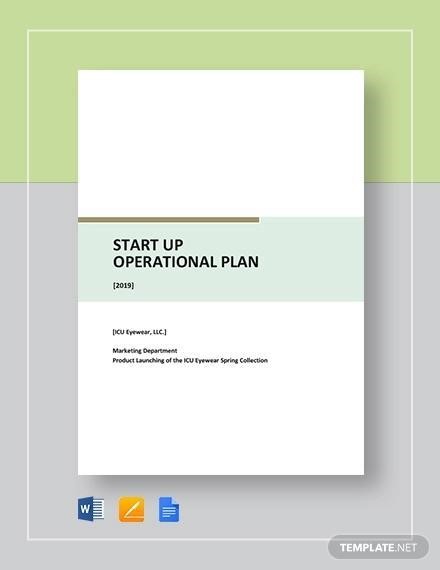 Source: template.net
File format: Google Docs, Microsoft Word, and Pages
Size: A4
Basic Operational Plan Template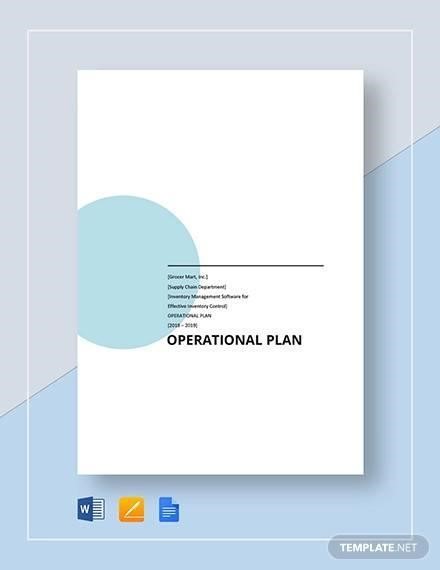 Source: template.net
File format: Google Docs, Microsoft Word, and Pages
Size: A4
The usage of these documents can (positively or negatively) influence the operations of your business. An operational plan simply peeks into the quality standards and metrics you need to consider to attain operational success, goals, and objectives.
Chapter 8: Using SweetProcess for Operational Planning and Other Business Processes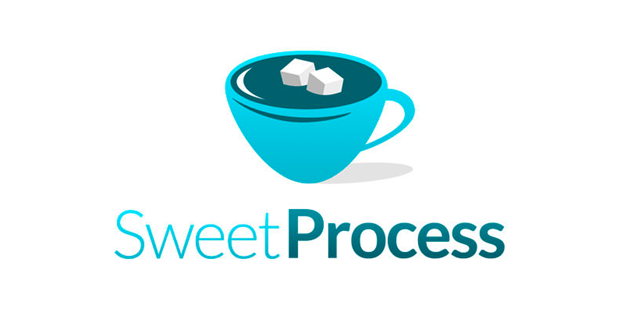 SweetProcess can help you manage operations in a super-easy way. It's a standardized, online operational manual that processes documents, procedures, and tasks in one place so you can focus on growing your business.
So, whether you manage a team or you're hiring your first employee, SweetProcess will systemize operations and help you scale your business.
Here are real-life examples of how the SweetProcess platform streamlined operations for different companies.
A Dental Clinic Streamlined Its Operations Post-COVID Shutdown through SweetProcess
The Dentist Off Main, a dental clinic based in Oregon, wanted to improve its patients' dental experience by systemizing its business operations.
Dr. Olesya Salathe and Alex Jacks (who both run the dental clinic) started to document their business processes on Word documents only to realize it's a tedious process. They now needed a better system to help enhance the efficiency of their employees.
And that's how they came to learn about SweetProcess.
SweetProcess platform came in handy and they were fascinated that it could streamline their operations. But they had not done much until the emergence of the COVID-19.
"… We didn't dive deep [into SweetProcess] until the pandemic hit, and then we were shut down. The idea of coming back without clear processes when the scary virus is out there solidified that we literally cannot work without systems and processes".
SweetProcess helped them achieve success (and change a lot of things post COVID-19 pandemic) and ensure the safety of their patients and employees.
SweetProcess Improved an Australian Brewing Company's Performance and Operations
Stone & Wood, an Australian brewing company, was in dire need of maintaining quality assurance and enhancing smooth operations.
The company was working with binders and Microsoft Word documents to resolve the problem to no avail.
The absence of an effective system made it impossible to achieve their desired success. After trying several outdated systems, they finally found a solution in SweetProcess.
Thomas Parker, the company's quality assurance and sensory coordinator, said SweetProcess was the right fit for Stone & Wood. It enhanced the efficiency of his team members with hands-on information to systemize tasks successfully.
"I did look at several different options online. I can't recall the specifics, but ultimately, it did boil down to a couple, and I liked SweetProcess from its ease of use and how flexible the sign-up was."
SweetProcess simply repositioned the organization's operations for the better, enhancing its performance tremendously by simplifying employee training, creating a centralized knowledge base, and customizing operations.
A Canada-Based Law Firm Used SweetProcess to Structure Its Business Operations
Resolute Legal, a law firm based in Canada, had a poor business structure and it became a serious concern for David Brannen, the founder and managing lawyer of the law firm.
Initially, David juggled all the tasks in the early days of his business. Disorganization soon caught up with him and he now desperately needed help.
Afraid that his business would not scale to new levels unless he created proper business structures, David started looking for an effective system that could systemize his business operations. And that's how he discovered SweetProcess.
"I had someone tell me probably in the six months to a year before I got SweetProcess that I would never be able to be successful or grow this business if I didn't get out of my way. Basically what he told me is: you got to systemize things."
SweetProcess helped David become successful in his business. He scaled up from being a lone ranger to "having a real business with a bunch of employees."
Create a Strong Operational Plan That Supercharges Your Business
Anyone can create a good operational plan, but drafting a strong operational plan that supercharges a business to broader levels? That's a whole new ballgame.
Strong operational planning helps your organization achieve its broader vision. It's a roadmap guiding you to accomplish a set goal.
To create a strong operational plan that supercharges your business, you should:
Understand your vision
Create achievable goals
Lay out concrete plans to meet them
Operational planning isn't something you can whip up in half an hour on your lunch break. You need to set aside hours (or days) to do the legwork, meet with stakeholders and department leaders, and create a strategy with detailed action steps.
If that sounds challenging, don't worry. SweetProcess will help you get it right, saving you precious time and money.
Adopting SweetProcess will streamline all your business operations and soar your business to newer levels.
Sign up for a 14-day free trial today (no credit card required), and download the "Epic Operational Plan Checklist That Ensures You Don't Miss a Thing", that covers actionable steps to help you draft a smooth and effective operation plan.