8 Best Training Tools for Your Employees in 2022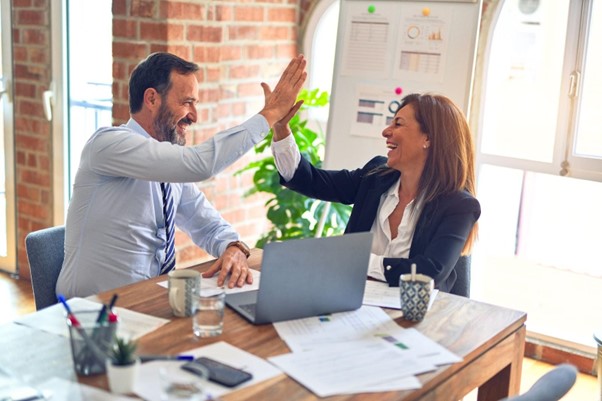 Photo by krakenimages on Unsplash
Employee training is an essential component of business operations and success. With the right amount of training, a comprehensive employee handbook, and tools available, you can quickly boost your employees' morale, productivity, and performance.
Apart from that, though, employee training has the potential to:
Improve the quality of work
Minimize mistakes and save time
Reduce staff turnover
Motivate your employees
Give your company a competitive advantage
Attract top talent and loyal employees
The whole idea behind a well-planned new-hire onboarding is to provide your staff with the opportunity, tools, and resources to engage better with your product or service and equip themselves with the skills they need to improve as professionals in their current position. The more training resources you have in your toolset and invest in your employees, the stronger the possibilities for growth.
There are several great tools available to help you achieve more. Here are some that you should consider looking into
#1 Video recording & editing tool – Screen-O-Matic
Most online learning content comes in the video, and there is a reason. Video is more engaging and interactive and allows memory retention and comprehension.
Video content is also perfect for learning because it allows learners to explore a topic in-depth.
To create training material that your employees can interact with, consider using a video recording tool to create product tutorials/demos, expert videos, interviews, explainers, and other video content that explains complex critical concepts and gives short demonstrations of your product or service.
There is an excellent variety of video recording and editing tools available. The best is Screen-O-Matic which allows you to capture your screen through a screen recorder and then edit it with a video editor. With this tool, you can create awesome product demos in minutes.
#2 Webinar software – GoToWebinar
Like in any online learning setting, webinars can be used to carry out live sessions or classes. Webinars are different from videos since they provide you with more possibilities to allow you to communicate and interact with learners in real-time directly.
With webinars, you have the option to create valuable content that your learners can get access to every step of the way. Webinars can be reused as many times as you want and offered as on-demand training, sometimes without editing them.
To be able to create your webinars from scratch and then deliver them to your employees, you will need a tool like GoToWebinar.
This tool is an extension of GoToMeeting. It's best suited for corporate use and offers a comprehensive solution that allows you to conduct live webinars without any hassle.
#3 Email marketing tool – MailChimp
Email is one of the best and most efficient communication channels between businesses, employees, and customers.
You can quickly onboard new employees and use email throughout their journey with email marketing. Via email, you can share important documents or other information essential to their work. Email allows you to build more engagement and instill trust and loyalty, excellent for delivering customer education.
This is all possible with a dedicated email marketing tool in a place like MailChimp. Mailchimp is an all-in-one marketing, automation, and email platform. Use it to create beautiful branded emails and personalized customer journeys for all your training efforts.
#4 LMS/Online Learning Platform – LearnWorlds
There is so much an LMS or online learning platform can offer to any business, regardless of the industry. If you are serious about providing remote training to your employees, choosing an LMS is the best way.
With an LMS, you will be able to build, store and deliver online course content, onboard new employees, assign learning activities and assessments, offer certificates, and many more.
Every tool is different and comes with additional capabilities and requirements, so make sure to choose the right one. Browse the needs of your business (in terms of features, pricing, support, and more), find out what's working for you or not, and then pick the one that helps you achieve your goals.
LearnWorlds offers the best platform to create, market, and sell online courses as an all-in-one solution. It is built to help businesses streamline their training processes and employees using a tool that offers robust learner insights, mobile learning, a powerful site builder, and many more.
#5 Authoring tool – Adobe Captivate
Not every LMS comes with an authoring tool, thus not allowing you to build online learning content, but it is always good to check out available course content creation options.
With an authoring tool in place, you will be able to build e-learning content and then upload it to your LMS solution to deliver it to your employees. There is no right or wrong when choosing an authoring tool, but you need to make sure it follows the eLearning standard that is compatible with your chosen LMS or course platform.
Most authoring tools use the SCORM, HTML 5, or Tin Can, the most common file formats.
In this area, Adobe Captivate is one of the top-rated and recognized tools. It might be costly, but it offers the best professional solution for creating high-quality course content.
#6 Image/Design tool – Visme
When building content for training purposes, you will also need to create visuals. Imagery can help engage your learners, encouraging them to interact with it more meaningfully. It also enhances the learning experience by presenting findings and critical themes more engagingly.
Going for stock photography is an option. Many sites offer free stock images that you can use inside your courses or PowerPoint presentations.
But if you want to come up with beautiful custom designs, you can try design tools like Visme. Visme allows you to create various content types, including presentations, infographics, charts, branded documents, etc.
#7 Support & chat – Slack
As part of your employee training initiatives, you will need new-hire software tools to cover your employee needs, requests, and direct messaging needs.
A new hire, for example, will need all the help they can get, so it is essential to be in the position to offer it. Having reliable support from colleagues and keeping daily contact with other team members is necessary to allow employees to know more about your product and the nature of the job.
Through a support chat tool, you can communicate with your learners directly, provide feedback, and answer any questions related to your product or service on the spot.
Slack is one of the best in the market for internal communication use. As a platform that allows communication across employees, teams, and departments, it makes direct messaging easy by creating multiple channels, document sharing, audio, video conferencing options, and more.
#8 Collaboration platform – Padlet
Building a vibrant community of learners is one of the best components of successful learning. People are more likely to learn and develop a knowledge base as part of a group.
Not only does this help boost learner interaction, peer-to-peer support, and engagement with learning material, but it also motivates learners to work through challenges, assessments, and exams with incredible excitement.
If you are looking for a collaboration platform, Padlet is one of the best choices. Padlet works as a communal visual wall that instructors and learners can use to share educational content. This can be anything from images, video, text, thoughts, or ideas.
Ready to Educate Your Employees?
If you want to build a training program and offer employees the opportunity to learn more about your business, allowing them to grow with you, there are a couple of things to consider.
As we move further into the future, new technology emerges, and it's essential to explore how it can help your business provide the best employee training experience.
To cover your business' training needs, you will first look into the tools that can help you create educational content. Having tools like the ones mentioned above in your inventory will make creating and delivering eLearning content easy for your employees!
Author:
Kyriaki Raouna is a Content Creator for LearnWorlds, writing about marketing and e-learning, and helping course creators on their journey to create, market, and sell their online courses. Equipped with a degree in Career Guidance, she has a strong background in education management and career success. In her free time, she gets crafty and musical.