Top 50 SharePoint Alternatives for Your Company.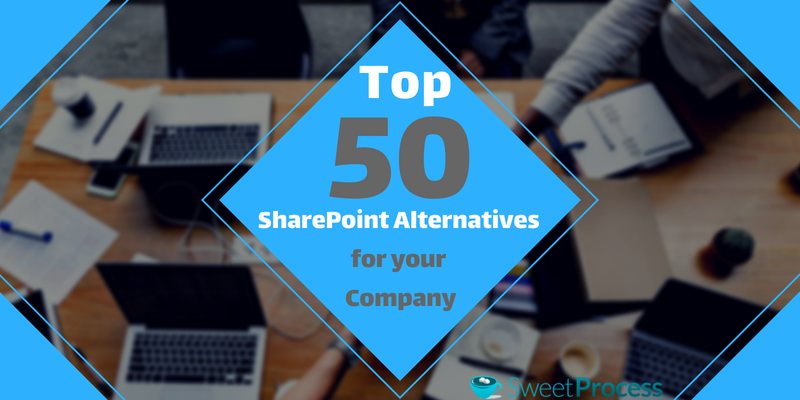 Looking for SharePoint Alternatives? If so you are reading the right article. As at the time of writing this article, when you Google "SharePoint," you'll see at least two links trying to explain the software higher up in the search results than the product's official website: sharepoint.com — and that's after over 16 years of the product's existence. This is a strong indication of how much people are still finding it hard to understand or make use of SharePoint as a business solution as well as the desperate attempts of the developers to explain things.
If you're looking to move away from SharePoint, or you want to buy a collaboration and project/content management software for the first time but want to avoid the high cost and complexity that comes with SharePoint, then this article is absolutely for you. You'll learn what SharePoint is, its features, advantages, shortcomings, and why (the heck) people are looking for SharePoint alternatives — and why you should too. You'll also be introduced to 50 SharePoint alternatives, and finally, we offer tips on choosing the ideal SharePoint alternative for your company.
The intent of this article is to put a final stop to your search for a SharePoint alternative — and we hope it does — by giving you EVERYTHING you could possibly need to know about choosing other options. Consider this the ultimate guide to SharePoint alternatives.
CONTENTS
Chapter 1: What Is SharePoint?
Chapter 2: Why SharePoint Alternatives?
Chapter 3: 50 SharePoint Alternatives
Chapter 4: Selecting Your Ideal SharePoint Alternative
WHAT IS SHAREPOINT?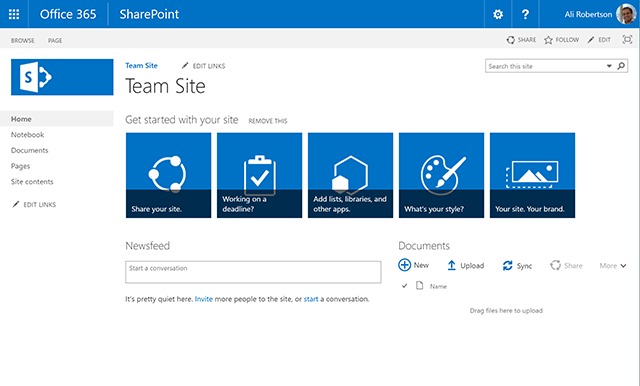 One of the several tools in Microsoft's suite of tools that integrates with Microsoft Office, SharePoint is famed to be the most popular collaboration and content management tool since its inception in the early 2000s. In fact, an estimated 80% of Fortune 500 companies reportedly use SharePoint. Moreover, SharePoint's Corporate Vice President, Jeff Teper stated that more than 200,000 organizations were using SharePoint as of May 2016, and "more than 50,000 partners and 1 million developers make up a $10 billion solutions ecosystem around SharePoint." Furthermore, it's stated right on Office's SharePoint webpage that "more than 200,000 organizations and 190 million people have SharePoint for intranets, team site, and content management."
Brief History of SharePoint.
Birthed in 2001 from the combination of projects "Office Server" (network administration) and "Tahoe" (email, search, indexing, and organization) during Microsoft's development of Office XP (2001), SharePoint's launch was met with a lot of mixed user reviews. Some lauded its collaboration capabilities, while some criticized it as user unfriendly and visually unappealing with limited functionality.
Almost a decade later in 2010, SharePoint became closely integrated into Office after years of gradually improving its limited functionality. Since then, more changes were made, and the available features continue to expand till date. For example, SharePoint now has several social media features, e.g., profiles, sharing, etc. And the aesthetics have significantly improved, especially with the ability to customize themes. Finally, SharePoint 2016 can be used with mobile devices, though that functionality is still a work in progress.
Currently, SharePoint has two primary deployment models and a newer hybrid model:
SharePoint Server: This is SharePoint's on-premise deployment that allows for companies to avoid the cloud, especially for security or compliance reasons, but use SharePoint on site. This solution is expensive and would also require substantial investments in space and IT maintenance.
SharePoint Online: This is the SaaS option companies that don't mind using the cloud can subscribe to, either as a standalone service or as part of an Office 365 plan.
SharePoint Hybrid: As its name depicts, this version, introduced in 2015, allows enterprise SharePoint users to enjoy access to the cloud — connect members and partners from anywhere to the resource or content they need — while restricting access to the corporate on-premise environment only to authorized people.
What Does SharePoint Do?
Imagine having just one tool that can serve as a cloud-based document sharing platform; a website, document, list, or calendar creator that allows for collaboration; a content management system (CMS); a business intelligence (BI) platform; a business process management (BPM) tool; and more. Sounds almost too good to be real, right? Well, that's actually what SharePoint is or aspires to be.
The creators of SharePoint, Microsoft describes it as a "mobile, intelligent intranet [with which you can] share and manage content, knowledge, and applications to empower teamwork, quickly find information, and seamlessly collaborate across the organization." However, as you know, what you think of yourself is in most cases different from what other people (including your customers) think of you. So let's see what others think SharePoint does.
Udemy says SharePoint is a "broader intranet server that allows a business to store, access, and share information among members of their organization." ClearPoint Strategy simply called it a "collaboration and document management solution," while TechnologyAdvice.com defined SharePoint as "a massive, multifaceted solution designed to help businesses work and communicate better."
The top keywords in these descriptions are sharing and collaboration. But in reality, SharePoint does much more. Because of the many functions, SharePoint boasts, it is used for several purposes. While most companies (over 80%) using SharePoint basically depend on it for document management, according to a survey on Collaboris.com, other companies take advantage of its features for several other functions, such as reporting, publishing, social networking, running apps, and other intranet uses.
Here are some specific features of SharePoint, depending on the edition purchased:
Intranet
Extranet
User dashboards
Document management and editing
Website publishing tools
Content management
Compliance management
Enterprise Wikis
Tags and notes
Enterprise social networking (through Yammer)
Employee collaboration
Business Intelligence integration (through Power BI)
Business process management (BPM)
Personalized news
Advanced search functionality
Mobile integration (mobile app)
Process automation
Advantages of SharePoint
For a large percentage of Fortune 500 companies to be using SharePoint, don't you also think they must be doing something right? If that is what you think, then you'd be absolutely correct. It offers users a lot of advantages.
1. SharePoint simplifies everyday business activities
The fact that you don't need any coding to complete several business tasks, like initiating, tracking and reporting business activities (e.g., document review and approval), makes SharePoint a go-to tool for businesses.
2. SharePoint integrates well with familiar tools
In a bid to simplify user's work and give a familiar experience across multiple platforms, SharePoint can be integrated with several familiar tools, such as applications, web browsers, and email services, even though SharePoint obviously has a bias toward other Microsoft products.
3. Effective content management
With SharePoint, users (businesses, authors, etc.) can easily create, manage and collaborate on content. For example, a user can submit a newly completed piece of content to a superior to review for approval or otherwise.
4. SharePoint is rich in features
The out-of-the-box functionality gives you access to a rich selection of features with potential for customization and further extension. The bottom line is, whatever your business needs are, SharePoint got you covered.
5. SharePoint has a large online community
SharePoint has several online communities to discuss topics, news, trends, and other relevant topics. This makes peer review and supports better. Here's an example from Microsoft itself.
Shortcomings of SharePoint
1. Expensive
SharePoint is expensive to own, especially its enterprise version (SharePoint Server). Things like hardware, software, third-party solutions, maintenance, support, etc., all add up to a cost almost unreasonable for a small business to bear. Despite the fact that cheaper versions are now available (e.g., SharePoint Online Plan 1, priced at $5 per month), your final bill, especially from a monthly subscription, can still be hefty.
2. Microsoft products bias
As stated earlier, SharePoint tends to integrate more and better with other Microsoft products than other third-party products (apps, tools, and so on). This in itself is a limitation, and users would rather look for alternatives than getting arm-twisted into investing more in other Microsoft products.
3. Difficult to manage
Unless you have an administrator or a maintenance team that understands the fundamentals of SharePoint, you will find it difficult to manage, and this might translate to you forgetting about getting any return on investment.
4. Can get messy
Yes, SharePoint boasts of a lot of features, but it has so many that attempting to use them all can get messy and out of control. So you have to be careful to select just those that fulfill your organization's needs or resort to customizations. Even this can complicate things further and translate into extra money and time investments.
5. Backend control or not
SharePoint's on-premise version gives you a lot of control at the backend. But once you switch to any other version, you lose that control. The consolation is however in the fact that Microsoft by themselves take up your support, but if your business involves being in full control of your backend, then this might be a major turn-off for you.
SharePoint obviously has a good mix of pros and cons. So why do people bother about SharePoint alternatives? Do the shortcomings outweigh the benefits? Let's talk more in the next chapter about why people look for SharePoint alternatives.
WHY SHAREPOINT ALTERNATIVES?
Microsoft has done a lot to improve SharePoint over the years, especially in its latest (2016) release. But despite the constant addition of new tools, new updates, and an improved user experience overall, public interest continues to drop — even with the now cheaper SaaS version — and people continue to search more for SharePoint alternatives.
This Google Trends graph shows people's interest in SharePoint between January 2004 and October 2017: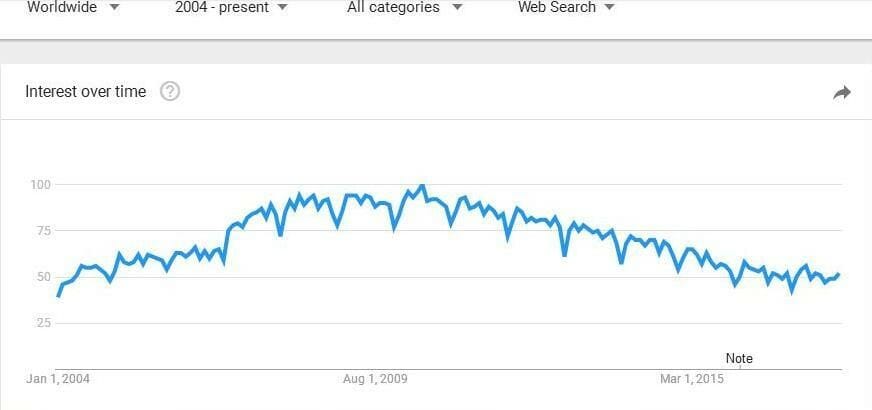 The shortcomings or disadvantages of SharePoint highlighted earlier turn off businesses, especially small ones. More specifically, here are two key reasons people want alternative solutions.
Why Do People look for SharePoint Alternatives?
1. Cost
The cost of buying, installing, maintaining and updating SharePoint, especially SharePoint Server (enterprise version), can run into thousands of dollars for a single license. Owners of SharePoint Server — and even SharePoint Hybrid — usually hire dedicated IT specialists to handle its configuration and maintenance, which will mostly be out of budget for small- to medium-sized businesses. Even the cost of training, license, customization, migration, etc., of SharePoint Online, is enough to discourage businesses from buying it and instead opt for a viable SharePoint alternative.
2. Complexity
Even though SharePoint seeks to make collaboration across an organization easier, it takes some time and effort as well as money to achieve that. Other than its complex configuration, SharePoint still requires regular maintenance, which dedicated experts or an IT department would need to handle. Adding capabilities to SharePoint down the line is another hurdle to cross; it has to be designed in. Before you know it, a solution you bought to make things easier for you becomes a complex network you can't manage. Overall, it is neither user-friendly nor buyer-friendly; it can be hard to understand and put its several product modules to use at all.
The aforementioned points are two good reasons to look into a SharePoint alternative, especially when you don't need its robust features and your budget wouldn't accommodate its high cost. Luckily, there are countless suitable alternatives, depending on your needs. The next chapter discusses 50 of them to help you make the best decision.
50 SHAREPOINT ALTERNATIVES
1.) G SUITE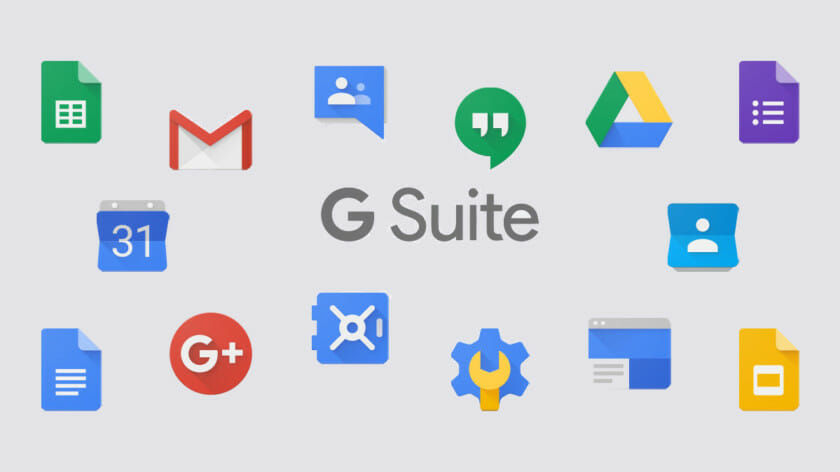 Formerly known as Google for Work, G Suite is a SharePoint alternative developed by Google to help businesses/organizations manage all their Google apps and optimize them for use by making them all available in one place. With Google apps like Gmail, Hangouts, Calendar, Drive, Docs, Sheets, etc., bundled together into one place, employees have easy access to all the tools they need. And because it was initially designed from the beginning to be a cloud-based tool, companies can use it as a server to host all their important stuff.
Advantages
It encourages remote work.
Files are easily accessible and shared.
Its ease of use saves time and increases work efficiency.
It encourages working together on the job.
It's affordable.
Disadvantages
High risk of sensitive information getting into the wrong hands
Requires internet access to function
2. Huddle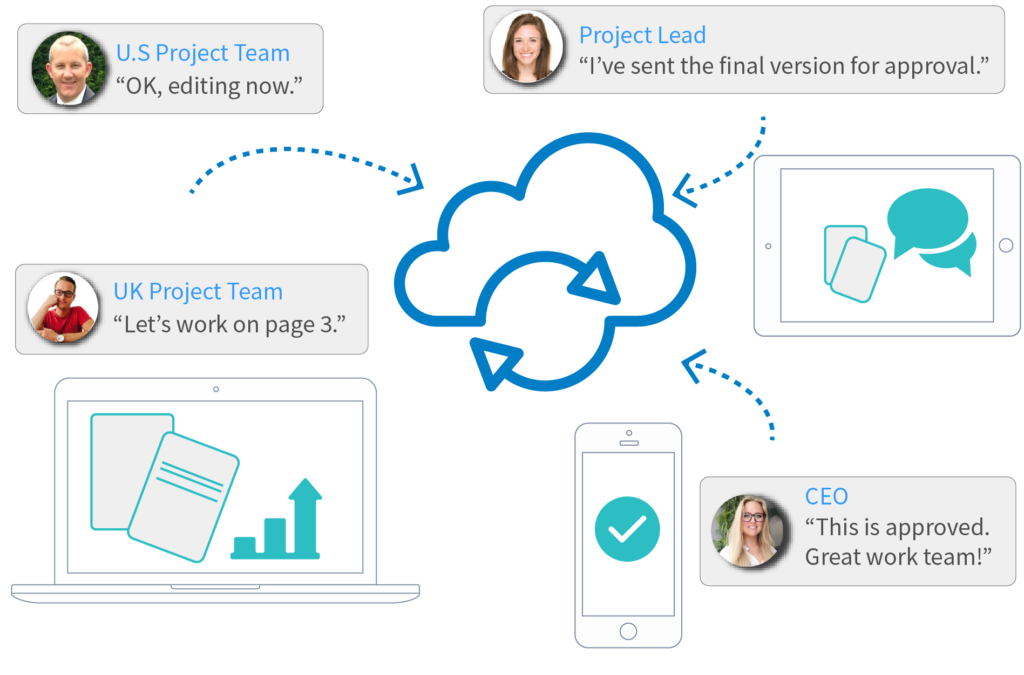 Huddle, a self-acclaimed no. 1 SharePoint alternative, offers a comprehensive business management suite that helps businesses collaborate more on projects and manage several projects. Users can access and edit files directly instead of having to re-upload edited files. It is also one of the few products out there that is a SharePoint alternative and can also be integrated with Office packages.
Advantages
Updates to files or documents are automatically added to the first version stored in the shared cloud.
Real-time progress on tasks can be monitored.
You can customize your cloud workspace.
It integrates well with a number of business systems and applications.
Disadvantage
3. Box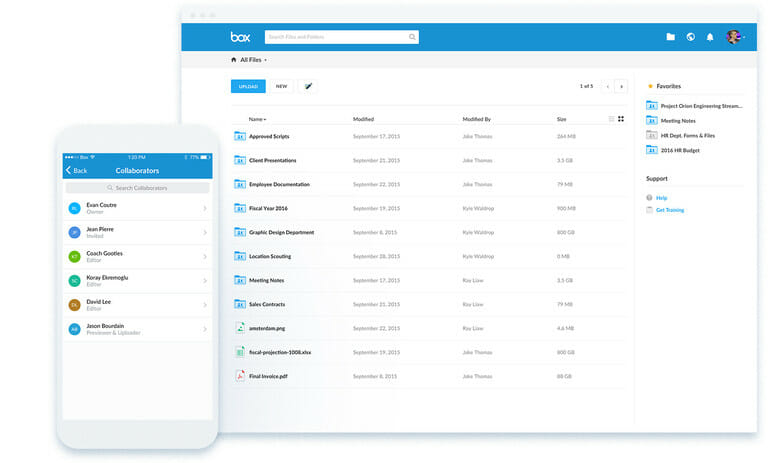 This is a cloud-based storage service that also serves as a platform for businesses to do all their collaborative work, like file sharing, project management, etc. One of the strong selling points of Box is you get unlimited storage to go along with all the stuff that comes with it, like mobile synchronization and much more.
Advantages
Relatively inexpensive
Two-factor authentication for enhanced security
Mobile synchronization and several other awesome features
Disadvantages
It does not offer offline access.
Employees may abuse unlimited storage, if not checked.
4. Telligent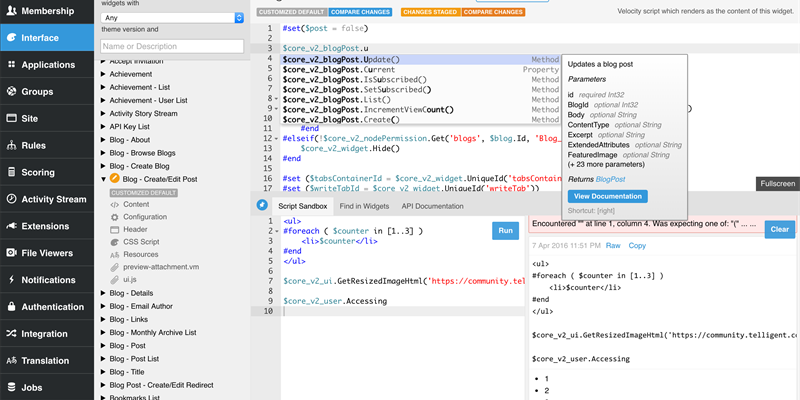 Telligent, just like Huddle, is both a SharePoint alternative and also a Microsoft partner, thanks to its depth of Microsoft integrations. Its official website describes it as "a community that is designed around interaction and engagement." This app makes SharePoint more social by making it easy to add engaging functionality, such as forums, blogs, wikis and more. It also gives you the opportunity to run your software alongside SharePoint or you use their facility as your cloud host.
Advantages
Because of all the available integrations, it is one of the most useful apps out there.
Regular updates and new features are constantly added.
Disadvantage
It's not 100% a SharePoint alternative.
5. SweetProcess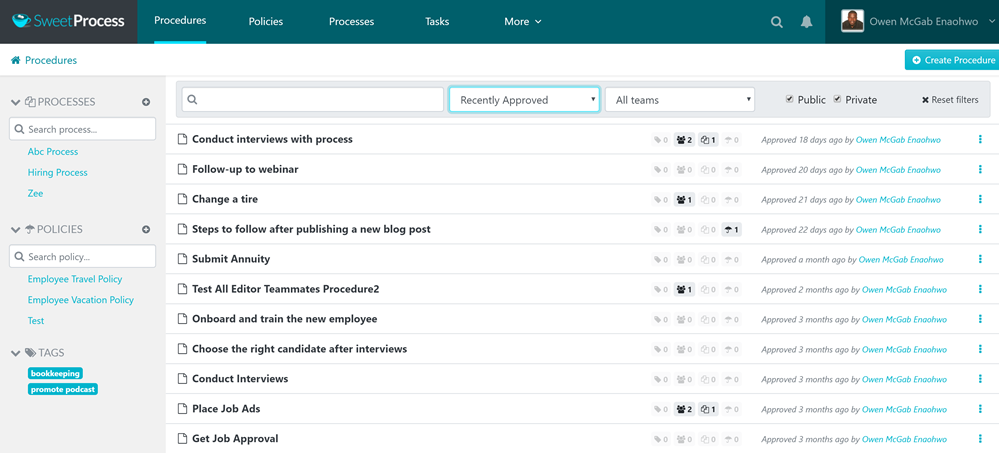 Just as our name implies, SweetProcess is an application that concentrates mainly on creating processes that make work easier. This web-based application helps businesses to systemize operations. It enables businesses to create templates on how specific jobs/tasks are to be done. This eliminates repetition of any kind and makes training new or existing employees pretty easy.
Advantages
Intuitive and Easy to use to document procedures, processes, and policies
Task management feature included because you can assign tasks to employees based on the procedures and/or processes you have documented
100% optimized for mobile devices
Two-factor authentication for security
Eliminates errors due to re-creating documents/files
Disadvantage
You can only document procedures, processes, and policies using our platform.
6. Confluence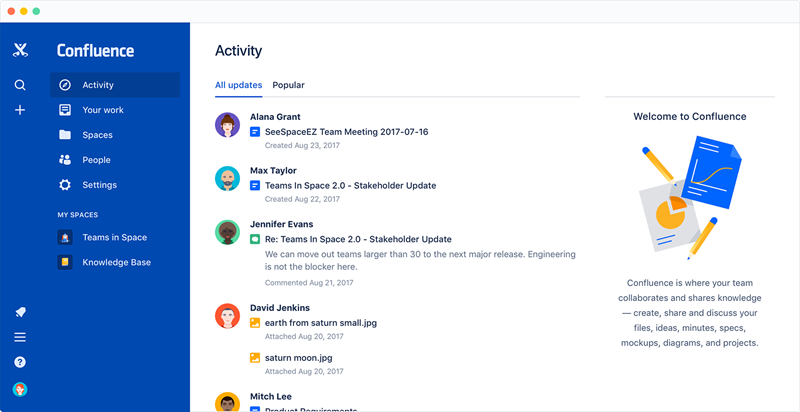 Confluence was created in March 2004 by Atlassian, this software is written in Java is described on their website as "a collaboration software that allows team members to work together in one place." It features a centralized workplace wherein files are synchronized between desktop and mobile. Users can share as many documents as they want between themselves.
Advantages
Different plans are available, depending on your team size.
Ease of use is excellent.
Online comments are available.
Making the workplace central, it encourages the sharing of ideas among team members.
The Confluence Data Center helps with full disaster recovery in case something goes wrong.
Disadvantages
Expensive
If you will be self-hosting, it requires technical know-how, which may come at extra cost.
7. Intranet Connections
Intranet Connections not only encourages collaboration in the workplace, but it also helps businesses automate their processes and enables employees to connect with each other to aid creativity. It boasts of over 100 features directly built-in, which makes it easier to use than SharePoint. Workflow becomes seamless as businesses can centralize documents and enjoy increased employee engagement.
Advantages
No third-party resource is required.
With a one-time licensing fee, increasing costs are eliminated.
You can add as many users as you want without extra charges.
Disadvantages
The several built-in features can be more of a distraction than being helpful to its users.
You still have to spend time on customization.
8. Intranet Dashboard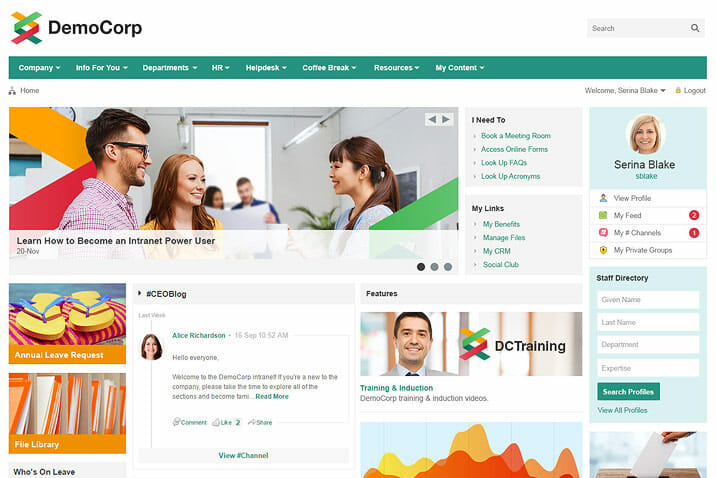 Intranet Dashboard (iD), a software product developed using the Microsoft .NET framework, offers subscribers a centralized platform on which everything and everyone is interconnected. Like a portal, iD offers a multitude of modules that not only centralizes everything but also automates productivity, keeps employees engaged and allows a free flow of communication between team members.
Advantages
Flexible pricing plans
Doesn't require too much technical know-how
Disadvantages
High cost of support and maintenance
Can take quite a while to load
9. Socialtext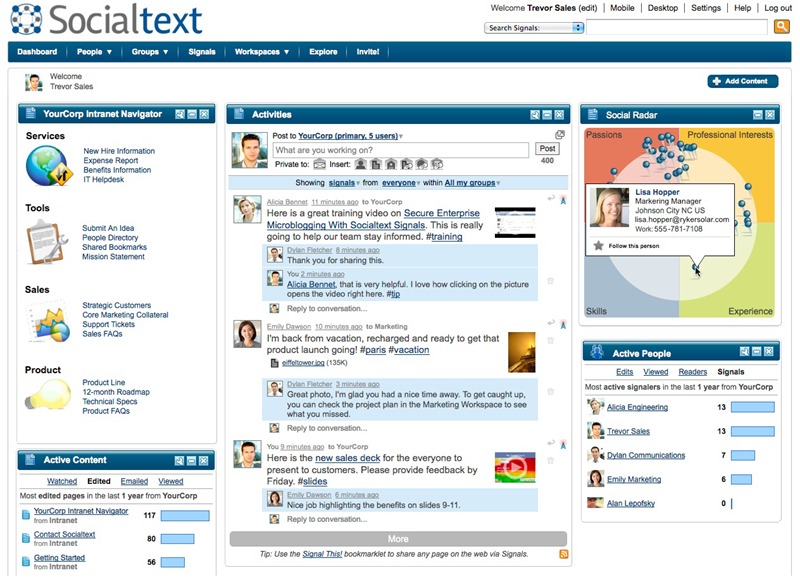 Social software created in 2002, Socialtext provides businesses with enterprise social networking products. From microblogging to blogs and social spreadsheets, this collaboration platform allows team members to complete work faster and effortlessly. The software also provides social onboarding and social intranet.
Advantages
It is cloud-based and can also be used with on-site apps.
You can share anything with multiple accounts.
Disadvantage
Sometimes, you need some extra features from other applications to use it.
10. Basecamp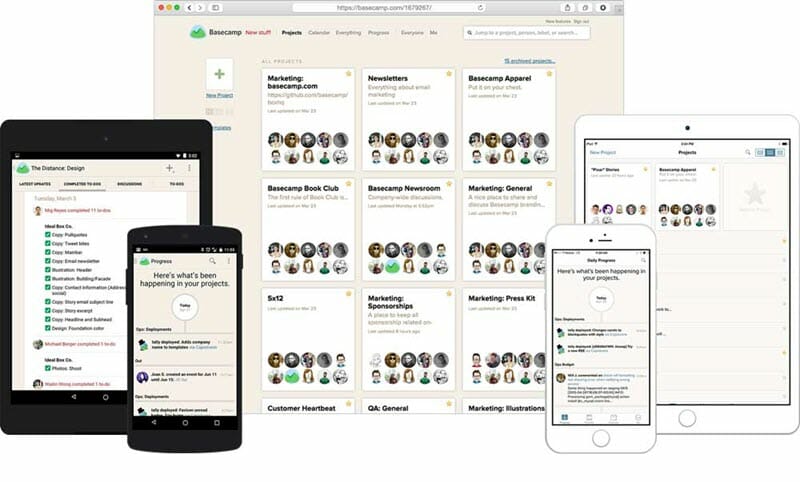 This was the first company to introduce remote project management, and after 17 years in the industry, it has transformed into one of the most popular online project management packages available in the market today.
Basecamp features a user-friendly interface that allows businesses to monitor all their work effortlessly. It is also one of the best-integrated project management systems available. It can also act as a documents and files manager, helping businesses to do a host of things with corporate information using a simple drag-and-drop system.
Advantages
User-friendly interface
Easily integrates with many other business apps
Features a flexible pricing plan
No tech know-how necessary to use it
Disadvantages
Time can't be tracked
Limited backend for clients
11. Redbooth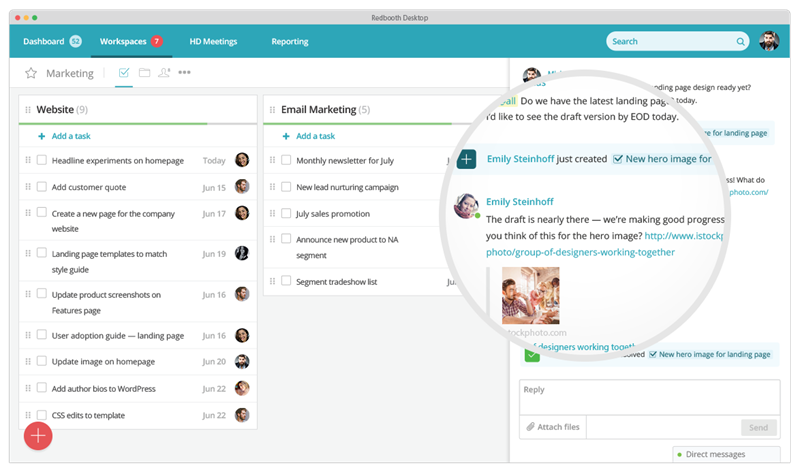 This is one SharePoint alternative some Fortune 100 companies use to improve employee productivity and engage their teams. Redbooth helps improve collaboration among employees by making file sharing easy and creating a central workspace for everyone to work from. Unlike with Basecamp, users can track time and engagements.
Advantages
Can be accessed through web or mobile
You can choose who can view which documents
Time (and engagement) can be tracked
Disadvantages
Many updates in the past three to four years
No reminders; you have to check for updates manually
Basically built for project management. This means some features, like search, are poor.
12. Stellent (Oracle)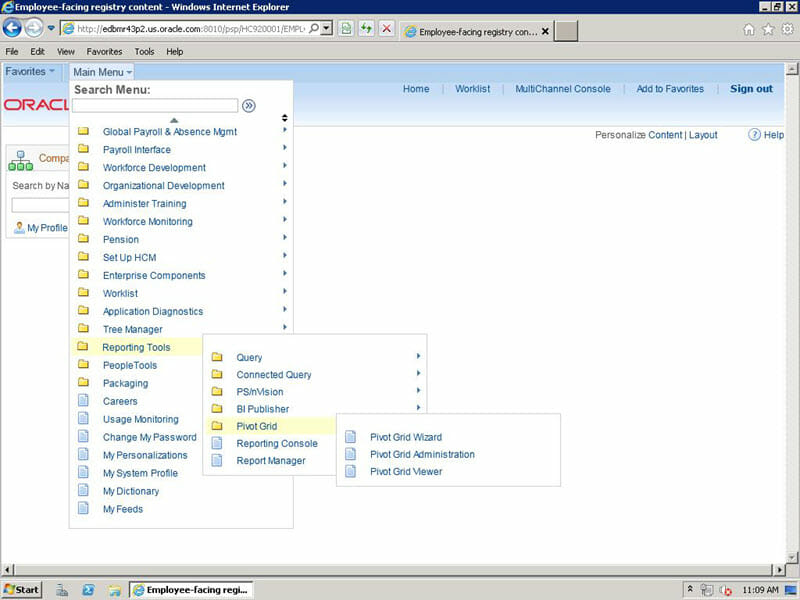 To enter into the content management industry, in the late 2000s Oracle acquired Stellent, a software that offers services like business process management and web content management, amongst other capabilities. The combination of Oracle and Stellent offers businesses a secure and reliable platform where they can manage all their files and documents, with great content management solutions.
Advantage
With Oracle involved, you need not worry about whether or not the software will run down.
Disadvantage
Two companies coming together can be really tricky.
13. Igloo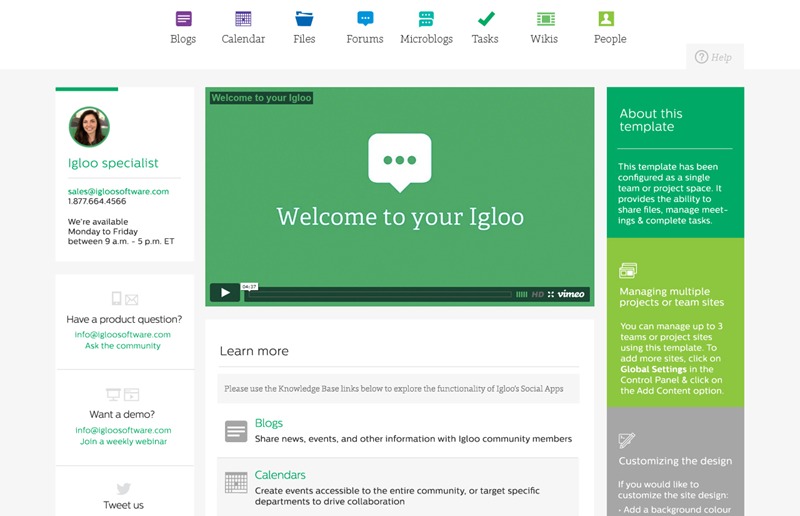 Yet another SharePoint alternative and a collaboration solution that is both budget-friendly and cost-effective, Igloo offers employees the opportunity work on projects together, solve problems quickly and also work remotely, as it is easily accessible from anywhere in the world. Because communication is key, it focuses on ensuring effortless interactions through microblogs. You can also choose who can see a particular document and who can't.
Advantages
Simple to use
User-friendly interface for both administrator and employees
No need to download a document to edit it
Disadvantages
No video chats like FaceTime
The absence of in-built document editing application
14. Alfresco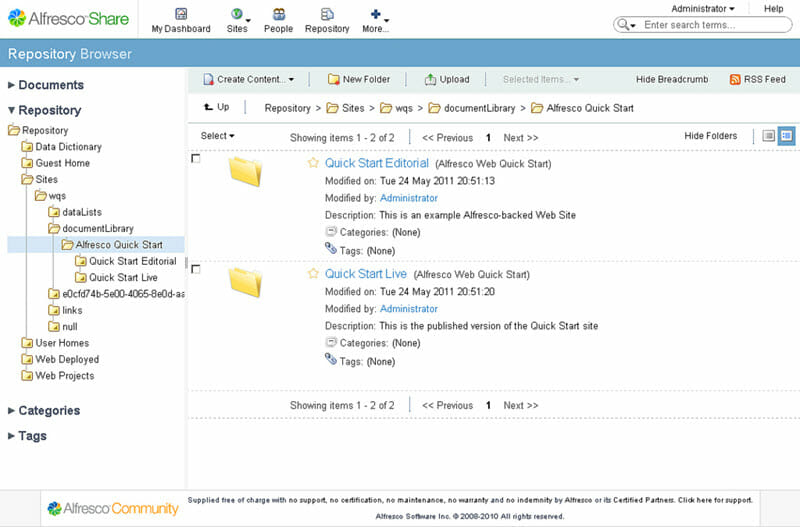 If you're looking for a SharePoint alternative that also offers a free collaborative suite, Alfresco is the platform for you. This open-source software helps you manage content on your website or blog and also aids file sharing. Its features include a message board that makes communication within an organization easy, a mobile app integration that enables you to work from anywhere and is compatible with software like Microsoft and Linux.
Advantages
Free! (However, their full enterprise document management platform will cost you.)
Supports many document types
Disadvantages
Browser compatibility issues
Issues uploading large files
15. OpenText (Vignette)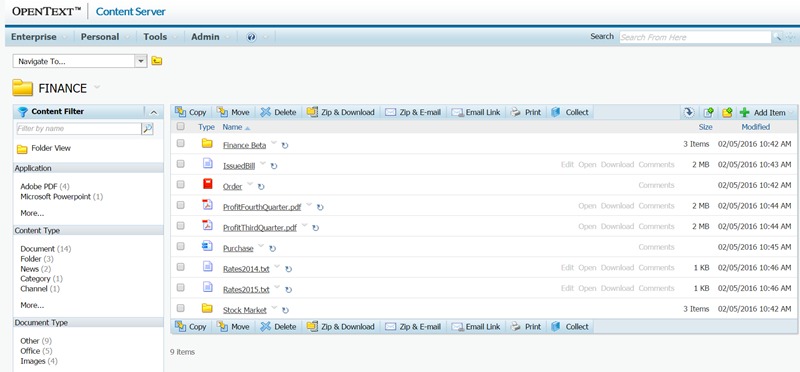 A web content management platform with flexible and connected platforms that help businesses solve challenges, especially digital issues like tracking analytics, analyzing customer engagement and getting customer insights, OpenText also helps centralize content and optimizes the process of managing and delivering content to either web, mobile or any other media channel.
Advantages
Personalize your experience
Features a responsive design
Easy-to-learn interface
Disadvantages
More expensive than most other SharePoint alternatives
No mobile applications
16. Samepage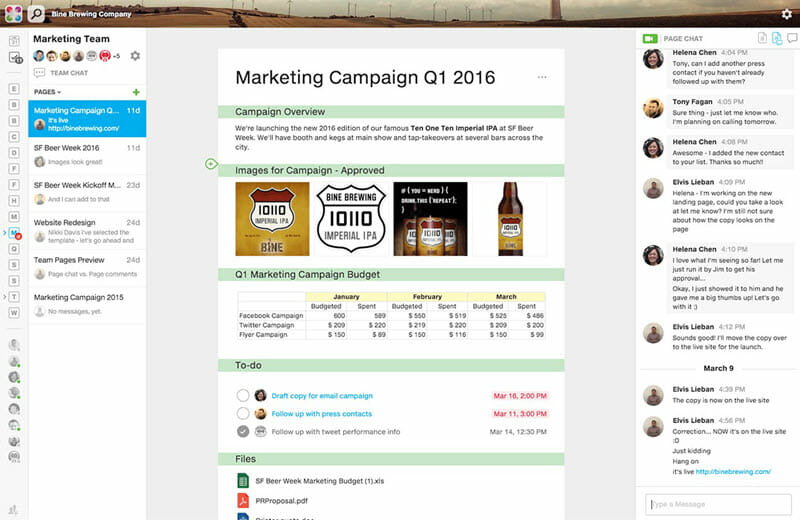 Formerly known as Kerio Workspace, this product offers a complete collaboration solution for business teams. It enables team collaboration by bringing all information about tasks and project in one place. With functions like scheduling, discussion topics, meeting agendas, files, instant messages, and task lists, it is the ultimate software to encourage collaboration in the workplace.
Advantages
A simple mobile experience, which encourages remote access
Pretty simple to use
Disadvantages
Overloaded with some elements, so it can get distracting
Too simple for those with a lot of technical know-how
17. Liferay Social Office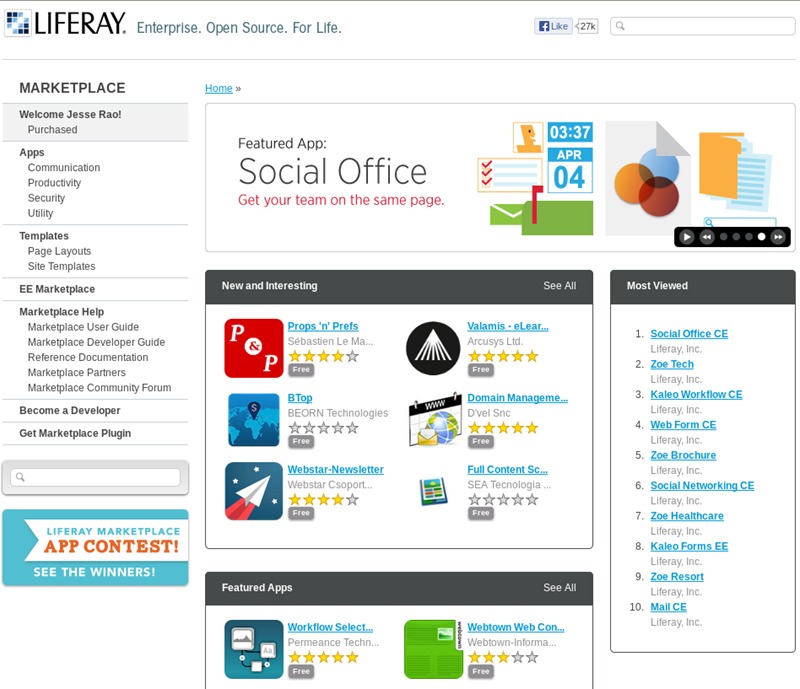 This SharePoint alternative offers an open source portal framework, which encourages customization based on interests and work requirements. Unlike other options, Liferay is not only cloud-based but also a downloadable desktop application. With over 60+ applications and tools included, users can enjoy its high level of performance and can be sure of no downtime.
Advantages
An easy-to-use interface
Microsoft Office integration
Downloadable desktop application available
No downtime
Disadvantages
The syncing mechanism is not flexible
18. Jive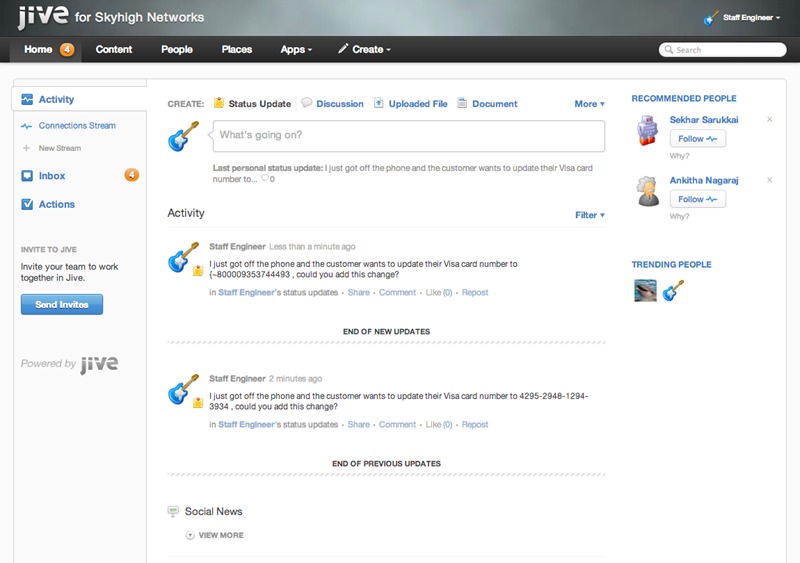 Jive is one of the top SharePoint alternatives used by large enterprises today, with a deployment of over 5,000 users. With its seamless integration with mobile apps and other business ecosystems, it ensures that team members stay connected, thereby encouraging collaboration. It also helps administrators monitor engagement rates and doesn't require too much technical know-how.
Advantages
Relatively easy to use
Flexible pricing scheme
Disadvantages
Too many widgets can make the pages load slowly at first.
The search engine is not so reliable.
19.  Nuxeo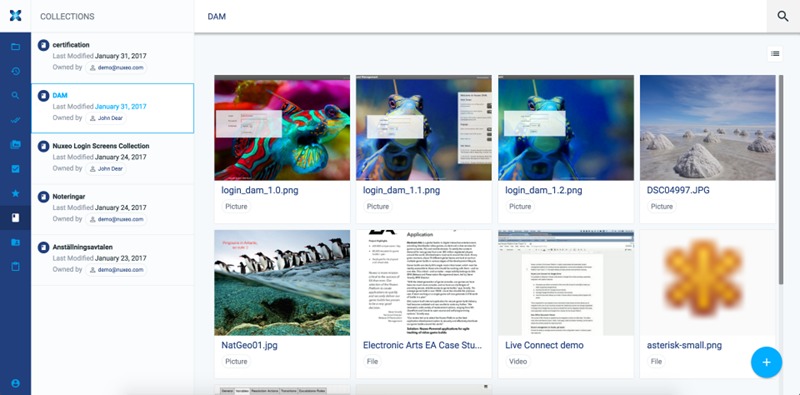 An open-source content management system that offers many functionalities and development possibilities, Nuxeo can also be used in many departments and in several industries. It caters to all content management needs, allows for customization and boasts excellent search engine functionality.
Advantages
Flexible enough to be used in a wide range of industries
So many functionalities on offer
Cloud connectivity available
Disadvantages
An interface that is difficult to deal with
No social interface so you have to find another way to communicate with team members and collaborators
20. Sitecore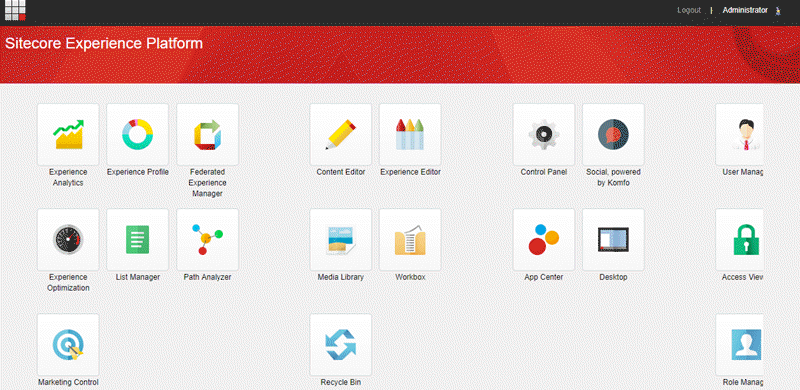 The Sitecore platform is mostly used by small businesses (it works well for large businesses too) because of its content authoring capabilities, which allow authors to update the site content per time and publish it anytime. This software boasts of a lot of built-in features and marketplace component that helps businesses to avoid extra maintenance, implement specific HTML, and license cost.
Advantages
Easy-to-use functionalities
Great integration means it is connected to everything
Easy to upgrade
Disadvantages
A bit slow
Requires a developer to maintain it
Expensive
21. ONLYOFFICE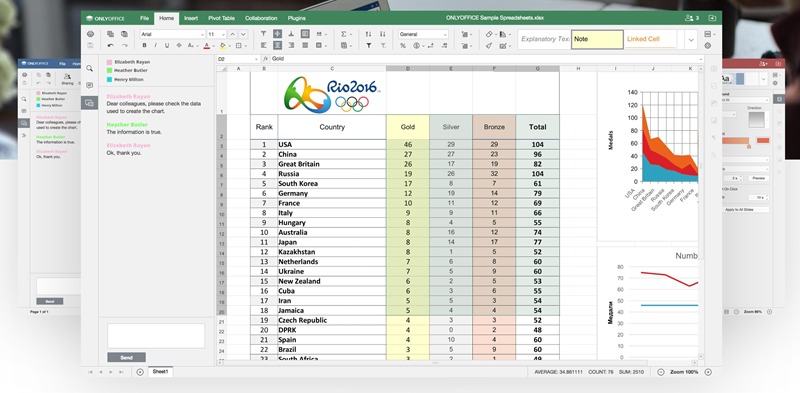 ONLYOFFICE is another SharePoint alternative compatible with Microsoft Suite. The cloud-based office solution helps businesses to share documents seamlessly, which, in turn, aids collaboration and increases productivity.
Advantages
Cheaper than most other SharePoint alternatives
A simple system that is easy to use
Tech know-how not needed to manage it
Disadvantages
Errors occur sometimes.
Pricing policy is not flexible.
22. SAP Portal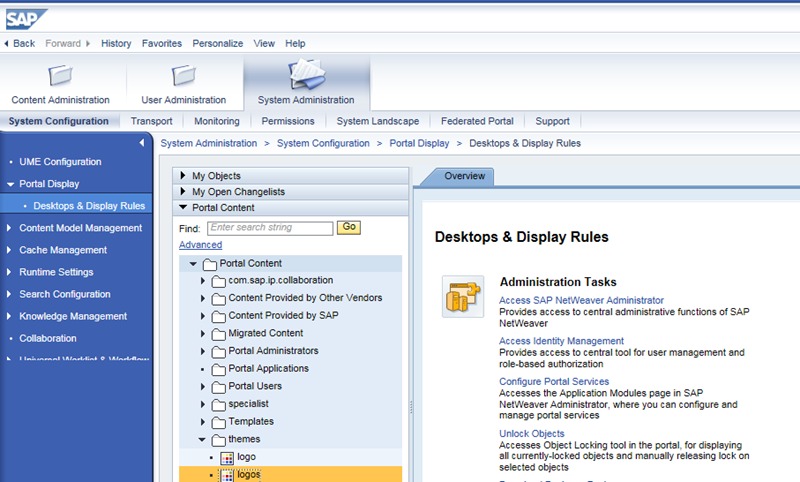 The SAP is an acronym for system analysis and program. It is an enterprise resource planning system (ERP) used to manage various business processes, like human resources, within a business or organization. With its analytical features, users can use it to manage financial transactions, track and evaluate the performances of team members, and also analyze data.
Advantages
With the data it provides, it aids collaborative decision making.
It gives users the freedom to integrate its data in a wide range of databases.
Disadvantages
It is expensive to purchase and implement.
The software is complex.
23. Glasscubes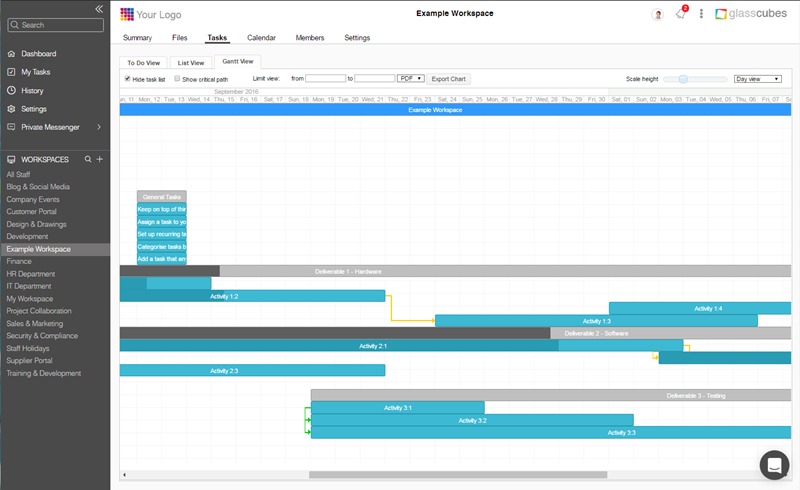 This simple application offers a collaboration space wherein team members can work together with the end result of increased productivity. It is a simple app to operate, and no technical know-how is required. With its intuitive UX, it's a great choice for a SharePoint alternative.
Advantages
Simple to use
Technical know-how is not required
Customer support (both offline and online)
Intuitive user experience (UX)
Disadvantage
Too simple for high-end businesses that may need something more complex or robust
24. IBM Websphere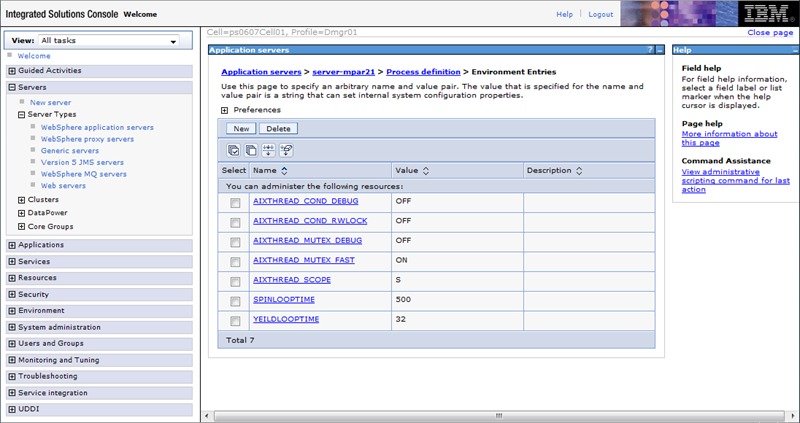 IBM Websphere is a tool that businesses can use to not just build, but also manage their sophisticated websites. Based on the Java program, users get to develop applications while also integrating these applications with other applications. Its single admin platform helps businesses centralize their operations. Moreover, it helps businesses create custom shopping experiences for their customers.
Advantages
Responsive software
Optimized for mobile platforms
A robust social media arena
Disadvantages
It is complex and takes time to learn.
Tech know-how is needed.
25. Podio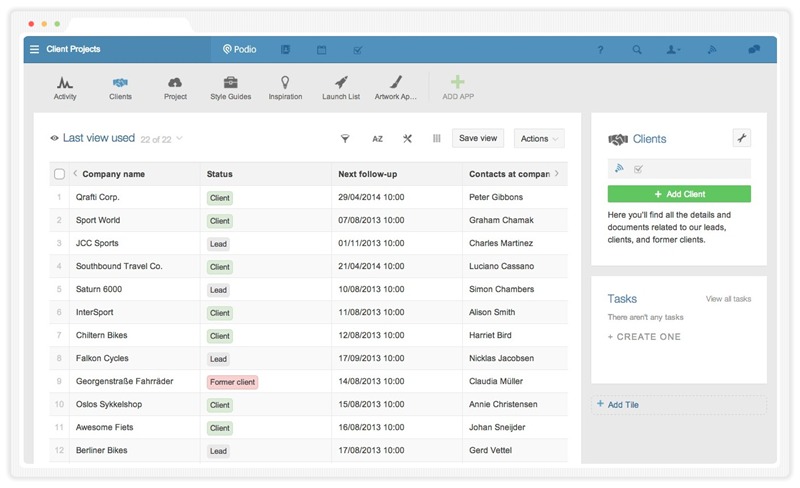 Yet another collaboration software that centralizes everything, ranging from files to content, documents and conversations, Podio helps its users to track and organize communication among team members, which keeps the team together as a unit. Personal dashboards, the ability to customize the user experience, and its integration with third-party apps are just some of its handy features.
Advantages
Conversations can be tracked.
It is very customizable.
Disadvantages
You can't edit multiple records at the same time.
Personal feeds get bombarded with activity from every workspace.
26. Jostle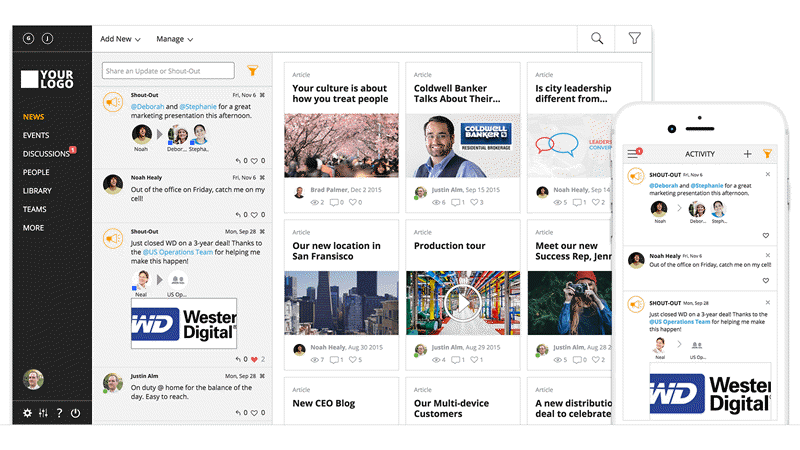 This is an employee intranet designed to facilitate and also improve employee engagements across businesses and organizations. Jostle reduces clutter by making it easy to locate information and keeping it within reach. It encourages discussions and creates a healthy working environment for all.
Advantages
A simple user interface
Has a news page
Also comes as a mobile app
Disadvantage
Being a shared platform, you can't customize features.
27. WordPress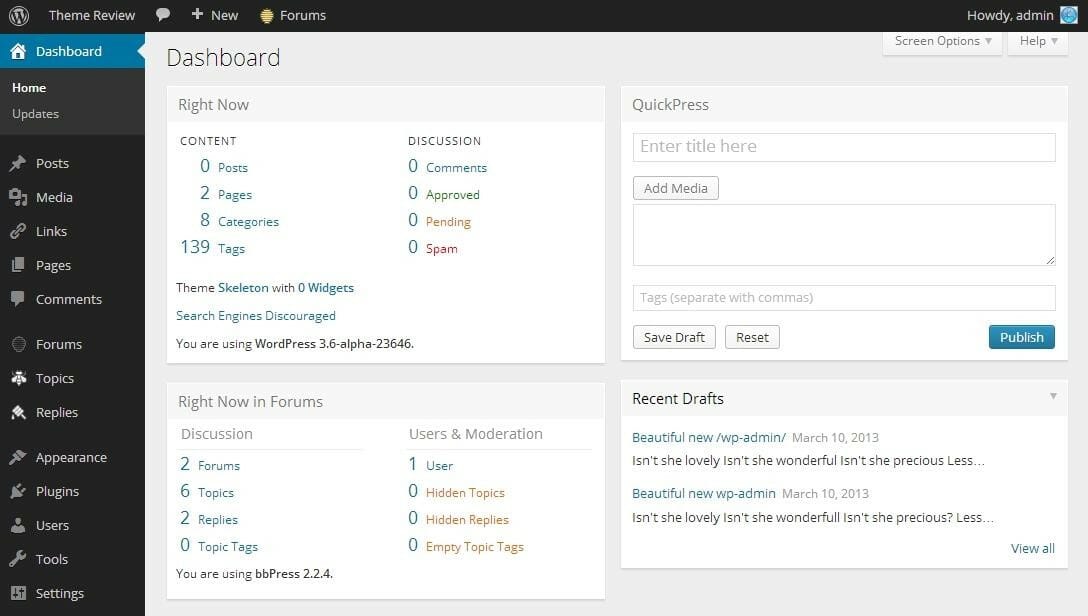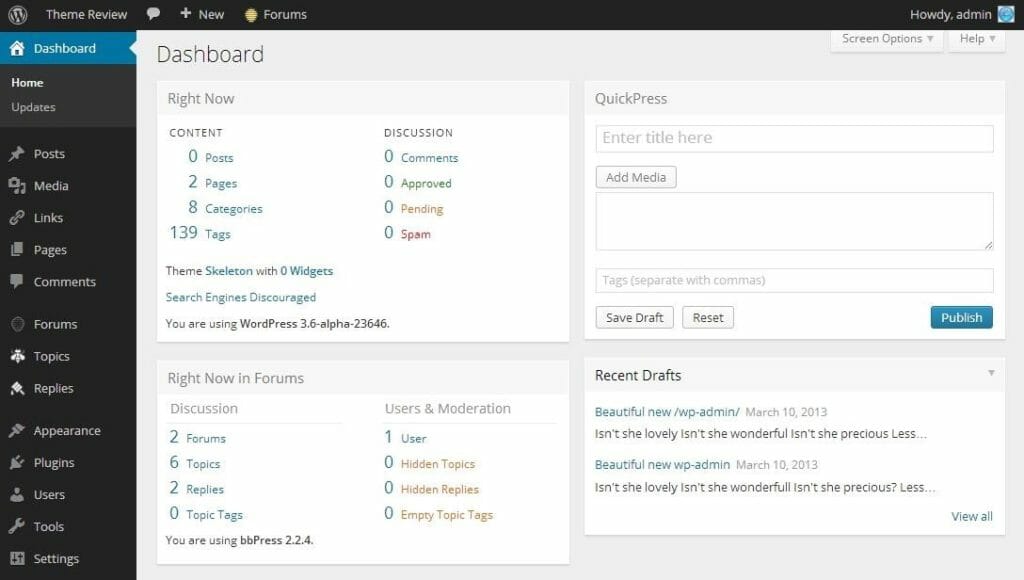 WordPress, a platform that provides a hosting service to its users, also offers a blogging platform and a website creation tool. It is one of the largest global website content management system around whose functions are not limited to the creation of blogs but also extends to website building.
Advantages
It provides its users with numerous customization options.
It has a functional, interactive and captivating interface.
Bloggers enjoy administrative control over their sites.
Using it is totally free.
Disadvantages
Users have to update the software constantly.
To fully access its functions, users need a degree of technical knowledge of the software.
28. IBM Connections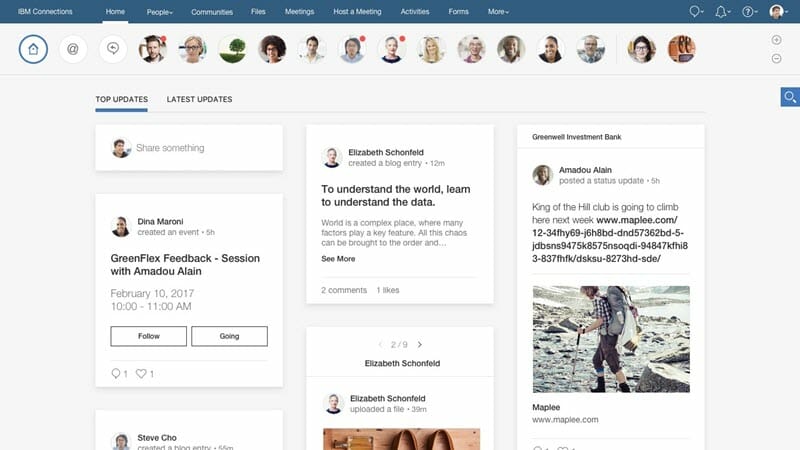 IBM Connections, formerly known as Lotus Notes, is a collaborative software sold by IBM. It is a client software whose main server is IBM dominos, a platform that helps businesses to host collaboration applications. It provides basic email functions to its users. From your inbox, you can create tasks, track their progress, create teams and share files among team members. IBM Notes makes emailing functional to business productivity.
Advantages
It provides a collaborative toolkit that includes email, calendar, contact management, instant messaging, etc.
It has a strong internal database where users can store workflows and project plans.
Backing up files is easy and recovery of records can be done without external help.
Disadvantages
It lacks integration with other email platforms or social media platforms.
It has an inadequate search system.
Its interface is archaic.
It's not suitable for modern collaboration.
29. OpenText TeamSite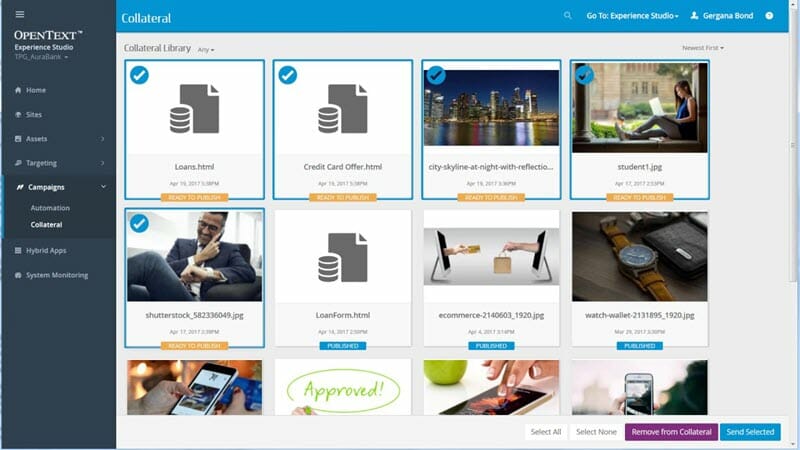 OpenText TeamSite is another SharePoint alternative that allows organizations to use its market-leading content management platform (CMS) for content authoring, multichannel delivery, site design and layout, multivariate testing, content targeting and media management, among other features.
Advantages
If you're looking for a closed-source application, this is the one for you.
It offers a What You See Is What You Get (WYSIWYG) editor.
It can function on different operating systems.
Disadvantages
Poor documentation
Incompatible with cloud deployment
30. Wix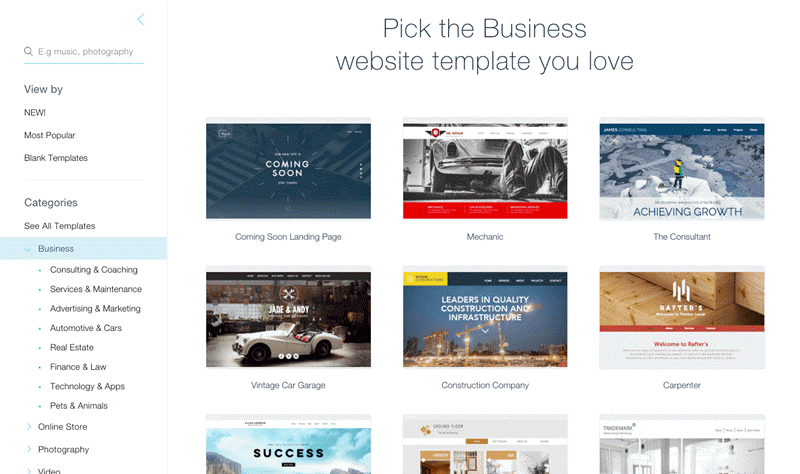 Founded in 2006, Wix is a website builder that helps you create your website on their server with their toolkit. Though your website is created based on their software, you can make changes that help personalize it to suit your tastes with the several templates you get.
Advantages
Website creation is easier and faster.
Anyone, including individuals, small businesses, big organizations, etc., can use Wix.
It offers various designs for website customization.
Disadvantages
It is not easy to switch from one template to another. You have to start the process of designing from the beginning.
Subscribing to the free package comes with numerous ads.
31. Google Drive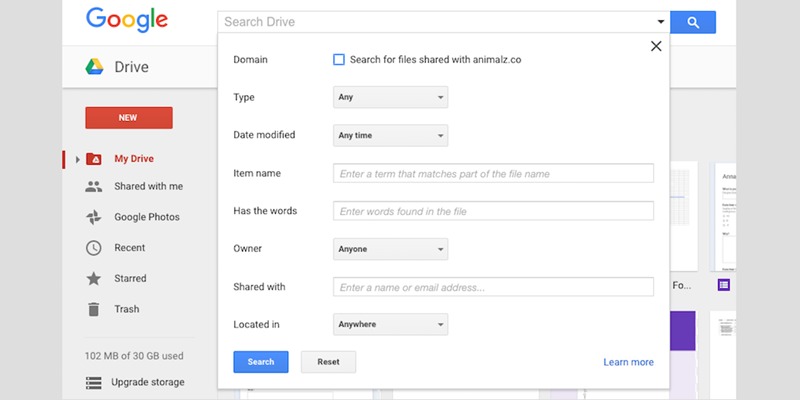 Google Drive, a cloud-based online storage service, is regarded as one of the best collaborating software around. With a storage space of 15 GB, which can also be accessed with a Google account, you can upload and store photos, office documents, emails and video files. It also combines the functions of Google Doc, Sheets and Slides to create a wonderful experience for its users.
Advantages
With the backup and sync tools, Drive doesn't only sync and store your files, it backs them up.
It allows you to create documents, make slide presentations and create spreadsheets.
Searching for these stored files is made easier with the optical character recognition tool.
Google drive can open various file types, and it monitors changes made to these files.
It's free to use.
Disadvantages
The spell check tool has to be turned on manually.
Its numerous features can sometimes make it difficult to navigate.
32. Bitrix24
Bitrix24 is a customer relationship management software (CRM) that also serves effectively as a business tool. It helps create and manage interactions between businesses and their customers. This could also extend to partners. It achieves this by combining CRM tools with social intranet tools. With Bitrix24, business transactions can be carried out through social networking.
Advantages
It provides a wide range of work tools, such as sales funnel management, contact tracking, activity planners, messaging, etc.
Conversations with clients can be personalized and information can be sent directly to their email.
Its sales dashboard helps keep track of business sales progress.
Disadvantages
It can be quite confusing to use and time-consuming to learn.
It might be quite costly for small and medium businesses.
33. eXo Platform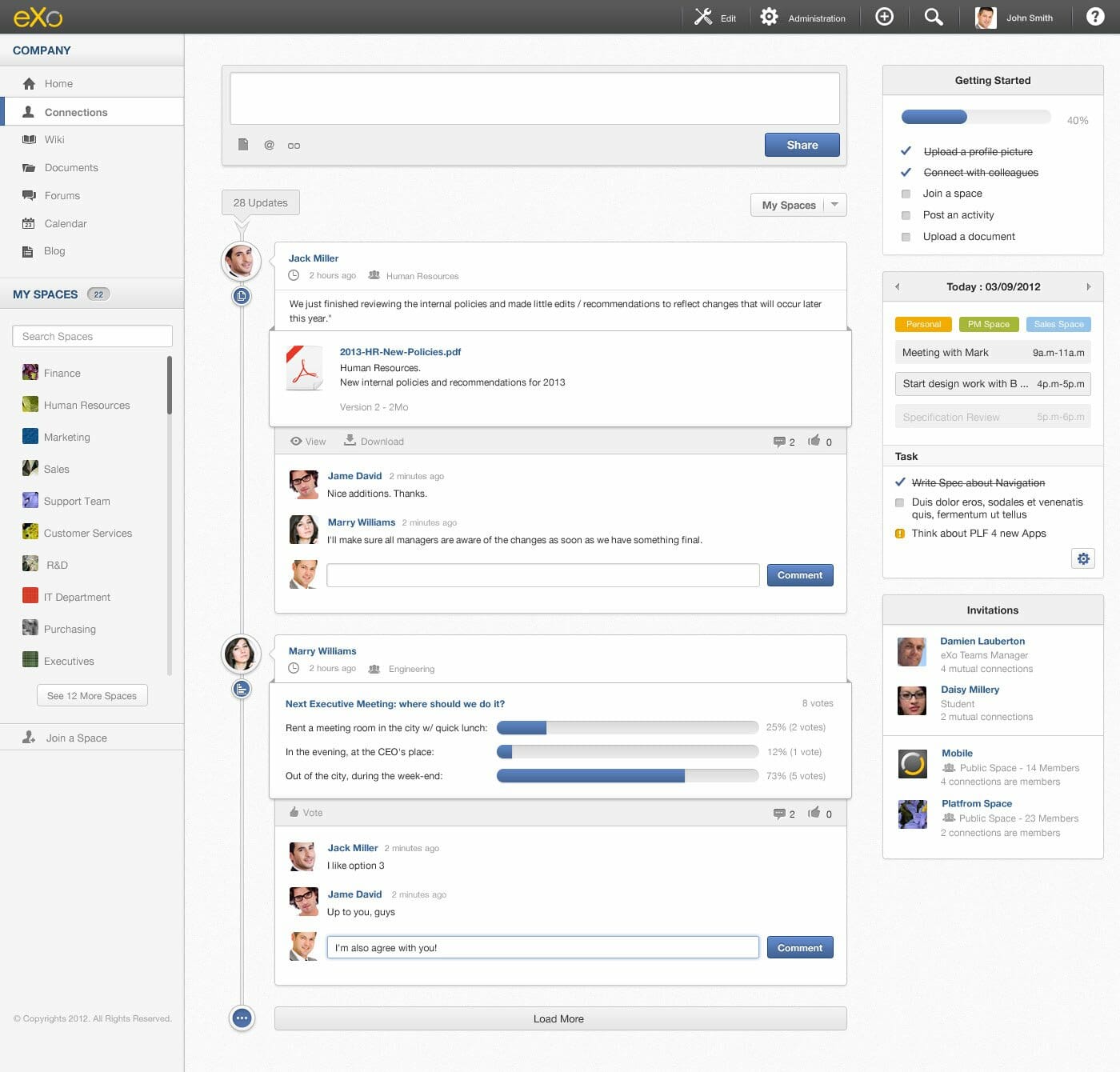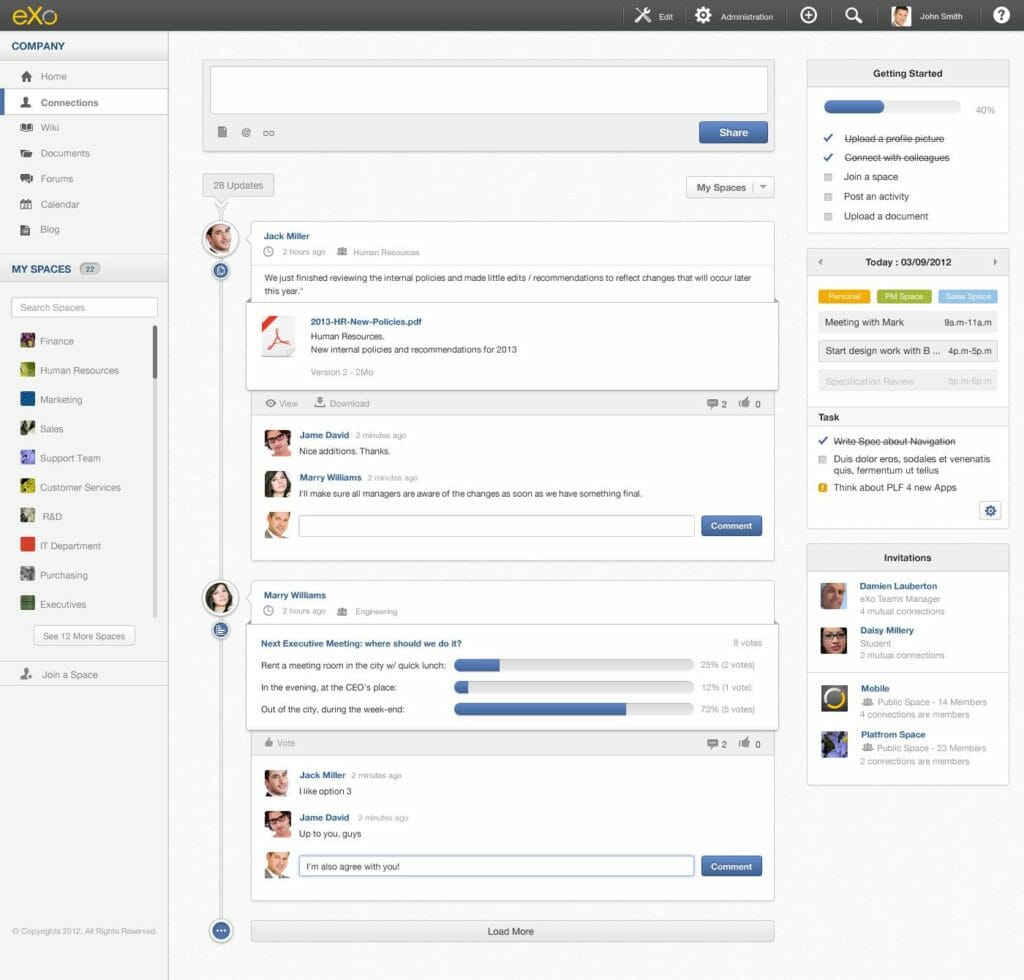 eXo Platform is a social networking platform that enables business organizations to create social collaborations among employees. It also helps to connect partners as well as consumers of the products. Moreover, it aids effective and efficient project management by ensuring constant communication among employees and faster updates on projects. This is an effective tool for medium-sized and large organizations.
Advantages
It creates a platform where employees can interact freely.
It serves as a safe storage room for important documents.
The eXo platform digital application provides for video chats and conferences.
It has a comprehensive social toolkit that includes wikis, forums, chats, etc.
Disadvantages
Though it gives access to cloud storage, this access is limited.
To effectively utilize this platform, you might need programming and tech-related skills.
34. Interact Intranet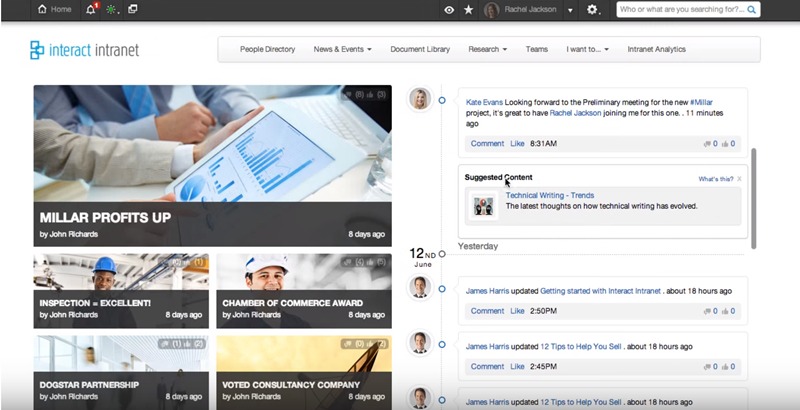 Interact intranet, founded in 1996, is an intelligent intranet software that improves business communication to ensure a much more productive workspace. It is one of the most widely used intranet software and can lay claim to over 1,000,000 users. It can be effectively utilized by start-ups, small, medium and large enterprises to facilitate collaboration among employees and centralize the workplace.
Advantages
It provides a centralized digital workspace.
You can track your intranet performance, and you are provided with insights on how to solve issues when they occur.
It gives you free administrative and access control of your intranet.
Disadvantage
Feedback from service helpdesk can sometimes be delayed.
It can take a while to learn how to properly access its features.
35. SmartSheet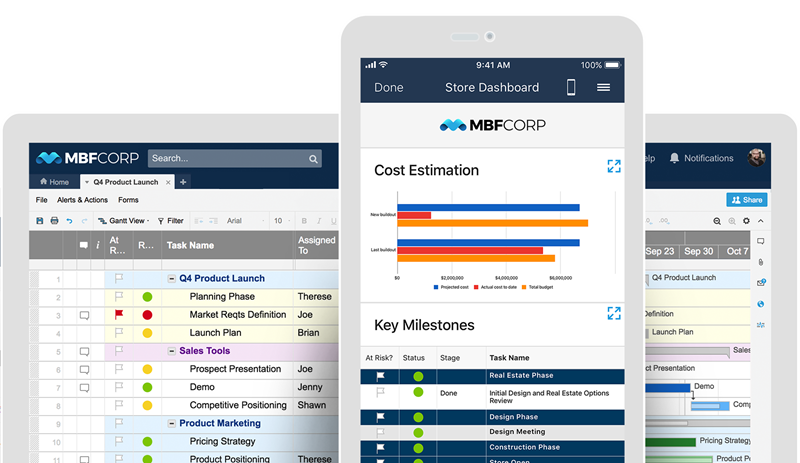 SmartSheet is a project management software launched in 2006. It is also a collaboration software but uses a spreadsheet for project management. With SmartSheet, an organization can make budgets, create reports and track task progress. It is widely used by organizations, government agencies, educational institutions and even start-ups. It combines the power of spreadsheets with project management functions to give its users a wonderful experience.
Advantages
SmartSheet provides multilingual options, so language is not a problem.
It gives room for endless customization.
It allows collaboration between clients and partners.
It allows you to export data and access data from outside sources.
Disadvantages
It can be difficult to learn how to use.
Functions are limited for users who do not subscribe to the Pro package.
It is expensive to purchase.
36. Wrike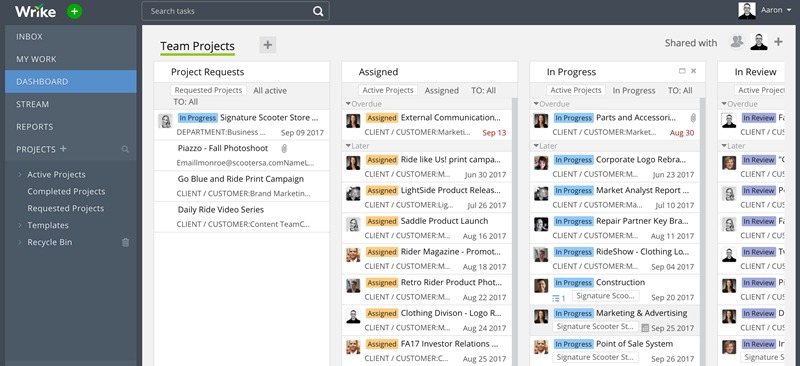 Wrike is a project management software that aims at improving project performance. What makes Wrike unique is that it encapsulates all the processes and tools required for the success of any project, whether large or little. It fast-tracks the delivery of projects by connecting available resources that would help achieve your project plan. It has been a resource tool for major digital companies, such as PayPal and Hootsuite.
Advantages
Wrike's dashboard gives you an overview of the project plan, progress rate and the actions of team members at a glance.
It takes teamwork to a whole new level by constantly keeping team members connected.
Wrike keeps your work secured; external access to project plans is prohibited.
Disadvantages
It could take a while to get used to; it is not entirely user-friendly.
There are usually too many files to sort out.
37. Azendoo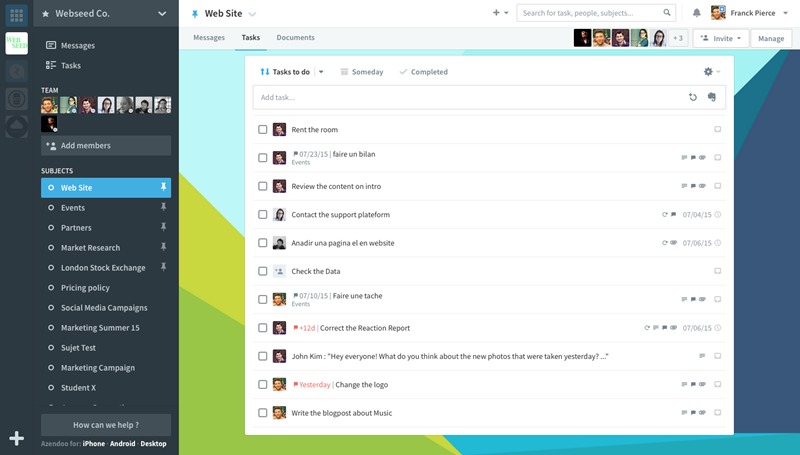 Azendoo, a cloud-based software for project management and collaboration among team members, enables you to organize project tasks, keep track of progress and share information with ease. This great online workspace helps businesses organize all their projects and make them accessible within a unified space. It is an effective tool for any kind of organization.
Advantages
It is integrated with several cloud storage systems, such as Dropbox, One Drive, Google Drive, etc.
It offers a simple and affordable pricing plan.
The mobile application gives its users the opportunity to view their tasks at a glance.
Progress reports from team members can be shared as live updates.
Disadvantages
There are so many functions that it may take a while to learn Azendoo.
The mobile application offers limited features, compared to the functions on its website.
38. Plone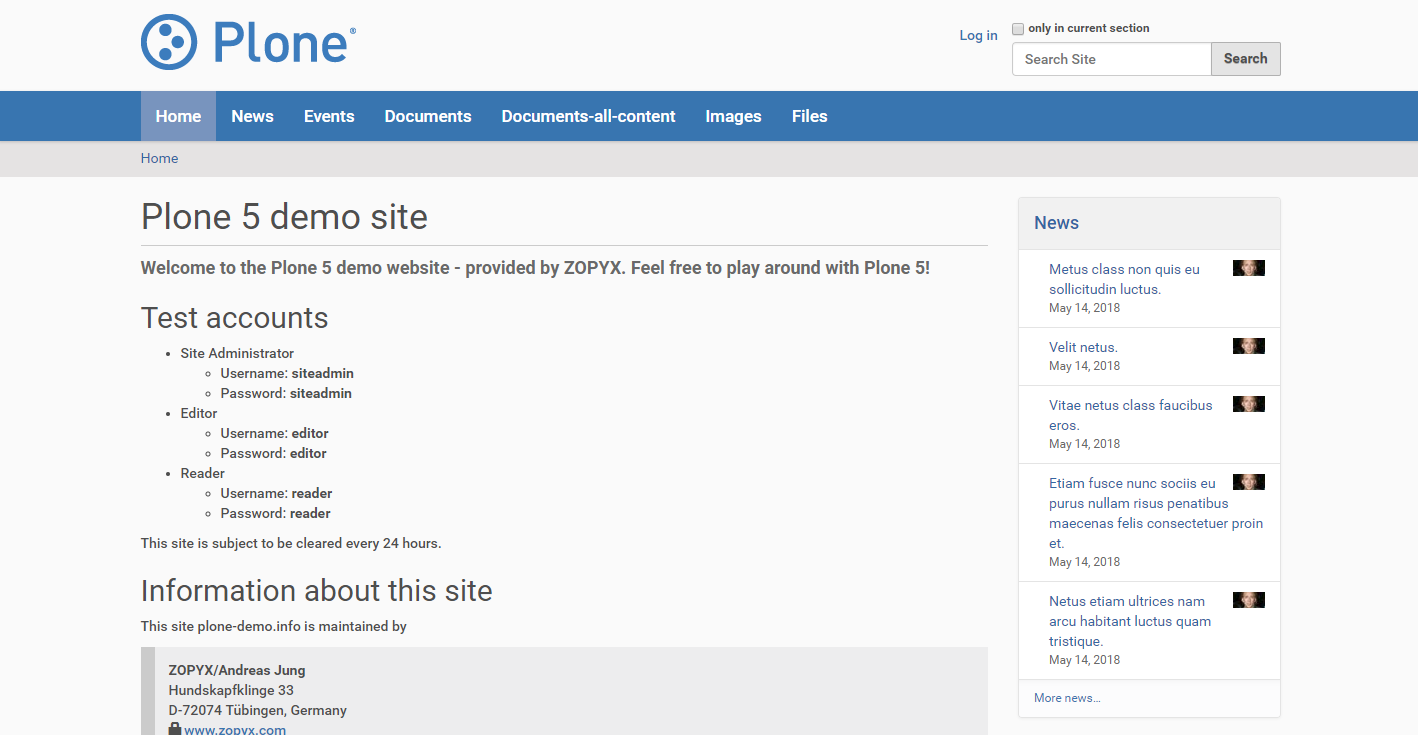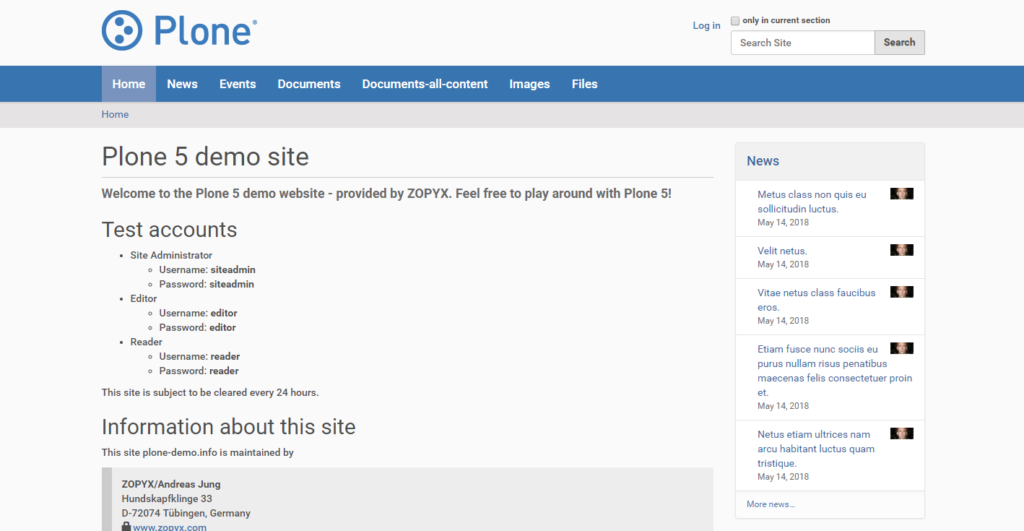 Plone is a content management system based on the Zope application server. Just like every other CMS, it is used to ensure workflow through proper documentation of files, management of information between employees, and creation of a swifter means of communication. Simply put, it helps social collaboration among employees within the office.
Advantages
Plone is one of the best security-focused CMS, i.e., files and conversations are secure.
It gives room for easy and faster creation and editing of files.
Plone has a training manual that helps users to access its functions easily.
It has a multilingual system with numerous languages and translations.
Disadvantages
There are limited themes for free installation and customization.
It could be quite expensive to purchase.
39. ConnectWise

ConnectWise is a consumer-based customer relationship management software. It helps businesses stay connected with their customers and keep track of any information that might affect them. It is very beneficial to small and medium-sized businesses. ConnectWise aims at increasing productivity within a company by managing its customers in a professional yet personalized manner.
Advantages
It helps you keep track of project progress within a team.
ConnectWise is integrated with other business applications.
Its help desk tool allows for a quick and effective response to customer service request.
It ultimately increases sale through efficient customer-supplier connectivity.
Disadvantages
It might be difficult to navigate and learn the proper use of its functions.
It lacks a calendar tool that can help in setting up meetings and serve as a reminder.
40. Sorce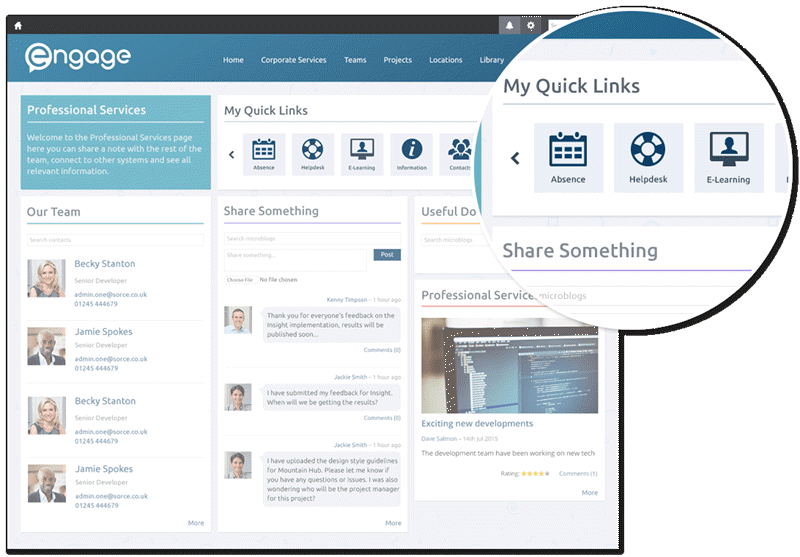 Sorce is a web-based suite of applications that provides its users with intranet and extranet functions. These applications can be modified to suit its user's needs. They also cannot function alone; they require the Sorce software to function effectively. It offers content management functions and administrative functions. Furthermore, it is powered by the Microsoft operating system and makes use of the Microsoft database.
Advantages
It helps to improve communication channels within an organization.
Its applications can be created and modified to suit the organization's needs.
It manages a company's files, events, and expenses.
Disadvantages
Understanding this application might appear difficult.
It is quite costly to fully implement.
41. Yammer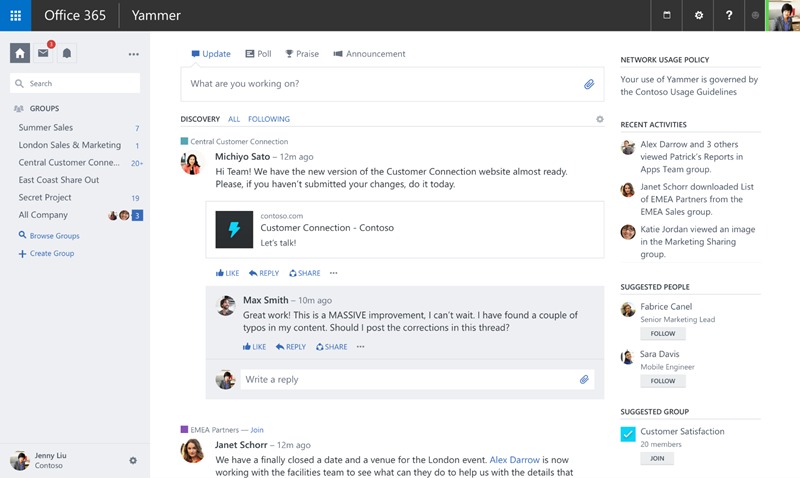 Yammer, a social and business tool that ensures team collaboration within an organization, enables members of an organization to stay connected while undertaking projects. It is said to have an interface that resembles Facebook. The difference, however, is its sole goal is making work faster and smarter. It is a subsidiary of Microsoft and goes hand in hand with Office 365.
Advantages
It is user-friendly and easy to navigate.
Formal documents are shared faster, just by updating your status.
It connects employees irrespective of distance, space and time.
Disadvantages
It doesn't give room for sharing ideas beyond the organization.
It could be a source of distraction at work if not properly handled; it looks like a typical social media site.
42. Tridion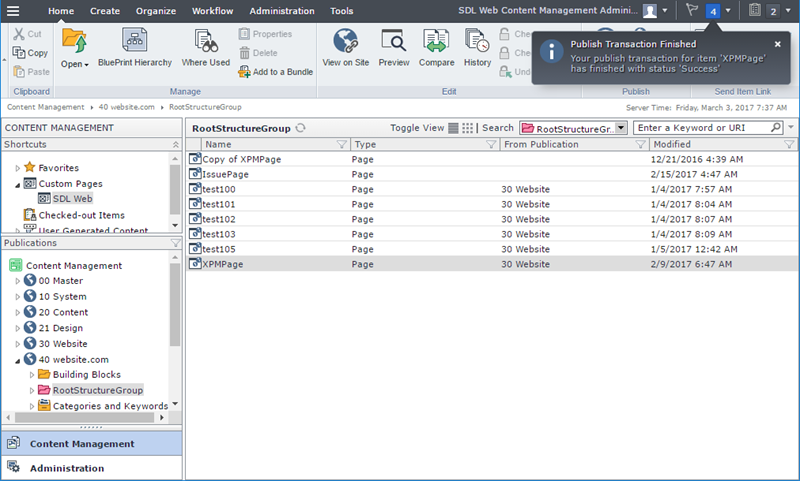 Tridion is a consumer-based content management program prominently used by global and large-scale businesses, including Unilever, Lexus, HP, etc. This program aims at connecting business owners with their customers and creating a pleasurable consumer experience.
Advantages
It helps business owners to interact with their consumers and effect changes when necessary.
Tridion allows you to personalize your website to suit your individual or consumer preference.
Users can track content performance through a statistical graph display provided by the system.
Disadvantages
It requires technical know-how to fully access its functions.
Tridion as a CMS is not open source.
43. ThoughtFarmer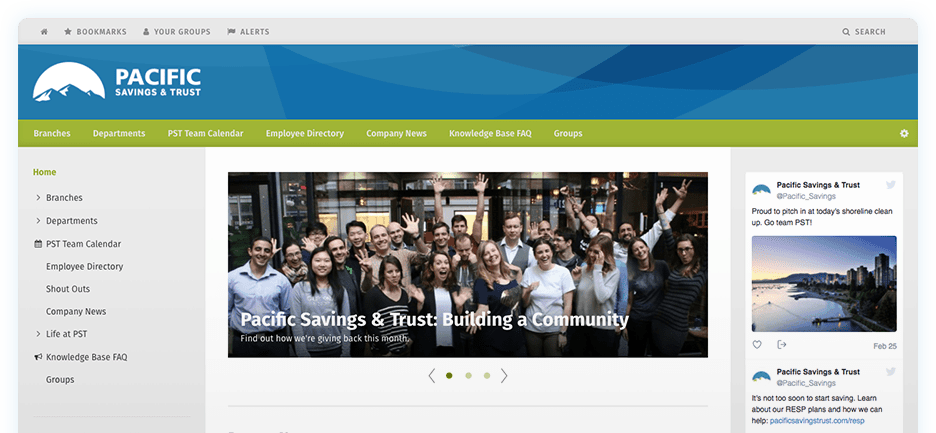 If you are looking for software that ensures a lively and vibrant workplace, then ThoughtFarmer is the answer. This software promotes social collaboration among workers in any organization. It achieves this by ensuring a smoother and livelier communication among employees. Since its inception in 2006, ThoughtFarmer has helped to increase business productivity through a smarter and secure online working environment.
Advantages
It provides you with tools such as news, forums, blogs, etc.
It is easy to create content, edit and manage it.
Employees have access to social gestures, such as a "high-five" and shout-outs for a job well done.
Disadvantages
There is no room for stable guest accounts.
It has no mobile application.
44. Socialcast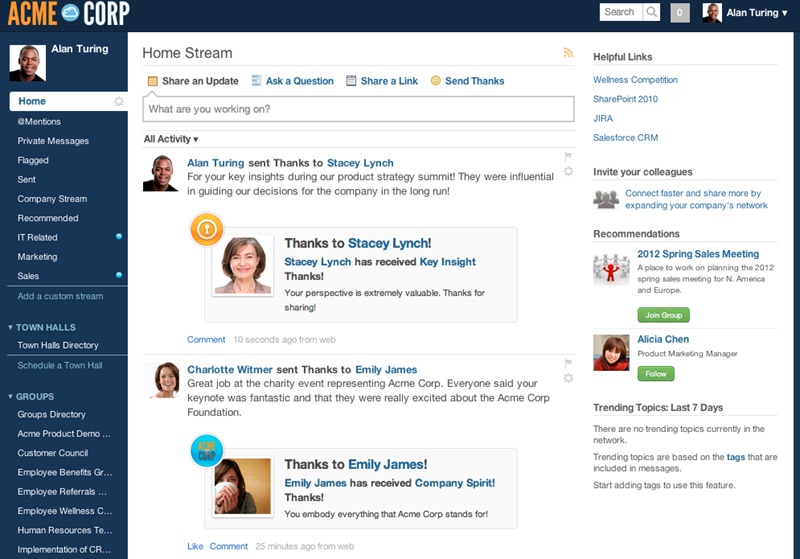 Socialcast is a social networking platform and a collaborative software that creates an online space where the right people, ideas, tools, and information can come together so that tasks can be carried out easily. It improves communication within and outside an organization and aims at ensuring a faster and much more effective work process.
Advantages
Socialcast's workflow centers on creating connection and conversations among employees.
It provides social tools, such as Socialcast Challenges, Town Halls, and Polls, which help increase communication among team members.
Questions are quickly answered by subject matter experts.
Disadvantages
It is quite expensive to purchase.
The work environment cannot be easily personalized to suit the company's preferences.
45. HyperOffice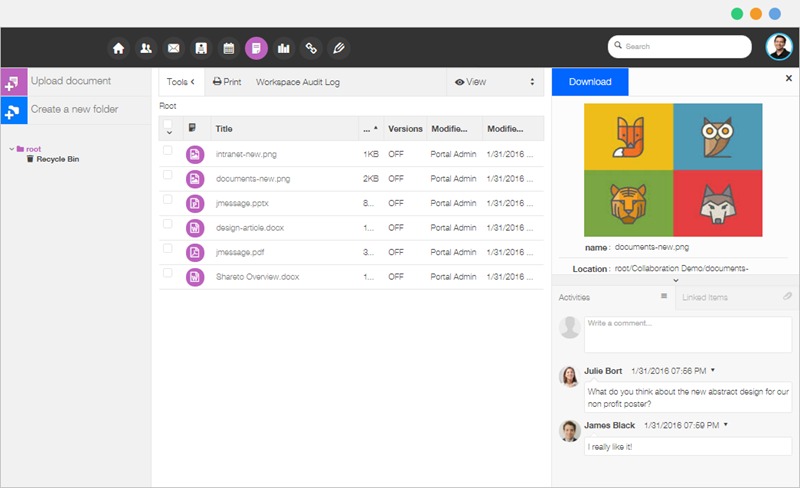 A cloud-based software, HyperOffice offers a collaborative suite that helps create networks among team members and also between organizations and their clients. It helps you create and manage tasks, organize and share documents, as well as manage your contacts. HyperOffice can be effectively utilized by small and medium-sized businesses.
Advantages
Users have numerous customization options.
With the contact management tool, users can import and export contacts at will.
Cloud storage is accessible to all users to store files.
Its web design is top-notch and has a captivating interface.
Disadvantages
Some of its settings may take a while to understand.
It is quite complex and might require technical know-how to access all its features.
46. Dropbox Paper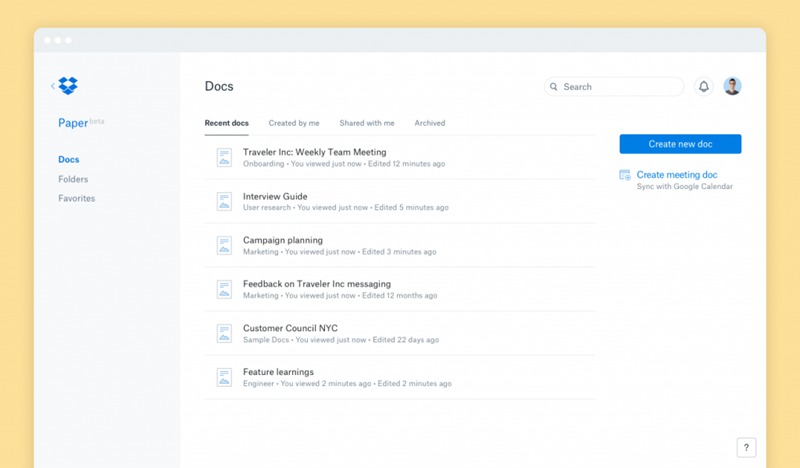 Dropbox Paper is a cloud-based collaboration system popular for its storage service. It shares, syncs and ensures proper collaboration on documents. This software creates an online business environment accessible to all employees within an organization. It is usually the first choice for small and medium-sized businesses.
Advantages
It gives room for administrative control. You can add, invite or remove users when necessary.
It supports integration with third parties and is connected to thousands of apps.
Files are secure. You can also password-protect them.
Users are provided with unlimited storage.
Disadvantages
Not many intranet-type features.
47. Hightail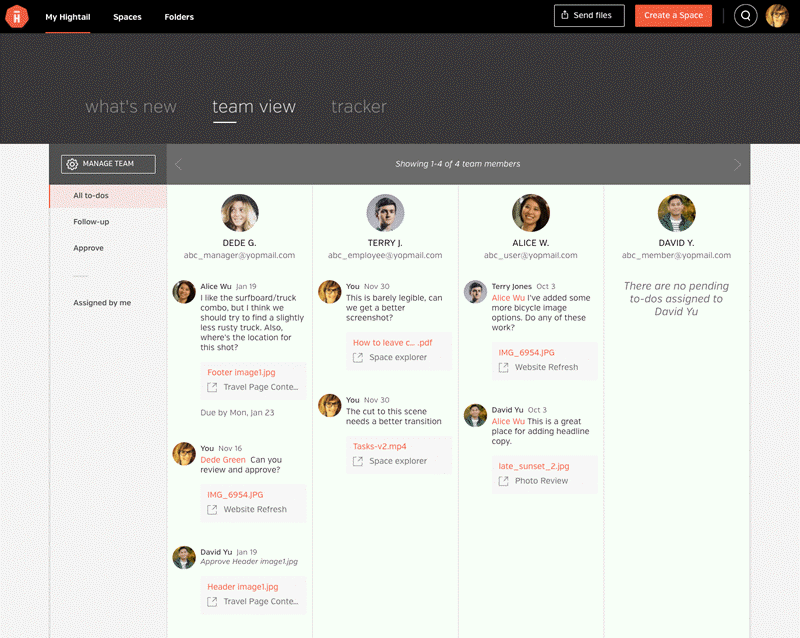 Hightail is a collaborative cloud service that allows team members to share documents, audio and video files for either personal or professional purposes. Formerly known as YouSendIt and founded in 2004, it lets users share and store large files.
Advantages
It tracks delivery of files and sends a confirmation message.
It has a digital workspace where projects can be carried out.
With the e-signature, you can sign files electronically.
It secures files with end-to-end encryption and password codes.
Disadvantages
Hightail does not support all file types.
Collaboration between team members is limited.
With the free account, there is a limit to the file size that is shared.
48. iManage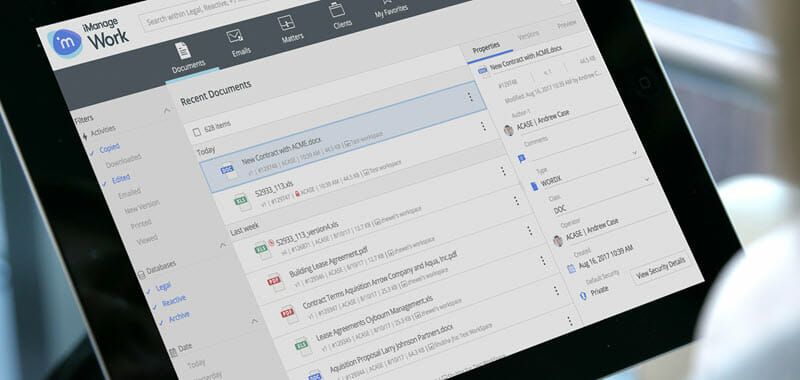 iManage is a software that offers HR tools, which expands the growth and success rate of a company's human resource team. Its specialized tools provide solutions to whatever stumbling block the team might be facing. iManage helps coordinate payroll, provides a self-service portal for employees and makes the hiring process easier.
Advantages
The payroll feature gives room for an easier payroll process in compliance with tax laws.
Employees are privy to a self-service portal that caters to their job-related needs.
There is a recruiting tool that makes the process of hiring easier.
The questionnaire tool helps to determine if an applicant is suitable for the job.
Disadvantages
Its communication link with outlook is sometimes plagued with linking problems.
The process of filing positions can be time-consuming.
49. Quip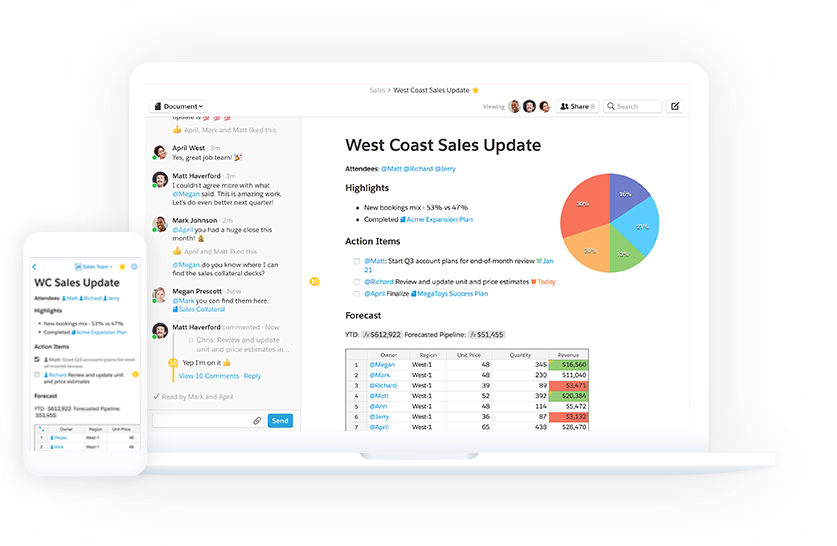 This collaborative software is aimed at helping businesses improve their productivity. It can be accessed through the web and/or as an app on iOS or Android. Quip allows for the creation, editing, and sharing of documents within a group. It could be for individual or business purposes. It was founded in 2012 and has been an effective communication tool instrumental to the growth of organizations.
Advantages
It is user-friendly and easy to navigate.
Users have access to chat rooms, each centering on a unique topic.
It allows you to set up a to-do list and helps you track progress.
It presents a unique mobile experience.
Disadvantages
There are a limited number of characters in a text. This restricts full expression.
Its interface is simple and drab, instead of captivating.
50. BlackBerry® Workspaces (formerly known as WatchDox by BlackBerry)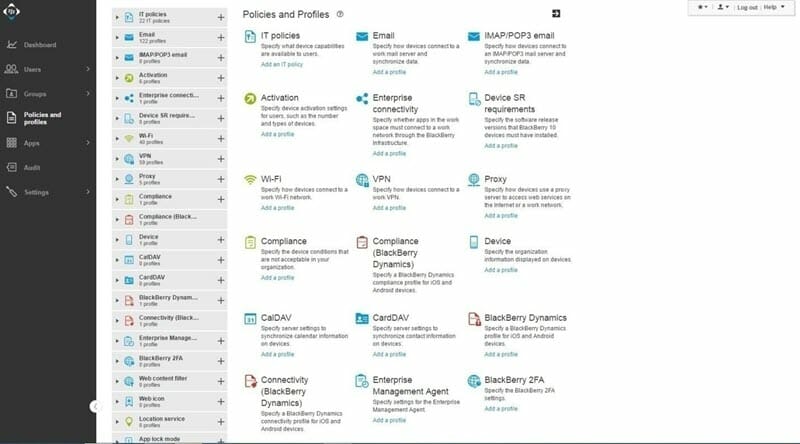 Blackberry Workspaces ensures secure storage and file sharing. It can be described as a digital workspace that allows for the functions carried out in a physical workspace — controls, tracks and offers protection to documents and files to encourage productivity, both professionally and personally.
Advantages
It provides users with a personal workspace where they can share, sync and store files.
Third-party file access has to be authorized.
Its users enjoy a mobile application compatible with Windows, Android, Mac OS and iOS.
Disadvantages
Security features disallow synchronization of particular files on phones.
Its pricing structure makes it costly to purchase.
SELECTING YOUR IDEAL SHAREPOINT ALTERNATIVE
With the awesome features of the various SharePoint alternatives, you might find yourself tied in between two, three or four — or even a dozen — choices. But don't worry, help is here.
Factors to Consider When Choosing a SharePoint Alternative
All businesses are different, and so are the needs of each one. However, there are some general elements to consider in choosing a SharePoint alternative.
1.  of your business
What does your business do? What products or services do you offer? What is your company structure? Is your business tech-compliant?
The nature of your business is definitely the number one factor to consider when choosing your ideal SharePoint alternative. Let it guide you accordingly.
2. Organization's overall needs and criteria
How much tech do you require to function? How big are the projects you undertake? Do you require a lot of collaboration on projects? Do you have remote workers other than your in-house staff — or are you 100% virtual?
Your needs and criteria go a long way in determining a suitable SharePoint alternative, so give it some serious thought — and preferably write them out.
3. Company size
How big is your company? How many employees do you have? How many offices or branches do you have? How big is your client- or customer-base?
The size of your company should definitely influence your choice 0f software.
4. Training
Do you have the resources — extra time, finances, dedicated team, etc. — to train employees? This is important, because, for example, a company that doesn't have the resources to train its staff on using a piece of tech should avoid opting for a SharePoint alternative that would require training or has a serious learning curve. This is one of the reasons we're trying to avoid SharePoint anyway.
5. Scalability
Is your business growing? Would you require a solution that can grow with you? Then a customizable alternative is ideal for you. Your solution needs to be scalable and able to accommodate additional features whenever required.
6. Support
Does your company have an in-house maintenance team, or would you require support from the software developers? Or will you be fine with getting online help — perhaps from video tutorials and forums? Let the degree of support inform your SharePoint alternative choice.
7. Budget
Compare your budget with the pricing of the various alternatives. Can you afford the paid ones, or would it be better to opt for one with a free version for a start? Can you afford the extra paid features you might require down the line?
Now that you've identified the nature of your business and what your company needs in a SharePoint alternative, it's time to consider some features you should look for. Keep in mind this is also dependent on your business needs.
Features to Look for in a SharePoint Alternative
1. App integration: Do you have other apps or tools you'd love to integrate with your SharePoint alternative to ensure smooth flow of work and avoid disruption?
2. Customer service/support: How much support would you require from your software company? How much is the company ready to give?
3. Admin tools: What level of control would be required in terms of giving access and managing teams, content, etc?
4. Content creation: Does your work require creating and sharing — or collaborating on — content?
5. Collaboration: Do different departments in your company work together on projects and would need to collaborate a lot?
6. Security: What degree of security would you need? Do you work with sensitive data that must not be accessed by unauthorized parties, or are you not that big on security?
7. Cloud: Would cloud functionality be required for your work/would you need a lot of storage space on the cloud?
8. Search: Can you make use of a search functionality, especially to easily locate files or data where there are tons?
9. Notification: Would you like to be notified of any changes made by any user in real time?
10. Document management: Do you need to be able to share, review and edit documents and also track changes?
11. Messaging: Would quick conversations (one-on-one or group) be needed in the course of your work?
12. Task management: Other than documents or content, are there other projects you and your team would be collaborating on?
13. Multi-language support: Is your company global and would need support in some other languages?
14. Desktop and mobile: Would you like your software to be both desktop and mobile friendly?
15. Calendars: Would you like to have a bird's eye view of the company or individual events or team events to know beforehand when what happens?
Once you've successfully answered these questions, the obvious next step is to finally choose the perfect SharePoint alternative for your company.
Choosing the Ideal SharePoint Alternative for Your Company
As you can see, there are many factors to consider in choosing the ideal SharePoint alternative for your company. Your decision depends on those factors we already identified earlier: a combination of your business needs and the features you desire in a SharePoint alternative. You most likely can't have it all in one SharePoint alternative (unless you simply want another SharePoint), but any application that you decide on should be one that comes closest to having all the features your company needs. Simply make a list of your ideal features and determine whether each SharePoint alternative has it (remember you already have a list of 50 alternatives to work with). The one that has the most features aligned with what you need is very likely the perfect choice for your company.
FINAL THOUGHTS
By now, you have everything you need to find the ideal SharePoint alternative for your company. Whatever your decision, just keep in mind that choosing the ideal software isn't about which is good or bad. It's simply about which one is the right fit for your company based on your business needs and overall company goals.
To further help you pin down the perfect SharePoint alternative for your company and make your selection process easier, we've created a SharePoint Alternative Selection Matrix you can download and use. In the left column, we've listed the ideal features a SharePoint alternative should generally have, as previously mentioned. Feel free to remove any and add on as you see fit. In the remaining five columns, write out your top choices. Finally, research each one to see which features they have. Tick the boxes as you go along. Ultimately, the one with the most checked boxes wins.
If five alternatives are not enough, simply print more copies of the matrix and continue the exercise with more alternatives. Click on the image below to download the SharePoint Alternative Selection Matrix now.
I hope you find it very useful.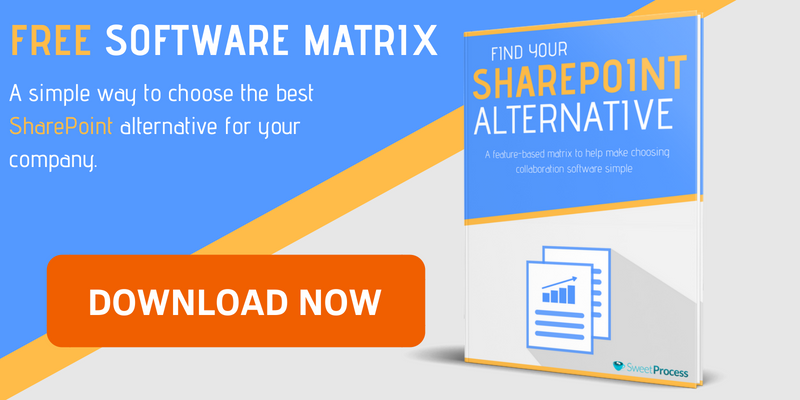 Get Your Free Systemization Checklist

5 Essential Steps To Getting a Task Out of Your Head and Into a System So You Can Scale and Grow Your Business!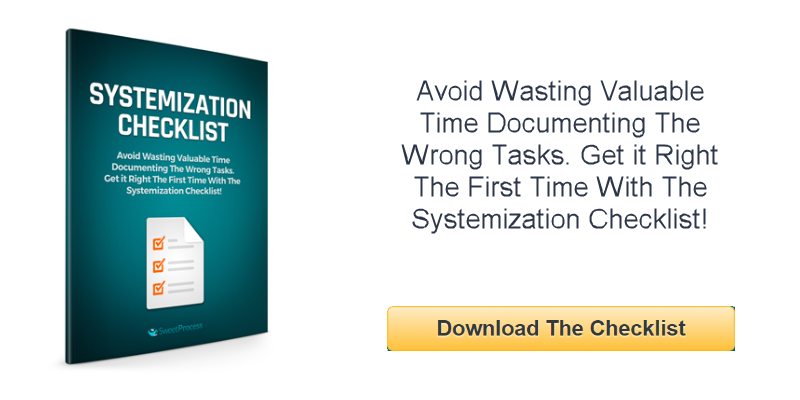 4 responses to "Top 50 SharePoint Alternatives for Your Company."