CheckFlow vs. SweetProcess: A Head-to-Head Comparison for Documenting SOPs, Processes, and Policies
Last Updated on August 12, 2023 by Owen McGab Enaohwo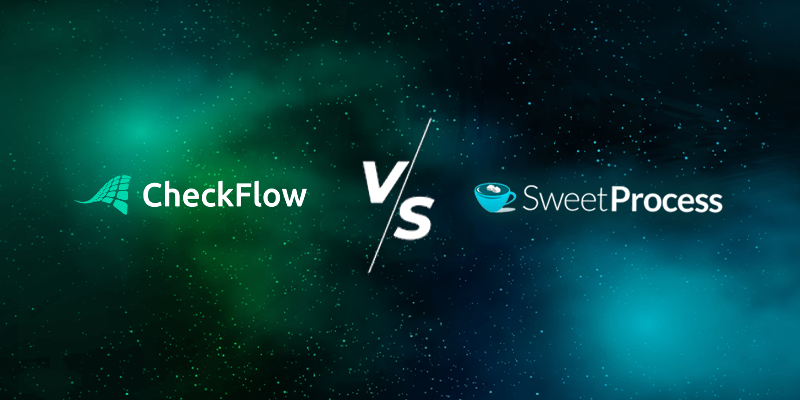 A company just hired a new employee in a fully remote position. While the organization pays him a full salary, the new team member is not working because there aren't enough documents to help him set up or get onboarded to the system. To execute his tasks, he requires step-by-step instructions from the other team members, but they are too busy with their tasks.
This would not be a problem if the company had a system that documented all the standard operating procedures (SOPs), processes, and policies. The employee would access every company document from the platform to ease the onboarding process.
Two such popular tools that help businesses document SOPs, processes, and policies are CheckFlow and SweetProcess. Both platforms offer a set of features that your organization can use to automate and streamline workflows. However, they also have some differences, a key consideration when selecting a business tool for your company.
As a business leader, you must thoroughly research the two platforms to determine which is better suited to your company's needs. Whether you are a small start-up looking to establish well-defined processes or a multinational seeking to streamline existing workflows, you need to understand these tools' unique strengths and weaknesses. So how do the two compare?
In this article, we will delve deeper into CheckFlow and SweetProcess, exploring their key features, usability, customization options, and integrations. We'll provide a comprehensive comparison that will assist you in making an informed decision about which tool aligns best with your business objectives.
With SweetProcess, you can try out the software before deciding. You won't need to provide your credit card details to test it out. Start the 14-day SweetProcess free trial today!
Table of Contents
Chapter One: CheckFlow vs. SweetProcess: At a Glance
Chapter Two: Top Features Compared
Chapter Four: Mobile Accessibility & AI
Chapter Five: Customer Reviews
Chapter Six: Customer Support & Training
Chapter Seven: Pricing Structure
Chapter One: CheckFlow vs. SweetProcess: At a Glance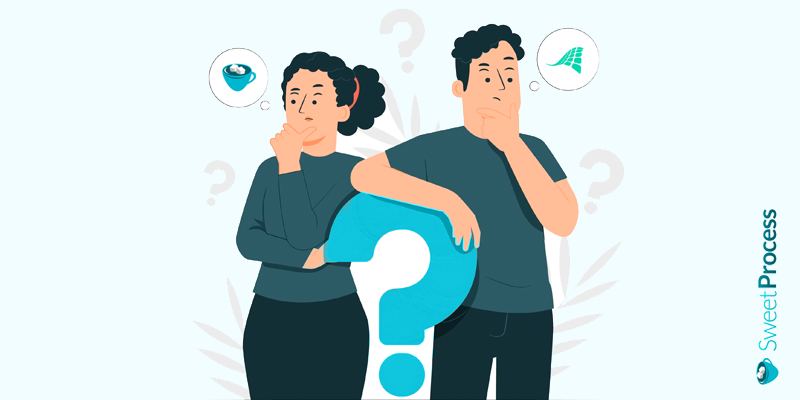 If you are looking for software to effectively document your SOPs, policies, and processes, it's likely you've encountered SweetProcess and CheckFlow along the way. Each of these platforms offers unique features that appeal to users. To help you make an informed decision, let's explore everything you need to know about these two tools, their functions, and how they can benefit your company.
SweetProcess in a Nutshell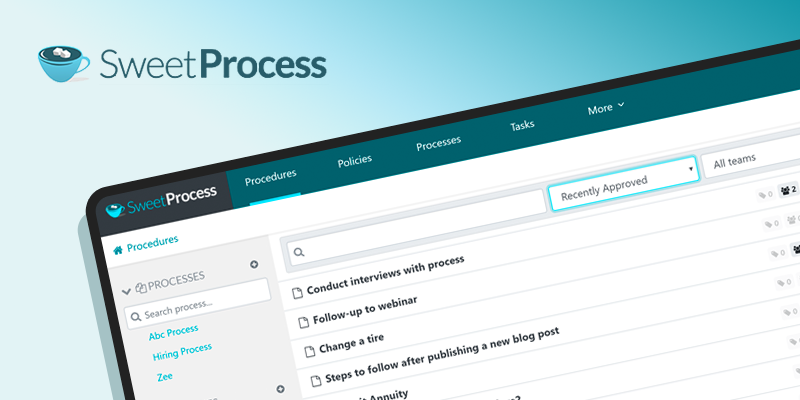 SweetProcess is a cloud-based workflow and business management software that allows companies to focus on what matters. Thanks to the advanced system, you can document all your procedures, processes, and tasks in a centralized place. This tool helps your team focus on growing the business.
This platform is essential for professionals in different industries that interact with clients and team members. You can also use it in different departments, including financial planning, customer support, accounting, product development, or human resources. It comes in handy whether you need to manage an existing team or hire your first employee as a startup.
If you are looking to get started with SweetProcess, here are key things you can achieve with this tool:
SweetProcess will help you create, share, and correctly adapt your business policies. With the right policies, you can maintain standards that will help protect your business.
You can empower your team with all the necessary information they need to do their job right. This tool ensures that all repetitive tasks have been documented in one place, which means there's no more guesswork.
It's the best platform to master processes. If you are looking for ways to improve your existing processes, SweetProcess offers a platform to collaborate and refine processes that will help grow your business.
This tool helps business leaders turn existing policies and procedures into a knowledge base for employees and clients.
Task management becomes easier because SweetProcess lets you track the latest projects and monitor the progress of all assignments.
Additionally, SweetProcess has a user-friendly interface that's easy to navigate, even for first-time users. It also integrates with over 1,000 apps; therefore, you can incorporate it into your existing business systems. Unlike most tools, this platform has a single all-inclusive pricing plan for all users.
As a first-time user, you don't have to pay for the tool from the beginning. There's a 14-day free trial period to test drive the software. Sign up for a free trial of SweetProcess today. No credit card is required.
CheckFlow in a Nutshell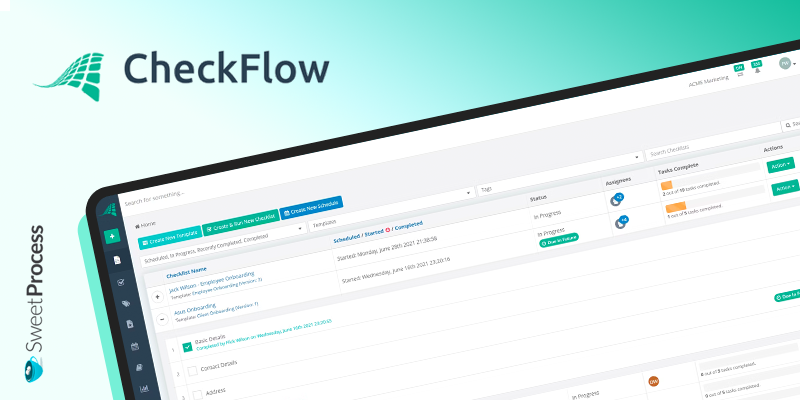 CheckFlow is a business process management tool that uses powerful and collaborative checklists to build, maintain, and evaluate the team's workflows and processes. Users can use this platform to process documents, including data tables, email templates, subtasks, videos, photographs, and other features.
With CheckFlow, you can control and execute processes as collaborative workflows using the real-time dashboard. Additionally, employees can share checklists and open new lines of contact with customers. CheckFlow also integrates with over 2,000 apps; however, you must use a Zapier integration.
Their automation features help to control your workflow and reduce your workload. This makes collaboration easy when you have task assignments. Furthermore, you can keep the data synchronized across all devices and users. Although the tool has a free trial, it offers two pricing structures for users to choose.
Chapter Two: Top Features Compared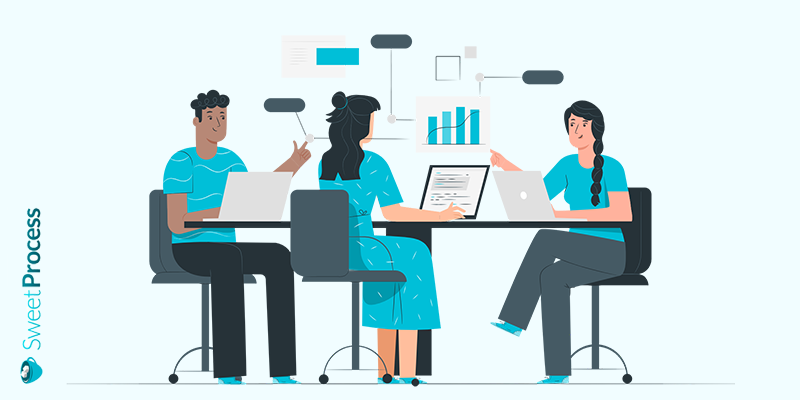 When it comes to choosing a tool to enhance the skills of your workforce, it's essential to carefully assess the available features and how well they align with your business objectives. If your aim is to document your SOPs, policies, or processes, both SweetProcess and CheckFlow offer features to meet these needs. But which tool has the best features? Let's take a closer look.
Tool
SweetProcess
CheckFlow
Common Features
– Integration with more than 1,000 apps
– Checklists
– Real-time collaboration
– Templates
– Reporting tools
– Process maps
– 14-day free trial period
– Integration with third-party apps
– Recurring checklists
– Real-time dashboards
– Templates designer
– Reporting and analytics
– Automated processes
– 14-day free trial
Different Features
– All-inclusive pricing plan
– Image editor
– Single sign-on system
– Links all processes to procedures and policies
– Two-factor authentication
– Version history
– Embed videos and files  
– Two pricing options
Sign up for a free trial of SweetProcess today. No credit card is required!
These features come in handy when you need to document SOPs, policies, and processes. Here's how to use both tools.
CheckFlow vs. SweetProcess: For Documenting Standard Operating Procedures (SOPs)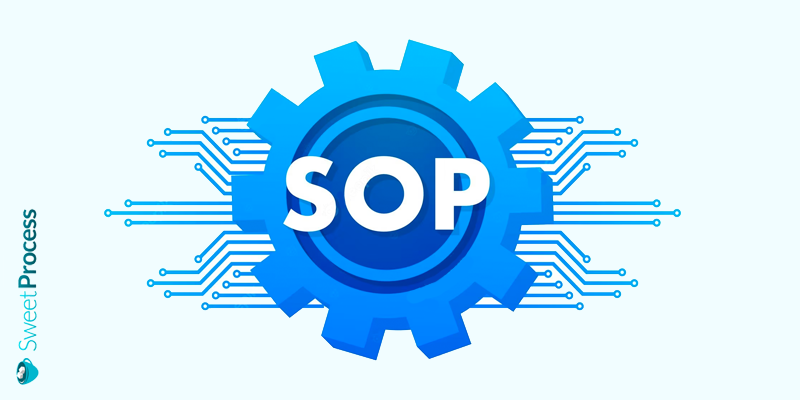 To start documenting your SOPs on SweetProcess, here are the steps to follow.
Click on the "Procedures" tab.

Tap "Create Procedure."
You'll be prompted to add the procedure title on the next page.

After adding the title, you can add the team members working on the project.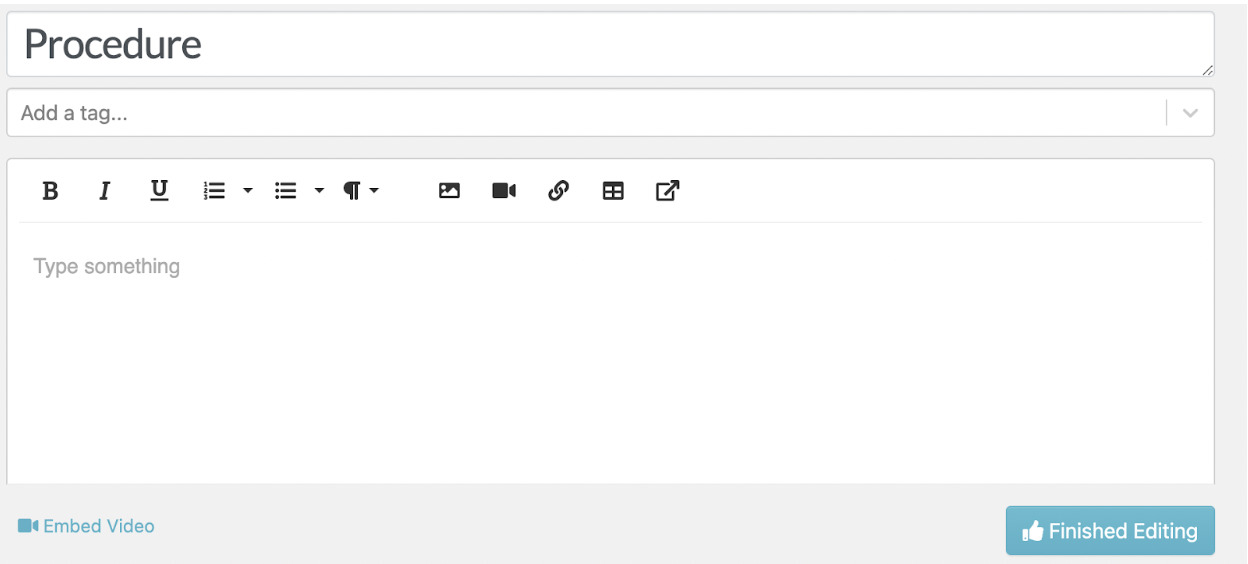 On the other hand, with CheckFlow, there are no tabs to help you create SOPs on the dashboard. You can only create checklists and processes for your team.
CheckFlow vs. SweetProcess: For Documenting Processes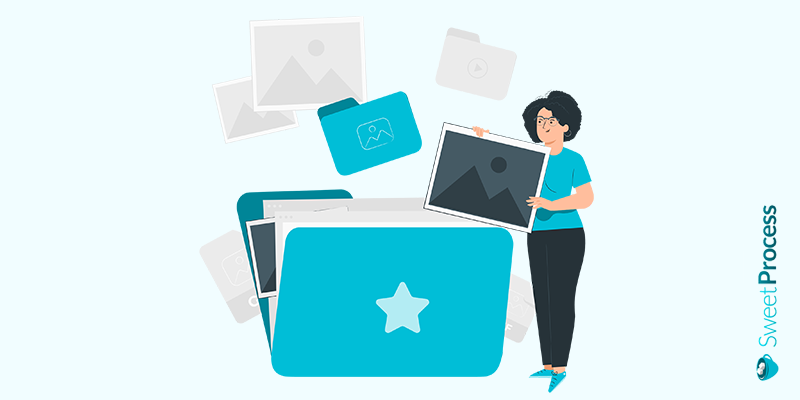 If you want to create a process for a new task, all you need to do is click on the "Processes" tab, then click on "Create Process," as shown below.

Include a process title to make it easier to track all your processes.

On the next page, add the procedures, steps, tags, and texts to support your process and click "Finished Editing."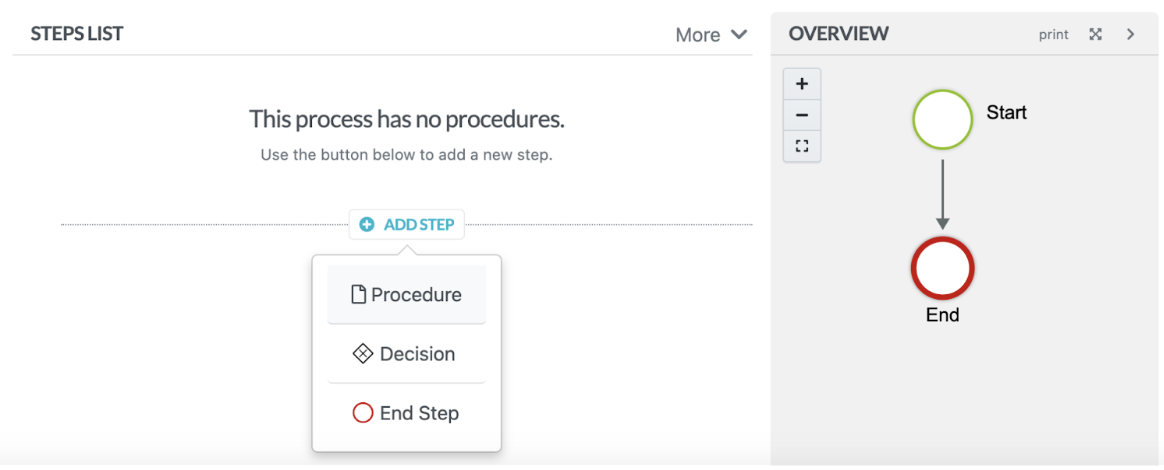 To document processes on CheckFlow, follow these steps:
You have to build a template of your process using the no-code, drag-and-drop designer.
Schedule multiple instances of your template as checklists.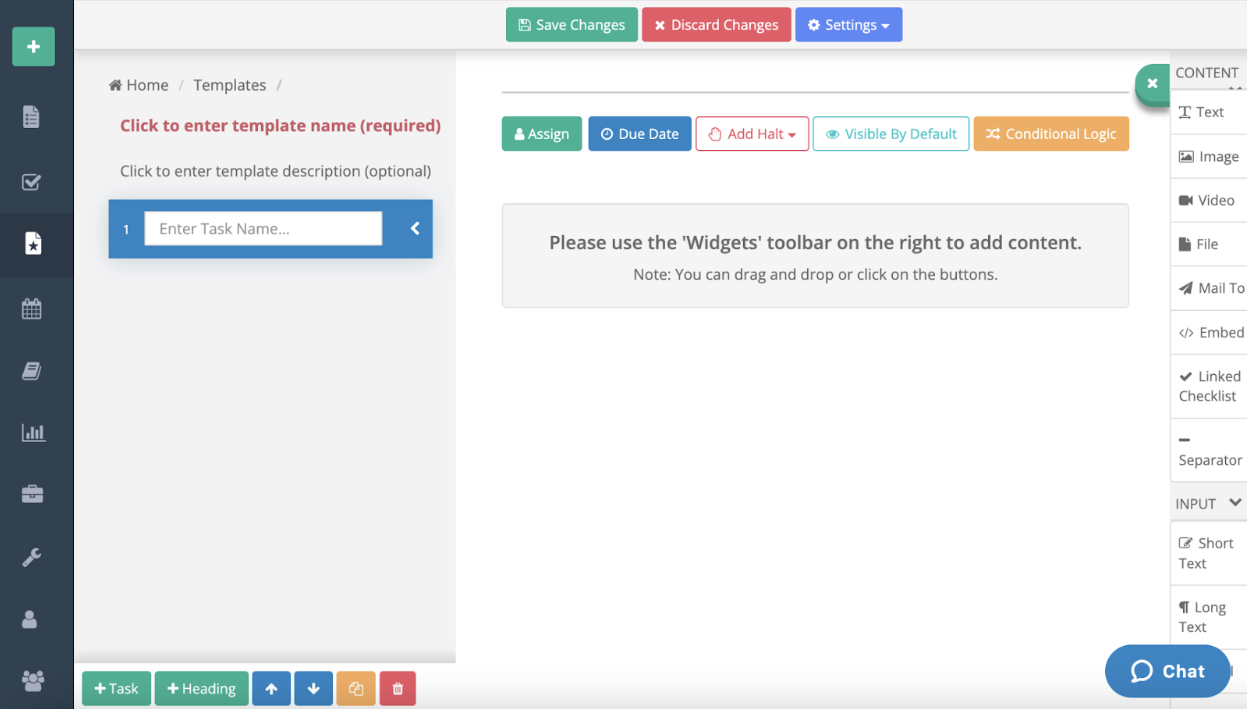 You can use the pre-built templates on the platform and add tasks to complete the process.
CheckFlow vs. SweetProcess: For Documenting Policies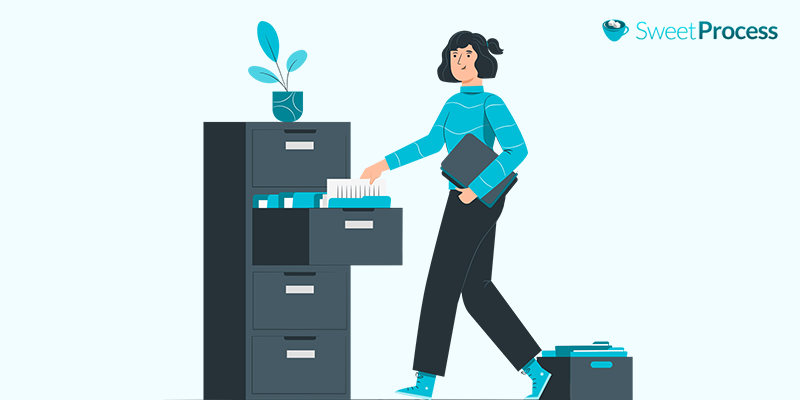 SweetProcess makes it easy to document policies. These policies are essential because they guide your team members on how to execute their duties.
To document a policy, select "More" on the main menu and then click "Policies."

Select the "Create Policy" button on the next page.

Include a policy title and assign the policy to your team members.

Add your policy content on the next tab. In this section, you can attach files, embed videos, and tags before saving the policy.
On the other hand, CheckFlow does not have a direct method to create policies from its dashboard. They only have some templates in the templates library that you can use to set up any checklists.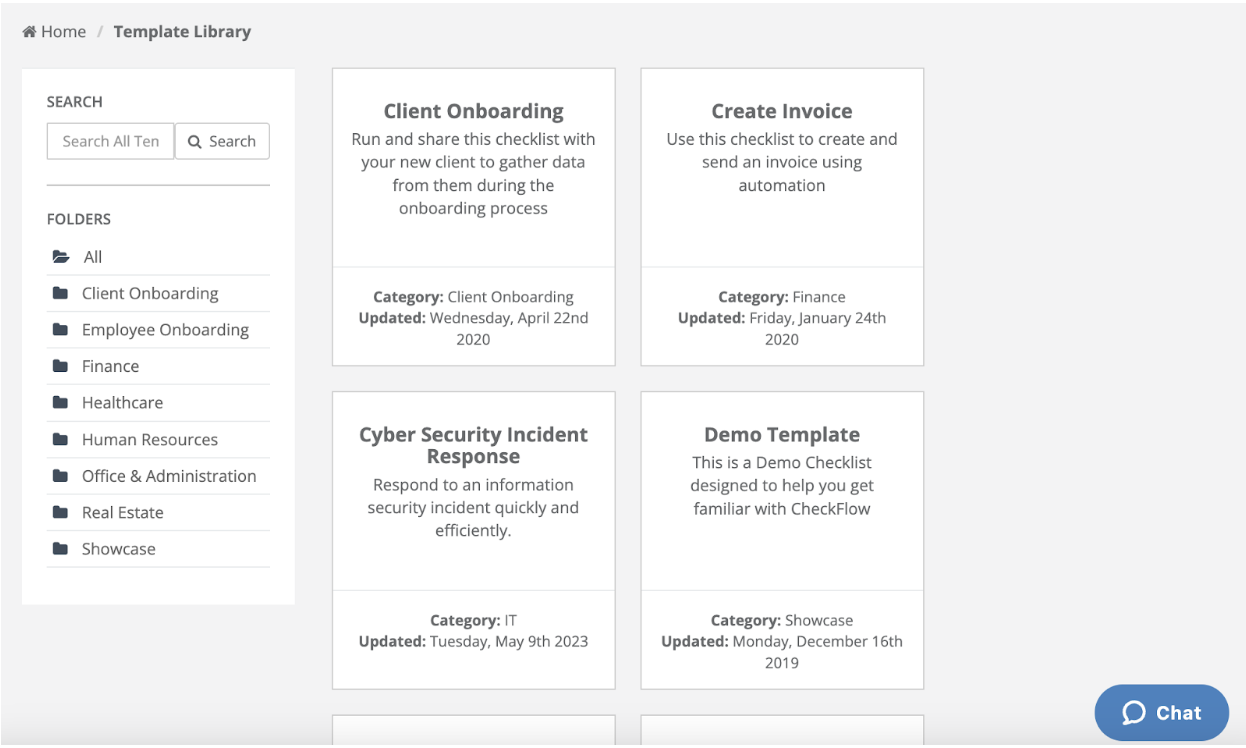 Features Verdict
SweetProcess has more features than CheckFlow; therefore, it has more to offer. You can use this tool to document your SOPs, policies, and procedures and manage your team members all from one location. In addition, the system is cloud-based, making it ideal for collaboration.
On the other hand, CheckFlow has a comprehensive dashboard with different features and templates. However, it does not have a direct process to document policies and SOPs. Although users can take advantage of the free trial period, the features are not as extensive as SweetProcess.
Based on these features, it appears that CheckFlow only offers a certain level of functionality. Therefore, you'll need a better alternative to scale your business. SweetProcess is the obvious winner here.
Chapter Three: Ease of Use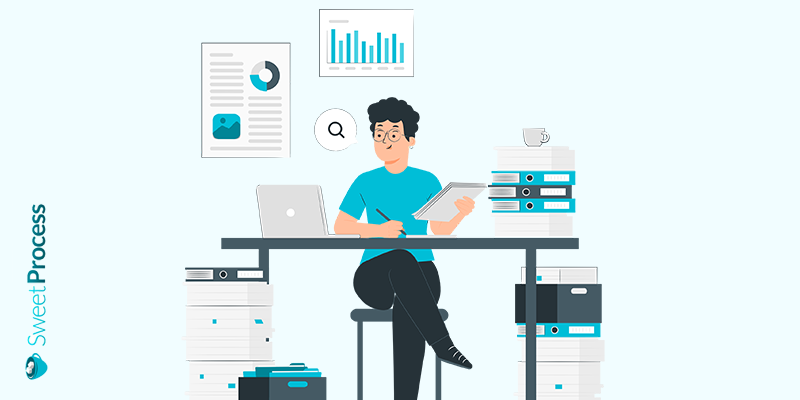 To effectively document your procedures, policies, and processes, you need software that's easy to navigate. This is important because it ensures that your team has no challenges when using the platform. So how do CheckFlow and SweetProcess stack up against each other? 
SweetProcess: Ease of Use
SweetProcess is intuitive, easy to use, and navigate. Here's how to get started.
Getting Started
SweetProcess has a 14-day free trial for new users. To get started, tap on the "Try it Free" button in the top right corner. You won't need to provide any credit card information.

Fill in your personal details, including name, email, company size, and password. Accept the terms and conditions, and proceed to the next step.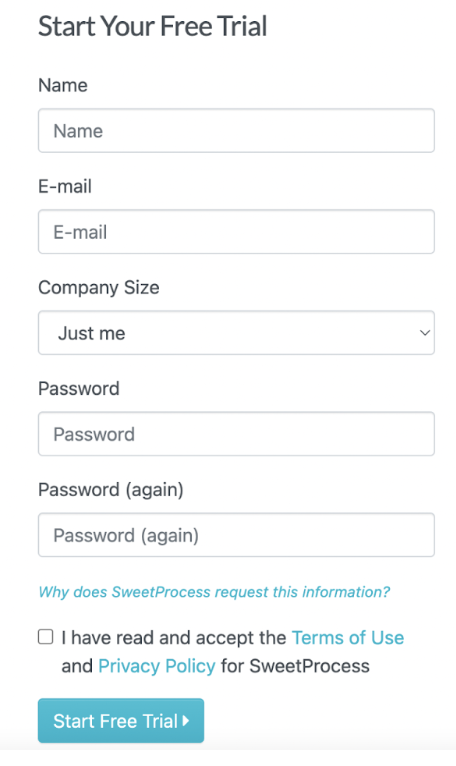 You have the option to take a tour of the dashboard. This is important for new users because it shows you how to use the SweetProcess features to document your processes, policies, and procedures.

Organize and Find Documents
With SweetProcess, you can find and organize your documents easily. There's a search feature that allows you to look for documents based on the tags, relevance, or name. Additionally, it's possible to filter your documents depending on the approval level.
The dashboard holds all your company documents. You can navigate through different tabs and access the menu to create knowledge bases, processes, procedures, and policies and assign tasks to your team members.

How to Assign and Monitor Tasks
If you have bottlenecks with assigning tasks, a tool like SweetProcess will help you monitor and assign tasks from one platform. Supervisors can view when tasks are due or what's pending. Additionally, you can view the task history, which provides details about which team members are working on which projects.
Here's how to assign tasks:
Click on the "Tasks" button on the main menu.
Select "Assign Task."

Select the team members and assign the tasks directly from the dashboard. You can add more details from here, like the team member's name, due date, time, and task name.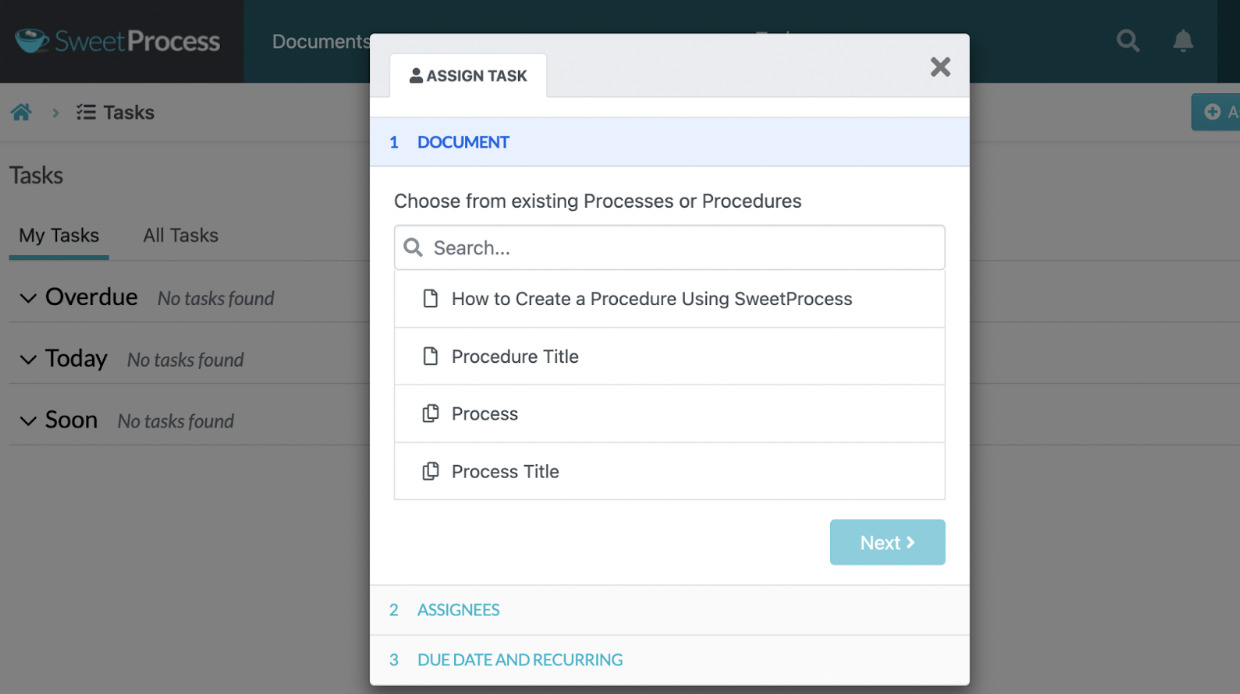 After assigning the tasks, you can monitor the progress. Check the tasks that are overdue or due soon on the "My Tasks" tab.

How to Import Existing Documents and Procedures
Most organizations already have existing SOPs; however, they are documented in different locations, which can inconvenience the company. For instance, if you have documentation on Google Docs and Microsoft Word, some team members might have a challenge accessing them .
This can affect the company operations because employees are not on the same page. In this case, they will need to get instructions from the CEO or team leader or the owner of the document to execute any tasks which slows down work.
With SweetProcess, you can import all these documents to a central location. Having all the documentation in one location boosts productivity and efficiency among your team members. Here's how to import the documents.
Click the "Procedures" tab on the dashboard.
Click on the down arrow button to the right of the "Create Procedure" button. Select "Upload document."

After selecting "Upload document," you can drag and drop the specific document. Alternatively, you can also tap "Browse" to upload it from your device.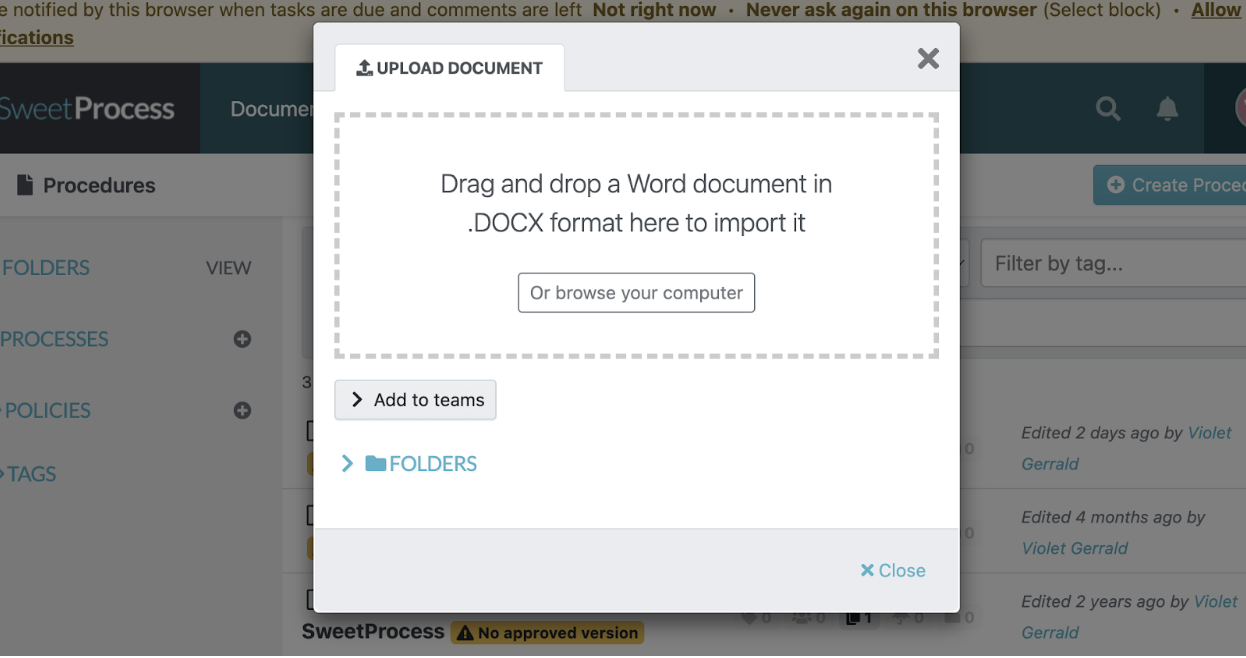 How to Create a Knowledge Base
Your company needs a knowledge base for team members and clients to refer to. SweetProcess provides the ideal platform to build this knowledge base, whether you want a private one or a public one.
To create a knowledge base, log in to your SweetProcess account. Click on the "More" button on the main menu and select "Knowledge Bases."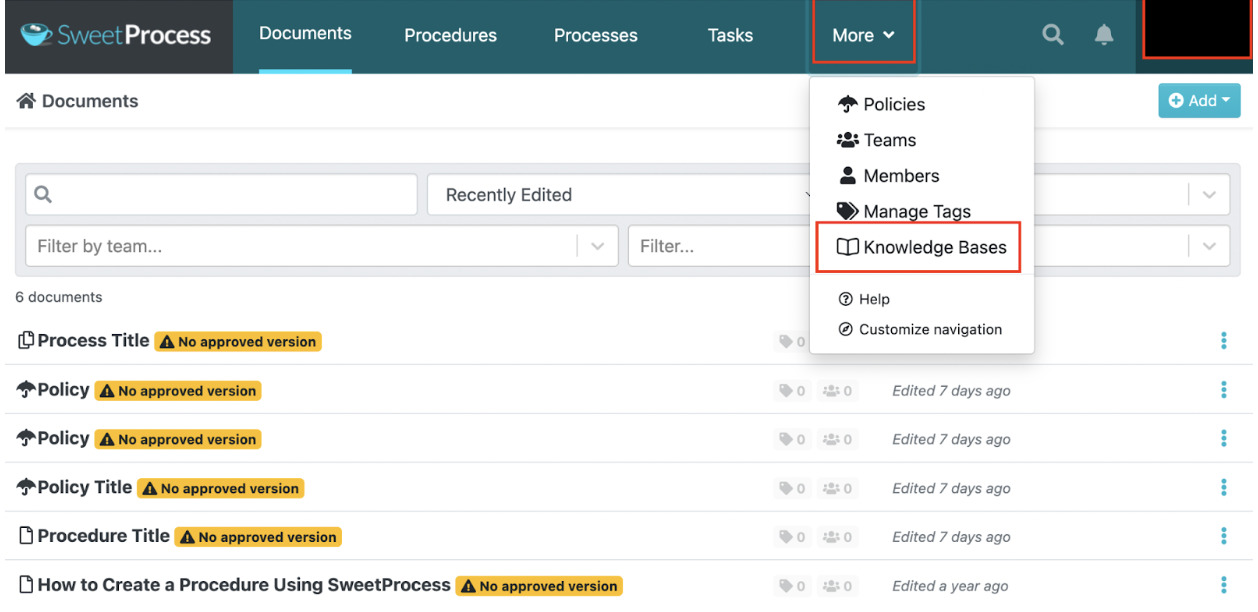 Click "Create Knowledge base" and add a title.

If you want to add controls to your information, you can add a public URL that links to the knowledge base and add category names. These controls are essential when giving access to company information. They prevent unauthorized access, which can be harmful to the organization.

How to Export Documents from SweetProcess
SweetProcess also works well for companies with external partners and consultants. You can export procedures and processes from the platform and convert them into PDF, HTML, or Word. To export, click on the "Documents" tab, and pick the document you want to export by clicking on the three dots on the right side.
Click on "Export" and choose the document format.

SweetProcess Templates
To make things simpler, SweetProcess provides templates to get you started. These templates can help you set up your procedures and processes.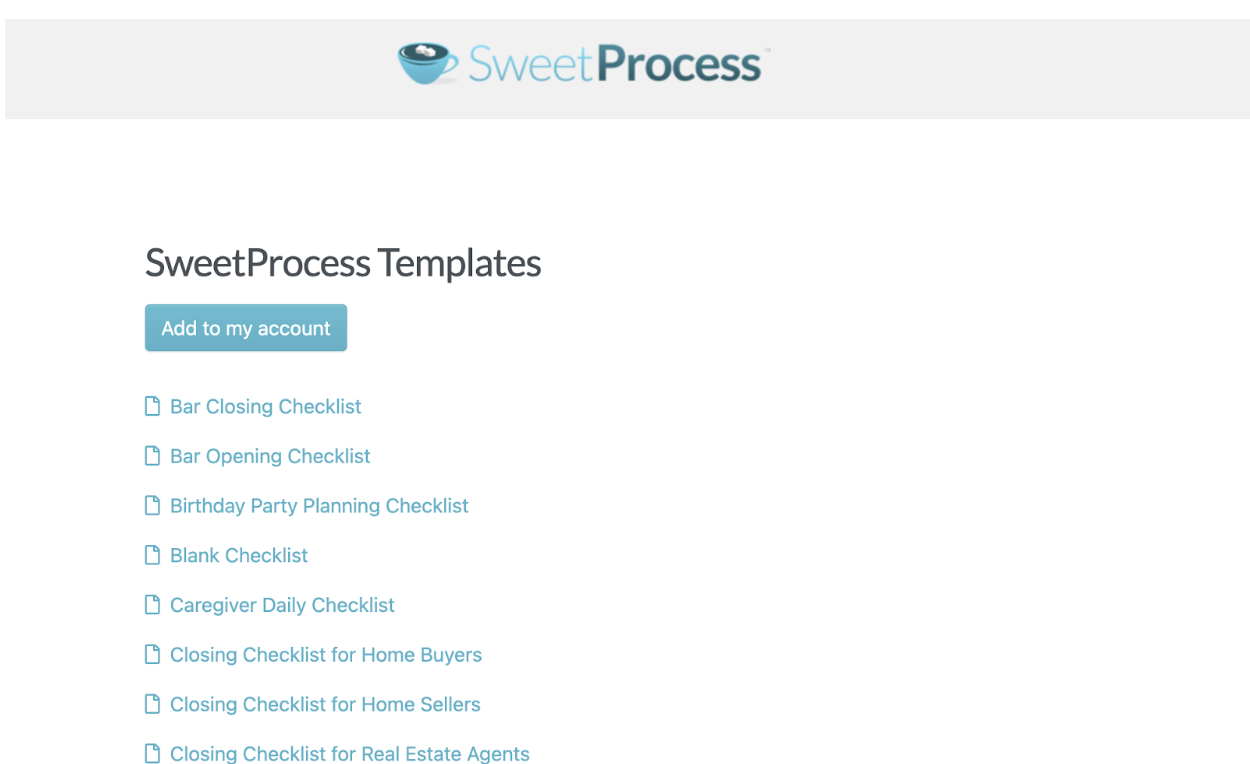 CheckFlow: Ease of Use
If you are considering CheckFlow for your business, here's how the tool operates.
Getting Started
To start using CheckFlow, you have to create an account. Click on the "Start Free Trial" button at the top right corner.

Add your name, email, password, and team names on the next tab.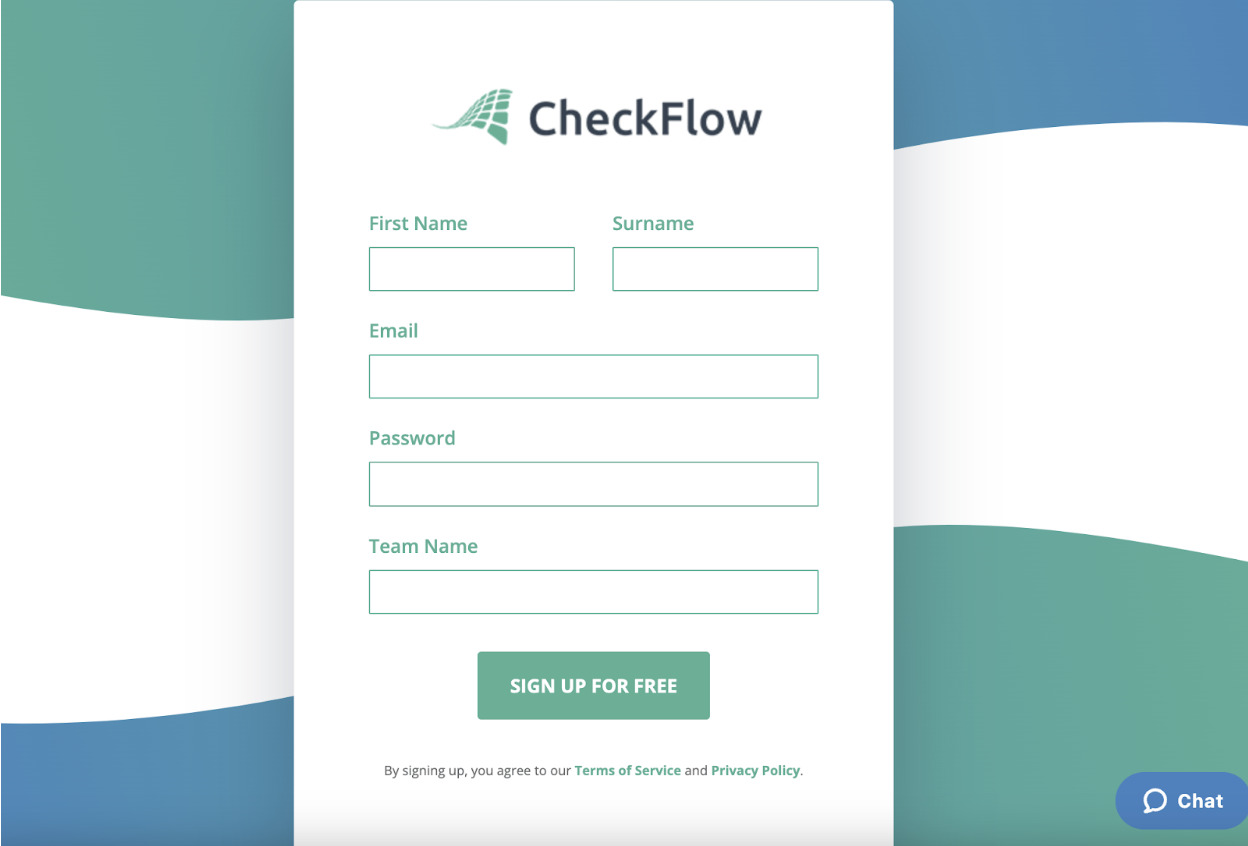 CheckFlow then sends an email message to confirm your account. Once you confirm, you can log in to your account and start documenting processes and SOPs.

CheckFlow also provides an option to take a tour. This allows you to get more information about how the platform works and where key features are located.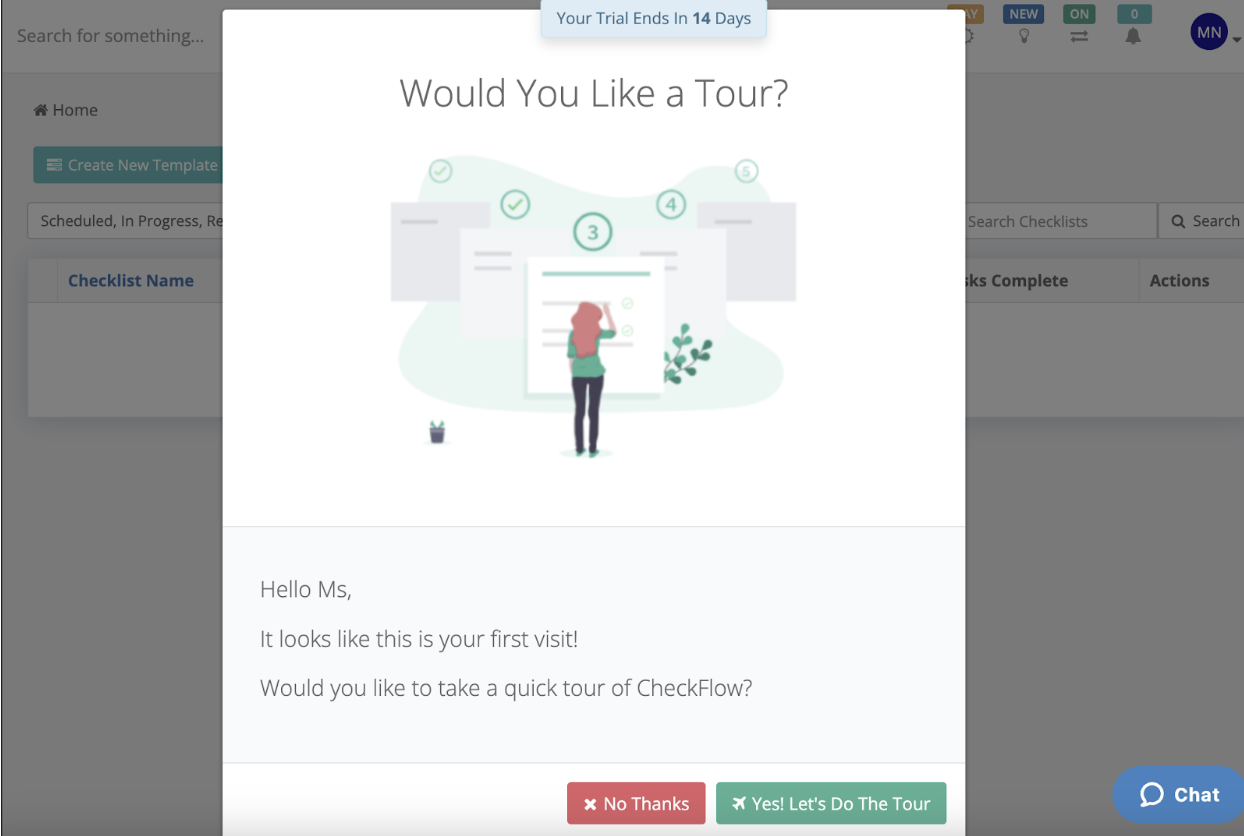 How Does the Dashboard Look?
Once you create your account, you can access the dashboard, which allows you to create checklists and schedules, view all the tasks, and access the team knowledge base.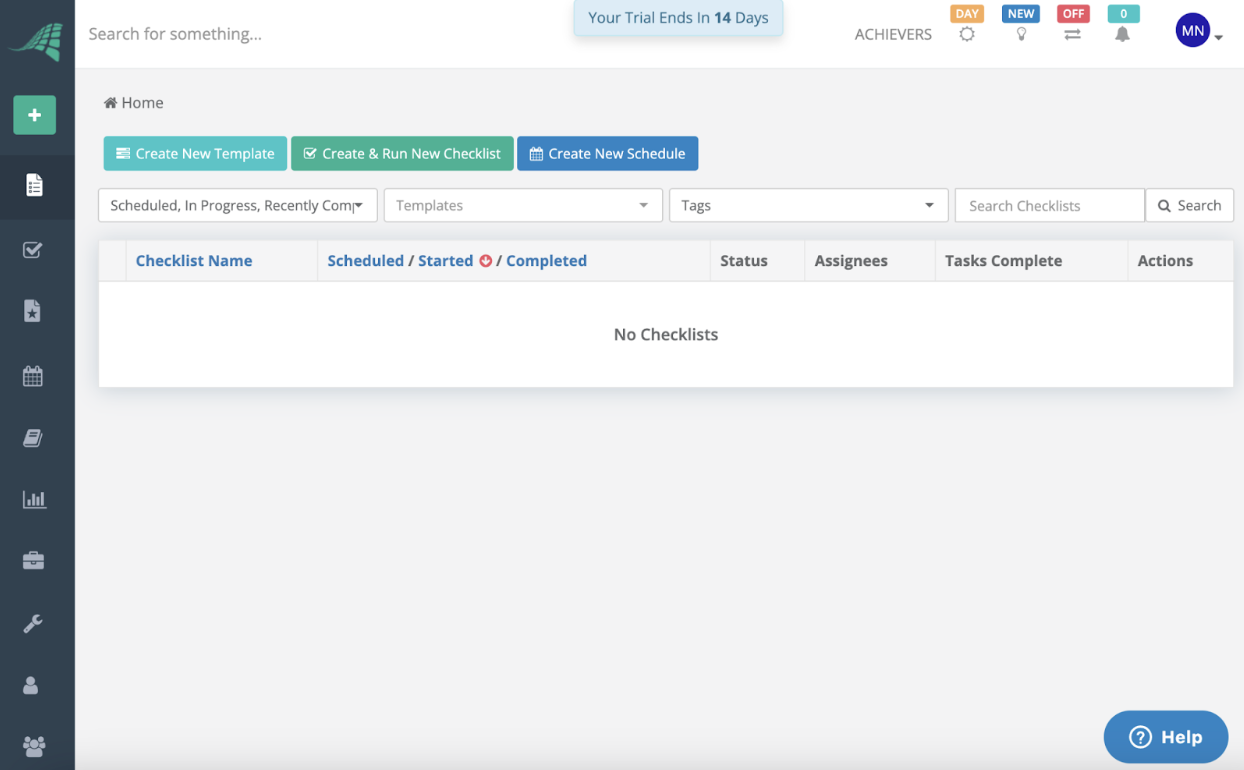 Ease of Use Verdict
Both SweetProcess and CheckFlow have a free trial for new users to try out the tool before committing to a plan. They also have templates for users to kickstart the documentation process.
However, if you compare the two, SweetProcess is more intuitive. The dashboard is more simplified; you can clearly see all your documents in one place and create procedures, processes, and policies. SweetProcess has little to no learning curve, meaning you can start documenting once you register for the free trial.
On the other hand, CheckFlow's dashboard is slightly complex. Users can create checklists and schedules and add tasks or a knowledge base. However, if you need to create a policy or a procedure, there's no tab on the menu to do that. Furthermore, SweetProcess has more dashboard features if you want to import or export documents.  
Chapter Four: Mobile Accessibility & AI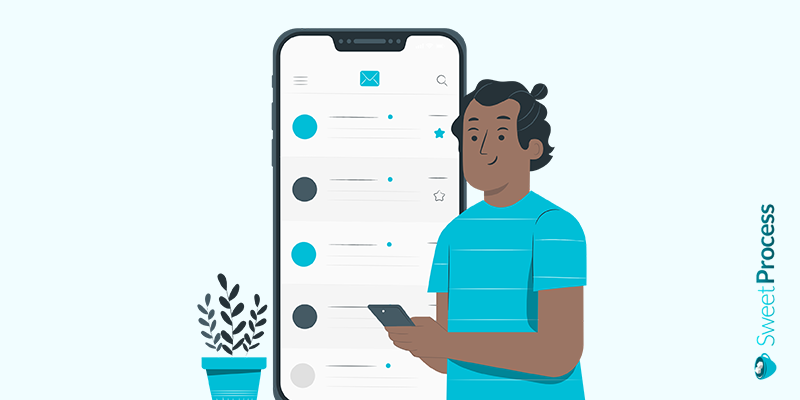 According to statistics, approximately 25% of businesses have integrated artificial intelligence (AI) into their operations as of 2022. AI is becoming important in all industries as organizations seek to automate their processes. In addition to AI, there's an increasing demand for mobile services as more people switch to mobile use and remote working.
Therefore, before choosing software for your business, you should confirm whether it has any AI and mobile integration. Let's compare SweetProcess and CheckFlow.
AI & Mobile Accessibility: SweetProcess
You can use AI to document your policies and SOPs with SweetProcess. SweetAI automatically writes your documents. You just need to have the title of your procedure or policy, and the AI will write the rest of the information. Therefore, if you are a new user, AI will help you document the first version of your SOP.
For instance, if you want to create a procedure for onboarding clients, here's how to use the AI tool:
Login to your SweetProcess account.
Tap on the "Procedure" button on the main menu.
Click on the "Create Procedure" button.
Include the procedure title.
Click on the "Write with SweetAI" button instead of drafting.
Give SweetProcess a few seconds to generate the information.
Once SweetAI is done, you can add finishing touches and edit or approve the content.

Additionally, SweetProcess offers mobile access to its users through the mobile app. Your team members can download the app on the App Store or Google Play. Once downloaded, tracking tasks and documenting SOPs on the move is easy. Therefore, you can assign and monitor tasks from the app if you have remote teams or field staff.
AI & Mobile Accessibility: CheckFlow
On the other hand, CheckFlow does not have a mobile app for its users. This means that once you sign up for an account, you have to use the software on your desktop. This can inconvenience teams that need to connect on the move. There's also no indication that CheckFlow uses any AI tools.
Mobile and Artificial Intelligence: Verdict
SweetProcess is obviously the better software here because it offers additional features and technologies that CheckFlow does not have. The mobile app and AI integrations can document your processes and procedures. These features are important because they boost team productivity. Additionally, it's easier to track tasks on the go.
Chapter Five: Customer Reviews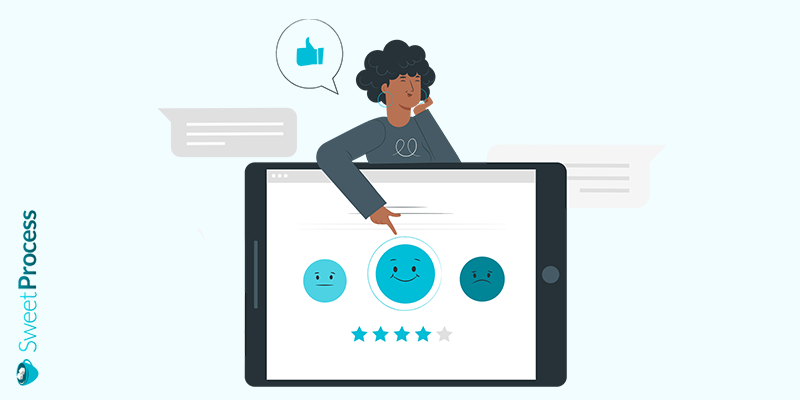 Before selecting a business tool, you should read customer reviews. Past users usually provide more information about whether the tool is a good choice or not. These reviews can help you identify any problems with the software that may affect your company.
SweetProcess Customer Reviews
SweetProcess users have positive things to say about this software. According to customer reviews, SweetProcess is the best when creating SOPs. The interface is easy to navigate, making it ideal for creating employee training programs. If you need to keep your team accountable, the tool streamlines all the workflows.
Supervisors can also track the tasks from the platform, making it ideal for team management. Users also describe SweetProcess as the best option for hiring and training employees. Therefore, you can use the tool to prepare visually appealing documents and organize all procedures.
Customers prefer SweetProcess to other tools because it sends email reminders to employees to ensure that the projects work seamlessly. Additionally, it gets the most positive reviews for having no learning curve. Users use this tool to document procedures even with minimal technical knowledge.
CheckFlow Customer Reviews
According to reviews on GetApp, CheckFlow users don't have a way to create independent tasks. Because of this, it gets challenging to develop to-do lists for employees using the platform. Users have a problem with this system because they are unable to assign and monitor tasks, slowing down company operations.
Additionally, CheckFlow users can't see all the tasks from the dashboard. An ideal software should make it easy for users to monitor all their tasks from one place to keep everyone in check and improve the company's efficiency.
However, CheckFlow fails here because users would like to look at all the tasks in the form of a calendar to see when the workload is at its peak. This is a disadvantage for companies with remote teams working on the same project. Additionally, some users have a problem with the platform because it does not offer multi-lingual support. This is a problem for companies that have employees who are unfamiliar with English.
Customer Reviews Verdict
From these customer reviews, it's clear that CheckFlow lacks some features, which is a problem for most users. Customers find it hard to monitor tasks from the dashboard, which affects the company operations, especially when working with a remote team. Therefore, this might not be the ideal tool for your company if you are looking for collaboration features.
On the other hand, SweetProcess is the best platform for training your employees and documenting your SOPs. It has no learning curve, making it ideal for small and large businesses. So if you were to choose between the two tools based on customer reviews, SweetProcess is the ultimate winner.
Chapter Six: Customer Support & Training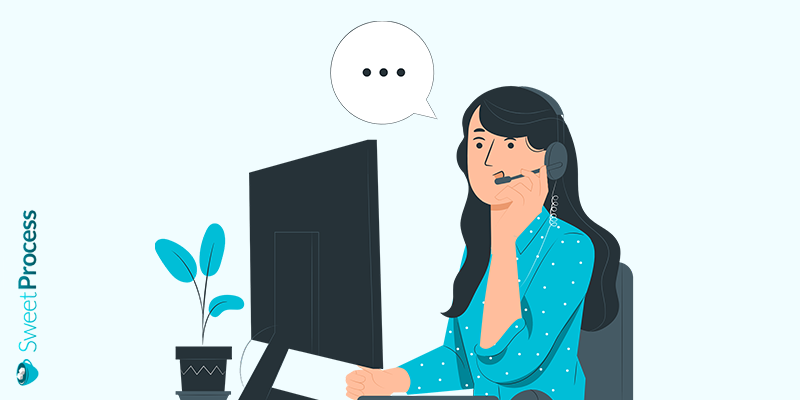 Your company needs the right support and training features. These features are essential, especially when you want to contact the company for assistance or queries. The team should be available in case you have questions. So who has the best support and training features between the two? Let's dive in.
CheckFlow Customer Support & Training
If you are unsure about how to use Checkflow, you can book a demo with the team. This session allows you to learn more about what CheckFlow can do for your business. There's a calendar to help you schedule a live demo at your convenient time.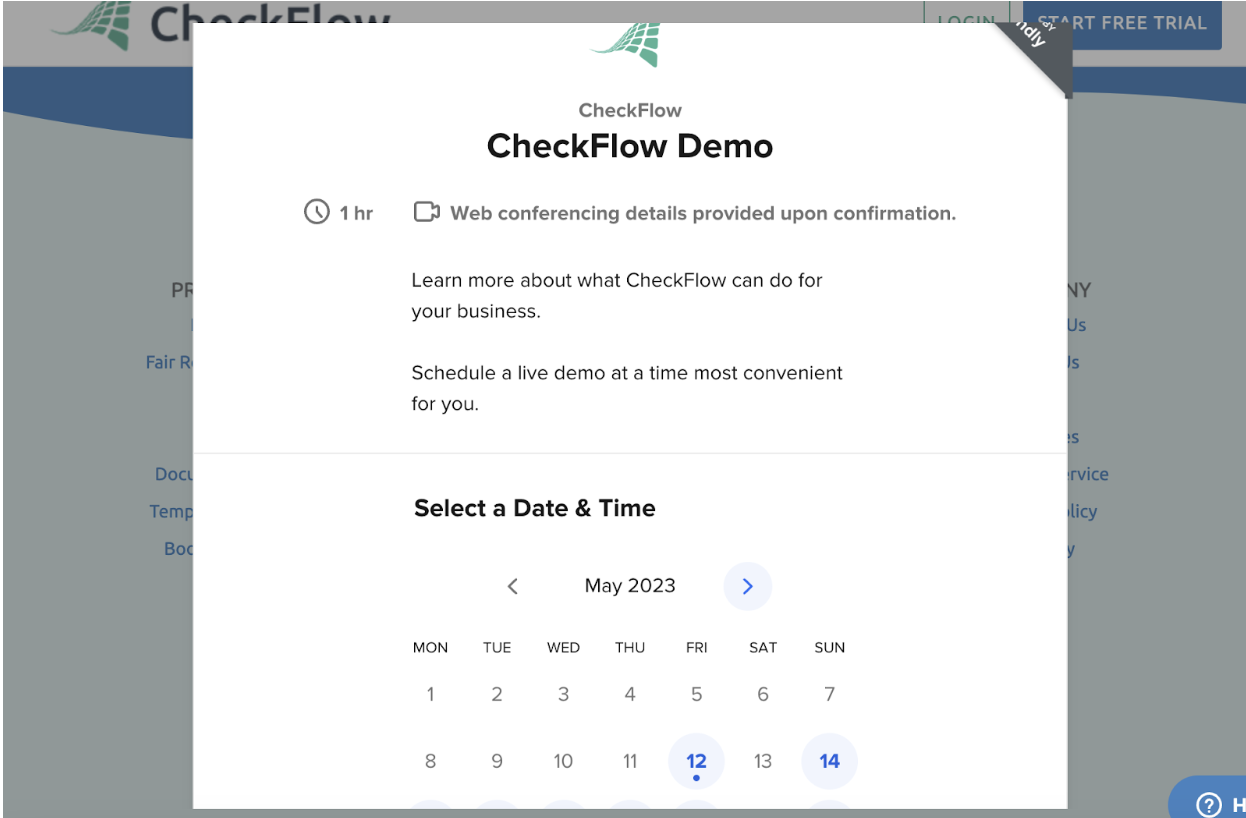 The platform also has an FAQ section. Some of the questions addressed here cover details about checklists, templates, features roadmap, payment methods, refund policy, cancellation, and security of the platform. You can contact the support team for further assistance if your question is not answered in this section.
In addition, there's a documentation section that has a wealth of knowledge about all CheckFlow features. You can use the search function to find what you are looking for. However, if you still need further assistance, you can talk to the team via email or chat.
CheckFlow also has a presence on social media platforms, including Facebook, Twitter, Instagram, and YouTube. Therefore, users can consult the team via these platforms or get more information.
SweetProcess Customer Support & Training
With SweetProcess, you don't have to worry about customer support and training. From the homepage, you can view the FAQs. This section answers the most common questions about the tool to help new users get started. The FAQs cover different topics, including the free trial, billing details, security features, importation of documents from other platforms, software installation, and how to get more support.
Additionally, there's a blog section with articles on different topics. These articles provide information about how the software works and compares it against other tools. Therefore, if you need more information about how to get started, this is a good place to begin.
SweetProcess also provides a demo for new users making onboarding easier. To access the demo, tap on the "Live Demo" button.

This demo page allows you to create processes, procedures, and assign tasks. The demo is quite comprehensive; therefore, you'll get all the information you need about how SweetProcess works.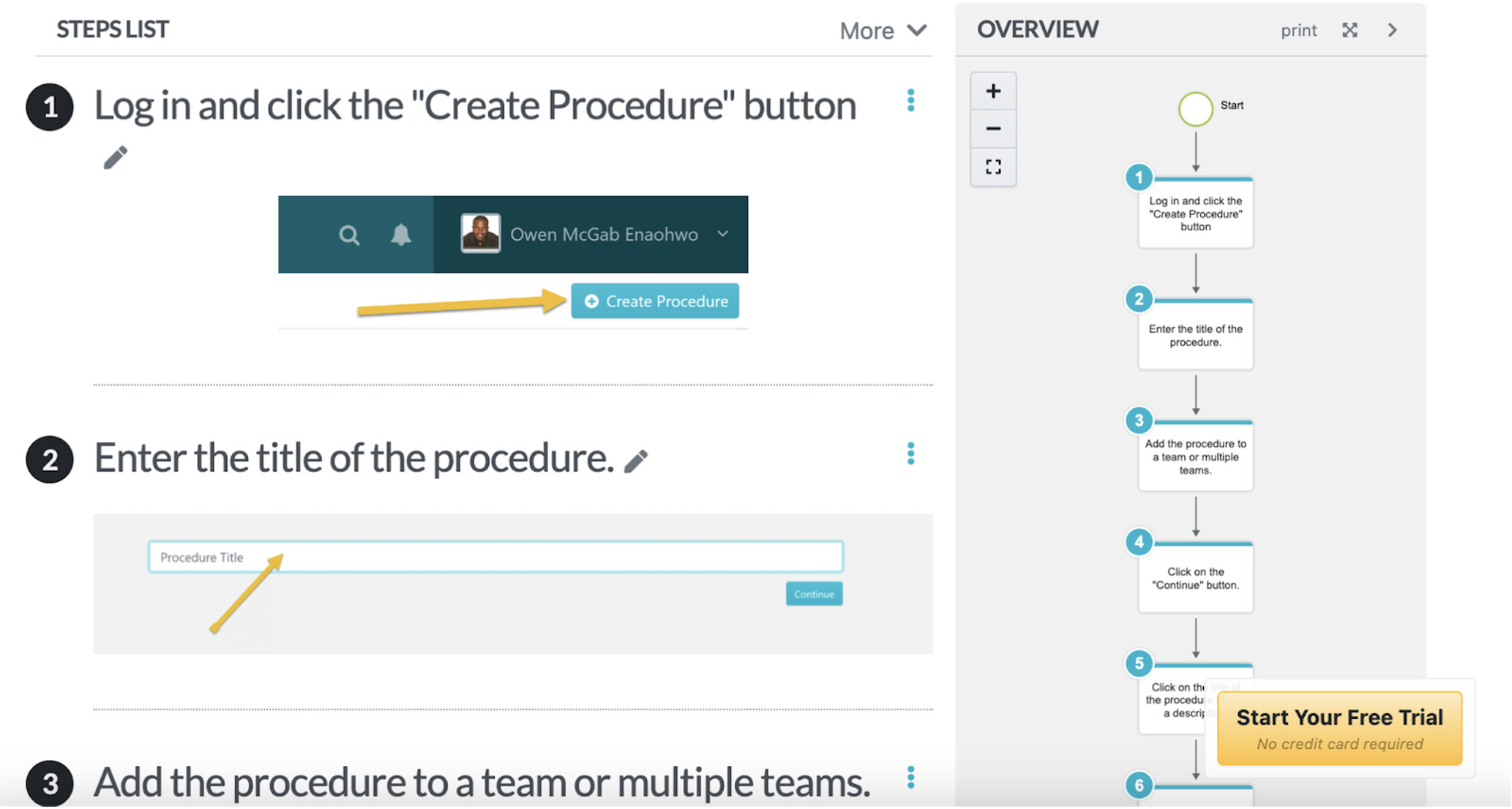 If the website information is insufficient, you can contact the SweetProcess team via social media, phone, or email. To talk to the team, email them via support@sweetprocess.com or call the phone number +1 (800) 476-0732. You can also reach the SweetProcess team via social media on Twitter, Facebook, or LinkedIn.
Customer Support & Training Verdict
While both platforms provide client support and training, SweetProcess has a better support system. It's more reliable with the hundreds of blog articles that provide more information. Additionally, you can access the live demo directly from the home page. You don't have to book and schedule a demo with the team like with CheckFlow.
Additionally, there's a phone number to contact the team. CheckFlow only offers a chat button and email address for users to reach out.
Chapter Seven: Pricing Structure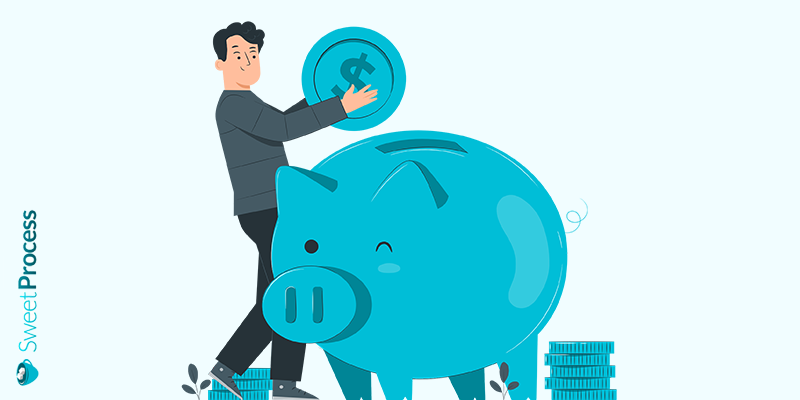 Pricing is an important factor to consider when choosing software for your business. You need a tool that is within your budget to avoid losing the company money. Before choosing between SweetProcess and CheckFlow, you need to consider the pricing plans. Here's how the two compare.
CheckFlow Pricing Structure
Checkflow has two pricing plans: Business and Enterprise. The Business option costs $10 per month for teams of any size. With this plan, you get features such as unlimited checklists, unlimited templates, unlimited free guest users, a team knowledge base, 25 GB file storage, standard notifications, and an analytics dashboard.
The Enterprise plan costs $18 per month. However, this plan is meant for a minimum of 5 users. Once you pay for this plan, you get all the features from the Business plan plus more advanced features like unlimited file storage, a dedicated database, top-level priority support, a dedicated success manager, onboarding consultation, and early access to new features.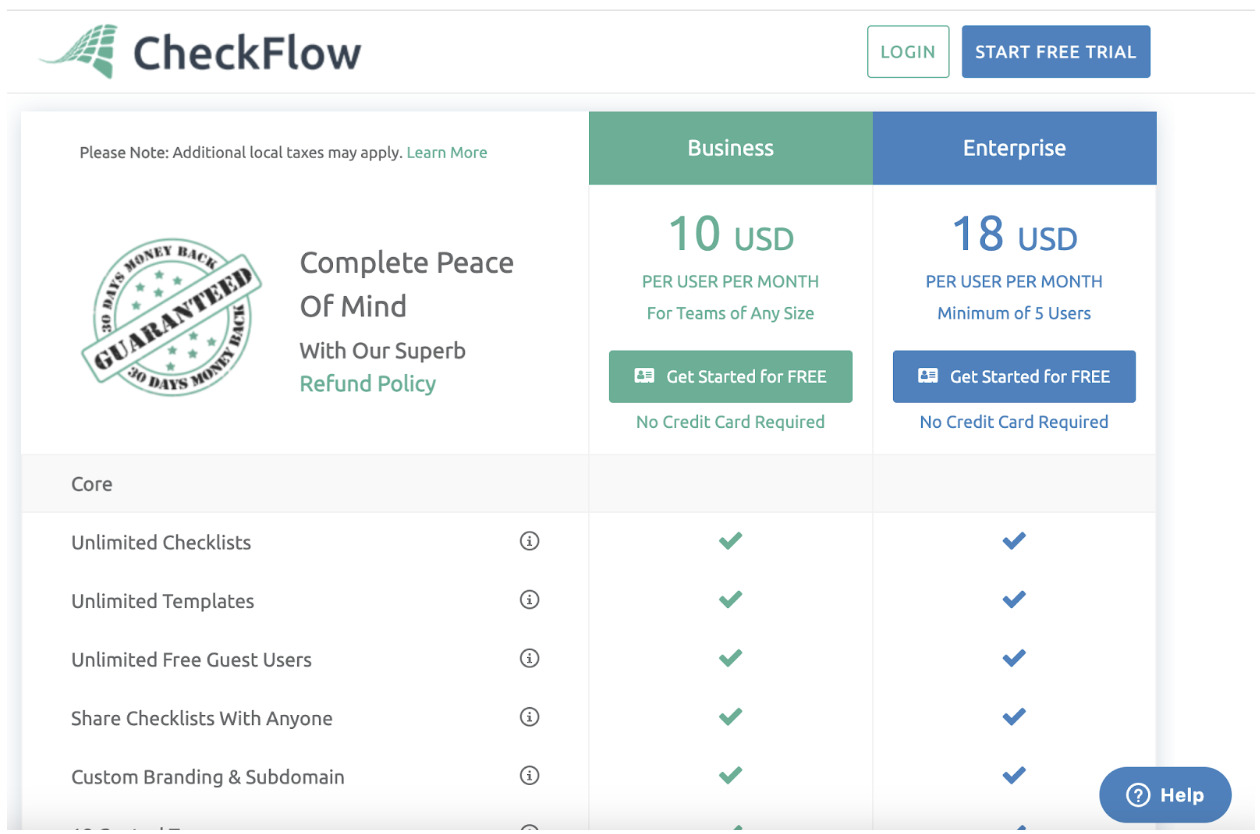 CheckFlow has a free 14-day trial period that new users can take advantage of. Additionally, there's a refund policy once you pay for a plan. If you are unhappy with the services, you can contact the team for a refund. There's a 30-day refund if you feel that CheckFlow is not meeting your business needs. 
SweetProcess Pricing Structure
What sets SweetProcess apart is the all-inclusive plan. Users just need to pay for one pricing plan to get started on the platform. To access all features, you need to pay $99 per month. This plan covers 20 active members. If you have a bigger team that you need to add to the platform, SweetProcess charges you only $5 per person.
SweetProcess only bills you for the team members on the platform. When a team member becomes inactive, you'll receive a prorated credit to your account.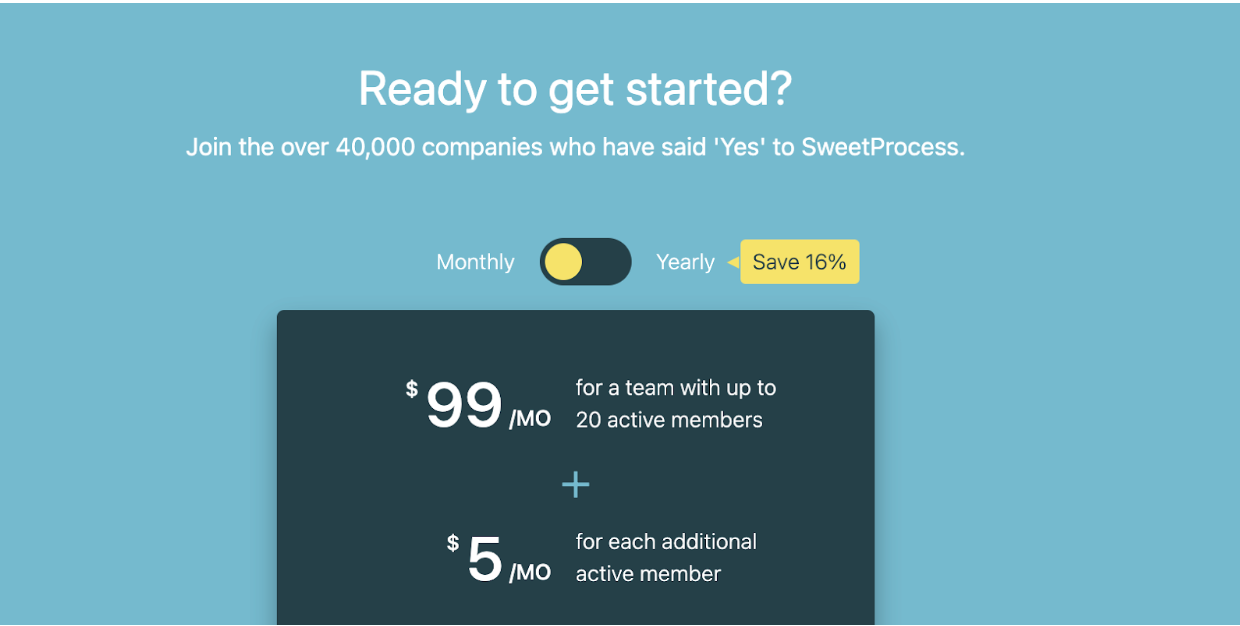 There's a monthly and an annual plan. Opting for the annual plan will cost you $82.50, saving your business by 16.67%. Additionally, you get a 30-day money-back guarantee if you are not seeing any measurable growth in your business. You'll receive a refund plus an hour-long consultation with the support team to brainstorm new business ideas.
The other advantage of SweetProcess is that it does not limit the number of team members. Therefore, you can request a special quote if you have a smaller team or a startup. SweetProcess has a 14-day free trial period for new users which does not require you to provide any credit card details.
You can take up this free trial of the software before committing fully. This period will give you enough time to determine whether SweetProcess is a perfect fit for your business. You can continue using the platform by entering the billing information at the end of this free trial. You can also cancel the subscription at any time after or before the free trial.
Pricing Structure Verdict
Both SweetProcess and CheckFlow have a 14-day free trial period and a 30-day refund policy. However, SweetProcess takes the top spot because it only has one uniform plan. Users can access all features without paying extra for a premium plan. The pricing plan is all-inclusive whether you choose to pay annually or monthly.
On the other hand, CheckFlow offers two pricing options. The basic option at $10 does not come with all features. Users have to pay for the Enterprise plan to access all the features. 
The Verdict Is In…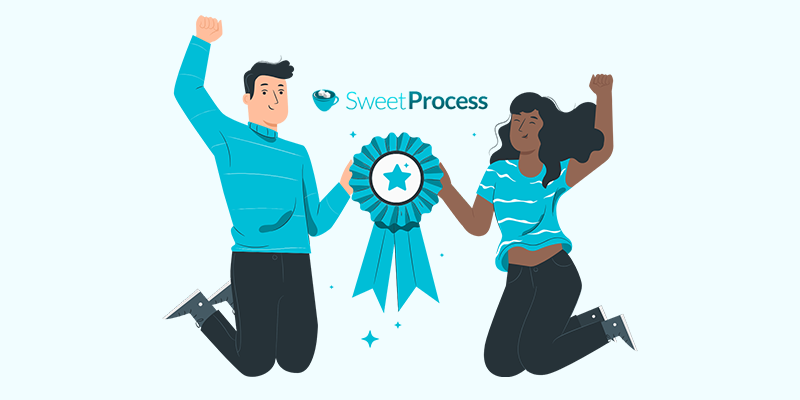 To document your procedures, processes, and policies, you need to choose software that meets all your needs. It's important to look at the features, pricing options, customer support services, and mobile and AI integration. By comparing these two tools, it's evident that SweetProcess is the best option. It's easy to use whether you have a small or large company.
Furthermore, it has all the tools you need to document your company details. If you don't believe us, here are some of the companies that have benefited from using SweetProcess in their operations.
Jennifer Schneider is the CEO and Gretchen Pisano is the chief design officer at pLink Leadership. As a company, their goal was to help businesses accelerate their growth. The company's team members were working from different parts of the US since the company was fully virtual. Because of this, all the employees were required to utilize the same processes to maintain consistency.
This did not work as expected because the organization did not have well-documented standard operating procedures (SOPs). All the procedures were in an 85-page document which became outdated in no time. For this reason, Jennifer decided to look for an effective documentation tool which led her to SweetProcess.
From the time the company adopted SweetProcess, operations have improved. They can now effectively document all the SOPs and take advantage of the intuitive interface. Additionally, the entire team now has an accessible knowledge base, boosting collaboration for the virtual team. The company's training and onboarding process is also more seamless today.
Carter Harkins, the co-founder of Spark Marketer, switched from being a musician to a marketer. Together with his business partner, they started recording success in providing marketing services for chimney businesses. However, a meeting with a business consultant showed them some operational loopholes, mainly because the company was working without SOPs.
Due to a lack of documentation, employees mostly used tribal knowledge to get the company running. However, this resulted in a lot of disorganization at the company. Additionally, there was no system to track employee performance or pinpoint any issues. He shared, "There's this constant feeling like you're being drawn back into the daily task–level stuff to keep things running, so that's what keeps you up at night. There's a lack of confidence in the structures of your business to support growth."
To start with the documentation process, Carter and his partner started with Google Docs. But with time, they realized that this was still insufficient to sustain the company's growth. It wasn't until Carter came across a podcast where Owen, the founder of SweetProcess, was being interviewed. After the free trial, he got hooked on the software.
Since adopting SweetProcess, the Spark Marketer team has had a simplified documentation process. The company has a centralized knowledge base that all team members can access. Additionally, employee training is more seamless, meaning team members can execute their tasks without any challenges.
Conclusion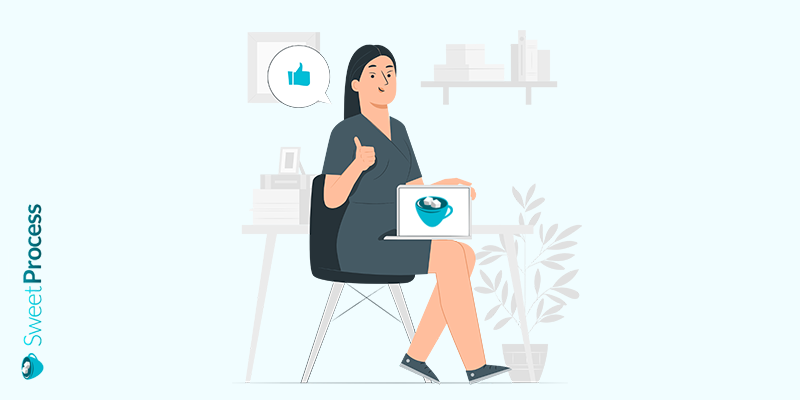 If your company is looking for a solution to streamline the documentation of SOPs, processes, and policies, you require a user-friendly, intuitive, and affordable tool. Upon evaluating CheckFlow and SweetProcess, the decision becomes clear.
SweetProcess emerges as the clear winner in this comparison. It presents itself as an outstanding option for those in need of a platform to document their standard operating procedures.
Why is it the superior choice? Well, it boasts a minimal learning curve, offers a transparent pricing model, and caters to the needs of both large and small businesses. Furthermore, you can receive excellent support whenever you encounter any problems.
Are you looking to start documenting your SOPs, processes, or policies from a centralized place? Then sign up for a free trial of SweetProcess today. No credit card is required.