TalentLMS vs. SweetProcess: A Deep Dive into Maximizing Efficiency in Documenting SOPs, Processes, and Policies
Last Updated on August 27, 2023 by Owen McGab Enaohwo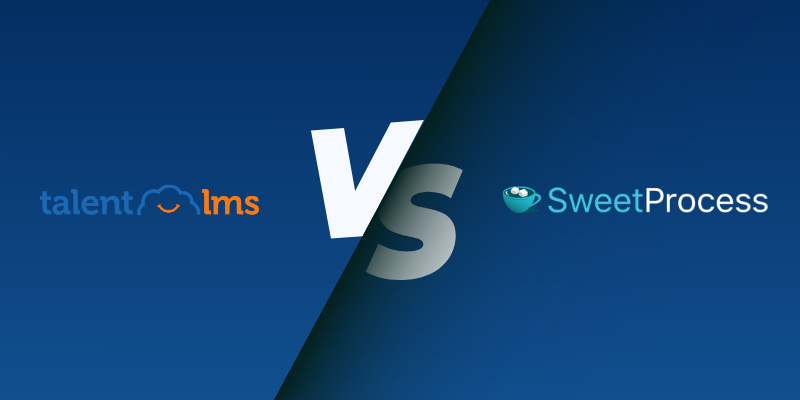 As a business owner, you know that documentation is an essential aspect of success in the corporate world.
According to a McKinsey report, employees spend 1.8 hours every day (9.3 hours per week, on average) searching and gathering information. Proper documentation helps reduce this time wastage and improves efficiency.
Also, companies that effectively share knowledge increase employees' productivity by 20% and company-wide sales by 37%.
Well-documented processes and procedures enable employees to quickly access the information they need, leading to increased productivity.
Proper documentation allows for the effective transfer of knowledge and expertise within an organization. It ensures that critical information is not lost when employees leave or transition to different roles, leading to better decision-making and overall organizational performance.
When it comes to managing and organizing important documents in an efficient and effective manner, many companies struggle to find the right solution.
TalentLMS and SweetProcess are top contenders in this space, each offering unique tools to enhance this crucial task.
This in-depth comparison will evaluate each platform's strengths, features, and potential advantages. It will offer you a clearer perspective on which might better meet your requirement for SOP, process, and policy documentation.
This will also help you make informed decisions when determining which of these software solutions is most suitable for your own business.
If you can't wait to check out the features of SweetProcess and how it can help your organization, then go ahead and take advantage of the 14-day FREE trial now.
Table of Contents
Chapter 1: TalentLMS vs. SweetProcess: Features at a Glance
Chapter 2: TalentLMS vs. SweetProcess: Features Comparison Table
Chapter 3: TalentLMS vs. SweetProcess: Features
Chapter 4: TalentLMS vs. SweetProcess: Documenting Standard Operating Procedures (SOPs)
Chapter 5: TalentLMS vs. SweetProcess: Documenting Processes
Chapter 6: TalentLMS vs. SweetProcess: Documenting Policies
Chapter 7: TalentLMS vs. SweetProcess: Final Verdict
Chapter 8: How SweetProcess Can Help You With Documenting SOPs, Processes, and Policies
Chapter 1: TalentLMS vs. SweetProcess: Features at a Glance
Both TalentLMS and SweetProcess have a rich array of features to streamline your management and documentation procedures, yet each has unique strengths.
What is TalentLMS?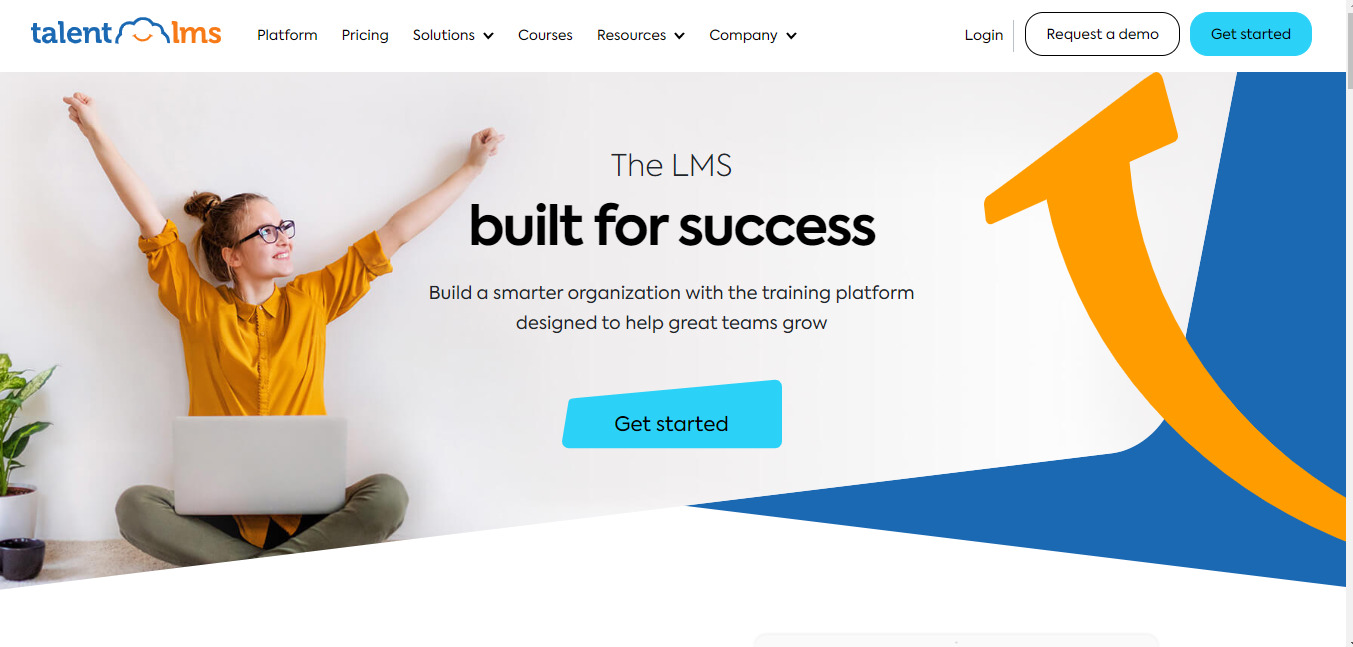 TalentLMS, at its core, is a cloud-based platform designed for crafting, managing, and distributing online learning courses.
While its main function lies in educational initiatives, it can be cleverly used to document processes and procedures, ensuring operational knowledge and consistency within an organization.
With TalentLMS, you can create detailed courses outlining your organization's processes and procedures.
You can incorporate multimedia elements into these courses such as videos, documents, and slideshows, giving employees a dynamic and engaging way to grasp and adhere to procedures.
Furthermore, TalentLMS offers tracking and reporting features, allowing you to monitor your team's progress. It helps you ensure that they have gone through and comprehended the procedures documented. Its solid assessment and quiz capabilities can be used to check for understanding and retention of information.
Though TalentLMS is not solely a process documentation tool, it presents a unique approach by combining process documentation with learning management. This makes it a potential asset for any organization looking to enhance the accessibility and understanding of its procedures and processes.
On the flip side, SweetProcess is a specialist tool to document, optimize, and track processes or procedures. It has features like process map creation, role assignment, dynamic due dates, and an embeddable widget.
What is SweetProcess?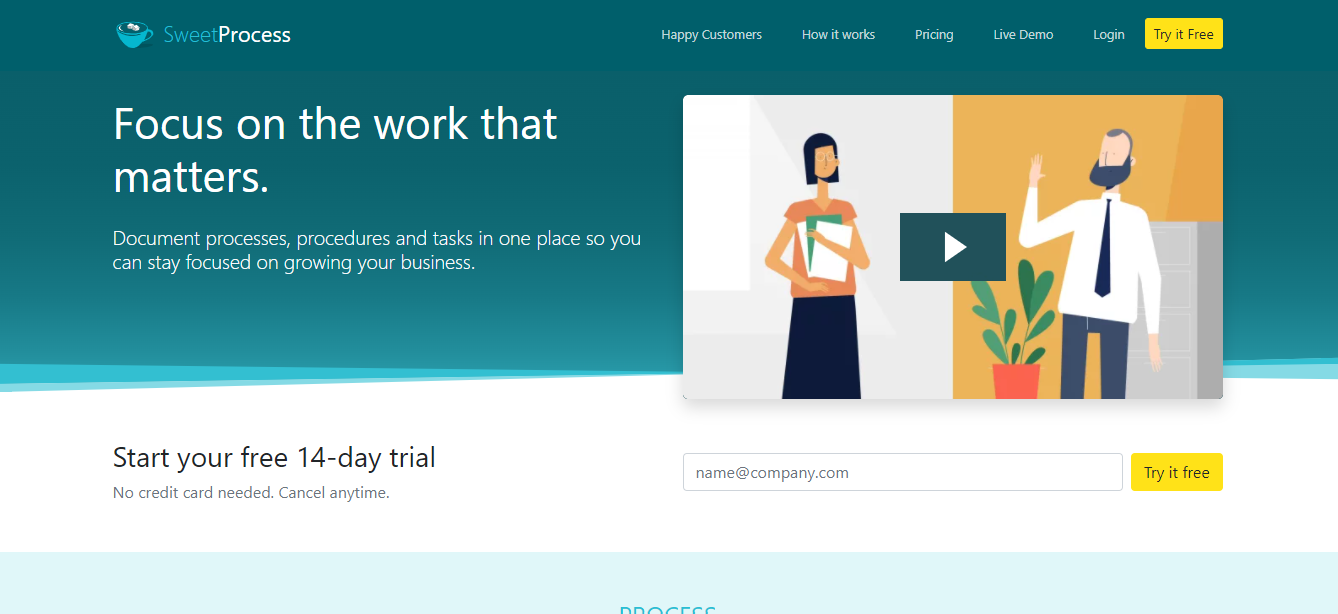 SweetProcess is an excellent tool designed for documenting procedures and processes, aiming to make business operations smoother and more uniform.
It has been purpose-built to manage and streamline standard operating procedures (SOPs), facilitate employee onboarding or training, and ensure uniformity across the company.
Using SweetProcess, you can craft detailed, visual, step-by-step guides for every process in your organization.
This is particularly handy for more complicated tasks, breaking them down into bite-sized steps that are simple to follow and carry out.
Beyond just documentation, SweetProcess offers an impressive suite of tools for process management and optimization. It provides features that let you assign tasks and monitor their completion, promoting responsibility and productivity.
Adding to its capabilities, SweetProcess also integrates with over a thousand third-party apps. This allows you to sync your documented processes and procedures across different platforms, ensuring a cohesive workflow.
A significant advantage of SweetProcess is its emphasis on teamwork. It enables team members to provide comments and suggestions on processes, fostering continuous improvement and revisions as necessary.
This collaborative approach can result in developing best-practice procedures, boosting productivity, and minimizing errors.
SweetProcess is a comprehensive, easy-to-use tool for documenting, managing, and enhancing business processes and procedures. Its primary aim is to boost efficiency and standardize operations throughout an organization.
Now let's take a closer look at each of these tools and see what features you can explore to make your processes and documentation better.
Chapter 2: TalentLMS vs. SweetProcess: Features Comparison Table
Before diving deep into the primary features, here's a quick overview of the features each process management software offers.
| | | |
| --- | --- | --- |
| Features | TalentLMS | SweetProcess |
| Workflow Configuration | ✔️ | ✔️ |
| Assign and Track Tasks | ✔️ | ✔️ |
| Offline Desktop Version | ✔️ | ❌ |
| Mobile Version (Android and iOS) | ✔️ | ✔️ |
| Inbuilt Form Builder | ❌ | ✔️ |
| Cloud, SaaS, Web-Based | ✔️ | ✔️ |
| Integrate with 3rd Party Apps (1,000+) | ✔️ | ✔️ |
| Embed Videos and Files | ✔️ | ✔️ |
| Process Automation | ✔️ | ✔️ |
| SOP Template | ❌ | ✔️ |
| Version History | ✔️ | ✔️ |
| Inbuilt Image Editor | ❌ | ✔️ |
| 24/7 Support | ✔️ | ✔️ |
| Free Trial | ✔️ | ✔️ |
| Process Maps | ✔️ | ✔️ |
| Dashboard | ✔️ | ✔️ |
| Task Permissions | ✔️ | ✔️ |
| Role Assignments | ✔️ | ✔️ |
| Secured With Two-Factor Authentication | ✔️ | ✔️ |
| Embed Widgets | ✔️ | ✔️ |
| Dynamic Due Dates | ✔️ | ✔️ |
| Average Customer Review on G2 | 4.6/5 | 4.3/5 |
| Pricing | $149/month for 20 users | $99/month for 20 users |
Please note that the presence of a checkmark (✔️) indicates the feature is offered by the respective software. The ❌ mark indicates the feature is unavailable or not specified.
Chapter 3: TalentLMS vs. SweetProcess: Features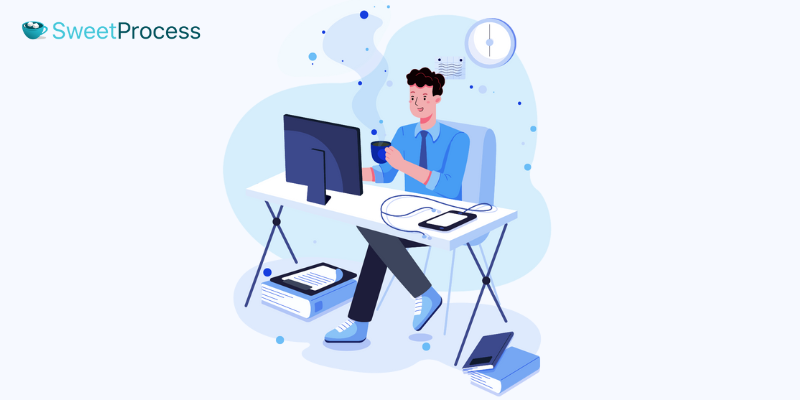 In this section, we'll cover the features available on each platform and how they can help to simplify your processes.
Both have options like courses, quizzes, certifications, and reports. TalentLMS has interactive features like chatbots and live webinars, while SweetProcess offers process automation tools for creating SOPs and documenting procedures.
Although TalentLMS primarily focuses on training and education, it also provides functionalities to document procedures or processes. Let's explore some of the key features of TalentLMS concerning documenting procedures or processes.
Notable Features of TalentLMS
TalentLMS is an online platform that offers a wide range of features to help facilitate learning and performance management.
Here are some of the most notable features that TalentLMS offers:
Course Creation: TalentLMS allows you to create courses that can serve as comprehensive guides for documenting procedures or processes. You can use various content types such as text, images, videos, presentations, and documents to explain the step-by-step procedures or processes effectively.
Multimedia Support: TalentLMS platform supports multimedia elements, enabling you to include visual aids, diagrams, infographics, and videos in your course content. This makes it easier to present complex procedures or processes in a visually engaging and easy-to-understand manner.
Assessments & Quizzes: To ensure understanding and knowledge retention, TalentLMS provides assessment tools such as quizzes and exams. You can include multiple-choice questions, fill-in-the-blanks, or even scenario-based questions to assess learners' understanding of documented procedures or processes.
Progress Tracking: TalentLMS offers comprehensive tracking and reporting capabilities, allowing you to monitor learners' progress in real time. You can track their completion rates, assessment scores, and overall performance. This feature helps ensure employees engage with the documented procedures or processes effectively.
Version Control: In a dynamic business environment, procedures or processes may change over time. TalentLMS provides version control functionality, allowing you to update and maintain different versions of the documented procedures or processes. This ensures that learners have access to the most up-to-date information.
Discussion Forums: TalentLMS includes discussion forums where learners can ask questions, seek clarifications, and share their experiences related to the documented procedures or processes. This fosters collaboration and knowledge sharing among employees, leading to a better understanding and application of documented information.
Notifications & Reminders: To ensure learners stay engaged and complete their training on time, TalentLMS offers automated notifications and reminders. This feature can inform employees about newly documented procedures or processes or remind them of upcoming training deadlines.
Mobile Accessibility: TalentLMS has a mobile-friendly interface and offers dedicated mobile apps for iOS and Android devices. This allows learners to access the documented procedures or processes from anywhere, anytime, making it convenient for employees who are frequently on the go.
Customizable User Interface: With TalentLMS, users can easily customize their user interface according to their preferences. This includes the ability to customize colors, fonts, and layouts. There are also options to add custom logos, backgrounds, and images.
Gamification: This feature allows users to add a gamified element to their courses. With this feature, users can create points, badges, and rewards for learners that help motivate them throughout the course.
Analytics & Reporting: TalentLMS provides robust analytics and reporting capabilities so that users can monitor learner progress and performance. This feature allows users to view detailed reports that can be used to optimize courses and ensure learners are getting the most out of their experience.
Customizable Certificates: With TalentLMS, users can create customizable certificates for their learners. These certificates can be customized with the organization's logo and other messaging to give learners a sense of accomplishment when they complete their course.
Overall, TalentLMS provides a robust platform for documenting procedures or processes by leveraging its course creation, multimedia support, assessment tools, progress tracking, version control, discussion forums, notifications, and mobile accessibility features.
With these capabilities, TalentLMS can effectively support organizations in creating and maintaining comprehensive and interactive resources for training and documenting procedures or processes.
Notable Features of SweetProcess
SweetProcess offers a range of notable features that make it a valuable cloud-based software for automating business operations. Some key points include:
Task Management: All tasks can be conveniently viewed in one place with detailed information such as due dates, priorities, and status. This helps you stay organized and focused on completing your tasks efficiently.
Version History: SweetProcess enables you to track changes to procedures or processes, ensuring you never lose sight of improvements. This feature is particularly useful for maintaining a record of modifications and their respective timestamps.
Time Tracking: SweetProcess allows you to monitor project timelines effectively through its time-tracking feature. You can easily visualize deadlines, identify tasks nearing completion, and promptly address overdue assignments. Additionally, the software provides insights into team members' progress and sends automated reminders as the due dates approach.
Duplication of Processes: One of the great advantages of SweetProcess is its ability to duplicate existing processes, procedures, or policies. This feature saves time and effort, especially when dealing with similar workflows, enabling you to streamline operations efficiently.
Gantt Chart: The software visually represents tasks through Gantt charts, facilitating better planning and progress monitoring. This feature enhances your ability to manage and optimize your work.
Customized Navigation: SweetProcess lets you personalize your dashboard by customizing the tabs according to your preferences. This way, you can conveniently access frequently used tabs while keeping less frequently accessed ones hidden under the "More" tab, ensuring an intuitive and tailored user experience.
In-built Calendar: The built-in calendar feature overviews all upcoming tasks. It also enables you to create or modify new tasks seamlessly, further enhancing your organizational capabilities.
Online Accessibility: SweetProcess is a cloud-based platform that grants you online access to your team and projects. With a computer and an internet connection, you can efficiently manage and collaborate on tasks regardless of your location.
Process Mapping: Visualizing your business processes becomes effortless with SweetProcess's process mapping functionality. It enables you to gain insights into interdepartmental workflows, fostering identifying areas for improvement and optimization.
Reports Generation: SweetProcess offers a variety of reports, including task completion, employee productivity, and project status. These reports provide valuable data for tracking progress and making informed decisions, contributing to overall business success.
Knowledge Base Creation: SweetProcess enables you to create private knowledge bases for your team, fostering seamless information sharing and maintaining alignment. Furthermore, you can choose to make your knowledge base public, allowing external access for customer or client support purposes.
Support Channels: SweetProcess provides reliable phone and email support, ensuring prompt resolution of any user issues or inquiries. This feature ensures that you receive the assistance you need whenever required.
Embedding Files and Videos: SweetProcess allows you to embed files and videos within your procedures or processes, enhancing engagement and facilitating easy comprehension for team members. This feature promotes efficient knowledge transfer and training.
Team Management: With SweetProcess, you can add team members and assign them specific roles. This feature enhances team management, task delegation, and accountability, ultimately boosting productivity.
Two-Factor Authentication: SweetProcess offers an added layer of security through two-factor authentication. This feature minimizes the risk of unauthorized access to your account and ensures the safety of your valuable data.
Offline Viewing: SweetProcess enables you to print your documents for offline viewing. This feature is especially beneficial if you prefer having physical copies of procedures or processes while retaining the flexibility to work offline.
SweetProcess prioritizes user-friendliness and offers a free trial, allowing businesses to experience its benefits before committing to a subscription.
The software undergoes constant updates and improvements, and the dedicated customer support team ensures a seamless use of the platform.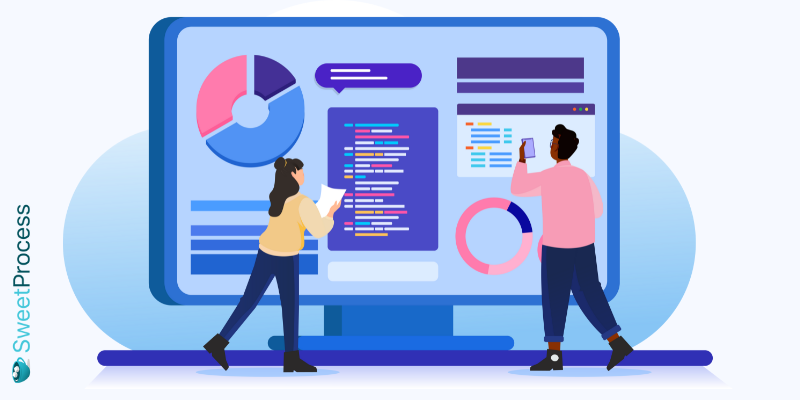 TalentLMS vs. SweetProcess: Ease of Use
When it comes to ease of use, both TalentLMS and SweetProcess offer intuitive and straightforward user interfaces.
Signing up for TalentLMS is a straightforward process. As a new user, you can easily create an account by providing your basic information such as name, email address, username, and password.
The platform guides users through the necessary steps, ensuring a seamless signup experience. After completing the signup form, you will receive a confirmation email to verify your account and can then proceed to explore the features offered by TalentLMS.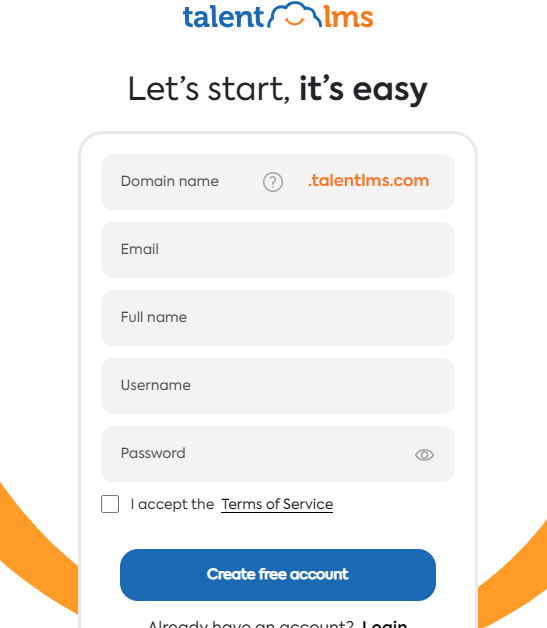 Upon logging into your account, you are presented with a clean dashboard that provides access to various features and functionalities. The main navigation menu is well-organized, allowing you to navigate between key sections such as courses, users, reports, and settings effortlessly.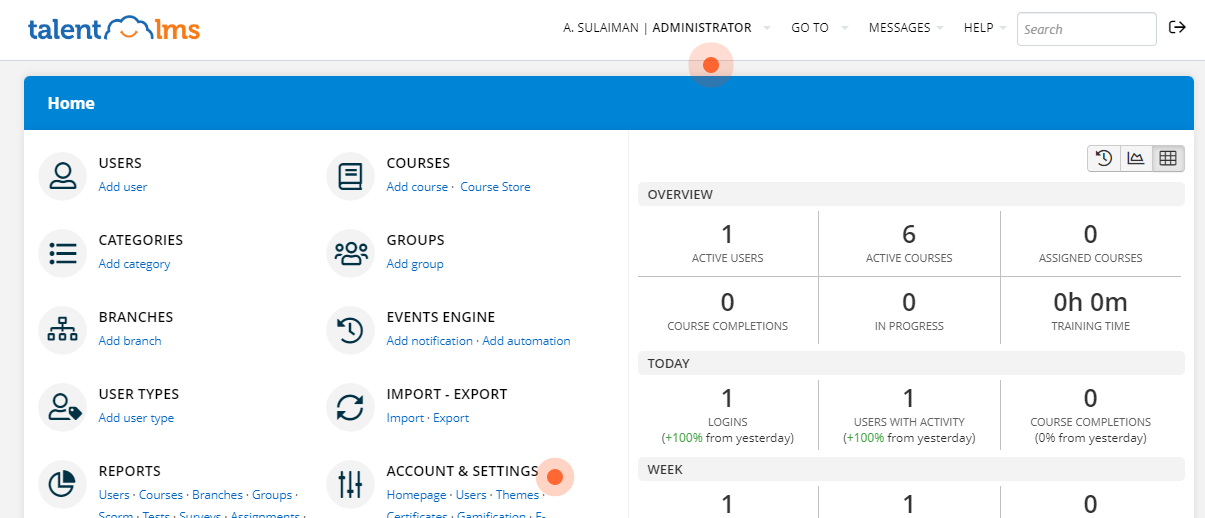 On the flip side, SweetProcess offers a drag-and-drop interface that simplifies the creation and implementation of standard operating procedures (SOPs), policies, and processes. With its built-in approval workflow, you can effortlessly have all modifications thoroughly reviewed and approved by the appropriate team members.
Want to give it a try? Hit the yellow "Try it Free" button to get instant access and sign up for the platform.
And guess what?
You don't even need to provide your credit card details to enjoy the 14-day free trial.

Once you've clicked that button, you'll be taken to the sign-up page where you'll fill in your details, create a password, and agree to the terms and conditions.
That's it, and you're in!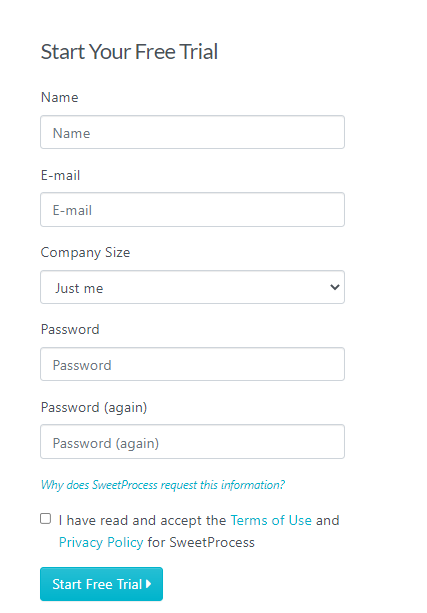 Signing up for SweetProcess is as seamless as using TalentLMS. Plus SweetProcess grants you immediate and full access to explore and test out all of its remarkable features.
SweetProcess also offers training and support resources, ensuring that both you and your team are well-versed in the latest features. So whether you're aiming to boost efficiency or adhere to policies and processes, SweetProcess is the ultimate solution.
Curious to see for yourself? Dive in and take advantage of the 14-day FREE trial right here.
Once logged in, users are greeted by a well-designed dashboard that serves as a central hub for accessing different areas of the platform. The navigation menu, prominently displayed on the side, provides quick access to essential features such as tasks, processes, reports, and settings.
TalentLMS vs. SweetProcess: Customization Options
When it comes to customization options, the battle between TalentLMS and SweetProcess certainly is worth delving into.
TalentLMS stands out with its capacity to offer a flexible and adaptable learning environment, empowering you as a user to tailor the course content, interface, learning paths, and even reports to suit your specific needs.
Its robust set of features allows for a dynamic Learning Management System (LMS) experience, with customized branding capabilities that offer the advantage of maintaining a consistent company identity.
On the other hand, SweetProcess shines in process documentation and management. It allows you to create, customize, and automate company procedures with a high level of detailing, streamlining work processes, and boosting efficiency.
While its customization scope might not be as broad as TalentLMS in terms of learning management, it certainly holds its ground when it comes to customizing workflows and processes, making it a unique and powerful tool in its niche.
TalentLMS vs. SweetProcess: Integration
When it comes to integrating with third-party apps, TalentLMS and SweetProcess shine as two powerful contenders in the eLearning and business process documentation domains.
TalentLMS impresses with its seamless integration capabilities, allowing you to effortlessly connect your learning management system with a wide range of popular apps.
From customer relationship management tools to video conferencing platforms, TalentLMS ensures a smooth workflow by consolidating data and streamlining processes.
On the other hand, SweetProcess takes integration to a whole new level with its versatile API, empowering businesses to automate and integrate their standard operating procedures with an array of over 1,000 external applications. Whether syncing project management software or triggering actions in customer support tools, SweetProcess lets you build an interconnected ecosystem that maximizes productivity.
TalentLMS vs. SweetProcess: Support & Training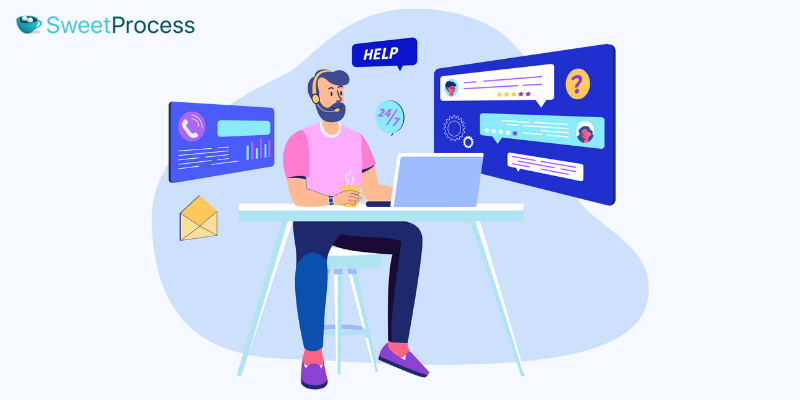 Both TalentLMS and SweetProcess go above and beyond to ensure users receive exceptional assistance and guidance. TalentLMS prides itself on its comprehensive support options, offering 24/7 access to extensive documentation and contact across major social media platforms and email.
SweetProcess takes a hands-on approach to support, offering email support along with an extensive knowledge base filled with helpful articles and video tutorials. The training materials are designed to be intuitive and user-friendly, allowing even beginners to quickly grasp the platform's functionalities.
There is also support access to a strong social media presence on Twitter, Facebook, and LinkedIn, so you can reach out easily.
Whether you choose TalentLMS or SweetProcess, you can rest assured knowing that the support and training resources will empower you to make the most of your learning management or process documentation needs.
TalentLMS vs. SweetProcess: Reviews
When it comes to choosing the right platform for your team's learning and process documentation needs, two popular contenders that often come up are TalentLMS and SweetProcess.
Let's take a look at what users have to say about both platforms starting with TalentLMS.
Users praise TalentLMS for its user-friendly interface, robust features, and excellent customer support.
However, one user complained about the text editor of TalentLMS and said, "The content editor is not very flexible," which means you need to create and edit your text elsewhere before uploading.
Another user commented about the price point, saying, "The basic plan price is a little bit too high in relation to the number of allowed users"
There was also a complaint about the interface, and yet another user said, "The home page cannot be fully customized, only inbuilt styles and colors may be used. Branches are a little complicated to use at first."
The issues stated above, thankfully, do not exist with SweetProcess.
Users commend SweetProcess's intuitive design, customizable workflows, and ease of collaboration. With such stellar reviews for both platforms, the choice ultimately boils down to your specific requirements and preferences.
Another user commended the automatic notification accompanying each task, along with reminders about due dates to team members. This will help you keep track of close deadlines and improve productivity.
However, if documenting your processes or creating SOPs is one of your goals, then gravitating toward SweetProcess is a better choice.
So weigh the pros and cons, and make an informed decision to elevate your team's learning and process management.
One way to get a feel of the platform is by signing up for the 14-day FREE trial on SweetProcess to get started.
TalentLMS vs. SweetProcess: Pricing
When choosing the right learning management system (LMS) for your organization, understanding the pricing options can make a significant difference. TalentLMS and SweetProcess are two leading platforms that offer unique features and flexible pricing plans. Let's explore their pricing structures to help you make an informed decision.
TalentLMS offers a range of packages tailored to meet diverse needs:
Free Plan: Ideal for small teams and startups, allowing up to 5 users.
Starter Plan: Priced at $69/month, it supports up to 40 users.
Basic Plan: At $149/month, it offers features like unlimited courses and custom branding for up to 100 users.
Plus Plan: Priced at $279/month, it includes advanced features like custom reports and integrations for up to 500 users.
Premium Plan: This package costs $459/month and supports up to 1,000 users, with additional features like automation and eCommerce functionality.
Enterprise Plan: Designed for large organizations, it offers custom pricing and includes personalized support, advanced security, and tailored features.
SweetProcess provides comprehensive process documentation solutions with the following pricing options:
Free trial for up to 14 days with access to all features to get you started.
A single plan priced at $99/month (or $84.50 billed annually), it allows for up to 20 users and offers advanced features like role-based permissions and team collaboration.
Additional $5/month for every new user added.
Both TalentLMS and SweetProcess offer flexible pricing plans to cater to organizations of various sizes.
Assessing your requirements and budget will help you choose the package that best aligns with your needs, ensuring a seamless learning or process documentation experience for your team.
However, the pricing structure of SweetProcess is more economical and still encompasses the full features and requirements to make your team more productive with well-documented SOPs, procedures, and processes.
Again, growth is inevitable for successful organizations, and as you grow, you will need a platform that will accommodate such growth without breaking the bank. For this purpose, SweetProcess again wins this round!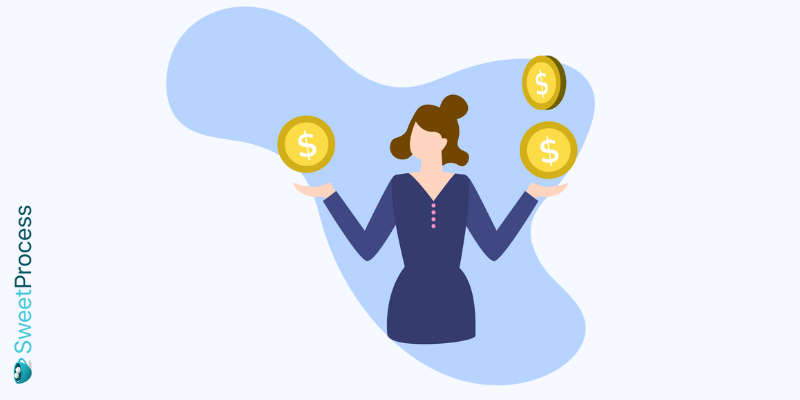 Chapter 4: TalentLMS vs. SweetProcess: Documenting Standard Operating Procedures (SOPs)
SOPs are very important for maintaining a high level of standard and productivity. Having your SOP created on the right platform will help your team use it to achieve their goal with more accuracy.
Here's How to Document SOPs Using TalentLMS
After you have signed up on the platform, you will be taken to a central dashboard. Here you can alternate roles as an "Administrator," "Instructor," or "Learner." You can then proceed to create your SOP as an administrator.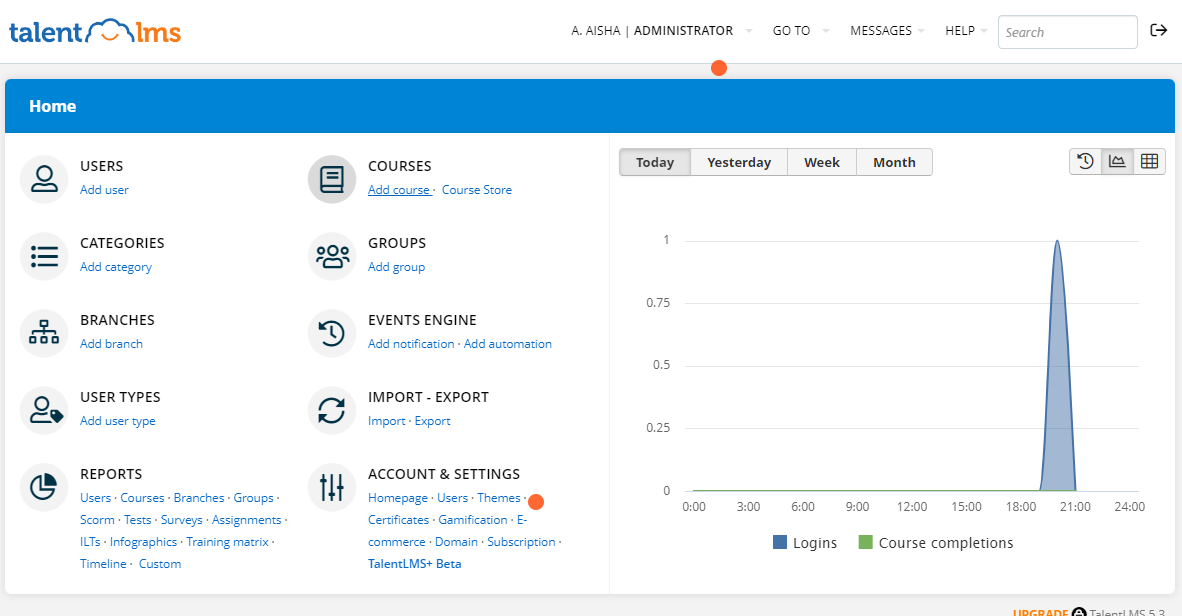 Steps for creating an SOP with TalentLMS can be broken down as follows:
Create a course in TalentLMS and specify it as an SOP (standard operating procedure) by selecting the "Add Course" option under the "COURSES" icon.
Ensure that you name the course as the SOP title and add a description.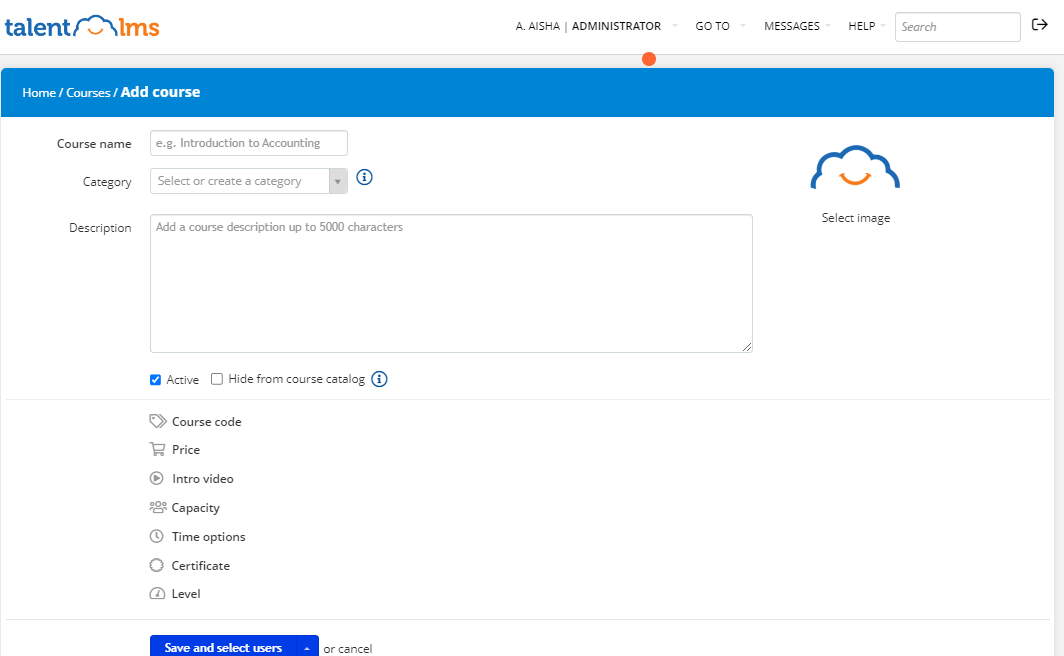 Add content to the course (which is your SOP), such as step-by-step instructions, videos, images, and other relevant information. Publish the SOP and make it available for employees to view.
Next, you can create assessments to test user understanding of the SOPs and assign the course to employees or groups of users and monitor their progress.
You can also provide feedback as needed, adjust the content, and update assessments if necessary. There is a tracker that allows you to track employee performance on their respective SOPs, and identify areas of potential improvement.
Here's How to Document SOPs Using SweetProcess
SweetProcess is a platform that lets you document standard operating procedures (SOP). You can use it to make a new SOP, use one of the existing templates on the platform, or upload your template.
Once you sign up, go to the "Procedures" tab and click "Create Procedure" to get started.

Next, you need to name the procedure and give it a title, then add it to a folder where you can save it.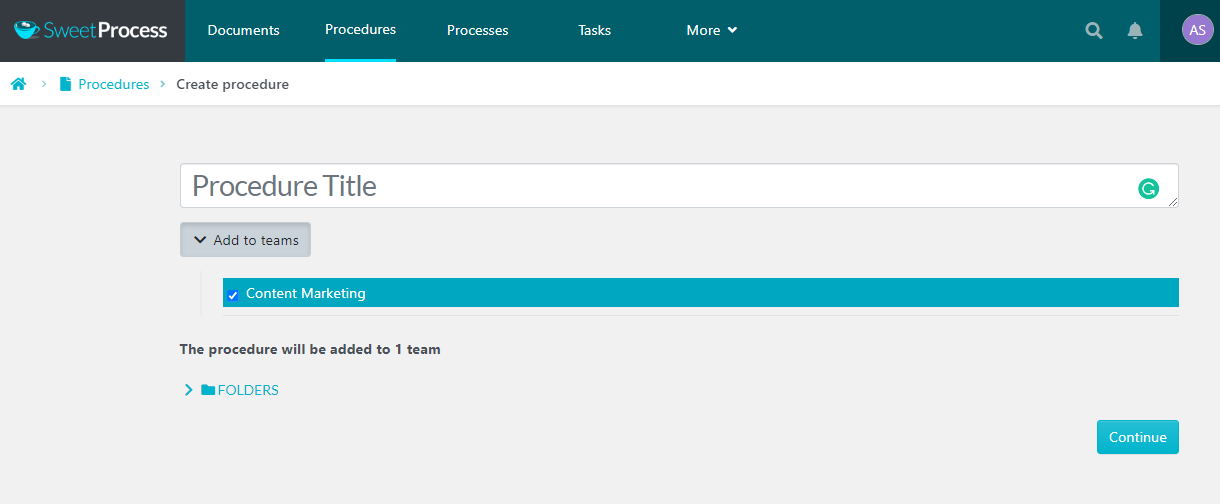 Once you have added the title, click on "Continue" to save it. At this point, you can proceed to edit the procedure created based on your requirements. There is also a feature that allows you to assign team members to a particular procedure. After you hit "Publish," each team member added will receive a notification and then they can easily view the procedure from their end.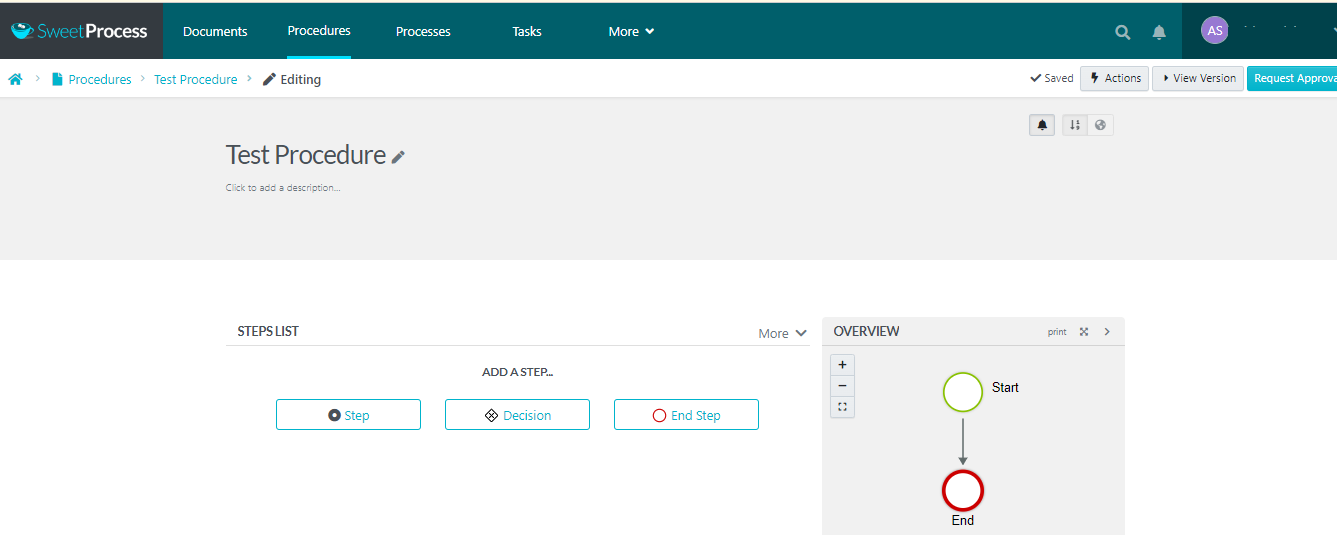 There is an overview of the procedure being generated as you edit the procedure.
SweetProcess is helpful for team leaders because it gives detailed instructions on how to create SOPs. TalentLMS has a good way of organizing things, but it isn't designed specifically for SOP creation.
Chapter 5: TalentLMS vs. SweetProcess: Documenting Processes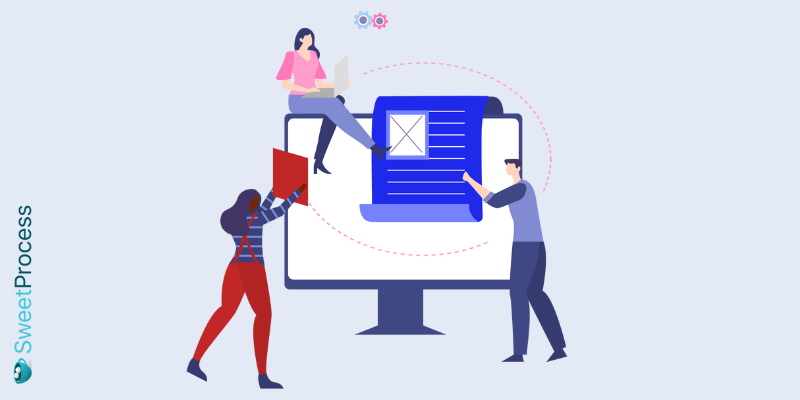 Documenting processes ensures that every team member carries out a particular task in the same way to achieve a similar or the same result. A process should therefore be well laid out and easy to follow.
Here's How to Create/Document Processes Using TalentLMS
TalentLMS can be used for documenting processes using the same process and steps stated for creating an SOP above.
The platform is designed as a learning management system, so only the course addition is available for documenting processes as well.
Again you would need to "Create Course" and name the process you want to add.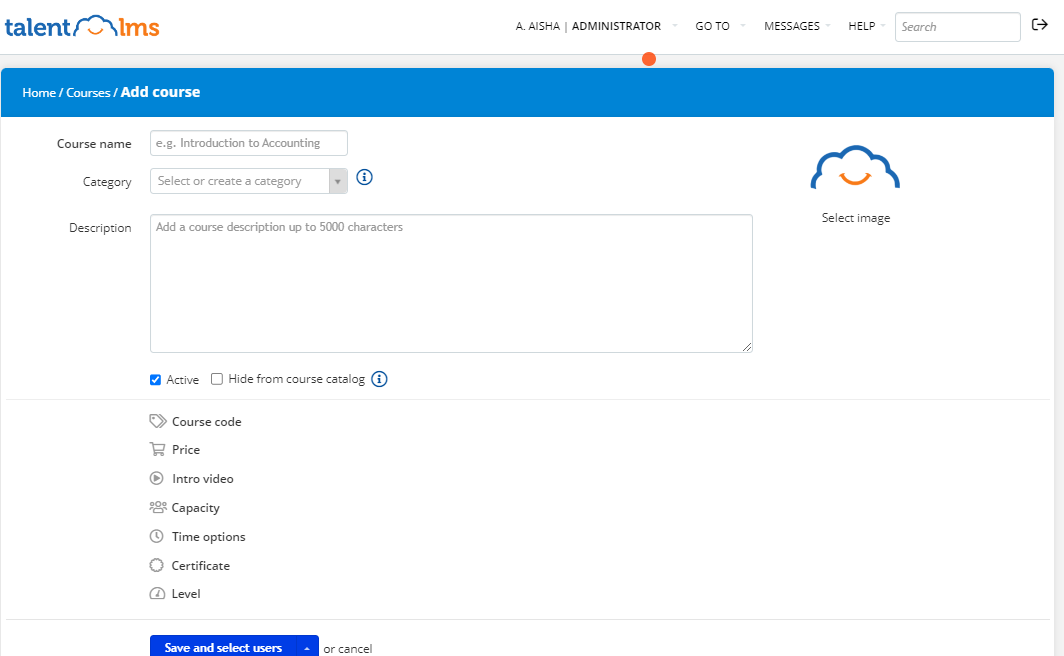 Once done you can add other supporting materials such as videos, text, or images.
Once published, you can assign it to the team members concerned.
Here's How to Document Processes Using SweetProcess
After signing up you can get started from your dashboard interface. Head over to the "Processes" tab then create a new "Process." You have the option of selecting existing templates. You also have the option to upload your existing process.

The next step is to name the process and give it a title. This will help you identify and file the process in question properly.
After adding the title, you can start editing and adding the steps involved. You can also add team members and assign tasks associated with the steps.

Again, SweetProcess makes the creation and documentation of processes seamless. There is no steep learning curve and users can sign up and dive straight in.
Are you ready to test run your process creation or documentation on SweetProcess?
You can get started by taking advantage of the 14-day FREE trial now!
Chapter 6: TalentLMS vs. SweetProcess: Documenting Policies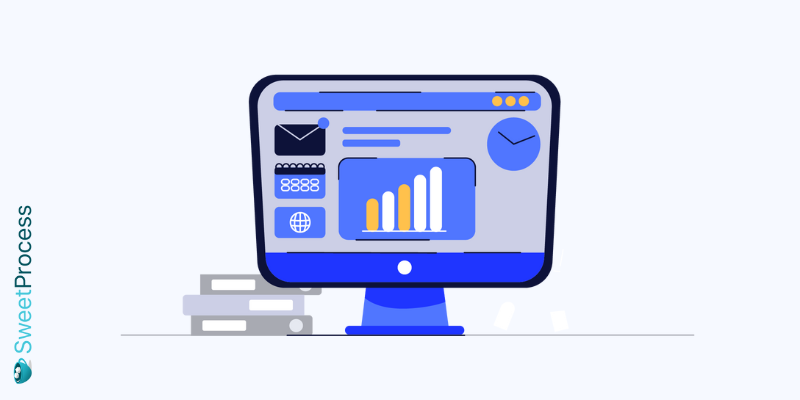 Documenting policies is yet another important aspect of running a successful business. When you have the right policies in place, you want all team members to be acquainted with these policies.
You can document your policies and have them on either of the two platforms.
Here's How to Create a Policy Using TalentLMS
TalentLMS is not specifically designed for policy documentation, but you can still use the course creation feature to achieve this.
To get started, you again need to sign up where you will be taken to the dashboard.
From the dashboard, you'll need to select the "COURSES" icon to create or add the policy.
Next, click "Add Course" and fill out the necessary details for the policy.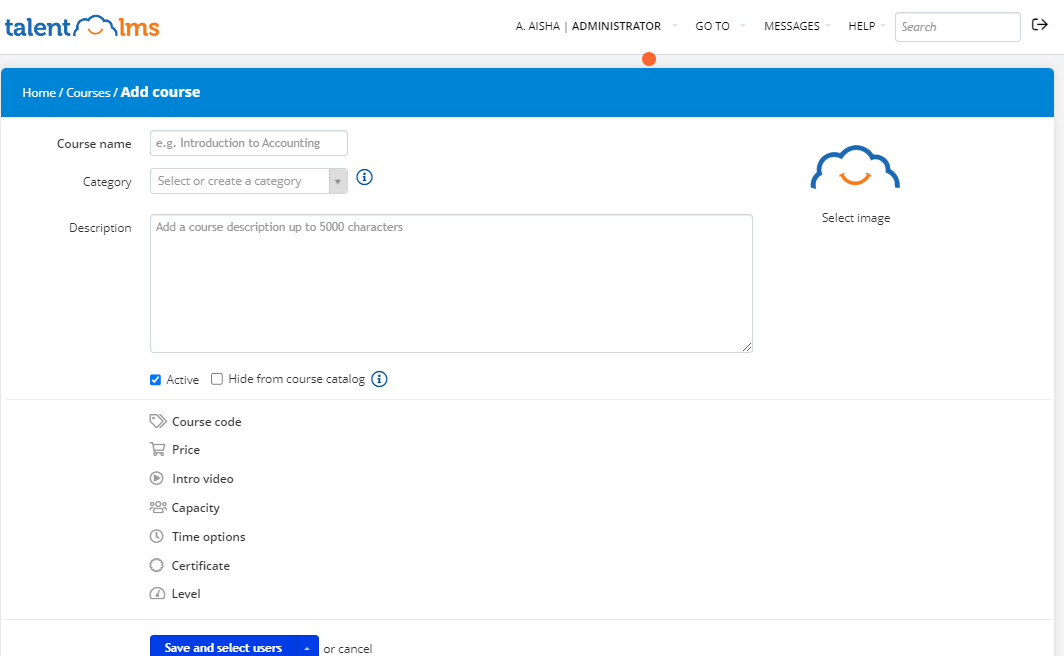 Save and add other supporting media or content, then publish and share with relevant team members.
Here's How to Create a Policy Using SweetProcess
You can create a policy document easily with SweetProcess by simply clicking on the policy tab located on your dashboard.

After selecting the "Policy" tab, you can give the policy you want to create a title.

Next, create the policy, add it to your chosen folder, then assign it to the relevant team members required to work with the policy.

After you have completed the policy, you can publish it and a notification will be sent automatically to all team members added.
Creating policies has never been easier with SweetProcess. With the convenient team management add-on, you can ensure everyone is included in the process.
Plus, you can easily share, edit, and download your policies anytime from SweetProcess.
Start your policy creation or documentation now with a 14-day FREE trial here.
Chapter 7: TalentLMS vs. SweetProcess: Final Verdict
When it comes to creating and documenting processes, you want a tool that gives you something effective that you can trust.
That's why after taking a close look at both TalentLMS and SweetProcess, the final verdict is clear: SweetProcess takes the crown.
Don't get us wrong: TalentLMS has some great features, but it falls short in comparison to SweetProcess's simple and easy-to-use interface as well as ready-made templates.
With SweetProcess, you'll be able to create professional-looking SOPs and document your organization's processes effortlessly, the perfect blend of simplicity and effectiveness that will make you more productive.
So, if you want to increase your productivity and optimize processes, there's no better choice than SweetProcess.
You can try out SweetProcess using the 14-day FREE trial here.
Chapter 8: How SweetProcess Can Help You With Documenting SOPs, Processes, and Policies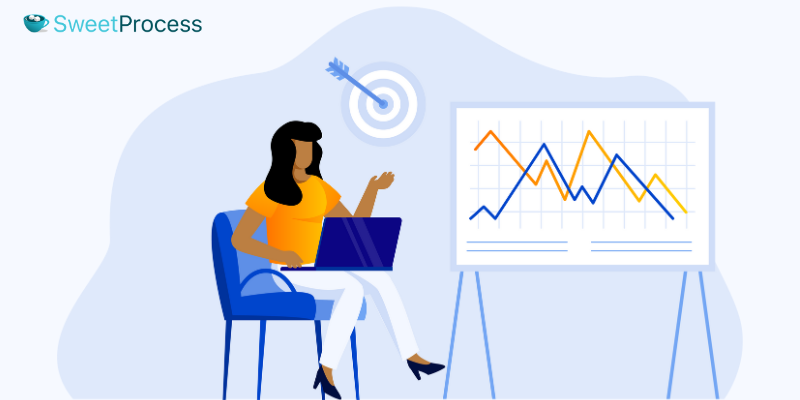 Several businesses have been using SweetProcess to help them improve their processes, from taking advantage of the features on the platform to using existing templates and to making the documentation process seamless.
Here's how businesses have been impacted positively by using SweetProcess:
Stone & Wood was a small, family-run business that had been struggling to make ends meet. For years, they had tried to keep up with the ever-changing market but were unable to stay ahead of the competition. With each passing day, their revenue figures continued to dwindle and their profits began to suffer.
After hearing about the company's plight, SweetProcess offered them an innovative platform that promised to restructure their operations and turn around their failing business performance.
Desperate for help, Stone & Wood agreed and almost immediately saw results from using this new system.
It allowed them greater visibility into all areas of their operations as well as streamlined processes that made it easier than ever before for employees to understand what needed doing and how best to do it. Their customer service improved drastically too as everyone now had clear instructions on how best to serve clients who contacted them in need of assistance or advice.
With more people being able to use the system without any confusion or delays, Stone & Wood started seeing significant improvements in productivity levels across various departments.
This resulted in higher output rates at lower costs—something that would have previously been impossible for such a small operation like theirs.
ShipCalm, the leading shipping and logistics provider in the world, was also facing a problem that many growing businesses face.
As their customer base increased and demand for their services grew, they found themselves struggling to keep up with orders. It wasn't just about having enough staff on hand—their internal processes had become inefficient over time.
Ted Fogliani, CEO of ShipCalm, needed a way to streamline operations so they could continue providing excellent service without compromising quality or speed.
Then they embraced SweetProcess which enabled them to automate many of the mundane tasks associated with daily operations such as sorting customer data, tracking orders, and managing inventory levels.
Not only did this improve efficiency, but it also freed up employees' time allowing them to focus on more important tasks like creating new products or expanding marketing efforts—all while improving customer satisfaction.
With these changes in place, ShipCalm saw incredible results almost immediately: productivity rose significantly as the streamlined processes allowed them to handle more work while cutting out unnecessary steps.
Operational costs also decreased due to the improved accuracy of the team when dealing with customers' information. Finally, employee morale skyrocketed as those who were once bogged down by tedious manual labor now found themselves empowered through automation tools working smarter, not harder.
Thanks to SweetProcess's innovative platform, ShipCalm successfully overcame its growth pains enabling it to stay ahead in an ever-changing market landscape, proving that even established companies have plenty left to learn when it comes to technology solutions.
One great advantage of using SweetProcess is the fact that it caters to different niches and industries. As long as your business involves a series of processes or repetitive tasks, it can be streamlined with SweetProcess.
You can check out the platform by signing up for the 14-day FREE trial here (no credit card required).
Conclusion
When it comes to optimizing efficiency and putting in place documentation for SOPs, processes, and policies, you need a reliable platform that has proven itself worthy.
SweetProcess allows you to customize specific templates that can easily guide you through the entire process, meaning no more time wasted setting up documents from scratch.
What's more, with SweetProcess you can draw back data-driven insights which allow you to measure metrics such as compliance tracking and accurate communication of processes. That way, you can make sure that your team is always informed on current policy requirements.
With the information you have covering TalentLMS vs. SweetProcess, it is clear that SweetProcess offers a better solution for your process management and documentation. Head over to SweetProcess now and sign up for the 14-day FREE trial to experience it for yourself. Maximizing efficiency will never be easier!