Top 6 Tallyfy Alternatives for Workflow Management
Last Updated on January 19, 2023 by Owen McGab Enaohwo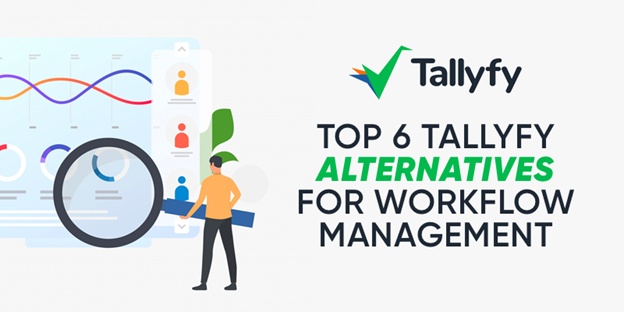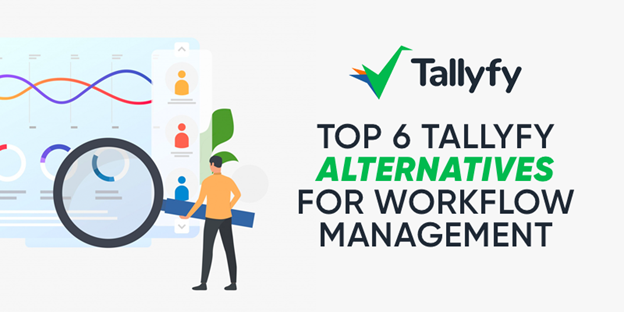 Tallyfy, a process management software, comes with limitations when documenting standard operating procedures (SOP) that you must have already encountered as a user. This setback can cost your business and result in dissatisfied clients. You may need a good Tallyfy alternative that improves the SOP documentation and helps you monitor your processes more effectively. A bad choice could reduce your productivity and result in wasted expenditure. We have outlined the best Tallyfy alternatives, their pricing, product features, pros and cons to help you make the best decision that will benefit you and your business.
Table of Contents
Chapter One: Introduction to Tallyfy
Chapter Two: Tallyfy Alternatives & Competitors
Chapter Three: How SweetProcess Can Make Your Workflow Management Seamless
Chapter One: Introduction to Tallyfy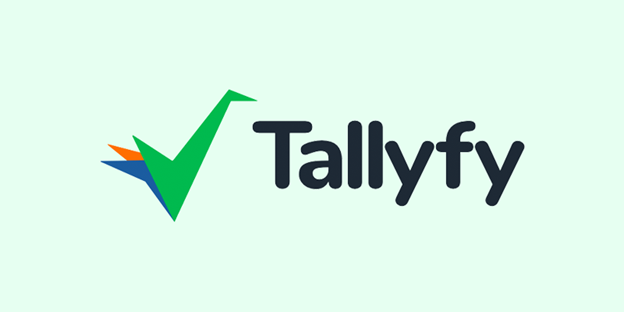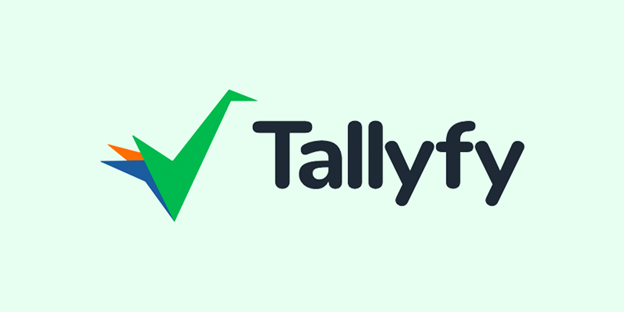 Tallyfy has developed a workflow application that makes it easier for groups to work together more successfully. Unfortunately, many reviewers found the software failed to improve documentation of standard operating procedures as efficiently as needed. If you're reading this, perhaps you've already tried Tallyfy and have become fed up with the continuous system delays and poor SOP documentation features. Keep reading to discover the Tallyfy alternatives you need to make a major transition for your company.
Cons of Tallyfy
No pre-built process automation templates.
Limited access to customization of the user dashboard.
Tallyfy doesn't do a good job of streamlining corporate operations by eliminating time-wasting or ineffective procedures, and automating routine clerical duties.
Failure to innovate and adapt to new processes. 
It doesn't help you monitor and enhance the effectiveness of your processes regularly.
Lack of an Eastern European presence for help desk services. Clients who live around the Eastern European countries have subsequently complained of troubles reaching the software's customer service. It is their belief that the software should make attempts at creating a help desk to attend to the issues of these users.
Tallyfy's Setbacks
According to some users, customization on the user dashboard is limited. For most users, flexibility is a huge factor to put into consideration. Most organizations take on multiple tasks that may require a different workflow system. Tallyfy doesn't allow users to customize the tools available on their dashboard to suit the task at hand. In addition, many users struggle with the fact that Tallyfly does not have pre-made templates.
It isn't suitable for handling all process management problems. Due to the rigid nature of Tallyfy, many clients encounter trouble using it for dynamic business processes. They require something that can be flexible enough to accommodate new task additions to make process management easier.
Lack of Automation Templates
The workflows on Tallyfy need to be built internally. The software doesn't have pre-built process automation templates for processes that will be used in different organizations. These issues mean more work overall.
Poor Process Management
Although Tallyfy provides options to monitor the progress of your tasks and processes, these options are rigid for the type of dynamic projects businesses undertake today.
With the help of a good Tallyfy alternative, you'll be able to monitor and enhance the effectiveness of your processes regularly.
Correcting Process Errors
Humans are prone to making mistakes. On Tallyfy, it is difficult to reverse and cover up mistakes created by team members and close-circle users. The dashboard is built to handle just one user per time.
With a good Tallyfy alternative, it's easy to streamline processes, keep track of progress in real-time, protect sensitive data, and get insights that help you make better business choices.
Chapter Two: Tallyfy Alternatives and Competitors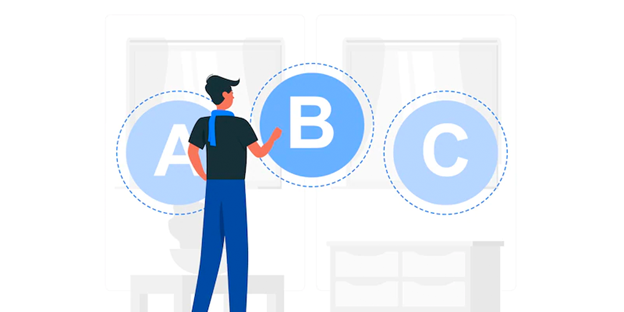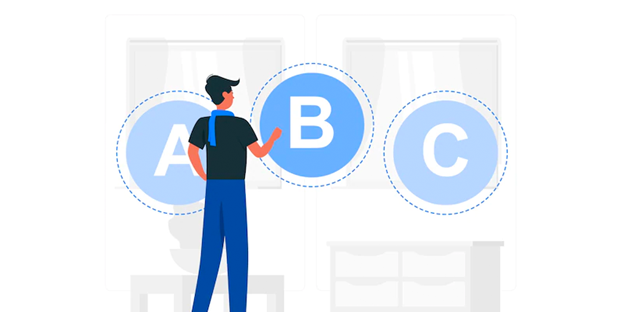 Users who seek additional features, or like to experiment with various options, might look for Tallyfy alternatives. When looking for a replacement for Tallyfy, business owners want dependability and simplicity of use. Our reviews include the Tallyfy alternatives: SweetProcess, Kissflow, Way We Do, Kintone, Process Street, and ProcessKit. Keep reading to find the ideal Tallyfy alternative for your company.
1. SweetProcess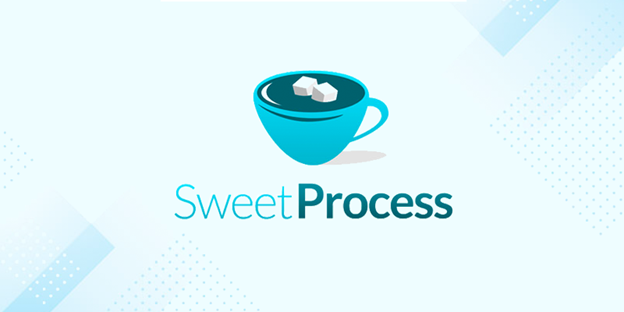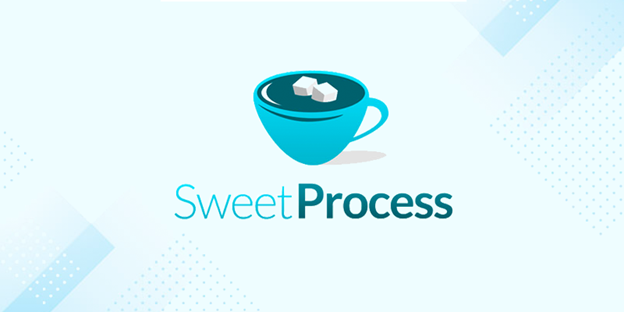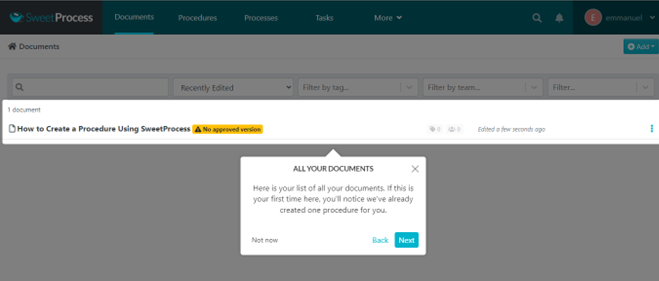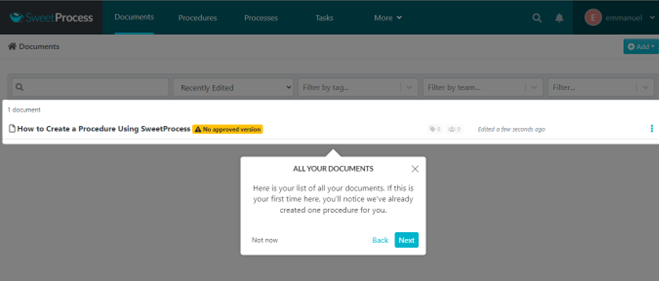 SweetProcess is an employee training software solution that implements standard operating procedures (SOP) documentation to enhance daily processes for businesses. The system actively documents and stores process workflows enabling proper management and supervision of staff activities.
Documentation is carried out using organized checklists. New workers can be brought up to speed on requirements of each process and follow suit. The software also monitors the compliance and progress of staff. Images and videos can be used to further explain tasks and processes.
Features
Displays all process tasks in a checklist format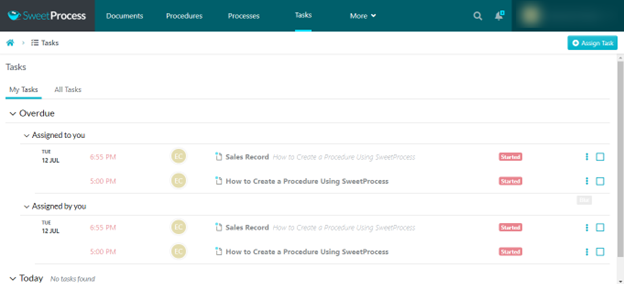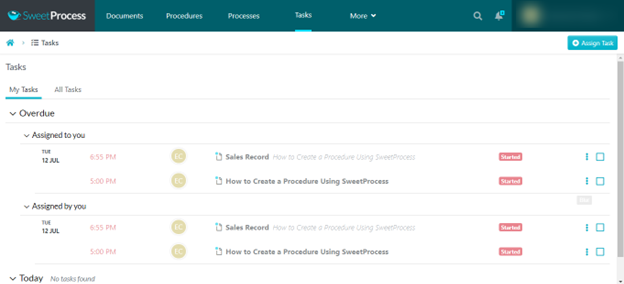 Users can deploy videos and images to help explain tasks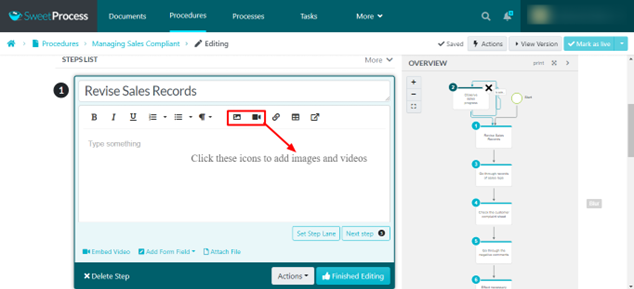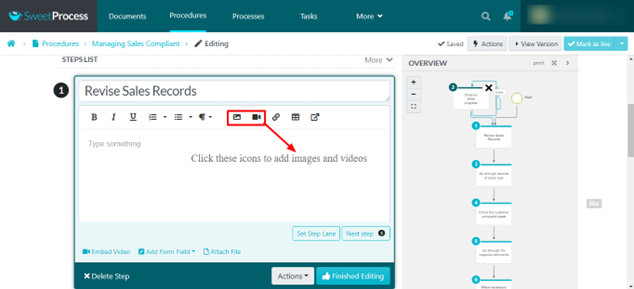 Standard operating procedures documentation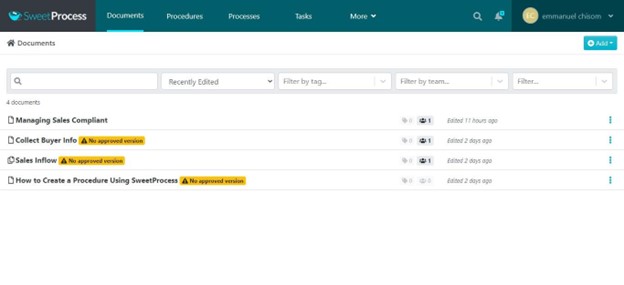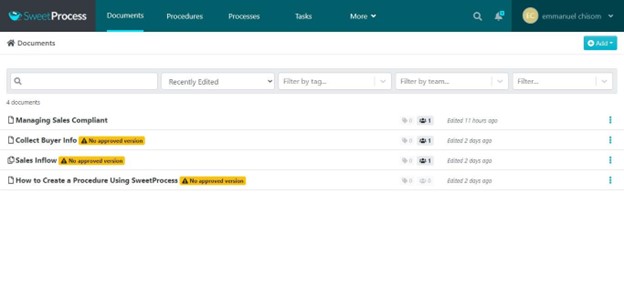 Designed to train new workers and track progress as a worker goes through a process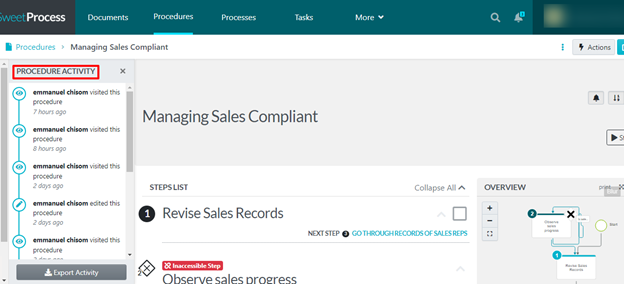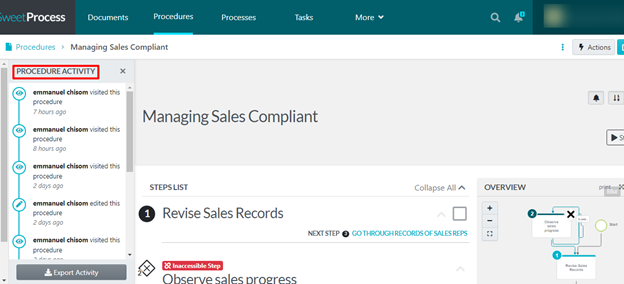 Comes with a mobile device user interface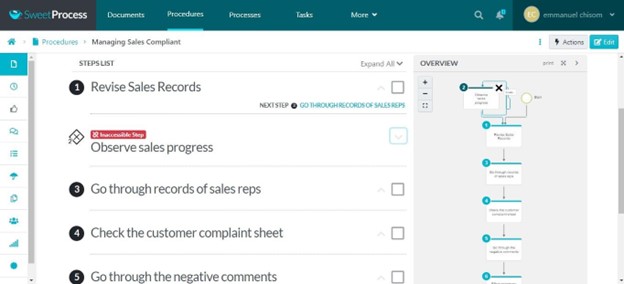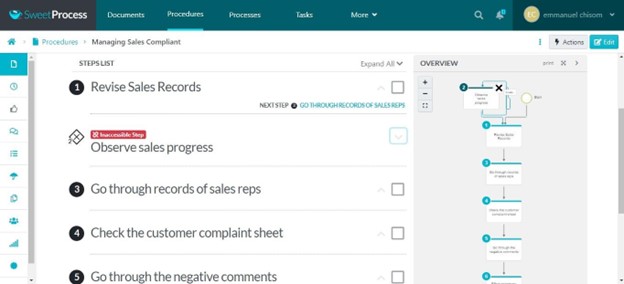 Identifies ways to streamline processes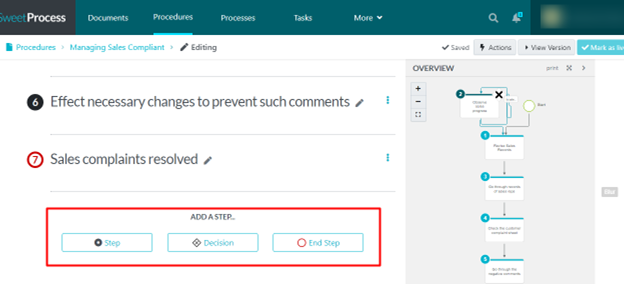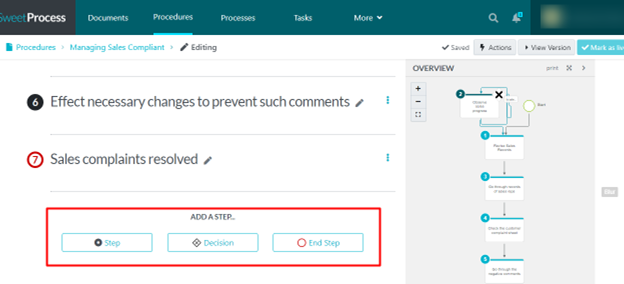 Technology
This SaaS software requires no additional hardware.
How to Use SweetProcess


Login and click the "Create Procedure" button.
Enter the title of the procedure.
Add the procedure to a team or multiple teams. Click on a checkbox to add the procedure to a team or on multiple checkboxes to add the procedure to multiple teams at the same time.
Click "Continue."
Click on the title of the procedure to add a description.
Enter some tags. By making use of a tag, you will be assigning an index keyword/phrase/term to a procedure so that it can be quickly identified.
Click on the "Add a Step" button to begin editing.
Give the step a title and description.
Add images to the step. Drag-and-drop images from your computer into the image-drop area.
Click on "Finished Editing" to save the draft of the step.
Click the "Add a Step" button to add a new step. Repeat steps 7, 8, 9 and 10 to enter and save the details of the new step.
Repeat step 11 until you have added all the steps you need to document the procedure.
Finished editing the draft of the procedure? Click the "Approve" button to make it the live version of the procedure.
All done? Click on "Procedures." This will take you back to the dashboard, where you can manage all of your procedures.
Documenting procedures: SweetProcess makes process documentation easy and less bugging. The user interface is easy to navigate and simple to use.
Master processes: With SweetProcess your organization can learn to develop and evolve its processes for better productivity.
Task management: SweetProcess offers you tools that ensure each task or activity is managed and given the required attention.
Knowledge base: SweetProcesss helps you develop a knowledge base for activities and processes. It helps you monitor and implement existing processes for new employees.
Implement policies: With SweetProcess, you share, create, and monitor each process so that all parties concerned follow the same procedure/policy.
Product Pricing
SweetProcess offers a 14-day free trial for new subscribers to get used to the benefits of the software.
Monthly: $99 per month for a team with up to 20 active members, and $5
per month for each additional active member.
Pros
Interface usability.
Good document sharing options.
Good notification features.
The SweetProcess layout is excellent.
It helps people follow up with interest promptly.
Excellent performance.
SweetProcess has a great customer support system.
It is capable of creating documents directly on the interface with useful and easy-to-use tools.
It provides tools that make training documents information-packed, visually appealing, and easy to navigate.
You can easily drag/drop items to rearrange them and add more steps to tasks and operations.
Customer Focus
SweetProcess aims to offer BPM solutions to companies, organizations, businesses, and mid-size, large, and multinational enterprises.
SweetProcess has worked with clients like Synergy Billing, VantageOne Credit Union, Implant & Periodontal Therapy, Sherman's, King Law, and Kintec Footwear and orthotics.
2. Kissflow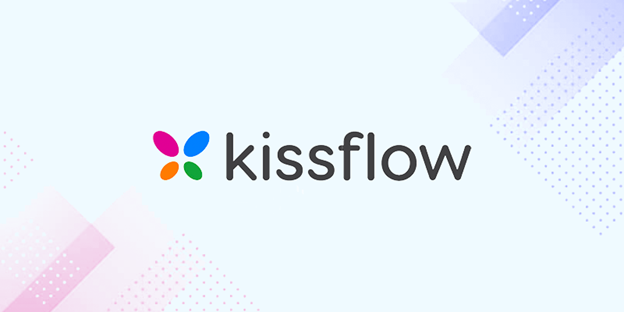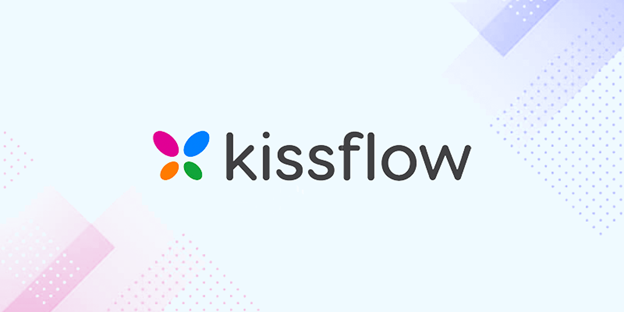 Kissflow is an excellent workflow and business process management tool. It provides a simple and intelligent approach to automating business processes and tracking performance.
Product Review
While working on distinct projects, the displays are highly user-friendly and offer an extremely easy online environment for setting. It gives users the ability to interact with their computer systems. Kissflow also has a wiki that is spontaneous and quite helpful.
Although it's a breeze to use, more features are required for full integration (like sync user, master). Long-term Kissflow users find it to be an excellent product with a wide range of customization options, and it has the ability to integrate with a variety of other applications, such as leave request, purchase request, and personal development request.
Unique Features
User management
Self assessment
Process/workflow automation
Goal setting/tracking
API
Access controls/permissions
Activity dashboard and tracking
Agile methodologies
Alerts/notifications
Approval process control
Approval workflow
How to Use Kissflow
A new process may be created depending on the permissions given by an account admin.
To create a new flow, click Create New on your homepage. Alternatively, you may explore all from the main navigation bar.
On the explore page, click Create New or Install a template to create or install a new document.
Click Create workflow, followed by Process under the Create From Scratch section. In the Install a Marketplace template section, you may also use one of the pre-made templates.
Provide the process's name. Optionally, you may include a description and category to help you manage and locate your procedure in the future.
Click the Create button.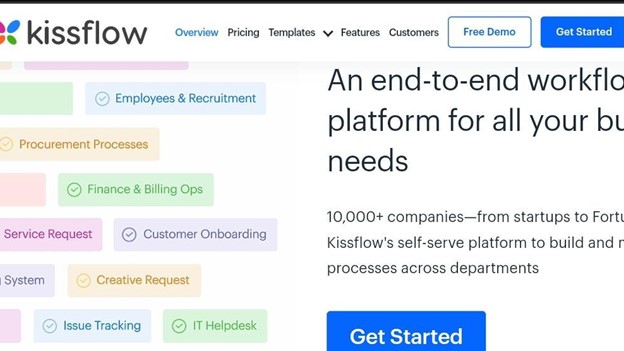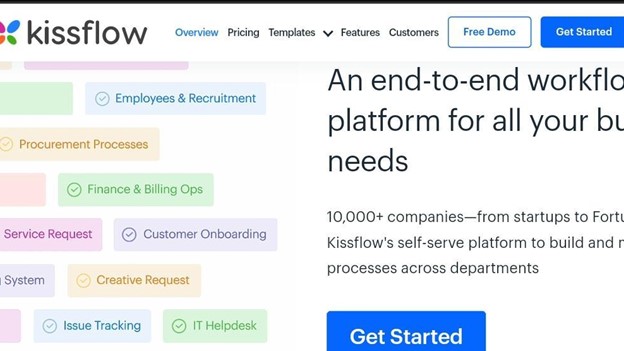 Pricing
Basic plan: This plan is suitable for small teams with a number of workflows and no-code digital transformations. It goes for a charge of $10 per user ($200/20 users) per month. Users are given a free trial version to see how well the plan suits them.
Advanced Plan: This plan is for businesses that aim at driving digital transformation with advanced workflow capabilities. It costs $9.90 per user ($495/50 users) monthly. Users are given a free trial version to see how well the plan suits them.
Fully Loaded Plan: This plan was developed for businesses in need of an integrated workflow that connects to customers, vendors, and partners. The plan goes for $19 per user ($1,900/100 users) every month.
Pros
Easy to use, quick to deploy, easy to generate apps and reports.
Personalized customization: You can design your own workflow by determining what information is required, who a ticket routes to, and who gives final approval.
Improved communication: You can interact with other concerned parties and teammates, easily answer questions, and deliver feedback throughout the entire process.
Access to lost files: With Kissflow, you can access your complete task history. If there's a file that you need from a past process (that perhaps you can't find on your own desktop), it's easy to find in Kissflow.
Cons
Average performance: In terms of interface and user-friendliness, it's somewhat average.
Return on investment: Somewhat expensive compared to other cheap (or free) task management alternatives. The ROI depends on the specific needs and the size of your organization.
Kissflow is primarily for internal purposes. A simple email thread could accomplish many of the same things, but with less efficiency.
The software is limited in aspects of functionality such as adding and clicking a hyperlink on a field.
User Satisfaction
Kissflow serves as a good Tallyfy alternative, helping you manage multiple business processes.
3. Way We Do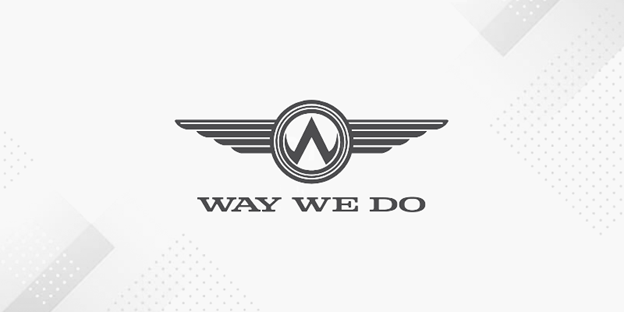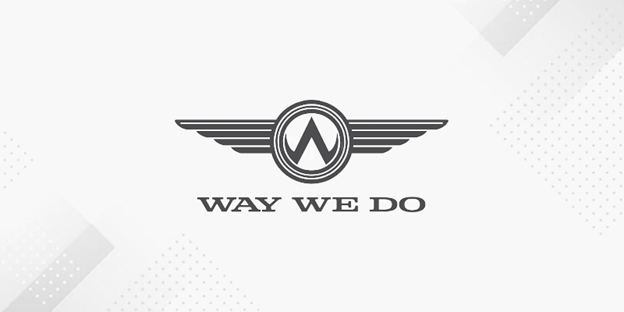 This is a cloud-based standard operating procedure that makes rules and procedures a natural part of the day-to-day workflow with software that helps you build, manage, and actively utilize a business operations manual. Business process management, information management, and regulatory compliance are all seamlessly integrated into their practical products. Team members can utilize procedures and follow processes from any place since managers give assignments, make automated reminders, and keep tabs on workflow.
Pricing Plan
Plans start at $25 per month for the first user, plus $8/month for each additional user. Discounted plans are available for 10+ users.
Features
Access controls/permissions
Ad hoc reporting
Archiving and retention
Audit management
Business process control
Cataloging/categorization
Collaboration tools
Compliance management
Content management
Environmental compliance
Franchise intranet
Full text search
Job scheduling
Process change tracking
Process modeling & designing
Secure data storage
Self-service portal
Task management
Version control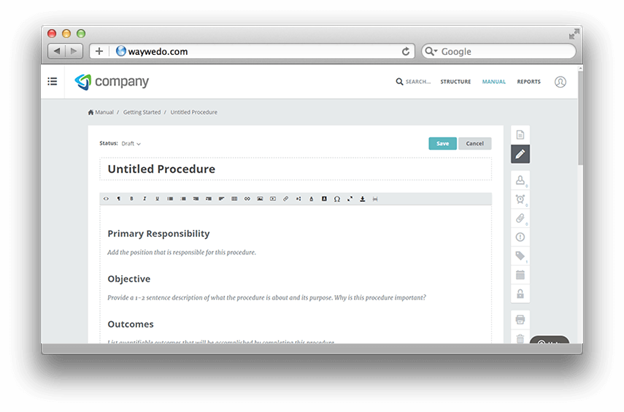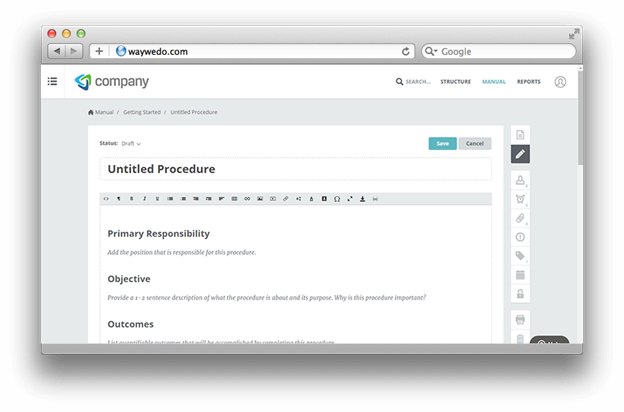 Pros
Add policies, procedures, training materials, and work instructions for teams to access from any location, at any time.
It provides activated checklists to help organizations ensure strict compliance and efficient monitoring of team workflow and progress.
Way We Do provides a thorough approach to authoring, planning, and using policies, procedures and processes within every department in the organization.
Users can use and customize pre-written procedures to create their operations manual, and insert their business name.
It is easy to use, can be set up quickly, and does a good job of keeping track of the individuals who have authorized rules and processes.
Way We Do helps businesses build a strong structure by providing valuable protection, information, and instruction for all members involved in the company.
Cons
The SOPs available for sale don't fit with most operations well enough for users to purchase them.
No acceptance function available for checklists.
4. Kintone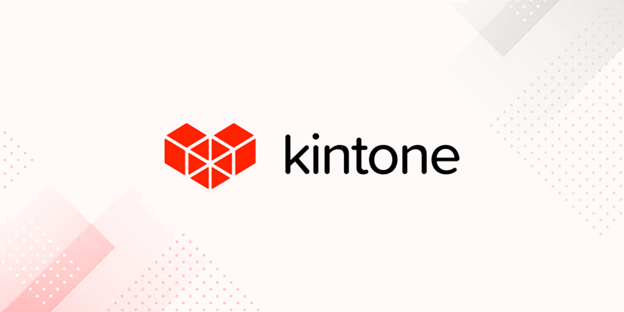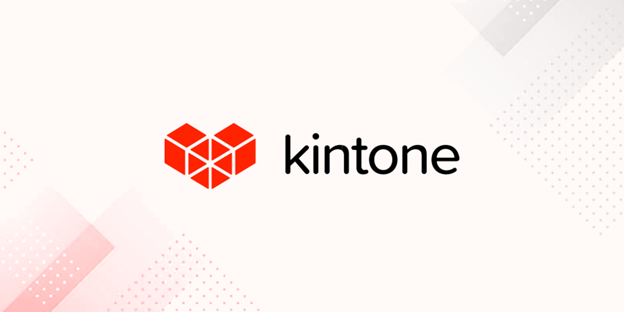 Using Kintone, your team's data, processes, and interactions are consolidated in one location for a more efficient working environment.
In a powerful collaborative environment that enables automated workflows and comprehensive access restrictions, Kintone empowers and inspires anybody to design and deploy complex bespoke database apps quickly and frequently without any coding.
Pricing Plan
$24 seat/month
Minimum 5 users ($120/month)
No setup fee
Pay per additional user
Monthly or annual contract available
Features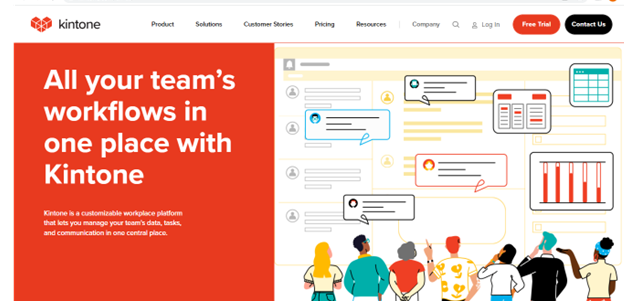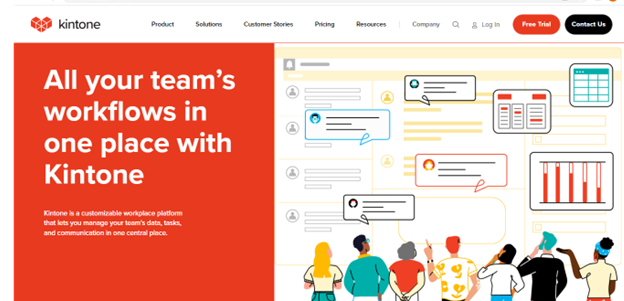 Access controls/permissions
Agile methodologies
Backup and recovery
Budget management
Business process automation
Calendar management
Calendar/reminder system
Change management
Client portal
Collaboration tools
Collaborative development
Compliance tracking
Cost-to-completion tracking
Create subtasks
Customizable dashboard
Pros
Ability to personalize without knowledge of coding.
The potential and possible capabilities of the platform.
The vast amount of applications available to use.
Flexibility.
Resource management tools.
Secure sharing of data.
Cons
The changing of previous records when changing forms in applications.
Inability to implement a barcode system within Kintone.
The linking of information is very difficult and not user-friendly.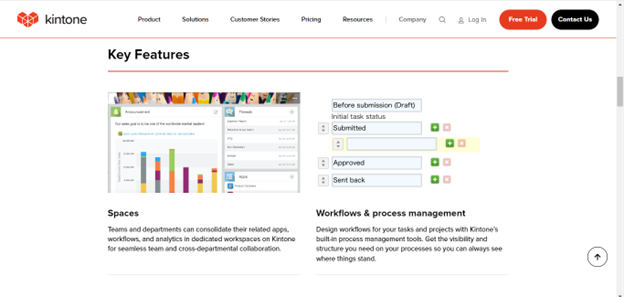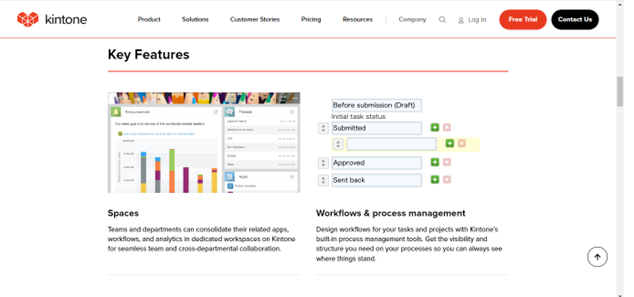 User Satisfaction
Some customers reported their satisfaction with their ability to report data in many flexible ways using the software. They were able to use both Excel and database options when reporting. Other customers find the software easy to use even for technologically challenged users.
5. Process Street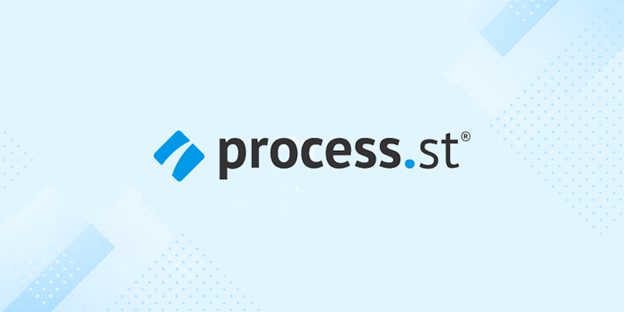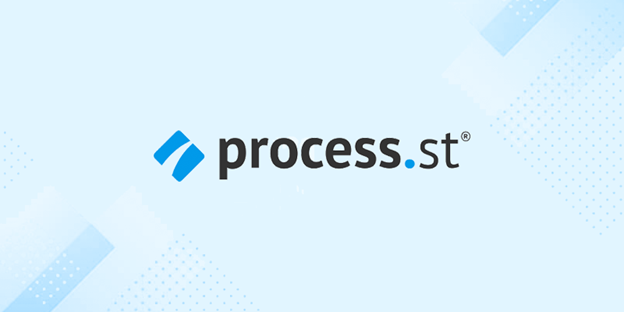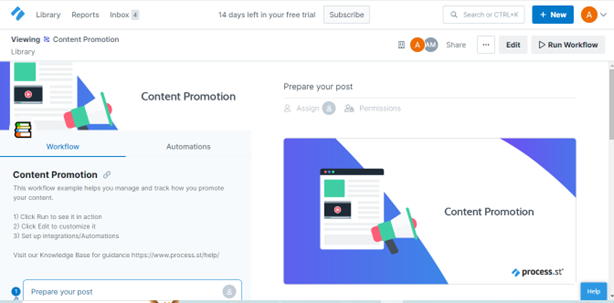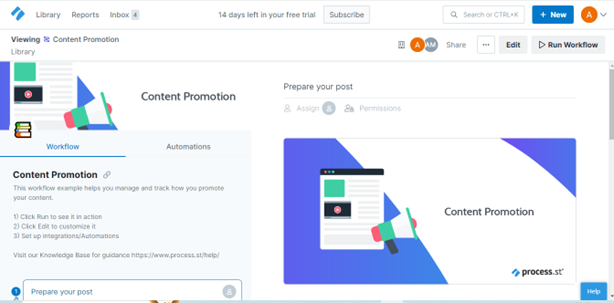 Process Street is a reliable process management software for building teams and ensuring effective workflow. Team members can share details about their processes while ensuring strict compliance to already established company standards. The software is easy to use and doesn't involve building code workflows; hence, those with no coding background can use this software. With this software you can build multiple workflows including tenant screening, client onboarding or employee onboarding.
Pricing
Process Street offers a free 14-day trail with no credit card required.
Free version: Process Street doesn't charge anything for users under this package. Benefits of this package include:
Unlimited free members for pages
Unlimited pages
1 workflow
100 integration actions/month
1 active workflow run
1 full member
Unlimited storage (5MB/file)
Email & chat support
Pro plan: $25 (per user, per month), benefits include:
Unlimited free members for pages
Unlimited pages
Unlimited workflow
Unlimited workflow runs
500 integration actions/month
Unlimited storage (100MB/file)
Form fields & rich media
Workflow run links
Recurring scheduled workflows
Slack and Microsoft Teams app
Slack, Google Sheets, and Jira automations
Thousands of other integrations
Enforced task order
Dynamic due dates
Task permissions
Role assignments
Priority support
Workflow strategy consultation
Enterprise plan: You should contact Process Street for this package pricing details. Benefits include:
Personalized team training
Workflow setup & integration services
Dedicated success manager
Slack App for Enterprise Grid
Salesforce, DocuSign, and Workday automations
Unlimited integration actions/month
Unlimited storage (custom file size limit)
Custom reporting & data visualization
API access
Active directory integration
SAML-based single sign-on (SSO)
Custom integrations
Fully-managed workflows
SCIM user provisioning
Bulk document import
Enhanced sharing & content controls
Features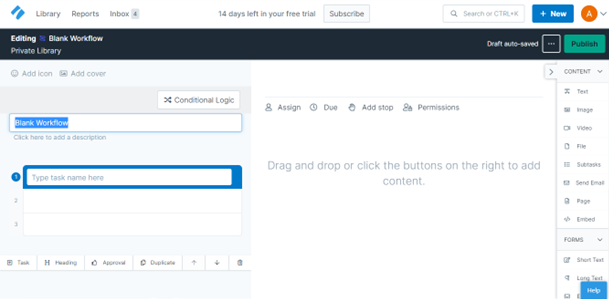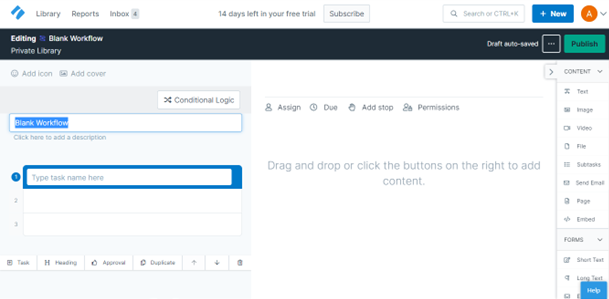 Access controls/permissions
Action management
Activity dashboard and tracking
Activity/news feed
Alerts/escalation
Approval process control
Archiving & retention
Assignment management
Business process automation and control
CRM
Calendar management
Case management
Change management
Chat/messaging
Client management
Collaboration tools
Commenting/notes
Communications management
Complaint management
Conditional logic
Configurable workflow
Content management
Contract/license management
Create subtasks
Customizable branding dashboard and forms
Pros
It is easy to use, resourceful and simple to understand the interface. It is perfect for several projects.
It allows teams to keep track of their customers, noting the milestones needed to finish tasks while ensuring customer satisfaction.
It is an excellent software for creating processes and checklists that interact with the user.
Fantastic and prompt customer service.
The software not only captures the completion of tasks but also automates several parts of the process.
It allows you to create and follow simple processes while referencing several online media including pictures and videos.
Process Street has a drag-and-drop type of APIs for easy automation even with zero knowledge in programming.
Cons
It doesn't have multiple add-ons when editing templates. No clarity on what each block does, no suggestions, or lack of templates to use.
The reporting tools on the software only show the checklist due date, not the subtasks.
Inability to set permissions on subfolders without affecting the main folder.
Inability to assign templates to members.
User Satisfaction
A good number of clients and users believe Process Street does well with process management. They, however, raised a few complaints which they believe would boost the user experience and improve productivity using the software.
6. ProcessKit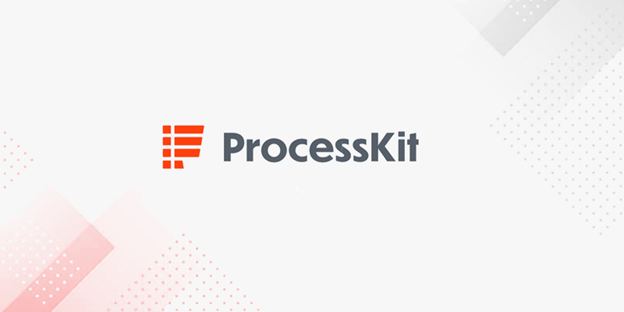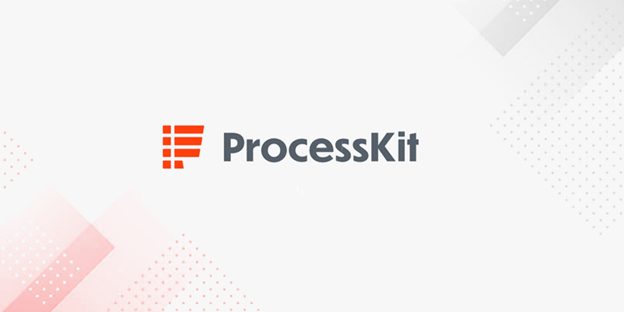 As a process management tool, ProcessKit is process-oriented. It achieves more efficiency by automating and streamlining routine procedures. You can make your company more predictable, scalable, and efficient by using ProcessKit with Zapier to create sophisticated automation. It provides both done-for-you and self-serve deployment options, as well as pre-made templates and tutorials.
Pricing Plan
$49/month
Features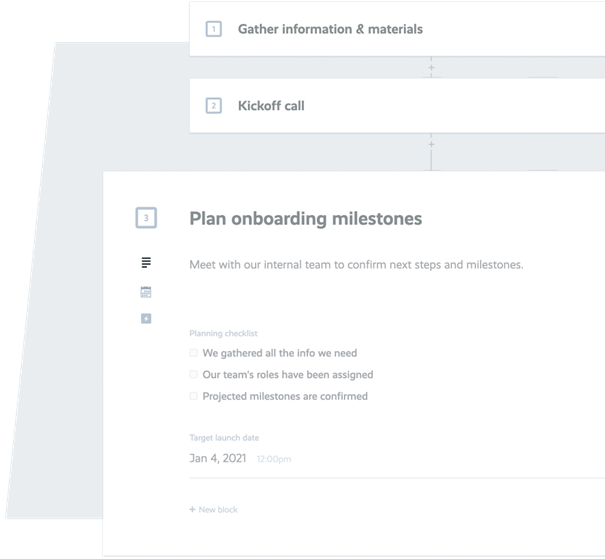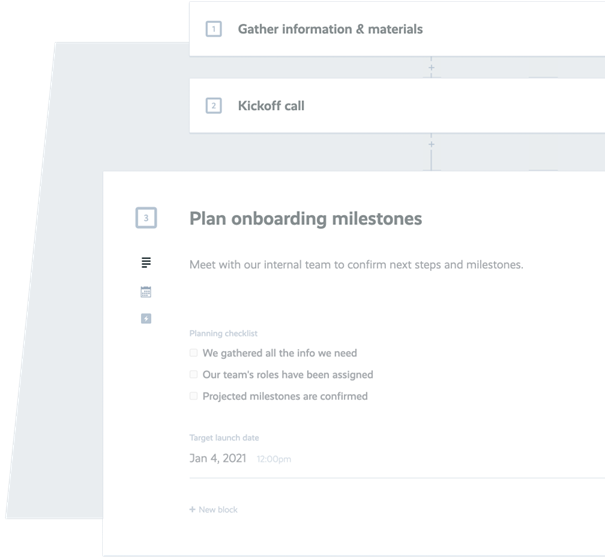 Access controls/permissions
Alerts/notifications
Business process automation
Business process control
Client portal
Collaboration tools
Customizable templates
Kanban board
Milestone tracking
No-code
Process change tracking
Process modeling & designing
Reporting/analytics
Resource management
Templates
Pros
Makes productized service business easier and predictable.
It integrates documentation (how-to) with project management.
Reduced management and operational cost.
Increased company value.
Quality regulation.
Improved productivity.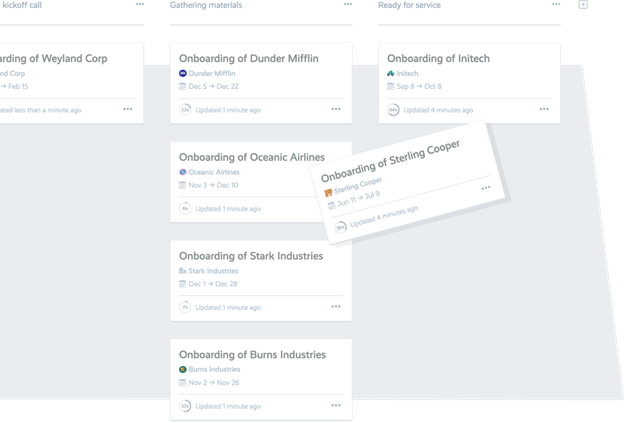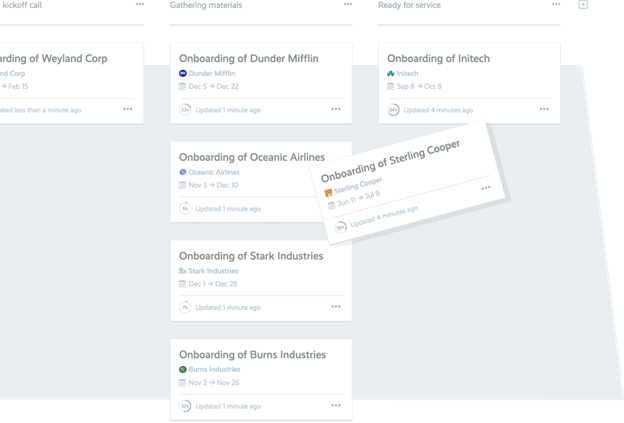 Cons
Setting it all up takes a bit of time. The software is easy to use, but you have to understand how your processes work and then start building them.
User Satisfaction
ProcessKit has helped many users maximize profits from their business operations. Many clients felt satisfied with the improved productivity the software helped them achieve.
Chapter Three: How SweetProcess Can Make Your Workflow Management Seamless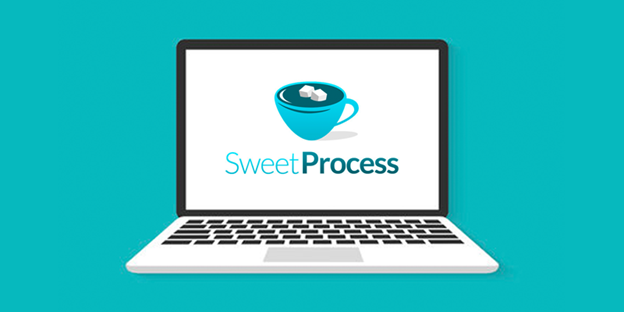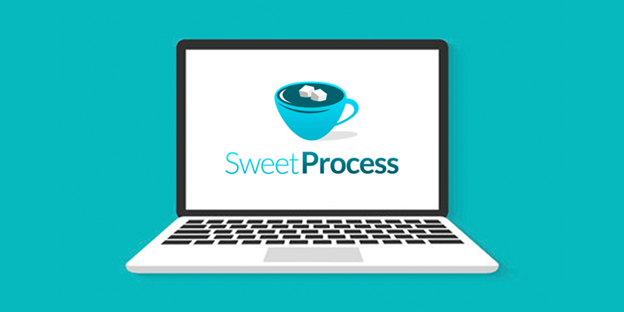 Zac Cullen, CEO of Cullen Insurance Agency, had to deal with severe delays owing to inconsistencies in processes after acquiring other firms. That the issue had to be rectified before they could go forward was clear to Zac, who was aware of the necessity of having the same procedures in place across his company. He experimented with a number of methods, but none of them worked.
Cullen Insurance Agency's Background
The organization, which has been in business for over twenty years, specializes in vehicle insurance, life insurance, motorcycle insurance, business insurance, homeowner's insurance, and many other types of insurance.
The Breaking Point
Everyone was doing things in their own unique way at Cullen Insurance Agency. In their defense, they were working in accordance with how things had always been done.
Zac knew that if he allowed his staff to continue doing things the way they had always done them, his firm would implode. He decided to subscribe to SweetProcess.
How Cullen Insurance Agency Got the Most Out of SweetProcess's Special Features
SweetProcess is like playing a whole new game. As long as you know the name of the document, you can find it in a matter of seconds. When Zac first began using the system, this was one of the features he found most appealing.
Training and Learning May Be Done Quickly
An employee's specialized position may need training beyond the basic abilities required by the job. Employees should learn their new roles promptly so that they may begin creating outcomes for your company rather than waste time and money. With SweetProcess, Cullen Insurance Agency was able to do this.
Remote Access Through the Internet Using a Cloud-Based Service
There is a shift away from on-premise workflow solutions because of their restricted access. By making procedures available through the internet, remote workers may be more productive.
Simplifying Operations: The Biggest Mistakes Companies Make
When it comes to procedures, Zac believes that one of the most common blunders made by firms is that they don't implement them at all. SweetProcess helped Cullen Insurance Agency simplify the tasks they had to execute.
SweetProcess Achieves Major Goals
Using SweetProcess, Cullen Insurance Agency has been able to acquire the confidence of its consumers and achieve amazing success. In the end, it's a $25 million agency.
Teamwork is the Key to Success
Due to operational issues, Zac bought out other firms in his field that were no longer able to compete. SweetProcess gave him a firm foundation on which to build this project.
Start your 14-day free trial of SweetProcess right now.
A Look at XL.net's Business Process Clutter and How SweetProcess Improved Performance
Adam Radulovic, CEO of XL.net, quickly learned that being effective in a company was not a matter of having too many procedures; rather, it was a matter of having the right processes in place. Adam discusses how SweetProcess helped the company get rid of the clutter and simplify their workflows.
About XL.net
XL.net provides a realistic strategy to handle the technological demands of organizations from start to end with a team of skilled IT people and years of expertise under their belts.
When a customer informed them about SweetProcess, they realized that they had a gaping hole in their company that needed to be filled.
The Positive Impact SweetProcess Had on the Organization
SweetProcess' adoption into their company was motivated by a desire to improve productivity. Was SweetProcess able to provide the efficiency they were looking for? Yes, and they did so in the following manners.
An Easy-to-Use System of Documentation
So many procedures on the ground left Mr. Radulovic and his staff feeling a little lost. They were able to end all of that confusion after using SweetProcess. Once the processes had been migrated into SweetProcess, they were able to simplify them in a manner that was easy to administer.
Maintaining High-Quality Standards
They continued to employ the same repeating processes that were set up when joining SweetProcess during their first round of testing. The project was executed in accordance with the client's agreement. This used to be a big challenge.
Employee Empowerment and Learning
When everyone in the company is on the same page and follows the same processes and procedures, achieving organizational objectives becomes more attainable. The company now keeps papers in the system up-to-date regularly to keep everyone moving forward. Since then, it has been its primary source of work information.
Do you want to enhance the efficiency of your company's activities?
XL.net has transitioned from having a slew of dormant processes to ones that are truly functioning. Adopting SweetProcess was the turning point.
SweetProcess offers a 14-day free trial if you're interested in seeing the same results for your company.
Conclusion
There are a plethora of solutions available for streamlining your processes. You may wish to use a solution that can be completely automated to manage your operations better.
You need a workflow tool that can visually represent your workflow and construct a powerful form with all of the data necessary to process it effectively.
Automation software that focuses on the most tedious and repetitive chores is a great thing to have. Finding a solution that can manage many processes from the same program is even better.
SweetProcess workflow software allows you to centrally organize and manage all of your processes rather than rely on disparate technologies.
Solve your business problems based on real data and focused on results!
Give SweetProcess a try and watch your business get revolutionized. We have a 14-day trial window to give you a taste of the benefits of service.
Click here to get started.