Modernize Your Business with These Top Zavanta Alternatives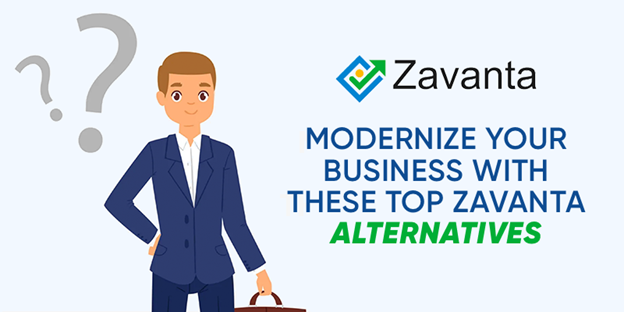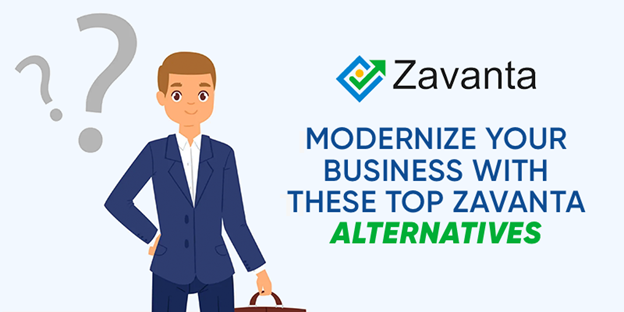 Picture this: You've recently installed Zavanta software for business management and have asked all your team members to quickly learn how to use Zavanta.
Unfortunately for you, they're facing several problems: the software is not accessible on mobile phones, it's got a hard-to-use interface, and it doesn't work on certain web browsers. Sound familiar?
You're not alone. Many of Zavanta's clients have faced issues like these in the past, which is why they've decided to make a shift.
If you're one of those clients or are simply trying to determine if Zavanta is the right option for you, you've landed in the right place.
In this article, we'll take you through all the competitors of Zavanta and dive into their pros, cons, user reviews, unique selling points (USPs), and pricing so that you have all the information you need to make the switch.
Among the many competitors Zavanta has, only the top 10 (Sweet Process, Whale, Process Street, Trainual, ETQ, SOP Express, Way We Do, DocTract, MaintainX, and Coassemble) made the list. Let's dive in, shall we?
Alternatively, if you want to skip the long read and just move ahead with the first (and the most recommended) option, then here's a signup link to SweetProcess's 14-day free trial (you can register without your credit card too!).
Table of Contents
What Common Problems Do Zavanta Customers Face?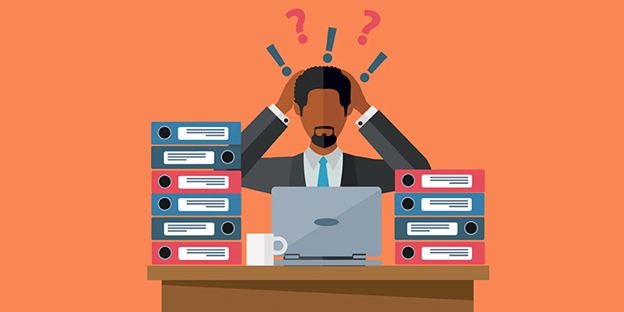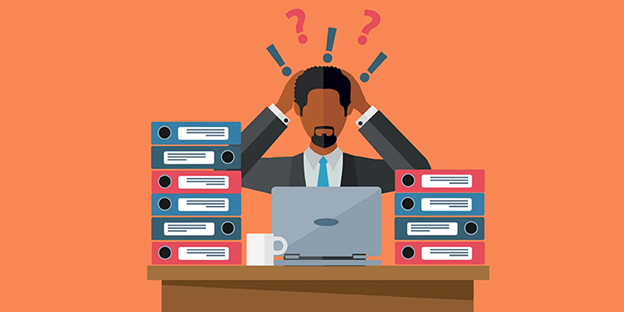 Most of the past Zavanta customers who had issues with it complained that the software was not easy to use. For example, it could not handle complex tables, nor was it easy to switch to if people were accustomed to another software.
Alongside these two problems, Zavanta also had issues importing images. One user said they had to use MS Paint to export images and would then drag and drop these images to Zavanta.
Due to these small problems, Zavanta, according to its users, is creating a bad synergy because even the smallest tasks, like adding images to a table, take a long time.
Users also said that there are issues with formatting on the software. For example, if they want to change the font of a text, Zavanta only changes the font at the start of the sentence, creating an unaligned look. A subset of these customers said that when they select a part of the text, and then go to the font dropdown menu, the entire text unselects by itself, and it takes more than a couple of tries to get the task done right.
Here's what Mimi Paul from StarkFlow has to say about Zavanta:
Zavanta differs from mainstream word processing software as it acts like a database and breaks items down into simple, individual fields or sections. So people who are not familiar with overlays or similar layouts will have a hard time initially to create documents in Zavanta.
The process of importing an image into Zavanta has some issues.
The table feature in Zavanta does not seem to allow for more complex tables.
Top 10 Alternatives to Zavanta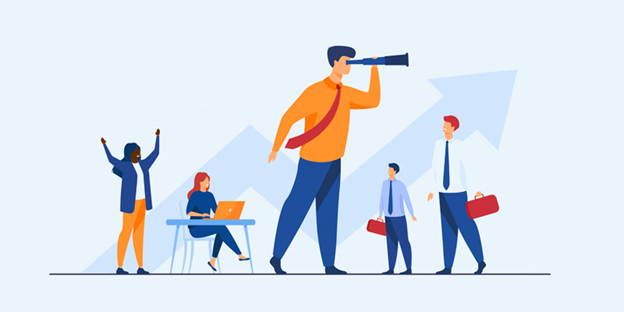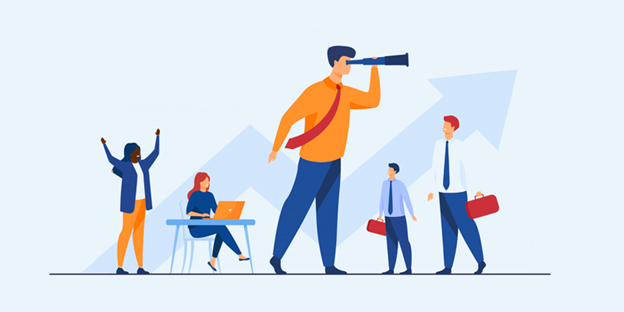 While reviewing Zavanta alternatives, these top 10 software made the final cut.
Alternative 1: SweetProcess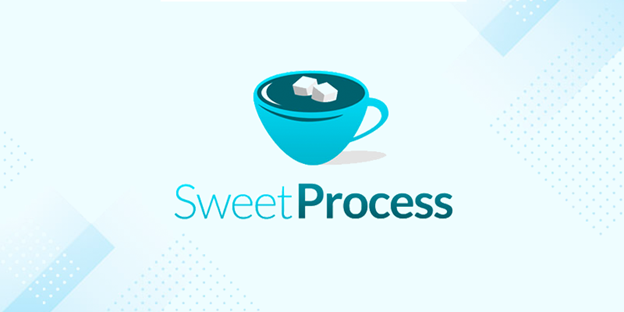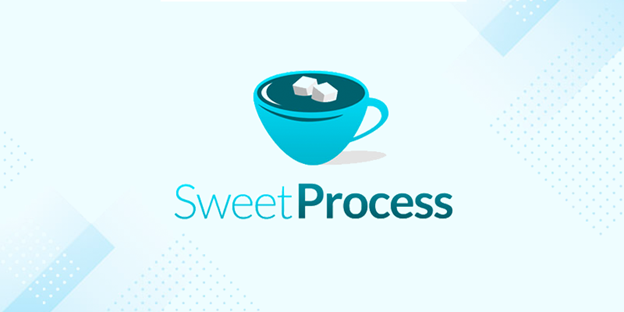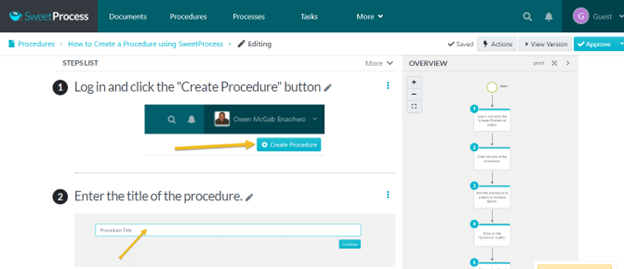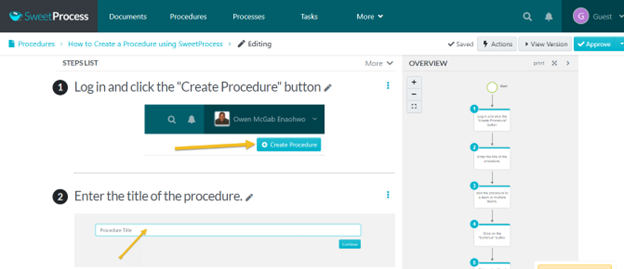 Let's begin with a choice everyone knows and loves: SweetProcess. SweetProcess is a software that is a must-have if you need to align your systems in one place. Here are a few reasons why.
Allows you to focus on work
SweetProcess has a motto that encapsulates everything that the software stands for: focus on the work that matters. With such a vast directory of features and integrations, it has all the options you need to complete the task at hand. Perhaps the best part of this software is that it's incredibly user-friendly, which means you can quickly systemize processes and tasks on the software.
Option to choose between public and private knowledge
With SweetProcess, you can select which information remains in the public domain and which does not. For example, if there's some information that you would only like to share with your internal stakeholders, then you can only give them access (for example, employees and management).
But if there's any information you think would benefit both parties (internal and external stakeholders such as customers), then you can customize access for them too.
Bird's eye view through the dashboard
Want to plan and assign tasks? Want to make it into a collaborative process? Do you prefer to track tasks as you go along? Do you like to have your hands on the company's knowledge base at all times? Do you prefer to collaborate in real time? Well, SweetProcess might be the answer to your prayers because with it, you can now have a bird's eye view of all tasks and procedures.
Has all the features you need
This software has over 1,000+ app integrations (courtesy of its own API and Zapier), which means that creating standard operating procedures (SOPs) is easier than ever before. You don't need to waste your time on repetitive tasks since you can create systems for that. Better yet, you have all the features you need to complete the tasks.
Pros of SweetProcess: Easy to use, highly collaborative, has a multitude of features, keeps all your policies and processes in one place, works for all team types, has a 30-day money-back guarantee, and is equally efficient for small and big teams.
SweetProcess pricing: At the time of writing this article, pricing is $99/month for teams with up to 20 active members. The company also offers discounts of more than 16% if you switch to a yearly membership.
SweetProcess user reviews:
Here's what another reviewer said: He liked the accountability that the system holds him to, and the platform gives a good overview for each project. Another user loved the email reminders that were sent out reminding participants of due dates and project steps.
"SweetProcess will send out emails (reminders) to whoever is holding the project up. If you need to remember the steps of a project or operational process, it is right there! Love it."
You can also check our other reviews here.
How to Get Started on SweetProcess
It's extremely easy to register yourself for a 14-day free trial of SweetProcess. All you have to do is input your name, email ID, password, and team size.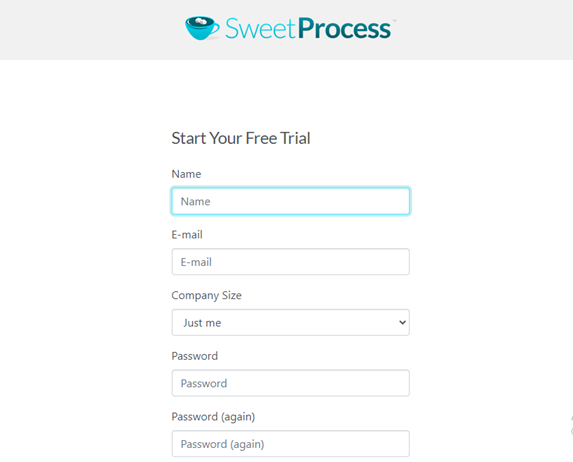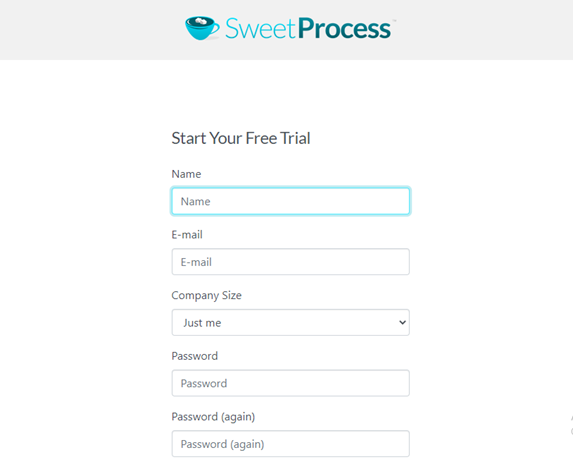 Once you're done with that, you'll get access to the software. A small pop-up shows up if you'd like to invite your team members to collaborate with you. However, that's entirely skippable.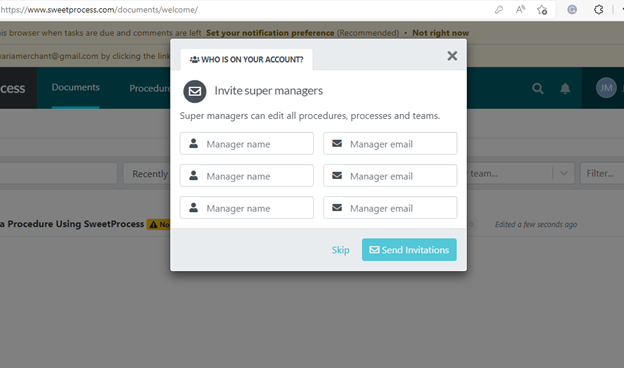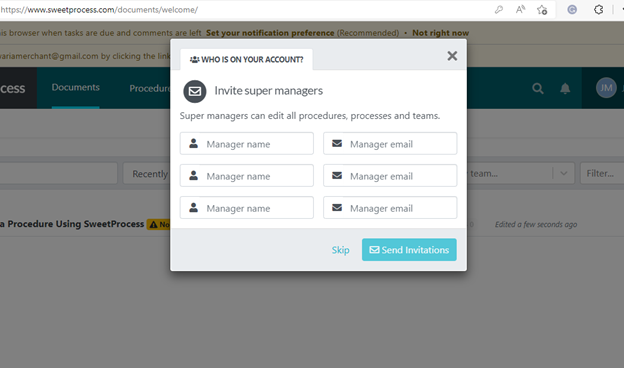 And then begins the SweetProcess tour!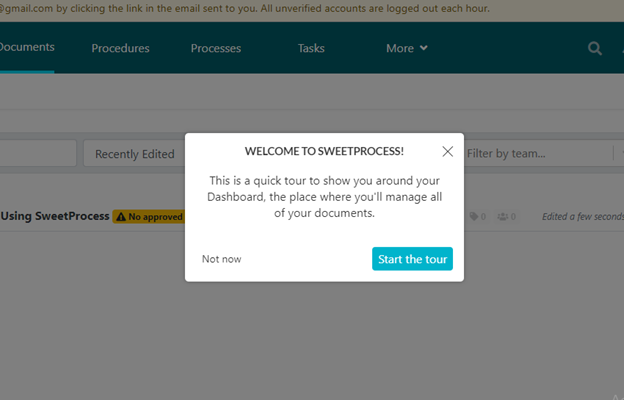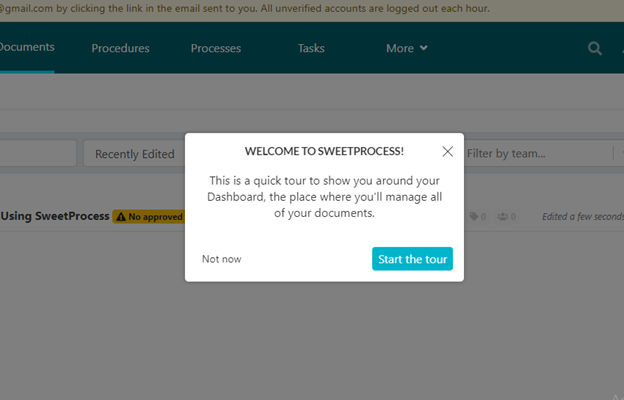 You can view all documents on the main dashboard. On the right side of your dashboard, you have the button to create documents, and the option to edit said documents is just below. You can also systemize all your tasks on the "Task" dashboard.
And that covers all the basics!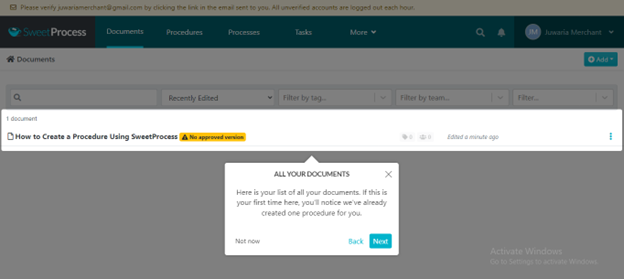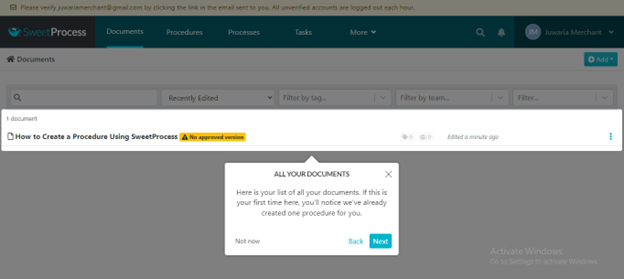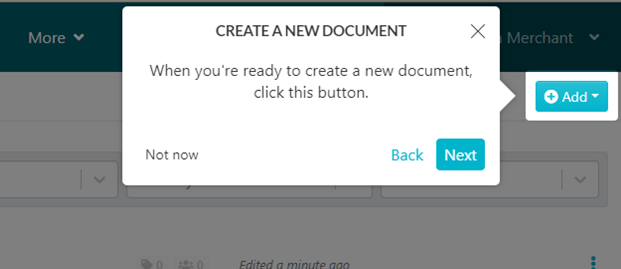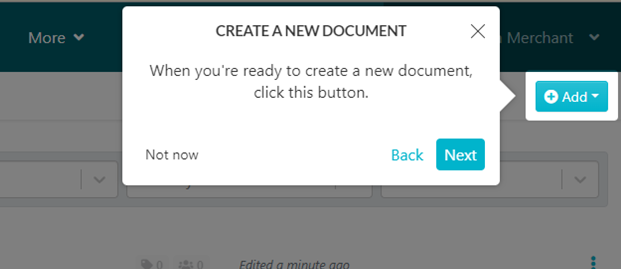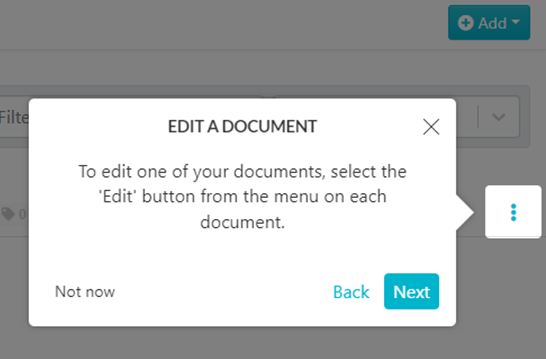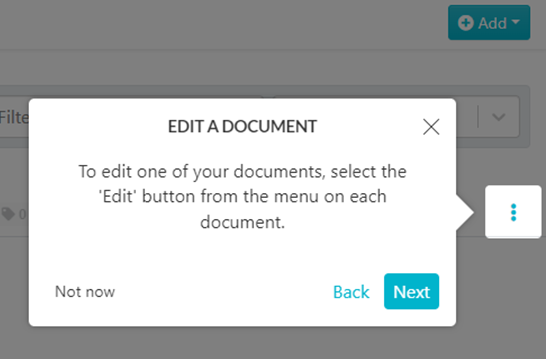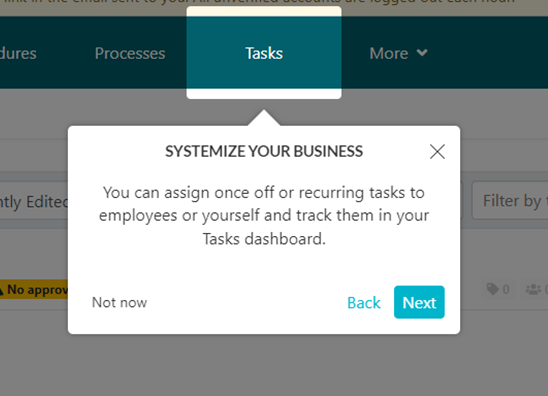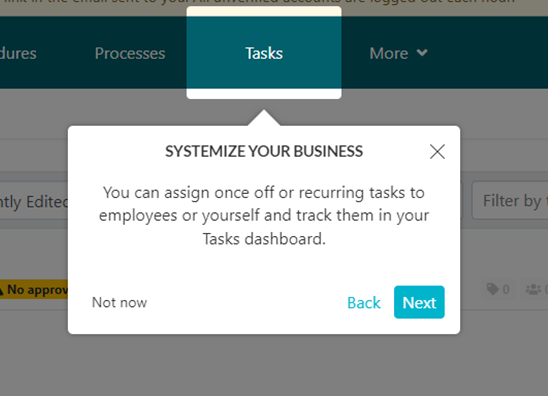 Now, suppose you want to create or edit a procedure document. You just select "Procedure" on your dashboard and the software will take you on a tour to accustom you with all the options. For the purpose of this article, we've named our procedure document "SweetProcess Procedure."
You can edit the procedures, view your work, approve and publish your work, or move it to the recycling bin. You can also add steps, step lanes, decisions, embed videos, form fields, files, and construct an entire roadmap of your procedures.
Once you're done working on them, you can simply select a button to take you back to the dashboard.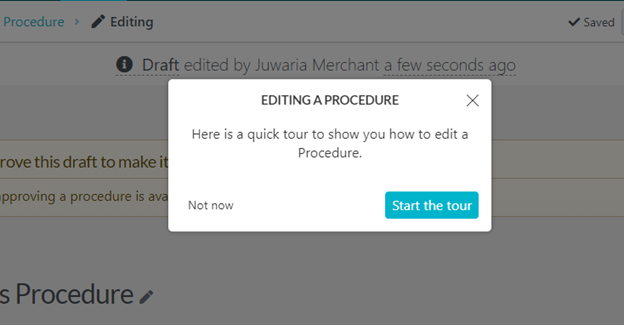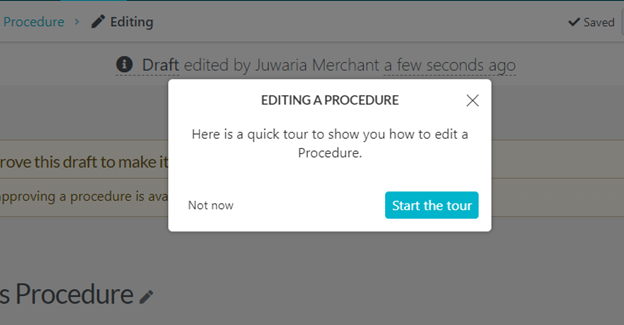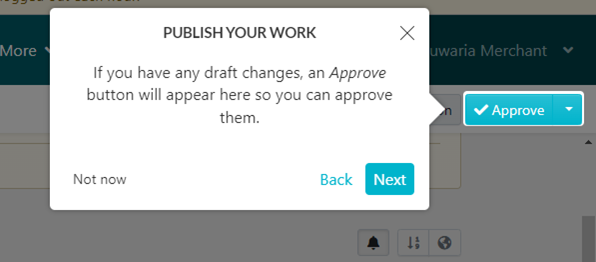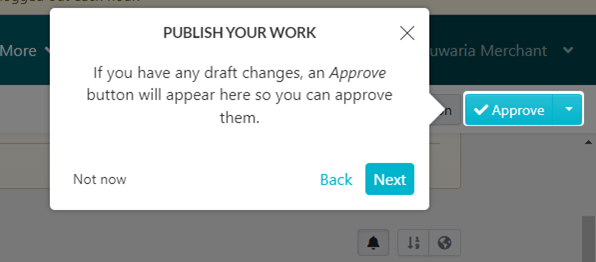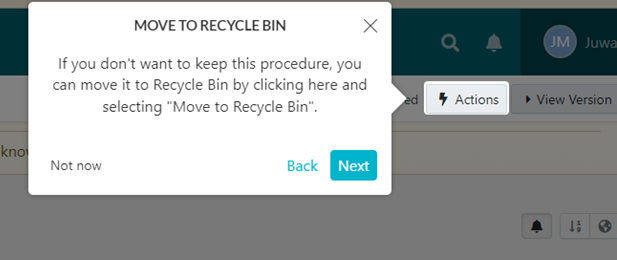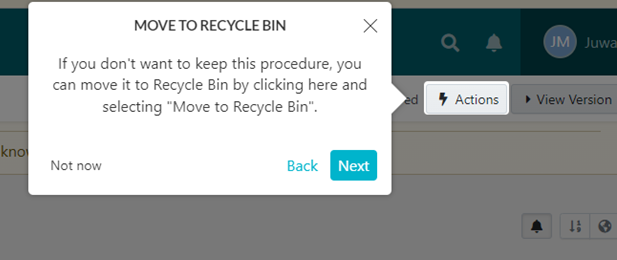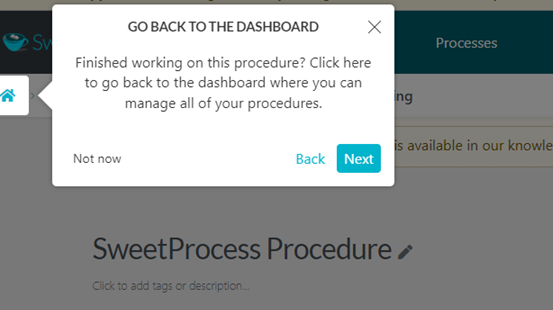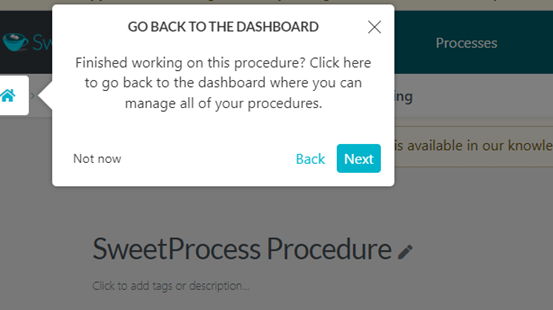 Creating a process on SweetProcess is just as easy too. All you need to do is select the "Process" option on your dashboard and input data in the necessary fields. Same as above—the title of the process document is "SweetProcess Processes."


Let's move on to Tasks. Once you select the option on the dashboard, you can create, assign, and track tasks as you go along.


There's also an option to manage other tasks like policies, teams, members, tags, and knowledge base in the "More" option. You can also manage notifications and search documents as you need them in the software.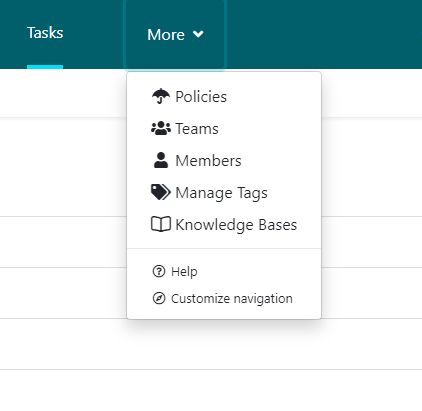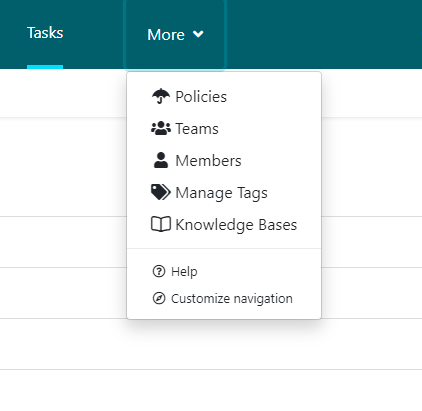 But that's not where it all ends. You can do so much more with SweetProcess. You can manage teams, chat with members, track procedure activities (and export data), schedule procedure reviews, manage accounts, and keep a pulse on a plethora of other tasks with simply one software.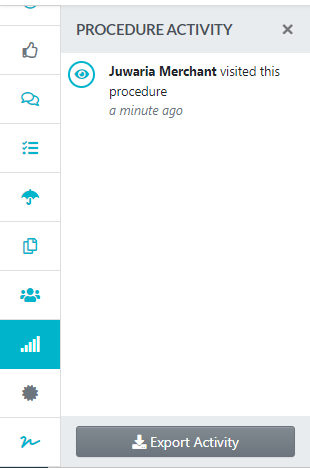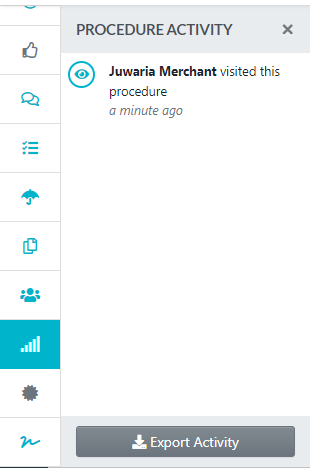 Alternative 2: Whale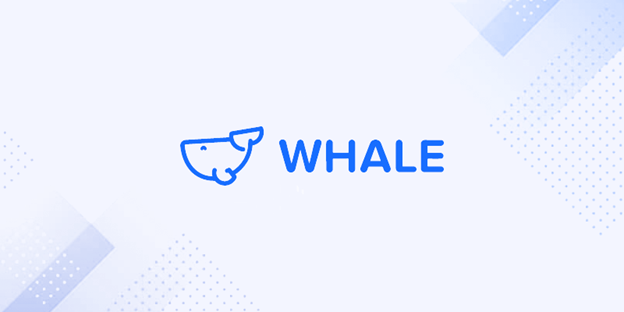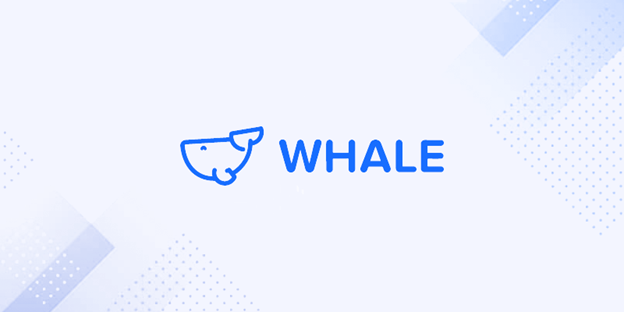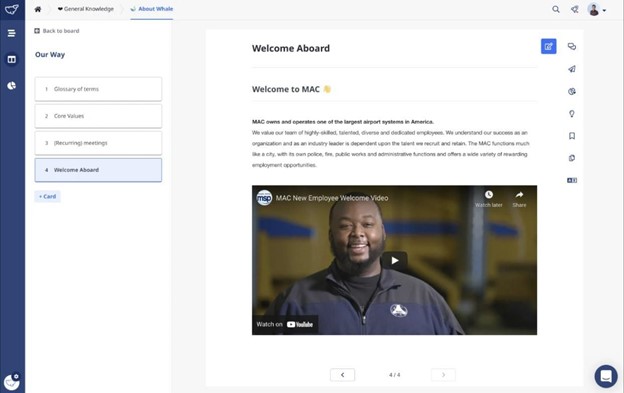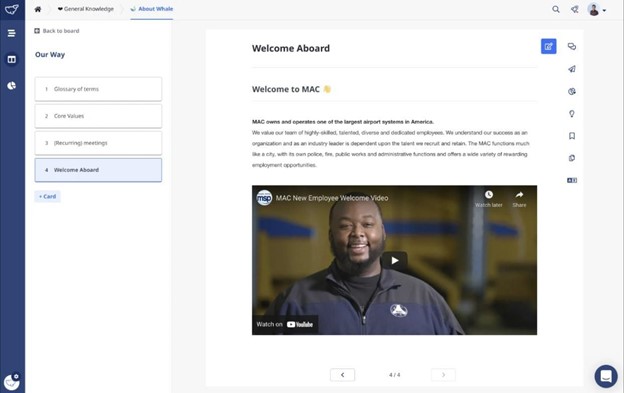 Whale, also known as Usewhale, is another one to make it to the list. The company was founded by Gary Vanbutsele and Bram Billiet in 2014.
However, even with a small time in the market, the software has received impressive results from investors and customers both.
Their software is specially created for small and medium business enterprises (MSMEs), and it targets that audience and their needs well. For example, it provides solutions for SOP management, knowledge management, employee onboarding, content migration, entrepreneurial operating system (EOS), and more.
Whale is also extremely easy to use, and when compared to Zavanta, it has an interface that's easy enough to match the likes of Google Drive and Sharepoint.
Much like SweetProcess, it also has a knowledge-sharing tool that keeps policies, knowledge, and processes in one place, ready to be shared, and to reduce the time spent on repetitive tasks.
The product itself focuses only on three key areas: create, train, and manage.
Create
The product allows you to create SOPs, knowledge base, systems, processes, and all that you need to run your business in its centralized platform. You can easily start from scratch or migrate old content—whatever suits your liking, really.
The dashboard itself is extremely intuitive and visual so that you don't get confused with the plethora of text. Unlike Zavanta, the smart editor of Whale has received commendable reviews when it comes to importing images, videos, and GIFs.
Train
Training new hires is perhaps one of the biggest reasons why most businesses opt for software like Whale. And knowing its customers' pain points, it addresses them well.
You can automate the entire onboarding process, create learning flows, track the progress, send notifications, integrate apps, create a quick and easy search experience, and do lots more.
Manage
The best part about Whale is that it gives real-time updates and insights on your processes. For example, you can view version history, give access to selected members, get insights, elevate performance, and do lots more with a click of a button.
Pros of Whale: Whale creates simple and intuitive workflows to create, train, and manage employees and all stakeholders in your company. It's easy to use, and it gets the task done with minimal hassle. All in all, it's worth every penny.
You can also create a knowledge base for new hires so that all your training can be done in one place. Alongside this, you can create SOPs, systems, embed visuals, and do lots more on the software. Hence, it works as an all-in-one software for training and skill development.
Cons of Whale: The software is not fully customizable—that is to say, you can't change the logos and brand color to your liking. Many users also said it takes some time to migrate all data on the software, but these reviews came from people who had a lot of data to migrate.
The company is also relatively new in the market and so does not have the industry experience of its competitors. It's also built for MSMEs and so is not an ideal option if you're looking to scale into a large enterprise.
Whale pricing: The starter plan is available for $1/day. Its monthly plan starts at $12, and it also has a custom pricing plan.
Alternative 3: Process Street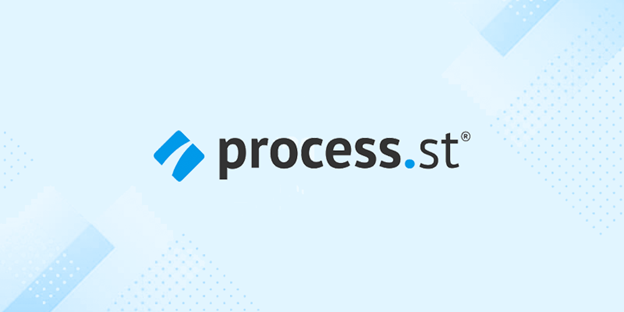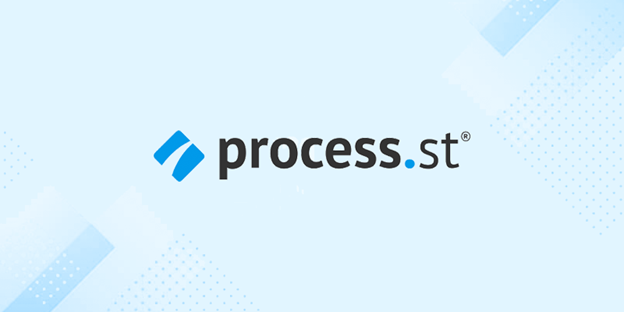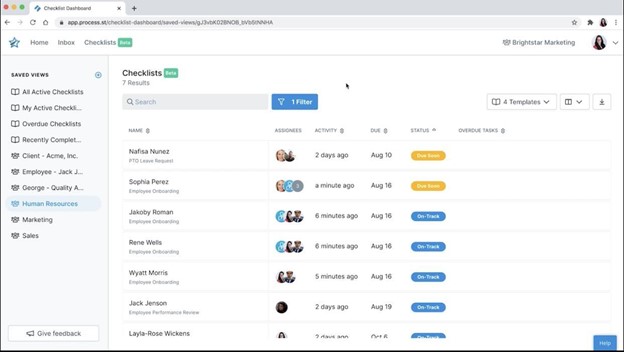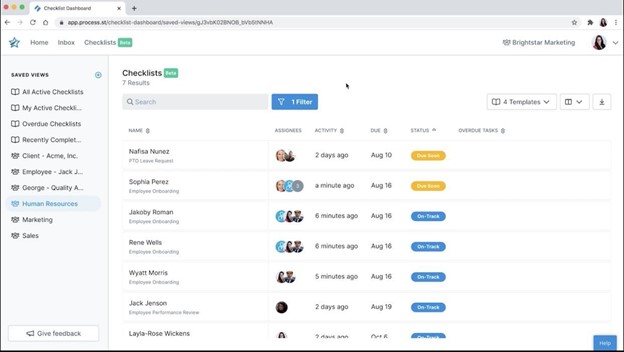 Based out of the United States, Process Street hosts impressive clients like Salesforce, BentoBox, Accenture, Drift, H&M, and The Economist.
That alone should be social proof enough of the credibility of Process Street, but we're also shedding light on some of its important features that make the product stand out enough for it to be noticed by these great brands.
According to the company's claims, it is "the simplest way to manage recurring workflows for your team." Much like SweetProcess, Process Street is also a Zapier partner and hence has 1,000+ integrations.
Here are a few specific benefits that Process Street offers:
It's a highly collaborative software, and you can simultaneously work on it with multiple team members.
You can create processes and documents at the click of a button and in a few seconds.
All your information, approvals, schedules, and media can be placed on the platform.
You can schedule tasks on a daily, weekly, and monthly basis.
You have a full overview of all the activities in the feed.
It's highly secured.
You can create groups and communicate and chat there.
You can assign tasks to specific users and track the progress as and when you need.
You can onboard employees in a systemized way.
These features are just the tip of the iceberg. Process Street is like an all-in-one software for enterprise needs—that is to say, it's a workflow software, a BPM software, an approval software, an onboarding software, and an SOP software, all combined in one.
Pros of Process Street: Creating intuitive workflows is extremely easy on Process Street. It follows conditional logic and creates a highly collaborative environment which makes managing day-to-day office tasks super easy.
It can also rank tasks according to due dates, and different teams are automatically updated about task requirements without having to constantly check in on one another. All project details are available in one place, ready to review or edit as and when needed.
Cons of Process Street: Users have noted that you can't use certain keystrokes on the software. There are also issues with permissions and control, wherein you can't customize responsibilities to your liking. For example, an editor role also has access to administrative responsibilities, and you can't change the access level in any way.
There are also little customization options in general, especially for automation. For example, you can't integrate all functions with Slack. It even has limited capabilities in terms of formatting capabilities and functions in presentations (texts don't get formatted correctly, and inboxes are feature-poor).
Process Street pricing: At the time of writing this article, there are three membership options at Process Street: Free, Pro, which costs $25/month, and Enterprise, which has custom pricing.
Alternative 4: Trainual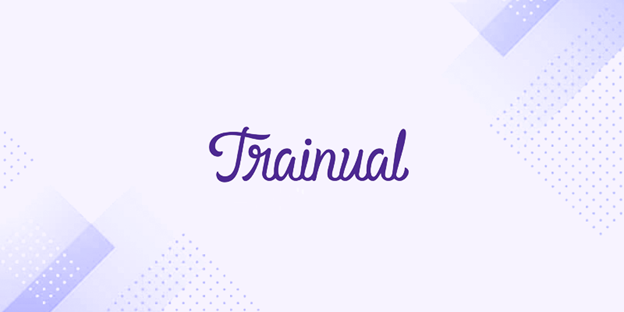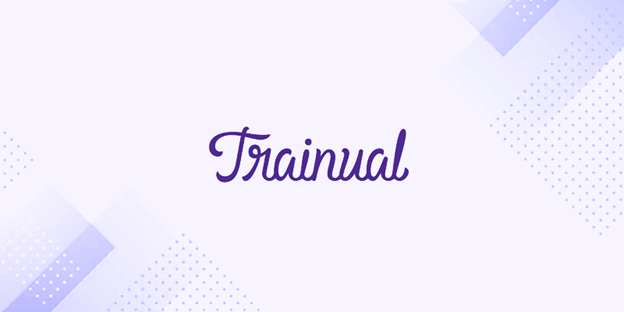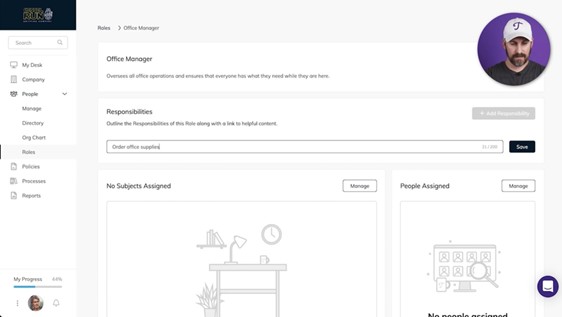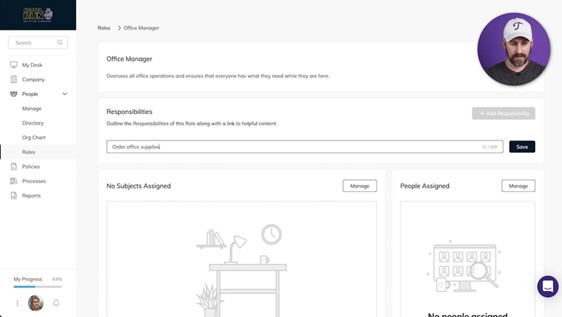 Launched in 2018, Trainual is a passion project of its founder, Chris Ronzio. In the past few years, he's scaled his business to support over 6,000 businesses in over 170 countries. Even with this quick growth, Trainual has always managed to stay on the right path and still delivers excellent service and quality to its customers (which is why it made our list, btw).
Like Whale, it focuses on three key areas: processes, policies, and people. Let's explain this in further detail.
Processes
With Trainual, you can keep a centralized directory of all your processes and knowledge so that it's easy for new hires to onboard without any friction. In its own words, Trainual is the world's number one SOP software, and if we're to hold them true to those words, then here's what makes it so great:
Systems that can easily be created and updated.
Easy access and tracking of tasks.
Allows you to add visual media along with the written text.
Policies
You can publish employee policies on Trainual so that your new (and old) employees know the dos and don'ts of your workspace. You can either opt for a template or start directly from scratch. You also have the option to integrate Trainual with payroll systems and HR apps so that all work can be done seamlessly.
People
With Trainual, you can assign tasks to individual users—but that's just one reason why the "people" part of Trainual is helpful. The other reason is that you can delegate roles, give access to information, add tasks to their profiles, see an overview of the teams in the organization, and do other similar tasks.
Pros of Trainual: Much like other software on this list, this one too is extremely easy to use and has highly collaborative functions for teams.
It also has all the functions you need for training and employee onboarding, including a knowledge hub, and documents that have information about processes, roles, responsibilities, policies, and much more.
You can also categorize tasks, view and edit documents, and add visual embeds for a more intuitive experience.
Cons of Trainual: Users suggested that they had to go through a bit of a learning curve to understand how to operate the software. However, there are a multitude of resources available online to understand the ins and outs of Trainual, so you should be good there. You can read an even more detailed review, which compares all the pros and cons, of Trainual here.
Users also suggested that Trainual can improve on its search capabilities, as it's difficult to find the right content when needed. Other complaints were that the software was difficult to use, mainly because it didn't give the user any direction on how to create workflows. Some customers also found the software to be expensive.
Trainual pricing: This software has a pricing option that differs from the rest. You basically need to choose from the options "monthly" or "yearly," and then also select team size, based on which, it customizes prices on the go. It also has three different pricing options: Build, Train, and Grow. Each starts from $49/month, $99/month, and $199/month, respectively.
Alternative 5: ETQ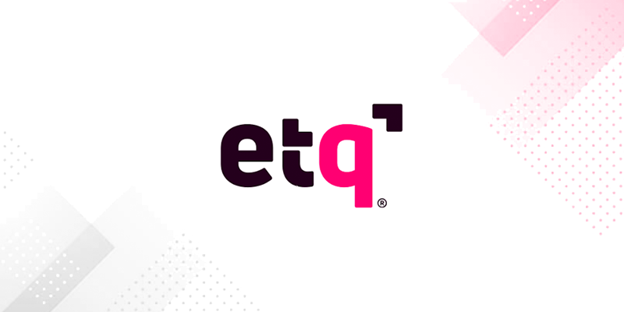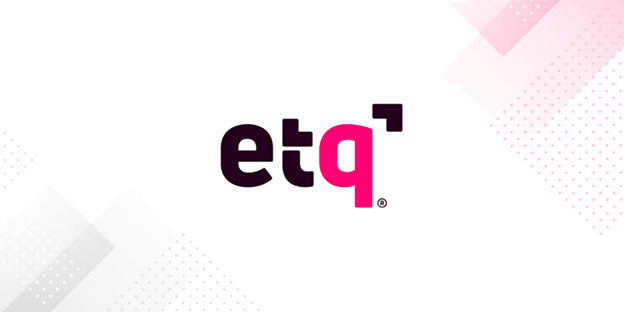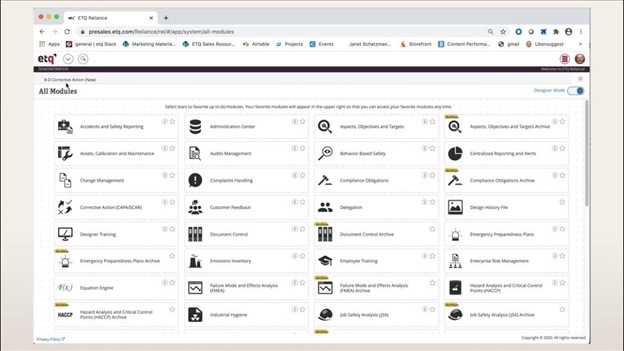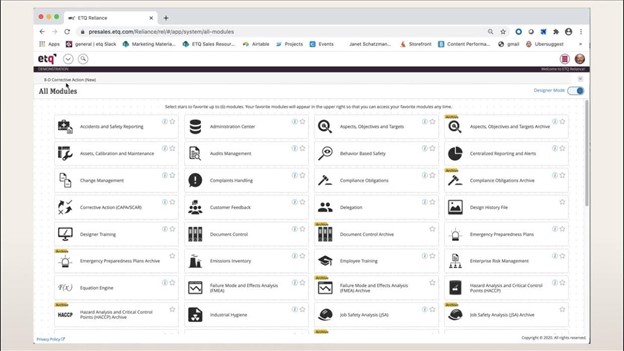 In our opinion, ETQ is one of the software that is worthy enough to replace Zavanta in your organization, and for a couple of reasons.
The first reason is that it has a highly distinct unique selling point (USP) from other software mentioned in this list: it's a quality management software (QMS). However, it can also be used as a BPM and an SOP software because of the functionality it offers.
For context, it has an agile platform that's designed to adapt to your company's needs, it's extremely intuitive and easy to use, and it's operational without code. Aside from these basic features, you also get access to data in real time, and you can collaborate with stakeholders (from inside or outside your team).
Also, like many other software on this list, you can also store information (processes, policies, and more) on ETQ to improve the quality of the way your company functions. However, unlike many software on the list, because ETQ is a QMS, it offers a wider range of features and functionality than a BPM.
Pros of ETQ: One of the many benefits of ETQ is that it offers complete compartmentalization of tasks. To give some context, every project gets a unique identifying code, a business unit, and document access to the owner. It is also extremely easy to work on since the software is highly intuitive and adaptable.
There are other useful features that allow you to copy, paste, export, and print documents. You can also customize access, track assignments, assign tasks, add user groups, and do lots more, all at the click of a few buttons. You also have the ability to access old and new information just the same. So, if you ever lose information online, the version history of a document always exists.
Cons of ETQ: ETQ's customer service is extremely slow and late to respond, which can become a critical issue if you face any last-minute problems. (This was a common complaint of many users.) Another drawback of ETQ is that it has limited integrations and restricted visualization options.
And the worst of all: it doesn't have automatic update notifications. That's to say, if they've upgraded the software, ETQ won't tell you about it. You'll have to go ahead and figure out that one on your own. (To add to that, the post-2019 version of ETQ has very few options for customizations.)
ETQ pricing: There's no specific pricing as such. You'll need to get in touch with the company to get a custom quote for your software needs.
Alternative 6: SOP Express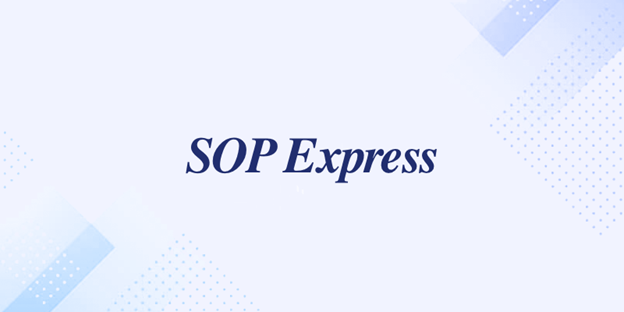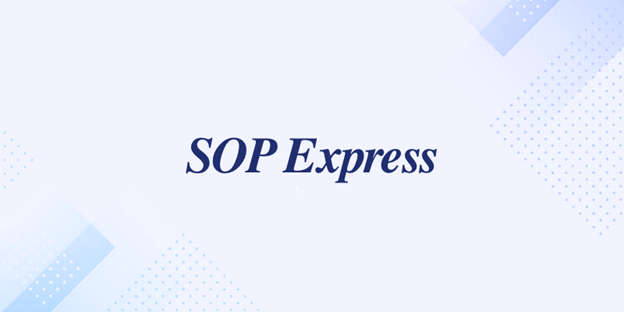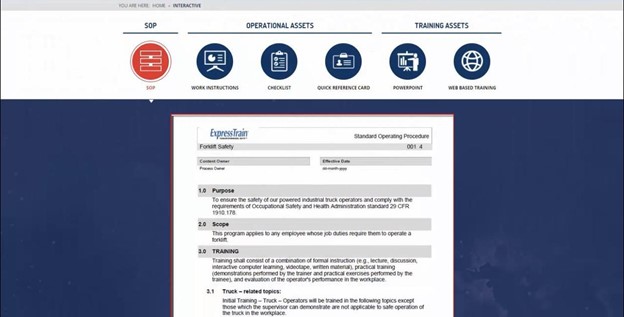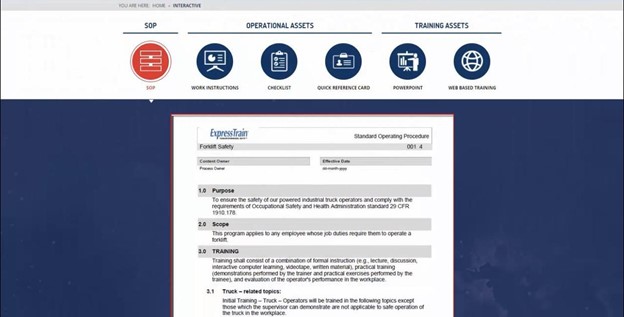 SOP Express is one of Princeton Center's SOP (standard operating procedure) software systems. Aside from SOP Express, they also have Express Train, SOP Tracks, and Scorm LMS Packager. However, back to SOP Express: it's one of the oldest players in the industry (30+ years), and has been helping companies address challenges during this time.
The product applies "system theory" in its way of function. This means that they have systems that break down the process into four key areas: inputs, transformations, outputs, and maintenance.
The company promises to take all the text-heavy information and transform it into a highly interactive material through visuals, PowerPoints, training materials, and videos. SOP Express is also keeping up with the times—it has mobile support, options for customizations, adaptability to multiple desktop platforms, and many more features.
In sum, SOP Express's features are specifically designed for document creation, assembly, control, and archiving. There's also a training management tool with the software, and SOP Express is available offline too.
Oh, additional social proof: it has names like Kimberly-Clark, Johns Hopkins Hospital, Blue Cross, SBA, and more as part of its clientele.
Pros of SOP Express: SOP Express works extremely well on software like Windows 365. It's also been longer in the business than many of its competitors and has a better experience of the market than them. But that's just the tip of it—it's an all-in-one software that has the capacity to store all the content you need.
The software is also scalable, and you can use it regardless if your team is small or big. Users also suggested that the software was easy enough to implement in the business, and it came with a diary of resources to help you get started.
Cons of SOP Express: The product does not offer a free trial; hence the prospect has no way of knowing if it'll be a good investment for their business or not. Although not many review sites (especially the traditional ones like Capterra and Trust Radius) made a pro and con list of this software, PAT Research compiled user aggregated and editor ratings for this software.
The users on the website gave customer support the lowest rating (6.7/10), closely followed by the performance of the software, which had a rating of 6.9/10. Overall, the software got a total rating of 6.8/10 from the users. On the other hand, the editor has been pretty generous with the ratings and the reviews. If you'd like to read what areas it has potential in and in which areas the software lacks, you can read the review here.
SOP Express pricing: Although no specific information was available on the company's website, Capterra wrote that the product has a one-time fee of $2,950.
Alternative 7: Way We Do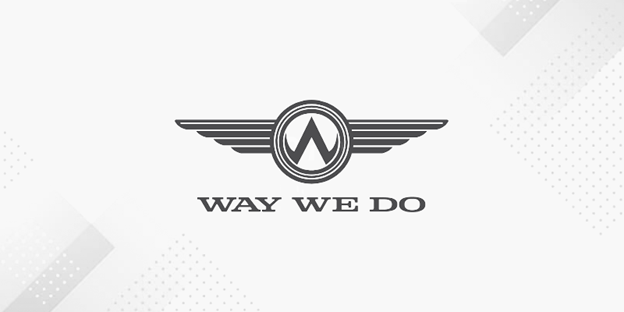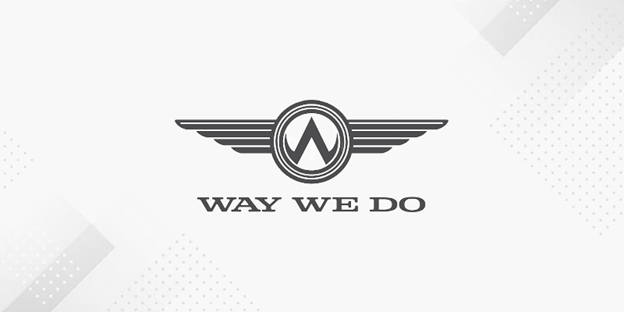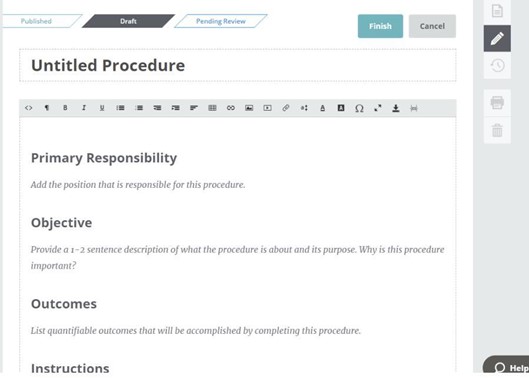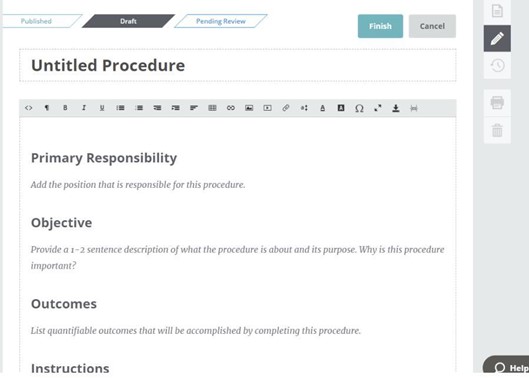 Way We Do is another cloud-based SOP software on the list, and here's why it made the cut: it is highly interactive, and it turns boring content and checklists into interactive, visual workflows. This product is designed to serve all types of business, from SMEs to enterprises.
There's also a free trial available, and you don't need a credit card to get started with it.
According to Way We Do, it's specifically beneficial in a couple of key areas, such as franchise management, intellectual property protection, brand reputation and recognition, compliance and safety, and quality, consistency, and efficiency.
This software is a must-get if you're looking to solve problems under the BPM, knowledge management, and SOP domain. It's also pretty easy to use and follows three simple steps: setup, activate, and use.
These days, Way We Do boasts an impressive client history and has received many glowing reviews on its way.
Pros of Way We Do: It has all the features one could need (activated checklist, managing repetitive tasks, procedure acceptance, media embeds, reminders and motivations, reporting, integrations with Zapier, template creation, and more) and is easily comparable to any other option on the list.
Something else that makes Way We Do stand out from the rest is it's always finding ways to improve—so if your software looks good today, it'll look even better tomorrow. You can also track logins, manage tasks, add content, and overall, just create a standardized way for your business to function through this software.
Cons of Way We Do: One of the bigger cons of Way We Do is that it's not compatible with phones or laptops (rather, it's entirely web-based). Another con is that people believe the pricing can really add up and it ends up being a considerable business expense.
Users also suggested that sometimes, when they want to create new user profiles on the software, Way We Do does not create them on the first try. And although we can't classify these as a fault, it can improve in areas such as adding the acceptance feature for the checklists and creating SOPs that align with the team's needs.
Way We Do pricing: Speaking of pricing, Way We Do has an entry-level subscription plan that starts at $99/month for teams up to 10. However, above that, you need to talk to the company for a custom quote.
Alternative 8: DocTract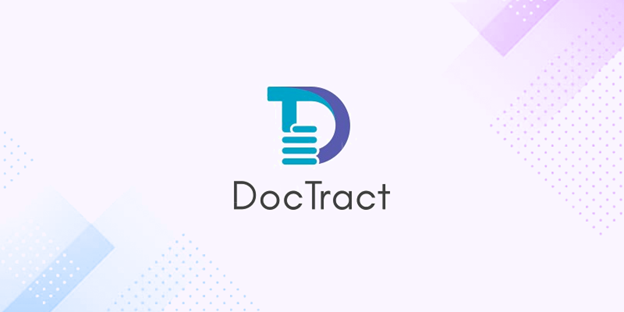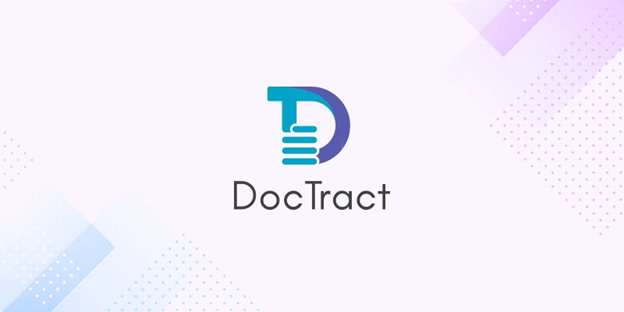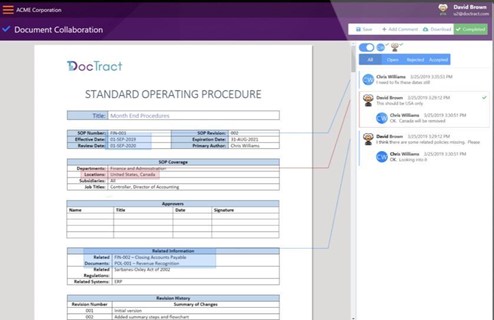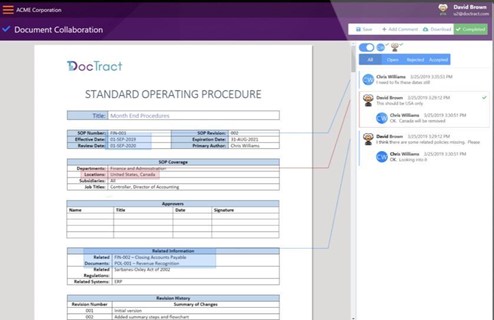 DocTract is a policy management, compliance management, and SOP software (all in one) that ticks off all the essentials of these software (and more). Here are a few reasons why the software can really help you.
It'll make sure that the right employees have read, signed, and agreed to the right set of documents.
It confirms credentials of roles and responsibilities before allowing anyone to sign anything via an electronic signature, making the entire process extremely secure.
All the possible changes, revisions, and updates that you need to do can be done easily via DocTract. You can also view a documented history of the aforementioned revisions.
All your documents, compliances, processes, and more will exist in the same ecosystem. This means that if they're connected in any way, you would be able to see if there are any chances for a ripple effect if you've made changes or revisions anywhere.
DocTract attributes regulations in key documents so that you know if you're up to the code of conduct and are meeting the quality standards.
You'll also be able to view an audit trail of the entire process.
And perhaps the best part: you can keep reminders, add notifications, review approval history, and do lots more with DocTract.
Pros of DocTract: It's an all-in-one software that addresses all your business management needs. It's also extremely scalable with the number of customizations it offers and is incredibly easy to use. Customers who used the software (and reviewed it on Capterra) gave it a 100% likelihood of recommending it to someone else.
There are also limitless options and features for any task that you want to create. For example, it has features like policy creation, audit trail, version control, workflow management, reporting and analytics, and more. So, all in all, it's a value-for-money product.
Cons of DocTract: Users say that the product can be overwhelming at times, especially if you have a large team on the platform and have to juggle between roles, departments, systems, and document types.
Another con that some users mentioned is the product has limited reporting capabilities, which is something that the company can look into. DocTract also does not have the option of in-person training, 24/7 customer service, nor can it be deployed on different devices, meaning that it's completely web-browser based. (This may not be a limit in functionality, but a mobile software could certainly make it easier and more accessible to use.)
DocTract pricing: We could not find a mention of price on the DocTract website or on any other review sites.
Alternative 9: MaintainX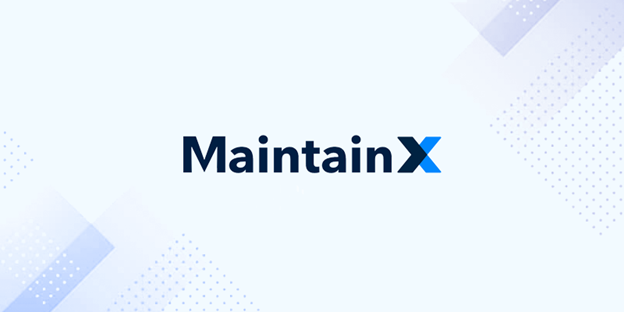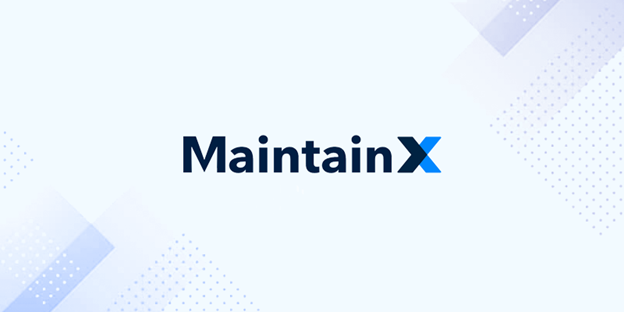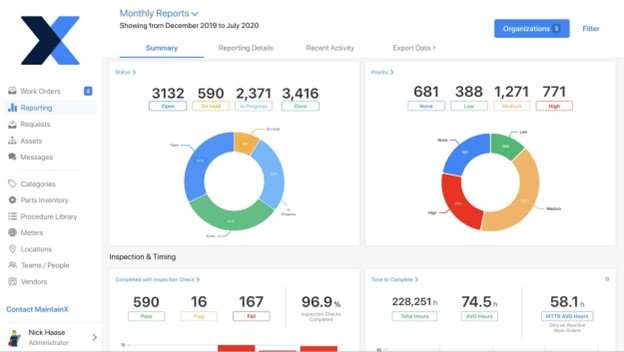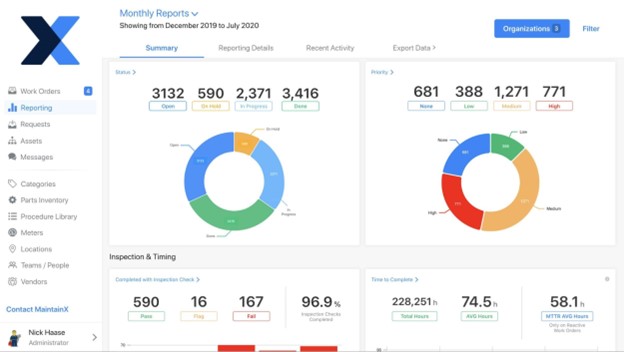 Created by four founders in late 2018, MaintainX has quickly climbed up the ladder of the workflow management world. Much like SweetProcess and Way We Do, you do not need a credit card to experience the software firsthand.
With MaintainX, you can maintain all parts of your business such as inventory, work orders, requests, checklists, inspections, communication, reporting, and even maintenance itself.
At the present moment, MaintainX specializes in catering to eight different industries: manufacturing, facility management, hospitality, education, F&B, clubs, fleet maintenance, and property management.
Overall, the key USP of MaintainX is that it allows maintenance of day-to-day tasks by tracking, scheduling, and maintaining them on the software.
Pros of MaintainX: The software is intuitive, which makes it easy to grasp and understand. It also comes with a mobile app which also makes it extremely accessible to use. MaintainX also gets major brownie points for its customer support, as many reviewers have stated that the customer service is indeed quick and efficient.
The month-long trial also allows users to understand the full capability of the product. This especially is a standing point for them since other software usually offer a 14-day free trial, including Sweet Process—but you can sign up with SweetProcess without a credit card.
Cons of MaintainX: Although MaintainX has its own set of capabilities, what it does is pretty targeted and niche, from the features it offers to the industries to which it caters. Other software, in comparison, have a wide variety of product offerings. Another con of this software is that it's entirely app-based, which means that all your team members, vendors, and clients have to be on this app for you to communicate something with them.
Users also mentioned that the free plan had very limited capabilities, and the analytics option was only free for a month with that plan. Customers also complained that they couldn't attach images or video embeds till the time they weren't on the premium or enterprise plan.
MaintainX pricing: The software has four membership options: Basic ($0/month), Essential ($8.33/month), Premium ($32.5/month), and Enterprise (which has custom pricing).
Alternative 10: Coassemble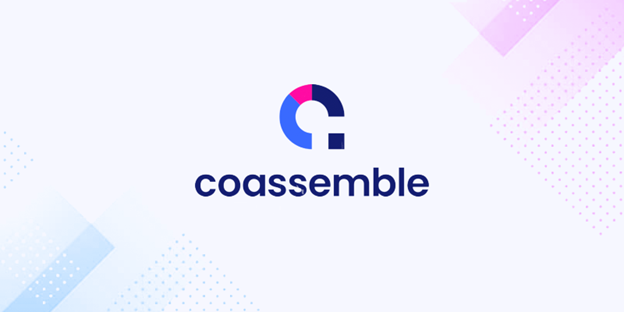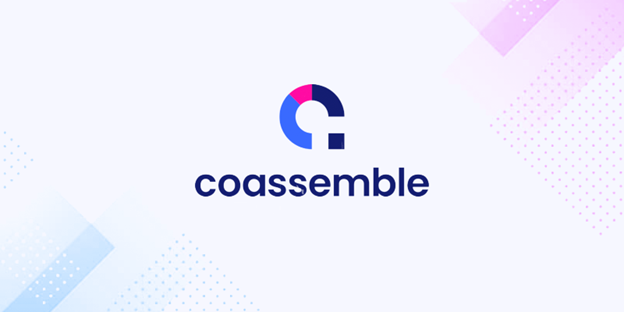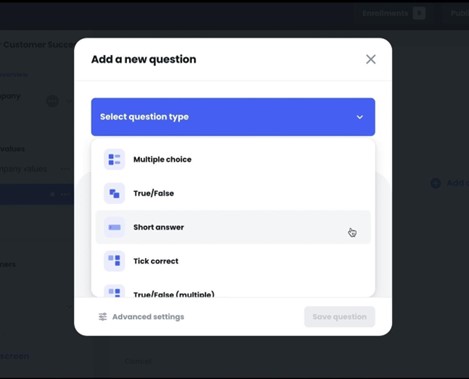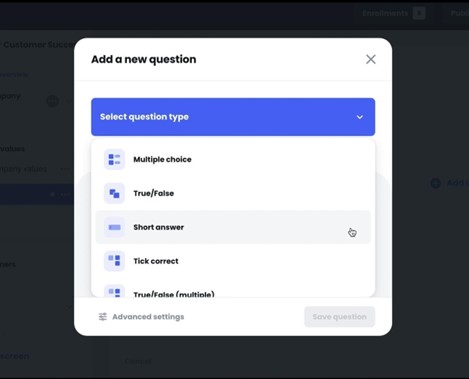 Coassemble is essentially a software development company that focuses on simplifying the training process, be it for employees, clients, customers, or any other stakeholders. With this software, you can customize your entire course content with the help of templates, images, colors, and more—whatever you feel is best for you.
You also get to give certifications on completion of a course, as well as be able to quiz your audience with interactive challenges and quizzes. If client onboarding or new hire onboarding is a priority for you, and you want to cut down all the repetitive tasks in between, then this is the software you need. You also have the option to gain insights afterward, so there's that.
Pros of Coassemble: The software is easy to use and requires no coding skills to build interactive content. It's also got extremely helpful customer service and a super clean design.
Another thing that Coassemble has going for them is the amount of integrations it offers (HubSpot, Shopify, Slack, Microsoft, Square, Campaign Monitor, Twitter, and many other apps). Aside from that, Coassemble has also been regarded for its exceptional customer service.
Cons of Coassemble: Since it's created as an internal learning software, there's no way to publish your training information in the public domain for sale. Certain users also find the software to be more expensive than others in the market.
Users also said that the software is a bit difficult to learn initially, but once you get the hang of it, it's smooth sailing from there. If you need to set up the software for payment, it'll also require third-party integrations. And on a final note, a few reviewers even suggested that the software should make their reporting more comprehensive.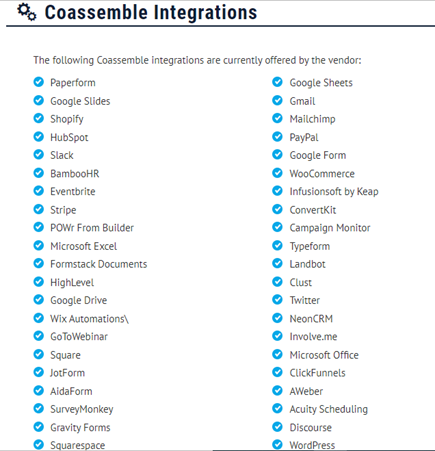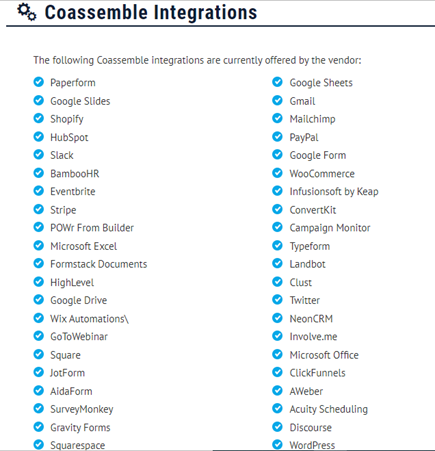 Coassemble pricing: At the time of writing this article, the pricing began at $50/month and went up to $160/month, with a few options in between.
Why Should You Switch Over to SweetProcess?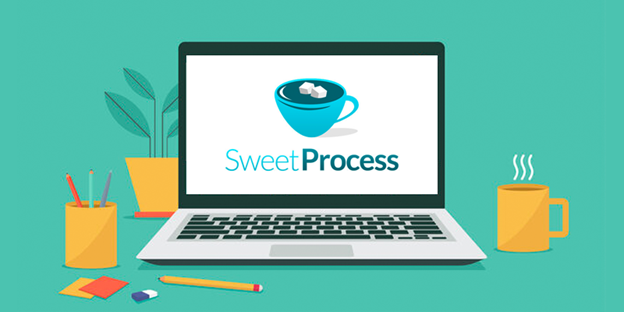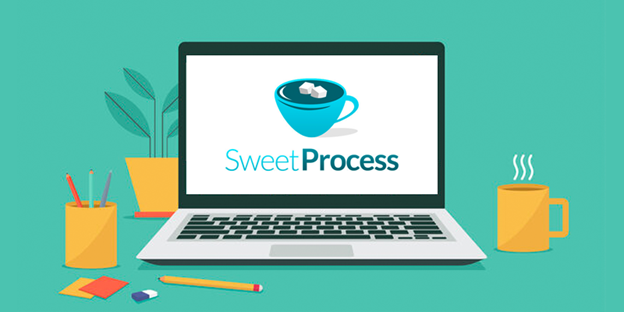 We know we already discussed the benefits of SweetProcesses once before, but in this section, we'd like to truly make you understand what sets us apart from the rest.
To begin with, the software is super easy to use and understand—all you need to do is just click on the buttons and fill out the information. In fact, here's a resource for you to grasp just how intuitive SweetProcess can be: How to Create a Procedure using SweetProcess.
SweetProcess also has a one-size-fits-all approach. That is to say, our software is extremely scalable, and you can use the software just as well when you're an enterprise as when you're a small business.
Truth be told, SweetProcess can actually help you grow your small business into an enterprise by creating a centralized repository of information, processes, policies, and tasks, all in one place thereby reducing time spent doing repetitive tasks or the time lost by forgetting the aforementioned tasks.
To delve a little further into our features:
We document procedures and policies
If you've already gone through the hassle of completing a task, why do it repeatedly when you can just show the same example to the people who onboard? Well, with SweetProcess you can do that—you can remove the guesswork, save yourself some energy, and focus your time on work that matters. We're there to take care of the rest!
Oh, and, while you type up the procedures and policies, our software will create an automatic flow chart for you. Another added benefit is if you've already registered on another software, and you're making the switch, we can help you migrate all the data from there too. After all, our motto is to help you save time.
We have a smart dashboard
Through our smart editor, you have a full view of what's going on where, and you can easily assign and track tasks as you go along. This dashboard also allows you to collaborate with other people on the platform, which improves the end result of the project. You can also view the version history here if you've made any revisions or changes someplace and want to revisit it.
You can choose to share or protect your information
If you have some information that you'd like to keep with the internal stakeholders of the company, you can keep it as such. But if you have some information that you would prefer to share with your customers, for example, that can be done too. After all, it's your knowledge base—you should get to decide if it stays in the public domain or cooped up with your internal partners.
Why should you trust SweetProcess, you ask? Well, trust our customers and the results we've produced for them. Here's what some of our customers have to say:
"SweetProcess is the only program I'd start a law firm with today. If you have the right procedures and you combine that with the right team, there is nothing that may limit you to how far and wide that you may go."
Brian King (Managing Partner, King Law)
"SweetProcess is not only cost-effective, but it gives you the ability to scale your business and grow. It gives you the tools and resources to scale […], and gives you the data to make data-driven decisions for your company."
Megan Tully (Director of BPM, Synergy Billing)
If you'd like to explore more features, please sign up on SweetProcess to get the full experience.
Let's Look at a Few Case Studies
Independent Retirement
Independent Retirement is a family-owned business based in Portland, Oregon. The company quickly realized that time wasted on documenting business procedures was becoming a hindrance in scaling the company. To address the issue, they brought in the service of a highly recommended software, SweetProcess.
We helped them address their five-year plan, and soon after they implanted SweetProcess in their business, they began seeing the results. Our software helped them in key problem areas like document versioning, managing tasks, employee training and onboarding, and creating a systemized documentation process.
Eric, the VP of the company, and Adi, business process consultant, decided to have a quick chat with us to tell us how effective SweetProcess has been for their business. You can read more about the case study here.
This is just one example; we have a plethora of happy customer stories if you'd like to give them a read.
Rise25
Rise25, created by Dr. Jeremy Weisz and John Corcoran, is a company that creates excellent podcasting experiences for its clients. Before they met SweetProcess, their main go-to was Google Docs to keep track of SOPs.
However, there was no structure to it, and they needed something that would make client onboarding frictionless. Enter SweetProcess. We addressed their bottlenecks and helped them create effective documentation, automated document approvals, allowed for seamless client onboarding, and created a centralized knowledge base for all information.
Dr. Jeremy Weisz, co-founder of Rise25, decided to sit with us for a quick chat on how SweetProcess helped them elevate the client experience. You can read the interview (and listen to it) here.
Wrapping Up
Your reasons to shift from Zavanta are yours alone. We're only to tell you that there are other software in the market that have the same, if not better, functionality than Zavanta.
One software, in particular, is our favorite: SweetProcess. It's an extensive software that combines the functionality of a BPM and an SOP in one. You get a centralized repository of all information in one place, plus the added benefit of tracking tasks and performance, all at once. So, what's not to like?
In fact, we'll still sweeten the deal for you. We have a 14-day free signup (and when we say free, we actually mean that it's free and doesn't even require so much as your credit card). If you like it, purchase it.
And if you do purchase it and still don't like it, we have a 30-day money-back guarantee. Plus, it's only $99/month for teams with up to 20 active members (the price goes down when it's a smaller team). Also, this pricing is not per person.
So, what do you say? Do you want to take us for a spin? If yes, sign up for the 14-day free trial now.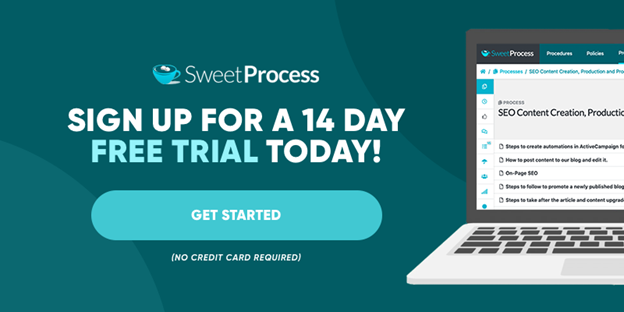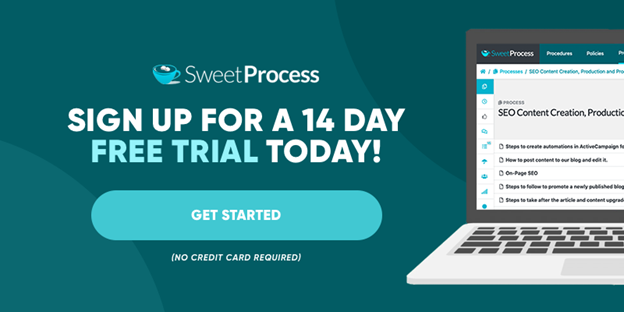 Get Your Free Systemization Checklist

5 Essential Steps To Getting a Task Out of Your Head and Into a System So You Can Scale and Grow Your Business!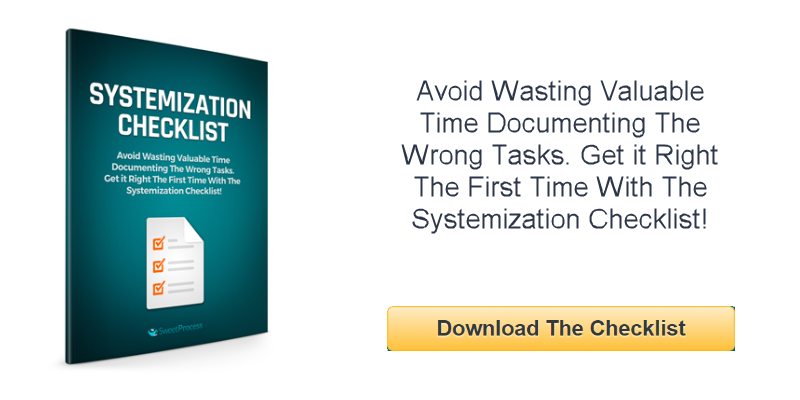 One response to "Modernize Your Business with These Top Zavanta Alternatives"