Improve Your Business with These 10 Manifestly Alternatives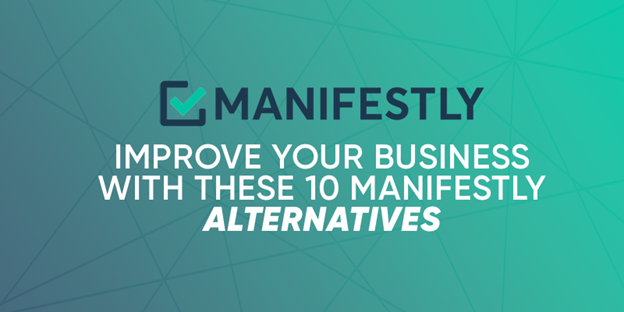 You've already tried Manifestly, but it seems it doesn't satisfy your needs. That's why you're looking for Manifestly alternatives; perhaps you'll find a similar tool or something even better.
You're not alone.
Businesses constantly seek new tools to improve their operations by automating recurring tasks and documenting critical processes or procedures.
There are concerns from users regarding the general user experience. While Manifestly ranks as one of the popular tools for workflow automation, process standardization, and task management, several users think it might not be the best on the market. The common complaints are frequent timeouts, confusing interfaces, and inadequate features.
If you're like most business owners looking to improve their business processes, exploring other alternatives is something you might also want to consider. Besides helping you make an informed decision, exploring available options also makes you aware of the latest tools on the market.
That is why we've done an honest review of Manifestly, guiding you through its core functions and features. Keep reading to discover the top 10 Manifestly alternatives for process documentation, employee onboarding, task management, and much more.
Manifestly Alternatives Full Guide | Chapter Index
Chapter 1: What Are Some Drawbacks of Using Manifestly?
Chapter 2: A Comprehensive List of Manifestly Alternatives and Competitors on the Market
Chapter 3: Why SweetProcess is the Best Alternative to Manifestly
Chapter 1: What Are Some Drawbacks of Using Manifestly?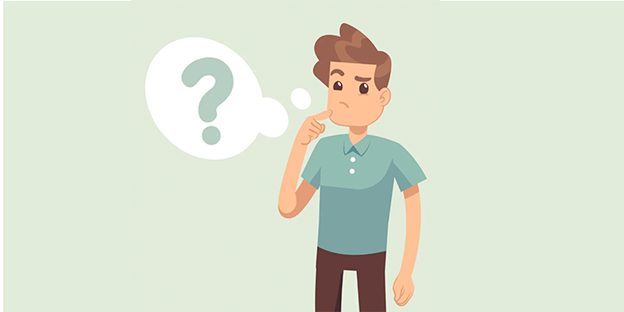 Manifestly is one of the most popular checklist tools for many organizations. With a 4.7 rating on Capterra, it could easily pass as one of the top productivity software in its niche. However, like other tools, Manifestly also has certain drawbacks, giving existing customers reasons to consider alternatives.
Here are three major drawbacks of Manifestly you should know about:
UI/UX Issues
Many users have complained about the poor design interface, difficulty in navigation, and unconvincing user experience. For example, a user observed that it's difficult to find what you are tagged on if there are many users in one company.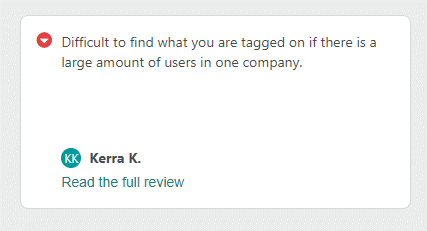 Another user complained about the occasional timeouts, which ruin the user experience.

Lastly, the editing tools freeze occasionally when creating checklists; you need to click a couple of times to get it to work again.

Inadequate Features
Although Manifestly has about 20 great features, there are still certain features that could be useful for its users. Some of the missing features users have complained about include the inability to send automatic emails, the failure to automatically assign a task to a different team member within a workflow, and inadequate reporting.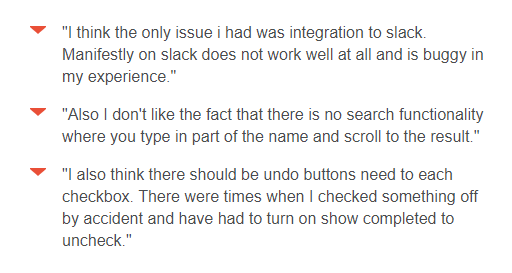 Pricing
Even though Manifestly comes with a 30-day free trial, it appears to be a bit pricey for organizations with large teams. Each user pays an annual fee of $80 ($8/user monthly) to access all the premium features, which is a bit costly compared to its competitors.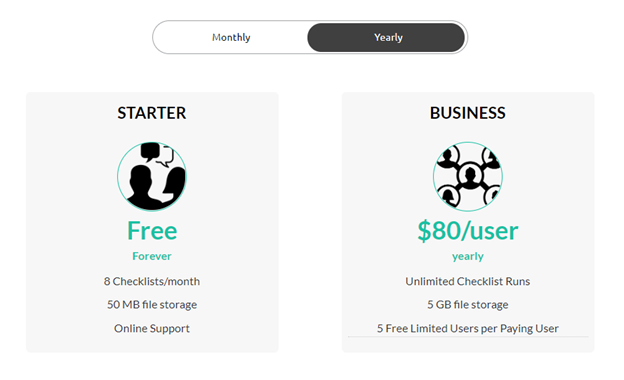 In addition, you may have to pay additional fees for add-on integrations. For example, Manifestly pricing for Slack is $6/month per user when you add an integration.
Also, there is no money-back guarantee when you sign up with Manifestly, which might lead to skepticism by intending users.
A Comprehensive List of Manifestly Alternatives and Competitors on the Market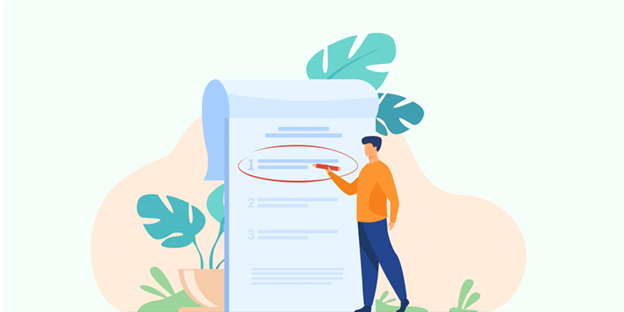 When it comes to optimizing your business activities, you'll find many available tools on the market performing similar functions as Manifestly. If you do a quick Google search for "Manifestly alternatives," you'll find over 400 mobile and web applications. However, many of these tools are hardly Manifestly competitors, which could be confusing.
So we've done the heavy lifting by separating the wheat from the chaff. We've removed the irrelevant apps and selected only the real alternatives based on the functions they perform.
Top 10 Manifestly Alternatives
Here are the top 10 Manifestly alternatives that will help you tighten up your business processes.
1. SweetProcess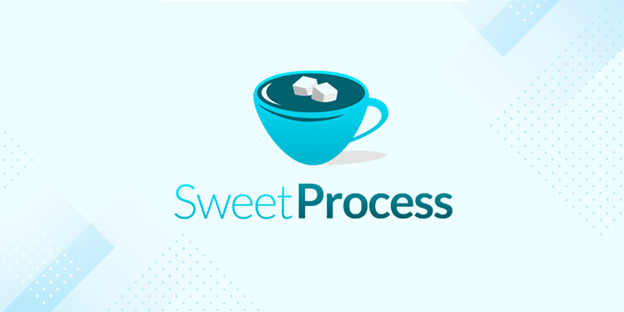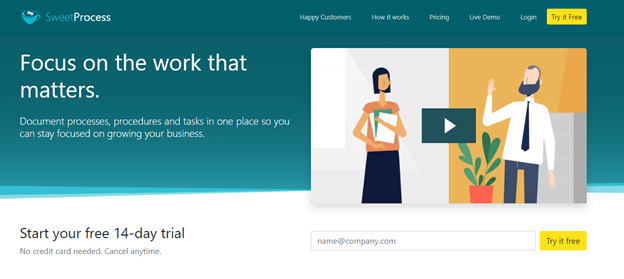 Overview
SweetProcess is one of the best process management software because it makes documenting standard operating procedures (SOPs) easy and efficient. With SweetProcess, you can easily share procedures, manage workflows, master processes, implement policies, manage tasks, and collaborate in real-time.
Whether you manage a team or you want to hire your first employee, SweetProcess gives you the systemization you need to scale and grow your business. Amy Walls, president and financial advisor at Thimbleberry Financial, had the following to say about SweetProcess when they started using it for employee onboarding and documentation: "Our new employees say they have never gone through a more organized onboarding."
Amy discovered that her initial procedures weren't efficient, and that her team members had trouble utilizing them. Now she doesn't need to explain the same things to every team member. Someone else may step in and see what needs to be done next if she is away and a task she was working on needs to be completed. Team members can fix whatever breaks without having to call on Amy. If you want to see how SweetProcess works, you can claim your 14-day free trial here.
Key Features
SweetProcess has many features that make it the favorite choice for many companies worldwide. These features help clients get the best user experience and help them achieve productivity in their daily business operations.
Here are 10 vital SweetProcess features you should know about:
Step-by-step documentation of procedures
Ability to link to policies from within procedures and processes
Combine multiple procedures to make a workflow
Assign and track tasks
The seamless synergy between teammates and managers
Set up teams to reflect how your company runs
Public or private knowledge bases
Integration with 1,000+ apps
Version history and track changes
Process maps and diagrams
Files and videos embedding
Real-time collaboration
Data capture
Two-factor authentication
Email and phone support
Single sign-on system
Image editor
Printing documents for offline viewing
Functionalities Common to SweetProcess and Manifestly
Process management
Process documentation
Task management
Workflow management
Standard operating procedure
Employee onboarding
Pros
14-day free trial period with no credit card required
Access to a quick tour when you sign up for a new account
The site has a simple and clean interface
The platform is intuitive and also easy to navigate
Affordable and flexible pricing
Email and phone support
The software is cloud-based and also has mobile access
It integrates with Zapier as well as more than 1,000 other apps
Flexible platform with easy-to-use templates
No timeouts, freezing or hanging
Real-time notification for completed tasks
How to Set Up a SweetProcess Account
Step 1: Visit the SweetProcess sign-up page and fill in the required details. Make sure you read the terms of use and privacy policy. Then check the box and click "Start Free Trial" to proceed.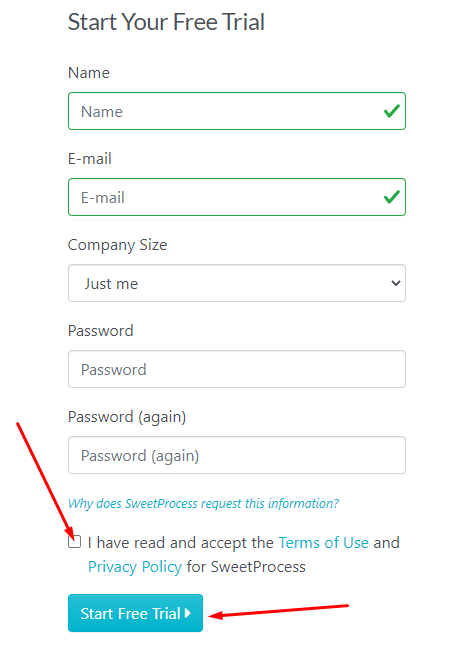 Step 2: Verify your account by clicking the link in your email.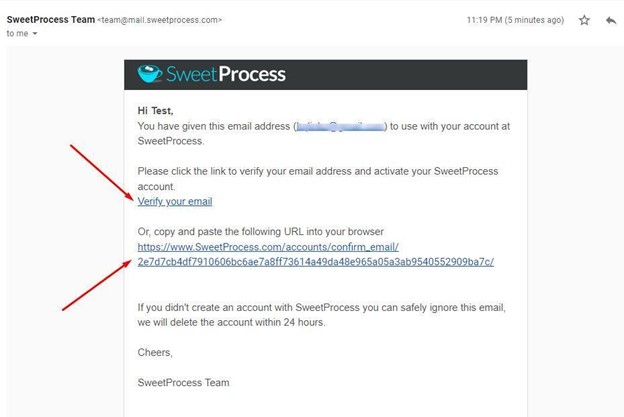 Step 3: Start using SweetProcess.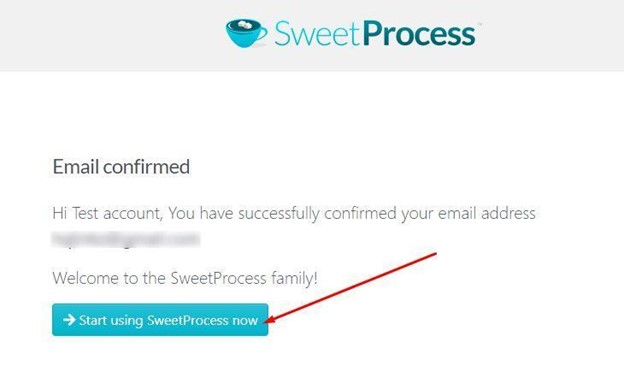 How to Manage Business Processes Using SweetProcess
Step 1: Log in to SweetProcess via the home page.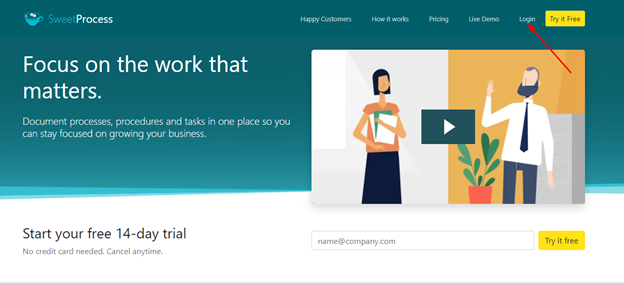 Step 2: Click "Processes" on the top navigation bar.

Step 3: Once the page opens, click the "Create Process" button in the top right corner of the page. Alternatively, you can click the "Create a Process" button in the middle of the page.

Step 4: Enter the title in the space marked "Process Title."

Step 5: If you're creating a process for the first time, you'll have to create a new team. To do this, click "Add to teams."

Step 6: Click "Create Team."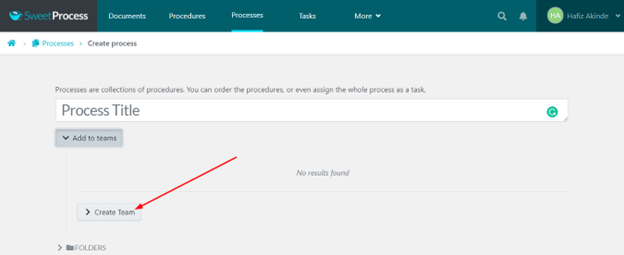 Step 7: Name your team and then click "Create Team."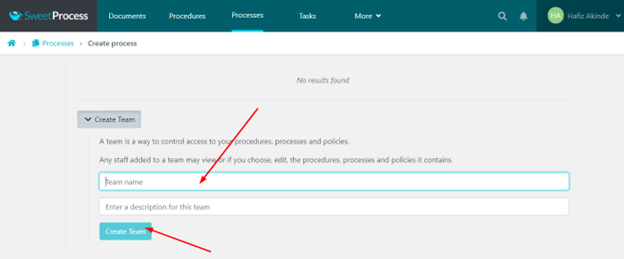 Step 8: The system automatically checks the new team you just created. You may then create your first process by clicking on "Continue."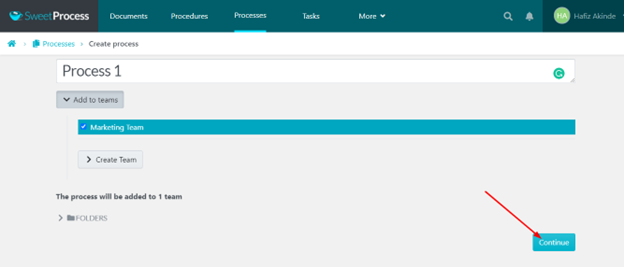 The process you just created will save directly to draft, and you must approve it to make it go live.
Step 9: Click "Approve."

Congratulations! You just created your first process.
Step 10: Proceed to add new procedures to your process by clicking on "Add New Procedure."
How to Create Procedures With SweetProcess
Step 1: Log in to your SweetProcess account and click "Procedures."

Step 2: Click "Create Procedure."

Step 3: Enter the procedure title and click "Continue." (Note that you may also add this procedure to a team or multiple teams.)

Step 4: Click the pencil icon to edit the procedure.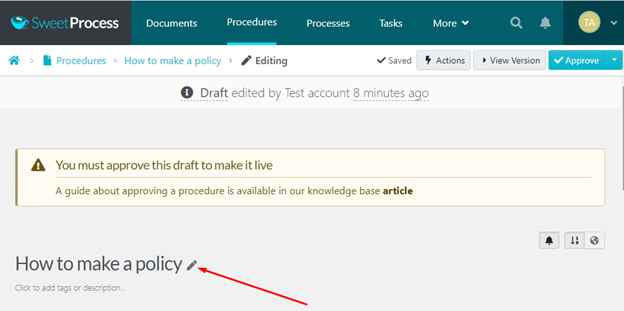 Step 5: Add a description of the procedure you want to create. You may also change the procedure name and add a tag. Click "Finished Editing" once done.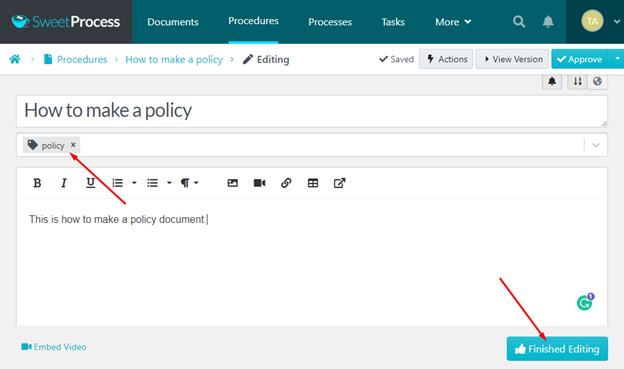 Step 6: Click "Approve" to make the procedure go live.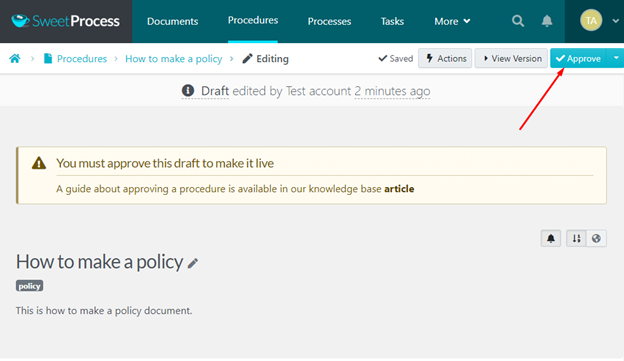 How to Assign and Manage Tasks With SweetProcess
Step 1: Once you've logged in to your SweetProcess account, click "Tasks."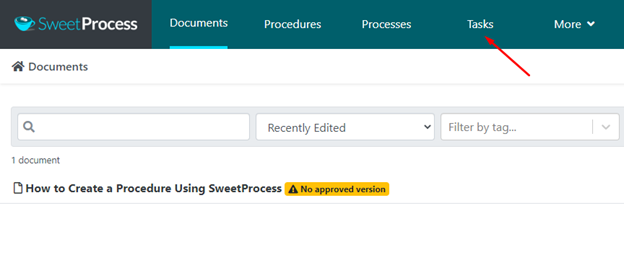 Step 2: Click the "Assign Task" button.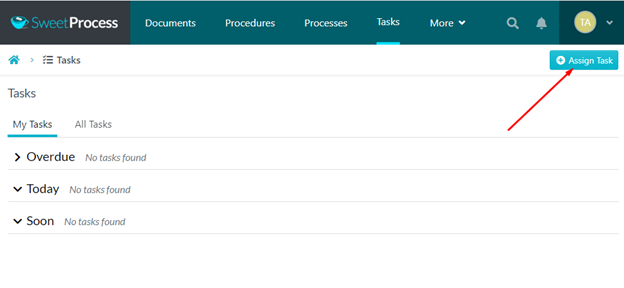 Step 3: Choose from the existing process or procedure, then click "Select Teammate."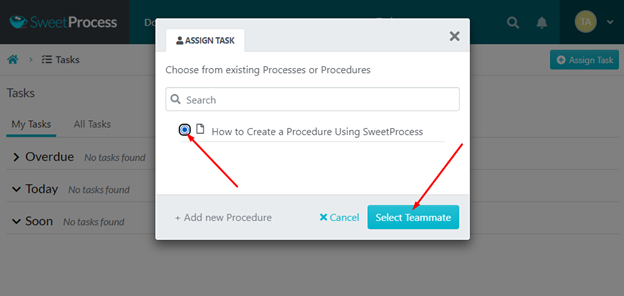 Step 4: Assign to a teammate, create a task name, set the due date and time, choose the frequency of repetition, and finally, assign the task.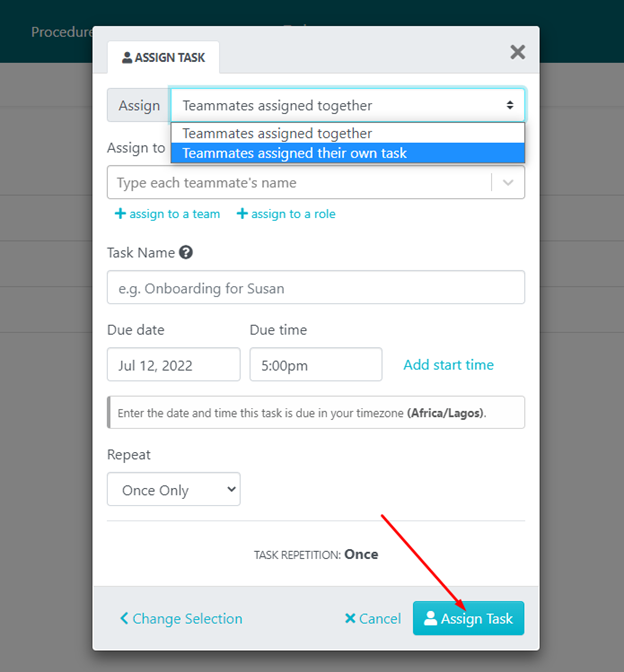 How to Create a Knowledge Base Using SweetProcess
Step 1: On the homepage, click "More" and navigate to "Knowledge Bases" on the drop-down menu.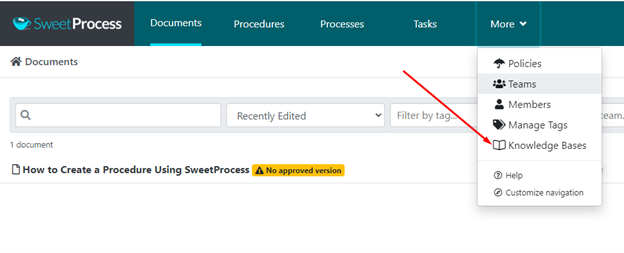 Step 2: Click "Create Knowledge Base."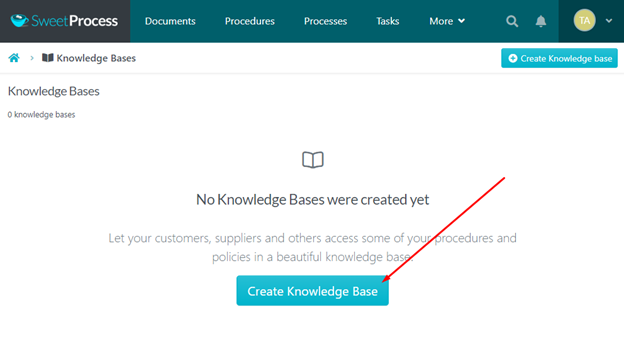 Step 3: Add a title and click "Continue."

Step 4: Create a category.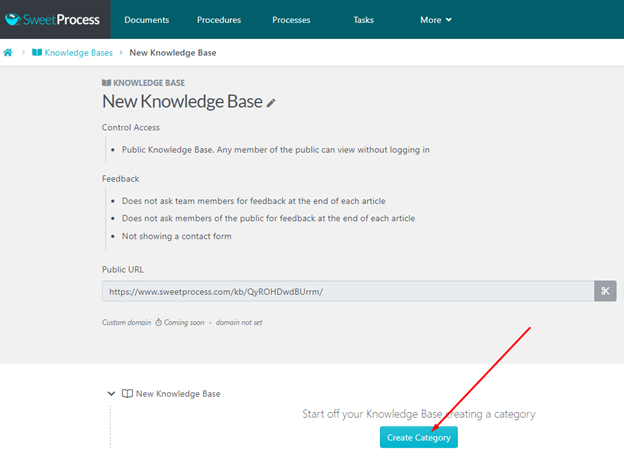 Step 5: Add a new article.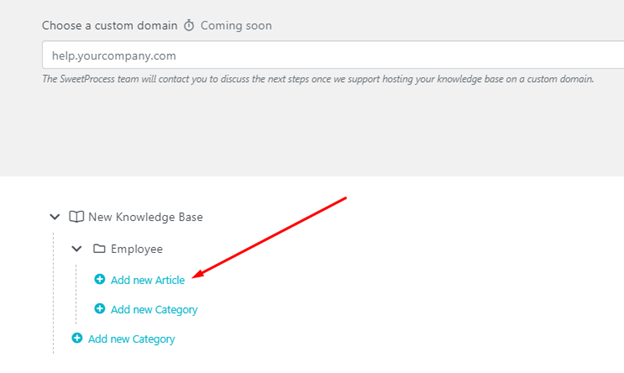 Pricing Details
SweetProcess has an affordable and flexible pricing model. The monthly plan costs $99 for a team with 20 active members. For every new member added to the team, you pay an additional $5 per month.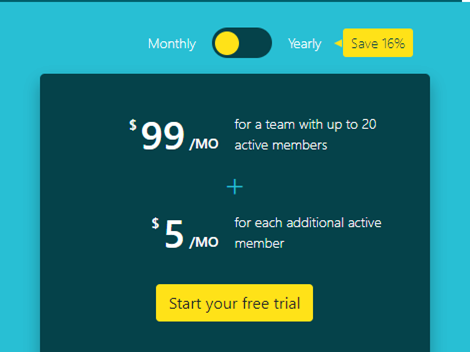 On the other hand, the annual pricing plan for a team of 20 active members is $82.50 per month (or $4.17 per user monthly).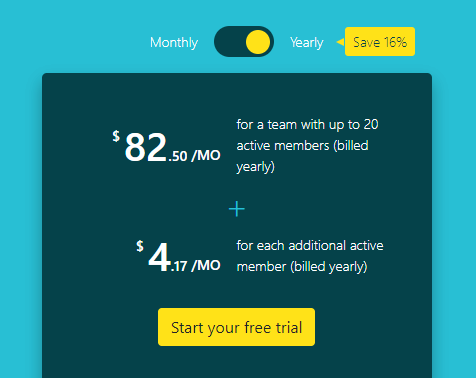 Additionally, teams with fewer than 20 employees can negotiate and enjoy special pricing for smaller teams. Whether you choose the monthly or annual plan, you can save up to 16% of your subscription fee.
The exciting thing about SweetProcess is that you don't have to pay a dime to create your account. New users can sign up for free and also enjoy a 30-day money-back guarantee if they aren't satisfied with their results.

Claim your 14-day free trial NOW to start experiencing all the amazing features SweetProcess has to offer.
User ratings (G2): 4.5/5
2. Bitrix24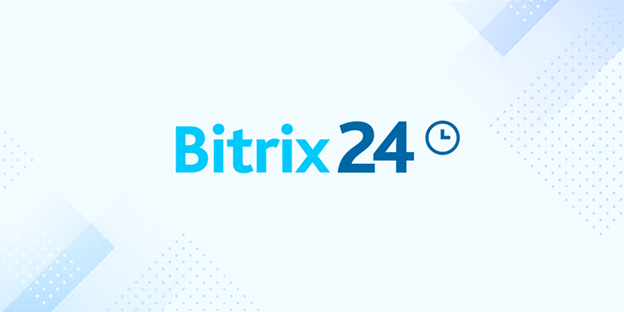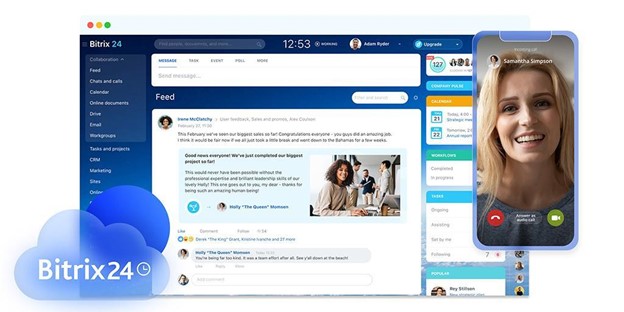 Overview
Bitrix24 is a cloud-based workflow and task management system that helps businesses of all sizes with task creation, documentation, collaboration, productivity tracking, and much more. It also suits remote teams that want to keep in touch and collaborate efficiently.
In addition, Bitrix24 provides a solution that supports the workflows necessary for running a successful company. It is available in 18 languages and is one of the most dynamic software with over 200 features.
Key Features
Effective work order management
Time tracking by client and project
Mobile access
Mobile optimized emails
Media library
Meeting management
Multi-channel data collection
KPI monitoring
Gamification
Geotargeting
Electronic signature
Customizable branding, dashboard, invoices and templates
Daily reports
Business process management
Functionalities Common to Bitrix24 and Manifestly
Task management
Workflow management
Knowledge base management
Client and employee onboarding
Document management
Business process management
Calendar management
Pros
A free trial is available
Free plan for starter business tools
24/7 (Live rep)
Email/help desk
Cloud, SAAS, web-based
Google API services
Cons
Some of the tools are hidden and therefore not easily located.
It requires a high learning curve to start using it.
Poor customer service, especially for first-time users.
Difficulty in navigating the CRM due to complex user interfaces and workflows.
The mobile application is not highly customizable.
A bit pricey compared to other competitors
How to Set Up a Bitrix Account
Step 1: Visit Bitrix24.com and click the "Start for Free" button.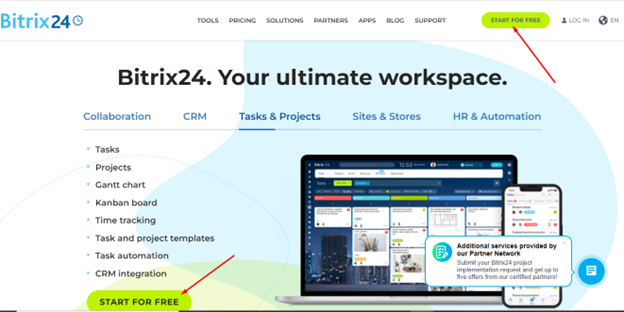 Step 2: Enter your email address and click "Register for Free." You can also enter your coupon code if you have one.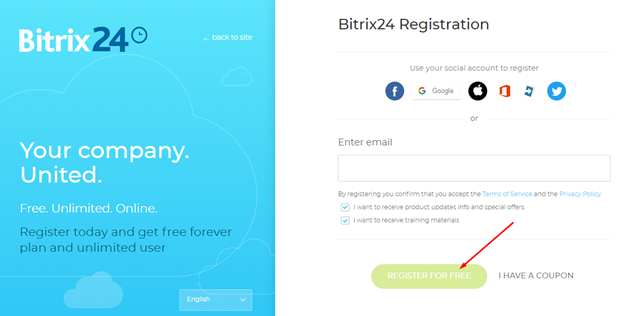 Step 3: Click the link sent to your email to confirm your account.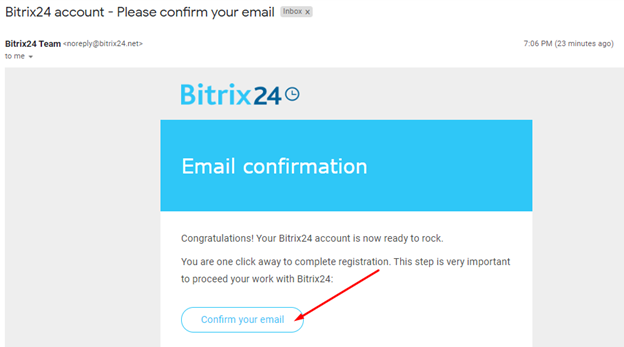 Step 4: Watch the welcome video to learn the next steps.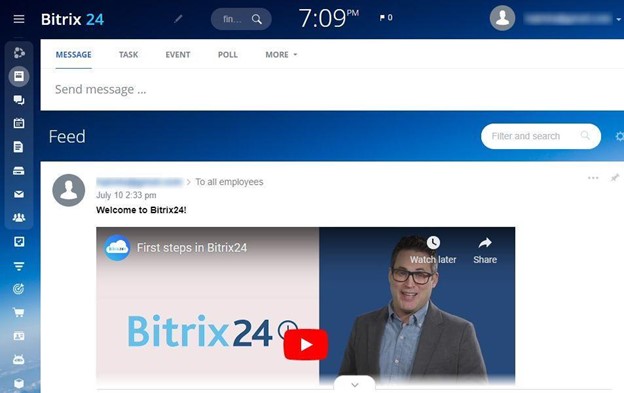 How to Create a Task With Bitrix24
Step 1: Log in to your Bitrix account with your email and click on Task once logged in.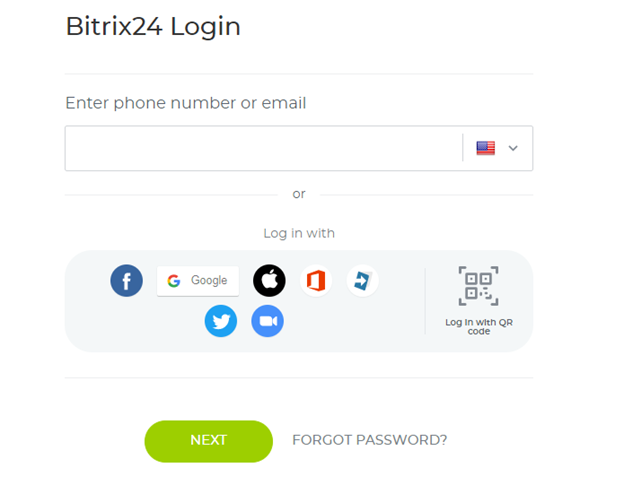 Step 2: Add a title, create the description, and assign the person responsible for the task. Click Send once done.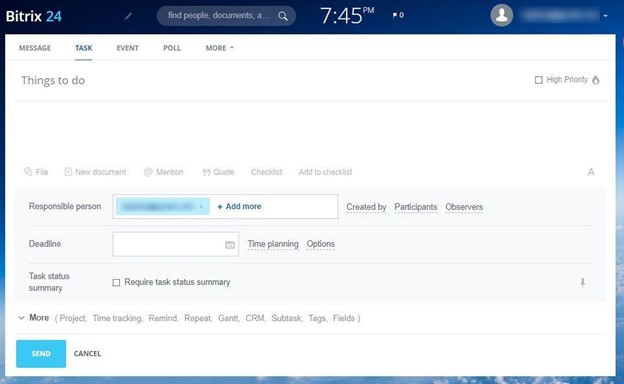 Pricing Details
Bitrix24 has a variety of pricing plans. You can pay for one month, three months, or one year depending on your needs. There is a free plan for starter business tools, but the pricing starts at $39 for five users per month, $79 for 50, and $159 for unlimited users.
User ratings (G2): 4.1/5
3. FlowWright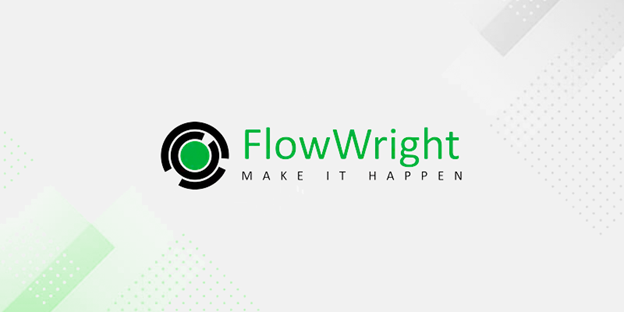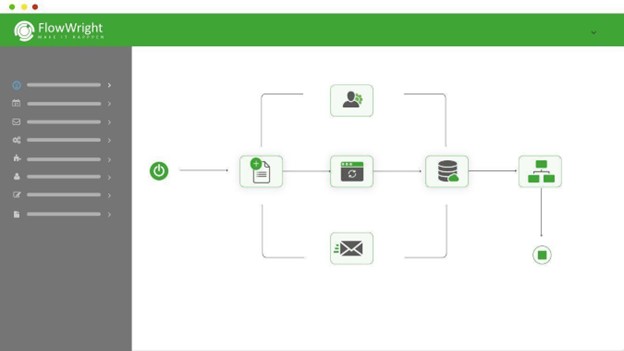 Overview
FlowWright is a business process and workflow management software for companies looking to integrate and automate their business processes. FlowWright helps to empower your workforce, giving you the tools you need to automate and optimize your existing operations, accelerate solution delivery, and optimize your internal and external systems.
Even though it is relatively new in the market, FlowWright has built a reputation as one of the favorite business process management (BPM) software with its high-performance execution mechanism.
Key Features
Visual process and workflow
Drag-and-drop online form
Form and application
Integration management
Logic and automation management
Resource management and authentication
Work queue and task management
Monitoring reports and analytics
Functionalities Common to FlowWright and Manifestly
Business process automation
Task management
Workflow configuration
Workflow management
Team collaboration
Pros
Customizable dashboard
Graphical workflow editor
Reporting/analytics
Third-party integrations
Mobile access
Simplified business process management and workflow management process
Outstanding support and responsiveness
Knowledge base
Phone support
24/7 (Live rep)
Email/help desk
Cloud, SAAS, web-based
Cons
Software experiences frequent bugs, and it's hard to troubleshoot when errors arise.
Not so easy to use, as it requires a steep learning curve.
Documentation sometimes lacks depth, and users must figure out many things independently.
The software is relatively costly.
How to Set Up a FlowWright Account
Setting up a FlowWright account is not as direct as other software. To set up an account, you must request a trial and POC (proof of concept), or schedule a 15-minute call.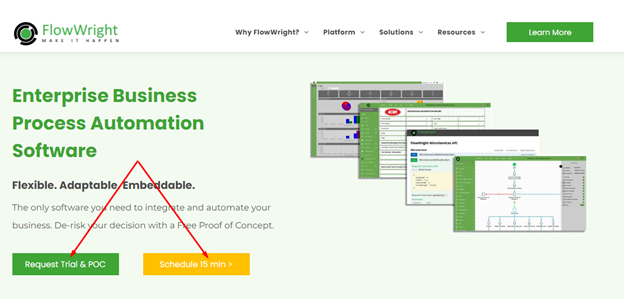 To request a trial and POC, you need to complete a form as shown in the images below: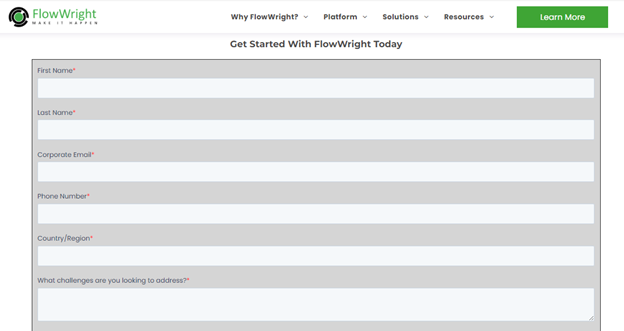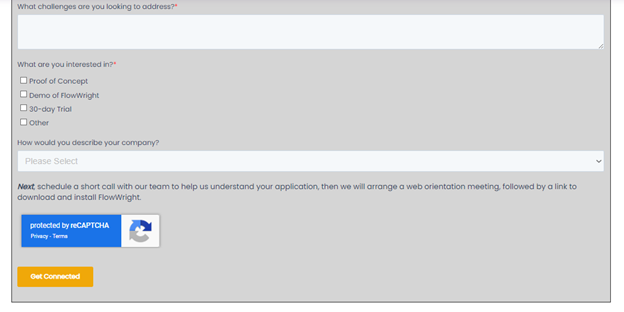 Alternatively, you could select a suitable date and time for the 15-minute call.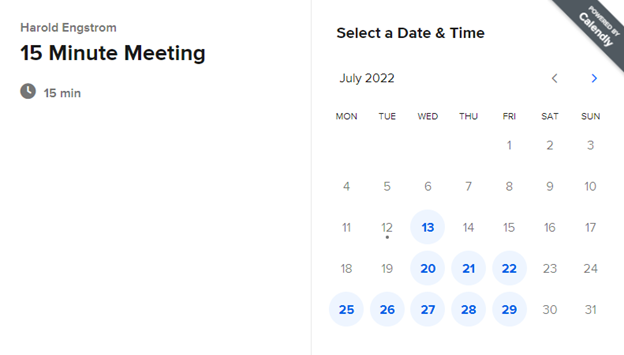 Pricing Details
FlowWright has a robust pricing plan targeted toward large teams. The prices for 50 users, 125 users, and 500 users are $1,080/month, $2,425/month, and $4,450/month respectively. Therefore, the lowest a user can pay for the software per month is $21.60. Enterprise solutions and larger usage, however, will call for customized pricing.
User ratings (G2): 4.6/5
4. Kissflow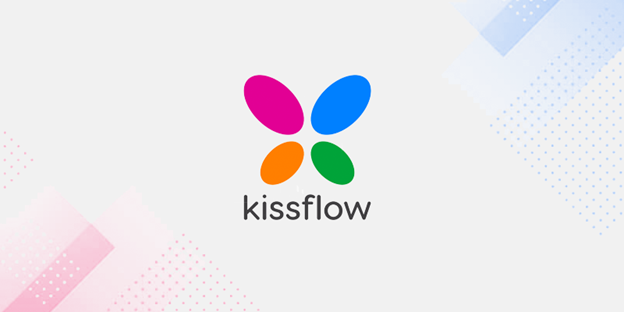 Overview
Kissflow automates forms-based business processes and keeps track of performance. To maximize productivity and resource usage across projects, teams, departments, and processes, it aids enterprises in designing, deploying, and managing customized workflows.
The program is a comprehensive workflow management platform that simplifies your workflows for multiple procedures across departments, giving you the agility and flexibility to manage your business operations without difficulty.
Key Features
Remote lookup
Drag-and-drop interface
Event and time-based triggers
Improved performance
Easy integration
No-code platform
Enhanced work design
User-defined attributes
Activity logs
Two-factor authentication
Functionalities Common to Kissflow and Manifestly
Employee onboarding
Workflow management
Forms management
Task management
Business process automation and control
Document management
Pros
Ticket management via a unified portal
Ease of use
Delegation of duties to others after completion
Coding expertise is not required
Facilitation of teamwork
Paperless notification of work-in-progress
Cloud storage
Customizable dashboard
A user-friendly workflow, design, and creation process
A great customer support system
An appealing user interface
Cons
Difficulty navigating the search-and-file structure
Poor Google Drive interface
High pricing plans
External integration during table conversion
Limited regional localization
How to Set Up a Kissflow Account
Step 1: Sign up for Kissflow by visiting Kissflow.com, then click "Get Started."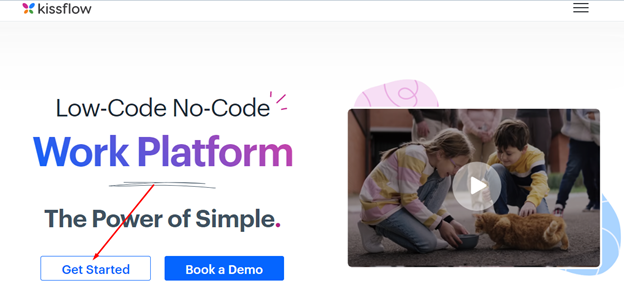 Step 2: Fill in the required details and click "Get Started."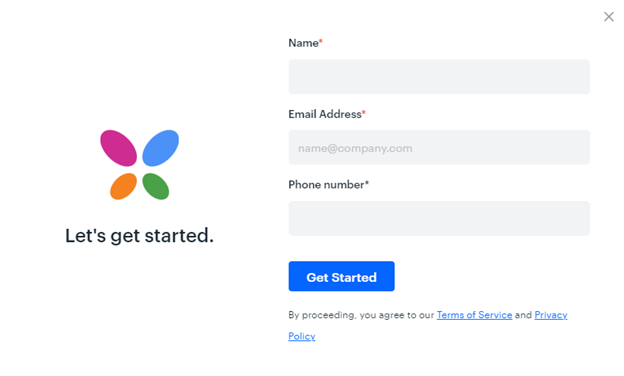 Step 3: They'll create your account after receiving your application.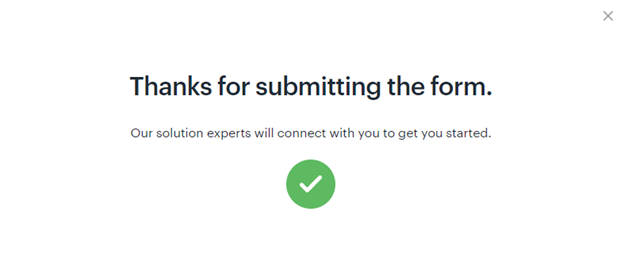 Pricing Details
Kissflow Workflow is available across two plans on monthly and annual subscriptions, details of which include:
Small Business: $18 per user, per month and $10 per user, per month. A minimum of 20 users can use the monthly plan and they're billed $360 monthly. For the annual plan, a minimum of 50 users can subscribe for $6,000.
Corporate: the subscription for this plan is $24,000 and billed annually. Or $20 per user per month with a minimum of 100 users.
Enterprise: This plan is designed for mid-sized to large businesses in need of a comrehensive solution for their organization. Customers will have to get a custom quote based on their needs.
User ratings (G2): 4.3/5
5. Pipefy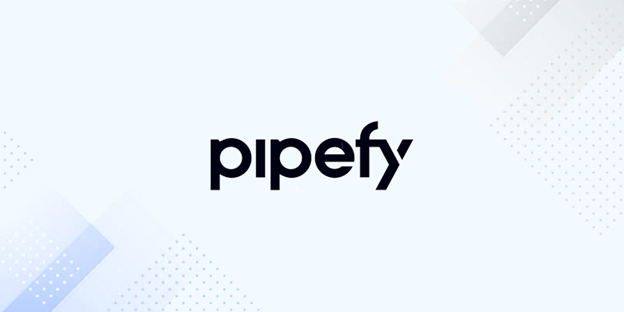 Overview
Pipefy is a workflow management tool that simplifies business operations like hiring, onboarding, and purchasing. Pipefy increases speed and produces higher-quality results by enabling non-technical personnel to design and automate workflows without IT support.
World-class managers can design and manage effective processes with the help of Pipefy. There are no boundaries to what people can do when they are equipped with the resources necessary to advance their job independently of others. Because of this, Pipefy improves agility, increases efficiency, and provides more client value through optimizing workflows, resulting in more outstanding quality.
Key Features
Email messaging
Customization and flexibility
Alerts
Pipe connections
Filter
Approval flows
Conditional logic
Portals
Request tracker
Database
Mobile app
Admin control
Subtitles
Email inbox
Data migration
Two-factor authentication
Google apps authentication
Data recovery
Private pipes
Professional services
PDF template
Functionalities Common to Pipefy and Manifestly
Business process automation and control
Workflow management
Workflow configuration
Third-party integrations
Rules-based workflow
Reporting/analytics
Forms management
Document management
Collaboration tools
Pros
It is both user-friendly and beginner-friendly
High-speed information processing and communication
Long-term data storage
Cross-functional process and workflow management
Email messaging
App integrations
Automated reports
A prompt and effective feedback system
Pre-built process templates
Cons
Data loss due to process modifications
Lack of a time-selection option
Software isn't beginner-friendly and may be challenging to understand and utilize at first
Lack of flexibility in design
How to Set Up a Pipefy Account
Step 1: Sign up for Pipefy by visiting www.pipefy.com/signup
Step 2: Click "Try Pipefy Free" or "Get Started for Free."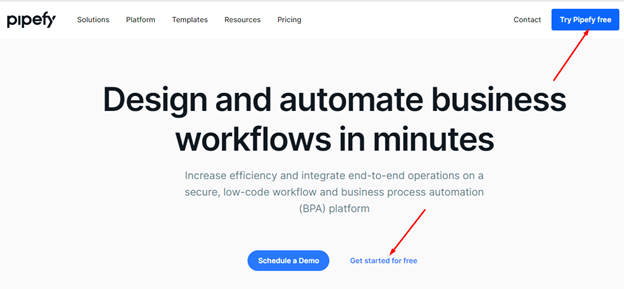 Step 3: Enter your work email address.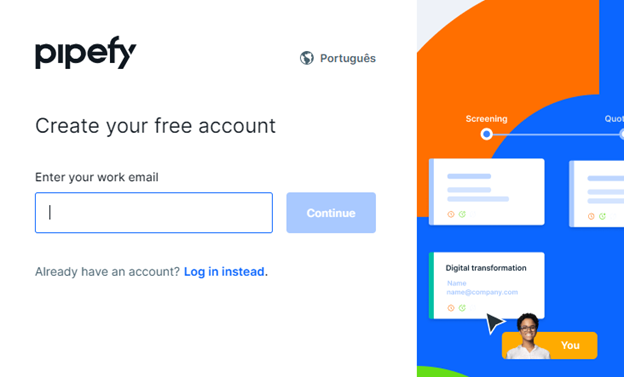 Step 4: Enter the required details and click "Continue."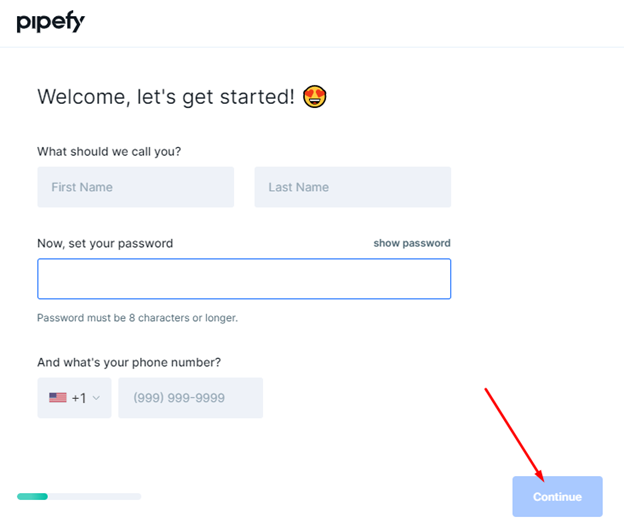 Step 5: Provide the required details.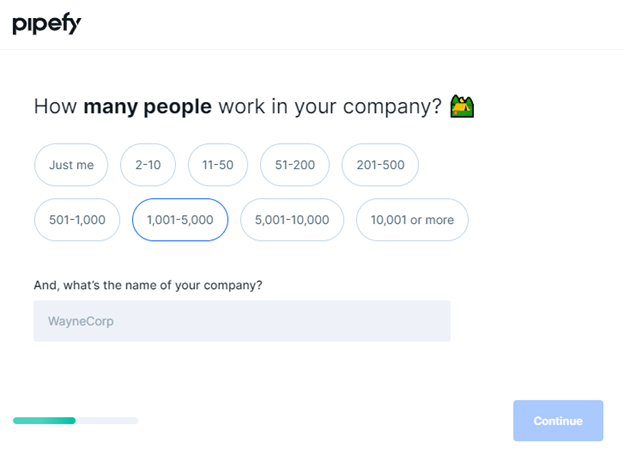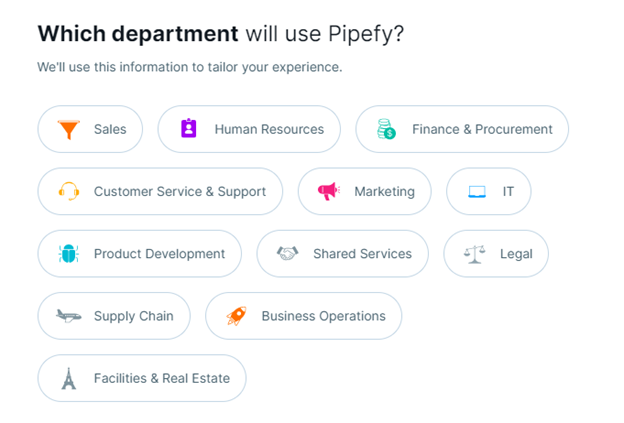 Step 6: Confirm your email address.
How to Create a Pipe in Pipefy
Note: A pipe enables you to manage an entire process in one place, with complete visibility of people and information.
Step 1: To create a pipe, access Home. Then, click on New pipe.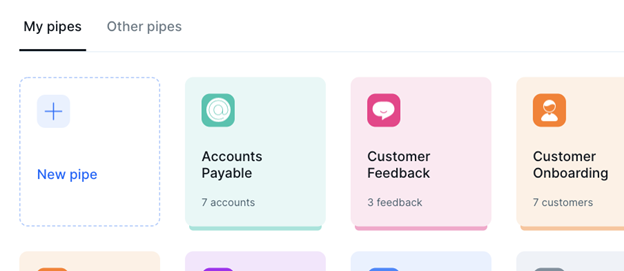 Step 2: Choose a process template in the Template Gallery.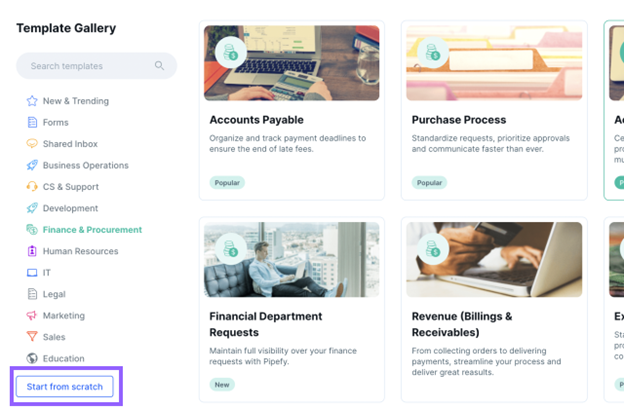 Step 3: Follow the steps on the screen until you have a new pipe to use.
Pricing Details
Pipefy has a free version and does not offer a free trial. However, the paid version starts at $18/month. The pricing details for Pipefy can be grouped into "Starter," which is free and recommendable for small teams, startups, freelancers, and students who need to organize their tasks.
The second category is Business which goes for $18 per user per month and is recommended for mid-market teams needing to centralize and scale business processes. Enterprise is the third option for $30 per user per month.
User ratings (G2): 4.6/5
6. Process Bliss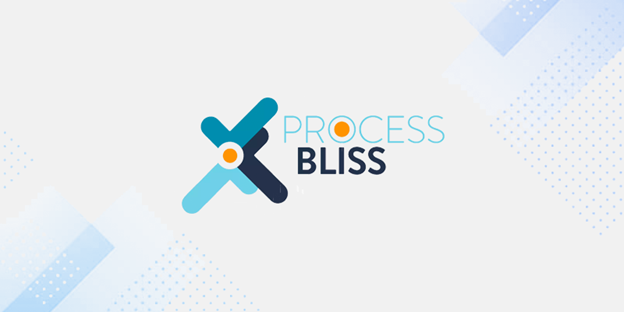 Overview
Process Bliss is the most straightforward approach to get rid of confusion in your company. Start where you need with a time-stamped audit trail for compliance throughout onboarding, maintenance, delivery, approvals, or recruitment. Build drag-and-drop process flowcharts in minutes, then use them as straightforward team checklists to execute.
Thanks to a single repository for processes, policies, and procedures accessible from anywhere and on any device, everyone understands what to do to save time and cut down on errors, to integrate and automate. Even free implementation assistance is something they provide.
Key Features
Business rules management
Collaboration
Process mapping
Process modeling and design
Access controls/permissions
Alerts/notifications
Business process automation
Visual workflow management
Functionalities Common to Process Bliss and Manifestly
Compliance tracking
Reporting/analytics
Third-party integrations
Workflow management
Task management
Business process automation
Business process control
Pros
Integration saves time
Lowers compliance costs
It makes space for cooperation on tasks that need to be done
Records talks and topics discussed
Uses summary dashboards or detailed reports to produce clear progress visibility
Uses automatic notifications
The drag-and-drop interface, flowchart builder, and video embeds offer instructions on how to carry out tasks or make concepts plain
Cons
Less feature-rich than some other solutions
The program can be a bit sluggish at times
Difficulty understanding how specific functions work
The inability to group tasks into folders or sublists
Slow loading of reports
How to Set Up a Process Bliss Account
Step 1: To create an account on Process Bliss, visit processbliss.com/register/
Step 2: Fill in the provided spaces with your email address and password, click the "Go" button, or sign in with your Google or Microsoft account.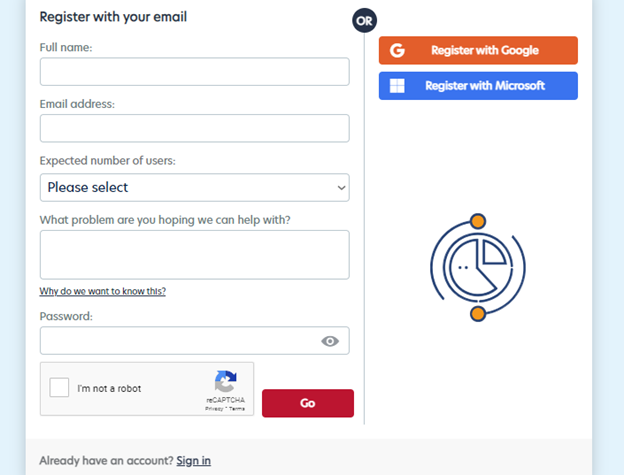 Step 3: Fill in the confirmation and check the boxes. Click "Next" afterward.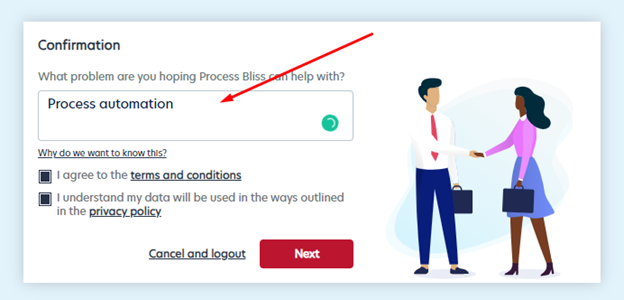 How to Create a Task on Process Bliss
There are two ways to create a task in Process Bliss. Either you create a task from a template or create one by clicking "My tasks" from your dashboard.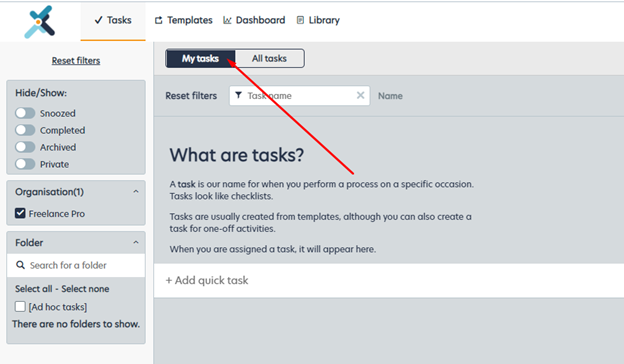 Pricing Details
Each Process Bliss user pays a monthly fee of $10. If they want to pay annually, they receive a discount of two months for free. There's also a discount for charities and startups.
User ratings (G2): 4.8/5
7. ProcessMaker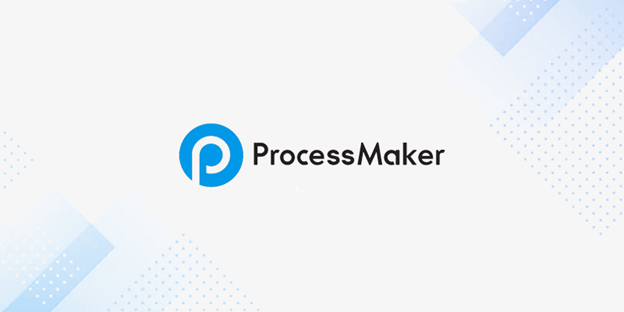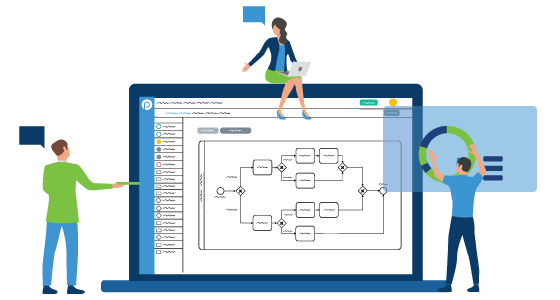 Overview
ProcessMaker provides business enterprises with process management and workflow software solutions that can be installed locally or deployed online via the cloud. With ProcessMaker, business users can quickly create and deploy solutions to challenging process issues with ProcessMaker's low-code workflow automation platform, which takes just hours.
The platform simplifies users to automate operations, connect to and extend third-party systems, remove bottlenecks, and bring true digital agility to your business. Users can develop and change process diagrams per BPMN (business process modeling notation) standards using the drag-and-drop process modeling tool offered by the ProcessMaker designer.
Key Features
Seamless information flow
Reporting tools
Robust API integrations
Deep customization
Low-code development
Digital process automation (DPA)
Functionalities Common to ProcessMaker and Manifestly
Workflow management
Mobile forms automation
Business process management
Task management
Standard operating procedures
Pros
Designed for enterprise flexibility and scalability
Uses an intuitive drag-and-drop canvas to simplify complex processes
Capture and distribute data
Eliminates errors and automates approvals
Real-time alerts for critical information
Connects to existing third-party systems via API
Unlimited flexibility with easy customization
Mobile forms automation
Cons
Difficult to locate critical elements on the user's menu, which is not very clear
Complex coding is needed for several significant and valuable features
The function of real-time communication is based on group work processes or role relationships
Internet Explorer compatibility issues: utilizing ProcessMaker can be challenging for regular Internet Explorer users
Challenges with the more complex components
How to Set Up a ProcessMaker Account
ProcessMaker has detailed documentation on setting up an account.
You will also find other related topics such as editing a user account, viewing a user account, and searching for a user account on their documentation page.
Pricing Details
There are different pricing plans for the available solutions. Pricing starts at $25/month per user for the low-code platform. However, you need to contact ProcessMaker directly to get the pricing details for banking, higher ed, and embedded solutions.
User ratings (G2): 4.3/5
8. Process Street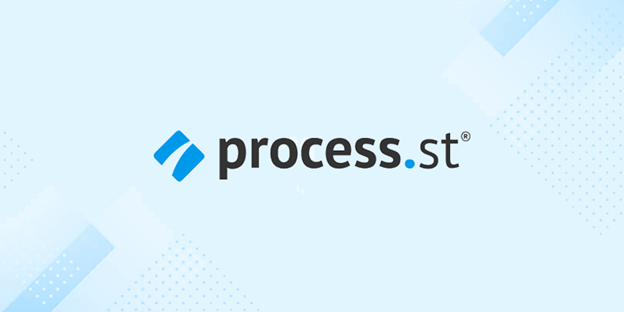 Overview
Process Street is a modern process management platform for teams to manage recurring checklists and procedures. The software helps teams share their core processes and transform them into powerful no-code workflows. Process Street enables you to save time while creating your procedure documents. It also allows you to collect structured data in your workflows and document your team knowledge properly.
Key Features
Document approvals
Master templates
Collaborations
Integration with over 1,000+ apps
Drag-and-drop editor
Activity tracking
Conditional logic
Checklist dashboard
Rich content and media
Activity feed
Documentation
Daily, weekly, and monthly workflows
Functionalities Common to Process Street and Manifestly:
Client and employee onboarding
Business process management
Workflow management
Standard operating procedures
Task management
Pros
Increased efficiency
Reduced training
Greater flexibility
Fewer mistakes
Tighter control
Great customer experience
All information is easily accessed, edited, and updated in one location
Pre-made quality management checklist templates
Cons
Process Street does not support all logical keystrokes and shortcuts.
Updating the current workflow while editing templates is quite challenging.
Lack of granularity in roles and permissions.
Inadequate automated customization.
Several features and functionalities are not clearly defined.
How to Set Up a Process Street Account
Step 1: Visit process.st and click the "Try it free" button.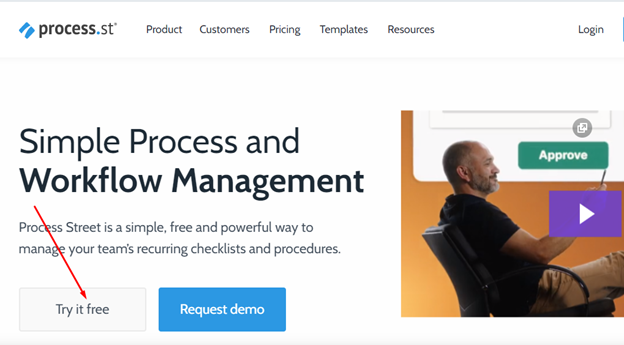 Step 2: Type in your work email.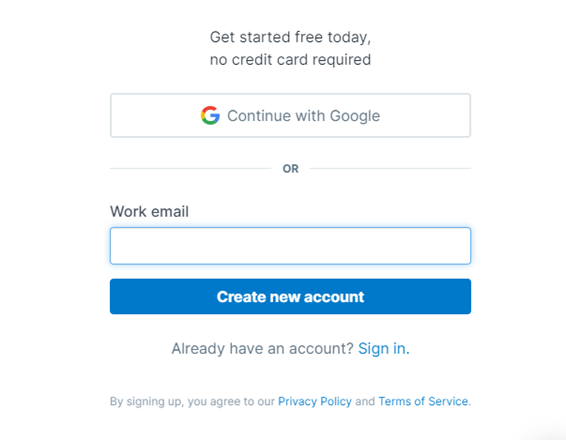 Step 3: Fill in your name and a suitable password.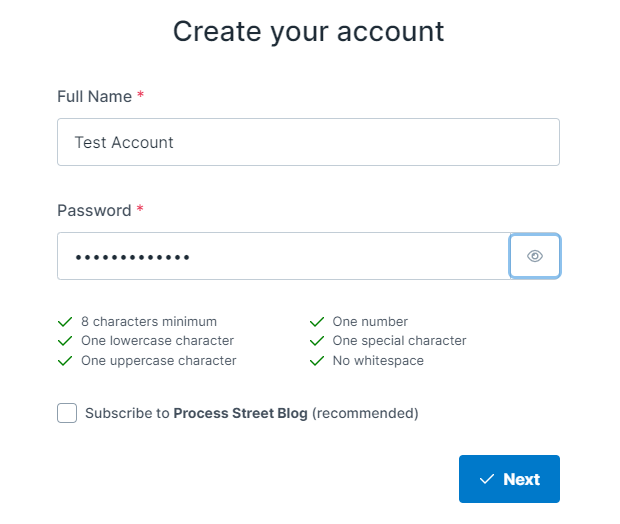 Step 4: Click "Start Here" to configure your account.

From here, you can create tasks and workflows from within your account.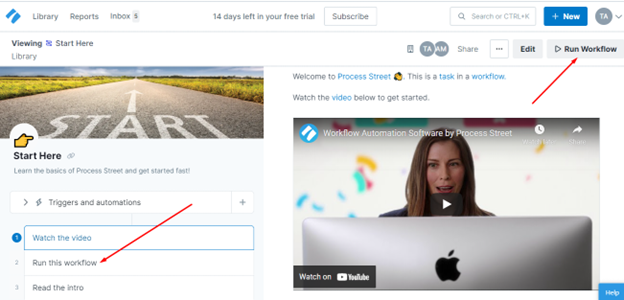 Pricing Details
Process Street has a 14-day free trial period with no credit card required. There's a free plan which gives you limited access to Process Street features, followed by a Pro plan that starts at $25 per full member, per month. The Enterprise has custom pricing, and you may need to contact the team for pricing details.
User ratings (G2): 4.7/5
9. ProcessPlan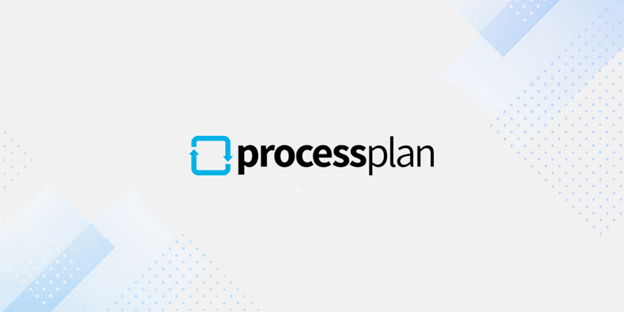 Overview
ProcessPlan is a simple and automated software design for HR, business management organizations, start-up businesses, and agencies with workflow procedures. It assists in managing processes, workflows, and tasks to ensure your company runs flawlessly. Additionally, machine learning (AI) analyzes your results and finds ways to improve them.
ProcessPlan is a complete online and cloud-based software tool that includes automated workflow editor, business processes, task management, and it controls the team's access to a project. The software handles most management tasks for you and reduces your management time by around 50%.
Key Features
Team access control
File imports
App collaboration
Task response automation
Decision tree diagrams
Process visibility controls
Automated load balancing
Automated standard operating procedure documents (SOPs)
Automated emails
Process access control
Task tagging
Scheduled processes
Automated messaging
Process loopbacks routing
Sophisticated task timing
Functionalities Common to ProcessPlan and Manifestly
Business process management
Task management
Workflow management
Pros
Documentation and video guides
A professional services team
Great user interface
Great customer support
Pocket-friendly pricing
Visual and interactive processes
Free training
Free process templates
Free support
Cons
Limited features
Appears complex to understand at first login
Complex features that are difficult to implement
Specific triggers do not work with all the fields selected
Mapping out the strategy, including setting all the necessary parameters to make it work, is a bit tedious.
How to Set Up a ProcessPlan Account
Visit processplan.com and click "New Account."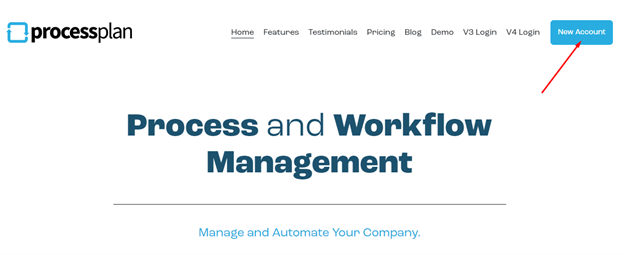 Step 2: Enter your email address to get started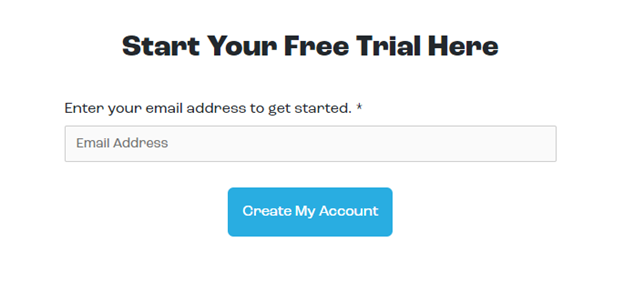 Step 3: Enter your email address and password to complete your set-up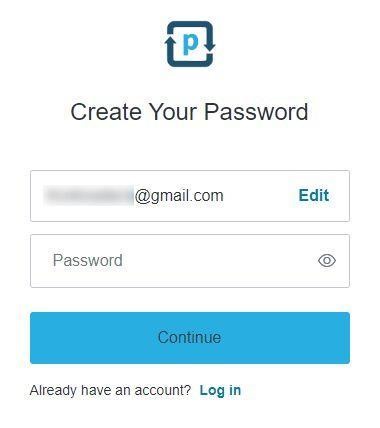 Step 4: Check your email address to confirm your account.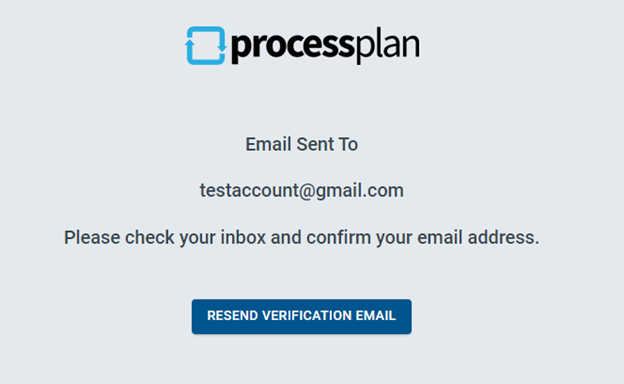 How to Create a Task With ProcessPlan
Step 1: Locate and click on "Create a Task" to start off-task creation from the left-hand side of the dashboard, as indicated by the arrow.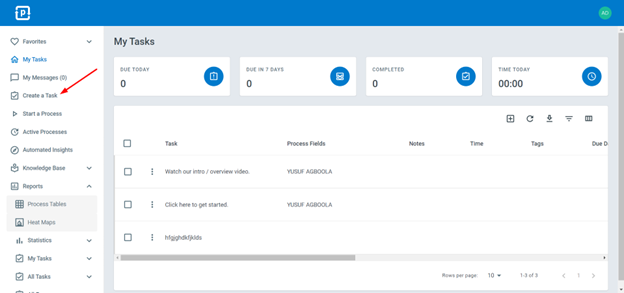 Step 2: Enter a description of the task in the task description section and click on "Save Task"' to save a task description added as directed by the arrows on the screenshot above.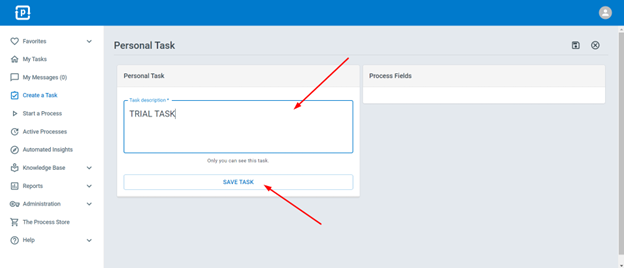 Step 3: Click on the drop-down button to add a tag name accordingly and help keep your tasks organized. You can select multiples of tag options to be added to a task.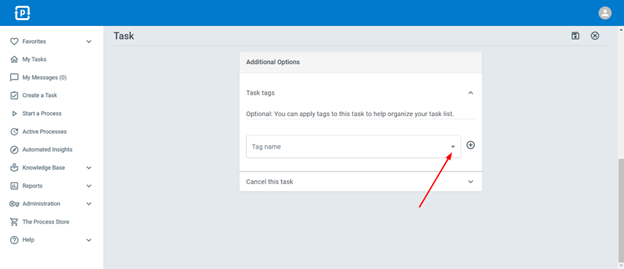 Step 4: Click the drop-down button to assign a task to a user.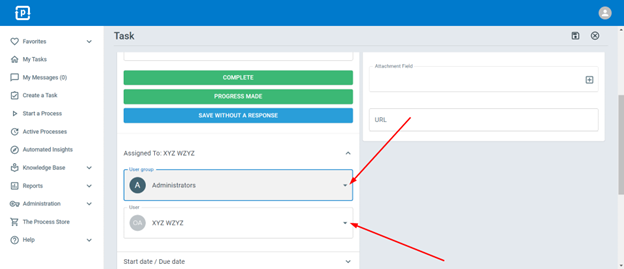 Step 5: Set the starting and due date for the task from the date section as indicated by the arrow.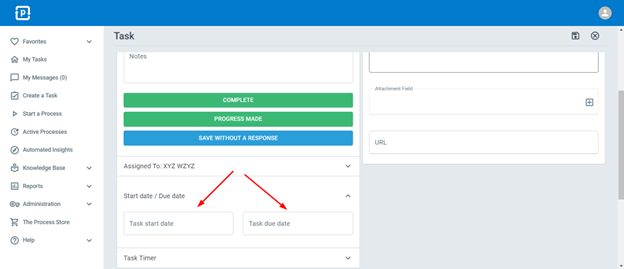 Step 6: You can add a file attachment from your computer to be used on your task from the attachment field section as indicated by the arrow.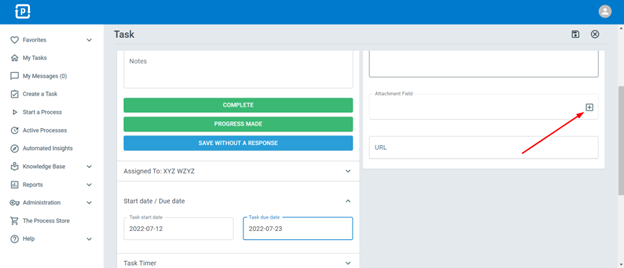 Step 7: Navigate to the top-right corner of your screen and click on the save button image to save a created task and begin work on your new task.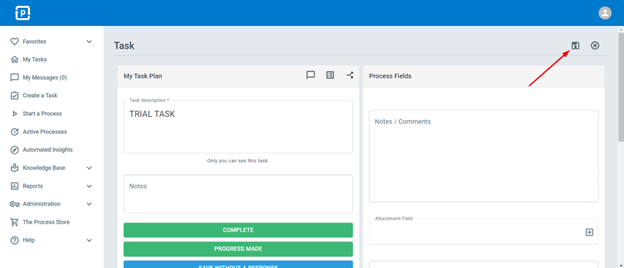 Pricing Details
ProcessPlan offers first-time sign-up users a 14-day free trial to test and fully utilize the software. Subscription starts from $15/month, or you can choose to buy a $12/month billed annually. Cancel your subscription anytime.
User ratings (G2): 4.3/5
10. Tallyfy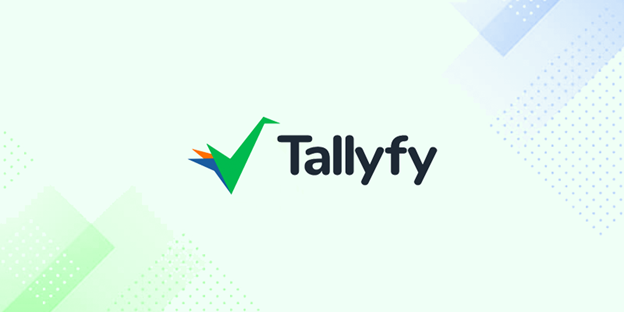 Overview
Tallyfy is a leading cloud-based application software solution that helps you automate tasks between coworkers and clients. With Tallyfy, you can easily track and automate organizational workflow and management processes without the knowledge of coding and flowcharts.
Tallyfy provides an easy-to-understand dashboard that simplifies the tracking, monitoring, and managing of processes. As you use this tool, you get to see the status of work in progress, time to completion, who works on a project, and lots of other activities. Additionally, Tallyfy integrates seamlessly with your existing apps, allowing you to extend your available functionalities.
Key Features
Conditional branching
Deadline rules
Form rules
Approval workflows
Tags
Email reminders
Branding
Real-time analytics
Process tracker
Progress bars
Task lists
Real-time notifications
Auto-assign work
Functionalities Common to Tallyfy and Manifestly
Workflow management
Client onboarding
Task management
Business process management
Standard operating procedures
Pros
Real-time workflows for employees and clients
Process improvement for any size of business
Works without leaving Outlook or Gmail
Integration via webhooks and API
Real-time tracking for all your processes
Process improvement for any size of business
Handle process variation without flowcharts
Cons
Limited user dashboard customization
No pre-built process automation templates
User interface design needs improvement
How to Set Up a Tallyfy Account
1. Sign up via your Google or Microsoft account on Tallyfy's homepage.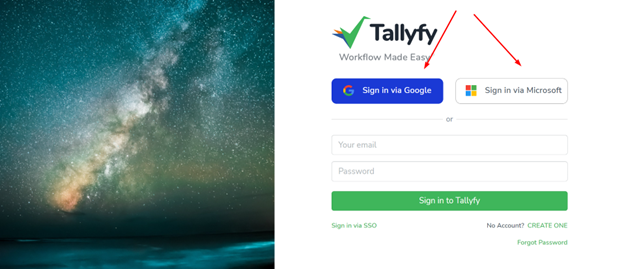 Step 2: Enter your company's name and click "Continue."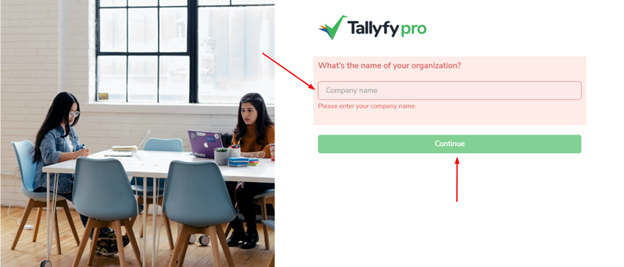 Step 3: Enter your first name, last name, email address, and phone number. Then check "I agree to the terms of service" and click "Continue" to enter the Tallyfy homepage.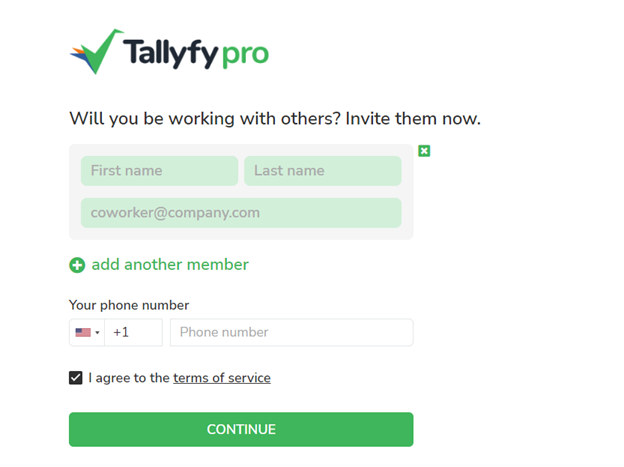 How to Create a Blueprint/Task Process on Tallyfy
Step 1: Locate and click on the library icon on the left-hand side of the dashboard to create a process blueprint.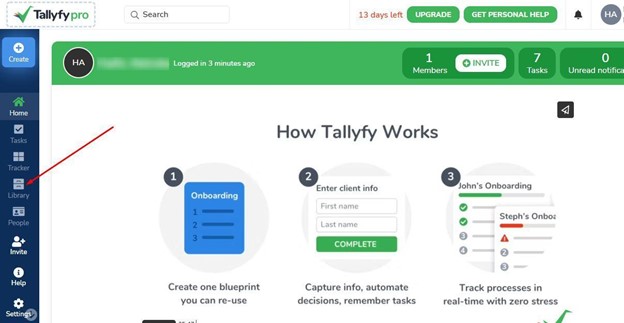 Step 2: Click on "New Folder" to create a new process blueprint folder.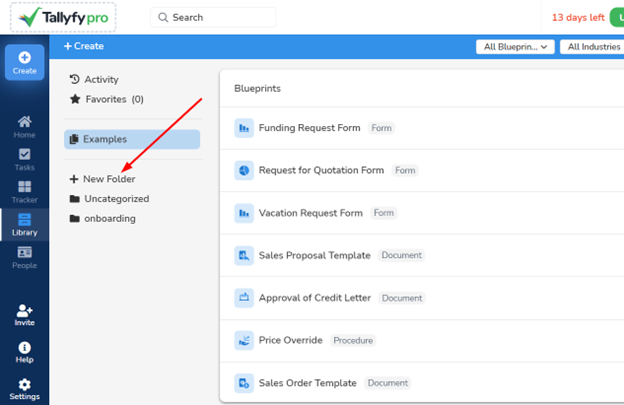 Step 3: Name your folder by typing the desired name in the space provided as shown on the screenshot below, and click the "Create Folder" button.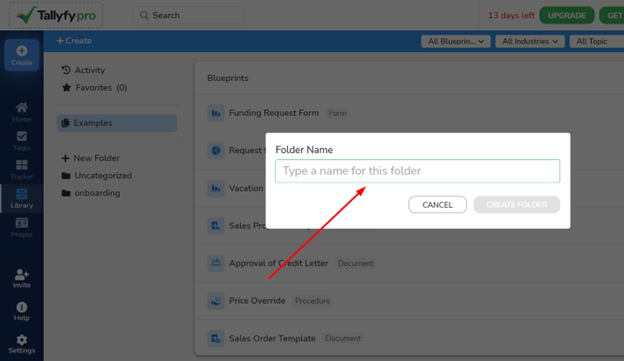 Step 4: Select the name of the folder you created and click on the create button as shown by the second arrow to start adding tasks to your blueprint.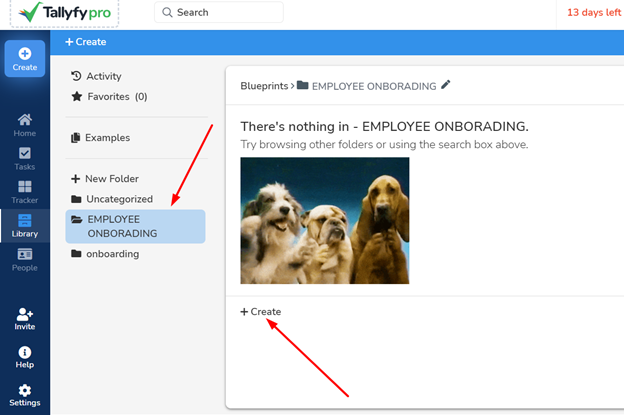 Step 5: Type in the name of the procedure to be added to your blueprint and click on "Create Procedure Blueprint" as shown by the arrows.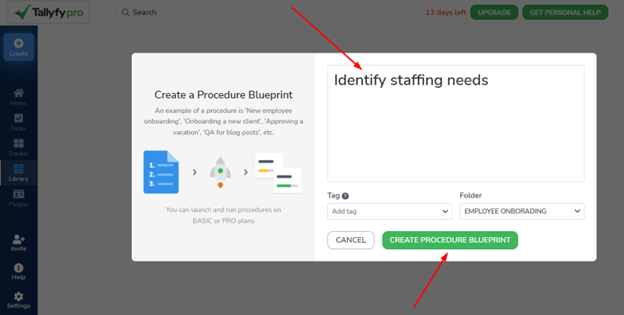 Step 6: Type in the task to be created on the procedure blueprint and click on the Create button as indicated by the arrows. Continue to add different tasks one after the other to the blueprint to build up your task processes.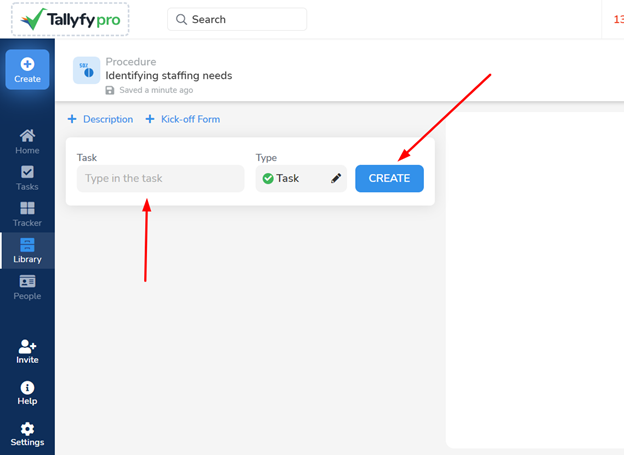 Step 7: Give more details on set tasks by editing from different fields, such as assigning a task to a member, giving a detailed task description, setting the duration for the task to complete, and lots more. Click on the pencil icon for each field to make the editing.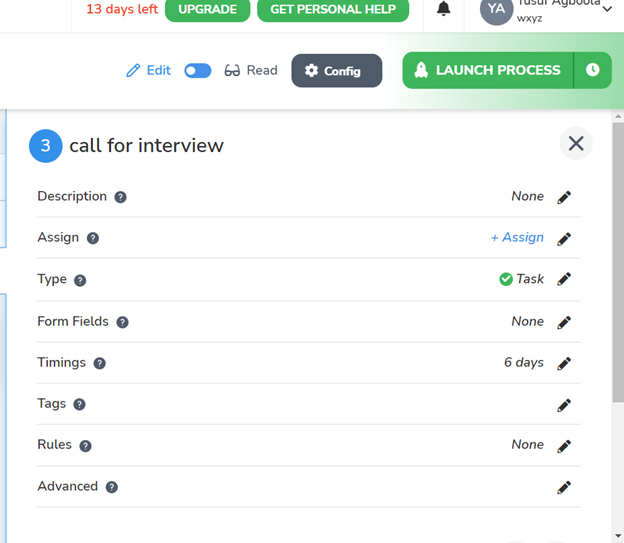 Step 8: Launch the process created by clicking the "Launch Process" button at the top-right corner of the page to begin the process.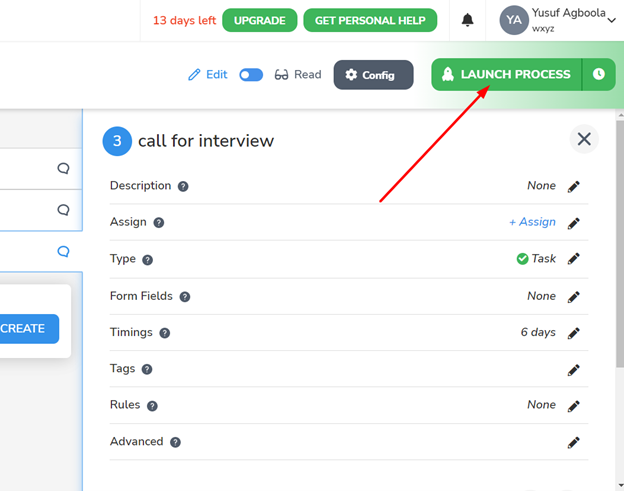 Pricing Details
Aside from a 14-day free trial for new sign-ups, Tallyfy offers two different subscription levels with distinct features for a great user experience: Tallyfydocs and TallyfyPro.
Tallyfydocs is an annual plan of $5 per member per month with a minimum of 10 active members to onboard and unlimited guests. You get two-months free when you purchase this plan.
On the other hand, TallyfyPro is $30 per member per month with a minimum of four on-boarding active members and unlimited guests.
User ratings (Capterra): 4.3/5
Why SweetProcess is the Best Alternative to Manifestly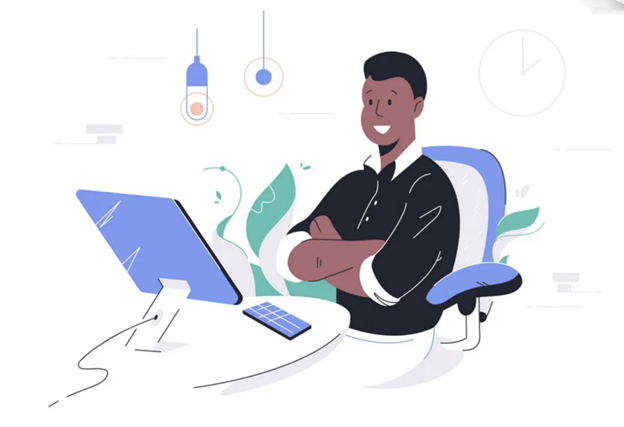 Aside from SweetProcess's impressive rating on reputable software review websites, SweetProcess has a unique feature lacking in most BPM software: intuitiveness.
The platform is beginner-friendly and easy to navigate. You'll find beneficial instructions you need to get things done within the software, the interface is simple yet effective, and there are no unnecessary glitches.
Furthermore, SweetProcess offers the best solutions for the functionalities it shares with other software tools. It provides the best solutions for business process management, task management, workflow management, standard operating procedures, and employee onboarding. All of this is evident in the testimonials real users from the corporate world have shared about SweetProcess's abilities.
For example, Carter Harkins, the co-founder of Spark Marketer, described how SweetProcess helped to empower its employees' confidence with standard operating procedures.
According to him, the real game-changer for their business was the ability to organize things into procedural or process-based categories. SweetProcess made it simple to view the processes you need to see and standardized the framework for documenting standard procedures, making it much simpler for individuals to discover what they need.
Before finding out about SweetProcess, Spark Marketer had not been using standard operating procedures, which created operational loopholes in their business. Thanks to SweetProcess, the SOPs have fostered employee efficiency and accountability in their organization.
The experience is quite similar for Rise25. With lots of moving parts within the business, it was practically impossible for the company to achieve much with its unstructured files. They had a bunch of SOPs in Google Docs, which didn't give them the efficiency required.
However, adopting SweetProcess provided considerable relief for the team at Rise25. SweetProcess provided a simplified system to onboard clients, document processes, and create procedures. When they finally signed up with SweetProcess, the expectations were high, and they needed immediate results. Within the first week or two, the team experienced an impressive improvement in their business process documentation and overall workflow.
Conclusion
We've reviewed 10 Manifestly alternatives by looking at the features, pros, and cons. By now, you should be able to make an informed decision based on this in-depth review. However, if we were to pick the best manifestly alternative, it would be SweetProcess.
Would you like to try out SweetProcess for a more efficient business process? Start a free 14-day trial right away! No credit card required.