9 Flowmingo Alternatives For Business Automation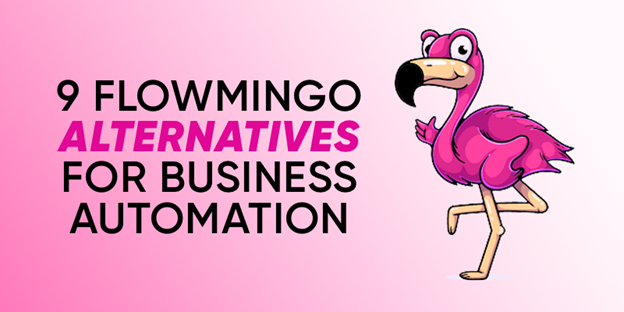 You thought Flowmingo could systematize the processes and workflow at your company, but your expectations were crushed. Now you are looking for an alternative that can make business automation worth your while.
You are in luck because several tools support enterprise digitized processes to implement automation solutions capable of eliminating routine tasks and replicating human actions, just like Flowmingo. These Flowmingo alternative tools put an end to the use of paper checklists, email chains, or spreadsheets, cumbersome repeat tasks, and onboarding.
In this resource article, you will learn nine Flowmingo alternatives that help with scaling your business and making standard operating processes seamless, as well as the one that stands out of the pack—SweetProcess.
Start your 14-day SweetProcess free trial without a credit card
Flowmingo Alternatives
Table of Contents
Chapter 1: Why Flowmingo Alternatives?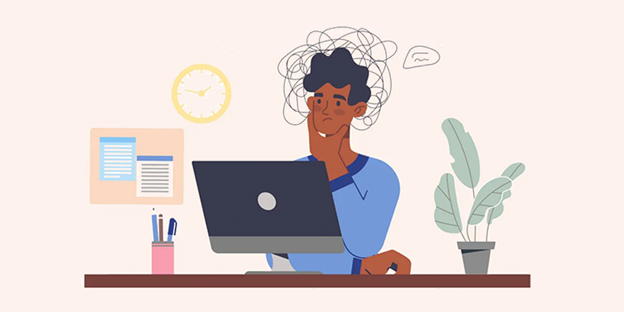 There are people just like you seeking Flowmingo alternatives. They have encountered issues and hitches in some areas, and work on their platforms just isn't as effective as it ought to be. Clients are posting bad reviews and the surge in seeking alternatives is rising as the days go by.
Let's take a look at some of Flowmingo's trouble areas:
Slow user management
One of the challenges that come with Flowmingo is that you need to completely refresh the page before you see any changes in the streamlined interface, and this makes things a bit slower to use.
Little room for automation
The learning curve is steep. Schedules, processes, and several other features can be hard to distinguish and somewhat confusing for users who want to make the most out of business automation.
No mobile apps
This tool can only be used on the web, as it is a web-based business process management (BPM) solution for creating custom business workflows without coding or programming.
Hampers work motivation
Nothing beats a tool that fuels your zeal to work. Some features or functions in this tool are missing, according to users of Flowmingo, and are therefore capable of hampering work that brings about the right kind of growth and expansion.
Uses up space
There is the challenge of Flowmingo taking up space on your system. The tools are not up to the mark; it needs to be reviewed for capacity.
Chapter 2: The 9 Best Flowmingo Alternatives for Documenting Procedures and Processes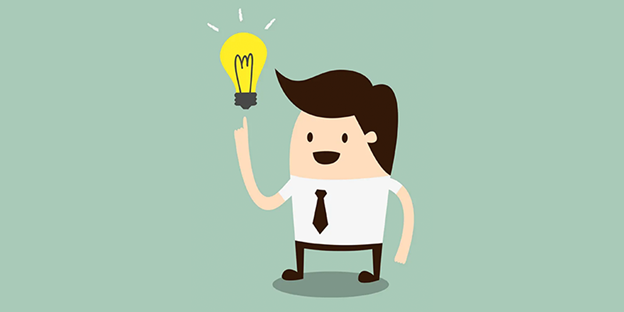 You just got dissatisfied with Flowmingo and are looking for a similar solution that can outperform flowmingo, but you do not know how to arrive at the best option.
Consider paying attention to the following business tools:
1. SweetProcess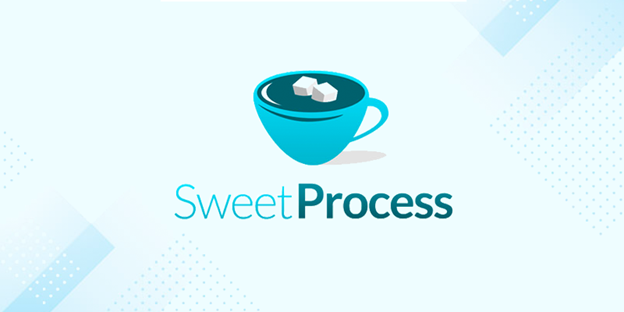 What is SweetProcess?
If you are looking to get a better grasp on the day-to-day happenings in your business like Zac of Cullen Insurance Agency, then SweetProcess is at the top of the list. It is a solution for mid-sized businesses, enterprises, and multinational conglomerates, and it makes standard operating procedures and workflow super seamless. You can document your processes, procedures, and tasks in one place. It comes with a mobile device UI so you can stay focused on scaling your business.
It doesn't matter whether you manage a team or you're onboarding your new set of employees, SweetProcess is a standardized online, true operational manual for any kind of business. It empowers your staff with the most appropriate training to carry out their jobs effectively, just like it empowered Elisabeth Swan to comprehensively streamline business processes, reduce waste, and eliminate unnecessary work-related tasks at UC San Diego Medical Center to save four million dollars.
SweetProcess supports you and your team with the necessary systemization that you need, just as it did for Perry Beebe, managing director at All Residential Estate, who wanted to put a stop to the use of paper-based checklists because of unproductive results, weak documentation, and a streamlining failure in his business.
After a frustrating search for alternatives, Perry found SweetProcess and was now supported to document the process effectively, onboard and train employees, as well as build consistent success strategies in his business operation.
You too can put an end to business documentation laced with difficulty and ineffectiveness by signing up for a SweetProcess free trial. It is straightforward to use.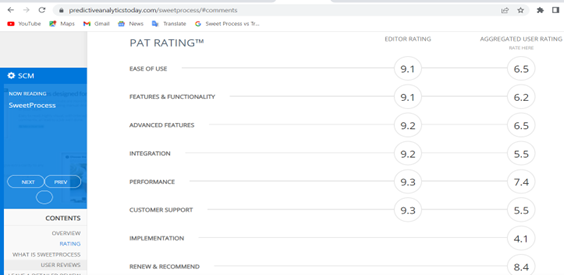 How Does the Free Trial Work?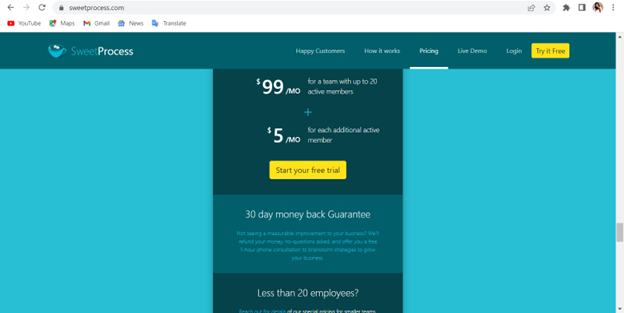 Start by signing up for SweetProcess for 14 days. At the end of your 14-day free trial, you can continue using SweetProcess by choosing your plan and entering your billing information. You can cancel at any time before or after your free trial.
Features of SweetProcess
Document Procedures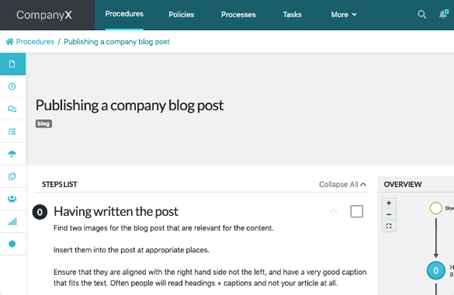 Implement Policies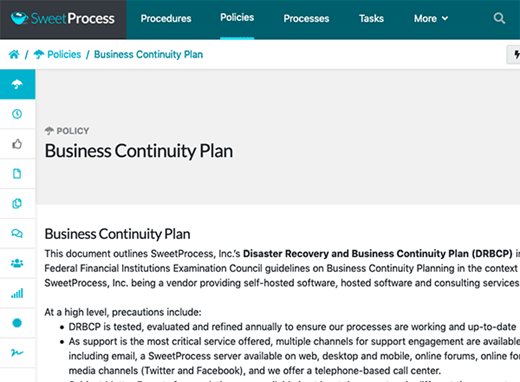 Master Processes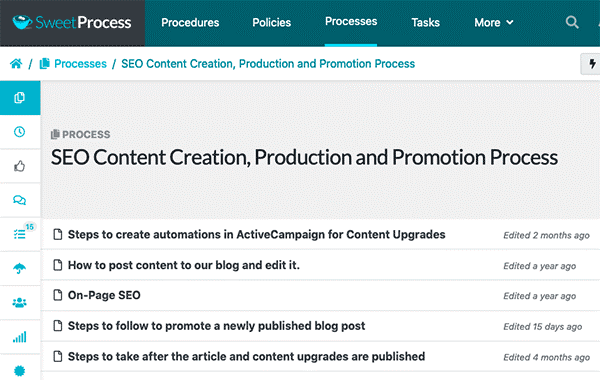 Manage Tasks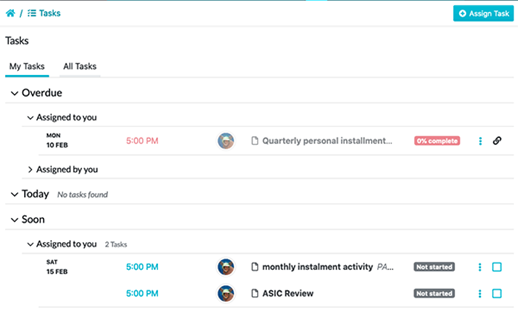 Public and Private Knowledge Base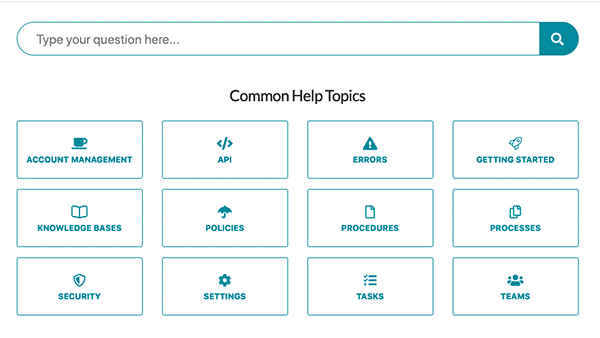 Assign and Monitor Team Tasks
Pros of SweetProcess
Super tool for new hires and existing employee training
How an organization onboards its employees can make or break its workforce. SweetProcess helps the onboarding and training process in a well-structured and articulated manner, and aids employees to learn better and faster together as a team. Thimbleberry Financial, a financial planning and wealth management institution in Portland, OR, used this super tool to change its operations for the better.
Easy to use organizational process
With SweetProcess your staff can link connected processes together just in the manner that Rise25 did, a business that uses SweetProcess to get itself unstuck from ineffective business processes. With complete information needed to finish tasks, there are various options of documentation besides texts, with information in various formats to make the work result driven and successful.
Rich customer support tool
Your staff can access project files and make contributions with ease. No more cumbersome customer relationship management (CRM) software that is slow and unproductive. You and your staff can achieve an easy workflow the way Florinela Serban of Onogo used SweetProcess to streamline her business process, which made for an effective customer relationship.
Helps you to effectively develop products
SweetProcess helps to make documentation the core of business operations, so that product development becomes easy. With the right information, staff can function efficiently and independently.
Accounting management
What is a business without a structured book? SweetProcess's account management helps make repeat tasks strategic and effective, and it also establishes a business as an expert in its industry.
New employee onboarding
SweetProcess makes onboarding and training more effective, as it reduces the onboarding and training time. You too can achieve easy employee onboarding by sharing the links for your documented procedures and processes with your new employees.
SweetProcess offers a 14-day free trial without a credit card. Sign up for it—you'll be happy you did.
How SweetProcess Can Help You Simplify Workflow and Business Automation
SweetProcess outdoes Flowmingo. How do we know this? Well, there are lots of features that are easy to assess and do not require expertise in any regard. Here is a step-by-step guide on how to make the most of this business automating app for the best results.
How Does SweetProcess Work?
First things first, you need to find your way around this highly effective business tool, and it starts with a free trial.
Sign up for a free SweetProcess trial here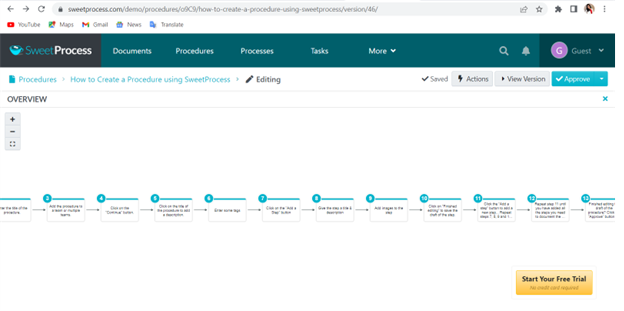 How to Sign Up for a Free Trial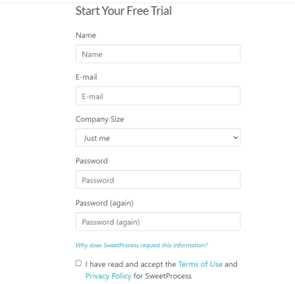 First, provide the relevant information required to sign on so that you do not miss out on any of our full options, as SweetProcess treats everyone equally, and especially irrespective of your subscription or plan.
Step 1: Log in and create a procedure

Log all your details in as required.
Step 2: Enter the title of the procedure

Enter the title of the process you want to document.
Step 3: Add the procedure to a team or multiple teams

Click on a checkbox to navigate and add the procedure to a team or on multiple checkboxes to add the procedure to multiple teams at the same time.
Step 4: Click on the "Continue" button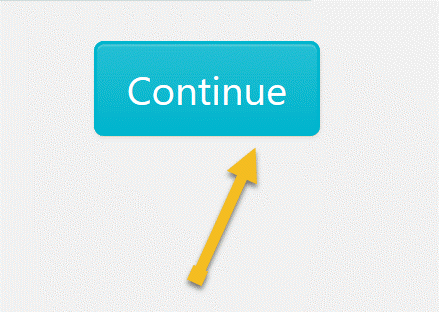 Step 5: Click on the title of the procedure you have entered to add description

Step 6: Enter tags

By utilizing tags, you will be assigned an index keyword/phrase/term to a procedure so that it can be quickly identified.
Step 7: Click on the "Add a Step" button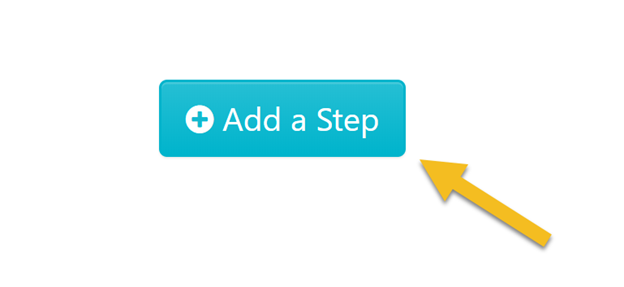 Step 8: Give the step a title description

Step 9: Add images to the step

Drag and drop images from your computer into the image drop area.
Step 10: Click on "Finished Editing" to save the draft of the step

Step 11: Click the "Add a Step" button to add a new step. Repeat steps 7, 8, 9, and 10 to enter and save the details of the new step.
Step 12: Repeat step 11 until you have added all the steps you need to document the procedure.
Step 13: Finished editing the draft of the procedure? Click the "Approve" button to make it the live version of the procedure.
Step 14: Now click on "Procedures"

Why Does SweetProcess Bill per Active Member?
Fairness is one of the things that SweetProcess has when dealing with clients. So in a bid to create fair pricing, SweetProcess only charges when people actively use it. This means that when a person who was actively using SweetProcess becomes inactive you will receive a prorated credit to your account.
Sign up for a SweetProcess free 14-day trial
How to Organize and Find Documents Easily in SweetProcess
One of the things that SweetProcess brings to the table is making it super easy for you and your staff to run everyday business and tasks. Sorting documents in SweetProcess isn't rocket science. It is super easy if you learn the ropes.
Here are the steps involved in organizing and finding documents easily.
Where to Search?
Looking to search for a thing? You can complete a global search on any SweetProcess page by pressing the forward slash button on your keyboard (\) or by clicking the search icon in the top right of your screen.

You can also search on any of the procedure/policy/process or task dashboards.
How to Assign Tasks in SweetProcess Based on the Procedures or Processes They Have Documented
Assigning a procedure or process is quite easy to maneuver. You will be able to keep abreast with happenings as well as get notifications when the task is overdue and complete. What's more, this data is saved and can be exported in Microsoft Excel format, along with timestamps when each step was completed (and by whom it was completed).
Here are the steps involved.

Step 1: Select "Assign as Task"
Inside the three dots menu, click the option for "Assign as Task."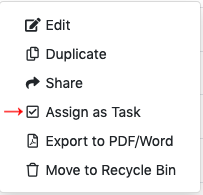 It is easy to assign a task while looking at the procedure or process itself from the "Actions" menu on the top right of the screen.
Step 2: Determine if it is a single or multiple tasks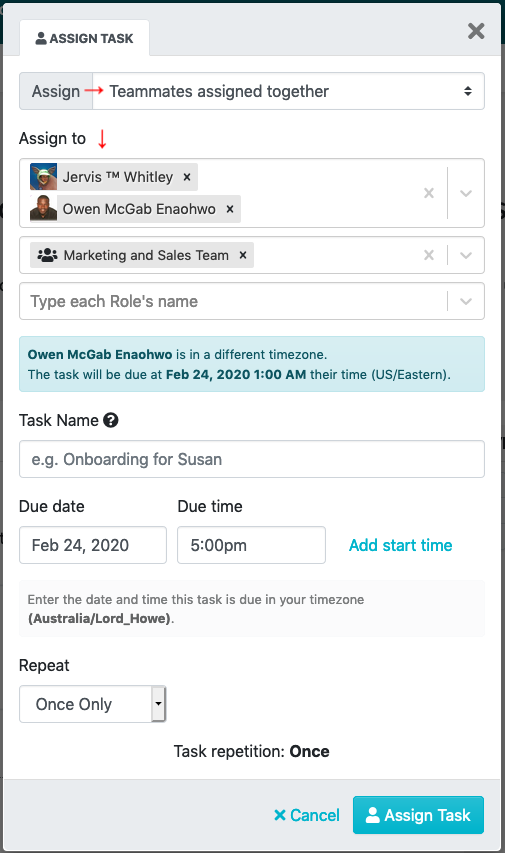 You are at liberty to choose either a single task assigned to a group to work on together or multiple tasks assigned separately to each teammate (assigning in bulk).
Find and select all the teammates you want to assign. Everyone in a team can be assigned tasks at once, with everyone having their different roles. They will then choose to either work together as a team or separately, depending on the task you have assigned.
Step 3: Fill out the rest of the task
The task name is a great way to differentiate this task from others based on the same procedure.
You can change the following:
Due date
Starting time (teammates will get a notification at the start time, or due date if no start time is given)
If the teammate is allowed to start early on the task. This can help if you have a problem with tasks being accidentally completed weeks before they were due.
Repetition—you can enter rich repetition settings, e.g. every last Friday of the month, or basic ones like weekly/monthly/yearly.
Step 4: Repeat tasks
By default, the task is simply a "Once Only" task, designed to be completed a single time and then finished. Nonetheless, many tasks should be repeated every day, week, month or year. We support a huge variety of repetition rules. Simply change the "Repeat" dropdown from "Once Only" to any other option.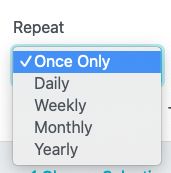 Step 5: Assign task
At this stage, you can now go ahead and assign it. The teammates you have assigned will get a notification about the new task assigned to them. On the due date of the task, members will get a reminder email, and they will also get a notification either when the task is due, or at the start time.
You will also receive a notification when the task falls overdue, and when it was marked complete.
How to Monitor and Track the Progress of Tasks Assigned to Users
The moment you create a new procedure, policy, or process, you will be subscribed to all updates about that document. This also goes for your edits, or when you approve or comment on a document.
You may unsubscribe at any time from a document. Simply visit the procedure, policy, or process and look for the bell icon.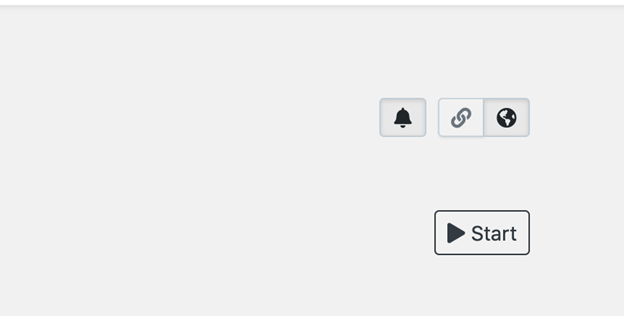 You may also consider re-subscribing by adding a comment, editing, or approving the same document again, or clicking the subscription button yourself.
How to Export Documents From SweetProcess
The detailed steps below show you how to download a PDF document of the procedure. Though SweetProcess backs up all data on its servers, the ability to download also makes the whole process transparent and seamless.
Note: If you do not see the "Download PDF" feature then you may consider getting the admin of your organization who operates the SweetProcess account to enable it for you.
Step 1: Click the "Actions" button
While viewing the procedure you want to download, click on the "Actions" button.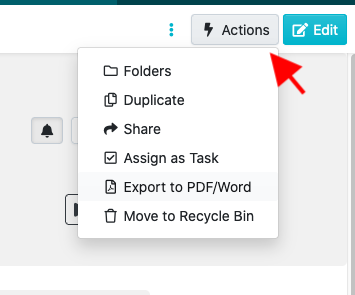 Step 2: What to do when some of your team do not have the "Action" button
Perhaps your account owner turned off the ability for teammates to export PDF or Word documents.
The account owner may change this preference in the "Account Overview" section
Step 3: Export PDF or Word
After the dropdown menu appears, click on the "Export to PDF/Word" button.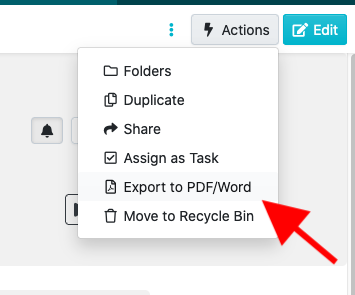 Step 4: Select the format and export
Select the document format, PDF or Microsoft Word (processes may only export in PDF format).
You may choose to include the diagram with "Attach diagram." You may also choose to include information about who approved the document and at what time they did so with "Print approver name."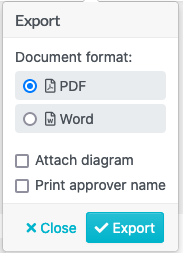 Attach Diagram: Only available for procedures, not policies or processes.
Print Approver Name: Only available for procedures and policies, not processes.
Once the export is complete you'll see a button to download the PDF.
Sign up for a free SweetProces trial without a credit card now.
How to Import Existing Procedures and Policies into SweetProcess
Importing policies and procedures into SweetProcess does not pose a herculean task, as you can find below how to import an existing policy into SweetProcess.
You may also consider using this feature when you have policies that are yet to be added to your organization's SweetProcess account, and you want to do a quick migration so that you or your team can update necessary changes or improve documents within SweetProcess.
Do note that there is typically a tag titled "Imported" whenever you import a policy. This is so that it is easy for you to filter/find documents you imported.
Maximize all that SweetProcess has to offer your business by signing up for the free 14-day trial without a credit card.
Step 1: Click on the "Policies" tab

Step 2: Once the new page opens up, click on the down arrow button to the right of the "Create Policy" button.

Step 3: After the menu appears, click on the "Upload document" button.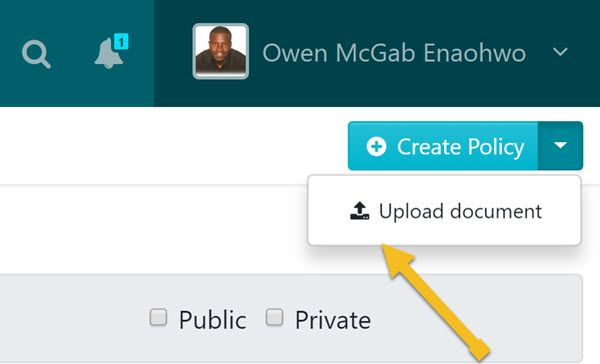 Step 4: After the "Upload document" dialog box opens up, click on the "Add to teams" button to add the policy to a team or multiple teams.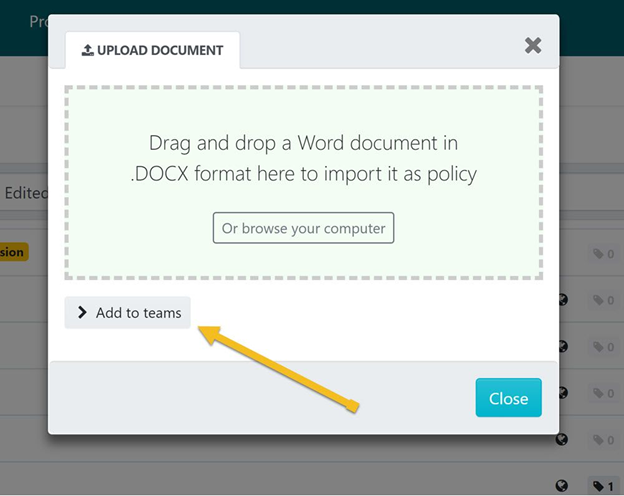 Step 5: Drag and drop the file into the "Upload Document" dialog box or browse your computer for the file and upload it.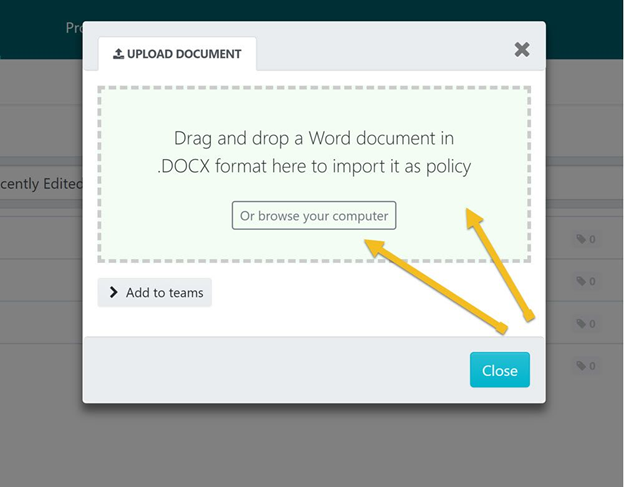 At this stage the file will be processed and imported into SweetProcess.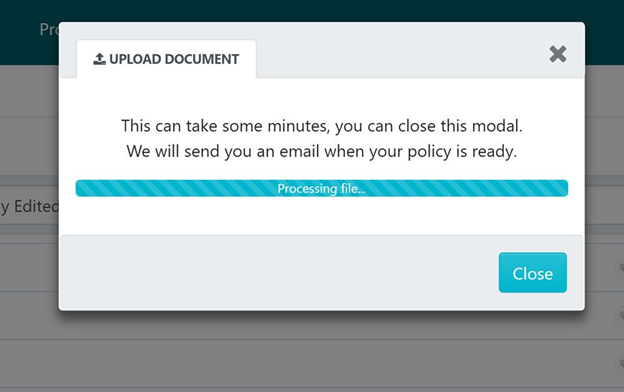 Step 6: After the policy has been imported click on the "View policy" button.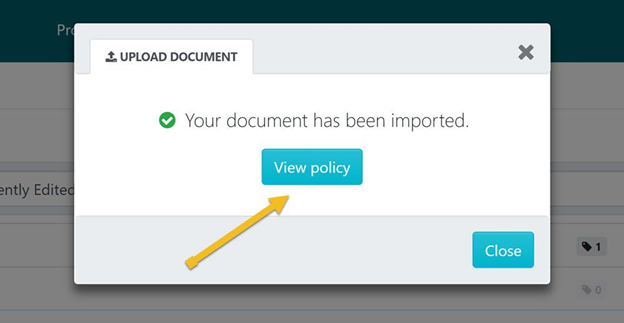 Step 7: Once the new page loads, click the "Edit" button to make changes or improvements to the policy you just imported.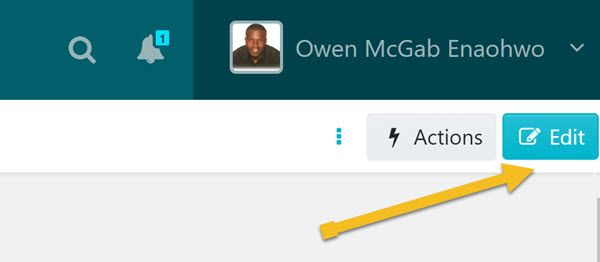 Step 8: Make all the necessary changes and improvements to the policy as needed.
Now it is time to input the changes and improvements until all the descriptions, images, and so on look exactly as you want them to be inside SweetProcess.
Step 9: After making all necessary changes and improvements to the policy you imported into SweetProcess, click on "Approve" which is on the top right-hand corner of the page to approve the policy and make it live.

Note: If you do not have the ability to approve the policy, you will be able to request approval by clicking on the "Request Approval" button as shown below.

How SweetProcess Supports the Version History of Your Documents
Step 1: While viewing a process, click on the clock icon.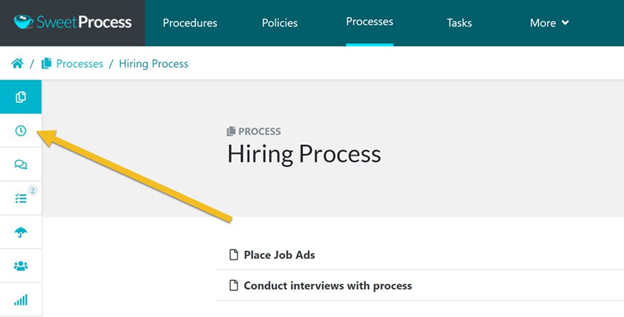 This opens the version history sidebar menu that lists the current version of the process and all the other versions so far.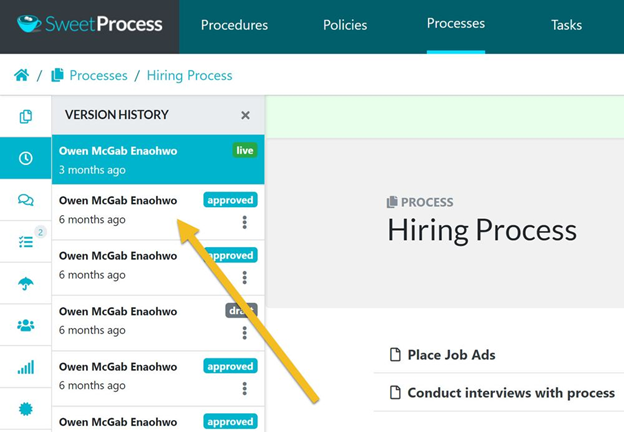 Step 2: After the version history sidebar menu opens up, click on the version of the process you want to see.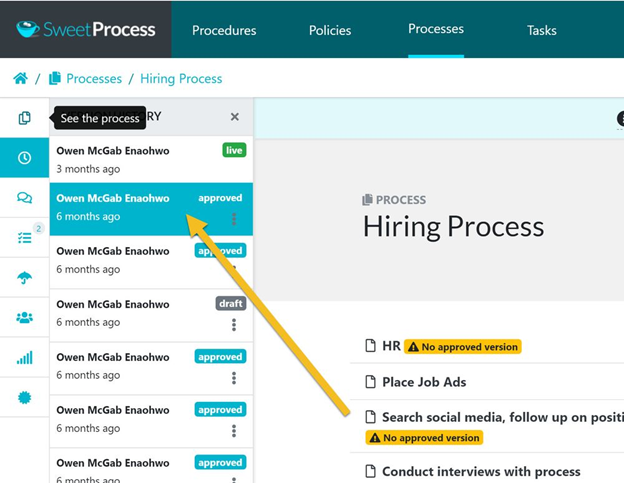 SweetProcess Pricing
SweetProcess operates a one-plan-fits-all system. This means the one plan has all the features that other plans have. This is a straightforward membership as it provides an all-inclusive means for every customer to get access to every feature.
When you sign up for a free 14-day trial you enjoy all the premium features paid users enjoy.
Sign up for a free SweetProcess trial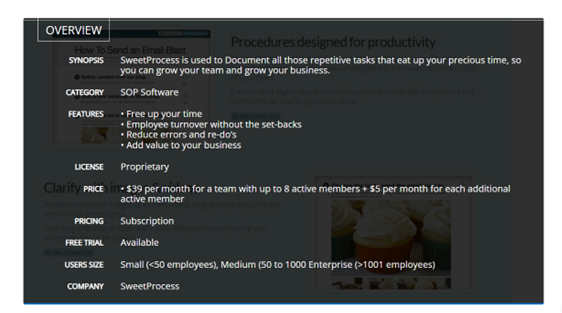 Starting price
$99 per month
Pricing details
For a team with up to 20 active members
Free trial
Free trial available
2. Sensus BPM Online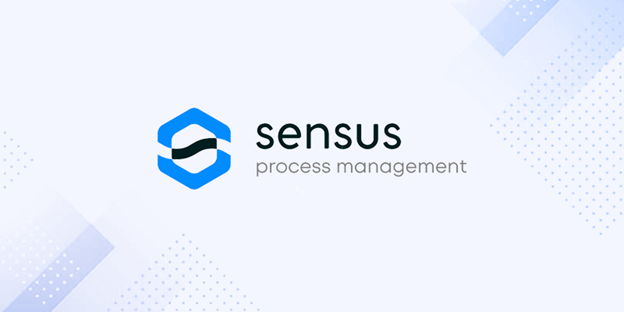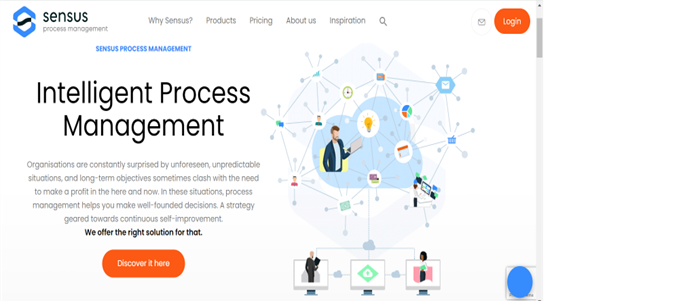 Sensus BPM Online is a BPMS for process modeling and publication. The tool supports users to create, manage, and standardize processes, as well as exporting them to various formats for ease of use. The software wisely manages and visualizes the various inter-relationships between processes, so you can control process relationships.
Features
Intelligent process management
Sensus method of operation
Integrations
Access control permissions
Pros of Sensus BPM
Multi-functional System
Sensus BPM Online makes it really easy for you to get up-to-date business data to the surface, conveniently categorized by policy domain. You also get direct access to all the figures you need based on your management focus.
Self-Explanatory
Each policy domain typically comes with specific and easy priorities and information. For process management, you require other kinds of data than you do for risk management or information management. And for HRM, auditing, continuous improvement, and quality management, other inputs are needed.
Easily Customizable
Sensus BPM Online lets you customize and map to your taste, document, and share your business processes. What's more, you can build on these processes with information from other policy domains, such as quality assurance, ISO, risks, and KPIs. The flexible Sensus BPM Publisher makes this easy and enables effective management of every aspect of your business policy.
Cons of Sensus BPM
It can be time-consuming to train others on how to use it
Process management is a time-consuming activity and requires that all hands should be on deck to input so that the entire team can be involved. The software takes a bit to train your team on how to design processes efficiently.
It encounters a bug once in a while
The number of mouse clicks needed for some very specific actions is enormous and could be automated. For instance, after clicking the "Search" button, the search field opens which you are required to select first before you can start typing.
Difficult transition
When either the library or the individual project has changed in the processes, these changes are not easily reflected. This leads to an administrative task of not keeping up with all the changes between different versions.
Pricing
Basic: $961.60
Pricing model: Per user
Payment frequency: Per year
3. Engage Process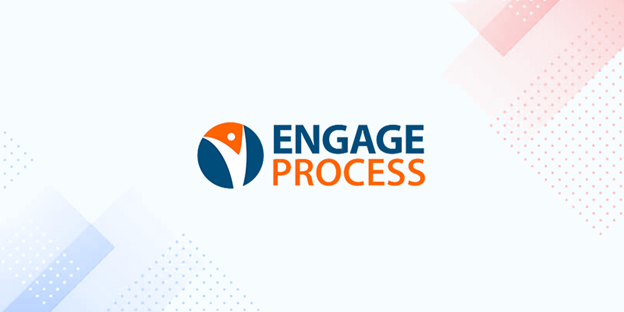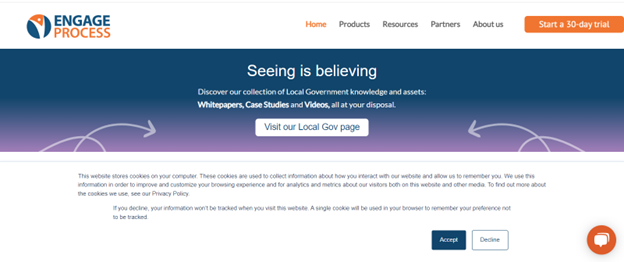 Engage Process business tool is an easy-to-use process management platform that helps to integrate your teams in exploring and improving systems and processes. It makes for easy mapping, analysis, and improvement. This happens in real-time in a workshop or even remotely with a team. This is so that users are now business focused and can work with processes.
Features
Access controls/permissions
Alerts/notifications
Business process control
Collaboration Tools
Pros of Engagage Process
User-friendly processing tool
The user experience of Engage Process Suite is really good and the services they provide are beneficial. Customer support is absolutely fantastic, with the wishlist/suggestion function allowing you to submit ideas that have a real chance of being implemented into future updates.
Creates easy business cases for change
This workshop-friendly tool has a powerful analysis tool that can be viewed from different perspectives without remapping. Its user-friendly icons make it easy to compare processes and procedures.
Helps to save and maximize time
Engage Process is not just a tool but a platform in which you can engage every stakeholder and user of a process that leads toward a product or service and a cut back in time wastage.
Super tool for process mapping
There is the Engage Modeler Tool for mapping processes that can be used when the recording of the process cannot be completed. This helps in bringing the project team members together, and using the modeler accelerates the process.
Cons of Engage Process
No spell check function
There is no built-in spell check function, and Engage Process has not been added to the MS Teams. These defects can cause a setback to the user.
Cumbersome sharing process
Unlike other business automating tools, it is old fashioned and comes across as rigid as much sharing and publication processes are not flexible and permission has to be given to work with the processes.
Difficulty in viewing display
Some concepts that Engage Process uses as a prerequisite for building processes can be a little obscure, so you can waste time early on trying to understand why it works the way it does.
Pricing
Gold
$9,800
Pricing model: Flat rate
Payment frequency: Per year
Free 30-day trial available
Platinum
$12,600
Pricing model: Flat rate
Payment frequency: Per year
Free 30-day trial available
4. Intellect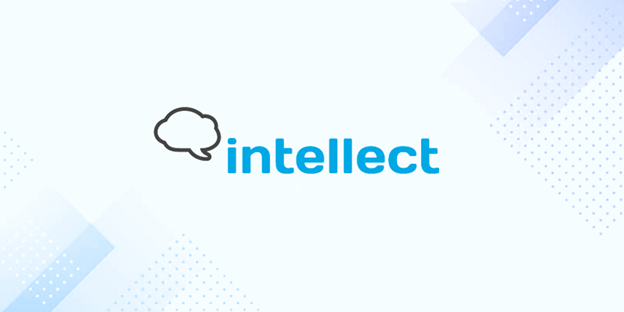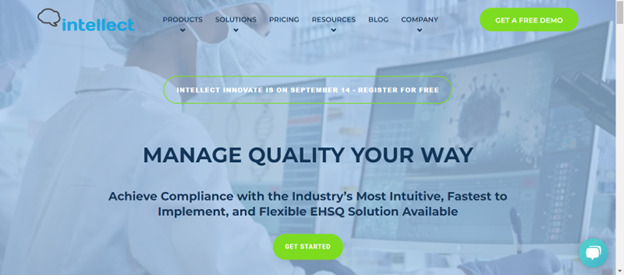 Intellect tool is tailored to help you cut back operational risk, foster health and safety, attain sustainability, and analyze data to achieve operational excellence. Intellect is customized for startups to Fortune 100 organizations, with a majority of customers from mid-market companies.
Features of Intellect
Reminders
Task editing/updating
Reporting/analytics
Operational risk management
Pros of Intellect
Excellent support team
It is a delightful tool to work with, as it is extremely helpful, known for industry best practices, and provides helpful insights and feedback during implementation.
Easy customization for processes and needs
You need little or no skill to customize the software. The training for the out-of-the-box apps and design of the apps are easy to comprehend, with fewer ropes to learn.
Configurable and flexible QLX
It is fast, flexible, and easy to develop. With this tool, there is no need to rely on emails and other manual processes because you get all your workflow needs met.
Cons of Intellect
Pronged onboarding due to customization
This business tool does not support an easy and seamless transition from one staff to another. Onboarding becomes a challenge because there is a delayed system which can be frustrating.
Poor customer service
With this tool, users report that customer service is poor to follow up on reported issues. When an error is generated there is no simple one-click option that imports all of the relevant error information to an email or help desk form.
Limited user interface when building
This tool has some limitations as it is limited in field or data manipulation (i.e., substring, formatting, and converting from text to number or concatenation). It needs more programming/procedural capability.
Difficult configuration
When configuring there are publication errors that hinder everything from functioning properly. There is also a delay in publishing which impacts client perceptions of build time.
Pricing
Basic
$150
5. Pipefy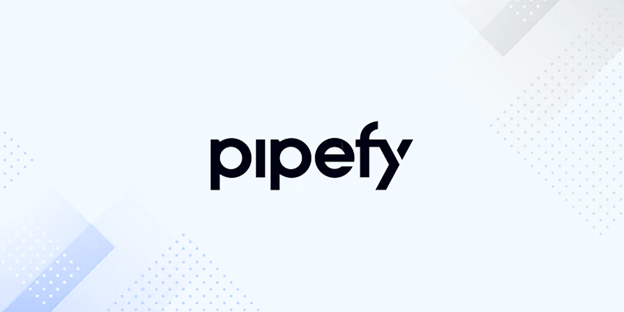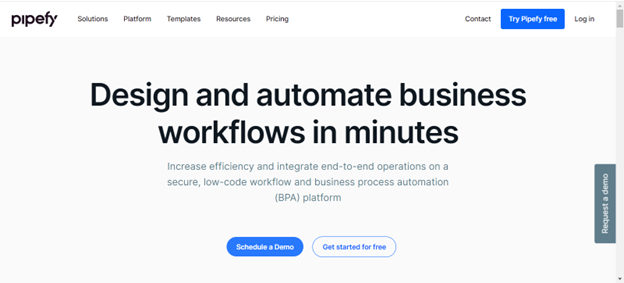 Pipefy is the workflow management software that speeds up visibility and delivers higher quality outcomes without the need for IT implementation. It helps to drive digital transformation, gain control of soaring service request volumes through easy-to-use, enterprise-class process automation, and leaves manual processes behind and refocuses on strategic initiatives and activities.
Features of Pipefy
Data pipeline
Unlimited database record
Unlimited storage
Pros of Pipefy
User-friendly and robust software
This tool is very good and useful, as it is tailored to meet all your customizable processes which ordinarily could pose a threat to the growth of your business.
Easy-to-use interface
It is a do-it-yourself tool that helps with creating a tool to manage your business development efforts. It does what it promises to do and its very user-friendly interface is resourceful.
Super integrations
It provides seamless integration between services, like chatbots on a website, automatic email responses, and team members' coordination.
Cons of Pipefy
Workflow is not seamless
Automations require a new UX, which is related to path creations, however, this is not the case with Pipefy, as it sometimes fails to deploy or start and this can thwart workflow.
No guide for beginners
Ideally, there should be a video guide to help beginners learn the ropes of the tool, however, this is not the case as there are no demonstration videos/pictures for beginners.
Poor data analysis
Another drawback that can pose a challenge is that it analyzes data poorly. Poor data analyses that are difficult to connect to other software can be limited to the users.
Pricing
Starting at $24
One user per month
6. ActiveBatch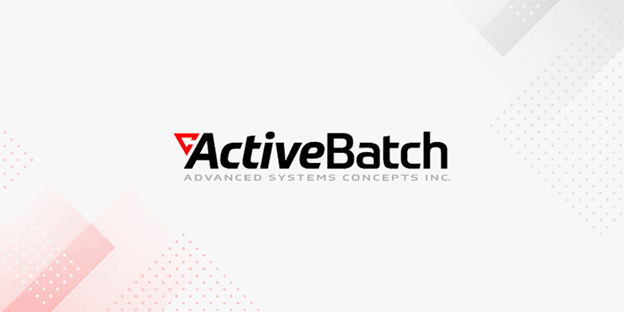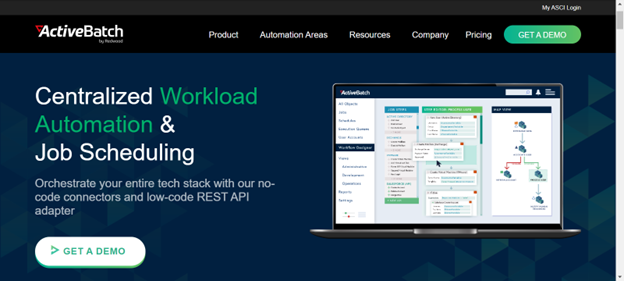 ActiveBatch is an effective workload automation and enterprise job scheduling solution that empowers businesses to develop, optimize, and monitor operations. Its integration is without scripting for multiple third-party applications such as Oracle, Crystal Reports, Microsoft Sharepoint, SQL Server, IBM, CyberArk Application Access Manager, ServiceNow, and more.
Features of ActiveBatch
Low-code workflow development event-based scheduling
API integration and platform extensibility
Change management
Auto remediation
Self-service portal
Role-based permissions
Pros of ActiveBatch
Ease of use
With this software, there is the ease of use and versioning control to help mitigate the transition. In addition, the problem resolution turnaround time is impeccable.
Great support team
The support team is very good and always eager to absorb the burdens of customers. You can be sure to get help with customer care around the clock.
Great pricing
The product is well thought out, and well priced, offering a lot of features. Its pricing is moderate.
Cons of ActiveBatch
It could get complex
The documentation is difficult to wade through and there are no easy tutorials for beginners to take a cue from. In short, it is slightly overwhelming for new users to find their way around this business tool.
Some integrations cost extra
A couple of the third-party integration points cost extra, and there are some challenges with security tokens when migrating to new systems.
Difficulty in the auto recovery of files
Some advanced features fail to be effective. This inability stalls the smooth running of the business tool and can be limiting for staff and management.
ActiveBatch Pricing
ActiveBatch operates a very flexible pricing style. It is structured to allow more tools for system maintenance tasks. The software price can only be accessed on request. You can do that through the demo system and then request pricing.
7. Redwood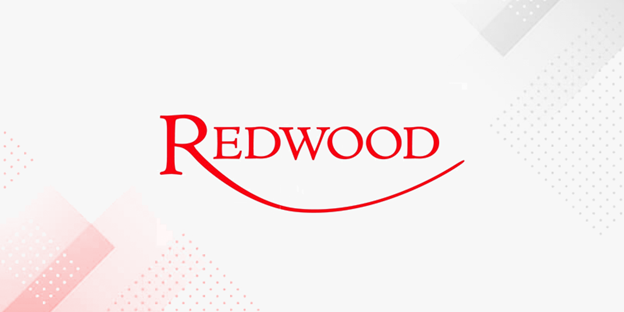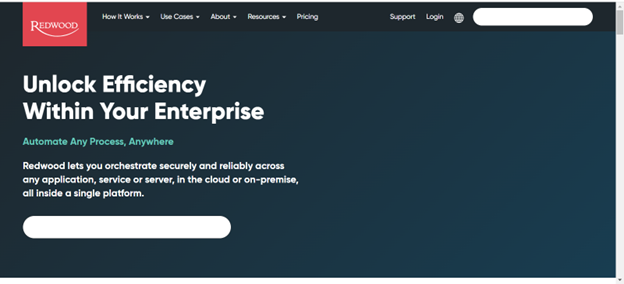 Redwood is built on a single powerful platform that helps enterprises to automate business processes and reduce gaps in performance and operational workarounds. With Redwood's automation and orchestration, you are sure to gain better visibility and control, new efficiency, and higher performance in modern hybrid IT environments.
Features of Redwood
Single cloud-based solution for IT, finance, and business processes
Native cloud as SaaS
Data orchestration
Managed files transfer
Pros of Redwood
Super user interface
The user interface of Redwood allows you to easily add objects to your custom navigation bar for quick access. You can edit objects using an XML editor and perform a global search and replace.
Best for scheduling and monitoring jobs
Redwood empowers you to schedule and monitor the jobs related to SAP modules like FI, MM, SD, HR, etc. It also helps to easily track the status of the job. If any error is countered Redwood can easily solve that issue by the given familiar functions.
Great connection to several third-party/legacy systems
This tool has no memory issues and can help you schedule a batch job for all third-party systems. What's more, it contains almost all the time zones so you can schedule jobs as per the regional/country time.
Cons of Redwood
Some actions are restricted
Some actions are negotiable. For example, performing some of the actions on jobs/objects is restricted. Also a duplication of job definition/process is not possible. Redwood only aids you to write SQL queries/scripts which might not ease the use of the tool.
Monitoring dashboard
There is difficulty in retrieving data and a date monitoring dashboard that showcases the overall status of Redwood and its scheduled job needs. This needs to be updated or improved.
Security roles or access are not diversified
Users have a hard time accessing their own objects in pre-production or production systems, as they are assigned the developer access role, which is kind of a solid role and no changes or additions can be made to it.
Redwood Pricing
Redwood doesn't publish its pricing. Instead, you have to contact the sales department for a quote. The best introduction to the Redwood system that you could get is through the demo system.
8. HelpSystems Automate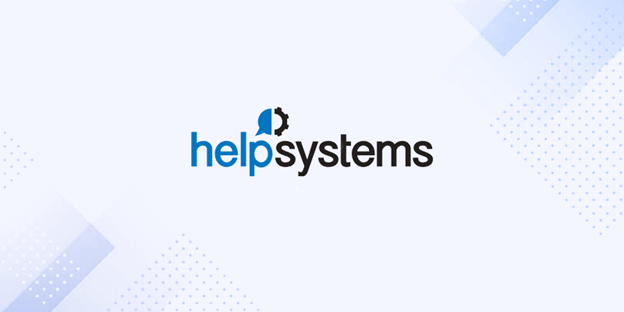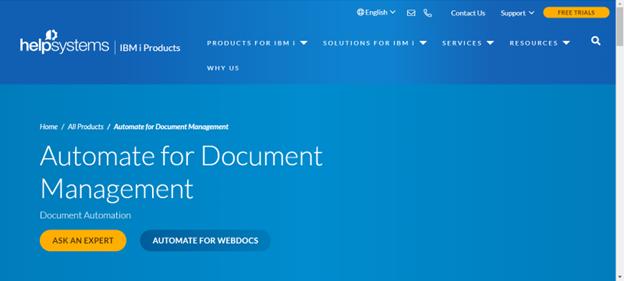 This software operates slightly differently, as it uses robotic process automation (RPA). This tool is available in three formats: Automate Desktop, which works on application orchestration and is most efficient with Microsoft products, Automate Plus, and Automate Ultimate which is used by system administrators.
Features
Automated file transfer
Report generation
User provisioning
Data extraction
Data entry
Terminal emulation
SharePoint processes
Website interaction
Data transfer
Job scheduling
Pros of HelpSystems Automate
An essential part of everyday work
HelpSystems Automate is an essential part of everyday work. It is not only the primary tool for EDI and data transfers, but it is also good for automated reporting tools. It does both running of custom SQL reports directly and sends automated reports generated by other systems.
It is a stable business tool
It lifts the burden of manual reports run by customer service teams, and it sends exclusive alerts about inventory changes, time, and attendance. It also facilitates reminders when tasks are met and things need to get done based on a timeline.
Gives businesses a soft landing
This solution has given users a quick time to market, the ability to integrate with the rest of the corporate applications, and the ability to hire talent in low-cost locations.
Makes for enhanced workflow
This solution supports the functionality and flexibility needed to run automated processes on a single machine. You can be sure of the results with this tool.
Increases productivity
This tool creates substantial gains in the office and HR environments. It executes the commands aptly and in the correct sequence, thereby eliminating operator errors.
Cons of HelpSystems Automate
Does not support some tasks
It's best for repetitive or regularly scheduled activities like reports or file transfers. However, it's not a good fit for on-demand activities. It doesn't support task shortcuts to run specific tasks. If it did it would be perfect.
There is no recovery procedure
There are fewer tools around system stability and recovery, better ways to manage resources to prevent OS crashes, and backup internally without tasks.
API needs to be looked into
Existing APIs in the product need overhauling. They need to be restructured and flexible for adoption. When this is done then the balance can be created for better outcomes.
Pricing
HelpSystems Automate costs around $7,000 and you can keep it forever. It is priced so that you have the option of buying a license, or you can buy the software outright. Buying a license is built with a package that costs approximately $20,000 per year.
9. Oracle BPM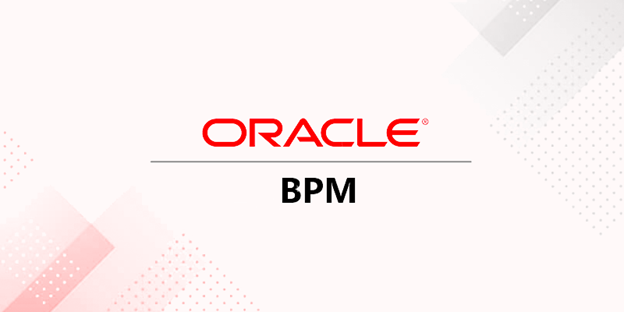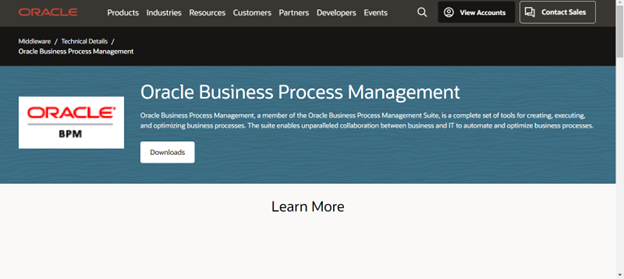 The Oracle BPM Suite provides an integrated environment for developing, administering, and using business applications centered around business processes. It empowers you to create process models based on standards with user-friendly applications. It encourages collaboration between process developers and process analysts. Oracle BPM supports BPMN 2.0 and BPEL from modeling and implementation to run time and monitoring.
Features
Web-based application for creating business processes
Process modeling and implementation
Enables collaboration by providing integration
Unifies different stages of the application development life cycle by addressing end-to-end requirements for developing process-based applications
Pros of Oracle BPM
Easy developmental accelerators
Oracle BPM is a complete development platform used to create your BPM application. It is well integrated with WebLogic Server and JDeveloper as IDE is for development. Of course, all of this is quite complex, but once you get it, it is very powerful.
BPM Process Composer
Regular business users are able to design and drive their own business process using Oracle BPM Process Composer, a collaborative web-based business-targeted tool because it is easy to use. Business users are given the option of defining every aspect of the BPM application from forms to processes, data, rules, and even business metrics for dashboards.
Actionable business architecture modeling
Oracle BPM also gives users actionable yet light business architecture modeling, which guarantees the synchronization of BPM projects with the business strategy by empowering the capture of strategies, objectives, and goals, after which they are linked to value chains and business processes that execute them.
Comprehensive BPM tools
It has a collaborative engine and single design time for integration, analytics, forms, human tasks, rules, cases, and processes. The system empowers users with support for human collaboration while it enhances process quality and efficiency at the same time. This is done by raising utilization as well as both the input and output.
Cons of Oracle BPM
It is pricey
Oracle BPM could probably be improved with respect to the cost. When you are using this product, it'll be a bit costlier for the ROA. Perhaps they should do some discounts on these products, especially for the licenses.
Difficult integration
The solution needs to offer better integration with third-party systems. There is less support for new department methods that assist with the architecture of the deployment itself.
Difficult management system
The Case Management set of features is severely lacking and should be a target for immediate improvement in dealing with unpredictable processes inside organizations.
Pricing
Free trial
Quote-based plan
Sign Up For a SweetProcess Free Trial
Chapter 3: Choosing the Best Flowmingo Alternative
As useful as Flowmingo may be, its downsides, as mentioned earlier in this article, may be costing you and your employees a lot. This means considering other tools like SweetProcess may serve you better with pricing plans, features, and integrations.
Improve Employee Performance and Cut the Clutter with SweetProcess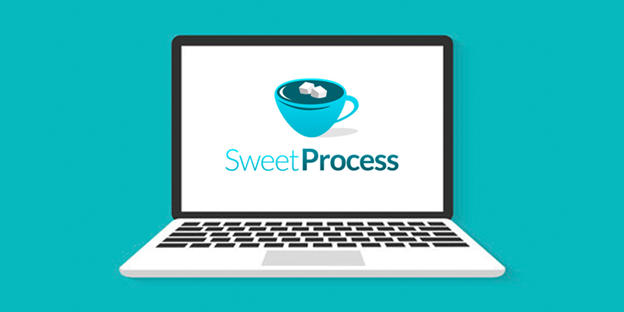 Setting up a solution that allows you to focus on the work that matters is the very essence of business automation, and without a doubt, choosing the right Flowmingo alternative can be tough. However, just like Ben Hendershot, the chief operating officer at Altvia, you too can cut out clutter and improve employee performance in your business.
Altavia had lots of different processes and procedures and documentation spread across various systems, and this lacked effective management until SweetProcess came to the rescue. With SweetProcess, Ben and his staff were able to create one place where every employee goes for repetitive processes and procedures, and the results since have been worth it.
Enhance Employee Efficiency with SweetProcess
The president at Location Accès Crédit, Michel Coutu, had a very big issue with getting work instructions carried out hitch-free. Standard documentation made it difficult for work guidelines to be carried out efficiently. Then he found the solution that SweetProcess brings.
Employees no longer have a disconnect with processes because they are now documented. SweetProcess allows everyone to participate in the documentation process, and with teamwork comes more productivity that translates into the company's growth.
Decentralize Knowledge Base with SweetProcess
Giorgio Piccoli, the president of Americanflat, began streamlining his business with a simple workflow, but as his business grew he soon found that he needed something much more efficient because transitioning the knowledge from one employee to another was posing a challenge—until he found SweetProcess.
With SweetProcess, Giorgio was able to bring order to his business. The organization was able to empower its employees in remote areas because all the information they needed to perform their duties by documenting step-by-step procedures of tasks were supplied. Employees now log in with their credentials and carry on with their work without missing out on any information.
Conclusion
SweetProcess has continued to support businesses like yours by simplifying product development, financial planning, new employee onboarding, and customer support, amongst others. You too can adopt SweetProcess as a huge relief even as you sign up for a free trial and grow your business with effective SOPs.
Start your SweetProcess free trial now and you will be glad you ever took the decision for your business.