9 systemHUB Alternatives for Effective Standard Operating Procedures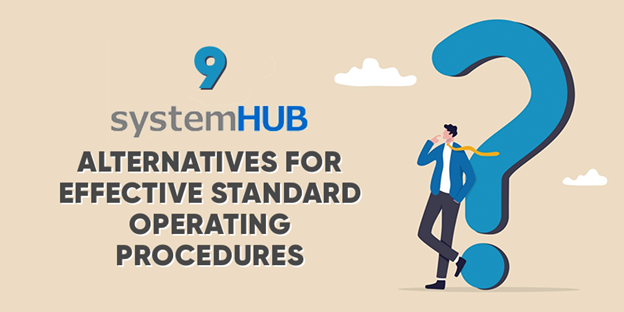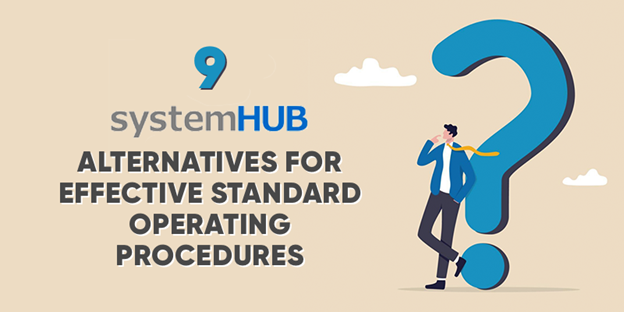 To boost company efficiency, businesses today are looking for a simplified system that will organize everything in one location. Having an ideal software makes it possible to have all the business systems, processes, and standard operating procedures (SOPs) in one place for easier project management and training.
One such tool in the market today is systemHUB, designed to optimize business procedures and processes for small and medium-sized companies. Although this software is embedded with features that are meant to help companies improve performance, it does not live up to expectations.
Businesses that have used systemHUB have encountered different issues with the software which has hindered its adoption. Some of the common issues include: 
It's not ideal for large enterprises.
The software can be slow sometimes.
The interface is not visually appealing.
Training is needed to use this software.
These kinds of challenges make it hard for organizations to use systemHUB for their SOPs. Most companies have to look for better alternatives that will fully integrate with their operations. 
In this article, we'll take a look at systemHUB alternatives and what makes them better for your organization. We'll examine the features, pricing structure, pros, and cons. This in-depth analysis will come in handy if you are looking for new software to adopt in your company.
SweetProcess
Kissflow
Pipefy
Process Street
Tallyfy
Trainual
MaintainX
Dozuki
ProcedureFlow
Click here to sign up for a free trial of SweetProcess now!
Table of Contents
9 Useful systemHUB Alternatives for Today's Business Owner
The Verdict: What systemHUB Alternative Should You Go For?
Why Isn't systemHUB Worth It?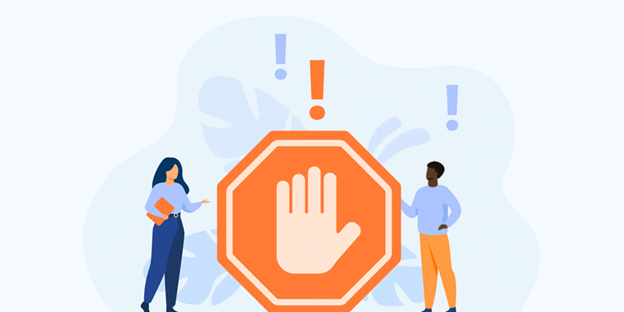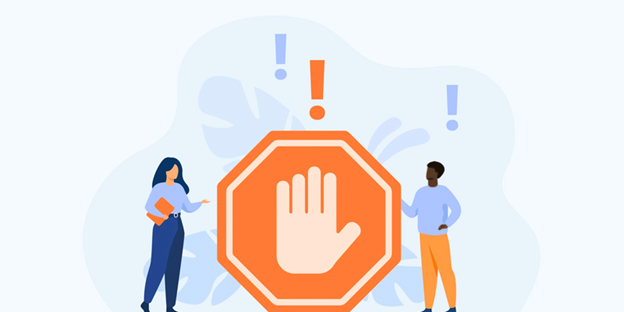 SystemHUB was established to help companies organize their SOPs, business systems, and processes in one place. While it has some key features, it's not worth it, and there are other software that you can subscribe to for better services.
Here are some of the major problems of systemHUB. 
It's Not Ideal for Large Enterprises
SystemHUB was created to cater to small and medium-sized businesses. According to the company, this software was launched to help these businesses scale their operations. In addition, their pricing plans also cater to a few users with the most premium one allowing a maximum of 60 users.


If your business is operating on a large scale and has more employees, this software might not be the most ideal for your operations. You need a system that can handle your SOPs, processes, and policies without any issues. SystemHUB will limit your company's ability to involve all the team members in tasks and roles assignment.
The Software Can Be Slow
To effectively manage your standard operating procedures, you need software that works without any hiccups. This is not the case with systemHUB. Once you create an account and start your free trial, the process of creating new systems and policies can be quite slow. This happens because the site takes a long time to load.
A slow business system can be costly for the organization. It interferes with the workflow, especially if there's a team working on the same project. If the team is unable to access the information fast enough, the performance and delivery of services to the clients gets affected. 
The Interface Is Not Visually Appealing
Compared to other software in the market, systemHUB has a simplistic interface that's not visually appealing. After logging in to the account, users can access the systems dashboard to add more details, supporting notes, videos, email templates, and attachments. This interface is outdated and too simple.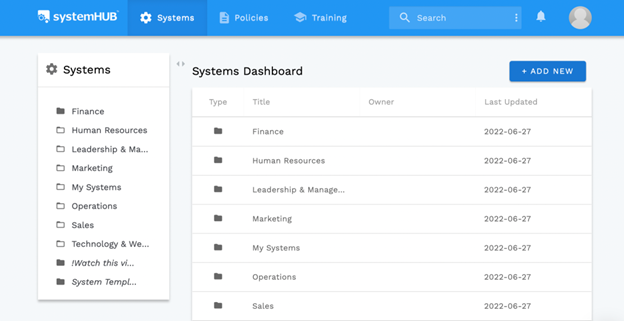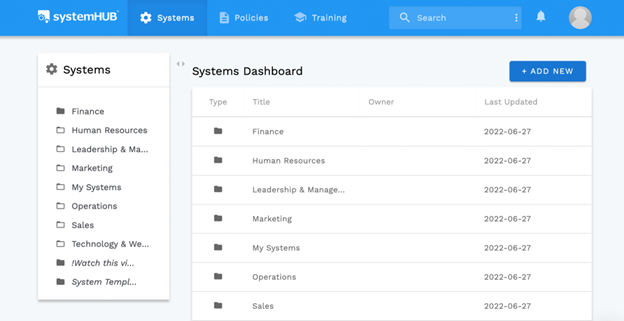 SystemHUB's interface lacks details, and that's why it's not ideal for large enterprises that need more features and tools. This is a big limitation if your business has a huge team that requires a much more detailed software. 
Users Need Training to Use This Software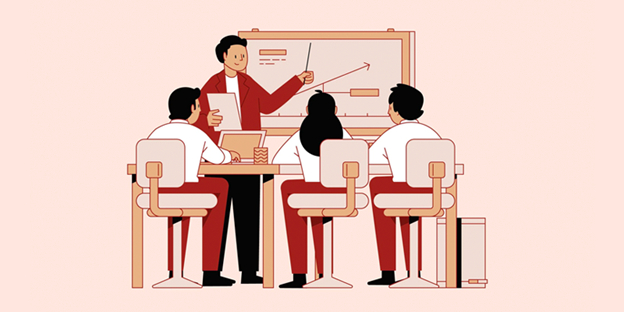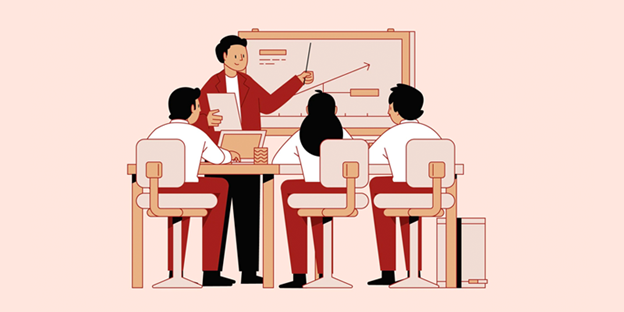 If it's your first time using systemHUB, it can be a bit difficult. Your team has to first understand how the software works. To use this software in your business, you need training for the entire team.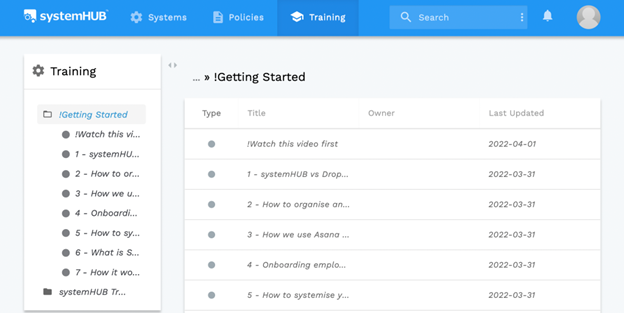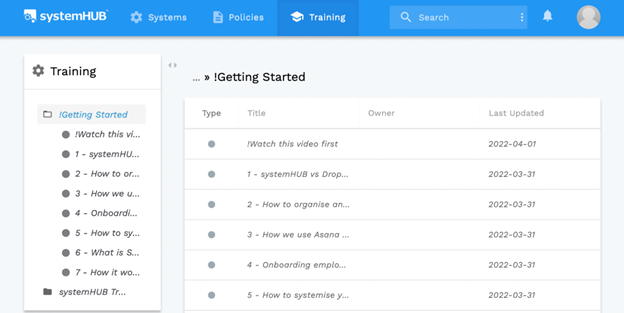 SystemHUB users have to watch training videos before they start using the software. Because of this, companies spend more time in the onboarding process. This can be a costly process for a company, especially since there are other tasks to be accomplished within a single workday. 
9 Useful systemHUB Alternatives for Today's Business Owner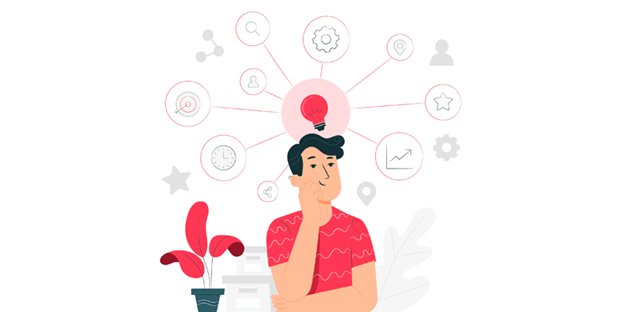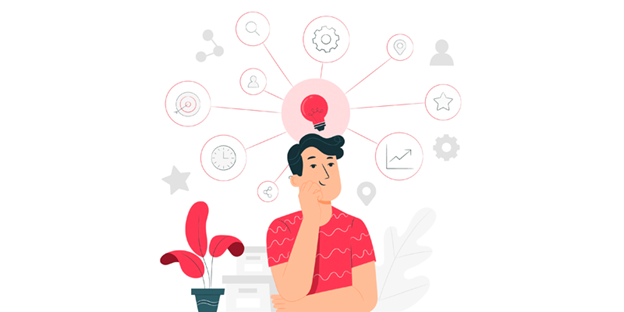 As a business owner, you need software that makes your operations easier and more efficient. If systemHUB has been giving you problems, you don't have to stick with it; there are several alternatives in the market that you can use. Here are nine useful alternatives, their features, pricing structure, benefits, and downsides.
SweetProcess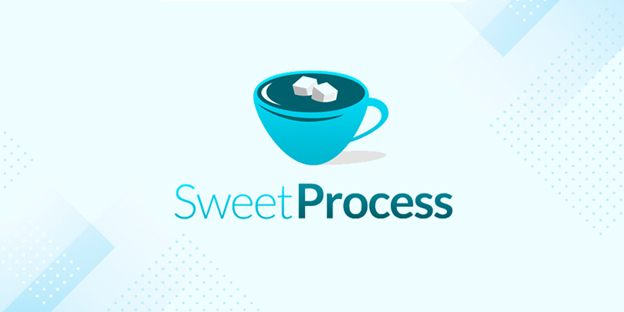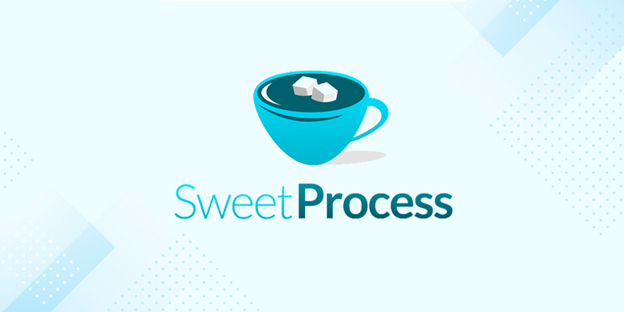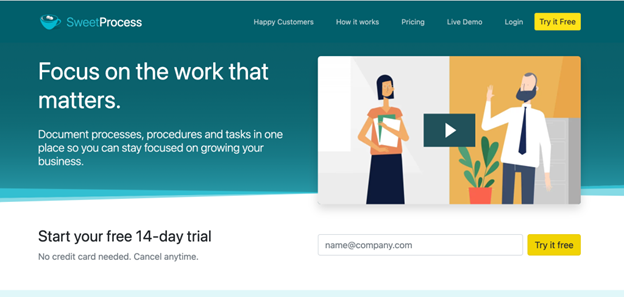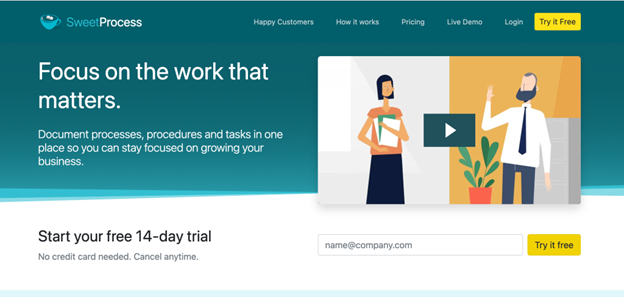 SweetProcess is a software used by companies to document all the procedures, processes, and tasks in one place. While the software makes your work easier, you can focus on other areas and grow the business. SweetProcess provides the systemization you need to scale the company whether you are hiring a new team or managing an existing team.
This systemHUB alternative is useful in documenting procedures, implementing company policies, mastering processes, managing tasks, and creating a public and private knowledge base.
Unlike systemHUB, SweetProcess is perfect for businesses of all sizes; therefore, it is ideal if you are running a multinational organization. Users can find all the features and information on the homepage. These features make it easy to track productivity, task creation, and onboarding new employees.
For new users, SweetProcess makes the onboarding process very easy. They provide FAQs and blog posts on the website with information to get you started. Once you are ready to begin, you can sign up for the free 14-day trial period. 
Features
Collaboration in real-time
Team management
Embed videos and files
Single sign-on system
Version history
Links policies, procedures, and processes
Document company step-by-step procedures
Assign and track tasks
Combine multiple processes
Create public or private knowledge base
Integrates with over 1,000 apps
Two-factor authentication
Image editor
Email and phone support
Print documents for offline viewing
Pricing
Once you sign up for SweetProcess, you don't have to estimate how much you'll need to pay. The transparent pricing structure is convenient for companies especially when budgeting. One of the advantages of using SweetProcess is that businesses are only charged for the people who use the software. Once a team member becomes inactive, SweetProcess sends a prorated credit.
SweetProcess has two plans: the yearly and monthly plans. If you choose the yearly plan, you can save up to 16.67%. A monthly subscription costs $99 per month for a team of 20. SweetProcess charges $5 per month for each additional member.
What's more, if you are not getting any measurable improvement in your business from using SweetProcess, they offer a 30-day money-back guarantee. On top of this refund, the SweetProcess team offers a one-hour free consultation to brainstorm business ideas.
Pros
The interface is easy to navigate.
Users get a free 14-day trial.
SweetProcess sends reminders to team members.
It has a fair and simple pricing structure.
It has no learning curve; you can start creating procedures and processes immediately.
SweetProcess offers email and phone support.
All procedures and processes are cloud-based.
30-day money-back guarantee
How to Create Procedures, Policies, or Processes With SweetProcess
Creating a process, policy, or procedure on SweetProcess is easy. Login to your SweetProcess account and select "Create Procedure, Process or Policy."


Enter the title of the procedure or process.


Assign this procedure or process to a team or multiple teams and click continue.


To add more details, add a description to the title of your procedure, process, or policy. You can also add some tags, images, steps, and embed videos. When you are done, you can click on "Finished Editing." To add more company procedures, policies, and procedures, follow the same steps.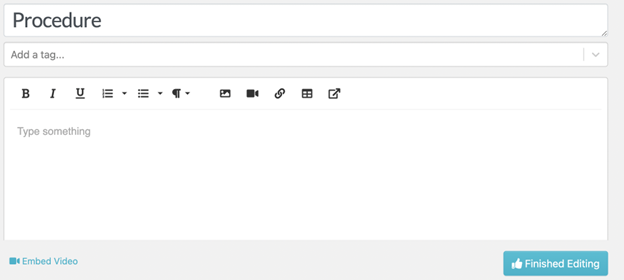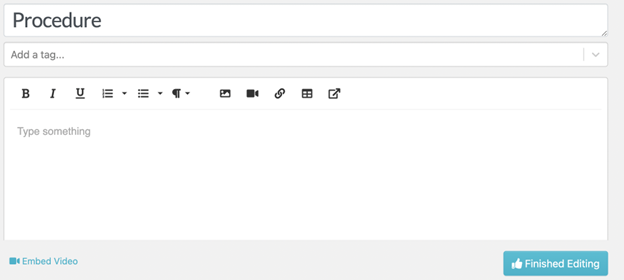 How to Find Documents on SweetProcess
Finding all your documents is a straightforward process. Log in to your SweetProcess account and select "Documents" on the main menu. This will display a page that allows you to view all your documents.


If the documents have been revised several times, you can see the version history on SweetProcess by simply clicking on the clock icon against the specific procedure, process, or policy. Your current version and past versions will appear on the sidebar.


How to Assign, Monitor, and Track Tasks on SweetProcess
To assign tasks on SweetProcess, click on the "Tasks" tab on your account dashboard. Select the "Assign Task" button.


From here, you can also select a team member to assign tasks, including the task name, the name of the team member, and the due time and date.
To track and monitor the assigned tasks, check the "My Tasks" tab to see what is due soon and what is overdue. 


It's this easy-to-use SweetProcess as a systemHUB alternative. If you are ready to begin your journey today, start your 14-day free trial of SweetProcess now (no credit card required).
Kissflow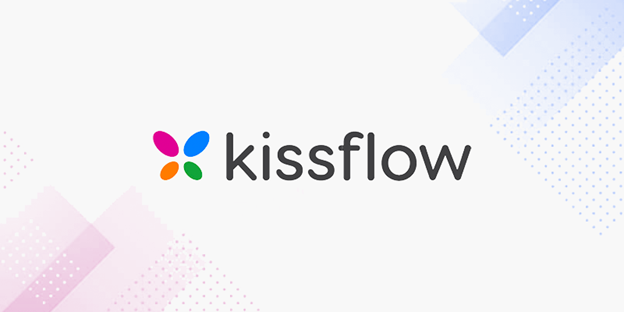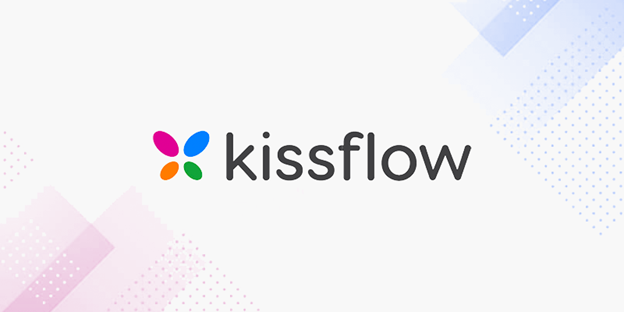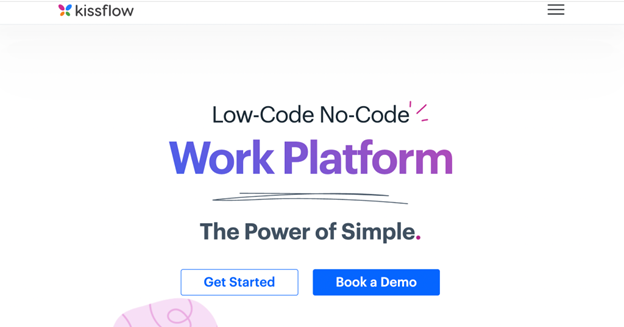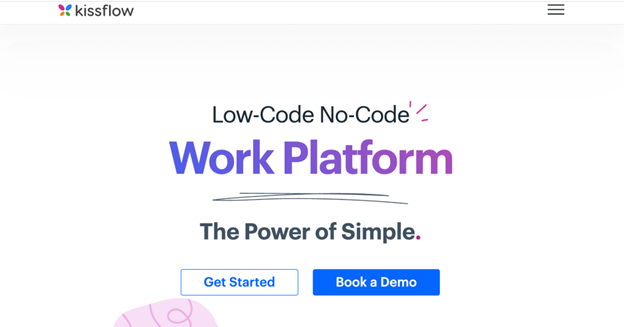 Kissflow is a systemHUB alternative that your business can use to manage its standard operating procedures. This low-code, no-code workflow platform creates and manages procedures and processes in all company departments. Your business can manage all the work on a central platform without using any other app or software.
This software has been designed for business leaders and other professional teams. As an end-to-end workflow platform, it can be used for employee recruitment, customer onboarding, procurement processes, approval management, incident management, issue tracking, and creating custom workflows.
Kissflow does not have a steep learning curve. It was designed to be used by teams with no coding experience; therefore, company teams can build their own unique workflows. Once you register on the website, you can receive a demo and get started. 
Features
Ticketing system
Engaged analytics
Automated process builder
Algorithmic task assignment
Third-party integrations
Automated workflow routing
Visual form and workflow designer
Intuitive work boards
Enterprise-grade security
Pricing
Kissflow has three pricing plans. Users can choose between Small Business, Corporate, and Enterprise plans. The Small Business option is for startup companies that are looking for a powerful software to manage their workflows. The monthly fee for using Kissflow is $18 per user for 20 team members, while the annual fee is $10 per user per month, which is $6,000 for 50 users (the minimum for annual plans is 50 users).
The Corporate plan works well for growing organizations looking for a single platform that can meet all your business needs. This plan costs $20 per user per month for a minimum of 100 users, which is $24,000 billed annually. On the other hand, the Enterprise plan is ideal for mid-sized to large companies that need to scale the entire business. For this option, you have to contact Kissflow for the quote.
Pros
Easy to customize
No coding experience needed
Built for both IT and business leaders
Integrates well with most workflows
Users get email notifications on a project
Teams can access software on the go via the mobile app
Cons
Migration to the platform is difficult. It takes some users up to one month to migrate to Kissflow which is costly for the business. 
Steep learning curve. New users take time to learn how the system operates before they can start using it. 
It can be slow and clunky. The product is not powerful enough to set up advanced behaviors. In addition, the technical team is slow to respond to issues. 
The program is too visual. It might be difficult to learn for non-visual professionals like accountants. 
The software is a little pricey. Kissflow is expensive for larger organizations with many users. You can get a cheaper alternative. 
No offline option. The software fully depends on the internet—you have to be connected to complete any tasks. 
Pipefy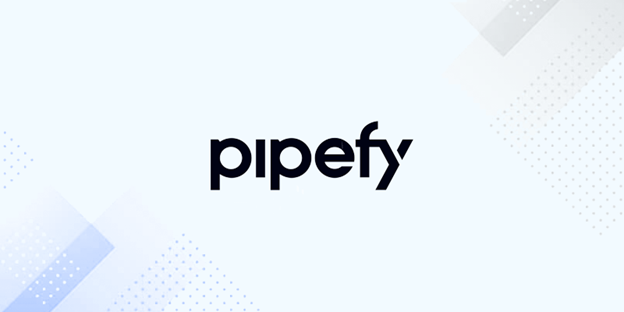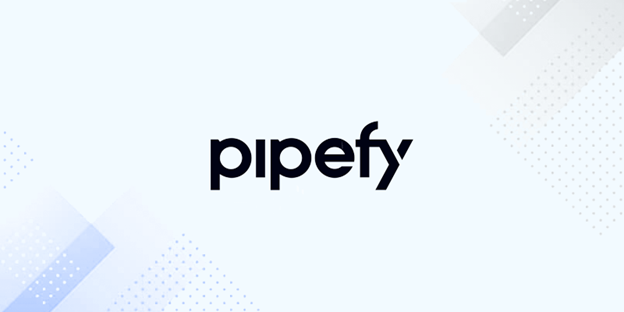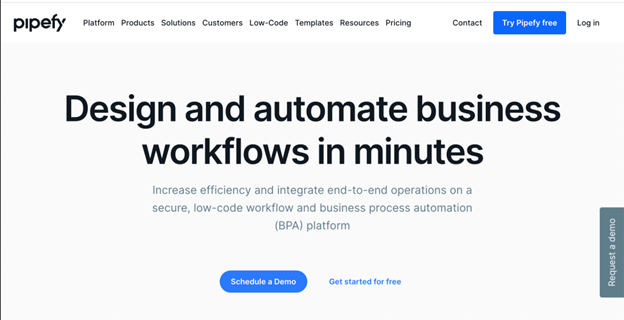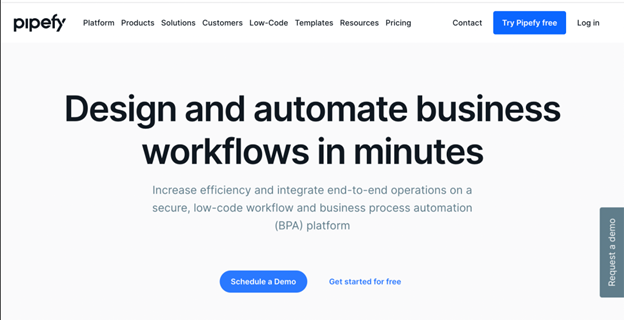 If you are looking for a systemHUB alternative to design and automate your business workflows in minutes, Pipefy is an option to consider. With this software, you can organize and control your workflow in a single platform without using any code. Pipefy simplifies your work because it has in-built workflow templates that you can work on instantly.
Users can avoid manual and repetitive tasks because the software integrates easily with most company apps and is automated. In addition, you can visualize and control every process as well as keep track of pending tasks or those that have been completed. 
Features
No-code automation
Data analytics
Automated workflows
Communication flow
Smart integrations
Customizable dashboards
Pricing
Pipefy has four payment plans to choose from. You can choose between Starter, Business, Enterprise, and Unlimited. Pipefy has an advantage over systemHUB because it offers a free Starter plan. This basic subscription plan is ideal for small teams, students, and freelancers.
The Business plan, which costs $18 per user each month, is designed for mid-market teams. On the other hand, the Enterprise plan, which costs $30 per user monthly, suits companies that require software to manage their complex business processes.
You can also go for the custom-made Unlimited option. Pipefy will send you the quote for this depending on your company needs, size, and team members. If you choose to pay for this software annually, you can save up to 20%. 
Pros
The site is easy to set up
Visually appealing software
In-built templates
Onboarding assistance
Customers get instant notifications
Mobile app to use on the go
Cons
The pricing is exclusively in US dollars. Pipefy users in other countries like Brazil have to pay for the service in US dollars, which is expensive. 
You have to register for a free demo. To get a free video demo, Pipefy requires users to register first on the website. 
The site has lagging issues. On some occasions, the Pipefy website loads slowly which affects work. 
The interface can be overwhelming. It takes a while to get acquainted with the interface if you are a new user. It takes some time to become productive. 
Some tools are hard to configure. When setting up a chain of similar conditionals, you have to configure each individually. 
Process Street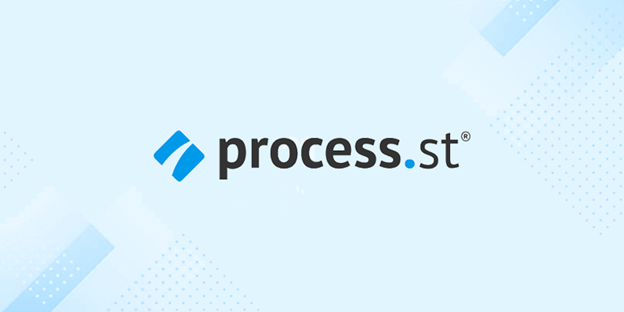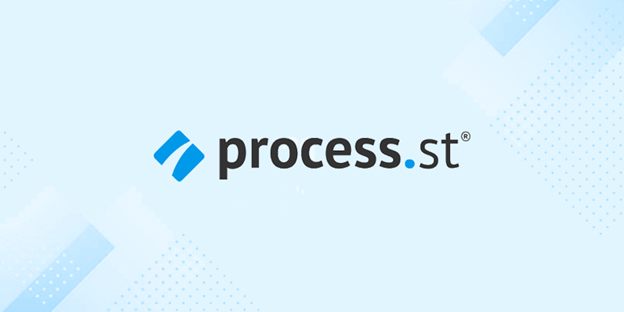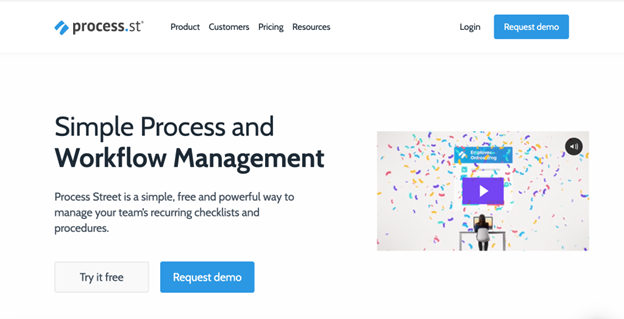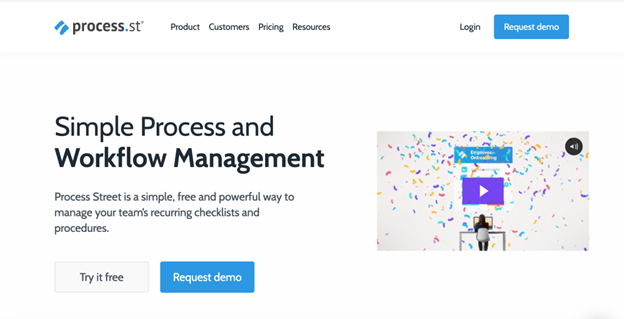 Process Street is a tool that companies can use to manage their checklists, procedures, and recurring workflows. This workflow software makes it possible for organizations to lower company costs, improve productivity, increase accountability and flexibility as well as provide a quick update. 
This software is ideal if you need to manage your SOPs across different departments from legal, sales, HR to IT. With Process Street, you can collaborate and communicate with your team securely, manage multiple organizations, view all ongoing process workflows simultaneously, edit documents, and monitor the team members handling specific workflows.
Compared to systemHUB, Process Street enables you to create documents in a few seconds. The interface is easy to use and navigate. If you are a new user, they have a demo video on the homepage to get you started. In addition, this software has no-code checklists that users can rely on when they need to automate, manage, and share business processes.  
Features
Multi-tiered permission
Integration with over 1,000 apps
Single sign-on
Activity feed
Visual and audio files
Data encryption
Create procedure documents in seconds
Documented team knowledge
Conditional logic used to create dynamic workflows
You can form groups
Single-instance, sequential, and multi-stage approvals
Automated tasks with scheduled workflows
Pricing
Process Street has an advantage over systemHUB because it offers a free option to users. Out of the three payment plans, users can choose the Free option which comes with features such as 100 integrations each month, email and chat support, one active workflow, and unlimited pages.
If you choose to use the Pro plan, Process Street charges $30 per person per month for the monthly option and $25 per person per month for the annual option. This subscription covers 50 members. On the other hand, you can get the Enterprise plan which is usually customized.
The Enterprise plan comes with more features such as fully managed workflows, a dedicated success manager, personalized team training, and API access. If you choose the yearly plan, the costs are cheaper by 17%.
Pros
Users can reschedule recurring checklists.
Team members can receive notifications via email and mobile app.
They have a free subscription plan.
The software connects with multiple apps.
Structured documents can be created in seconds.
The team has control permissions to limit access to information.
Comprehensive help articles and live chat.
Cons
It's hard to find archived lists. Users have a difficult time finding information that has been archived when they need references for new jobs.
Inbox tabs can be overwhelming. This makes it hard for users to find their information, slowing down workflow execution.
Additional features are on premium versions. You have to pay for the premium version to enjoy Process Street's advanced features. 
Issues with user permissions. Users lack full control over some aspects of the system which negatively impacts the flow of work. 
Setting permissions on the subfolders affects the main folder. You can't set permissions on the minor folders without interfering with the primary folder. 
Tallyfy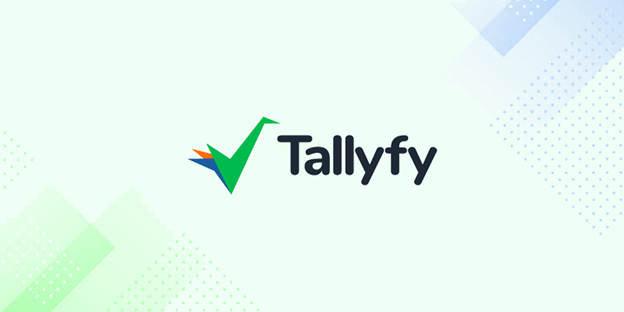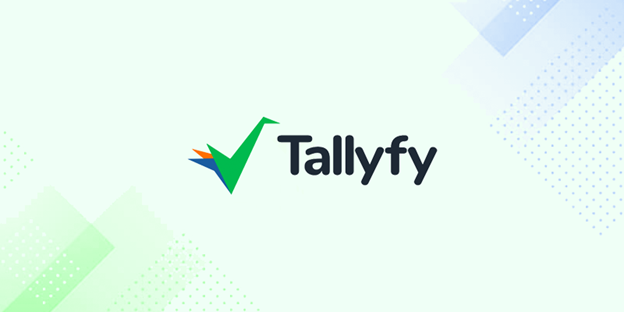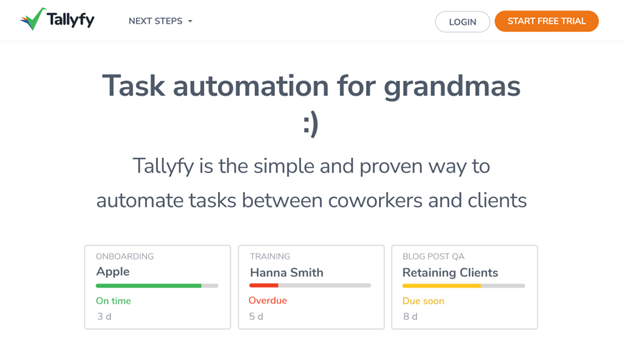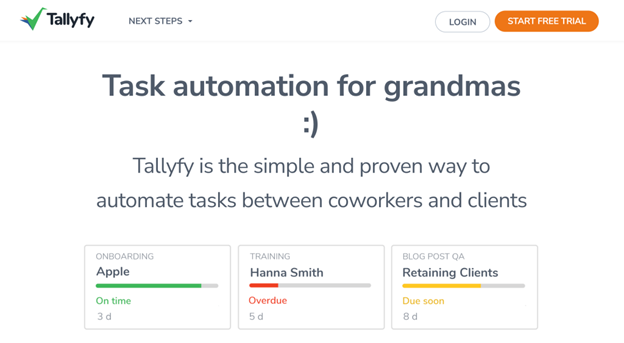 Tallyfy is a process and workflow management platform that allows you to automate all your tasks between clients and coworkers. This systemHUB alternative helps you manage company processes without any complex documentation, using coding or flowcharts. Due to integration, all users can see all the tasks and requests at any time, reducing the time spent sending emails and chats.
This software has a simple website interface that is easy to navigate. New users can find all the information on the homepage. If you scroll to the bottom, there's more details about the product, company, and learning tools.
Features
Automated decisions
Tracking and assigning tasks
Approval and reject buttons
Structured fields
App integration with Gmail, Slack, Zapier, Outlook, Power BI
Commenting features
Automated accountability for efficient teamwork
Pricing
If you want to subscribe to Tallyfy, you can either pay for the monthly or annual plan. The annual plan is ideal because the first two months are free. Additionally, the company offers two plans: Tallyfy Docs and Tallyfy Pro.
If you choose Tallyfy Docs, you will pay $5 per member monthly, or $500 per person annually. This plan allows a minimum of 10 team members and additional unlimited guests. The other plan, Tallyfy Pro, costs $30 per person if you opt to pay monthly and $300 per member annually. This plan allows a minimum of four members and unlimited guests.
To test how this software works, you can sign up for a 14-day free trial period that comes with unlimited features. During this trial period, you can weigh and decide whether this process management platform is ideal for your organization.
Pros
Free 14-day trial period.
Users can create blueprints to use without complex flowcharts.
It's easy to use.
Any team member can track the status of the process in real time.
Everyone can run and launch the latest workflow version. 
The software shows and hides tasks based on priority.
Customer support via the website, email, or phone call.
Cons
It does not have pre-built automation templates. You have to build all the templates in-house because Tallyfy doesn't have pre-built templates that can be used across the organization. This takes up a lot of time. 
Customization of the user dashboard is limited. This makes it hard to integrate Tallyfy with other applications and to streamline the company processes. 
Users don't have control over the view. The interface is not condensed properly, so users can't see all the data at once. Currently, the view is too blown up. 
Their website UI is not visually appealing to some users. A non-visual interface can be demotivating for some users. 
Minimum membership is restricted. You can have a minimum of 10 members on the "Tallyfy docs" plan and four members on the "Tallyfy pro" plan. 
Trainual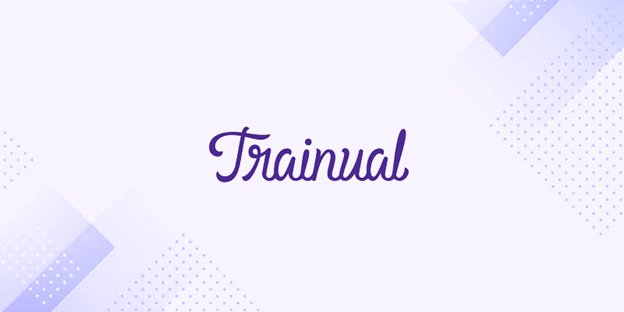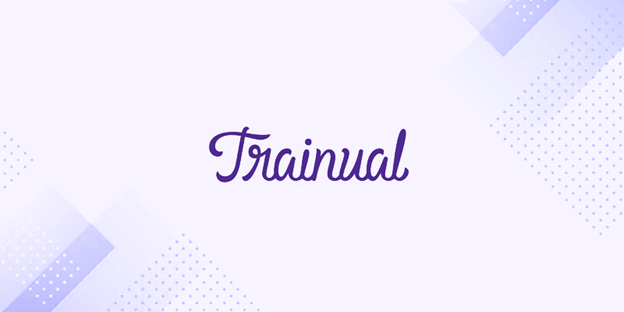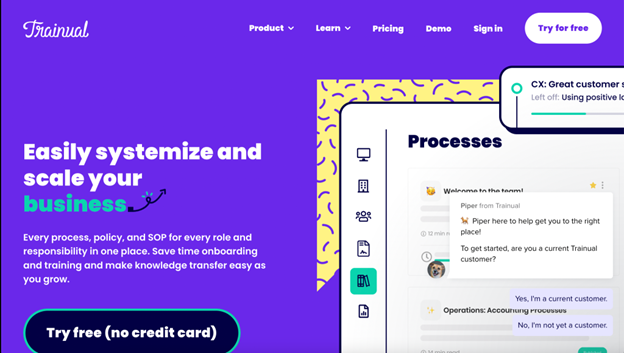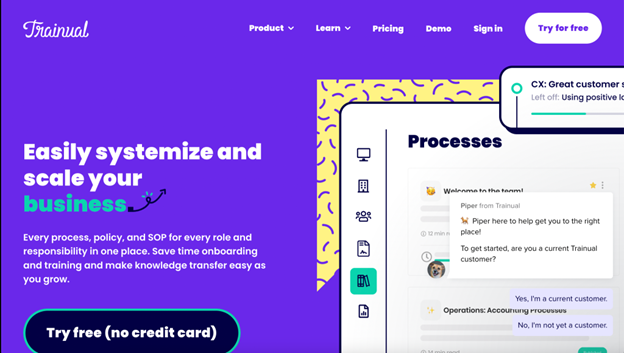 Trainual is an ideal systemHUB alternative if you are looking for a software to help you systemize your employment and onboarding system. As a knowledge-transfer platform, Trainual puts together every company SOP, policy, and process for each role in a centralized place.
By adding this software to your organization, you can save time spent onboarding and training new hires. This system ensures that there is a standard playbook to guide employee training. Therefore, all the staff will be trained consistently, and they are aligned at all times because content is updated uniformly.
Trainual works for business owners, managers, and human resource professionals involved in the hiring process. Apart from training, the software also comes with a trackable employee handbook to test whether employees have understood the company procedures and monitor the individuals who have reviewed the company policies. Trainual has an advantage over systemHUB because it offers over 250 templates to help you get started.
Features
Built-in free templates
Integration with other apps
Customer support
Trackable employee handbook
Organizational charts
Pricing
Trainual's pricing structure depends on whether you pay monthly or annually. If you choose to pay annually, you can save up to 20%. Trainual provides three payment plans: Build, Train, and Scale. Build is the cheapest at $61 per month for five people, while if billed annually it costs $49 per month.
The Train monthly plan costs $124 per month for 10 people while the annual subscription is equivalent to $99 per month. If your company has 20 team members, the Scale plan is the most ideal. It costs $249 per month if you pay monthly and $199 per month if you choose to make an annual payment. Trainual has a seven-day free trial period. Additionally, you can upgrade, downgrade, or cancel a plan depending on your business needs.
Pros
The system is intuitive
Free trial period
Easy to use and navigate for employee training and onboarding
It has over 250 in-built templates
Users can track progress during training
Additional webinars and articles for users
Easy integration with most apps
Users can embed videos and images making it visual
Cons
Trainual can be costly for some users. Trainual is quite expensive considering that it's an ongoing expense for the business. 
It has a learning curve for new users. If it's your first time using the system, you'll spend more time learning how to use it. This can slow down operations and incur costs for the business. 
Limited sharing capabilities. With Trainual, it's hard to share information between team members in the same organization.
Access to training modules can be confusing. The sections are not customized properly making it hard to find the training resources. This leads to inconveniences especially if you have new employees. 
Better features are available on the premium plans. Users have to upgrade to the premium versions to access all the top features on Trainual. 
MaintainX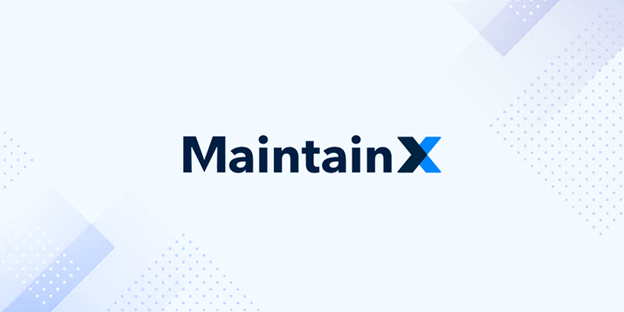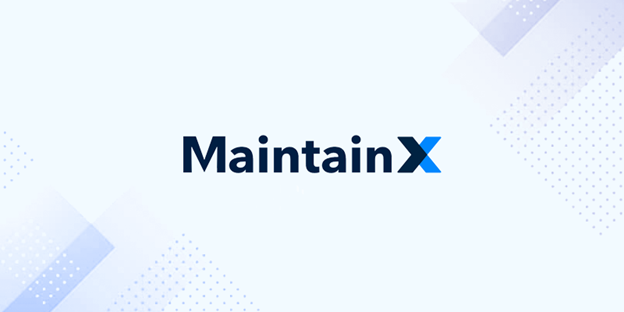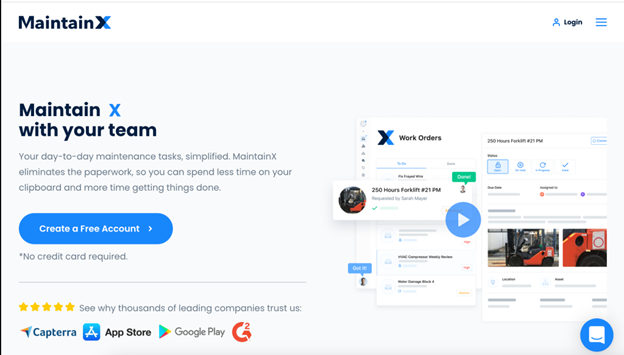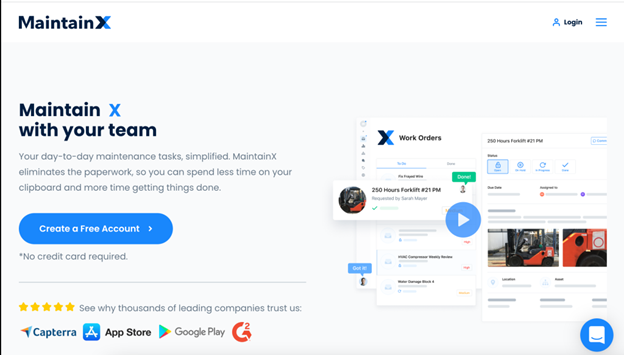 MaintainX is a software that simplifies day-to-day maintenance tasks. Organizations use this system to eliminate paperwork so that employees can focus more on accomplishing business tasks. 
Compared to systemHUB, which works for small and mid-sized businesses, MaintainX can fit perfectly in different companies and sectors. MaintainX is used in the manufacturing, facility management, food and beverage industry, hospitality, education and schools, property management, and fleet maintenance industries.
Features
Reporting feature
Checklists and inspections
Preventive maintenance
Create, assign, and manage work orders
Approval of work requests
Keep track of parts and inventory
Communication and chat feature
Pricing
MaintainX has an advantage over systemHUB because it offers a free Basic plan if you have a small team. Their Essential plan is designed for small businesses and costs $10 per month per user for the monthly option and $8.33 if you pay for the yearly plan.
On the other hand, the Premium plan costs $39 per month per user or $32.50 per month if billed annually. This option works for small to mid-sized businesses. If you have multiple sites or plants, you can choose the Enterprise plan. For this, MaintainX will send you a custom quote depending on the size of your company.
Pros
It's affordable for small businesses.
The search filters make it easy to find information.
It has a free option for small teams.
There is an app for easier access. 
The software works in different industries.
The reporting feature helps track the status of reports.
Users can upload photos to communicate with the team.
Cons
The system lags sometimes. MaintainX can be slow, which hinders company operations. This is costly for the company. 
The layout for all subjects can be overwhelming. New users might find MaintainX difficult to use because of the complex interface with a lot of features. Companies have to set some time for training. 
Communication with the client is restricted to the app. While the app eases operations, businesses can only talk to their clients via the app which is restrictive. 
Some features are only available on the premium versions. If you want advanced features like corrective actions, time and cost tracking, offline mode and more, you have to subscribe to Premium or Enterprise plans. 
Dozuki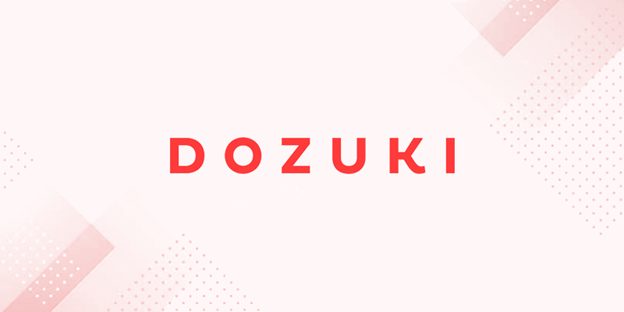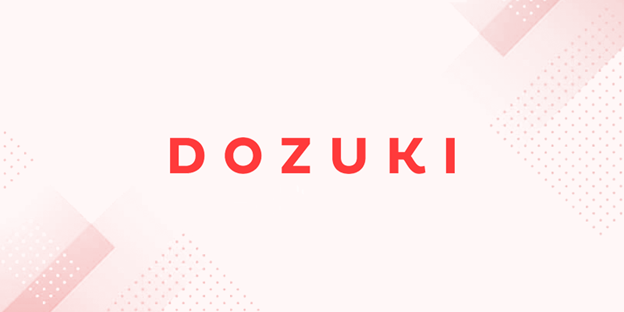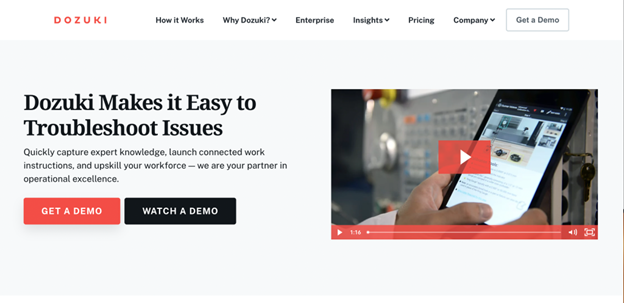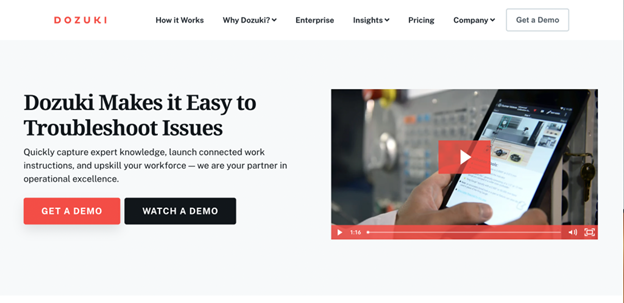 Dozuki is used in the industrial sector to continuously improve business processes and communication. The cloud-based documentation software is used to change training manuals, update your product support guides, and draft electronic work instructions for the entire company.
This software can be used by engineers, trainers, frontline workers, IT professionals, and company management. Dozuki's layout is not complicated; therefore users can navigate through the website and see the available features and pricing information.
Features
Training modules
Intuitive authoring
Document control
Automated assignments
API integration
Local hosting
Single sign-on
Multimedia support
Bill of materials
Over 80 language support and built-in translation tools
Migration services
Custom iOS and Android mobile apps
Pricing
Dozuki offers four pricing plans: Basic, Essentials, Premium, and Enterprise+. The Basic plan costs $17 monthly per person and  covers up to 50 users. Essentials costs $14 per person monthly and caters to a minimum of 120 users. Premium is the most popular plan and costs $12 per person every month and can support a minimum of 250 users. On the other hand, Enterprise+ is charged $10 monthly for each user for a minimum of 400 users. 
Pros
Easy layout
24/7 customer support team
They provide visual guides for every process
It has built-in translations for different languages
Companies can collect data in real-time
Comes in handy when training new employees
Cons
Onboarding issues for new clients. Dozuki is overwhelming for new users due to the absence of an onboarding program. 
Seasonal outages. The software has outages that affect businesses' ability to carry out necessary repairs. This affects the overall company operations and sales. 
Pricing model favors larger organizations. If you have more users, you'll pay less. The Premium plan that caters to 250 users is much cheaper than the other Basic and Essentials plans that are designed for smaller companies. 
Limited editing options. Dozuki lacks a photo editing section where users can rotate or crop photos. 
The software can be too demanding for some employees. On top of the regular reporting programs, some of the professionals can find it overwhelming to use Dozuki in their day-to-day work.
ProcedureFlow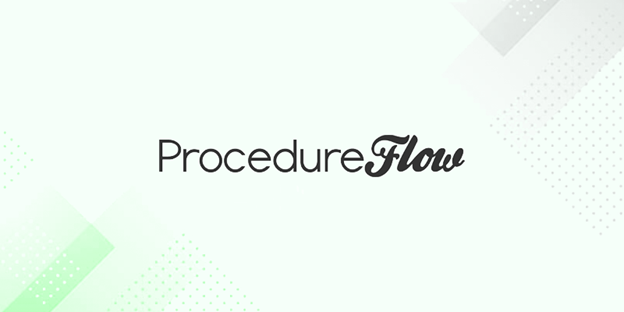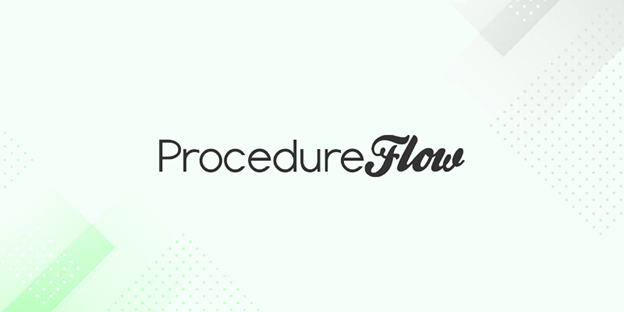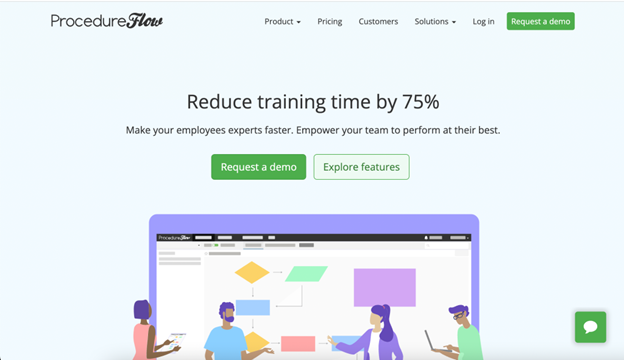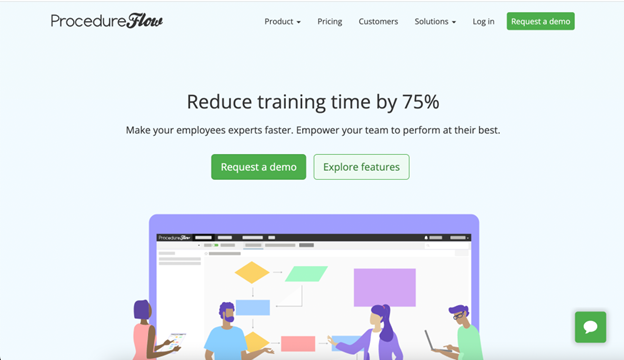 ProcedureFlow is software that comes in handy if you need to simplify business procedures and processes. As an alternative to systemHUB, ProcedureFlow makes it easy for employees to create, share, follow, and maintain information.The processes are visual to make your employees experts faster.
Your business will benefit from using this software because the employees get accurate information at the same time, whether it's a new hire or tenured employee. With ProcedureFlow, your staff will make fewer mistakes because they can follow the flow. 
Features
Quick reports
Notifications
Assign permissions and ownership
Standard operating procedures
Hyperlinked flowcharts
Simple approval systems
Revision control
Pricing 
ProcedureFlow has two pricing plans: Team and Enterprise. The Team plan costs $25 per user per month and is billed annually. For the Enterprise option, ProcedureFlow provides custom prices; therefore, you have to request pricing from the team.
Pros
Users get notification of most processes in real-time.
It reduces training time by 75%.
It helps the team to become experts much faster.
The processes are more visual.
Users can handle most of the functions.
They have great training videos.
Cons 
The pricing is billed annually. When you sign up, you don't have the option to pay monthly. ProcedureFlow only has two subscription plans.
Users can't print information. ProcedureFlow does not allow users to print information; therefore, employees have to log in to a computer to access an SOP. Additionally, users can't download and print videos or any other details collected with ProcedureFlow. 
There's no autosave feature. If your computer has an issue or crashes when working on a flow, all your work will be lost because ProcedureFlow does not have the autosave feature. 
Issues with administrative permissions. Managers or business owners can't configure controls for different roles due to permission issues. 
The Verdict: What systemHUB Alternative Should You Go For?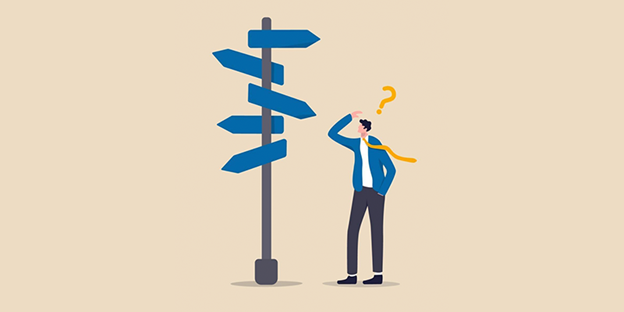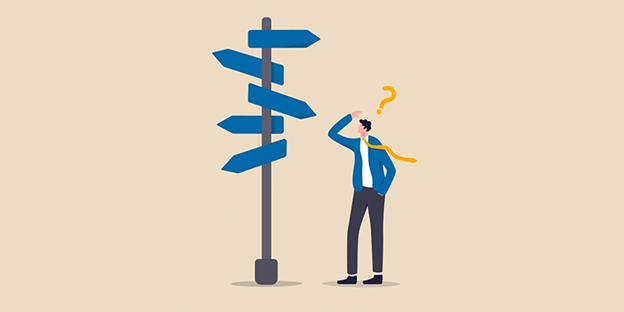 SweetProcess is a cloud-based workflow management system used by all types of businesses. This software will manage tasks, document procedures and processes, track productivity, and build private or public knowledge bases in your company. SweetProcess is an effective tool to manage all your SOPs in a central place.
Emma Mills, the owner of MiPA, had a goal to help business owners focus on growing their companies. Her team handled the back-and-forth communication between the business owners and their customers; therefore, they needed to be organized. However, as their scope of work increased, it became challenging to handle the communication for all the businesses.
They needed a tool to document all their processes to keep up with the delivery. In addition, Emma and her team needed to offer personalized services to their customers. This is when they discovered SweetProcess.
Since they adopted SweetProcess, the company now has improved business processes, seamless employee onboarding, and a training and centralized knowledge base for the entire team.
Dr. Jeremy Weisz, a co-founder at Rise25, links businesses and their clients by using effective podcast and content marketing strategies. To launch and manage the podcasts successfully, Jeremy and his team created detailed SOPs and documented them on Google Docs. However, even with the documentation, his team could not execute their tasks effectively.
The team had to consult him to accomplish any tasks, which was inefficient. This prompted Jeremy to look for an alternative system to document the SOPs, which led him to SweetProcess.
Thanks to SweetProcess, the company now has an effective documentation tool that everyone can access. The team members have a point of reference for company procedures, and they can access automated document approvals. In addition, they have a centralized knowledge base, and it's much easier to onboard clients and employees.
Click here to sign up for a free trial of SweetProcess now!
Conclusion
As a business owner, you have to get the best software to manage your standard operating procedures, processes, and policies. Although systemHUB has elements that will help you document everything in a central place, it has some limitations. Fortunately, there are some alternatives that are much better, faster, with an efficient interface and zero onboarding issues. 
Out of these alternatives, ensure that you select one that aligns with your business needs, budget, and team size.
If you want to start your journey to manage your standard operating procedures today, sign up for a free trial of SweetProcess today. No credit card required.