A Stellar Guide to Outsourcing Your Business Processes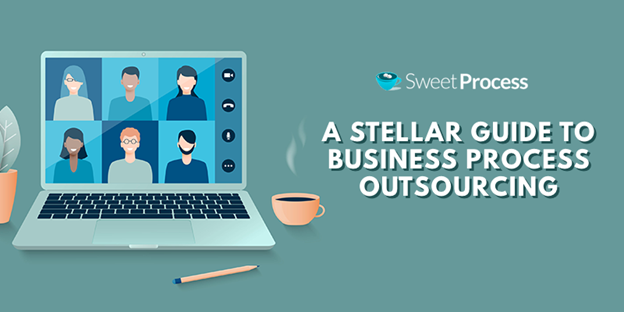 Has your business been under extreme pressure with the COVID-19 pandemic and lockdown?
No doubt the scourge has had a ripple effect on the global economy, and businesses, just like yours, may have come under strong pressure to pivot or die.
Before now, organizations scarcely relied on outsourcing for raising their efficiency game. However, now, outsourcing has become a mode of survival to access industry expertise and save costs.
Business process outsourcing has now become a modern necessity that is getting more popular with each passing day. Businesses can now heave a sigh of relief in every aspect, as they can now opt for outsourcing their processes and reducing in-house employee base or achieve efficiency by relying on a pool of trained agents.
Now, let's jump right in.
Chapter 1: Defining BPO and Differentiating It From Automation and Outsourcing
Chapter 2: The Benefits of BPO and Why Businesses Outsource Business Processes
Chapter 3: Processes That Your Business May Consider Outsourcing
Chapter 4: The Risks and Drawbacks of BPO
Chapter 5: How to Choose a BPO Provider
Chapter 6: Examples of Companies That Have Outsourced Successfully
Chapter 7: Manage Your BPO With SweetProcess
Chapter 1: What Is Business Process Outsourcing?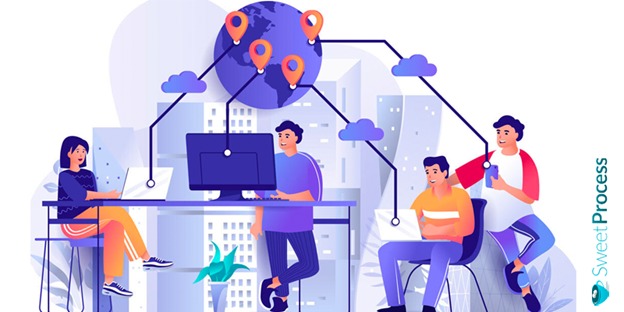 Every successful CEO is turning to business process outsourcing, so what exactly is it and how does it benefit you? Why is it rapidly gaining prominence?
Simply put, business process outsourcing (BPO) is the practice of contracting a specific work process or process to an external service provider. The services that can be outsourced vary to a very large extent. They include payroll, accounting, telemarketing, data recording, social media marketing, customer support, and more. Business process outsourcing is a forward-moving and blossoming industry with a market share that's expected to double in size within the next ten years.
Typically, for BPO to be implemented without hassle, your organization has to first determine a process that is necessary for its operations, but perhaps not its core value proposition in the industry. This will, however, entail a good understanding of the processes within the organization and strong business process management.
Types of BPO
Since business process outsourcing is the practice of contracting certain services, or work processes of an external, third-party vendor, this only means that there are variants for the kind of services that can be outsourced. The broad term BPO covers a number of subcategories describing the location and function of the service provided.
These subcategories include:
Back-Office BPO
Back-office business process outsourcing, to a very large extent, entails contracting services that are not customer-facing. These services include IT, accounting, business process automation, human resources, quality assurance, and more. There are also subtypes of BPO and they include IT-enabled services (ITES) BPO, such as IT analysts, legal process outsourcing (LPO), such as paralegals or advisors, and knowledge process outsourcing (KPO), which involves outsourcing an individual who understands and manages a specific program. By outsourcing these tasks, businesses can focus on their core mission and cut back on time-consuming and expensive internal training and onboarding.
Front-Office BPO
This is the direct opposite of back-office BPO, and it involves outsourcing customer-facing services, such as tech support, customer service, sales, and marketing. Due to technical knowledge requirements in these departments, and the fact that they can be accomplished off-premises, they are frequently outsourced. By outsourcing, businesses can benefit from specialized talent with unique knowledge and cut costs.
Offshore BPO
Offshoring in business process outsourcing simply means that services are outsourced overseas. A common example is companies outsourcing their customer service departments by contracting with call center vendors across the world. As a result, businesses can access qualified labor and services at a lower rate, which helps reduce overhead costs, and potentially lower product or service prices for the end-user.
Nearshore BPO
Nearshore business process outsourcing has to do with contracting the services of vendors in countries that are geographically closer. This form of outsourcing usually occurs when specialized skills are readily available at a lower cost in a nation close by. However, certain factors, such as time zones or language proficiencies, need to be taken into account. Silicon Valley is a clear example of nearshore BPO. It outsources IT and coding services to specialists in Canada.
Onshore/Domestic BPO
Domestic outsourcing is the act of outsourcing and receiving services within the boundaries of a country. This means that a vendor in one city, state, or province can be contracted for services provided to business in another state or province. This can be prompted by a number of factors, such as the availability of specialized skills in certain regions, or local differences in rates and costs.
Managing Outsourced Vendors
While acquiring and managing outsourced vendors can be accomplished in-house, working with a managed service provider (MSP) as part of your workforce management plans can help streamline the process. These vendors are neutral third-parties that provide expert advisory services to simplify and manage the contingent workforce supply chain from requisition to payment.
How Is Business Process Automation Different From Business Process Outsourcing?
These two terminologies may sometimes be confusing, and that is why it's important to know the difference.
Business process automation, especially robotic process automation, is a special form of artificial intelligence technology that changes repetitive tasks into hands-free operations. This transformation relies wholly on software robots to complete tasks and projects nearly identical to how a human operates. This is done more quickly and effectively, saving businesses time and money.
On the flipside, business process outsourcing is a practice that is used by businesses to reduce costs and foster efficiency by moving lower-order functions within a business to a location with lower wages. With this process, all manner of jobs are outsourced, including manufacturing, customer service, and computer programming.
Businesses and corporations adopt business process automation and outsourcing to help their operations run systematically. It is no longer news that without these services, businesses would have to handle the tasks using in-house employees. This would cut into the time needed to address more pressing and core customer-facing or revenue-generating functions of the business.
Challenges Experienced in Business Process Automation (BPA)
BPA comes with its own fair share of challenges, some of which are:
Long-term follow-up
Longer-term follow-up is necessary to deal with unforeseen problems and to apply metrics that help you determine ROI, but interestingly, this is the challenge with the BPA. An inconsistency with following up could cause a slower automated workflow than the BPO.
Difficult usage
BPA may have an excessively steep learning curve that may not foster ease of use. This might not allow you to evaluate workflow automation. This also causes the excessive use of time, which may affect other things that could need your attention.
Failure to measure progress
You've got to have a very clear goal when dealing with BPA, and this means that you constantly test out your goals against what you want to achieve. This in itself could be time-consuming and can serve as a source of discouragement to you.
BPO has come to simplify things and change the trajectory and landscape of how running a successful modern-age business can be, and your business stands a chance to dive into this game-changing system.
Chapter 2: The Benefits of BPO and Why Businesses Outsource Business Processes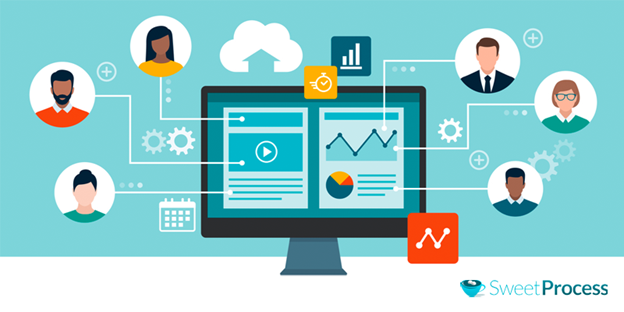 When the thought of scaling and getting more focused on your organization's mainstay comes to mind then business outsourcing saves the day. So, what are the benefits of outsourcing your processes?
Here they are:
Saves Time
Nothing beats saving up time to focus on other core matters. This is exactly one of the best benefits of business process outsourcing. It can allow your organization to immediately free up more hours in the day. When you outsource repetitive tasks, the hours typically spent on those activities can now be opened up for other things. This means that your workers in business operations, marketing, sales, or HR can get through with projects within an expedited timeline or take on more responsibilities.
Saves Money
Business process outsourcing saves your company money and the savings may be substantial. This can be particularly true in the area of overhead costs in the workforce, the process for hiring, training, and onboarding. Also, your current employees may be stretched too thin and may not be able to put in their best effort at work. Business process outsourcing is a super solution for any size company needing to allocate resources wisely when it comes to employees.
Enables Flexibility
When scaling a company comes into play, oftentimes there is the quest to hire new people as a way to raise the ante of sales, business development, and customer support. But this can be eliminated with BPO. When outsourcing is tactfully done, time and money are saved, which can lead to better growth potential and flexibility in the overall business. This can significantly allow for your company to ramp up activities quickly or scale back as need be.
Makes for Time Advantage
Businesses around the globe are often faced with the challenge of time zones, and this can hamper expanding to new markets. Typically when trying to target a new market,  business process outsourcing can allow you greater coverage of international working hours, since contracted workers typically live in countries that are outside of US time zones.
Compete With Larger Companies
BPO could be especially advantageous to small- or medium-sized businesses in the area of competition. It can give you a leg up on competitors. For instance, if the market is saturated with big players, BPO can allow you to run and operate as if you were a big player without the overhead of employee costs. This is achieved by saving resources, better utilizing your existing staff, having time zone advantage, and flexibility. With these advantages, you are much more likely to be able to give enterprise businesses a run for their money.
Enables Scalability
BPO solutions provide businesses access to the latest infrastructure and technology around. You can go about your workday without the worry of how to get things done, and at the end of the day be sure of success and growth. So, whether your business requires an upgrade in administration, finance, or other areas, you can be sure that BPO will bring about success. This in itself is what scaling up in business is all about.
Encourages Project-Based Work Assignments
Handling short-term projects are easier with BPO. Hiring full-time professionals can be exhausting and costly. However, when you outsource, all you need to do is give them a timeline and workflow. This way, you and your team can concentrate on other pressing work issues.
Why Your Company Needs Business Process Outsourcing
You already know that the tides in modern business practice have changed and that you've got to come to the bargaining table with your best foot forward. This is why you need to make sure that your business operates under modern practices.
Here are some signs that your business needs to consider business process outsourcing.
When You Are Spending Too Much on Labor Costs
One of the first reasons you should consider outsourcing non-core functions to a BPO company is reducing labor costs. For instance, it could actually cost you over $40,000 per year to employ a customer service specialist in the US. This cost would be a reason why you need to outsource your business processes. Outsourcing allows you to get the results of a full customer service team without the overhead cost of directly employing one.
When You Are Faced With High Infrastructure Cost
Setting up all the infrastructure you need in your organization does not come cheap. The hardware and software alone cost an arm and a leg. This means that with the advent of newer trends, you would need to constantly upgrade, and that means spending more money. Interestingly, by outsourcing to a BPO, you can bypass paying in full for the expensive equipment and simply pay for the services you need to be fulfilled.
When Work Efficiency is Slow
If you have a team that just isn't living up to expectations, you can help give things a boost by outsourcing your business processes. The whole idea is to simplify things so that every member of your team can focus on the things that make them most productive. You can be assured that with more efficiency on the part of your team, you can succeed in pushing your business to the zenith.
When You Lack Advanced Insights
How do you measure your company's success? This is one question every company faces. No matter what aspect of your business you want to improve, simply collecting data won't do the trick. You also need methods to interpret the data. Therefore, outsourcing your processes to a BPO that specializes in a particular industry will give you more informed insights and precise reports, which in turn will allow you to improve and grow your business.
When Your Process Lacks Focus
Time is money, and so this is why it makes sense to ensure you and your employees are using time judiciously by handling your company's core functions instead of wasting time on putting out fires. Business process outsourcing companies are versed in handling various processes that are not core functions for other businesses. So you can free up company time that would be spent on non-core functions.
The gains that come with outsourcing your processes aren't something you should miss out on. You and your employees can increase the chance of scaling your business and making it visible to the right clients and customers.
Chapter 3: Processes That Your Business May Consider Outsourcing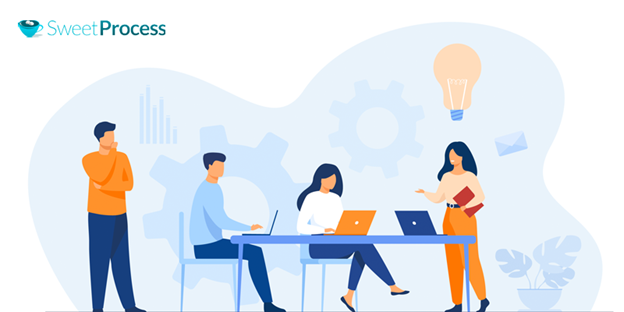 Nothing could possibly kill the drive of your team members like trying to handle too many tasks all by themselves. For this reason, many smart entrepreneurs try to outsource some tasks to outside companies or freelance workers.
Here are some processes to consider outsourcing so that you have ample time to play to your area of strength, as well as that of your employees.
1. Content Marketing
Content marketing is a huge necessity in the world today. It has to do with developing easy-to-understand online content that is designed to provide customers with information, answers, and education without coming across as "sales." The core objective of content marketing is to generate leads. However, it is also essential for strengthening and nurturing the relationships between your brand and your customers.
2. HR And Payroll
This department, amongst all others, needs to be up-to-date. This is why outsourcing tasks here to ensure you are abreast with the industry is of the essence. It's highly recommended that you outsource HR and payroll. This is because of the rigors involved. It's worth it to consider leaving the job to the professionals as you take care of other core areas of expertise.
3. Customer Services
This department can prove to be expensive to manage in some places. Creating a super customer experience can come with its own challenges. You should consider outsourcing some tasks to decentralize your business, a condition that might pose a growth challenge in the long run.
Contact center
Online chat agents
Social media managers
Customer-facing staff members
4. Administrative Tasks
As a business owner, it's important to focus on company growth and expansion. Focusing on smaller, mundane administrative tasks can cut your valuable time, so consider outsourcing administrative duties. You can free up time to concentrate on improving the bottom line rather than spending time on these types of business processes.
5. Outsourcing Weak Areas
It's best to give outsourcing some processes a good consideration. Understanding your own weak points in business can help you get the most from outsourcing and ensure that you are investing your time in the right tasks.
Here are some departments you can consider outsourcing:
IT management and services
Manufacturing
Marketing
Research
Sales
Shipping and logistics
It doesn't matter the type of process you want to outsource. The paramount thing is knowing that there are BPO providers who can work with you in realizing tailor-made outcomes for you and your employees.
Chapter 4: The Risks and Drawbacks of BPO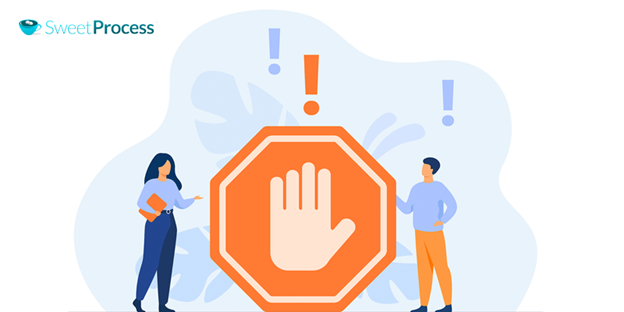 So you know by now that life in itself is a risk, right? Well, there's no exception with the business process outsourcing system—it has its risks too. It's one thing to know the way the business process outsourcing system works; it's a different kettle of fish to learn of the risks involved and how you can navigate through them.
Here are some high risks involved in business process outsourcing:
Choosing the Wrong Supplier
Your main goal is to choose a service provider that totally meets your requirements.
The decision to work with a provider should flow from a risk analysis you conduct, which should answer questions such as:
Is the area you want to outsource the provider's area of strength?
Does the provider have the necessary expertise?
How experienced and versed is the company with projects of the same magnitude?
How successful has this company been at outsourcing?
What are the provider's web and social media presence like?
What kind of feedback has it received from other customers?
If need be, you may consider visiting the company in person to gain a real-life impression, as well as to conduct some real-time surveys about the operational capabilities of the BPO provider.
Inaccurate Definition of Task Areas
A little foundational problem can cause a negative ripple effect on the entire business. Be sure to define detailed guidelines and rules for outsourced work to avoid misinterpretations. This is also important to avoid processes being incorrectly or only partially performed. You should also consider taking every last detail into account in advance.
Lack of Experience With Outsourced Teams
You run the risk of adopting the wrong BPO provider if you have no experience with outsourcing in the past. It is therefore important that you rely on the experiences of past clients and references. Take time to talk and hold meetings with clients they have worked with in the past so as to make an informed decision before contracting with a provider
Inefficient Knowledge Transfer
The unhindered transfer of knowledge is a building block for successful business process outsourcing. This is why you've got to operate a no-holds-barred system of operation with your BPO provider. Be sure to precisely define the handling of both aspects in the contract. This way, you can ensure that both intellectual property and the protection of trustworthy data are clearly clarified.
Hidden Costs
One of the biggest risks involved with BPO is the incurrence of unforeseen costs. You may bump into some unexpected costs and items that were not previously included in the contract. This could make the project dramatically more expensive and ultimately uneconomical. In order to prevent such scenarios, you should check the contracts carefully for any hidden costs.
When Provider Fails to Perform
One of the riskiest things with BPO is to be faced with a project that was stopped abruptly because the BPO service provider could not meet expectations. This can be terrible and can lead to considerable complications in the workflow. It could even mean losing customers. So make certain that the provider can stay through to the end of the contract.
Change of Provider
The last thing you want to happen is to lose your data to a service provider because you didn't safeguard your intellectual rights. An intellectual property rights (IPR) management plan is an important part of your data management plan. This measure must be in place if you want to remain operational when changing providers. Also, it is helpful to define the consequences of losing your data in the contract. Having an ingenious plan and implementing it consistently is of super importance.
The risks that have been mentioned here aren't meant to serve as a deterrent. They are meant to help you make only the best of choices when considering choosing an outsourcing company.
Chapter 5: How to Choose a BPO Provider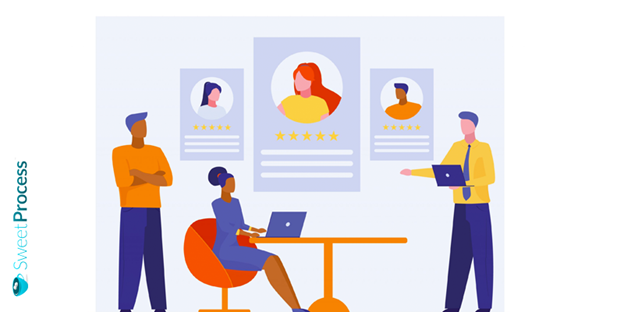 One of the biggest benefits of hiring a BPO is that a company can oversee different sets of processes simultaneously because they are being handled by effective service providers. Outsourcing cuts down the burden of hopping here and there without achieving tangible results. Doing that wouldn't only sap you of energy, it would also eat up loads of capital.
How then should you effectively choose a business process outsourcing provider?
Tips for Choosing the Right BPO
Consider The Experience
It is essential to consider choosing a firm that comes with loads of experience. An experienced BPO service provider guarantees domain expertise and the knowledge to deal with grave situations in the business processes. This is one of the edges they have over the rookies. The wealth of experience of the firm also helps them to provide competitive leverage in the market over other companies that offer similar services.
2. Figure Out Data Security
Data security is the most important aspect to consider while selecting a BPO provider.  While outsourcing, a company shares sensitive information with the third-party service provider, yet it is very important to check whether the company has top-notch security policies like a non-disclosure agreement and strict service level agreements. The companies must ensure that the outsourcing agency has the latest cybersecurity devices that safeguard against theft.
3. Strength of the Firm
One of the most important factors for consideration while choosing a BPO service provider is the availability of skilled resources. The outsourcing firm should have qualified experts and agents who deliver the work on time. Be sure to always check the resources before selecting any firm for outsourcing.
4. Technology
The latest technology practices are one thing you've got to look out for. Make sure that the firm is not only using the latest technologies but the technologies must be relevant to the business process they are working on. A BPO company can be more successful when its integrated approach will work holistically in every office function.
5. Scalability
Every company should choose a scalable outsourcing partner with the expectation of a strong commitment toward outsourced business activities. A scalable BPO service provider is important in terms of facilities and resource strength. Scalability is important in order to meet the desired requirements of the clients without increasing the overhead costs to the business.
6. Infrastructure
A good infrastructure is indeed an essential factor for a BPO service provider. Be sure to look out for infrastructures such as high-speed internet, phone connectivity, hardware, and software. All of these will bolster the smooth operations of their workflow.
7. Quality Assurance
Quality assurance is the most relevant aspect that needs to be considered while selecting a BPO service provider for your company. The quality of data shared by the companies is of high import, as companies rely on the data for many critical decision-making processes. Be sure that the company follows strict quality assurance while strictly adhering to data breach policies.
8. Cost-Effectiveness
Be sure to check for cost-effectiveness before selecting an outsourcing partner. It is always recommended to compare the prices quoted by a few outsourcing companies and check the quality of their services. A much lower price may indicate bad service quality. On the other hand, a high quoted price can be a premium price that not every company can afford. Hence, choose wisely and decide in a way so that it can fit under the desired budget.
10. Turnaround Time
When time is maximized, success becomes inevitable, and this is why you've got to choose an outsourcing partner that is known for a pretty great turnaround time. You can be sure that every milestone of business can be met smoothly if the outsourcing partner regularly meets the turnaround time.
11. Legal Framework
BPOs thrive on great legal frameworks, and so a business must critically analyze the legal and political conditions of the country that they want to outsource. However, there are other factors too, such as language and communication that need to be checked while maintaining a smooth communication flow between the two companies.
When you are intentionally on the lookout for service providers that meet these requirements, you are more likely to end up with the best BPO provider that can meet your needs and even surpass your expectations.
Chapter 6: Examples of Companies That Have Outsourced Successfully
We have discussed business process outsourcing at length. Here are some strong organizations that have successfully outsourced their processes.
Google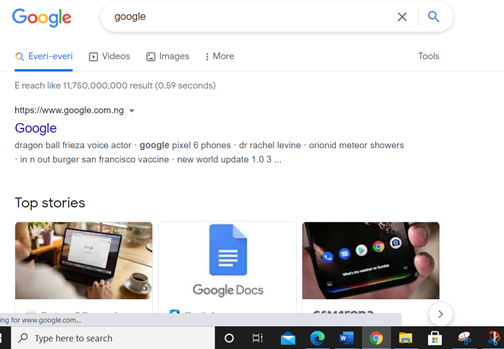 Google started as a small and easy-to-use search engine but has since grown by leaps and bounds. It's become a massive organization offering hardware and software services in addition to its advertising services with employees around the world.
This technology company has exceptional business practices and policies. They are one of the major companies that outsource and have been outsourcing non-core functions like admin and IT work for years. Google understands that it just might not be able to take on all processes, even with its size. As such, they have also been outsourcing development work, email support for products like AdWords, and the likes. They are expanding this even further and in addition to email support, also offering phone support with staff around the world.
Alibaba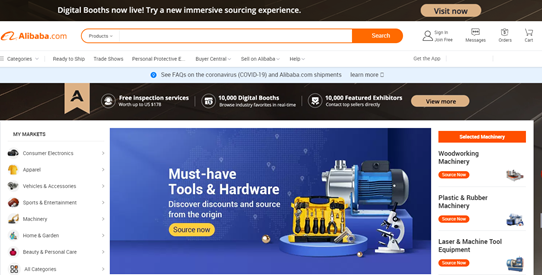 Several names readily come to mind when online e-commerce firms are mentioned. One is Alibaba. This China-based business identified the skills lacking in its region so that it could compete favorably with fellow giants like Amazon. So it decided to outsource areas it struggled with so that manufacturing and resource costs could be low and they could scale. Alibaba started looking for partners and outsourcers early in its development across a host of different projects and found many of the skills they needed in the US. By outsourcing web development to the US, the site flourished and grew at an astronomical pace.
WhatsApp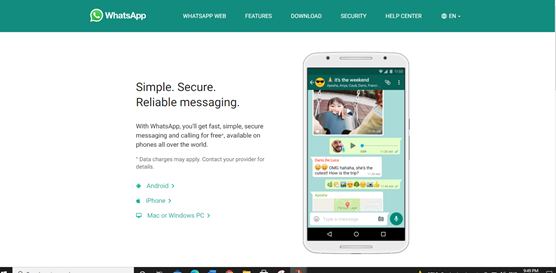 WhatsApp is a well-known name when it comes to communication. Used globally by millions, this super multi-billion dollar company began to outsource from the very beginning. As early as 2012, WhatsApp was a minute organization with only 30 full-time employees and five part-timers. At the time, they understood that if they wanted to grow, they needed to keep costs down. So they outsourced development resources to Russia for a small fraction of what they would have paid in the US.
Basecamp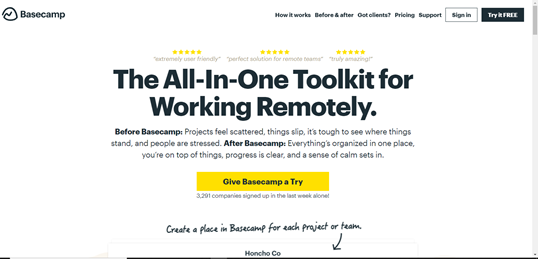 Basecamp, a project management resource, started out small, and while they are well-known in the project management field, they maintained a small footprint of in-house resources. They soon realized that while others were using their tools to manage projects and work, they were having problems internally with workflow and client support. To resolve this situation, Basecamp decided to outsource some essential functions so that their internal teams were able to focus. In outsourcing, they began to use remote developers and continued driving improvements into the product. They focused precious time on their own internal business and outsourced work to others.
Skype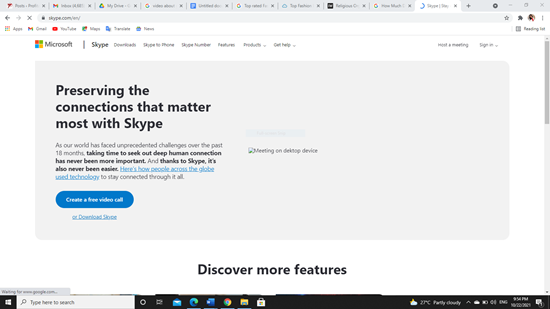 Skype was a precursor and leader in the online video field. When Skype started, they soon realized that product development was not the key to its success. Instead, they had to find the right talent and skills at a cost point that made sense so they could continue to develop the software while keeping costs low. They picked Estonia (East Europe) as a source of talent and brought on several developers to work on the product as outsourcers.
Opera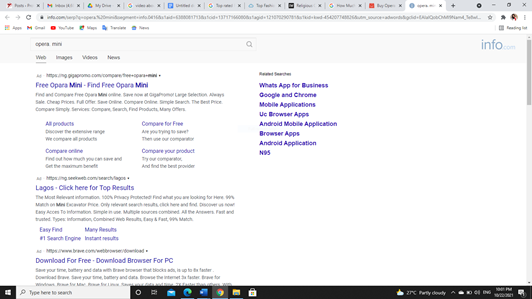 Opera is a lightweight browser that is straightforward to use. It continues to offer cutting-edge features that users need. Launched in 1995, Opera was initially a side project inside Telenor, one of Norway's largest telecommunications companies. Opera eventually began as a separate company outside Telenor's umbrella, but Oracle Software ultimately acquired it.
Apple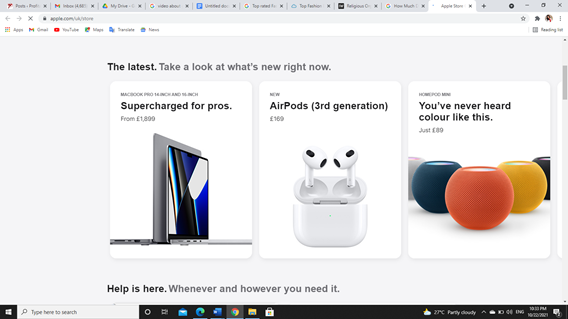 Apple tops the list of revolutionary technology companies. While Apple designs excellent products, it does not make or manufacture them all by itself. Apple is another example of a company that outsources. By outsourcing its supply chain and manufacturing facilities, Apple is able to focus on its core strength—designing great products that people like to use. Apple understands its strengths. Also, Apple recognizes that outsourcing is about building relationships and ensuring that both parties benefit. It's a mutually beneficial relationship that Apple has been able to navigate successfully and it's a relationship that has benefited all of us.
Chapter 7: Manage Your BPO With SweetProcess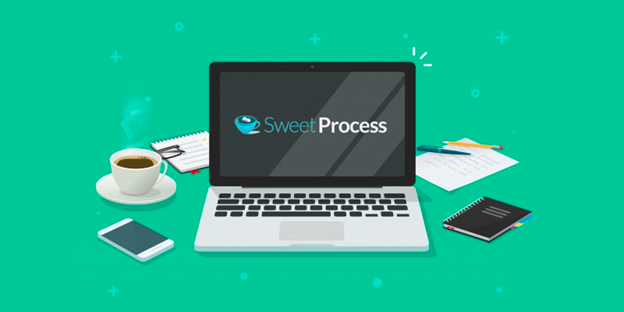 There is an avalanche of business process outsourcing tools out there that promise to solve all your problems, only to fall short of your expectations. Struggling to get clients in the door could very well be one of the reasons to outsource processes. You've done your very best only to find that your best isn't good enough. It is time you tried something else. If you are concerned about growth and being process-driven, then it's SweetProcess to the rescue. This tool helps with your company's growing pains. Streamlining your operations to meet your standards is one of the fortes of this tool.
SweetProcess has helped a good number of companies in their efforts to facilitate growth and employee efficiency in their organization. So whether you manage a team or you're hiring your first employee, SweetProcess gives you the systemization you need to scale and grow your business.
Here are some real-life case studies that will help you understand how well SweetProcess eases the process of outsourcing services:
Ted Fogliani, the CEO of ShipCalm, was familiar with workflow systems due to his years of experience in the construction industry. Having used several systems previously, he knew exactly what he needed when he moved onto the e-commerce logistics world. He was on the lookout for the right system, and luckily he stumbled on SweetProcess. He got value from SweetProcess and wondered where this tool was the whole time he was looking. SweetProcess facilitated growth and employee efficiency in his organization.
Creating an enabling work environment for his employees and satisfying his customers were also top on Ted's agenda, so he sought a workflow tool that would enable him to outsource processes and get super results. With SweetProcess he didn't need to continue doing everything himself. He stopped the guesswork and began to get traction. Whether it is accounting management, new employee onboarding, customer support, product development, or financial planning, SweetProcess helps you with all the processes.
Kevin Trapp of Forensic Analytical Consulting Services Inc. wanted to streamline his business's workflow and maintain consistency across the organization as they began to expand to multiple locations. So he went in search of strategies to effectively outsource his processes. He and his team were using PDF files for documenting SOPs, and this was a great setback because his team scarcely referred back to them. He soon began to worry that nobody was actually looking at the SOPs. They did their best with creating the documentation, but their options were limited due to the tool they were using.
SweetProcess was a game-changer for Kevin because with it onboarding a high number of new employees became a lot easier, something they had done manually and was demanding, requiring so much time and resources. Kevin was relieved when they adopted SweetProcess because employee onboarding became simpler.
SweetProcess streamlines business operations which can be daunting for many organizations. Despite dealing with a high volume of work that needed to be outsourced in SweetProcess, the simplicity of the software worked for Ted and Kevin.
Conclusion
If you do really want to stay afloat in business and stay abreast with opportunities that might arise to take you to the next level, then you've got to be ready to take the plunge into outsourcing your processes. Considering outsourcing your business will drive change and growth. It goes without saying that internet-age compliant businesses will always have an edge over the rest.
Ready to take a plunge at outsourcing your processes?
Sign up for the SweetProcess 14-day trial with no credit card required to begin the process. Download a free checklist resource now: Surefire Outsourcing Checklist When Choosing an Outsourcing Company.