Law Practice Management Software: An Absolute Must-Have for Every Law Firm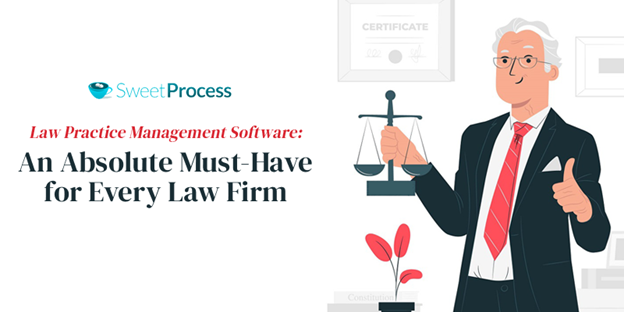 How often do you look at your wall clock, watch, phone, or whatever device you use to keep track of time, and just feel like it's messing with your head?
"That can't possibly be the time. Where did the day go?!"
If there's any worker who deserves extra hours in the day, it should be lawyers.
Running a law firm is demanding in this age where people are used to fast services, and this is why most firms are incorporating the use of law practice management software to run the day-to-day activities of their firm.
In this guide, you'll learn how your law firm can free up time, hands, and collective brainpower, as you let management software help you go about your daily activities, from keeping all your records and information at hand to collaborating with clients and even onboarding new team members when your company starts taking on more work from the recommendations of satisfied clients.
Law Management Software Chapter Guide
Chapter 1: What is Law Practice Management Software?
Chapter 2: Features of Law Practice Management Software
Chapter 3: Differences Between the Available Law Practice Management Software Systems
Chapter 4: How to Choose Law Practice Management Software
Chapter 5: Management Software Solutions Your Firm Should Check Out
Chapter 6: Success Stories of Using SweetProcess In Law Practice
What Is Law Practice Management Software?
Law practice management software is a tool built to manage a variety of jobs for a firm. It makes handling tasks such as calendar schedules, billing, client records, and others less time-consuming. It is a convenient way for attorneys to manage clients' case information as efficiently as possible. A management software system helps to consolidate and organize your firm's information so that it is easier to access, manage and maintain.
However, this software is only as effective as the data you feed into it. You'll provide the software with your contacts, emails, documents, clients, and case information, among others. This is time-consuming, but you will see that adapting to using it is absolutely worth it, and your collaborators and clients will soon find it much more efficient and satisfying to go about their daily tasks.
When you go in search of this software, prepare yourself for the work ahead. The effort will be notable, but you'll see shortly that it was time and money well spent.
Features of Law Practice Management Software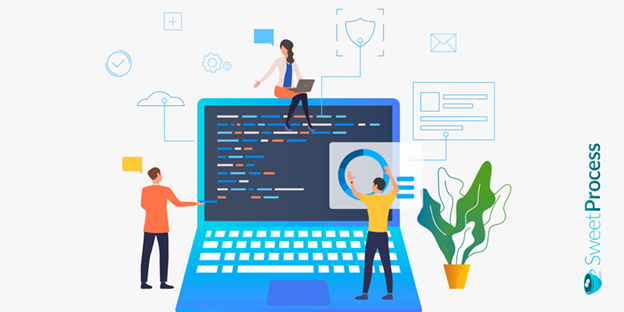 Law practice management software has basic features that identify them as what they are. Some of this software is designed specially to meet a specific need, and they do so perfectly, compared to the multi-purpose ones encompassing nearly all features. For instance, SweetProcess should be your go-to software specifically for documenting, assigning and managing tasks.
Usually, going with all-purpose software can be confusing to work with. It can take time to master, and this defeats the aim of using a law practice management software in the first place as you spend precious time learning the works.
Frustrating.
Individual software designed to perform a particular task can seem like too much at once, but software that integrates other software actually makes the process cleaner. Depending on your specific needs (more on this later), you can choose to go with a single or an all-purpose law practice management software like Microsoft 365, G Suite, Box.com, and others.
Alright, let's look at the basic features of this software. The core features include document management, case management, communication, time tracking, billing, scheduling, and more.
Documenting
Keeping track of your clients' cases without getting anything mixed up will save you time and make you appear even more professional. This software allows document collaboration and external sharing between your clients, experts, co-counselors, and other relevant individuals. There's a central base to store clients, courts, and additional contact information. Storing data of matters, cases, and projects comes with most law practice management software.
Assigning and Managing Tasks
LPMs let you assign tasks, know who's working on what, and tells you how far they've gone. You can create tasks, set to-do lists related to specific tasks, and set deadlines. It keeps teams on the same page while working. Some LPMs have a chat feature that lets collaboration on projects be more effective. Being able to chat while exchanging files with clients or experts will speed up work time. Having better control of your information helps to manage your legal responsibilities on behalf of your clients.
Time Tracking
It can be a challenge to track billable time manually. You may not know when you overcharge or shoot yourself on the foot. With this feature, there's no error as time tracking is done automatically. Your client will also be confident that they're getting the best for their money.
Legal Billing
An LPMS reduces the steps needed to send out invoices. It automatically generates editable invoices according to the billable time entered through the time tracking feature. Some LPMSs will let you process the payment as well. Invoices will be sent to clients, and they can pay using a credit card.
Secure Communication and Collaboration:
Due to the sensitivity of your clients' cases, you are responsible for ensuring that case files remain secure. A management software will provide much-needed security for documents. Storing information in a secure central location is a necessary part of law practice management software.
Why Your Firm Should Have a Law Practice Management Software
With what you've read so far, you can tell how having this software would make things run a lot smoother for everyone. A few more reasons why your firm should have law practice management software are discussed below.
Improved Staff Performance
With all information properly documented, your staff becomes equipped with the knowledge to go about their work. There'll be no time wasted asking for files that can be accessed by simply going on the software. They'll be better equipped to face the work of the day, and productivity will be high.
Improved Organization
With a law practice management software, everything is right where you need it to be. Mistakes are reduced as it helps you stay organized and access the information you need without chaos. The presence of paper files will be reduced, eliminating confusion. A law practice management software keeps your firm organized and saves time as it lets you avoid administration errors. Clients' requests get handled promptly.
Happier Clients
Good service equals happier clients. When you consistently deliver a job done correctly and communicated opportunely, you can bet you will get not only your client's satisfaction, but their referrals. When you can make documents available to them in the shortest time, it encourages their confidence in you. A law practice management software also lets you invite clients to see how your firm is working on their case. Changes and feedback can be introduced as early as an inconsistency is spotted.
Greater Efficiency
When there is no delay in getting access to needed documents, you'll stay on top of deadlines, and you'll be able to deliver promptly at request. That's efficiency. Having a law practice management software makes this possible as workflows become automated.
You Can Work from Anywhere
Research has shown that 77% of lawyers work from home, 38% work while traveling, and 28% work from home. Having a law practice management software gives you the freedom to work from where you are, accessing information when you're out of your office. It is all about simply logging in and getting important work done from wherever you are.
Differences Between the Available Law Practice Management Software Systems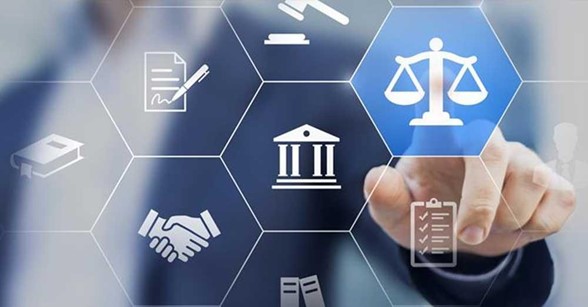 When getting an LPMS, there are two types: on-premises and cloud-based. Each of them has its advantages, depending on your firm's specific needs, the technological skills of your employees, and your budget.
On-Premises Software
On-premises software is the oldest of the two and the more traditional model. In getting this type, a company purchases a license for each staff member and installs it using the help of an IT professional. The software runs on each collaborator's computer, and all information is stored on that same computer. To access, share, or back up data on this LPMS, staff have to be in the office (on-premises).
Otherwise, a virtual private network (VPN) is set up to allow employees to share between their in-office computers. The on-premises software requires a high cost to install and get licenses. This payment is typically made once, unlike the cloud-based software's subscription model. However, maintenance costs in the future can be high.
Cloud-Based Software
On the other hand, cloud-based software is also known as web-based or software as a service (SaaS). This is accessed through a web browser. It is the modern approach, and it's now often chosen over the on-premises solution. Using this option, one doesn't need to be in a specific physical location to access data. Being connected to the internet and having the login details (valid username and password) are essential to accessing any information stored.
This software is less expensive to maintain compared to the on-premises software. First, it is purchased on a subscription basis, paid on a month-to-month or annual basis. Secondly, as it is web-based, security and troubleshooting are little cause for concern as troubles can be rectified as soon as there's an update.
How to Choose Law Practice Management Software
Before you proceed to get an LPMS, consider why you're getting one. Are you getting it because of your firm's needs or your clients' needs? Listen to Christopher Small, known on YouTube as "The Unconventional Attorney," talk about this.
Various LPMSs will suit the running of your firm more than they would clients' needs, and vice versa.
With your decision in mind, here's how to choose law practice management software to best suit your needs:
Know Who the Company Is
Legal cases often have confidential or sensitive information you don't want just anywhere. Not knowing what/who can compromise your case, do your research before you begin to use an LPMS. Ask the necessary questions:
Who is this company? Are they well known?
How long have they been around?
How will your information be handled?
What security measures do they have in place to protect your information?
These companies will usually offer a free trial. Take advantage of it and go through their software. Don't just rely on what they tell you. If you don't feel comfortable with how they handle things, try someone else.
Know What Features It Has
When going for an LPMS, aim for one that will be simple to use. Compare various software features against each other by considering what you need and selecting the one that suits your firm. Is it an all-in-one package or a tool designed for a specific task? Ask yourself if you truly need the features it's offering and go for it. Also, know whether you need it for running your firm or for managing clients' cases.
Check the Pricing System
Payments for LPMSs are usually on a subscription basis with a standard price. It will also have tiered pricing that unlocks more features the higher you pay. Depending on your needs, go for the package that fits your budget.
Does It Fit Your Needs?
Go for what you need, but don't base your decision on the sheer amount of features an LPMS promises to offer. You might end up not using a lot of the features and feel like you paid too much for it, so really look at what your needs are and shop for them.
If documenting is the main problem your firm is struggling with, get a software system that does that. If it's billing and tracking time that are your pain points, there are specific designs to meet those needs. To save you time, reach out to the available contact person to explain what you need and determine if they can offer you the features your firm needs to run effectively.
Check For Flexibility
Before you purchase a law practice management software system, see how flexible it is. Can your new software work well with your existing tools? Will it be easy to transfer your existing data into the LPMS? See if the software integrates seamlessly with your older software.
Undoubtedly, you must have some useful tools before going to the market for an LPMS and you'd like to continue using them.
Law Practice Management Software Your Firm Should Check Out
There are tons of law practice management software options to choose from. It can be overwhelming trying out most of them to see the one that's best for your firm. These few examples below can be a starting point for you to begin exploring. Keeping in mind what area your firm need help with, here are some Law Practice Management Software systems you can try out.
SweetProcess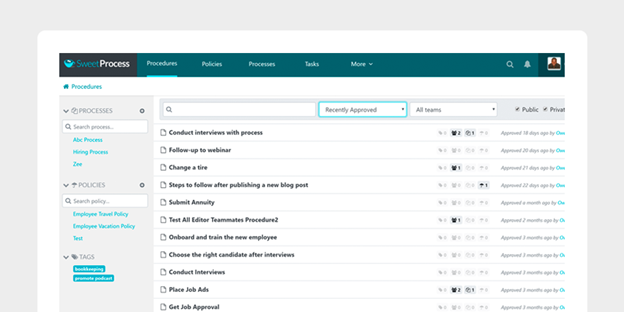 SweetProcess software functions as a special purpose law practice management software. Its core features are:
Procedure documentation
Task tracking
Process documentation
Collaboration
Multiple device support
SweetProcess offers a single and simple pricing plan that comes with all its features included. We can even work with you to create a customized system that best suits your needs and budget. We also include a 14-day free trial, so you can try before you buy.
LEAP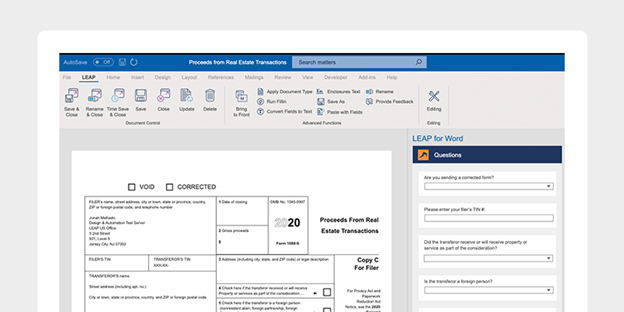 LEAP is a law practice management software that simplifies your firm's IT infrastructure. It enables you to work from anywhere at any time. Its features include:
Capture time from anywhere
Automatic time tracking
Stating automated court and legal forms
Document management
LEAP offers an all-in-one system for one price. Contact its sales team for price details
AbacusNext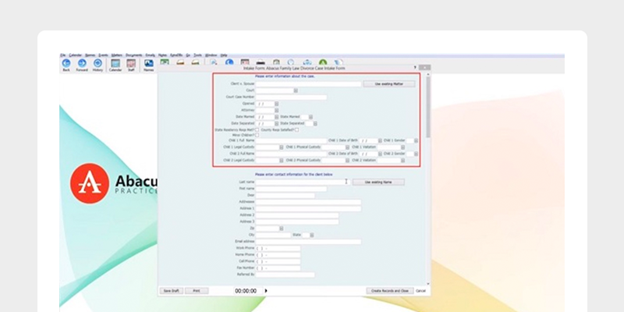 AbacusNext law practice management software is good for small law firms and solo legal practitioners. It is a customizable practice software and is easy to use. It has these features:
Legal calendaring
Time tracking
Legal workflow
Billing and invoicing
Law firm accounting
Payroll processing
Their pricing varies, depending on what services or solutions you choose to go with, so contact a sales representative for more information.
Clio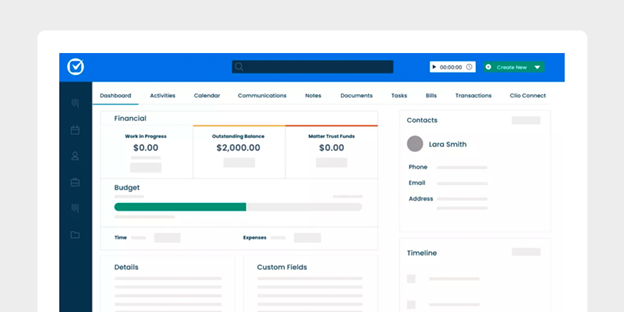 Clio is a cloud-based law practice management software for small law firms and practicing attorneys for time billing and client management. More features are:
Accounting
Document management
Task management
Trust management
Legal calendaring
Time tracking
Clio offers three versions of its software with monthly pricing from $39 per month to $125 per month.
MyCase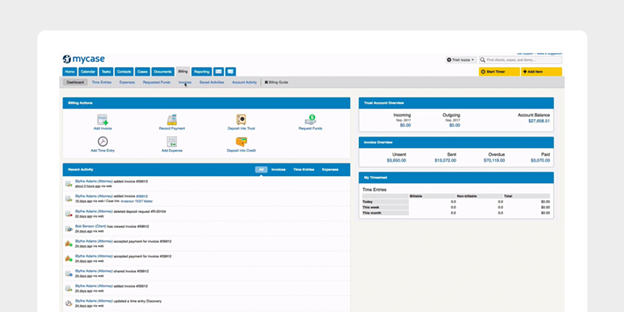 MyCase is a web-based legal practice management software that offers the following features.
Communication tools
Activity streams
Online payment
Secure client portal
ProLaw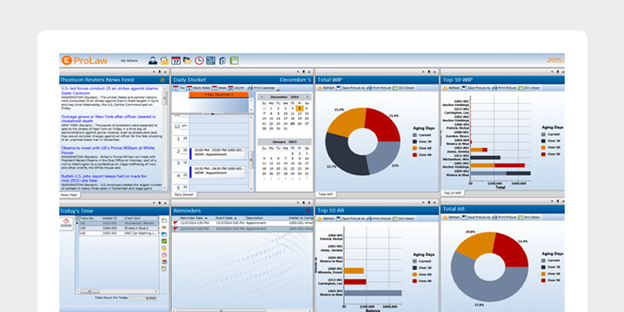 ProLaw is a law practice management software good for billing and tracking time.
Court docketing
Document assembling
Legal calendaring
Time and expense tracking
Billing services
Cosmolex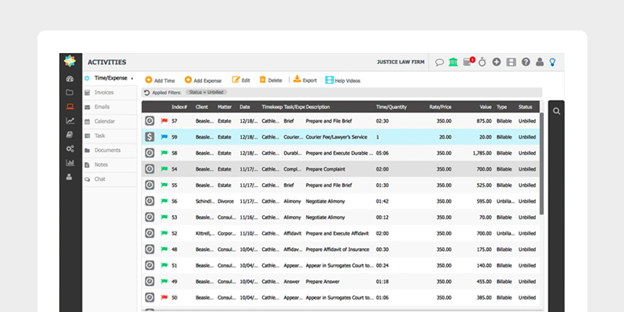 Cosmolex is an all-in-one law practice management software with the following features:
Document management
Email management
Scheduling
Client portal
Case workflow
Legal billing and payments
Law office accounting
Legal Files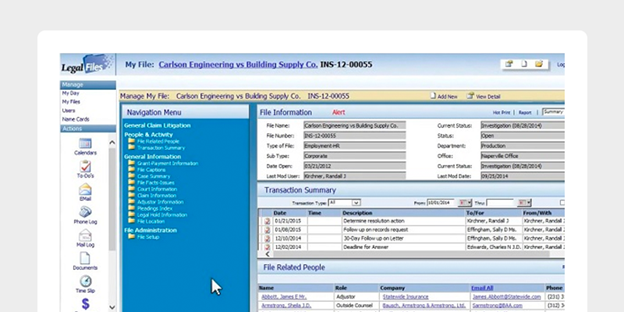 Legal Files is a case-and-matter management software designed to do the following tasks:
Report generation
Note-taking
Response tracking
Scheduling
Phone messaging
Practice Panther (backlink)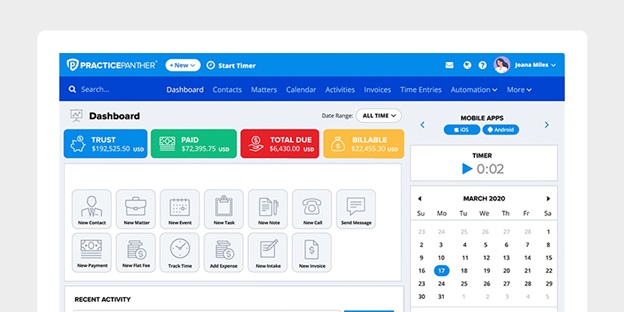 This software from Practice Panther is easy to use with these features.
Time tracking
Task management
Legal calendaring
Matter management
One-click billing
Expense tracking
Bill4Time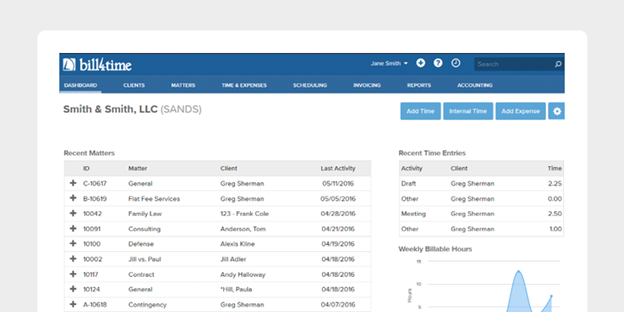 Bill4Time is a user-friendly law practice management software that bills based on hourly rates. It has these features.
Time tracking
Case management
Billing
Integration with other programs
Task management
Document management
Needles (backlink)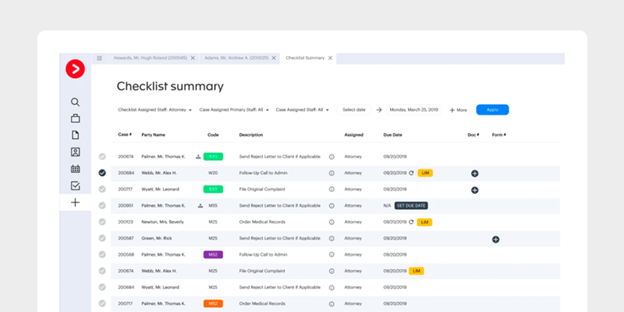 Needles is a legal case management software that is useful for attorneys and small law firms. Its features include:
Billing
Case status and reporting
Contact management
Its pricing is not publicized. Contact vendor for more information.
PCLaw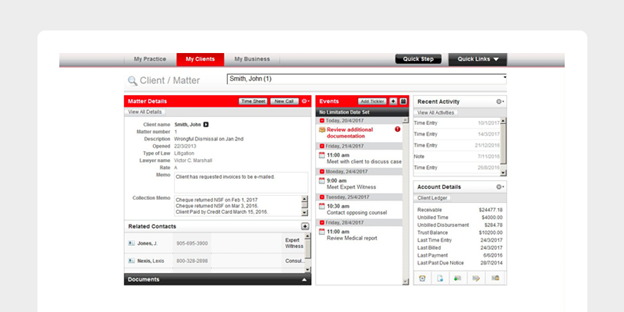 PCLaw is a legal program from LexisNexis practice management solutions. It is a client matter, billing and legal program. Some of its features are:
Contact and client management
Billing
Trust accounting
Payroll processing
Using SweetProcess as a Law Practice Management Software
The basic element of an LPMS is documenting. What would it be if it couldn't handle this very core part of a firm's existence? Running a firm means having to work through massive legal files every workday. SweetProcess is designed specifically for this. In fact, we've had law firms use SweetProcess to great success. Here are just a couple examples.
Laura Johnson, an administrator at Brooks Law Group, confessed that manually managing processes was inhibiting. This affected staff efficiency grossly. Using SweetProcess allowed for a better workflow. BAccessingdocuments in the cloud from anywhere greatly impacted the firm positively and clients were better served.
David Brannen, a lawyer passionate about helping people with disabilities get compensation, was in a panic when he discovered he could lose everything he has been working for. As the founder and manager of Resolute Legal, he single-handedly ran the operation of his firm. He took a pause and saw he needed something to fix the problem. SweetProcess proved simple and easy to use. Workflows were simplified, onboarding staff was seamless, and things moved on smoothly because work never had to be put on hold because of some sudden situation.
When using SweetProcess, your data is encrypted using the same SSL technology banks use to protect your money online. You have complete control over who can access your data. Your previous documents can be imported easily to this software. This task can be done by their team for you as well.
Conclusion
Law practice management software is what your firm should try to help manage your day-to-day workflows and operations.
Check out our free checklist to help you shop for a software solution catered to your specific needs.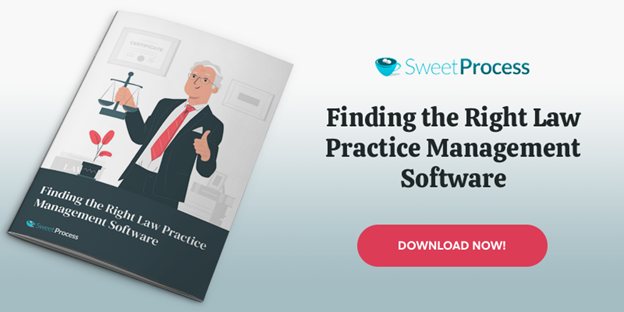 Ready to breathe more freely while working? Sign up for a free trial of SweetProcess.