Top 10 Confluence Alternatives You Should Consider
Last Updated on September 3, 2023 by Owen McGab Enaohwo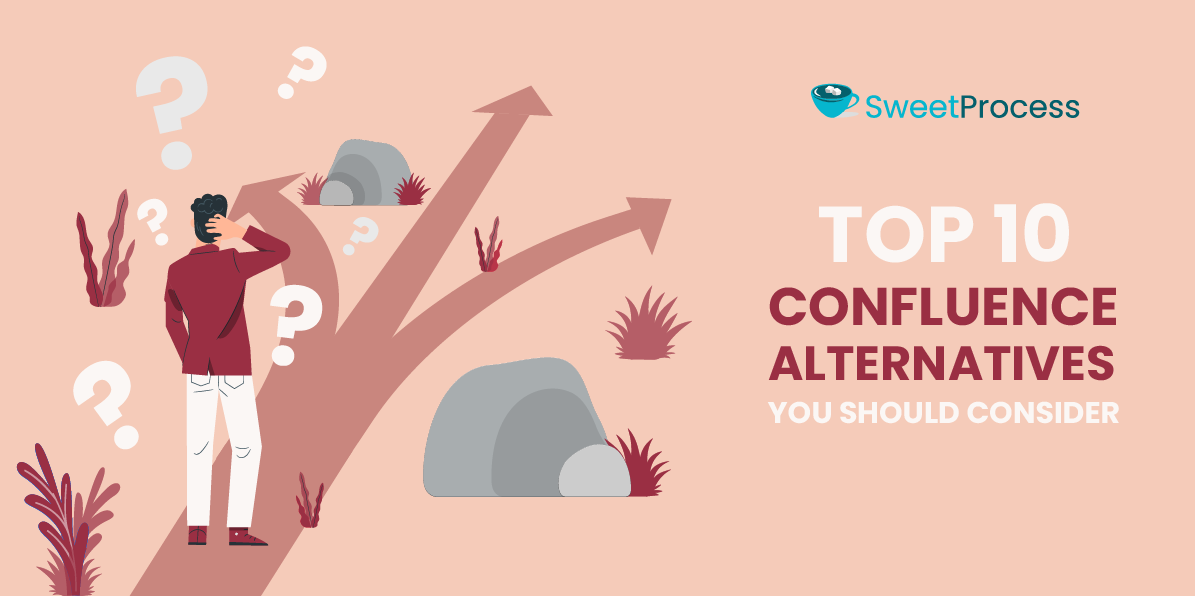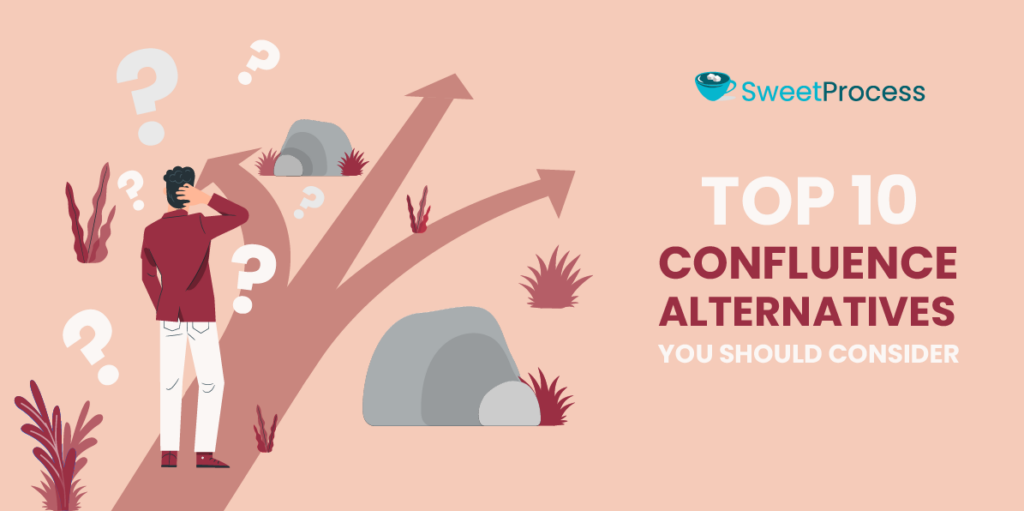 You've been relying on Confluence for a while now, but its drawbacks have become all too apparent lately. You now realize how rigid Confluence is and how it hampers your team's productivity, which outweighs any benefits it offers.
It is a real struggle for new team members to get the hang of it easily. Oh, and don't forget the growing costs when you add users, which adds to the frustration. Unsurprisingly, you now find yourself on the hunt for viable Confluence alternatives. Are you unsure which application will genuinely meet your needs? Don't fret. In this article, we reveal ten Confluence alternatives you should consider.
Start your free trial of SweetProcess. No credit card is needed. Cancel anytime. Click here to start it for free.
Table of Contents
Chapter 1: What is Confluence?
Chapter 2: Confluence Alternatives
Chapter 1: What Is Confluence?


1.1. Overview
Confluence stands out as an incredibly efficient collaboration wiki tool, catering to companies of all sizes, fostering knowledge sharing, and enhancing productivity. This versatile platform empowers you to capture project requirements, assign tasks, and manage multiple calendars simultaneously, among other tasks.
With its powerful editor feature, your team can effortlessly create various content types, from meeting notes to product requirements and research reports. Managers can review and provide feedback directly within the documents and streamline the entire feedback process. On top of that, Confluence lets you set up closed groups for confidentiality and smooth collaboration.
The true strength of Confluence lies in its ability to serve as a centralized hub for publishing, organizing, and accessing crucial company information. Let's look at some of its features.
1.2 Notable Features
Ready-made templates: Ditch the hassle of crafting documentation from scratch. Confluence offers an array of pre-designed templates to cater to your daily documentation needs.
Seamless desktop integration: Upload and easily share files with your team.
Interactive feedback: Confluence allows users to provide direct feedback on files, images, PDFs, spreadsheets, and presentations.
Collaborate anytime, anywhere: No need to be confined to your office desk; Confluence empowers you to edit documents remotely, even while sipping a mojito in the Bahamas. Sync with your iOS or Android devices for on-the-go productivity.
Organized workspaces: Stay clutter-free with alternatives that offer dedicated spaces for each team, department, or major project.
Effortless page and file versioning: Never lose track of changes with automatic versioning for every page and file—a feature that ensures your progress is well-documented.
Best practice templates: Start with popular pages swiftly by leveraging ready-to-use templates.
Extensive integrations: Step up your game with many extensions and integrations via the Atlassian marketplace. Enjoy seamless collaboration with third-party applications through APIs.
Quick search: Enjoy the ease of quick and efficient document searches. Find what you need in a matter of seconds.
Accelerated feedback loop: Experience the benefits of inline comments on pages and attached files and get swift and efficient feedback exchange.
1.3 Benefits of Using Confluence
Centralized document for safekeeping
Confluence is a secure repository for all your essential documents, encompassing processes, procedures, policies, and more. Rest assured that your valuable data is safely stored for future reference. You have complete control over your documentation and the flexibility to edit policies anytime.
Unifying internal knowledge
You can use Confluence to gather your company's internal knowledge in one accessible place. You can even organize pages into spaces or make them easily searchable. And the best part? You can customize access permissions for different spaces and grant selective accessibility to your team for better information management.
3. Streamline cross-functional projects
Managing multiple documents for various departments can be a headache, especially for larger corporations. This often leads to cross-functional tasks and milestones, resulting in overlapping information and confusion. Fortunately, Confluence comes to the rescue. It provides you with a solution that removes all such uncertainties. With this SOP software, you can keep everyone in the loop and ensure easy access to information across all teams.
4. Enhance workflow efficiency
Whether you have a remote team or need real-time file sharing and collaborative document editing, Confluence has covered you. However, be mindful of the applications you integrate to avoid potential productivity slowdowns. By choosing wisely, you can optimize your team's workflow and unleash the full potential of Confluence.
5. A secure platform for your confidential data
In today's digital landscape, security is crucial for every user. Safeguarding your company's confidential information is of utmost importance. Fortunately, Atlassian, the company behind Confluence, recognizes this need and takes security seriously.
With Confluence, you gain control over your files' permissions. You can customize access levels, ensuring only authorized individuals can access your sensitive data.
1.4 Common Pitfalls of Confluence
Many users have expressed frustration with Confluence's navigation, saying it's challenging to find their way around the application. In most cases, they need to undergo intensive training.
This issue has particularly affected new team members, as it takes a while to get the hang of using this app.
The monthly costs can range from $10 to $20 per user, depending on the number of people using it. Even if some users aren't actively utilizing it, you'll still be charged for their access. That's how Confluence's pricing structure works.
Another drawback of using Confluence is its rigid organizational structure. All information is confined to a single page or project, which may differ from everyone's preferred style. Although the page can be divided into sections, some users find this setup less intuitive. Users can utilize the "page tree" feature to organize different elements within each project. However, this approach may not offer the flexibility and ease of organization that some users seek.
One of the challenges you may encounter while using Confluence revolves around document editing. When another user is currently working with a document, you won't be able to make edits simultaneously. In other words, if you try to edit a document while your team member from the Philippines is still using it, they won't see your changes, even if they refresh the page.
This situation can be draining, as it may require repeated attempts to make edits, which can feel frustrating and time-consuming. It's not the ideal experience you want, especially when paying for the service.
1.5 What Do Confluence Users Say?
What's the word on Confluence? Well, a couple of users still find the application quite satisfying. There's a common consensus among those using it for some time: Confluence boasts one of the best integration systems. It seamlessly integrates with Jira, which enables efficient document management and a range of additional tasks. Another noteworthy aspect that many users appreciate is its flexibility. Confluence allows you to create department spaces and easily manage permissions and grants you greater control over your collaborative efforts.
Many users prefer Confluence for its excellent collaboration capabilities. This tool can efficiently manage projects from start to finish and deliver impressive results.
No advanced formatting
On the other hand, other users feel that Confluence should improve certain features. Here are some of the things that users complain about:
There are no free advanced formatting options.
The visualization of the application needs some improvement.
In some instances, users find adjusting and adapting to the software interface difficult.
Confluence can't handle large Wiki content
If your company deals with large Wiki content, this tool may not be suitable for you unless you don't mind the frustrations of managing content in a limited space.
To make matters worse, the app may suddenly slow down when you and your team need it the most. This slowdown can affect various aspects, like pages taking longer to load, making user permissions and access control in Confluence unnecessarily complex, and more. Imagine if all that happens while you are managing multiple projects.
Issues with aligning content
Some users report experiencing problems with aligning content in Confluence. Others say arranging layouts or including complex visual elements can be challenging. Additionally, some users are frustrated with What You See Is What You Get (WYSIWYG) editing. According to users, Confluence does not show content edits in real-time. In these situations, there is a notable distinction between what appears during the editing process and the final published version.
Chapter 2: Confluence Alternatives
1. SweetProcess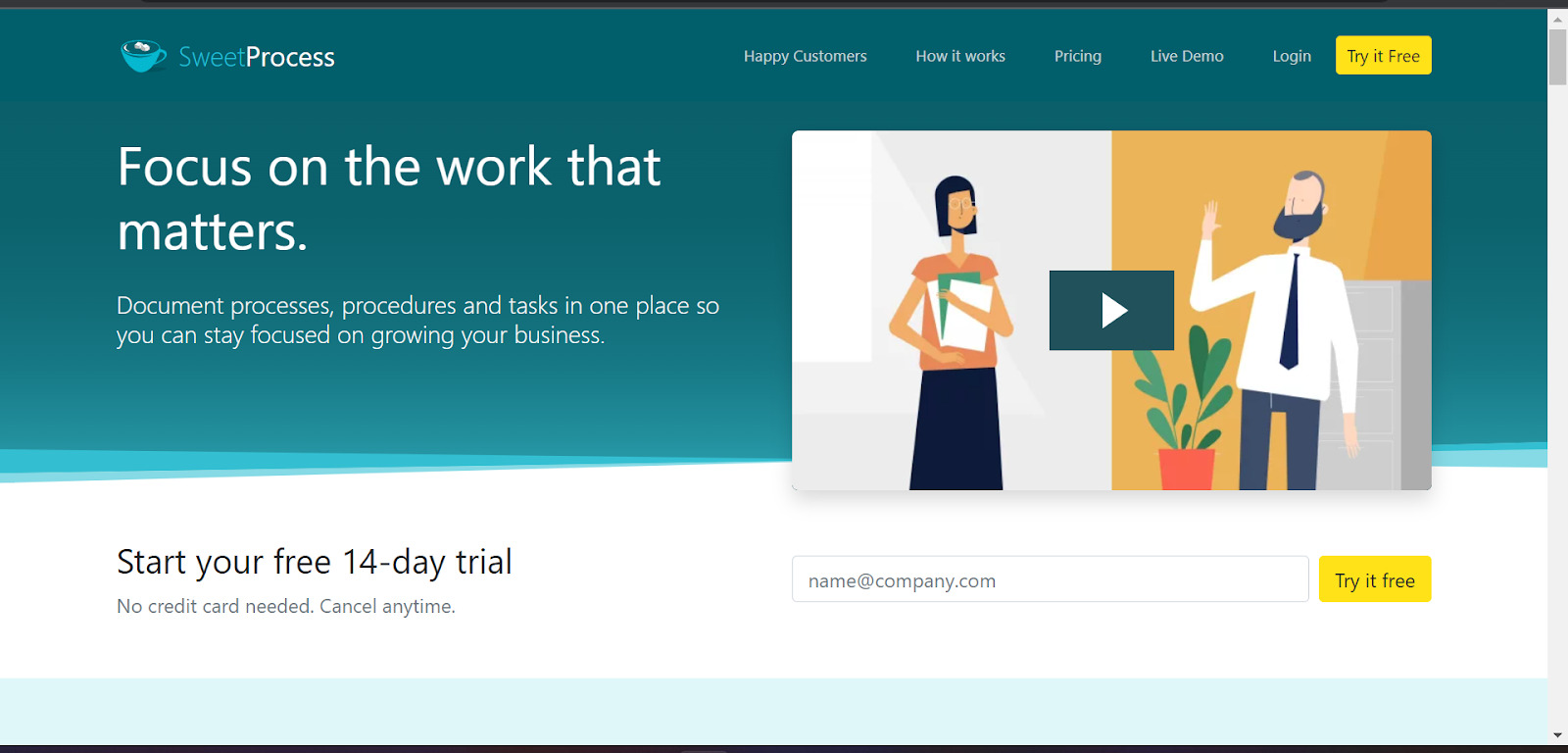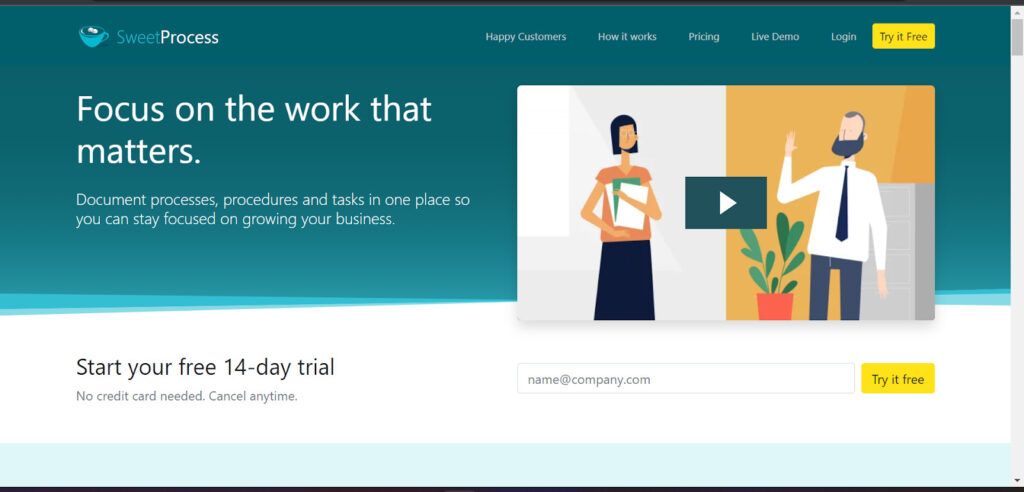 Overview
Meet SweetProcess, the number one Confluence alternative designed to simplify business process management. This user-friendly, cloud-based software works wonders for companies of all sizes, helping them successfully manage workflows and standard operating procedures (SOPs).
One of SweetProcess' standout features is its ability to document processes meticulously and store them centrally. This game-changing capability ensures easy access to processes and procedures for your employees and leads to enhanced consistency and accuracy.
But wait, that's not all.
SweetProcess takes the trophy when it comes to teamwork. It empowers you to create workflows, monitor progress in real-time, and collaborate seamlessly with your team. It simplifies assigning and tracking tasks and leaves no room for guesswork.
You won't find many apps that can handle processes, procedures, and policies as well as it does. And when it comes to reporting, SweetProcess is your best ally. It allows you to track performance using metrics and easily spot improvement areas. Moreover, it offers seamless integration with third-party tools, making task automation and workflow streamlining a breeze.
One of the recent additions to SweetProcess is its AI function, known as SweetAI. With this feature, your company can effortlessly create workflows and populate templates thanks to the assistance of AI. SweetAI can even help generate policies and procedures, making the whole process much quicker.
Undoubtedly, this is a powerful tool and a true game-changer for organizations of all sizes. If you're curious about its unique features, sign up for a free trial and experience the benefits firsthand.
Notable Features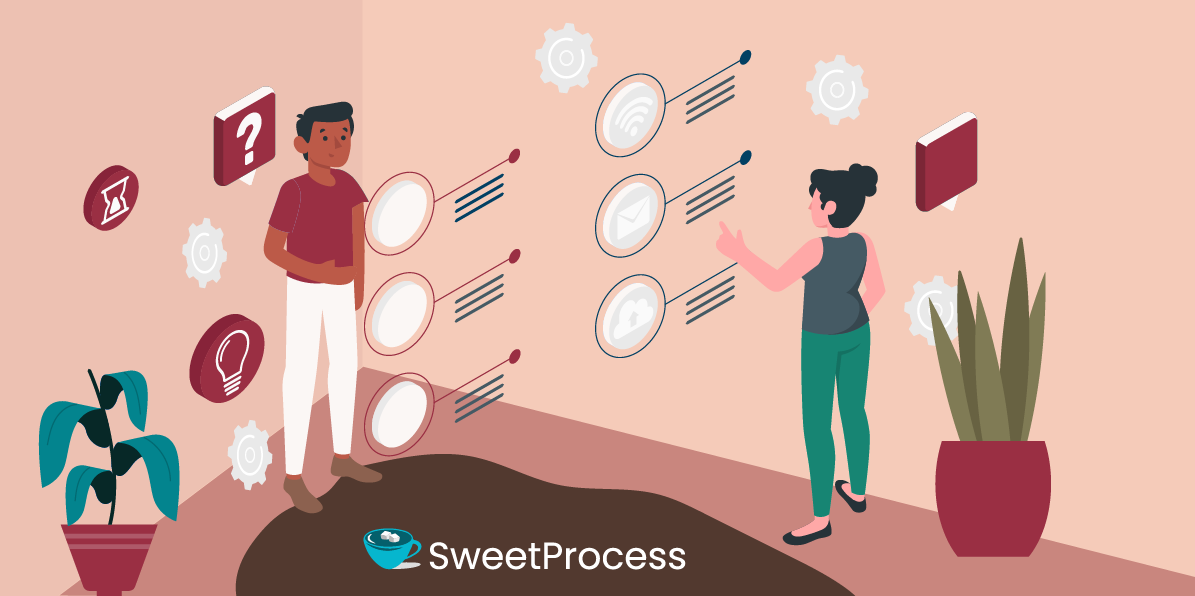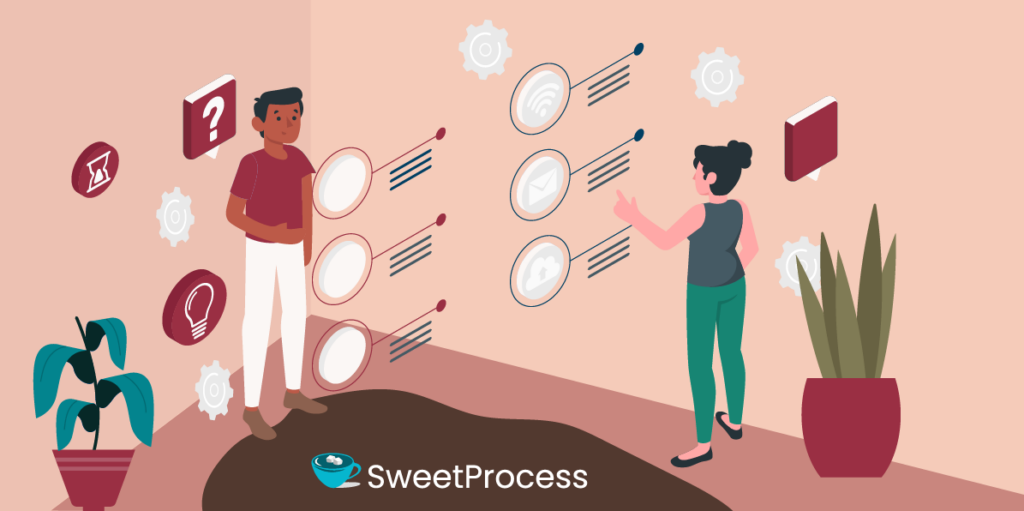 SweetProcess has an intuitive and easy-to-use application. It is among the few user-friendly SOP software in the market. It won't take you more than a second to figure it out. Once you log in with your username and password, you'll be welcomed by an intuitive dashboard that makes navigation a stroll in the park.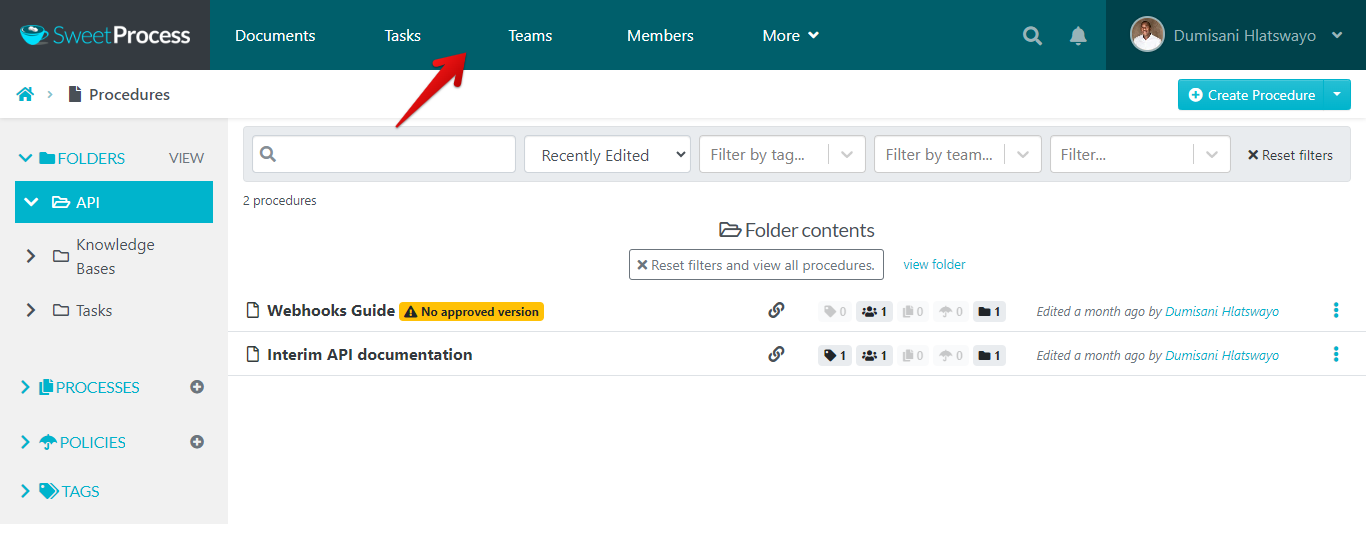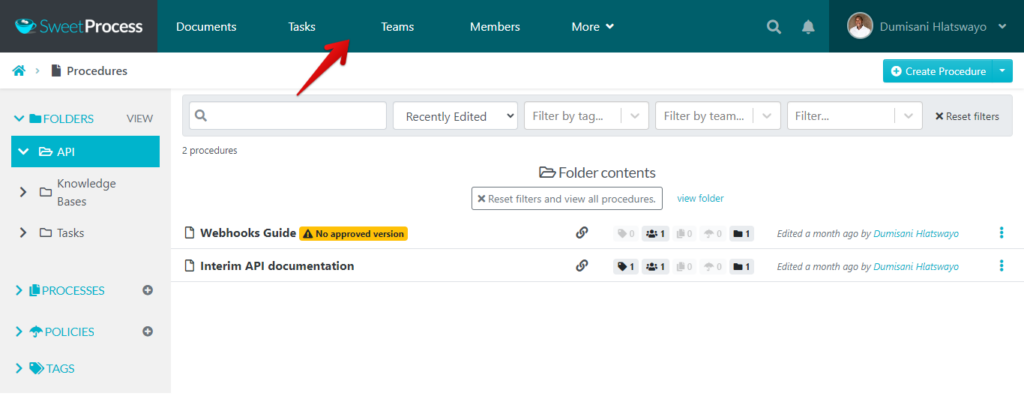 Let's show you how easy it is to utilize SweetProcess to document procedures, processes, and policies.
SweetProcess comes with a procedures option on its dashboard and was created specifically for documenting your SOPs. Once you click on it, you can add a new procedure to your company.


Select "Create Procedure" from the tabs.


Give your procedure a title.


Click on a checkbox to add the procedure to a team.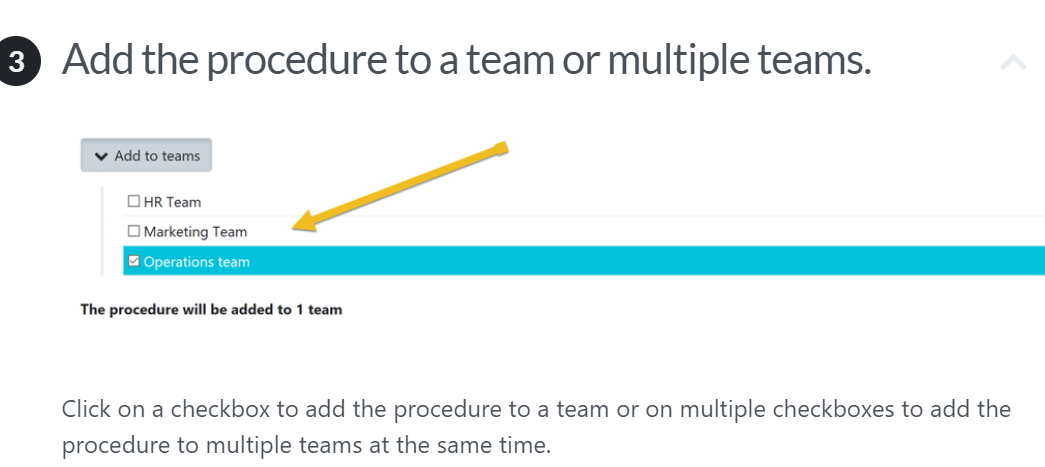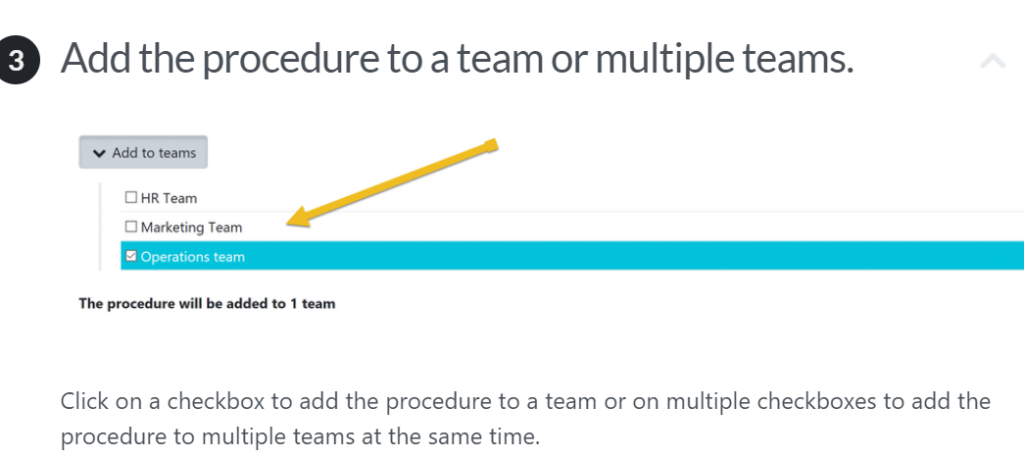 SweetProcess allows you to organize and find documents with ease.
You have two options to do this. First, perform a global search on any SweetProcess page. Or you can simply press the forward-slash button on your keyboard, which serves as a shortcut (see example here). Alternatively, you can click the search icon in your screen's top-right corner.
Now, let's show you how to assign tasks in SweetProcess based on the procedures or processes you have documented.
2. To assign a procedure or process as a task, locate the respective procedure or process and click on the three-dots menu icon to the right.


Inside the three-dots menu, click the option for "Assign as Task."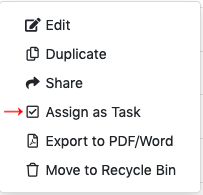 To assign a procedure or process as a task, utilize the "Assign as Task" option in the "Actions" menu at the screen's top-right corner while viewing the procedure or process.


Benefits of Using SweetProcess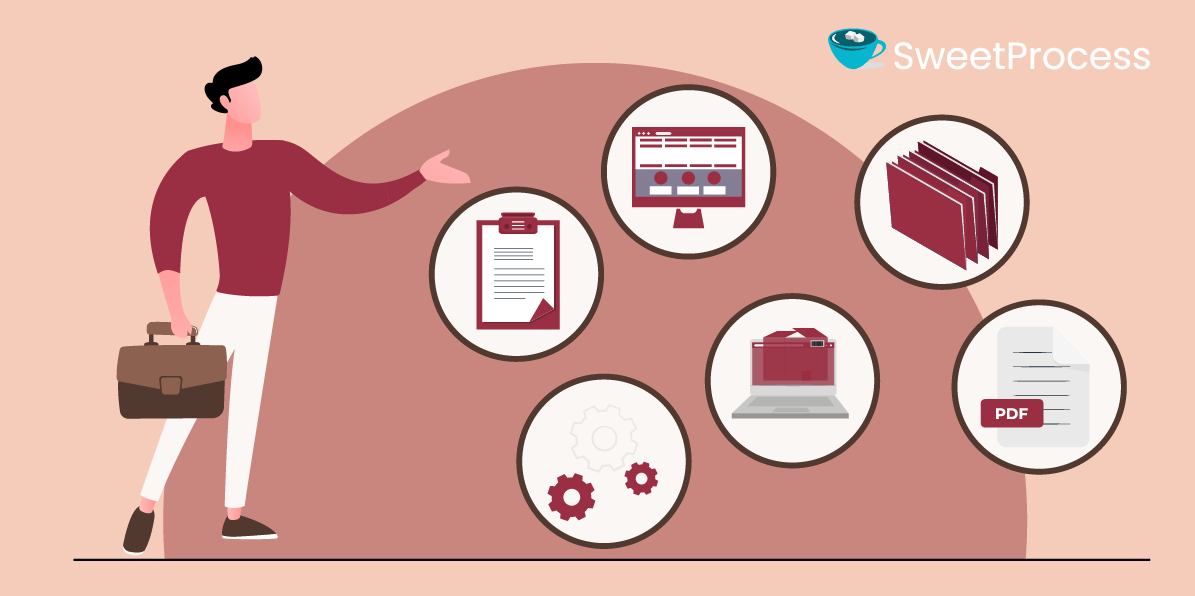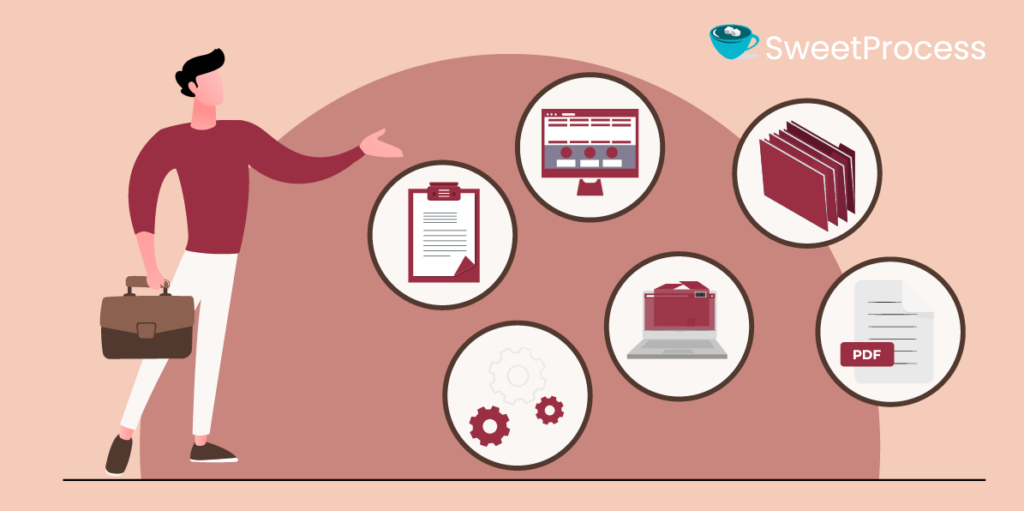 Monitor and track the progress of tasks assigned to users. To view the tasks assigned to users in SweetProcess, simply navigate to the dashboard and click the "Tasks" tab. There, you will find a comprehensive list of all assigned tasks.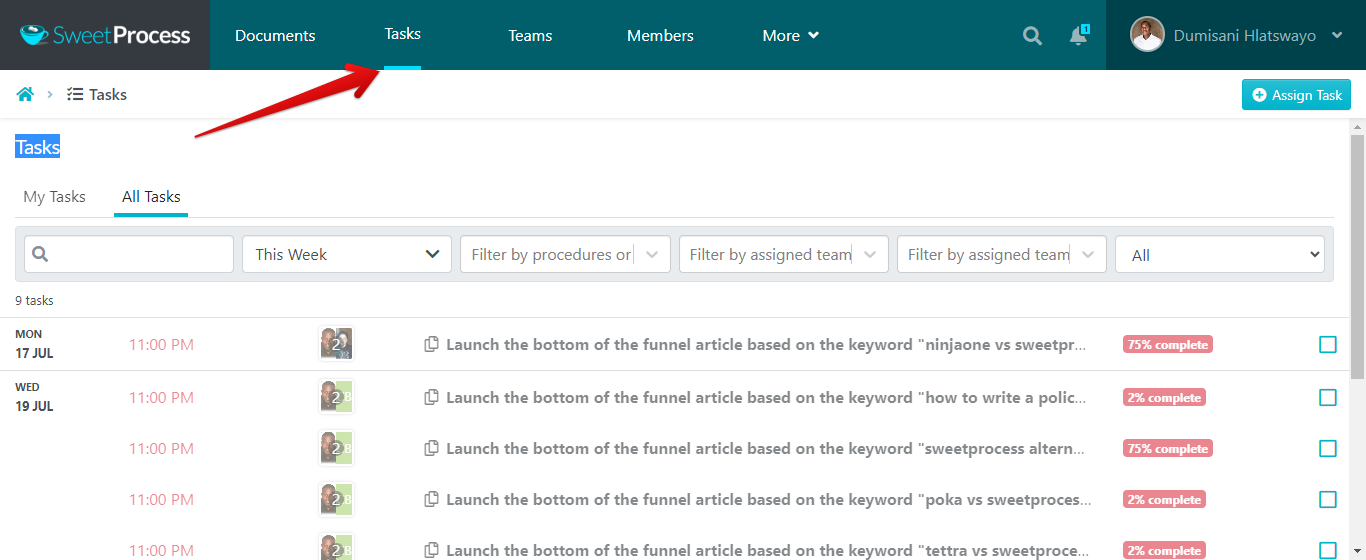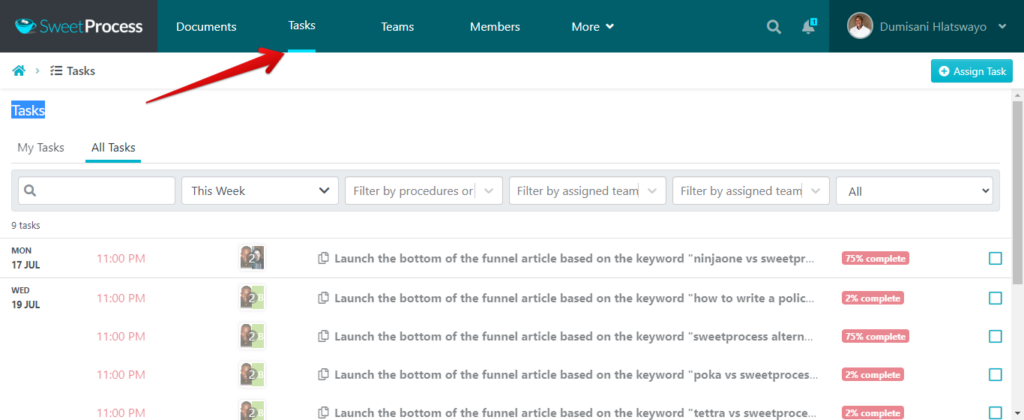 2. Import existing procedures and policies into SweetProcess effortlessly. Follow these easy steps.
Click on the "Policies" or "Procedures" tab.




After the menu appears, click on the "Upload document" button.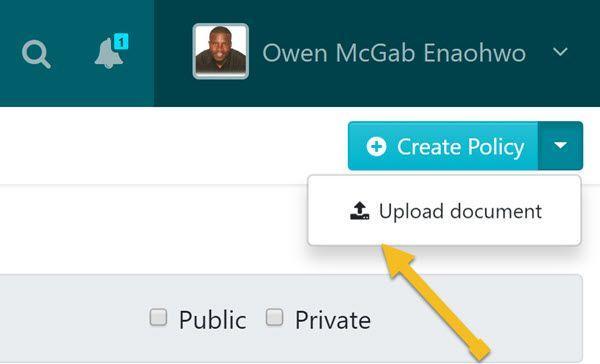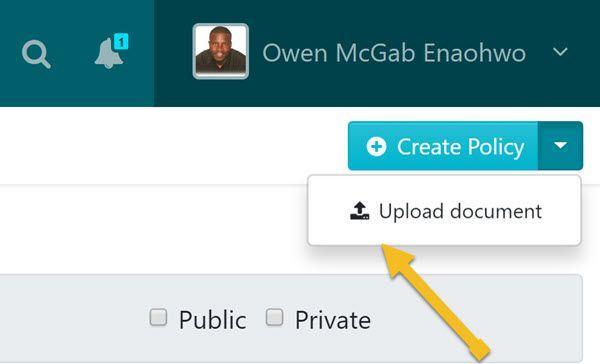 3. Create flowcharts automatically as you document your procedures and processes.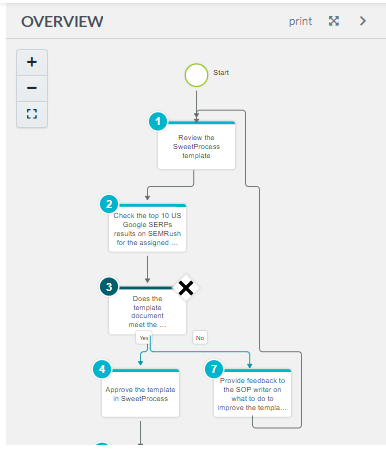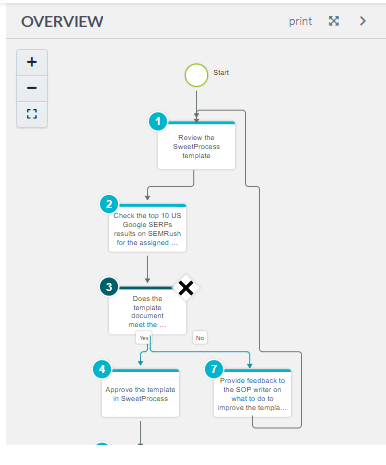 4. Export their documents from SweetProcess.
Click the "Actions" button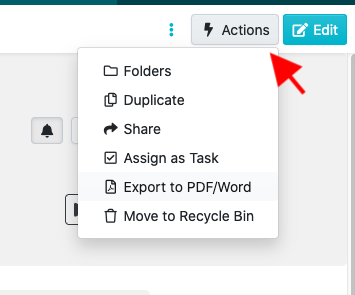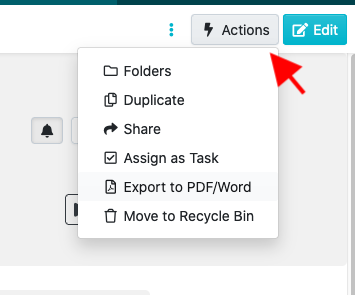 After the drop-down menu appears, click on the "Export to PDF/Word" button.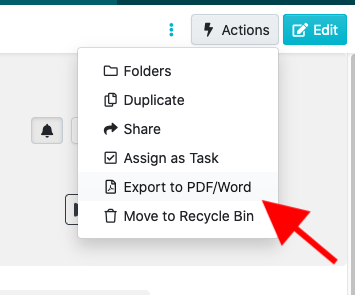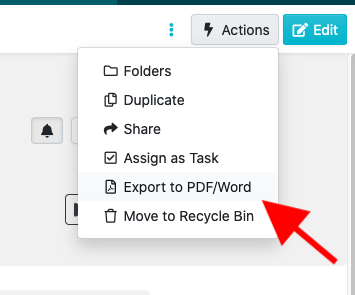 5. Not only does SweetProcess allows you to create a knowledge base for your customers or clients. But it empowers you to create comprehensive or multiple knowledge bases effortlessly.
Click the "More" dashboard link to reveal a drop-down menu.

Click on the "Knowledge Bases" button.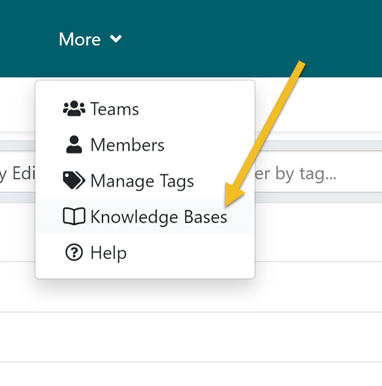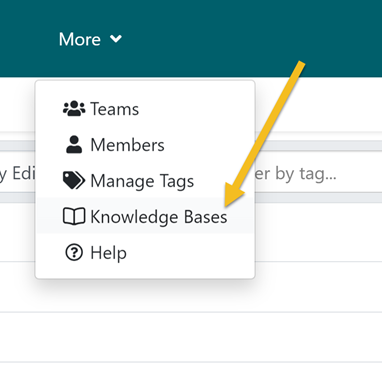 Once the new page loads up, click on the "Create Knowledge Base" button.


● Enter the title of your knowledge base and click "Continue."


6. SweetProcess supports the version history of your documents. You can view recently edited, reviewed, or approved documents.


To access the version history of all your documents, navigate to the far left of your screen.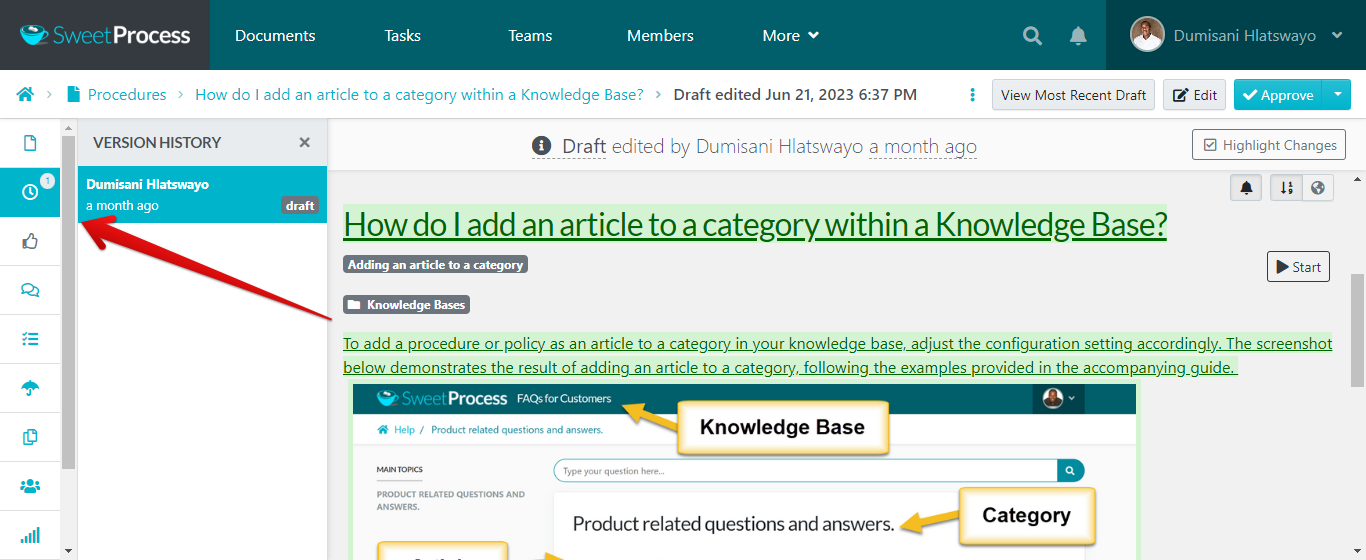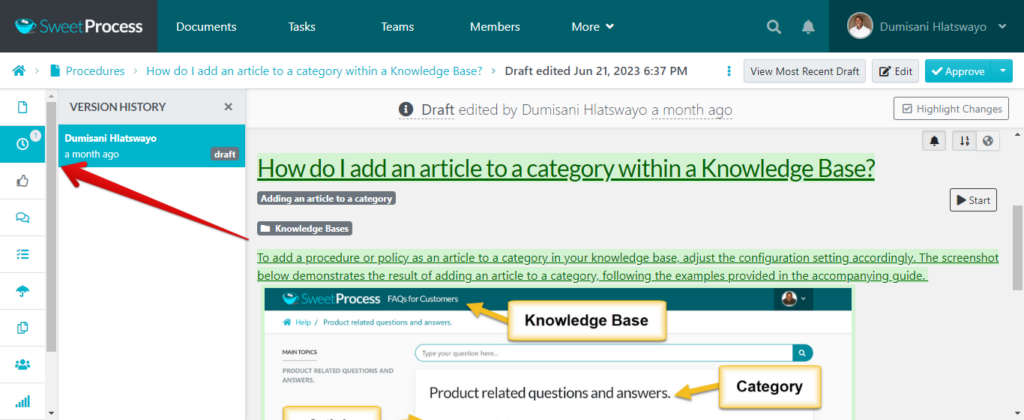 What Do SweetProcess Users Say?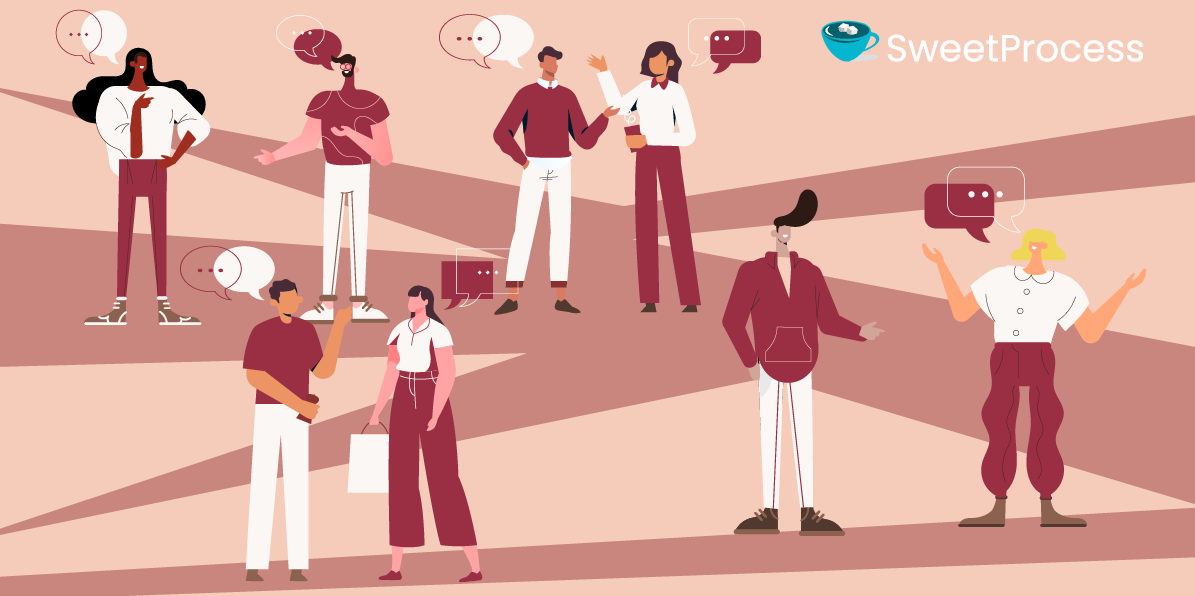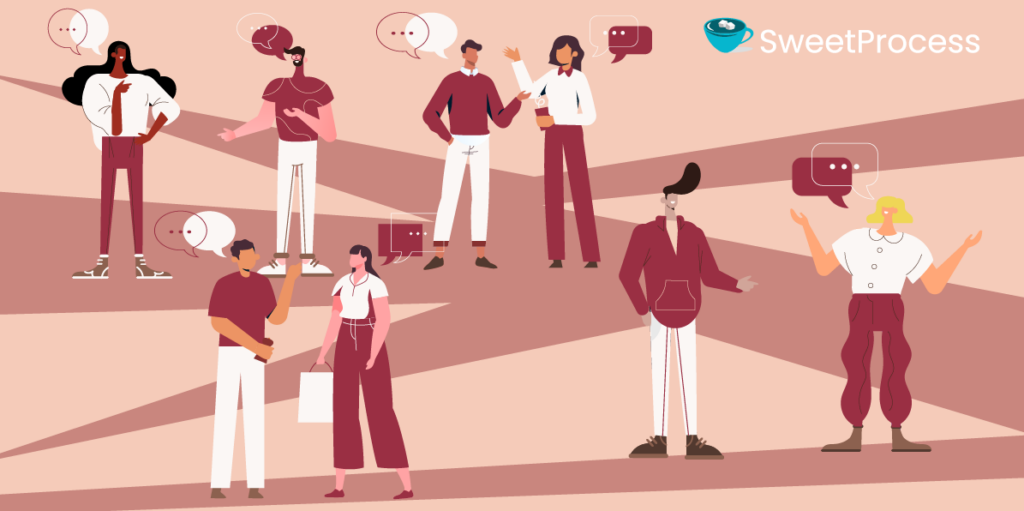 SweetProcess users appear to be happy with the tool so far. Megan Tully, director of business process management at Synergy Billing, said, "SweetProcess gave us the ability to have a standard format for every document we create, so everyone in operations knows what to expect from the documentation they use as tools to perform their function. It gives you the tools and resources to scale and the data to make data-driven decisions for the company."
More than 50 other companies that have successfully used our platform agree with Megan. These companies include healthcare, legal, manufacturing, education, and technology firms.
There are always bound to be a few clients who complain. One of the drawbacks to using SweetProcess is its limited integrations: The integrations with other platforms are somewhat limited compared to other workflow management tools.
Pricing Options
SweetProcess seems reasonably priced, especially if you compare it to Confluence. It has two pricing plans: monthly and yearly. If you choose the annual plan, you will save 16.67% and get billed once a year while enjoying access to every feature. With the monthly plan, you pay a base price of $99/month, which covers up to 20 active members. For each additional active member, there's an extra charge of only $5 per month.
Try SweetProcess now for free. And guess what? No credit card is needed. Cancel anytime. Click here to begin.
2. Document360


Overview
Another alternative to Confluence worth considering is Document360. It is regarded as one of the best solutions for companies and freelancers. Most companies use it to create an online self-service knowledge base for customers and employees. The knowledge base can be accessed publicly or privately, which means you will get instant access to vital information.
Notable Features
Knowledge-base portal: This feature proves valuable to editors, writers, reviewers, or any other content producer. It has a state-of-the-art editor feature, category manager, analytics feature, and more.
Versioning and rollback: Document360 sets itself apart with its flexible view version history feature. Use it to navigate between multiple article versions or roll back to a prior one. Say goodbye to worries about accidental content overwriting, thanks to Document360's automatic source control.
Analytics: Keep track of your knowledge base traffic sources using this feature. Understand what your visitors seek and how they interact with your created content.
Category manager: With Document360, you can create up to six levels of categories and subcategories. You can also organize and display groups of related topics while rearranging your documents.
Editors: Empower your edits with the capability to write text and code-heavy documents. The WYSIWYG feature enables content writers to seamlessly add text, links, and images to their documents.
Benefits of using Document360
Simple, efficient, and clear design: You can choose between Markdown and WYSIWYG editor.
Comes with a real-time preview panel: An editor and writer can easily collaborate on a document.
Assign articles: Document360 has a Category Manager feature that makes assigning articles a breeze.
What Do Document360 Users Say?
Many users find Document360's lack of immediate access to articles irritating, as they must wait 15 minutes or longer to request file access. Furthermore, some users feel limited by the absence of certain features offered by MS Word and Google Docs. That being said, if you want to add extra features, expect to pay more.
Pros
Great editor feature.
Excellent for assigning articles.
Reliable tool.
Intuitive interface.
Cons
Good at creating knowledge bases but not processes or procedures.
It is expensive.
Pricing Options
Document360 starts at $149 for three accounts. For five accounts, you will pay up to $399.
3. Manifestly


Overview
Consider trying Manifestly as another Confluence alternative. With this SOP software, you and your team can efficiently manage recurring workflows and checklists, and ensure that projects are completed on time. What makes Manifestly stand out from other tools is its ability to create dynamic workflows and assign tasks based on roles and due dates. Moreover, if you wish to integrate it with Slack, you can easily do so through its API.
Notable Features
Manifestly has a conditional logic that handles every use case.
You create role-based assignments.
Relative due dates help you track tasks.
Webhooks to merge with Xapier and other apps.
Benefits of Using Manifestly
Easy to use.
The dashboard is intuitive.
Provides you with control over your workflow.
What Do Manifestly Users Say?
Most Manifestly users seem to be happy with the SOP software. It's mainly because this solution allows them to keep track of multiple projects clearly and simply. It also allows you to make notes and share the checklist with multiple users. The only gripe users have about Manifestly is that it is a bit clunky.
Pros
Great for creating checklists.
Allows you to control your workflows.
It's easy to integrate with other applications.
It's affordable.
Cons
Manifestly has to improve the UX to make it more modern.
Too basic and elementary for anyone used to Confluence.
Pricing Options
For just $8 per user, per month, you get access to unlimited workflows, checklist runs, and recurring checklists.
4. Flokzu

Overview
Flokzu serves as an excellent alternative to Confluence. What sets Flokzu apart is its outstanding workflow automation capabilities. By reducing manual intervention and streamlining processes, it ensures smoother operations. Plus, it allows you to map and design your business workflows effectively. With this software, you will easily create, assign, and monitor tasks and ensure the smooth execution of all your projects.
Notable Features
Integrations: Sync with your other favorite apps or other systems.
The sandbox feature: Lets you test your processes.
Custom reports: Allows you to create your own custom reports.
Benefits of Using Flokzu
Outstanding workflow automation capabilities.
Use it to create and assign tasks.
Both desktop and mobile versions are available.
What Do Flokzu Users Say?
The majority of Flokzu users seem content with the service, with a few raising concerns here and there. For instance, a few users have raised concerns about the pricing.
Pros
User-friendly.
Easy to set up.
Doesn't take long to figure out.
Cons
It is pricey.
Pricing Options
It starts at $17, which is billed per month. If you are a large corporation, you can pay $22 per month.
5. ProcedureFlow


Overview
ProcedureFlow is a cloud-based knowledge management system that can give Confluence a run for its money. It has a single platform from which you can create and manage standard operating procedures. And if you are looking for a solution that offers efficient approval and flowchart editing system, look no further. With ProcedureFlow, you will approve and monitor all your workflows from a sterling knowledge management solution. Sounds too good to be true? Let's take a look at the features.
Notable Features
Data workflows: Simplifies workflow management.
Issue management: Create, escalate risk, and request issues.
Integrations: Sync it with live chats or other help desk platforms.
Benefits of Using ProcedureFlow
A great way to increase employee productivity in your company.
Allows you to add icons and images for additional support.
Connects existing processes and workflows.
What Do ProcedureFlow Users Say?
ProcedureFlow is highly favored by current users for its quick, easy, and clear process mapping capabilities. It offers the added benefit of incorporating icons and images for enhanced support. However, users have a concern or two with ProcedureFlow's inability to approve single-page changes. This mostly happens when you're dealing with multiple modifications. Let's clarify this: merging all changes into pending requests must be done manually. This may take you forever to complete. Another drawback that users complain about is the absence of a history feature for recently accessed workflows.
Pros
Collaborate with your team using ProcedureFlow's social feature.
It is easy to integrate.
Easy-to-follow workflows.
Cons
The $25 price tag is high for startups.
Pricing Options
It costs $25 per month per user billed annually. Teams with growing needs can expect to pay $27.50 per user, while enterprises can pay up to $ 32.50 per user.
6. ProcessKit


Overview
ProcessKit combines your company's operating procedures and projects and enables your team to automate and streamline recurring tasks while tracking progress. With the ability to build robust automation and integrate with over 1,000 tools using Zapier, ProcessKit empowers your business to become more predictable, scalable, and productive.
Notable Features
Process Builder: Lets you build processes faster.
Process templates: Document your SOPs.
Kanban lists: Access customizable Kanban views.
Benefits of Using ProcessKit
Saves your time.
Create recurring schedules for your projects.
Group your teams by their roles.
Preload your processes into your projects.
What Do ProcessKit Users Say?
ProcessKit receives high reviews from satisfied users, particularly those who have experienced the challenges of building and documenting processes. If you're one of these users, this tool is a must-have for your business. It lets you store all your processes in one place and even triggers new projects from there.
Many users praise ProcessKit for providing a clear overview of each client and their team's activities. However, it's worth noting that some users still encounter difficulties during the setup process, and others find the tool less user-friendly. Despite this drawback, its benefits make it a valuable asset for optimizing your business operations.
Pros
It's affordable.
Allows you to document processes faster.
Cons
It's not easy to set up.
It is not user-friendly.
Pricing Options
You pay only $49 per month. This allows three team members and unlimited guests to use it. If you add more people, you'll have to pay $19/month per additional team member.
7. beSlick


Overview
BeSlick is ideal for startups hence it is priced to be affordable. As far as features go, this tool doesn't disappoint. You can use it to systemize your entire operations. Plus, their support will always be there should you need any help.
Notable Features
Task management feature: Manage tasks with just a click.
Rule-based workflow: Keep those workflows running smoothly like butter.
Collaboration tools: Teamwork made super easy.
Drag-and-drop feature: Organize your processes like a pro.
Benefits of Using beSlick
Awesome project management software.
Stay on top of crucial processes and paperwork hassle-free.
Get ultimate clarity while creating a client journey.
What Do beSlick Users Say?
BeSlick's customer support receives raving reviews online. Users are wowed by the customer service they receive from beSlick. One user even said that the quality customer service made adopting beSlick possible for their team.
Now, let's talk about the not-so-great comments. Some users complain about login issues, getting stuck with a blank screen, and no workflows or tasks in sight. And there are annoying glitches, such as changing the due date after saving the change. Other than that, this could be another alternative to Confluence.
Pros
Easy to use.
Great customer service.
You get value for money.
Cons
There is an issue with login.
Technical glitches plague beSlick.
Pricing Options
It starts at $10 per month.
8. Metatask


Overview
Metatask is another budget-friendly alternative to Confluence. You can use it to organize your workflow and create processes for your business. It's perfect for small to medium-sized teams, especially if you're having a tough time handling those recurring internal processes like approvals, onboarding, and reviews.
Notable Features
Custom forms: Tweak those forms to fit your company's style.
Task management: Stay on top of all your tasks like a pro.
Chat functionality: Keep the convo flowing with your far-flung team.
Benefits of Using Metatask
Metatask's instant chat feature: You can discuss processes, attach docs, and update team members all in real-time, and all in one place.
Process templates galore: Onboarding, purchase orders, reviews, vacations, marketing campaigns, expense approval, and more.
Task management made easy: Create to-do lists for each process. Tasks auto-assign to the right team members with pre-set due dates.
What Do Metatask Users Say?
Metatask is a total champ in integrating with over 500 other apps through Zapier. People love its clean interface, user-friendliness, functionalities, and all that without breaking the bank.
Pros
Straightforward.
Easy to set up.
Fair pricing.
Cons
No mobile application.
It is impossible to link processes together.
Pricing Options
It starts at $6 per user.
9. Process Street


Overview
Process Street is a great SOP software that can serve as an alternative to Confluence. As a pioneering AI-powered process management platform, it caters to almost every company regardless of size or industry. With Process Street, you can painlessly create workflows, processes, and procedures, all while avoiding technical glitches commonly found in other low-budget applications. Its uniqueness lies in its intuitive interface and diverse range of features. Notably, it excels not only in creating processes but also in handling procedures as well.
Notable Features
Document design: Whether you want to create processes or procedures, it's all possible with Process Street.
Process repository: Dive into a fantastic library that stores all your past and current workflows.
Low-code app development: Automate those processes for your entire team. No coding headaches.
Benefits of Using Process Street
Reroute your processes: No more mix-ups. Use Process Street to assign the perfect tasks to the right team members. Quick and easy.
Access workflows efficiently: Go mobile! You and your team will access workflows and processes from anywhere, anytime. So convenient!
Compile data: Be the data master. Grab information from all systems and compile it easily.
What Do Process Street Users Say?
The great thing users love about Process Street is that it keeps processes organized and accessible. It's so easy to use, even for technophobes. But there's room for improvement, too. For instance, having Workflow Run under Reports can be a bit confusing for some Process Street users. If Process Street can work on that, most users will be happy.
Pros
It comes with an intuitive and easy-to-navigate dashboard.
The interface is responsive.
It is available on mobile phones.
Cons
Process Street cannot allow you to use a template as a starting point. Any changes made will directly edit the template itself.
Pricing Options
The pricing begins at $100 monthly, making it ideal for startups. For midsize, the cost increases to $415, and larger corporations can expect to pay up to $1,660.
10. ComplianceBridge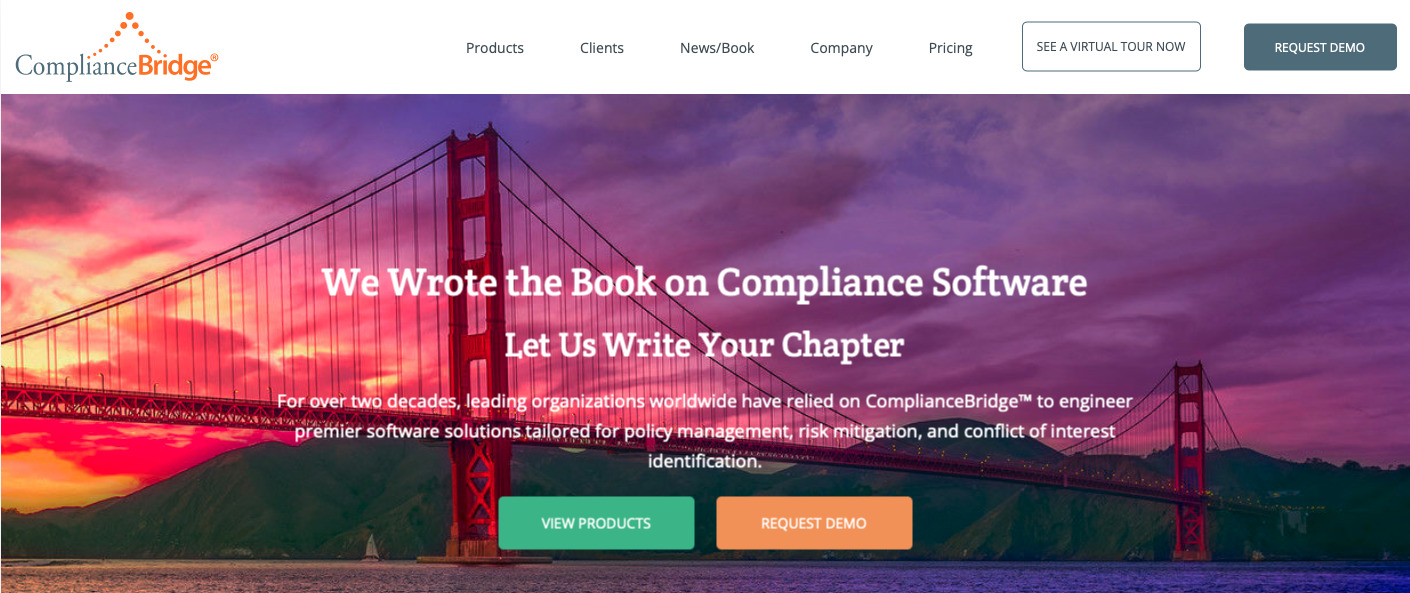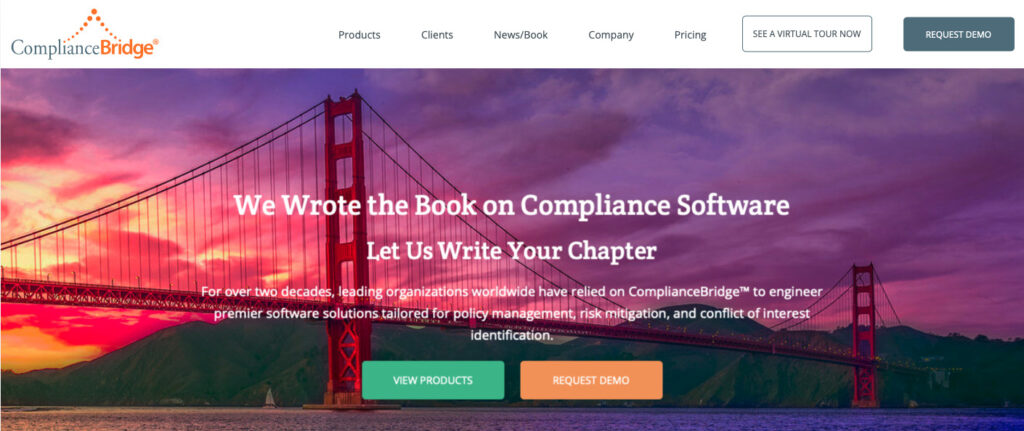 Overview
ComplianceBridge is an intelligent and automated software designed for creating policies, auditing policy compliance, publishing, and more. What sets it apart is its remarkable versatility that goes beyond just policy management. It helps you streamline the entire policy creation, revision, approval, and distribution process. This makes it an all-in-one tool for policies, procedure creation, and management.
Notable Features
Workflow automation feature.
Version management feature.
Access control capability.
Get instant alerts and reminders.
Fill-in forms feature.
Benefits of Using ComplianceBridge
Importing docs is easy.
You publish documents.
It sends alerts to remind you.
What Do ComplianceBridge Users Say?
ComplianceBridge users highly appreciate its automation capabilities, especially for handling administrative duties. However, many of them express disappointment with the clunky and non-intuitive interface.
Pros
ComplianceBridge is easy to navigate.
It is user-friendly.
Great customer service.
Cons
The software interface looks a little old-fashioned.
It is not responsive.
Pricing Options
ComplianceBridge offers customized pricing.
Conclusion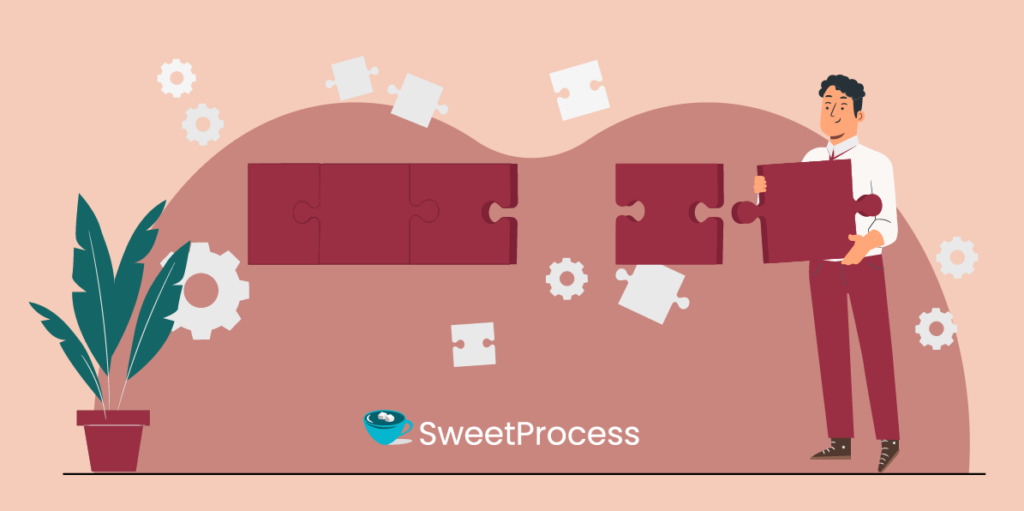 After comparing ten SOP software options with Confluence, it becomes evident that SweetProcess emerges as the clear winner. Its extensive features make it an ideal tool for streamlining processes and enhancing team productivity. The platform's AI assistance in procedure creation also significantly reduces the time and effort needed for process development.
Don't just take our word for it, in any case. Experience it firsthand by signing up for a free trial. With no credit card required, there's every reason to explore the potential benefits that SweetProcess can bring to your organization.