What is the Best ProcedureFlow Alternative for Your Business?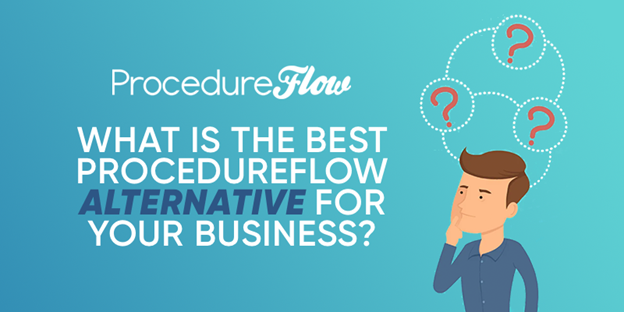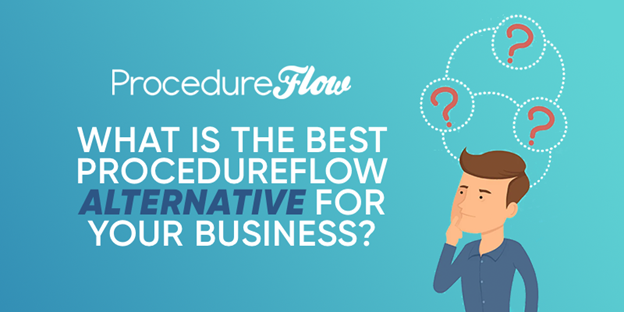 Imagine the scenario: You've been recently introduced to ProcedureFlow for your business process management needs and it's been going great.
But then one day, after spending valuable hours creating new processes, you step out to take a break without saving your work. While you were gone, there was a power outage. Everything is gone—all your processes, data, and information.
That's just one possibility of what could happen if you are a ProcedureFlow user since it only offers support for Windows computers. If this were to happen to you, it could be devastating for your business since it does not have an autosave feature to save your document in real time.
Another challenge you may face with ProcedureFlow is not being able to print out your business processes for reference or to share with others.
ProcedureFlow also does not provide a comprehensive usage rate report to help you see how effective your processes are.
Don't worry! There are plenty of other great BPM tools that you can try. In this article, we'll take a look at seven ProcedureFlow alternatives that might be a better fit for you.
Bottom Line: SweetProcess is our tool built for businesses that want to standardize and document their processes in one central location. It's workflow software that helps businesses automate their processes, improve communication and collaboration, and enforce accountability across their organization. Take a peek at how it works by signing up for our 14-day free trial.
Software Alternatives to ProcedureFlow (Full Guide) – Table of Contents
Chapter 1: Why Some Businesses Are Seeking Alternatives to ProcedureFlow
Chapter 2: Seven Alternatives to ProcedureFlow to Help Streamline Your Business Workflow
Chapter 3: How to Decide Which ProcedureFlow Alternative Is Best for Your Team/Business/Project
Chapter 4: The Benefits of Using SweetProcess as an Alternative Over ProcedureFlow
Chapter 1: Why Some Businesses Are Seeking Alternatives to ProcedureFlow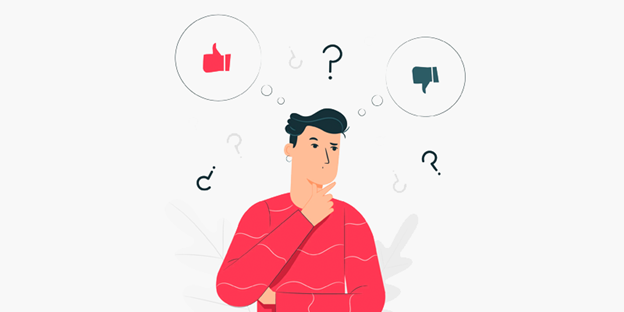 In recent years, several firms have begun to look for alternatives to ProcedureFlow. While the software still has much to offer businesses, some companies feel that it doesn't quite fit their needs anymore. They may be looking for a tool that offers more features. Other companies simply want to try something new.
The ProcedureFlow cons below will give you an idea of some of the reasons businesses might be seeking a better business process management option.
Lack of Autosave Feature
One of the pain points for most ProcedureFlow users is the lack of an autosave feature. This can be extremely frustrating, especially if you're working on a long or complex document.
One user expressed their fear of losing their work on ProcedureFlow if their computer abruptly shuts down during the course of working on a ProcedureFlow document.
Inability to Print Out Documents
Another common complaint among ProcedureFlow users is the inability to print out documents. This can be a major inconvenience, especially if you need to share a document with someone who doesn't have access to a computer at the time.
One user complains that the lack of a print feature causes employees to leave their tasks whenever they have to access an SOP since they can't just print it out and take it with them.
Another user explains that some users work better with pen and paper and so it would be helpful if they could print out ProcedureFlow documents:
Lack of Google Integrations
While ProcedureFlow does offer some integrations, it doesn't work with Google's suite of productivity tools. This can be a big problem for companies that rely heavily on Google Docs, Sheets, and Slides.
One user says that it would have been better if ProcedureFlow developed integrations with Google's productivity tools to cater to companies that use them.
As you can see, there are some serious downsides to using ProcedureFlow, which is why some companies have decided to seek out alternatives. If you're one of those companies, keep reading to find the perfect BPM tool for your business.
Chapter 2: Seven Alternatives to ProcedureFlow to Help Streamline Your Business Workflow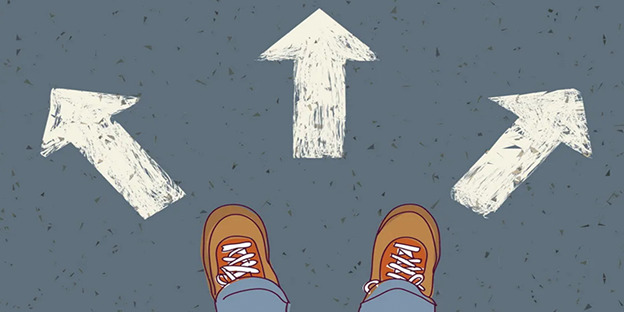 Without further ado, here are seven ProcedureFlow alternatives that offer similar and even better features.
1. SweetProcess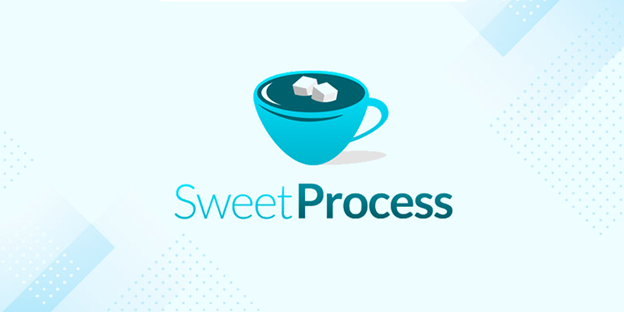 SweetProcess is a tool that simplifies the process of creating SOPs by allowing users to create a checklist of the steps needed to complete a task. It will help you stay on track by documenting every process, procedure, and task in your company.
The application lets you create guides and share them with your team so they can access the same information at any time, from anywhere. You and your team can use SweetProcess to collaborate on processes and improve them over time.
It can save you time on repetitive tasks since you wouldn't need to train new employees on the procedures as the SOP shows them exactly how you do it.
The software also offers a free trial so you can explore its features and see if it's a good fit for your business.
Features of SweetProcess
Documenting Procedures: SweetProcess offers a great way to document procedures. Its simple and straightforward interface makes it easy to document even the most complex processes. SOPs are created through a simple checklist of the steps involved in completing a task. These SOPs are highly visual, making them easy to follow and understand.
Task Management: Stay on top of your tasks with SweetProcess's task management features. Assign tasks to specific users, set due dates, and track progress. The tool lets you turn procedures into tasks, so you can easily track and manage your workflow.
Embedding Videos and Images: Sometimes a picture is worth a thousand words. With SweetProcess, you can add videos and images to your procedures to further clarify the steps involved. This makes it easy for everyone to understand what they need to do, and reduces confusion and errors.
Collaborating with Teammates: SweetProcess makes it easy to collaborate with teammates. The tool lets you share procedures and tasks with others, so you can work together to streamline your workflow. If you work with external contractors or partners, you can give them access to specific procedures so they can stay up-to-date on your process.
Tracking Tasks and Progress: Keep track of your team's progress with SweetProcess's task tracking features. The tool lets you see the history of your procedures, who worked on them, and when they were completed. This helps you identify bottlenecks and areas for improvement in your workflow.
Print and Export Procedures: Need to print or export your procedures? SweetProcess makes it easy. You can export your procedures as PDFs, Word, or documents. You can also print them directly from the tool. This eliminates the frustration of not having access to your procedures when you need them.
Knowledge Base: In addition to documenting procedures, SweetProcess can also be used to build a knowledge base. The tool lets you store information about your products, services, and processes. This makes it easy for your team to find the answers they need when they need them.
Integrations: SweetProcess integrates with a number of popular tools, including Google productivity tools and Zapier. This makes it easy to connect SweetProcess to the tools you use every day.
Report Generation: SweetProcess offers a number of reports to help you track your team's performance. These reports help you identify areas for improvement and make data-driven decisions.
Two-Factor Authentication: SweetProcess offers two-factor authentication for added security. This ensures that only authorized users can access your account.
How Does SweetProcess Work?
Signing Up
When you first visit SweetProcess, you'll find the sign-up process to be very simple and straightforward. All you need is an email address and password.
Click on the free trial button, enter your name and email address, and create a password.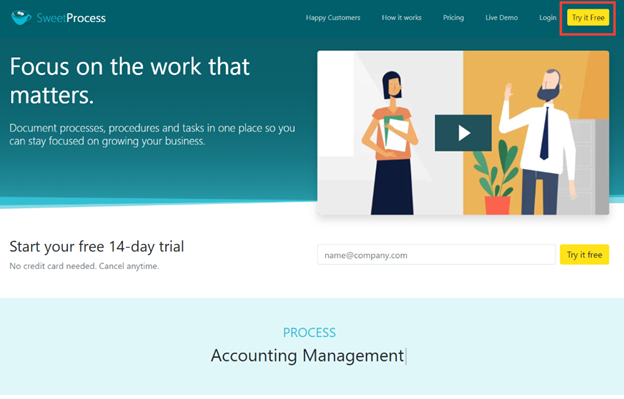 You'll then be taken to a page where you can take a tour of the software or start using it right away.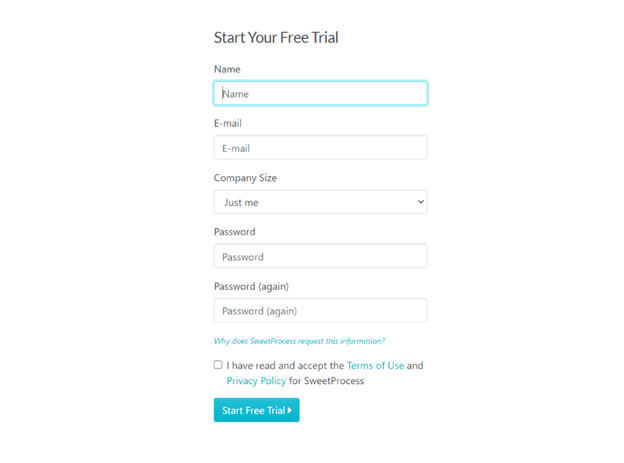 If you decide to take the tour, you'll be given a brief overview of how SweetProcess works.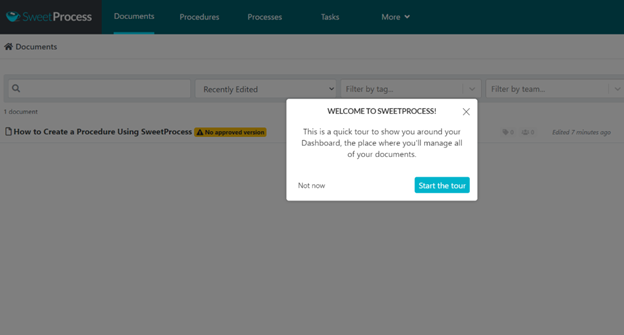 You'll learn about the different features and how they can benefit your business.
Once you're finished with the tour, you can start using SweetProcess right away.
Creating a File
To create a document, click the "Add" button on the top right of the homepage, and select "New Document."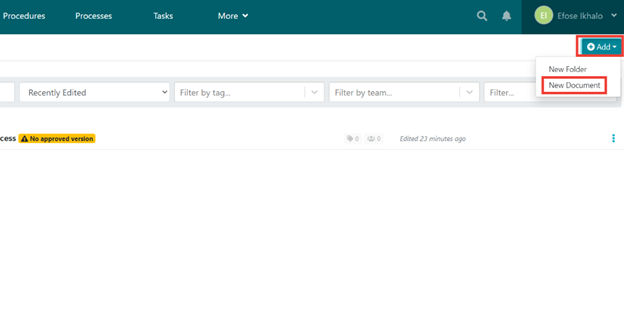 This will open up a window where you can enter the procedure's name and description, and choose a template. Once you have entered all the necessary information, click the "Continue" button at the bottom of the page to save your new procedure as a draft.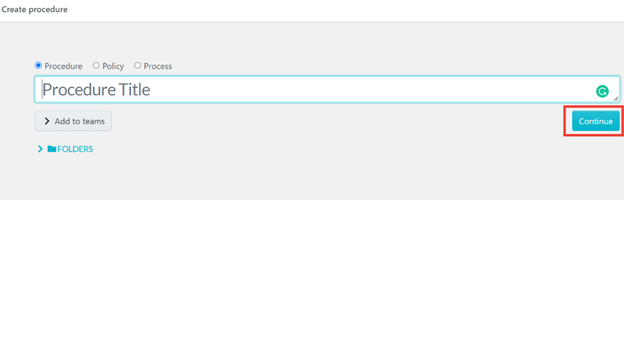 To make the document live, you must approve it by selecting the "Approve" button next to the "Save" button on the top right of the page.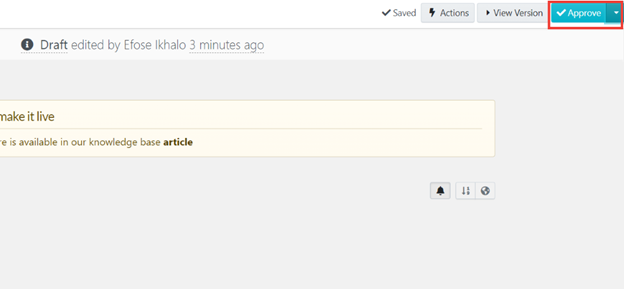 To create a procedure, click on the "Procedures" tab on the main navigation bar.

On the next page, you will see a list of all the procedures that have been created in your account. To create a new procedure, click on the "Create Procedure" button on the top right of the page.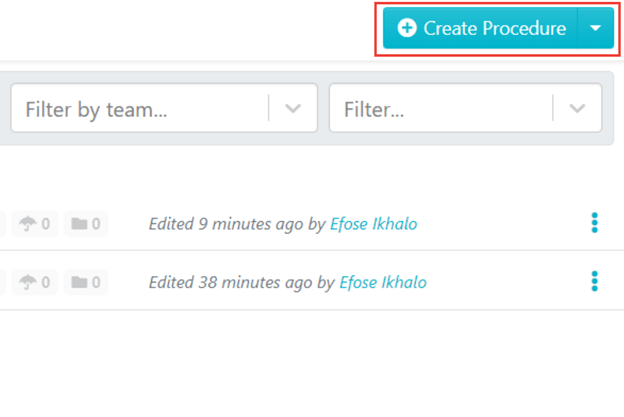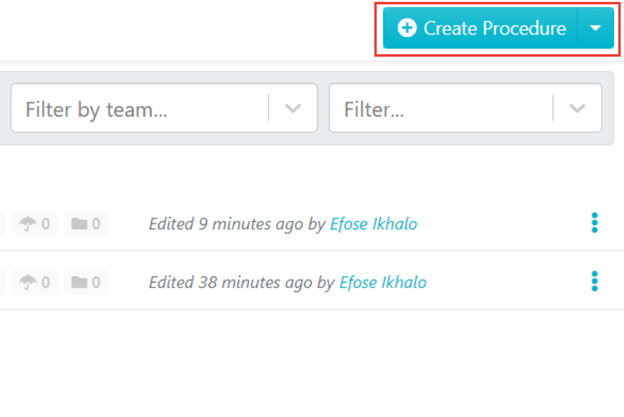 Then add the necessary information like in creating a new document.
Assigning Tasks
To assign a task, go to the Task menu, then click on "Assign Task" in the top right corner.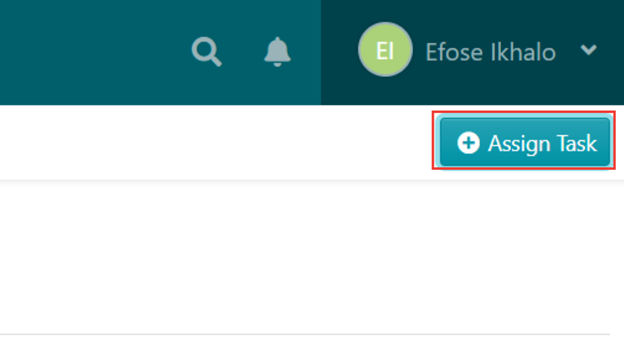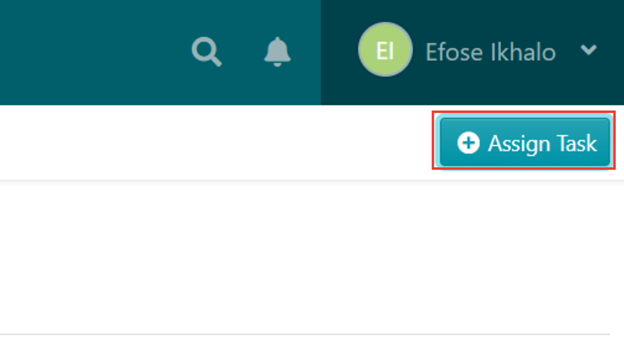 You will see a modal window that prompts you to select the process or procedure you want to assign the task to, as well as the user you wish to assign it to.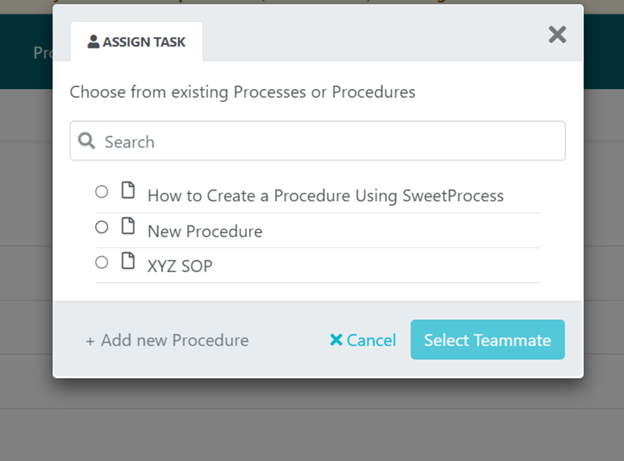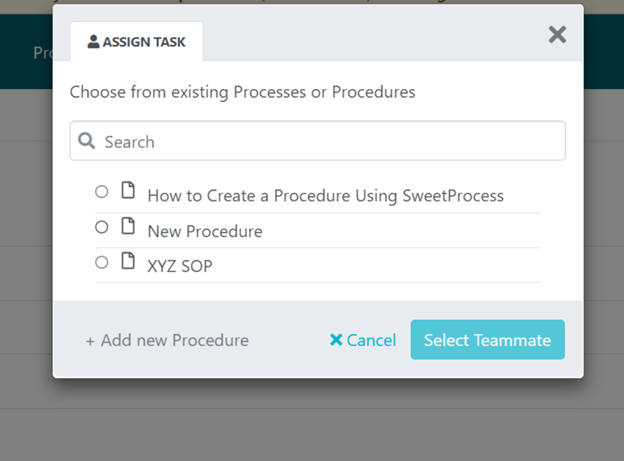 Managing Your SweetProcess
You can view all processes and procedures that you have created, as well as any templates that have been shared with you.
If you can't find the specific process or procedure you're looking for, you can use the search bar to help narrow down the results.


Importing Documents
Before you import a document to SweetProcess, you should ensure that it is in the correct format so that the title, description, and steps are imported correctly.
In the top right corner of your procedure page, click on the drop-down beside the "Create Procedure" button, and click on "Upload document."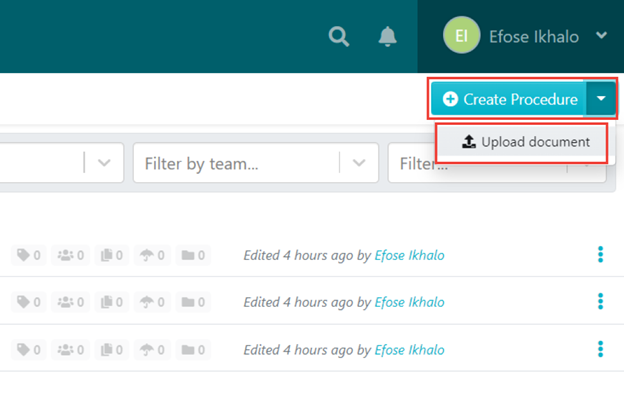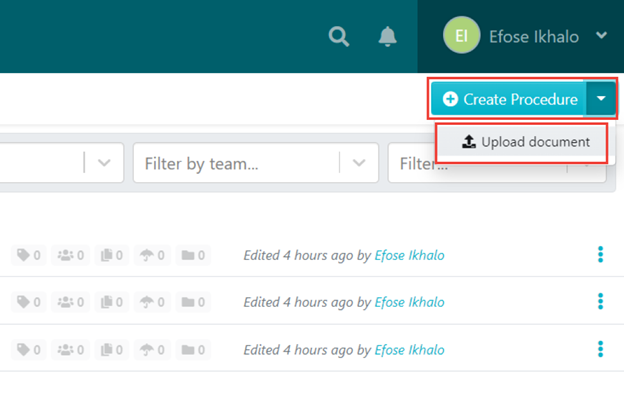 A modal window will appear, prompting you to select the file you wish to import. Once you have selected it, it will take a few moments for the document to be processed.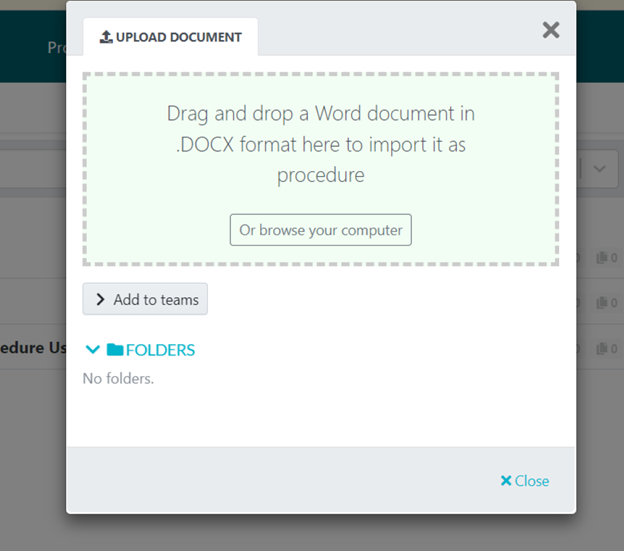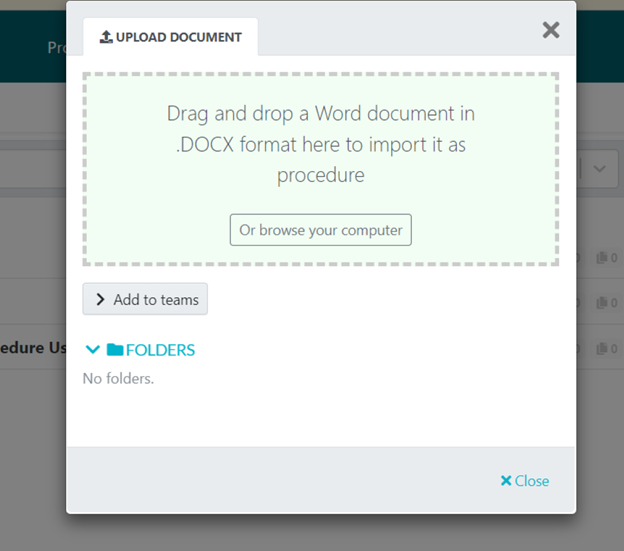 You will then see a preview of the procedure that will be created, and you can edit it before saving it, if you wish. You will still need to approve it before it can be used in your business.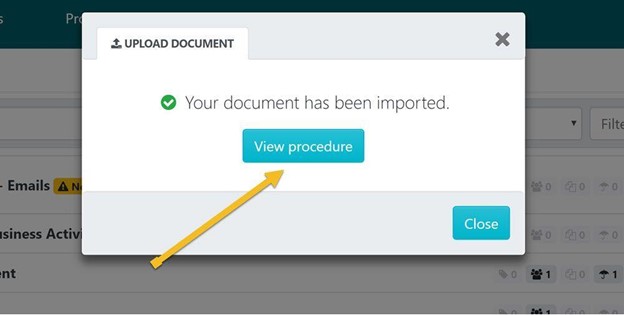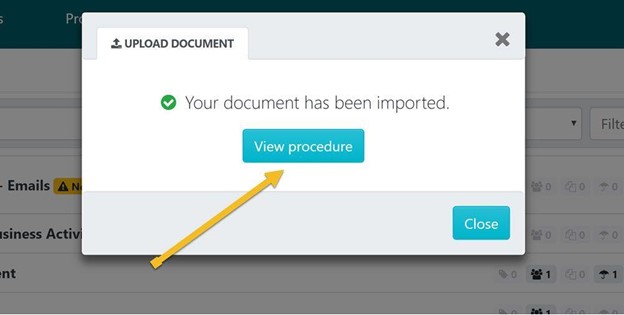 Exporting Document
To convert your procedure into a document, simply click the action button while viewing the procedure that you wish to export and select "Export to PDF/Word."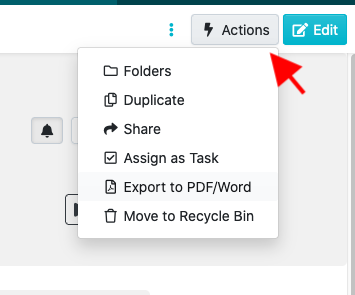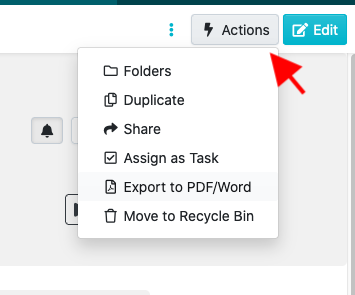 This will open up a new window where you can choose to download the procedure as either a Microsoft Word document or a Portable Document Format file.
You may also include additional details such as the approval name and extra diagram. Once the file has been generated, you will see a button to download it to your computer.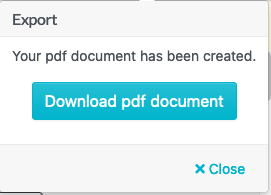 Pros of Using SweetProcess
Ease of use: SweetProcess is designed to be user-friendly and easy to navigate.
Features: SweetProcess offers a wide range of features to help streamline your workflow, including task management, document automation, and process mapping.
Many integrations: SweetProcess integrates with a variety of third-party applications, making it even easier to use.
Visual interface: SweetProcess's visual interface makes it easy to see how your processes are flowing.
Price: SweetProcess is one of the most affordable BPM tools on the market.
SweetProcess Pricing
SweetProcess pricing model is subscription-based. The pricing starts from $99/month for a team with up to 20 members. Additional members can be added for $5/month/user.
This plan allows you to access all the features of SweetProcess that we have discussed earlier including an unlimited number of processes, documents, and 1,000+ integrations.
If you don't want to commit to a monthly subscription, you can try the features out before you commit to any payment as SweetProcess offers a 14-day free trial. The best part is that it does not require any credit card information for signup, plus you can cancel at any time.
2. Trainual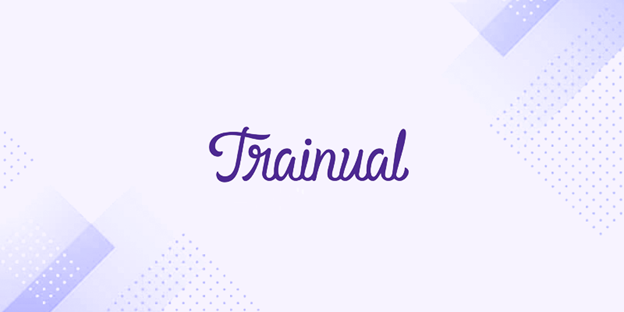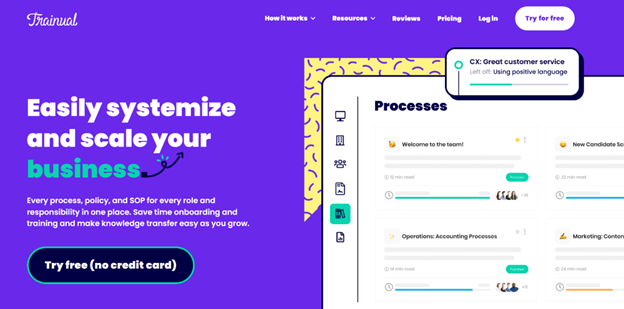 Trainual does an amazing job of automating and documenting your business procedures, making it easy for you to keep track of all the steps involved in each process.
It's also great for training new employees, as they can simply follow the step-by-step instructions to learn how to do their job. It does a lot of other things as well, but at its core, Trainual is a business process management tool.
The software's intuitive system lets you quickly create and edit process documents, making it easy to keep your processes up to date. And if you need to share your processes with others, Trainual makes it simple to do so.
Whether your business operates with sparse or complex processes, Trainual can help you streamline and document them for better efficiency.
How Does Trainual Work?
You have a dashboard that's the first thing you see when you log in. From there, you can access all of your company's training content.
This includes any existing modules you've already created as well as any new ones you're working on. You can also create and edit user groups, which is helpful if you want to give certain employees access to specific training materials.
Pros of Trainual
| | |
| --- | --- |
| Simple and Intuitive Dashboard | Trainual's simple and intuitive dashboard is one of its best features. It's designed to be used by businesses of all sizes, so you won't need to invest in expensive training for your employees. The dashboard provides an overview of your entire business process, so you can easily see where there are bottlenecks or areas that need improvement. |
| Excellent Training Steps & Documentation | Another great thing about Trainual is that it offers excellent training steps and documentation. This means that you can quickly get your employees up to speed on how to use the system without having to spend hours on training. The documentation is also very comprehensive, so you can easily find answers to any questions you may have. |
| Templates & Customization | Trainual also offers a wide range of templates and customization options. This means that you can easily create a system that fits the specific needs of your business. You can also customize the interface to match your company's branding. |
| Reporting & Analytics | Trainual provides powerful reporting and analytics features. This means that you can generate reports to help you make better decisions about your business processes. |
Cons of Trainual
| | |
| --- | --- |
| User Limit | The pro and premium plans support the same number of users (25), which might sit well for businesses willing to pay a little extra for the advanced features. |
| Lack of Total Integrations | Trainual doesn't have as many integrations as some of the other tools on this list. Even though it integrates with Zapier, if you want direct integration with the software you use most, you might be out of luck. |
| Uncommon Terms | You might come across some terminology in Trainual that you're not familiar with. This would make the learning curve a little steeper, and you might have to familiarize yourself with some new concepts before getting started. |
| Pricing | Trainual offers three plans: Build, Train, and Scale, which you can pay either monthly or yearly. The plans cost $49, $99, and $119 per month when paid annually. |
3. Process Street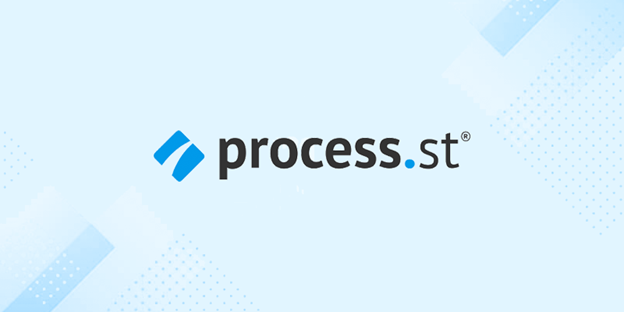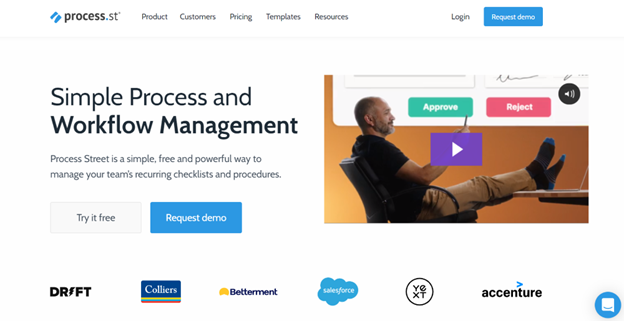 Process Street is a cloud-based SOP management software that helps businesses automate and manage their workflows. It offers a wide range of features, including task management, workflow automation, document collaboration, and more.
The software allows you to create and manage all your business processes in one place, making it easy to see where improvements can be made. You can build templated checklists and workflows for your team to follow, or create custom ones from scratch.
You can store all your documents and files in the cloud, making them accessible from anywhere, and share them with your team for collaboration.
Pros of Process Street
| | |
| --- | --- |
| No-Code Platform | You don't need any coding skills to use Process Street. It's a no-code platform that's easy to use and doesn't require any technical expertise. |
| Drag-and-Drop Editor | Process Street has a drag-and-drop editor that makes it easy to create and edit your business processes. You can add, remove, or rearrange steps with just a few clicks. |
| Free Pre-Made Templates | Process Street comes with a library of free pre-made templates that you can use to jumpstart your workflow. There's no need to start from scratch—just choose a template that fits your needs and customize it to fit your business. |
| Checklist Dashboard | Process Street has a checklist dashboard that gives you an overview of all your business processes. Each process is represented by a checklist, and you can see the status of each task at a glance. |
Cons of Process Street
| | |
| --- | --- |
| Lack of Granularity in Roles/Permissions | Process Street doesn't offer a lot of granularity when it comes to roles and permissions. You can give users access to all processes or restrict them to specific processes, but you can't give them access to only certain tasks within a process. |
| Limited Shortcuts | Some users have complained about the limited shortcuts available in Process Street. While there are some keyboard shortcuts available, they're not as comprehensive as those offered by other tools. For example, the copy and paste shortcut does not work for tasks. |
| Constrictive Free Plan | Process Street's free plan is very limited. You can only create five checklists and can only have one full user. |
| Pricing | Process Street has three pricing plans: Free, Pro ($25/month), and Enterprise (custom). The more expensive plans contain all the features of the cheaper plans, plus some extras like task permission, API access, and premium support. |
4. MaintainX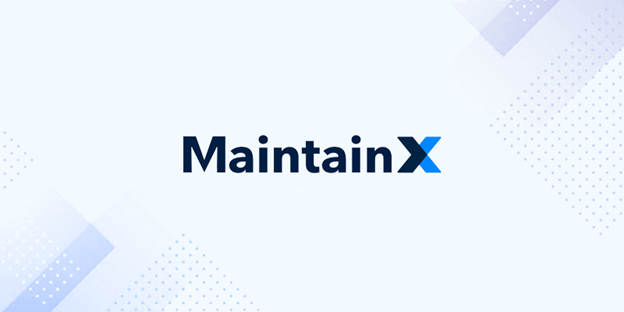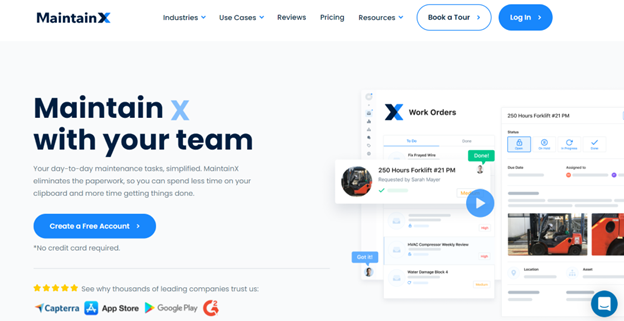 MaintainX is a mobile-first workflow management tool that helps you digitize your standard operating procedures (SOPs), visualize and track work progress, and manage issues and risks in real time. You can also use MaintainX to train new employees on company SOPs and procedures.
The software helps you to keep track of reactive and preventive maintenance tasks and schedule them accordingly. You can also keep tabs on daily operation tasks, safety checklists, and compliance audits.
With MaintainX, plant managers and engineers can have full visibility into their team's work progress and performance.
Pros of MaintainX
Ease of Use
One of the main advantages of MaintainX is that it is extremely user-friendly. The interface is straightforward and easy to navigate, so you'll be able to get started using the tool right away.
Transparency and Real-Time Visibility into Work Progress
With MaintainX, you get real-time transparency into how your team is performing. You can view the current status of work orders, identify potential issues early on, and take corrective action immediately.

This level of transparency also allows you to hold your team members accountable and ensure that everyone is working toward the same goal.
Improved Communication and Collaboration
MaintainX facilitates communication and collaboration between team members by providing a central repository for all work-related information. This includes work orders, task lists, documents, and comments.

With MaintainX, team members can easily stay up-to-date on the latest developments and share their ideas and expertise with others. This leads to better decision-making and faster problem-solving.
Cons of MaintainX
Report Generation is a Bit Lacking
MaintainX could use more features for managing and tracking employee roles/responsibilities.
Its reporting feature is not as responsive as it could be.
No Dashboard Feature
The lack of a dashboard feature is a real drawback. If there was a dashboard to give users an overview of all their processes, it would be much easier to use.
Lack of Invoice Generation
MaintainX doesn't have a built-in invoicing feature, which would be handy for businesses to directly bill their customers/vendors.
Pricing
MaintainX has four pricing plans: Free, Essential ($8.33), Premium($32.50), and Enterprise, and each level supports an increasing number of features.

The free plan is great for small businesses just getting started with business process management, as it offers the basic features needed to get a handle on your workflow. The Essential plan is ideal for businesses that need a little more support.

The Premium plan is perfect for businesses that need the full range of features offered by MaintainX, while the Enterprise plan is tailored for businesses with complex workflow needs, offering custom solutions and support from a dedicated account manager.
5. Tallyfy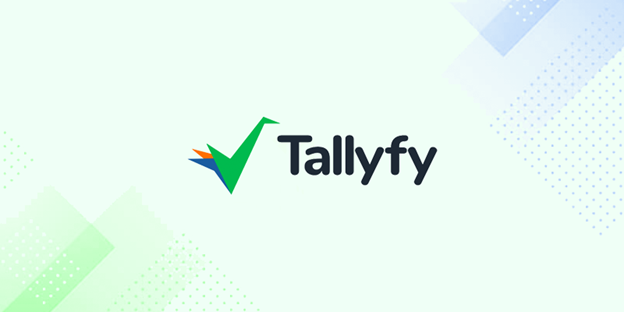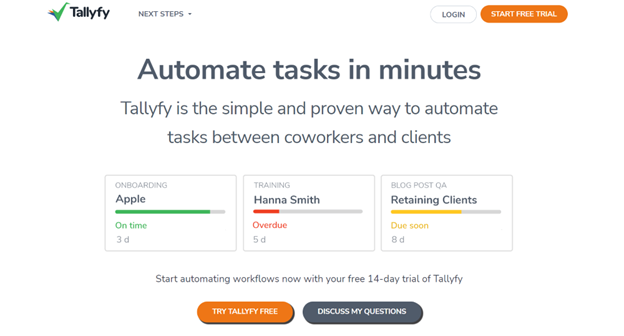 Tallyfy is a cloud-based business process management tool that offers a wide range of features to help streamline decision and approval processes. It is designed to automate and manage workflows, making them more efficient and productive.
The system meets the requirements of some big businesses and is used by companies like Nestle, HP, Emerson, and Intel.
You can track processes and progress in a single place, receive notifications, create and assign tasks, and generate reports.
It lets you clearly map out processes, workflows, and SOPs so that nothing slips through the cracks.
Workers can access the system from anywhere, and make changes in real time with a single click.
Pros of Tallyfy
| | |
| --- | --- |
| Simplified Process | Tallyfy turns a complicated process into a simple, streamlined one. This makes it easier for your team to follow and execute. The process does not need training to be used productively, which means less time and money spent. |
| Progress Monitoring | Tallyfy allows you to monitor the progress of your processes in real time. This ensures that no task is left behind and that all deadlines are met. Tallyfy also improves accountability by allowing you to see who is responsible for each task. |
| Security Feature | Two-factor authentication is an important security feature that Tallyfy offers. This adds an extra layer of protection for your data and ensures that only authorized users can access it. User access can also be easily controlled and monitored within the constraint of your company's organizational structure |
| Insights for Improvement | Tallyfy provides valuable insights that can help you improve your processes. You can see which tasks are taking the most time, what the bottlenecks are, and where mistakes are being made. This information can be used to make changes that will make your processes more efficient. |
Cons of Tallyfy
| | |
| --- | --- |
| Limited Dashboard Customization | Tallyfy doesn't offer a ton of options for dashboard customization. This can make it difficult to get the data you need at a glance and may require some digging to find the information you're looking for. |
| No Pre-Built Process Automation Templates | Tallyfy templates need to be built in-house and from scratch. This can be time-consuming and may require the help of a developer, which can add to the cost of using the platform. |
| Poor Graphics UI | Tallyfy's graphics user interface is not the most visually appealing. It doesn't particularly stand out among other business process management tools. |
| Tallyfy Pricing | Tallyfy has two pricing plans: Tallyfy and Tallyfy Pro. Both plans offer free unlimited guest access, which is ideal for third-party collaboration. The Tallyfy plan starts at $5 per month, while the Tallyfy Pro plan starts at $30 per month. |
6. SOPTracker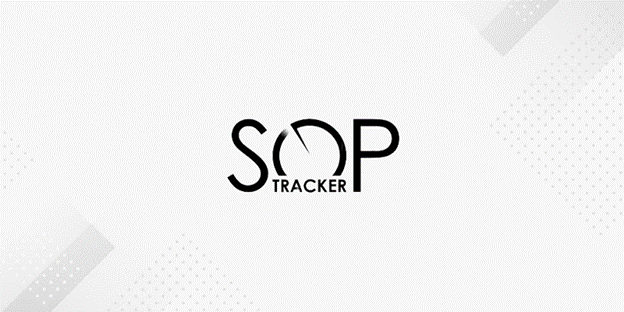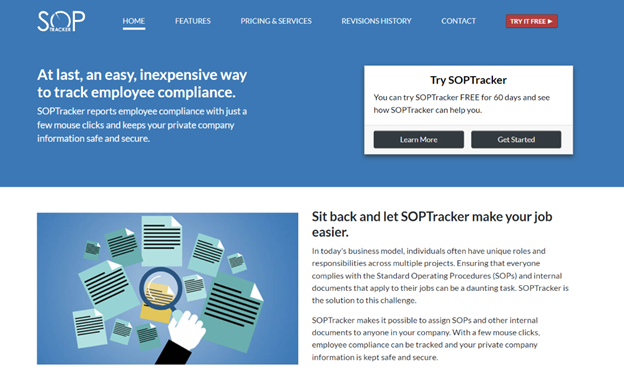 SOPTracker is an admini­strative software that helps you stand­ardize your work processes and workflows. It enables you to develop, track, and optimize your processes using an intuitive interface. You can also create custom fields, forms, and templates to suit your specific needs.
The software helps you manage and monitor your employee's compliance with ease. It offers a real-time view of which employees are following procedures and which ones need improvement.
SOPTracker is a great alternative to ProcedureFlow for businesses that need more flexibility and customization in their workflow management.
You will be able to keep error-free data, improve transparency and communication among employees, and optimize your workflows for maximum efficiency.
Pros of SOPTracker
| | |
| --- | --- |
| Proper Documentation | With SOPTracker, you can be assured that all your business processes are properly documented. This is crucial for auditing and compliance purposes. Employees are categorized according to their roles, which makes it easy to track who is responsible for what. |
| Easy to Use | SOPTracker is designed with ease of use in mind. The user interface is intuitive and straightforward, so you'll be up and running |
| Amenability Report | In SOPTracker, you can easily generate an amenability report. This report will show you which processes can be improved or automated. It's a great way to find out where your bottlenecks are. Each mouse click on shared SOPs is tracked and also monitored and can be used to improve processes. |
| High-Level Security | SOPTracker stores your documents in a secure IMS cloud. This means that your data is safe and secure, and can only be accessed by authorized personnel. |
Cons of SOPTracker
Expensive Tool
SOPTracker is a great tool for businesses that can afford its high monthly price tag. But for small businesses or startups on a tight budget, this tool may be out of reach.
Limited Document Storage for Users
Unless you opt for the SOPTracker pricier plan, your documents will not be stored online and will quickly be deleted after a certain period of time This can make it difficult to keep track of your documents and makes it more likely that you'll lose important information
SOP Creation Can Be Tedious
While SOPTracker makes it easy to track and monitor your processes, creating the actual procedures can be a bit tedious. This is because you'll need to add each step manually. And if you have a lot of steps in your process, this can take some time.
SOPTracker Pricing
SOPTracker plans are annual packages and based on the number of people using the system:

1-75 users: $1,000 without storage and $1,500 with storage

76-200 users: $2,000 without storage and $3,500 with storage

201-400 users: $3,000 without storage and $5,000 with storage

401-600 users: $5,000 without storage and $7,000 with storage

601+ users: $8,000 without storage and $10,500 with storage
7. Pipefy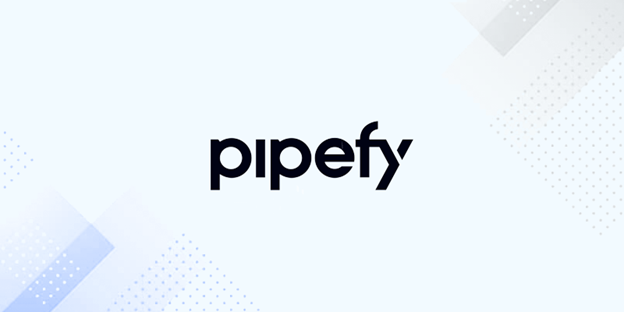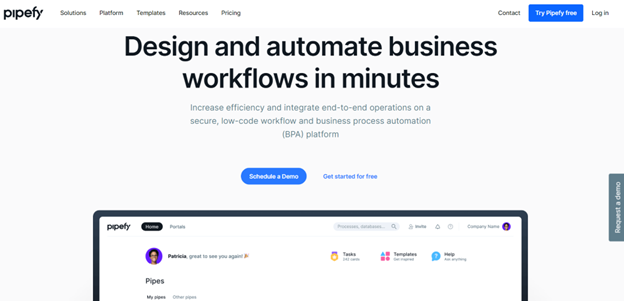 Pipefy not only lets you document and track your business processes, but it also provides you with templates and tools to automate and optimize them. Its simple and easy-to-use interface is perfect for businesses that want to streamline their workflows without spending a lot of time or money on training.
It provides templates for popular business processes that lets you seamlessly set up flows for things like HR onboarding, customer support, order fulfillment, and more. You can also customize these templates to fit the specific needs of your business.
In addition, you can also create databases and forms to collect data from your employees or customers. This data can then be used to track the performance of your processes and identify areas for improvement.
Pipefy also offers a wide range of integrations with popular business applications, making it easy to connect all your systems and optimize your workflow.
Pros of Pipefy
| | |
| --- | --- |
| Straight-Forward Interface | Pipefy is a very straightforward and user-friendly platform, which makes it ideal for small businesses that want to streamline their workflow without having to invest in complex and expensive software. |
| Effective Collaboration | Pipefy enables better collaboration between team members by allowing comments on each task. The software features a robust task management system that helps users to keep track of their work and assigned tasks. The various automation tools also help to reduce the amount of manual work required, thus freeing up time for more important tasks. |
| Progress Management | Pipefy has a built-in calendar that allows users to see the progress of each task. This helps to ensure that tasks are completed on time and helps managers to keep track of their team's progress. |
| Easy Integrations and APIs | Pipefy offers easy integrations with popular applications such as Google Hangout, Dropbox, and Zapier. It also has an open API that allows developers to extend the functionality of the platform. |
Cons of Pipefy
| | |
| --- | --- |
| Lack of Documentation for Beginners | Pipefy's lack of documentation can be a bit daunting for beginners. While the platform is fairly easy to use, there is no step-by-step guide or tutorials for new users. Including demonstration videos or a detailed user manual would be helpful for those just starting out. |
| Time-Consuming Setup | The setup process for Pipefy can be time-consuming, especially if you're not familiar with the platform. You can get lost very quickly when you start to connect all the various elements of your workflow. While this is not a huge problem for experienced users, it can be a bit overwhelming for beginners. |
| Pricing | Small businesses can set up a free account with up to 10 users on Pipefy; however, if you need more users or access to premium features, you'll need to sign up for one of Pipefy's paid plans which starts at $18 per month per user. |
When it comes to business process management, there is no one-size-fits-all solution, so before settling on one of the above tools, it's important to explore your options to find the best fit for your team.
Chapter 3: How to Decide Which ProcedureFlow Alternative Is Best for Your Team/Business/Project
Here are a few things to keep in mind when looking for a ProcedureFlow alternative.
1. Define Your Goals
The first step is to sit down and define what you hope to achieve with business process management. Do you want to improve communication and collaboration? Streamline your workflow? Get a better handle on your data? Once you know what your goals are, you can start to narrow down your options.
2. Consider Your Team's Needs
Every team is different, so it's important to find a solution that meets the specific needs of your group. If you have a large team, for example, you'll need a tool that can accommodate a high volume of users. Alternatively, if your team is spread out across different locations, you'll need a solution that offers remote access and collaboration features.
3. Compare Prices
BPM tools can vary widely in price, so it's important to compare options and find a solution that fits your budget. Keep in mind, however, that the most expensive option isn't necessarily the best—sometimes the mid-range or even lower-priced options offer everything you need (and more).
4. Read Online Reviews
Once you've narrowed down your options, it's time to start reading online reviews. This is a great way to get an unbiased look at each tool's features, pros, and cons. Be sure to pay attention to both the positive and negative reviews, as they can give you a well-rounded view of each solution.
5. Try It out for Yourself
Finally, once you've read the reviews and compared the prices, it's time to try out the options for yourself. Many BPM tools offer free trials, so take advantage of this and test out each one to see which one works best for your team.
Chapter 4: The Benefits of Using SweetProcess as an Alternative Over ProcedureFlow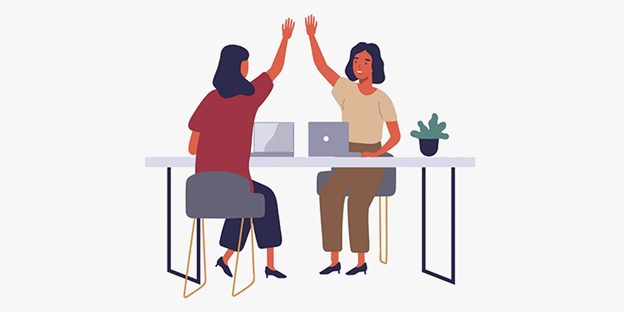 The beauty of SweetProcess is that it's an extremely user-friendly platform that can be used by businesses of all sizes.
There's no need for coding knowledge or any technical expertise, as SweetProcess is designed to be super simple and straightforward.
You can easily map out your processes and workflows, and create custom templates to use again and again.
In terms of effective SOP management, many businesses have benefited from using SweetProcess.
For example, Manny Cosme, the chief executive officer for the Washington-based accounting firm CFO Services Group, explains how he struggled to offer standard customized service to clients because of the lack of a proper SOP system.
"It was becoming difficult to capture those nuances and then transfer that knowledge to someone else working on the account, so that was one of the major emphases for looking for a system that we could just document all this stuff," says Manny.
Once he found and implemented SweetProcess, his business was able to document all its procedures and offer a much more consistent service to clients.
"I was like, there has to be a better system for this. When I looked at SweetProcess, it literally did everything that I wanted. I was like, this is amazing. This is exactly what I need to just make this process so much easier."
Another business handler, Sarah Brenner, the director of quality assurance at Belvidere Community Unit School District 100, had a similar story.
She was looking for an SOP system that would help her effectively create, store, and distribute standard operating procedures.
"We really thought that we had a lot of standard operating procedures across the district, but no one knew they existed because they were housed on people's individual Google drives, Google Docs, and even Word documents. Some were handwritten."
She found that SweetProcess was the perfect solution for her needs.
"I came back to my superintendent with some pros and cons of the different organizations I connected with and then decided that SweetProcess made the most sense to work with based on some of the functionality and the everyday work that we do."
SweetProcess has enabled her to improve communication and collaboration within her district, streamline onboarding for new staff, and develop a culture of continuous improvement.
If you want to adopt the same practices that have helped these businesses, then SweetProcess is the right ProcedureFlow alternative for you. It offers a free trial so you can explore all the features and benefits before committing to it.
Conclusion
In this article, we have shown you some of the best ProcedureFlow alternatives for businesses. While all the ProcedureFlow alternatives talked about above are great too, it really all comes down to what your specific business needs are.
There's no question as to why SweetProcess clinched the top spot. It's feature-rich, user-friendly, and backed by a great suite of integrations. So dive in and start using SweetProcess now for free with their 14-day free trial. (No credit card required.)