How to setup email sever settings on Deggy Control
Setting your email server settings allows reports to be generated and emailed directly from Deggy Control. The software will use the registered email account as the sender.
Setup
Open Deggy Control
Click 'Settings' drop-down
Select 'Settings'
Click 'Email Server Settings'
Enter all 'Outgoing Mail Server SMTP' settings - see example below
Send test email to verify
'Save' settings
Example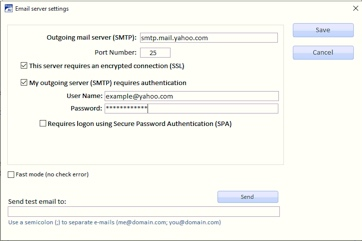 Deselect
"Requires logon using Secure Password Authentication"
TRY PORT:
465 & 25
Create Gmail App Password (3rd party app)
Instructions
Yahoo Account App Password (3rd party app)
1. Create an account or Sign in to your Yahoo Mail;
2. At the Top Right corner, click in "your name", "Account Info";
3. Click "Account Security", "Manage app passwords";
4. In the "Select your app" field, choose "Other app";
5. Enter a custom name like "Deggy Control" and click "Generate";
6. Copy it to use in the Deggy Control Email server settings.
Helpful Tips
Outgoing mail server is different from your email address
Gmail & Office 365 are not compatible
Deggy Control does not support email servers that require TLS protocol